Latest Apple Watch
$448.34
The latest Apple watch is the Series 3. There are two versions, one with GPS + cellular, and one with just cellular. The watch was released in late September of 2017. The watch comes with a ton new features, but also a hefty price. Is the newest Apple watch worth it? We will cover the features and answer this question below.
The latest Apple watch has LTE connectivity, meaning it has its own cellular connection, and can work independently of your smartphone. This allows users to receive phone calls, text messages, and other notifications without having to have their phone nearby. With the Series 3, you'll be able to receive and respond to important messages while running, a biking, swimming, or anytime you're away from your phone. For those with an active lifestyle, the latest apple watch is a handy tool.
LTE Connectivity
LTE connectivity is the most notable difference between the series 2 and the series 3. Apple watches didn't seem all that useful when you had to be near your phone anyway. Now, with LTE, users can read maps, send texts, receive texts, set reminders, check email, play music, get directions, and access Siri while they're away from their phone. Yes, Siri does worth with LTE. Bluetooth also been upgraded from 4.0 to 4.2.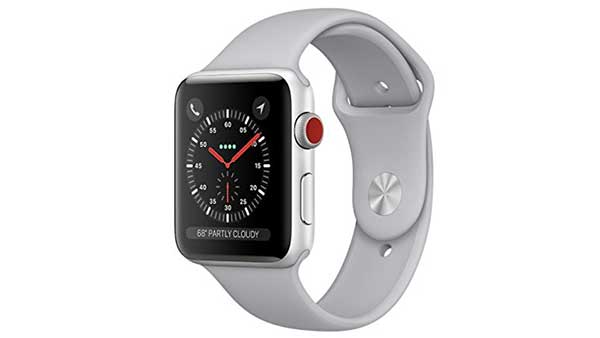 back to menu ↑
Improved Dual Core Processor and W2 Wireless Chip
Both versions of the Apple Series 3 have upgraded to a faster duel core chip that that boosts speed by up to 70 percent. This means common task like switching between phone applications happens even faster. The new W2 wireless chip increases increase Wi-Fi and Bluetooth speed by 85 percent faster, and is 50 percent more battery efficient than the wireless chip in the Series 2. Interchangeable Bands
Like other Apple Watches, the bands can easily be swapped out. To do so just hold the release button on the back and slide the old band out. Then, slide the new bands in. There are ton of different band styles available for the watch.
back to menu ↑
Great Fitness Features
The newest Apple watch has a lot of great features for those with an active lifestyle, or for those trying to get in better shape. The series 3 has an improved heart rate monitor, barometric altimeter, GPS Geo positioning system.
The Activity app on Series 3 is a useful tool for those who might need a reminder or some extra motivation to get moving. The app sends alert summaries of your activity each day, encouraging you to do more the next day, and lets you know if you have been slacking.
There are a ton of good apps you can get the 3 series three. The best app for you really just depends on what type of exercise you engage in. There are apps to track your heart rate, calories burned, flights of steps covered, and to count your steps.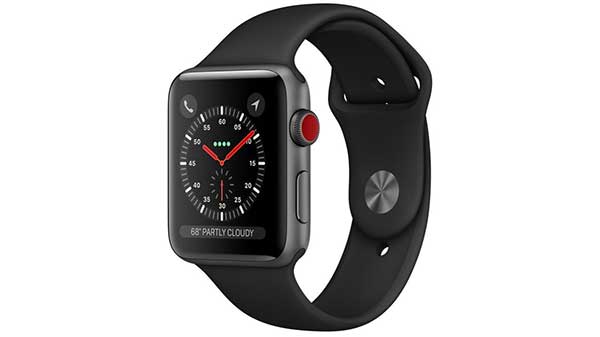 back to menu ↑
Is the New Apple Watch Worth it?
While the latest Apple watch still can't replace your smartphone, for some people it's a worthwhile investment. The series 3 has set a new standard for smart watchers. LTE capabilities make the Series 3 much more handy.

There Series 3 comes in many colors, and two sizes. You can choose between the 38mm (340×272 pixels) or 42mm (390×312 pixels) version. The right size comes down to personal preference. If you are buying this watch as a gift or for someone with a small wrist, the 38mm version might be better. Some people also just like having a smaller watch in general. The 42mm version does cost slightly more, but if you're a larger person or want a big screen, it would probably be worth it to get the 42mm watch.
If you'd like to buy or get more information about this watch on Amazon, just hit the check it out link on the top of the page.
If you have questions or comments about the newest apple watch, feel free to leave them below.