Non Lethal Self Defense Gun
$349.99
The Salt company makes a great non lethal self defense gun that shoots balls filled with a powerful combination of pepper spray and tear gas. The semi-automatic gun is powered by a CO2 cartridge, much like some airsoft and paintball guns. The rounds are 0.68 caliber, which is the same caliber as most paintball guns.
This non lethal self defense gun shoots balls filled with a powerful mixture of pepper spray (OC) and tear gas (CS). With a range of over 150 feet, it has a much longer than standard pepper spray devices, which only shoot about 10 feet. The rounds break open upon impact, and deliver a blow that temporarily disorients, makes it hard to breath, and forces the eyes closed. Although the rounds are non-lethal, they will give the operator time to get away and call for help.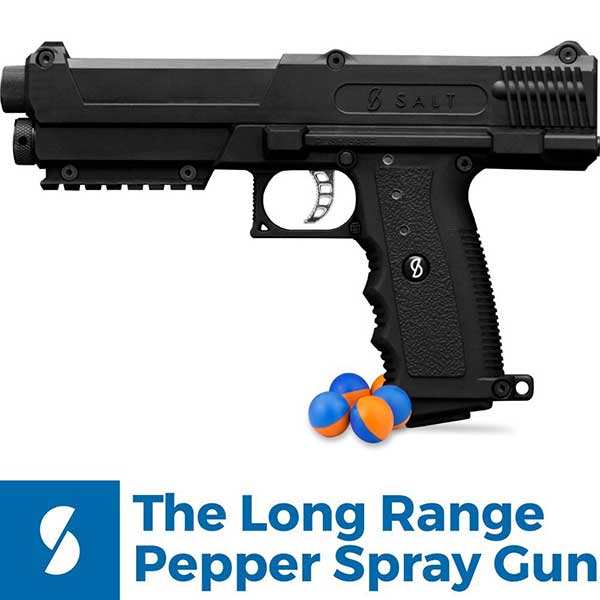 Makes a great gift for women who might not feel comfortable by the idea of firing a lethal round. Great non lethal self-defense gift for the home.
Whats Included
Long Range Pepper Spray Pistol

10 peppery spray (OC) / tear gas (CS) 0.68 caliber rounds

Storage box for the rounds
The gun itself is very similar to a popular Tippman paintball pistol. Because the rounds are the same size as most paintball guns, if you already have a paintball gun that fires 0.68 caliber rounds you could probably just buy the peppery spray rounds on Amazon by clicking the image below.

If you're buying this item as a gift, you might want to consider purchasing the practice rounds and real rounds, along with extra CO2 cartridges.
What is Pepper Spray (OC)?
The active ingredient in pepper spray is an agent called Oleoresin Capsaicin. It is a naturally occurring agent found in chili peppers. The peppers are finely ground, then the capsaicin is extracted using an organic solvent. OC spray is used by Police and other law enforcement agents for self-defense, riot control, and crowd control. The spray causes extreme temporary effects.
If you want to buy this product, read customer reviews, or get the latest product and pricing information on Amazon, just hit the check it out button at the top of the page.
If you have questions or comments, feel free to leave them below.
Non Lethal Self Defense Gun