Pink Pepper Spray Gun
$42.65
A pink pepper spray gun is a great gift idea for women who might be intimidated by the idea of carrying a lethal self-defense tool. The police strength 10 percent OC pepper spray uses a powerful substance derived naturally from hot peppers called Oleoresin Capsicum. The pink gun is easy to aim and shoot. It also covers the target with an invisible UV dye, which could help police track down an attacker. It has a safety lock, so it can be stored in a purse or the center console of a car without having to worry about accidental discharge.
A pink mace gun is a great gift idea for women. The active ingredient, Oleoresin Capsicum (OC), is not life threatening, but does temporarily cause extreme effects. When the substance meets the eyes, they will immediately close, and the target will be hit with an extreme burning sensation of the eyes. The spray can also make it difficult to breath and decrease coordination as the body tries to recover.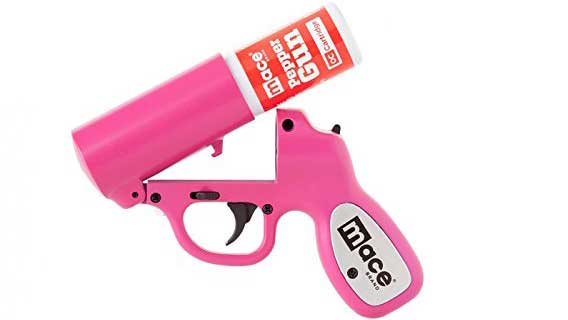 The Mace Brand gun accurately shoots up to 7 times, with a range of about 20 feet. It also has a LED that is activated when the trigger is pulled, which helps to aim the mace gun and disorients the target. The gun comes with a practice cartridge (full of only water), 1 OC cartridge, and batteries that allow the LED light to work. You can purchase extra OC cartridges as well.