Theft Proof Travel Backpack
$42.99
The Kopack company makes the best theft proof travel backpack on the market. For the money, it's an absolute steal. It has a clever design, and ton of features to protect personal items from thieves. The hidden zipper and hidden compartments will leave thieves wondering how to even open it.
The zippers on this anti theft travel backpack are hidden, which makes it almost impossible for someone to open the backpack without the wearer noticing. A secure backpack is a simple and inexpensive way to protect against theft while traveling. The bag is lightweight, water resistant, TSA friendly, and has a lot of notable features I will talk about more in detail below.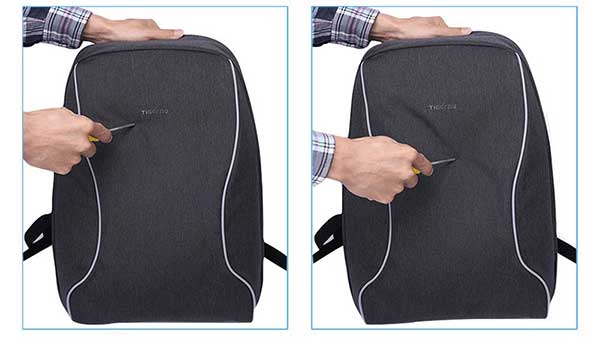 The back of the bag has a secret compartment (as shown in the image below). This compartment is perfect place to put important valuables like a passport, ID, cash, wallet, small electronics, or other important items.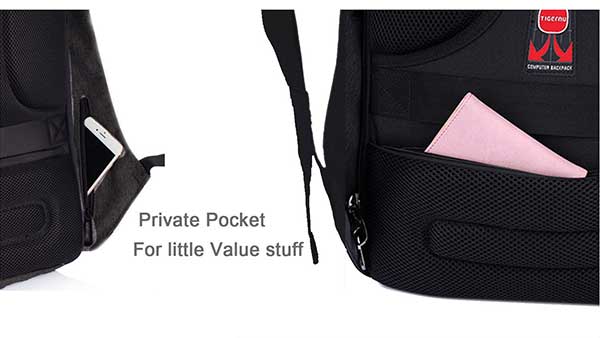 The backpack is made of a very durable material that is both water resistant and hard to tear. The backpack has 3 pads that cushion the back, and padded shoulder straps. The padding makes the bag very comfortable, even for extended wear.There is a strap on the back of the pack that makes it easy to attach to suitcases. There is another strap on the shoulder strap where users can attach their glasses or other small gadgets.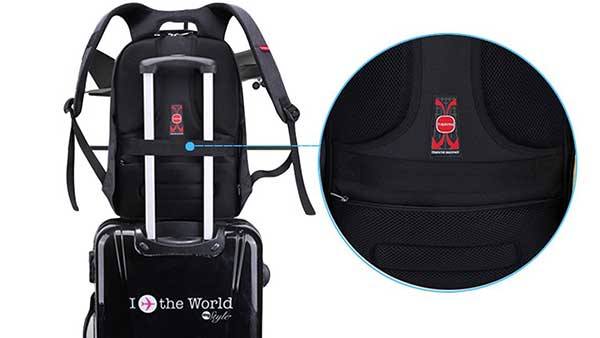 The back of the backpack has reflective strips to make the wearer more visible to vehicles at night.
The Interior of the Backpack Keeps Items Secure
The bag opens a full 180 degrees, which is very nice when going through airport security or security checkpoints. On one side, there are two large compartments. One has extra cushioning, and is perfect for a laptop. In front of that pocket is another pocket, which is perfect for a tablet, folder, or other items. There is a Velcro strap that securely holds items in these compartments and prevents them from shifting.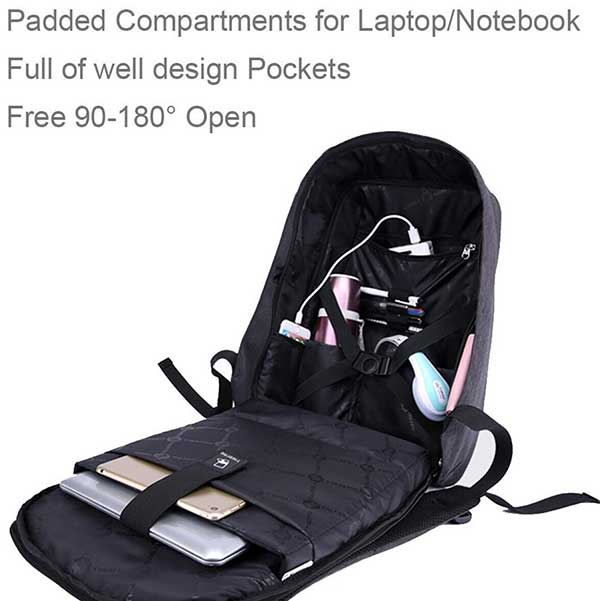 On the other side, there are three main compartments. This side of the bag has a bungie strap to hold items in place while traveling. There is also another small compartment to hold a small electronic device, and just above that there is a place to run earbuds out of the bag.
As you and so both the interior and exterior of this theft proof travel backpack are packed with security features.
Final Thoughts
This backpack is perfect frequent travelers, especially those who have to pass through busy areas like airports. We all know someone who has had their valuables stolen while traveling. The hidden zipper and compartment located on the back of the backpack really do make it harder for thieves to get at personal items. The fact that the bag opens 180 degrees makes security checkpoint a whole lot easier, and makes it so you don't have to dig deep into your bag to find something. With this pack, everything is neat and secure. As far as anti theft backpacks for travelers go, this thing is a steal.
If you have questions or comments fell free to leave them below. To buy the bag, or to get the latest product information, just hit the check it out link near the top of the page.
Best Theft Proof Travel Backpack