15 years together is a truly wonderful milestone to celebrate. Now, what many people don't know is that there are so many elements associated with each anniversary year.
The traditional 15 year anniversary gift is crystal and the modern theme is timepieces, like watches. Along with the traditional and modern gift theme, each anniversary has a color and gemstone associated with it. The color associated with the 15th anniversary is red and the gemstone is ruby (and some alternative gemstones we'll talk about below).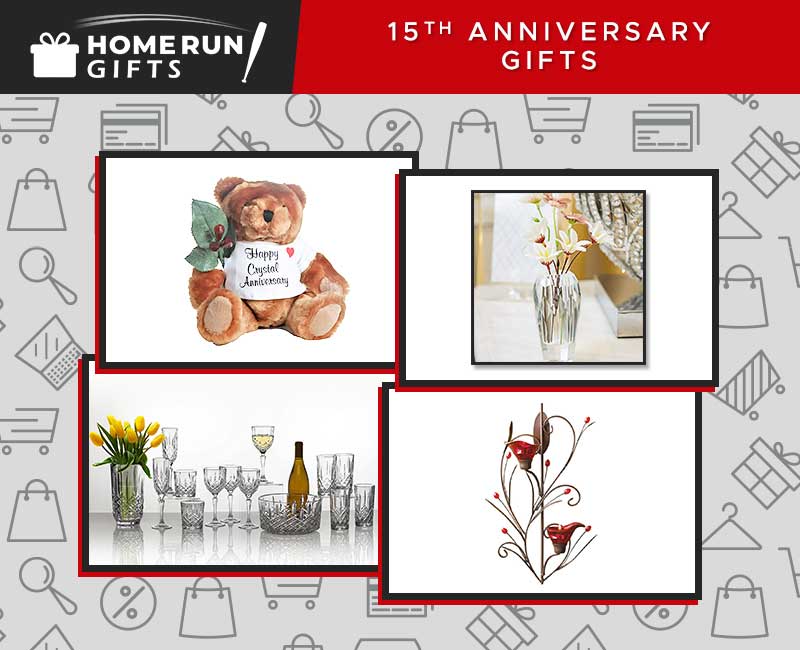 Finding crystal gifts and other gift ideas to celebrate a 15 year anniversary seems to be a little harder than most years. Luckily, I've put in the legwork so you can come away with the perfect, on-theme gift for your partner. The list below has a goldmine of on-theme inspiration!
List of 15th Anniversary Gifts
The First Gifts on This List Fit the Traditional Theme.
As mentioned, crystal is the material associated with 15th anniversaries. So, think cut crystal glasses, decanters, elegant vases, home ornaments, crystal flowers, etc!
1. Crystal Desk Rose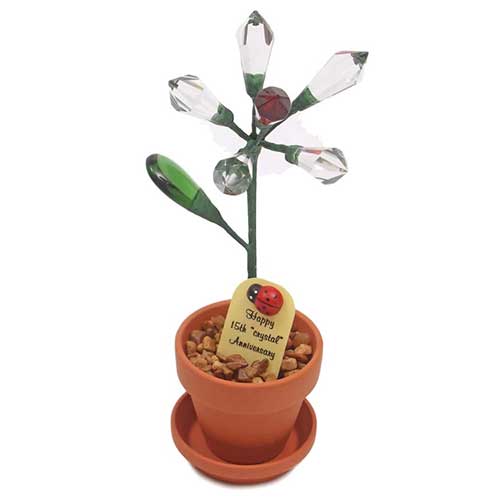 Buy or Read More on Amazon Here ($28.57 at the time of publication)
This quirky crystal desk ornament is a great take on the 15th anniversary theme. Not only does it center on crystal, but it also adds in a touch of the red color theme, too. The rose head features crystal chandelier drops, hand made into a gorgeous rose feature by makers Just Paper Roses. They've even popped on a gift message tag reading "Happy 15th crystal anniversary" so that your partner will immediately get all the references and the thought you've put into their anniversary gift. Every time they catch sight of it on their desk, they'll be taken right back to that special day. Not bad!
2. Customized Portrait Laser Engraved Tower Crystal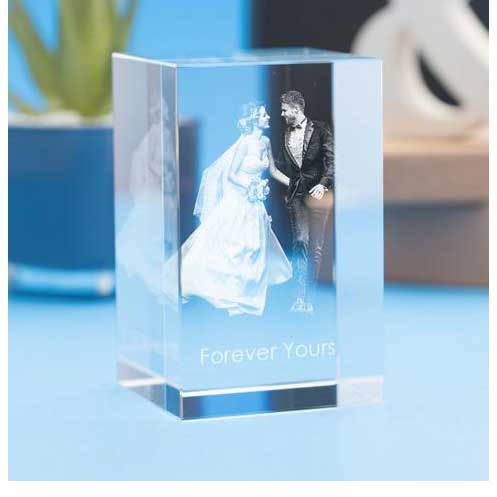 Buy or Read More on Etsy Here ($45.00 at the time of publication)
Memories and moments are fleeting, that's just a fact of life. So why not make sure this 15th anniversary memory sticks around for a while longer? Preserve a precious moment that you and your partner have experienced together in high definition etched crystal so that it'll stay with them forever. Choose your photo, engraving message and font style to create the perfect gift to suit your partner's tastes. If the gift's not quite jazzy enough at that, you can even go for an LED base to add an extra dose of dazzle into the mix.
3. Gold Dipped Real Red Rose with Crystal Presentation Vase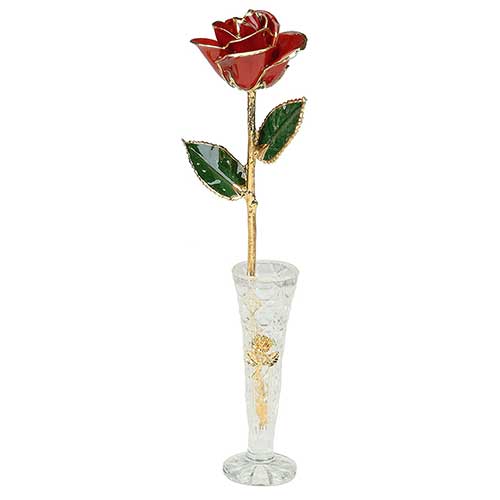 Buy or Read More on Amazon Here ($89.99 at the time of publication)
This is a truly inspired anniversary gift from makers Living Gold. Once again, we're nailing the 15th anniversary theme categories across the board: icy crystal and romantic red come together here in a really innovative way. Feeling a touch mystified by this little beauty? Well, there's no surprise there. It's a secret artisanal process that turns these pieces from freshly picked, all-natural red roses into ornaments that will last a lifetime. Months of work go into fashioning each gold dipped rose, including electroplating steps that preserve all the flowers' natural details, from leaf veins to all the individualities of each petal. The rose comes with a crystal vase, complete with a gold-plated miniature flower decoration, all wrapped up in an elegant green gifting box. There's even a certification of authenticity included, so your partner will know the gift is authentic.
4. Engraved Laser Crystal Rose Flower Keepsake Paperweight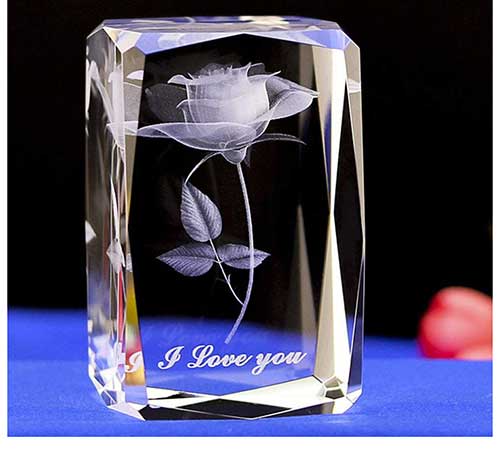 Buy or Read More on Amazon Here ($20.99 at the time of publication)
Duosuny has mastered the art of high-tech laser carving techniques to create highly accurate 3-dimensional representations inside edgy, angular cut crystal blocks. These designs make the perfect crystal anniversary gift – there's a whole range to choose from to suit your partner's tastes perfectly, but the rose seems like a great, romantic design to showcase on this list. Pure K9 crystal ensures a real high quality finish, for a paperweight your partner will marvel at every time they catch sight of it on their desk. What better way to add a bit of dazzle to a run of the mill day at the desk, right? Add your own romantic engraving too, for that added bit of brilliance.
5. Red Rose Spring Bouquet Crystal Glass Figurine Ornament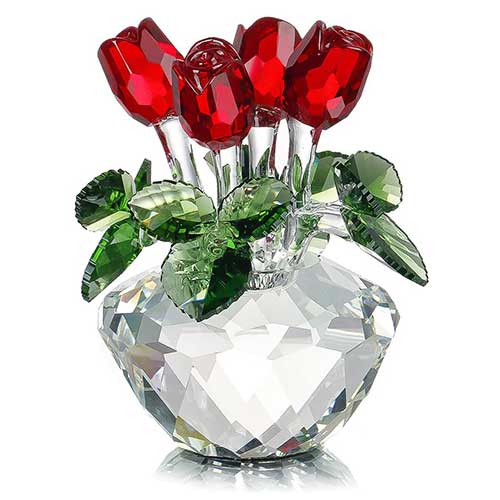 Buy or Read More on Amazon Here ($45.99 at the time of publication)
Gift your partner this gorgeously delicate little figurine ornament and it'll be casting rainbows of light around your home before you know it. Dainty enough to sit in the palm of your hand, the four rose heads are perfectly poised for a truly elegant, graceful impression. High quality K9 crystal is what will make sure these blossoms stick around for life, complete with all the intricate details you'd expect from real red roses. Your partner will appreciate the rich, sparkling colors in this one, no doubt about it.
6. Anniversary Crystal Sculpture Gift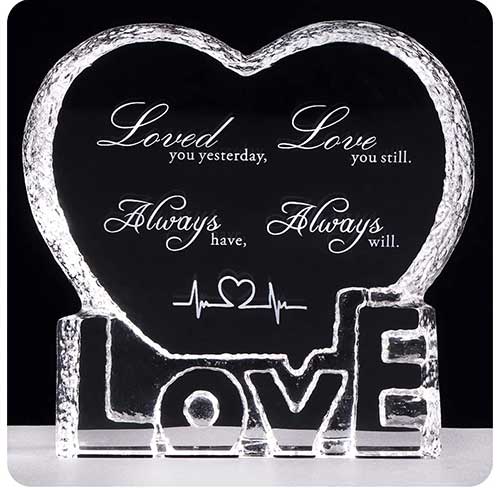 Buy or Read More on Amazon Here ($39.99 at the time of publication)
"Loved you yesterday, love you still. Always have, always will." Perfect sentiments for an anniversary, don't you think? Choose from a range of designs for these engraved crystal sculptures, so you can find the perfect words to sum up how you feel about your partner after these 15 years of life together. Go for that succinct, romantic poem, a totally blank canvas so that you can craft you own, or the 15th anniversary engraving that shows the days, hours, minutes, and seconds that you've been together. The sculpture comes complete with a presentation box and protective material bag, so you can present it to your partner in totally pristine, classy condition.
7. Romantic Love Forever Crystal Rose Flower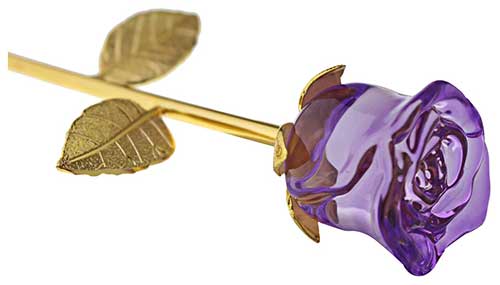 Buy or Read More on Amazon Here ($14.95 at the time of publication)
The bright colors in these delicate crystal roses are perfectly offset by the elegant stem and leaf structure that's shrouded in resplendent gold. Standing at 9 inches tall, these everlasting roses are a perfect crystal-centric gift to celebrate your 15th anniversary with something truly fitting. Here's a thought: you'll want to display this intricate crystal rose in pride of place inside your home, right? May as well make the most of it! So, why not pair this gift – of course, you can select the rose color of your choice – with a cut crystal vase from another maker that features on this list? Waterford Fleurology vases could be a great option.
8. Kate Posh 15th Anniversary Engraved Keepsake and Paperweight
Buy or Read More on Amazon Here ($24.95 at the time of publication)
Commemorate 15 years of successful marriage with a romantic keepsake paperweight designed just for the occasion. This delicate crystal ornament from Kate Posh is hand made using tried and tested artisanal methods for the perfect finish. The design is etched into the base, rather than simply printed onto its surface, meaning there's no danger of it fading over time. Fifteen years strong and lasting well into the future! It celebrates the time you've been married right down to the very second, for a truly thoughtful and romantic message that your partner's sure to love.
9. Himalayan Glow Natural Crystal Salt Lamp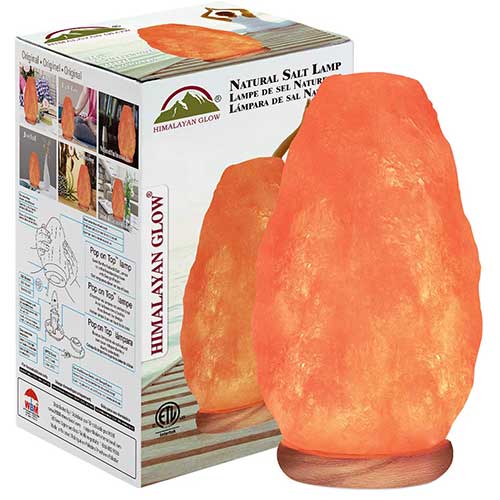 Buy or Read More on Amazon Here ($19.97 at the time of publication)
Think crystal, but make it rustic. These handcrafted natural rock salt lamps have real wood bases and emit a super chill, low key glow to infuse your home together with deep calm. It's a truly inventive take on the 15th anniversary crystal theme, taking it into a whole new area of gift giving that could suit your partner far better than any other item on this list. It'll fit in a treat most anywhere around your home, from a bedside table to a coffee table, from a reading room to a den.
10. Personalized Laser Etched Photo Crystal Cube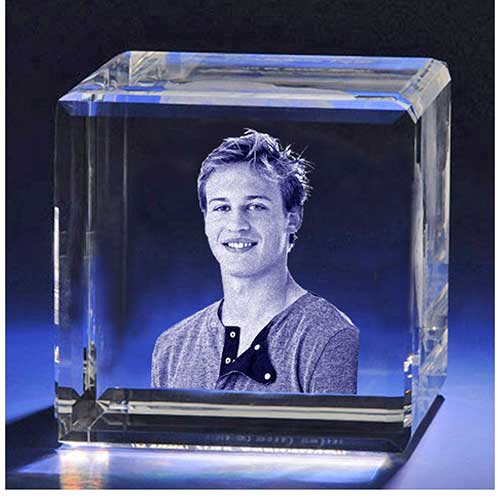 Buy or Read More on Etsy Here ($39.90 at the time of publication)
Go for traditional crystal, but make it truly theirs by etching a real photo of you and your partner into a cool crystal glass cube. Used as an ornament or paperweight, it brings a real unique touch to the 15th anniversary theme. The maker will etch your choice of personal photo straight into the cube, aiming for the highest of detail to really bring the image to life for you and your partner. If the reviews are anything to go by, they'll be blown away! Choose from 2-dimensional or 3-dimensional etching options to get the finish you're looking for.
11. Customized 3D Engraved Landscape Photo Crystal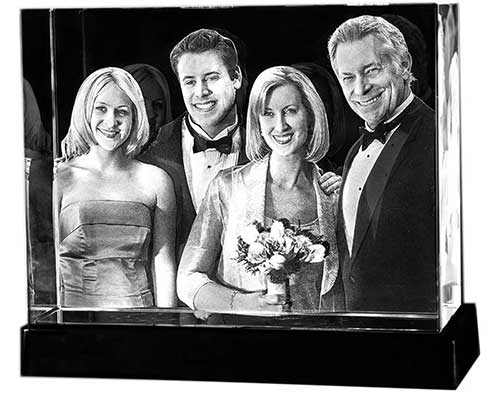 Buy or Read More on Amazon Here ($44.99 at the time of publication)
Immortalize your special moments together by etching them into crystal. Nothing says romance like wanting to make those meaningful moments live on forever, so why not make that a reality with your 15th anniversary gifting? There's no better time to take advantage of the versatility of crystal,  as well as just how much realism you can achieve with 3D laser etching. Put some time and effort into choosing the perfect photo and that's your gift giving sorted!
12. 15th Crystal Anniversary Plush Teddy Bear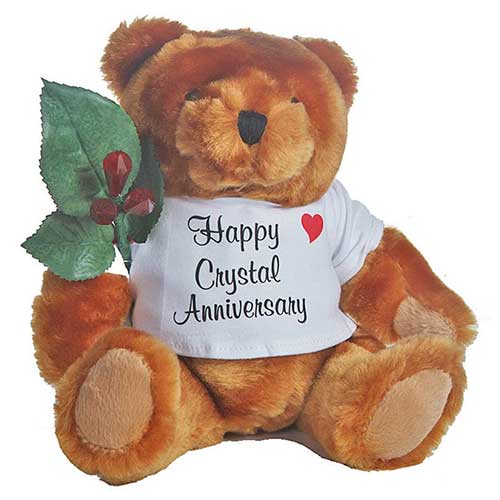 Buy or Read More on Etsy Here ($42.17 at the time of publication)
Cuteness never goes amiss, right? Step up to the plate with this adorable little crystal anniversary teddy bear. So much more than a simple stuffed toy, it brings a real touch of sentiment to the proceedings. Now, we've got some more inspired ideas from JustPaperRoses on this list, but this is by far the sweetest of the lot. They cleverly use crystal chandelier drops to form the roses in their 15th anniversary themed gifts – this little bear is no exception. Clutching a deep red chandelier crystal rose, it's also wearing a tee that wishes your partner a "Happy Crystal Anniversary" – it's all there, ready for the giving!
13. Fleurology Colored Sculpted Glass Red Rose by Waterford Crystal Gifts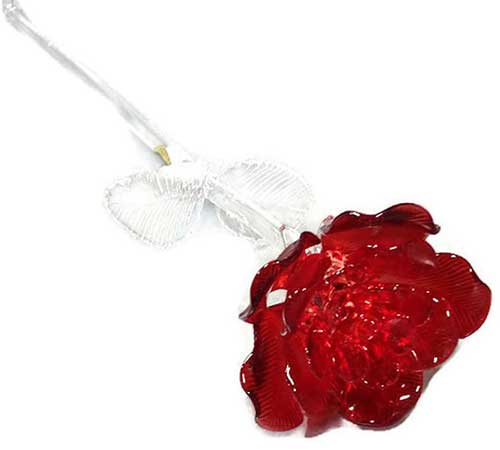 Buy or Read More on Amazon Here ($84.95 at the time of publication)
Know your partner loves flowers, but tired of seeing a cut bouquet wilt away in just a week or so? Really taken with the 15th anniversary crystal gift theme and looking for something that fits the bill? These everlasting flowers from Waterford are the answer you've been looking for. The sculpted rose, made from red-toned crystal mineral glass, measures 14.5 inches in height and will be delivered to your door in a protective presentation gift box, all ready to present to your partner with pride on your 15th anniversary. They're a wonderfully delicate and tasteful ornament that will sit perfectly in any Waterford Fleurology vase you might be tempted to get for your partner… crystal squared can only mean good things for those anniversary celebrations, right?
14. Crystal Champagne Flute Set from the Marquis By Waterford Range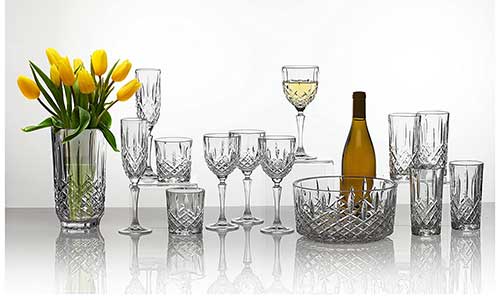 Buy or Read More on Amazon Here ($48.60 at the time of publication)
Nothing says a celebration like champagne, so why not make your 15th anniversary a celebration like no other by saying it with crystal? This set of elegant champagne flutes feature a fabulous cut crystal design that's sure to be a staple feature of all your special occasions over the years to come. How's that for a gift that just keeps on giving? If you're not entirely sure on the champagne flute front, why not take a look at the rest of the Marquis By Waterford range? There's a whole lot of crystal goodness to browse, from Double Old Fashioned Tumblers to Wine Goblets (yes, you heard it right) to Iced Beverage and HiBall Glasses that will put you in a decadent frame of mind just by looking at them. There's even a crystal Ice Bucket you can throw into the mix. Go on, you know you want to.
15. Luxbe Crystal Wine Glass Set
Buy or Read More on Amazon Here ($59.99 at the time of publication)
Sticking with the crystal stemware theme, it's time to talk wine. These glasses are finely engineered to deliver the very best tasting experience: a tapered rim ensures your front palate will be awash with all the subtleties of flavor, while the overall design allows for optimal release of aromatic complexities.
16. Melodia Collection Cut Crystal Vase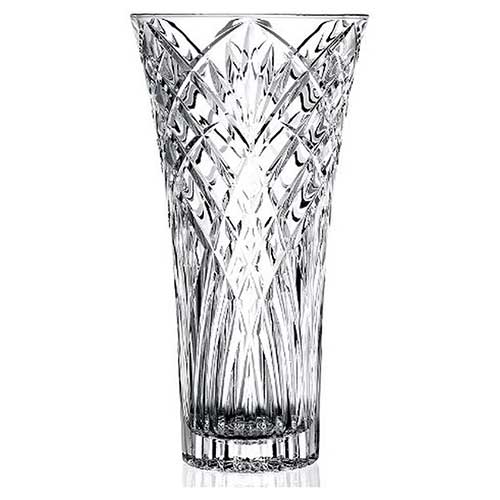 Buy or Read More on Amazon Here ($29.99 at the time of publication)
Cut crystal is a great look on just about any bit of homeware you can think of. That much we can agree on. So, let's take that thinking and run with it: it's vase time. Flowers are a go-to gift for so many occasions: birthdays, Valentine's Day, general congratulations or just because. But why not make that 15th anniversary bouquet extra special by popping it in a crystal vase? Bang on theme and fitting in seamlessly with those flowers you were thinking of getting for the occasion anyway, it's a win-win. This simple yet elegant cut glass crystal vase from the Melodia Collection is even dishwasher safe, keeping it sparkling new for years to come.
17. Fine Crystal Etched Vase from Kate Spade New York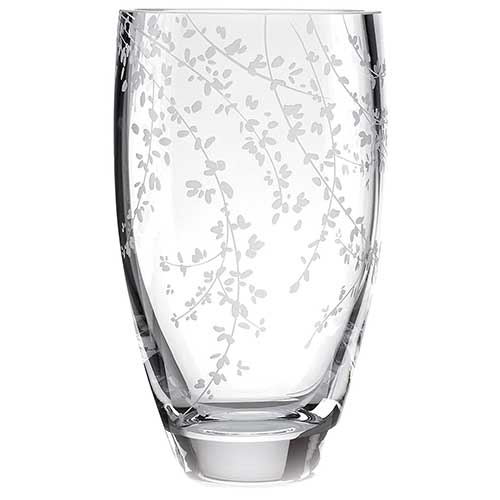 Buy or Read More on Amazon Here ($248.99 at the time of publication)
Etched with a minimalist vine pattern, this sleek vase will make a great ornament even when it's not filled with a gorgeously scented spray of flowers. Top tip: gift it to your partner unpackaged and filled with blossoms, set in the middle of a luxury 15th anniversary breakfast spread for a truly wonderful surprise.
18. Bud Crystal Centerpiece Vase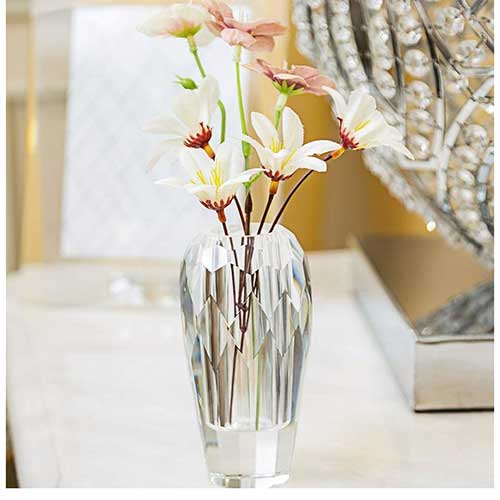 Buy or Read More on Amazon Here ($25.99 at the time of publication)
If your partner's taste in home decor is a little edgier, take a look at this honeycomb and flower bud inspired crystal vase design. The hand-cut crystal shaping makes it the perfect addition to bring a bit of natural dazzle to any space. This is one of my favorite crystal gifts on this list.
19. Ravenscroft Crystal Old Fashioned Decanter Set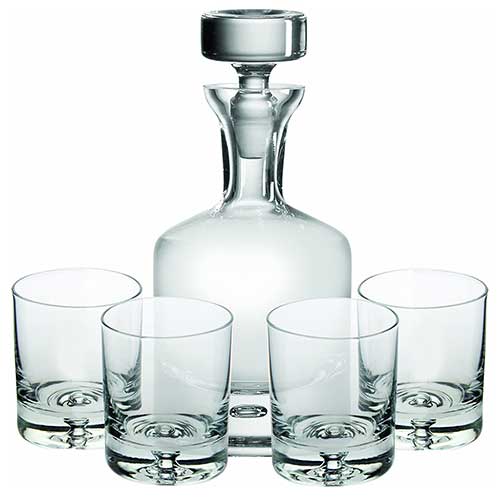 Buy or Read More on Amazon Here ($99.99 at the time of publication)
We can't talk about crystal without including some top quality decanter sets, right? Featured in InStyle Magazine, this sleek set will add a splash of luxury to your home – while you're using it and while it's just resting up there on the shelf. Complete with a stoppered decanter and 4 tumbler glasses, it's ideal for storing and serving up your partner's favorite tipple, whether that's bourbon, whiskey or scotch. Made by hand in the finest of European workshops, the entire set is made with lead-free crystal. Top marks for style and safety – what more could you want?
20. Dublin Whiskey Crystal Bar Set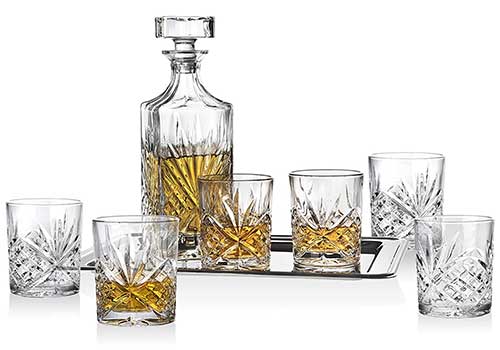 Buy or Read More on Amazon Here ($70.00 at the time of publication)
If you're looking for more opulence, take a look at this cut crystal decanter and tumbler set from Godinger. Take the gift giving up a notch with this set, which includes 6 tumblers and a snazzy mirror-finish serving tray. Remember, decanting isn't limited to whiskey, bourbon and scotch: wines and other spirits all have their place, as well as non-alcoholic alternatives, of course.
21. Crystal Baseball Themed Paperweight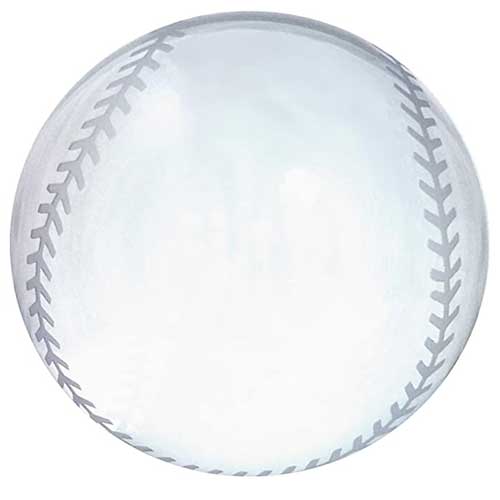 Buy or Read More on Amazon Here ($17.50 at the time of publication)
This one's for the sports fans out there. Bet you didn't think there was any way that the delicate crystal theme could somehow work in a sports reference, right? Well, think again. This crystal baseball paperweight is perfect for fans that want to bring a bit of the game right to their desk. Have your partner use it at work or home and it'll be sure to bring a smile to their face when they catch sight of it on top of those piles of paperwork. It's not all that bad when you've got the thought of the weekend game to get you through!
22. Crystal Seahorse Paperweight from Waterford Giftology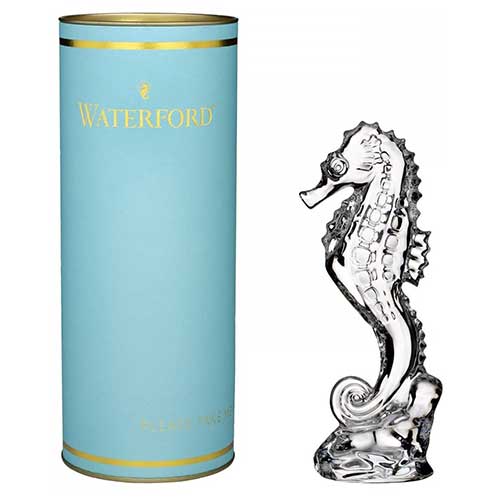 Buy or Read More on Amazon Here ($74.98 at the time of publication)
If your partner's a lover of the deep blue, why not treat them to an elegant seahorse paperweight to celebrate these 15 years together? Right on the crystal theme, it's delicately carved and truly tasteful. Show them how much you appreciate their love of nature, while bringing a bit of the great wide world to their humdrum work.
23. Crystal Apple Paperweight Set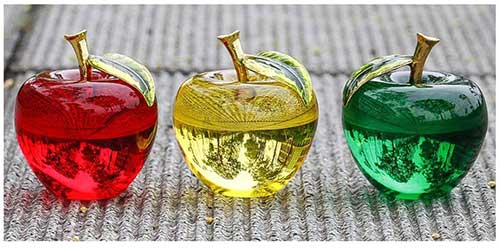 Buy or Read More on Amazon Here ($35.98 at the time of publication)
These gorgeous crystal paperweights feature a looks-good-enough-to-eat apple design, complete with all the intricate details. Fresh green, golden yellow and ruby red, they come in a collectible set of three to brighten up your partner's workspace for all the years to come. Or, you could go for the separate shipping option and just choose the best color for them right now – save completing the set for another year down the line! Perfectly sized and packaged to perfection, they'll be sure to arrive in great condition.
24. Crystal Globe with Crystal Display Stand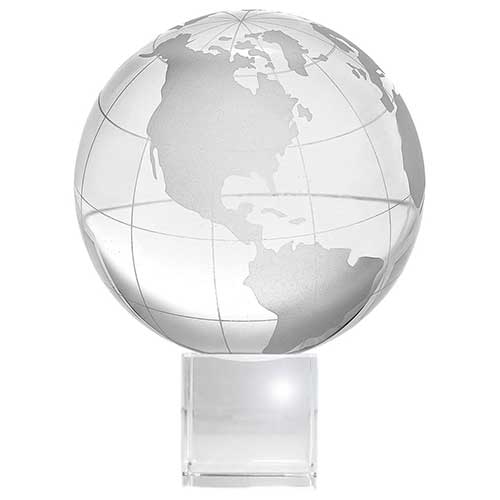 Buy or Read More on Amazon Here ($18.90 at the time of publication)
If the pair of you are real globe trotters – or are planning to become them after celebrating a solid 15 years together – then this striking crystal globe ornament could be the perfect, meaningful anniversary gift for your partner this year. Complete with a crystal display stand, you'll be able to put the ornament in pride of place within your home. Go on, you've always wanted to give your partner the world. Now's a perfect time!
25. Blue Crystal Dolphin Figurine Paperweight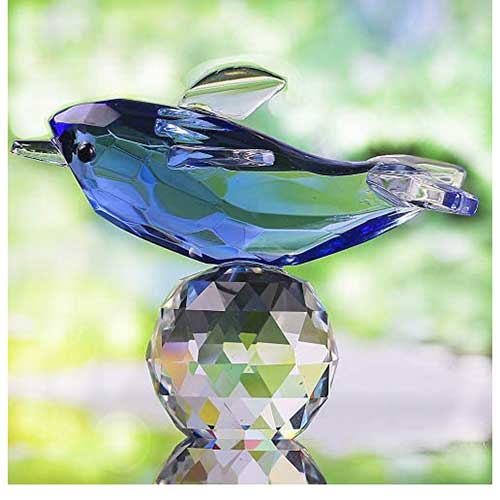 Buy or Read More on Amazon Here ($10.99 at the time of publication)
Elegantly arched, this dolphin paperweight will bring a bit of vibrant movement to any desk. What's more, the clever way the crystal is cut to make this particular little paperweight means it's guaranteed to catch the light, dazzling your partner's workspace with dancing rainbow colors. Now, that's guaranteed to brighten up any workday, wouldn't you say? Give the gift itself for your 15th anniversary, but give them brightened days and a little reminiscent smile every time their paperweight catches the light.
Put a modern twist on the 15th anniversary theme
Crystal gifts are certainly the traditional answer to the 15th anniversary gift quest. But, if you're looking for a more modernized take on your 15th anniversary gift giving, you might want to take inspiration from 15's modern gift theme: watches. Now, we all know that watches are a great gift to give – and this might be the perfect excuse you've been looking for to treat your partner to one that they'll really treasure. But I've gone one better, bringing in watch-based inspiration across a whole range of gift ideas. Check them out below!
26. Fitbit Health and Fitness Smartwatch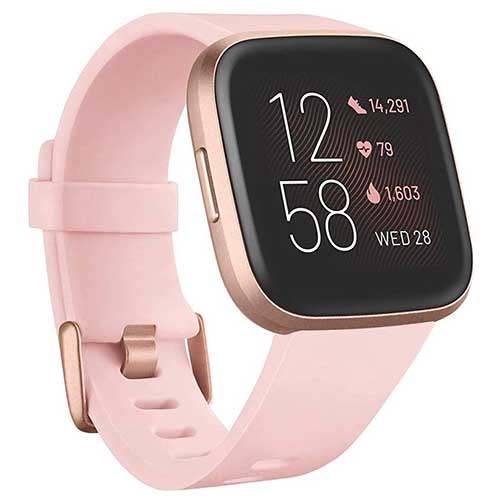 Buy or Read More on Amazon Here ($199.00 at the time of publication)
Kick the modern take on the 15th anniversary gift into high gear with the latest in smartwatch technology. Complete with heart rate monitoring features, sleep quality monitoring to work on your resting habits, exercise tracking and Alexa built straight in, this Fitbit will soon become an indispensable part of your partner's day to day life. Choose from small or large wrist strap sizes to ensure the perfect fit, as well as the ideal color from a whole range of options. From Carbon Black to Mist Grey and Bordeaux to Copper Rose, there's something in the Fitbit range to suit every taste.
27. Garmin Hybrid Smartwatch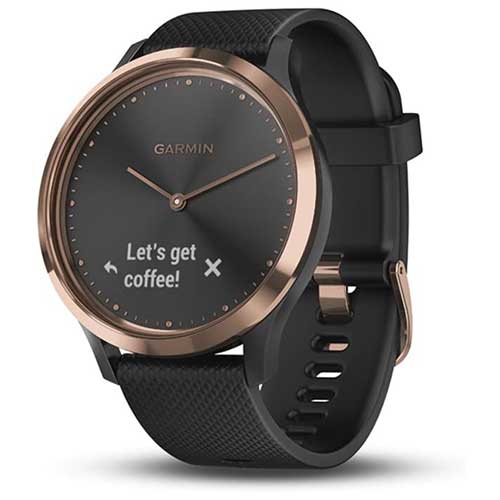 Buy or Read More on Amazon Here ($150.84 at the time of publication)
Like the smart functions but prefer to keep the traditional look of the watch? I've got the perfect solution for you. The Hybrid Smartwatch from Garmin combines the best of both worlds: traditional wristwatch styling with smart features built right into the watch face. These models include all the traditional physical activity and health tracking features, as well as stress and wellness level monitoring. Pair the watch up to any compatible smartphone to receive helpful notifications about incoming calls and messages, as well as calendar commitments. Plus, you can control your music straight from your wrist! The color range is wonderfully wide: from warm gold faces and a leather strap all the way to a fresh sea foam-colored strap paired with a silver face.
28. Men's Stainless Steel Quartz Watch from Fossil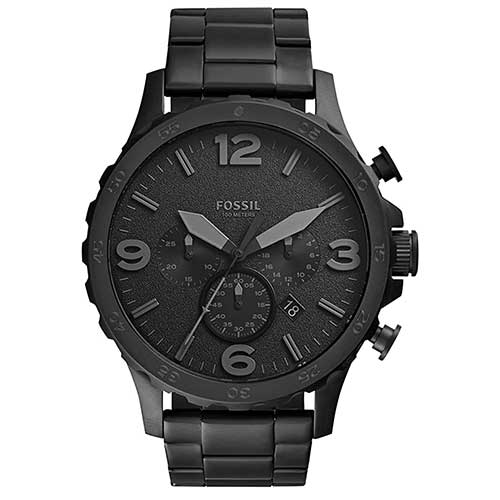 Buy or Read More on Amazon Here ($88.87 at the time of publication)
Keep things modern, yet traditional. Fossil is renowned for its quality craftsmanship and this Stainless Steel Quartz design is no exception. Complete with date window and timer function, your partner will also be able to wear it for short swims and while showering. What's not to like? Fossil's come up with a great way for your partner to keep their favorite accessory fresh and updated over the years, too. You can swap the original strap on this design out for any other compatible size of strap design, changing up the watch's everyday look over the months and years to come. Not a bad follow-up gift idea, right? Plus, these watches come in a range of eye-catching giftable tins, perfect for adding a splash of personality to the gift before they've even got to the good bit!
29. Anne Klein Crystal Accented Mesh Bracelet Watch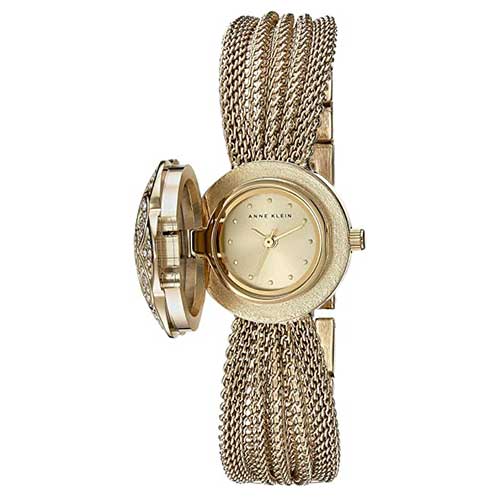 Buy or Read More on Amazon Here (Price varies at the time of publication)
Watch or jewelry, watch or jewelry – maybe it's a gift-giving dilemma you're familiar with! Well, the answer is here. Keep on the 15th anniversary timepiece theme but add an extra dose of luxury with this bracelet watch from Anne Klein. The intricate flower design features clusters of Swarovski crystals, seamlessly hiding away the watch face when it's closed over. The golden mesh of the bracelet makes this a lightweight, exceedingly stylish accessory. It's practical and precious, making the perfect 15th anniversary gift.
30. Long Chain Diamond Pendant Watch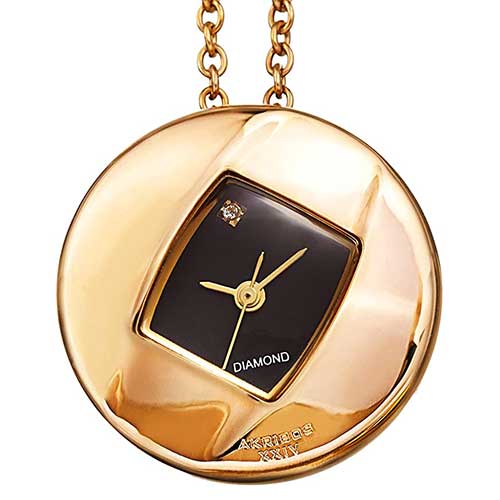 Buy or Read More on Amazon Here ($43.41 at the time of publication)
Top quality functionality all wrapped up in a stylish, elegant case. Sound like a tall order? Not for this Diamond Pendant Watch from Akribos. If you like the idea of working the 15th anniversary timepiece tradition into a piece of jewelry your partner will love to wear, this might be the option for you. Choose from gold, rose gold and silver options, as well as several color shades for the dial face. To top it off, the face is set with a single genuine diamond, for a dash of added luxuriousness.
31. Working Watch Cufflinks from Peugeot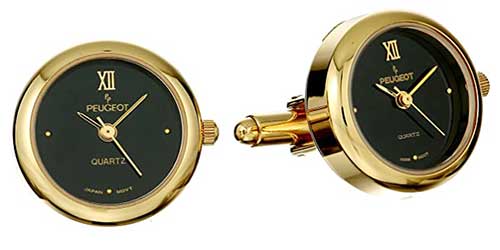 Buy or Read More on Amazon Here ($49.99 at the time of publication)
Working mechanisms are super cool, sure. But why not add a real clock face into the cufflink mix? Peugeot will immediately have your partner thinking of quality craftsmanship, so why not bring that level of sleek right onto your partner's shirtsleeves? Choose from a combination of gold and black, silver and black or gold and white to hit the style nail on the head for your partner. Whatever look you decide on, these are sure to take pride of place in their cufflink collection.
Make your gift giving truly dazzling with these 15th anniversary gemstones: rubies, rhodolite garnets and blue sapphires
Think something with a touch of sparkle would go down well? There are gemstones associated with each anniversary year, so you can easy jazz up your gift giving with a touch of brilliance. Rubies are one of the gemstone associated with celebrating 15 years together, so I've put together a few inspired gift ideas on the theme…
32. Genuine Ruby Halo Pendant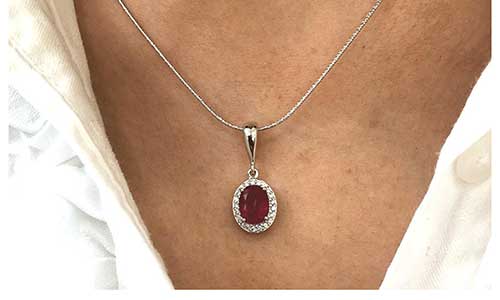 Buy or Read More on Etsy Here ($74.40 at the time of publication)
A stunning oval cut genuine ruby surrounded by sparkling white topaz accents stones… this is sounding good as far as anniversary gifts go, am I right? Treat your partner to a gorgeous ruby gift that they'll cherish for years to come. If it's perfectly to their tastes, there'll be no better way to show them just how much these 15 years have meant to you.
33. Dainty Ruby and Diamond Ring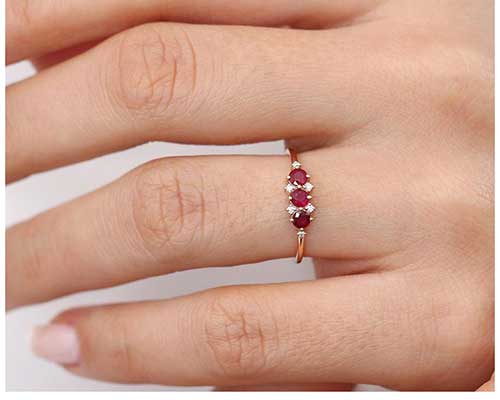 Buy or Read More on Etsy Here ($297.00 at the time of publication)
These stunning rings are made to order, combining rubies and diamonds with your choice of yellow gold, white gold or rose gold. Featuring 9 gemstones in total, this dainty little thing sure packs in a whole lot of sparkle! Perfect for stacking with other rings or wearing as a stand-alone piece, it's a versatile little piece that's sure to be a new staple in your partner's jewelry collection.
34. Cushion-Cut Checkerboard Stud Earrings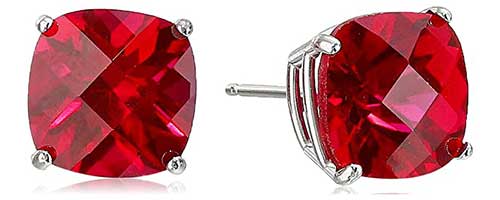 Buy or Read More on Amazon Here ($111.93 at the time of publication)
These studs add a touch of effortless class and color to any day. Choose from a white gold or yellow gold setting to perfectly offset those vibrant red rubies – either will work perfectly against the red, it's just a question of what your partner will prefer.
35. Gold Ruby Bracelet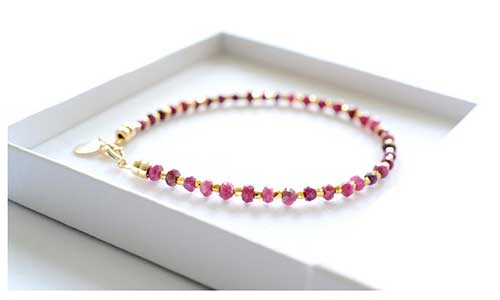 Buy or Read More on Etsy Here ($57.23 at the time of publication)
Rough ruby segments contrast perfectly with smooth golden beads to make this luxury bracelet. The delicate chain structure evenly alternates the rubies and gold, creating the perfect blend where the gold-hued base sets off the gemstones. Elegant and chic, it's a great gift that seamlessly embodies the 15th anniversary ruby theme.
36. Ruby Red Glass Jewelry Keepsake Box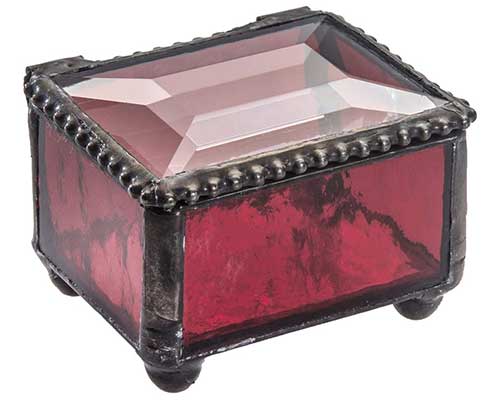 Buy or Read More on Amazon Here ($18.95 at the time of publication)
Perfect as a gift in its own right or as a ruby-toned addition to any jewelry gift you might decide on from this list, this glass jewelry box will be a lovely little feature on any dresser. The ruby red glass means it's right on the 15th anniversary theme, plus your partner will be able to keep easy track of what's stored in there without even opening the lid. Handy, right?
37. Silver Statement Ruby Ring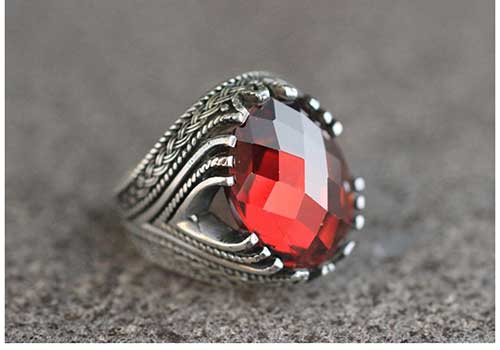 Buy or Read More on Etsy Here ($52.00 at the time of publication)
Right, we're moving straight from the delicate and understated to the chunky and impossible to miss. Sure, the main thing we notice here is the bright, bold central ruby stone, but take a closer look and we'll see the depth of the design. Delicate plait carving around the ring band itself weaves intricately up to the centerpiece stone. Nice.
38. Natural Square Cut Ruby Ring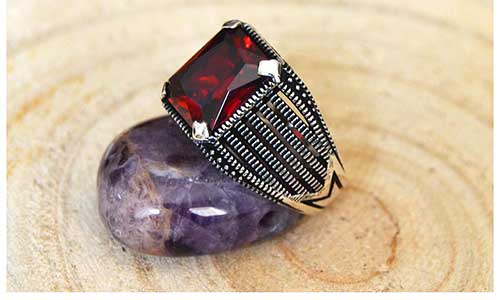 Buy or Read More on Etsy Here ($59.00 at the time of publication)
Here we have another take on the statement ruby ring, again set in quality silver. We've gone for chic, angular edges here for a powerful overall look. There are added perks to this style, too, as the seller offers free custom engraving on the inside of the ring band, making this a gift that's truly unique to your partner. Plus, there's free resizing thrown in, if you need it!
39. Ruby Crystal Cufflinks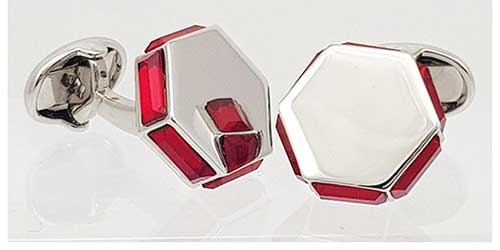 Buy or Read More on Etsy Here ($56.59 at the time of publication)
Fiery rubies bring a real edge to these geometric designer cufflinks. The hexagonal shaping means you really get the best of the gems as they shine through on six sides, perfectly offset by the silver toned setting. These are sure to draw the eye and brighten up any formal shirt!
40. Red Ruby Premium Cufflinks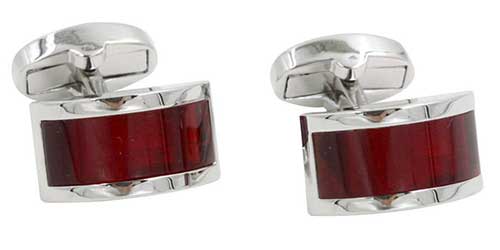 Buy or Read More on Etsy Here ($31.38 at the time of publication)
Yep, it's a variation on the ruby cufflink theme. This stylish pair perfectly position dark red against bright silver for a truly tasteful overall effect. You can rest assured you're getting your value for money, too: there's a 5-year warranty on these cufflinks, plus a full money back guarantee from the seller. What's not to love there?
41. Ruby Blossom Wall Decoration Tealight Holder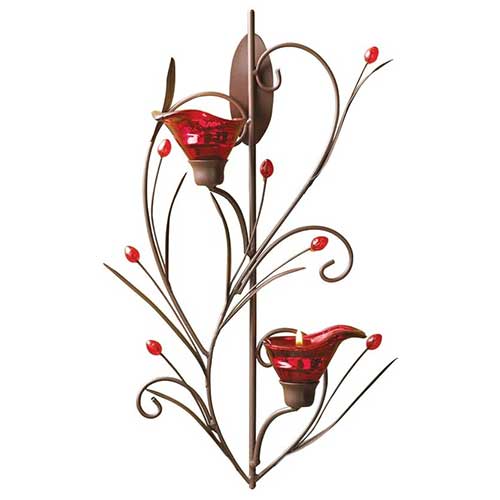 Buy or Read More on Amazon Here ($23.03 at the time of publication)
Now, gemstones might spring straight to mind when we hear the word ruby, but there's a whole lot that we can do with this theme if you're not feeling the jewelry aspect of it. This delicate tealight holder features gorgeous, vibrant ruby red accents in the form of buds and flowers. Sure to brighten up any wall in your home, it's a great gift if you're all about the relaxing ambiance as a couple.
42. Chocolove Ruby Chocolate Bars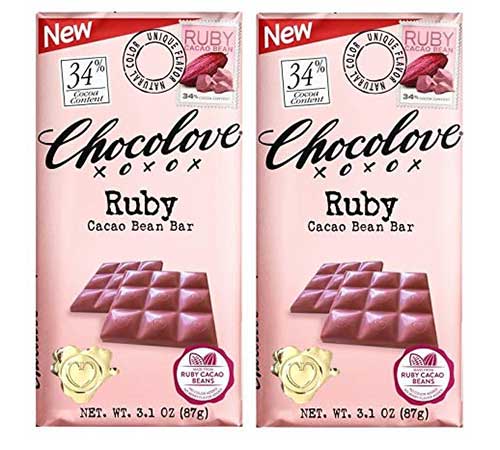 Buy or Read More on Amazon Here ($12.90 at the time of publication)
If you're really looking to impress on your 15th anniversary, why not bring in a smattering of smaller, on-theme side gifts to make the day extra special? You might want to go for a gorgeous piece of ruby jewelry, with some less high-end additions on the side. That's where ruby chocolate comes in: keeping to the ruby theme for the big 15, it'll add a little more sweetness to the celebrations. Go for this ruby goodness from Chocolove and your partner won't be disappointed!
43. Ruby Bliss Organic Hot Chocolate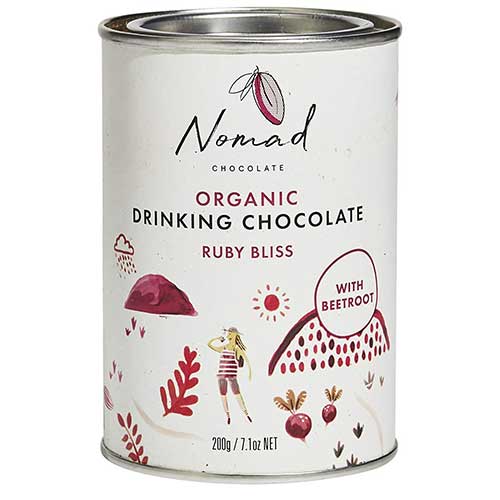 Buy or Read More on Amazon Here ($13.99 at the time of publication)
The same goes here, with this indulgent hot chocolate with a vibrant ruby twist. Dairy free, gluten free, no refined sugar, no artificial flavorings, preservatives or emulsifiers, totally organic, non-GMO… it's a health-conscious eating goldmine in a tub. The ruby red comes from added beetroot and – believe me – it'll be unlike any other hot chocolate experience your partner's treated themselves to before. Go on, add it into that gift pile!
44. Rimmel Stay Glossy Lip Gloss in Claridge's Ruby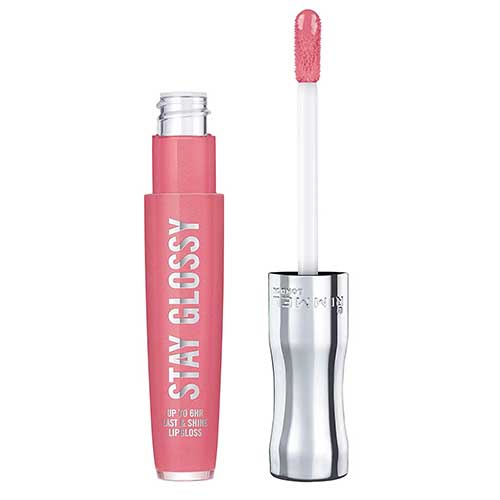 Buy or Read More on Amazon Here ($3.97 at the time of publication)
On the theme of added extras, why not take the ruby theme into the realm of make-up? This Rimmel lip gloss in Claridge's Ruby is just one example of the countless ruby themed shades you can find across all the make-up brands out there, in products like lipstick and nail varnish, too. Why not browse your partner's favorite brand for some ruby shades and see if there's anything you know they'd like? Bringing things back to this particular ruby lip gloss, the shaped applicator brush will make sure your partner's gloss game is on point, every single time.
Rhodolites are go
Small diversion into side gifts aside, let's get back to the real gemstone business. If you're looking for on-theme glamour – and you want some options that are just as eye-catching, but offer something slightly different to the ruby options we've seen – then rhodolite could just be the perfect choice for your 15th anniversary gift.
Rhodolites are part of the garnet family and come in natural shades of rose pink to red. Choose the shade of stone and style of jewelry to perfectly suit your partner – you've had 15 years to pick up on the details of their taste, after all!
45. Rhodolite Garnet Gold Wire Wrapped Pendant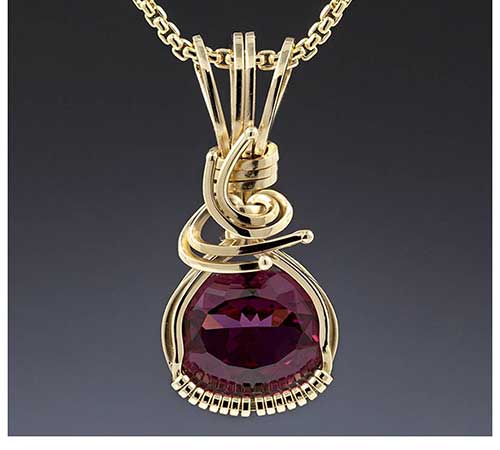 Buy or Read More on Etsy Here ($389.00 at the time of publication)
Chic geometric shapes encase a gorgeous rhodolite stone, perfectly balancing the gold tones against the deep red gemstone. The intricate wiring makes this a truly unusual pendant design, perfect for a partner who's into their unique jewelry. This is an ideal high-value gift option – just bear in mind that you'll need to purchase a chain separately. But that's no issue – you can get one from the very same seller!
46. Rhodolite Garnet Teardrop Ring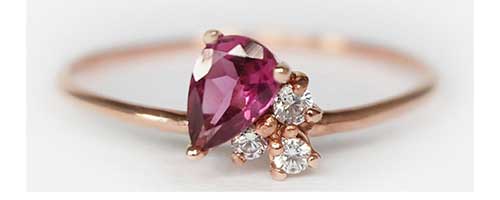 Buy or Read More on Etsy Here ($192.60 at the time of publication)
This delicate little ring features a teardrop cut rhodolite nestled against a cluster of diamonds. Truly exquisite, it's a wonderful gift that nails the 15th anniversary theme, no doubt about it. You can add some design input, too, to make the perfect ring for your partner. Choose from white gold, rose gold or yellow gold in the customization options, along with sizing specifications. If you want, you can even request custom gemstone combinations within the design, but make sure you're sticking to rubies, rhodolite garnets or blue sapphires if you want to stay true to the 15th anniversary theme.
47. Rhodolite Minimalist Stud Earrings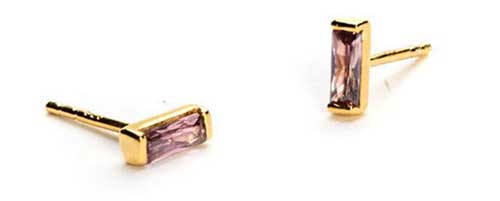 Buy or Read More on Etsy Here ($20.40 at the time of publication)
If your partner's taste in jewelry is truly minimalist, or they're on the petite side of humanity, these dainty rhodolite studs could be the perfect gift option. Choose from gold, rose gold or silver settings and backing to suit their style. If your partner's got multiple piercings, why not browse the maker's wider range to see if you can gift them a couple of sets of rhodolite studs in different styles? It has to be said: sometimes more is more, right?
48. Rhodolite Sterling Silver Huggie Hoop Earrings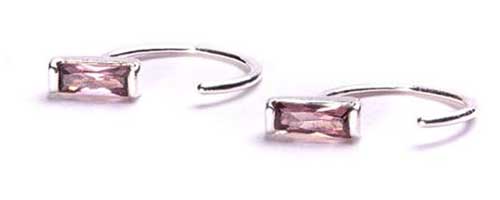 Buy or Read More on Etsy Here ($29.00 at the time of publication)
Following that train of thought, let's talk huggie hoops. Similar in style to the rhodolite studs above, these earrings take dainty and turn it edgier. If that's more your partner's style, why not make it a 15th anniversary to remember with this stylish set of mini hoop earrings? The rhodolite touch is a truly romantic one, ensuring they'll remember these 15 years with a smile whenever they wear their new hoops.
49. Rhodolite Garnet Gold Drop Earrings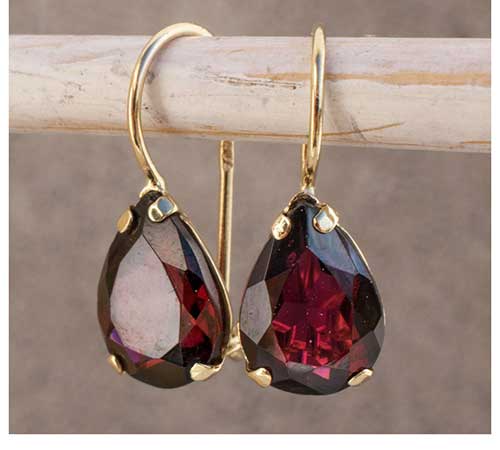 Buy or Read More on Etsy Here ($116.00 at the time of publication)
These gorgeous drop earrings feature vibrant yellow gold set against wonderfully dark maroon and burgundy rhodolite shades. Handmade and high quality, they're a real classy gift that's perfect for everyday wear. Treat your partner to a gift that's right on the 15th anniversary theme, but will feature in their day to day life for all the years to come. These tasteful teardrop gems are sure to go down an absolute treat.
It's time for sapphires
If you're really taken by the jewelry idea but red is simply not your partner's thing, never fear: there's another 15th anniversary gemstone option out there which is worlds away from the sultry red tones of rubies and rhodolites.
Enter blue sapphires. Classy, elegant and cool, they're a totally different look and feel to the gemstones we've already looked at, but they're still right on that list of 15th anniversary themed gift giving.
So, let's take a look at some great gift ideas on the blue sapphire theme!
50. Sterling Silver and Natural Sapphire Bracelet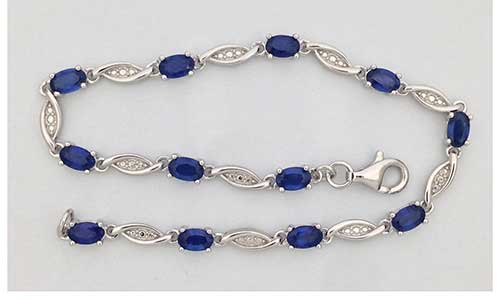 Buy or Read More on Etsy Here ($62.99 at the time of publication)
This tasteful bracelet features alternating sterling silver detail and oval cut natural blue sapphires. The slender design and metallic color scheme will add a touch of ice cool chic to any jewelry collection, making the perfect anniversary gift. Plus, the secure hook clasp fastening will mean it'll stay safely on your partner's wrist, ready to be admired by all who see it. Shipped in a classy gift box, this one will arrive already primed for the giving. Minimal work for you, for maximum results.
51. Antique Vintage Blue Sapphire Cluster Statement Necklace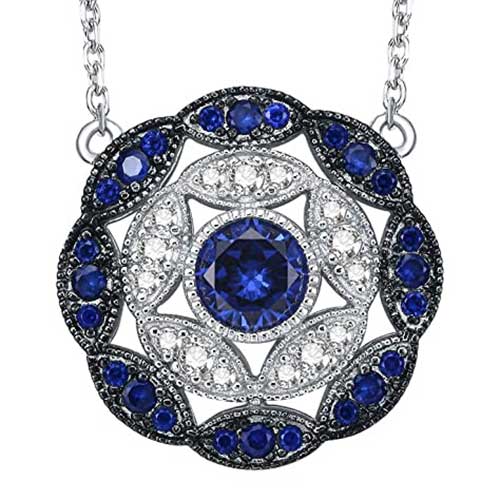 Buy or Read More on Amazon Here ($20.99 at the time of publication)
Sometimes, there's just nothing that can stand-in for a real dose of glitz and glamour. If your partner's not about the minimalist side of jewelry, take a look at this stunning statement necklace, artfully set with clusters of minute sapphires for a truly wow-factor finish. The floral feature design alternates the blue and white stones, ensuring the contrast shows both shades off to the fullest. Now, this one is sure to draw some eyes!
52. Solitaire Sapphire Pendant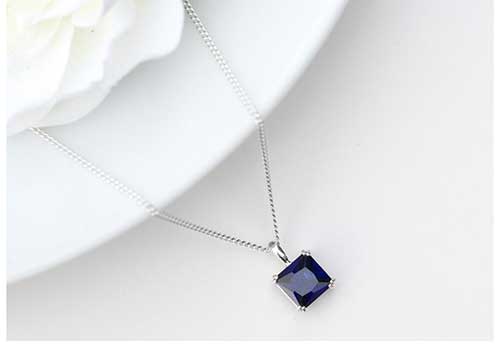 Buy or Read More on Etsy Here ($95.38 at the time of publication)
From the extravagant to the minimalist, there's really something for everyone if we're talking sapphire gifts. Take this solitaire princess cut sapphire pendant, featuring a fine sterling silver chain, chic four-claw setting, and deep blue sapphire centerpiece. FYI, this brand uses lab grown sapphires for this particular piece, meaning they're ethically sound and much more environmentally friendly than conventionally mined stones. Perfect for a meaningful anniversary gift that's truly conscious, too.
53. Genuine Blue Sapphire Cluster Flower Stud Earrings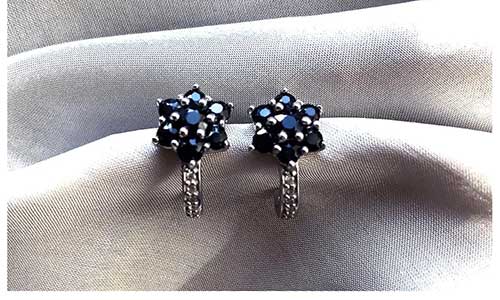 Buy or Read More on Etsy Here ($85.85 at the time of publication)
These floral themed studs feature petal-shaped blue sapphires set above a delicate white topaz tail section that curves softly around the ear lobe. Glamorous and sophisticated, they'll add an extra dose of elegance to your partner's jewelry box. Love the design, but reckon they'd look better in red? Your luck is in because the maker produces this particular flower stud design using rubies too. They're the ideal choice for sticking to that all-important 15th anniversary gemstone theme (remember: it's rubies, rhodolites and blue sapphires that we're talking about), while still giving yourself some design options.
54. Dainty Yellow Gold and Natural Sapphire Ring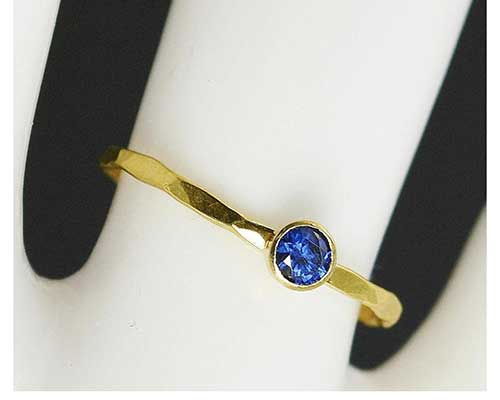 Buy or Read More on Etsy Here ($82.30 at the time of publication)
A slim, top quality gold band set with an icy blue sapphire. Simply gorgeous are the words that spring to mind, and that's what these rings promise: beauty in simplicity. The metal band is hammered by hand, adding – as the maker puts it – an element of rustic elegance to these delicate little rings. There are natural and synthetic stone options available, so make sure you check those out if you have a particular preference for the gift.
55. Oval Shape Blue Sapphire and Diamond Pendant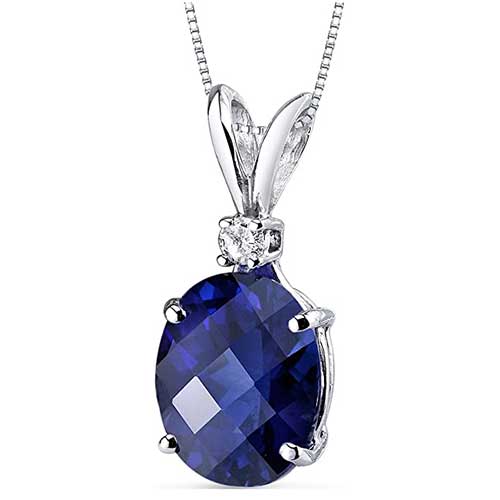 Buy or Read More on Amazon Here ($139.99 at the time of publication)
This oval cut gemstone pendant features a deep Ceylon blue synthetic sapphire, nestled alongside genuine diamonds. The fine link sterling silver chain comes as a complementary addition to the piece, so you'll be all set to gift the pendant to your partner just as soon as it arrives. Handcrafted and exquisitely designed, this will be sure to take your partner's breath away on your 15th anniversary.
56. Genuine Blue Sapphire Halo Drop Earrings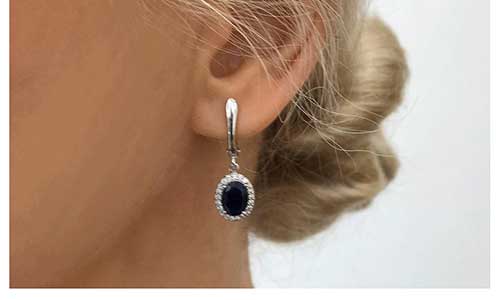 Buy or Read More on Etsy Here ($98.44 at the time of publication)
Nothing says elegance like a pair of gemstone drop earrings that perfectly frame your partner's face. These oval-cut sapphires are perfectly highlighted by the surrounding white topaz accent stones, which will sparkle away as they catch the light. Plus, the anti-tarnish finish will keep these beauties looking good as new for many years to come. If you're looking for more on-theme options in this design, it's also available with rubies as the central stone. Have a browse and think about whether blue or red would look best set against your partner's face. Ah, the freedom of choice!
57. Cuff-Daddy Crystal Solitaire Light Blue Sapphire Cufflinks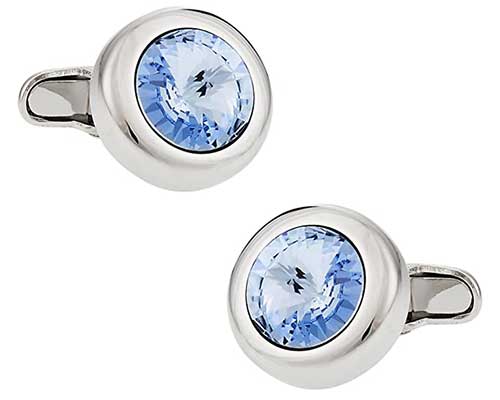 Buy or Read More on Amazon Here ($19.99 at the time of publication)
Now, gemstones options are somewhat thinner on the ground if we're talking traditionally male gifts. But, that's by no means to say that there aren't great options out there! Take these light blue sapphire cufflinks, for example. Perfectly on theme, they encapsulate that 15th anniversary sapphire blue. Silvery blue tones will bring an added touch of class to any shirtsleeve – perfect for any formal occasions your partner will be donning a shirt for. The sapphire cufflink set will come in a sleek branded gift box that will also double up as a traveling storage box if they need to take these cufflinks on the move with them. Think business trips or events you go to together… it's sure to come in useful, right?
58. Blue Austrian Crystal Sapphire Cufflinks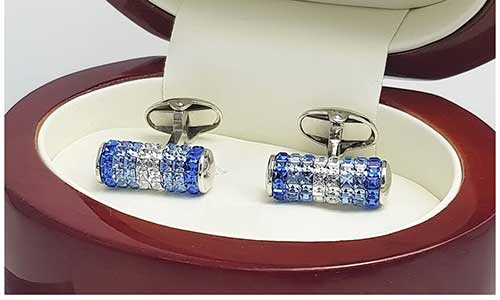 Buy or Read More on Etsy Here ($57.17 at the time of publication)
These sapphire cufflinks from British designer Ian Flaherty are a truly perfect gift for a partner who takes pride in adding those finishing touches of unique style sense to a smart outfit. We all know guys have pretty limited options when it comes to making formal wear show their personal style – one of the options they do have is getting a great pair of cufflinks involved. Blue and white shades catch the light in equal measure for a cascade of truly stylish top quality. Even the gift box they come in says chic!
59. Sterling Silver Matte Finish Sapphire Cufflinks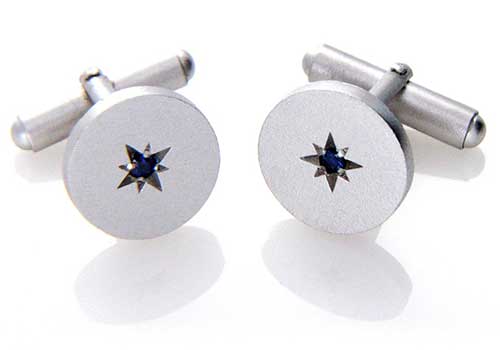 Buy or Read More on Etsy Here ($101.73 at the time of publication)
Feeling something a little more understated? Sure thing, glitz isn't for everyone. These minimalist sterling silver cufflinks could be just the option for your partner. The sleek design features brilliant-cut deep blue sapphires, just more subtly than some of the other options we've got on the list. Set within a lowkey star shape, the sapphires are still there to be admired.
60. Sterling Silver Sapphire Ring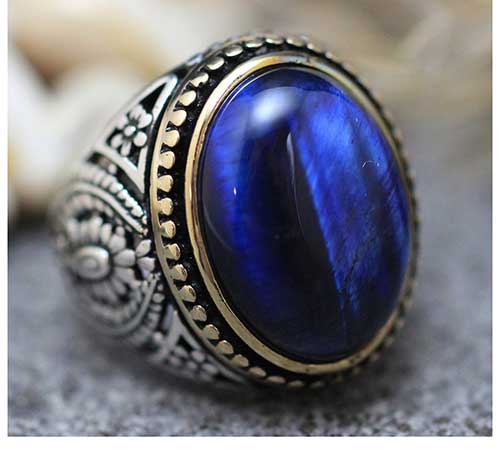 Buy or Read More on Etsy Here ($60.00 at the time of publication)
Now, we're turning from the minimalist to the most out-there option yet. Nothing says luxury like a statement gemstone ring, so that's exactly what we've got to round off this list of gift inspiration here. The oval-shaped sapphire is the undisputed king of this ring design, set against the intricate carving on the thick metal band. If you're taken with the idea, this seller has a whole range of sapphire rings on offer – go wild.
Well, we've ranged far and we've ranged wide across the wealth of gift inspiration that's out there to make your 15th anniversary a truly memorable one. Channel your partner's tastes, style, and habits into whatever works best, mixing and matching across these categories until you've hit the gifting jackpot. All that remains for me to say is: a very happy 15th anniversary!
Related Posts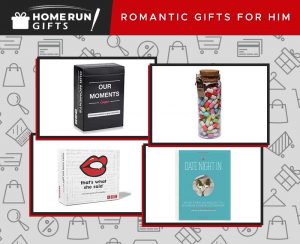 Romantic Gifts for Him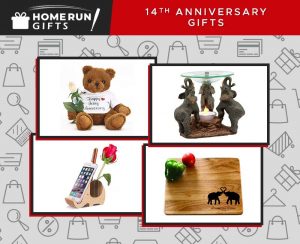 14th Anniversary Gifts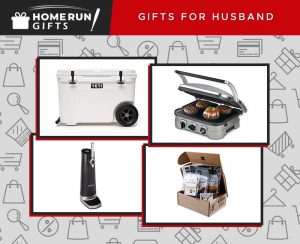 Gifts for Husband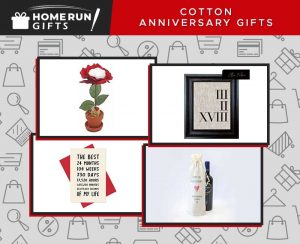 Cotton Anniversary Gifts