You know that tweed necktie you gave to Grandpa a few years ago for Father's Day (or was it Christmas or maybe his birthday)? He still has it. He still has the flat cardboard box it came in and the tissue paper liner. It still looks as crisp and colorful as the day you gave it to him.
That's because he hasn't touched it since the day you gave it to him.
Don't be that family. Give Grandpa something memorable that he doesn't already have and something he'll show off to his friends.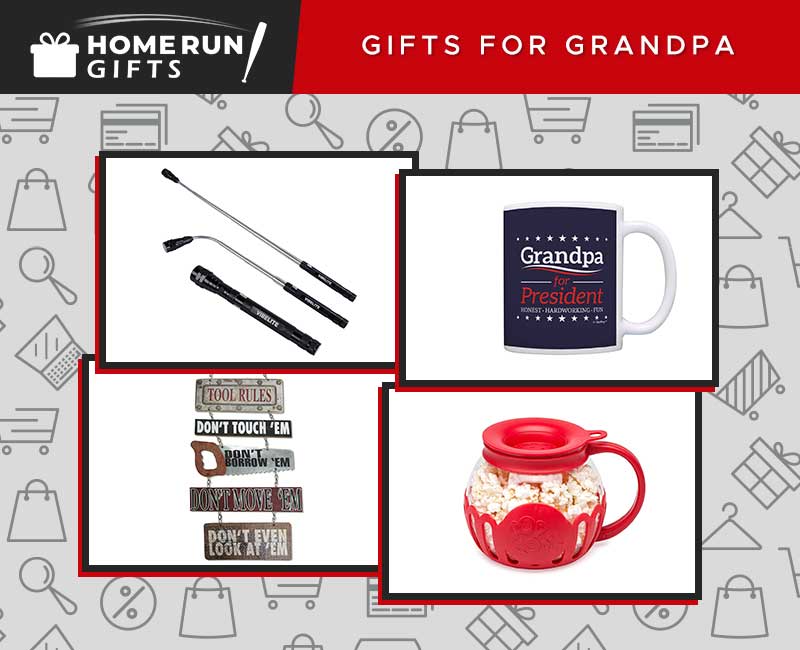 So, here, without undue fanfare, social buzz or hand-wringing angst, is our comprehensive list of gift ideas for Grandpa. After checking out this list, you might also want to take a look at our favorite retirement gifts for men.
List of Gifts for Grandpas
Below, I've listed out what I think are the best gifts for grandpas. Simply scroll through and pick out your favorite gift or gifts!
First Category: Slogan Merchandise
New production techniques have made it possible to quickly engrave almost anything, from golf clubs to tubes of toothpaste. Not only that, the slogans have become more daring – OK too daring in some cases – funnier and more profound. With engravings, everyday items become special, reminding Grandpa of the loved one who gave him the funny coffee cup or the fishing lure with his name on it. Slogans can be personalized in many cases. You just tell the supplier what you want and they'll engrave it. Here are some engravable grandpa gifts that he might enjoy.
1. Papa Mug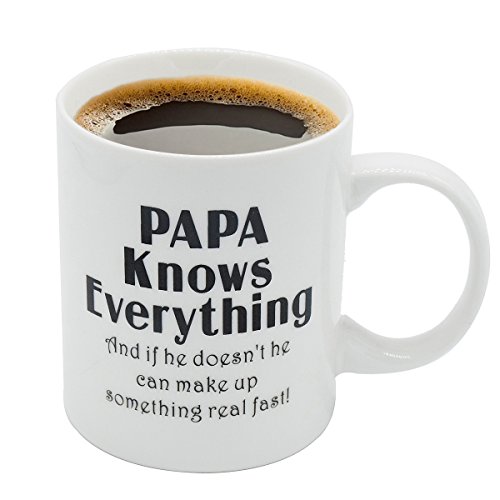 Buy or Read More on Amazon Here ($12.99 at the time of publication)
Papa knows everything! If you don't believe it, just ask him. If your Grandpa is one who asserts his authority on every topic, whether asked to participate in the conversation or not, this coffee cup is for him.
Made of premium bone porcelain, this mug holds 11 ounces of his favorite coffee, tea, hot chocolate or soup, and it's sure to last for years. There are some cheap imitators of this product, so be sure to get the official Papa Mug by iChefer.
Who knows, your grandpa may recognize himself in the words of this slogan and change his know-it-all ways. Um, I need to get back to you on that.
2. Grandpa for President Mug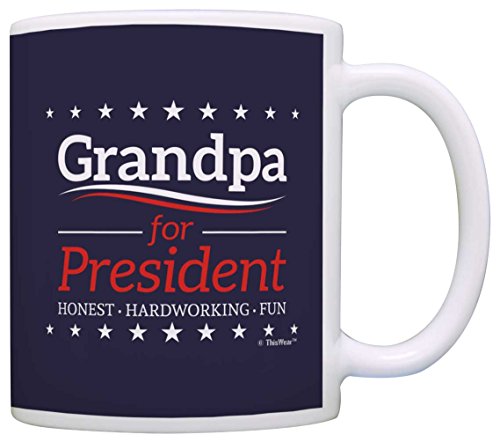 Buy or Read More on Amazon Here ($14.99 at the time of publication)
This could be the perfect complement to the Papa Knows Everything mug above. Imagine the cringe-worthy family arguments over politics you can avoid just by giving in and saying, "Yeah, Pops. I think we can all agree that you'd make a pretty darn good president."
A standard 11 ounces, this coffee cup will become one of Grandpa's faves. The mug is warranted against defects, but there are no guarantees it will do a darn thing about Grandpa's tendency to spout off about every political topic that comes up. You'll need Grandma's assistance in that quest.
3. What Happens in the Garage Sign
Buy or Read More on Amazon Here ($9.79 at the time of publication)
It's campy. It's cool. It's the truth. What happens in the garage stays in the garage.
The first time you heard your Grandaddy say a swear word, it probably was in the garage, followed up with, "Now don't go repeating that to your grandmother." The garage is also where Grandad had his, um, calendars from the auto parts store – the ones he never threw away, even when a new year started.
This metal sign is old school, with old school artwork and a rustic appearance. It measures 16 inches high by 12.5 inches wide. Now, if that's not a good fit for Gramps, the order page includes about a dozen other slogans that might be better options. All in fun, they say.
4. Ambesonne Man Cave Curtains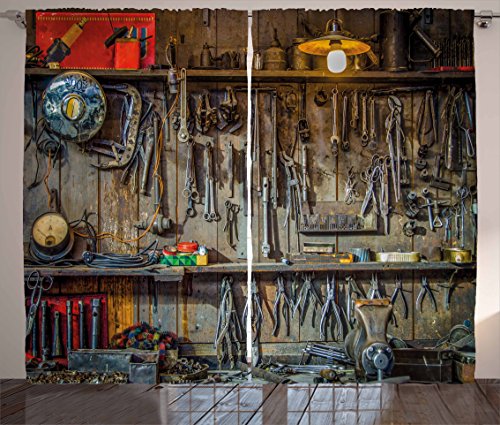 Buy or Read More on Amazon Here ($66.95 at the time of publication)
Scarlett O'Hara would definitely not have made a dress out of these curtains, or probably would never have allowed them in Tara in the first place. Now Rhett would have them in his man cave for sure, because, frankly, he didn't care what Scarlett thought of 'em.
Still, if you want to get something this out-of-the-box for Grandpa, you might want to check with Grandma in order to prevent a Civil War around the house. The curtains are made of satin polyester and measure (together) 108 inches x 84 inches. You'll have to come up with your own rods and hardware, and figure out where the best place to hang them would be. These curtains are machine washable on delicate setting. Do not put them in the dryer, or they'll end up measuring a little less than they did out of the box. There are over 40 other patterns to choose from if you don't care for the rusty wrench motif. There are also other sizes listed on the order page.
Among the other patterns were graphics like a boat with the text "Go Jump in the Lake," as well as some other snarky slogans. Sunset seems to be another popular theme, with designs showing jumping dolphins silhouetted against a setting sun, a hot air balloon at sunset. Graphic designs include an Oktoberfest poster, and an old world map, and then there's also pleasant scenery like Horses grazing in a valley, a mountain stream, a mountain lake, and western scenery.
Next Up: Cool Gadgets and Electronics
Don't underestimate senior men's affection for gadgets. They're still at that impressionable age, where everything new, clever or unorthodox is going to elicit a sparkle of fascination. Most grandpas still remember rotary dial telephones and hand-crank ice cream freezers.
Keep in mind that Grandpa might not ever use some of these items for their intended purpose. They just like having cool gadgets and they like showing them off. So when Gramps enters the room and says, "Hey. I got something I want to show you," don't scatter like he's about to do a pull-my-finger prank. He might want to show you a gadget he's kind of proud of.
5. Ring Video Doorbell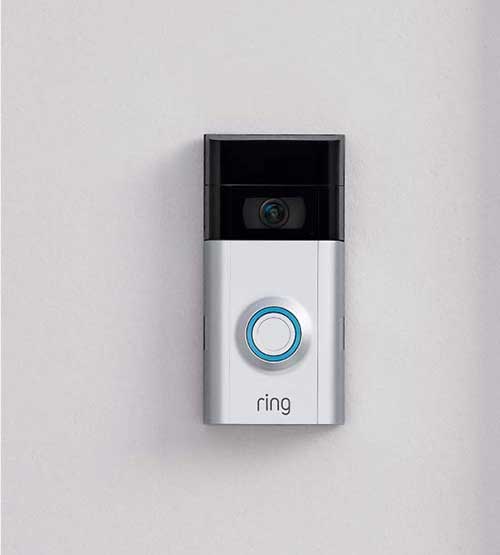 Buy or Read More on Amazon Here ($199.00 at the time of publication)
Get protection for Grandpa, and peace of mind for yourself with the Ring Video Doorbell. You've no doubt seen the TV commercials that show would-be-burglars dashing off the front porch after they've been outed by the Ring.
Keep in mind, however, that the Ring isn't a crime-stopper but a crime-deterrent. The success of the Ring at preventing break-ins depends on the bad guys' reaction to being spotted. If they don't notice or don't care, they might continue with their plan. Still, your home is safer with the Ring than without it.
When paired with the Echo Show, or other compatible devices, the Ring displays a wide-angle HD view of whoever is at the door and opens an audio feed on your command. You can talk to the person at the door and determine if he is friend or foe. The doorbell can be set to alert the homeowner as soon as motion is detected, or when the button is pushed. The homeowner decides when or if to talk to the visitor.
The Ring is also addressable online, so the homeowner can call up video on demand just to check on things. He can also "answer" the door audibly from a remote location. Installation and set-up are easy. They even provide the tools that are needed.
6. Echo Show 5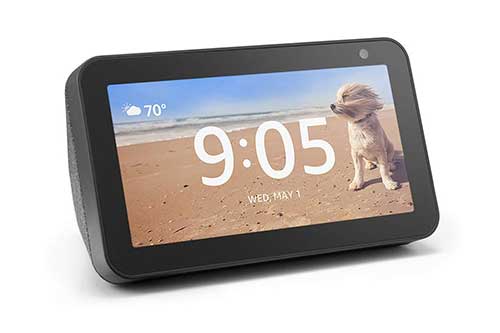 Buy or Read More on Amazon Here ($69.99 at the time of publication)
The latest in a growing series of voice-recognition devices, the Echo Show has all the audio capabilities of its predecessors but adds video for a robust personal experience.
Alexa brings her "A" game with the Echo Show, adding a whole new range of functions, thanks to its 5.5-inch video screen. She can show movies, videos and TV shows, make calendars, tell time, wake you up in the morning, predict the weather, provide traffic alerts, help cooks with recipes on display, have video chats with online friends and family and stop bad guys in their tracks when paired with the Ring Doorbell.
The combination of the Ring and Echo Show has been a hot ticket in online sales, and for good reason. It provides a level of home protection never before possible at this price. Compatible devices can be controlled by the Echo Show, either at home or remotely. At last count – according to Amazon – Alexa has over 80,000 skills. As you would expect, it responds to "Alexa." But it does not transmit streaming content to the cloud until it hears "Alexa," and you can turn the microphone off altogether if you so desire. The same goes for the camera.
7. Magnet 3X LED Pickup Tool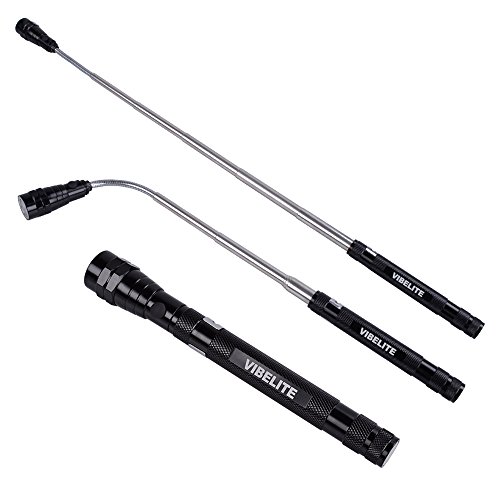 Buy or Read More on Amazon Here ($10.99 at the time of publication)
Grandpa just isn't as flexible as he used to be, and that little incident involving a backyard football game Thanksgiving of '97 sure didn't help matters any. So, when he drops something in his shop, it often stays on the floor, because he can't bend over very easily to pick it up.
To the rescue comes this handy and versatile gadget. Not only can Gramps see where that runaway flathead screw went with the triple LED light, he can pick it up with the built-in magnet. The head extends as far as 22 inches and has the ability to bend almost to a right angle. The wand rotates 360 degrees at the base, so even awkward positions are no problem (for the unit).
It's operated by four LR44 batteries that just might – but don't count on in – be the same size Grandpa uses in his hearing aids. If not, it would be a great idea to throw in some extra LR44 batteries, because they are sometimes difficult to find.
This comes with a 12-month warranty. If it fails to operate due to a defect within the first year of use, the Vibelite Corporation with replace it.
8. Five in One Bluetooth Speaker, Phone Screen Magnifier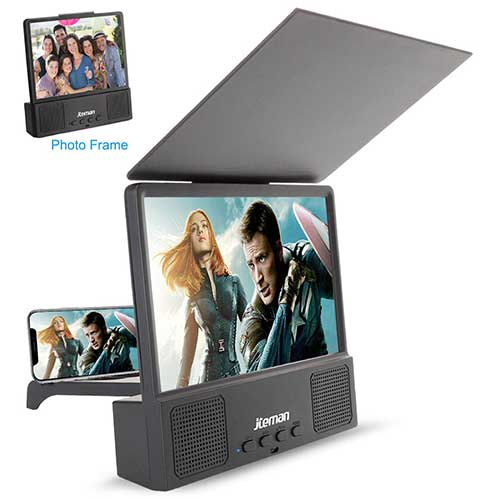 Buy or Read More on Amazon Here ($25.89 at the time of publication)
It's kind of hard to watch Forrest Gump on a smartphone screen, especially for Grandpa. Assuming this isn't over his head technologically (Don't underestimate seniors' abilities to understand technology) this gadget ranks as a pretty handy device.
In the spirit of accuracy, though, you're not going to find five separate functions. The product literature groups function together and call the combination a whole new function. But for the functions it does perform, it does so excellently. Reviews are very much in agreement on that.
So here's what you get with this device: (1) Mobile phone screen magnifier. (2) Bluetooth speaker. (3) Phone charger.
The acrylic lens screen amplifier optically magnifies the output of your smartphone, which rests in a cradle for hands-free operation. The cradle accommodates iPhones and Android devices. The projected image is 5×7, roughly 2.5 times the size of the typical smartphone screen. The manufacturer was wise not to push the magnification any further than that because with increased magnification comes decreased resolution.
This helps in the alleviation of computer eye strain, a serious issue that comes from looking at computer and tablet screens.
Computer eye strain is a common malady that results from exposure to computer screens for excessive amounts of time. Symptoms include watery eyes, haziness, drowsiness and the eyes' inability to focus.
Ophthalmologists recommend reducing the overall exposure to computer screens and to employ the "20-20-20" rule. The 20-20-20 rule is this – every 20 minutes, look away from your computer screen and stare at an object 20 feet away for 20 seconds.
The Bluetooth speaker generates a full-bodied stereo sound with more bass and more overall volume than the smartphone's tiny speakers. Not only can you play the audio track that goes with movies and tv programming, but you can also listen to music by itself.
While the video is playing, your smartphone is being charged. Video is hard on smartphone batteries, and this feature is worth its weight in gold.
It's easy to use, and it folds up nicely into a sturdy shell.
9. Natural Wood Cell Phone Stand/Charging Station Organizer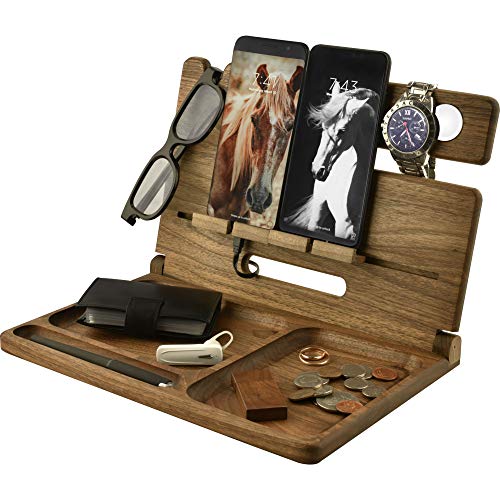 Buy or Read More on Amazon Here ($59.95 at the time of publication)
While it's not at all a new concept, and there are similar units that perhaps hold more stuff, this is one of the nicest looking organizers I've seen. Beautiful real wood construction, with notches, holes and rounded-off corners give this an unpretentious appearance, yet it serves a good purpose.
The walnut, which comes in two shades, is finished with eco-friendly materials instead of paint, stain or varnish. The unit closes up into a 12×8 rectangle and has handy little shelves and slots for credit cards, keys, a cell phone, and whatever retirees carry around in their pockets. It does not, however, come with a charger.
The bottom trays can hold a wallet, notes, hearing aids, coins and probably, in some cases, pocket lint.
10. Decodyne Mantel Clock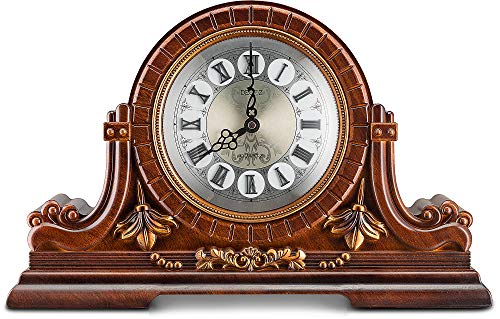 Buy or Read More on Amazon Here ($54.95 at the time of publication)
A truly beautiful item that Grandpa will treasure the rest of his life and think of the giver every time he sees it, this faux antique mantel clock is a keepsake.
The design is vintage and the details are faithful to the style of a long-ago era. Roman numerals on a seven-inch dial complete the look. This is a no-wind clock that keeps virtually perfect time, thanks to dedicated quartz movement set-up.
The only downside is that the base is not made from real wood, but rather a high-grade polyresin (that will actually me much easier to take care of). This gorgeous clock measures 18 inches across, rises 11.5 inches high and is 3.5 inches deep.
11. StarBright Cooler Light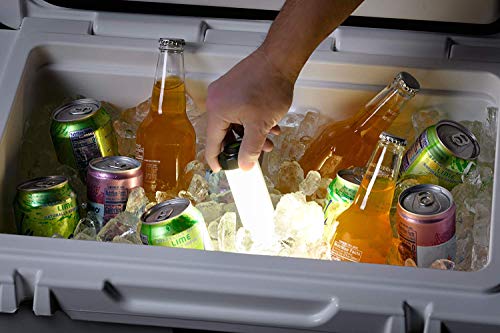 Buy or Read More on Amazon Here ($22.95 at the time of publication)
The StarBright Cooler light is so cool, Grandpa will invent reasons to use it. It's a light that you set down inside your cooler, so that you can see where you're reaching. This prevents accidental retrievals of grape soda when you were really hoping for an adult beverage.
No mounting required. Just toss it in the cooler and close the lid (and avoid the temptation to see if it shuts off like the refrigerator light). It will shine on in the cold for up to 60 hours on a full charge with the white light, one of two choices of light color. You can also choose red light for those times when you need a more subtle light, and still get 31 hours of use.
An LED light does all the work, and will even indicate that a recharge is necessary. The recharge time is five hours, and the device can be charged from any USB-equipped charger. The LED puts out a minimum of heat, so ice melting is not a problem. Even if you get down to just cold water in the bottom of your cooler, the light will still work,  It's waterproof up to a depth of six feet.
I guess you could say this is the coolest light ever!
12. Ohuhu Rechargeable TENS Unit for Muscle Relief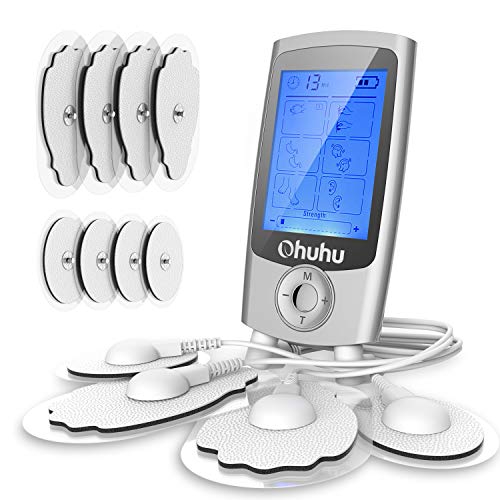 Buy or Read More on Amazon Here ($29.99 at the time of publication)
Let's get a couple of things cleared up from the beginning. One, this may not work for some people. Because of the diversity of causes for muscle pain, there will be some for which the electrical stimulation has no effect. Secondly, the unit ships with very fundamental instructions that didn't translate very well into English.
But I'm recommending this product nonetheless because those who gained relief have been ecstatic in their comments.
The Ohuhu TENS unit has been cleared by the FDA as a safe therapy, but the rating does not address the issue of effectiveness. Designed by professionals in the body stimulation and bio-electric discipline, this unit is easy to use (hence the lack of instruction manual?) and comes with a diversity of modes that allow the user to dial in his exact need.
This unit can be applied for easing pain and fatigue through stimulation that flows through the electrodes and deep into muscle tissue. Time and intensity can be adjusted for up to 60 minutes of therapy. There are 16 pre-programmed modes, mimicking the effects of various massage techniques.
It comes with a handheld control unit, with four leads plus eight interchangeable pads. It operates on a built-in rechargeable battery.
If you're buying this for Grandpa, try to determine the source of his pain. This is most effective for pain that results from repetitive motion of muscle groups. Pain from muscle tears, edema and inflammation will likely not be affected.
13. NOZZER Anti-Sleep Watch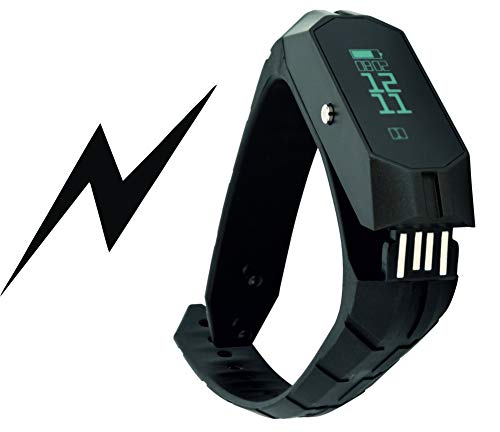 Buy or Read More on Amazon Here ($20.99 at the time of publication)
Stop the presses! We have breaking news in the technology sector! It's a device that will keep Grandpa from falling asleep in his recliner!
"Fat chance," you say? "You don't know my grandfather. He could fall asleep inside a tornado."
Well, he might not have met a device quite like this. The Nozzler watch incorporates patented electro-stimulation technology to charge the nervous system when it's on the verge of shutdown. It's fast, safer than oral stimulants like energy drinks and undetectable by anyone other than the wearer.
While napping grandpas are legendary, they're not the only people having issues staying awake and alert. Monotonous activity, driving, exposure to computer screen light, sitting quietly in meetings or listening to lectures can induce unwanted drowsiness. There is a time and place for naps, but nodding off at inopportune times can be embarrassing and even dangerous.
The Nozzler is a watch (with time and date) with a pair of electrodes that come in contact with the skin. Impulses are sent at 99 different levels, including zero. The effectiveness is immediate, and the return to the resting state is immediate upon turning off fatigue management.
It comes with a standard size wristband but a larger one is available by special order. It's hypoallergenic and is waterproof, but only to a depth of three feet. The Nozzer is powered by a rechargeable Li-Pol battery. The battery is not replaceable, but should last for years. To charge the battery, you can plug it into any standard USB port. In the sleep prevention mode, the battery should last up to 20 hours. In watch-only mode, it will last 90 days.
Be aware that the sudden onset of fatigue or drowsiness might be indicative of a serious medical condition. Using this product might help the wearer overcome the symptoms, but it will do nothing for the underlying cause of those symptoms. The product literature did not mention pacemakers, but I would suggest that if the intended user is wearing a pacemaker, you should check with his doctor before using the Nozzer.
14. Neck, Shoulder and Back Massager With Heat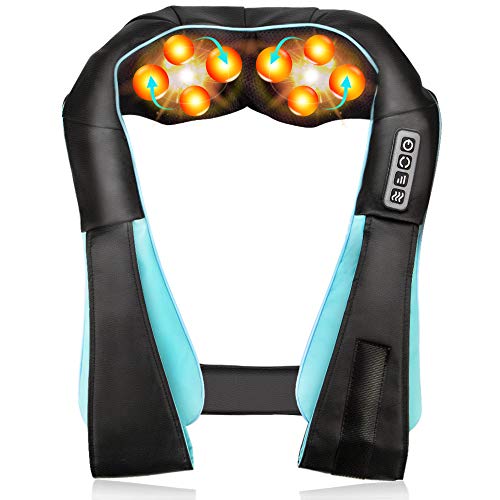 Buy or Read More on Amazon Here ($39.99 at the time of publication)
A lot of items like this are gimmicky and don't deliver on their promises, but this one does. This provides deep tissue massage plus heat for muscle relaxation. It's totally hands-free, resting across the shoulders.
Sixteen separate massage nodes – eight large and eight small – provide a pleasant kneading massage motion, much like a shiatsu massage. There are two massage intensity levels and three heat levels, plus the motion can be reversed. It has a 15-minute auto-off function to prevent overheating.
Multi-layer mesh fabrics and high-grade PU leather make this massager comfortable to the user without compromising the effectiveness of the unit. If there is a downside, it would be the rumble of the motors as they turn the massage nodes. Some users may find it hard to hear the TV when using one of these.
15. Transparent Water Drop Weather Predicting Storm Glass with Wood Base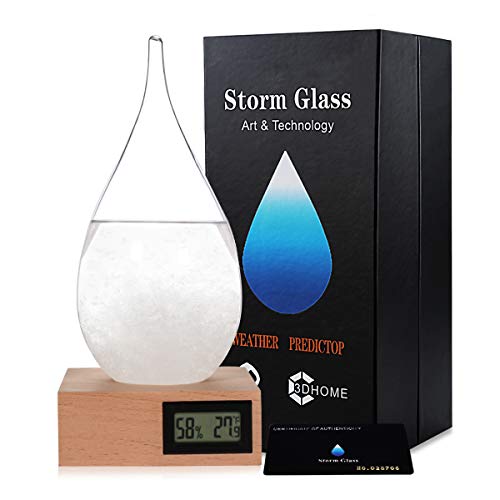 Buy or Read More on Amazon Here ($29.99 at the time of publication)
Grandpa has always claimed to know more than the TV weatherman, so here's his chance to really steal his thunder.
The crystals inside this beautiful storm glass change color when the weather changes – actually in advance of the arrival of the weather in question. Even if it turns out not to be very accurate, it is a lovely decor item and a conversation piece.
The storm glass rests on a handsome wood base that has an inset LCD screen showing the temperature and the relative humidity. The instructions say that it will take up to two weeks for the crystals to acclimate to the surrounding environment.
16. Canon EOS Digital SLR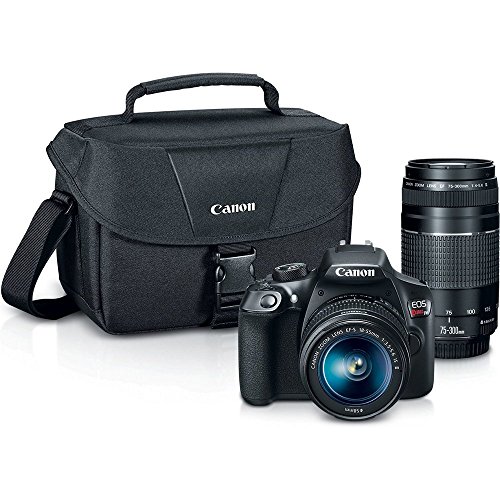 Buy or Read More on Amazon Here ($399.00 at the time of publication)
Everyone, including Gramps and Granny, should graduate from the cell phone camera or the boxy point-and-shoot and get into the enjoyable world of DSLR photography. While the picture quality on even the simplest cameras has risen dramatically, it still can't match a  DSLR for creative freedom and overall resolution.
This is the best jumping-off point for DSLR photography. DSLR stands for digital single lens reflex, which means the visual imagery is captured by a single lens, and the photography is able to see – by way of a mirror – everything the lens sees. With cell phone cameras and point-and-shoots, the photographer does not see what the lens sees. He sees an approximation of what the lens sees, either through a second viewing lens or a small video screen.
Canon knows what it's doing, and has been the first camera for thousands of accomplished photographers, most still using pro scale Canon equipment. The EOS can take all of the guesswork out of photography and make all the necessary adjustments itself, or it can leave some of the decision making up to the photographer. That is where the creative element comes in.
Photography is both an art and a skill, and amateur photographers too often become too much of one and not enough of the other. The Canon EOS makes it easy to learn the nuances of photography and at the same time master the technical side without quite so much trial and error.
This kit comes with a Canon EOS Rebel T6 camera body, with shooting modes for every situation, a pop-up flash, and a hot shoe for more serious flash attachments; a 18-55mm zoom lens and a 75-300mm zoom lens; battery and charger; and a camera bag.
You can use the camera's WiFi to send photos directly to your smartphone, and from there, you can communicate with the world. Maximum resolution is 5184 x 3456, more than enough to have poster size prints made with incredible sharpness (try doing that with a cell phone photo.)
You can even shoot HD video that is stunning in quality.
This is a bit of an investment for a gift, but perhaps several family members can pitch in on the cost. It's worth it.
Automotive
It really doesn't matter the age – men love their cars or trucks. Senior men probably have an even greater affinity for their rides, as they have been around long enough to have a little restraint when something shiny catches their eye.
Gifts for men like this are everywhere, but beware. There are some super-cheapo products – or packaged combos – that rate high on promise and low on delivery.
You should find the gift ideas in our automotive category a cut above the rest. Happy browsing!
17. Garmin Drive 51 GPS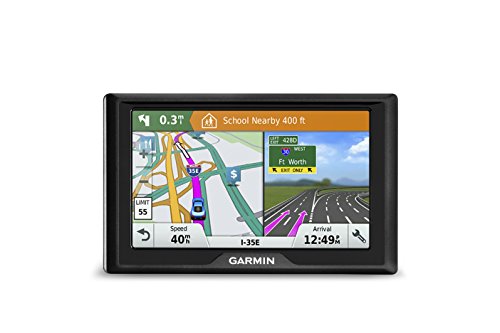 Buy or Read More on Amazon Here ($98.41 at the time of publication)
Ten years ago or so, GPS units were as hot a ticket during the holidays as Tickle Me Elmo dolls. Backorders were common, and store scrums in the automotive electronics aisle occurred as shoppers tussled over GPS units.
Then, along came smartphone-based GPS systems, Google Maps, Verizon Navigation, and even dashboard built-ins and suddenly, the third-party GPS system wasn't as big of a deal anymore. Some GPS manufacturers went belly-up, but the good ones diversified and fought the good fight in the marketplace and the consumer comes out the winner.
Garmin is probably the gold standard in the after-market GPS realm, and their products just keep getting better and better. The Garmin Drive 51 is a fine example.
This is way more than a Point A to Point B guide. It comes with lifetime maps for the U.S. or the U.S. and Canada. Lifetime maps mean that the unit updates itself on new construction, new bridges, closed roads and anything that's different from the way it used to be on the road. If you have a built-in navigation system in your car, you have to pay for the updates and they're outrageously expensive.
The Garmin Drive 51 interfaces with TripAdvisor nad FourSquare to provide hotel, restaurant, entertainment and refueling recommendations on the trip. It also includes live updates to current traffic situations.
The spoken directions are more thorough than ever before, and it's like having a friend guide you through town. Tips like, "Get in the left lane as soon as possible," and "turn left just past the red building onto West Lucille." Dangerous curves, high accident locations, and traffic jams are pointed out as well.
The monitor measures 5×7 and easily mounts to your dashboard. It also pairs with the Garmin BC 30 wireless backup camera (sold separately).
18. Stander HandyBar Support Grab Bar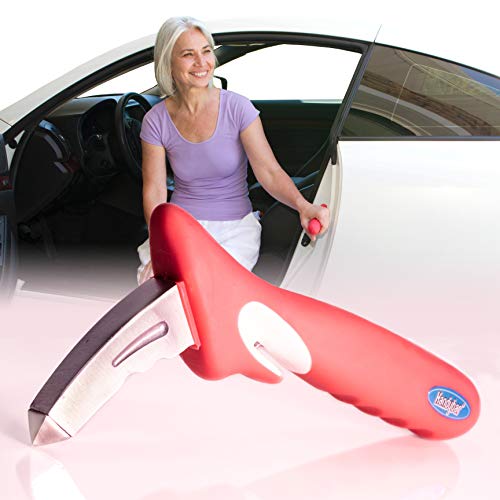 Buy or Read More on Amazon Here ($25.00 at the time of publication)
Independence is crucial to seniors. Don't tell a senior he can't or shouldn't do something. He'll do it just to prove you wrong. Unfortunately, it often proves you right.
The ability to climb into or out of a car is often taken for granted by the younger generation, but as we age, it becomes a real challenge that we wish we could take for granted. So this Stander HandyBar offers a way to save face – maybe even literally.
The HandyBar hooks into the car door latch and provides support for individuals with mobility problems, stiff joints, vertigo or a host of conditions. You can keep it in your pocket or toss it back on the seat, and chances are, no one saw you using it.
There are also some safety features built in. The metal hook can be used to safely shatter window glass in an emergency, and the HandyBar even has a seatbelt cutter if the unthinkable happens. It has an ergonomic nylon grip and it can support up to 350 pounds.
Before getting this item, make sure that the car it is intended for has a U-shaped door striker latch that is securely attached to the car frame by at least two sheet metal screws.
19. Starling Car Trunk Organizer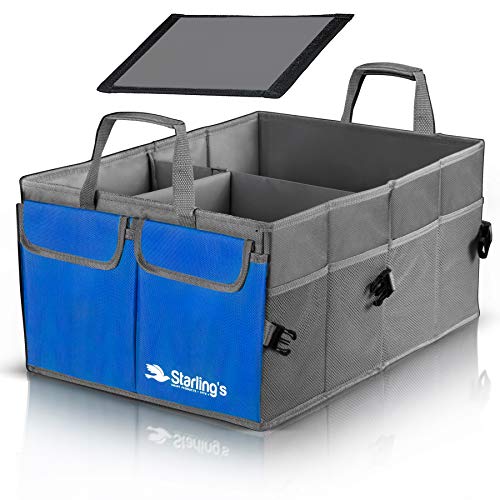 Buy or Read More on Amazon Here ($29.97 at the time of publication)
It's like a picnic basket for your car trunk! The perfect solution to the clutter in the car trunk, this 24 x 15 x 12 organizer has pockets, compartments, pouches, and dividers enough to satisfy the most OCD grandpa ever. (Of course, grandpas aren't generally known for being OCD.)
This has perfect places for tools, groceries, cleaning supplies, automotive products and household goods you don't want to keep in the house. It's tough enough for the task, with construction consisting of 1680-denier polyester. The bottom is non-slip and waterproof, and the organizer won't collapse or fold up on itself when the weight shifts.
The product description says it's a car trunk organizer, but don't stop there. It can be a back seat organizer, a utility room organizer, a laundry room organizer, a pantry organizer or even a man cave organizer. It makes a great recyclable shopping bag also.
Get Gramps one and get one for yourself.
20. ThisWorx Car Vacuum Cleaner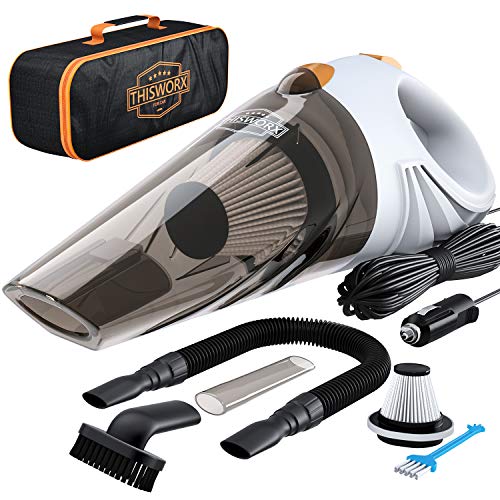 Buy or Read More on Amazon Here ($32.97 at the time of publication)
The brand name says it all – this works. And when you're talking about a handheld car vacuum cleaner that plugs into the power port, being able to say "it works," is saying a lot.
It's not wimpy. This vacuum cleaner has a 106-watt motor and a metal turbine to generate an impressive amount of suction that can get gum wrappers, twigs, lint, grass and whatever that is out of the carpet and seats. The 16-foot power cable is plenty long enough for the vacuum cleaner to reach the trunk.
It comes with three different nozzles and a nice tote bag.
21. Roofmaster Rooftop Cargo Carrier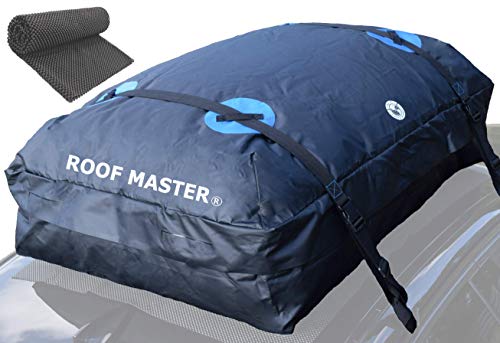 Buy or Read More on Amazon Here ($64.99 at the time of publication)
Grandpa might be the only person you know who's nerdy enough to have one of these on his car, but he's also the only person who's smart enough to have one of these on his car. So the next time you're packing for a vacation and you're agonizing over what to leave behind because you don't have room, just remember Grandpa's solution.
The Roofmaster doubles your car trunk space, holding 16 cubic feet of stuff. Instead of deciding what to leave behind, you might be wondering what else you can pack to fill it out. It can be fitted to any car, van or SUV, and you don't have to have luggage racks. Rubber door hooks (you close the door on them to hold them in place) hold the Roofmaster instead of a luggage rack. No worries about scuffing up your car's finish, either. The Roofmaster ships with a high friction mat to protect your car and give the Roofmaster stability.
Made out of nylon Cordura fabric, it's completely waterproof as well. The makers of this product are so confident it will last and do everything they say it will do, they off a 24-month warranty. And here's something Gramps will appreciate: it's made in the U.S.
Gardening/Outdoors
If you think you can't go wrong getting Gramps something that goes with camping, fishing, hunting, gardening, lawn care or golf, you could be right. The problem is, if he love those activities, chances are he already has whatever it was you were thinking of getting him
The items in our outdoors category are popular among users, meet high quality standards and hopefully represent something he lacks or doesn't know that he needs yet.
22. ReLeaf Leaf Scoops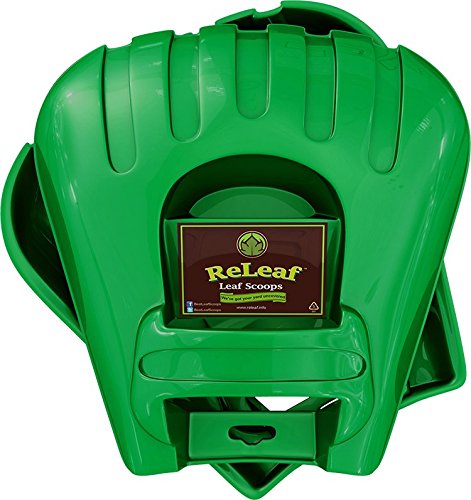 Buy or Read More on Amazon Here ($29.95 at the time of publication)
Imagine Edward Scissorhands with green scoops instead of scissors. That's what you get with the ReLeaf Leaf Scoops: A pair of scoops that will grab a massive clump of leaves in one fell swoop.
Not only do they enable faster work in yard clean-up, but they offer protection for the hands. You just never know what might be lurking beneath those brown and orange leaves. Their usefulness isn't limited to leaves. They can be used for fruit harvesting, spreading mulch, picking up grass clippings and picking up after Fritz, your 240-pound St. Bernard (Details on that particular chore are available upon request, but you can guess what we're talking about, here.) Two scoops for Grandad!
23. Garden Kneeler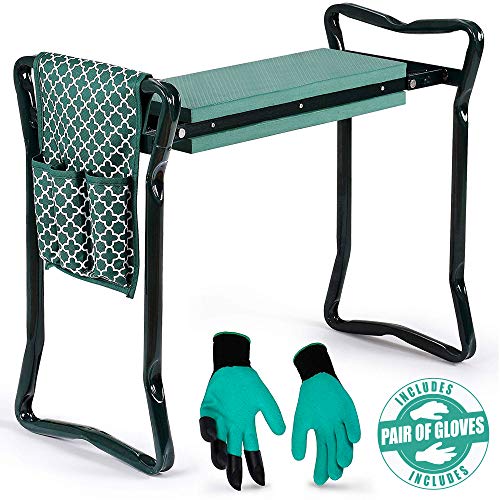 Buy or Read More on Amazon Here ($35.97 at the time of publication)
I have one of these and I can attest that it is one of the best purchases I've ever made for outdoor work. I used it at least five times a week during the growing season, and I plan to use it this winter on indoor projects (like deep-cleaning the baseboard and the edges of the floor).
It's a pretty simple idea – a padded kneeling bench for tired old knees (which I have). A sturdy steel frame keeps it steady. But here's the really cool part: you can flip the unit upside down and it becomes a seat because the crossbar is padded on both sides. Being able to take a break and sit down anywhere in the yard is wonderful. It tends to keep me on task and gives me the gumption to keep going with my project and resist the siren's call to return to the air conditioned house, where my 10-minute breaks ends up being a 45-minute break.
Unlike the unit I bought, this comes with a free pair of gardening gloves*. It also comes with a tool pouch that hangs over one of the handles, but I found the tool pouch to be a little flimsy, and if you flip the kneeler over to use as a seat, you have to detach the tool pouch. So I just use mine without the tool pouch.
The handles fold inward when not in use, so you can hang this on a nail in your garage or tool shed. I have accidentally left mine out in the rain a time or two, with no ill effects, but don't try that at home.
If Grandma helps Grandpa with some of the gardening chores, get her one too. It will help maintain peace in the valley.
Food Prep
If your grandfather cooks, grills, bakes or just makes messes in the kitchen and expects someone else to clean them up, these gift ideas might just be the thing. From the whimsical to the useful and maybe even the sensational, these items will at the very least bring a smile.
24. Ecolution Original Microwave Micro-Pop Popcorn Popper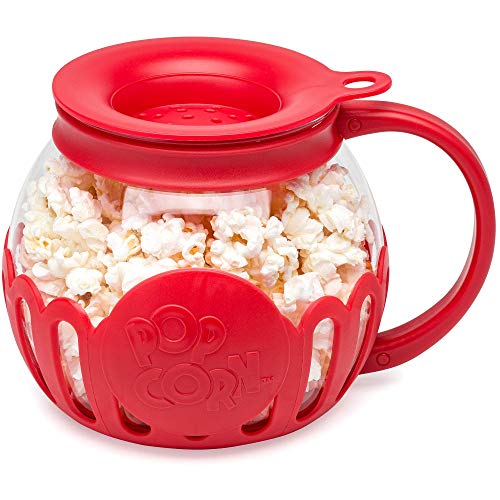 Buy or Read More on Amazon Here ($14.99 at the time of publication)
You know those popcorn bags where the popcorn either burns or leaves a few dozen unpopped kernels in the bottom of the bag? The Micro-Pop Popcorn Popper intends to put an end to all that.
Featuring a temperature safe borosilicate glass bowl, the Micro-Pop is safe to use and thorough. You will save money on the bagged popcorn, and avoid all the artificial colors and scorched paper. Eco-friendly grandfathers will appreciate the fact that every bowl of popcorn popped with the Micro-Pop saves a bag of wax-treated paper from languishing in a landfill for the next however many years.
The plastic handle and lid are also microwave safe, and you don't need a separate serving bowl. The popcorn chef simply pours a modest amount of popcorn kernels into the lid, which also serves as a measuring cup, and then dumps the contents into the bowl for popping. Do you like buttered popcorn? (Silly question.) You can lay a pat of butter or margarine on the lid, and the heat from the popping process melts the butter, which drips down into the popcorn below.
You can add more than just butter. Chocolate chips, nuts, M&Ms, cashews and more can all be added, either to the lid or the bowl.
Some users report that the plastic doesn't hold up very well, so inspect your Micro-Pop before each use.
25. POLIGO 19-Piece BBQ Grill Set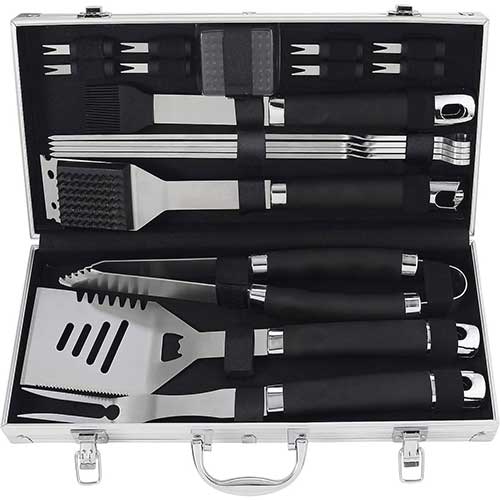 Buy or Read More on Amazon Here ($23.99 at the time of publication)
This might not be the most original idea in the world, but I'll bet you that Grandpa will like it anyway. This is one serious BBQ tool set!  Walking out to the patio toting the aluminum carrying case, Gramps will look like Minnesota Fats strolling into the pool hall with his custom pool cue, coming to show the wannabes how it's done.
All the utensils have stainless steel handles and high-quality business ends. Here's what all you get: 4-in-1 spatula, power tong, barbecue fork, cleaning brush, basting brush, grill brush, four skewers, and eight corn holders.
The handles are long, meaning the user can keep back a bit from the heat of the fire. Everything is dishwasher safe, but most often, the utensils can easily be hand washed with soap and warm water.
26. Grill Master Apron – The Man, the Myth, the Legend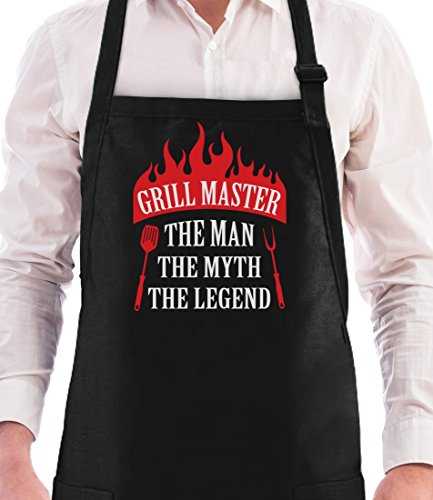 Buy or Read More on Amazon Here ($12.95 at the time of publication)
The perfect complement to the BBQ utensil set above, this lifts Pops onto the pedestal upon which he belongs!
There's something about the competitive nature of men that make every venture they undertake a challenge. This apron goes well with those "Here, hold my beer" moments. It doesn't matter if Grandpa never grills anything more complicated than a cheeseburger, he needs to know that his family considers him lord of the grill and king of the coals.
Made of high-quality material with two pockets, this fits even the largest of the large and the lightest of the light. Laundering this item is a piece of cake.
27. Grillholics Stuffed Burger Press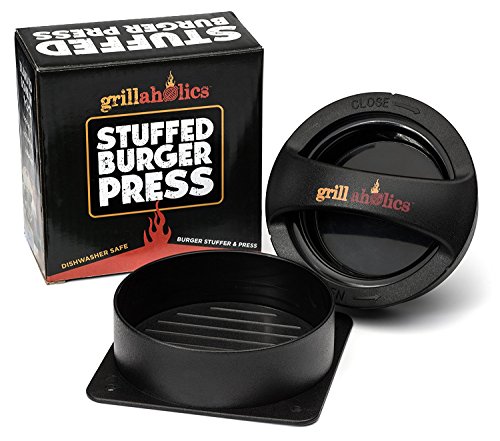 Buy or Read More on Amazon Here ($14.95 at the time of publication)
So Grandad went to the retirees' cookout and had a scrumptious grilled burger that had blue cheese embedded inside. Now he wants what the grill chef used when he prepared the meat.
It might have been this – the Grillholics Stuffed Burger Press. This super-handy device allows the cook to put ground beef in the press, add stuffing and then seal it, ready for the grill. Made of heavy duty, BPA-free nonstick plastic for a clean press every time.
The steps are easy: (1) Press a little more than half the meat in the burger press.
When you lift the top, there will be a cavity in the meat. (2) Fill the cavity with your chosen filling (cheese, onions, mushrooms, bacon, veggies, etc.) (3)Take the remaining meat, flatten it and lay it on top of the filling. Close the press again to seal the burger.
Tools
Tools and grandfathers go hand-in-hand – literally. Poppa might very well have enough tools in his shed to open his own store, but there will always be something that doesn't work like it used to, or there is a new feature that he doesn't have or he's recently lost, broken or loaned out a tool to someone who never brought it back.
28. Tool Rules Wall Sign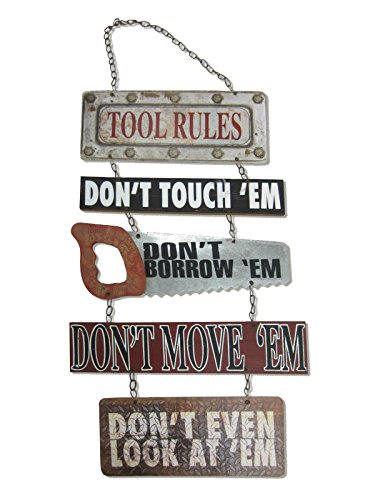 Buy or Read More on Amazon Here ($27.06 at the time of publication)
This five-panel hanging sign is just da bomb. It explains in no uncertain terms why you don't mess with Poppa's tools.
Headed by "Tool Rules", the statements get more and more intense and threatening. "Don't Touch 'Em" is the first, followed by "Don't Borrow 'Em," then "Don't Move 'Em, and finally, "Don't Even Look at 'Em."  Anyone who's ever violated Grandpa's rules of the shed, know what a serious offense it is.
The signs are all wood, with rustic colors and roughed-up text. It's not a huge item, measuring 14 inches wide and 23 inches tall, but it gets its point across. The boards are connected by a metal chain.
This would make a great addition to a garage, shop or man cave.
29. WORX Pegasus Multi Function Work Table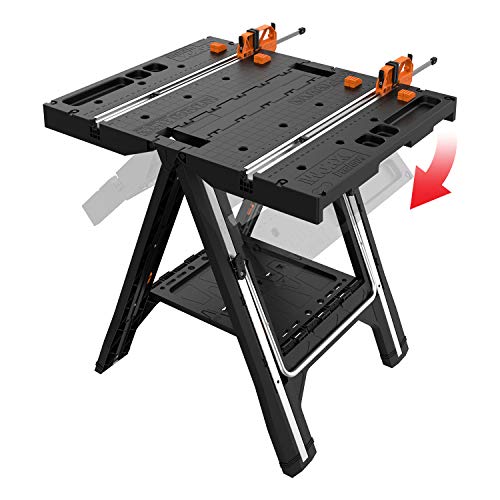 Buy or Read More on Amazon Here ($89.99 at the time of publication)
Of course, Gramps has a work table, but can he carry it with him with one hand?  If he had this, he could!
The WORX Pegasus work table is sturdy, useful, versatile and portable. It supports 300 pounds as a work table, 1000 pounds as a sawhorse and yet folds flat in seconds and it only weighs 28 pounds.
Gramps' work table probably doesn't have built-in clamp guides, clamp dogs and clamps to hold his work material in place. There are also recessed places for tools, screws, nails, and whatnot, so they don't go rolling off into the black hole of the garage floor, where things disappear without a trace.
Two of these can be joined via interlocking tabs for an expanded workspace. It folds up flat in seconds for storage or transport to a different work area. The top measures 27.2 inches by 37 inches. It's plastic, but it's dense plastic that is well supported by a waffle grid on the underside.
It comes with one of the best warranties you'll find –  three years.
30. Wondruz Multi Angle Ruler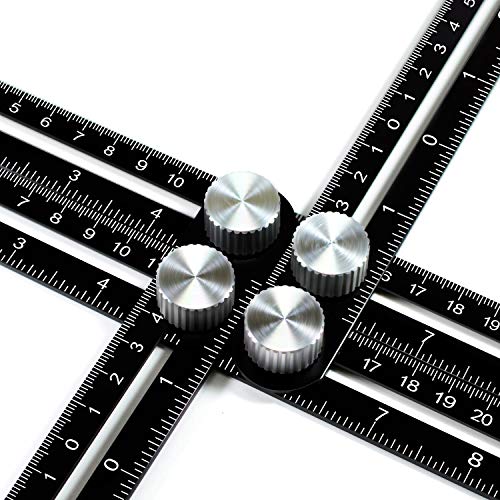 Buy or Read More on Amazon Here ($12.99 at the time of publication)
Wondruz has the angle on the world of measuring devices with this ingenious system of rulers. The rulers are connected to pivot points that allow them to be spread into any angle necessary. The various rulers slide and lock into place at any desired angle and virtually any shape can be attained.
The markings on the rulers are etched into the aluminum by laser for accuracy and readability, and it comes in a luxurious velvet pouch. All of the arms are dual-calibrated in both inches and centimeters.
31. Goplus Tool Cart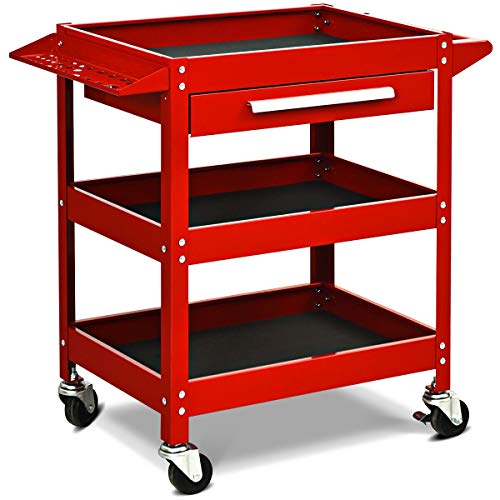 Buy or Read More on Amazon Here ($119.99 at the time of publication)
Get Grandpa a little three-tiered red wagon that he can roll across the floor of his garage like Grandma with her shopping cart on double coupon Wednesday. The Goplus Service Tool Cart can carry up to 350 pounds on its three shelves and heavy duty casters.
The red paint will keep its gleam for years, as it is powder coated onto the steel. (Powder coating is a process where the paint in dry powder is electrically charged to the opposite polarity of the steel, resulting in better adhesion.) This solid finish not only will resist scratches and scuffs, but also grease and grime, so it cleans up really easily.
And, like Grandma's shopping cart, the wheels rotate 360 degrees for easy navigation, and they all have step-on brakes. The top tier includes a pull-out drawer, as well as a tool holder with holes for screwdrivers, hammers, pliers, wrenches – whatever you need for it to hold. There is a non-slip cushion for each tier.
It measures 31.5 inches long, 16 inches wide and 31.5 inches tall and weighs 37 pounds.
Toys
Men never grow up. You know that, right? Toys, whether actual toys or expensive "big boy" toys are important diversions in the life of the American male. They provide satisfaction, tactile stimulation, an outlet for restlessness, and many other benefits.
These are toys that kind of run outside the box. They're clever and amazing, and sure to draw a surprised smile from Gramps.
32. Revell Visible V-8 Engine Model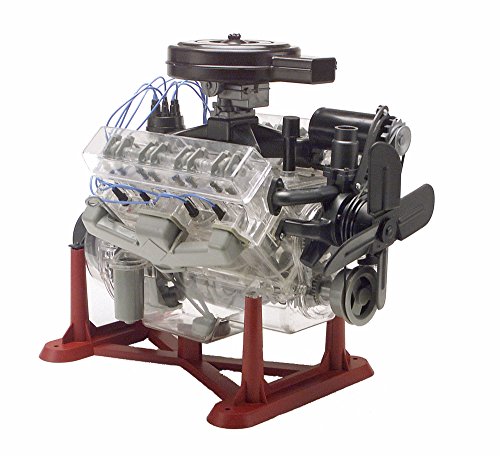 Buy or Read More on Amazon Here ($57.95 at the time of publication)
You hardly ever see a V-8 engine anymore in real life. It's all six-cylinders or even four, and sure, some of them have some serious turbochargers, but they're still not a V-8.
So here's a replica V-8 engine that you build from scratch. It's from Revell, the maker of millions of model airplanes that guys of Grandpa's generation grew up with. It won't be a fast and easy build. There are 314 parts. Some of them attach with glue, and some with screws and some parts can be painted (paint and glue not included).
It's see-through and it moves. The finished product has a crank that you turn, and the crank powers the pistons in a very realistic fashion. The kit even includes a rubber fan belt that turns the fan and alternator.
The key to a successful build is patience. It's rated as a Level 3 in difficulty, meaning it's more suited for intermediate to advanced model builders. But even novice builders can do well with this kit if they take their time. Parts sometimes need to be trimmed for a better fit, and many pieces need to fully bond before the builder takes the next step in the process. A consistent theme among the reviews is to be patient and don't get in a rush to finish.
The fully assembled engine measures 22.2 inches long and 16.6 inches high. A sturdy display stand is included in the kit.
33. Wooden Model Bi-Plane Albatross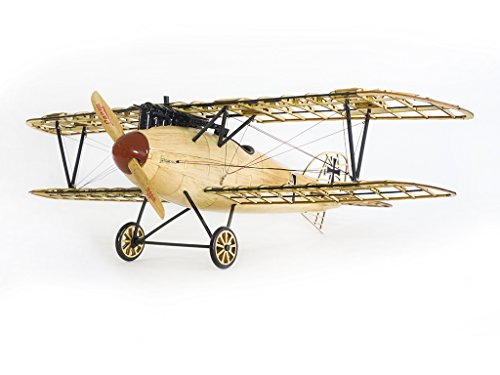 Buy or Read More on Amazon Here ($69.90 at the time of publication)
Grand Dad can build his own Albatross bi-plane with this all-wood construction kit. Precut wood sheets easily fit together, because they are laser cut. Rigging wires and turnbuckles are included, and a thorough step-by-step instruction manual is included. Of course, getting Gramps to follow the instructions may take some doing.
This is 1:15 scale and is very faithful to the design and details of one of Germany's most iconic planes of WW1. The Albatross D.III was a fighter plane used by the German Army Air Service during World War 1 and proved to be a dangerous weapon in the hands of German ace pilots like Manfred von Richthofen, a.k.a. The Red Baron.
The kit includes everything you need to create this flying relic of days gone by. It even comes with a handsome display box to show it off in.
Apparel
You won't find any neckties, cufflinks, wool socks or flannel shirts in this category, but rather items that you wouldn't necessarily think about on your own. The availability of some of these items might be spotty in some sizes and colors, so check availability early on in the ordering process.
34. DREAM PAIRS Suede Loafers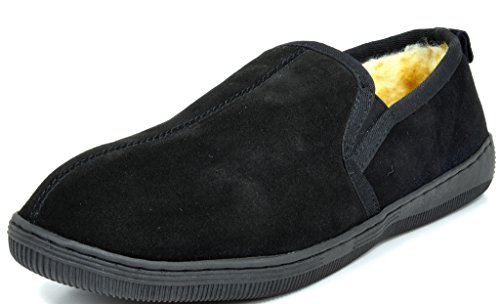 Buy or Read More on Amazon Here ($20.00 at the time of publication)
Slippers for Gramps is nothing new, but these are extra comfy and worth checking out. They come in 12 colors and feature faux fur lining for soothing comfort and warmth. The footbed has additional cushioning so that every footfall is a walk in the clouds.
The non-slip rubber soles are like gym shoes, with plenty of flexibility. suede uppers are stitched in a moccasin pattern.
The product literature says these loafers are "true-sized," meaning that they match the official standard for that size. Whatever size the consumer wears in his other shoes is the correct size to order. There is no need to guess or experiment with a size larger or smaller. What size it says is the size you get.
35. OZERO Winter Gloves with Touchcreen Fingers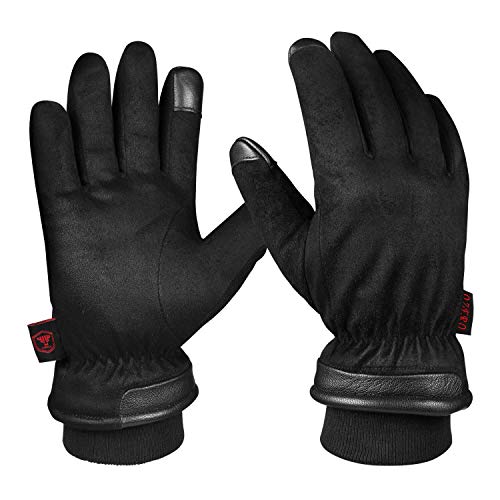 Buy or Read More on Amazon Here ($24.99 at the time of publication)
Regular leather or cloth gloves and touchscreen cell phones don't play well together. So, unless Poppa has a flip phone (which he might), he's going to need a pair of these gloves.
These high quality microsuede gloves are water-resistant and windproof, but also breathable. They're effective in temperatures down to minus 30. Special tips on the index fingers and thumbs allow the use of touchscreens.
Elegant enough to wear for a night on the town, yet tough enough to wear while stacking fireplace logs, these gloves are indispensable during the winter months. They ship in five sizes. If Grandpa's hands are in between sizes or just seem large, go with the next size up.
Books
Don't dismiss getting Grandpa a book because you think the idea is old hat. Books continue to be a much-appreciated gift for the older generation. So don't worry about it if you're getting him a book for the 38th year in a row. Get him a book. Make it a good one, though.
36. The Build: Designing My Life of Choppers, Family and Faith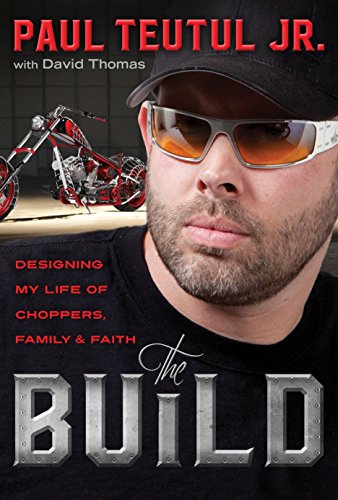 Buy or Read More on Amazon Here ($13.85 at the time of publication)
Paul Teutul Jr. and his dad were arguing on TV before arguing on TV was cool. Teutul, the younger co-star of the wildly popular TV reality show American Shopper, tells what it was like working with his bellicose father as they tried to run their custom motorcycle business, Orange County Choppers, without going under.
Their fights were legendary, often setting television records for profanity bleeps per minute, and in 2009, dad had had enough and he fired his own son. After waiting for a year under a no-compete clause, Paul Jr. began his own business, Paul Jr. Designs, which has been robustly successful.
Paul Jr. has mellowed since his tumultuous employment under his dad's supervision. He's quite the family man now and speaks candidly about all of his experiences, both good and bad.
37. Made by Dad: 67 Blueprints for Making Cool Stuff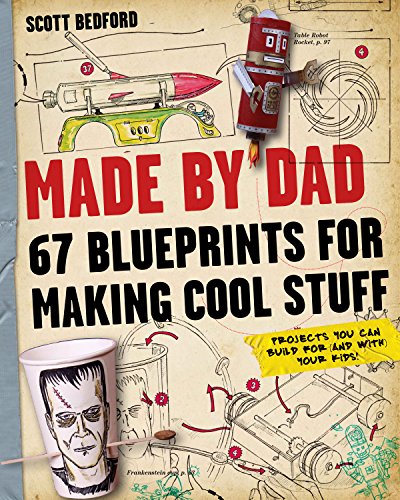 Buy or Read More on Amazon Here ($13.99 at the time of publication)
"It's alive!" Grandpa will shout, as he rejoices after his hideous monster project. OK, maybe not a Frankenstein's monster, but many other really cool projects are outlined in detail in this fun book.
The reviewer for Book Page said of this book, "It's so good it hurts – because you know that if your own dad had this book in his hands, your childhood would have totally rocked."
Among the projects you – I mean Gramps – can build are: Snail Can Decoy (a safe candy stash), customizable "Keep Out" sign, bunk bed communicator from cardboard tubes, multi-level scale city made from old boxes and a snappy toast rack that looks like a crocodile's mouth.
The problem might be that if this falls into the wrong hands – like grandsons or granddaughters – Grandpa might get inundated with requests. The projects are easy to follow and for the most part, use everyday materials and allow for modifications galore. (You know it wouldn't be Grandpa if he didn't try to modify something.)
38. The Forgotten 500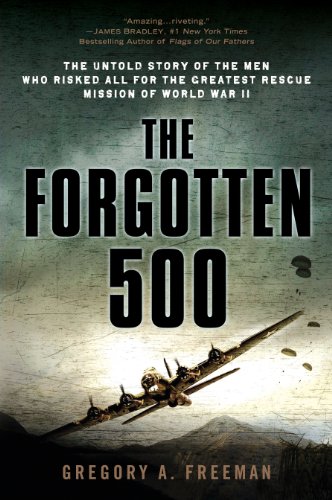 Buy or Read More on Amazon Here ($10.99 at the time of publication)
The Forgotten 500: The Untold Story of the Men Who Risked it All for the Greatest Rescue Mission of World War II gives us a sense of what it was like operating behind enemy lines with a potentially disastrous mission. While on their way to bomb Nazi held strongholds in Yugoslavia, hundreds of American airmen were shot down.
Those who survived the crashes and parachute landings faced harsh conditions in the remote villages, where German platoons could easily spot them and spring upon them if they weren't extremely secretive. Yet, with the help of villagers, who also risked their lives, they managed to build an airstrip capable of accommodating a C-47 cargo plane. The planes had to land, pick up as many soldiers as possible and return to base, twice passing through enemy airspace.
This event was classified for over 50 years for political reasons.
39. Alaskan Retreater's Notebook: One Man's Journey Into the Alaskan Wilderness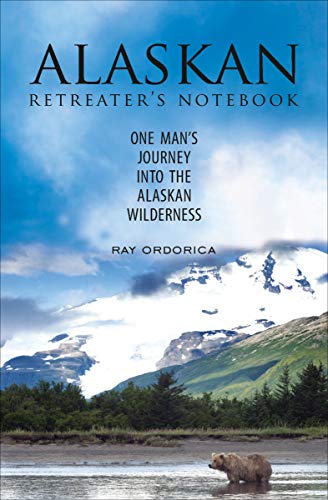 Buy or Read More on Amazon Here ($9.99 at the time of publication)
Fans of any of the many reality TV shows about Alaska should enjoy reading the story of Ray Orodica, who in 1978 packed everything he thought he would need into his car and drove to Alaska. He ended up spending three years in a one-room, uninsulated cabin in the Alaskan wilderness.
He dealt with fears, loneliness, and discomfort just as you might expect, but somehow managed to overcome all that in a land far from the stresses of modern life.
40. Man and Horse: The Long Ride Across America
Buy or Read More on Amazon Here ($15.99 at the time of publication)
With $100, a grungy saddle and a horse named Gizmo, John Egenes set out to cross the entire breadth of the United States on horseback.
He started in California, at the Pacific Ocean, and traveled east, all the way to Virginia, where Gizmo waded into the Atlantic Ocean. The 1974 journey took seven months, chronologically, but the change in John's outlook on life could not be measured in increments of time. He went from disenchanted, inexperienced trail rider to a master of the trail, and more importantly, master of his own life.
This book is only available in paperback (or e-readers), so it's not as classy as a hardbound edition, but Grandpa won't mind.
41. Hardened to Hickory: The Missing Chapter in Andrew Jackson's Life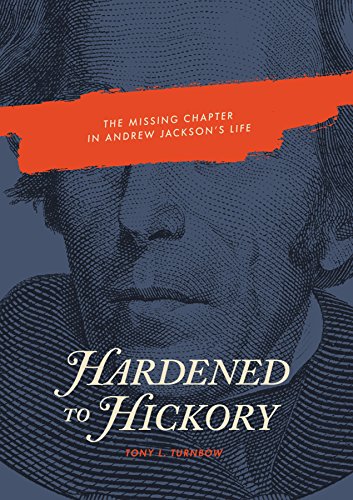 Buy or Read More on Amazon Here ($27.99 at the time of publication)
President Andrew Jackson, "Old Hickory" was one of the saltiest presidents in U.S. history, known for his belligerence and crudeness as much as his statesmanship and military expertise. Before he reached American hero status, he had to deal with an uncomfortable issue. U.S. Army General James Wilkinson had proven to be an ineffective leader and traitor, and Andrew Jackson had to expose Wilkinson for what he was without coming across as a mutineer.
Jackson's rise to power in the early 1800s was beset with one calamity after another, with bitter in-fighting (sometimes real fighting) in the halls of Congress, natural disasters and ongoing issues with expansion into lands held by Native Americans.
While all this was going on, European nations looked for weakness in the new American's resolve. It all came to a head when Jackson and Wilkinson plotted against one another along the Mississippi Gulf Coast for control of the U.S. Army.
Music
Grandpa's not into MP3s and streaming music like the grandkids are. He still prefers CDs, if not vinyl LPs. But that's good news. It means you can give him the gift of music and he can hold it in his hand, and read the album liner notes.
42. Garth Brooks: The Legacy Collection (Vinyl LP only)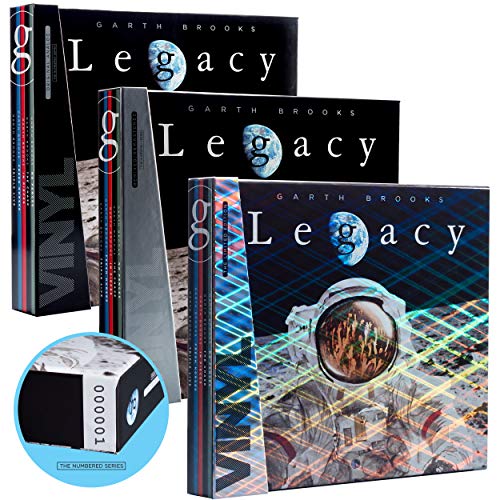 Buy or Read More on Amazon Here ($148.15 at the time of publication)
It's here! But watch for sell-outs.
Make sure Gramps has an old-school – actually they're new-school now – record player with the needle and all before ordering.
It's already been declared "The Most Sought After Vinyl Of 2019."  The Legacy Collection includes three different boxed sets: Limited Edition, Original Analog Edition & Digitally Remixed/Remastered Edition, and each box is individually numbered.
Each collection will be one-of-a-kind, featuring five hit albums including No Fences, The Chase, In Pieces, Fresh Horses and Triple Live plus CDs with bonus tracks for a total of 7 vinyl albums & 7 CDs in each edition.
43. The Band 50th Anniversary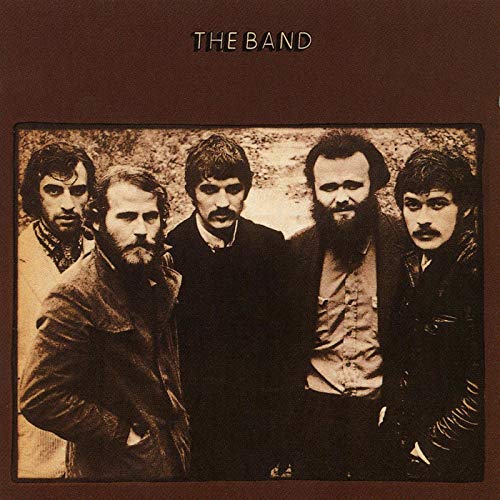 Buy or Read More on Amazon Here ($15.25 at the time of publication)
The genius of The Band is how they straddled the lines between country, folk, and rock and never landed with both feet in any one dimension. They're southern and western at the same time, small town and back-alley urban at the same time, sophisticated and honestly raw at the same time.
This two-CD set includes 36 of The Band's hits, going back to the 70s. Major titles are familiar to most American music lovers, even those who aren't aware of their origin. Popular songs on this set include Up on Cripple Creek, Chest Fever, I Shall be Released, The Weight, The Night They Drove Old Dixie Down and Whispering Pines.
44. Woodstock, Back to the Garden, 50th Anniversary Experience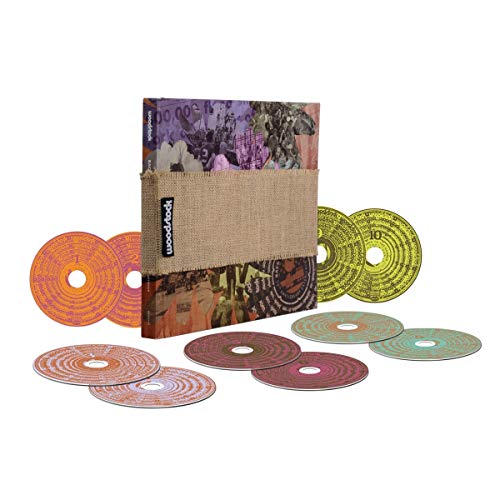 Buy or Read More on Amazon Here ($106.55 at the time of publication)
Woodstock was a disaster that sure sounded like a triumph in the end. It was an iconic moment in American history, both for music and for the rewriting of youth culture. It was shocking, nasty, beautiful, depressing, uplifting and more, but above all – it was intense.
A city of half a million people with no infrastructure, no government, no law enforcement, no one in charge learned to get along, learned to help one another out and learned to endure. The common denominator for this city – which would have been among the 30 most populated cities in the U.S. – was the music on stage – live, raw, sometimes poorly mixed and yet always soul-stirring and exciting.
This CD project seeks to capture the unpolished nature of the music that was performed on stage. Ten CDs capture all – or nearly all – of the songs from the stage during that three-day festival in 1969. The master sound engineer for this project said they tried to keep their hands off the tapes and let the imperfections become part of the experience.
Several PA announcements were added to the mix, giving a presence that draws the listener to that muddy field in Bethel, NY and adds to the realism of the project.
Starting with Hello by Richie Havens, the opening act, and going through Chip Monck's farewell announcement after Jimi Hendrix's performance of The Star Spangled Banner, the music tracks provide a chronology of the event that simply feels right.
Related Posts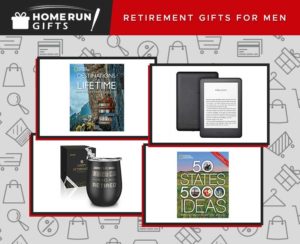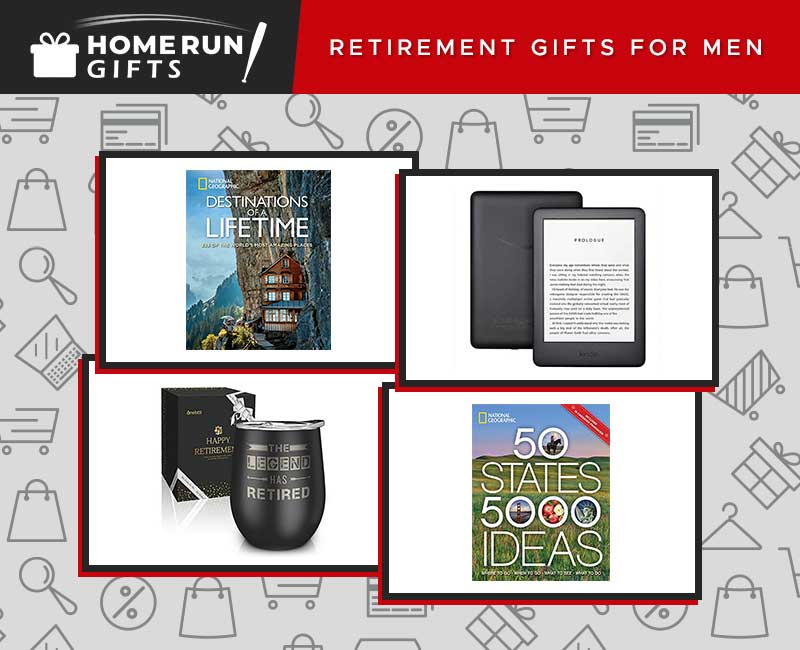 Retirement Gifts for Men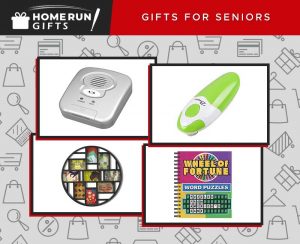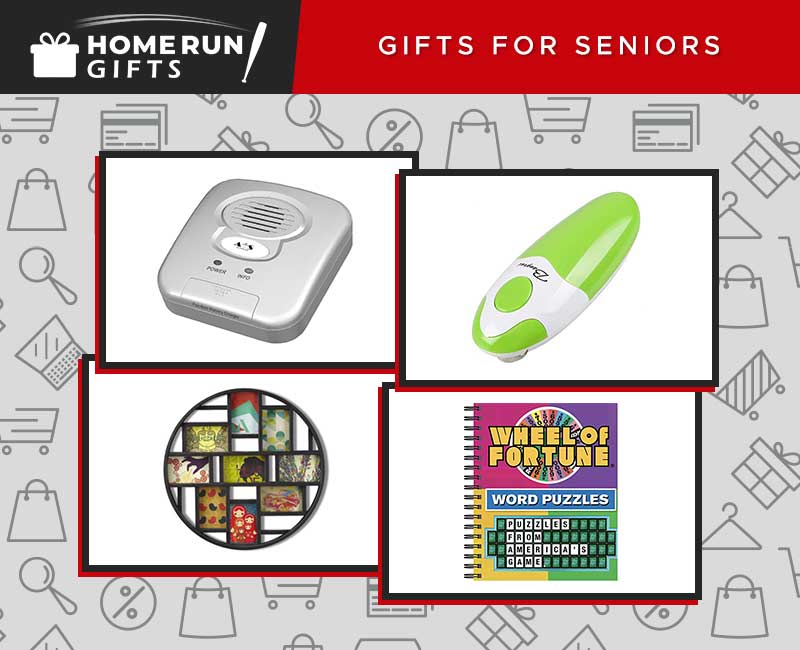 Gifts for Seniors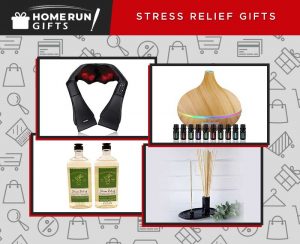 Stress Relief Gifts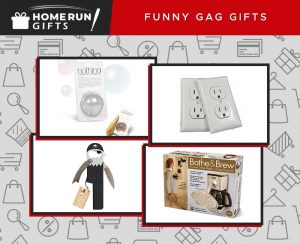 Funny Gift Ideas