At age 4, girls are so much fun: they are imaginative, whimsical, and courageous. There are so many great toys you can buy to support their growing skills. From sports and dance to pretend play and reading, give them the right gifts to inspire and encourage their sweethearts and active minds.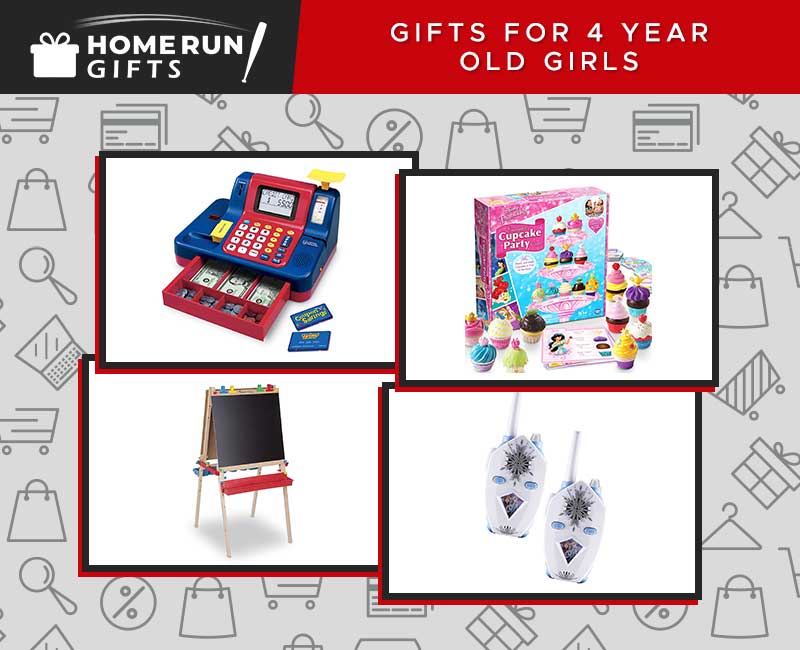 Here are some great toys and gift ideas for 4 year old girls! One (or more!) of these gifts will be the perfect fit for the little one in your life. I have a 4 year old girl at home, so I added a lot of the stuff she loves to this list.
List of Gifts for 4 Year Old Girls
Below, I listed my favorite gift ideas and toys (with the help of my daughter). Simply scroll through this list and pick out your favorite gift or gifts!
1. Learning Resources Pretend and Play Cash Register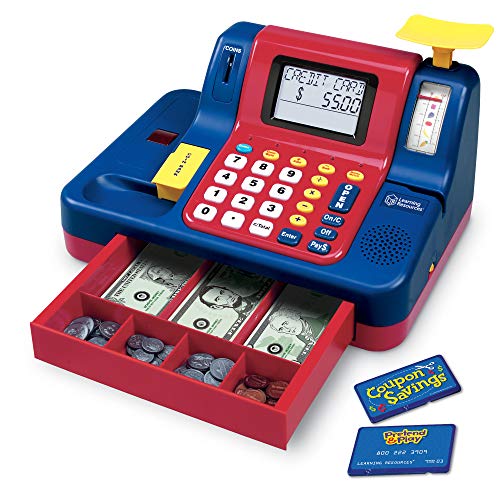 Buy or Read More on Amazon Here ($38.03 at the time of publication)
I love Learning Resources products because they are sturdy and can be counted for open-ended play and educational fun. This primary-colored cash register is sturdy plastic and features red and blue with yellow accents. There are many ways to enjoy this toy. The spring-loaded cash drawer displays coins and bills that encourage mathematical learning, counting and sorting skills. The electronic register plays sound effects and offers words. There are multiple buttons for simple equations or just for fun. A scale, coin slot and built-in scanner extend playtime and store-play fun. There is a coupon savings card and a pretend credit card that can be used for make-believe transactions. Your little shopper will absolutely love adding this toy to her playroom and having a blast shopping and selling.
2. Educational Insights The Sneaky, Snacky Squirrel Preschool Board Game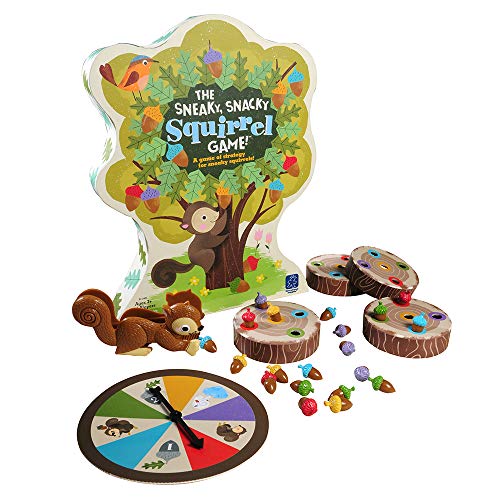 Buy or Read More on Amazon Here ($15.19 at the time of publication)
Get her creative and problem-solving juices flowing with this whimsical and fun board game. Simple rules and adorable creatures host this fun-filled game time favorite. Game play is perfect for pre-readers, as no reading skills are required. Simple tree trunks are available to set color-coordinating acorns in after spinning the wheel. A plastic squirrel collects and distributes the acorns. Fine motor skills are improved as she squeezes the squirrel to pick up her acorns, placing them in the correctly colored slot. Educational Insights is a trustworthy brand that makes great products. She will adore playing this game and learning more about matching, colors and FUN!
3. Melissa and Doug Solar System Puzzle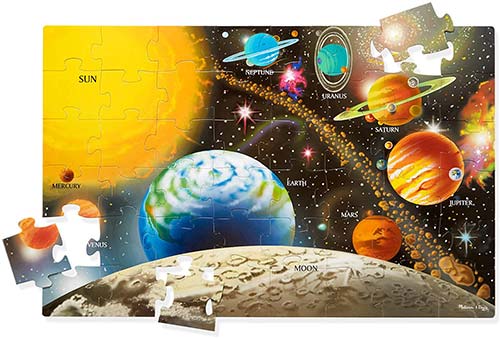 Buy or Read More on Amazon Here ($15.19 at the time of publication)
Melissa and Doug always make great toys. This solar system puzzle is both educational and fun! Support problem-solving, puzzle-making and outer space knowledge with this giant floor puzzle. The 48-piece puzzle is perfect to stretch a four year old's abilities. She will be challenged to figure out where the pieces go with the giant, realistic illustration of outer space. Teach her about the sun and planets as you play. The puzzle assembles into a large 36" by 24" and will be enjoyed again and again. The pieces are large enough to put the puzzle together on carpet without it being too frustrating. Your favorite little girl will love this puzzle!
4. Melissa and Doug Steel Frame Shopping Cart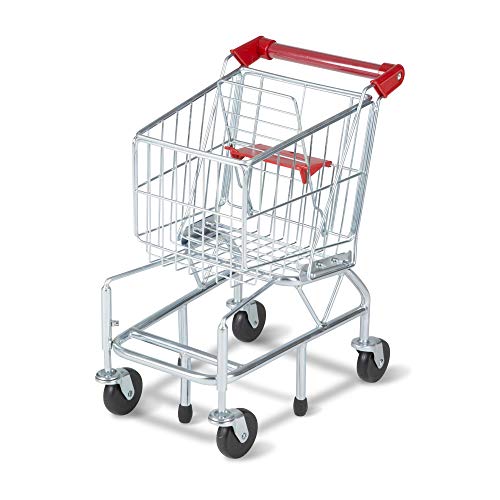 Buy or Read More on Amazon Here ($55.99 at the time of publication)
Get shopping with this realistic steel frame shopping cart. Any 4 year old girl who is a grocery store pro will adore this just-like-yours shopping cart. It has a sturdy assembly, a chunky red handle and a pull-out seat just the right size for her favorite doll. Spring-loaded wheels are safe and also pivot, so they can easily be navigated around toys or corners. With a smooth roll and plenty of room for all of her make-believe purchases, this toy will be a giant hit and support all of her role-playing skills.
5. Spot It Jr. Animals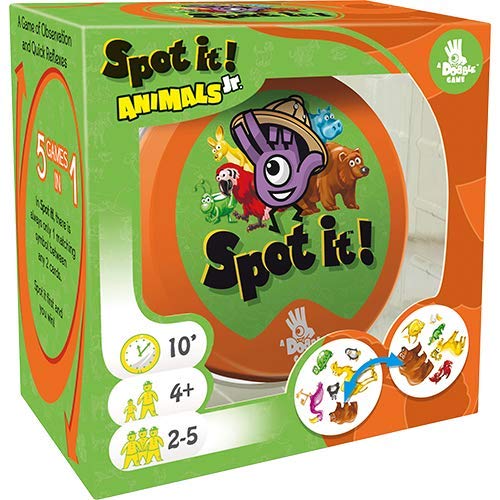 Buy or Read More on Amazon Here ($9.99 at the time of publication)
This game is a fresh take on the classic Spot It games that is sure to become a game night favorite for your little girl. Taking the skills for spotting the animals down to a preschool level, this game is just right to stretch her game playing skills. Each cardboard disc has numerous animals displayed on it. Two discs are selected and players have to find matching animals. Matched cards are flipped over. The first player to flip over all of their cards wins. This will help her think quickly, identify and match objects and have tons of fun! Enjoy a family game night at her level with this great game.
6. Daniel Tiger's Neighborhood Figure Set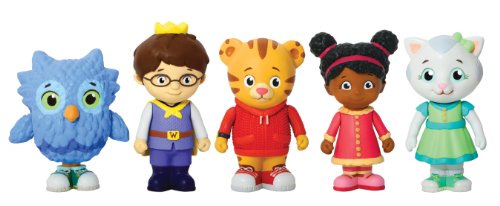 Buy or Read More on Amazon Here ($12.99 at the time of publication)
This is the perfect gift for the Daniel Tiger lover in your family. Give it as a gift and watch delight unfold with hours of pretend play. This set has sturdy and beautifully painted plastic characters. All five main Daniel Tiger characters are present in the set: Daniel Tiger, Prince Wednesday, Miss Elaina, O the Owl and Henrietta the Cat. She will have a blast singing the songs and playing in the land of make-believe with these whimsical and beloved television show characters.
7. Melissa and Doug Abby and Emma Magnetic Dress-Up Set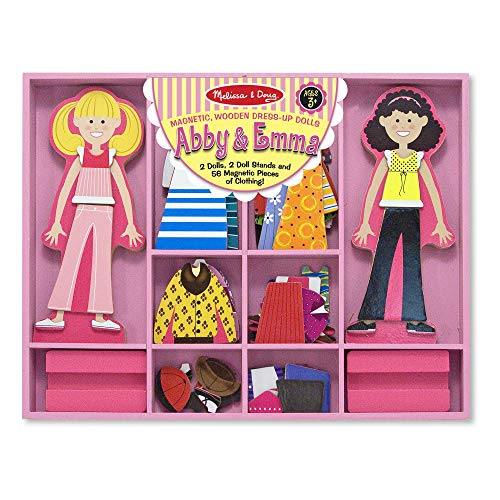 Buy or Read More on Amazon Here ($16.14 at the time of publication)
Get two-in-one with this perfect precursor to paper dolls. The chunky wooden dolls are adorable: one blonde and one brunette. They are just the right size to set into a wooden platform, so they stand upright. Little girls can then change out the wooden magnetic outfits, which include full dresses or an assortment of tops and bottoms. Accessories can also be added in the form of hats and purses for extended play. She will love feeling fashionable and in charge as they dress up and play with these wooden dolls.
8. Richard Scarry's Busytown Eye Find It Game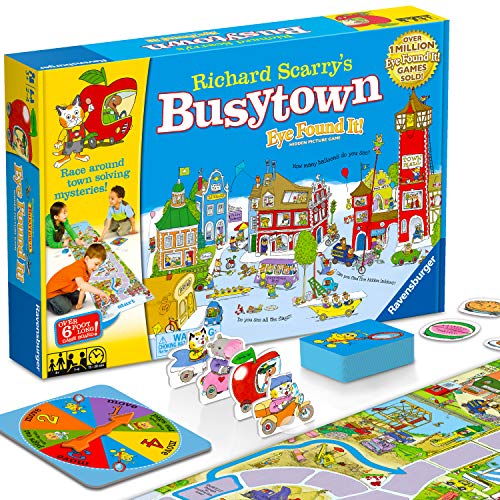 Buy or Read More on Amazon Here ($24.84 at the time of publication)
Richard Scarry's beloved storybook characters and town come to live in this simple, eye-spy board game. This game is perfect for preschool children and can facilitate many kinds of play. The game board is over six feet long and players use one of the four sweet characters to race across the board. They select cards and move along based on a spinner instructions. Each time they play, they will land on different places and move through different parts of the busytown. This game will be played again and again.
9. Melissa and Doug Fold and Go Mini Dollhouse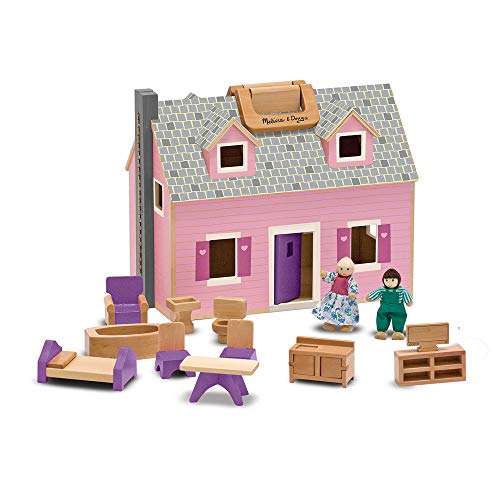 Buy or Read More on Amazon Here ($39.29 at the time of publication)
A portable mini dollhouse is just the right gift for a four year olds on the go. Excellent as a travel-friendly purchase, this mini wooden dollhouse is sturdy and features a foldable design. Unfold the dollhouse to experience an elegantly constructed wooden house. The accessories include two sweet, dressed dolls and a variety of wooden furniture: a dining table with a chair, toilet, tub, sink, bed, chair, chest with drawers and an entertainment center. These pieces are a combination of natural wood, some of which have purple painted accents. The house itself is painted a sweet, soft pink with gray tiled roof design. The door is bright purple and the shutters are a deeper pink with hearts. Little girls will delight in this adorable dollhouse.
10. Disney Princess Enchanted Cupcake Party Game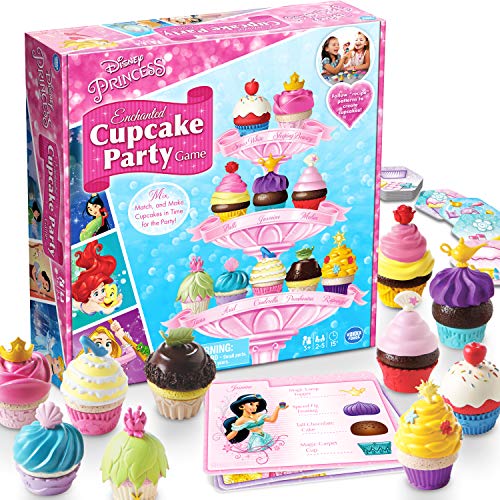 Buy or Read More on Amazon Here ($16.99 at the time of publication)
This fast matching cupcake party game is perfect for the princess loving girls. With simple instructions, little girls as young as four can easily enjoy this game. The game comes with forty cupcake parts, fifteen game tiles and ten recipe cards as well as instructions. Wonder Forge created this game with little girls in mind. This game helps little girls learn to follow directions and encourages matching and taking turns. Play is simple as little girls follow the instruction cards to create scrumptious cupcake combinations. The simple game play showcases everyone's favorite Disney princess characters and is sure to be a blast.
11. Learning Resources Building Gears Construction Toy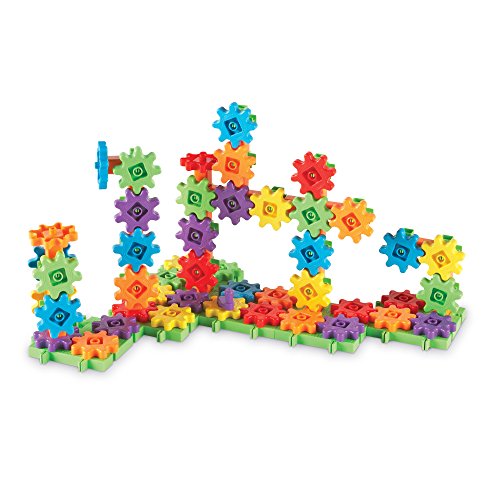 Buy or Read More on Amazon Here ($15.28 at the time of publication)
This fun-filled table toy from Learning Resources will be a blast for your little girl. Promoting STEM and problem-solving skills, this game of interlocking gears allows for both horizontal and vertical construction. From spatial reasoning to cause and effect, little engineers will love getting their hands on these brightly colored gears. The gears can interlock and be rotated with a handle, which can be affixed to any of the gears. Get creative and as complicated as you want with six-way axles and twenty-six pillars. This game is sure to get their creativity flowing.
12. LeapFrog LeapReader Reading and Writing System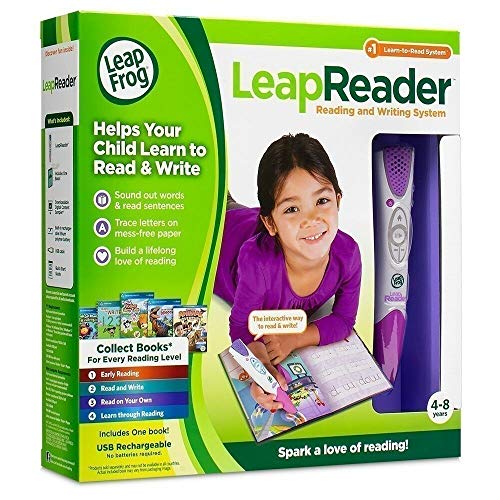 Buy or Read More on Amazon Here ($34.99 at the time of publication)
Jump-start school skills with this fun and engaging toy for reading and writing. The LeapReader is an interactive pen that can be used with many different LeapFrog books. Collect them all for a comprehensive crash course in reading, writing, spelling and phonics. Little girls will be able to handle the sturdy pink pen perfectly. A microphone and volume control allow clarity of communication and help them understand the prompts and instructions. One book, one music album, one trivia challenge, and a paper writing sheet come with the kit. Additional books are also available for purchase to extend the learning fun.
13. Fisher-Price Octonauts Octopod Playset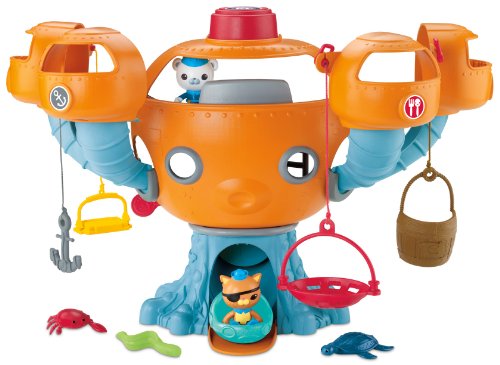 Buy or Read More on Amazon Here ($59.99 at the time of publication)
Get the Octonaut lover in your life something truly inspiring with this beautiful and playful Octopods playset. The Octopod looks just like the one in the show with a sturdy, ashy blue trunk and limbs and an orange submarine-like body. All of your favorite critters are on board with a plastic turtle, crab, and eel. There are lift and lower elements as well as electronic sounds and phrases. Two Octonaut characters come with the set. A chunky button on top gives easy access to all of the fun interactive prompts. Four extended pods ensure there are plenty of make-believe scenarios and fun in store.
14. Melissa and Doug Deluxe Standing Art Easel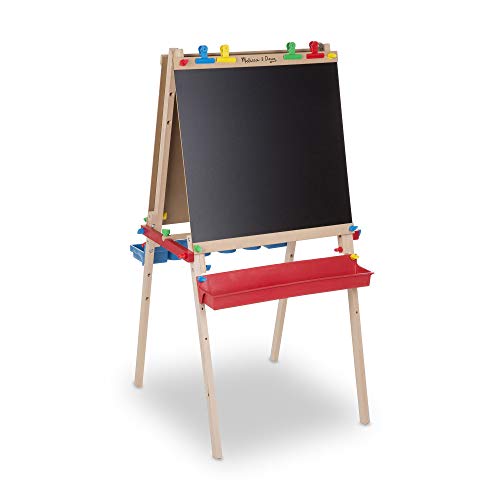 Buy or Read More on Amazon Here ($62.99 at the time of publication)
This is a great gift for your favorite little artist. A standing easel is a great height for a young girl. Two containers can be affixed to either side, one blue and one red. They have compartments that are just the right size for art tools and accessories. One side of the easel is a chalkboard and the other side is a dry-erase board. Additionally, there are large clips so art paper and other items can be fixed to the top and enjoyed. A locking paper-roll holder is also available, for easy-to-use fun. The easel folds flat for storage or in-between creations. This is easily one of the best gifts for 4 year old girls out there. Any little artist will love this wonderful and inspiring canvas.
15. Melissa and Doug Giant Dolphin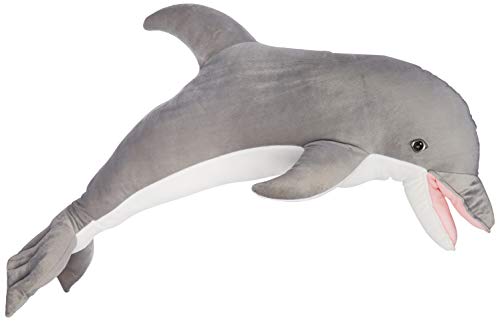 Buy or Read More on Amazon Here ($34.99 at the time of publication)
Know a sea-loving little girl? This is the perfect gift for snuggles and pretend play. At nearly four-feet long, this lifelike dolphin is plush and velvety soft. Its elongated body looks just like a dolphin, with a gray top and white underbelly. A sweet pink mouth is open to reveal a recognizable dolphin snout. Sweet eyes are carefully inset into a velvety face. Two side fins and one top fin complete the lifelike presentation of this toy. This plush will be enjoyed for years to come as a pretend play prop, plush friend and even floor pillow for reading time.
16. LeapFrog LeapPad2 Power Learning Tablet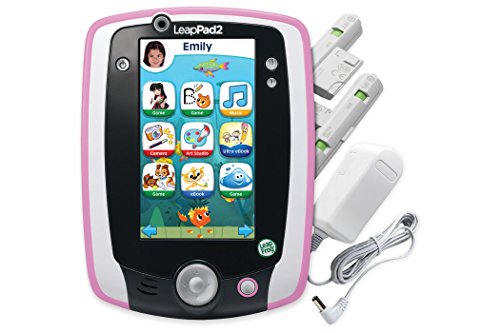 Buy or Read More on Amazon Here ($53.57 at the time of publication)
LeapFrog is known making great educational tech toys and this Power Learning Tablet is no exception. Get her ready for the real thing with this amazingly intuitive and interactive tablet toy. In many ways, it functions just like the real thing! With front and back cameras and video recorders and a five-inch touch screen, she will feel big and important while also being safe and secure in the enclosed system. The LeapPad has nine apps, a 3Reader, a music player and a motion sensor. Apps include art games, pet games and learning activities. This device also works with LeapFrogs library of hundreds of games, Ebooks and videos.
17. My Little Pony Princess Cadance and Applejack Figures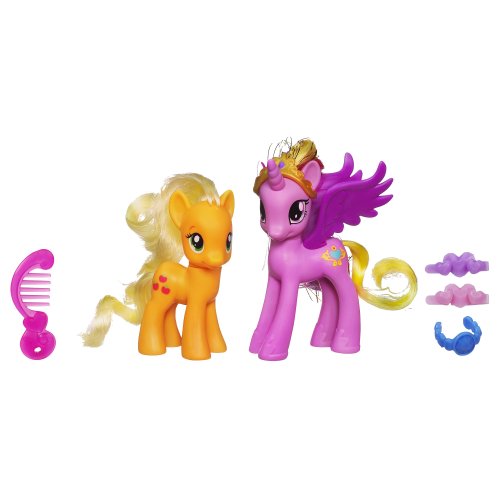 Buy or Read More on Amazon Here ($9.99 at the time of publication)
For the girl who is a My Little Pony fan, this is the perfect gift. Both Princess Cadance and Applejack characters are in this set. Both pony figures have brushable hair and tails. A sweet comb, tiara, and necklace as well as two sturdy barrettes come with the set. Ponies can be used to play pretend, styled and snuggled. Their soft plastic bodies can stand, prance, dance, and have a blast. Every My Little Pony lover will enjoy this gift.
18. Lego Bricks and More Pink Brick Box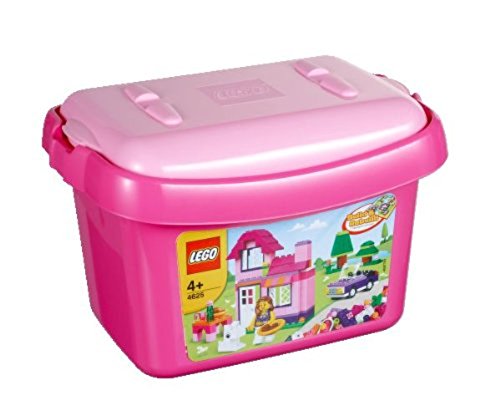 Buy or Read More on Amazon Here ($101.54 at the time of publication)
For the aspiring Lego Lover, this is the perfect big pink box full of lego fun. The brick storage box includes basic bricks as well as female Minifigures and accessories like a plate, croissant, tires, windows a door and a steering wheel. Make a patisserie, a bakery, a shop and more with this variety of building block fun. Blocks can be assembled however a little girl likes! This makes a perfect addition to a lego set or a first set to get her started on a love affair with lego construction.
19. Mega Toy Brand Princess Dress Up Jewelry and Shoe Boutique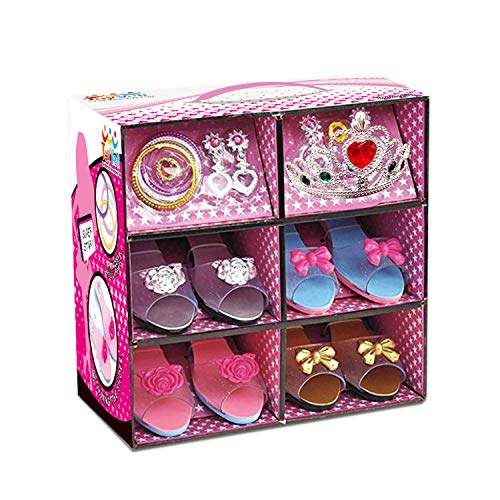 Buy or Read More on Amazon Here ($25.97 at the time of publication)
Have a princess who loves to dress up? Get her accessories all set with this sweet gift. Perfectly sized for your little one, this set has four shoes that are slide-ons with tiny kitten heels. The wrap on top will fit snugly on the foot, giving her the confidence to move around in her first pair of heels. The shoes are gold, silver, blue and pink with sweet details, like bows and gems. This set also has a cute little crown with gems and jewelry pieces. The jewelry bundle includes three bangles, three rings, two pairs of earrings and a storage box. She will love this dress-up kit!
20. Frozen 2 Walkie Talkies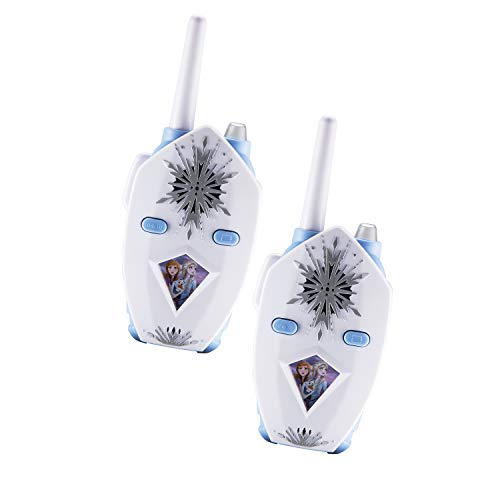 Buy or Read More on Amazon Here ($24.26 at the time of publication)
For the Elsa and Anna lover, these Frozen 2 walkie talkies are the perfect gift for an afternoon of hide-and-seek playtime fun. The walkie talkies are a cute white with Elsa's signature snowflake in a shiny silver. The back and buttons are a soft baby blue. The walkie talkies function well and are two-way radios. With a push to talk button function, even little girls will easily be able to operate these walkie talkies. The walkie talkie lights up when you're speaking. Simple speech and sound effects as well as send and receive character phrases will thrill your little Frozen lover.
21. Disney Princess Headphones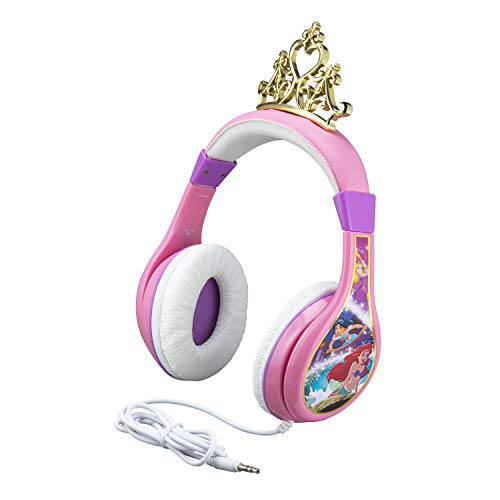 Buy or Read More on Amazon Here ($19.15 at the time of publication)
Perfect for a flight, restaurant or just for fun. These Disney Princess headphones are beyond cute with a Disney princess illustration on either side. The pink and purple headphones are adjustable to fit any head size. A beautiful little tiara is fixed onto the top, so no one forgets who the real princess is. The padded earmuffs and controllable volume make these a practical and useful gift. The connection cord is compatible with any iOS and/or Android smartphone and most tablets. Your little girl will love watching her movies or playing her games with this cute accessory.
22. Aurora World Fancy Pals Plush Princess Kitten Purse Pet Carrier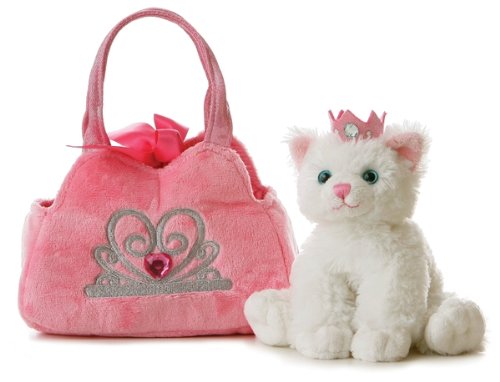 Buy or Read More on Amazon Here ($9.84 at the time of publication)
This plush purse is just the right size for a small, eight-inch plush kitten to fit inside. Your princess will love toting her new, white kitty around in this sweet pink purse. The purse is plush as well and velvety soft. It has a small, sewn-in handle for little hands to hold and a ribbon closure. It is a sweet pink color with a silver crown design on front that has a large pink gem. The kitten is adorably soft and can sit perfectly in the carrier. She has a pink nose and a matching pink crown with a diamond gem. Any little girl will be proud to carry this adorable toy around.
23. PinkSheep Little Girl Jewel Rings in a Box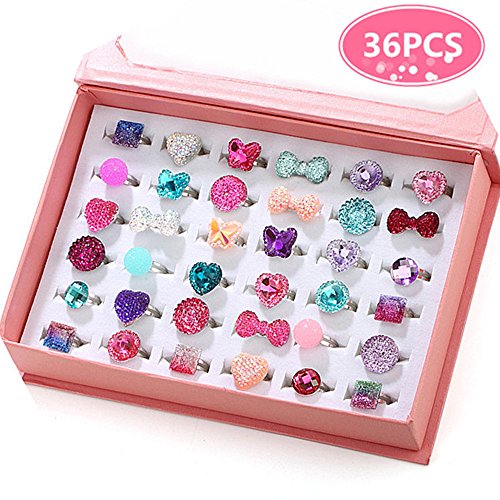 Buy or Read More on Amazon Here ($9.99 at the time of publication)
A little princess needs every accessory she can get. This ring set will truly amaze and delight your little diva! Each ring is thoughtfully designed to fit any outfit and give numerous possibilities for dress-up play. From pinks to purples to aquas to reds, there are a myriad of colors to choose from and no two designs are the same. Each ring also has a different shape, from balls to hearts to bows to squares and will suit any princess outfit. The box perfectly holds all of the rings and is a sweet, satiny peach color that is perfect for gifting. The rings are all adjustable to fit any size finger. This is a perfect gift for 4 year old girls!
24. Toysical Kids Stencils Sticker Set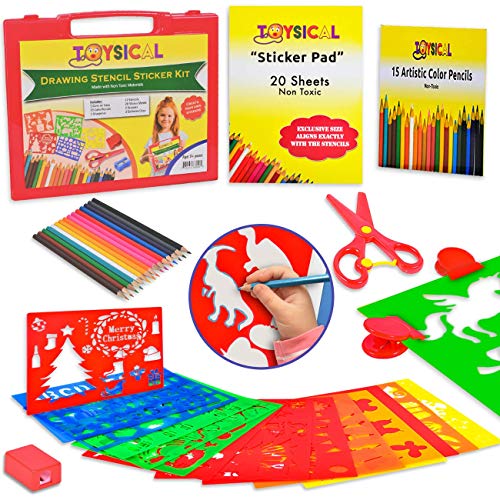 Buy or Read More on Amazon Here ($22.99 at the time of publication)
This 52 piece set is perfect for little designers and creators. The kit has a delightful assortment of craft tools. The tools include a baseboard, 12 plastic stencils, 2 clips (to keep the stencils in place while drawing), a 20 sheet sticker pad, 15 pre-sharpened colored pencils and one set of kid-friendly scissors. There is also a pencil sharpener for continued use. The stencils will allow your little artist to create ornaments, dinosaurs, animals, fairies, numbers, letters and more. Each stencil is thoughtfully designed to align with a standard size piece of paper.
25. HappyTime Snap Pop Beads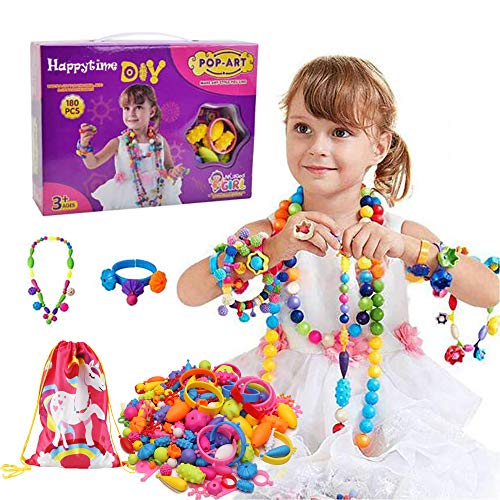 Buy or Read More on Amazon Here ($24.99 at the time of publication)
Get your jewelry-loving little girl started with crafting her own designs. This gift is perfect for fine motor development and creative fun. The large set has a huge variety of fun jewelry beads in different shapes and sizes. The chunky beads are the right size for little hands to manipulate, grasp, connect and separate. The beads snap together and can be used to create necklaces, bracelets, rings or more. There are additional pieces of plastic that are shaped for easy-to-make bracelets and rings. Any little girl will have a blast with this creative gift.
26. Princess Castle Tent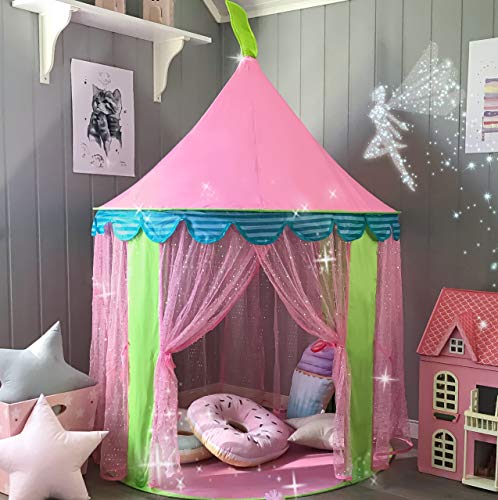 Buy or Read More on Amazon Here ($31.99 at the time of publication)
This foldable princess castle tent has a travel bag so it is easy to transport indoors or outdoors for magical fairy play. Give her a delightful getaway space with this whimsical, colorful play tent The tent has a conical top with a sweet, lime-green flag. The top of the tent is a soft pink while there are a light and blue striped bunting around the circumference. Sheer, sparkly pink panels surround the tent, with two lime-green panels to create an additional color. There is a round pink mat that fits perfectly beneath the canopy and will work great inside or outside. This is a sparkly, stylish gift that will get a lot of use.
27. Kids Smart Watch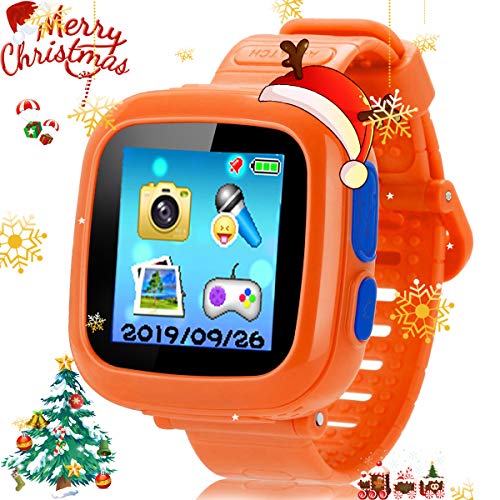 Buy or Read More on Amazon Here ($36.99 at the time of publication)
Get her a gift just like yours! This smartwatch is affordable and practical. It comes in a stylish blue or orange and is the right size for little wrists. It includes an easy-to-use watch face that allows the child to play puzzle games, fruit games, animal games and more. There is a built-in camera that can take editable photos for fun effects. This smartwatch also has a calendar, timers, clocks, a calculator and a recorder. The pedometer is a great start into early fitness skills. An anti-addiction time setting limits use to ensure it is fun for as long as it should be!
28. Wireless Bluetooth Karaoke Mic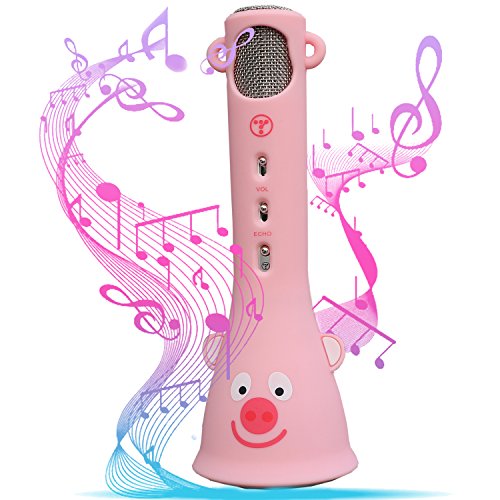 Buy or Read More on Amazon Here ($32.99 at the time of publication)
Let her really stretch her pipes with this fun, interactive and easy-to-use wireless Bluetooth karaoke mic. The microphone can easily integrate with your Bluetooth speaker. The mic sits in a colorful silicone case. You can choose from blue, yellow or pink. There is an adorable face at the base of the mic. Control the volume and echo to get that fun reverb. Little girls will love singing their hearts out into this microphone. When paired via Bluetooth with your device, you can use any music playing app to play sing-along music, so your 4 year old girl can belt it out to her favorite hits.
29. Our Night Starlight Projector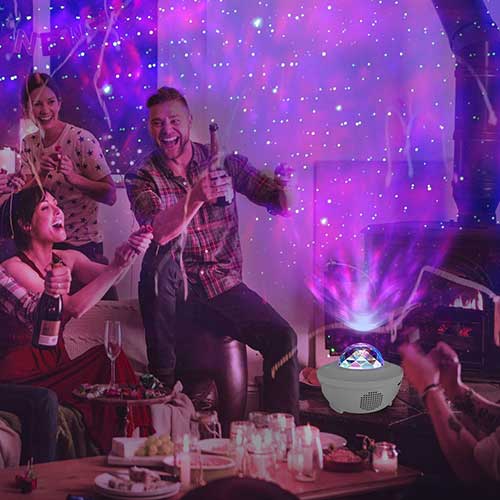 Buy or Read More on Amazon Here ($44.99 at the time of publication)
This projector has a pretty, pink base and many settings and features. Let starlight fill her room and enchant her gaze as the powerful projector lights up her bedtime room. The projector will illuminate her ceiling with various sized star shapes and a moon. Because of the dome projection, the image will fill every nook and cranny of her ceiling, giving the illusion of a starry sleep. This projector is best up to fifteen feet high and can cover 250 square feet with clarity. Choose from starry sky or night light mode and enjoy this great gift.
30. Adventure Kids Outdoor Explorer Kit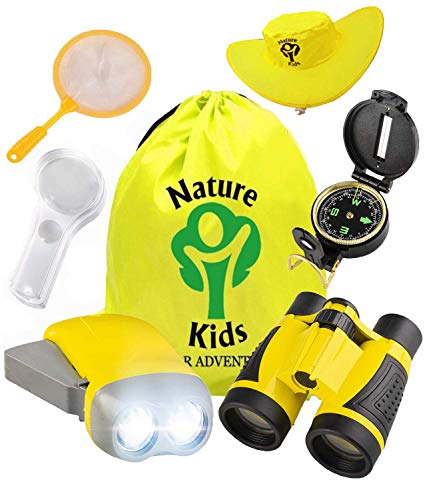 Buy or Read More on Amazon Here ($17.97 at the time of publication)
Invite your little girl to get adventurous with this great outdoor explorer kit. The kit features a pull-string backpack that can fit all of the accessories. You will high-quality, shockproof binoculars that have a neck strap, a compass with a flip-open top, a rechargeable LED flashlight, a small magnifying glass, a net for catching critters and a waterproof yellow sunhat. Everything she needs for a day catching bugs, exploring animal habitats and enjoying the great outdoors is included in this nice little kit.
31. Name of Gift One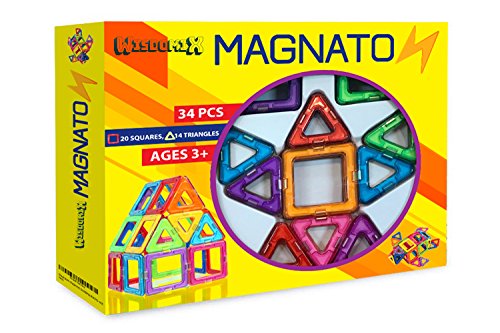 Buy or Read More on Amazon Here ($26.99 at the time of publication)
Magna blocks, or Magna tiles, are all the rage with young learners. They are educational, engaging and have limitless potential for construction and make-believe fun. This set gets 4 year olds started with this fun, STEM activity. This is a 34-piece set with hollow Magna tiles. These tiles can connect on all of the outer edges, allowing you to create houses, castles, barns and more. Let the sky be the limit with what you can make with these lightweight, stackable, magnetic blocks.
32. Calico Critters Red Roof Country Home Gift Set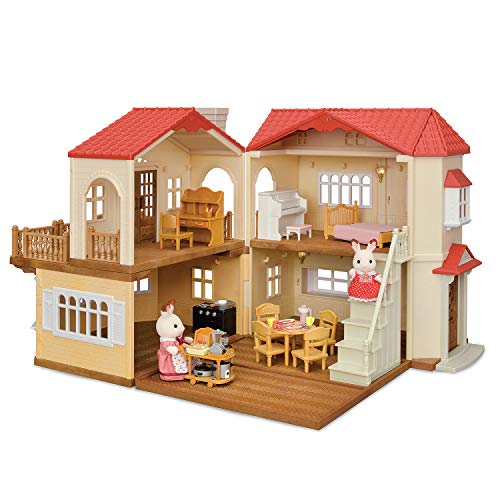 Buy or Read More on Amazon Here ($78.99 at the time of publication)
For the tiny bunny lover, this Calico Critters set will last for many years. It includes Hopscotch Rabbit Girl and Hopscotch Rabbit Mother. The beautiful country home has precious details, like natural wood accents, a carved rooftop patio fence and houndstooth wood-like flooring inside. A little staircase gives this two-story home all of the potential in the world for pretend-play. Accessories include furniture, like a little breakfast table, tea cart, piano, writing desk, and bed. Windows throughout, movable doors and electric lights make this a very special gift for a 4 year old girl.
33. Snowflakes Interlocking Gear Connect Set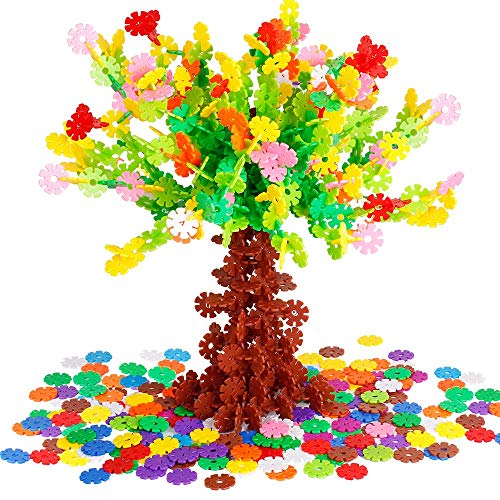 Buy or Read More on Amazon Here ($13.89 at the time of publication)
Encourage her fine motor skills, problem solving and STEM sense with this wonderful, tactile toy. A kit of 750 pieces make this multi-colored snowflake set a truly great gift. The pieces are notched, so they can interlock as though they were gears, to create multiple shapes and connections. Build cars, boats, trees, flowers and more. The set has many colors, including red, pink, yellow, green, blue, brown and orange. A portable, transparent box holds all of the pieces so no new storage is needed. As your child grows, this set will grow with them as they learn and love new combinations and creations.
34. BigNoseDeer Play Birthday Cake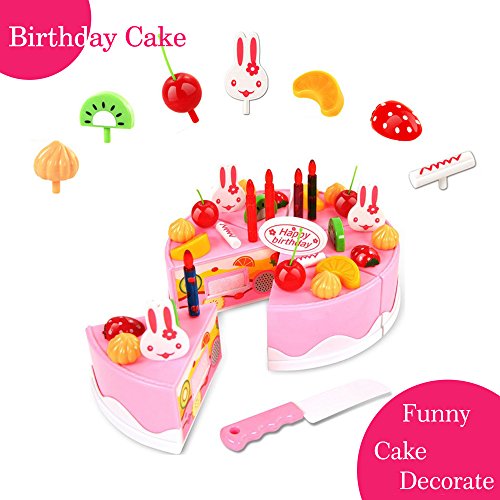 Buy or Read More on Amazon Here ($10.99 at the time of publication)
For the little girl who loves parties, this pretend birthday cake is a sweet gift. Made from six large, plastic wedges, the cake is perfect for pretend play and birthday party fun. Accessories include all kinds of little decorations that have a little peg and can be inserted on the top of the cake. Each of the plastic wedges is velcroed to the other. Little girls will use the plastic knife to "cut" the cake, which helps them with their fine motor skills. All thirty seven pieces are great for little ones to dream and sing and have a happy time.
35. Stomp Rocket Jr. Glow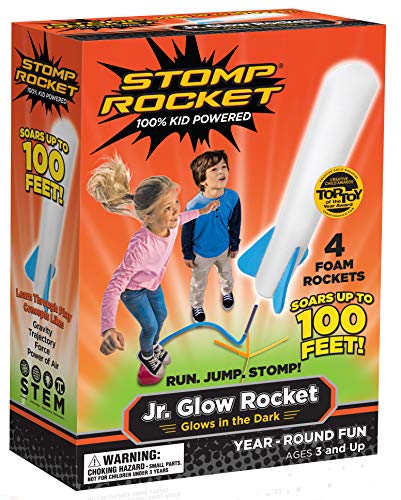 Buy or Read More on Amazon Here ($14.99 at the time of publication)
The stomp rocket is a fun-filled way to get your little astronaut or explorer excited to create and move. The simple rocket has a tripod. When one of the four foam rockets are placed on top of the tripod, it is then connected to a little hose which leads to the pedal. When your little girl stomps on the pedal, it pushes air through the tube and the rocket launches off. This game will be a blast to play again and again. Strengthen scientific skills by talking about "what if?" and "what if we tried?" and watch her understanding and imagination grow.
36. My First Crayola Mess-Free Touch Lights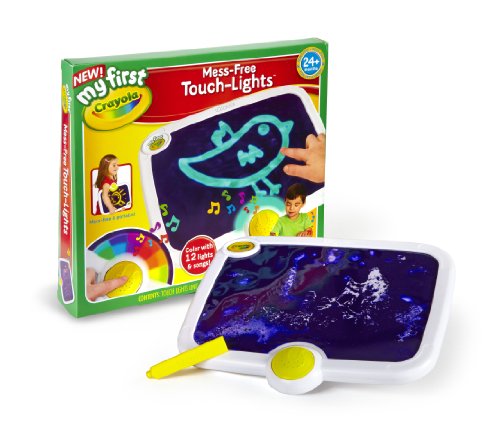 Buy or Read More on Amazon Here ($73.99 at the time of publication)
This mess-free game is perfect for the car or at home. The pad is covered with enclosed gel and illuminates at the touch of a button. Completely contained, children can select a color and draw with their finger or an easy-to-grasp stylus pen. When they do, the color will move and allow the colorful light to come through. There are twelve different light colors and songs that play as she creates. This is a great artistic gift that can be used anywhere.
37. JaxoJoy Complete Kids Cooking and Baking Set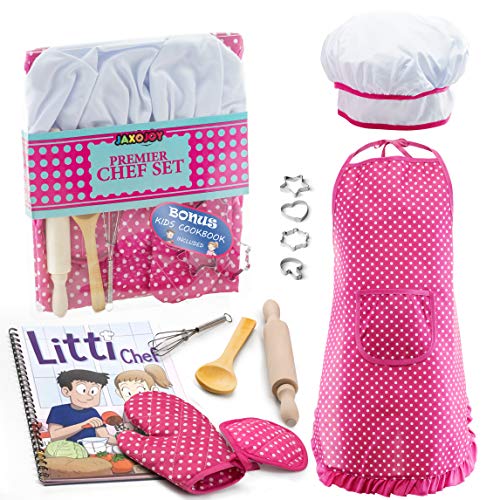 Buy or Read More on Amazon Here ($14.96 at the time of publication)
Give your little baker everything she needs to get creative in the kitchen. This eleven piece set has a precious dark pink apron with white polka dots. This color scheme is extended through a mitten pot holder and a flat pot holder. A white chef hat is accented with two pink bands. A cookbook will give her the idea of leafing through and deciphering text. The cooking utensils and accessories include a rolling pin, wooden spoon, metal whisk, and four metal cookie cutters. Give her hours of imaginative fun and encourage her creative expression with this thoughtful gift.
38. Sarah and Victoria Happy Owl Mini Purse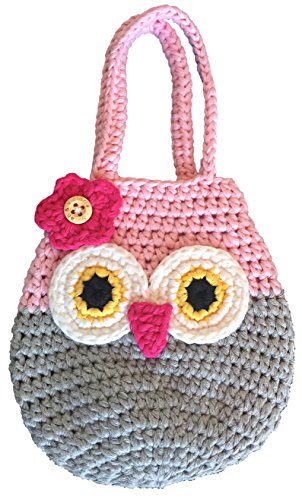 Buy or Read More on Amazon Here ($15.99 at the time of publication)
This sweet little purse is great for a conscientious family who want handmade, natural products. This bag is made from naturally soft cotton. The crochet pattern has a gray base and light pink top and handle. An owl face is crocheted onto the body of the purse with sweet, round, multi-colored eyes. A dark pink beak and dark pink flower with a button add to the adorable design. This purse is just the right size for her to store her treasures in and carry around.
39. Melissa and Doug Scratch Art Box of Rainbow Mini Notes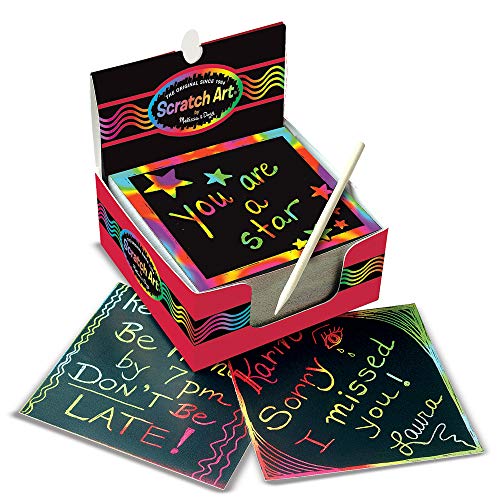 Buy or Read More on Amazon Here ($7.99 at the time of publication)
Four year olds love the idea of learning to communicate through text. This vibrant set will provide a cool reveal that is sure to enchant her. The set has 125 small black notes that, when scratched with the wooden stick, reveal neon rainbow colors beneath. She will love creating shapes, messages, and art with this fun and exciting set.
40. Alex Discover My Giant Busy Box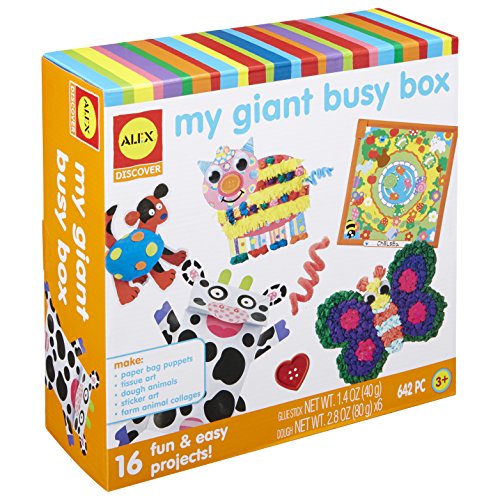 Buy or Read More on Amazon Here ($20.84 at the time of publication)
An Alex brand hit, this box has it all. Give her the tools she needs to create sixteen different projects. From paper bag puppets to weave art, she will have a blast. Included are buttons, crayons, play dough, flowers, googly eyes, paper bags, chenille stems, boards, frames, tissue, stickers, paper, doilies, and a glue stick. Instructions are available for follow-the-order, or she can freewheel it with creations entirely of her own design. This is a slam dunk rainy day or road trip gift for a little girl.
41. Fort Building Kits for Kids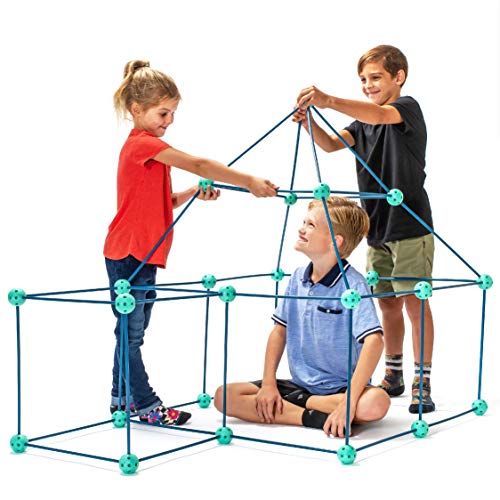 Buy or Read More on Amazon Here ($39.99 at the time of publication)
Give her a large and limitless gift with this fort building kit. This fun, STEM-oriented gift is a giant version of a typical tabletop set of building sticks and connectors. This set has 52 connecting rods and 29 spheres that can be linked from numerous angles. With these two tools, children can create forts, tunnels, houses, castles and more. The sturdy framework can hold a light sheet to create secret fort and tunnel play. There are so many possibilities, this set is sure to keep children busy for a long time.
42. Amazer Finger Light Gloves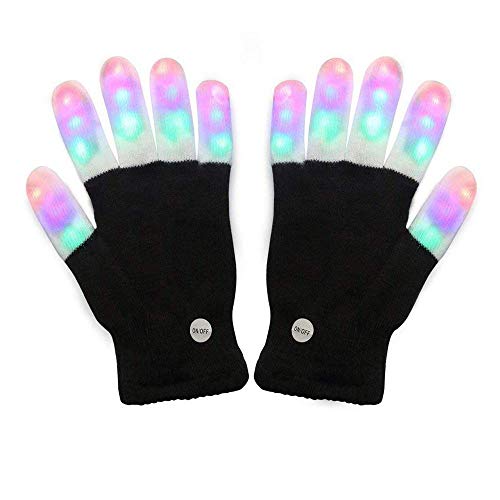 Buy or Read More on Amazon Here ($9.99 at the time of publication)
Light up the night while staying warm with these enchanting finger light-up gloves. The tips of the gloves feature LED lights that illuminate at the touch of a button. You can buy these in adult or child sizes. The gloves come in numerous colors, including blue, purple, green, pink, orange, yellow and black. The LED lights flash multiple colors and come with replacement batteries so they don't wear out anytime soon.
43. The Original AirFort Inflatable Fort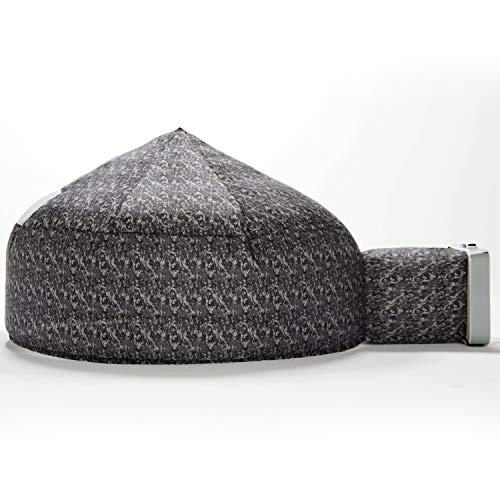 Buy or Read More on Amazon Here ($49.95 at the time of publication)
This inflatable fort is truly imaginative and a great gift idea for 4 year old girls. The fort is constructed from breathable fabric and stands over four feet tall when inflated. Inflation is a breeze: with a portable fan, it billows up within 30 seconds. The AirFort is 77" wide and 50" tall. It comes in pink, blue, orange, gray, black and blue. There is a handy opening where you place a fan, which can be secured down with adhesive tabs. This fort is amazing and will be a favorite play spot for any little girl.
44. Rechargeable Kids Digital Video Recorder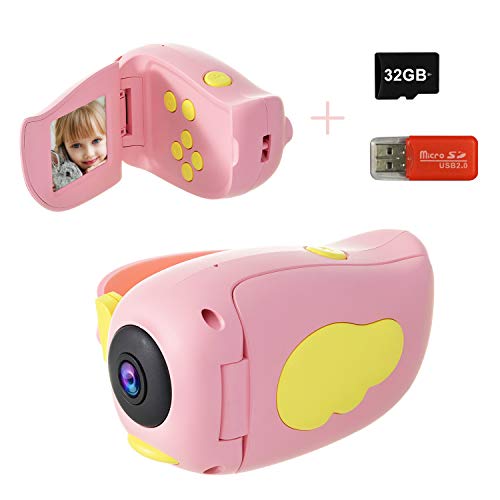 Buy or Read More on Amazon Here ($29.99 at the time of publication)
Give your videographer what she needs to capture every moment. This cute, shockproof video camera is the right size for young children. With an extended screen, they can watch the action unfold in real time while capturing it digitally on the 1080 HD screen. The camera has a 4x digital zoom so they can get close or stay at a distance. Fun features include a photo or video mode with six filters, five built-in photo frame effects, and five games. Even very little girls will have a blast getting the hang of this interactive toy.
45. Boogie Board Scribble and Play LCD Writing Tablet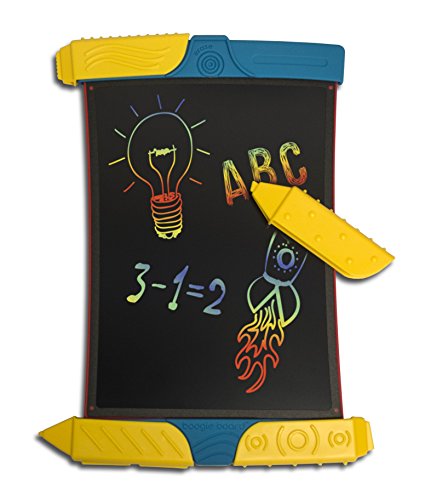 Buy or Read More on Amazon Here ($22.58 at the time of publication)
She'll love getting started with digital transcription. This scribble and play LCD writing tablet is simple, intuitive and playful. The electronic notepad is large and has handled on either end. There is a button to reset the screen after drawing. The stylus is large and can be held easily by little fingers that are just learning to use pencils or pens. The display is mesmerizing, as rainbow colors appear beneath the black surface. Little girls will want to carry this toy everywhere to create and play.
46. JOYIN Medical Toy Doctor Kit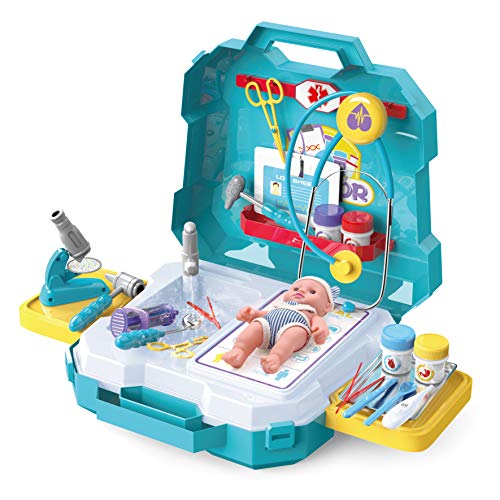 Buy or Read More on Amazon Here ($26.95 at the time of publication)
Little doctors-in-training will love this medical kit. It comes with way more accessories than your average plastic stethoscope kit and is ready to inspire imagination and hone skills. The kit has 29 pieces that allow for built-in play within the large carrying case. Accessories include a baby doll, a stethoscope, bottles, disks for "surgery," a hammer for testing reflexes, otoscope, syringe, scissors (pretend), tweezers, a mirror, a water tap, stickers, a microscope, and a carrying case. Many of the tools have real functionality, such as magnification and the water tap can pump water. This is a great value and will stimulate hours of pretend fun!
47. Schwinn Roadster Tricycle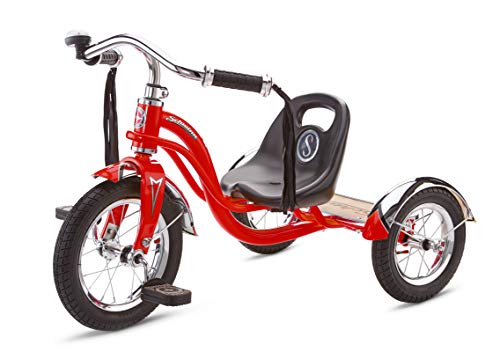 Buy or Read More on Amazon Here ($97.23 at the time of publication)
Give your four year old a beautifully classic gift to get her on the go. The Schwinn Roadster Tricycle is a perfectly constructed trike that she will love to zip and zoom around in. The bucket seat is sturdy and has a high enough back to support her developing balance skills. Cute tassles hang from the chrome handlebars. Chrome accents cover the front and back wheels. This trike is high quality and is made from real, rubber tires. A rear deck is made of real wood. There are multiple color options, making this a very customizable gift. You can choose from pink, red, dark blue, light blue, hot pink, black and yellow. This sturdy, retro toy will be a hit.
48. Cossy STEM Engineering Construction Building Blocks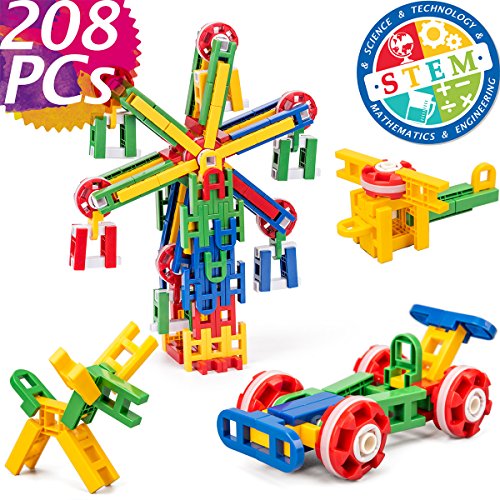 Buy or Read More on Amazon Here ($19.99 at the time of publication)
Think STEM but also tons of fun with these interlocking blocks that can make just about anything. Each colorful block is well-constructed for your little girl to have some construction fun. The blocks have four connection options, which allow a huge range of options for building. Different connector pieces extend play, as the square and round pipes as well as semicircle blocks and wheels enable unique shapes and pretend play creations. Made from quality plastic and primary colored, this 208 piece set will offer hours of fun to your little engineer.
49. Magnetic Drawing Board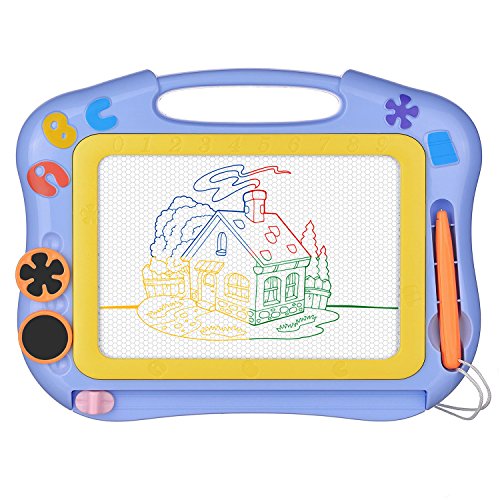 Buy or Read More on Amazon Here ($14.88 at the time of publication)
This colorful drawing board is a great upgrade from the classic Magna doodle. It still features a magnetic drawing surface with a slide eraser. An attached magnetic pen and stampers add to the fun. The upgrade is that the magnetic powder reveals drawings in four different colors, rather than just the classic black. This fun, artistic toy is set in a light purple or light pink frame and has a sturdy handle and decorative accents. Little girls will love being artsy on the move with this highly portable and ingenious gift.
50. Paw Patrol Me Reader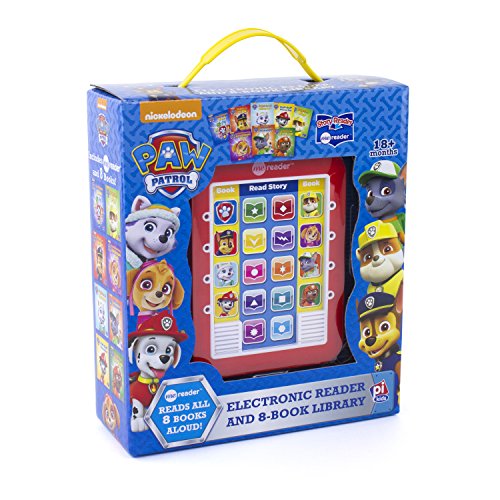 Buy or Read More on Amazon Here ($24.19 at the time of publication)
Nickelodeon's popular Paw Patrol characters come to life with this e-reader and eight book library. Your little Paw Patrol lover will have a blast learning all about her favorite characters. Get to know more about Rubble, Skye, Marshall, Chase and the whole gang with these fun and engaging stories. The simple reader allows different books to be read on the electronic device while your pre-reader leafs along in the accompanying paper book. Fun sound effects, character voices and more make this a multi-faceted reading experience for her.
51. Melissa and Doug Dinosaur Jigsaw Puzzles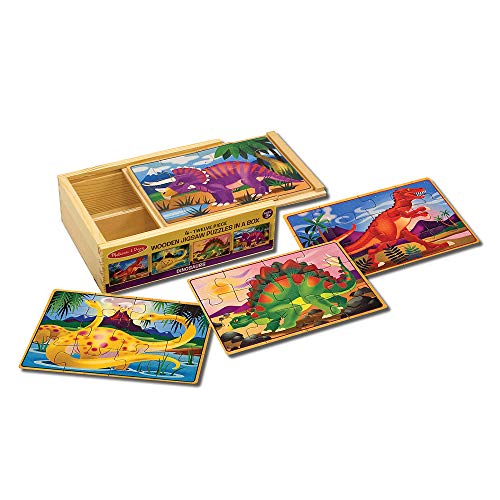 Buy or Read More on Amazon Here ($10.99 at the time of publication)
These simple, eye-catching puzzles are perfect for a 4 year old girl who loves dinosaurs! Sturdily constructed, these four wooden puzzles come in a handy box with a lid that slides open and shut. Each unique puzzle features a different dinosaur in a prehistoric landscape. The puzzles have a shape stamped on the back of each piece so that you don't get them mixed up. This is a great gift for a little girl who is just learning to orient shapes and put puzzles together. This is also a great option for traveling, as it's a fun, all-inclusive experience.
52. Light Up Terrarium Kit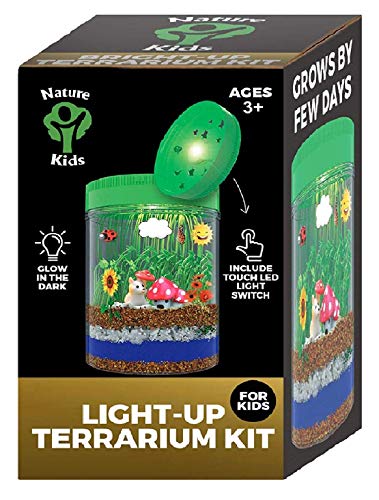 Buy or Read More on Amazon Here ($22.95 at the time of publication)
This LED light-up terrarium kit is great for the critter lover in your life. She can create her very own mini glowing garden. Everything you need to grow seeds is contained in this handy kit. The LED jar will glow through the night and your little girl will be mesmerized as she watches her plants grow. Everything you need is included: an LED jar, USB charger, soil, sand, river rock, seeds that will grow wheatgrass and chia plants, a spray bottle and a stick. There is also a groundhog, mushroom, hamster, and stickers for decoration and to get your imagination going! This is a great science project and all-around fun activity for a young child.
53. Bristle Blocks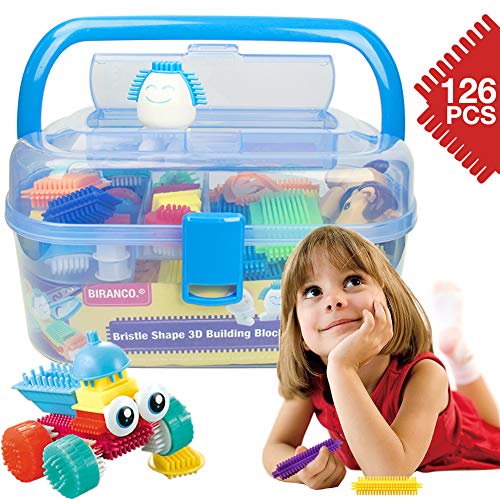 Buy or Read More on Amazon Here ($29.95 at the time of publication)
BIRANCO bristle blocks are an awesome STEM toy that even young children will have a blast with. Each block has extended bristles that allow them to easily adhere to each other. Think of them as giant velcro pieces. This means that children can very simply stick them together to create a variety of shapes, towers, and other creations. These toys are so fun and will last for hours! This set includes 126 pieces and has additional accessories, including round pieces, wheels, and a face. They are slightly bendable and can be manipulated to make almost anything! This comes with a handy, clear tote with a sturdy handle.
54. Giant Marble Run Construction Set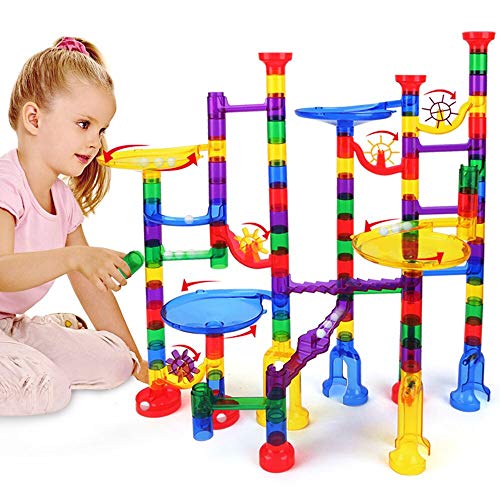 Buy or Read More on Amazon Here ($25.99 at the time of publication)
This marble run construction set is the perfect gift for a curious, hands-on little girl. With an adult, they will have a blast figuring out how to construct the most epic marble run ever. This giant set has 122 pieces and features all kinds of marble run activities, including funnels, ramps, wheels that spin, steps and more. The marbles will bounce, swirl, slide and whirl through the obstacle course you create together. Each sturdy plastic piece fits into each other and it made from exciting colors.
55. Qrooper Talking Hamster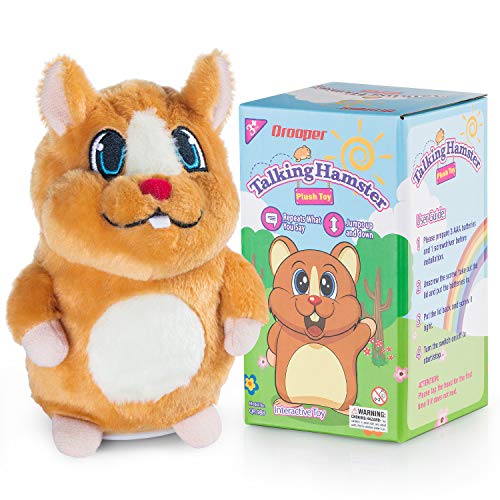 Buy or Read More on Amazon Here ($17.46 at the time of publication)
This adorable, amber-colored hamster has a white tummy and light pink ears, hands, and feet. Its large blue eyes and red nose sit above a cute little mouth with a single tooth. The design is just the beginning of the fun! This cuddly hamster imitates what you say. As it repeats, it can laugh, sing and speak in any language. It also responds physically to speech, moving up and down and dancing. The cute voice will mimic every word and leave everyone laughing and having a blast. This is a great and engaging toy for 4 year old girls.
56. Little Pritti Pretend Makeup Set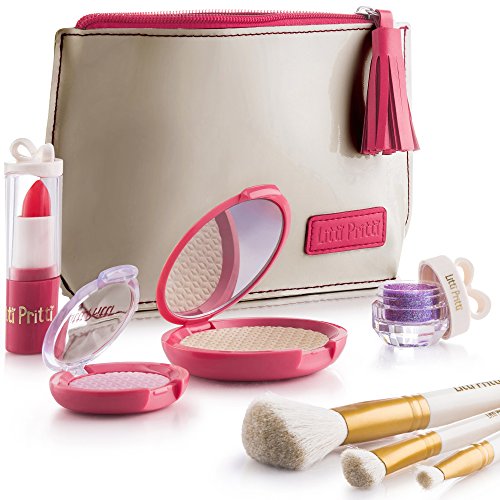 Buy or Read More on Amazon Here ($19.99 at the time of publication)
This Little Pritti pretend makeup set is great for your fashionable little beauty. The set isn't cartoony at all but looks like the real thing. The makeup is made from plastic, foam, and rubber so there is no risk of real application or ruining clothes. This set comes with an elegant little makeup case that can be zipped shut with a pink tassel. The makeup pieces have three brushes made from soft animal hair, a "powder" compact with a mirror, a blush compact with a clear top, a glittery lip gloss jar and a tube of red lipstick. Any 4 year old will have an absolute blast dreaming of being grown up with this sweet set.
57. Skoolzy Peg Board Stacking Toy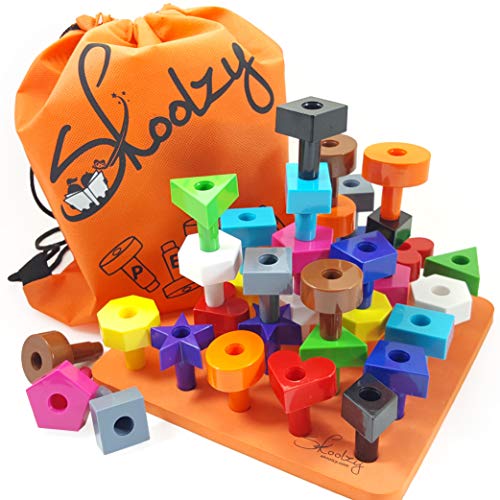 Buy or Read More on Amazon Here ($19.97 at the time of publication)
Peg boards are a fast favorite in any home. As a tabletop toy or to take somewhere, pegboards help with stacking skills and fine motor fun. This colorful set has a thick foam pad to set the pegs into. Each peg has different shapes, so your four year old girl will have fun with shape and color recognition skills as well as creating new towers. The pegs have uniform holes, so they all fit perfectly into each other. In addition to being unique shapes, each peg is a different color, including purple, pink, yellow, green and more. A handy, drawstring tote bag collects all of the pegs and keeps them safe until you play again.
58. VTech Rock and Bop Music Player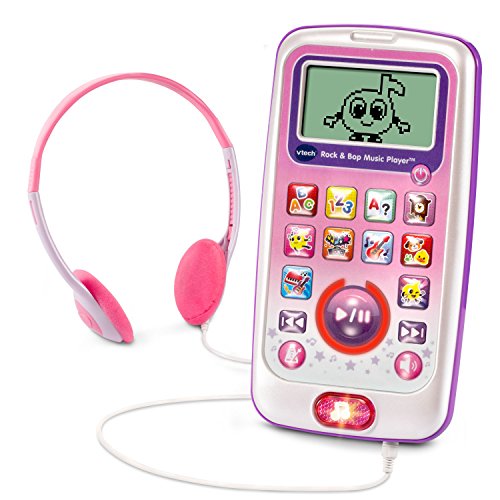 Buy or Read More on Amazon Here ($14.99 at the time of publication)
She will feel oh-so-grown up with this awesome rock and bop music player. It looks like a smartphone but is a safe alternative to the real thing that is just right for a four year old's development stage. The easy-to-use buttons are illustrated so a pre-reader can still navigate the different app and music selections. A digital screen displays dancing music notes and more. The player has a simple set of connected headphones with volume control. There are ten learning games and a variety of educational messages that include letters, numbers, instruments, time, animals and more. She can play hip-hop, classical or rock musi
59. Flybar My First Foam Pogo Jumper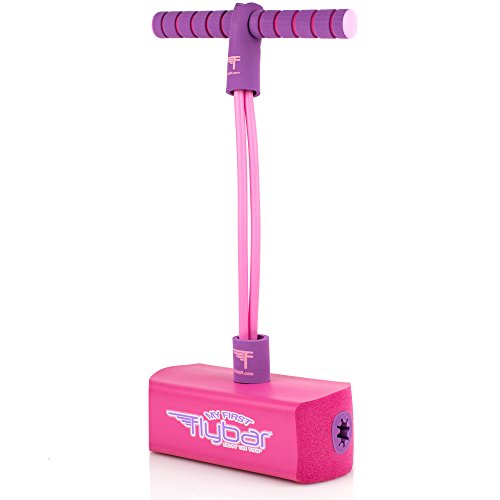 Buy or Read More on Amazon Here ($16.99 at the time of publication)
Get your bouncy little four year old the perfect gift for bopping up and down. This foam pogo stick is a great first step into the coordination required to master the real thing. Made with a sturdy foam bottom, rubber bar and with a sturdy T-bar at the top for grasping, this is a safe and fun-filled bouncing toy. This is great for little girls who love to move and are brave enough to balance on the foundation in order to bounce up and down. The cute bouncer comes in a variety of colors, including purple, pink, green, yellow and more.
60. Educational Insights GeoSafari Jr. My First Microscope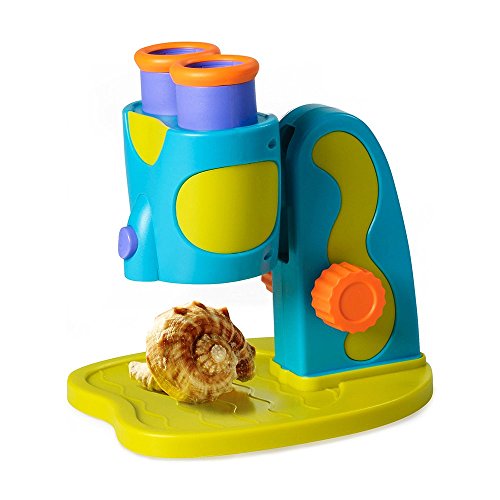 Buy or Read More on Amazon Here ($15.39 at the time of publication)
Educational Insights always has fun and inventive toys for little learners. Give your little scientist the gift of fresh perspective with this cute first microscope. The microscope sits on a sturdy lime green base and is colorfully presented with aqua, orange, and purple accents. A small knob changes the length of view. The size and shape are just right for a four year old girl. Place objects beneath the viewer and see what things look like at eight times magnification. Non-skid feet and an LED light make this an easy-to-use and fun-filled gift.
61. Melissa and Doug Stamp Set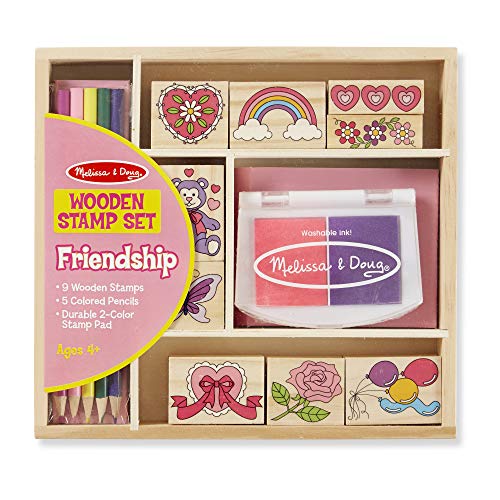 Buy or Read More on Amazon Here ($9.99 at the time of publication)
Give your stationary lover an artistic opportunity to create beautiful letters and messages. This stamp set has precious and colorful stamps that are sized right for little hands. The nine wooden stamps have whimsical images of hearts, rainbows, flowers, balloons, and animals. The ink pad has pink and purple ink for stamping. There are also five colored pencils included for writing her own messages. A nice wooden box contains this entire set and is great for longer term storage. The ink is washable, so hands and clothes are safe.
66. ZENY Wood Toy Grand Kid Piano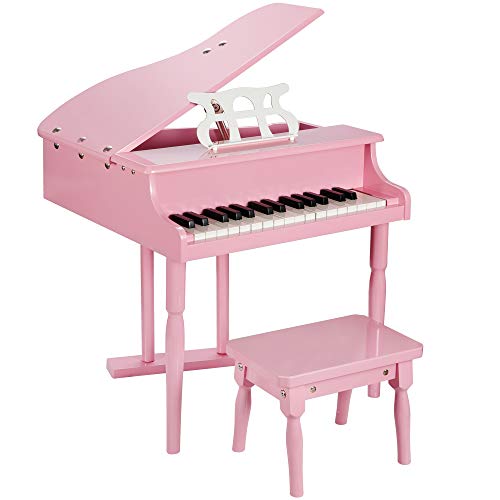 Buy or Read More on Amazon Here ($79.99 at the time of publication)
Do you have a music lover? Give her the gift of self-expression with this beautiful and whimsical toy piano. A step up from an electronic model, this piano has real keys that use hammers to play… just like the real thing! Beautifully painted in either pink or black, the piano comes with a matching bench. Structured to look just like a grand piano, your little music-lover will feel special and important as she plays this thirty key piano. The piano sits at about 19″ long, 17″ wide and 19″ tall. There is a contrasting music holder to keep her music books in place. You will love watching her create and explore with this instrument.
67. Medini by Cecilio Kids Drum Set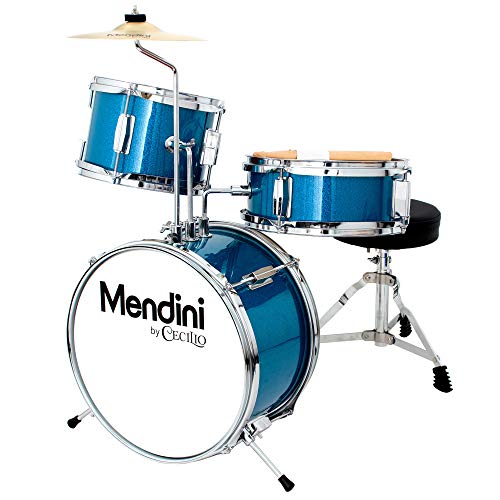 Buy or Read More on Amazon Here ($79.99 at the time of publication)
This adorable, sparkly drum set is just the right size for a preschool girl. She will enjoy hours of rock'n'roll fun and feel like one of the band. This drum set looks just like the real thing and comes with a bass, tom, high hat, and cymbal. A padded drum stool is affixed to sturdy legs. The drum set has a pedal and comes with wooden playing sticks that are the right size for a 4 year old girl's hands. This is a super fun gift that will thrill any little girl! It comes in sparkly blue, red, green, black or purple.
68. Fluffy Unicorn Slime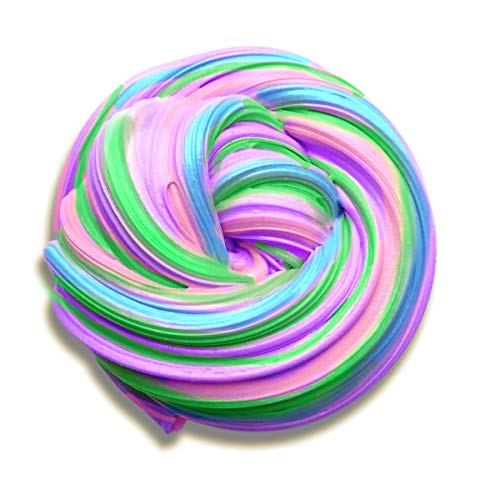 Buy or Read More on Amazon Here ($8.99 at the time of publication)
Get a sensory gift that she'll love with this fluffy unicorn slime. The slime is soft and not sticky. The texture is very soft and stretchable. The mixed colors are a unicorn combo if lime green, light blue, purple and pink. Play with the four colors separately or mix them up for a candy-colored combination. This slime stays fresh in the container between uses. This slime is soft, fluffy and great for artistic or sensory play. She will have a blast squishing, balling, rolling and stretching this slime.
69. Stoie's Musical Instrument Set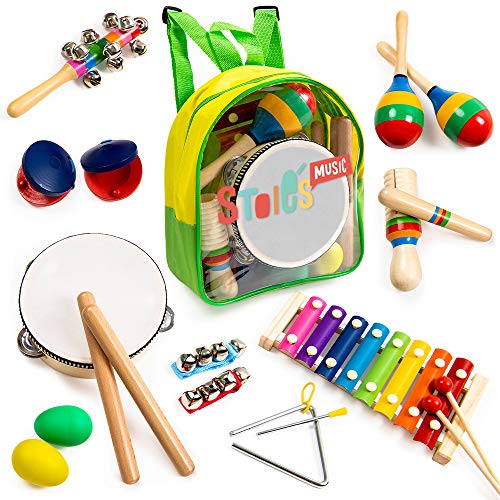 Buy or Read More on Amazon Here ($39.95 at the time of publication)
Get a music lover the gift of sound with this eighteen piece musical instrument set. Many of the instruments are made with real wood and accented with primary colors. Each instrument works well and sounds great. It includes a xylophone, two maracas, two egg shakers, a rainbow bell stick with numerous bells, two wrist bells, a wood sounder and a triangle with a striker. Additionally, it comes with drum sticks that can be used on a handheld tambourine. Shake, bang, ding, rattle, and rock'n'roll with this great little musical gift.
70. Amosting Color Matching Mosaic Pegboard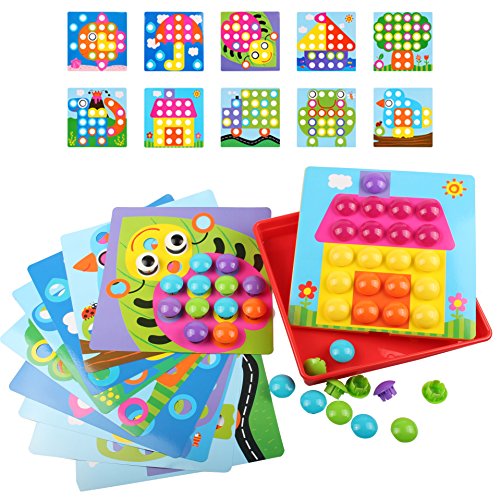 Buy or Read More on Amazon Here ($15.99 at the time of publication)
Learning and art all in one with this fun mosaic pegboard set. The set includes numerous pattern cards and chunky, colorful pegs. The cards can be set onto a pegboard tray. Then, children will insert the matching colored pegs on top of the card, revealing a beautiful illustration. The pegs are nice and large, perfect for her little hands. The variety of illustrations will keep them engaged and busy for a long time. This kit includes forty-six peg buttons and ten different pictures. There is a handy storage tray to keep it secure when not in use.
71. VTech KidiZoom Camera Pix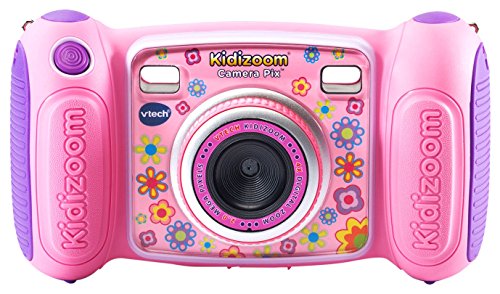 Buy or Read More on Amazon Here ($30.05 at the time of publication)
Jumpstart your little photogs creativity with this sweet little camera. The VTech KidiZoom Camera Pix comes in pink or blue. This toy is also a tool that works! The functioning digital camera can take real photos and has a 2.0 mp camera and a 4x digital zoom. Teach her how to point and click for her smiling subjects. There is also a selfie mode that takes great pics and a video recorder. Four fun-filled games keep this toy engaging and multipurpose. There are 35 fun photo effects and a built-in slot for a memory card. This gift is fun and easy to use.
72. Unicorn Hooded Bathrobe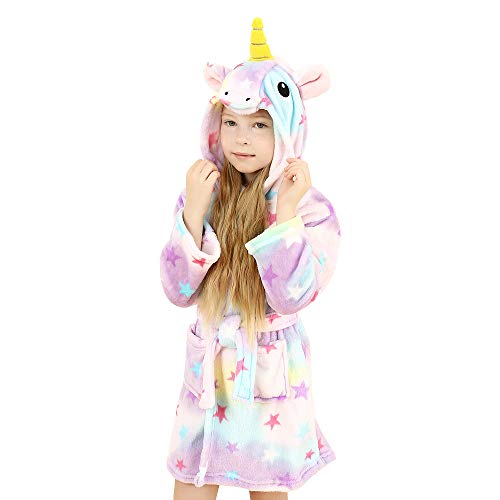 Buy or Read More on Amazon Here ($16.99 at the time of publication)
Keep your little girl cozy and comfy after bathtime in this precious, polyester hooded bathrobe. Pick from a variety of pastel color patterns that include blues, yellows, purples and pink with splashes of dreamy stars. The best surprise is that the hood of this soft bathrobe has a unicorn face, ears, and horn. Your little unicorn lover will have a blast getting out of bathtime and getting wrapped up in this soft robe.
73. Unicorn Slippers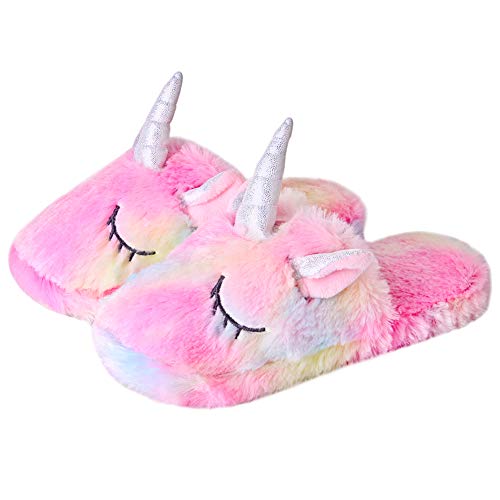 Buy or Read More on Amazon Here ($16.99 at the time of publication)
This is just the right accessory to keep your 4 year old's feet comfy and warm. They can slip into these dreamily soft slippers after a bath or walking around the house. They will love the precious unicorn eyes, ears and sparkly unicorn horn that are on top of the footwear. These come in a variety of sizes and have soft soles. Choose from unicorn pink and a variety of other, swirled unicorn colors.
74. Robo Pets Remote Control Unicorn Toy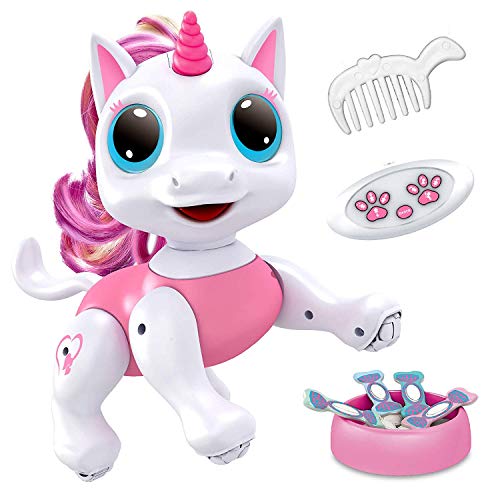 Buy or Read More on Amazon Here ($ at the time of publication)
Give her a unicorn pet with this friendly and fun Robo Pets Unicorn toy robot pet. Even young 4 year old girls will have a blast learning how to control this intuitive toy. The simple remote control powers a precious unicorn with bright blue eyes, a wavy mane, a pink body, and white legs and a tail. The feet stand on top of rolling wheels so the unicorn can slide and glide around. The LED eyes light up. The unicorn can neigh, prance and dance. The control mode can be set to respond to simple hand gestures, making this super simple for little girls to master. The toy also comes with a food dish, unicorn candy food and a comb for its silky hair.
75. MeDoozy 3D Pen Set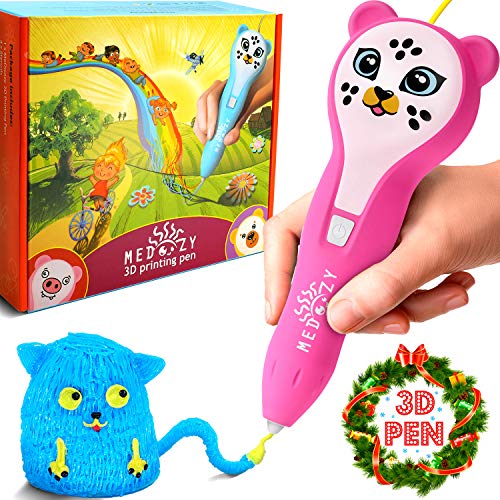 Buy or Read More on Amazon Here ($14.99 at the time of publication)
This innovative toy will impress adults and kids! A 3D pen has a reloadable cartridge and can literally be used to create immediate 3D art. Carefully pressing the button and gently moving the pen will let out the low-temp plastic, which dries quickly into a firm shape. The pen comes in pink or yellow and you can purchase additional cartridges. The pen itself is nice and large, just right for small hands. There is a sweet animal face and animal ears on the top of the body of the pen. Your little girl will love learning to gently maneuver this special tool and create something magical and amazing.
76. Allek Kick Light Up Scooter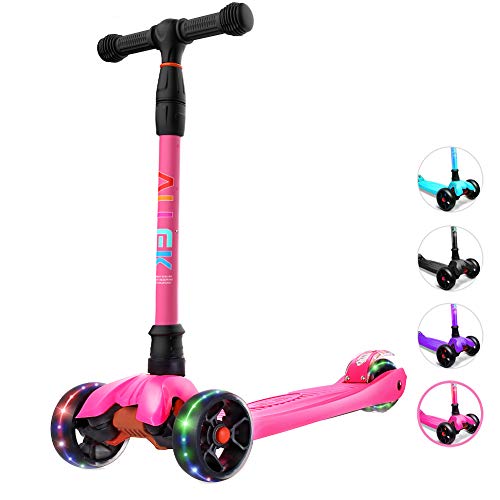 Buy or Read More on Amazon Here ($59.99 at the time of publication)
For the 4 year old on the go, this light up scooter is great to grow with her. With an adjustable t-shaped handlebar, it can fit even very small children just learning to balance and scoot. Two sturdy wheels at the front and one sturdy wheel at the back ensure no tipping over. A wide platform is just right for little girls. The scooter comes in pink, purple, black and blue. The best part is that the wheels have LED lights inside, so they light up! This is a great gift that will last for several years. Being that it's a toy that will help them stay active, I think it's one of the best gifts for four year old girls out there!
77. Born Toys Dress Up Trunk Set: Gardener, Explorer, Vet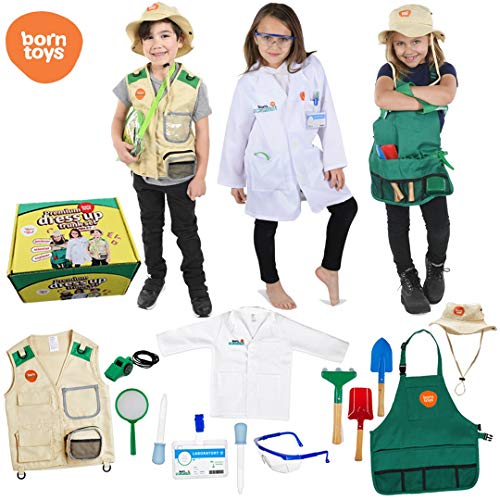 Buy or Read More on Amazon Here ($43.95 at the time of publication)
Get your make believer their very own dress up set with any job they could want. They can make believe that they are a rainforest explorer with a vest, hat, magnifying glass, and whistle. Or maybe she wants to be a vet, with a lab coat and glasses and medical tag and droppers. The gardener kit comes with a hat, apron with pockets and three handy gardening tools. This is a great addition to a dress up collection, and the pieces can be broken out and used as costumes throughout the year.
78. Jewelkeeper Musical Jewelry Box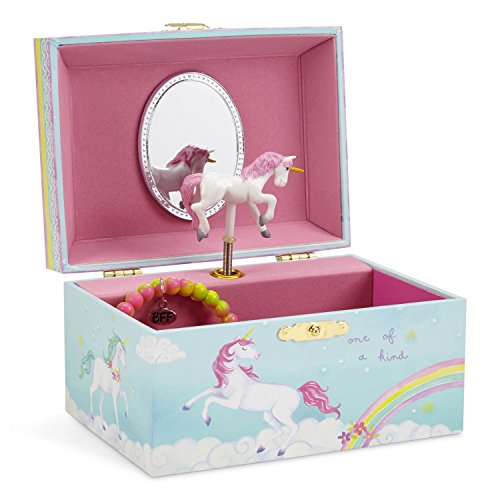 Buy or Read More on Amazon Here ($13.99 at the time of publication)
Get her an heirloom gift she will treasure for years to come in this sweet musical jewelry box. The box has magical unicorn illustrations on the outside, with rainbows, unicorns, and clouds. The sturdy hinge opens to reveal a felted, pink interior. A small mirror captures every movement of a spinning white unicorn with a pink main. A tune sounds as the unicorn twirls. This box is 6″ x 4.65″ x 3.5″ and can hold many little treasures. A gift box is included to make giving this present even more special.
79. Liberty Imports Light Up Archery Set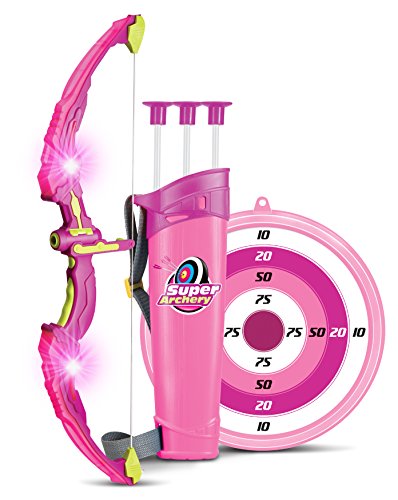 Buy or Read More on Amazon Here ($23.97 at the time of publication)
Give a growing girl this exciting, challenging toy. An archery set that lights up is mesmerizing and exciting! The board has numbers for scoring and comes in multiple shades of pink and white. An archery bag can be slung over the shoulder and hold three suction cup arrows. The most exciting piece is the bow itself, which has a sturdy construction that is easy for even very young hands to grasp. The bow lights up on either side, giving her the feeling of being a true heroine.
80. Refasy Children's ATM Money Safe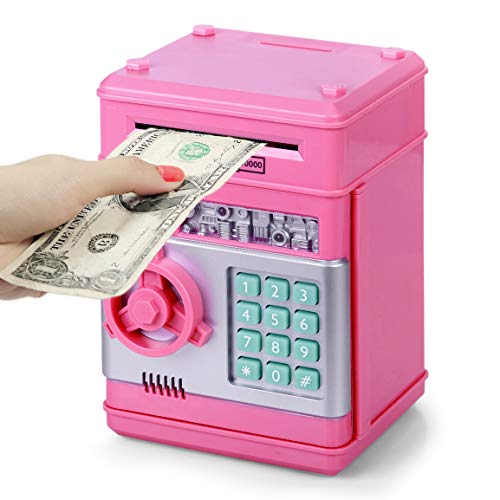 Buy or Read More on Amazon Here ($28.99 at the time of publication)
Give her a high-tech way to keep her savings safe with this fun, interactive electronic money safe. Bills and coins can be inserted into the safe. A keypad and rotating handle give this the feeling of being a vault. Set up the safe to respond only to a password and turning the knob. More than money can be kept safe: she can keep anything in the roomy compartment of this safe. The toy comes in white, pink or black and is certain to be a fun fit for spy play or just to keep things safe.
81. JOYSTAR Kids Bike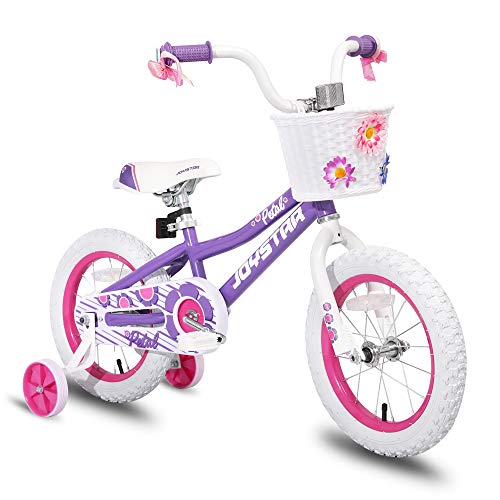 Buy or Read More on Amazon Here ($109.99 at the time of publication)
The JOYSTAR kids bike is a great transition from trike life. Made with real rubber wheels and a steel frame, this bike is the real deal. Little girls will love the adorable dark pink with black wheels or light pink with white wheels. There are also purple and blue options. The seat is adjustable and it has removable training wheels. A back wheel guard extends for safety. The front has squishy, rubbery handles for easy gripping. A reflector adds to the safety of this great first bike.
82. Bubble Bath Bombs for Kids with Surprise Toys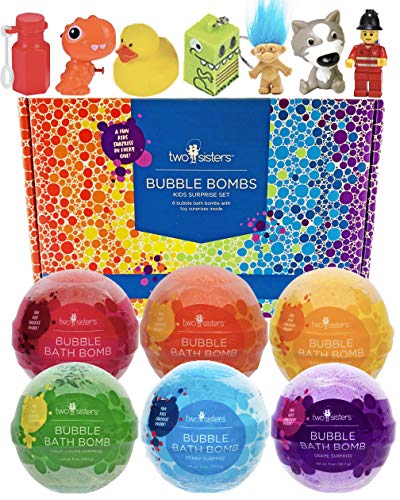 Buy or Read More on Amazon Here ($26.90 at the time of publication)
Bath bombs are a blast and these are super special. The colorful bubble bath bombs do more than fizz… they create a bubbly bath! Each beautiful color has a different fragrance. The red is cherry, the orange is citrus, the yellow is banana, the green is fruit loops, the blue is berry and the purple is grape. These are safe ingredients for sensitive skin. Each of these will dissolve, which is fun enough but there is a surprise in the end as they reveal individual prizes that were inside the bath bombs. This is sure to be a bathtime hit and enjoyed each time you use them!
Related Posts
Wrap Up
That concludes our list of the best gifts for 4 year old girls. If there are any good gifts that we missed let us know in the comments below. Be sure to check out some of our other pages before you go!