They say 40 is the new 30. Try cheering yourself up with that happy news.
Actually, 40 is when you realize that you're never going to be an NBA player, that you're never going to scale Mt. Everest, that you really, really need to get a 401K started, and that Blockbuster Video is gone for good.
OK, so maybe it's not you who's turning 40 but someone else. Feel their pain. Get them a 40th birthday gift they'll always remember, or will at least hang on to until after you've left the party.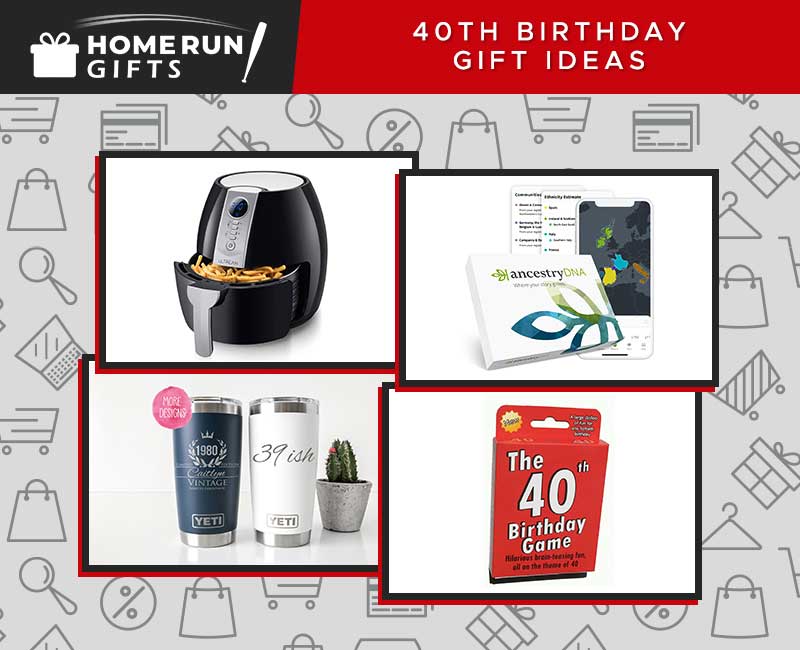 Here, gentle readers, is a list of our favorite 40th birthday gift ideas out there. Some are funny, some are thoughtful, some are useful and some have personalized messages, so if you want to go the personlized route don't wait too long to order.
List of 40th Birthday Gifts for Men
1. The 40th Birthday Game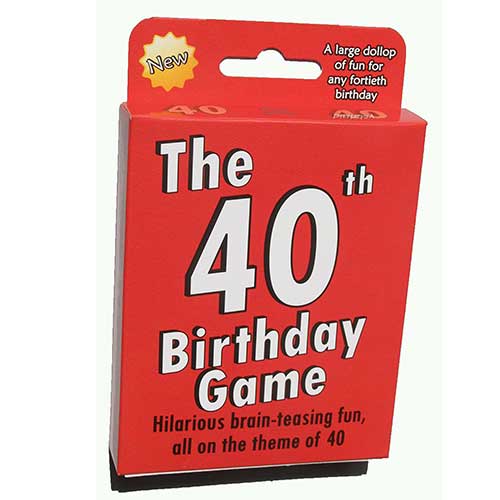 Buy or Read More on Amazon Here ($7.99 at the time of publication)
It's like a Jeopardy! category where either the question or the answer has the number 40 in it. For instance, do you know who the 40th U.S. president was? What is 40 squared? What movie role did Arnold Schwarzenegger have when he was 40? There are 70 printed cards, each with two questions for a total of 140. The answers are multiple choice, which gives you at least a chance of getting it right by accident, but at the same time it negates the possibilities of hilarious off the cuff answers. Shipping isn't exactly speedy (about two weeks) so allow plenty of time for delivery.
2. Air Fryer Oilless Cooker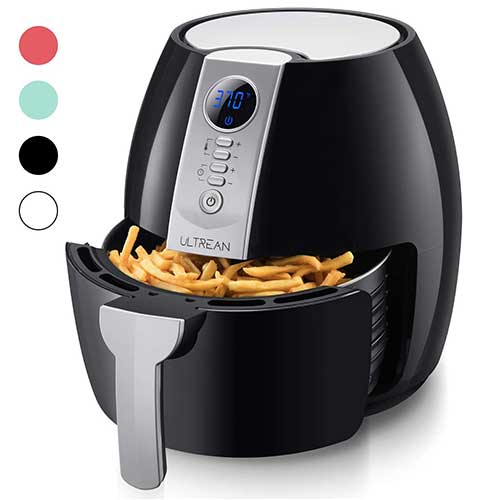 Buy or Read More on Amazon Here ($65.99 at the time of publication)
You know what they say. "It's not the french fries. It's the oil they cook them in." Well, there's some smidgen of truth in that, and this handy little countertop cooker is out to prove it. The Ultrean cooks, grills, roasts and bakes food in mid-air, so to speak, using its "rapid air technology." Set cook time and temperature and walk away. It's that easy. An LCD screen helps keep you updated so that you feel as if you had something to do with the outcome. And when the show's over, it cleans up really easy. Choose from four bold colors and get ready to cook!
3. Vitamix Blender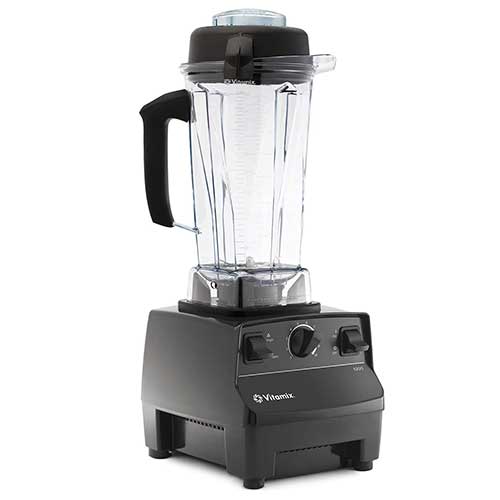 Buy or Read More on Amazon Here ($438.00 at the time of publication)
If the birthday boy or girl is into smoothies, veggies, and overall healthy eating, this blender could become his best friend. This is no "open a checking account and get a free blender" cheapo. It's the real deal, found in major restaurants worldwide. The list of things you can make with this is seemingly endless: smoothies, ice cream, batter, dips, dressings, baby food, and hot soup. Its blades spin so fast, the soup heats up to serving temperature on its own. It holds 64 ounces of liquid, has a heavy duty motor, a ten-speed rotary dial and solid construction throughout.
4. Lighted Bocce Ball Set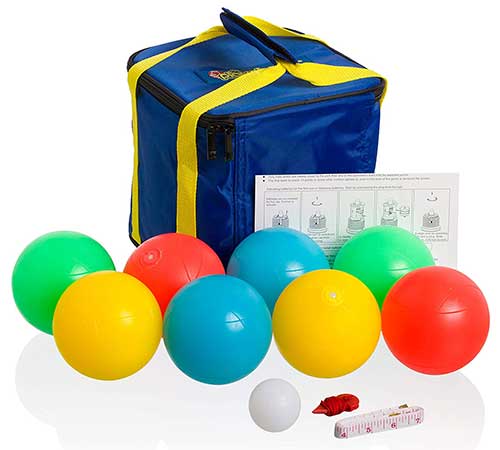 Buy or Read More on Amazon Here ($79.95 at the time of publication)
When age 40 comes calling, it usually sets off panic mode among the couch potatoes of this world. They vow to become more active, walk more, maybe jog or join a gym and then they never do. Maybe what he needs is a lighted bocce ball set. Okay, it's not going to make him huff and puff or render him buff, but it will get him off his duff. And if he needs a gimmick, here you go: It lights up. It has two light modes, eight bocce balls, one target ball and a spiffy, zippered carrying bag to rule them all.
5. AncestryDNA Genetic Ethnicity Test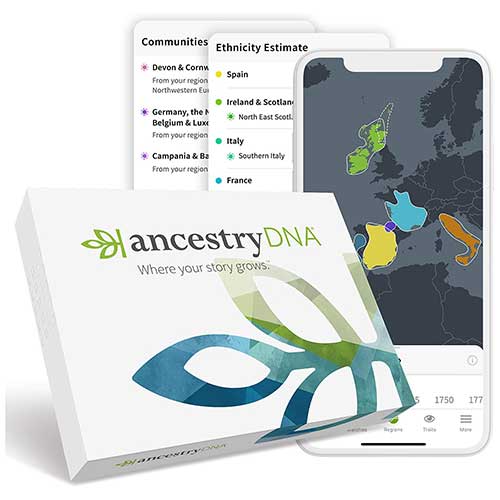 Buy or Read More on Amazon Here ($99.00 at the time of publication)
It's time to find out if they are really descended from Vikings as they claim. This kit will trace DNA from a saliva swab to over 1000 regions of origin, connect DNA to that of living relatives and create a historical profile that is both unique and informative. The test results, which come in six to eight weeks, provide the location of your most ancient ancestors, their movements and how you ended up where you are. It's the number one selling consumer DNA test in the world.
6. 40th Birthday Personalized Yeti Tumblers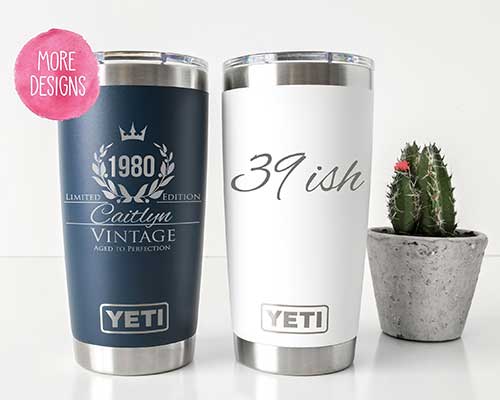 Buy or Read More on Etsy Here ($25.95 at the time of publication)
Yeti is synonymous with the great outdoors, hunting, fishing, hiking, and adventuring. So what's with these pretty tumblers that are clearly made for women? They're pretty tumblers clearly made for women, so get over it. These 20 ounce tumblers, which can keep liquids cold or hot until the next leap year (OK, that's an exaggeration) can be engraved with anything you want, up to 256 characters. For the woman celebrating her 40th birthday, 39ish, as shown in the photo seems appropriate. It comes in a choice of 14 different colors and 20 design options, and you know that with Yeti, you're getting exceptional quality. Shipping is free and delivery is about a week.
7. Hamilton Beach Electric Indoor Searing Grill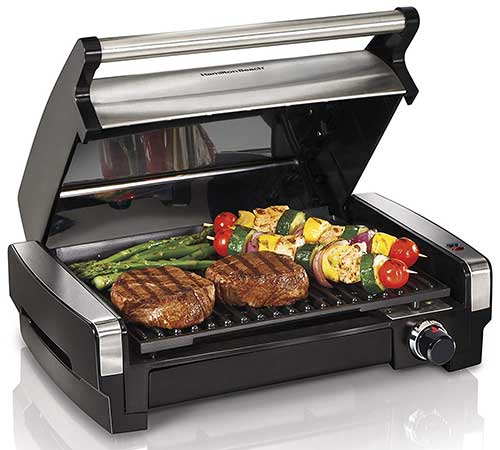 Buy or Read More on Amazon Here ($64.99 at the time of publication)
Lock in juices and flavor with 450 degrees of close-contact radiant heat with this Hamilton Beach searing grill. While this concept is nothing new, and while probably millions of its ancestors have appeared under the Christmas trees (and in the trash a year later) this one has real staying power. Easy to use and clean, its non-stick surface is the star of the show, ready for steaks, burgers, chicken, fish, pizza, and veggies. Powered by a 1200-watt electric element, it makes cooking fast and fun. There are different ordering options, ranging from a 3-in-1 multi grill to an eight-serving smokeless grill.
8. Blackstone Table Top Grill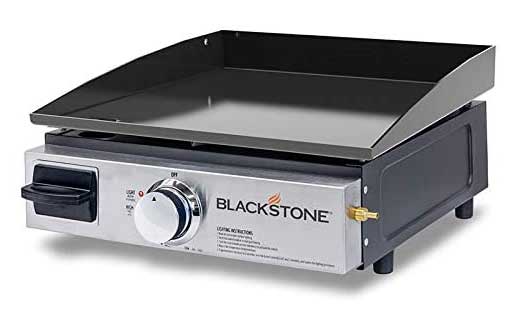 Buy or Read More on Amazon Here ($79.99 at the time of publication)
Bring the heat! This handy countertop appliance is so portable, you can take it on a picnic, which is kind of the point. The non-stick cooking surface measures 260 square inches and the gas burner generates 12,000 BTUs of cooking power. It uses a small camping type gas canister (not included), but with optional adapters, it can fit a standard, full-size propane tank. Don't forget to season the cooking surface before using it, and you will get great results for years to come.
9. GoSports Giant Dice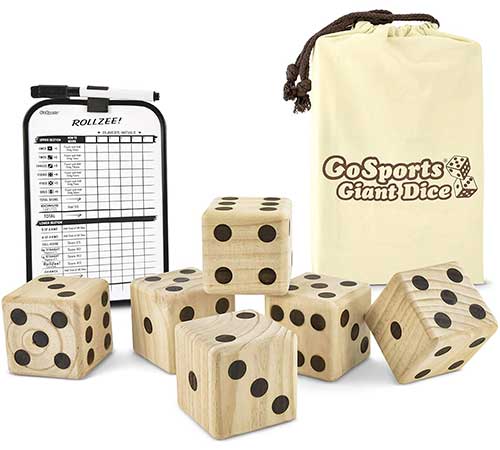 Buy or Read More on Amazon Here ($35.99 at the time of publication)
Let's see. The last time you played with wooden dice that measured three inches across was, um, never. That's what you get with this quirky game set. And actually, the dice aren't really three inches across. You can choose between 2 1/2 inches or 3 1/2 inches. The dice are hand sanded with the numbers burned in, so they never fade away. The set includes six dice, a dry-erase scoreboard for Farkle or Rollzee and a canvas carrying bag. Your best fun might be to make up your own dice game.
10. Frameable Guestbook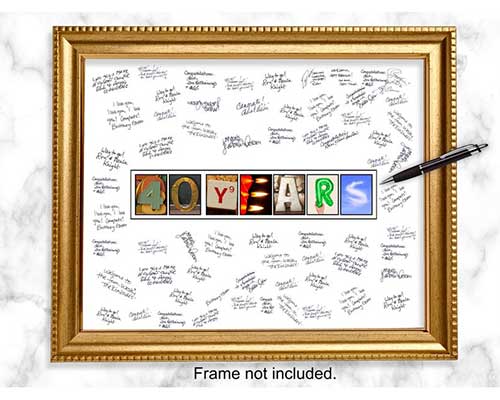 Buy or Read More on Etsy Here ($24.99 at the time of publication)
The first thing to understand is that this is only the poster art. The frame is not included. You don't have to use what shows in the photo. When you order, you can add a personal message up to 256 characters. There is a ton of white space around so that friends and family can sign it. (But keep it clean, keep it clean – this is going on someone's wall!) It comes in 11×14, 12×18, 18×24, 24×36 and 36×48 sizes. This poster ships in two to three business days.
11. Margaritaville Frozen Concoction Maker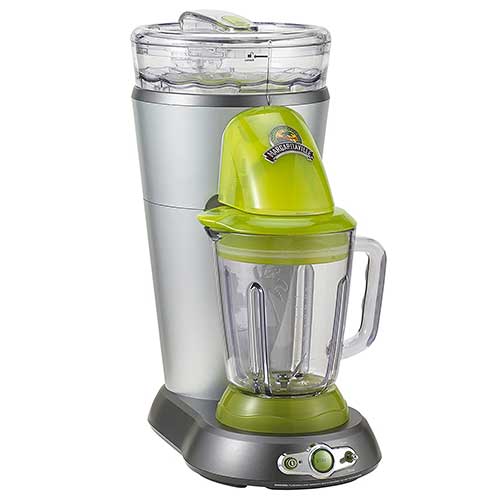 Buy or Read More on Amazon Here ($197.77 at the time of publication)
This margarita machine is perfect for making pina coladas, daiquiris, and margaritas! It automatically shaves and blends ice while adding the perfect amount of each ingredient. The 36 ounce pitcher comes with an easy pour container and is super easy to clean, making it a handy item to have around when friends or family come over.
12. GoSports Six Player Croquet Set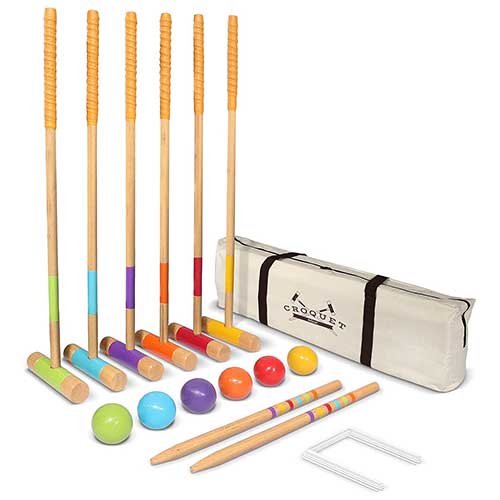 Buy or Read More on Amazon Here ($49.99 at the time of publication)
You won't find any 40-year-olds running around the neighborhood playing Pokemon Go, but give him a croquet set and watch the competitive fire come to life. He'll be organizing block tournaments and family final fours, complete with brackets (and maybe even sponsors!). This should bring back memories of carefree Sunday afternoons, where the greatest worry was whether your ball would get knocked away from a straight shot at the wicket. This is a set made from premium hardwoods for six players, with bold colors and a handy canvas carrying bag for games on the road.
13. Rustic Clock With Personal Inscription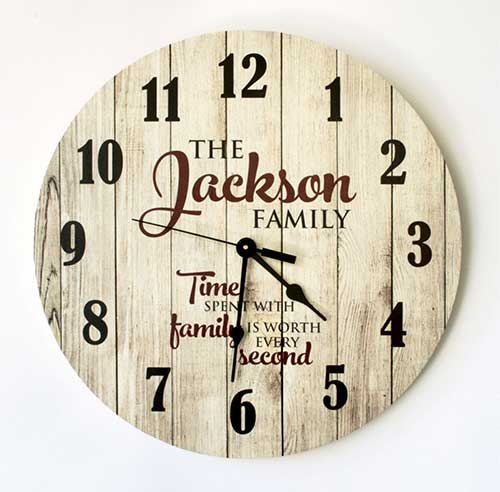 Buy or Read More on Etsy Here ($56.95 at the time of publication)
Do you want to stress out a millennial? When they ask what time it is, point to this clock. With old fashioned charm and new fangled ways of writing just about anything on any surface, this rustic clock will be a useful conversation piece. The clock can be inscribed with anything you want that's under 500 characters. That's a lot of characters, but remember that the more characters you use, the smaller they will have to be in order to fit on this 18 inch diameter clock face.
14. Tabletop Glass Fireplace
Buy or Read More on Etsy Here ($33.60 at the time of publication)
This is so cool it's hot. Or is it so hot it's cool? Now, this won't heat your whole patio on a chilly October night, but maybe it will take the edge off the autumn breezes for one or two people sitting close to it. It burns a 2.6-ounce can of gel fuel for about half an hour, and it only takes a few seconds to add more fuel. The fireplace stands nine inches tall and is six inches square at the base. The sides are made of tempered glass, which can be removed (when cold) for making 'Smores. You can order it with or without lava rocks and sand. (The fuel cannot be shipped, but it's easily obtained locally.)
15. Yeti Cooler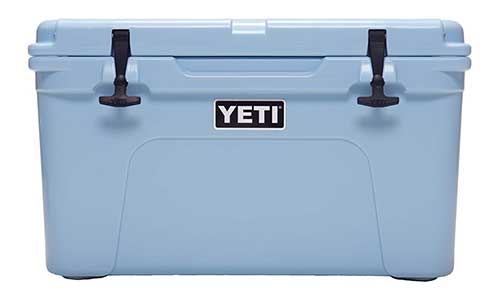 Buy or Read More on Amazon Here ($299.99 at the time of publication)
A cooler is a gift that will surely get a lot of use. From days at the the beach to camping to fishing, a quality cooler is essential for enjoying time outdoors. Yeti is known to be the industry leader in coolers and are know to hold up to any abuse or extreme temperatures you throw at them. Yet sells many models, including smaller coolers like this one or one coolers with wheels like this one that make it much easier to transport on beach trips and such!
16. Custom Garage Sign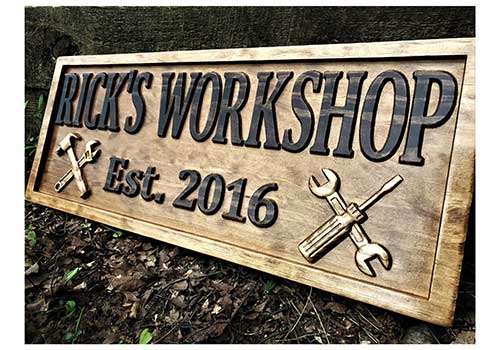 Buy or Read More on Etsy Here ($84.99 at the time of publication)
Remember Tim Allen "Home Improvement" and "Tool Time?" Well, this kind of takes its inspiration from that. The sign is made using a two tone stain finish on 3/4″ pine that's finished with a polyurethane sealer, and yes, it includes knots and imperfections. This sign is available in two sizes – A standard 9.25″ x 23″ or a larger 11.25″ x 28″. Each sign includes a sawtooth hanger on the back for quick and easy hanging.
17. Solar Fountain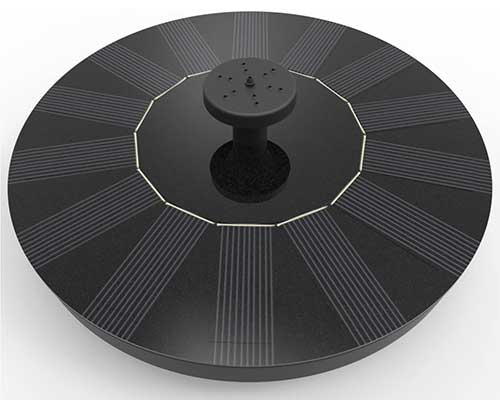 Buy or Read More on Amazon Here ($16.99 at the time of publication)
The world's first set it and forget it fountain! Only, you won't want to forget it, as it's an attractive addition to your backyard that's eco friendly and low maintenance. The pump functions from a solar battery connected to an array of solar panels. All you do is add water, as in a birdbath or pedestal basin, and hope for a sunny day.
18. Coleman Camping Coffee Maker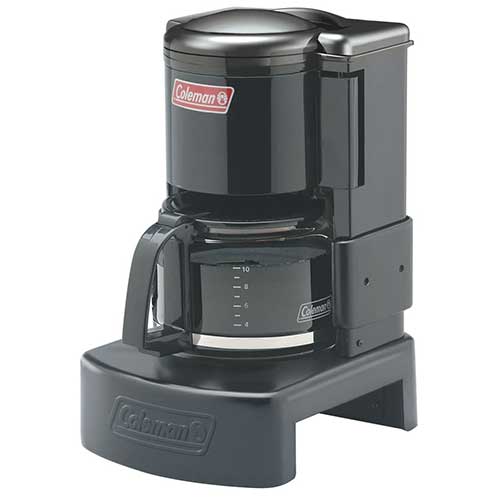 Buy or Read More on Amazon Here ($47.09 at the time of publication)
You know that feeling when you wake up in your tent and realize that someone has started making coffee on the campfire? That smell was so inviting. And then, you pour a cup, and as much as you tried to like it, it just tasted like warmed up stump water. So what you do is get one of these Coleman camping coffee makers and enjoy coffee like what you have at home. This has a heavy steel base that sits on a gas camp stove. The water boils up to the top and then falls through a filtered basket and into a 10-cup carafe for a perfect brew.
19. The Birthday Times Fake Newspaper Poster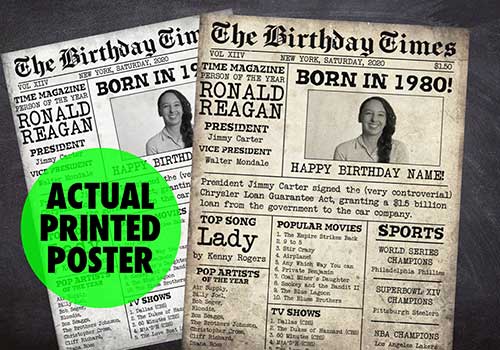 Buy or Read More on Etsy Here ($29.99 at the time of publication)
Put the giftee on the front page! This faux newspaper page combines personal data with actual stories and information from 1980*. It comes in five sizes: 11×14, 12×16, 18×24, 24×36 and 36×48. You can choose between gray and sepia (brown) backgrounds. Shipping takes about a week. *Or 40 years prior to the date the order is placed.
20. Coleman Camping Quad Chair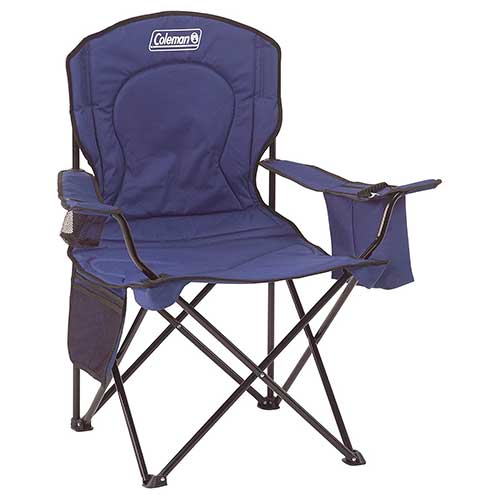 Buy or Read More on Amazon Here ($28.97 at the time of publication)
Coleman and camping is like Campbell's and soup. They just go together. This is a well-built camp chair made with strong tubular steel and high dernier polyester. OK, that's enough of the boring stuff. What's better is that the chair has cupholder on the right armrest and a four-can cooler draped over the left armrest. It's comfy and folds up easily and will be hanging with you on camping trips for years to come. You can choose from four colors and the option of order just one chair or a two-pack.
21. Fitbit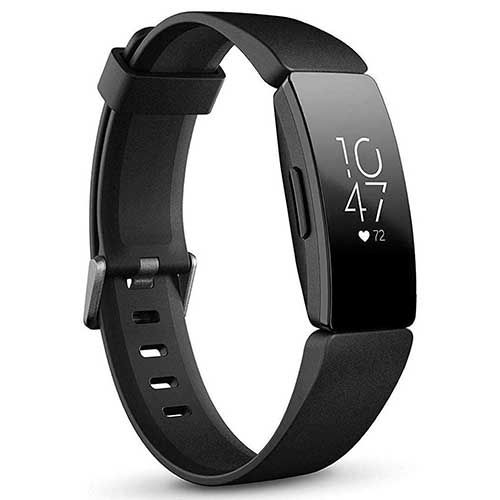 Buy or Read More on Amazon Here ($99.88 at the time of publication)
40 certainly isn't old but it's a time when a lot of people start paying more attention to their physical health. Gifting a Fitbit will allow them to monitor their heart rate, steps per day, always know what time it, and a whole lot more. That's why this is easily one of the best 40th birthday gifts you'll find. There are many models and colors available, but this one here seems to be the best for the money.
22. Usogood 12×50 Binoculars With Tripod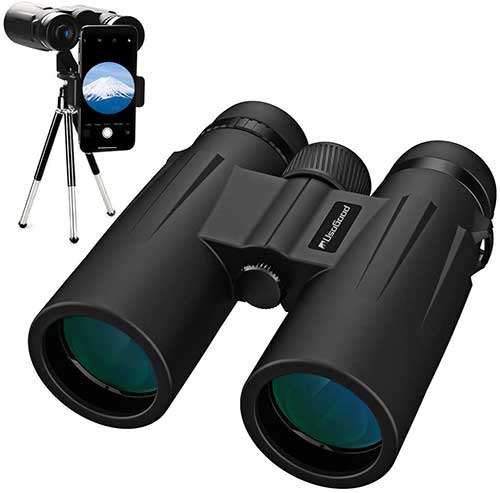 Buy or Read More on Amazon Here ($40.99 at the time of publication)
For sports, hunting, hiking or birdwatching, these binoculars are a great choice. It comes with a nice kit that includes a tripod, carrying bag, lens covers, cleaning cloths, straps and even a smartphone adaptor to make taking long distance nature photos possible. The magnification is 12X, which is pretty standard, but the quality of the optics is superb. The included tripod is a real boost as well, as it makes it easier to hold steady on a distant focal point.
23. Tool Rules Shop Sign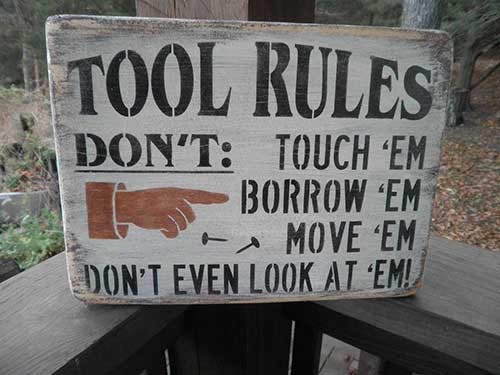 Buy or Read More on Etsy Here ($31.95 at the time of publication)
You know the type. "Don't touch my tools." If this describes your birthday guy, then he'll love this shop sign. Under the general heading "Tool Rules," are these stern admonitions: "Don't touch 'em, borrow 'em, move 'em or even look at 'em." You can choose from 9×11.25 or 11.25 x 16 (different prices for each). The words are printed on distressed wood that looks scuffed up and run over. Delivery isn't lightning fast at up to two weeks, but it's worth ordering.
24. What You Didn't Know About Turning 40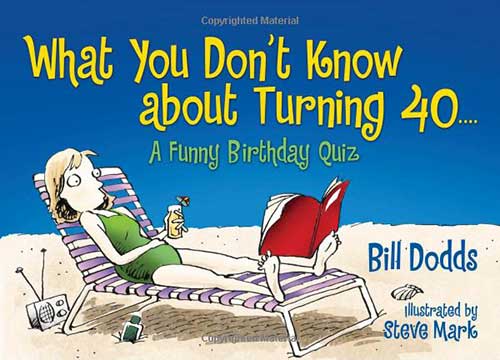 Buy or Read More on Amazon Here ($6.89 at the time of publication)
Someone who's turning 40 has already passed up on at least one opportunity to run for president (you have to be a minimum of 35), so maybe it's time to remind said person that there's a whole world out there that needs exploring. Enhanced with hilarious illustrations, this book is a lighthearted romp through middle adulthood. Sometimes it's flip, sometimes it's caustic and sometimes (most of the time, maybe?) it's right on target.
25. Fruit Infuser Water Bottle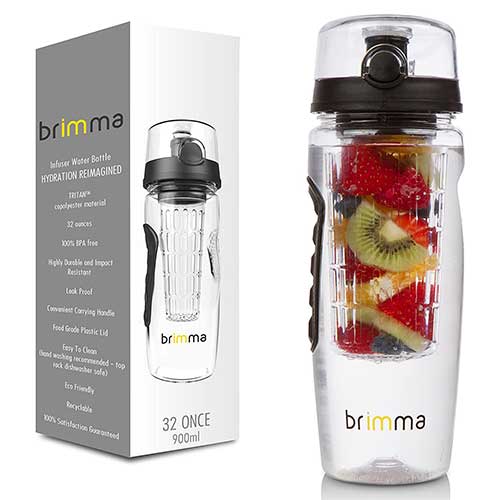 Buy or Read More on Amazon Here ($19.97 at the time of publication)
A walk down a certain grocery store is all it takes to convince you that adding flavors to water is big business. From sparkling lime, peach, pomegranate, strawberry, cherry, black cherry, grape, lemon and so on, there is no shortage of tasty flavors to peruse. But they all have a price tag and most of them have nearly as much sugar as a soda pop. This fruit infuser comes along to provide common sense to the madness. Put fresh fruit of your liking into the center infuser, and water in the 32 ounce holding reservoir and let the water and fruit blend for a sweet taste, sans sugar and unnecessary calories. The bottle is leakproof and shatterproof.
26. Shiatsu Foot Massager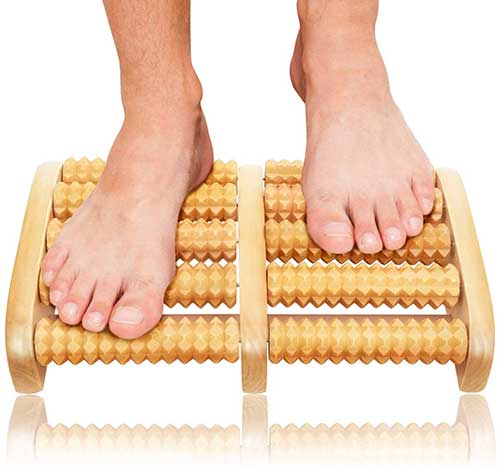 Buy or Read More on Amazon Here ($14.99 at the time of publication)
If your dogs are barking, soothe them with this shiatsu foot massager. It consists of 10 wooden roller bars that feature a combination of concave and convex points of contact for effective muscle stimulation and relaxation. It can also be used on other body parts. The massage action is based on the ancient practice of reflexology, which has been shown to improve circulation, alternately stimulate and relax muscles and generate an overall feeling of well being. This is a perfect 40th birthday gift idea they'll love and find useful.
27. Personalized Cutting Board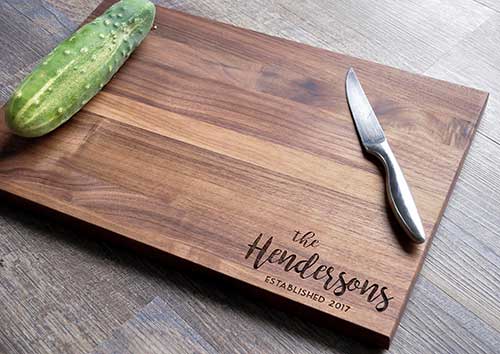 Buy or Read More on Etsy Here ($24.30 at the time of publication)
You could gift this to anyone for almost any occasion, and it's sure to be a conversation starter wherever it's presented. Simply supply the name or slogan when ordering and it will be engraved in the premium oak or walnut cutting board. You can choose from multiple types of wood and sizes. The image above is personalized for an anniversary, but you could easily just include the family name or whatever you want to make it personalized for a birthday. This is a gift they will get a ton of use out of!
28. Engraved Wine Box, Glasses, Coasters, Coffee Mugs or Flasks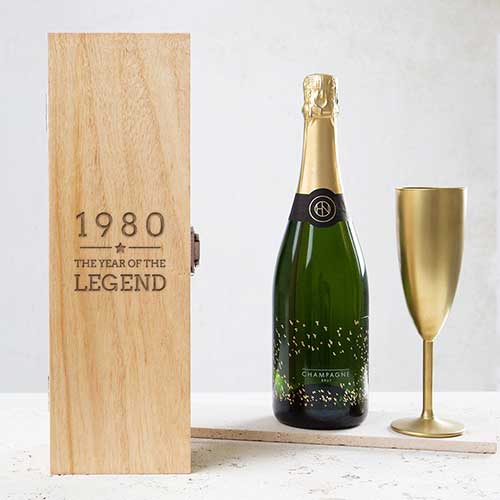 Buy or Read More on Etsy Here ($9.01 at the time of publication)
This is like a whole catalog all on one order page. The year of the legend, 1980 (or whatever year fits the birthday), is the theme, and it can be engraved on your choice of wine box, coaster, wine glass, tankard, shot glass, highball glass, whiskey tumbler, hip flask or coffee mug. Regardless of what you order, the material is top quality. Shipping from the United Kingdom is free and the item(s) arrive in five to 10 business days. Caveat – this product does not ship with any alcohol.
29. 40th Birthday Fishing Lure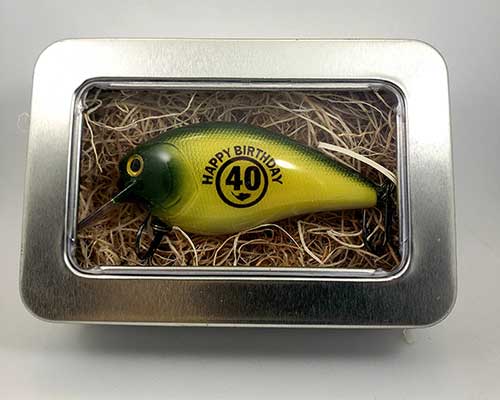 Buy or Read More on Etsy Here ($24.95 at the time of publication)
Now here's what you do: give this to the fisher guy for his 40th birthday, but tell him to never tie in on and cast it into his favorite fishing hotspot. Why not? You know why not. He'll lose it, snag it on an underwater log or get it tangled in a tree branch. So this one, you keep at home, on display, never to touch water. It's a cool idea, having the name and inscription on a fishing lure, and thankfully, even if it did get tried out in the water, fish can't read and would not be tipped off. You can order it with or without the snazzy tin and you can make it a real lure with treble hooks or into a key ring. The message is up to you, with a maximum of 256 characters. Shipping is free and takes about a week.
30. Vintage Ballcap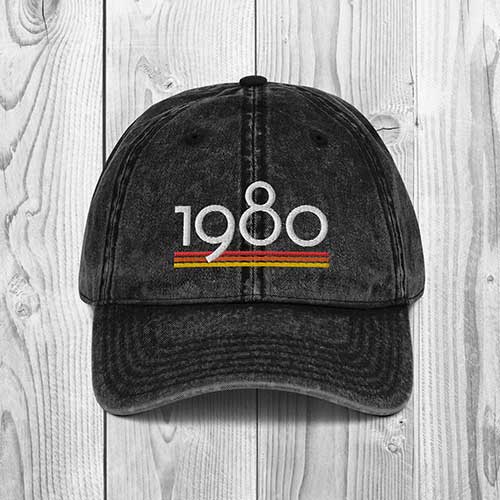 Buy or Read More on Etsy Here ($29.99 at the time of publication)
It doesn't seem right, calling the 1980s vintage, but that's what they are. It's ancient history. This ballcap represents a collision of two styles, including the perky, colorful look of 1980s and the faded gray of, well, years way before then. You can choose between black, which is really more of a charcoal gray with streaks and specks, and maroon. The text does not have to say 1980. You tell them the year and they'll put it on there. The material is super comfortable 100% cotton twill with a sizing strap in the back held in place by an antique brass clasp. Shipping is free and takes under a week for delivery.
31. Electric Back Stretching Mat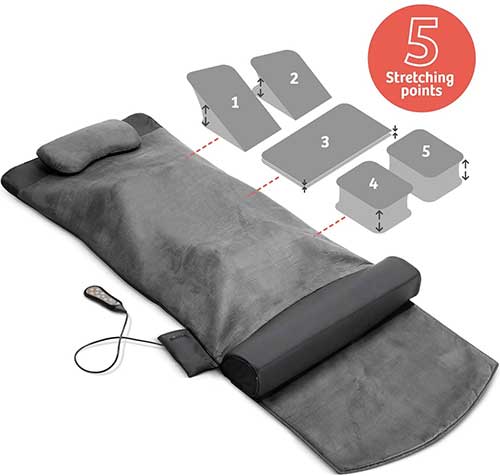 Buy or Read More on Amazon Here ($147.99 at the time of publication)
Release muscle tension, ease soreness and relieve overall back pain with this back-stretching mat that features five types of stretches. So why electric? It's more like a programmed guide through the functions, helping you do the movements correctly. There is also a massage function when you want the mat to do all the work. The controller operates four functions; stretch, twist, energize and flow. Stretch simulates yoga stretch positions to loosen up overwrought muscles. Twist helps decompress major pain points on the back and shoulders. The energize function helps restore flexibility and enhance endurance. The flow function works on your spinal column to decompress.
32. Cartman 148 Piece Tool Set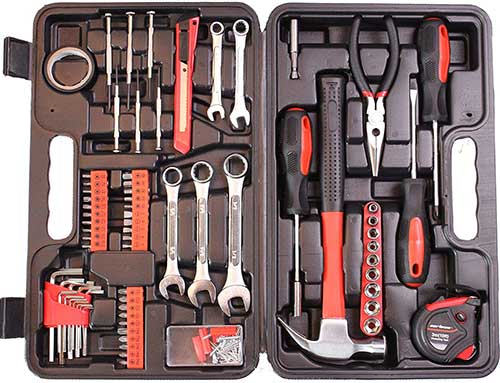 Buy or Read More on Amazon Here ($26.99 at the time of publication)
As great as it is, this gift might add stress to the birthday guy's life, because if he has this 148 piece tool set in his garage, he won't have an excuse for not fixing something due to not having the right tool. It has most everything you could think of, including a hammer, tape measure, crescent wrenches, Allen wrenches, screwdrivers, nut drivers and even electrical tape and picture hanging nails.
33. Sofa Side Table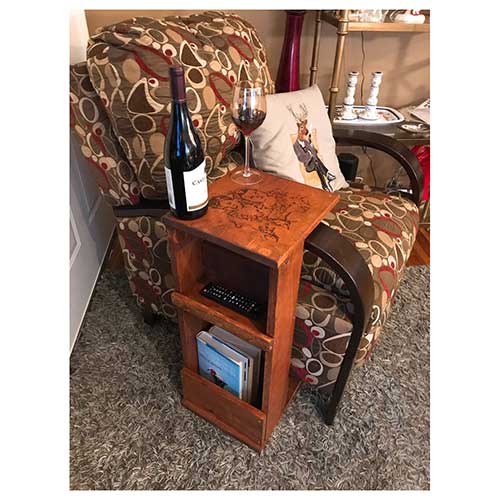 Buy or Read More on Etsy Here ($160.00 at the time of publication)
"Honey, what did you do with the end tables?"
"I threw them out. I couldn't stand to look at them anymore."
If this is the situation at your house, may we offer this classy solution? This sofa (or chair) side table provides a place to set things down on, yet doesn't take up much floor space and the top can be personalized! Just send them a photo or saying or whatever, and they will cut it into the top. The finish is rustic and beautiful, and you can select one of 10 heights, ranging from 23 to 32 inches.
34. Retro Victrola AM-FM Radio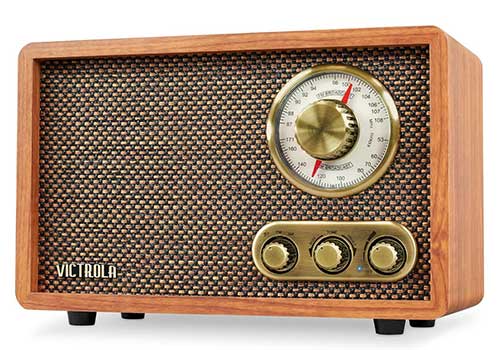 Buy or Read More on Amazon Here ($34.88 at the time of publication)
"Put some rock & roll on the old Victrola. I need a blood transfusion and a Coca-Cola." That may be the sentiment of the 40th birthday person, and a good reason to buy him or her this radio. It's retro in every aspect, which means no Bluetooth, no WiFi and no MP3. You get AM, FM, volume, bass and treble and an analog tuner and that's it. It is encased in a beautiful wood cabinet, so there's that.
35. Retro Handset for Cell Phones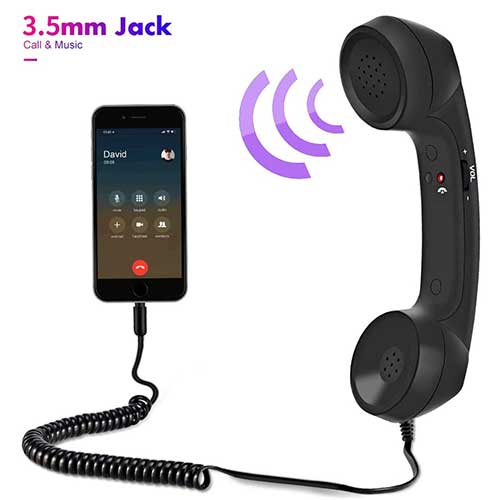 Buy or Read More on Amazon Here ($13.99 at the time of publication)
1980 is calling. It wants its dial tone back. This is a retro item that actually has more to it than the mere fact that it's retro. It plugs into the headphone jack (for cell phones that still have them) and takes over the ins and outs of the phone call. It's infinitely easier to handle, and it puts the earpiece where it belongs and the mouthpiece where it belongs. Pick from five cool colors. If you have an iPhone 7 or newer, you'll have to purchase a lightning to 3.5 mm adapter before you can use it.
36. How Not to be a Crotchety Old Man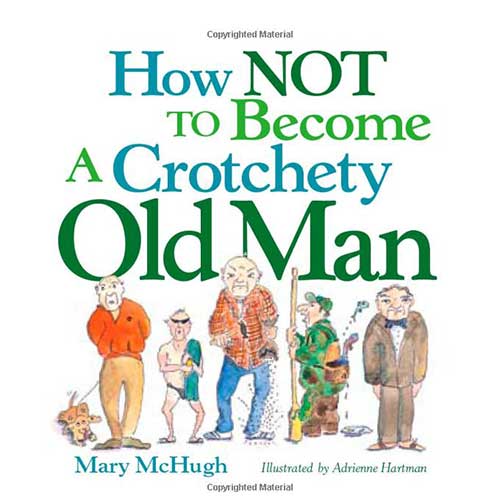 Buy or Read More on Amazon Here ($8.29 at the time of publication)
You're just in the nick of time. He hasn't turned into a "get off my lawn" pariah just yet, but please, do hurry. Get this book for him before it's too late. Look, his eyebrows are starting to get shaggy! This book tells men how to age gracefully, how to lose physical acuity with dignity, how to abstain from wearing Speedos at the country club pool and how to resist the urge to tell dirty jokes to the wife's Bible study group. If only this book could be standard issue to all men upon their 40th birthday!
37. Birthday Key Chain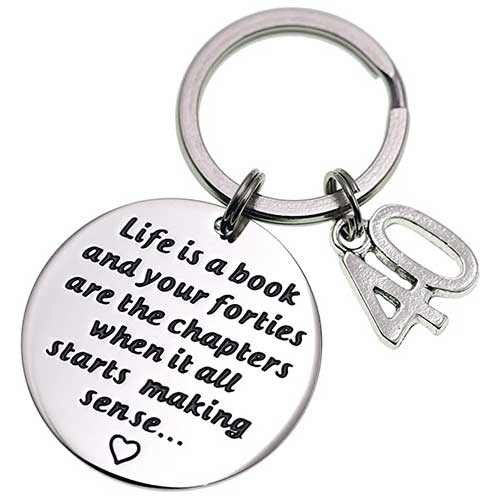 Buy or Read More on Amazon Here ($10.99 at the time of publication)
The inscription on this pretty chrome keychain reads, "Life is a book, and your forties are the chapters when it all starts making sense." If it's written on a keychain, then it has to be true, right? The inscription is on a shiny medallion about the size of a silver dollar, and the product literature is quick to point out that there are no sharp edges to hurt you. We're not sure that was ever an issue, but this is good to know. In addition to the medallion, there is a charm in the shape of a 40. Truthfully, this is one of those gifts where it's hard to go wrong.
38. Suitcase Turntable With Bluetooth and USB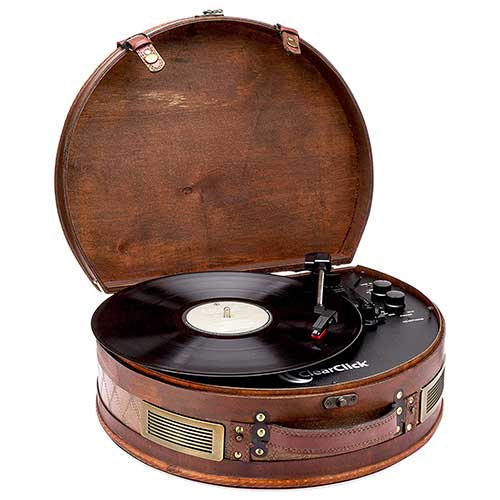 Buy or Read More on Amazon Here ($99.95 at the time of publication)
Your sister never forgave you for sitting on her Billy Joel album and cracking it. Well, maybe she's turning 40 and for a birthday gift you want to make it up to her. This should do it. It's a full size, old school turntable that folds up inside a circular suitcase. It has nods to modern technology with Bluetooth and the ability to play audio files via USB, but the star of the show is the turntable. She might even let you play your Metallica discs on it.
39. Magnetic Pickup Tool With LED Light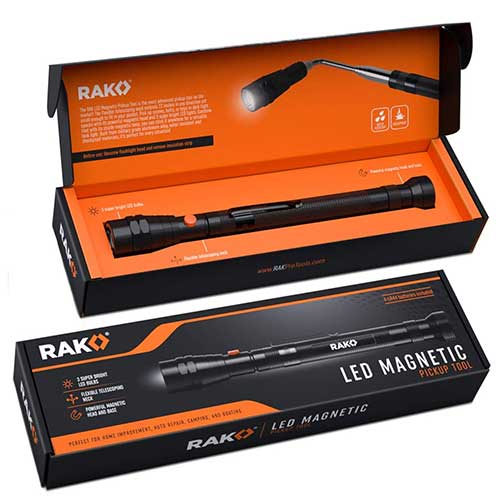 Buy or Read More on Amazon Here ($14.99 at the time of publication)
If it seems that the ground has dropped a foot or more in elevation in the past eight to 10 years, guess what; the ground is pretty much the same level as it has always been. It's your perception that's off. It's part of aging, weight gain, loss of flexibility, loss of balance, etc. So, along come this handy dandy tool that telescopes up to 22 inches to allow you to pick up that dropped screw, or nail, or metal piece. If it responds to a magnet, this bad boy will pick it up. And if you have trouble seeing what you're looking for, there's a bright LED, three position light at the end of the rod.
40. Wood Phone Docking Station Organizer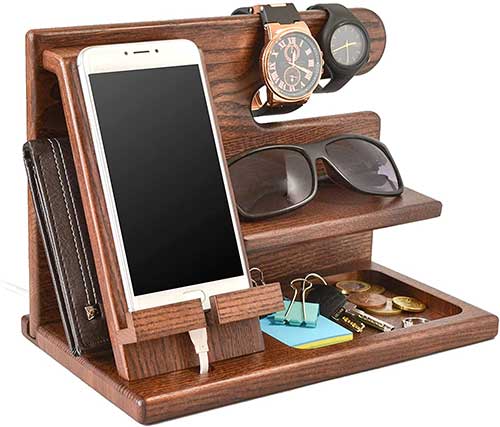 Buy or Read More on Amazon Here ($48.80 at the time of publication)
This handy organizer is cut above so many others that do the same thing because it does not occupy as much table space, yet it can hold as much stuff because of its three tier approach. It has a shelf for a cell phone, places for glasses, watches, spare change and keychains and even a little hideaway place for a wallet. It's well-crafted from very fine hand oiled wood and should be appreciated by the giftee.
41. Emergency Survival Kit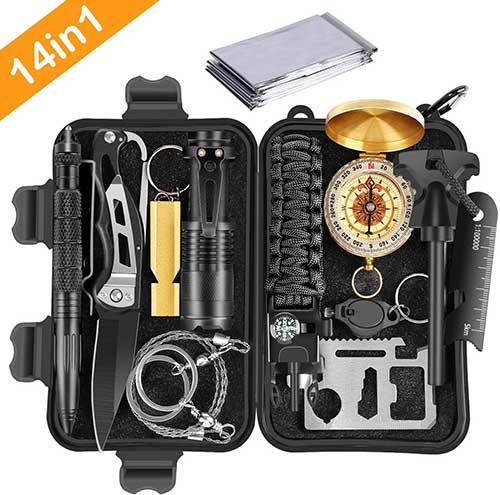 Buy or Read More on Amazon Here ($28.99 at the time of publication)
You just never know. Storms, earthquakes, tsunamis, pandemics, social anarchy and more can put you in survival mode. Even if none of those things come to pass, this is a cool gift for the avid outdoors lovers. They might have every one of the 14 devices that are included in this kit, but they don't have them all together in a rugged case like this. The kit includes a multi-function compass, a military knife, whistle, fire starter, tactical pen, keychain light and more.
42. Hamilton Beach Sandwich Maker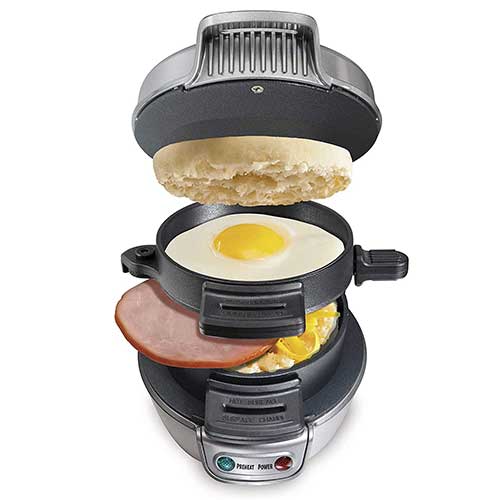 Buy or Read More on Amazon Here ($24.99 at the time of publication)
If you've ever ordered one of those specialty breakfast sandwiches at a drive thru and were supremely underwhelmed, then this product is for you. And if you like it, then your 40th birthday giftee will probably like it too. Hamilton Beach, the world leader in nifty kitchen appliances, comes out with this excellent sandwich maker that has four cooking layers, each designed for a particular part of the sandwich, like one layer for eggs, one layer for breads, another layer for meats, etc. You can take it all apart and put the pieces in the dishwasher for easy clean up. So if your 40th birthday person wants a homemade version of an Egg McMuffin, they can stay in their pajamas (even though people go through McDonald's in their PJs all the time).
43. Twenty Piece Grill Accessories Kit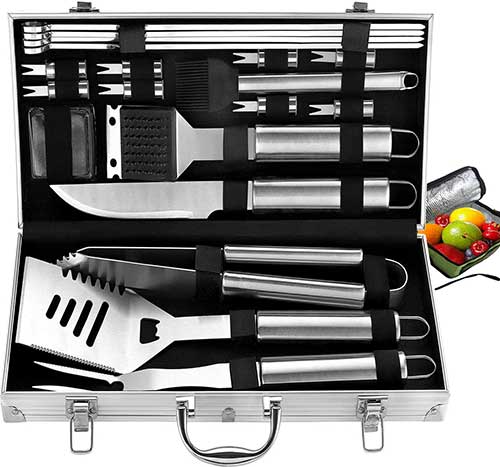 Buy or Read More on Amazon Here ($27.99 at the time of publication)
When your guy shows up at the community cookout championship wagging this stainless steel case full of grilling goods, it would be like Minnesota Fats walking into the pool hall tournament with a case of customized pool cues. Excuse me boys, but make room for the pro. This has everything a griller needs except for the grill, meat and heat. It includes an array of stainless steel tools that would make the lesser competitors drool with envy. It includes a spatula, tongs, grill fork, grill cleaning brush, extra grill brush head replacement, all purpose knife, basting brush, eight corn cob holders, four kabob skewers, a cooler bag and of course, the snazzy case, This is yet another item where you should order one for the 40th birthday guy and one for yourself.
44. RAK Universal Socket Grip Ratchet Wrench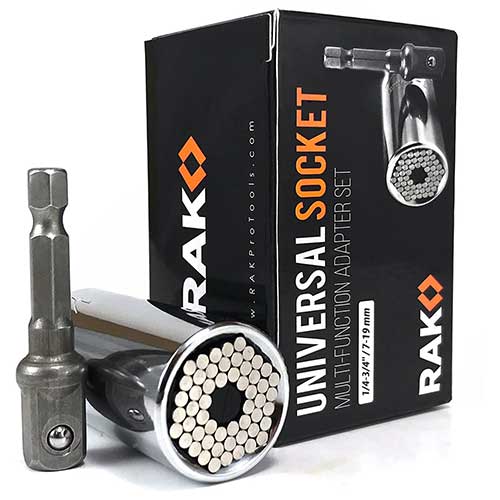 Buy or Read More on Amazon Here ($14.99 at the time of publication)
"Hey, Honey, toss that 7/16 crescent over here." (Pause.) "No that's a half inch." With this universal socket, you only need one. Metal rods conform around the shape of the hex nut and provide a secure grip that is strong enough to deliver sufficient torque for most situations. Its range runs from 1/4 inch to 3/4 inch, plus metric and can be used in manual or power drivers. The construction is high quality stainless steel, capable of producing 125 ft/lbs of torque. If you're thinking that you'd like to have one of these yourself, that's the idea. Order two; one for you and one for birthday boy.
45. Willow Tree Keepsake Box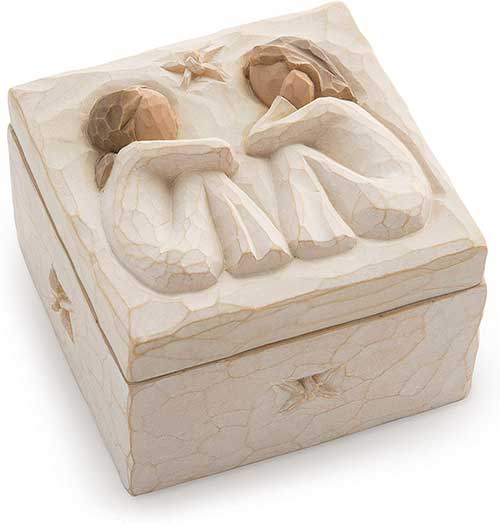 Buy or Read More on Amazon Here ($21.95 at the time of publication)
They should adopt the slogan "Nobody Doesn't Like Willow Tree," because no one does. The charming figurines and designs by artisan Susan Lordi have literally traveled around the world, delighting folks of all ages, in all stations of life. This keepsake box is a testimony to friendship, the special kind that only girls understand. The box is only three inches square, so it's not going to hold a whole lot, but then again, it doesn't need to. Hand painted resin girls stand out in relief on the top of the box, apparently having a discussion no one but them is privy to hear. You don't have to wait until your friend turns 40 to give this, but if it's that time anyway, then here you go.
46. Essential Oils Diffuser Bracelet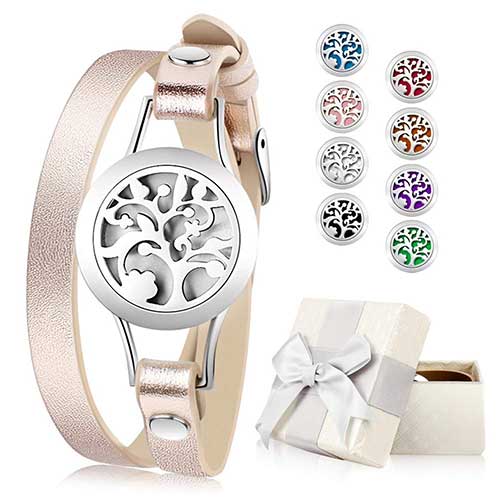 Buy or Read More on Amazon Here ($15.99 at the time of publication)
This doesn't look like any wristwatch you've ever seen. That's because it's not a wristwatch. This lovely item is an essential oils bracelet, delivering fragrance, peace, harmony and oneness with nature while you go about your day. Simply lift the front cover, add two or three drops of your favorite essential oil to the felt pad, close the cover and you're good to go. The wrist strap is adjustable and the faceplate is stainless steel. The item ships with eight felt pads, each ih a different color.
47. FRIENDS TV Show Glass With Personalized Message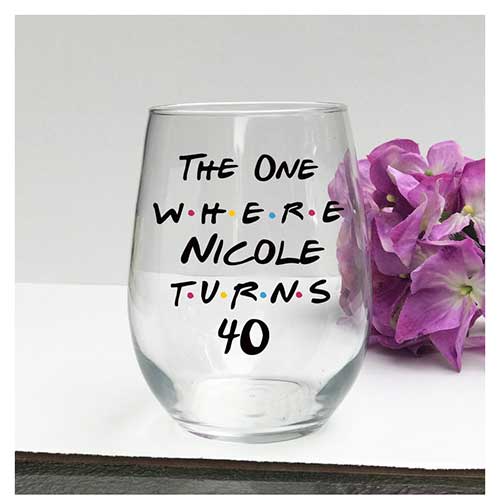 Buy or Read More on Etsy Here ($10.19 at the time of publication)
So no one told you life was gonna be this way. Your job's a joke, you're broke, your love life's DOA. Yes, you can almost hear the intro to FRIENDS when you pour your favorite beverage (adult or otherwise) into this 21-ounce stemless wine glass. The text is in the style and font of the extremely popular FRIENDS TV show. Supply the seller with the name of the person turning 40 (if it's something other than 40, tell them that too). There are several shipping options at different costs, and you can get this within two days if you're willing to pony up the extra money.
48. Slim RFID Blocking Wallet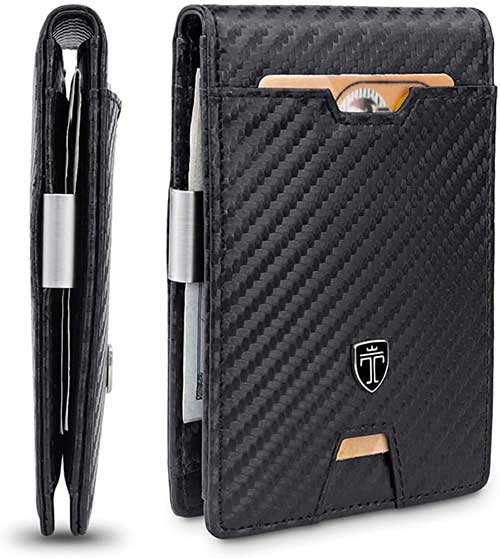 Buy or Read More on Amazon Here ($29.95 at the time of publication)
It's a treacherous world we live in, when people can steal your money while your wallet remains in your hip pocket. That's the reality and it stinks, but you can fight back with this RFID blocking wallet. RFID stands for Radio Frequency Identification, and bad guys can scan chip enabled credit cards and devices from a few feet away and steal the encrypted data on them. This wallet blocks the 13.56 MHz band, protecting the cards from being scanned illegally. Even if it didn't have this technology, it's a nice looking, slim wallet made from top quality leather. The whole wallet isn't RFID protected, just a pocket you can keep credit cards in. There is a notch you can insert your thumbnail to push the credit card out.
49. Not A Day Over Fabulous Birthday Mug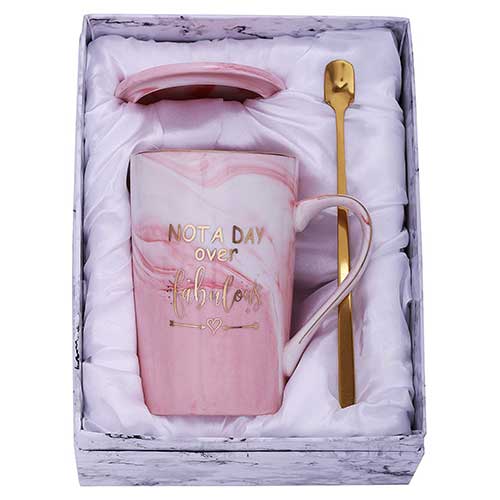 Buy or Read More on Amazon Here ($18.99 at the time of publication)
Treat your favorite diva like a diva with this stylish 14 ounce mug with the inscription, "Not a Day Over Fabulous" written in a gold leaf script font on the side. This makes a great gift for the woman turning 40, 50, 60 on up, and it doesn't even have to be a birthday. It can hold coffee, hot chocolate, soup and more. It's packed in a luxurious box and it rests in a bed of satin, accompanied by a golden stirrer and a matching lid. The background pattern is unique to each mug. Sure, it's over the top. That's the idea.
50. Moon Night Light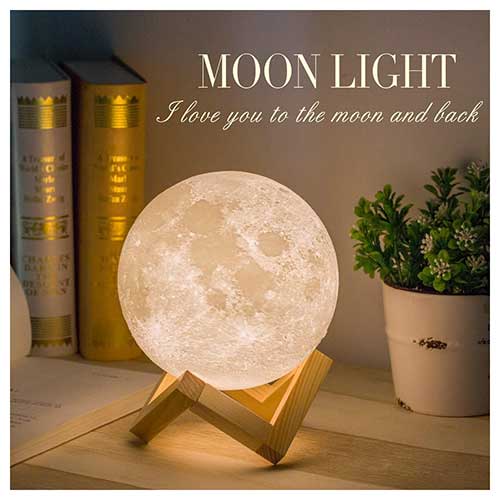 Buy or Read More on Amazon Here ($29.99 at the time of publication)
It will look like somebody carried moonbeams home in a jar with this whimsical night light that appeals to all ages. This three inch, 3D printed moon has an inner glow that adds a small splash of light to a dark room. The light can be adjusted for brightness and color, and the light operates from a rechargeable lithium battery that lasts up to eight hours (less for full brightness) on a charge. Recharging takes only two hours. Compared to a tabletop lamp, this light doesn't hold a candle, but it's for charm and appearance, not for reading.
51. Leather Toiletry Bag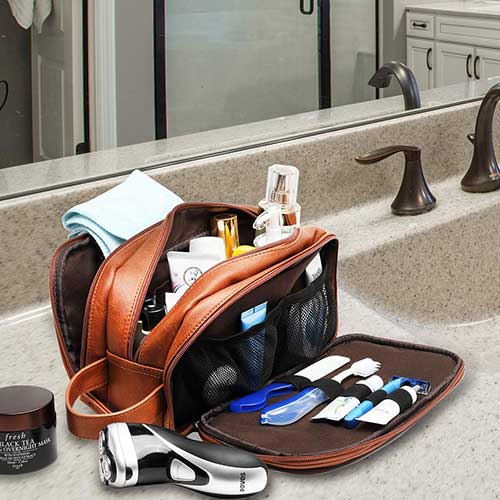 Buy or Read More on Amazon Here ($19.99 at the time of publication)
Once you turn 40, traveling becomes more of a science and a routine, and less of an adventure. Men start settling in to their pet habits, and they want things just so when they travel. This toiletry bag should come as a welcome addition to his luggage collection. It has pockets galore, elastic straps, pockets, pouches and compartments for anything that can physically fit inside the bag, which measures 11 inches long, 4.7 inches wide and 6.3 inches tall. If you gave 10 men the same thing, and gave them all the exact same items to store inside, every man will arrange the stuff differently. The leather is water resistant, and the zippers are top quality.
52. Working With People I Want to Punch in the Throat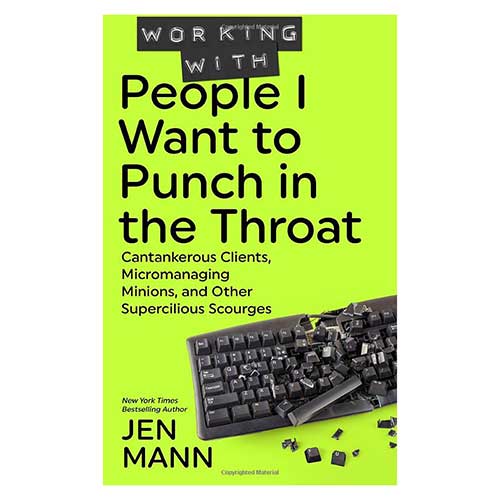 Buy or Read More on Amazon Here ($13.49 at the time of publication)
At age 40, you can't retire for a long while, and so you're just going to have to tolerate those intolerable people at work the best you can. This is the book version of author Jen Mann's hilarious blog by the same name. It exposes the classic office divas, the Wilbert the whiners, the back stabbers, the work shruggers, goldbrickers, brown nosers, tyrants and their ilk in fresh and funny descriptions that puts a happy face on situations that might otherwise lead to excessive consumption of adult beverages. So, if you know someone turning 40 and they work in an environment with all these characters, get them this book. It may not help them cope one bit better, but it may make them laugh.
53. 14 in 1 Multi-Tool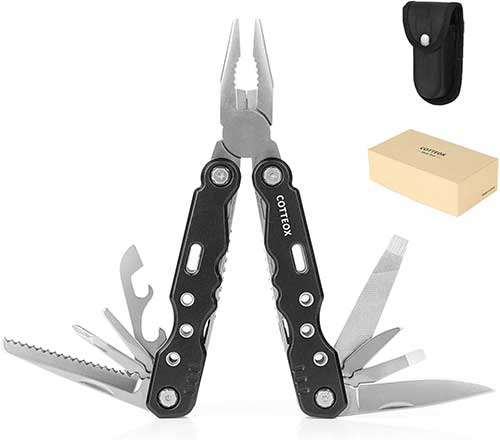 Buy or Read More on Amazon Here ($9.96 at the time of publication)
The handiest thing since they started putting erasers on the end of pencils, multi tools should be in every man's toolbox. They're frequently given as groomsmen's gifts and as promotional giveaways, and you simply can't have too many of them. This one is going to be of a heavier grade than the giveway stuff and is more apt to actually work more than once or twice in emergencies. This one includes pliers, four types of knives, saw, bottle opener, Phillips screwdriver, file, fish scaler, cutter and stripper. It also comes with safety locking features that prevent harm to unauthorized users.
54. Cassette T-Shirt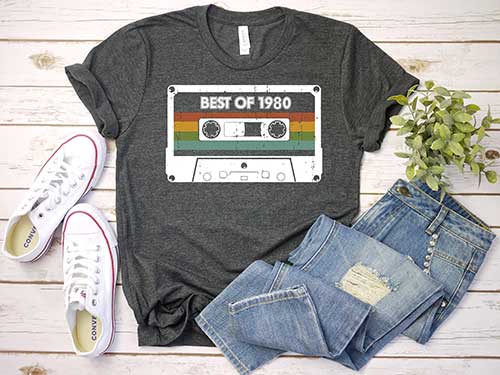 Buy or Read More on Etsy Here ($21.59 at the time of publication)
So what's that rectangular thing on the shirt? You have to be at least 40 to know that it's a cassette tape cartridge that let you listen to an album all the way through twice before the tape wrapped itself around a post. It's a clever idea, one that's sure to draw a laugh. It comes in eight colors and six sizes. *The year on the shirt will be 40 years prior to the order date. Shipping is free in the US, and delivery takes less than a week.
55. Reef Men's Phantom Sandals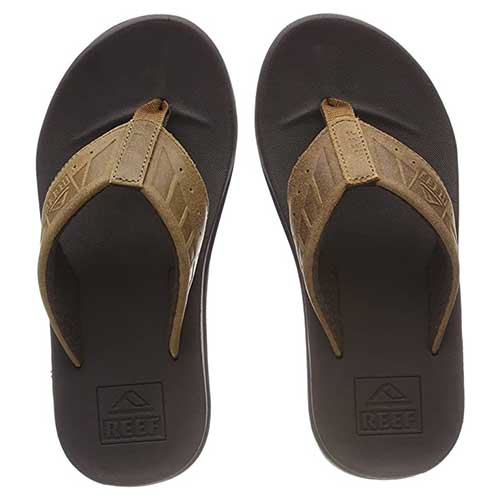 Buy or Read More on Amazon Here ($17.97 at the time of publication)
If your soon to be 40 guy has recently blown out his flip flops or stepped on a pop-top, cut his heel and had to cruise on back home, then you should get him these. The laid back design is a signature look for Reef brand clothing, a growing brand in the leisurewear market. These handmade sandals feature EVA (ethylene vinyl acetate), mesh and Nubuck material with a long lasting synthetic sole. They're slight platform risers, adding about an inch of height.
56. Soy Candles 6 Pack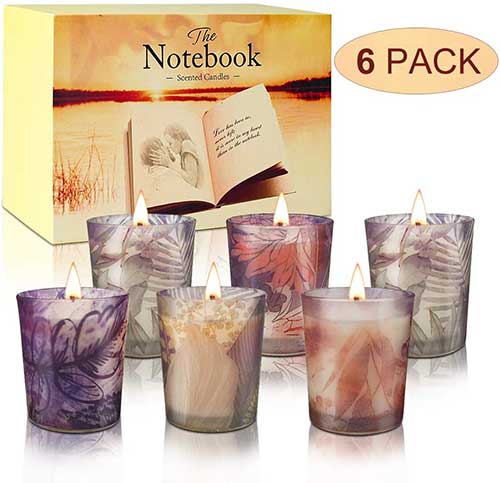 Buy or Read More on Amazon Here ($24.77 at the time of publication)
This product is themed around the immensely popular chick flick, "The Notebook", but it doesn't include tissues, so what's up with that? What you get is six soy wax candles, each with its own scent, including spring, Thai lemon grass, Japanese persimmon, French juniper, lavendar wolfberry and Taroko blood orange. They are contained in gracefully beautiful frosted jars, each one different from the others. The connection to the movie is a loose one, but essentially, each fragrance represents a particular scene or segment of the movie. So use your imagination. If it takes you off your worries for the day, then the aromatherapy has worked.
57. Rose Under Glass Dome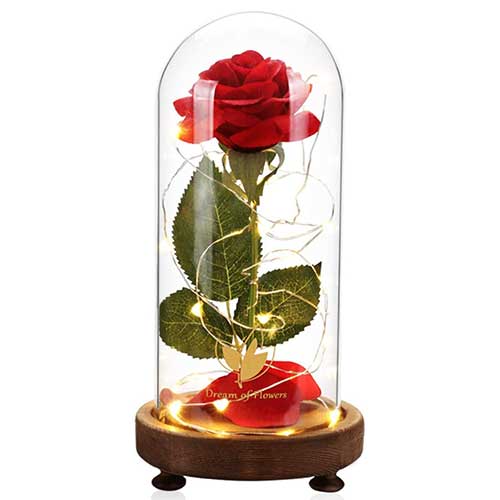 Buy or Read More on Amazon Here ($28.99 at the time of publication)
This is a truly lovely gift for any occasion, not just 40th birthdays. A handcrafted velvet rose is on display under a dome, accented by some delicate LED lights. The string of 20 LED lights can be programmed to a shape of your choosing, and there are two light modes. The lights operate in USB power mode (5 volts DC). It is recommended that this item not be subjected to intense light or high heat, due to the fragile nature of the rose petals. The dome can be removed for cleaning purposes, but should not be left off the display for any longer than necessary. From the top of the dome to the bottom of the base, it measures almost nine inches, and the base is 4.3 inches in diameter.
58. Flower Glass Tea Mug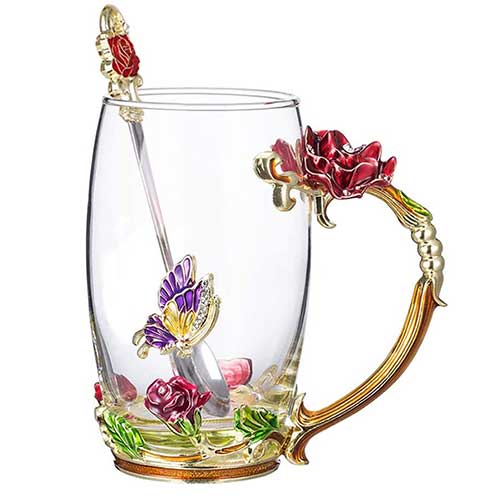 Buy or Read More on Amazon Here ($19.28 at the time of publication)
Obviously, this is not an everyday tea mug. It's for special occasions (VERY special occasions) at most, and would also work well as one of those look but don't touch items in a curio cabinet or china cabinet. But, that being said, you can use it every day if you want to. This features some very pretty 3D designs, with roses, butterflies and greenery. The handle is painted gold and a stirring spoon is included, itself very ornately decorated. It's all very understated and delicate and probably not suitable for the dishwasher.
59. Thermal Socks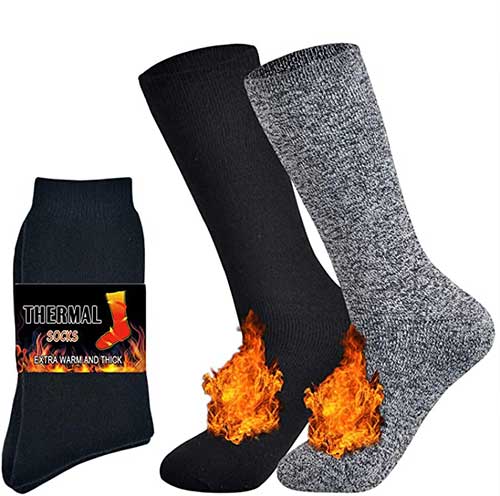 Buy or Read More on Amazon Here ($10.99 at the time of publication)
Despite the photo, fire is not included. So, no, the Jormatt people are not promoting a trend of giving someone the hot foot. But they do hope to launch a trend of giving someone the warm foot. These uber comfy plush socks are insulated against extreme cold, and the product literature boasts that they are three times warmer than 100% cotton socks, formerly considered to be the warmest material. Well, the jury may still be out on that, but these 93% acrylic socks are definitely warm and definitely comfortable, and will make a bid for being the favorite socks in the sock drawer. They come in medium for men's sizes 6-9 and large for shoe sizes 9-12. Women wearing shoe sizes 7-10 can order the men's medium and get a good fit. They come two pairs per package.
60. Dove Men Plus Care Gym Essentials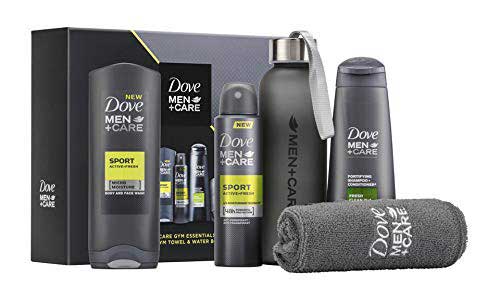 Buy or Read More on Amazon Here ($29.95 at the time of publication)
So age 40 snuck up on your birthday guy, along with a few pounds. And now he's determined to get fit again (or for the first time) and he ponied up the cash for a gym membership. Here's something to keep his motivation up and ensure that he won't come home smelling like a zoo gorilla. What you get are products from Dove's Men+ Care line, like 2 in 1 shampoo and conditioner, antiperspirant deodorant and body wash. They've also thrown in the towel, literally, with a small gym towel plus a water bottle. The Men+ Care products are all hydrating, which helps with flaking and dryness after showers.
61. Mason Jar Wall Decor With LED Lights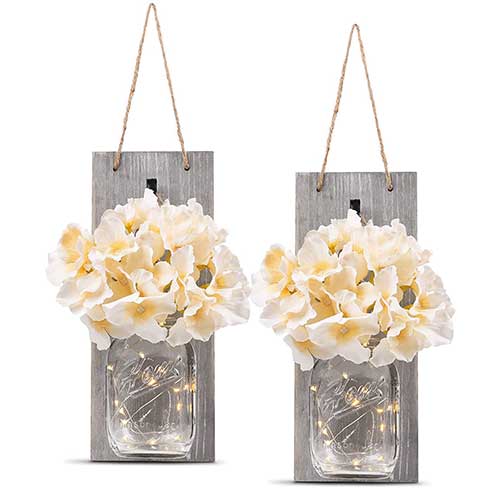 Buy or Read More on Amazon Here ($27.99 at the time of publication)
At first glance, you might look at this and say, "What's the big deal? I can make that from stuff around the house." OK, go ahead. Just be sure to include a set of LED lights, a power source, oh, and a timer. For the rustic theme, these sconces are a real treat for the eyes, with a floral arrangement stuck in a Mason jar and accented with tiny LED lights. The lights are controlled by a timer that turns them on for six hours, off for 24.
62. 40th Birthday T-Shirt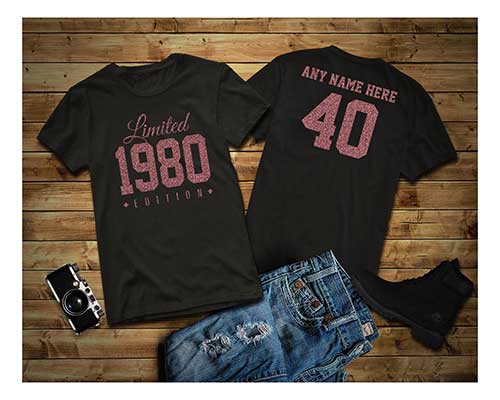 Buy or Read More on Etsy Here ($17.99 at the time of publication)
For the person who has embraced his/her fortyness and isn't shy about declaring it. Comes in a multitude of men's and women's sizes, and you can select front lettering only, back lettering only or both (prices vary). It also comes in a whole palette of colors. The lettering will be a contrasting color. *The photo shows 1980. The shirt doesn't have to say 1980, and in fact can say anything you want, as long as it's 256 characters or fewer. Free shipping with purchases over $35.
63. Personalized Polar Bear Cooler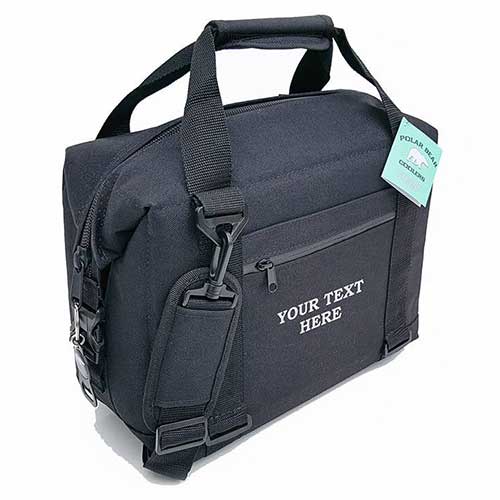 Buy or Read More on Etsy Here ($74.95 at the time of publication)
It looks like a carry-on bag, but it's a cooler, a personalized one at that. This cooler will keep ice for 24 hours, and if you'd rather have something bigger, they have you covered, with totable coolers large enough to carry 48 cans of soda (or adult beverages). There's even a backpack, which might be preferable for heavier loads. Give them a name for the nifty personalization and choose from seven colors and/or print patterns.
64. Personalized Placemats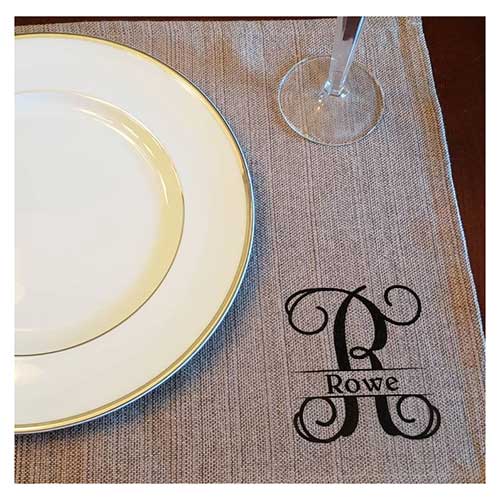 Buy or Read More on Etsy Here ($25.00 at the time of publication)
Set your dinner table in style with personalized placemats. The placemats themselves are fabric, but the lettering is vinyl and there are color selections for both elements. Pick from beige, teal, red, gray, slate, yellow or blue for the placemat, and from black, white, red, gold, green, navy, yellow, blue or pink for the lettering. They will take the first letter of the name you give them and make a monogram of it, with the full name across the initial. A set of four is standard, but you can order extra mats.
65. Personalized Spare Tire Cover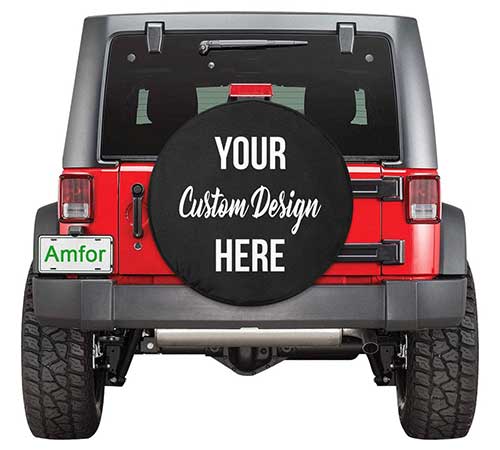 Buy or Read More on Etsy Here ($48.99 at the time of publication)
You've seen these, and you know you want one. (Or rather the 40th birthday guy you're buying for, right?). They're made with Jeeps in mind, but if you have a vehicle with a spare tire on the back, these will work well, as it's really the tire size that matters. You can choose between 30, 32 and 34 inch diameters. They're likely to last as long as the car, as they're made from high dernier count polyester.
66. Personalized Wooden Watch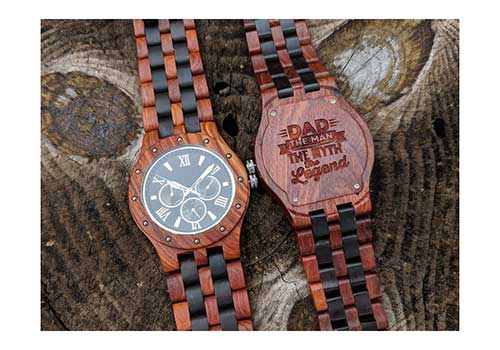 Buy or Read More on Etsy Here ($61.20 at the time of publication)
This beautiful wooden watch features a red and black wooden frame and lovely wood grain touches throughout. The entire watch is made using different shades of wood for contrast and style. The back of the watch can be engraved, using a choice of four fonts. The lid of the wood storage box – itself a nice work of craftsmanship – can be engraved as well.  There's even a way to have it engraved in your own handwriting. Allow about a week for your engraving order to be processed and for your order to ship.
67. Farmhouse Valance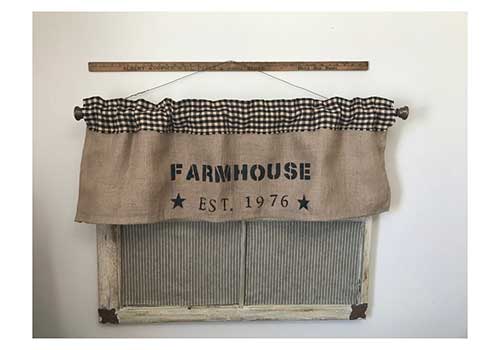 Buy or Read More on Etsy Here ($32.95 at the time of publication)
Window treatment takes a giant leap backwards, and that's a good thing. This rustic, no nonsense valance brings back the good old days of when life on the farm was an exercise in making do with what you have. Of course, back in the day, they didn't have the family name printed on the curtain, but you can have it now. Choose from 50W x 15L, 40W x 12L and 60W x 15L. Free shipping and two week delivery time is pretty much standard.
68. Engraved Sunglasses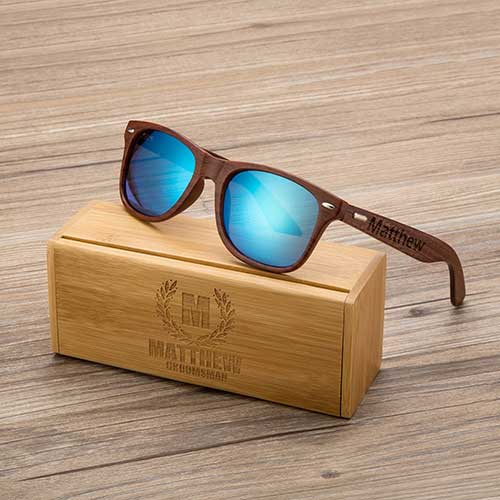 Buy or Read More on Etsy Here ($14.87 at the time of publication)
The future's so bright, I gotta wear shades. You need that kind of swag when you're turning 40. These are awesome looking with their teal lenses, and dark walnut wood frames. The left temple pieces are engravable with a couple dozen font styles to choose from. An optional bamboo box can also be engraved with the person's name, but if you don't want the box, it still comes with a cloth pouch with a drawstring.
69. Personalized Car Mats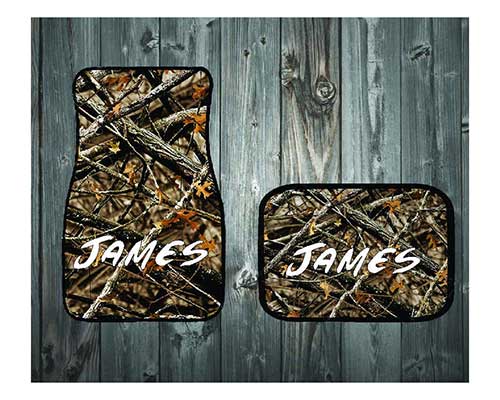 Buy or Read More on Etsy Here ($30.00 at the time of publication)
If your 40th birthday guy likes being walked on, he'll love these floor mats, because his buddies can not only walk on him figuratively, they can do it literally on floor mats with his name on them. The camo pattern is a nice touch, and the mats are made with top grade polyester to shed water, mud, sand, grass and whatever that is that his buddy stepped in. You can have his whole name printed on them or you can wuss out and just use an initial.
70. Cassette Tape Doormat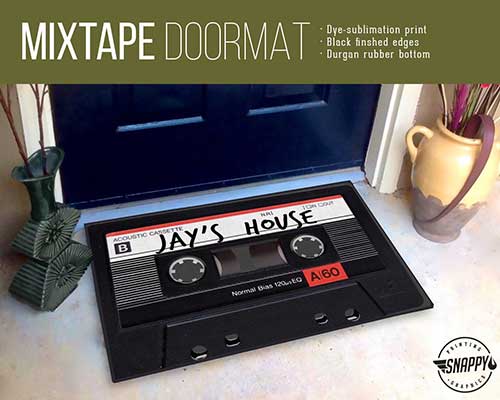 Buy or Read More on Etsy Here ($45.56 at the time of publication)
If this doesn't firmly establish that the owner is over 40, then nothing will! For the coolest doormat this side of The Bee Gees, order this for the birthday boy (or girl). Have their name printed on the tape label and wait for the wave of appreciation (or not). Unlike real cassette tapes, this place mat will not unravel. This placemat measures 24×36 and has a rubber backing for sure grip.
71. Unicorn Mug 40th Birthday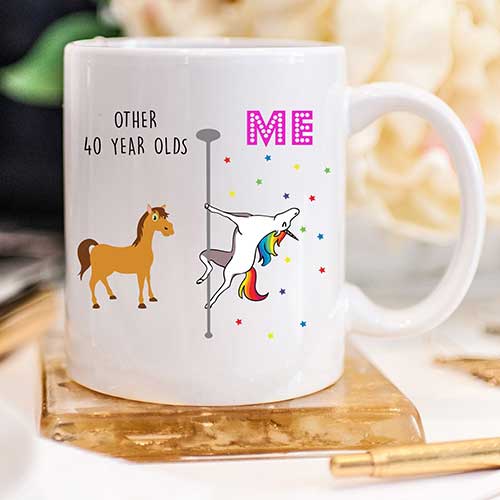 Buy or Read More on Etsy Here ($14.98 at the time of publication)
For the 40-year-old who's still got it, or is in serious denial. This may be the coffee cup to beat all the other coffee cups in the cupboard. You have three options, but there isn't a lot of variation. You can have all white in 11-ounce or 15-ounce sizes, or white with a black handle in the 11-ounce size.
72. Edison Table Lamp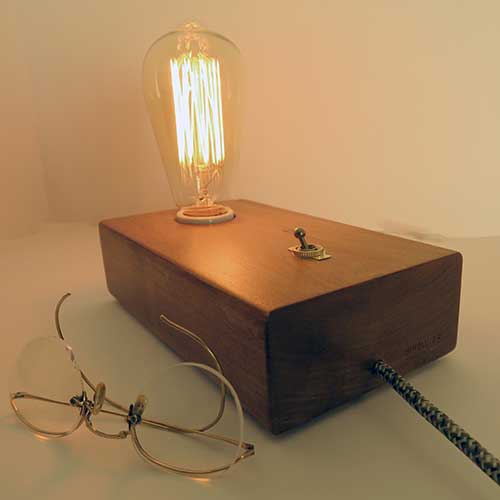 Buy or Read More on Etsy Here ($62.67 at the time of publication)
You can always tell the 40-year-old, "I'm sure you remember lamps like this." This is patterned after the first early lamps of the Thomas Edison era, but those early lamps never had the options this one does. You can order in one of eight different finishes and have either the person's name or initials engraved on the base, and order with either a toggle switch or a dimmer. The light bulb is an old style bulb with the filament visible.
73. Personalized Breadbox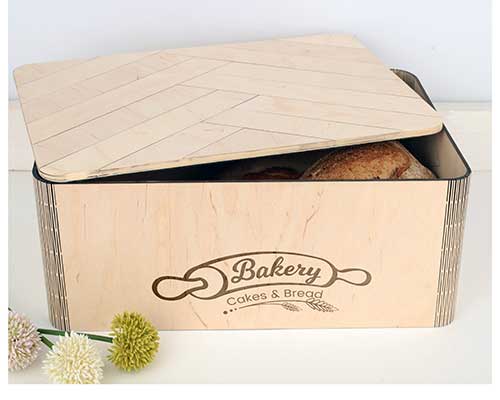 Buy or Read More on Etsy Here ($90.00 at the time of publication)
You don't have to bake your own bread to use this. So whether your 40th birthday lady is an amateur bake chef or just likes whimsical things in her kitchen, this should be a real hit. It comes in five different sizes and the inscription is up to you (maximum 256 characters). There are nine choices on the text and graphics style. It ships free from The Ukraine and should arrive in a little over a week.
74. Retro Toaster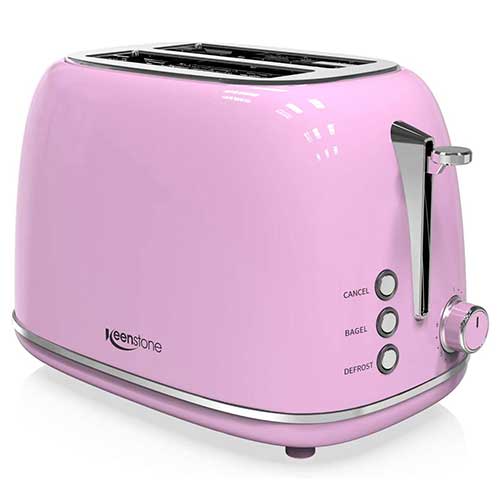 Buy or Read More on Amazon Here ($38.99 at the time of publication)
Somewhere around the 1980s, someone decided that oddball colors for kitchen appliances was OK. So, pink, lavender, chartreuse, purple and any number of colors started showing up in places where we weren't used to seeing them. This two-slice toaster has extra-wide slots for bagels and frozen waffles, and settings to customize the experience even more. And it's definitely pink.
75. Record Storage Crate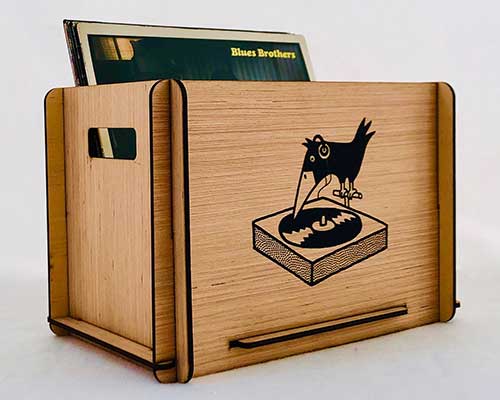 Buy or Read More on Etsy Here ($40.00 at the time of publication)
With the upsurge in vinyl record sales, most people don't have a good place to store their albums, having trashed their old metal record holder about two decades ago. This holds about 40 LP albums, and folds flat when not in use.
76. Eighty Quart Rolling Cooler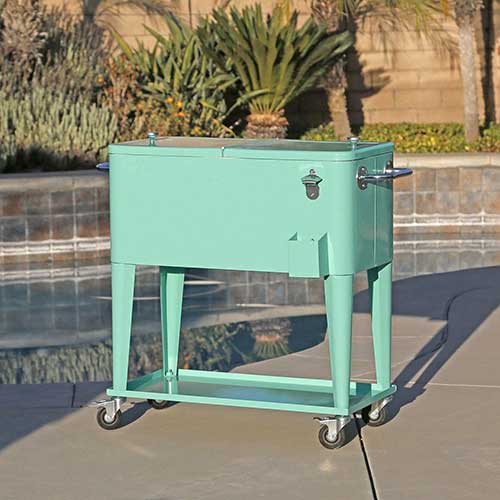 Buy or Read More on Amazon Here ($146.99 at the time of publication)
Birthday boy can be the hit of his own 40th birthday party when he rolls this across the patio. It's a large capacity rolling cooler than can hold 50-70 cans or bottles of everyone's favorite beverages. The seafoam blue color is awesome, but there are two other choices, including brown wicker or hunter green. Grab a NuGrape and enjoy the afternoon!
77. Tiger Eye Mens Bracelet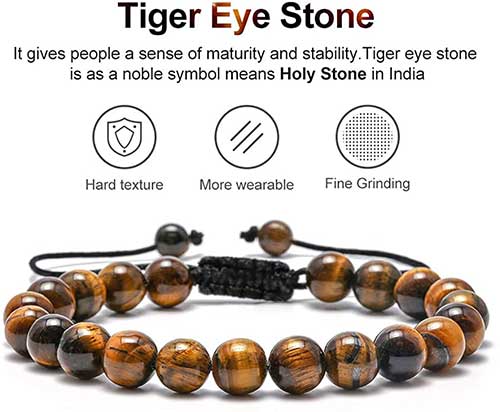 Buy or Read More on Amazon Here ($10.99 at the time of publication)
Age 40 is probably the top of the age range for men who would be comfortable with a bracelet. It's definitely a trend among younger men. This is the Tiger Eye stone bracelet and actually, it's for women as well. According to product information, the Tiger Eye stone has the power for emotional clearing and for keeping energies in balance. The stone has a history dating back centuries to native Americans. It is used in meditation and yoga and simply for creating a calm atmosphere. Even if it helped in none of those scenarios, it is a beautiful bracelet, and is a great accessory for any look.
78. Retro Kitchen Wall Clock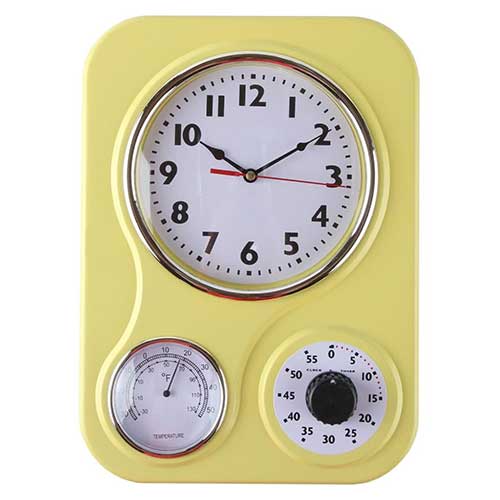 Buy or Read More on Amazon Here ($16.95 at the time of publication)
That tick, tick, tick, tick sound means the biscuits will be done in 11 minutes, according to the timer featured on this whimsical retro wall clock. The best thing that can be said in describing this item is in what you don't get. You don't get a digital readout. You don't get a cell phone interface. You don't get a USB charging port. You get a yellow analog clock, a 60-minute timer, a thermometer and a AA battery.
79. Camera Lamp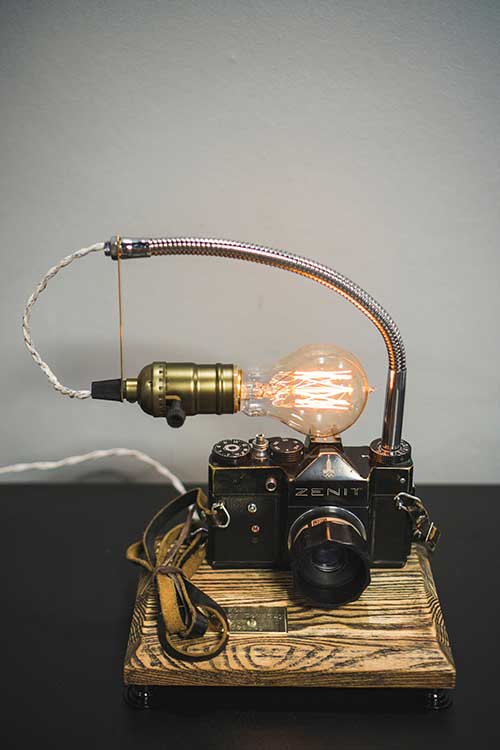 Buy or Read More on Etsy Here ($114.75 at the time of publication)
If your birthday guy or gal is an avid photographer, what a great addition this would be to their man cave or she shed. It's weird, it's steampunk and it's sure to be a conversation starter. What they have done here is mount a replica old school 35mm camera on a base and attached a visible filament light bulb on top of the flash head. There are options concerning the bulb type and orientation, as well a yes/no option on a USB port.
80. Best Friends Photo Frame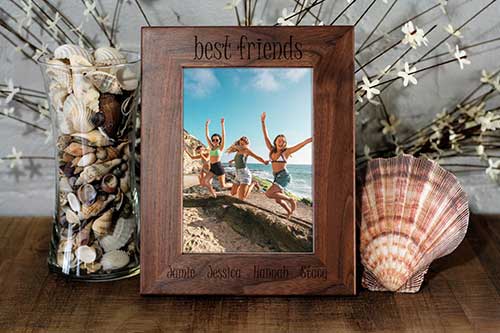 Buy or Read More on Etsy Here ($34.99 at the time of publication)
Your BFF who's turning the big 4-0 needs to be reminded of a silly moment with her friends in her recent past, so this frame should be perfect for that. The broad border walnut frame is gorgeous, and you can have two lines of text custom engraved on the front panel. Keep the text short, though, so the letters can be large. You can order 4×6, 5×7 or 8×10 in either horizontal or vertical orientation.
81. Personalized Vanity Tray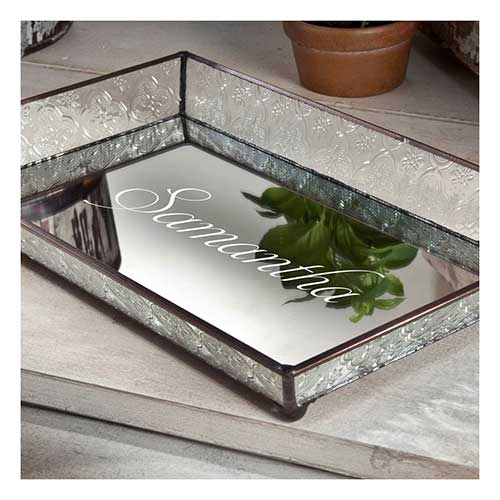 Buy or Read More on Etsy Here ($44.95 at the time of publication)
This vintage glass and mirrored tray can be engraved with a name or initials, and makes a wonderful gift, whether it becomes just a display item or is actually used. It measures a generous 8 3/4" x 13 3/4" x 2" with patterned glass on the sides and a mirror at the bottom. It's all held together with solder that's been finished with an antique patina.
82. Personalized Fishing Hat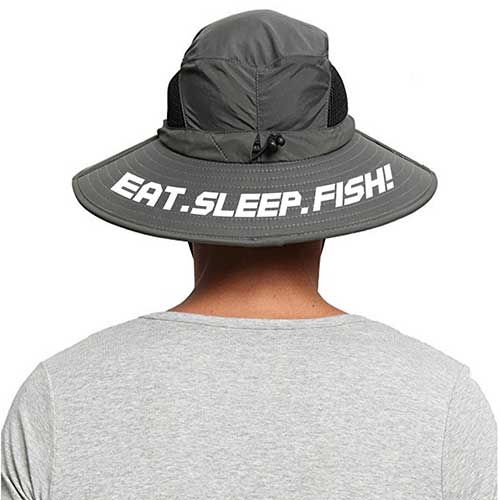 Buy or Read More on Etsy Here ($38.24 at the time of publication)
It's called a fishing hat, but it can also be a mowing hat, a gardening hat and a lounging in the backyard hat. Just tell the seller what you want printed on the brim and you'll have a hat like no other. It comes in dark gray, light gray, khaki and pink. It's listed as a one size fits most, measuring 23.5 inches in diameter. The brim is three inches wide, and success in catching fish is not guaranteed.
83. Garth Brooks Legacy Vinyl CD Collection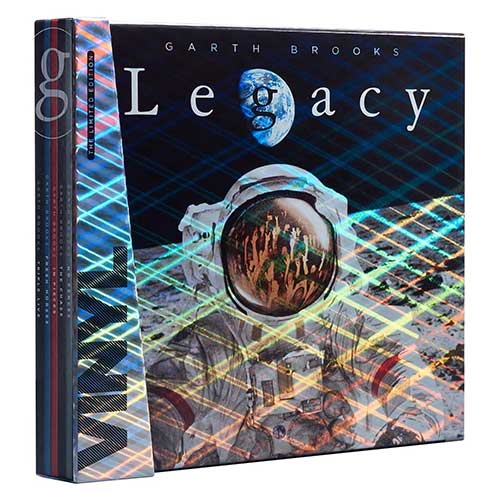 Buy or Read More on Amazon Here ($29.99 at the time of publication)
If the birthday boy or girl were to name all of their friends in low places, would you be one of them? No matter what, you should get them this boxed set of great music by one of country music's most legendary performers. You get seven vinyl LPs and seven CD discs, which include five of Garth's top albums over his illustrious career. The original analog recordings have been remastered for the best clarity, and the set includes two bonus tracks.
84. Digital Memo Recorder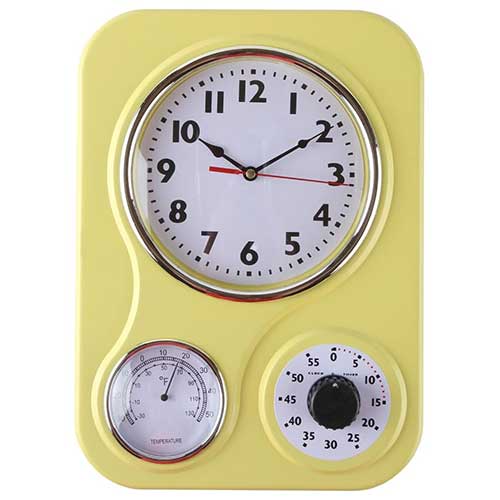 Buy or Read More on Amazon Here ($42.98 at the time of publication)
"Send faxes of the Higgenbotham contract to Elmer. Pick up dry cleaning. Get Kibbles 'n Bits." These are some of the memos you can record on this Sony digital recorder. Yes, you can do this on your phone, but you have to find the app, say no to the request to know your location, etc. This is so much easier. It even has voice-actuated recording, so all you have to do is start talking. It's also good for longer recordings. Using it is ridiculously easy, and the sound quality is excellent.
85. Acrylic Butler Tray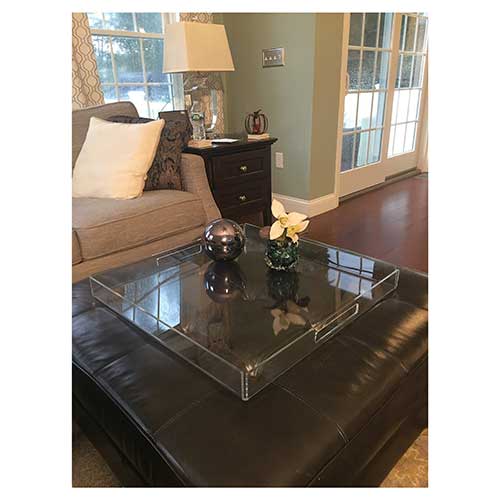 Buy or Read More on Etsy Here ($110.00 at the time of publication)
Now you can feel aristocratic without being aristocratic with this nice acrylic butler tray. It doubles as a table when placed on an ottoman and is an attractive accent piece, whether or not it gets used as a serving tray. It comes in four sizes, and you can add a personalized message to be engraved on the side.
86. Dewalt Tool Box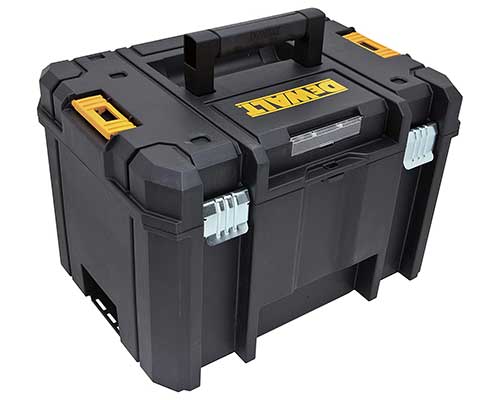 Buy or Read More on Amazon Here ($28.49 at the time of publication)
If you're 40, or about to turn 40, you have more than enough tools to fill this midsize tool box. But the real value of this is that you can pack just the tools you need for a specific project. It will hold up to 44 pounds of tools and hardware. There's an interior tray that lifts out, and the heavy duty plastic is fitted with sturdy metal latches and clasps. You know, a guy can never have too many tools or tool boxes.
87. Digi Pas DWL80E Digital Level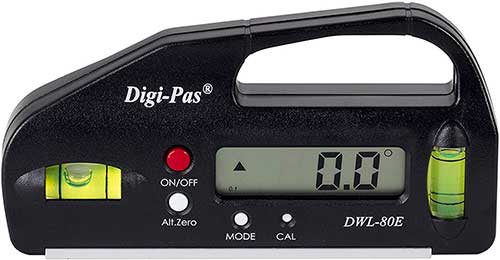 Buy or Read More on Amazon Here ($25.90 at the time of publication)
There's bubble level and then there's digital level. Now, this might offer more precision than is absolutely necessary for most projects, but level is level. When placed on a surface, this will give you an LCD readout of the pitch, if it's not level, or a satisfying row of zeroes if it is. For purists, this device still has the bubbles on two different planes. Battery operated and only four inches long, this is a handy tool to have in your shirt pocket.
88. Kitbest Bike Repair Tool Kit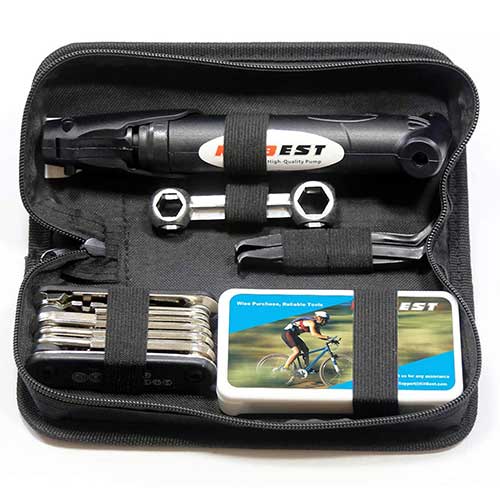 Buy or Read More on Amazon Here ($21.99 at the time of publication)
People who ride bicycles for pleasure or fitness are generally a free-spirited lot, and not easily daunted by problems. If those problems involve a breakdown of their bicycle, this kit should help them cope. Everything from an emergency tire pump to a 16-in-1 multi tool is included in this handy kit. It even includes a dog bone wrench (AKA hexagon wrench), one of the most versatile multi tools ever invented. It comes with a zippered case that can mount on the handle bars.
89. FOCO NCAA Moccasins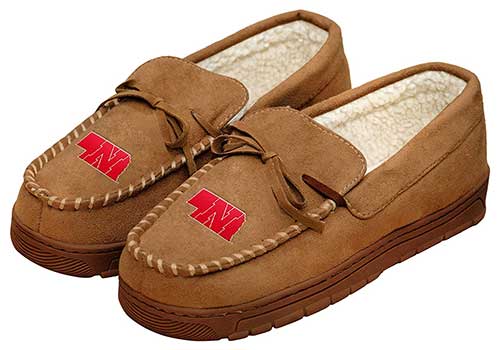 Buy or Read More on Amazon Here ($29.99 at the time of publication)
Is birthday boy a Nittany Lion, or a Boomer Sooner, or a Sparty devotee? He might appreciate a pair of college logo moccasin slippers. They're high quality slippers already, with high dernier count polyester on top, genuine rubber soles and heavy stitching all the way around. The inside is plush and comfy. Choose from over 20 college logos, covering the most popular schools. Only two sizes, though: medium, which fits shoe sizes 9-10, and large, which fits sizes 11-12.
90. Tervis Tumbler With NCAA Logo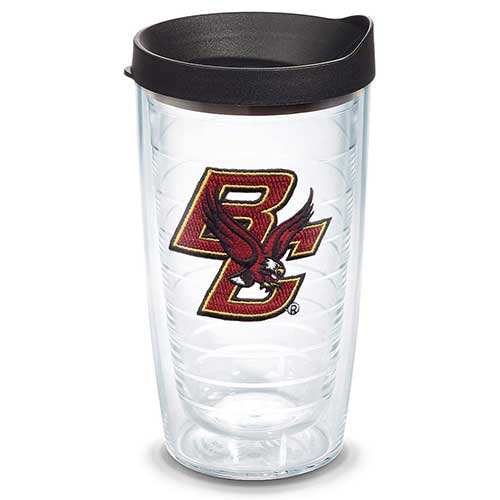 Buy or Read More on Amazon Here ($16.99 at the time of publication)
Tervis has turned the beverage business upside down with its double-walled insulated tumblers and pitchers, and this family-run business goes back farther than you think. This is a 16-ounce tumbler for hot or cold drinks, printed with your favorite college logo (as long as it's on their list), and topped with a sturdy lid that seals tightly. They're made in the USA, BPA-free. They fit in most cars' cupholders and they're dishwasher safe. The list of college logos available is extensive, but not all-encompassing.
91. NASCAR Plastic Speed Limit Sign
Buy or Read More on Amazon Here ($10.56 at the time of publication)
Does birthday boy have a glove box full of speeding tickets? If so, then this speed limit sign might be just the thing for him, since he seems to have his own perception on what the speed limit ought to be. Featuring the late great Dale Earnhart number 3 car, this 11×17 sign would be a great decor item for a man cave extraordinaire.
92. Emart 600W Photo Lighting Kit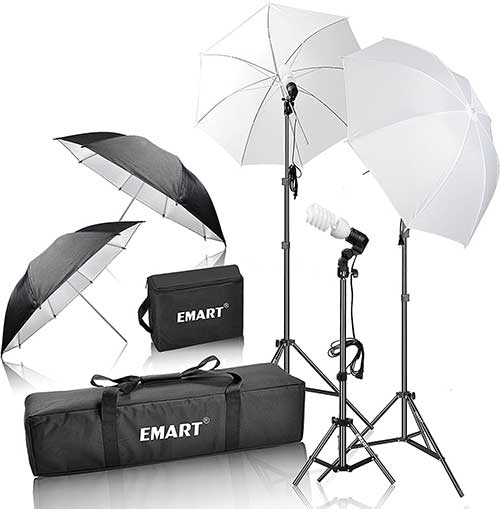 Buy or Read More on Amazon Here ($49.00 at the time of publication)
The advent of the digital camera age has created a host of accomplished amateur photographers, who stretch the boundaries of what an amateur photographer would normally undertake. This photo lighting kit represents a substantial value for the man who doesn't need it every time he gets his camera out, but who appreciates the professional look he can impart to his photographs. It includes three bulbs, three stands, four reflectors and cases for it all. It's all lightweight, and not to be confused with professional gear, but for what this kit does for the price, it's a champ.
93. AKASO EX7000 4K Action Cam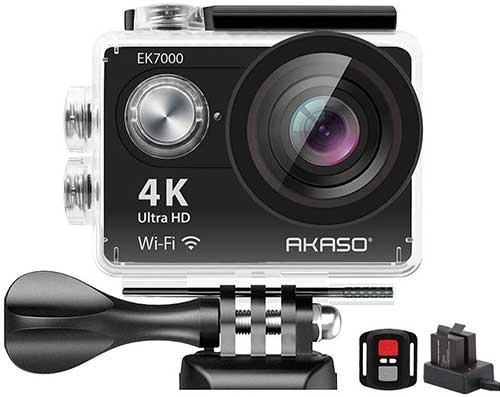 Buy or Read More on Amazon Here ($42.49 at the time of publication)
No, it's not a Go Pro, but here's a shocker – optically, the photo or video quality is in the same ballpark at a fraction of the cost of a Go Pro. The difference is the playback resolution is at bare minimum on the rear-facing monitor (although after transfer to an editing system, it's quite good). It's also bereft of a lot of bells and whistles that you would find on a more expensive camera, but for a 4K, waterproof (with housing) pocket-sized fun camera, wow! The camera ships with a bag full of mounting clips, straps, clips, cables and whatnot. You can definitely have some fun with this little jewel.
94. The Green Jacket Wall Print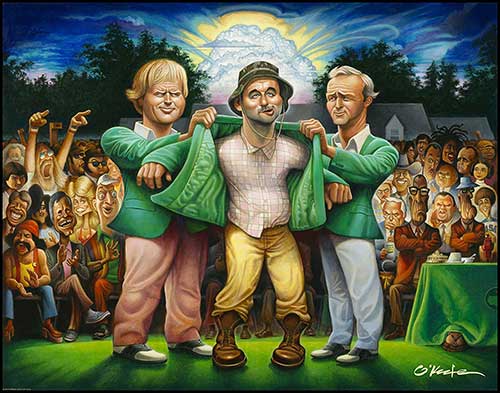 Buy or Read More on Amazon Here ($39.99 at the time of publication)
This is for the golf lover's man cave, or wherever he can get permission to hang it. The scenario of Bill Murray (AKA Carl Spackler of Cadddyshack) winning The Masters is about as likely as the reciepient winning The Masters. But it doesn't matter. This is whimsical and fun, showing Carl Spackler receiving his green jacket from skeptical-looking Jack Nicklaus and Arnold Palmer. This is a pretty good-sized (22×28) print, and sure to be appreciated by the recipient.
95. Mens No Hole Fashion Belt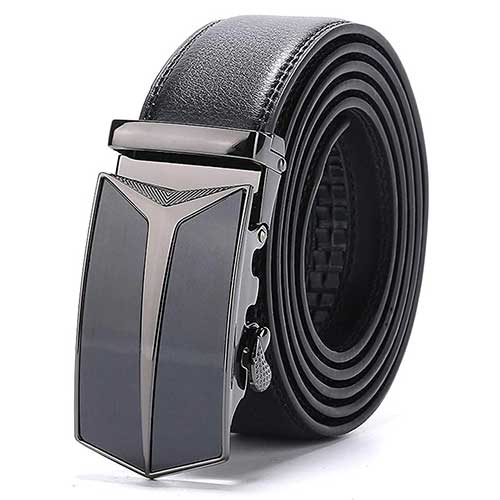 Buy or Read More on Amazon Here ($14.99 at the time of publication)
This is an unholy belt. This stylish leather belt is customizable, fits waist sizes from 28 inches to 44 inches, and has no holes. To make this belt tailor made for you, pull on the non-buckle end of the belt, let it ratchet out and cut to length (leaving room for, um, expansion). It has a sleek, shiny belt buckle and comes in six different colors. The leather is top grain cowhide and it not only can be cut to just the right length, it conforms to all the contours of your waistline.
96. The Great Book of Ice Hockey Vol. 1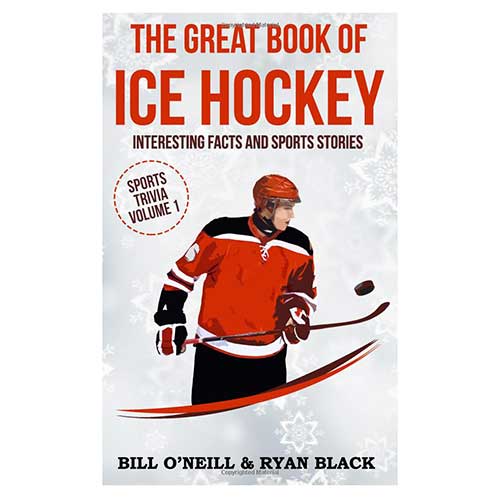 Buy or Read More on Amazon Here ($11.95 at the time of publication)
The hockey buff can never get too much hockey. Summer, winter, fall and spring, it's all, or nearly all, they think about. So what better than to give the 40th birthday guy a book with all the trivia, history, excitement and drama of professional ice hockey through the years? He can reconnect with legends like Bobby Howe and get more acquainted with modern superstars like Wayne Gretzky and Sidney Crosby, flipping through page after page of pure iced heaven.
97. Sports Illustrated The College Football Book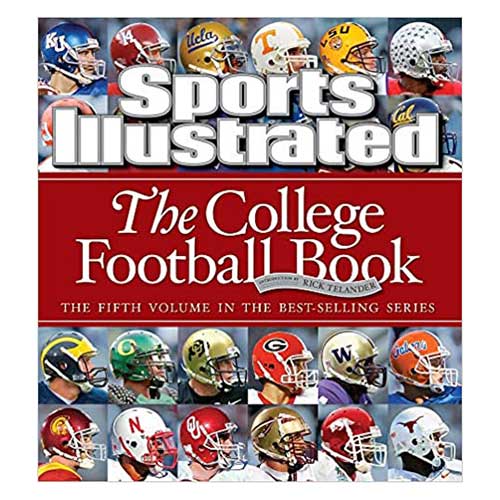 Buy or Read More on Amazon Here ($15.99 at the time of publication)
From the authors and photographers of Sports Illustrated comes this hardcover coffee table book will attract thumb-throughs by people who aren't even college football fans. Dense with illustration and photography, this book covers biographical profiles, statistics and reprints from some iconic stories from the pages of arguably the most popular sports magazine ever published. It's a very manageable 11×12 inches in size. So whether birthday boy is a Wolverine, Buckeye, Fightin' leprechaun, Tiger, Gator, Longhorn or Crimson elephant, he's sure to enjoy this as a gift.
98. Kobe Bryant Hoodie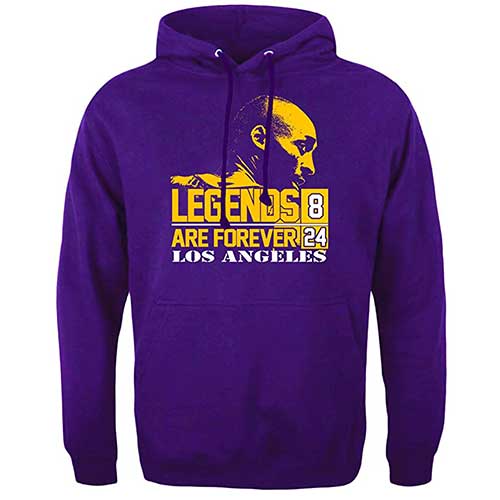 Buy or Read More on Amazon Here ($44.95 at the time of publication)
The world lost Kobe Bryant way too soon. This hoodie says it all: "Legends Are Forever." Made of a 50/50 blend of comfortable cotton and durable polyester, this hoodie is a nice garment just by itself. The purple and gold colors of the Los Angeles Lakers make a stunning combination, while the graphic artwork offers a tribute to a fallen NBA legend. It comes in a host of sizes, ranging from youth X-small to 5X large. This is a USA-made product.
99. Mens Grooming Kit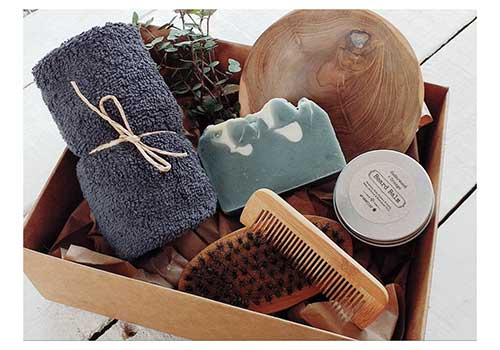 Buy or Read More on Etsy Here ($41.01 at the time of publication)
If you asked 100 men if they liked pampering themselves, 100 of them would say, "What kind of question is that?" But maybe, just maybe they do like pampering themselves. Well, with this gift box, it's perfectly OK to indulge, and no one has to know that you like it. It includes gum & lime soap, soap dish, face towel, beard balm, beard brush and beard comb. It's all packed in a rustic looking box along with a gift card that has been made from recycled material. It ships from Australia, mate, so you'll have to show a little patience on delivery.
100. Happy Birthday Succulent Gift Box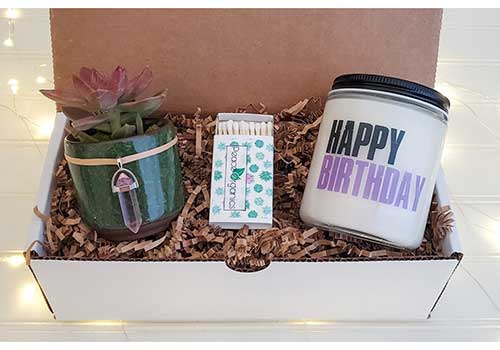 Buy or Read More on Etsy Here ($39.00 at the time of publication)
It's pretty, It's thoughtful. It's green. It includes a live succulent plant, an all-natural soy candle with a wonderfully fresh aroma and even matches to light the candle with. The glass jar that the candle rests in can be personalized with a message of 100 characters or fewer. This is a great gift for any occasion, not just a birthday.
Related Posts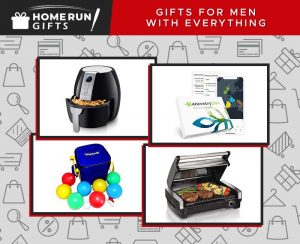 Gifts for Men Who Have Everything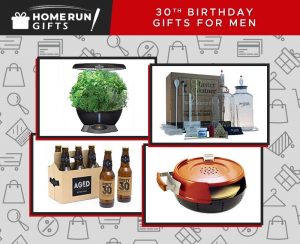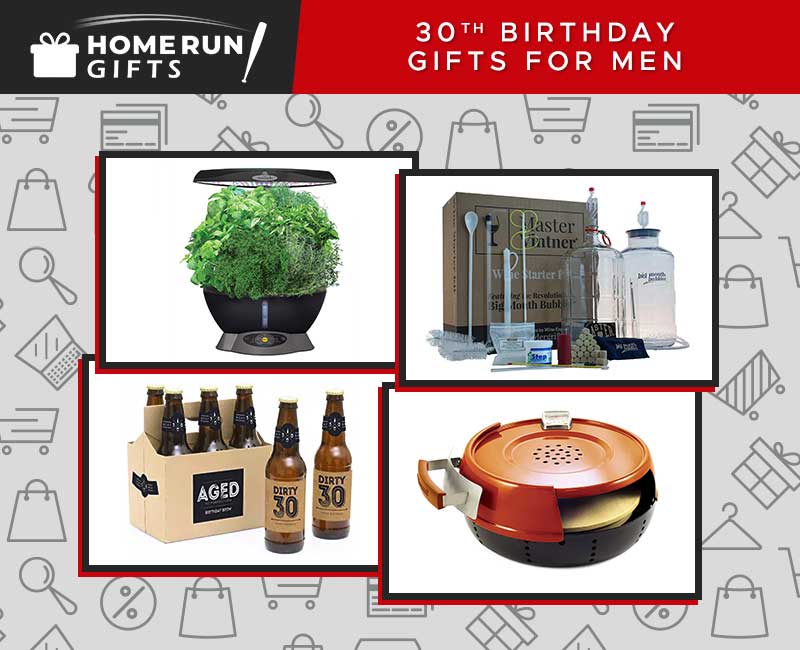 30th Birthday Gifts for Men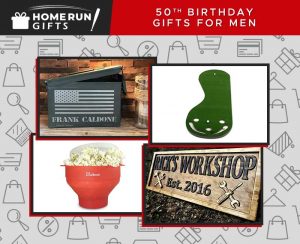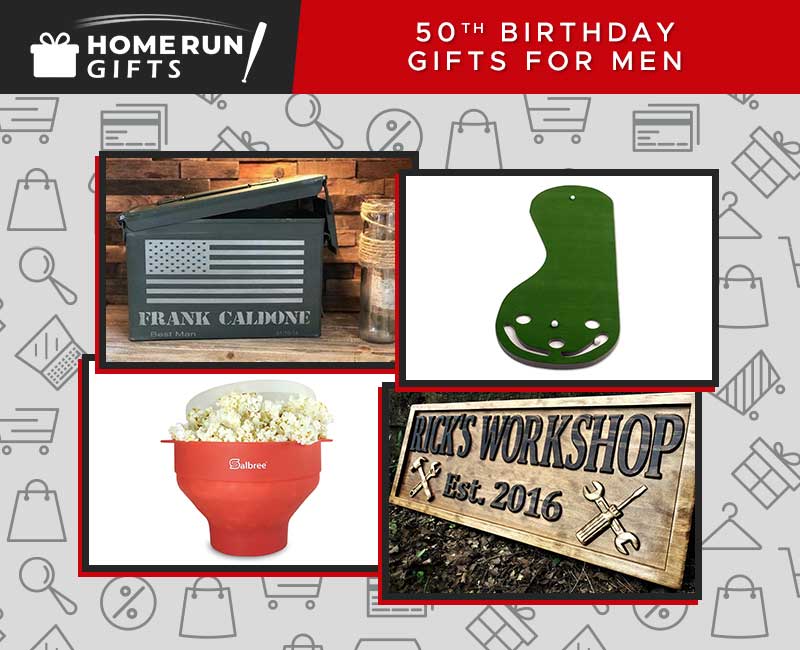 50th Birthday Gifts for Men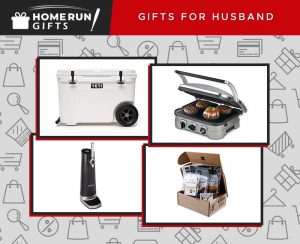 Gifts for Husbands