Finding retirement gifts for women may seem a bit daunting. After all, they have worked for years, decades even, and are finally sliding into home. I know because I am retired!
I received some spectacular retirement gifts and some, well, they went into the Goodwill pile as soon as my friend left. It was a nice thought but it wasn't something I was going to use or even get a good laugh out of.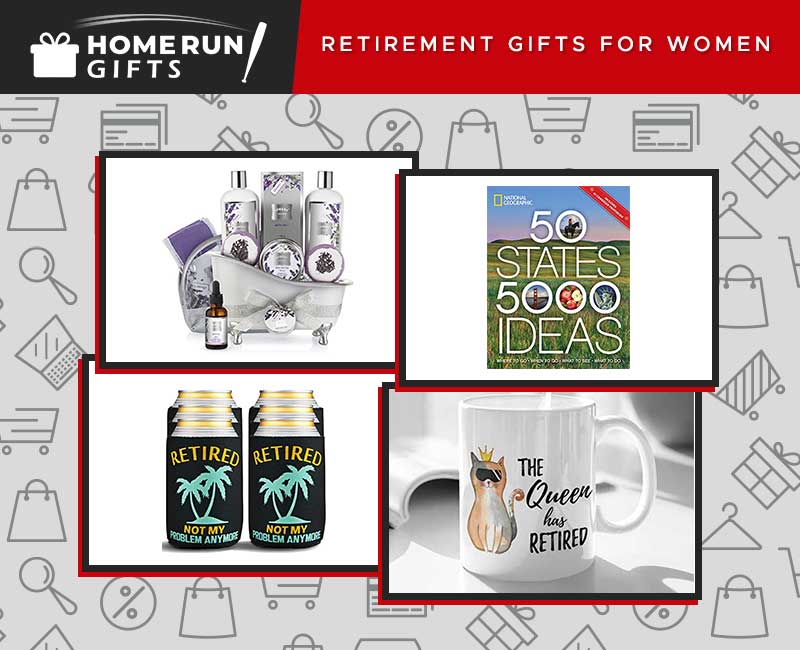 Check out this list of retirement gifts for women and you'll find some gifts that might make her tear up because the sentiment is so special and other gifts that will have her roaring with laughter! We also have a great list of retirement gifts for men here and gifts for seniors here if you're interested. Some gifts in these categories overlap, so you might want to check that page out too!
List of Retirement Gifts for Women
Whether you need a retirement gift for your mom, friend, aunt, or coworker, this list will definitely help you out!
1. Willow Tree Angel of Freedom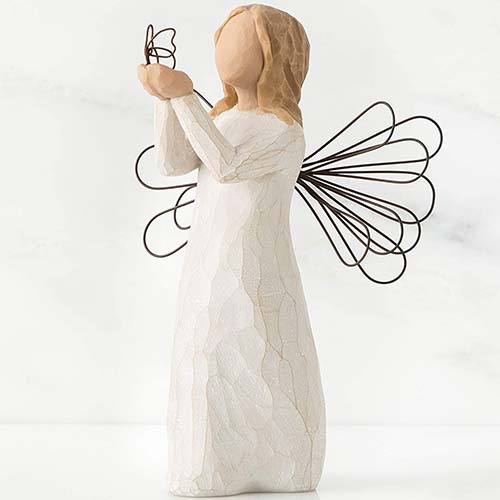 Buy This Gift on Amazon Here ($22.50 at the time of publication)
Artist Susan Lordi hand carves all of her Willow Tree pieces and they are cherished for years to come by the recipients of these thoughtful gifts. "Allowing dreams to soar" is written on the enclosed card accompanying this cast piece from the original sculpture. The butterfly symbolizes freedom as do your friend's retirement! Willow Tree sculptures are often given during life's milestones. They represent love, closeness, hope and all the emotions of life. Any retiree will treasure this lovely gift!
2. Retirement Wish Jar With 100 Tickets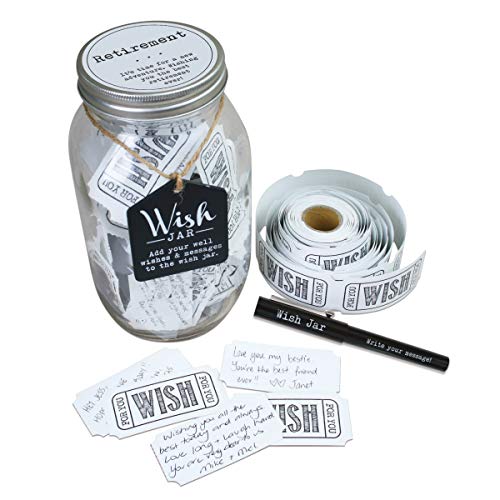 Buy This Gift on Amazon Here ($15.71 at the time of publication)
When you look for retirement gifts for women the first thing you think of is all the time they're going to have and all the adventures they can go on and the new things they'll be able to accomplish. This retirement wish jar comes with 100 tickets so she can fill out all of the wildest and craziest dreams she wants to fulfill. Bucket list items can go on the tickets. Anything she can think of! This clever, simple gift is sure to please your friend who's retiring!
3. Wise Woman Once Said – Funny Wine Tumbler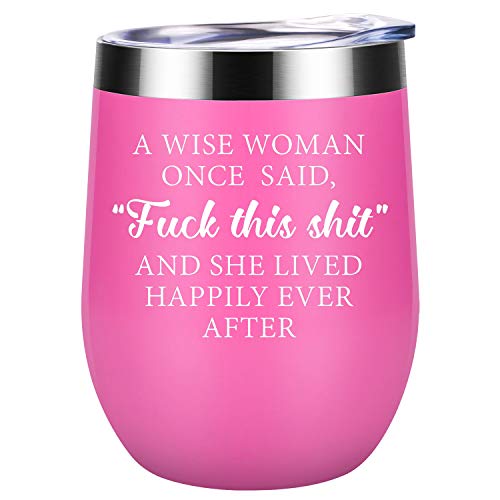 Buy This Gift on Amazon Here ($19.99 at the time of publication)
The perfect gift for a woman who is retiring or sneaking up on it and needs a reminder about why she is retiring! The sentiment,  "A Wise Woman Once Said, 'Fuck This Shit' and She Lived Happily Ever After" sums up how most women feel when they're retiring! Made from 18/8 food grade stainless steel means it won't hold the flavor from her last drink. It's unbreakable, rust resistant and comes with a BPA-free lid, reusable straw, and a handy little cleaning brush to keep that straw clean! It's great for wine, coffee cocktails or even ice cream! Great for the pool, parties, boating and a guaranteed conversation starter!
4. National Geographic 50 States, 5,000 Ideas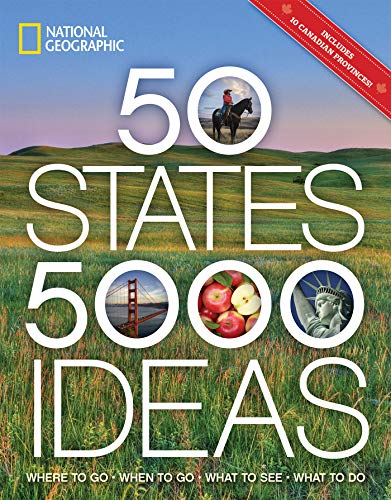 Buy This Gift on Amazon Here ($16.62 at the time of publication)
Retirement gifts for women should reflect freedom! Adventure! And setting off to see sights they've never seen! 50 States, 5,000 Ideas 50 States: Where to Go, When to Go, What to See, What to Do is a fantastic gift to fuel your newly untethered friend's wanderlust! This beautifully illustrated book was put together by the experts at National Geographic so you know it will showcase amazing places to experience right here in the USA. They've thrown in a section about Canada too. Whether she wants to see national parks, civil war battlefields, swamp tours in Louisiana or dinosaur trails in Colorado this book will be a favorite retirement gift!
5. The Legend Has Retired – Whiskey Tumbler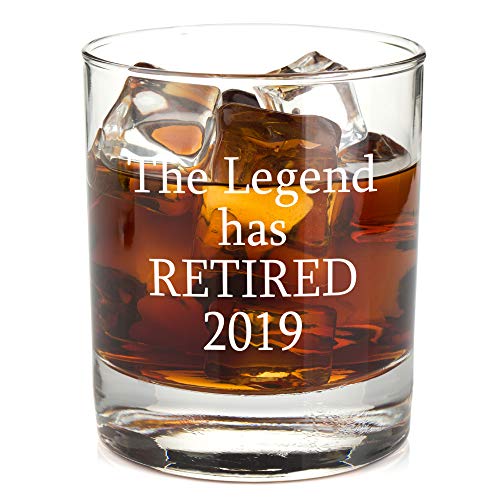 Buy This Gift on Amazon Here ($14.95 at the time of publication)
Does your retiring friend like a whisky? If you're looking for a classic retirement gift for women don't rule out this classic whiskey tumbler. "The Legend Has Retired" is etched into this glass that can be used for numerous libations. Not just whiskey! Buy her two so you can properly toast next time you visit. Personalized with the year, it will help her remember what year she retired since time flies! Packaged well to ensure the safe delivery of your gift.
6. The Queen has Retired Mug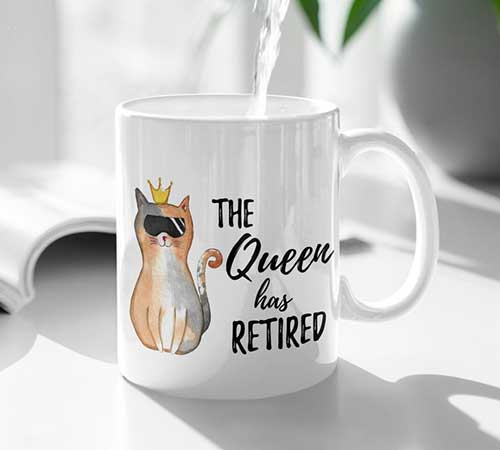 Buy This Gift on Amazon Here ($15.90 at the time of publication)
If your retiring friend is a cat person, she'll get a kick out of this, "The Queen has Retired" ceramic coffee mug. The cat has on sunglasses and a crown to drive home the point! An original watercolor is printed on both sides of the mug. The C handle is comfortable to hold on this 11 ounce mug. Perfect for the retiring Queen!
7. This is My Retirement Uniform T-shirt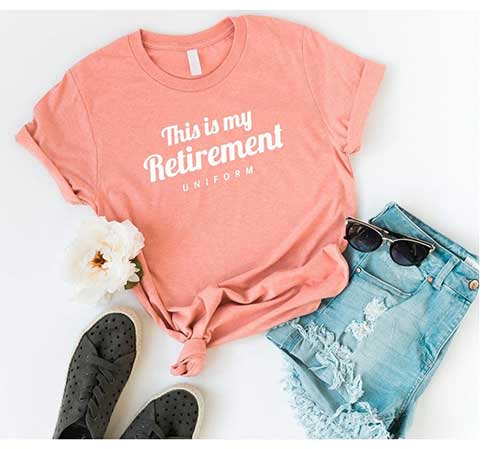 Buy This Gift on Amazon Here ($15.50 at the time of publication)
This t-shirt is a great gift for retiring women! The sassy sentiment, "This is My Retirement Uniform" is sure to please her especially if she was saddled with wearing a suit to work every day! This cute shirt comes in several colors and sizes, small, medium, Large and XLarge. If this does become her uniform the cotton-poly blend will hold its shape. Check the sizing chart before ordering and the other colors that are available to pick the one to best suit her style.
8. Bucket List Travel Journal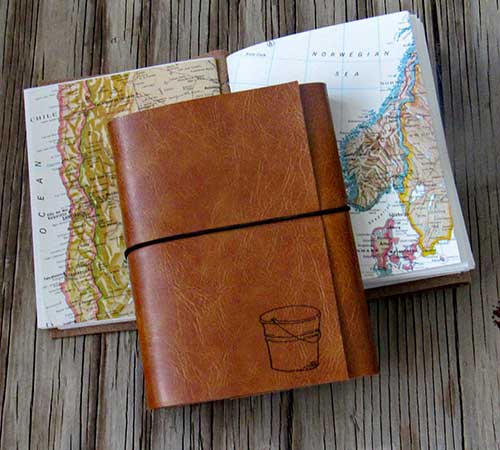 Buy This Gift on Amazon Here ($26.00 at the time of publication)
What's on your retiring friend's Bucket List? After working for so many years she may need a jump start to help her think of anything other than work.  A journal is always a thoughtful gift. With more time on her hands after retirement, she may find herself reflecting and wanting to journal some of those thoughts. The 70lb unlined paper is perfect for journaling, sketching or gluing some mementos from the road. The 200 pages (front and back) also include a variety of world atlas maps that are tri fold with an elastic closure to spark her imagination for adventures to come. Journal measures 5 inches by 6 inches when closed. This is a great go-to gift for anyone who needs to start their Bucket List!
9. Retirement Not My Problem Beer Koozies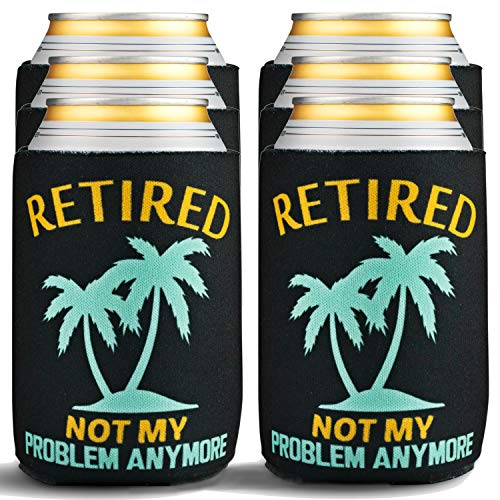 Buy This Gift on Amazon Here ($15.99 at the time of publication)
Who doesn't like a cold beer on a hot summer day? Especially when you don't have to go to work the next day. If your retiring friend enjoys sharing beers with the crowd these six koozies will come in handy and remind them that she isn't fielding any problems anymore! It's someone else's job! Premium sublimation printing of the sentiment, "Retired Not My Problem Anymore" is printed on the 1⁄8 inch thick open cell polyurethane foam. A gift for anyone who enjoys a cold beverage on a hot summer day!
10. You're Only Old Once, Dr Seuss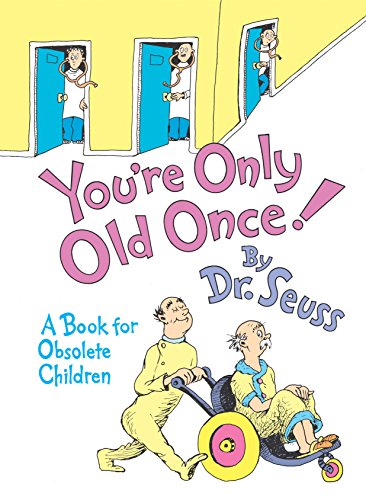 Buy This Gift on Amazon Here ($11.62 at the time of publication)
Dr. Seuss delivers laugh out loud tales of an elderly patient who is poked and prodded during his stay at the "Golden Years clinic on Century Square for Spleen Readjustment and Muffler Repair." Readers over 40 years old who enjoy a good chuckle will enjoy this imaginative, clever Dr. Seuss book!
11. Echo Dot – Smart Speaker with Alexa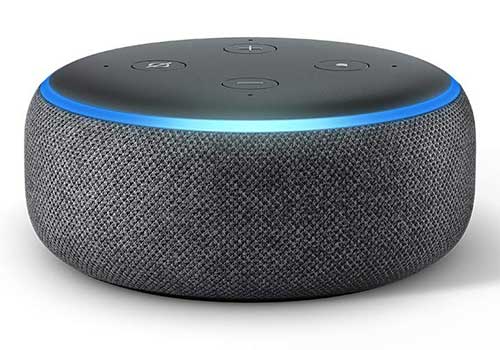 Buy This Gift on Amazon Here ($34.99 at the time of publication)
Looking for a retirement gift for women who were in upper management? If she misses bossing people around give her the Echo Dot so she can bark out orders to Alexa! She can have Alexa play her favorite music, check the weather, traffic or most anything she can think of. Echo Dot is the most popular speaker with a fabric design and can be synced with a second one for stereo sound. Your retired friend won't know what she did without Alexa and will think of you every time she gives Alexa a task!
12. Garden Tools- 9 Piece Gardening Kit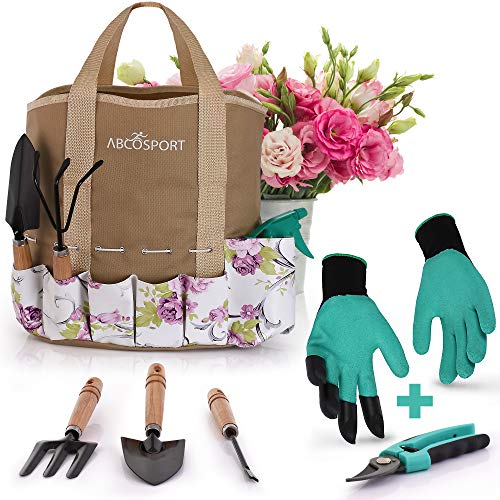 Buy This Gift on Amazon Here ($23.95 at the time of publication)
This is a great retirement gift for women who love to garden. The nine tools included are made of stainless steel with wooden handles that are ergonomic and slip resistant. The premium quality tools are rust proof and resistant to corrosion. The attractive gardening tote bag is a multi-pocketed double gauge machine washable cotton. It holds a transplanting tool, digging gloves, a 25 ounce sprayer, a welder, shovel, fork, rake, and cutter. Having all her tools in one place will make her gardening much more enjoyable since she won't have to search all over the garage. These fine precision tools are strong and have the right amount of sharpness for easy gardening.
13. Recycled Law Book with Hidden Flask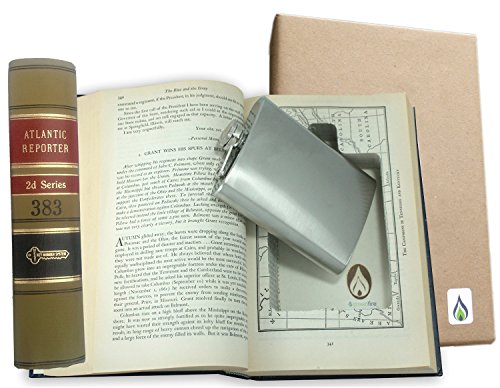 Buy This Gift on Amazon Here ($70 at the time of publication)
This clever retirement gift is a recycled law book with a 6 ounce flask inside in a cut-out section. Your friend can go clandestine with her 6 fluid ounce flask tucked away in the book "she's reading". This 10.5 inches by 7.5 inches by 2.5 inches book is a repurposed law book that's being saved from the shredder. The pages are still loose, unlike similar products. It can also sit on the bookshelf or coffee table to hide keys or other small valuables.
14. Sound Activated Disco Ball Light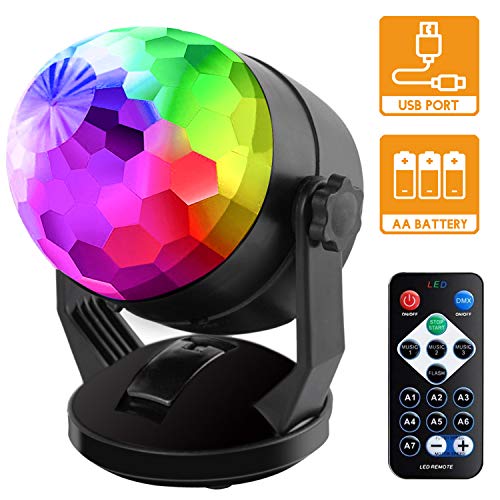 Buy This Gift on Amazon Here ($12.99 at the time of publication)
If your retired friend likes to get the party started, give her this sound activated disco ball that has party lights with remote control. It's battery powered with strobes that light up with multiple color combinations.  She can take her party anywhere since it's powered via Micro USB & AA batteries. It can be plugged into a USB port, computer, or power bank. This disco ball is perfect for house parties, dance parties or karaoke!
15. 3D Printing Moon Lamp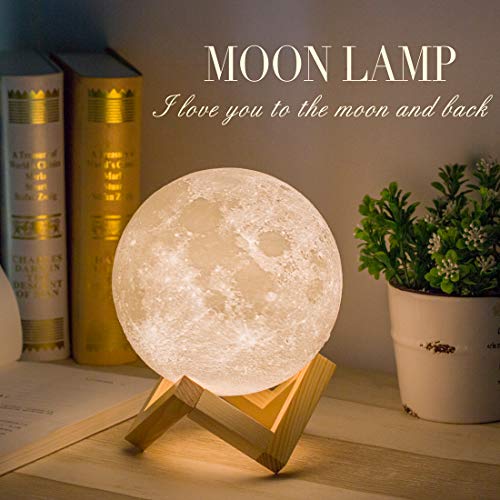 Buy This Gift on Amazon Here ($32.99 at the time of publication)
An awesome retirement gift for women who are far from done with the achievements they have on their Bucket List. She'll be shooting for the moon and have time to do so. This beautiful 3D printed moon lamp light is based on a real NASA moon topo map. When the light is turned on you can see the details on the moon. It's dimmable and has touch control making it a great night light. The color can be white or yellow and can last up to 8 hours after two hours of charging the rechargeable battery. It comes with a USB charging cord and measures 5.9 inches.
16. Gotham Tiffany Table Lamp Vintage Bronze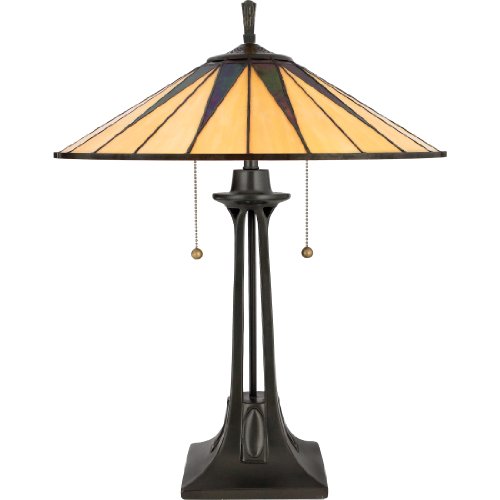 Buy This Gift on Amazon Here ($219.99 at the time of publication)
This stunning Gotham Tiffany two-light table lamp would be an outstanding way to commemorate your friend's retirement. The 48 pieces of glass are hand cut, iridescent in both warm yellows and ebony. The base is a dark bronze with softer bronze highlights and a semi gloss finish. The glass shade is  18 ¾ inches around and 25 inches tall. Maximum wattage is 75 per bulb and 18 watts for CFLs. Bulbs not included. A beautiful, timeless piece that she'll enjoy for years to come.
17. Flameless Candle, Ivory 9″ Pillar

Buy This Gift on Amazon Here ($33.83 at the time of publication)
Since your retired friend lights up your life why not return the favor with this patented 'Real Flame' candle that looks just like a real candle. It's made from real paraffin wax and flickers just like the real thing. No mess. No fire hazard so she can place it where she really wants it without worrying about lighting the house on fire. It has a built in smart timer she can set to come on and go off whenever the mood strikes her! It will always look fresh unlike ordinary candles. It runs on two AA batteries(not included). A great retirement gift that she'll really enjoy!
18. Luxury Bamboo Bathtub Caddy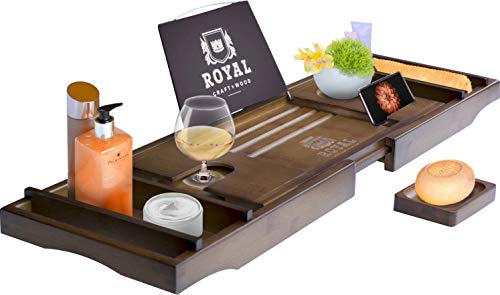 Buy This Gift on Amazon Here ($46.97 at the time of publication)
"I really wish I had time for a nice long bath!" may be a comment that rings a bell from your dear friends working days. Now that she's retired she can slip into a warm bath anytime she sees fit. This lightweight luxury 100% bamboo bathtub caddy will hold all the essentials she needs so she doesn't have to move a muscle once she dips into that much needed bath. There's a place for bath salts and a secure place for her glass of wine. It even has a stand for her iPad or tablet as well as your iPhone. Measuring 29 ½ inches when closed and extends to 43 inches so it will fit any bathtub. The silicone grips ensure it will stay in place. Bamboo is known to be stronger than steel and more durable than oak so this will last a lifetime and will look luxurious!
19. Bath Gift Basket Set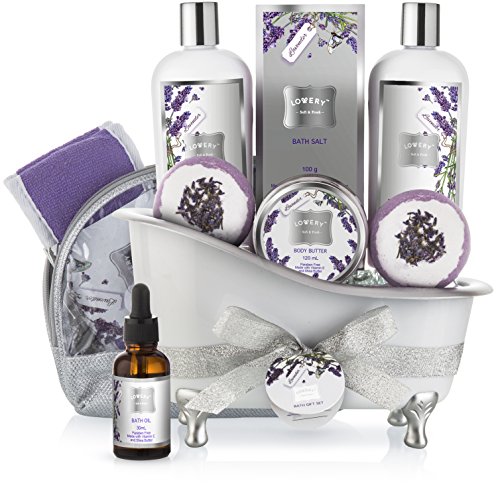 Buy This Gift on Amazon Here ($34.99 at the time of publication)
Give your newly retired friend the gift of relaxation! This darling bathtub gift basket set has everything she needs to melt away the stress of any day. Massage oil, shea butter, and two large 5 ounce fizzing bath bombs along with the lavender and jasmine essential oils will be the next best thing to a spa day. The loofah, bath salts, shower gel, bath oil, and bubble bath cover all her must-haves for in the tub. Plus the cute little bathtub that all the goodies came in will look great in any bathroom.
20. Women's Personalized Bath Robe – Monogrammed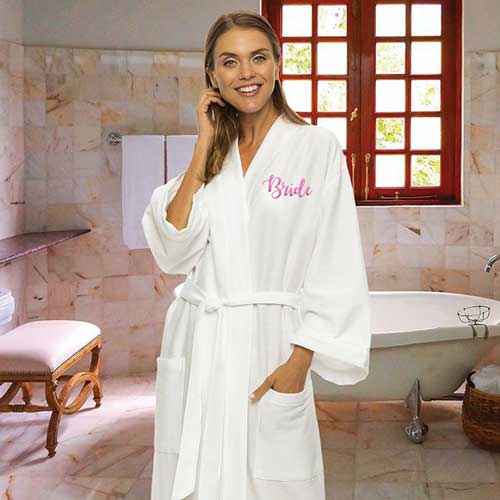 Buy This Gift on Etsy Here ($29.95 at the time of publication)
Top retirement gifts for women should always include a luxurious monogrammed robe. You may find your friend lounging around all afternoon in her new cozy lightweight kimono robe. It has double cotton terry loops and two patch pockets. It boasts ¾ sleeves, mid calf length and is lightweight enough to make it an awesome luxury item to take on her next vacation. The terry fabric is 60% cotton and 40% polyester. Sizing is one size fits all with a 48 inch length.
21. Ruby Drop Pendant Necklace – 14K Gold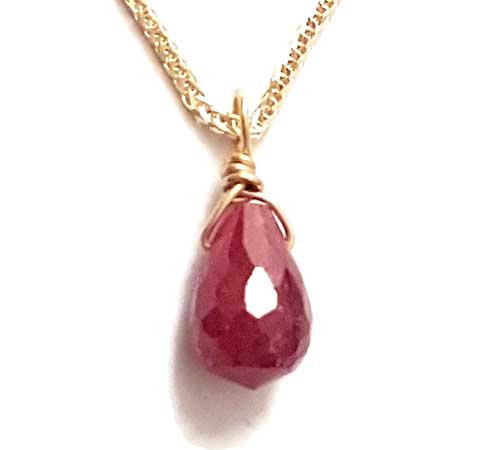 Buy This Gift on Amazon Here ($29.99 at the time of publication)
If you want an outstanding way to commemorate your dear friend's retirement buy her this natural African ruby necklace. Ruby is the stone that represents devotion, romance, and love. This unique drop pendant's raspberry colored stone is wrapped in 14K yellow gold and measures ⅜ inch. The 14K gold wheat style chain measures 18 inches. A stunning necklace that will work with any outfit she chooses.
22. Minimalist Gold filled Threader Earrings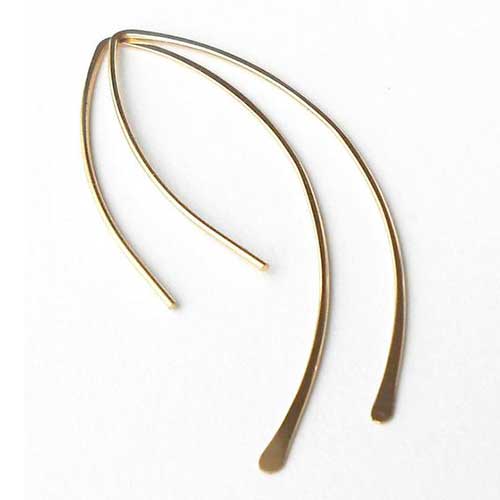 Buy This Gift on Etsy Here ($26.00 at the time of publication)
These simple, breathtaking earrings are sure to make your new retiree glad that you're friends! They are fashioned out of 19 gauge 14K gold filled wire that has been hammered flat and shaped into an elongated leaf. They are polished and as shiny as your friend feels now that she doesn't have to go to work everyday! An elegant minimalistic style that will compliment any outfit she puts on whether it's to go to the movies or out to a fancy party. Measuring two inches long they are large enough to make a statement without being gaudy. Also available in sterling silver.
23. Personalized Kitchen Apron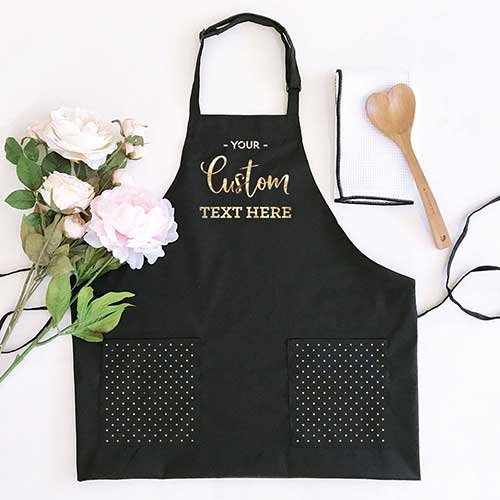 Buy This Gift on Etsy Here ($21 at the time of publication)
Now that your friend is retired she has more time to cook all those dishes she dreamt about sitting in her cubicle. You can get creative with the custom text that's printed in black or metallic text on this apron. The strap is adjustable so it can be the length she's comfortable with. If you want to jazz it up some order the polka dots to the pockets for an additional charge. This personalized apron is sure to please any cook!
24. Celestron Portable Refractor Telescope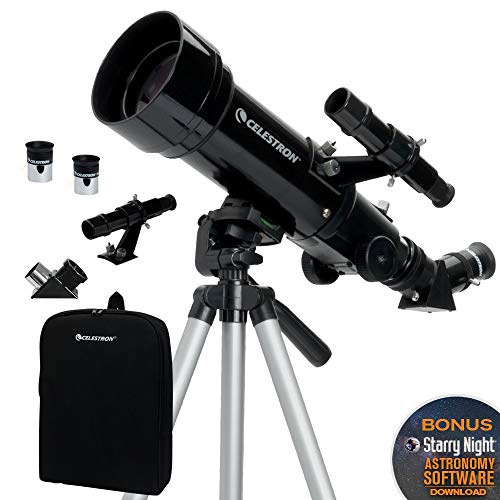 Buy This Gift on Amazon Here ($66.90 at the time of publication)
If you've listened to your newly retired friend talk about stargazing over the years this is an awesome gift for the beginning stargazer! The Celestron Travel Scope 70 is designed for terrestrial or celestial viewing with adults and kids in mind. The high quality glass optics are fully coated and include a professionally engineered refractor style 70mm objective lens. It's user friendly and assembles in no time with no tools required. Two quality 20mm and 10mm eyepieces are included. It can also be used for viewing wildlife and only weighs in at 3.3lbs and packs up easily into the travel backpack that's included. It also comes with a free download of Celestron's BONUS Starry Night Astronomy Software with enough information about the night sky to keep your newly retired friend busy for a long time!
25. Compact High Power Waterproof Binoculars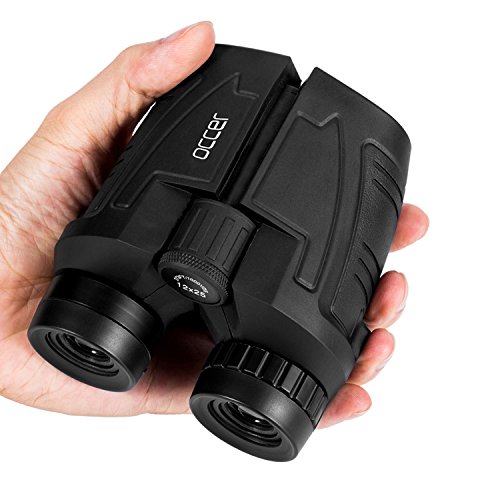 Buy This Gift on Amazon Here ($33.99 at the time of publication)
A great gift for your retired friend! Now that she has time to pursue some of her interests that never made it to the top of the list, she'll love these high powered binoculars with a large eyepiece that can accommodate people with or without glasses. They have a 12X25mm objective lens for a better viewing experience. The compact design allows one hand operation while having your other hand free. Whether she's at the opera, bird watching, on an adventure these binoculars won't disappoint! They can also be used as low light night vision goggles while it's still dusk but not fully dark. The non-slip rubber armor keeps her grip secure. Shockproof and light water resistant as well. A thoughtful gift that will give her great enjoyment for years to come.
26. AmazonBasics Hardside Spinner Luggage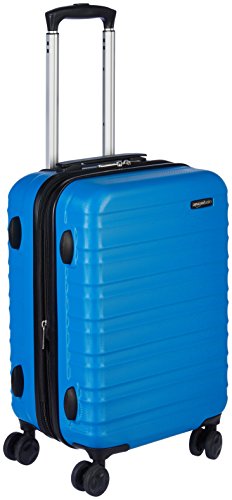 Buy This Gift on Amazon Here ($49.99 at the time of publication)
Great retirement gifts for women should include a new piece of luggage. Has your dear retiree spent every waking moment behind a desk? Never going on a vacation unless it was to see her mother? If that's the case buy her this snappy AmazonBasics hard side spinner luggage! The pretty blue color will make it easy to locate on the luggage carousel and the compartments will help her keep all of her travel goodies organized. If you haven't sprung for new luggage in ages for yourself, buy two! You won't believe how far luggage has come in the last several years!
27. Kindle Paperwhite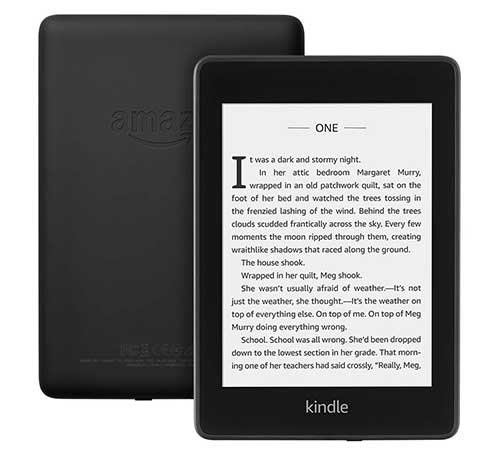 Buy This Gift on Amazon Here ($129.99 at the time of publication)
Your friend has finally retired. She always talked about never having time to read. Now she has the time so it's time to bring her into this century! The Kindle Paperwhite is now Waterproof so she can read while she takes a leisurely bath or while she's at the beach without any stress over getting her new toy wet. You can submerge it in freshwater for up to two meters for 60 minutes. If her eyes get too tired from reading so long the way mine do, she can pair it with her Bluetooth and listen to her book from where she left off! Font sizes are adjustable as well as the brightness of the screen. And the charge lasts for weeks! Yep weeks!
If you have a bigger budget and your retiring friend is a reading junkie, spring for the top of the line model.
28. Amazon Kindle Oasis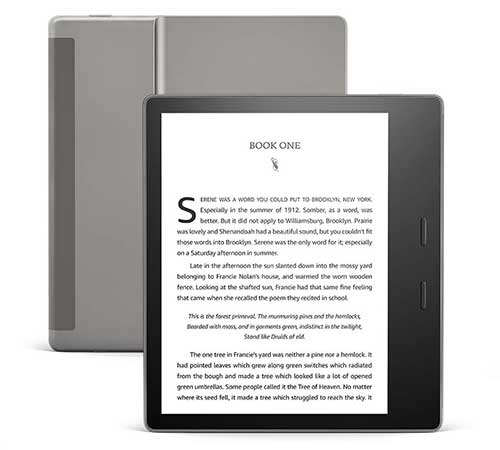 Buy This Gift on Amazon Here ($249.99 at the time of publication)
This latest model Kindle is top of the line. It also comes with a steeper price tag than the one above this. As with any new model, there are more bells and whistles to entice you and enhance her reading experience. This one delivers! If you're fat with cash spring for the Kindle Oasis. Especially if your Grandma is tech savvy and would appreciate the latest model! It submersible in fresh water for up to 60 minutes down to 2 meters. The display is adjustable for fonts and light. And can also be paired with Bluetooth so if her eyes get tired after hours of reading (like mine do!) she can go audio! A dynamite gift for the avid reader.
29. National Geographic World Atlas 11th Edition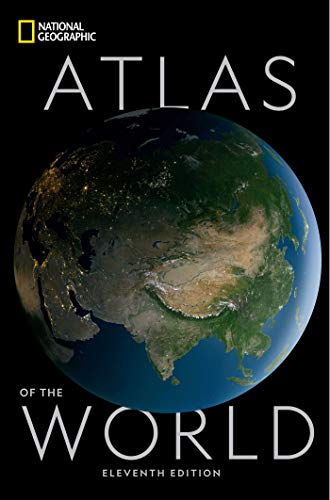 Buy This Gift on Amazon Here ($110 at the time of publication)
When I sit down with my National Geographic World Atlas I have to set a timer or I'll get lost down the rabbit hole! Your newly retired friend will love this jaw dropping coffee table book for its beauty of the cover and every page. The amount of information in this atlas is mind boggling. Maps of every country, region, island, and ocean are just the start. Graphics and thematic maps cover information about the environment, population, and economic patterns. It's the perfect coffee table book. It's big and can be laid out so you can gather around and talk about past, present and future adventures!
30. 101 Fun Things to Do in Retirement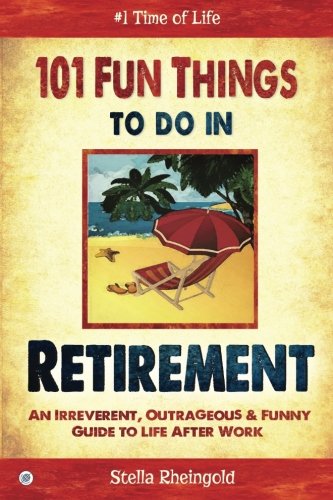 Buy This Gift on Amazon Here ($11.79 at the time of publication)
A perfect gift for your newly retired friend. This entertaining read is for anyone that loves life and a good laugh. The author, Stella Reingold, makes suggestions for things to do that start out fairly conservative then moves on to quirky and even a bit weird! This book is great fun to read and will spur your friend's imagination. She may find herself implementing some of Reingold's wackiest suggestions! Now that your friend's retired this might be just the push she needs since she's been living in a cubicle for years. Check back with her after she's read 101 Fun Things to Do in Retirement and see what new adventures she has in mind!
31. Professional 2-Ply Practice Emoji Golf Balls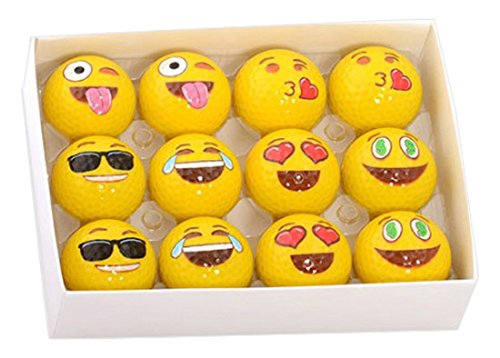 Buy This Gift on Amazon Here ($12.97 at the time of publication)
These emoji golf balls are fantastic retirement gifts for women. Whether your friend is new to golf or a seasoned professional, she'll get a kick out of these yellow whimsical emoji golf balls! Awesome for practice and a good laugh while she tunes up her golfing skills. These bright, fun golf balls will be great conversation starters! She can share some of the 12 practice emoji balls with some of her golf buddies. Cute gift!
32. Grassroots Par Three Putting Green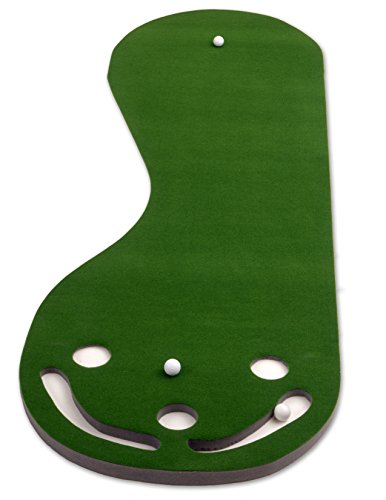 Buy This Gift on Amazon Here ($37.87 at the time of publication)
Whether your newly retired friend is a golf fiend or new to the game, this may be the perfect gift to keep her busy and improve her putting skills. Golfers know that putting is where the most strokes are lost. This mobile Grassroots par three putting green is perfect to use in her living room to practice and improve her putting skills. If the weather is bad and she is itching to golf she can set this up and put to her heart's content.
33. Golf Ball Bead Stroke Counter Bracelet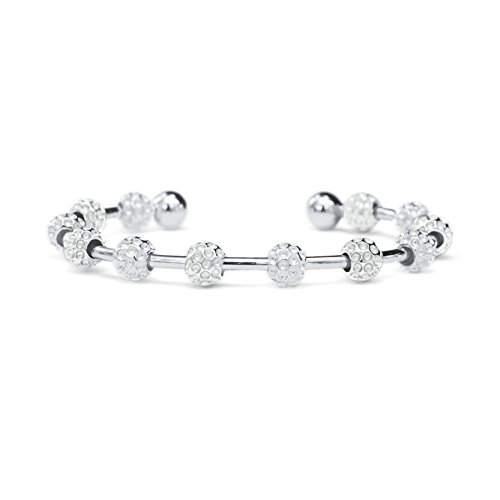 Buy This Gift on Amazon Here ($59 at the time of publication)
This Chelsea Charles patented stylish bracelet can be used to count her strokes on the golf course, her daily glasses of water or pounds lost. The beads have to be moved manually so she'll always know what her count is. This beautiful bracelet comes in gold, rose gold and silver plated and will compliment her other jewelry.
34. Japanese Knitting Stitch Bible: 260 Exquisite Patterns by Hitomi Shida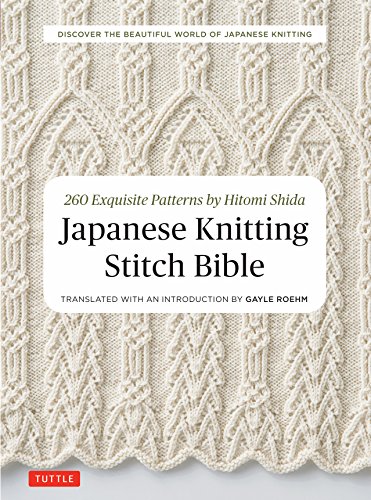 Buy This Gift on Amazon Here ($13.37 at the time of publication)
Knitting isn't just for retired old ladies anymore! But if your retired friend loves knitting or just wants to take up a new hobby this book is sure to please! Hitomi Shida's, Japanese Knitting Stitch Bible: 260 Exquisite Patterns, offers clear patterns and techniques to practice intricate knitting patterns. Your friend can pour over 160 pages of photographed examples and step by step diagrams used in Japanese knitting. Gayle Roehm translated this excellent collection of projects and patterns into English allowing knitters worldwide to experience and emulate Japanese knitting.
35. Wooden Yarn Bowl with Holes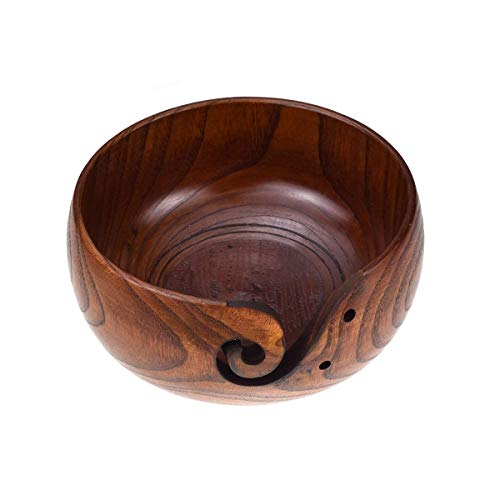 Buy This Gift on Amazon Here ($14.95 at the time of publication)
This lovely wooden bowl will look beautiful anywhere in your newly retired friend's home even if she doesn't knit! The natural rosewood bowl has been finished to a smooth surface allowing the yarn to be easily fed through the swirl for tangle free knitting. The 6 inch wide by three inch high bowl holds a 3.5 ounce ball of yarn and has two holes for her to store her knitting needles. It's small enough to fit in the bag with her knitting project so she can take her knitting anywhere she wants to go.
36. Flexible Neck Book or Knitting Light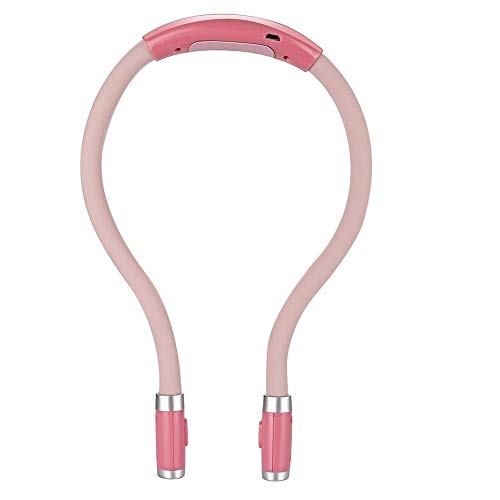 Buy This Gift on Amazon Here ($13.49 at the time of publication)
This compact, hands free, versatile LED reading light can be used for so many purposes! The flexible light made of bendable, soft rubber can be used for knitting, walking and reading (if your retiree hasn't made the leap to Kindle yet. It comes in three colors and has a variety of brightness levels. After 10 hours of use on normal bright mode it will only take 2.5 hours to recharge with a USB cable. The flexibility will allow her to find the best angle for whatever project she needs light on. The two LEDs on each side include a wide angle flood light and a spotlight. This practical and very useful gift is one your newly retired friend is sure to enjoy.
37. Fruit Infuser Water Bottle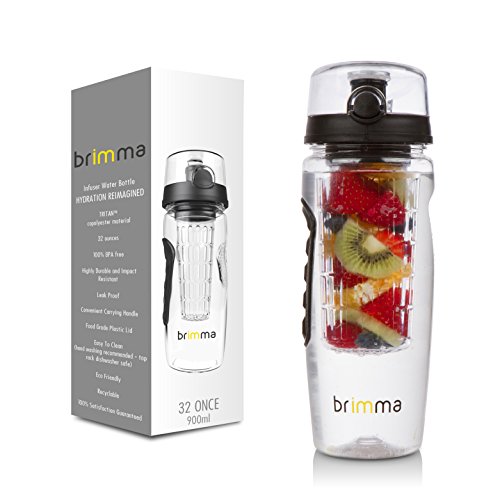 Buy This Gift on Amazon Here ($19.97 at the time of publication)
Stay hydrated! Stay healthy! Newly retired women will enjoy having a few extra minutes to put some of their favorite cut-up fruit in this leak proof water infuser. She can stop buying those high sugar, fruit flavored garbage drinks and opt for a healthier alternative. The 32 ounce 100% BPA Free, fruit infuser water bottle has a carrying handle and is high quality shatterproof Tristan plastic. The lid locks and she can use it as a stand alone water bottle. It's easy to clean and makes adding some natural flavor to your daily water requirements effortless!
38. Yoga 6 Piece Starter Set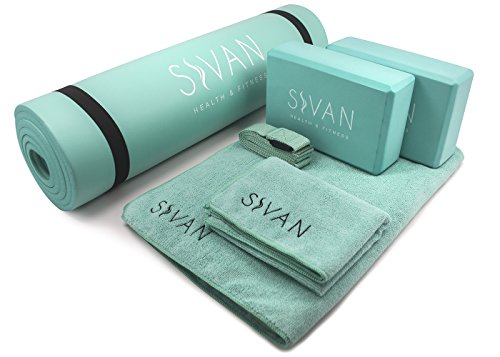 Buy This Gift on Amazon Here ($39.99 at the time of publication)
Whether your retired friend is a yoga master or just starting out, this six piece package includes a ½ inch thick memory foam yoga mat with a ribbed surface, a 68 inch by 24 inch yoga mat towel, two yoga blocks, a yoga strap and a 30 inch by 20 inch yoga hand towel. Both yoga towels are designed with microfiber technology for the best absorption so your retired friend can mop up her sweat during yoga or Pilates!
39. Aromatherapy Soy Candles Set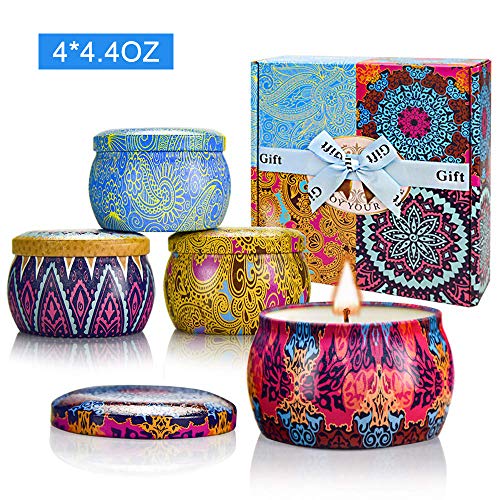 Buy This Gift on Amazon Here ($20.99 at the time of publication)
Candles are great retirement gifts for women. This gift set includes scented candles in Lavender, Lemon, Fresh Spring and Mediterranean Fig. Made from natural soy and top quality essential oils makes for a cleaner and longer burn time. Each of the 4.4 ounce candles will burn for about 25-30 hours. They are three inches wide and two inches tall. The decorative tins can be repurposed after the candle is gone. They come well packaged and gift wrapped for your convenience.
40. Thomas Kinkade Disney Jigsaw Puzzle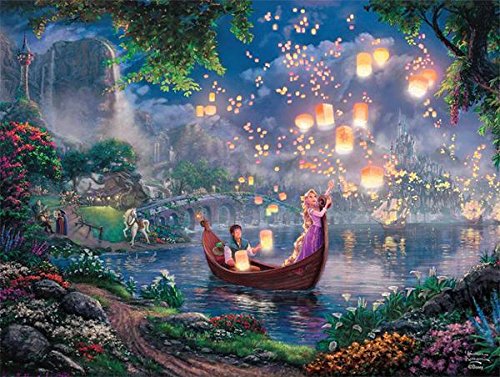 Buy This Gift on Amazon Here ($14.99 at the time of publication)
Who doesn't love a jigsaw puzzle? Who has time to work on one? Your retired friend does and she doesn't have to worry about putting it away to make room for anyone else's stuff! Thomas Kinkade captures the essence of the classic Disney story in one image. His inspiration came from the art, sketches and other historic documents from the Disney archives. This charming puzzle has 750 pieces and measures 24 inches by 18 inches when completed. Grab a bottle of wine, bring the puzzle, head over to her house with a great way to spend time and catch up with your newly retired buddy. Made in the USA.
41. The Easy 5-Ingredient Healthy Cookbook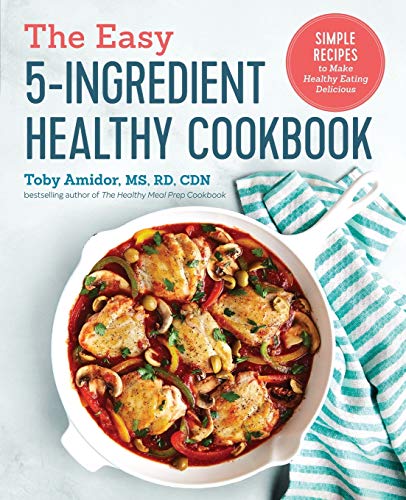 Buy This Gift on Amazon Here ($12.59 at the time of publication)
Anytime you think of retirement gifts for women you think of how much free time they'll have on their hands. This cookbook is geared toward busy people who are struggling to put together healthy meals on a daily basis. Just because your retired friend has lots of free time doesn't mean she wants to spend it in the kitchen. Author Toby Amidor is a regular contributor to US News and Today's Dietitian Magazine. She's put together awesome recipes that are healthy and only have five ingredients so your newly retired friend can spend her time doing things she likes better than cooking but still have healthy meals.
42. Walking Stick with Rubber Quad Base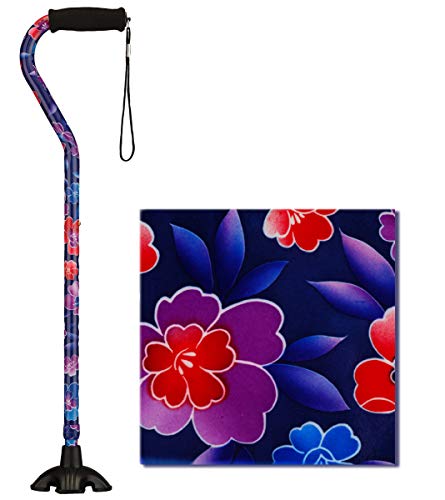 Buy This Gift on Amazon Here ($24.95 at the time of publication)
Does your retiring friend love to walk? This multi use walking stick isn't just for someone that needs stability. When I was in the Caribbean I always took a walking stick in case I ran into local wild dogs. It was my best friend and saved me on more than one occasion. The vibrant Maui flowers add pizzazz and the base has a quad so it stands up on a flat surface. It's lightweight aluminum and has a foam handle with a carrying strap. If she loves to walk or hike she'll love this gift!
43. Ultralight Foldable Lightweight Packable Backpack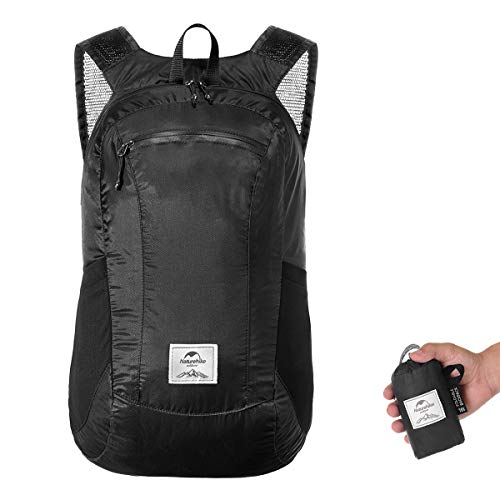 Buy This Gift on Amazon Here ($17.99 at the time of publication)
Is hiking, traveling or spur of the moment adventure plans your retired friend's style? She'll want to have this with her all the time. At 4.2 ounces in its own packable bag, she can throw it in her purse so she has it when the mood strikes her. It's made of water and tear resistant 30D nylon material with YKK zippers sealed with silicone is durable and a high quality backpack. It's waterproof (although not designed for torrential rain), has padded shoulder straps with adjustable buckles for a perfect fit. Whether she takes it to the farmers market on Saturdays or on her next adventure it's a gift she'll get years of enjoyment out of.
44. Twist Memory Foam Travel Pillow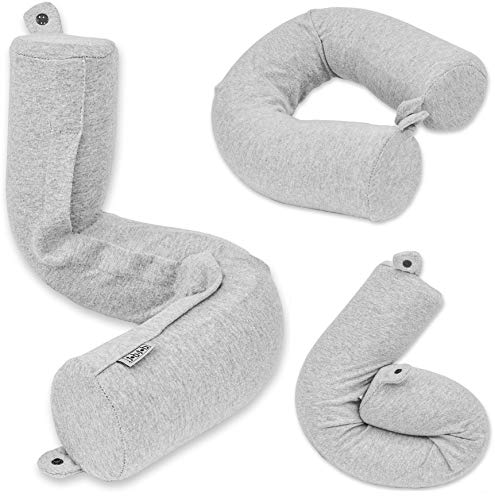 Buy This Gift on Amazon Here ($24.99 at the time of publication)
This twist memory foam travel pillow has flexible joints so your retired friend can bend it into any shape that suits the place and her sleep style. The cover is breathable cotton for comfort and can easily be removed for washing. Memory foam is flexible and offers firm support. Whether she's going to check off another Bucket List item or needs extra support for sleep at home this retirement gift is sure to please!
45. National Geographic's Destinations of a Lifetime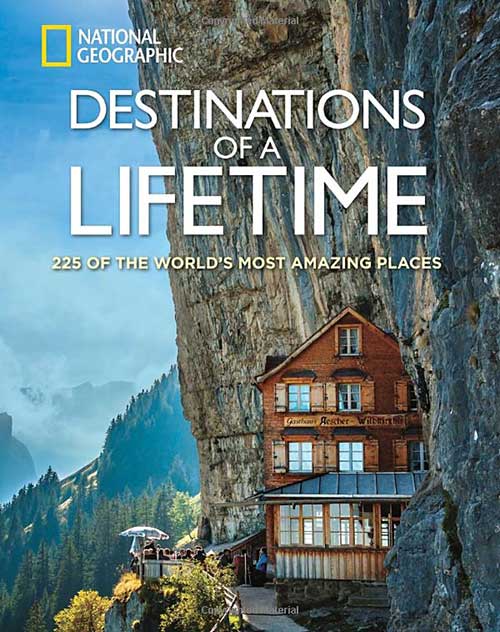 Buy This Gift on Amazon Here ($36.00 at the time of publication)
National Geographic has beautifully compiled 225 of the World's Most Amazing Places. Is your retired friend a travel junkie or a wannabe traveler? Either way, this book will allow her to travel while in her living room to hundreds of the most breathtaking places on earth. World class photography, awesome text and stunning images of natural and man-made wonders of the world are compiled in yet another stunning book by National Geographic. They also offer the best times to go, places to stay and what to do so when your retired friend makes the trek to one of these visual wonders. She'll be sure to have the most epic and authentic experiences.
46. YAMIU Packing Cubes Travel Organizer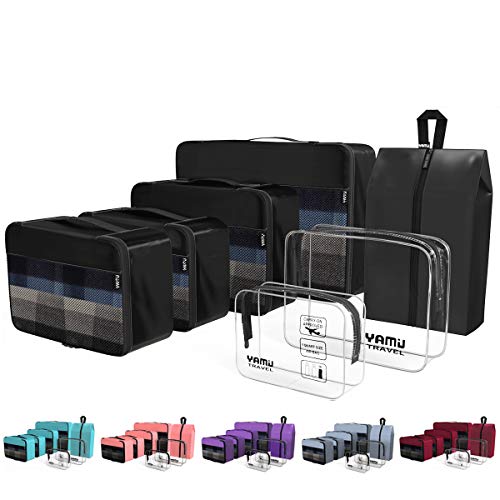 Buy This Gift on Amazon Here ($19.88 at the time of publication)
This YAMIU seven piece packing cube travel organizer will enhance your newly retired friend's adventure experience. She can divide her clothes into different cubes for shirts, pants or skirts, underwear, and toiletries. It includes two waterproof material clear bags. One quart cube is TSA compliant. They are lightweight and include a waterproof shoe bag (I use this one for my dirty clothes when I get where I'm going). The high quality nylon fabric of each cube has strong double zippers for ease of access. This is a must have travel gift!
47. Camry 110 Lbs Luggage Scale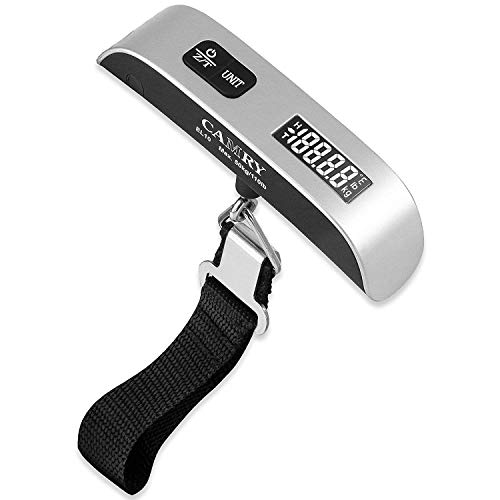 Buy This Gift on Amazon Here ($10.29 at the time of publication)
Give your retired friend this luggage scale and she'll never have the horrific experience of standing at the airline check-in counter digging items out of one bag to make it the right weight while everyone watches. This 110LB/50 KG scale has a rubber handle for ease of use. The 3V lithium cell CR2032 is included and has a low battery indicator. The LCD display is easy to use and the scale is so compact she won't worry about it taking up more room in her luggage!
48. 18 Pack Resistance Set Workout Bands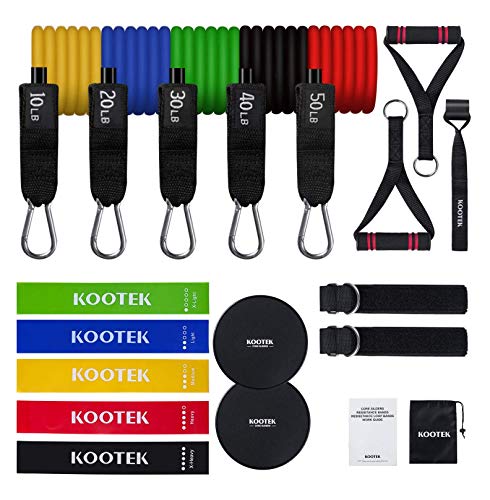 Buy This Gift on Amazon Here ($24.99 at the time of publication)
When you think of retirement gifts for women, exercise might come to mind! If your friend doesn't have any interest in going to a gym this is the perfect gift for her. This 18 pack of exercise goodies has everything she'll need to stay in shape. The five color coded and resistance level tube bands are double layered and can be used alone or in combination for a 150 pound max. The set also comes with five loop band that can be used for most workout programs. Two double sliders will keep her abs in great shape. Door anchor and handles, legs ankle straps, carry bag & guide book for home round out this workout package.
49. Exercise Yoga Running Tanks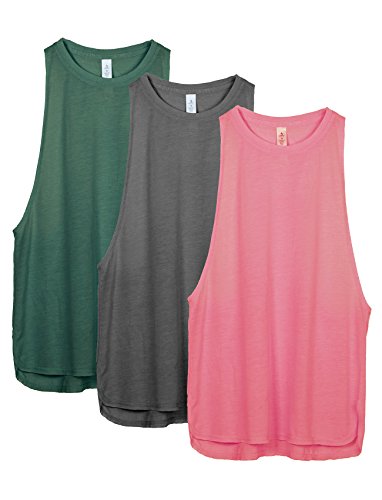 Buy This Gift on Amazon Here ($24.99 at the time of publication)
These very popular lightweight racerback tanks come in a three pack of three different colors. Your retiring friend will be able to wear these for any kind of workout and look good while she enjoys exercising. They're available in numerous packs with other colors to choose from and pair easily with sports bras. The 70% polyester, 30% rayon fabric is soft, sweat wicking and has a longer armhole design to keep her cool. The flatlock stitch reduces chafing for a more comfortable fit.
50. Gaiam Essentials Thick Fitness Mat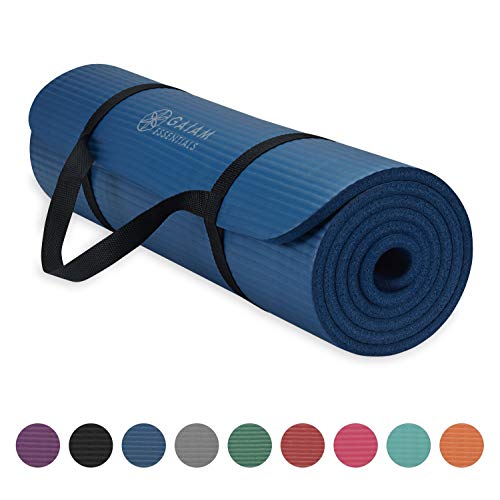 Buy This Gift on Amazon Here ($16.99 at the time of publication)
Does your retiring friend love yoga? Is she into Pilates? She'll love this thick yoga and exercise mat for any type of exercise where a little cushion makes her knees and back happy! The mat measures 72 inches long by 24 inches wide and is ⅖ inch thick. It's non toxic, 6P free, and healthier choice for your retiring friend and the planet. Whether she goes to an exercise studio or works out to her favorite program at home, she'll appreciate this quality mat and the carrier strap that cinches her mat up in a flash for exercise on the go!
51. Indoor Folding Magnetic Upright Stationary Bike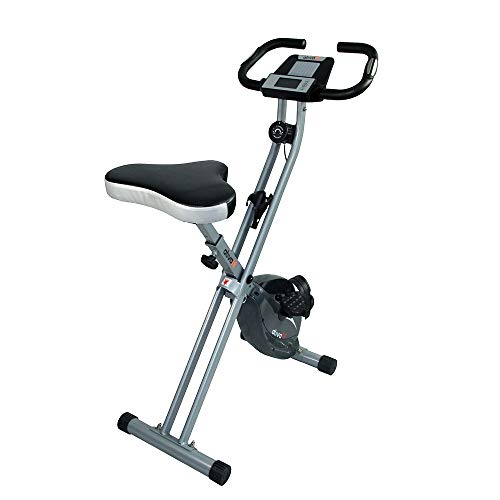 Buy This Gift on Amazon Here ($139.99 at the time of publication)
Riding a bicycle is something you never forget how to do. When you think of retirement gifts for women, a bicycle may come to mind. But your friend might not be interested in tooling around town in bad weather or in traffic. A stationary bike will get her the exercise she wants in the safety and comfort of her own home. The large and comfortable seat is suitable for up to 265 lbs. The easy to read digital monitor records distance, speed, time and heart rate and has a phone holder attached. The eight levels of resistance will meet all her workout needs. A sturdy bike that easily folds in half so she can store it in a closet when she's not killin' her workout!
52. Fifty Ways to Eat Cock Cookbook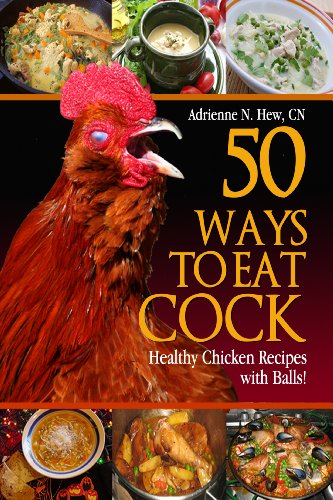 Buy This Gift on Amazon Here ($14.73 at the time of publication)
When you think of retirement gifts for women, coming up with something that makes a statement is key! This clever, inventive chicken cookbook will have your retired friend roaring with laughter. 50 Ways to Eat Cock recipe book also touches on history, folklore and the culinary culture of cock. It's sure to satisfy the most ravenous retiring friend that wants to devour cock. Author and Certified Nutritionist, Adrienne Hew, has compiled economical and healthy recipes for finger licking dinners! Grab this hard copy book and watch her double over in laughter when she opens this gift!
53. Six Quart Enameled Cast Iron Dutch Oven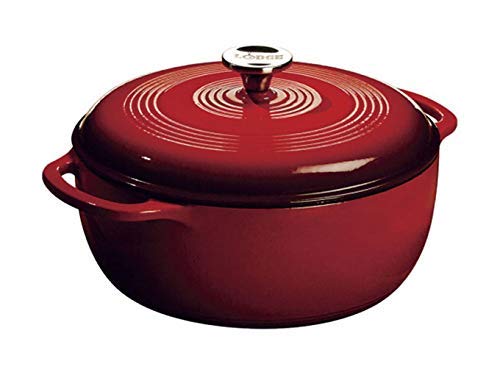 Buy This Gift on Amazon Here ($57.99 at the time of publication)
If your retired friend loves to cook she'll be thrilled with this gift! I've had one since before my retirement and have cooked more amazing meals in this Lodge six quart Dutch oven than I can remember. The porcelain enamel is glass that's bonded to the cast iron. No need to season this beautiful red Dutch oven. This six quart pot can pull together a big meal and also looks fantastic sitting on top of the stove when your friend's not using it. It can withstand temperatures of up to 500 degrees in the oven making it perfect for starting short ribs on the stove top and putting them in the oven to finish while your newly retired friend tends to other tasks. Lodge is a family owned business since 1896, environmentally friendly and in the USA.
54. Electric Panini Press With Locking Lid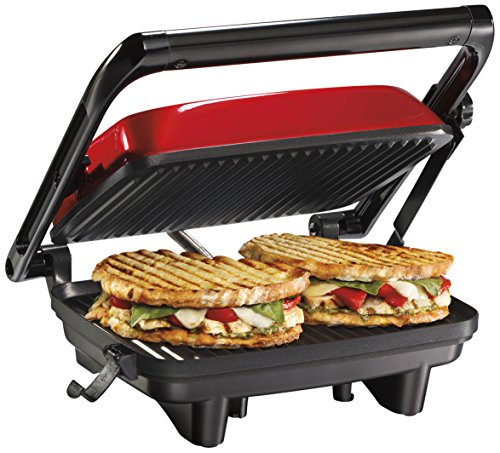 Buy This Gift on Amazon Here ($32.75 at the time of publication)
Bring your newly retired friend into this century with this panini press for making mouth-watering sandwiches. No more flipping sandwiches just to watch them fall apart before her very eyes! Any size sandwich will work in this model and it also has a locking lid for personal pizzas or any open faced goodies. Non stick top and bottom produce crisp, yummy results. Preheat the sandwich maker for six minutes and watch for the light to turn green. The red finish will look good on the counter or she can easily store this manageable sized appliance.
55. The Complete Cooking for Two Cookbook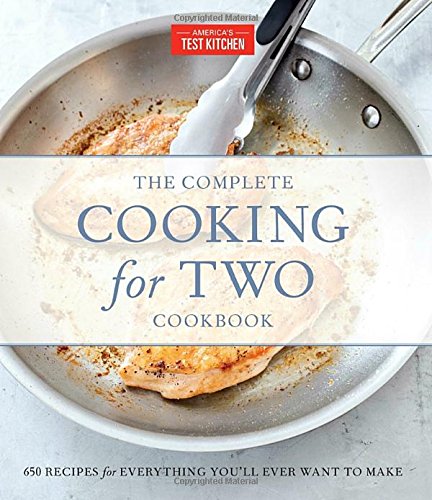 Buy This Gift on Amazon Here ($24.45 at the time of publication)
Is your retired friend living alone or with one other person. Instead of cooking from traditional cookbooks that typically serve 4 to 6, give her The Complete Cooking for Two Cookbook (more than 250,000 copies sold) and watch her delight as she makes tempting dishes and never has to deal with throwing out leftovers again. No one wants to eat the same dish for days in a row. She'll find the trickiest dishes scaled down for two in this cookbook that delivers creative solutions for soups, stews, stir-fries, and lasagnas! A sure to please gift for your retiree!
56. Six Egg Capacity Electric Egg Cooker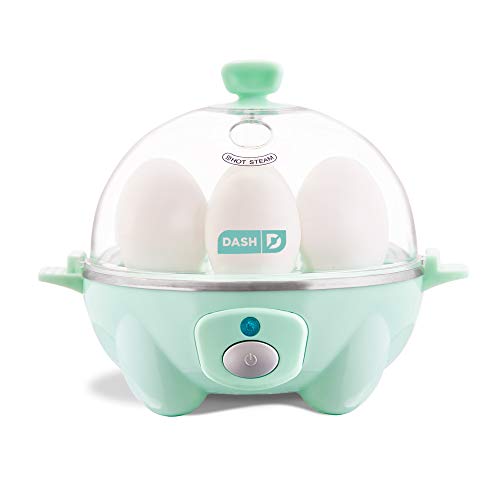 Buy This Gift on Amazon Here ($14.99 at the time of publication)
This up to date version of the best egg cooker ever is the bomb! An awesome time saver with timed egg cooking and an auto switch that goes off when they're done. Your retired friend has better things to do than hang around the kitchen timing her hard boiled eggs or carefully watching her much loved poached eggs. It's compact and light and hardly takes up any room in a kitchen. It's back by a 1-year warranty, comes with a poaching tray, omelet tray, 6 egg holder tray, measuring cup and recipes to inspire your favorite retiree! All of the accessories are dishwasher safe and non stick.
57. Impaired Vision Digital Clock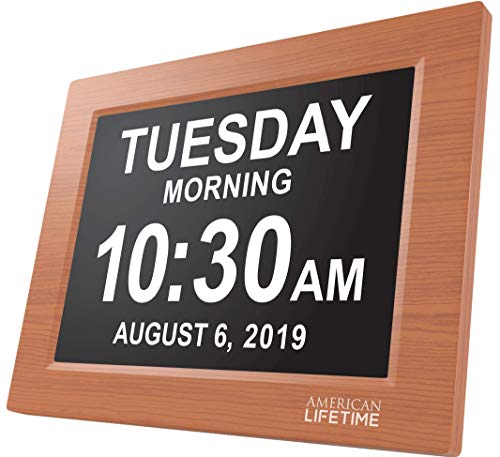 Buy This Gift on Amazon Here ($41.95 at the time of publication)
This clock isn't just for the elderly or dementia patients. Your newly retired friend will appreciate being able to read this without grabbing her glasses! This Day Clock by American Lifetime has an easy to read screen making it easy for her to remember her appointments now that she isn't tied to a day planner every day!
58. Magnetic Dart Board Game
Buy This Gift on Amazon Here ($24.99 at the time of publication)
Gone are the days of throwing darts and making more holes in the wall next to the board than scoring points. This classic game is awesome for all ages and will be a hit when people come to visit your retired friend. Also good for hand eye coordination which all of us retirees know is good for memory as well. You'll even be able to keep score easily with the numbers next to each slot. The magnetic dartboard is 14.5 inches, comes with six red and six green darts and is boxed ready to wrap. Whether it's just you two or she's throwing a party, it's a classic game that everyone will enjoy!
59. Electric Wine Opener, Rechargeable Cordless Automatic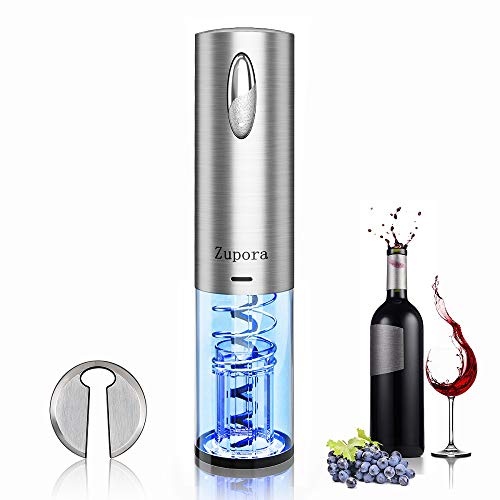 Buy This Gift on Amazon Here ($24.99 at the time of publication)
When you think of retirement gifts for women an electric wine opener is a winner. The blue LED light turns on automatically when in use. Her bottle of wine will open in seven seconds without the annoying struggle of using a traditional wine opener. Rechargeable USB cable supports numerous ways for eco-friendly charging. It's compatible with laptops, power strips, power banks, AC adapter, and other devices that support USB charging. The built in rechargeable 500mAh lithium-ion battery and will open up to 80 bottles on a single charge! If your newly retired buddy is a wine lover, this will be a much appreciated retirement gift!
60. The Good Hurt Fuego-Hot Sauce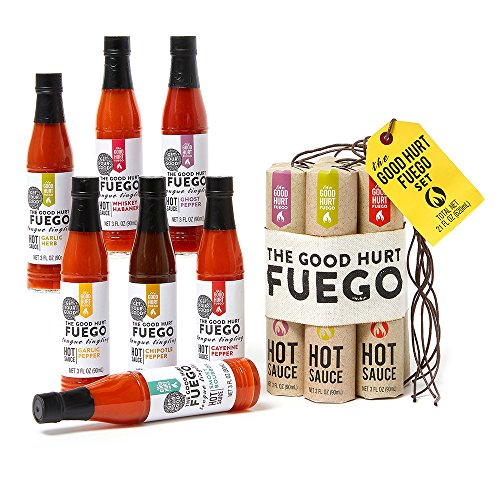 Buy This Gift on Amazon Here ($34.99 at the time of publication)
Just because your friend is retired doesn't mean her taste buds have! Give her a gift that will heat her up every day! The Good Hurt Fuego was chosen as one of Oprah's favorite things. This cleverly packaged gift would almost be worth it without the hot sauce! The mouth watering flavors include: Garlic Herb, Cayenne Pepper, Whiskey Habanero, Smokey Bourbon, Garlic Pepper and Chipotle Pepper with a wide range of heat. Next time your newly retired friend hosts a hot sauce appropriate party everyone will find a heat to their liking! The packaging is ready to give and tip over the recipient!
61. 399 Games, Puzzles and Trivia Challenges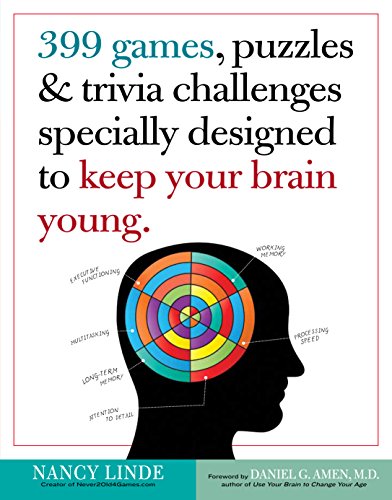 Buy This Gift on Amazon Here ($11.69 at the time of publication)
Now that your friend's retired she's going to have more time on her hands. Since you don't want her brain to turn to mush without the past rigorous schedules or meetings to attend, give her the gift of brain exercise! Fun and entertaining for her to play plus it gives her brain a workout and assists in the process of rejuvenation of the brain by growing new brain cells. These 399 games, puzzles, trivia quizzes, and brain teasers range in challenges range from "Warm-up" to "Merciless" so she'll enjoy these regardless of whether she's on the top of her game that day!
62. National Geographic's 100 Parks, 5,000 Ideas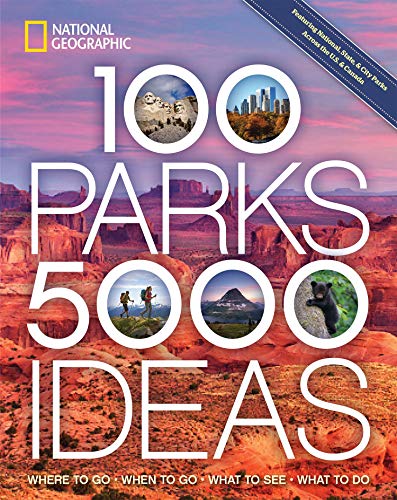 Buy This Gift on Amazon Here ($17.39 at the time of publication)
Whether your newly retired friend likes to travel or not, this stunning National Geographic book is an adventure filled and covers the 50 states and some of Canada's most pristine places. Planning her next vacation will be easy with this compilation of 5,000 ideas. Each park in this guide comes with travel advice, facts, expert tips for camping, hiking and some insider knowledge about the local wildlife. It showcases the best experiences, most fascinating facts and will leave your friend wondering where the several hours went since she opened your much appreciated gift. Be it a river trip, hiking, wildlife watching, monuments or the natural beauty found in cities like New York's Central Park or Boston Commons she'll have all the information at her fingertips to plan some epic adventures! Maybe you'll plan a trip together!
63. That's What She Said – Party Game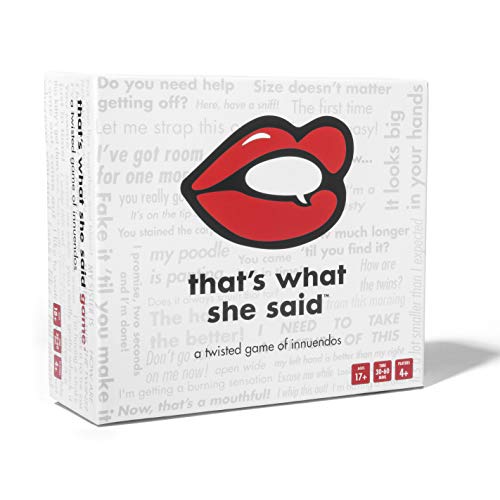 Buy This Gift on Amazon Here ($24.99 at the time of publication)
This naughty game should be at the top of the list for retirement gifts for women! NOT for kids!! This adult game plays fast and will have everyone laughing until they (possibly) pee their pants! With 458 cards of which 400 are white phrase cards and 58 are the setup cards the scenarios that are as diverse as her friends! It's intended for four players and will take about 30-60 minutes if everyone can stop laughing long enough to take their turn! Sure to please you newly retired friend whose humor is a bit off color!
64. TRIVIAL PURSUIT Harry Potter (Quickplay Edition)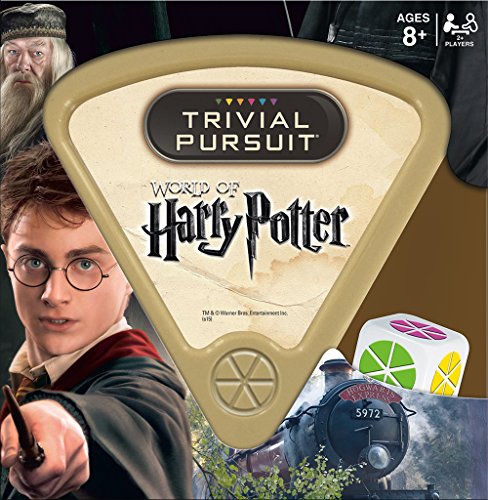 Buy This Gift on Amazon Here ($19.79 at the time of publication)
With the Harry Potter Series crossing every age bracket, this game will appeal to friends and family alike of your retired friend. The game comes with 600 questions based on the Harry Potter movies and books. The game is easy to transport and can even be played on a road trip. The first player who answers 12 questions correctly wins the head student at Hogwarts! The game is meant for two+ players, age eight and up and takes about 30 minutes to play.
65. Beach Sand Coasters Drink Cup Holders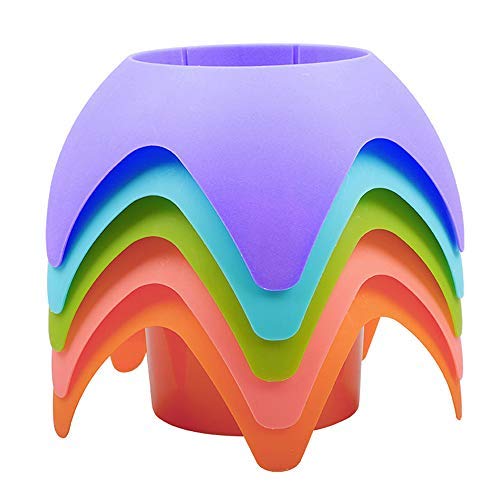 Buy This Gift on Amazon Here ($12.99 at the time of publication)
When you and your retired friend head to the beach you don't want your drinks or phone in the sand but you can't keep everything in your bag either. These are an awesome idea! The drink holder measures 5.5 inches by 5.5 inches by 4 inches. Keep your hands free and your goodies sand free with these cleverly designed, renewable durable plastic stackable starfish drink holders. The colorful set comes in Lemon Green, Orange, Pink, Purple, and Carolina Blue.
66. Beach Tote with Zipper and Insulated Cooler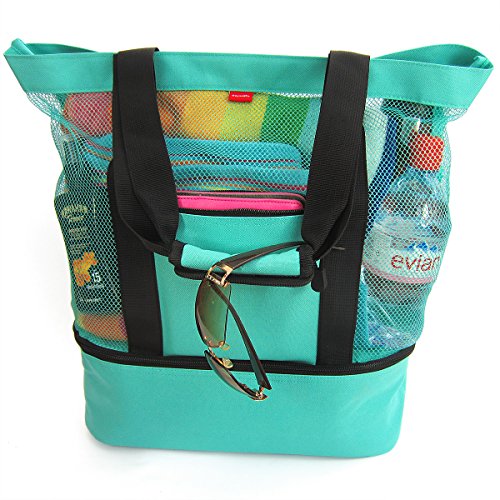 Buy This Gift on Amazon Here ($18.60 at the time of publication)
Retired or not, what does everyone want in a beach bag? This one has all the bases covered! Lightweight and measuring 20 inches by 16 inches by 6 inches, this bag can easily carry four large beach towels, has external pockets for sunscreen, flip flops, water bottle and a zippered one for your cell phone and other valuables. The insulated cooler bag is easy to clean and will keep all your edibles and drinks nice and cool for your beach or hiking day. It's durable, padded and has a 9 inch shoulder strap for comfort making it perfect for travel, camping, festivals or sporting events.
67. Silicone Wine Glasses (Set of 4)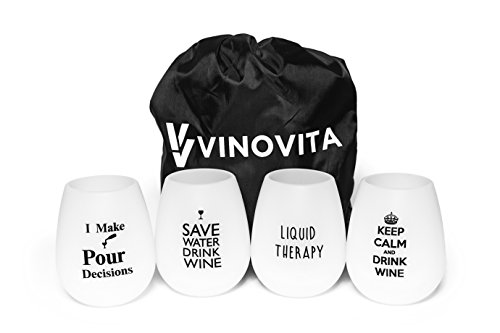 Buy This Gift on Amazon Here ($22.99 at the time of publication)
The clever sayings on these portable silicone wine glasses aren't the only thing that will get your retired friend's attention. She'll never worry about breaking another wine glass! The BPA-free silicone glasses are perfect for parties by the pool, while she's enjoying a much deserved bath, picnics or to take to a party. They come in a carrying bag for easy storage and making it easy for your newly retired friend to show up at a friend's house with your gift. These glasses will bring out numerous hilarious comments from friends and family alike!
68. Feelin' Beachy Luxury Scented Soy Candles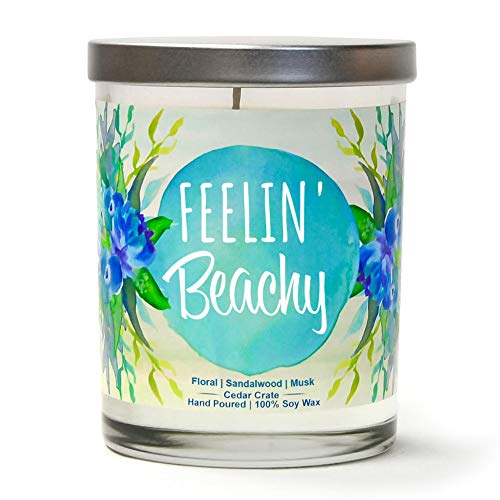 Buy This Gift on Amazon Here ($19.95 at the time of publication)
If scented candles bring a sweet smile to your newly retired friends face this is a great pick. This delightful beach candle's fragrances cover citrus, sandalwood, cedar, and floral scents. These 100% all natural soy candles are poured in small batches and made in the USA. The 10 ounce candle has a cotton with paper core that is zinc and lead free. Cut the wick to ¼ inch before relighting. The pretty candleholder comes in a gift box that anyone will enjoy. When the candle is finished the jar can be washed and be a glass, pen holder or repurposed for numerous uses.
69. WTF Did You Say Party Game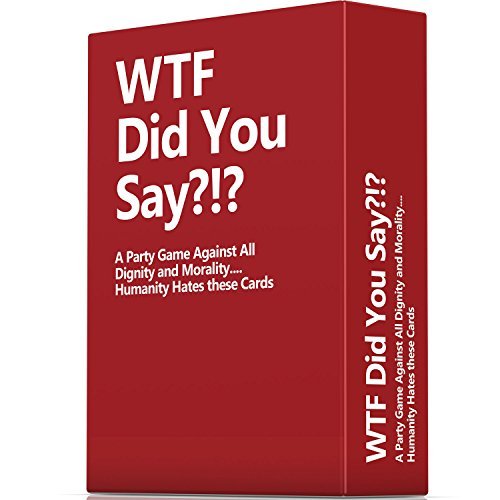 Buy This Gift on Amazon Here ($18.99 at the time of publication)
When generations before us looked for retirement gifts for women, well, this wasn't available nor would it have been chosen at the time! The 100% Manufacturer Money Back Guarantee states, "If This Isn't the Best Party Game You've Ever Played, Please Contact the Manufacturer and They'll Offer a Full Refund!" Dubbed a game of 594 cards designed to strip you of all your dignity and morality, it's not a game to be played by the meek! Hours of entertainment will leave all players roaring with laughter and holding their sides in hopes of a reprieve. And they claim, "You'll feel horrible about yourself when you play this game."
70. Eight Planets Solar System Bracelet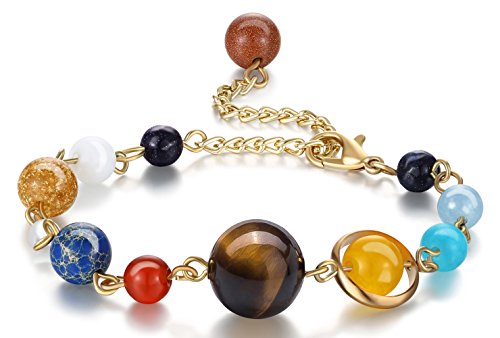 Buy This Gift on Amazon Here ($9.95 at the time of publication)
This women's bracelet is a beautiful, thoughtful creative gift for your retiring friend. This gold alloy chain planet bracelet is adjustable. Bracelet length is 5.9 inches with a two inch extension. The eight planets are each made of semi precious stones. Neptune is Lapis Lazuli. Mercury is White Jade. Saturn is Labradorite. Tiger Eye is Jupiter. Mars is Red Agate. Venus is Gold Foil Bead. Uranus boasts beautiful Aquamarine and the Earth comes in with Blue Emperor Stone. It's a unique thought provoking gift that's sure to make your new retiring friend feel loved!
71. Original Hand Blown Galaxy Pendant Necklace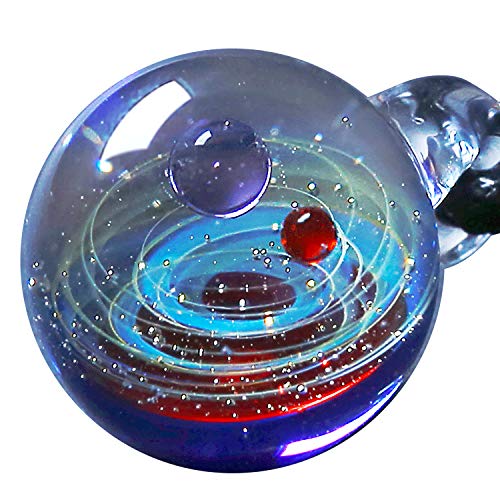 Buy This Gift on Amazon Here ($29.90 at the time of publication)
Each Galaxy Pendant necklace is hand blown by artisan craftsmen in the Japanese Pavaruni Original Studio. This a truly a one of a kind gift! The three dimensional interior design is completely unique measuring two centimeters with a 75 centimeter leather cord. The space cosmos inspired glass is annealed at 3600 degrees for strength and durability. This galaxy pendant is so beautiful it could also be displayed on a coffee table. Your newly retired friend will see that you put a lot of thought into finding her a very special gift.
72. Vacuum Sealed Insulated Wine Glass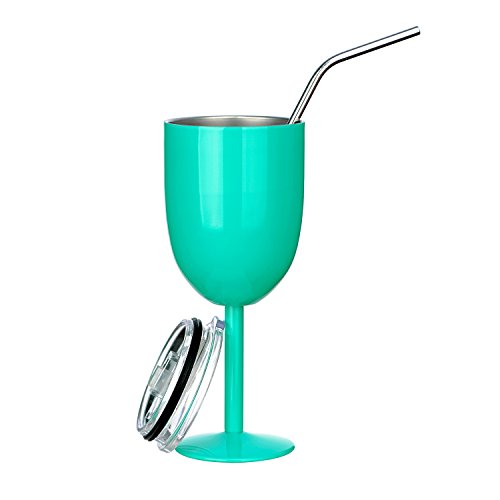 Buy This Gift on Amazon Here ($15.99 at the time of publication)
If spillage or breakage is a concern for your retiring friend this stainless steel wine glass is a must have! The goblets are 100% food grade and 18/8 stainless both inside and out. Not sure of her favorite color? No problem they come in numerous colors. Order one for yourself as a show of retirement solidarity! A BPA free, safe and durable, 10 ounce wine glass will keep her wine cold or hot beverages warm longer than a traditional glass. It includes stainless steel cup, straw and straw brush, and a tight fitting lid to help eliminate spillage!
73. Bluetooth Beanie Hat Wireless Headphones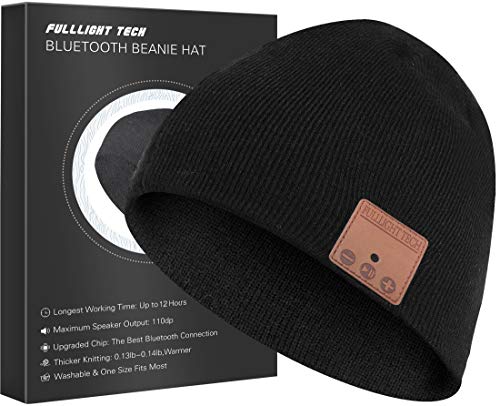 Buy This Gift on Amazon Here ($29.91 at the time of publication)
Does your dear retiring buddy love to have her music with her at all times? Does she live in the cold? This Bluetooth beanie is new and improved providing battery life up to 16-20 hours of continuous music when fully charged. The upgraded HD speakers are the loudest on the market while still delivering clear and crisp music. Great for talking on the phone or listening to her music while she takes a morning walk. A great hands free gift for the way she wants to live her life!
74. River Goods Stained Glass Birds Suncatcher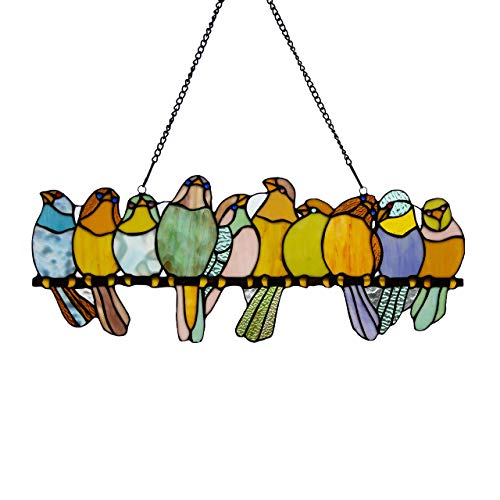 Buy This Gift on Amazon Here ($56.00 at the time of publication)
I love this and so will your newly retired friend! No bird feeder to fill. No bird poop on her deck! Yet she can still have beautiful birds in her window every day! It's something everyone would enjoy. This River of Goods Bird Suncatcher is handcrafted in Tiffany style and can be hung in any window, on a wall or on her front door. This vibrant suncatcher has numerous colors and is sure to delight!
If you think your favorite retiree will hang the stained glass bird suncatcher in a window be sure and order the suction cups below! They're sturdy and easy to use. There are two in the pack.
75. Original Shiatsu Dual Foot Massager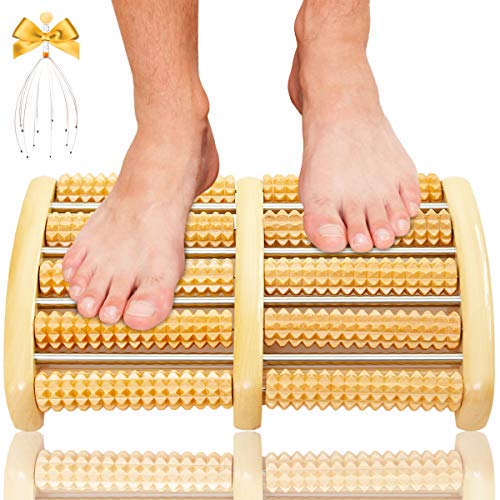 Buy This Gift on Amazon Here ($15.99 at the time of publication)
Give your newly retired buddy the gift of relaxation! This foot massager assists with blood flow to the feet, refreshing sore, tired feet. All of our bodies' pressure points end in our feet. Take care of her feet and your friend will feel her foot ailments slipping away with the acupressure massager. This shiatsu massager can be used on other parts of the body. Promote her overall health with this sturdy, stable portable massager.
76. National Geographic Magazine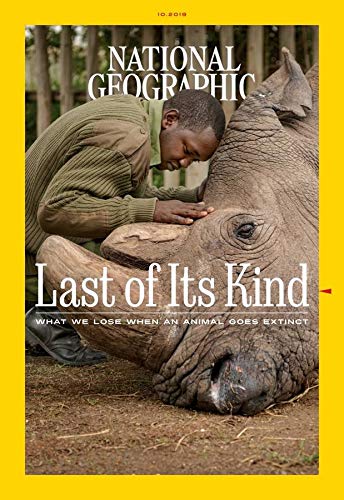 Buy This Gift on Amazon Here ($16.00 at the time of publication)
My mom always said, "I can travel the world without leaving my house because I have National Geographic Magazine." I loved this magazine long before I retired and I spent hours pouring over it when I was a kid. Whether your retired friend is an avid reader or not, you can't go wrong with this gift. They'll grace any table and take her to faraway places she might not otherwise see. Careful though… if it sparks a case of wanderlust in your newly retired friend she may pack a bag and head out on an adventure!
77. BlankieGram Faith Throw Blanket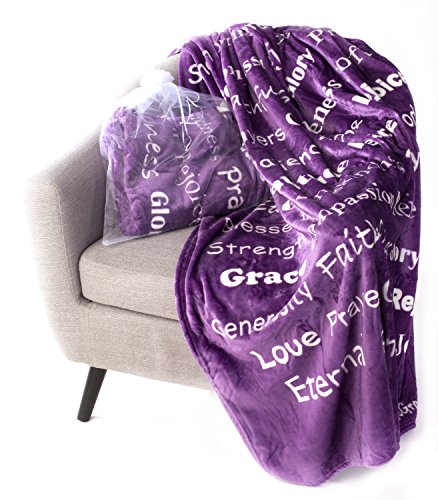 Buy This Gift on Amazon Here ($34.99 at the time of publication)
OK, yeah, there is a risk in giving a retiree something that is so obviously associated with old age, but this is different. It's cool, trendy, new age, and above all else, it's purple. (Actually, it comes in five different colors, but be wild and get purple.) The blanket is lettered with dozens of inspirational and encouraging words and sayings. It could be given for retirement, birthday, Christmas, get-well and for any occasion where someone needs a hug or a word of encouragement. Here's the best part: BlankieGram is one of a growing number of pay-it-forward companies that designate a portion of their profits to help charity. For every blanket purchased, BlankieGram will donate a similar blanket to someone who is going through a tough time. It measures 50 inches x 60 inches, and it's made out of plush cotton fabric. So make the world a better place with a BlankieGram Faith blanket.
78. Volt Rechargeable Heated Scarf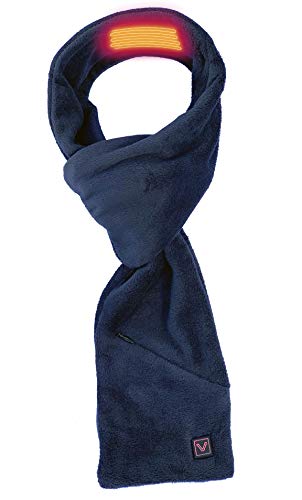 Buy This Gift on Amazon Here ($99.95 at the time of publication)
Coming from the "what will they think of next" category is this electrically heated scarf. Actually, heated scarves have been around for a while, but the makers have perfected – well, almost – the technology in recent years. If walking around with a layer of voltage around your neck is a little intimidating, it should be of some comfort to know that we're only talking about five volts – the same amount that a cell phone charger puts out. In fact, when you don't need heat, you can actually charge a cell phone from the power bank. The control unit rests in a pocket in the bottom part of the scarf. There are three heat settings. Low will give you up to seven hours of continuous heat; medium, about five and high about three. The scarf is made of comfy fleece, and it's machine washable. Yes, it's machine washable. But don't wash the battery. It is a wee bit pricey, so be advised.
79. Birdious Deluxe Bird Feeder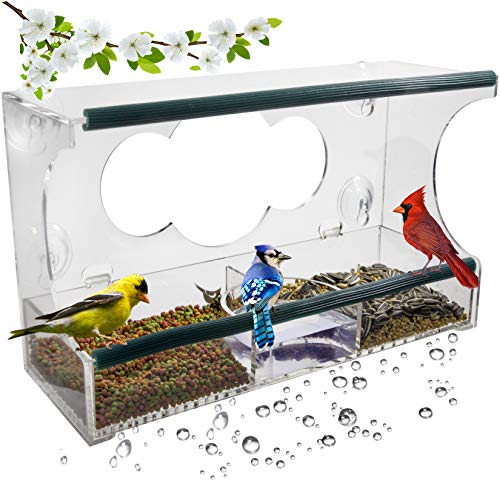 Buy This Gift on Amazon Here ($25.00 at the time of publication)
There's an annoying thing about bird feeders. You have to keep filling them up. But remember, you're buying this for a retiree, and he or she is going to have plenty of time to do refills. This is an interesting item. It's made of clear plastic and it attaches directly to the window, allowing an amazing close-up view of our feathered friends. It attaches to the window glass by strong suction cups that are weather-resistant, and hopefully loosen-resistant. The feeding tray detaches for easy filling, and perhaps more importantly, for easy cleaning. This is a charming, cozy, medium-sized feeder (11 inches x 4 x 6) that is lightweight and no-nonsense in design.
80. GardenHOME Garden Tools Set With Stool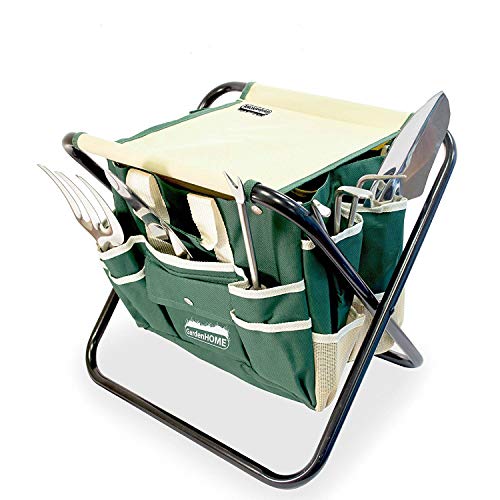 Buy This Gift on Amazon Here ($32.69 at the time of publication)
Retirement and gardening seem to go hand-in-hand, or rather hand-in-dirt. This handy all-in-one transport pouch and portable seat will genuinely be appreciated by those with green thumbs. It comes with a heavy duty folding stool, a storage bag, and five stainless steel tools. These tools include a hand shovel, transplanter, cultivator, weeding tool, and trowel. Chances are, the person for whom you might be buying this for has all or most of those tools, but having a matched set that comes with its own tote bag makes it handy. The tote is detachable, so that you can carry it without the seat, or the seat without the tote. The pockets hold much more than just the tools that come with the product. The frame on the seat is sturdy steel, over which an equally durable polyester canvas seat is stretched.
81. Spa and Chocolates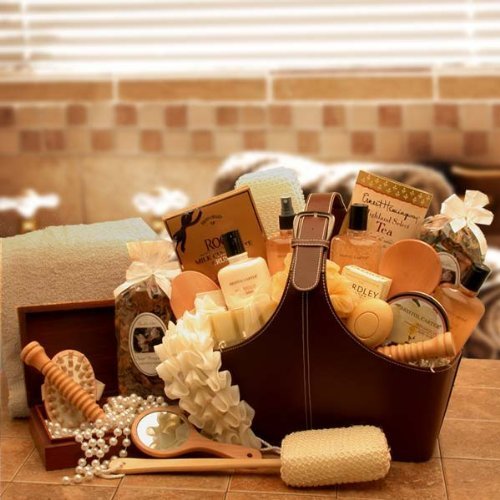 Buy This Gift on Amazon Here ($138 at the time of publication)
Most gift baskets with assorted goodies leave the recipient saying, "Is that all there is?" But with this basket from Organic Stores, they'll be saying, "You mean there's more?" This is the deluxe-o-rama of spa sets. Two things women love (among others) are spas and chocolate. Well, there's not a spa in the gift basket, but there are a lot of spa body products and essential oils for the most lavish pampering this side of a Turkish bath. And then there's the chocolate – an assortment of English toffees to tickle the taste buds while you're exfoliating, or hydrating or deep cleansing. Here's what all you will find body lotion, exfoliating shower gel, bath gel, body spray, body butter, a bath loofah ball, a sisal back loofah, assorted toffee chocolates, herbal tea, a foot massager, a back massager, three aromatherapy candles, a wooden cosmetic mirror, aromatherapy potpourri, and a soap bar.
82. Rachael Ray Cucina Nonstick Bakeware Set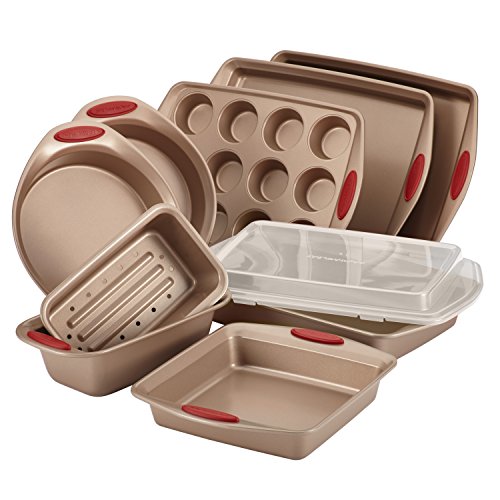 Buy This Gift on Amazon Here ($69.99 at the time of publication)
Generally, there's only one time in her life when a woman gets a complete bakeware set like this as a gift, and that's when she gets married. And that's a time in her life when she's probably saying, "What the heck is this for?" while scratching her head. But now, soon to retire and soon to have a lot more time for cooking, your giftee may wish she had the bakeware set she had way back when. So here it is, and chances are, this one is probably better than the one she had 40 years ago. This bakeware set is loaded with pans, cookie sheets, and containers. The cookware is coated with an eco-friendly, PFOA-free, lead-free and cadmium-free non-stick surface that is oven safe at temperatures up to 450 degrees F. Silicone handles ensure comfortable handling of bakeware, but please use oven mitts when pulling them out of the oven. This cookware will last long enough to be an heirloom item.
Here's what you get:
Two 10 inch x 15 cookie sheets.
Two nine inch round cake pans.
One nine inch square cake pan.
Two-piece meatloaf pan.
One 9 inch x 13 covered rectangular cake pan with lid.
One 12-cup muffin pan.
83. Willow Tree Quiet Strength memory box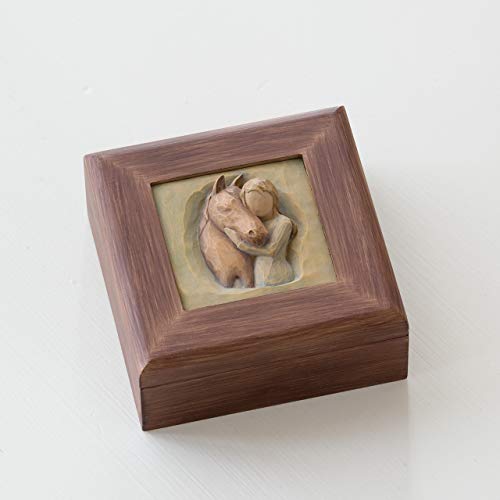 Buy This Gift on Amazon Here ($29.95 at the time of publication)
Willow Tree is an intimate, understated line of sculptures that speak in quiet ways to help heal the damage caused by stress and conflicts. Artist Susan Lordi has captured the hearts of millions of people worldwide with her original carvings of faceless people who speak through subtle gestures. The Willow Tree Memory Box is a finely crafted wooden box with a bas-relief lid. The carving is a hand-painted resin copy of one of Lordi's most endearing sculptures – that of a faceless female with her arms wrapped around a horse. Inside the lid is a subtle, understated saying: Always there for me.  This also comes with a card that the giver can write personal messages on. The box is a five-inch square (4.75 inches to be exact) and is two inches high.  The box can be filled with mementos that bring back pleasant memories.
84. Women in Sports: 50 Fearless Athletes Who Played to Win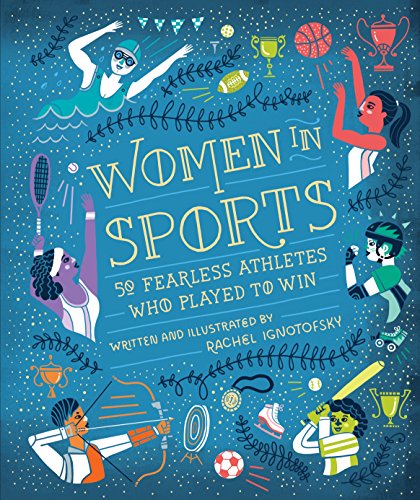 Buy This Gift on Amazon Here ($13.30 at the time of publication)
From New York Times Bestseller List author Rachel Ignotofsky, this book shows the struggles and triumphs of female athletes like Mia Hamm, Billie Jean King, Wilma Rudolph, and others. The book covers more than just the ones we already know about, but shows us a wide diversity of ladies from all over the globe.
85. Goddesses in Older Women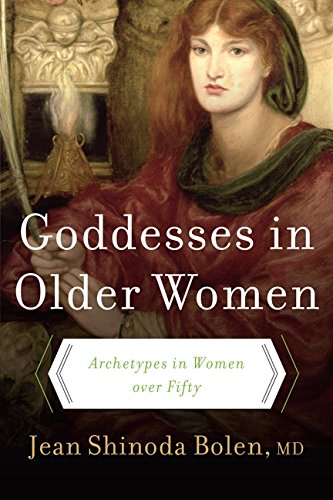 Buy This Gift on Amazon Here ($11.64 at the time of publication)
Retirement is a venture into uncharted territory, and it's OK to be hesitant, says the book. This is not a step-by-step guide to retiring for women but a close-up look at the things going on in the lives of a 50+ woman. From there, the reader can choose a path that will mark what she wants to do – not what everyone else thinks she should do.
Related Posts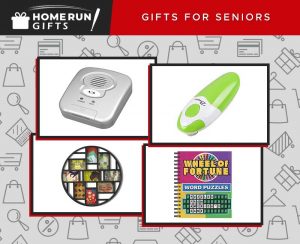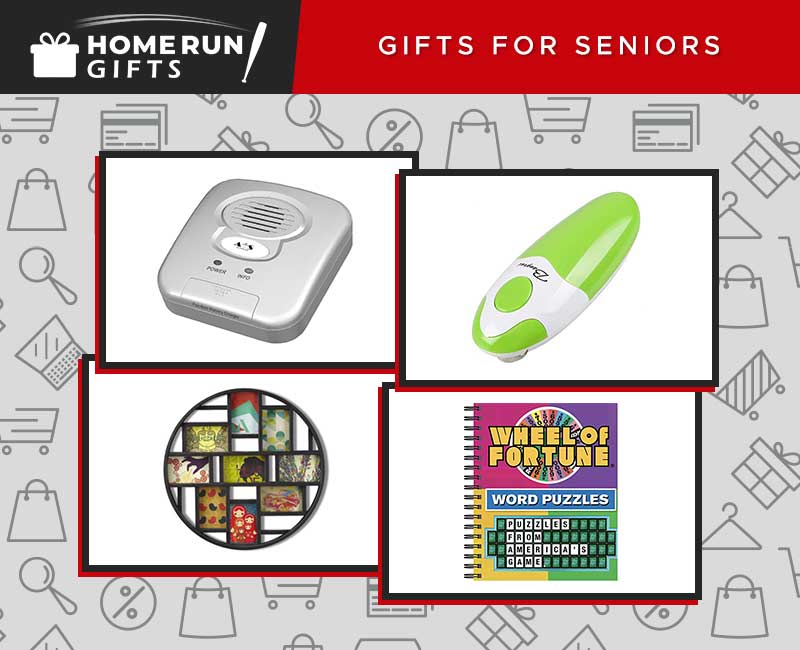 Gifts for Seniors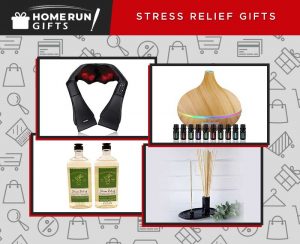 Stress Relief Gifts