There's nothing small about turning 16; it's a significant milestone into adulthood. The joy of growing up and finally being able to do the things you've wanted and officially being an adult is right around the corner. If you're looking for a special way to celebrate, we've put together a huge list of 16th birthday party ideas for you below.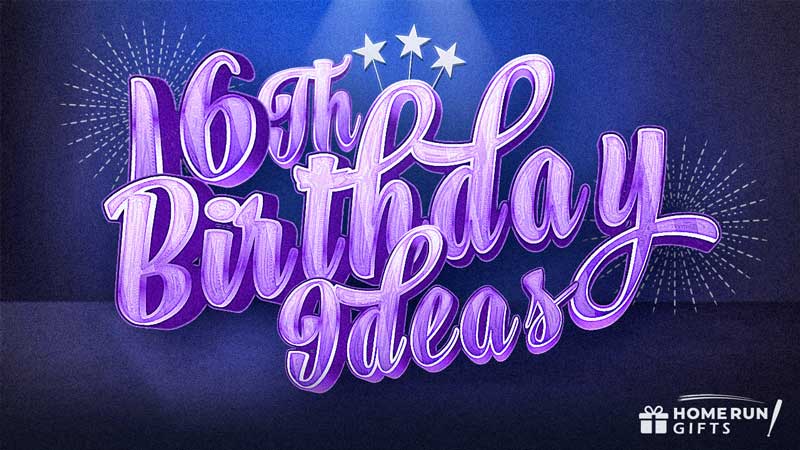 Regardless of your budget or time constraints, you'll find a ton of great ideas for both boys and girls below. We also have a full list of epic sweet 16 themes if you're interested.
1. Amusement Park Party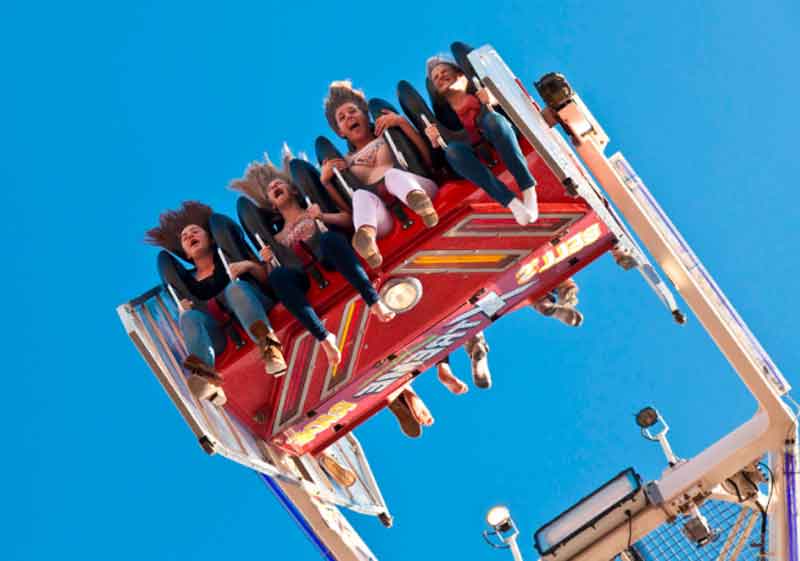 If you live near an amusement park, this is a great way to celebrate your birthday with friends. The smell of corndogs and candy floss will transport you back to your childhood one last time before you cross that threshold into young adulthood. Dizzying lights, flashes of color, and the view from the top of roller coasters and the Ferris Wheel will make it your most memorable birthday yet.
Everyone will have a blast and win prizes. Most amusement parks also offer professional photos of sometimes so you can remember the epic day.
2. Water Park Party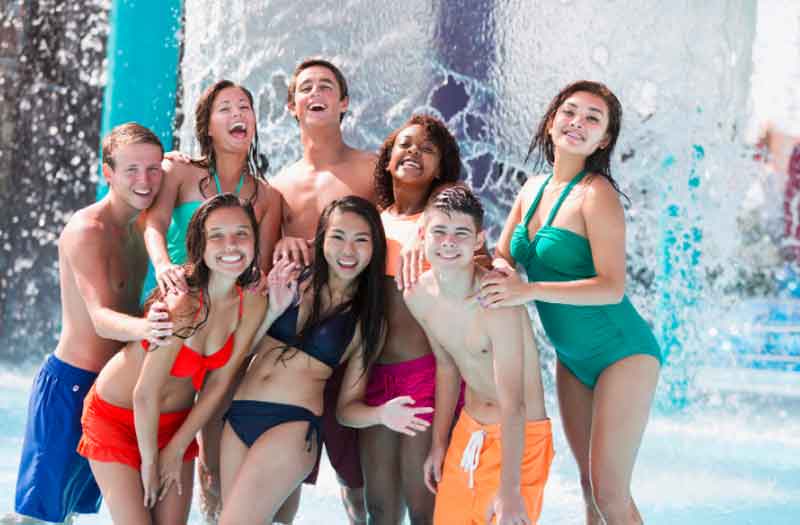 Similar to the amusement park, a water park is another excellent place to gather everyone you love to celebrate your 16th birthday party. This can be rented out for more privacy, depending on the size of the park and your budget.
Booths offer ice slushies, popcorn, pretzels, and a whole lot more for guests. Bring your swimsuits, flip-flops, and sunscreen. Water parks also have group party packages that allow party space and full-day admission into rides.
There are tons of water rides, such as the Slip 'n' Slides or canoeing. Some parks have a waterfall for you to wade into or river rafting services. The pool area also provides a breezy lounging space.
3. Ice Skating Party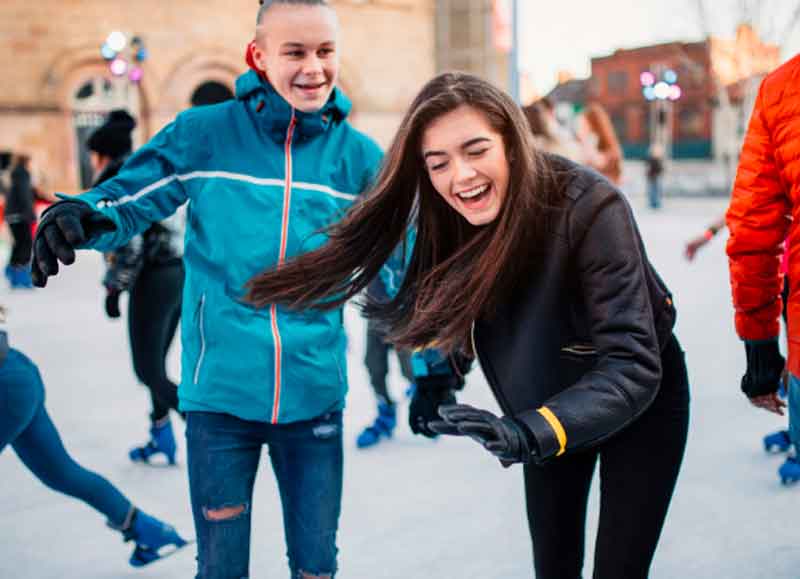 An ice skating party is full of lively activities and uncommon enough to impress your friends.
Bring along your favorite skates or rent some at the rink. If you're a winter baby, a frozen lake is a great unconventional place to ice skate with your friends, but make sure you check with an environmental officer about their safety first.
At the rink, burgers and soda booths offer a delicious array of snacks. If at the lake, you can bring lunch to sit waterside for a unique winter picnic experience. This works better for smaller groups, whereas the rink is suitable for any group size.
4. Scavenger Hunt Party
This one's for the smart kids! A scavenger hunt is sure to bring out everyone's healthy competitive spirit.
You can use inspiration from your favorite movies and books to design a scavenger for the people who really know you. The game consists of a series of clues, each found by solving a puzzle in different locations that lead to the next clue until the final location. This location serves as the venue for food and drinks, befitting the theme, and may include a prize for the fastest solvers.
It is an individual or team event, depending on the size of the group. Either way, everyone is bound to enjoy it.
5. Bonfire Party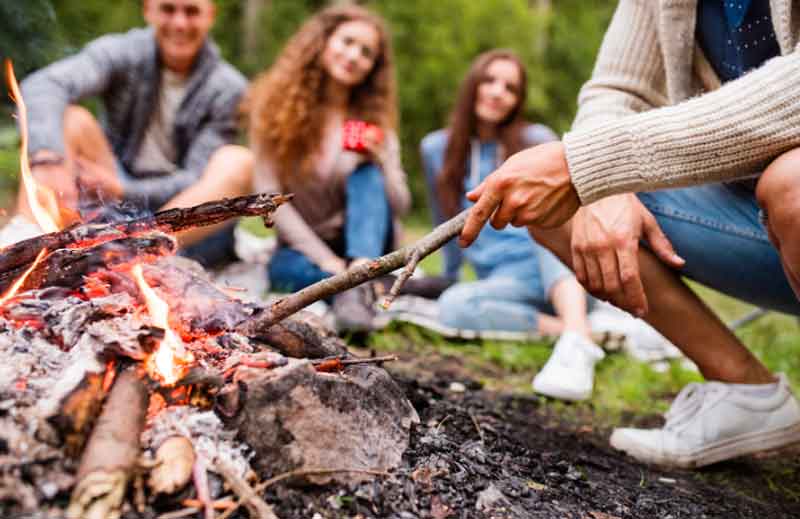 A bonfire party is a great low-budget celebration experience for your 16th birthday.
The venue can be a firepit on a patio or an outdoor area, such as a beach or forest. It's important to have adult supervision and abide by fire regulations during the event. Gas firepits are a safer alternative.
S'mores and chestnuts are the go-to snacks to roast over the flame. You can simply sit around the pit or set up more elaborate decor with tables and chairs to display food and drinks. Play some music or go traditional with friends strumming guitars and banjos. Cooking meat over the fire is also a good idea, though the person should have prior experience. Make sure not to disturb any wildlife in a forest setting and keep flammable items away.
6. Escape Room Party
If you enjoy puzzles, here's how to bring one to life on your memorable birthday: an escape room!
An escape room can be DIYed at home, but a professional place provides a more realistic experience. It is a place where contestants use clues hidden in the room to solve puzzles that subsequently lead to a way out, often within a time frame. There can be one or multiple connected rooms. It's advisable to wear comfortable clothing you can move around in and have adults accompany you since it's a group activity. Most establishments will confiscate your phone, so you can't cheat.
In case of emergencies, there is a way to shut it down. Overall, escape rooms are a great way to exercise your mind. After the game, you can take the party for dinner.
7. Beach Party
Beaches provide an excellent venue for parties, especially in the summer.
Popsicles and lemonades are not only refreshing but present a colorful element to the celebration. Seafood shacks serving menus of crab cakes and surf 'n' turfs give guests an elevated dining experience. Many will allow you to customize the dishes for events.
There are many activities you and your friends might enjoy, such as volleyball, bocce ball, or even reminiscing about your childhood by building sandcastles. Swimming in the ocean is a great way to refresh and start the new birthday year.
So what are you waiting for? Grab a swimsuit and work on that tan!
8. Arcade Party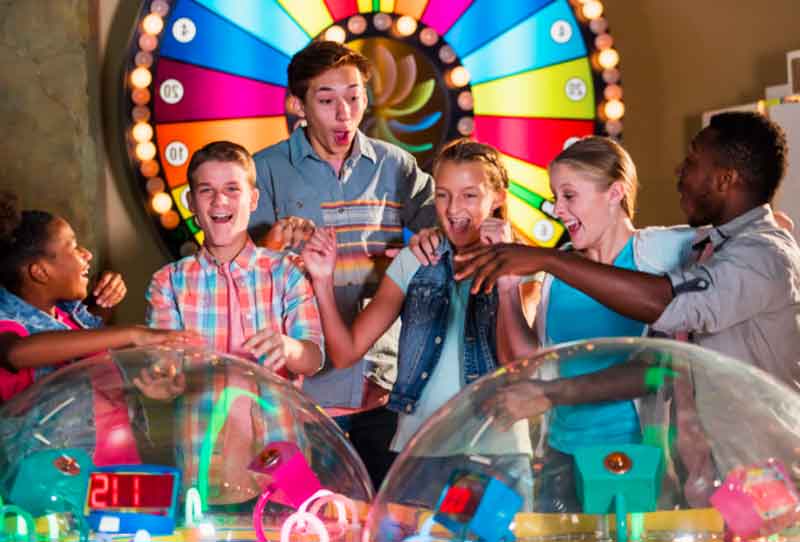 There's nothing teenagers enjoy more than a fun night of machine games, music, and winning prizes. An arcade can be a multipurpose entertainment center that provides a unique place to celebrate your 16th birthday party.
Many local arcades will allow you to rent the place for a night, so you can invite all your friends without worrying about strangers. Games like Whack-a-Mole and Pac-Man, shooting hoops, trampolines, or Pinball give you a chance to win prizes to take home. With so many options, there's something for everyone. Snack stations for popcorn or root beer make sure you and your guests have plenty of options for food.
This option works for small and large groups alike.
9. Trivia Night Party
Grease your mental gears by hosting a trivia night on your 16th birthday.
Setting up at home works fine, but you may opt for renting an establishment or going to an existing game in the city to avoid the hassle of cleaning up later. At home, you'll need a set of questions that are general knowledge or follow a movie/show/book's story and inform contestants beforehand.
You or any one of your friends can MC. Break up the group into teams and have a buzzer or bell. Divide the questions into eliminating rounds as you deem fit, perhaps including a prize for the winners. No need to get too technical; it is, after all, a birthday party where guests just want to have fun. Wrap up the night with dinner and drinks.
10. Board Game Party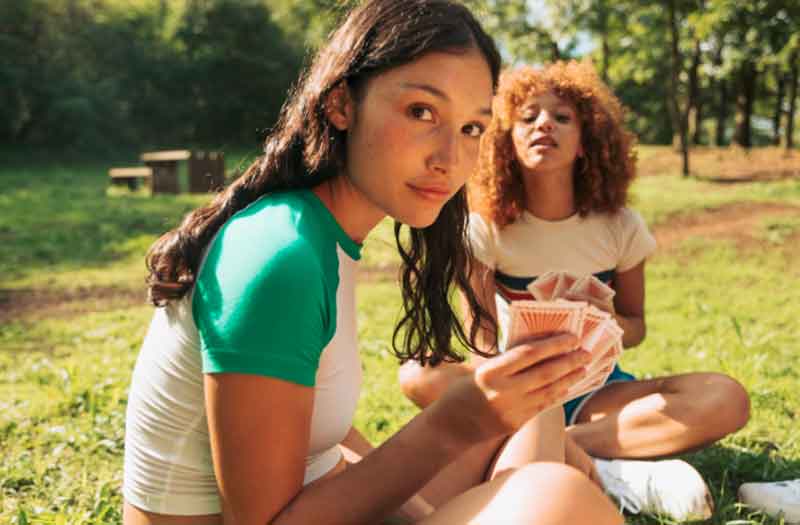 For those who prefer relaxed, cozy evenings at home with loved ones, a board game party is the best idea for a birthday.
Not much paraphernalia is necessary for a board game party, except board games. Examples of games to play include Monopoly, Dungeons and Dragons, Cards Against Humanity, Scrabble, or UNO. The games' strategies allow everyone to get to know each other better, enter a healthy competitive spirit and socialize.
The best part? No dress code. Wear whatever you want, or get comfy in some jammies and a blanket. Refreshments would call for snacks and comfort food, like hot chocolate or nachos.
11. Pool Party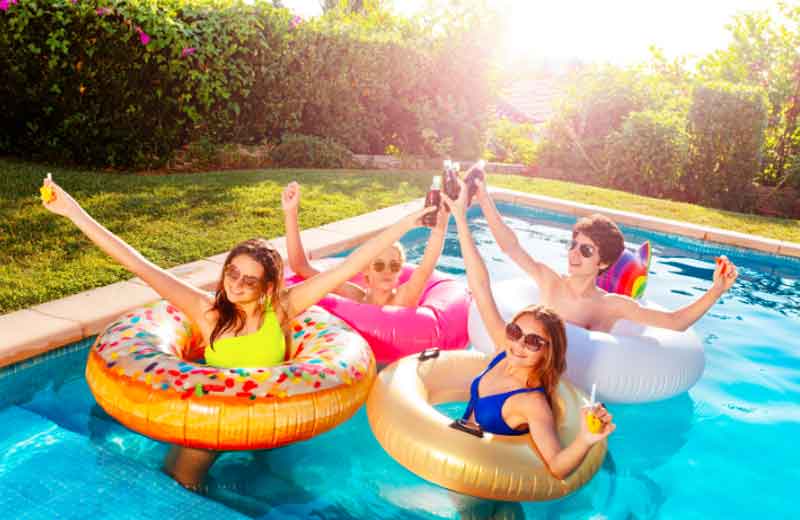 Cool Shirley Temples, fruit candy, and delicious shrimp scampi set the stage for summer fun at pool parties. You can host at home, at a friend's pool, or at a club. Don't forget your sunscreen!
Set up some games like pool races, chicken fights, or Marco Polo. Consider decorating if you truly want an incredible party: quirky pool floats, colorful balloons, and matching drink umbrellas. To really set the bar, customize some pool towels for your guests to take home. Plug in some waterproof speakers for poolside party tunes.
A waterproof camera or GoPro will help you record underwater. For an evening pool party, add some bright neon lights in the pool for extra flair.
12. Potluck Party
A potluck party is best hosted at home for small groups or in large open spaces, such as a park, for larger groups. Teens who enjoy baking or cooking will love this idea.
Each person, including the host, brings a dish of their choice. It helps to assign categories to each guest. This is a great way to explore different cultures and cuisines. You will have a huge variety of food without having to cook or buy all of it yourself. Add a movie or some music, and you're good to go.
These kinds of parties are simple to organize and good for friends and families.
13. Dance Party
If you like to show off some moves, this one is definitely for you. Works best with 15-20+ attendees.
A dance party is a great way to crank your favorite tunes and be yourself. You can set the genre of music for everyone to dance to or even organize a dance-off for different categories. Refreshments would include fruit punch and finger food, like chicken wings or mini pizzas.
If you're feeling extra groovy, you can rent a Dance Dance Revolution machine and let that competitive spirit shine. There are also local artists who play live music on a budget and add a bit of a concert vibe so you can own the dance floor.
14. Paintball Party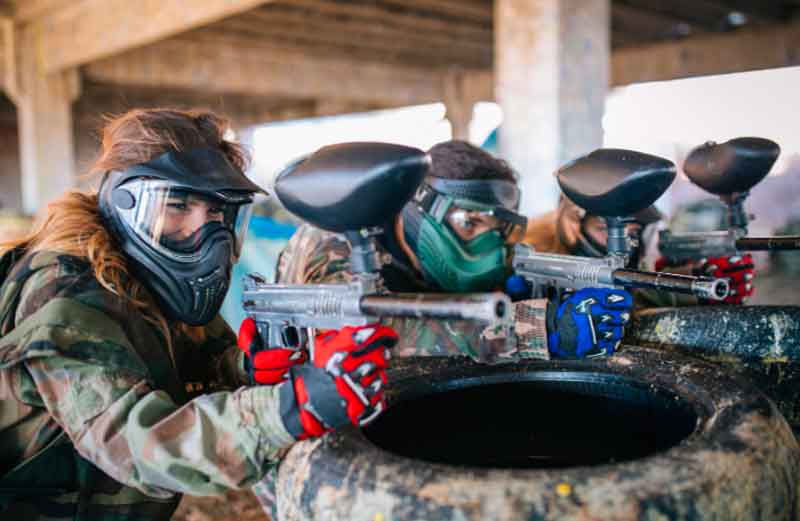 Paintball is a game wherein players from one team try to eliminate players from the other with paint pellets posed as bullets to reach a goal within a time frame. The goal is usually eliminating all players of one team or capturing the flag.
You need at least ten people for two teams. You can host at home, but a professional paintball arena provides a more realistic experience, and you don't have to worry about finding supplies and gear. Wear comfortable clothing and shoes you don't mind getting dirty.
Afterward, the team can gather at an establishment for dinner. This is one of my personal favorite 16th birthday party ideas, especially for guys who are into this kind of thing.
15. Murder Mystery
Harness your inner Agatha Christie by hosting a murder mystery party with family and friends.
To set the stage, you can take the help of a book, movie, or board game. For dramatic effect, guests may also dress up as the characters pertaining to that story beforehand. A simple version of the party would be with flashcards, where each person receives cards about their character and has to spend time mingling with others figuring out who the murderer is. Alternatively, the most interactive way to play the game is to enact all the events in real time, from the murder to the big reveal. The first person to guess the murderer correctly may receive a prize.
16. Mani-Pedi Party
Who doesn't love staying up all night gossiping with the girls while doing each other's nails?
Going to a professional nail salon ought to get you a discount for larger groups, or you can host at home. You'll need a set of nail colors and a kit, or guests can contribute some of theirs, and there are thousands of ideas and designs to choose from online. It's a night of unwinding and shooting the breeze that will relax everyone and allow you to start the birthday year with a clear mindset.
Refreshments could include fake wine (grape juice), finger foods, or any snacks you like.
17. Glamping Party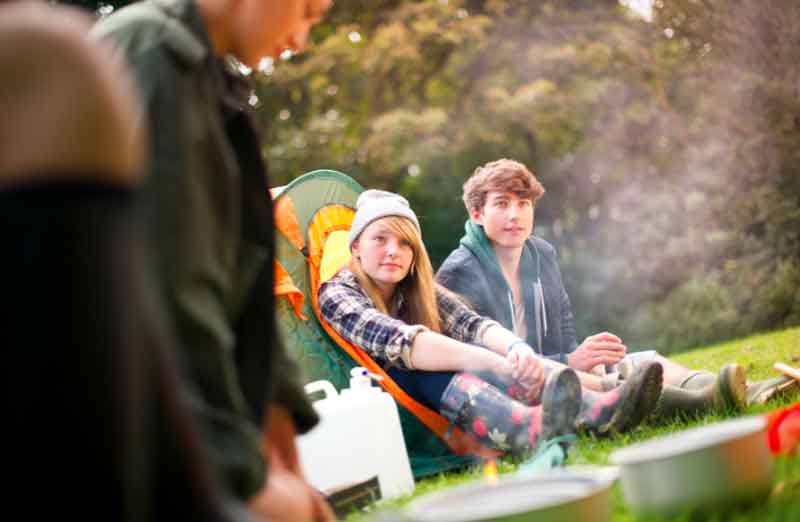 Glamping is the modern upgrade of camping, though you can do either for your birthday.
Glamping has more amenities than camping, such as beds and water facilities that are not associated with traditional camping. You'll likely have to reserve a glamping spot or talk to involved communities, unlike camping, where you just find a spot and set up. Since it's more comfortable, you're going to have a great time with your friends. Waking and sleeping with the sun, roasting marshmallows over an open flame, and exploring wildlife are all cool things to do with your squad during a glamping trip.
Hosting over the weekend for smaller groups is the best idea.
Related Article: 17th Birthday Ideas That Are Unforgettable
18. Spa Party
One of the best ways to make your sweet 16 all about you is to visit your local spa for a day of pampering and being waited on.
Spa services include rejuvenating mud masks, seaweed wraps, therapeutic massages, and facials. Most spas will have various services in a discounted package, including mani-pedis, especially for larger groups, so you and all your friends can detox. Soak in a heated pool or destress in the sauna to melt your worries away.
Other perks are beverages and healthy snacks that cure munchies between treatments and complimentary skincare samples as a generous return gift.
19. DJ Party
Now, THIS is a 16th birthday party! Dial up your favorite Instagram DJ for a quote to bring in their equipment and shake up the dance floor.
A professional plays a mix of the latest hits to keep the adrenaline running high throughout the night while you and your friends jive to the beat. DJs also provide an MC vibe so you can focus on fun without leaving guests out to dry. The event can be booked at a club, but in a pinch, the backyard works just fine. A table is set up nearby for everyone to help themselves to refreshments.
This is better suited for larger groups of at least 15-20 people. So hop into your party dress and get your jam on.
20. Slumber Party
Slumber parties are an age-old classic for a reason. It captures the essence of youth and is a great way to bond with your friends over late-night gossip.
The possibilities of throwing a slumber party are endless. You can binge your favorite TV shows and movies, order takeout, play board games, and make instant popcorn. It works best for a small, close-knit group of friends.
Ask everyone to bring their comfiest jammies and sleeping masks. Music from your favorite band sets the mood. Spice up the evening with horror stories if you're feeling brave. The next morning, having breakfast together is part of the slumber party ritual.
21. Aquarium Party
Water signs will love this one. Aquariums can be rented out or visited with friends and family to enjoy the sights of and interact with your favorite aquatic animals.
Many aquariums provide resting and eating spots for guests to savor lunch. Common animals displayed include eels and smaller sharks, as well as historical information about all the species you see. Some places put on ticketed shows with animals like penguins and dolphins to entertain groups of all ages with tricks and stunts. After the show, guests may physically interact with and pet the animals. This is one of those unique 16th birthday ideas that's great for people who love animals.
22. BBQ Party
Greasy fries, potato salad, and loaded sloppy joes will make anyone's mouth water. Why not indulge in this great American cuisine for your milestone birthday party?
Host in your backyard or any large open space where you can try your hand at grilling. Some restaurants will allow you to rent out their barbeque pits, along with a server so you and your guests have nothing to worry about except eating and socializing. Follow up with games or group activities like charades or badminton to burn off the calories.
This works for any group and is especially suited to July summers.
23. Karaoke Party
If you love to sing and want to enter 16 jamming with your closest friends, there is no better party idea than a karaoke party.
You can rent or buy a karaoke machine. Ideally, you may just connect the home audio system to a microphone. Or rent out or visit a karaoke bar, though they might not always be teenager-friendly. Play your own songs or select from the list installed. Like with any party, the songs can be after the theme of your favorite movie or book. Maybe consider prizes, though that is likely to take the fun out of it.
In a home setup, add a projector for a bit of flair. Food and drinks like soda pop or nachos and salsa could be served.
24. Pizza Party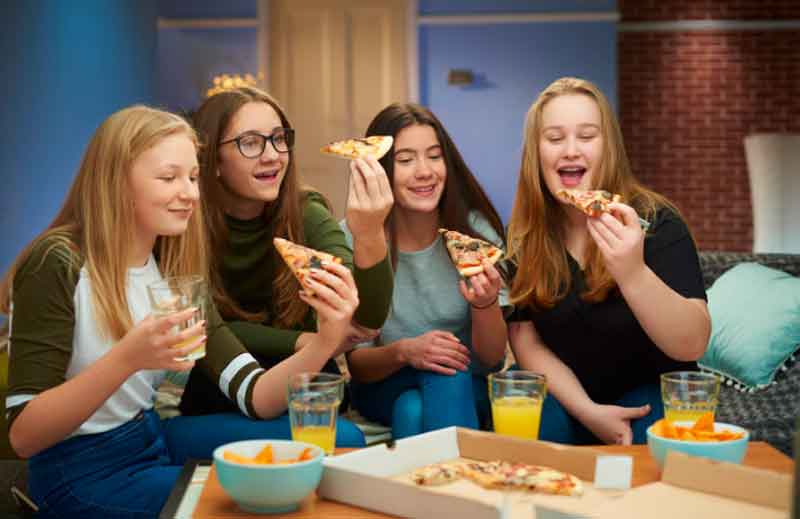 Oldie but a goodie: who doesn't like pizza?! A classic party for all ages that is always a hit with the masses. Suitable for any number of guests.
Baking your own pizzas or asking guests to help will make the party interactive and unique. Experiment with everyone's favorite toppings and some new ones to add a little zing to the evening. If you order in, you can still enjoy piping hot pizzas while watching your favorite movies or playing games with your friends and have your birthday cake for dessert.
25. Bowling Party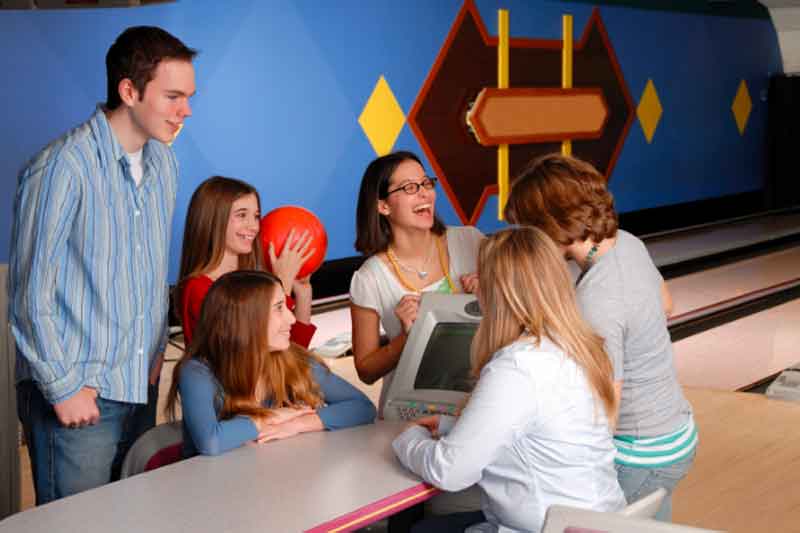 This one's for the freaks of the alley – the bowling nerds. Better bring your lucky bowling ball!
You will have to visit or rent out a local bowling alley. Bring your own shoes or take a chance with theirs. If you like, you can print out team shirts with your name or a sweet 16 slogan on them.
Food and drinks are taken care of at the alley, with their wide array of wings and onion rings to warm up those finger muscles. Divide up some teams, get your game face on, and you're ready to turkey. This is one of those 16th birthday party ideas that you really just can't go wrong with. Many blowing alleys also have a lot of other fun things to do there as well like arcade games and in some cases, even laser tag.
26. Movie Party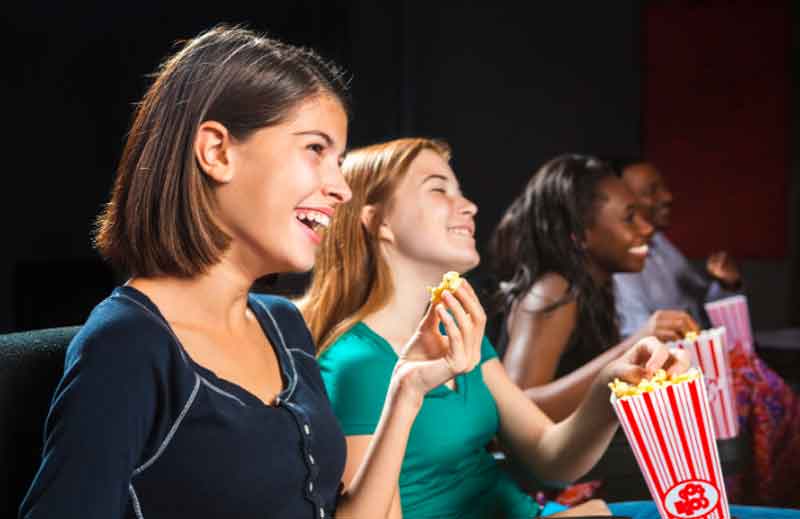 A movie marathon will certainly bring out the cinephile in you. You can rent out a theater, but renting a projector and setting it up at home is a more personal viewing experience.
Seats and popcorn are critical to the movie experience. Popcorn can be bought or popped at home. Add some soda and nachos per your guests' preferences. Make sure you douse your coziest couch in blankets for all your friends to be super comfy. Pick a good movie collection everyone will enjoy. However, horror movies are the most entertaining for getting a rouse out of people. Thrillers or mysteries also intrigue the audience.
27. Gaming Party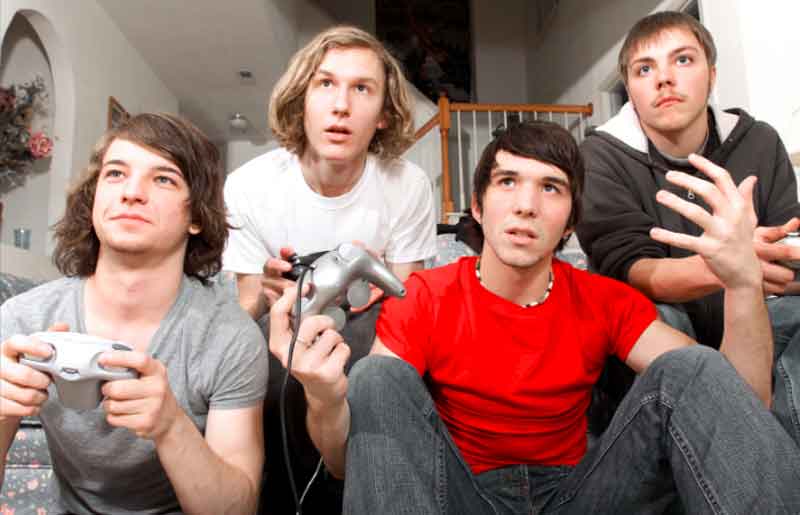 GTA, Minecraft, Call of Duty – there are hundreds of games out there for dedicated gamers to mark their birthdays.
You would need a gaming setup at home or rent out a gaming parlor if one is still around. The benefit of this is that your friends need not physically be present – you can play in multiplayer mode online as well. Though it's always better to have their physical presence so the competitive spirit is ripe and your celebration is more lively.
Snacks would include food that is easy to eat while gaming, such as chips. Each guest may also bring soda-holding headgear that gamers often have.
28. Craft Party
Never a dull moment with some knitting. Arts and crafts parties comprise anything: origami, pottery, knitting, writing, or sketching.
Gather your friends and tell them to harness their creativity. Create something that expresses you and your aspirations going into your 16th year. This is an excellent opportunity to not only celebrate your birthday but manifest your success for the upcoming year.
Snacks and juice would make up the refreshments to keep your minds sharp. At the end of the party, guests can exchange their made crafts with the others, so each ends up with something special made by another.
29. Country Club Party
Hosting at the country club is a great way to outsource the decorating while still having a lavish party to impress everyone.
First, you'll need a membership or to know someone who is already a member. These clubs have beautiful lounges and restaurants for your guests. The list of activities includes tennis, swimming, and golf, all of which can be exciting hobbies for everyone to try.
Wrap up the evening with dinner. You can curate the menu to your liking, and the club will take care of the catering. Birthday decorations liven up the party.
Popular Article: 15th Birthday Ideas That Are Super Fun
30. House Party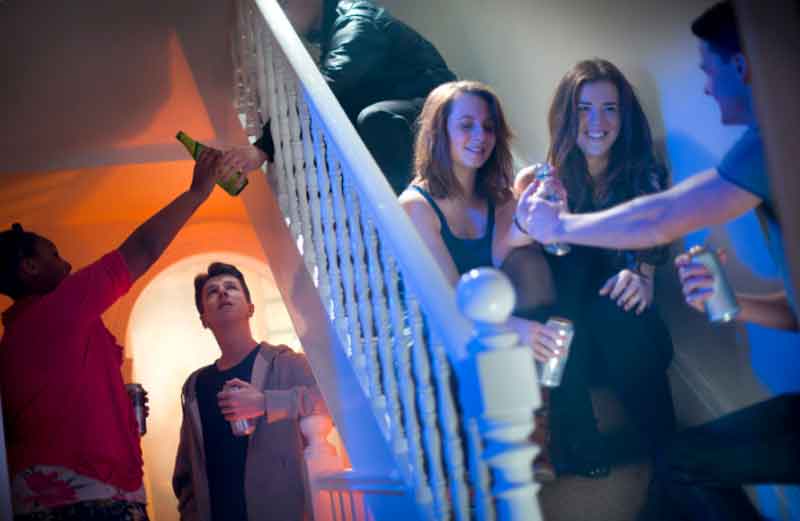 It's a cliche idea for a reason. Hosting your sweet 16 at home minimizes any travel time and allows you to make sure everything is perfect.
Make it special by sending out invitation cards. Decorations are handmade or store-bought, such as streamers, banners, and balloons. A lot of bakers will customize your cake according to your style. Pick out a dress that you love, and invite all your friends. Along with the cake, add some accompanying beverages and your favorite music.
After cutting the cake, wrap up the evening with some games and movies.
31. Dinner Party
If you and your friends are food connoisseurs, a dinner party is an excellent idea. This is also a good way to invite new people.
Pick a good restaurant or cook at home. Three courses are ideal, starting with an amuse-bouche, then an entree, and finishing with dessert. You can stick to one cuisine or offer an assortment for each course for the guests to pick from. The dinner consists of breaking the ice with new guests, small talk, and casual banter.
You can choose formal attire for a classy vibe or casual attire for a laid-back feel. Best suited to smaller groups.
32. Rollerskating Party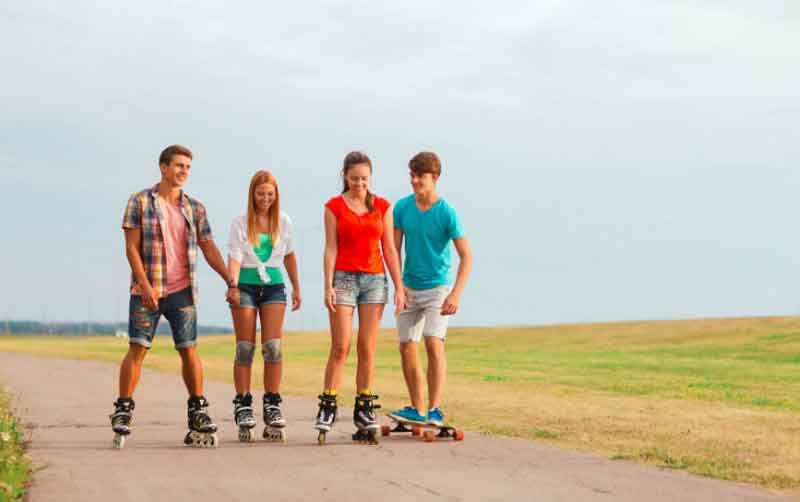 It's time to bring out your favorite rollerblades! A rollerskating party is an adrenaline rush for everyone.
Gear up with protective paraphernalia like helmets and knee and elbow guards. Rent or visit a local rink. Skate parks are also great places to host. Avoid uncomfortable clothing. Refreshments would be provided by the establishment's booths and could be anything from soda and burgers to popcorn.
Some places conduct a disco night where you can roller-disco to funky tunes. A rollerskating party provides many great memories of glides and falls for years to come.
33. Theme Party
Ever felt like you wanted your favorite story to come alive? A themed 16th birthday party is how you do just that.
Ask your friends to dress up like your favorite book or movie characters. You can decorate and add props accordingly. For food and drinks, what would your story's characters eat? For example, in an Alice in Wonderland theme, mini cupcakes and drinks in labeled bottles are befitting. Bonus points if you have an orange cat.
Spice up the evening with a reading or screening of the story you love so much. A theme party is always unique and will certainly be a core memory for everyone.
34. Black Tie Party
No better way to class it up on your 16th birthday than with a black tie party! A black tie party has a formal dress code of tuxedos and evening gowns.
Decorations are black and white or gold centerpieces and balloons. Since dinner is the main event, table decoration and elegant cutlery are recommended. The menu usually consists of multiple lavish courses, including seafood and drinks. Examples of items to add are sushi rolls, canapés, and tiramisu for dessert. Cooking all dishes at home may be tricky, so it's better to hire a catering service.
35. Cosplay Party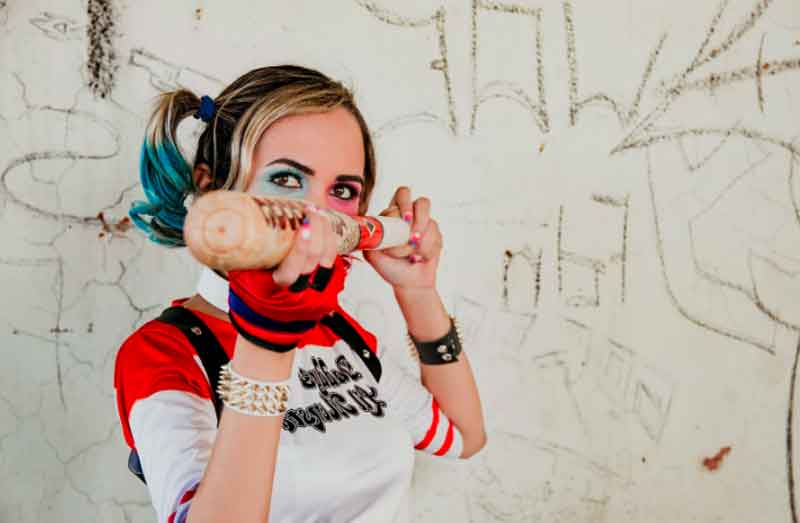 If Comic Con is just too far away or Halloween is around the corner, there's a way to bring it home with your 16th birthday party.
Basically, you and your guests dress up in costumes recreating your favorite media characters. A cosplay party can be hosted at any venue, but the important thing is having good lighting in which everyone can take pictures. If you find out about guests' cosplays prior, food and drinks can be based on those stories.
A cosplay party is sure to make it into everyone's annual highlights. Better suited to larger groups.
36. Easter Egg Hunt Party
An Easter Egg Hunt is a golden opportunity for spring babies to make their party a distinctive event in tune with the seasonal festivities.
The venue should be a space with many hiding spots. Painting the eggs together is also part of the event prior to the hunt; choose from an array of colors and designs. Hide the eggs strategically. Prizes are a good initiative for those who find the most eggs.
If the hunt is outside, check the weather forecast beforehand. After the hunt, everyone can get together for lunch or dinner. The menu can be curated around the Easter or egg theme.
Related Article: List of Awesome Gift Ideas for Teenage Girls
37. Garden Party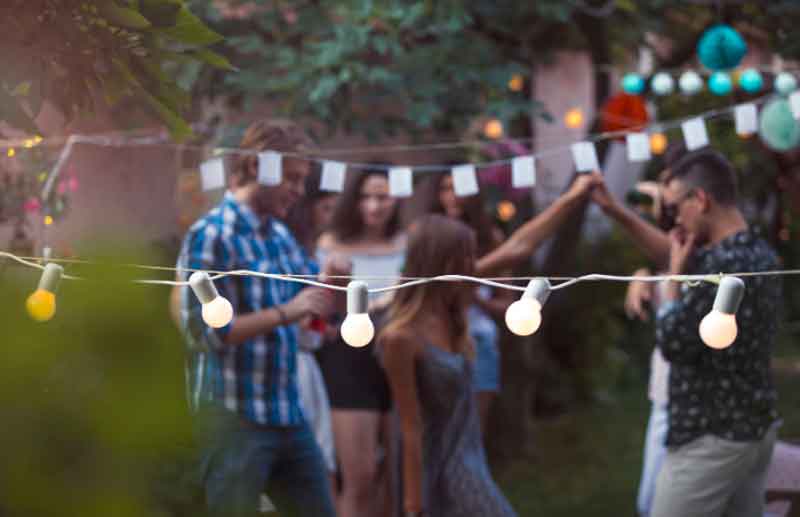 A garden party is a special way to bring families and friends together.
Usually held in daylight in a large outdoor space, a garden party includes lunch or brunch. If you enjoy gardening, this is a good chance to boast your well-pruned petunias. Rustic decor and soft music set the tone. Check the weather forecast prior to the day, and provide shade for extremely sunny areas. You may also match your outfit and decor to floral themes.
Harness the summer energy into your menu with cool, refreshing drinks, light dishes, and seasonal fruit tarts. If a table meal is too cumbersome, consider opting for a buffet system where guests can munch on finger food while mingling.
38. Masquerade Ball Party
A masquerade ball is one where guests attend in formal or black-tie attire, with masks obscuring their identity. The highlight of the evening is their unmasking at midnight.
Dark lighting and opera music set the mood for dancing the night away. Enhance the ambiance with sparkly chandeliers, candelabras, or glittery decor. Classy invites admit the guests at the door. The venue is crucial to the success of your masquerade ball. Guests will bring their own masks, or you can provide them at the door.
Optionally, some balls have prizes for best dressed. For a larger party, catering services are preferable to cooking for the event yourself. Food can be set up at tables for guests to savor at their leisure, or there can be a formal dinner.
39. Weekend Getaway Party
Hometowns can get boring sometimes, which is why you need to get away for the weekend without missing a school day. Better if your birthday falls during spring or winter break, when you can take all your friends for a longer trip to another city.
A weekend trip doesn't have to be too bank-breaking, but it's really up to you. Go all out with a foreign country or book a staycation somewhere local. The goal is to unwind and reset away from home with people you love. Rent a cabin or Airbnb and make a list of activities, such as trekking or canoeing, that you will enjoy.
Other things you can do is shop for souvenirs and try the best of local cuisine from acclaimed diners and restaurants. Pack clothes appropriate to your destination. A birthday trip is sure to be everyone's annual highlight.
40. Painting Party
A painting party is a simple, low-budget, but memorable way to spend your 16th birthday.
Supplies needed would be canvas or any other surface your guests would like to paint, such as t-shirts, vases, or plates. No one has to be a pro artist; painting as a hobby can be just fun too. Get some good-quality paints and brushes to share and start creating. Wear comfortable clothes you don't mind getting dirty or ask guests to bring smocks.
Everyone can gather for dinner afterward or munch on snacks throughout the activity. Best suited to small or medium-sized groups. Showcase your artworks in a display case or exchange them as presents.
41. Baking Party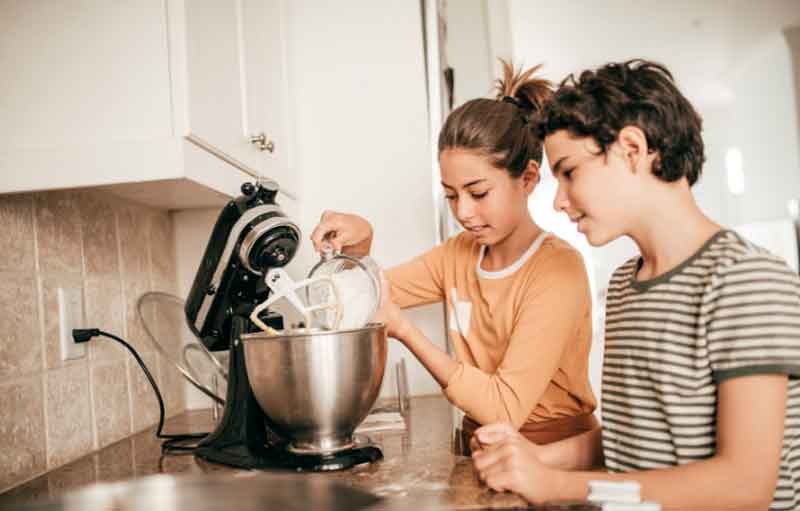 Baking is a therapeutic activity for many and an uncommon way to spend your 16th birthday.
At a baking party, invite guests to your home to bake or cook together. Each person can do a separate dish, or a few people can collaborate. Baking could comprise anything from desserts like cookies and brownies to savory items like lasagna or casseroles. If you're running short of bakeware at home, ask guests to bring theirs. Follow baking safety instructions; it's advisable to have an adult or an experienced person's supervision.
If events like Christmas or St. Patrick's Day are near, a baking party is a great way to prep some festive goodies. Once all the baking is done, set up a pretty display table for your Instagram pics. Guests can take the dishes home or enjoy them together while watching a movie or series.
42. Tea Party
Bring out your inner child by hosting an elegant tea party for you and your friends.
An afternoon tea party consists of pastries like scones, biscuits, or small cakes, whereas a high tea party has heavier meals of meats and vegetables. If you're feeling extra, give your guests their choice of teas from peppermint, chamomile, Earl Grey, etc., with suggested food pairings.
Decorate a nice table at home or in an outdoor space during a light and breezy afternoon. If possible, you can have a chairside tea-brewing set up. The dress code is usually cottage-core dresses and suits. Some tea parties also incorporate games.
43. Breakfast Party
If you don't mind getting an early start, a breakfast party is a quirky way to start your 16th year.
The spread may be buffet-style or a sit-down breakfast at home, or another chic venue. Breakfast bars have become a fad around major cities, so it will serve you well to reserve one of those. An array of colorful dishes on the menu, like fruity pancakes, assorted cereals, and toast with varied toppings, juices, and milkshakes, will provide guests with a hearty helping of the most important meal of the day.
To spice up the event, guests may come in their pajamas to make a statement and play some games.
44. Color Party
Color-themed parties are the up-and-coming rave lately and a fun way to incorporate your favorite colors into your special day. Common color themes are black and white, white winter wonderlands, and monochromes. Use a color wheel to understand complementing colors.
Snacks, decorations, and dress codes all follow the color theme. Jello, candy and lemonade are some good examples of foods to include on the menu, as their colors follow the theme. Table settings, drinkware, banners, and balloons are also customized along with the cake to follow the color code. You can choose the color palette based on your outfit or build an outfit from scratch.
Optionally, you can play music that only has the color names in the title, such as "Yellow" by Coldplay. Aesthetic pictures and harmony among guests are some major benefits of a color party.
45. Mocktail Party
As the name suggests, each guest in a mocktail party has to bring a handcrafted mocktail to the party. That way, everyone can offer their unique perspective, and all guests try new mocktails.
Mocktail recipes are readily available online, but if you're confident and really want to set the bar, try something on your own. Additionally, you may also add menu items to complement each drink. Once all the guests arrive, start the tasting soiree. The mocktails provide a great topic of conversation and critique. You can even have prizes for the best drink.
Accompany the party with some mood lighting, swanky tunes, and games or movies.
46. Glow-in-the-dark Party
A glow-in-the-dark or birthday party really brings back the 2000s scene and creates a spectacular visual effect.
Start by booking a venue with dark lighting or DIY by setting up a room at home. Fluorescent outfits and glowsticks would be in demand, along with neon lights and decor, face paint, and tableware.
The menu would include neon-colored food such as baked goods and drinks. Dancing is the main event, so make sure you have a dance floor and a loud, groovy music station. Your outfits should pop as much as the lighting, so stick to neon clothes.
47. Retro Party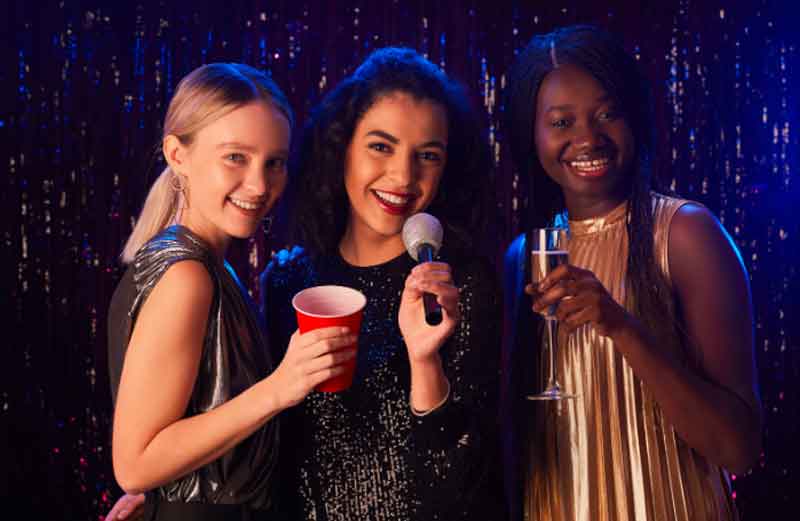 You can't hop into a time machine and experience the culture of the 70s, 80s, and 90s, but you can plan a retro birthday party.
Study the party style from the time period you wish to recreate; you can even create a Pinterest mood board to follow. The decor would include tie-dye, disco balls, and vintage records. Music adheres to the theme of the time period, so play tracks from famous artists of that era.
No retro party is complete without the proper fashion statement, so talk to your friends about preplanning their outfits. For the menu, research foods that were staples then, such as potato skins, fondue, and pizza rolls.
48. Red Carpet Night Party
You might not have been able to attend the Oscars, but you can bring it home for your 16th birthday party.
The key feature of a red carpet party is, of course, the red carpet gracing the entrance. The dress code is similar to a black tie party with evening gowns and tuxedos, but don't be afraid to put yourself out there. Decorations should follow suit with red and gold intonations. To truly go all out, you can hire fake paparazzi to shoot your friends as they enter and add photo booths at the venue.
A red carpet can be held at home with the carpet in your front yard, or there are party halls specially designed for it. The menu consists of elegant hors d'oeuvres such as chocolate truffles, crostini, and caviar, along with some sparkling cider in place of champagne.
49. Piñata Party
Piñata parties are a crowd favorite for a reason. Blindfolded guests take turns hitting the piñata mounted at a height until it explodes, or you can burst it by yourself as the final event of the party.
The piñata is filled with sweets or other fillings you desire and is customized by the maker into the shape and color of your choice. The fillings are often distributed among the guests as goodie bags or return gifts.
For an edge, stuffed dishes such as cake pops reflect the colorful theme of the party and represent the idea. Food is usually the initial event, followed by mingling or added games and terminated by the piñata burst. Music and decor should be lively.
50. Grecian Party
A Grecian (Greek) party is a toga party that follows a Roman theme. Buy your toga online or make one with bedsheets. They're usually accompanied by sandals and laurel wreaths that are easy to make. If you want to go the extra mile, dress up as gods and goddesses.
It's an unconventional, chilled-out party where guests are encouraged to let loose and unwind. Invitations for the party should be on papyrus-like paper. The Greeks loved fruits, cheese plates, and bread as appetizers. Succulent meat and roasted lamb dishes could be the main course, accompanied by grape juice instead of wine.
Host outdoors to incorporate greenery and enhance the decor with hints of gold around the table settings and venue. Add some games and choose music that preferably bases on the harp.
Wrap Up:
That does it for this list of ideas. Let us know if there are any great ones that we missed in the comments section below.