Turning 16 is a rite of passage that deserves to be celebrated, and there are a ton of great sweet 16 themes out there to choose from! Sweet 16 celebrations range from special family vacations to huge parties filled with family and friends.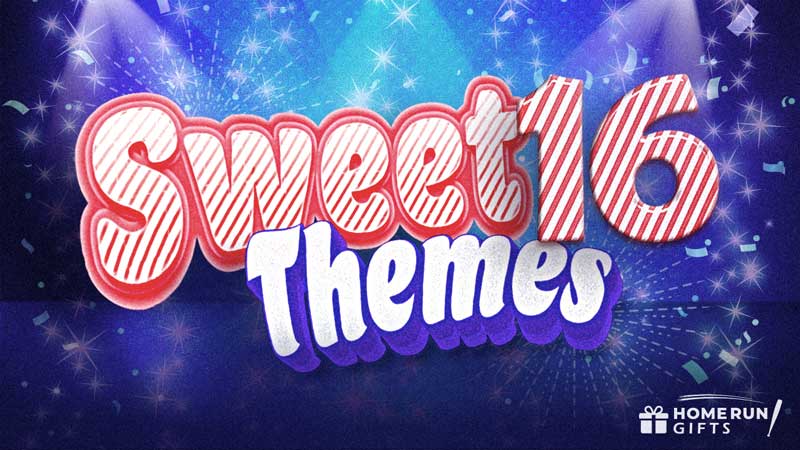 The following list includes a variety of celebrations, large and small. Hopefully, many of these ideas will inspire you as you create your own celebration! If you're interested, we also have a full list of 16th birthday party ideas that are different from themes. We also have a guide on gifts for teenage girls.
1. Beach Blast Sweet 16 Party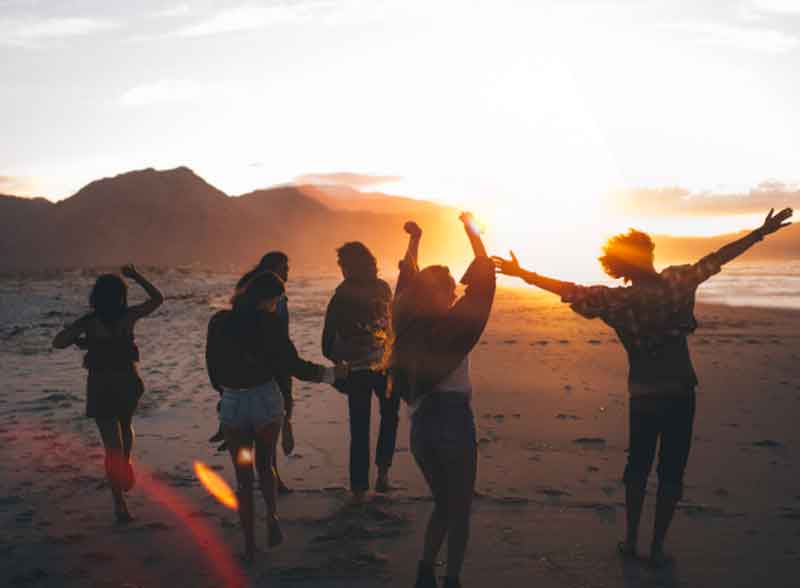 If your sixteen-year-old loves the beach, this party is for him! If you don't have a pool, check around at local hotels or a public pool to see if they allow families to rent them for special events. If that is not an option, just create a fun beach scene in your backyard with tiki torches, beach balls, large pool floats used as seating options, and a bonfire. Serve fresh fruits, sandwiches, and other finger foods, along with tropical fruit juices. A fun game of Limbo will act as a great icebreaker to get the party started! Play fun beach and summer music as everyone swims or hangs out together.
2. Sweet 16 Ski Retreat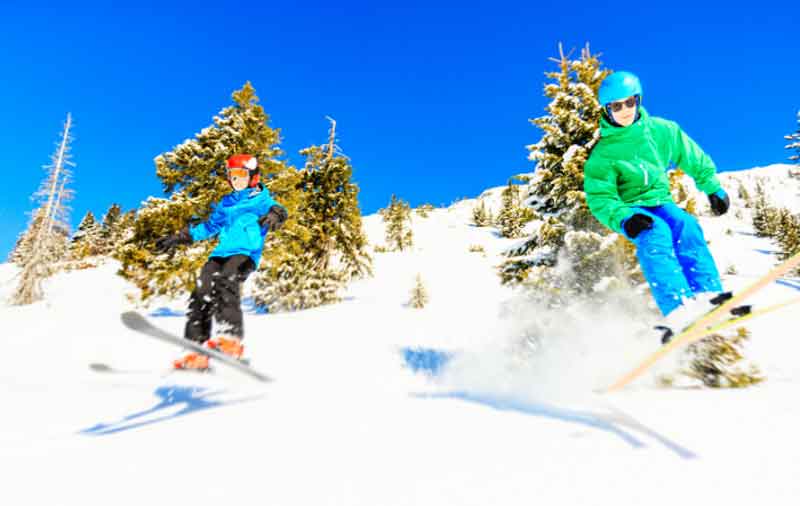 Instead of a big party, let your sixteen-year-old invite a couple of friends and go on a ski retreat to celebrate. Your teen will love an adventure with their friends, and you will get some quality time with him while you are on the trip. Whether it is just a day trip, an overnight, or a full weekend, it will be focused on him and will be a birthday he will never forget. If you are staying overnight, let the hotel know ahead of time that you are coming to celebrate his sixteenth birthday. Some hotels will hang signs on the door or set up a special treat in the room for him to find upon arrival.
3. 16 Things I Love About You
When my daughters turned 16, I decided to celebrate for 16 days instead of one large party. 16 days before their birthday, they received the first gift, and then they received one each day until their birthday. Some of the gifts were small, such as their favorite candy or stickers, while others were larger, such as their favorite make-up and a gift card to their favorite restaurant. On the final day, we had a special family dinner, and they received tickets to their favorite singer's concert. The concert was a couple of months later, so the birthday celebration continued on that evening with dinner and the concerts.
4. Sweet 16 Masquerade Ball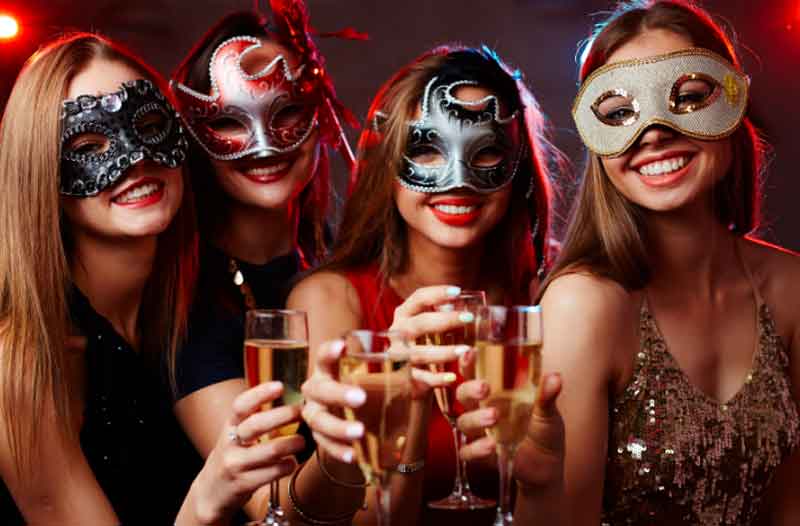 Little girls dream of having their own ball, so this is the perfect theme for your daughter's Sweet 16. Send your invitations with blank masks for your daughter's friends to decorate and wear to the party. You cannot have a ball without dancing, so you will want to either create a fantastic playlist that will play for the entire party or hire a DJ to take care of the music for you. Place tall top tables around the edge of the party space, then create a dance floor in the center of the room. Decorate with beautiful floral centerpieces on each table, and serve your daughter's favorite finger foods. Your guests will dance the night away, and your daughter will have the night of her dreams!
5. My Favorite Things Sweet 16 Celebration
Host a "Favorite Things" party for your daughter's Sweet 16. For this party, she will invite her three (or a number you determine) closest friends, and they will all bring gifts for each other. Everyone will bring three identical gifts to the party. It can be their favorite candy, their favorite drink, their favorite blanket, etc. The birthday girl will also bring three gifts (or enough to give to each person in attendance). At the party, each girl will take a turn explaining her gift and then give the gifts she brought to the others. By the end of the party, each girl will have a variety of gifts representing their friends' favorite things, and they will have had a blast explaining them and learning more about each other.
6. Wild, Wild West Sweet 16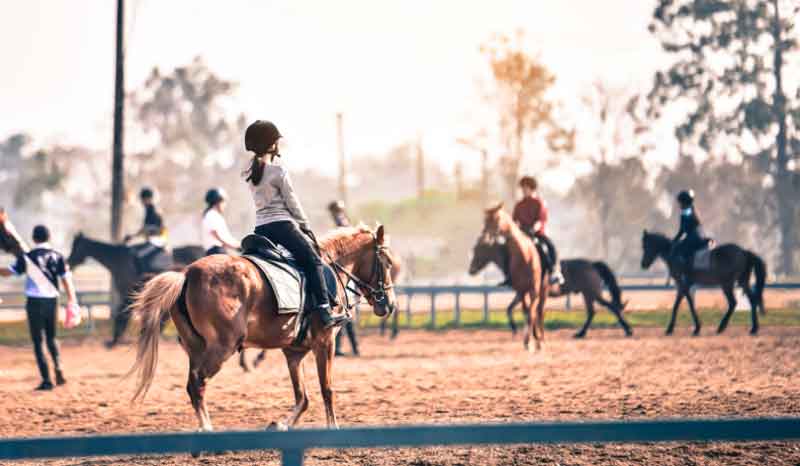 Round up your friends and family and bring them to the ranch for this Sweet 16 celebration! If you want, rent a barn or stable venue for this event. If you would rather have it at home, use hay bales, lanterns, saddles, and Western woven blankets to set the scene. Encourage your guests to dress in their Western wear, and have cowboy hats available for those who do not have one. Serve barbecue, corn on the cob, baked beans, and slaw for the perfect Western barbecue. If your venue has horses, horseback riding would be a memorable addition to this event.
7. Under the Stars Sweet 16
Celebrate your sixteen-year-old out Under the Stars! For this casual party, spread out blankets, bean bags, and other comfy seating options, so your guests can sit outside and enjoy the evening together. Set tiki lanterns around the party space for a soft lighting effect and make a bonfire in the center of the space. A s'mores bar with a variety of chocolate bars, graham crackers, and marshmallows adds a sweet touch to this celebration. Your guests will also enjoy roasting hotdogs over the open fire. Prepare a table of condiments, chips, and any other desired side dishes.
8. Zombie Sweet 16
For a unique party that your friends are sure to remember, plan a Zombie Sweet 16 party. Encourage everyone to dress up as zombies and be ready for a night with the undead. You may choose to hire makeup artists to transform everyone into zombies if you would like. Decorate in black, gray, and red using black and red roses, balloons, feathers, and fabric. Serve red punch, a cheese ball shaped like a brain, and other spooky snacks to create the perfect Zombie meal. I am sure your zombies will love dancing; just be sure to include their favorite songs, such as Monster Mash and Thriller.
9. Let's Go to the Movies Sweet 16 Celebration
What is your sixteen-year-olds favorite movie? Many movie theaters will rent out an entire theater and show the movie of your choice. Choose the movie, rent the theater, and begin inviting your guests. Decorations will be minimal because the event is at the theater. Most of the time, they will allow you to bring a cake or cupcakes, but any other refreshments will have to be purchased from the concession stand. They will typically have a group rate if you choose to provide the concessions, or you can let your guests know in advance that the concession stand will be open so they are prepared to purchase their own.
10. Winter Wonderland Sweet 16 Celebration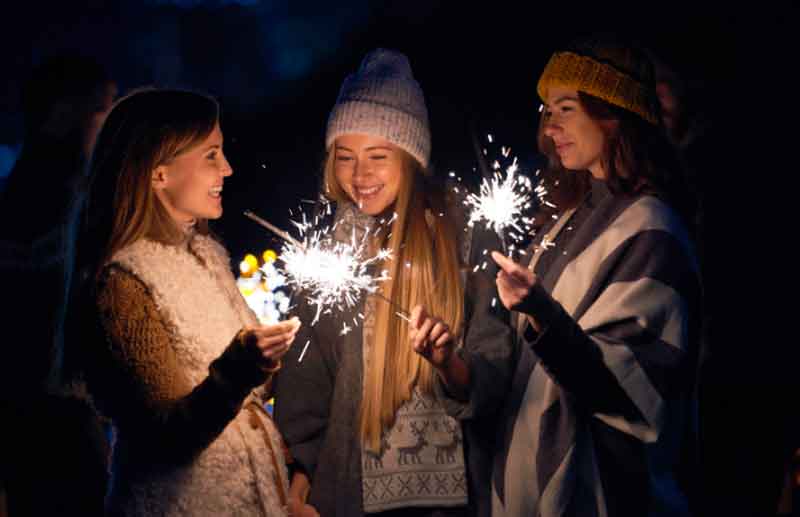 Icy blues, white, and silver set the tone for a beautiful Winter Wonderland Celebration for your sixteen-year-old. Snowflakes, a snow machine or bubble machine, icicles, and ice carvings create a magical wonderland scene. A beautiful white birthday cake with snowflakes and sugar sprinkles causing a glistening effect in the lights will be the perfect centerpiece for your refreshment table. Tables decorated with white tablecloths and beautiful centerpieces with white and silver flowers, feathers, and snowflakes complete the party space. Invite your guests to wear white, silver, or blue to the party. Tell them to come prepared to dance the night away in your Winter Wonderland! This is one of the best sweet 16 party themes during the winter months especially.
11. The SWEETEST Sweet 16 Celebration
This is a celebration for your sixteen-year-old with a sweet tooth! Sweets of all kinds will be the spotlight of this event. Decorate with bright colors, large lollipops, and candy decorations. A balloon arch using bright colored balloons and assorted lollipops scattered throughout will create a magical entryway to the party space. A cupcake decorating station with a variety of sprinkles and toppings, a fill-your-own-candy treat bag station with candies of every shape and size, and a build-your-own ice cream sundae station will give your guests the sugar rush they need to dance and celebrate all evening.
12. Sweet 16 Painting Party
Does your sixteen-year-old love art? Throw a painting party for her Sweet 16! Hire an artist to come in and teach a painting class for her and her guests. Typically the artist will supply the paint, brushes, easels, and other media while you provide the canvases. I have attended several painting classes and have watched even the shyest person come out of her shell once she begins painting. Guests will enjoy learning something new together and will walk away with their own masterpieces! Serve simple snacks as they paint and then end the party with cake when their paintings are finished.
13. Sweet 16 Outdoor Movie Night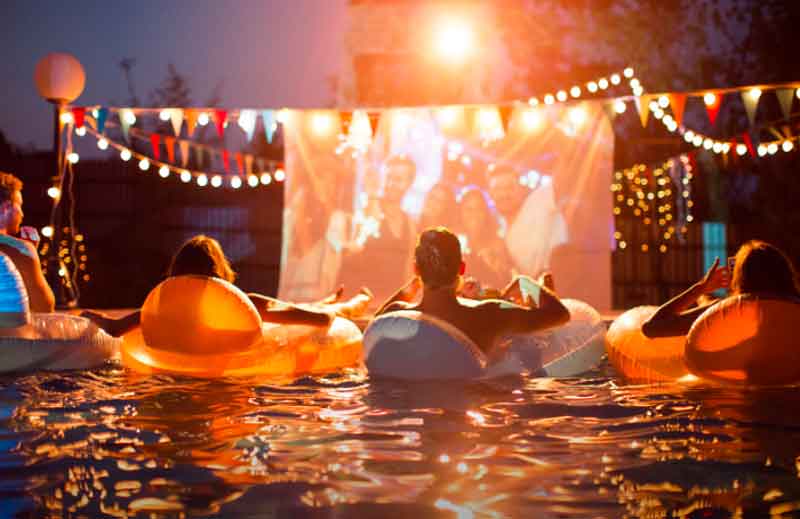 Grab a projector, hang up a sheet, and let your sixteen-year-old choose his favorite movie to share with his friends at his Outdoor Movie Night Party! Set up lawn chairs, blankets, bean bags, and camp chairs to create an outdoor movie theater. A popcorn station with a variety of toppings, soft drinks, and movie theater candy is the perfect refreshment for this party. On your invitations, invite your guests to bring blankets to keep them warm as the sun goes down. You can begin the movie at dusk. Sit back and relax because the movie is the only entertainment needed for this event. This is one of my favorite sweet 16 themes during the summer months.
14. Sweet 16 Campout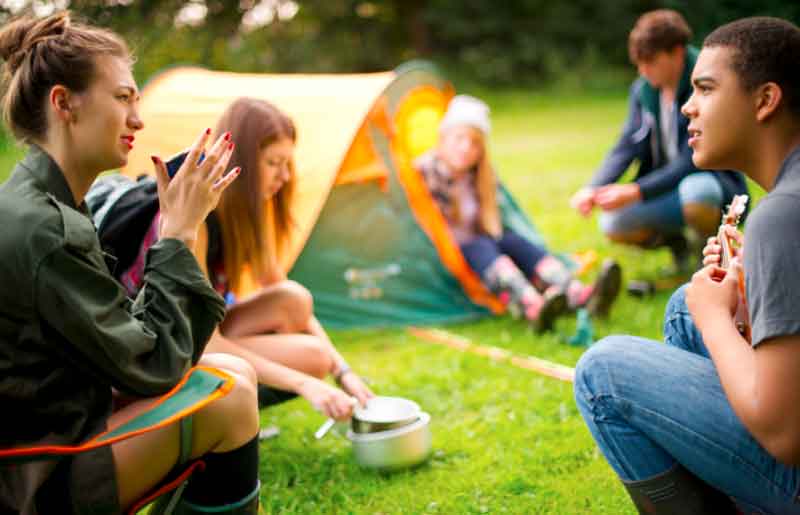 Does your teen love the outdoors and camping? Forego the extravagant party, rent two or three campsites, and invite his friends for an overnight campout. Let the teens help set up the campsite, whether you use tents or campers, and then head out for a hike or explore the area. Grill out for dinner and then make s'mores around the campfire. The next morning, make breakfast before exploring for a little while longer. Your teen and his friends will remember this special weekend forever!
15. 80's Skating Rink Party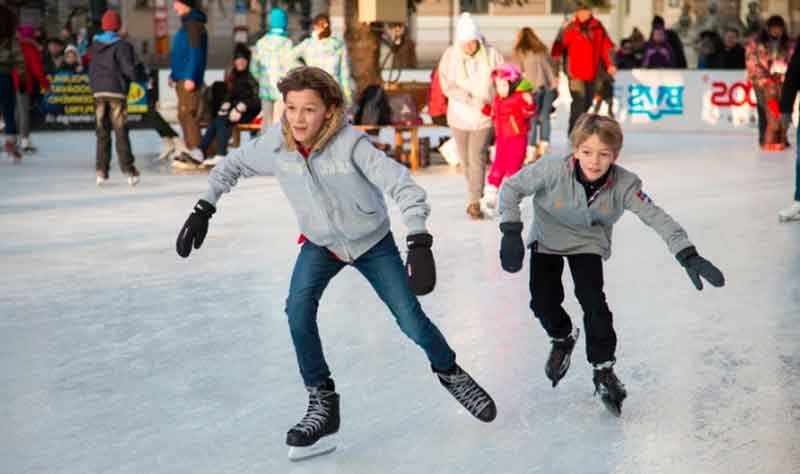 Bring back the 80s with a Skating Rink Sweet 16 Party! Rent out your local skating rink and invite your friends to come in their best 80s looks! Ask the DJ at the rink to play 80's hits mixed in with your teen's favorite music. You know there has to be a game of 4 Corners and the Limbo, or it wouldn't be a real Skating party! Most skating rinks offer party packages that include food. Check out your options ahead of time. A fun cake with cassette tapes, roller skating, and bright colors make the perfect centerpiece for this party. Bring fun props and create a photo station for your guests to enjoy.
16. Sweet 16 Costume Party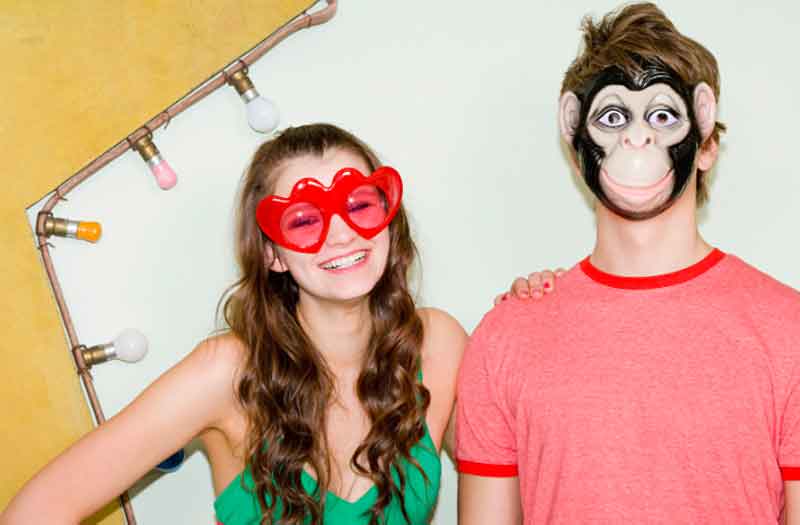 Everyone loves a good excuse to dress up! Invite your teen's friends to a costume party for her Sweet 16. Let your teen decide if she wants a certain theme, such as cartoon characters or a certain movie, or if it is "anything goes," allowing guests to choose their own themes. If there is a theme that will guide your decorations. If not, decide on a color scheme and, decorate the party space with balloons, floral centerpieces, and just have fun being creative. Simple finger foods and a fun cake are the perfect refreshments for this party. Hand out fun costume awards such as "Most Creative," "Funniest," or "Most Unique."
17. Come As You Are Sweet 16 Party
For this party, you are going to surprise your sixteen-year-old as well as all of her friends! Speak with the parents of your guests in advance, then on the morning of your party, wake your daughter up and tell her to jump in the car IMMEDIATELY! That's right! No time to get ready; just COME AS YOU ARE! Go to each guest's house and do the same! Wake them up and tell them it is time to go! You can pack your vehicle with small hygiene bags for each girl, including a hairbrush, hair ties, one-time-use toothbrush, and travel-size deodorant so they can freshen up on the way to breakfast. After eating a good breakfast, you can take them all back to your house to hang out, have cake, and finish the party.
18. Garden Tea Party Sweet 16
Your Sweet 16 Garden Tea Party will be a sophisticated affair for you and your guests. On your invitation, you can encourage a dressy dress code. Greet each girl with a small bouquet and each boy with a simple boutonnière that coordinates with the bouquets. Have a small vase at each table setting where the girls can place their bouquets during the party. Decorate each table with floral centerpieces, teapots, dainty dishes, and tea cups. Serve mini sandwiches, scones, fresh fruit, and petit fours, along with lemonade and tea for an elegant afternoon.
19. Sweet 16 Spa Day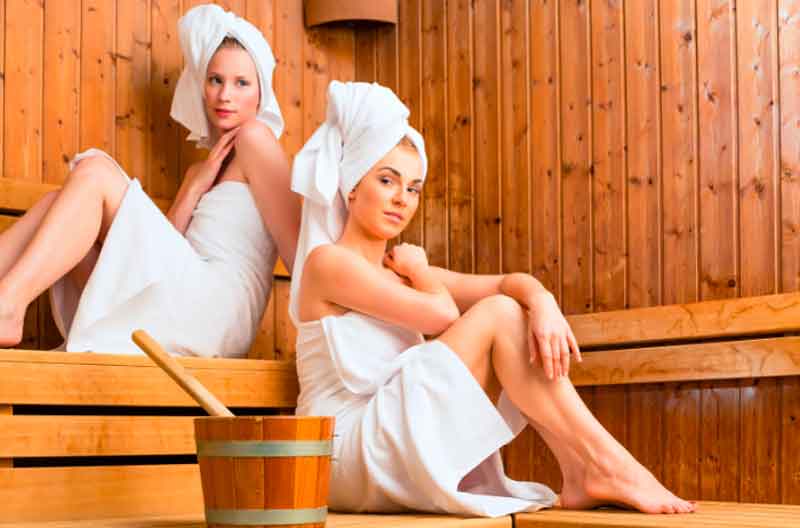 Does your sixteen-year-old enjoy an afternoon of pampering? Allow her to invite two or three friends for a day at the spa. Schedule manicures, pedicures, and any other treatments you choose for your daughter and her guests. For extra bonding time, schedule the same treatments for yourself and join them for the day. After a relaxing afternoon together, take everyone to her birthday dinner at her favorite restaurant.
20. Sweet 16 Makeover Party
Invite your daughter's closest friends to a day of makeovers and a photo shoot. For this event, you can go in two directions. First, you could choose to hire makeup artists, nail techs, and hair stylists to come to your home and give each girl a makeover, OR you could schedule appointments at a full-service salon and take the girls out for a day of pampering and makeovers. After the makeovers, go to a local park or favorite photo location and do a photo shoot with the girls. End the day with dinner at your daughter's favorite restaurant.
21. Look Who's Driving Now
Is your teen so excited to turn sixteen and have the freedom to drive? Celebrate that freedom by throwing him a "Look Who's Driving Now" birthday bash. Decorate using traffic signs, traffic lights, toy cars, and car keys. To add humor and fun to the evening, set up a tricycle obstacle course for the teens to practice their driving skills. If you live near a car museum, you could host the party there, allowing guests to admire the cars as they celebrate. If the party is at your home, a traditional cookout is a fun and simple idea for dinner. If it is at a museum, explore the options they offer before deciding on a menu. A custom cake made to look like his dream car will be the perfect centerpiece for the party!
22. A GLOWING Sweet 16 Celebration
Your teen's future is so bright it GLOWS in the dark!! Invite your teen's friends to a glow-in-the-dark party, encouraging them to wear all black! When they arrive, hand out glow sticks, necklaces, bracelets, glasses, etc. You can provide tape for them to use to stick the glow sticks to their bodies to create human stick figures. My children and I did this at a glow party, and we made hilarious videos of our dancing glow stick family. Tonic water glows under a black light! Use one part tonic water and one part water to make ice that will glow under the blacklight! You can also make any food glow in the dark with food dye that glows in the dark! Have fun and be creative with this celebration.
23. Sweet 16 Fiesta
Everyone loves tacos, so a Sweet 16 FIESTA will definitely be a hit with your teen and his friends. Set up several Nacho Tables around the party space. To make a Nacho Table, cover the table with foil, then spread out your chips, meat, and toppings down the middle of the table in any design you choose. Guests gather around the tables and eat as they visit with one another. Another option is a Walking Taco Bar, with individual bags of chips, meat, and all of the toppings. Guests take a bag of chips and add their meat and topping choices inside the bag. Don't forget to grab a pinata filled with candy and goodies for the teens!
24. A Day on the Lake Sweet 16 Celebration
Does your teen prefer a relaxing day with his closest friends over a large party? Rent a houseboat or pontoon and jet skis for the day and spend the day out on the lake! The teens can swim, hang out, and just enjoy a low-key day for the perfect celebration! Pack your teen's favorite drinks and snacks, prepare a picnic lunch, and make reservations at his favorite restaurant for dinner. Spend the day on the lake and then end the perfect day with his favorite dinner.
25. Around the World Sweet 16 Celebration
Grab your passport and get ready for an exciting adventure around the world in one evening! While preparing for this unique party, ask your teen to choose three or four dream destinations. Use those destinations to plan your event. Set up a section of the room representing each of her chosen destinations. For example, if she chooses England, you will decorate with items such as Big Ben and London Bridge. You will also set up a refreshment table for each section of the room, spotlighting foods from the destination. At the England station, you would serve fish and chips. Make your invitations look like passports, and your guests can bring them with them and stamp them at each station with the stamps you provide.
26. Sweet 16 Scavenger Hunt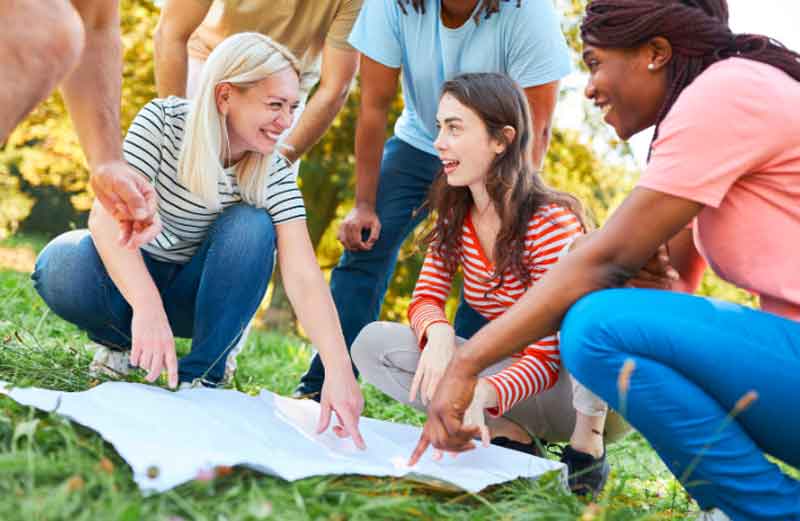 Everyone loves a scavenger hunt! Invite your teen's friends to a Scavenger Hunt Party to celebrate his 16th birthday! Recruit enough drivers to have one car for every three guests (making four people on each team). You, the party planning parent, will not be on a team because you will be announcing each clue and keeping up with the team's responses and points. Before the party, plan out your clues/challenges. Each challenge can have multiple correct answers. If any clues involve actually making purchases, provide the money needed. An example of a clue could be, "take a picture of your team with a family eating ice cream." The team would go to a place where people would be eating ice cream, take a picture, and send it to you at home base. You would send them the next clue. Create a point scale and ending location where you will celebrate the winning team and finish out your party with cake and ice cream.
27. Under the Sea Sweet 16 Celebration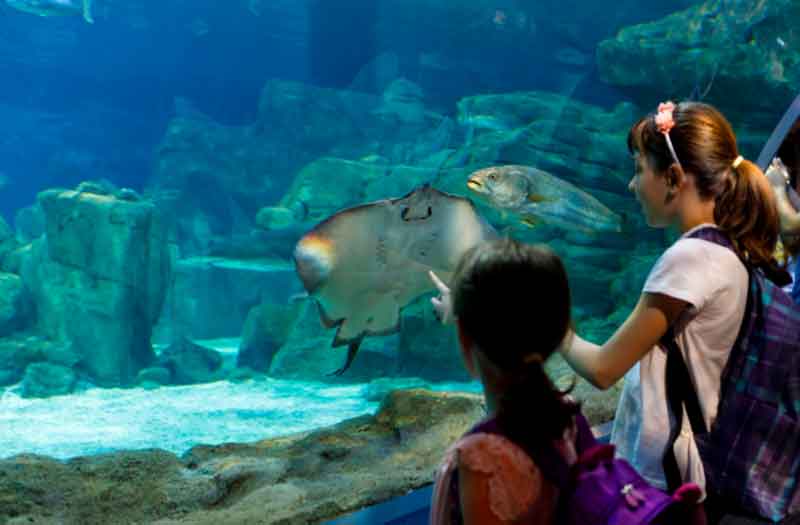 Does your teen love the ocean? Celebrate her Sweet 16 Under the Sea! If you live near an aquarium, host this event there!! If not, create a beautiful sea scene using balloons, bubble machines, large fish made of paper mache or other materials, and fish tanks, small and large, all around the room. Your table centerpieces could be Beta fish or goldfish bowls or small fish tanks. If your daughter is dreaming of a fancy affair, encourage the guests to come dressed in their favorite party dresses and suits and decorate with a more sophisticated style. If your daughter prefers a more casual setting, guests can come in their casual clothing, and your decorations can lean more toward a fun and easygoing style.
28. Party Like a Rockstar Sweet 16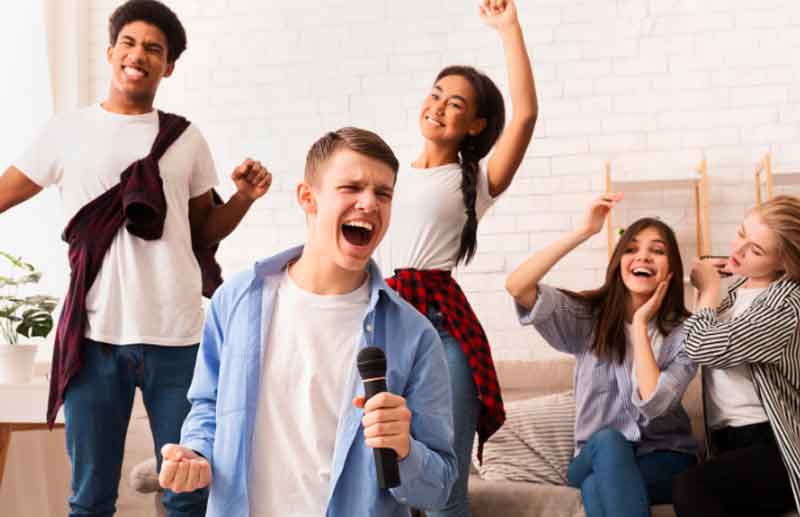 It's Karaoke night, and your sixteen-year-old and her guests are going to party like rock stars! Tell your guests to dress up like their favorite singers and come prepared to party all night long! Set up a karaoke stage at the front of the room, with a dance floor and tall top tables and stools. Hang posters of your daughter's favorite bands and singers around the room and decorate using balloons and flowers in her favorite colors. Fun finger foods and sweets are the perfect refreshments for this light-hearted event. Let the teens sing and dance to their hearts' content as they celebrate with your daughter.
29. Chocolate Paradise Sweet 16
Willy Wonka would be honored if you would choose his Chocolate Factory as inspiration for your Sweet 16 Celebration. Spread out stations with chocolate fountains with fruit, marshmallows, cereal treats, pretzel rods, and anything else you can imagine. Create an indoor s'mores buffet with a variety of chocolate bars, graham crackers, marshmallows, and tabletop fire pits. Decorate the party space to look like the beautiful gardens around Willy Wonka's chocolate waterfall. Use large lollipops, oversized candies, trees with gumballs and candy growing on them, and, of course, chocolate bars! This is one of those sweet 16 themes that you really can't go wrong with.
30. Hollywood Red Carpet Sweet 16
Roll out the red carpet for your teen and her guests at this Hollywood Red Carpet Event! Invite your guests' parents to be the paparazzi lined up along the carpet, taking pictures as the teens walk into the party. Once inside, have "swag bags" with fun little gifts such as chapstick, stickers, sunglasses, etc., similar to the bags stars get at premieres and Hollywood parties. Decorate the party space in black, red, and gold using balloons, floral centerpieces, and movie reels. Hang black and white glamor photos of your teen around the room because she is the leading lady of the night!
31. Sweet 16 Pink Out Party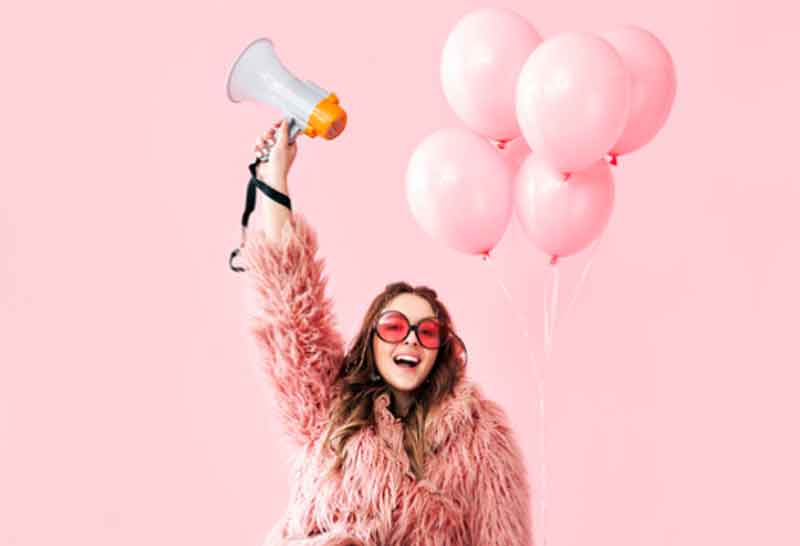 It's a PINK OUT Party! From the decorations to the food to the guest's clothing, everything at this party is going to be PINK! Using balloons, fabric, feathers, and flowers, turn your party space into a Pink Paradise! Create a beautiful entryway with a balloon arch, cover the tables in various shades of pink tablecloths, and create beautiful pink floral centerpieces with feather accents.
On your pink invitations, tell your guests that this is a PINK OUT and encourage them to wear pink! What if your teen doesn't like pink? This party can be done with any color!! Choose their favorite color and start planning!
32. CHOPPED Sweet 16 Celebration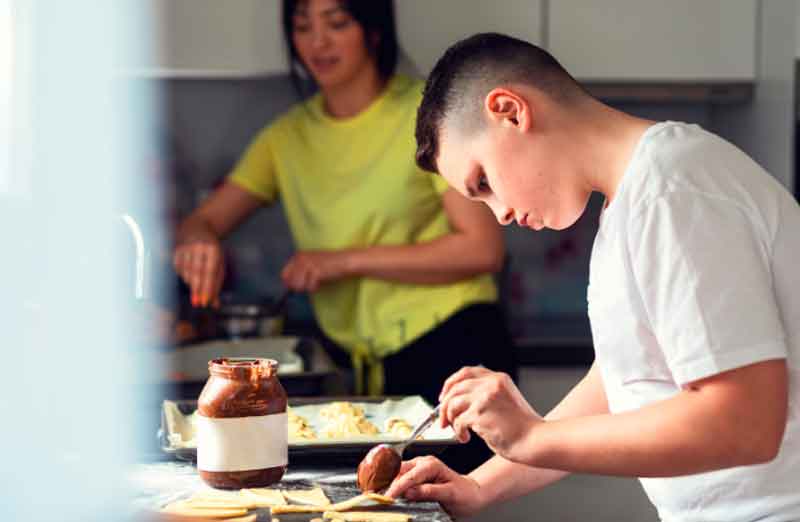 Does your teen love to cook? This celebration was made just for him! The TV Show chopped gives competitors baskets of ingredients that have to be used to create an appetizer, main course, and dessert. Create your baskets of ingredients, stock your "pantry" with other ingredients they can use to enhance their dishes and get ready for a fun evening of competition. Divide your guests into two teams and have each team send two representatives to work together during each round. The rest of the team will watch and cheer their teammates on as they cook. A panel of judges (family members) will judge each dish and, at the end of the evening, announce the winning team. Both teams will enjoy tasting the dishes, a friendly competition, and a unique Sweet 16 Celebration.
33. Arabian Nights Sweet 16 Celebration
DId your little girl grow up loving Aladdin and Jasmine's story? If so, this party will sweep her off her feet! Spread out beautiful carpets, adding coordinating cushions and low tables where the guests will sit together to eat and talk. If the weather allows, host this party outdoors with colorful open-air tents over the eating area. Decorate the space with lanterns, torch lights, and large cushions creating seating areas. Invite a henna artist to do henna tattoos on your guests and serve authentic Middle Eastern food for your refreshments.
34. Murder Mystery Sweet 16 Party
Everyone loves a good mystery! Invite your teen's guests to a party where they will be the detectives! Go online and find the perfect murder mystery party kit; once you have chosen the kit, that will guide the rest of your theme. If the mystery is set in a mansion, you will decorate the space to look like the mansion, but if it is set on a train, you will decorate the space to look like the inside of a train car. Your refreshment choices will also reflect the storyline matching the setting in the mystery. Your guests will have so much fun solving the mystery together!
35. A Night to Remember Sweet 16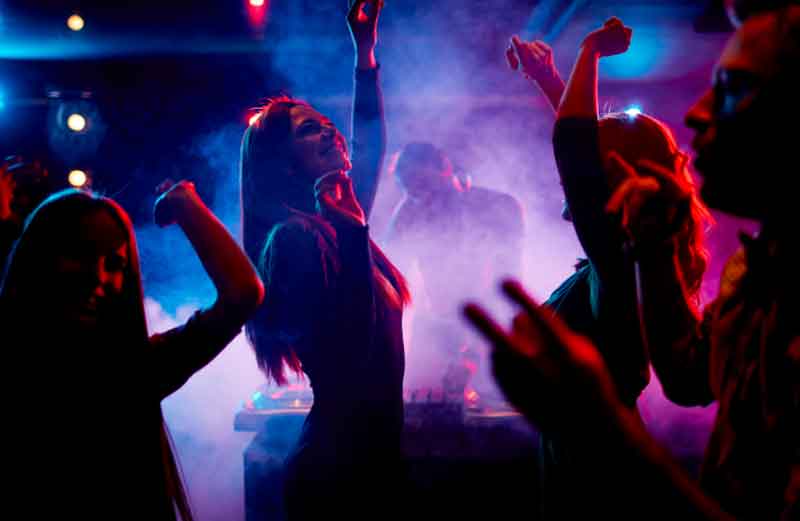 For this soft yet elegant theme, decorate in blues, blacks, and silvers using stars and the moon as your main decorations. Encourage your guests to come in party dresses and suits and to be prepared to dance the night away. Put a dance floor in the middle of a circle of tables decorated with beautiful linens and floral centerpieces. Hire a local band or DJ to play your daughter's favorite music all evening long. Serve elegant finger foods or a catered dinner with a beautiful cake for dessert. Your daughter will definitely have a Night to Remember!
36. Once Upon a Time Sweet 16
Once Upon a Time a beautiful princess turned 16. All the people in the land came to the castle to celebrate! Decorate your party space with elegant floral bouquets, balloons, and beautiful lighting. This is a celebration for royalty, so everything is over the top and extravagant. Create a large storybook open to the first page with a drawing or painting of your daughter on one side and the words, "Once upon a time, ____ turned sixteen," to be the backdrop of your photo booth. Serve a variety of "fancy" finger foods, petit fours, and a beautiful cake.
37. Nerf War Sweet 16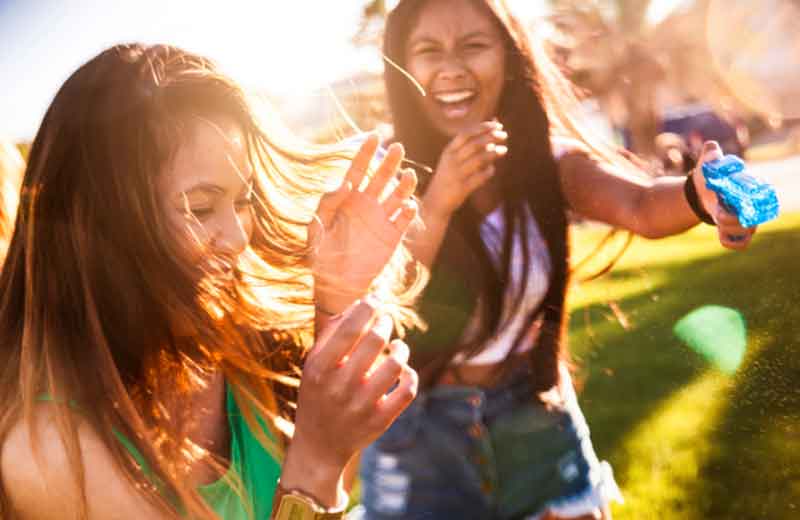 If your town has a Nerf War gym, rent it out for your sixteen-year-olds birthday bash. If you don't have a Nerf gym, create a war zone in your backyard. Go to your furniture or appliance store and request large boxes that you can use to set up barriers in your war zone. Tell your guests to bring their Nerf guns and ammo and prepare for an exciting day of battles. A refreshment table stocked with snacks and sports drinks will keep everyone fueled to battle all day long. Fun party favors would be small Nerf guns or Nerf bullets.
38. Sweet 16 Disco Party
Grab your platform shoes and bell bottoms, and get ready to dance the night away at this Sweet 16 Disco Party! Invite everyone to dress in period clothing and come ready to learn to disco! Have a local dance teacher attend to teach "the hustle" and other popular dances from the disco era! You can't have a disco party without a disco ball in the center of the dance floor. Bright
lights and colors finish out the scene for this fun-filled night. Little disco ball keychains make a fun party favor for this event.
39. Sweet 16 Carnival
Celebrate your sixteen-year-old with a Carnival in your backyard! Set up game booths, including ring tosses, bean bag tosses, and water gun races. Recruit volunteers to be your Carnival Barker and carnies, setting the scene for an afternoon of fun. When guests arrive, give them a designated number of tickets to play the games and a gift bag for their winnings. Play music in the background as the teens travel through the carnival, then invite everyone to enjoy your concessions stand, where they will receive unlimited refreshments and drinks. Serve fun carnival treats like cotton candy, deep-fried Oreos, corn dogs, and funnel cakes. Fresh squeezed lemonade is the perfect drink for this event.
40. A Day at the Ballpark
Invite a few friends, grab your jerseys, and go to the ballpark to support your favorite team! Instead of having a huge party, this is a great way to have an amazing time with your son's closest friends while enjoying his favorite sport. The only planning needed is who to invite, which game to attend, and what jersey to wear! Many ballparks will put a birthday announcement on the screen throughout the game, which adds excitement and fun to the big day!
Wrap Up:
That does it for this list. Let us know of there are any great party themes we missed in the comments section below.