I don't know about you, but my little sister is one of the most of important people in my life. Your sister surely knows that you'd do pretty much anything for her, but how can you actually show her how much she means to you, year on year?
You guys have known each other your whole lives, so the gift ideas might be starting to run a little dry at this point. It can be tricky to come up with ideas that aren't just the standard, could-be-from-anyone gift. Lucky for you, I've got a good few meaningful gift choices that will make your sister feel as loved as she is.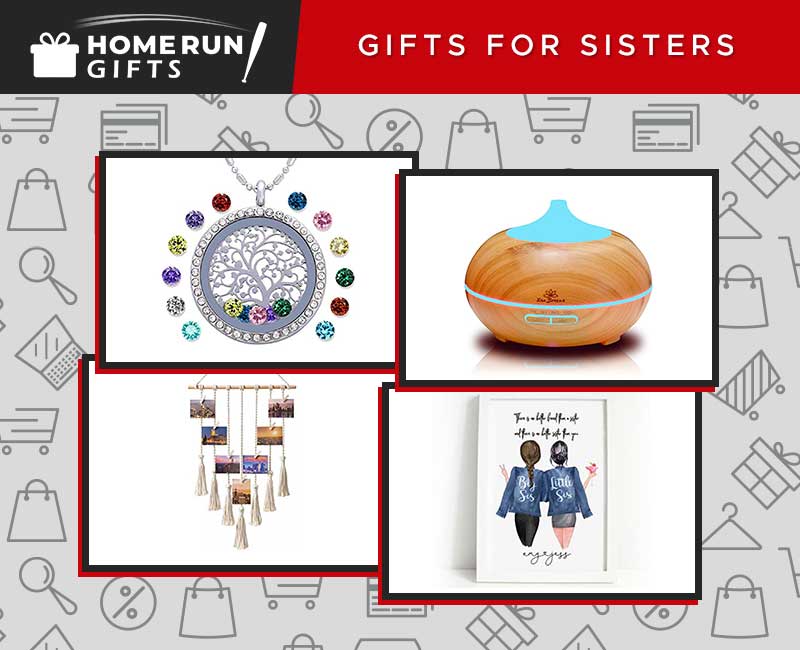 You and your sister might be two peas in a pod or totally different people, but whatever your sibling dynamic is, you'll find something here that suits.
List of Gifts for Sisters They'll Surely Love
Below, I've listed out my fifty favorite gifts for sisters! Whether you need a gift for your big sister or little sister, this list should help you out a lot!
1. Personalized Tree of Life Birthstone Necklace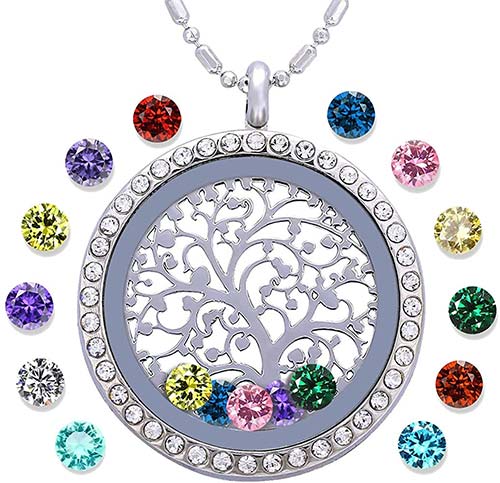 Read More or Buy on Amazon Here ($8.83 at the time of publication)
This cute little Tree of Life necklace is an elegant gift perfect for any sister. Complete with a set of 24 miniature birthstones, you can add yours and your sister's to symbolize your sibling bond. You could even pop in your whole family's birthstones to make a real rainbow of color. The locket is easy to open up so your sister can update the stones and charms whenever she wants – it's a gift that really keeps on giving! Complete with a classy jewelry presentation box, this is a meaningful gift that will let your sister have some creative input, too.
2. Homemade Macrame Photo Decoration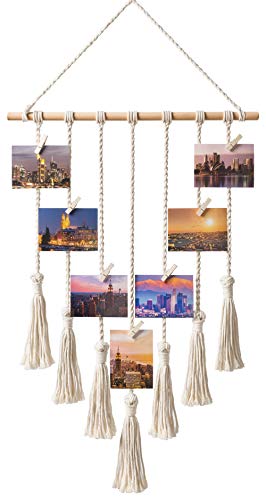 Read More or Buy on Amazon Here ($12.99 at the time of publication)
You and your sister literally have a lifetime of memories with each other, so you won't be running out of material on that front! Whether they're photos of family occasions or snaps from your nights out, they all mean something to both of you. A macrame wall decoration is a simple, rustic way to remind your sister of your most important memories together. Every time she catches sight of it, it'll add a little smile to her day. Simple but effective, this gift is perfect for sisters who are into constantly updating their home décor. You can easily mix up which room it's displayed in and which photos are pegged on it, so it'll grow and change as you guys do. Plus, this is an ideal gift if your sister's a real eco-warrior. Forget plastic photo frames, this wood and cotton macrame frame is much more environmentally friendly.
3. Personalized Sister Print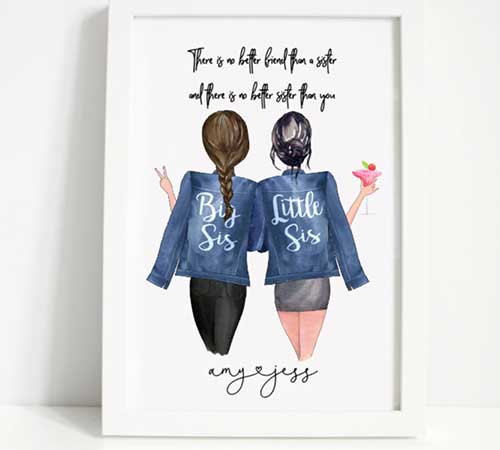 Read More or Buy on Etsy Here ($13.66 at the time of publication)
These hand drawn framed prints are a really thoughtful sister-to-sister gift. Simply choose the right name, clothes, hairstyle, and even drink to create a picture perfect representation of your sisterly bond. She'll be so nicely surprised when you include all the little details that only a sister could have known!
4. Nutri Ninja Personal Blender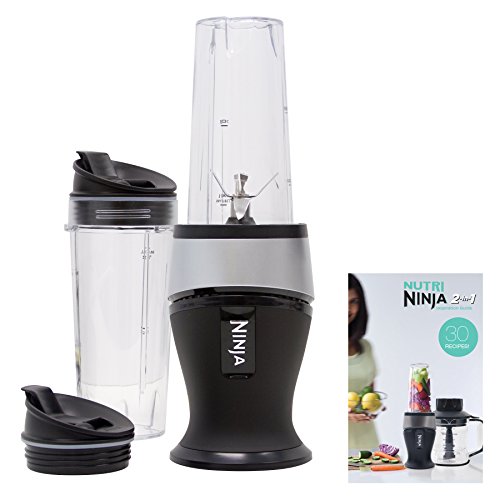 Read More or Buy on Amazon Here ($39.99 at the time of publication)
If your sister's a gym nut, she'll so appreciate this compact blender for whizzing up those protein shakes. Even if she's not a gym freak at all, this Nutri Ninja is always great to have around for smoothies, super quick homemade ice cream and all her other blending needs. Its high-tech features will extract the nutrition from her smoothie ingredients, so she won't even have to chop them up too small – perfect for your sister if she's *ahem* on the lazier side of things. It's dishwasher friendly too, so she can even save on the washing up! You can really spoil her with a Nutri Ninja – it's like a whole gift set rather than just one item. The blender comes with two portable cups with reliable Sip and Seal lids (no more smoothie explosions in her bag), plus a handy book chock full of nutritious recipe ideas.
5. Shattered Glass Ceiling Pendant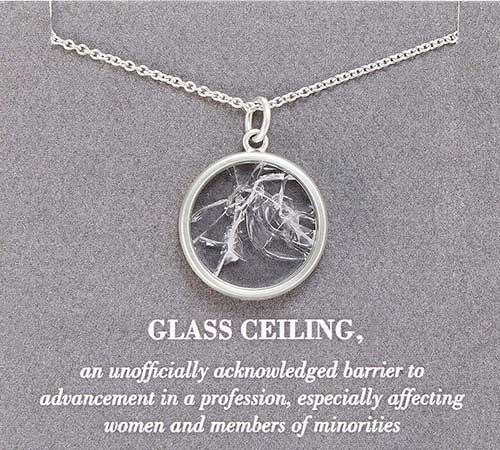 Read More or Buy on Uncommon Goods Here ($68.00 at the time of publication)
Whether your sister's a driven career girl or is always overcoming society's obstacles in any area of her life, this is the gift for her. It perfectly embodies that determined spark she's got, but it will remind her that you admire her for more than that, too. You're so proud of everything that she's already achieved and you're excited about where her future is taking her. And whatever setbacks and pitfalls may come her way, you'll still be there. She can wear this handmade power necklace proudly on display, or tucked into her work outfit so it's just there for her. It's a classy little boost that she can keep with her every day, for whenever she most needs a reminder of just how great she's doing.
6. If You Weren't My Sister, I'd Never Speak To You Candle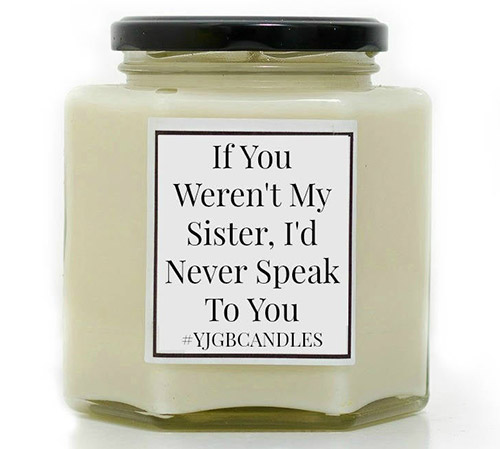 Read More or Buy on Etsy Here ($12.30 at the time of publication)
Sure, your relationship with your sister isn't always plain sailing. Everyone with siblings knows that you'll have your ups and downs in life. And sometimes, you've just got to laugh about the bad times. This cheeky little candle is a witty gift that will remind her of that and bring you even closer because of it. These candles come in a wide range of 100% soy wax colors in edgy hexagonal glass jars. The huge variety of scents means you can find the perfect one for her: they've got everything from cafe latte to coconut and from peppermint to piña colada.
7. Interlocking Sibling Keyrings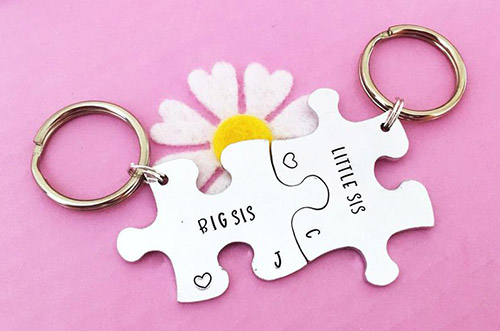 Read More or Buy on Etsy Here ($16.41 at the time of publication)
These puzzle piece keyrings fit snugly together and look great apart too. You can get them stamped with your personalized phrases and initials, so they're a thoughtful gift to remind your sister of you when you're apart. Whether she's moving into a new place, heading off to college soon or just keeps on losing her keys, these interlocking keyrings are sure to put a smile on her face. The keyrings are handmade using hypoallergenic, tarnish-proof aluminum, so they'll stay shiny-new for a good long while.
8. Stylish Nakko Jewelry Organizer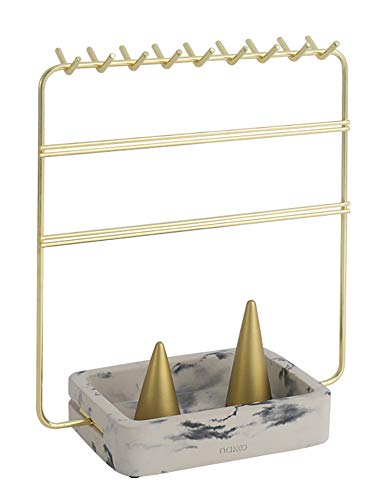 Read More or Buy on Amazon Here ($25.95 at the time of publication)
Did you guys share a room when you were younger and you've still not quite gotten over just how untidy your sister made it? Is her college room still an absolute tip? Now you can channel that childhood chip on your shoulder into a simple yet effective gift for her. This minimalistic jewelry organizer for the modern woman is a sleek and simple design that will keep her bling safe and tangle-free. With storage space for necklaces, bracelets, rings, earrings and other accessories, it's an all-purpose piece that'll look great on her dresser. It's also easy to take apart and reassemble, so it'll be easy to transport safely whenever she moves house.
9. Sister Throw Cushion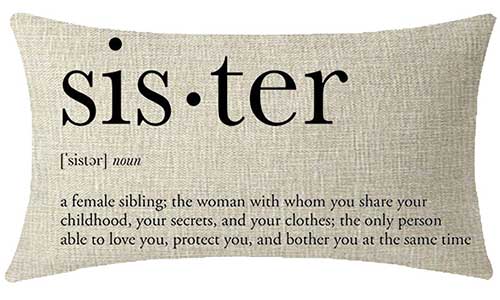 Read More or Buy on Amazon Here ($12.99 at the time of publication)
This cushion is a witty little reminder of how much you value your sibling relationship. It's perfect for using wherever she wants – she can add it to her couch, use it to keep comfortable on her desk chair, use it as an accent for garden furniture or as a back support for those long car journeys. The classy, neutral color scheme and versatile shape mean it'll look great almost anywhere. Designed for indoor or outdoor use, its invisible zip gives it a sleek look and means it's easy to remove and wash, because, you know, spillages happen * shrug *.
10. Geometric Prisma Picture Frame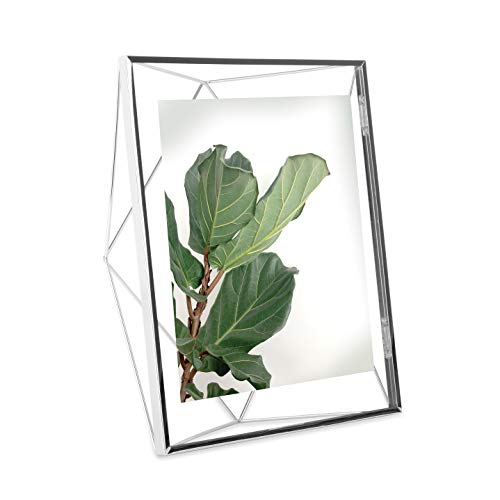 Read More or Buy on Amazon Here ($19.97 at the time of publication)
Personally designed by Sung Wook Park for Umbra, this edgy little photo frame is a cut above the rest. The design makes it super stable, as well as a great addition to any room. The innovative floating look suspends your picture between two panes of glass, so you can still appreciate the geometric wire stand. With a whole range of sizes and frame colors to choose from, you can easily select a frame or three – why not make it up into a whole set by choosing a couple of different frames for her? Plus, the color variety means you can select frames that will fit in seamlessly with her place's interior décor. That'll show her you've been paying attention, now won't it?
11. Essential Oil Diffuser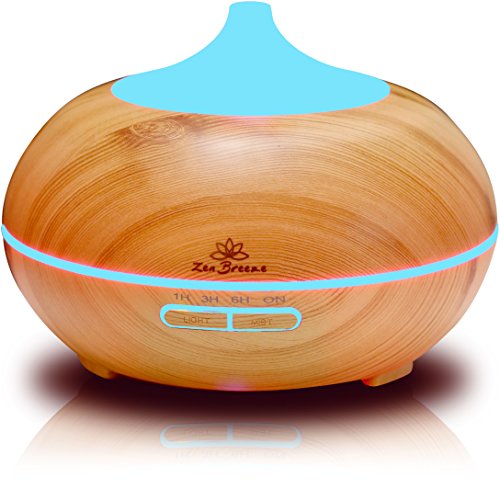 Read More or Buy on Amazon Here ($29.77 at the time of publication)
If it's mindfulness and meditation that's your sister's thing, she'll love using this Essential Oil Diffuser to create a calming atmosphere at work or at home. She can add whatever scent combination works best for her and simply sit back and wait for the waves of calm to wash over her. And if she's not too zen to care by that point, she can get excited about the 14 color change options from the built-in LED lights. I know you are. Various settings and timing options make this diffuser extra versatile. Also, the Whisper Quiet ultrasonic coolmist technology means it can operate without churning out a cloud of hot steam. So, she can easily justify using it to keep those summer days smelling sweet, too! Plus, the high-tech coolmist system means this diffuser is also safe to use around kids and pets.
12. Mermaid Tail Blanket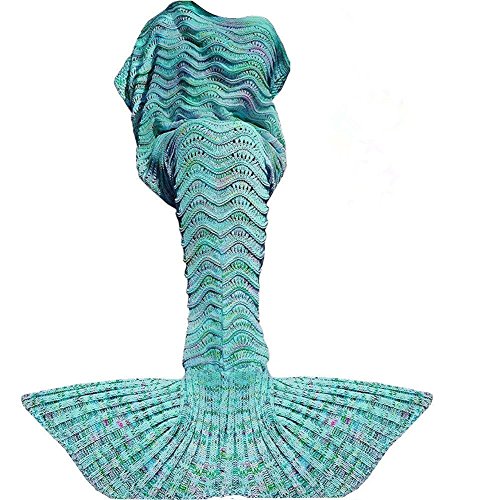 Read More or Buy on Amazon Here ($21.99 at the time of publication)
Right, hands up – we all wanted one of these when they first became a thing. And it's never too late to live out those Aquamarine dreams (if you know, you know). Whatever age she is, let her embrace her inner mermaid (I'll stop with the cheese now) with this cozy blanket. It doesn't matter whether she's heading off to sleepovers with her school friends or curling up with a glass of wine and a good book, you're never too old for a bit of mermaid magic (okay, I lied). Made with eco-friendly and soft-on-skin material, choose the right color for her and watch her face light up as she opens it.
13. Savvy Infusion Water Bottle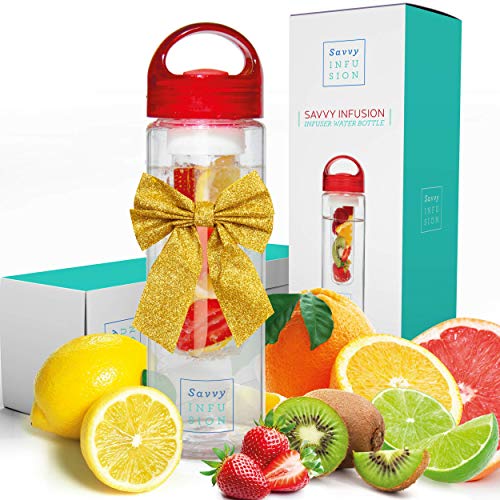 Read More or Buy on Amazon Here ($15.95 at the time of publication)
Staying hydrated is key: it's good for your brain, your body, and your skin. But it's so hard to do sometimes. Keep your sister in tiptop hydrated condition with this handy water bottle. It'll soon become an indispensable part of her day to day. These Savvy bottles come in a range of colors and two different sizes, so you can choose the right option for her. Plus, they've got reviews from customers saying it's the only refillable bottle they've found that is totally leak-proof. Bold claims, but why not put them to the test? The infusion element means she can tailor-make her own delicious concoctions to make staying hydrated even more appealing. Fresh or frozen fruit works great, as well as additions like fresh mint leaves. She'll just need to slip it into her bag and it'll be a great little sidekick wherever she goes.
14. LeGrow Self Watering Indoor Planter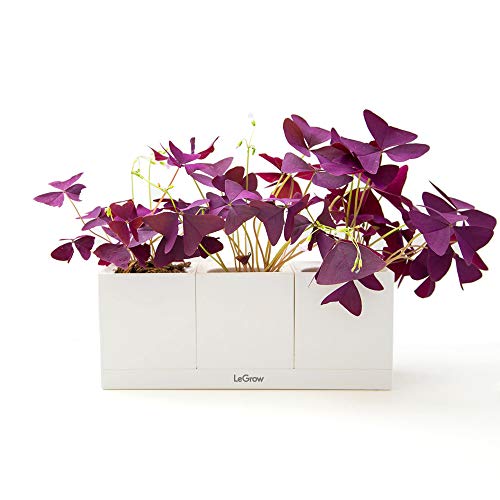 Read More or Buy on Amazon Here ($99.95 at the time of publication)
If she's been cultivating an impressive collection of indoor plants for years, it might be time for her to up her game. This Indoor Planter from LeGrow will be a cutting-edge addition to her indoor garden setup. Its minimalistic geometric design means it'll be a seamless asset to any room, whether she uses it at home or in her office. She'll be able to stack the easy-to-carry units whichever way she likes, so she can mix up her indoor plant display as often as she wants. Plus, the LeGrow system keeps plant maintenance at an absolute minimum, with a warming light system and a helpful humidifier built-in. They've even gone one step further and made the set-up extra technology savvy: there's a port for charging devices incorporated into the stackable design. The more I think about it, the more I reckon every room should have one of these, really.
15. Ceramic Succulent Planter Pots with Bamboo Saucers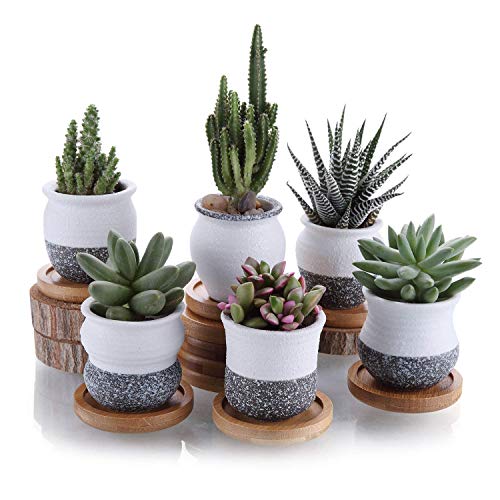 Read More or Buy on Amazon Here ($17.99 at the time of publication)
Whether she's a die-hard plant mom or just starting her little succulent family, this set of six coordinated plant pots will last her a good long while. They're made from long-life ceramic and painted in classy, neutral tones to make them blend beautifully into any space.
We all know that cacti are the lowest maintenance of all the plants, but keeping them alive might still be beyond her, however hard she tries… just as well these little guys have got a draining mechanism built-in to keep the soil moisture at optimum survival levels! She can position them however she wants, and change the arrangement up every so often too. Filling this lovely little set of coordinated plant pots is also a great excuse to head out to a flower market together, if you want to add some extra sibling bonding into your gift giving.
16. Wine Aerator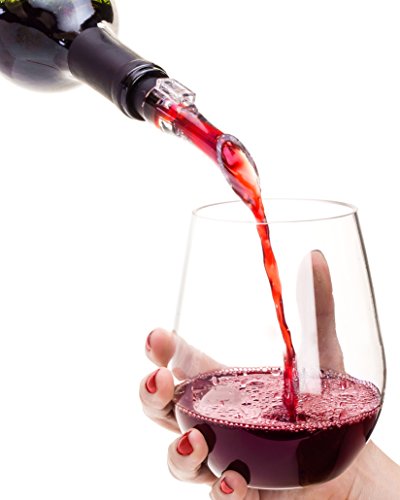 Read More or Buy on Amazon Here ($21.68 at the time of publication)
If she loves a good glass of wine, treat her to this foolproof wine aerator. You know she doesn't really have the time or patience to let her bottles of wine breathe for hours to bring out the very best of their flavor. With this handy aerator, she won't have to! As she pours, her wine will be oxidized to optimize its taste, so she can really treat herself without spending the earth on super expensive bottles. She'll feel like she's at a full-on wine tasting every night with this sleek little gift, perfect for the classy lady.
17. Canon IVY Mobile Mini Photo Printer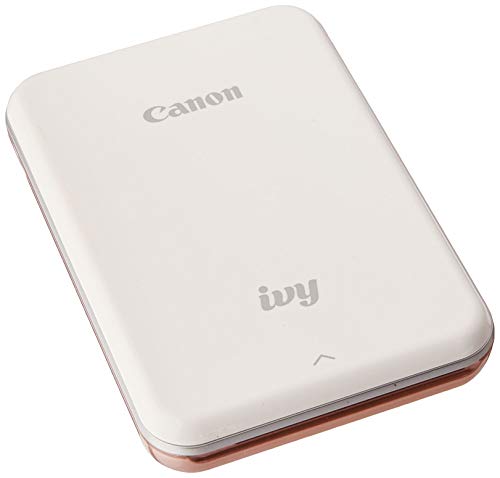 Read More or Buy on Amazon Here ($99.00 at the time of publication)
Is she obsessed with Polaroid-ing everywhere she goes, but it's getting a little old? If she's starting to get a little antsy for something new, this mobile photo printer will be perfect for her. She can easily print from Bluetooth devices, whenever and wherever she wants with this compact device. It's ideal for days out and longer trips, so she can keep on making those memories on the move. She just needs to download the app – which is compatible with iOS or Android phones – and she can print straight from her social media. Why not add 20 or 50 sheets of customized IVY photo printing paper to the gift and give her everything she needs to get started?
18. Keurig K-Classic Coffee Maker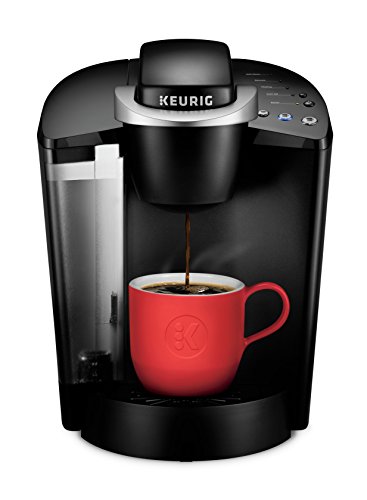 Read More or Buy on Amazon Here ($59.99 at the time of publication)
If she really loves her coffee, treat her to one of these classic coffee makers from Keurig. It'll look right at home on the kitchen counter and soon become a firmly fixed part of her daily routine. Lucky her – who wouldn't want to be reminded of how thoughtful a sibling you are, every single morning?! Even if it's just on the weekends that she's got time to make a cup of coffee at home, this gift will mean it's a really, really good one. With integrated descaling properties and energy saving mechanisms, it's a gadget that pretty much takes care of itself. Plus, it fits multiple coffee pod sizes, so there's a good chance she'll be able to use it to make her favorite blend.
19. JBL Clip 3 Waterproof Portable Bluetooth Speaker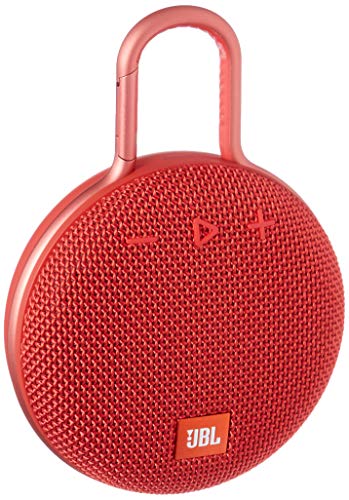 Read More or Buy on Amazon Here ($39.95 at the time of publication)
Has she been nagging you and your family for ages about how great all these new portable speakers are? Has she been casually mentioning how useful it would be to have one for those parties at college or when she's got mates round? Well, she might just have worn you down enough. This compact JBL mini is the perfect size for her to take with her wherever she goes. With its handy carabiner clip, it won't get lost easily (you know what she's like…). It's waterproof too, so no worries there. Maybe now she'll be able to work on her shower singing a little? You can only hope. Jokes aside, it's got a 10 hour battery life that will keep her partying away until morning, and she'll have you to thank.
20. Cinema Light Box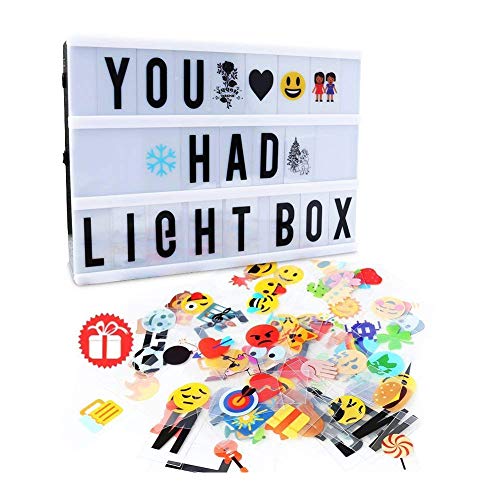 Read More or Buy on Amazon Here ($25.99 at the time of publication)
Even if you're not too fussed about all the latest gadgets and gimmicks, your sister might be. And anyway, light boxes are a load of fun, so who cares if they're tacky?! This cinema LED light box comes all set with close to 200 letters, symbols, and emojis, so you guys can leave each other the perfect message for any occasion, day in, day out. They're fun just to have around the house, but they're also great to crack out for special occasions – they'll really light up the room (haha). Plus, if she's got a little one or two, light boxes are a smart way for them to have fun while they practice their reading and spelling. Bet you hadn't thought of that, had you? And she'll be impressed by your lateral thinking too, guaranteed.
21. Birthstone Earrings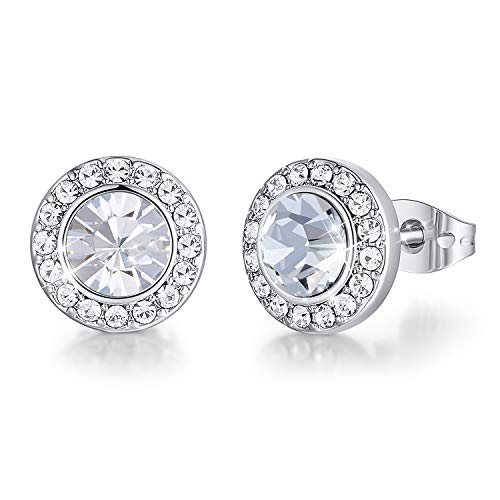 Read More or Buy on Amazon Here ($20.99 at the time of publication)
It'll be very, very tough for her not to adore these birthstone earrings. More meaningful than just any old jewelry, you can handpick her birth month stone and let it bring out her sparkle all year round. Lustrous CDE gems surrounded by Swarovski crystals… need I say more? If you're still not convinced, these sparkling studs come complete with a gift presentation box, so they'll get to you safe and sound, ready to surprise your sister with a meaningful gift that she's sure to love.
22. Customized Synesthesia Artwork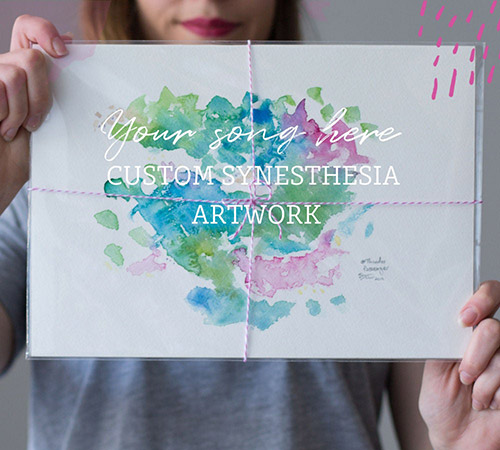 Read More or Buy on Etsy Here ($45.59 at the time of publication)
If she's obsessed with music, this unique gift idea will make a great change from all the standard music buff gifts you've been giving her over the years. Simply choose her favorite song and have it transformed into a gorgeous handcrafted artwork for her. Synesthesia is a blending of the senses, so the artist behind these inspired pieces will transform the music into a bright watercolor painting. You can even choose which version of a particular song you'd like transformed into art, so it'll be easy to pick the one that means the most to you both.
23. Ohuhu Complete Acrylic Paint Set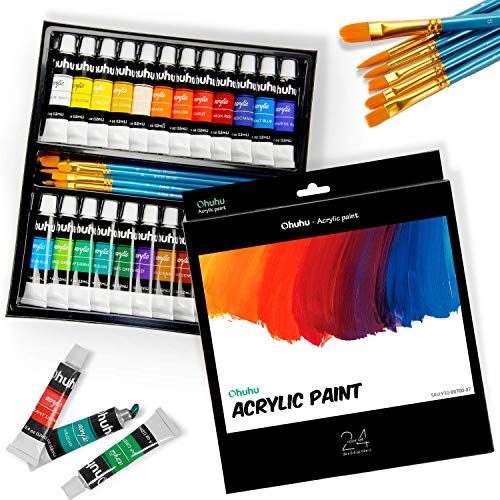 Read More or Buy on Amazon Here ($12.99 at the time of publication)
Did she used to be head over heels for art, but hardly seems to have the time anymore what with work and family? Or has she managed to keep her art up, despite being run off her feet? Whatever the case for your sister, she'll really appreciate this fully stocked Ohuhu artists' set. It comes complete with top quality paints spanning the whole color wheel. They'll turn out perfect on a whole variety of surfaces, too. A set of six new brushes will really get her inspiration flowing, plus they're really versatile: she can stick to the acrylic paints, or mix it up with oil paints, watercolors or face and body paint. Whether it's her own arty projects, professional commissions, kids' birthday parties or her next festival she's painting for, this complete kit will have her covered.
24. Ano Reusable Glass Coffee Cup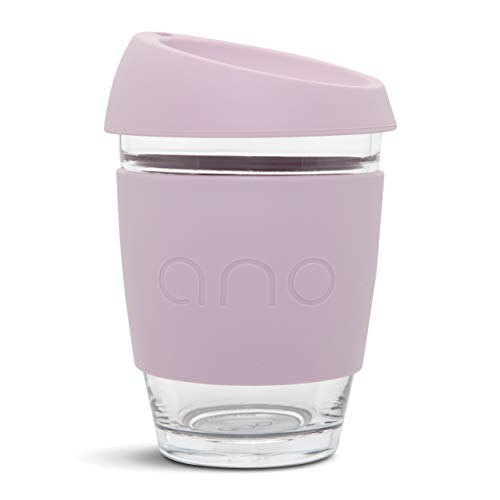 Read More or Buy on Amazon Here ($18.99 at the time of publication)
We all know how important it is for us all to make small, everyday changes to help the environment. A sleek little Ano reusable coffee cup is the perfect place to start. Help your sister do her bit for the climate and save money at loads of coffee shops at the same time (you know what, you're an absolute saint really aren't you). These Ano glass mugs are totally plastic-free and non-toxic. Plus, she'll be able to recycle it when it finally gives up the ghost. If she likes to think green, there's no better gift for her! And if she's an absolute klutz, they've thought of that, too. These cups are designed to make it really very difficult to spill your drink all over yourself – no guarantees though. It is her, after all. It's always important to think about convenience too, and these handy little travel mugs are dishwasher safe and specifically designed to fit into standard cup holders, which means she can even use it in the car. With a whole range of colors to choose from, there will definitely be one you can imagine her carrying around with her 24/7.
25. Sports Workout Fashion Headbands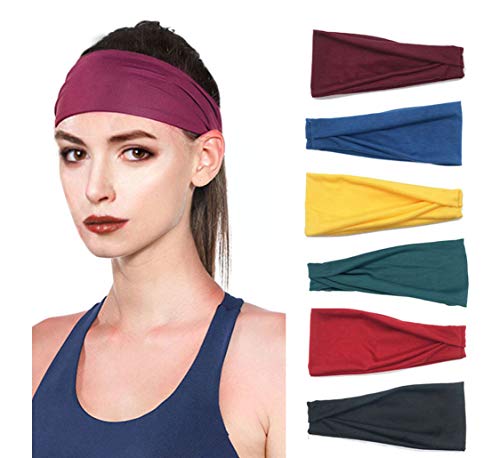 Read More or Buy on Amazon Here ($11.99 at the time of publication)
Whether it's running, yoga or facemasks she's into, this bright little set of headbands might just be the ideal gift for your sister. They're bold but versatile, with color options to go with pretty much any outfit. The fuss-free design means she just needs to pop whichever vibrant design she's feeling straight on her head – there's no need to tie any fiddly knots or spend half an hour making sure it's done up just right. Now she can finally stop complaining about all those wispy baby hairs getting in her eyes. And, what's more, she'll be right on trend at the same time!
26. Timeless Leather Backpack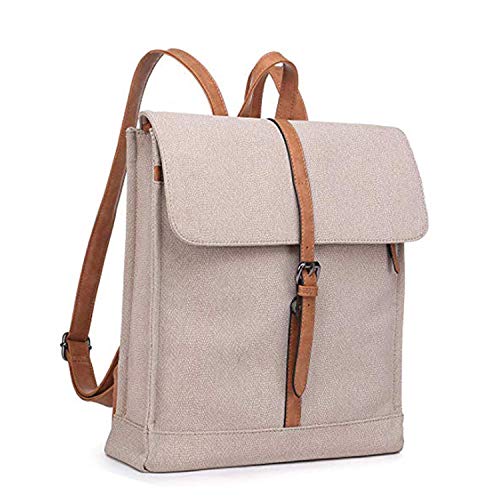 Read More or Buy on Amazon Here ($38.99 at the time of publication)
Leather backpacks are an absolutely classic piece, so why shouldn't you gift your sister a shiny new one that she can use until it looks like it's vintage?! It's roomy enough to easily fit her laptop and study books, so this gift would be perfect for her whether she's at school, at college or already working. It's got handy compartments for all her smaller bits and bobs too. No more rootling around in the bottom of her bag to find those pesky keys or lip balms! No need to stress about her losing her things either: this backpack has inbuilt zips and a snap-lock fastening to keep all her valuables safe when she's out and about.
27. Burt's Bees Classics Gift Set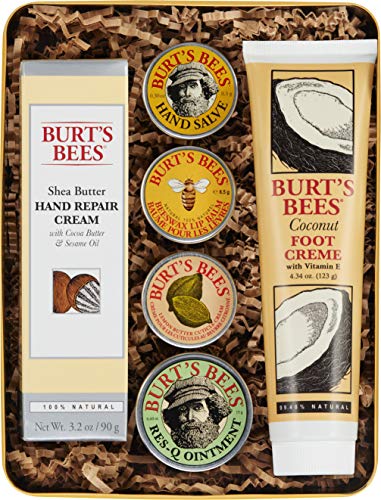 Read More or Buy on Amazon Here ($23.53 at the time of publication)
If your sister's one of those people who has about twenty half-used hand creams and lip balms scattered around the bottom of every bag she owns… well, you may as well make sure they're all sweet as honey. This coordinated collection from Burt's Bees has all the essentials she'll need to stay moisturized all year round. Treat her from top to toe with Burt's Lemon Butter Cuticle Cream, Hand Salve, Original Beeswax Lip Balm, Res-Q Ointment, Shea Butter Hand Repair Cream, and Coconut Foot Cream. If you're looking for more wallet-friendly options, Burt's Bees do a whole range of classy gift sets to suit any budget or occasion.
28. Canvas Overnight Weekender Bag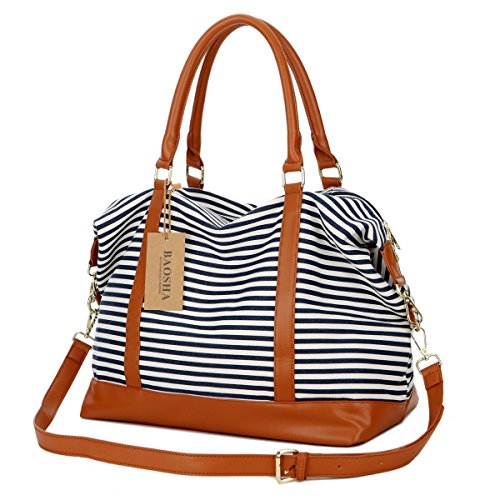 Read More or Buy on Amazon Here ($31.99 at the time of publication)
This canvas overnight bag will get your sister prepped for upcoming weekends away. It's spacious enough to fit in all the weekend essentials, but it's also the right size to take as carry-on luggage. If you've always admired her ability to pack light, this Weekender Bag will be perfect for cramming all her things in to. Even if she's one of those gals that can't go anywhere without at LEAST three bags, this up market travel bag will look great sitting on top of her enormous suitcase (its handle means it's super easy to just pop on top). Plus, there's a whole range of colors to choose from. Also, that's faux leather it's trimmed with, before you freak out about the price tag or the animals! Plus, what a great way to subtly hint that you should plan your next trip away together… girls weekend, anyone?
29. Audible Subscription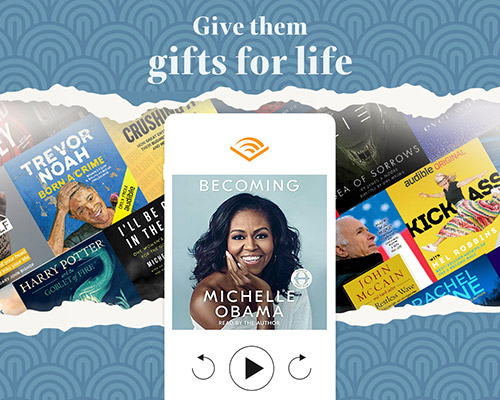 Read More or Buy on Amazon Here (Price varies)
If she's a real bookworm but also a gal about town, this is the perfect gift for her. Audible has a crazy wide range of titles to suit every taste – and try totally new genres! This Audible subscription will be like giving her books as a gift, every month without fail. Now, that's smart gift buying. It's a pretty good deal: she'll get three new titles for each month she stays a member, including two Audible originals. Plus, she'll get a discount on any new audiobooks she wants to buy. She'll be able to listen wherever she wants, whenever she wants – perfect for a bookworm who's always on the move!
30. You Are My Rock Necklace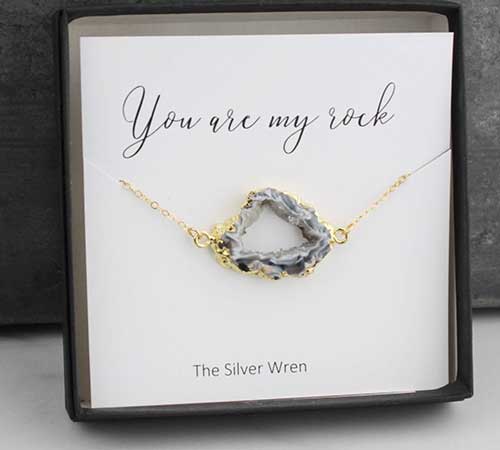 Read More or Buy on Etsy Here ($35 at the time of publication)
Even if you have your moments of absolute and total rage with each other, you know deep down that your sister's there for you, no matter what. She is a real rock, so why not remind her how much that means to you with this elegant agate druzy pendant? Each piece of druzy is unique, just like your sister. Plus, you can let the makers know if you prefer a lighter or darker stone, to suit her style. With gold filled, rose gold filled and sterling silver options, their range will suit any jewelry tastes. Plus, they'll even throw in a tarnish busting polish pad if you go for the sterling silver option – now that's a lasting gift! These guys will even put in the heartfelt message for you, so this is a great gift option if the whole mushy feelings thing just really isn't for you. That way, you can pretend the sweet message was just "in there anyway", and she still gets to see how much she really means to you.
31. Canon PowerShot Digital Camera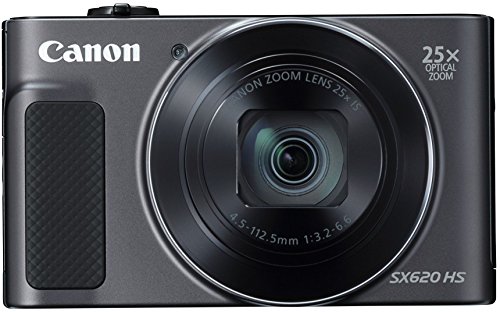 Read More or Buy on Amazon Here ($249 at the time of publication)
Is she into photography? Does she constantly lament the bad quality of her phone photos? Or maybe she's off traveling and needs a handy little compact camera to take with her? Its built-in technology will help steady her hand to get those perfect shots. Plus, the zoom function is pretty epic. It's small and light enough to take absolutely everywhere with her, so she'll be sure never to miss a snap she wants again. Low light? No problem – it does well in those trickier conditions, too. Plus, this pocket sized Canon camera is WiFi enabled, so she can transfer all her shots to her WiFi devices in a matter of minutes. That'll let her share on the go, wherever she gets to!
32. Majestic Pure Dead Sea Mud Mask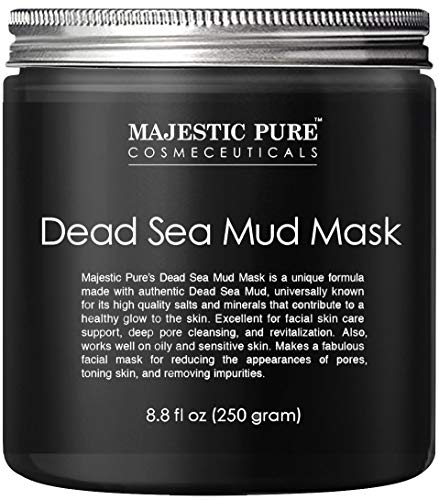 Read More or Buy on Amazon Here ($11.98 at the time of publication)
Let her really pamper herself with this pure Dead Sea Mud Mask. If she's studying or working in the city, she'll jump at the chance to get rid of all those daily impurities that worm their way into her pores. But who even needs that much of an excuse to take some time out and relax with a mud mask?! Known for its rich mineral content, this Dead Sea mud mask will clear her skin, reduce the appearance of pores and leave her face feeling toned and smooth. It's great for oilier and more sensitive skins, too.
33. YETI Insulated Tumbler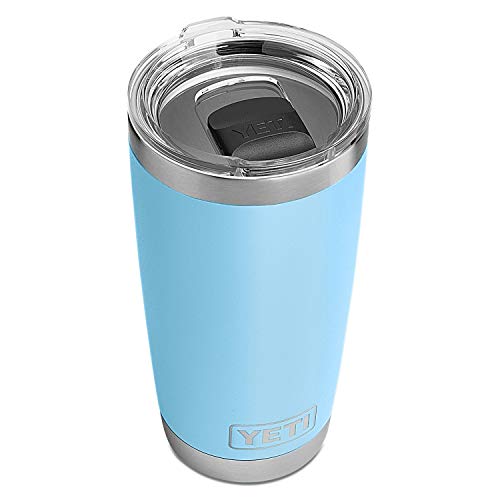 Read More or Buy on Amazon Here ($74.99 at the time of publication)
If your sister's one of those who are always letting her coffee go cold, treat her to one of these YETI insulated tumblers. They come in a huge range of colors and are perfect for her coffee, tea or cold drink of choice. They're spill-proof too, as the tumblers use magnets to make sure they stay sealed up tight. They're made of stainless steel that's sure to last her a good long while, no matter how much use she gets out of her new tumbler. They've also got their own No Sweat design figured out, so she won't be getting clammy hands from condensation on the side of the tumbler. What's not to like? Plus, you could make it a complete set and add in a YETI tumbler straw lid and reusable straw! If she's into doing her bit for the environment, this insulated reusable tumbler will be a great gift for your sister.
34. Gorilla Grip Spa Bath Pillow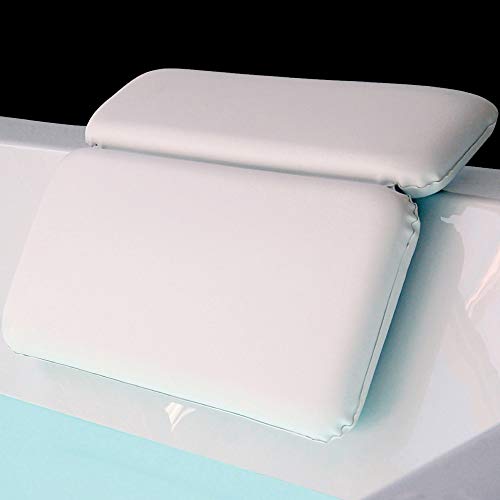 Read More or Buy on Amazon Here ($15.99 at the time of publication)
Is your sister an absolute bubble bath fanatic? Or do you reckon she needs to join you on that wavelength? This spa bath pillow is soft and luxurious, made with a couple of inches of specially padded foam. Plus, it's got multiple suction cups that will make it stick to the side of her tub like a limpet, so there's no need to worry about it slipping and sliding around. That wouldn't make it a relaxing experience at all, now would it? This sleek bath pillow is comfy, classy and effective, so it'll give her the dreamiest bath experiences of her life.
35. Women in Science Inspirational Book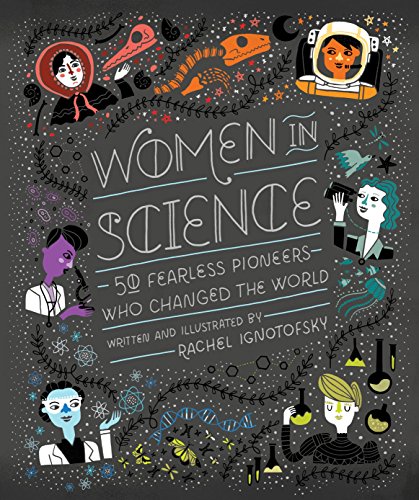 Read More or Buy on Amazon Here ($12.89 at the time of publication)
If your sister's a budding scientist, this is the ideal gift to inspire her to go after those goals she's chasing. A New York Times bestseller, this book has captured the hearts and imaginations of girls and women alike. Is your sister next? All throughout history, women have made amazing contributions to science, math, engineering and more, and we should know about them! Beautifully illustrated and filled with totally enthralling life stories, this book won't just keep her entertained for hours – it'll set her up for life.
36. Touch Screen Winter Gloves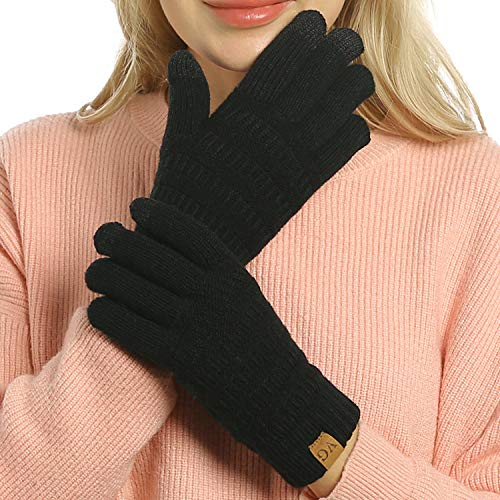 Read More or Buy on Amazon Here ($15.99 at the time of publication)
We all know that touch screen gloves are an undeniably useful thing to have around. So, why not gift your sister a really classy pair? Designed to fit most everyone's hands, these gloves come in 5 colors. With touch screen technology in several fingers, using her phone while she's out and about will never have been easier. No more excuses for her not texting you back! The added fleecy lining will be sure to keep her hands warm and toasty. These are a great idea if she's a runner, too. If it's freezing out, she'll want to have gloves on for her run. But it's always so annoying when that means she can't set up her music easily or use her usual running app. Thanks to you, problem solved!
37. Sorbus Desk Organizer Set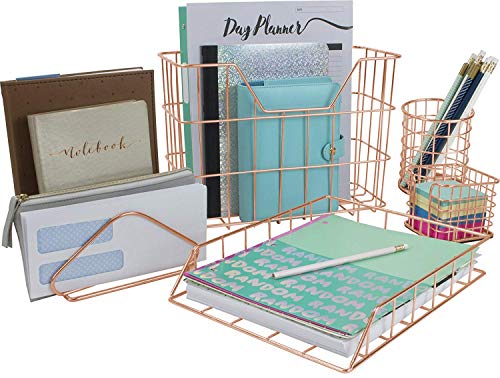 Read More or Buy on Amazon Here ($23.99 at the time of publication)
In on-trend copper and rose gold colors, this desk organizer set will be sure to make your sister's life easier. She can set it up in her bedroom, college room or office and it'll make those essays and admin seem so much more bearable! The 5-piece set covers everything she'll need: it includes a pencil and pen holder, a letter sorter, a letter tray, a hanging file organizer and a sticky note holder. So, your sister can keep her stationery, books, and documents in order and never miss a deadline again (maybe). Anyway, you know what they say: tidy desk, tidy mind!
38. Handy Soup Maker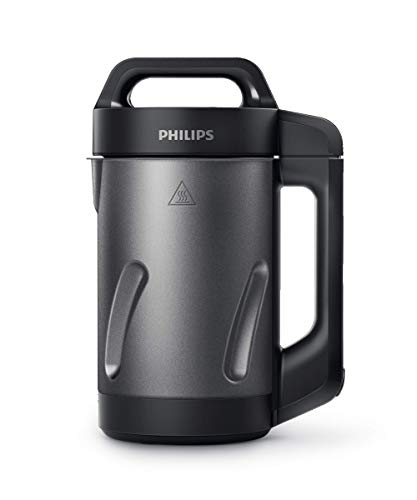 Read More or Buy on Amazon Here ($99.96 at the time of publication)
Your sister might be one of those people who's fully in the know about the magical healing powers of soup. Or, she might be into them because they're a cheap, easy and healthy option for a speedy mid-week dinner. Whatever her story, their same old problem can often rear its head: how do you make the right amount without having to absolutely stuff the freezer with tuppers of it?! Well, now you've got the answer: a compact little 2 to 4 serving soup maker. With 6 different blending settings, she can make everything from hearty, chunky soups to smooth compotes. This could be the perfect for her, whatever age she is – running out the house to get to class or sports meets, or whipping up speedy meals for a growing family. It even comes with a creative recipe book included, so she'll be all good to get going right away.
39. Customized Phone Wallet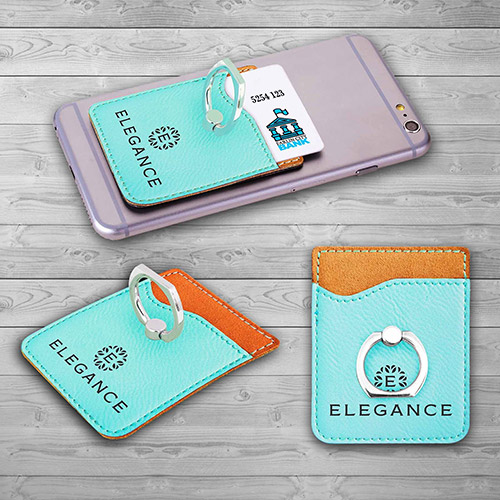 Read More or Buy on Etsy Here ($15.99 at the time of publication)
Give your sister the gift of seamless organization; go on, she deserves it! She'll never be caught out without all the essentials again with this practical phone wallet. Customize the colors and design and add her name, nickname or a meaningful date or phrase to the back. The handy little ring that's attached means she can stop dropping her phone all over the place (how many has she been through now?!) or she can stand it up properly when you guys are video calling. It's useful, easy clean, personalized and carries lots of sweet sentiment. Great for a gift, don't you think?
40. Zulay Handheld Milk Frother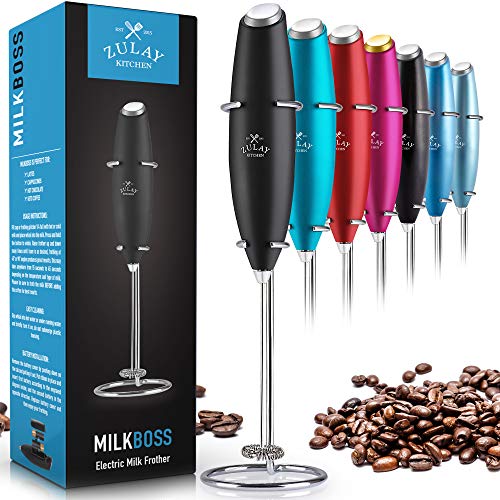 Read More or Buy on Amazon Here ($12.99 at the time of publication)
If your sister's a real coffee fiend, she'll adore this handheld milk frother. Now she can recreate her favorite silky latte or indulgent cappuccino right at home! Plus, she can get all the satisfaction of seeing the frothy magic happen right in front of her eyes. This handy little gadget won't cost you the earth either. No more endless trips to Starbucks for the perfect hug in a mug – your sister can whiz up exactly what she wants, when she wants, right in her own kitchen. With a sleek design and a useful purpose-made worktop stand, these handheld frothers are super easy to look after, too. Just whiz it under running hot water to give it a good ol' clean in about 3 seconds flat. They're ideal for any milk type, so this'll also be a great gift if she's dairy free. Regular milk, soy, almond, rice, oat… you name it, this frother can handle it! Plus, it works on other types of dairy too, whether that's cream or butter. Who knew? And it doesn't stop there: this powerful lil' thing will sort her matcha blends, protein shakes and will even have her whizzing up eggs to make properly aerated scrambled or omelets. Gift her this, and literally watch her whip.
41. LuxSpa Deluxe Bath Bombs Set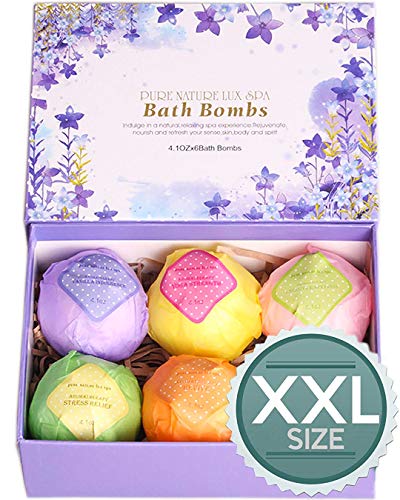 Read More or Buy on Amazon Here ($16.99 at the time of publication)
Whether she was obsessed with them as a kid or still loves them now, bath bombs are a surefire way to add a little relaxation and magic to your sister's life. Gift her six colorful bathtimes that will leave her feeling refreshed and smelling gorgeous with this cute gift box from LuxSpa. Antioxidant rich elements, all-natural essential oils, enticing scents and rejuvenating ingredients will make her feel like a new woman. With every bath bomb made by hand from totally natural ingredients, she'll really feel pampered. They're all totally vegan and free from cruelty too, so no worries on that account.
42. Chic Beehive Honey and Syrups Pot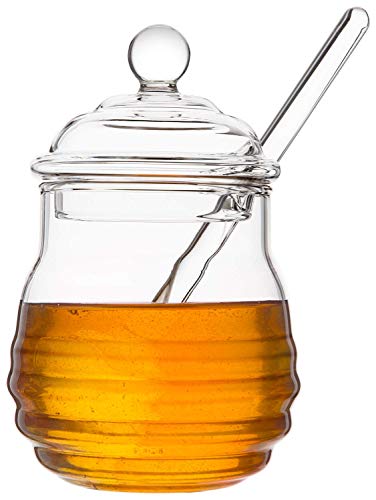 Read More or Buy on Amazon Here ($11.98 at the time of publication)
Tableware is seriously underrated sometimes. It will make such a difference to her everyday home life, but your sister might never think of buying things like that for herself. So, you can do it for her! Treat her to this Mkono Beehive Honey Pot and watch it sit in pride of place on her kitchen countertop. We all know the absolute struggle of getting honey all over the outside of the jar (and all over everywhere else, while we're mentioning it) whenever we try to use it. It's a fiddly process. This honey pot's lid and specially designed dipper will solve that problem forever. Now, that really is a gift, isn't it?! Your sister can simply store her all-time favorite honeys and syrups in this classy jar, so they're in easy, mess-free reach whenever she needs them. Life's better when it tastes a little sweeter.
43. Gorgeous Traditional Jewelry Box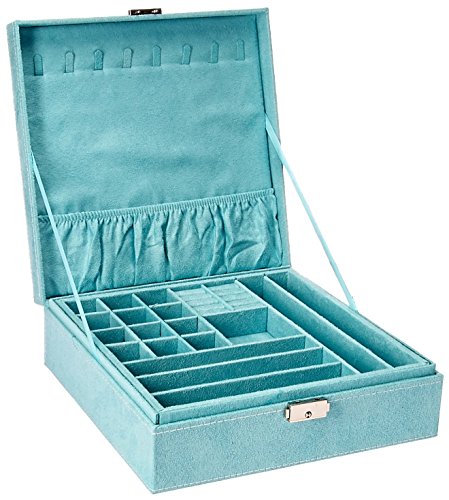 Read More or Buy on Amazon Here ($21.99 at the time of publication)
We saw a more minimalist, very chic jewelry storage option earlier, but your sister might just not do minimalism at all. If she's more the full-on princess elegance type, treat her to this stylish, traditional jewelry box. With so many handy compartments (27 in total) it's a really practical set up that looks totally stylish, too. The removable layers will make sure it works for whatever she wants to keep in there and means all her things will be easy to find, too. Covered with lint to give it a velvety look and feel, this jewelry box will end up a bit like Mary Poppins' bag – you won't be able to believe how much she's got safely stored away in there! Find the color shade to suit her in their varied range.
44. Cute Peas in a Pod Salt 'n' Pepper Shakers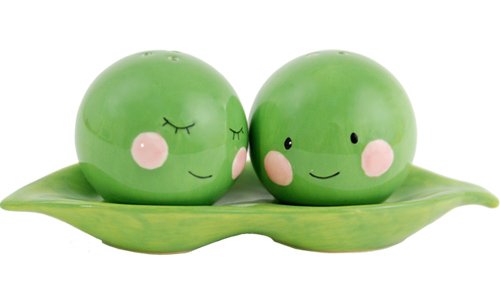 Read More or Buy on Amazon Here ($15.40 at the time of publication)
These are simply adorable. Enough said. Hand made from quality ceramic, these little salt and pepper shakers will brighten up any table. If you and your sister are literally two peas in a pod, what better gift is there out there?! This is a sweet little way to remind her of that affinity you share, every day. It might be the last way she'd expect to see your similarities represented in a gift, but that makes it all the more special! This mini shaker set includes two magnetic peas and one magnetic pod dish, so they'll stay safe and sound and they won't start rolling all over the place, either!
45. Shiatsu Neck and Shoulder Massage Machine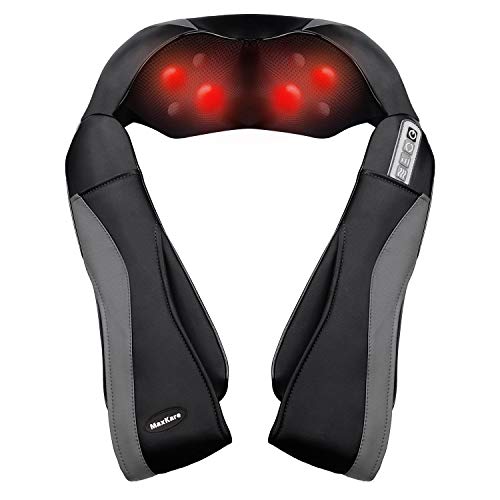 Read More or Buy on Amazon Here ($43.99 at the time of publication)
She really should take some time out more often, shouldn't she? Maybe she's run off her feet 24/7 with everything that she's got going on in her life. Or, maybe she's just never learned how to take some time for herself? Well, help her have some real good downtime with this versatile shiatsu massage machine. With different intensity settings and an optional heating function, she can use this massager anywhere she needs: aching shoulders and neck, aching legs, aching back or aching belly. It's easy to move around, so she can grab a relaxing break whenever she can fit it in: at home, at work, or in the car! The skin-friendly, highly breathable material and easy access controls make this a super comfortable piece of kit to use. She'll have to watch out, though, as the whole family will be wanting a go before she knows it!
46. Thick Classic Ruled Notebook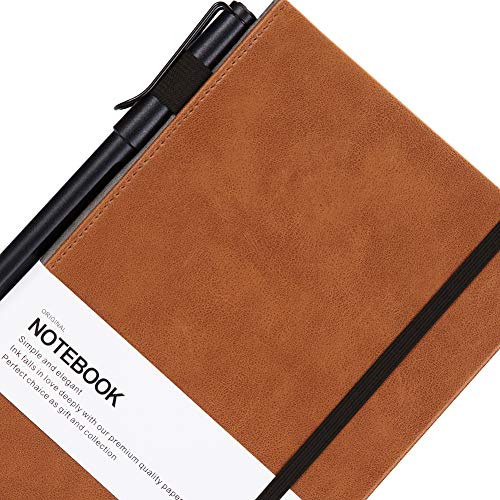 Read More or Buy on Amazon Here ($16.95 at the time of publication)
You just can't beat a journal sometimes. Whether your sister's an avid diary keeper and has been for as long as you both care to remember, she's a real dreamer who's constantly coming up with creative thoughts to jot down, or she's a total organization freak who just has to make lists of all her lists, a notebook is the way to go! With wide-spaced lines, super high quality paper and a protective cover, it'll never have been easier – or more stylish – for her to stay on top of things. What's more, it's not just a classy, timeless design: it's super practical, too. With a handy pen loop attached on the side, she'll be set to jot down whatever's going on in her head, wherever she is. Plus, there's an interior pocket and a set of dividers included. Why not pick up a set of cool colored pens and make it a full gift set? That'll really brighten up her day!
47. Smart Reusable Notebook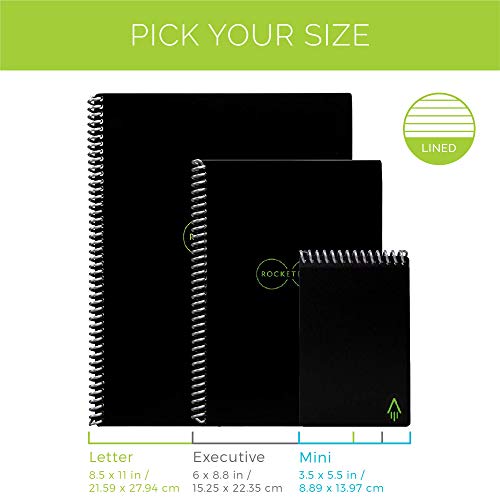 Read More or Buy on Amazon Here ($37.85 at the time of publication)
Sometimes you can't beat the classic feel of real paper (we all know the old Kindle vs. real book debate) but if your sister is an environmentally conscious child of the future, then this smart notebook alternative would be a super gift for her. Quirky and cool, she can rub this reusable notebook clean time after time, just using the cloth that comes included. And we haven't even got to the really smart part yet: she can ping her handwritten notes straight over to a load of cloud storage services (think Dropbox, think OneNote). With smart search options and email capabilities built in, there's so much hiding behind this book's cover. While she will need to use a special Frixion wipeable pen on her smart notebook, the brand does offer a wide variety of pens, markers, and highlighters, so she won't be stuck for choice there. In a whole range of colors, you're sure to find one of these smart notebooks that you can imagine her using day after day. Perfect for the tech-loving sister!
48. Authentic Pasta Machine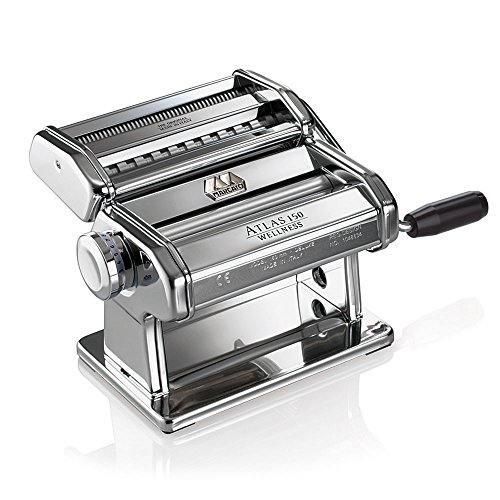 Read More or Buy on Amazon Here ($67.99 at the time of publication)
Last but most definitely not least: the Ferrari of the pasta machine world. I'm not kidding, apparently Cook's Illustrated did actually go that far. Spoil your sister with this top class tabletop pasta machine and watch her become an expert in no time. Trust me, you really can taste the difference from your run of the mill shop bought dried stuff! She can make her own homemade lasagna sheets, fettuccine, and tagliatelle with just this basic set up. When she becomes a real pro, there are loads of other attachments she can get to create whatever pasta type she desires. Why not have pasta making be next thing you do together when you hang out round at hers? Fun for all the family, you'll have a ton of fun making an absolute mess, then there'll be a delicious bowl of pasta waiting for you at the end. Sounds good, right?
Still Can't Decide? Go with an Amazon Gift Card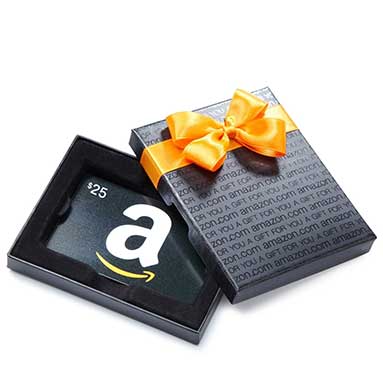 Read More or Buy on Amazon Here (multiple price options)
Well, you can definitely say you tried. And hard. If your sister is just hands down impossible to choose any sort of gift for, then you've only got one option. The dreaded gift card. But it's no bad thing at the end of the day: this way, she'll be grateful you're letting her decide for herself. Now she can get whatever it is she really wants! Of course, you could get her a gift card for her favorite store, but with millions of products to choose from over countless categories, Amazon is sure to have what she's looking for. Plus, the gift card comes in a sweet little cupcake presentation tin and has no expiry date. Handy, right? Remember, it's not giving up, it's just giving her what she really wants!
Related Posts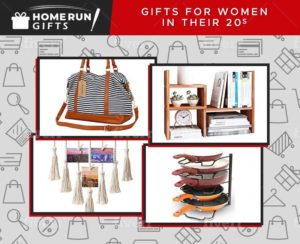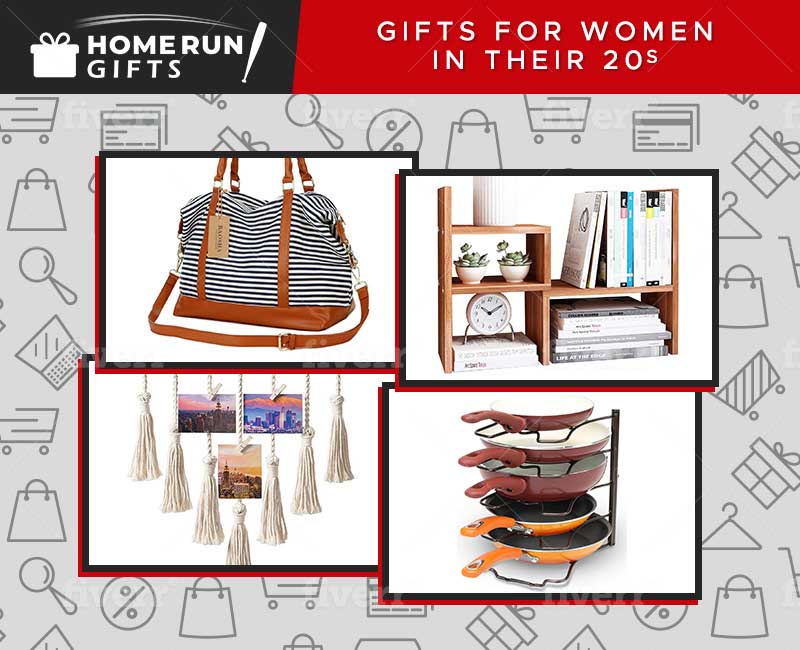 Gift Ideas for Women in Their 20s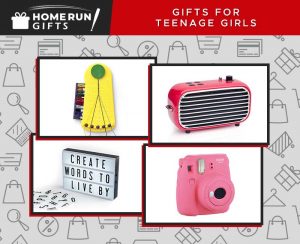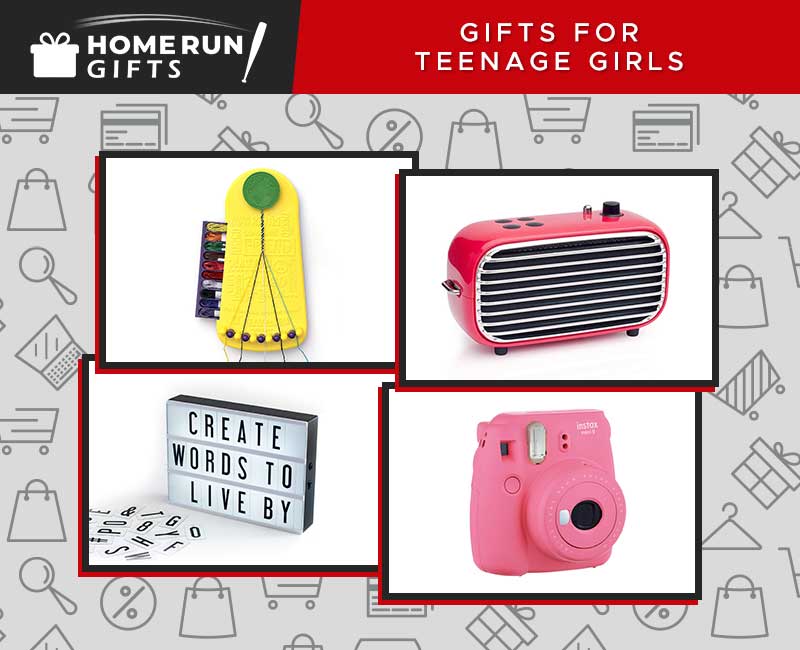 Gifts for Teenage Girls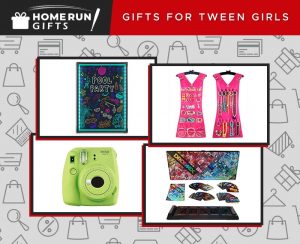 Gifts Ideas for Tween Girls