Going away gifts, whether they're for co-workers, friends or relatives, can be a tricky thing to buy. This list should definitely help you out. I've included a wide range of gifts and include some novelty gifts as well. There's a reason novelty gifts are so common in the going away gift arena. They work.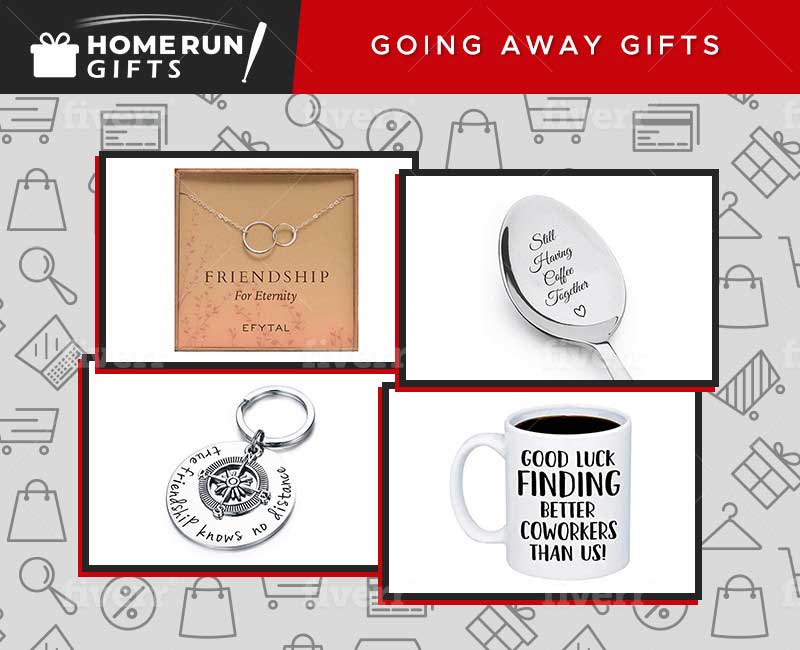 I've also included a thoughtful selection of all things non-novelty here too. From thoughtful jewelry pieces to very classy alcohol decanters to leather-bound traveler's journals to personalized artworks, you'll find something to fit all tastes in this list.
List of Going Away Gifts They'll Actually Want
1. Still Having Coffee Together Teaspoon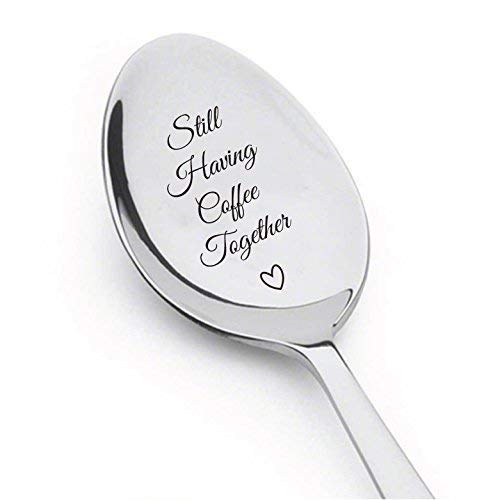 Buy or Read More on Amazon Here ($13.99 at the time of publication)
Let's be real, an engraved spoon might be literally the last thing you would ever think of giving your leaver as a gift. But wait just one second, because these guys are a surefire way to give them a lovely reminder of you while they're gone. They're a little something they'll use whenever they're making coffee, and whether that's on their own while they're settling in, or with the new friends they'll make where they're headed off to, they'll be reminded of you every time they use it. It's a sweet idea to reassure them that you're "Still having coffee together", no matter how far apart you are – it might just make that transition away from everything that's normal that bit easier.
2. MyCozyCups Novelty Mug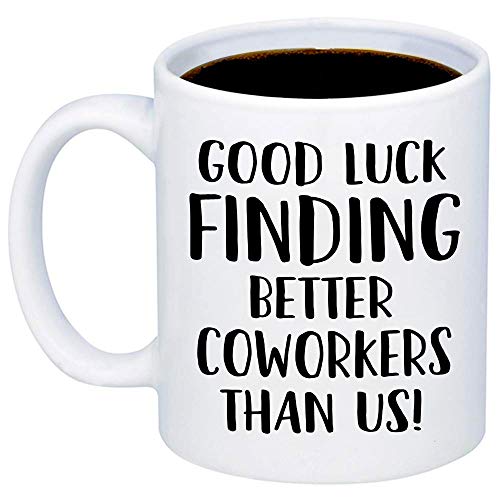 Buy or Read More on Amazon Here ($14.95 at the time of publication)
We've had a pretty impressive break, but you guessed it: it's back to some good old novelty gifting. You and your leaver may well have literally been all that got each other through the daily drudge at work, so what better way to remind them of that than a cheeky little mug they can use in their new office? Put a smile on their face with a reminder of you and your old team on the day to day. Designed to be dishwasher and microwave friendly, this mug will keep them going in their new role, when they're missing your old antics.
3. Home is Where the Heart Is Tea Towel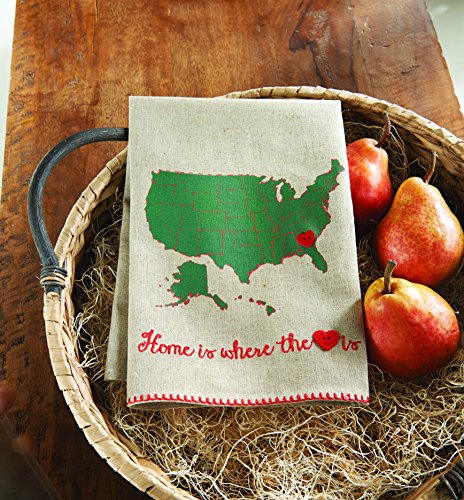 Buy or Read More on Amazon Here ($10.99 at the time of publication)
If they're a home bird at heart, gift your leaver a homely reminder that they're not all that far away with this thoughtful tea towel. Once they've got it hanging up in their new place, it'll go that little bit further to making it seem like home. With several designs to choose from, all made in quality linen, you're sure to find something that will really mean the world to them.
4. And So The Adventure Begins Wine Tumbler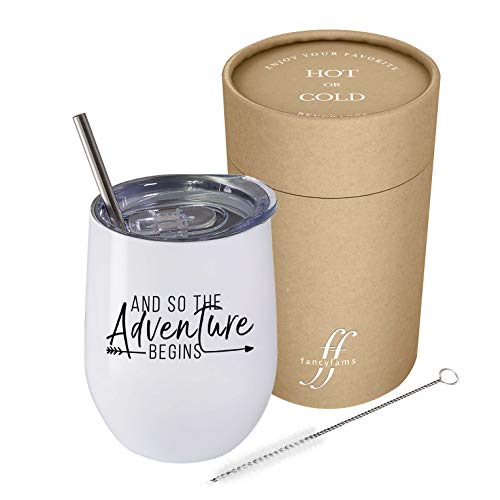 Buy or Read More on Amazon Here ($11.99 at the time of publication)
Send them off into their new chapter in style with this handy insulated tumbler. Personalize the color and message to make it the best gift possible and just watch as it becomes their new inseparable companion! Designed for hot and cold, alcoholic and non-alcoholic beverages, this is a truly versatile little gift. Delivered in a handy gift box, order this for your leaver and you'll be all good to go. Who doesn't deserve a little inspirational touch on their morning coffee or evening wine? Winter, summer, spring or fall, this is a great leaving gift for any season.
5. Got Me Tipsy Best Boss Ever Glass Mug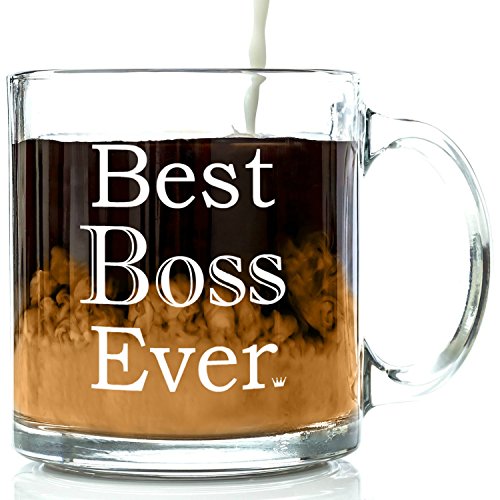 Buy or Read More on Amazon Here ($15.87 at the time of publication)
Last novelty item, promise. It's not even cheesy either – and it is just a little bit different. If you're looking for something that just touches on the gimmick side of things but that has a classy look too, this "Best Boss Ever" glass mug has it all. A little bit of tackiness in a classier than usual design: that's balanced for you. Gift your boss or co-worker this mug for a simple, easy, pleasing little gift.
6. True Friendship Knows No Distance Compass Keychain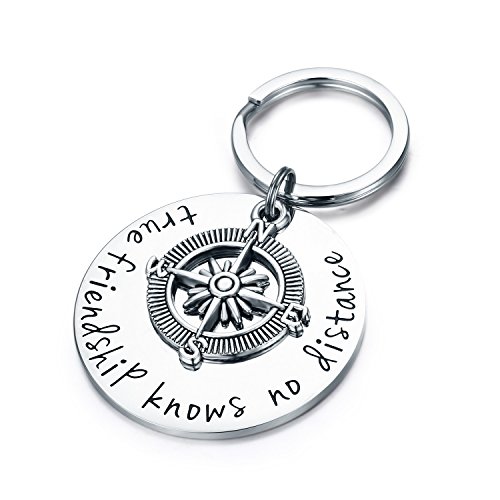 Buy or Read More on Amazon Here ($10.99 at the time of publication)
A final one for team heartfelt: a keychain engraved with a truly touching message. The compass reflects the adventurous new start waiting for your leaver, while the engraved lettering lets them know you'll be thinking of them. They can use this keychain on the keys to their new home, the keys for car they're about to road trip in, their new college dorm room key… whatever their new chapter is, this thoughtful gift will be sure to go with them. Delivered in a compact presentation box, this quality stainless steel keychain will make a great, long-lasting gift that they'll soon be using each and every day they're away.
7. Novelty Memo Pads Bundle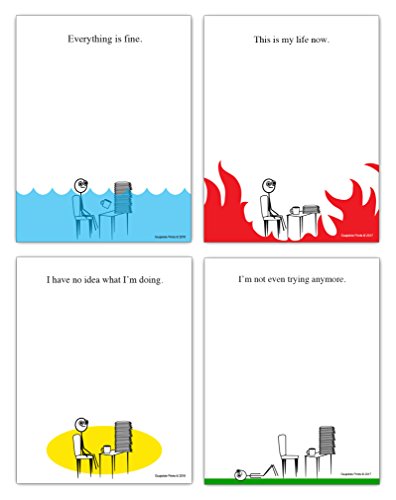 Buy or Read More on Amazon Here ($12.99 at the time of publication)
As promised, we're kicking things off with some good old novelty notepad blocks. This set of 4 color printed designs from Guajolote Prints will set your buddy up for whatever challenges they're heading off to – and remind them of the admin scrapes you made it through together. The hilariously relevant designs are sure to make their day to day workload so much more bearable. With 50 sheets each, these different designs will keep them organized through thick and thin… even if they've just resorted to making lists of their lists to make it look like they've got their life together. Genius.
8. Refillable Handmade Traveler's Journal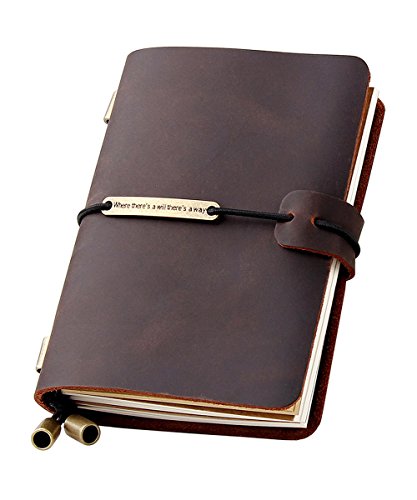 Buy or Read More on Amazon Here ($14.99 at the time of publication)
If your friend or co-worker is leaving to head off on some serious travels, get them all set to go with this handy traveler's journal. Refillable pages mean they can keep on using this little sidekick until the real leather outer literally falls apart – that'll be years down the line. The paper's high quality enough to counteract pretty much any pen leaking through the sheets, which is always a good sign. Plus, the journal has a few useful plastic pockets included for money cards, business cards, bus tickets… whatever they need to keep safe and on hand. Not only will your leaver be able to fill this travel journal with whatever unique adventures they're heading off on, but the gift itself is one of a kind. Each handcrafted, real leather outer is tanned using a totally natural process, meaning the final product ends up a little different each time. Uniquely theirs, to organize and jot down their unique experiences.
9. Stemless Comedy Wine Glass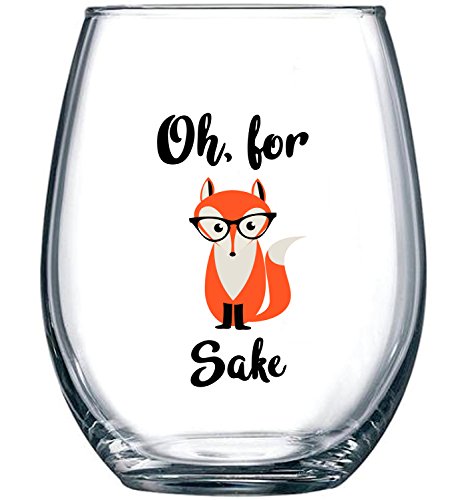 Buy or Read More on Amazon Here ($14.95 at the time of publication)
True to my word, enter novelty gift number 2. Stemless glasses are up at the more chic end of the novelty scale, perfect for wine-lovers or tee-totalers alike. Plus, let's face it, you'll have had more than your fair share of "Oh, for fox sake" moments while working, studying, living or just friending together, right? Remind them of those moments you made it through each time they reach for a glass of something – that'll sure put a fond little nostalgic smile on their face. Dishwasher safe, the durable print on these won't be flaking off in the wash or losing its vibrancy over time. You can rest assured your gift will arrive in once piece, too, as the seller helpfully pops it into a postage-proof packaging box. Leaving gift? Sorted.
10. Customized Farewell Print to Sign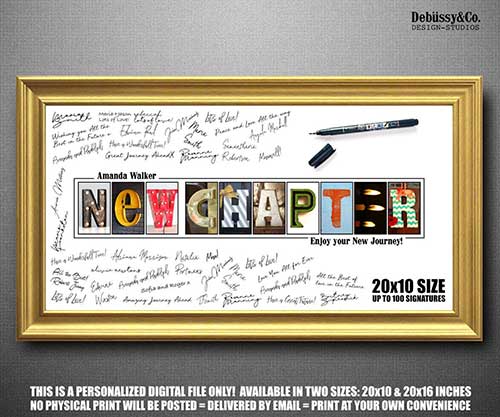 Buy or Read More on Etsy Here ($10.72 at the time of publication)
If you're looking for a gift that'll double up nicely as a centerpiece for their upcoming leaving party, scroll no further! Using a simple service that's proved popular with the producer's previous customers, simply personalize your design, okay the preview and have it sent to you for printing by the next day. Whether it's a relative, friend or colleague you're browsing for, these versatile prints are a really thoughtful touch. Everyone can sign around the artwork with their farewell messages, meaning the leaver can head out on a real high and look back at the fond memories for years to come.
11. Seuss-isms Guide to Life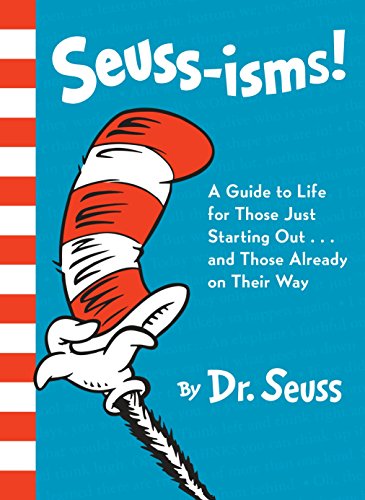 Buy or Read More on Amazon Here ($8.64 at the time of publication)
This New York Times bestseller is a goldmine of heartfelt wisdom. Dr. Seuss will be a familiar name from many a childhood, bringing us inventions like The Cat in the Hat, the Grinch Who Stole Christmas, the Whos of Whoville and Sam I Am… ringing bells, aren't they? You might have forgotten just how relevant these Dr.'s Seuss-isms are to adult life, though. Filled with wonderful words to revisit from time to time, bring some Seuss inspiration back to your leaver's day to day, wherever they're headed next. If there's a leaving event going on, why not pop the book out for guests to sign? Have them write a little note next to the snippet of Seuss magic they like the best – that will sure make it an even more uplifting leaving gift. Like the tagline says, this book is "A Guide to Life for Those Just Starting Out and Those Already On Their Way". Just the right amount of moving, huh?
12. HardSide Spinner Carry On Case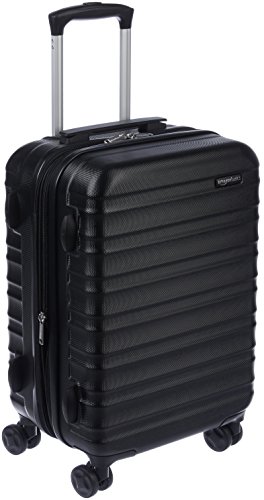 Buy or Read More on Amazon Here ($49.99 at the time of publication)
The value of a good quality carry on case is not to be underestimated. Perfect for short trips away, whether they're for work or play, these little guys have to be sturdy. With HardSide outer casing, this number from Amazon will definitely meet the mark. Flexi rolling wheels make these cases super easy to maneuver and the expandable section will be sure to come in useful – open it up to make the case 15% more spacious, just like that! Zippered compartments on the inside make packing those smaller bits and bobs easier than ever. Choose from three different case sizes and a couple different colors to find the best fit for your leaver. There's also the option to incorporate this little carry on size into a 2 or 3 piece luggage set, if you're feeling super generous. So, if it's swanky business trips they've got on the horizon, a new study destination, or some time out to globe-trot, this might just be the ideal, compact leaving gift for them.
13. World's Best Boss Novelty Mug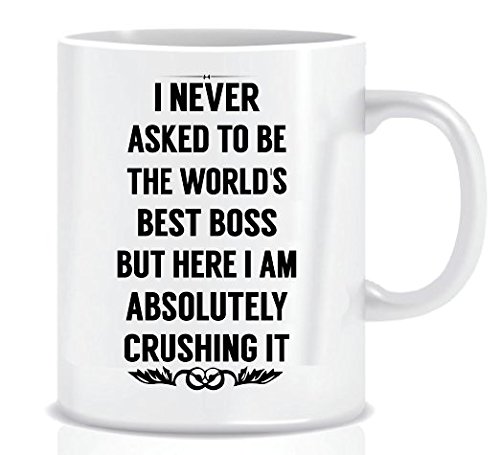 Buy or Read More on Amazon Here ($13.99 at the time of publication)
Aaaaand we're back to novelty. "I never asked to be the world's best boss but here I am absolutely crushing it": this mug is about as cheesy as a novelty going away gift could possibly get. And that might be exactly what you're scrolling through for. Whether it's for a really, truly fantastic boss that you'll be gutted to see leave, or an ever so slightly sarcastic gift from a team who can't wait to see the back of them… it's versatile! This robust mug has its novelty message printed on both sides and comes all set in a ribbon-tied gift box. It'll survive dishwashers and microwaves over the years, so it's the perfect little gift to use in office kitchens.
14. National Geographic 50 States 5000 Ideas Travel Book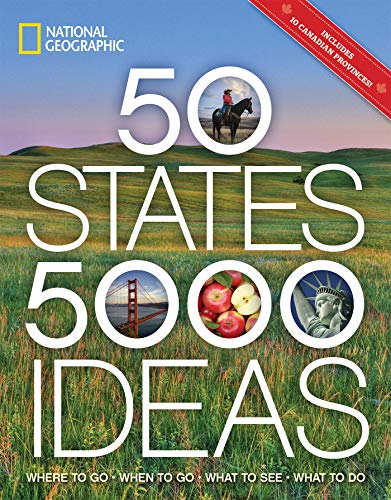 Buy or Read More on Amazon Here ($16.62 at the time of publication)
If your leaver already has some incredible plans to road trip across America, this fact-packed guide from National Geographic will prove super useful for them. And hey, if they're just starting afresh or taking some time out but haven't set their plans in stone yet, what better way to give them some home-grown inspiration? Kick start their wanderlust with this colorful treasure trove of hidden gems, with unexpected discoveries waiting to be unearthed every step of the way. Covering 50 states, plus an extra section on Canadian territories, this guide has it all. There are thousands of best kept secrets in its pages, from little-known wildlife watching spots to historical firsts, from the best places to experience a true ranch lifestyle to unusual shopping spots. If they already know the areas well, there'll be loads of more unusual sites to pique their interest in traveling through their own state – and others! If they're total newbies to the traveling scene, they can start with the famous sites and then get into the locations that are further from the beaten tourist track. Countless inspiring travel experiences lie in wait for the lucky leaver that gets gifted this pocket rocket of a travel guide.
15. Baydurcan Going Places Compass Necklace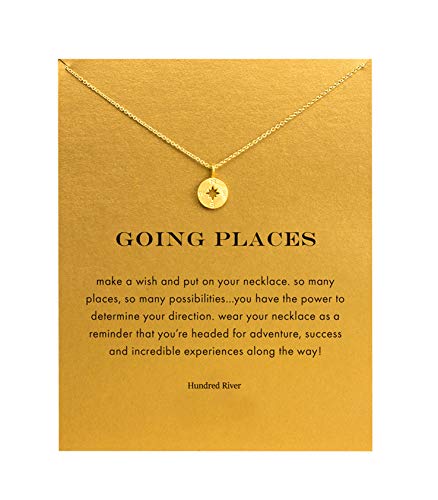 Buy or Read More on Amazon Here ($8.99 at the time of publication)
This sweet little necklace from Baydurcan is the perfect choice for someone who's really going places. They might be going away to college, moving to a new state or country for work, heading off on their travels to discover themselves… whatever the reason they're leaving, this compass necklace will be sure to keep them good company. Individually packaged in gift envelopes, these chains and charms come in a range of different styles, each with a relevant, heartwarming message printed on the card backing. Remind them of their reasons for striking out on their own when the going gets tough: they're more than capable of making their way in the world; they've just got to keep at it. If they get homesick and feel like they've lost their direction just a little bit, this compass chain will keep them on the straight and narrow, helping them make the most of their new life. Classy and understated, it's the perfect accessory to wear with whatever outfit, whatever the occasion.
16. Etched Globe Decanter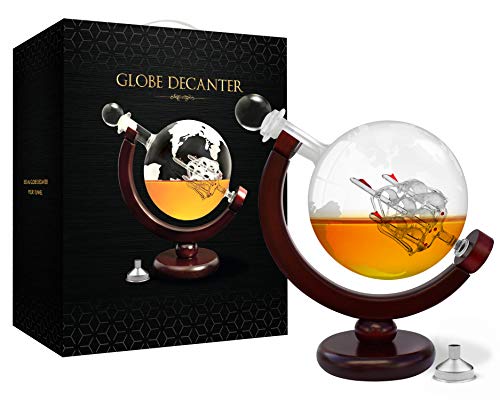 Buy or Read More on Amazon Here ($39.99 at the time of publication)
If you're on the hunt for a high-end gift for a leaver who loves a good tipple, you can stop scrolling. We've found it: an artisanal glass globe decanter, complete with a unique ship design. Nautical themes, globe trotting details, quality materials, a thoughtful and tasteful gift… need I go on? The high quality polished mahogany base and holder support a glass globe hand blown by expert artisans. The customizable ship design is included alongside the etched map of the world that adorns the globe. Large enough to hold most all the bottles of spirits you're likely to buy, why not pair this decanter globe with a bottle of their favorite tipple to make it a really great gift set? While it might look impressive, it comes complete with easy fill and easy pour mechanisms that'll make your leaver look quite the expert – even when they've had a few! The metal pouring funnel is sure to come in handy, while the glass stopper will keep their top tipple fresh until it's time to refill. The guys who came up with this particular decanter design like to drive home that it works as a great conversation starter – I have to say I agree. Who wouldn't at least ask where a decanter like this came from, if they saw it standing on a bar or whipped out after a good meal?! Sophisticated and unusual, this if the ideal gift for a refined leaver who loves to entertain.
17. Owl Design Ceramic Succulent Pots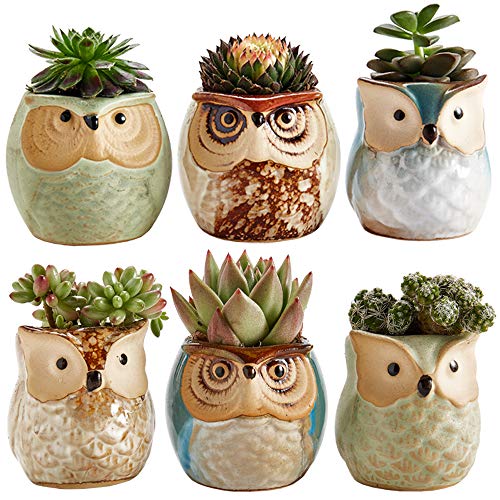 Buy or Read More on Amazon Here ($14.99 at the time of publication)
Succulents are everywhere these days, and leaving gift ideas are no exception. If the leaver you're browsing for is already a known plant parent, this adorable set of co-coordinated owl ceramics will be a great little addition to their collection. And if they wouldn't have the first clue about keeping a plant alive, but you reckon they need a little more greenery in their life, succulents are a perfect, low maintenance place to start. Each owl-themed ceramic pot in this set of six is made by hand, meaning no two are exactly the same. These little guys will add a characterful touch to any work desk, set of bookshelves, reception area or office décor your leaver can think to add them to. If you don't reckon succulents are really your leaver's thing, these little wise guys are perfect for a whole range of planting. Kitchen herbs, petite flowers, cacti or miniature bonsai trees would all work perfectly. Give you leaver the gift of gardening with a set of plant pots that have more personality than most!
18. Organic Spa Complete Gift Set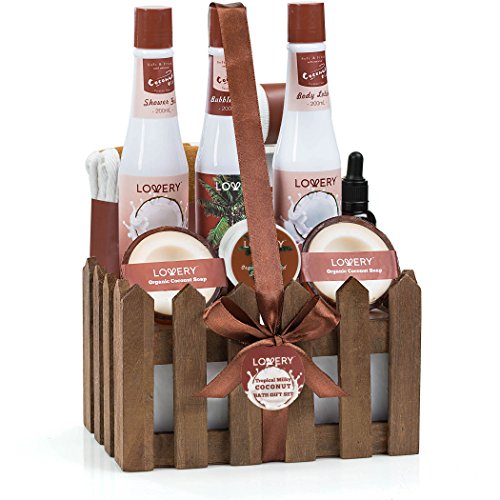 Buy or Read More on Amazon Here ($29.99 at the time of publication)
Your leaver will be thanking you no end for this complete luxury gift set from Organic Spa. Gorgeous natural ingredients combine to give them a truly wonderful pampering experience, with unrefined shea butter, organic coconut oil and all-natural other ingredients. The crate-style basket containing all the gifts doubles up as a rustic-chic presentation basket and a practical storage box for all the goodies inside. Your leaver will be set for months with all the delights they'll find: coconut soap with all organic ingredients, bottles of shower gel and bath soak, moisturizing body lotion, pure shea butter, a real loofah back scrubber, a set of bath bombs, oil for massages and a soft, plush towel to top it all off. Let your leaver take some real time out before they head off on their next stage of life with some heavenly, coconut-scented me time. You can't really beat the combination of coconut oil and shea butter for a really indulgent spa set, and this one – complete with all its accessories – is the real deal. What's more, you can make it your own by personalizing the gift tag that's included, wishing them good luck in their new adventures – but only after they've taken a good bit of time out to really relax.
19. Personalized Map Art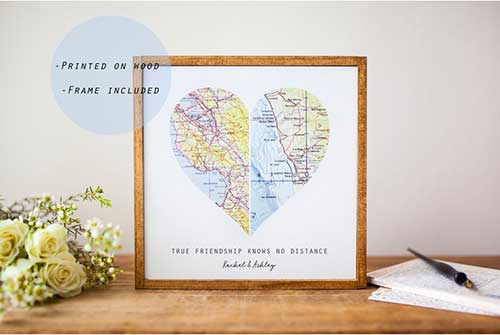 Buy or Read More on Etsy Here ($83.65 at the time of publication)
This customized map art is a truly thoughtful gift for a friend, family member or co-worker who's heading off to someplace new. You can customize this gift literally from start to finish, to make it the truly perfect fit for their gift. The creators print the map sections you select straight onto quality wood, designing the different segments into the shape and style you select. If you want, you can let them know particular place names or locations that you'd like included in the map sections, so you can make this gift as meaningful as possible. If not, these guys will just choose a relevant map segment that creates a great aesthetic, so you could just leave it up to the experts. Plus, you can change up the message printed below the map art, totally free of charge. And it doesn't stop there: the total price also includes a few revisions to ensure you're happy with what they're going to make as the final product. All in all, that makes for a pretty good deal, don't you think? The natural wood frame comes included with the print, and is perfect for creating a stand-alone artistic feature that they can easily take with them, wherever they go. Or, if they're moving away to settle down someplace else for a while, this gift will make a beautiful piece of art for the walls of their new home.
20. The Friendly Swede Duffel Bag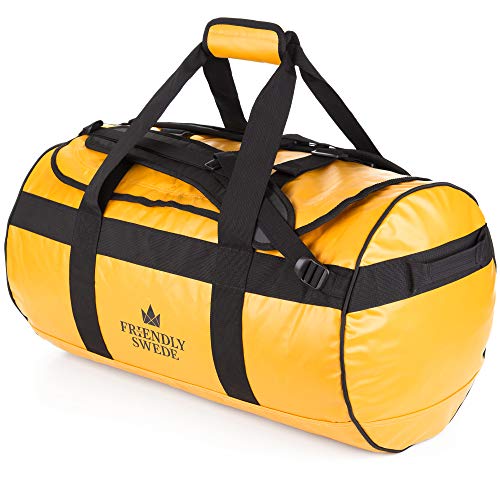 Buy or Read More on Amazon Here ($69.99 at the time of publication)
A perfect gift for someone who's heading off to explore new horizons, this durable duffel bag might just be their new traveler's best friend. With a whole range of sizes (30, 60 and 90 liter options available), colors and designs to choose from, you'll be sure to find the Friendly Swede bag to suit your leaver down to the ground. Roomy and versatile, they'll be able to use this bag in its duffel form, or adjust the set of removable straps that comes included to transform it into a handy backpack. A chest strap to improve ease and comfort makes this duffel/backpack a practical choice for travelers on the go. Plus, the interior zipped compartments will help your leaver keep all their things organized. A waterproof outer, extra-strength handles and a heavy duty bottom layer mean their belongings will be safe and sound, whatever weather they might encounter.
21. Simple Modern Insulated Travel Mug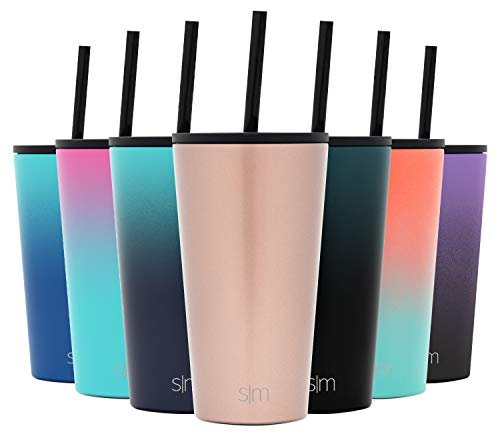 Buy or Read More on Amazon Here ($17.99 at the time of publication)
Ideal for a co-worker who's always on the go, but really doesn't go anywhere without downing a coffee first, or for a friend who's off to places new, this stainless steel insulated carry cup is a sleek little gift. There's a huge variety of print designs and metallic tones to choose the perfect mug for them, as well as various different sizing options. The durable outside, double wall design, and vacuum insulation mean this mug will be keeping their cold drinks cold – and their hot drinks hot – for many a summer and winter to come. Plus, Simple Modern now includes a custom designed straw lid and a regular flip lid with your travel mug purchase. Practicalities are always worth taking note of, too. So, rest assured that these insulated travel mugs are made from food-grade stainless steel, plus they'll fit perfectly into most cup holders – perfect for people on the go! On another note, if you and the leaver you have in mind are all about the corporate social responsibility, Simple Modern pride themselves on donating over 10% of their company profits. If that's important to you and the recipient, this could be a great option for their going away gift.
22. Novelty Sports Socks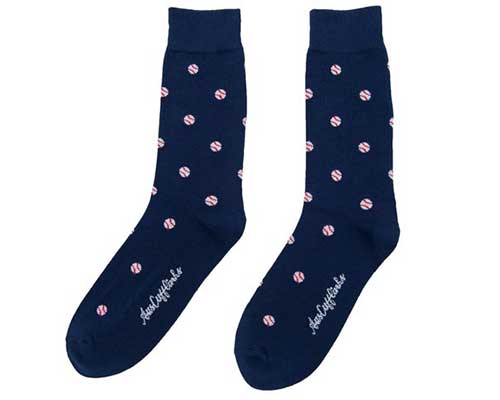 Buy or Read More on Amazon Here ($13.47 at the time of publication)
A thoughtful gift for the sports fans out there, these fancy socks are sure to be a hit. But it doesn't stop at sports themed items: there's a whole range of musical, animal and other designs to browse where this little bit of inspiration came from. Get scrolling to find a classy gift for your leaver that shows you were paying attention in those chats you had about life outside work!
23. Complete Wine Decanter Set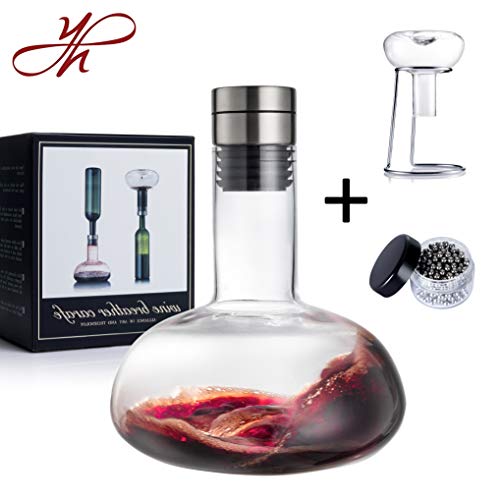 Buy or Read More on Amazon Here ($49.95 at the time of publication)
This is another one for the classy drinkers out there: a real quality carafe. The inspired design will let your leaver aerate their tipples in a fraction of the time that it takes with a normal decanter. They'll simply need to attach the bottle to the spill proof neck, then pour the wine into and out of the decanter with ease. A drying stand and stainless steel cleaning beads come included, so they can keep their new decanter as pristine as the day it was opened. This will really look the part on any kitchen or lounge counter, bar or entertaining space. It'll make for a truly elegant parting gift.
24. Personalized Leather Travel Journal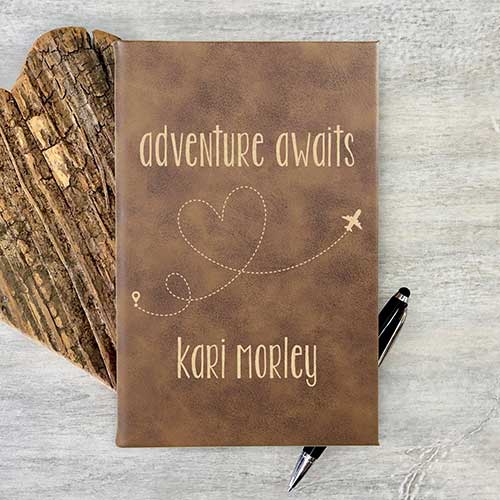 Buy or Read More on Amazon Here ($15.13 at the time of publication)
Send them off on their new chapter with a soft leatherette journal, perfect for anything they want to jot down on the way. Lined, quality paper pages and a handy ribbon page marker have the practical aspects sorted, so you're free to focus on the aesthetic part: the cover customization. Just pop a note to the makers saying what cover color and inscription you'd like and there you have it: a personalized journal that your leaver can take with them, wherever they're headed to next. Who knows what adventures are about to make their way onto its pages?
25. You Are A Badass 2020 Calendar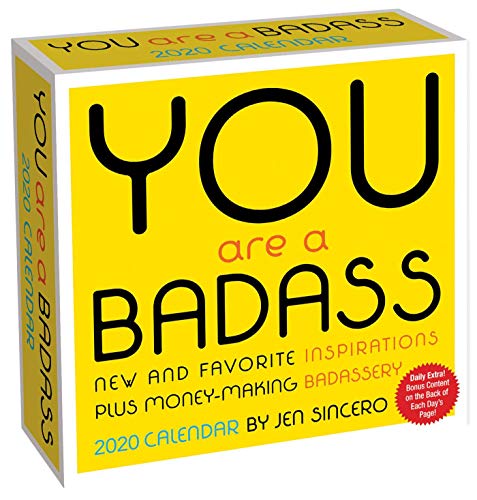 Buy or Read More on Amazon Here ($7.99 at the time of publication)
Some smart someone has come up with a calendar to incorporate the motivational words of Jen Sincero. Fresh out of her no. 1 in the New York Times books, this daily calendar is full of humor and encouragement. What's more, you've got entertainment as well as practicality in one here, with trivia facts and puzzle games on the flip side of each day's card. Set your leaver up with a bit of brightness for their day to day, whether it's a new job or a totally new lifestyle they're headed for. Easy to use and enjoy, this calendar will come with a handy stand included, so they can pop it on whatever desk, side table or study surface they choose.
26. CoolBELL Multifunctional Laptop Bag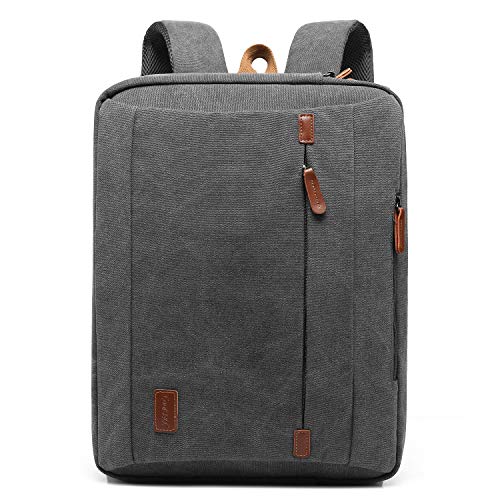 Buy or Read More on Amazon Here ($39.99 at the time of publication)
A decent quality laptop bag is always a great thing to receive. Ideal for business trips, this bag is specially designed to slide onto a suitcase's pull out handle and sit safely on the top. A spacious interior filled with handy accessory compartments, plus convertible straps – to change it from backpack, to shoulder bag, to briefcase – make this a truly practical gift. And we haven't even spoken about the laptop capacity yet! Additional layers of shock absorbing padded material will keep your leaver's laptop safe and sound, as well as the bag's durable lining and water resistant outer canvas. Plus, there are compartments included for other electronic accessories and charging cords, meaning they can get their full set of kit in one roomy, stylish bag.
27. Message in a Bottle Capsule Letters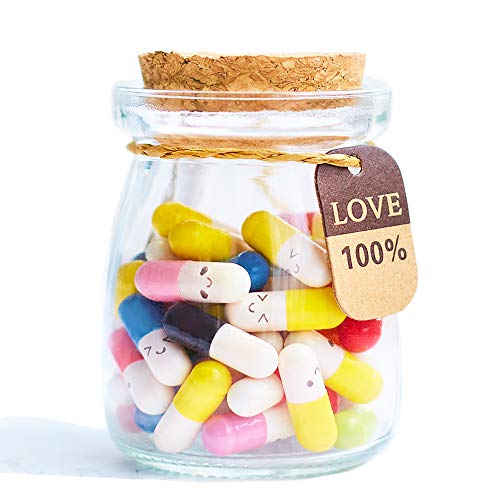 Buy or Read More on Amazon Here ($11.99 at the time of publication)
Now, these are a sweet gift idea if ever you've seen one. If your leaver is about to head far, far away for a good long while, write them personalized messages in each of these colorful pills. Simply pop open the capsules, write your heartfelt message inside and they'll be able to dip into the jar whenever they need a little something to remind them of home. This is a gift that's so much more about the thought behind it than the price tag attached to it. So, if that works for you and you leaver, there's your gift sorted! The cute little faces are sure to put a smile on their face, too, even before they've got to your lovely message inside.
28. Classy Whiskey Stones Gift Set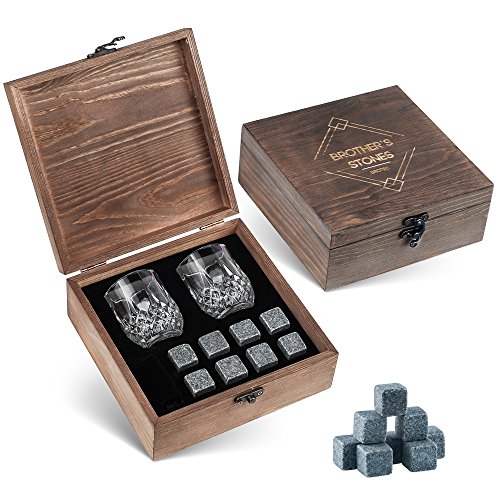 Buy or Read More on Amazon Here ($28.90 at the time of publication)
Another classy gift idea, coming right up. This set of whiskey stones is a great choice for anyone who really likes a top quality drink. Regular ice cubes dilute the taste and can even absorb other aromas from your freezer while they're in there – now you can give your leaver the gift of avoiding all that nonsense with these ice stones. Reusable and foolproof, they'll just need to pop them into the freezer until chilled, before adding them to their drink. The classy black velvet bag that comes included in the set is designed to stop the rocks picking up other aromas from the freezer while they're sat in there, too. They'll be using this gift for years to come, as well as enjoying the classy presentation box and the pair of fine crystal glasses that come included.
29. Efy Tal Sterling Silver Interlocking Friendship for Eternity Necklace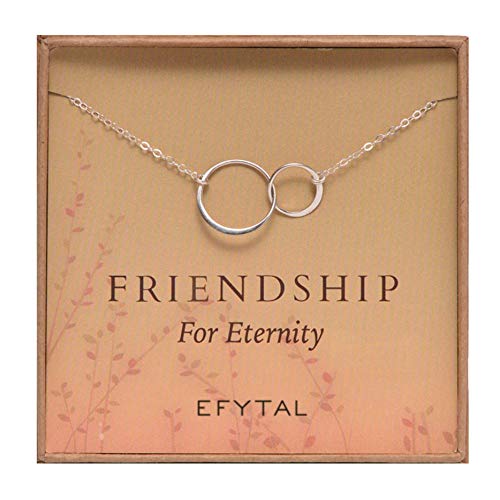 Buy or Read More on Amazon Here ($39.95 at the time of publication)
It can be super difficult having a close friend or family member move away to start a new chapter of their life, for them and for you. Remind them that you'll still be close, no matter where you both are, with this thoughtful interlocking necklace. Anti-allergy, quality stainless steel makes this necklace great to wear. Plus, the minimalistic but meaningful design makes it a truly versatile piece of jewelry. Gift packaged in attractive wrapping and with free adjustments and chain replacements on offer if required, this could be the ideal gift option for the leaver you have in mind.
30. Scratch Off Map of the World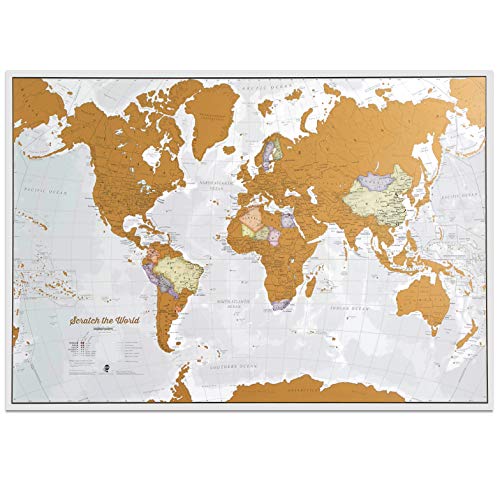 Buy or Read More on Amazon Here ($25.99 at the time of publication)
An impressively detailed scratch-off map of the world is a great gift for anyone about to head off on some serious travels. Gift them this map – perfect for decorating the walls of a new place – and they can see their travel stories developing in front of their eyes at the end of each new trip. Brought up to date in 2019, these map designs are sure to reflect their wanderlust in a classy, intelligent way. Remove the upper layer as they go, and they'll reveal all the geographical details they discovered on their travels, from lakes to mountain ranges and capital cities to border crossings. Tightly rolled for shipping, their map will arrive in pristine condition, all ready to unfurl and inspire.
Related Posts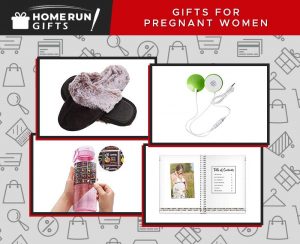 Gifts for Women in 20s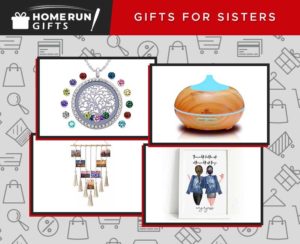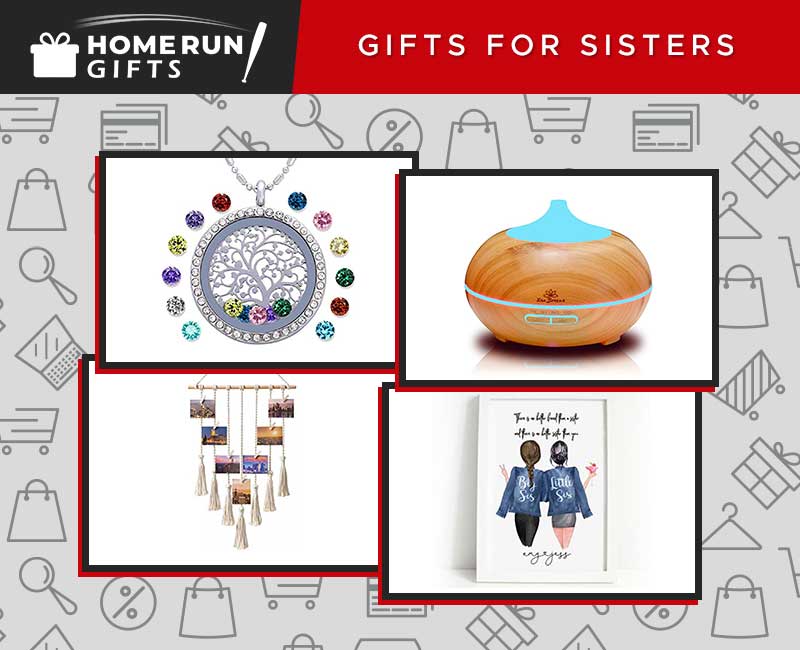 Gifts for Sisters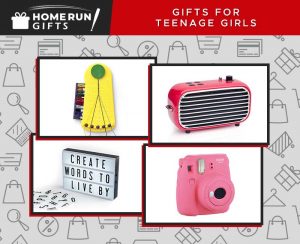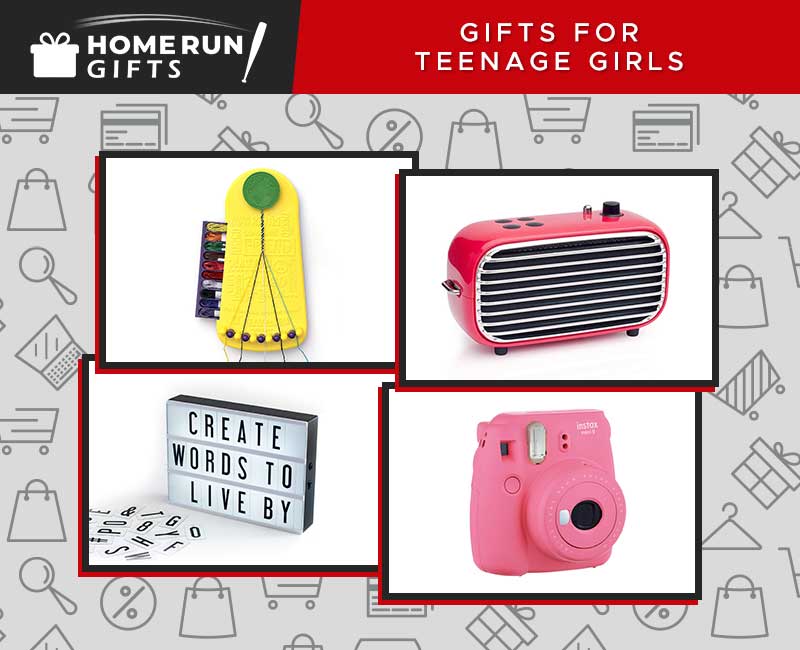 Gifts for Teenage Girls