About six weeks before my retirement last January, I was asked what I might like to have in terms of lovely parting gifts. I started to say, "Oh, everyone's smiling faces at my reception is gift enough for me," but I came to my senses. I asked for a day or two to think about it, but when the HR manager called back, I still had no idea. I settled for gift cards and a certificate good for a complete car detailing.
That took my co-workers off the hook, but it wasn't much fun at the reception and I can't even remember what I bought with the gift cards. So, whether you're the potential giver or receiver, don't take the easy way out. Buy something the retiree will remember and appreciate.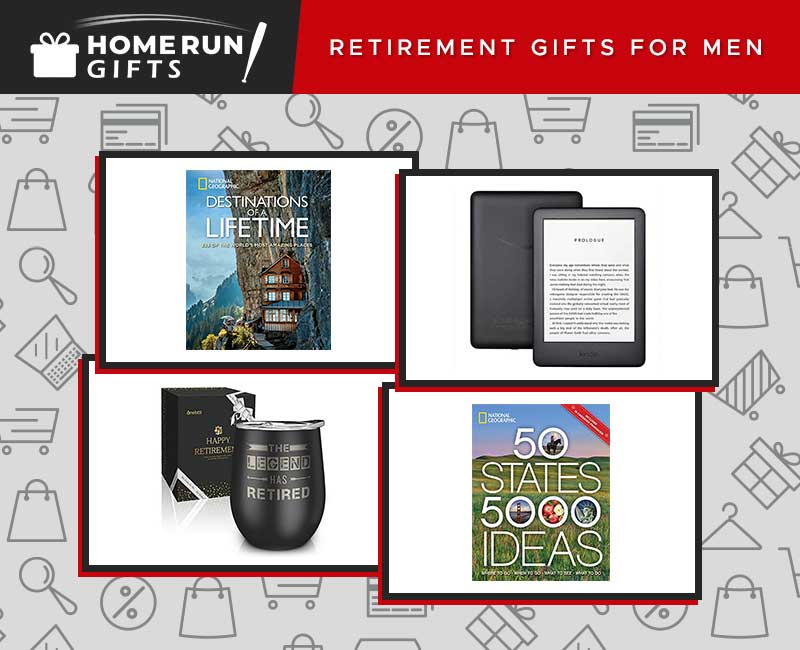 To help you out, we're coming to the rescue with this all-star list of retirement gifts for men. Buying a gift for a retiree is a challenge. And I can tell you from experience that getting exactly what you ask for is overrated. So take a risk, think outside the box, break from tradition and go for it! We also have a list of retirement gifts for women if you're interested!
Note: No gold watches were harmed in the making of this list, but some old-school thoughts on retirement gift buying probably were.
List of Retirement Gifts for Men
1. Electric Knee Massagers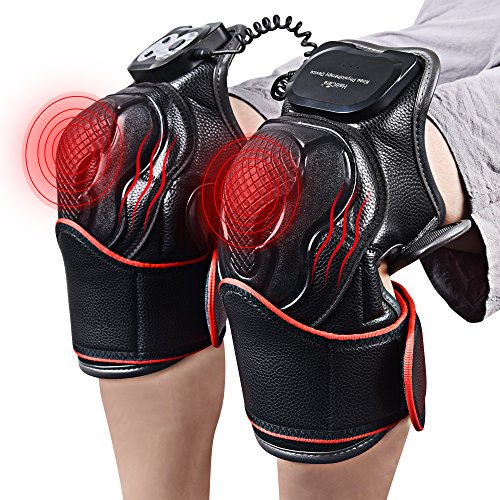 Buy or Read More on Amazon Here ($69.95 at the time of publication)
Granted, these look like you saw Darth Vader in the gym locker room, but you won't care how they look after you've tried them for their therapeutic value. They really work! These knee massagers deliver heat and vibration to the knees, stimulating blood flow and helping soothe pain and ease stiffness in knee joints. Individual controls allow the user to customize the settings for each knee. The heat and vibration can be used alternately or simultaneously. The knee massagers are unisex and fit almost all sizes, up to 23.6 inches in girth. The package includes two knee wrap/massagers and a power cable/adaptor. A thorough user's manual is included in the box and online. If the retiree you're buying for has complained of (or you've noticed them wincing) pain walking stairs, pain during changes in the weather, stiffness or edema, these can help. They're also beneficial for arthritis sufferers. With three heat settings and programmable shut-off, they fit well with any lifestyle or schedule.
2. Car Trunk Organizer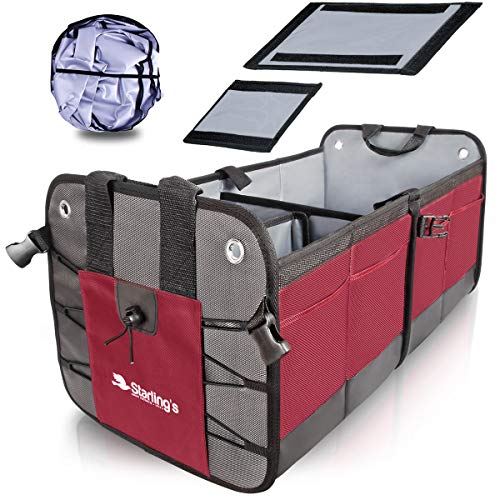 Buy or Read More on Amazon Here ($39.97 at the time of publication)
You make a left turn and have to make it snappy to avoid oncoming traffic. Midway through the turn, you hear a loud clank coming from the trunk. Moments later, there's another clank. That can of spray paint you've been meaning to take back to the hardware store for a refund is rolling around back there like a billiard ball. You'd better hope the cap doesn't come off! What you need is this car trunk organizer from Starling's. This trunk organizer expands up to two feet and has pockets and adjustable separators to custom-shape a safe place in which to store groceries, odd-shaped shopping bags and help secure a place for that giant birthday cake. There is plenty of variation. One side has three adjustable compartments, while the other is open for larger cargo. On the exterior are 10 nifty pockets. It can take the weight. Constructed of strong, durable 1680D (denier) polyester, this will probably outlast your car. Extra stitching where it counts ensures that the compartments won't flop over or sag when the weight suddenly shifts. Two heavy duty handles help pick up the whole shebang with ease. This comes with the manufacturer's Lifetime "Perfect" Satisfaction Guarantee. This isn't just for retirees, and it isn't just for the car trunk, either.
3. MGV Precision Screwdriver Set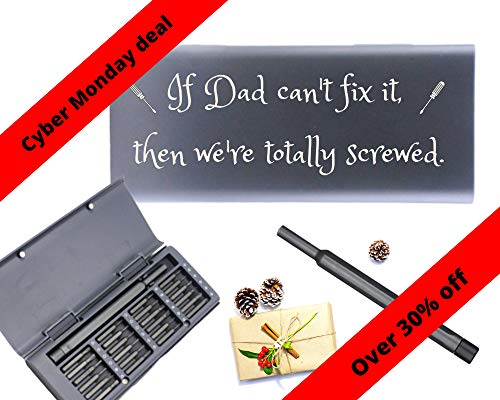 Buy or Read More on Amazon Here ($19.99 at the time of publication)
Most men in their 60s have enough screwdrivers in their shop to open their own hardware store. But I'll bet they don't have screwdrivers like these; or at least not any that come in a cool case like this one. Emblazoned on the top of the case is the phrase, "If Dad can't fix it then we're totally screwed." Even without the snarky saying, these are screwdrivers – actually a handle and 24 bits – worth their weight in, well, steel. They're made from S2 steel, which is harder than chrome vanadium or 8650 steel. The handle is magnetic to hold the bits in place, and the end cap pivots freely, so that you can turn screws without turning your wrist. The screwdriver bits include slotted, Phillips or Torx heads. It's not a huge set. The case measures approximately 6.5 inches by 3 inches, which makes it pocketable. Retirees need to have things in their pockets.
4. Natural Wood Cell Phone Stand and Charging Station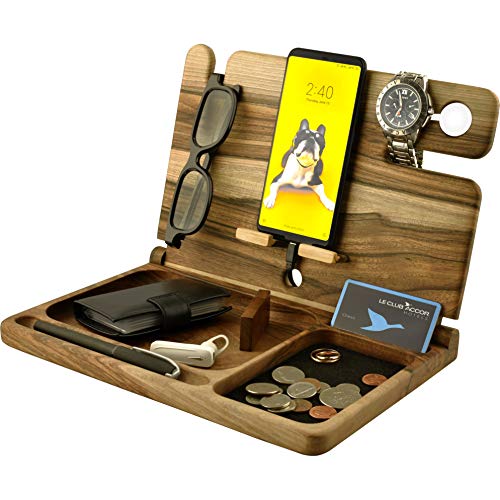 Buy or Read More on Amazon Here ($60.95 at the time of publication)
While it's not at all a new concept, and there are similar units that perhaps hold more stuff, this is one of the nicest looking organizers I've seen. Beautiful real wood construction, with notches, holes and rounded-off corners give this an unpretentious appearance, yet it serves a good purpose. This is one of those gifts that remind the receiver of the giver. "Oh, the guys at work gave me that when I retired," they might say when asked about it. The walnut, which comes in two shades, is finished with eco-friendly materials instead of paint, stain or varnish. The unit closes up into a 12×8 rectangle and has handy little shelves and slots for credit cards, keys, a cell phone and whatever retirees carry around in their pockets. It does not, however, come with a charger. The bottom trays can hold a wallet, notes, hearing aids, coins and probably, in some cases, pocket lint (But let's not let that happen – OK guys?).
5. Whiskey Globe Decanter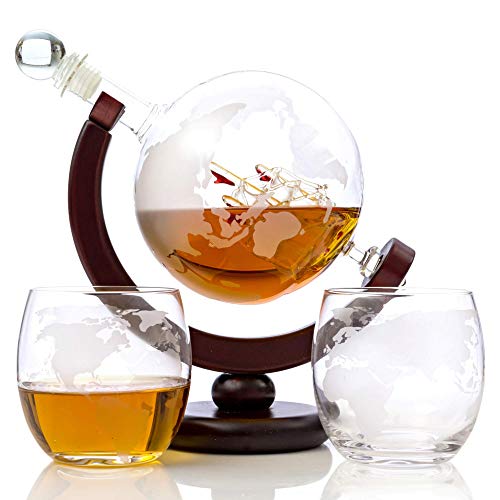 Buy or Read More on Amazon Here ($49.97 at the time of publication)
Young men have man caves. Older men have studies. This belongs in the study. When you finally take down the framed print of dogs playing poker, the LeBron James Miami Heat jersey and the neon Coors Light sign and get serious, this will make a fantastic starting point. It's a whiskey decanter shaped like a clear globe with the continents of the world etched on the surface. It comes with two 10-ounce whiskey glasses, also etched with the world map. The decanter holds 28 ounces (850 ml) and rests in a cradle. The clear glass readily shows how much whiskey is left in your world. The glass is hand-blown lead-free glass, and there's a tiny sailing ship inside the decanter as a treat for someone who takes the time to closely inspect the artisanship of the design. There's quite a bit that comes with this gift set. In addition to the decanter, cradle and the glasses, you get a glass bottle stopper, a pouring funnel, and two silicone ice molds. It's shipped in a box that pads all the delicate pieces very well, so unless the box gets run over by a forklift, the merchandise should arrive in pristine condition.
6. LED Flame Bluetooth Speaker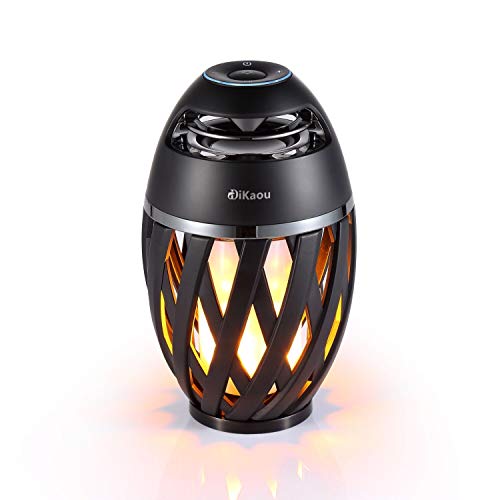 Buy or Read More on Amazon Here ($39.99 at the time of publication)
Don't look for this item to be on anyone's wish list or registry. This is one of those items that you didn't know you wanted until you saw it. DiKaou has taken two great new-fangled concepts – LED fake flames and a Bluetooth speaker system – and combined them into this charming little tabletop item. Ninety-six separate LEDs fire and ebb randomly, giving this a realistic flame appearance that is pretty awesome all by itself. Adding music creates a magical atmosphere. With Bluetooth 4.2 this connects to any phone, tablet or Bluetooth device and delivers a bold sound with plenty of bass and treble. It connects from up to 33 feet away, and it remembers the last device it was connected to. It runs off a battery than can be charged with a standard cell phone charger or USB source. It will play music for up to seven hours on a single charge, and when used solely as a candlelight, it stays on for up to 24 hours. Unless you stand right over it and inspect it, you'd never know this was anything but a candle. The controls are discreetly placed, yet still easy to access.
7. Let Me Drop Everything and Work on Your Problem Coffee Mug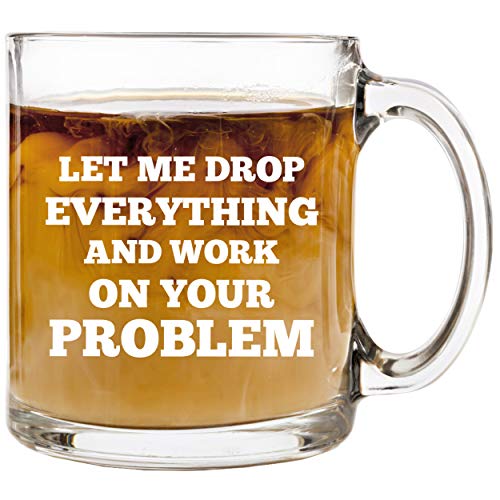 Buy or Read More on Amazon Here ($19.99 at the time of publication)
Yes, it's for a retiree. And yes, that person is about to leave the crazy, demanding, frustrating world of office politics. So why get her (or him) a coffee mug that brings her right back into it every time she looks at it? If you think that way, you don't know the mind of a retiree very well. Most of us don't mind being reminded of stuff we don't have to worry about anymore. Did you know that for many retirees, the favorite part of their week is late Sunday night, when they're reminded that they don't have to go to work the next day? This is part of out-of-the-box thinking I was referring to earlier. The coffee mug holds 13 ounces of coffee, tea, soup or whatever. It's heavy, clear glass with white lettering, and it comes in a nice gift box, because the manufacturer assumes this will be a gift. And if your joke falls flat, you can send the cup back for a refund. It's kind of a "likability" guarantee.
8. Boxed Golf Premium Golf Gifts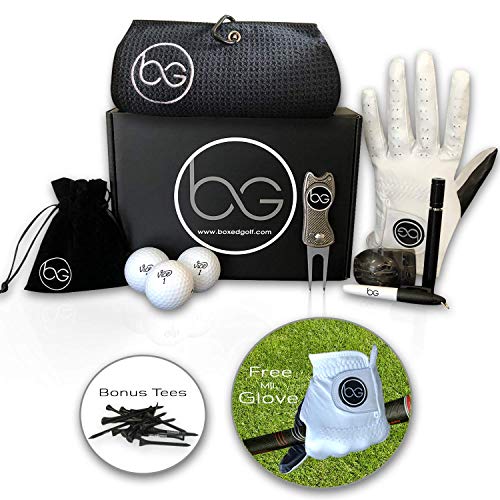 Buy or Read More on Amazon Here ($80 at the time of publication)
This might not help your golfing retiree hit more fairways or stay out of the bunkers, but it might make him (or her) feel as if he can. Quite a collection of golf accessories are packed in this outstanding gift set, giving avid golfers the motivation to walk right through the pro shop at the country club without feeling the need to buy something. This set includes nine premium golf accessories, such as three golf balls, 20 tees, a golf glove, a microfiber towel, a drawstring bag for valuables, divot tool, ball marker, ball liner plus a pen and groove tool.
9. Personalized Firearm Alphabet Art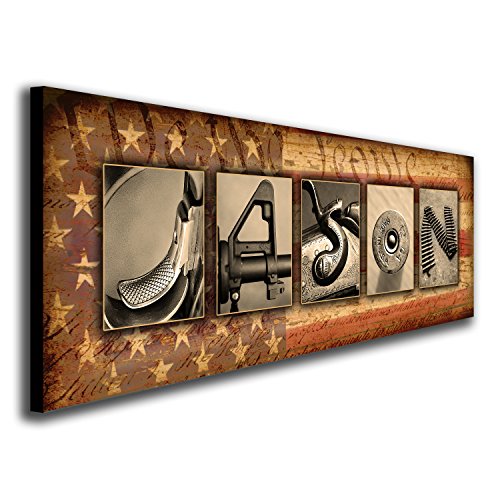 Buy or Read More on Amazon Here ($59.95 at the time of publication)
I'm going out on a limb here and I'm going to say that you have probably never spelled out your name with gun parts that looked like letters. That's exactly what this truly unique wall decoration does. If you look closely at the photo, you'll notice that it spells out "Jason."  If the retiree's name's not Jason, don't worry – the ordering process includes a customize feature. You can have up to 11 letters (minimum three). It doesn't have to be a name; anything not exceeding 11 letters will do. The more letters, the smaller they have to be in order to fit on the plaque, however. No photos are repeated, even if the letters are. The letters are high resolution photos of guns, rifles, and ammunition cropped so that they mimic letters of the alphabet. The plaque is 6.5 inches by 18 inches and includes a patriotic print, or you can order a framed canvas print.
10. LEGO Architecture U.S. Capitol Building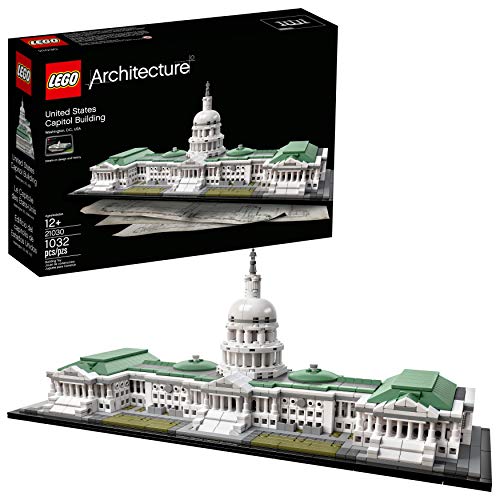 Buy or Read More on Amazon Here ($119.95 at the time of publication)
Admit it – you have played with your kid's LEGO set while he was busy elsewhere in the house. That's the addictive nature of LEGOs and a reason why they've been one of the best selling toys in retail history. There's just something about snapping those pegged plastic pieces together that is extremely fulfilling. This LEGO set is aimed at kids over 12, and, OK, adults – adults with a lot of time on their hands, like retirees. It's the U.S. Capitol building, with columns, cupolas, gables, doors, windows and all. It's so realistic, you can almost hear tiny congressmen having tiny confirmation hearings inside! How many pieces are we talking about here? – 1,032. There's no guarantee that you won't encounter a missing piece in your bare feet at 2 a.m., though. The finished building will measure 17 inches wide, six inches high and six inches deep. Also included is a genuinely nice booklet containing information about the design, architecture, and history of the building.
11. Personalized Cutting Board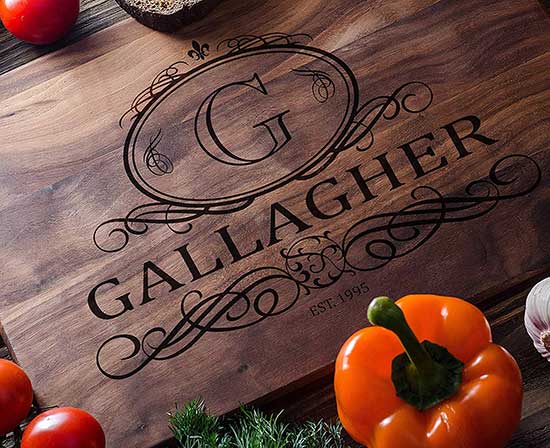 Buy or Read More on Amazon Here ($35.00 at the time of publication)
You could gift this to anyone for almost any occasion, and it's sure to be a conversation starter wherever it's presented. Simply supply the name or slogan when ordering and it will be custom-engraved in the premium oak or walnut cutting board. You can have both sides of the board engraved. On the occasion of a retirement, you could have "From your friends at XYZ Company. Enjoy your retirement" engraved on the backside. The wood is sanded multiple times with different grades of sandpaper to achieve a smoother finish, and then twice treated with hot mineral oil to preserve it and create a surface that can't be easily marred or discolored. Clean-up is easy, but not stack-it-in-the-dishwasher easy. Simply wipe it down with soapy water and allow it to dry overnight. Do not put it in the dishwasher. This item comes with a satisfaction guaranteed warranty.
12. Amazon Echo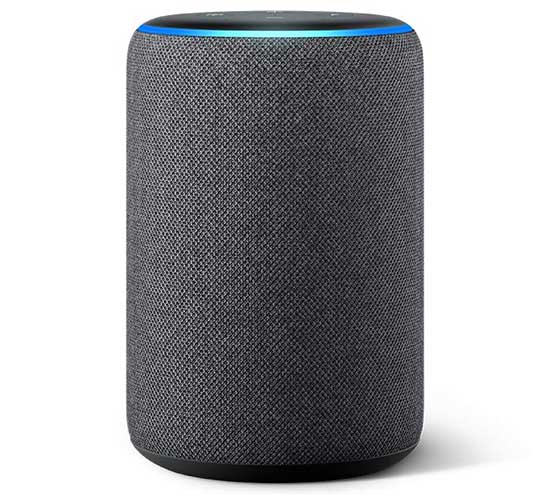 Buy or Read More on Amazon Here ($89.99 at the time of publication)
Give your retiree the coolest high-tech device to come around in years – the amazing Amazon Echo. Want to hear "Suspicious Minds?"  Just say, "Alexa – play "Suspicious Minds by Elvis Presley." Need to know the weather for your tee time? Say, "Alexa – What's the weather today?" Need a good laugh? Tell Alexa you want to hear a knock-knock joke. I think we're all familiar with the Echo and its various iterations. Amazon says Alexa has 10,000 skills, and the number keeps growing. You can play Light My Fire or light the kitchen, play Who'll Stop the Rain or check to see if rain is in the forecast, play Everybody's Talking or use interconnected Echoes as an intercom. New features include health and fitness tracking, games and more. And this business of Alexa hearing all of your conversations whether you want her to or not?  If you're truly concerned about that, the third generation version has an "all off" switch that disables all the microphones on the unit. Echo defaults to music and information sources like Amazon Music, iTunes, Spotify, NPR, and others, but she can learn your favorite sources just from repeated uses of them. This listing is for the Echo, which has a very nice sound with plenty of bass. There is also the Echo Dot, a smaller version with a little less sound quality, and the Echo Input, which requires a separate sound system. (If you already have an audiophile sound system, this will actually provide the best option for sound quality.)
13. All-New Kindle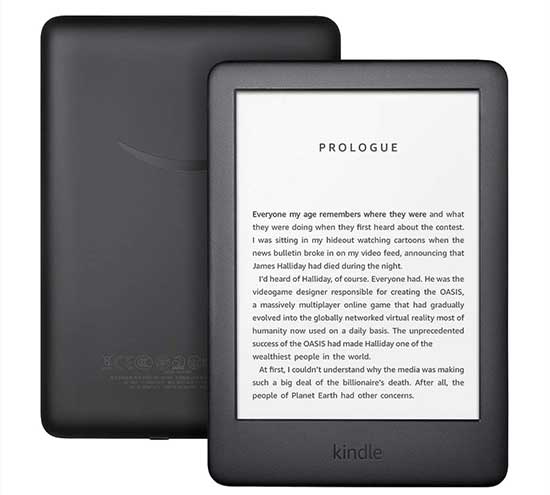 Buy or Read More on Amazon Here ($79.99 at the time of publication)
Amazon's go-anywhere tablet/e-reader has gone through a series of redesigns and upgrades, and the latest version is awesome.
What's new on the all-new Kindle:
For starters, it has an adjustable front light for easy reading, no matter what the ambient light is. It reads like real paper, even in direct sunlight.
Access to millions of books online.
Improved battery last weeks on a single charge.
More interactivity than ever before. Highlight passages, translate words and adjust text size without leaving the page.
Previous versions of the Kindle tended to be a bit pedestrian online. But starting with the Kindle Fire, bus speed has increased substantially. Book downloads now take no more than two minutes in most cases.
14. Sony DSCW800 20.1 MP Digital Camera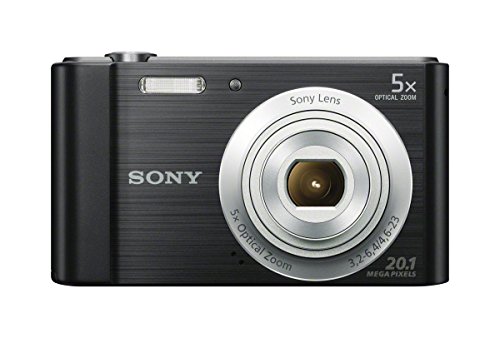 Buy or Read More on Amazon Here ($98.00 at the time of publication)
One of the most common answers to the question, "What are you going to do after you retire?" is "travel." So, what do you do when you travel a lot? You take a lot of pictures. Now, there are literally scores of options for picture-taking these days, from expensive digital DSLRs with interchangeable lenses to $30 "kiddie cameras."  And, of course, millions of pictures and videos are taken with cell phones every day. If you know that the retiree you're buying for doesn't have a big digital camera and is not very cell phone savvy (or is one of those who always take vertical photos and videos with their cell phones), a budget-friendly digital point-and-shoot camera might be just the thing. This Sony 20 megapixel camera is easy to use, takes high-resolution photos as well as 720p (720 pixels x 480 screen size) video and has other features, making it virtually goof-proof. It has a 5x optical zoom lens, which is very good. Many cameras boast of 20X or even 30X "zoom" but they're not optical zoom. Optical zoom means the lenses physically move farther apart or closer together to achieve the desired enlargement. Claims of zooms higher than that are digital zoom, meaning the image is digitally manipulated by the electronics within the camera. The higher the digital zoom, the lower the image quality. Higher zoom ratios create more grain and more splotchiness in the photos. The Sony DSCW800 has SteadyShot Image Stabilization, which means it modifies the blurring effect created by shooting a moving subject with a shutter speed that's too slow to keep up. The built-in flash is a little wimpy, but is plenty strong enough when used at a distance of less than 15 feet. Cell phone cameras can match the electronics of this item, but most of them can't even come close to the optical quality of the Sony Zeiss lens. Automatic exposure control takes all the guesswork out of taking photos.
15. Fifty States, Five Thousand Ideas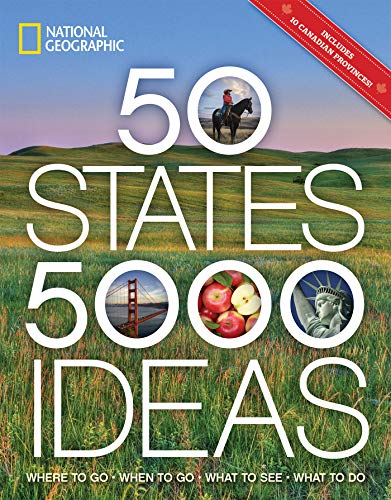 Buy or Read More on Amazon Here ($14.97 at the time of publication)
While it's not a particularly inventive idea to gift a book to a retiree, it's still a good one. With time now on their hands for reading, he or she might really appreciate a good book. There certainly isn't a shortage of titles to choose from. In 2018, a record 1.3 million books were published in the U.S. alone This colorful National Geographic publication continues to soar on Amazon's Best Seller list. Coming from NG, you know it's going to have awesome photography, but this has a bunch (5,000, I suppose) of ideas for adventures in all 50 states. If you think your state is boring, think again
16. Destinations of a Lifetime: 225 of the World's Most Amazing Places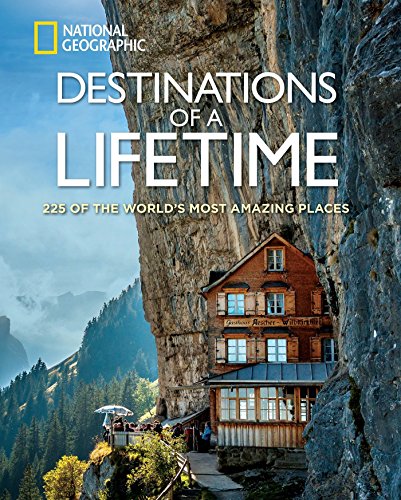 Buy or Read More on Amazon Here ($36.00 at the time of publication)
If it comes from National Geographic, you know it's going to have amazing photography.  This coffee table book takes you to some of the globe's most spectacular venues and makes you want to book a trip to them. You'll visit electric cities by night, pristine seashores, rain forests teeming with critters of all types, cities so old you can almost hear the ghosts of the past walking, and stunning architecture.  The book is practical as well, providing tips on where to stay, where to eat, what to eat, what to see and what is worth your time and what is not. Most of the destinations are ones you've heard of – places like Mt. Kilimanjaro, Mt. Blanc, the Matterhorn, Cape Town, etc –  but there are a number of surprising finds in the pages. Inspiration is just a page-turn away.
17. The Legend Has Retired – 12 Ounce Wine Tumbler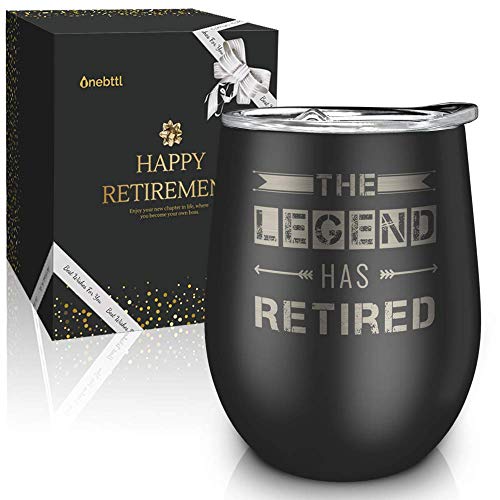 Buy or Read More on Amazon Here ($20.99 at the time of publication)
While you could put any cold beverage you want to in this product, it's supposed to be for wine.  I mean, it comes with a spill-proof lid and everything. Why wouldn't you want for anything but wine? It's made of 304 stainless steel. What that means is that it's high grade – the highest for this purpose, actually – and it's FDA certified and BPA free.  It's insulated to keep that chilled Chardonnay at the same temperature for a long time. Not that you'd let wine sit in it for this long, but it will maintain the temperature for up to nine hours.  For hot beverages, it keeps them warm for three hours. The slogan is printed on a matte black finish on opposing sides of the mug.  The mug ships in a nice gift box that says "Happy Retirement!" It's made by Onebttl (don't ask me how to pronounce it), which actually tests their products with drop tests.  It carries a lifetime warranty.
18. Photo Plaque with Retirement Poem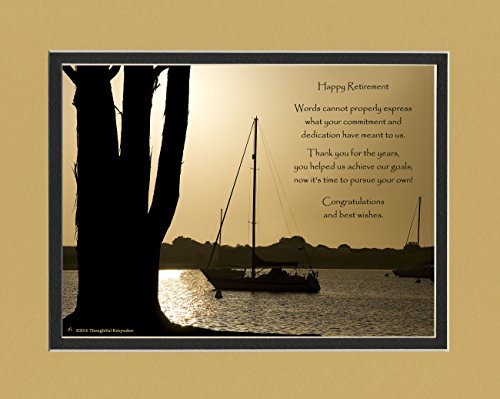 Buy or Read More on Amazon Here ($24.99 at the time of publication)
OK, we said we weren't going to do sappy. But this is really nice, really classy and is sure to be appreciated. It's an 8×10 framed photo of sailboats at dusk, matted in gold with a beveled brown border. There's an inspiring poem inscribed in the null space: Happy Retirement: Words cannot properly express what your commitment and dedication have meant to us. Thank you for the years. You helped us achieve our goals. Now it's time to pursue your own! Congratulations and best wishes! This is a product from Thoughtful Keepsakes, a small US company that provides plaques, framed art and keepsakes that are both charming and appealing to the eye.
19. Crystal Appreciation Plaque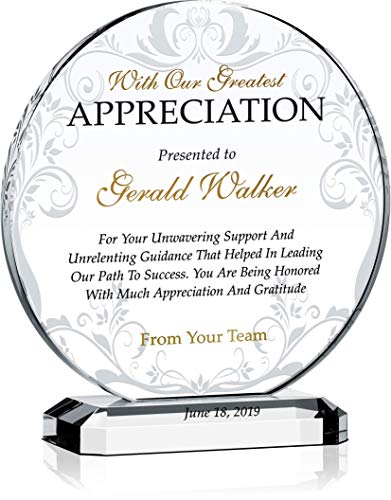 Buy or Read More on Amazon Here ($115.99 at the time of publication)
Another in the sappy but too nice to pass up category, this stunningly beautiful crystal plate is sure to draw oohs and ahs when it is presented to the retiree.  It's genuine crystal, too, not acrylic fakery. It's customizable, so order in plenty of time to get the deep-etched engraving that is included in the purchase price. The basic text says,
With Our Greatest APPRECIATION
Presented to (you provide the information for this part)
For Your Unwavering Support And Unrelenting Guidance That Helped In Leading Our Path To Success. You Are Being Honored With Much Appreciation And Gratitude.
The plate rests on a heavy solid crystal stand engraved with the date of presentation (or with whatever you want it to say).
The listed place is a 6.5" diameter, but there is an eight-inch plate for only a few dollars more, so the larger plate represents the better value.
20. Zen Breeze Essential Oil Diffuser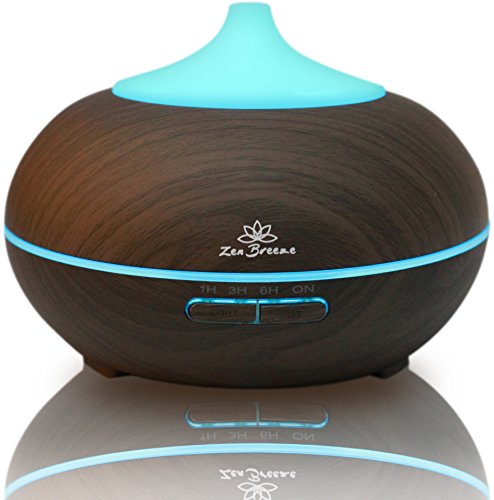 Buy or Read More on Amazon Here ($29.77 at the time of publication)
It's a fact that many retirees don't know how to put on the brakes after retirement.  The years of employment have ramped up the pace to the point that a normal pace of life seems catatonic by comparison. While this handsome essential oils diffuser might not change anyone's pace of life, it at least helps them go through the motions (or lack thereof). It's a beautiful bit of decor, even when it's not in operation. Gorgeous dark wood grain forms an eye-pleasing oval, and a translucent sea green lid completes the look.  There is a lighter wood model, but the dark version is the star of the show. The unit will hold 300 milliliters of water, creating a gentle aromatherapeutic mist that can be adjusted to preference. Operation is barely audible, and the mist is scarcely visible. The therapy takes many forms, but the primary physical benefit is moisture for dry skin. The aromas create a sense of mindfulness and tranquility, and the 14-color night light adds a pleasing display for the eyes. For people who don't have enough chill, this is the real deal! The user can set the duration of the misting for one, three or six hours, or let it run all day.  The unit will shut off when it runs out of water in the reservoir.
21. Carman Pink 39-Piece Tool Set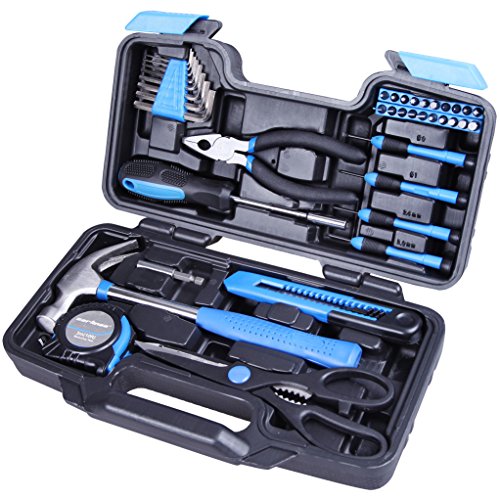 Buy or Read More on Amazon Here ($17.99 at the time of publication)
This is for the lady retiree who isn't afraid to go toe to toe with household repairs.  There will be no more borrowing hubby's tools or using a mismatched array of cheapo tools she picked up here and there. The problem here is to keep the husband from borrowing HER tools! Whatever the need – general purpose repairs, household maintenance, hanging picture frames, replacing door knobs, loosening the air filter grate, repairing rickety dining room chairs, etc – this tool kit will help her take care of it. These are quality tools.  They're heat-forged and chrome-plate and manufactured to strict tolerances.  I can't list everything that comes in this kit or we'd be here all day, but here are some of the main tools: 10-foot tape measure, claw hammer, six-inch slip joint pliers, bit driver, eight-inch scissors, utility knife, four screwdrivers, hex keys and a host of bits and SAE sockets. Everything is pink.  Either the handle is pink, or the pivot point is pink, or the tip is pink, or the snap-in bit holders are pink, etc. It all packs neatly into a black (what?) carrying case with pink slide locks (OK, that's better.).
22. Electronics Organizer
Buy or Read More on Amazon Here ($19.99 at the time of publication)
A retiree is supposed to have his or her life altogether. In case they don't, there's this: The Electronics Organizer Travel Cable Cord Bag.
This handy gadget bag has pockets, pouches, straps, holders, snaps and tie-downs for all the cables and electronic doo-dads that rule our lives.  Depending on how long one keeps an electronic device and the attachments that go with it, cables with a multitude of connectors can pile up like spaghetti noodles and take over coffee table drawers, kitchen drawers, and automobile consoles. With this electronics organizer, you can keep the Apple Lightning cables separate from the Android micro-USB cables and the USB-c cables, not to mention the mini-USB cables and the old paddle style Apple connector cables for the third generation – or older – iPods.  Oh, and did I mention audio cables, RCA cables, mini-plug cables and micro-mini-plug cables? Keep it all in one place, zipped up and safely stowed for the next travel emergency. The various arrays of pockets and pockets are limited only by your imagination as to what to put in them.  There are big pockets that can hold chargers and power supplies, medium pockets for power cords and extra long charging cords and small pouches for batteries, memory cards, USB adapters and more.
You might even be able to stash a tuna fish sandwich in there! (Just kidding.)
All kidding aside, this is a quality item, made of quality materials.  The electronics organizer is shockproof (with limits) and waterproof (with limits).  It opens like a tackle box, with three layers, and is double-zippered to make it easier to close all the way.
23. YETI Rambler Insulated Colster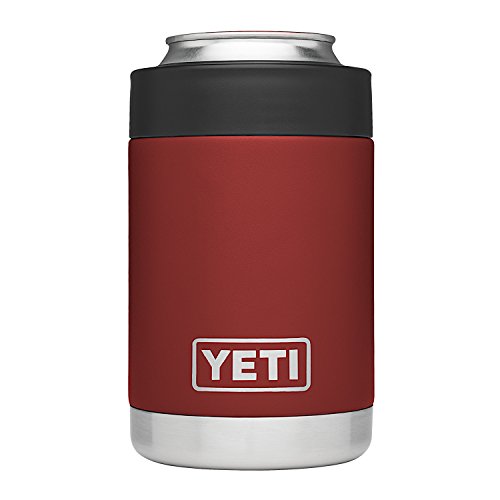 Buy or Read More on Amazon Here ($24.99 at the time of publication)
If you don't know what a "colster" is, you're not alone. A colster is a sealed, insulated beverage container, but it only applies to those of the YETI brand.  It's not a generic term – yet. You probably know what YETI is, however.  It's kind of hard to escape. YETI, of course, is the maker of outdoor lifestyle products like ice chests, vacuum-insulated stainless steel drinkware (colsters), soft coolers and related accessories.  The company's products have become associated with superb quality and, unfortunately, lofty prices. But the Rambler colster is reasonably priced and makes a good entry level product for one of the most innovative manufacturers in the U.S.  It holds 12 ounces of hot or cold liquid and keeps that liquid the same temperature for up to 12 hours. Some competing products keep drinks hot or cold at varying rates, like six hours for cold and three hours for hot, but the YETI maintains temperature for both extremes equally well. The reason for this amazing claim is the unit's double-wall vacuum seal and the heavy duty 18/8 stainless steel exterior. (18/8 is an alternate designation for 304 stainless steel – the highest grade possible for consumer grade products. 18/8 means the material is 18 percent chromium and eight percent nickel.) The double-wall insulation keeps the beverage from losing any of its heat or coolness to the exterior of the mug.  That means the exterior stays at room temperature (or surrounding ambient temperature if outside) while the beverage stays at its temperature. The Rambler comes in 14 different colors, ranging from brick red to Tahoe blue, with stops at navy, olive green, charcoal, seafoam and others along the way.  One of the selections isn't a color but a theme – a defiant Texas-type attitude, with a cannon, a lone star and text that says, "Come and Take It."
24. Tire Coffee Mug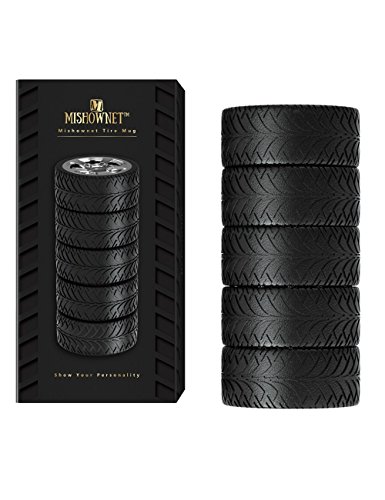 Buy or Read More on Amazon Here ($25.99 at the time of publication)
"I've been tired. Now I'm tired"m tired again. I'm retired." – Anonymous
So here we go with a great way to re-"tire" someone. This is not what it appears to be.  What looks like a stack of five automobile tires is actually a 12-ounce coffee mug. The beverage-holding part of this is high grade stainless steel, insulated to keep his coffee warm for hours, while the soft plastic exterior is sure to get some double-takes and generate some conversation.  While it's primarily for coffee or hot tea, this mug can be used with cold beverages. The top tire is the cap, made of high grade silicone.  You can open a spout and drink from the cap, or remove the cap and drink directly from the mug.   It is recommended that you wash the cup in warm water and allow it to dry thoroughly prior to the first use.  It is NOT dishwasher proof. And, because of the steel interior, it is not microwave safe either. If you use dairy products with this mug, it should be cleaned immediately afterward.
25. Strata Camera Lens Coffee Mug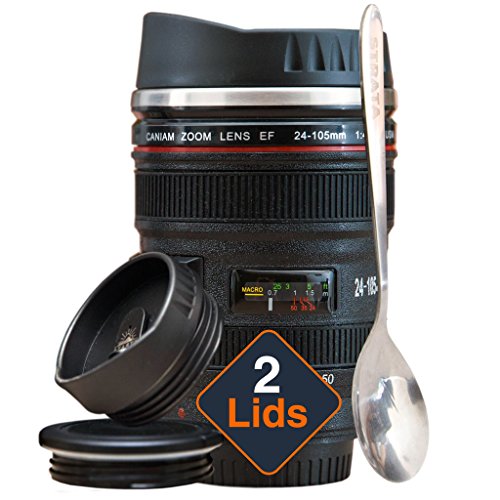 Buy or Read More on Amazon Here ($13.95 at the time of publication)
Similar to the stack of tires coffee mug above, this is a coffee mug disguised as a fake camera lens.  The idea is not new, and there are scores of companies making similar products, but this came out ahead of the others by a thin margin. It's so realistic looking, it can easily be mistaken for a camera lens. In fact, I took one to a board meeting at church and one of the other board members flipped it over to inspect the "lens" and spilled coffee all over the conference room table. So caveat emptor if you buy one. Another funny feature about this is that the "lens" is quite a good one, even though it's fake – 24-70 zoom f1.4 maximum aperture.  A real one with those kind of numbers would cost over $1500. But good luck finding a real lens to match this fake one, because the name brand on this coffee mug fake lens is "Caniam" – not a lens manufacturer that I've ever heard of. As for the mug, it's stainless steel on the interior and high quality plastic on the outside with a lot of convincing details on the surface.  It comes with two lids and holds a hefty 14 ounces of coffee, tea or cold beverages. It also comes with a complimentary spoon. Like the tire mug, it is not microwave-safe nor dishwasher safe, and first-time cleaning is recommended before use. So if your retiree is an amateur photographer and is looking forward to spending more time shooting pictures, this would make a good gift for him or her to start the day with.
26. Large Wind Chimes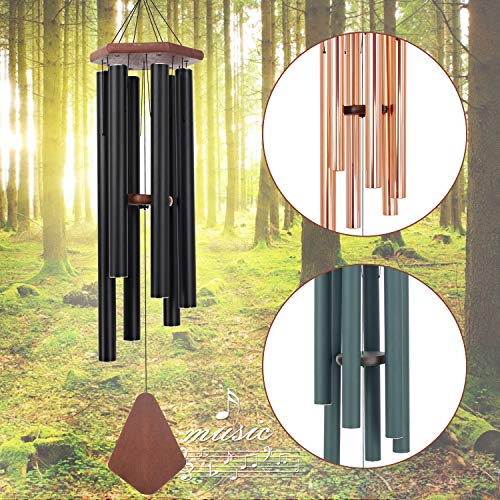 Buy or Read More on Amazon Here ($83.49 at the time of publication)
Wind chimes play some of the most soothing and relaxing music in the world, and it's all random – to a degree.  The only problem for working people is that they're at the office while the wind chime is swaying in the breeze on the front porch back home. So what a delightful encounter it will be for the retiree who's now home most of the time! Astarin is not a well-known name outside the realm of wind chimes, but it is probably the premier name when it comes to hand-tuned wind chimes.  They've been at it since 1929. This is a high-quality set of wind chimes that produce low, open "bongs" instead of the shrill clinky sounds of smaller windchimes.  The overall length when hanging is 44 inches, and the longest tube is 24 inches. The powder coated aluminum tubes are cut to precise lengths to be in tune with the pentatonic scale, and the height of the wood "plate" above can be adjusted for variations in the tone. (*Powder coating means the paint is applied in powder form with an electric charge opposite that of the metal. This creates an incredibly strong bond.) The striker is beechwood for the clearest tone, and the hanging cords are high-density nylon for strength and durability.
27. Off the Beaten Path: A Travel Guide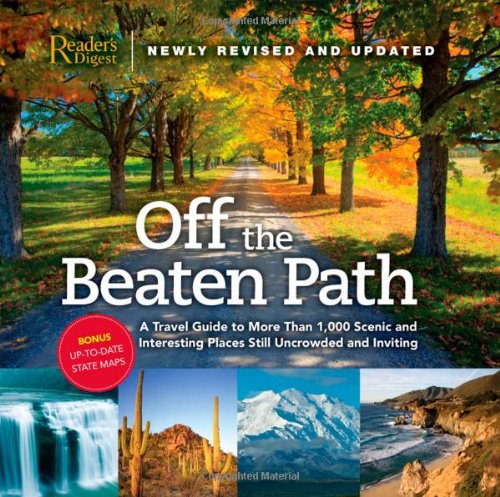 Buy or Read More on Amazon Here ($20.83 at the time of publication)
Something just about every retiree wants to do after they're free from the ball and chain of the workplace is travel. The destinations typically mentioned, while being very nice places to visit, are predictable and even blase – New Hampshire in the fall, Yellowstone in the summer, Key West in the winter, etc. This book encourages readers to think beyond the usual, the typical, the well-worn path. With over 200 bold photographs to peruse, Off the Beaten Path: A Travel Guide takes the reader to places he's never even heard of, let alone visited. Even with places, the reader is familiar with, the book points out things to do that you wouldn't think about, like hiking a dinosaur trail in Colorado or strolling down the oldest street in New York City. Produced by Reader's Digest, this entertaining read can also save you money if you decide to visit one of these out-of-the-way places.  Included are tips that apply to that particular venue, as well as general tips that can save you a few pennies no matter where you go. There are some nerdy "Did You Know" sidebar articles that will provide answers to questions you never asked. It's all in fun. The authors want you to have an unforgettable trip. Now, it may be unforgettable for all the wrong reasons, but at least you did the unexpected and lived to tell about it.
28. A Man and His Watch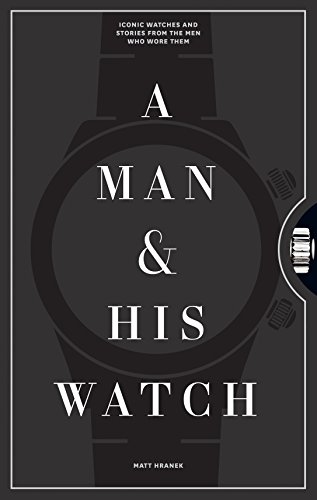 Buy or Read More on Amazon Here ($19.36 at the time of publication)
If the retiree didn't get a gold watch, then this might be the next best thing – possibly even better. It's not about watches. Well, it is, but it's about watches and the men in history who wore them – men like Paul Newman, who wore the same Rolex every day for 35 years.
29. Sorry I'm Late, I Didn't Want to Come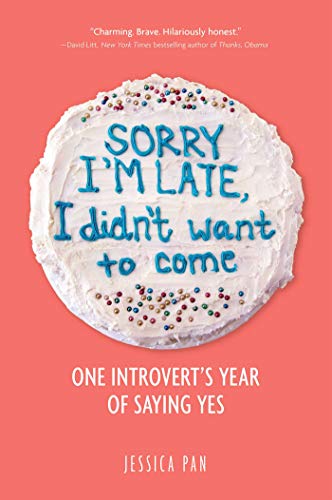 Buy or Read More on Amazon Here ($11.54 at the time of publication)
You've been there, haven't you?  We all have. The whole title of this book is I'm Sorry I'm Late, I Didn't Want to Come: One Introvert's Way of Saying Yes.
This is a hilarious account of a Type B trying to be a Type A. What could possibly go wrong?
30. I Heard You Paint Houses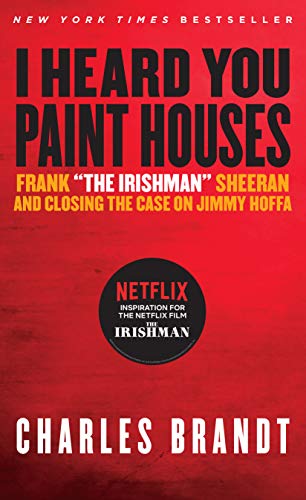 Buy or Read More on Amazon Here ($9.99 at the time of publication)
You know what that means, don't you – "I heard you paint houses"? Yeah, you're not going to find that guy's business card on the bulletin board at the hardware store.
Painting houses, of course, is mob slang for contract killings and this book deals with the biggest contract killing of them all – the killing of Jimmy Hoffa (If indeed that's what happened to him.)  This is the confession of hitman Frank Sheeran, who says he murdered Teamster boss and mob leader Jimmy Hoffa and about 25 other individuals, some on Hoffa's orders.
31. The Book of Unusual Knowledge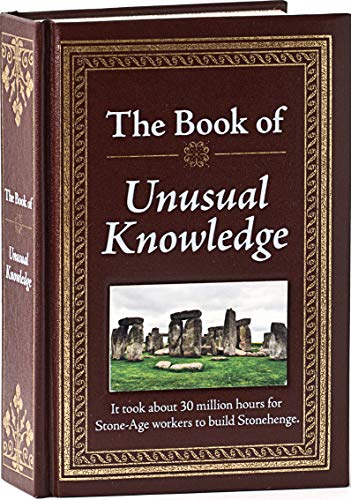 Buy or Read More on Amazon Here ($11.29 at the time of publication)
Just when the retiree says, "Well, I've worked so long and I know everything so I might as well quit," along comes this 704-page book that shows him that he doesn't know everything.
From Stonehenge to UFOs, this covers the unusual, quirky and shocking details of the world we thought we knew.
32. The Pioneers: The Heroic Story of the Settlers Who Brought the American Ideal West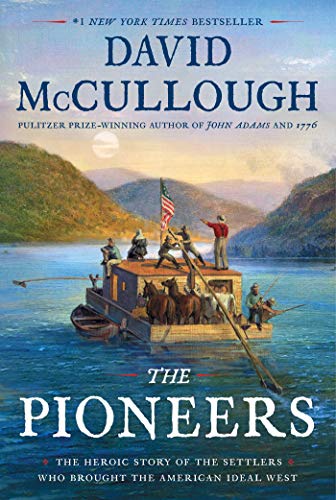 Buy or Read More on Amazon Here ($14.99 at the time of publication)
Pulitzer Prize-winning author David McCullough brings us tales from American settlers who got things started in the former Northwest Territory (Don't think Oregon and Washington; think Indiana, Ohio, Illinois, and Michigan.)
This is not casual reading. It's deep and the book is 353 pages.
33. Still Alice
Buy or Read More on Amazon Here ($8.16 at the time of publication)
An award-winning title on the New York Times Bestsellers List, Still Alice takes us through the struggles of a successful woman who loses her place in life due to early-onset Alzheimer's. The writing style is matter-of-fact and not syrupy, which provides a clear look into what really goes on in the family of someone with Alzheimer's.
34. What If? Serious Scientific Answers to Absurd Hypothetical Questions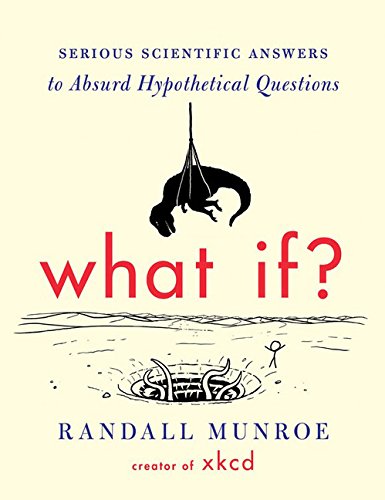 Buy or Read More on Amazon Here ($11.49 at the time of publication)
Sometimes, scientists can be so devoted to their own particular discipline they become myopic and fail to see the big picture. This book asks the questions that they might dismiss as ridiculous.
While What If? might not provide any answers you can do anything with, it is quite entertaining and fun. It's written by internet sensation Randall Munroe, whose webcomic, xkcd is a Mecca for geeks.
35. Bluetooth Beanie Music Hat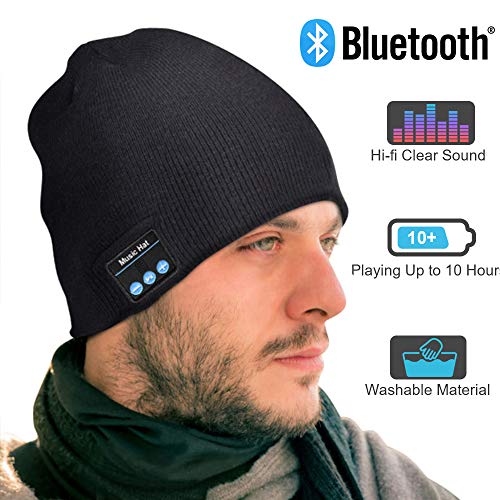 Buy or Read More on Amazon Here ($22.99 at the time of publication)
Don't make the mistake of thinking that retirees and high tech don't mix. Many retirees embrace high tech gadgetry as a rite of passage, as proof that they can handle themselves in a digital world.
This Bluetooth Beanie is not just a gadget. It's a great way to listen to music or podcasts while outside doing walking regimens or fitness routines in cold weather. Using Bluetooth 5.0 capability, this knit cap can pair with your smartphone, tablets or any Bluetooth-equipped device. The controls are in the hat, not the smartphone. (Well, actually you have control in both places.) Easy-to-locate buttons just above the user's right ear are simple to operate. Not only can you listen to music through the high-quality built-in mini-speakers, but you can receive cell phone calls as well. A built-in microphone picks up your voice and transmits it to your smartphone for upload to the cell tower.
The mic is not located in the ideal place (it's near the speakers), but they did the best they could without compromising the purpose of the hat. User reviews said that the sound quality of the speakers was good, and none reported issues with the mic being too far from the mouth, so that's all good news. The speakers are not in-ear buds but actual speakers that deliver impressive HD quality audio. The electronics are powered by a lithium battery that charges via a micro USB-to-USB cable (included). Charge time is approximately 1.5 hours, and you can get 10 to 12 hours of playing time per charge. Phone calls create a slightly heavier battery drain.
While the cap is washable, the electronics are not. You must remove the speakers and mic, but the process is crazy easy, so that is not a problem at all. You can choose any color you like, as long as it's black.
36. Survival Kit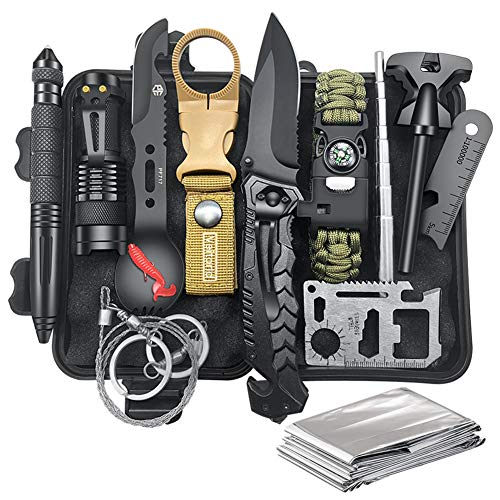 Buy or Read More on Amazon Here ($36.99 at the time of publication)
Before he drops off his keys to the board room and heads out the door, does the retiree realize that it's a jungle out there? Well, whether he does or doesn't, this impressive survival kit will make sure he has the gear to handle just about anything that crops up.
This 12-piece kit just looks cool, with all the components sitting in their designated pockets. Here's what you get with this: (1) Upgraded survival knife, (2) pocket bellows for helping little flames become roaring infernos, (3) wire saw for cutting small limbs or escaping bamboo cages, (4) water bottle cap, (5) emergency blanket, (6) firestarter, (7) flashlight to signal the pickup chopper, (8) credit card knife for cutting those interest charges down to size [just kidding], (9) tactical pen for self-defense or signing restaurant checks, (10) spork for fine dining by the campfire, (11) carabiner for holding more stuff than even this kit includes and (12) waterproof box in case your canoe gets tipped over.
But wait, there's more. The fire starter is actually part of a survival bracelet, which also includes a compass, whistle and fish lure. And the spork is really a multi-purpose tool, with a bottle opener, blade saw and notches for holding string or fishing line.  So, calling this rig a 12-way tool is doing it a disservice. This is ideal for hunting, fishing, camping, hiking and tactical operations, if necessary. If nothing else, it will be the coolest gift the retiree receives.
37. Hot Sauce Making Kit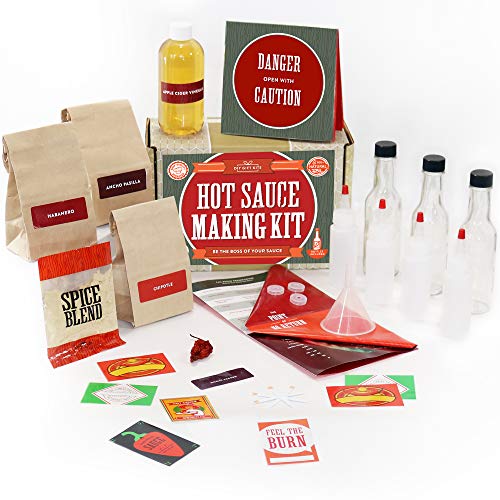 Buy or Read More on Amazon Here ($44.82 at the time of publication)
If you want to clear out the kitchen – or your sinuses – this might be the thing for you. Using the supplied spices and vinegar, you can make seven bottles of gourmet hot sauce, and customize them to your taste.
The kit includes seven bottles (three glass and four plastic squeeze bottles), a two-inch funnel, a bottle of apple cider vinegar, a pouch of spice blend, bags of Ancho Pisillas, Chipotle, Habanero and ghost pepper, two pairs of gloves (remember, this is hot stuff!), labels, PH strips (high acid = high heat) and instructions. The instructions are thorough and easy to follow, and make it clear that the peppers and powder derivatives are not to be handled carelessly.
The peppers are specially selected from a fifth-generation pepper producer in Colorado. I couldn't find where you can order more peppers if you use up all that came with the kit, but I assume that you can.
38. Solar Phone Charger
Buy or Read More on Amazon Here ($39.99 at the time of publication)
The idea of having a portable cell phone charger that charges while on the move is nothing new. Having one that's worth the money, time and effort is.
Not to be confused with car chargers that plug into a 12V power port on the dash or console, portable cell phone chargers are actually high-capacity batteries that share their power with cell phones or tablets.
Early attempts at marketing this technology produced a tidal wave of "stick" batteries that were slow to charge, slow to transfer power and fast to burn out. Subsequent generations showed marked improvement, with bulkier, higher capacity power cells that got the job done without so much angst.
Now comes an even newer wave of portable chargers like this one from Compakit, which has enough capacity for multiple cell phone recharges, two-at-once capabilities and can be charged from a wall outlet or the sun.
It's no bigger than a cell phone itself, but it has a 16,000 mAH capacity – good for a couple of total recharges or multiple "freshen-ups" of your cell phone or tablet. When it's time for the device to be recharged, simply tap into a USB port on your computer or a standard phone charger or set it out in the sun (or in a sunny window).
When using the solar recharge system, allow up to twelve hours of full sun for a full charge. If you leave a light on in the house overnight, you could put the power cell near the light so that it can charge while you sleep. It might not reach full capacity, but it would likely be enough to get you through the day.
As if all that coolness wasn't enough, they also threw in a four LED flashlight with three flashlight modes (normal/SOS/strobe).
The case is rugged, rated at IP67 for moisture and dust resistance, and the ports are easy to access. You can charge two devices at once with this, and the transfer rate is as high, if not higher as a standard phone charger.
39. Spinnerbait Kit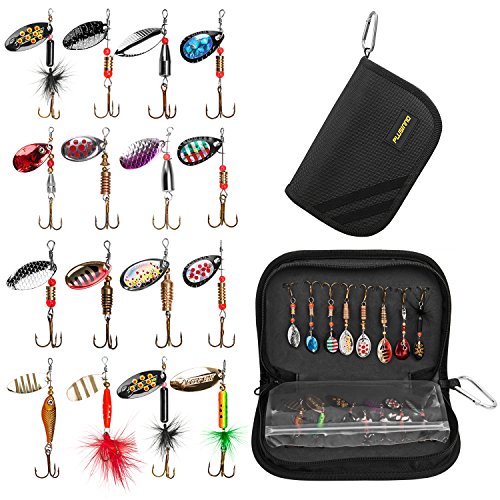 Buy or Read More on Amazon Here ($19.99 at the time of publication)
You might think your retiring pal has all the fishing lures he needs. Heck, his tackle box puts yours to shame. But what you don't know is that he lost three lures last Saturday, snagging them on submerged logs or hanging them up in trees. The week before, it was two really nice lures lost in the murky depths of Lake Wachadoin.
For most anglers, their lure inventory is constantly in flux, which means you can never have enough. That's why this 16-piece spinner bait kit makes a great gift.
It includes 16 spinnerbaits of varying colors and styles. They're effective for bass, crappie, trout, and other predatory fish. Each lure is made from quality materials – stainless steel with super-sharp hardened steel treble hooks.
A very handy feature with this kit is the carrying case, which comes with a carabiner to attach to a belt loop or backpack. For casual, spur-of-the-moment fishing, this is a real plus. All you need to do is grab your rod, grab this case and go.
40. 100-Piece Magnetic Screwdriver Set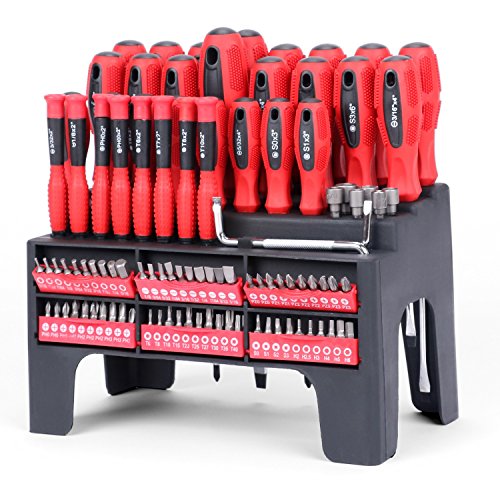 Buy or Read More on Amazon Here ($36.99 at the time of publication)
Yeah, go ahead and order one for yourself while you're at it. This is one heck of a set-up.
Everything rests in a base, about the size of a cricket stool, that holds 100 screwdrivers, screwdriver bits, nut driver bits, a ratchet handle and some right-angle drivers. The tips are magnetized, and the shafts are hardened steel.  These are not gimmicky tools. They meet ANSI standards and are able to take on whatever jobs you might have for them.
There are 23 screwdrivers – seven slotted, eight Phillips head, six torx and four square tip; eight precision screwdrivers – two slotted, two Phillips and four torx; 60 1-inch CRV bits, with slotted, Phillips, Pozidriv, torx, square, metric and hex tips; six nut driver bits and two offset screwdrivers.
The handles are cushion grip and ergonomically designed. The only downside to this product is that you have to remember to put the tools back where they belong in order for this to be as handy as it was meant to be.
Related Posts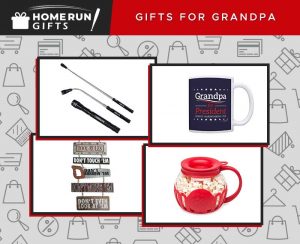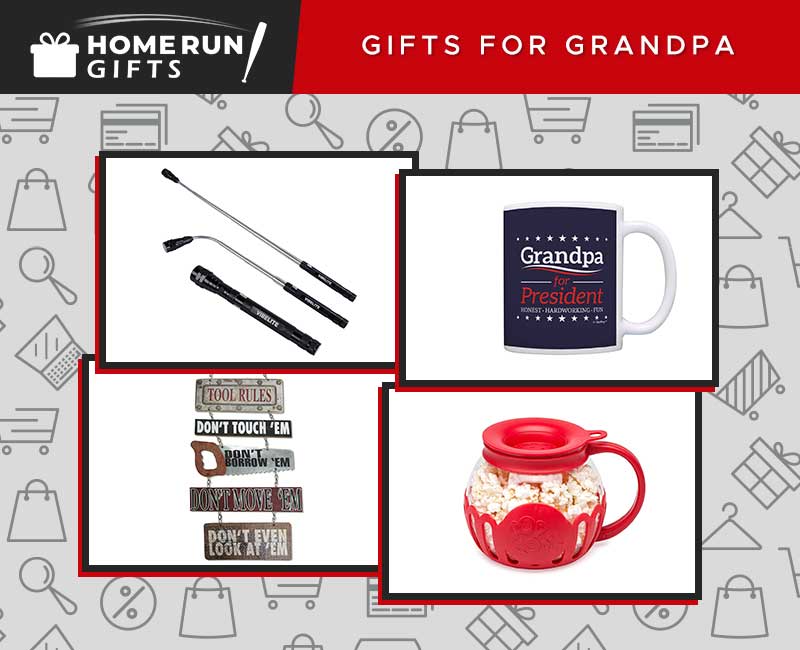 Gifts for Grandpa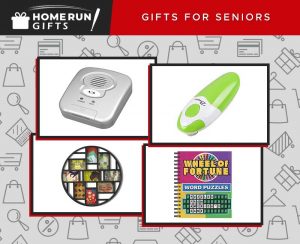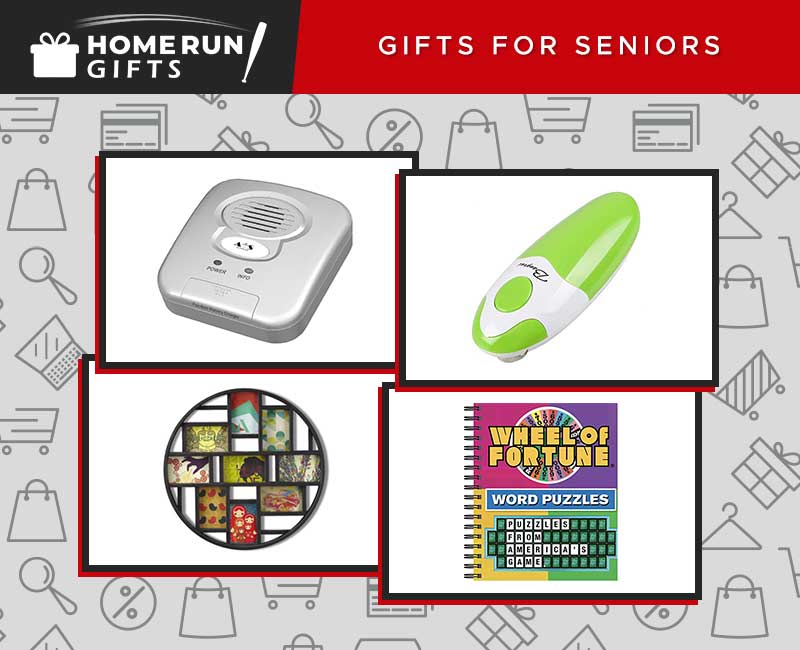 Gifts for Seniors
A You Still Stumped? Here Are Some Additional Tips to Find the Perfect Gift
Buying a gift for a retiree is like buying a gift for anyone else. Chances are, if you see something that you like, the person receiving it will like it as well. Assuming you already know not to buy a non-golfer a set of driver covers or Ford guy a Chevy ball cap, here are some general categories you might want to consider.
Tech Gadgets
Retirees are more savvy about modern technology than most people give them credit for. So don't dismiss getting a high-tech gift because you think the recipient won't be able to work it. Often, we're more excited about gadgetry than a younger person would be, because we remember what it was like before. Devices with Siri or Alexa may be ho-hum to a millennial, but to folks 60+, they're the coolest thing since Jiffy-Pop.
Decor Items
Tasteful home decor items are always appreciated. The keyword is tasteful. The leg lamp from A Christmas Story may draw a few laughs but it's not tasteful. Let someone else get that. When selecting a decor item, think small. Most retirees already have a house full of pretty things, so don't go for something that's going to push other things off the shelf.
Slogans
Items imprinted with slogans are very prevalent. Frames, plaques, shadow boxes, prints and all sorts of merchandise can be engraved these days. Carefully select the phrase, making sure it's appropriate for the recipient. You can give the gift as a blank, and they can send it in to have something engraved on it, but there's something very satisfying about receiving a gift that's complete and ready to hang on a wall.
Hobby-Related 
Don't go overboard here. If the retiree is a golfer, he probably has all the doo-dads he needs. The key is to present him or her with a matched set with a nice way of displaying the items. The giftee might not even use any of the stuff, but has it out as a reminder of the giver.
If you're buying a hobby-related gift, check with the spouse to find out if there is something they've always wanted, or something that's recently been lost or broken.
Clothing
Outside of a hat, gloves or maybe a pair of boots, leave clothing gifts to the family.
Gag Gifts
That's a whole lot of nope. If, in spite of my warning, you get him or her a gag gift for a round of laughs at the retirement party, please ALSO buy a gift they'll really appreciate after the giggles have died down.
Books
Your first thought might be to find a book that fits what your retiring friend is already interested in. And, yes, you could do that, but what might really make a mark is to give them a book that they may have overlooked or wouldn't necessarily choose on their own. It should be tasteful and appropriate, of course, but maybe of a subject matter they've not given thought to previously.
Skip the diet, exercise for seniors, yoga, weight training, making your money stretch further and better life through Zen titles. Someone else will get those. You can mark my words on that.
Be sure to get hardcover versions. Yes, you can get the paperback or e-reader versions, but they're just not very "gifty."
All of the above are great for retirees.