Planning a party for 3-year-olds can be a lot of fun! You just need to take into account where they are developmentally and what kind of things they're interested in. Three-year-olds are still toddlers but quickly moving into the preschool stage. Don't worry, though, we've put together a great list of 3rd birthday party ideas below, so regardless if you're planning a party for boys or girls, we're confident you'll find many ideas you'll like.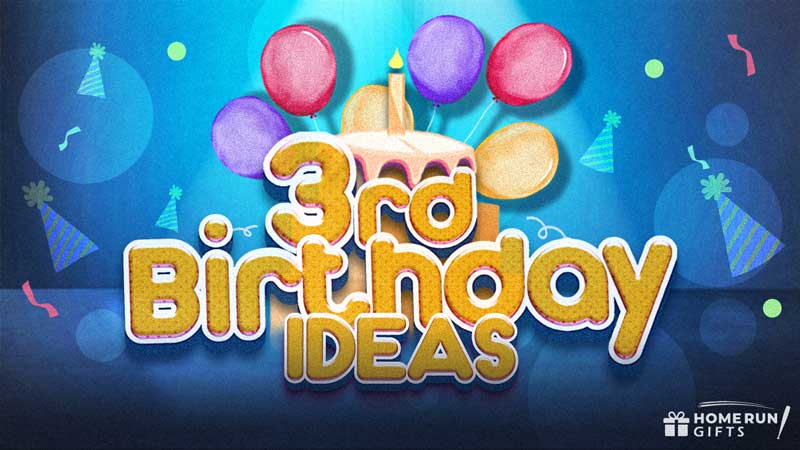 Simply scroll through the list below and find the perfect idea!
1. A Day at the Zoo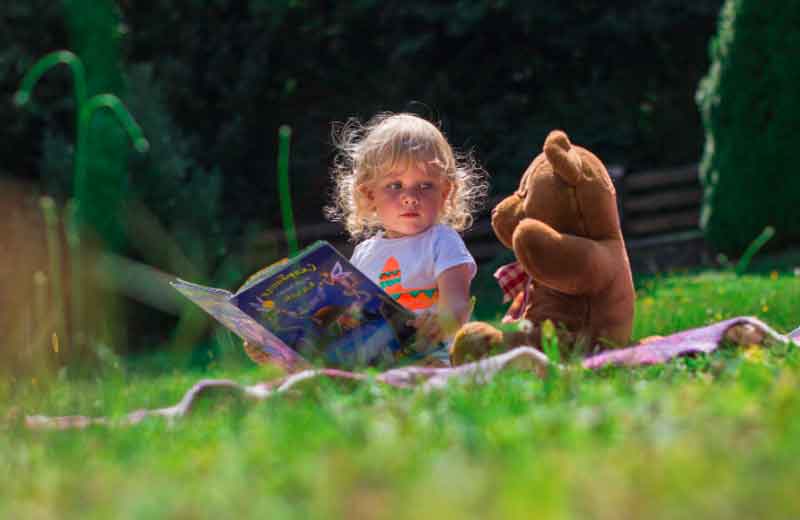 Celebrate your child's special day with a Zoo party! You can set up the "zoo" before the party or let the children create it. Stuffed animals, building blocks, cardboard boxes from your recycle bin, and a child's imagination will make for the perfect afternoon! "The Animal Freeze Dance Song" by the Kiboomers will have your little ones dancing like animals. Many animals at the zoo eat fruits and vegetables, which means you can serve healthy snacks and stay within the theme! The perfect party favors would be stuffed animals, animal figurines, or zookeeper vests or hats, all of which they could use during the party as they play.
2. A Day at the Farm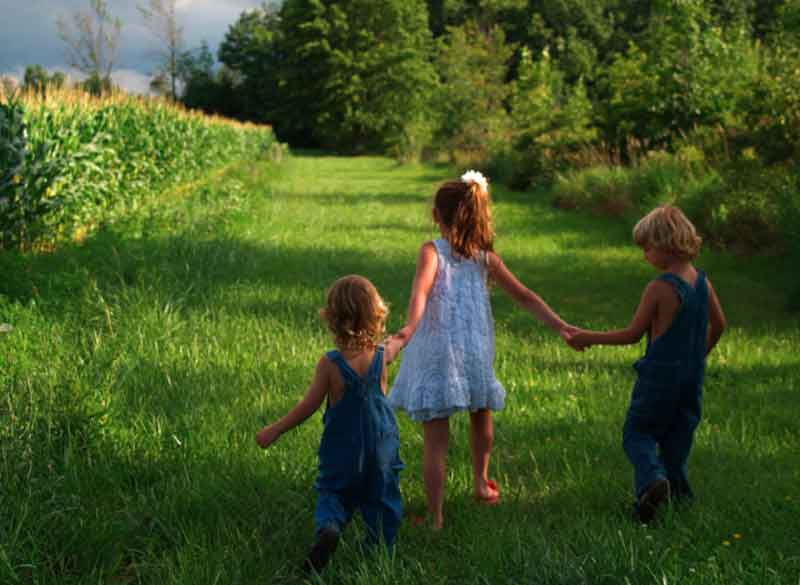 My toddler loves visiting the farm near our house and feeding the goats. If you can't go to a farm, bring the farm home with stuffed animals and farm play sets. Grab shallow totes and fill them with potting soil, dried beans/seeds, and toy shovels, allowing them to plant their crops. Three-year-olds are beginning to learn to play organized games together but still thrive in more unstructured settings where they can explore and play freely. Allowing them time to play with the farm toys and dig in the dirt will prove to be a wonderful, carefree day for all!
3. Construction Zone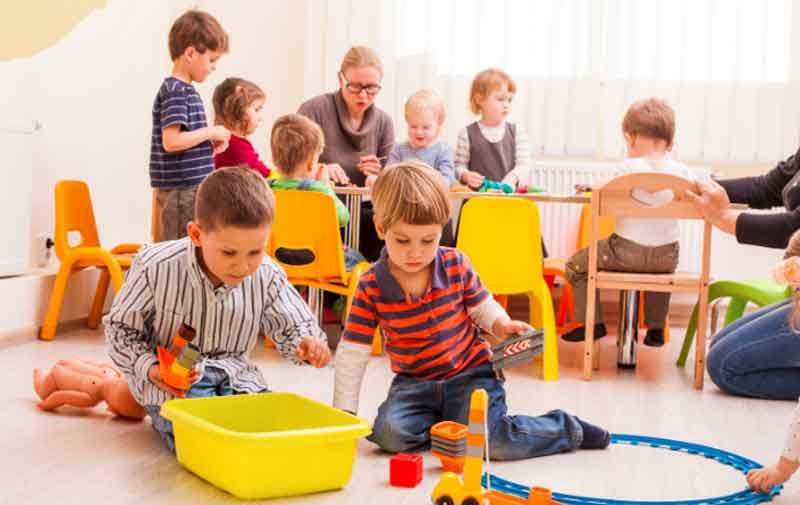 Hard hats, building blocks of all kinds, and a child's imagination will lead to a birthday party that "builds" lifelong memories. My son loved building when he was three, so we gathered up all of his blocks, construction vehicles, and toy tool sets and created a Construction Zone party. Every child received a "hard hat" and construction worker vest as their party favors and spent the afternoon building and playing together. We served a "dirt cake" topped with construction vehicles and served with a toy shovel. We built houses with pretzels and marshmallows as they ate their refreshments. Kids and parents alike enjoyed the laid-back feel of this easy party. If you're looking for 3rd birthday party ideas for boys, this is a great one!
4. Take Me Out to the Ballgame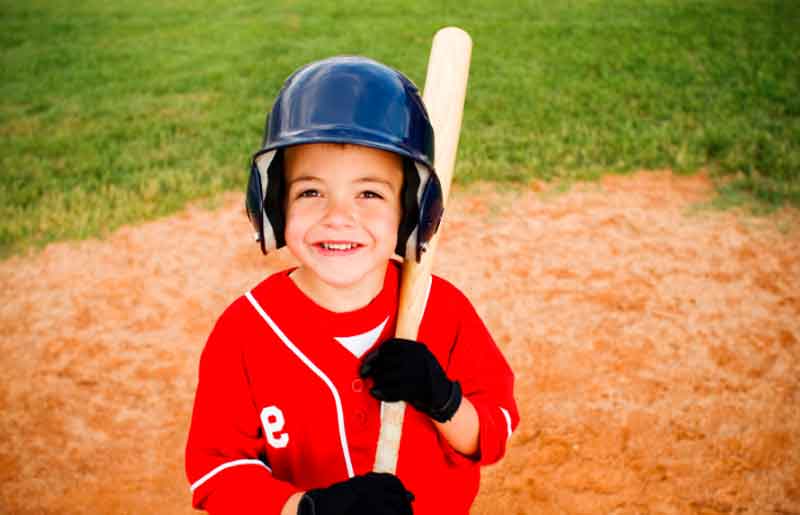 Grab a T-Ball set and get ready for an afternoon of home runs and grand slams. My oldest son loved baseball and was thrilled when we had his birthday party at the ballpark. His guests got to play on the ball field all afternoon. If you can't go to the ballpark, put your T-Ball set in your backyard and play ball! Along with your cake or cupcakes, you can serve concession stand favorites like nachos or hotdogs. Your little one will think this party was a GRAND SLAM, and everyone will walk away winners after a day of family fun.
5. Splish Splash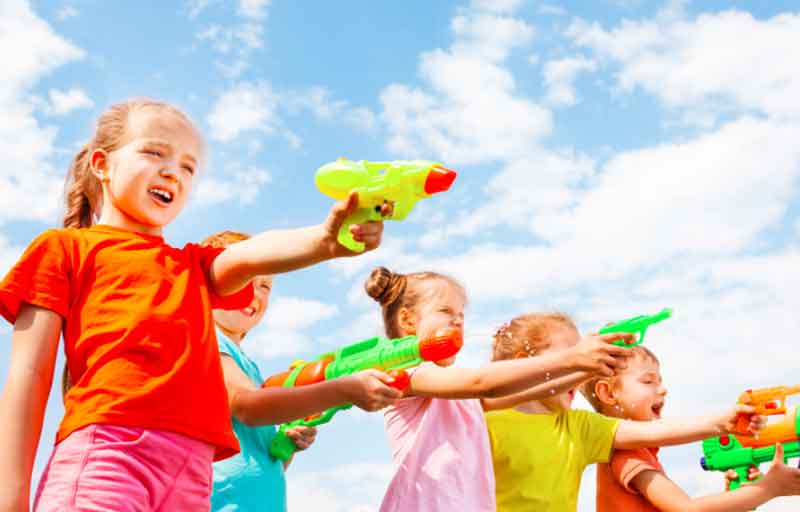 Gather up your sunscreen, bathing suits, goggles, and beach balls, and get ready for an afternoon of water fun! Turn your backyard into a waterpark with inexpensive wading pools, water sprayers or water guns, and pool toys. Children will spend the afternoon splashing and playing as parents visit with one another and supervise the fun. At my daughter's water party, we served a "bucket cake" by filling a toy beach bucket with layers of cake and icing, topped with blue icing and graham cracker sand. I even made a few chocolate candy seashells to lay on top of the sand.
6. Me and My Teddy Party
At your Me and My Teddy party, your child will invite her friends AND their favorite stuffies. As they arrive, you can offer a cozy corner where they will snuggle their stuffies and look at books together, a craft area where they can make matching necklaces for themselves and their stuffies, and a music area where they can dance with their stuffies and friends. When considering decorations, this party could be fancy, dress-up Teddy Bear Tea, or it could be a pajama party with a bedtime theme. The possibilities are endless as you consider your child's personality and style!
7. Princess Tea Party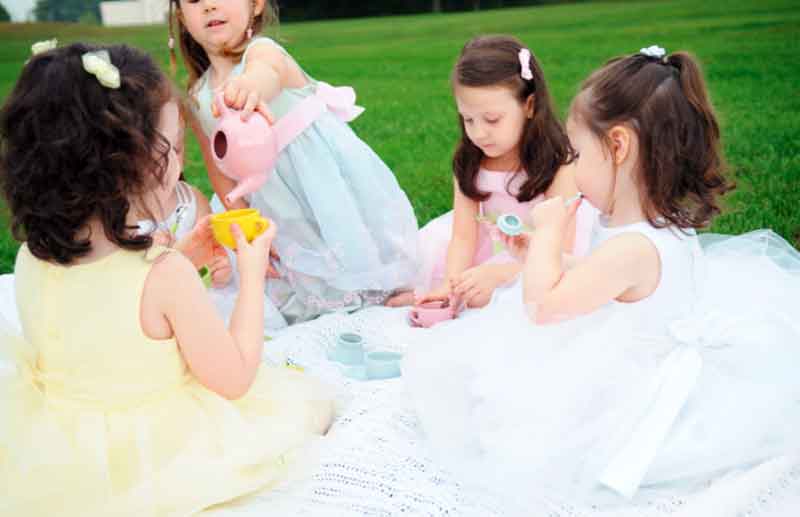 Invite your child's friends to a Royal-Tea THREE Party. Your princess and friends will become royalty dressed in their finest clothes, sitting at beautifully decorated tables with their "tea" and fancy desserts. Recruit a few volunteers to do fancy hairstyles, polish the children's nails, and even do their make-up if you would like. Many retailers have mini bottles of nail polish and a variety of fancy hair clips that you can give guests as party favors. Of course, no princess should be without a tiara, so you will need to grab a package of assorted tiara party favors as well. This is one of my personal favorite 3rd birthday party ideas for girls.
8. A Day at the Park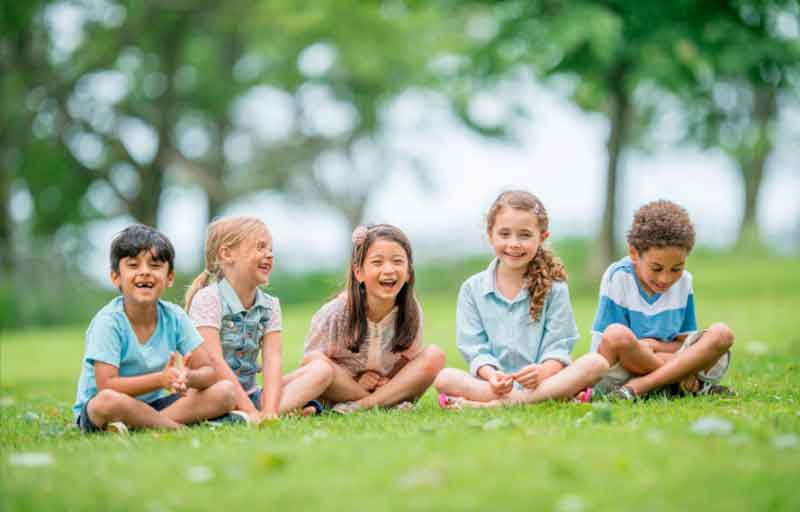 For a simple, fun-filled party for your three-year-old, invite your friends to a day at the park. Find a park in your community that offers shelter rentals allowing your friends and family a bit of privacy while you celebrate together with a picnic. Three-year-olds are full of energy and will love to run and play with their friends as they celebrate! Decorations for this party can be minimal as the majority of the party will be spent on the playground. The perfect party favors would be bubbles, sidewalk chalk, or balls they can use while playing together at the party.
9. THREE Points! Basketball Party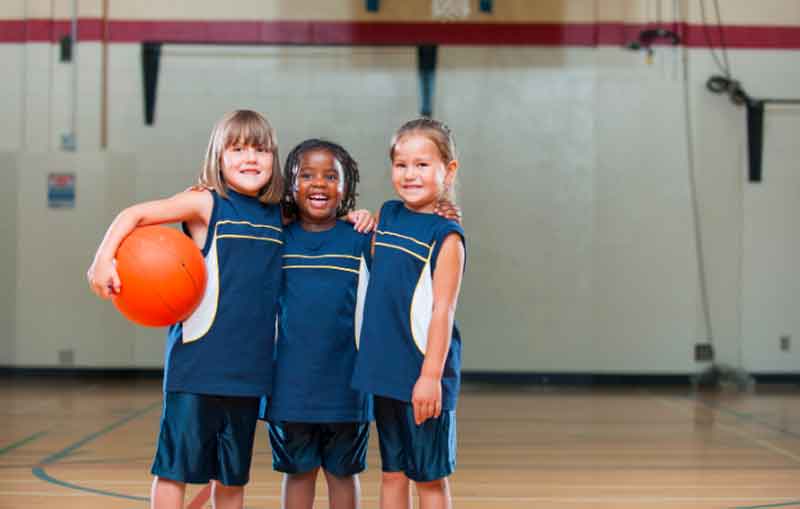 Your tiny athlete will love this fun-filled basketball party! Gather a few toddler basketball goals or small goals that hang on the wall or over a door, so there will be plenty of opportunities for the children to play ball. Choose decorations in the colors of your favorite team, or find basketball-themed decorations at most retailers that carry party products. You can even add pom poms for those who would rather cheer than play with the balls. Refreshments consist of concession-style foods such as hotdogs, nachos, and puffcorn. The pom poms and little basketballs make the best favors to end the winning party!
10. I'm Going to BEE THREE Theme Party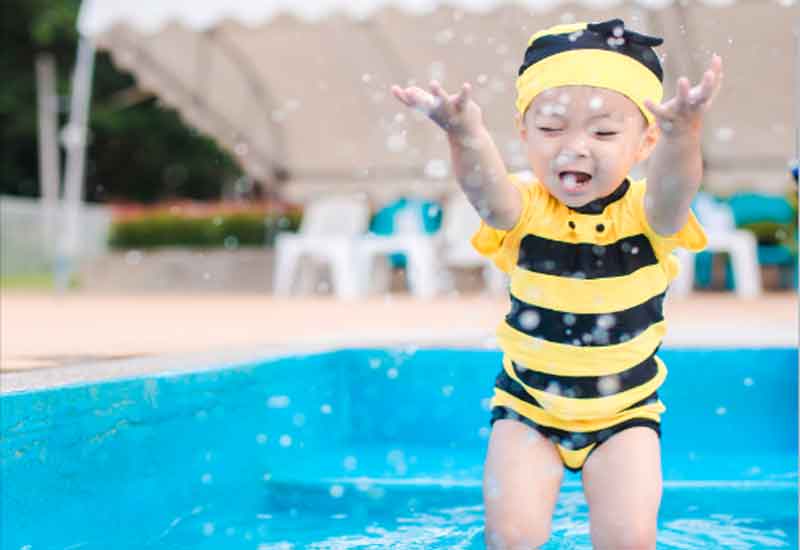 Buzz, buzz, I'm going to BEE THREE! Everyone will love this sweet theme of Bumble Bees and flowers. Decorate with a garden and bee theme while serving fresh fruits alongside your Birthday cake. The littles can "buzz" around the yard playing with bubbles and other outdoor toys. Fill a shallow plastic tote with potting soil and fake flowers to let the children "plant" a flower garden. You could even provide small toy insects and bees for them to use in the garden as they play. This is a great theme for spring or summer parties that can be enjoyed outside.
11. Tumble Tots Party
Many communities have gymnastics gyms that will host birthday parties. In most cases, a staff member supervises and instructs parents and children on how to safely use the equipment, then children are allowed to play to their hearts' content! Costs will vary from gym to gym, but a party like this requires very little planning or decorating on the parent's end. Most of the time you will provide the cake and refreshments, but one of our gyms actually even takes care of that part for the parents! Three-year-olds love the free environment of a party at a gym. They are able to run, climb, and play without overly structured activities.
12. Inflatable Parties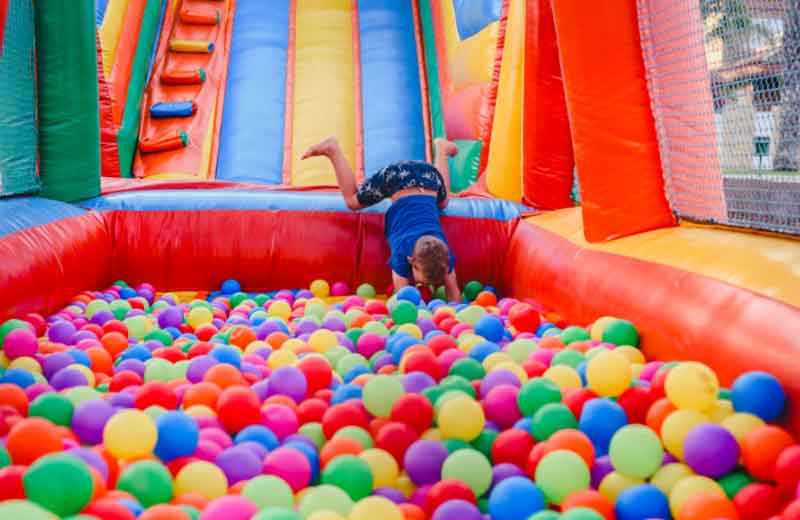 In recent years, inflatables have been the most popular activity for parties. Some communities have businesses that host inflatable parties in their facility, while other businesses rent the inflatables to the families and set them up at their homes. Inflatables allow children to run, jump and play while parents can supervise as they visit with one another. An inflatable party does not need any other structured activities or themes. Costs vary from one company to another but tend to be worth it as it allows the parents to enjoy the party with very little stress of planning.
13. The Great Outdoors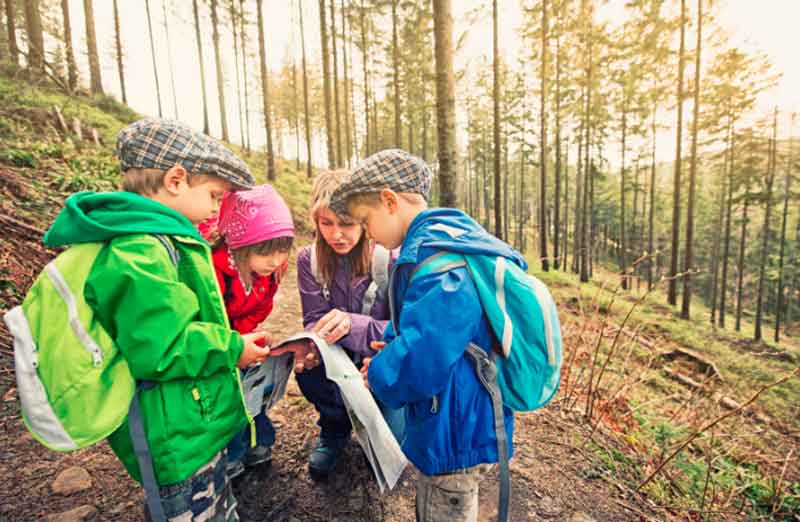 Three-year-olds thrive on climbing, moving, jumping, running…any gross motor play! Get your child and his friends outside with a GREAT OUTDOORS party! Go on a nature hunt, allowing the children to collect sticks, leaves, rocks, etc., that they can use in a collage activity later in the day. Help them lift up larger rocks to see what might be living underneath. My little boy loves looking for worms and other critters under the rocks in our garden. You can hand out magnifying glasses (order bulk from Amazon) for them to use as you explore and then later take them home as their party favors.
14. BUBBLES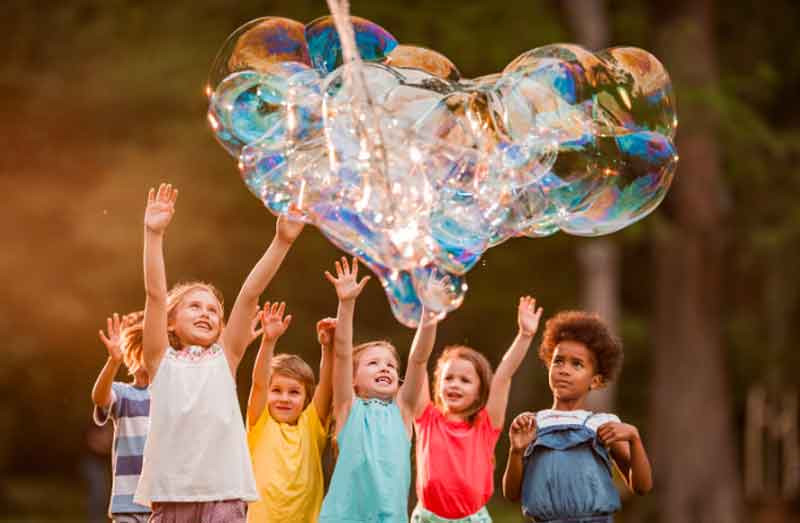 Toddlers and preschoolers love bubbles! Your three-year-old will love a celebration filled with the magic of bubbles. Most retailers carry battery-operated bubble blowers that you can have positioned around the yard to have bubbles all around. Put bubble solution in a wading pool and use giant bubble wands to help the children create bubbles of all sizes! Your obvious party favors will be bubbles for the children to use at the party and then take home at the end. Use clear Christmas ornaments to create fun decorations that look like bubbles floating around your refreshment table. Everyone will love this fun theme!
15. Candy Land
One of my favorite children's games is Candy Land! For this party, purchase three or four games in order to have enough for each child to get to play. Ask a few parents to assist at each game table as the children play. You can give the extra copies of the game to a local shelter, daycare, classroom, or foster family after your party. Your refreshments can represent goodies from each area of Candy Land! Chocolate from the Chocolate Swamp, lollipops from the Lollipop Woods, etc. Your decorations can be colorful and fun to match the Candy Land board and characters.
16. Party Animals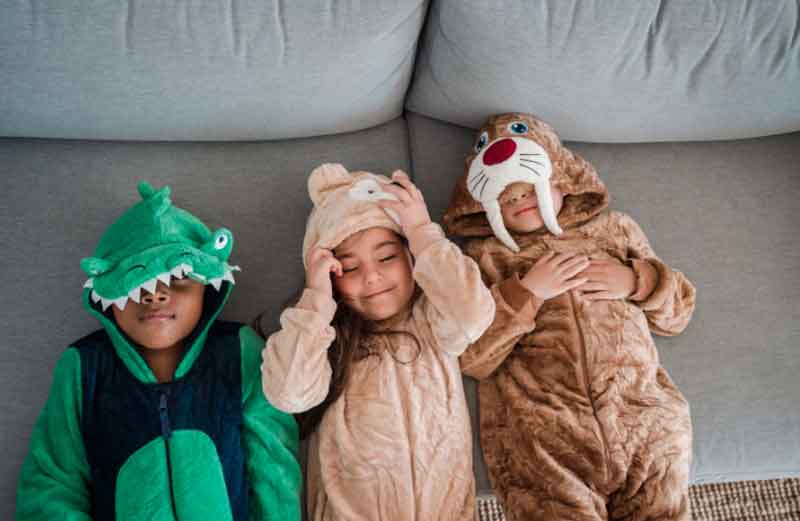 Every preschooler loves animals! This theme takes you into the wild and allows the kids to play and pretend to be animals. Decorate your tables with animal toys you can give away as party favors at the end or your child can have as an additional birthday present when the party is over. You can go with a jungle, safari, or zoo theme as you decide what animals, snacks, and activities to include. There are several fun animal movement songs for preschoolers on youtube or Spotify. Create your own playlist and let the children dance and pretend to be animals all afternoon.
17. A ROARING Good Time Dinosaur Party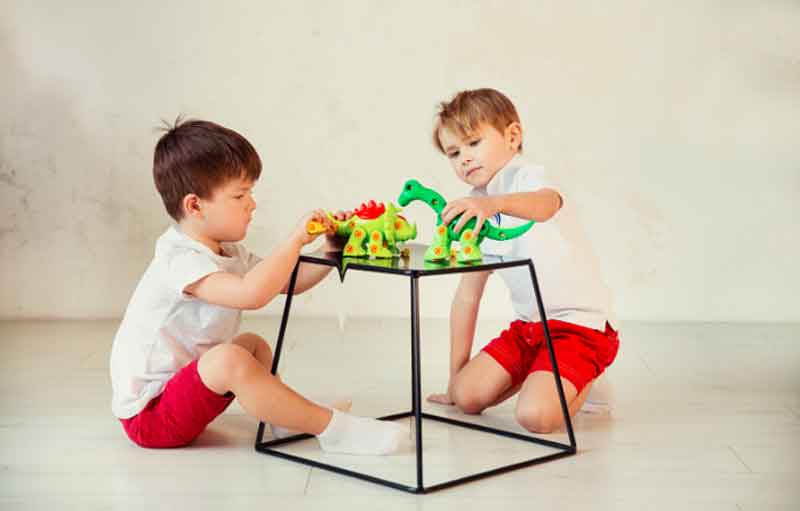 It is time for an archeological dig as you celebrate your three-year-old at this ROARING party! Hide dinosaur toys in totes of sand for the children to find during the party. Decorate with paw prints around the house, leading your guests to the refreshment table or the dig sites. Use larger dinosaur toys and paint to let the children make dinosaur track paintings. Play "Dinosaur Stomp" by The Mother Goose Club, and let your guests pretend to stomp and chomp like dinosaurs. Everyone is guaranteed to ROAR over this amazing celebration for your three-year-old.
18. THREE-2-1, GO: Off to the Races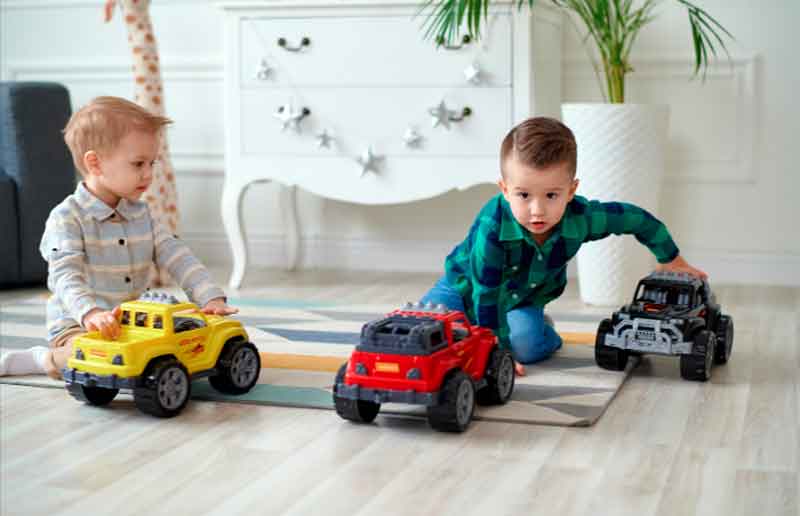 On your mark, get set, GO! Your little one is going to love this racing party! Whether you choose to have this party outdoors with riding toys for the children or inside with toy race cars, everyone will have a blast as they race around the tracks you provide. Painter's tape makes the perfect lanes for children to follow along the floor inside, while you can use sidewalk chalk to mark the paths outside. You can let the little ones dip their toy car in paint and then drive them on paper leaving car paint tracks. Everyone will love racing around all afternoon!
19. THREE Little Monkeys Jumping on the Bed Theme Party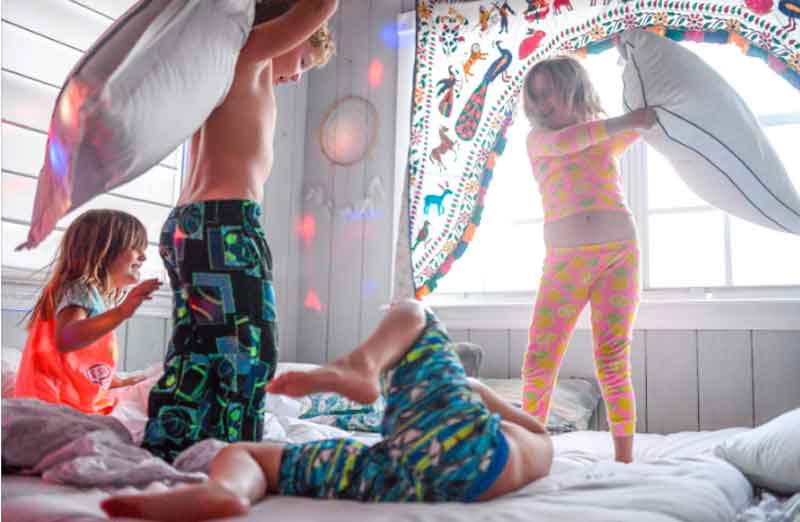 Littles love the THREE Little Monkey Jumping on the Bed. Create a fun mock slumber party asking your guests to come in pajamas. Use wading pools filled with blankets and pillows as beds for the children to jump in as you sing the song. Have toy doctor kits available for the children to tend to one another as they "fall off and bump their heads." Children love bandaids and would enjoy sticking them on their pretend boo-boos. Bandaids would be a fun (yet useful) item to drop in the party favor bags. Every monkey loves bananas, so make sure you include them on your refreshment menu!Popular Related Article: Great 5th Birthday Party Ideas Everyone Will Love
20. THREE Little Pigs Theme Party
My toddler's favorite story is "The Three Little Pigs." At this party, the children can build houses out of materials such as pretzels and marshmallows (sticks), blocks (bricks), and more. My little one loves to be the Big Bad Wolf and BLOW my house down! The littles can try to blow down their own creations as they act out the story. Other popular childhood stories could be included in this party, bringing in Little Red Riding Hood, The Three Bears, Hansel and Gretel, and more. Fun party favors would be storybooks for each of your guests. Everyone will remember this party and live "Happily Ever After."
21. THREE Little Monkeys and the Alligator Theme Party
Let's go to the Rainforest with the THREE Little Monkeys and help them tease Mr. Alligator. Your three-year-old and her friends will love colorful jungle decorations, including several jungle animals, not just the monkeys and the alligator. You can serve fresh fruits for refreshments, especially bananas, because every monkey loves bananas! Children will enjoy singing "The Three Little Monkeys Swinging in the Tree" as they act out each part. You can provide water play activities such as tubs of water with toy alligators as you talk about the alligator's watery home. Your little monkey and her friends will have a WILD time at this party.
22. Goldilocks and the THREE Bears
This party will definitely be "just right" as your toddler guests jump into Goldilocks and the THREE Bears. Decorate with items of a variety of sizes and textures, too large, too small, too soft, too hard, and, of course, JUST RIGHT. Provide teddy bears of all sizes to represent Papa, Mama, and Baby Bear for playtime. A fun game would be a ring toss or bean bag toss with rings or bean bags that are too big, too small, and just right for the target. On your refreshment table, include large spoons (too big) and baby spoons (too little) along with the spoons the children will actually use to eat (just right). The afternoon will be the perfect fit for your three-year-old!
23. THREE Ring Circus
Come one, Come All, to our THREE Ring Circus! Your toddler and her guests will be the fiercest lions jumping through (hula) hoops, the cutest trained puppies doing tricks on a simple obstacle you can create with outdoor toys such as hoops, cones, and balls, and the most amazing acrobats walking across tightropes (jump ropes) laid out on the ground. Cotton candy, puffcorn, and other concession foods make the perfect refreshments for this event. Oriental Trading and other retailers carry fun circus-themed decorations and concession-style cups and holders for your refreshments. It will be the Greatest Party on Earth!
24. THREE Little Kittens
Everyone loves kittens, but does everyone remember the story of the THREE little kittens who lost their mittens? You can decorate for this sweet theme with mix-matched mittens and stuffed kittens throughout the room. Using mittens, you can play matching games with the children or hide mittens throughout the room and have them play "hide and seek" with them. Cute little cat ears will turn your guests into the kittens as they act out the story together. Each child can leave with a pair of mittens as their party favor. This party will be PURRRfect for your little!
25. Rub a Dub Dub, THREE Men in a Tub
Rub a dub dub, THREE men in a tub is a fun theme for a nursery rhyme-filled birthday party! Mother Goose and all of her friends could be included in the festivities. Invite your guests to wear their swimsuits and create your own tubs with wading pools filled with water, bath toys, or pool toys, and let the children play all afternoon. Bubbles would be the perfect party favor that kids can use at the party and take home with them at the end. Snacks for this party can include tarts made by the Queen of Hearts and muffins made by The Muffin Man, do you know him?
26. Look at Me, I'm THREE
All eyes are on your little one at this birthday party! A photo wall highlighting your favorite pictures from the past three years is the perfect backdrop for the refreshment table. Serve all of her favorite foods for your refreshments and decorate with her favorite colors. For party favors, choose items that represent her favorite activities, characters, or toys. You can make a playlist of her favorite songs to play throughout the party and set out her favorite toys for her to share with her friends as they play together. Your birthday girl will have a wonderful time surrounded by her favorite people and doing her favorite things.
27. THREE-2-1, Blast Off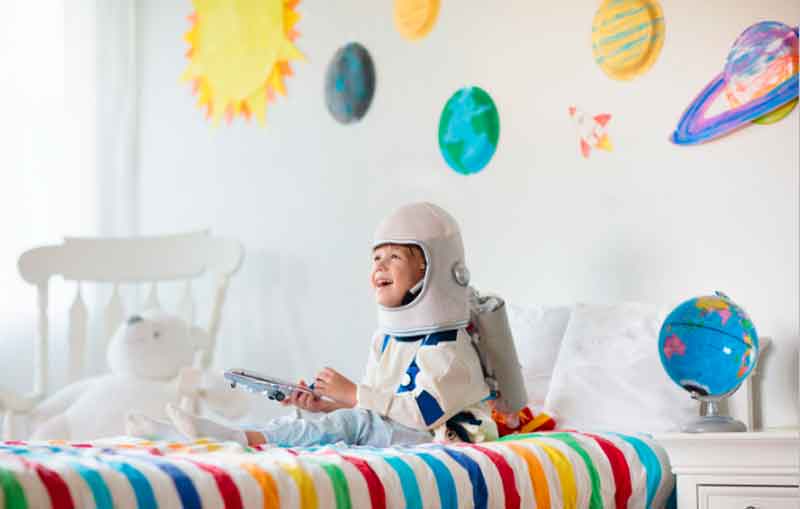 Prepare for a party that is OUT OF THIS WORLD! Stars, planets, and rocket ships will make your little astronaut the happiest three-year-old in the universe! You can decorate with stars, moons, and planets and serve moon pies and star fruit with your refreshments. If you want to be adventurous, use round and star-shaped sponges to let them paint their own universe on black construction paper. A fun addition to this party would be small tubs of kinetic sand (moon sand) for the children to explore. Let your guests take home their paintings and some of the kinetic sand as their party favors!
28. Chugga Chugga Choo Choo
All Aboard! It is time to go for a ride on the Birthday Express! Grab cardboard boxes from a local retailer or moving company and let each child and parent decorate their own train car! The children can sit in them as they eat their refreshments and pretend they are on a train ride. If you have train tracks and toy trains, they would be a great addition to the activities of the day. Refreshments for this party could be sandwiches and treats that might be served on a dinner train. Recruit a few volunteers to be servers on the pretend train ride. Everyone will love this railroad adventure.
29. Baby Shark
Every three-year-old loves Baby Shark and his family. This party is sure to be a hit with your child and all of his friends. Almost every retailer that carries party supplies will have decorations and party favors already created for you with this theme. The children will love singing and dancing to the song (probably multiple times). Add water games to the day's activities for a party everyone will love! Let the kids make their own ocean snacks, scooping vanilla pudding colored blue into a small cup and topping it with goldfish and graham cracker crumbs. This party will be a GREAT SPLASH!
30. Fiesta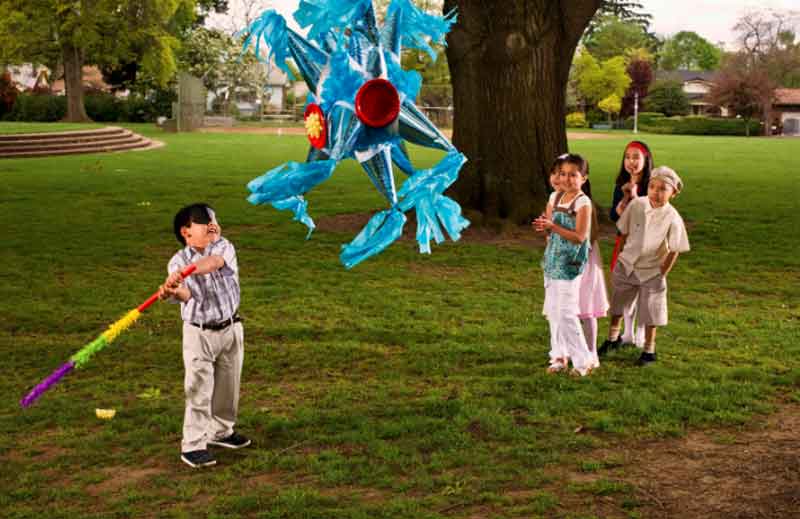 Gather the ingredients for the perfect tacos and get ready for a Fiesta! Everyone loves taco night and mariachi music. Your littles will enjoy building their own tacos, dancing to the music, and don't forget the pinata! You can let everyone decorate sombreros which make the perfect party favors. Provide maracas for the children to use as they dance and play. These will also be wonderful party favors. This theme lends itself to an informal and playful environment. Relax, enjoy your guests, and let the kids play! Parents and children alike are guaranteed to need a siesta after this fiesta!
31. Paw Patrol
Three-year-olds love Paw Patrol, and items for this theme will be easy to find in most retailers that carry party supplies. Using stuffed animals and other toys, you can set up emergencies throughout the party space for your child and her guests to rescue. After they rescue them, they can spend the rest of the afternoon creating their own emergencies and rescuing them again and again. Provide emergency vehicles for play as well. Great party favors for this theme would be police badges or fire helmets. Refreshments can be simple and kid-friendly. Everyone will enjoy this low-maintenance rescue party! If you're looking for 3rd birthday party ideas you can do at home, then this is a great one. Most kids love Paw Patrol!
32. My Favorite Color
Three-year-olds are very vocal about their favorite things, especially their favorite color! Have a party celebrating your child's favorite color, and do EVERYTHING in that color! If it is orange, everything is orange, from your decorations to your refreshments. You will serve oranges, goldfish, orange drinks, and an orange cake. Play games with orange balls or balloons, and all of your party favors will be orange. You can use one color or allow her to choose her top two or three to add a little variety. This will be a fun way to celebrate your child, her interests, and her personality on her special day.
33. Little Monsters
Your Little Monster will love a party that celebrates monsters all day long! You can read, The Monster at the End of this Book, let the children create their own monsters with chenille stems, craft pom poms, and googly eyes, and let them pretend to be monsters as you dance to "The Monster Mash". Monsters like to hide! Let the children play a game of hide and seek. If you don't have space for the children to hide, you could play hide and seek with a toy monster. Hide the monster and let the children find him! Your child will love this crazy theme!
34. Red Fish, Blue Fish, One Fish, Two Fish
Practice your rhyming skills as you prepare for this 3rd birthday party! Whether you bravely purchase live goldfish and fish bowls to use as centerpieces, or you create your own fish bowls with rainbow goldfish snacks, you can create a magical world with Dr. Seuss's classic, Red Fish, Blue Fish, One Fish, Two Fish. You can make a fishing game with dowel rods and a piece of yarn with a small magnet on the end. Cut out fish shapes from red and blue paper and attach paper clips to their noses. Place them in a wading pool and let your children go fishing!
35. Trick or Treat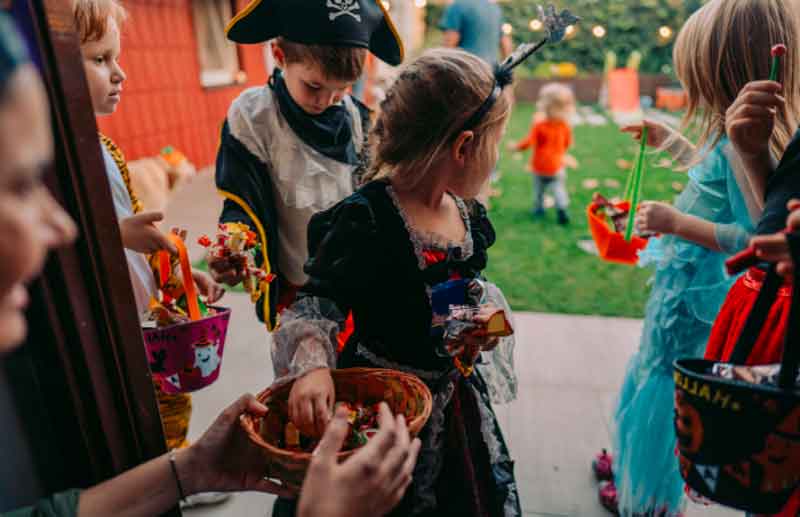 Does your child have an October birthday? While they are young, take advantage of this and combine the two events. You won't be able to get away with this when they are older! Invite guests to come in their costumes, giving parents another opportunity to use that costume they worked so hard to make or purchase. If you plan it on the day the kids are actually trick or treating; families can plan to go together as part of your party activities! Oriental Trading carries the cutest pumpkin decorating sticker kits that are perfect for toddlers and would be a wonderful activity for this party.
36. Pumpkin Patch Party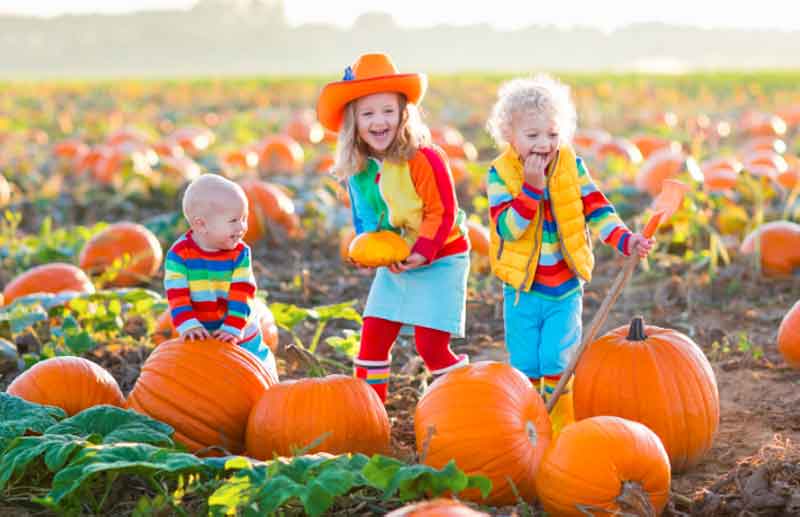 I love fall parties! If your child has a fall birthday, use the colors and activities the season naturally provides! Many communities have pumpkin patches that offer group rates or party packages. Invite your friends to celebrate your three-year-old at your local pumpkin patch. In most cases, everything is included, such as hay rides, playgrounds, and petting zoos. Make clear on the invitation what you intend to cover as part of the party and what they will have to cover as optional activities. You won't have to worry about decorations or favors for this party, so your only cost will be the cake and admission to the venue!
37. My Silly Valentine
Do you have a February baby? The early years are the perfect time to use holiday themes as birthday parties. For this 3rd Birthday Party, celebrate your love for your little by hosting a Valentine's Party for him. Decorate with a Valentine's theme and hand out Valentine's candies to your guests as their favors. Choose his favorite snacks for your refreshments and his favorite games, songs, or stories for your activities. Set up a cute photo booth scene for parents to take pictures with their own little Valentines or to take pictures of your child and his friends.
38. Candles and Sparklers and Fireworks, OH MY!
Those sweet July babies can celebrate their birthday with a 4th of July theme! Decorating in red, white, and blue sets the scene for an amazing summer birthday. Hamburgers, hot dogs, and watermelon are the perfect cookout foods for this event. Pull out the sprinklers, wading pools, and slip and slides, and get ready for a picnic your little one and his guests will love. For an All American party, you can even pull out the T-Ball set and play a game or two of baseball. End the evening with sparklers and maybe even a few fireworks to make it a night to remember!
39. A Bluey Party
Children love Bluey and her family! Any three-year-old would flip over a Bluey Birthday. Currently trending character parties are relatively easy to plan and prepare for because they can be found in almost every retailer that carries party supplies. Coming up with refreshment ideas can be as easy as watching a couple of episodes with your children to see what the characters like to eat and mimicking that on your refreshment table. Planning activities can be that simple as well. What does Bluey like to do or play? Ask your little one for ideas as well. If the party is indoors, you could have an episode playing in the background.
40. Puppy Pawty
Little ones love puppies, so they are sure to love a Puppy PAWty! Do you know a dog breeder who has puppies on hand that need a little extra attention? Ask them to bring them to visit during the party. Not a fan of inviting animals? Grab stuffed animal puppies for the children to play with all afternoon. Provide small dog dishes, leashes, and other items for the children to use as they play. You can donate items you don't need to an animal shelter in honor of your little one's birthday. You could even let guests bring in items to donate as well, teaching your children the beauty of giving at a young age.
Bonus Idea: Daniel Tiger
Daniel Tiger is a favorite of many three-year-olds. You can highlight all of the characters from this show as you select snacks, decorations, and activities for the day. Don't forget to include Trolley as you decorate! Daniel and his friends love to use their imaginations and create things. Choose your child's favorite episode and pull ideas from it to plan your activities and snacks. In one episode, they build a fort out of blocks, while in another, they make ladybug wings and play together outside. The options are endless. Choose what fits your child's personality and your budget, and it will be the best birthday ever!
Wrap Up:
That does it for this list of birthday ideas. Let us know if there are any creative or unique ones that we missed in the comments section below!