Happy First Anniversary to you and that special someone who deserves a great gift! The first year of marriage, or any relationship really, is all about establishing rhythms and getting in the groove of a new, partnered lifestyle.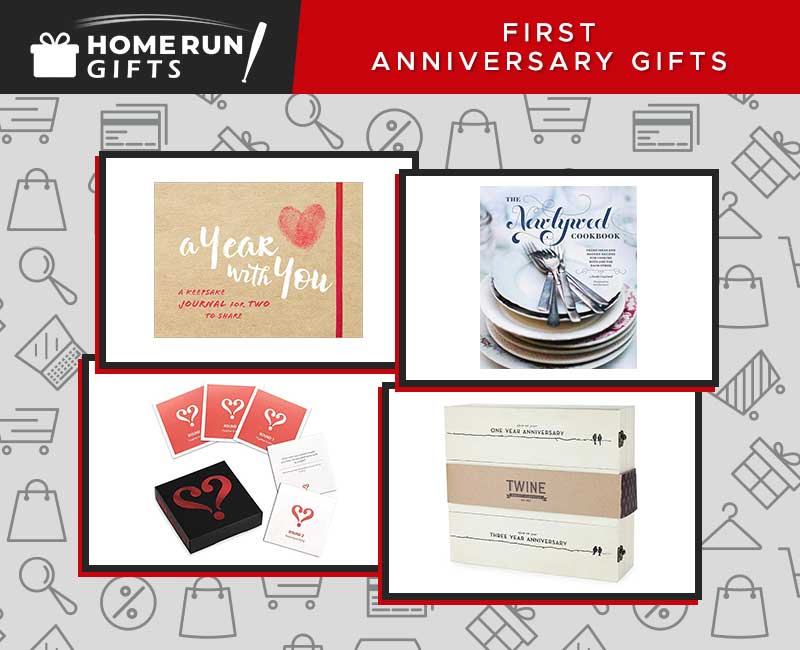 It's certainly an achievement of love and celebration of all good things to mark the first anniversary of this new life. Paper is the traditional category for a first year of marriage, but don't stop there! There are a myriad of fun, beautiful and practical gifts that any not-so-newlywed couple will enjoy. Here are some excellent ideas for 1st anniversary gifts.
List of First Anniversary Gifts
1. Potted Paper Desk Rose by JustPaperRoses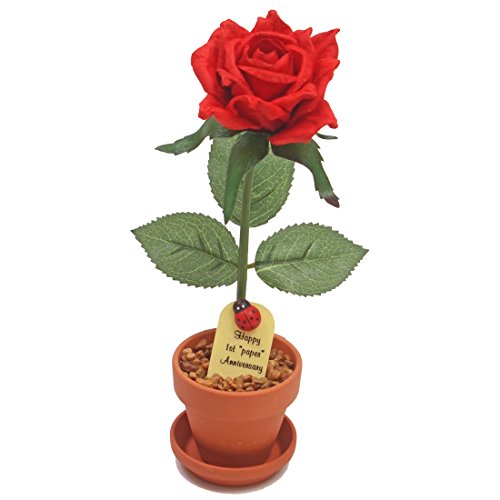 Buy or Read More on Amazon Here ($25.64 at the time of publication)
Flowers are pretty much the ultimate romantic gesture, so why not gift your partner one that will last them a lifetime? A paper rose marks your paper themed first anniversary in a real romantic way, mixing the uniqueness of the occasion with the ongoing romance that's going to characterize your lives together. Turns out that you can say a lot with a well-chosen ornamental flower, right? Mix up the colors and flower styles to find the perfect look for your partner. Why not place it somewhere for them, so it's a surprise on the day of your anniversary? You could go for your kitchen table, so they see it when you have that first anniversary breakfast together, or somewhere around the living room so they discover it when they get home, or even in their office so they come across it when they least expect it! If you're looking to move away from the paper theme, why not go for another one of the JustPaperRoses designs? They've got all sorts of desk flower varieties, in wax, aluminum sheeting, crystal and ribbon.
2. Elegant Signs Lucky to Be In Love PIcture Frame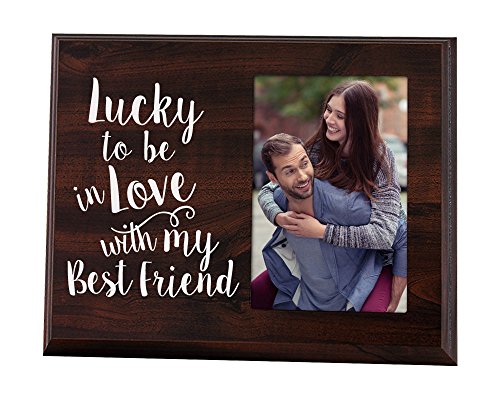 Buy or Read More on Amazon Here ($24.99 at the time of publication)
This picture frame is whimsical, friendly and perfect to add to a new home or to celebrate a first year anniversary. Made from sturdy, dark wood, it is attractive and will depict a couple's playful personality. The wood tapers nicely around the edges and there is a stand, for setting on a surface, or a back for hanging on a wall. The modern, inked message says, "Lucky to be in love with my best friend." The plaque itself is 8"x10" and holds a 4"x6" picture of the happy couple. A clear acrylic sheet keeps the picture in place and safe. When you need something simple and fun, this anniversary gift is a good choice.
3. Date Nights Coupons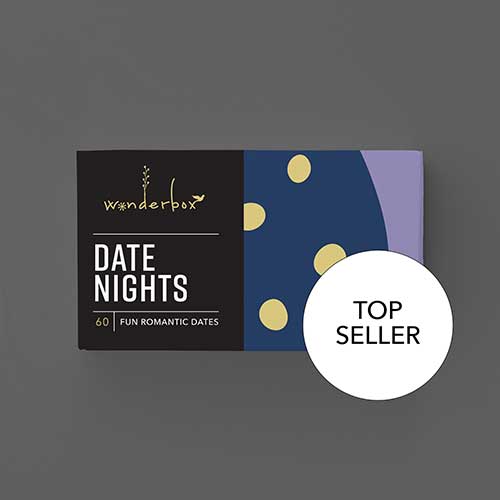 Buy or Read More on Etsy Here ($24.00 at the time of publication)
We've got another real winner of a paper-based gift idea here. Year one is behind you now, so these Date Nights inspiration cards from FlytrapLife will get you chock-full of creative, unusual and meaningful date ideas for year two that's coming up! The pack has a real wealth of ideas for activities that you two can do together, from researching your own family trees to discover your heritages, to setting up a gaming tournament at home (online or otherwise, for those couples out there who really buzz off a bit of loving competition), to watching the sun rise on a scenic hike with your pets. You can even choose the activities based on the mood you're both in, how much money you want to spend and how much time you've actually got for the date. Plus, there are a couple of blank cards included, so you can come up with your own tailored-to-you ideas over the year ahead. See what works best for you and discover sides of yourselves as a couple that you didn't even know were in you!
4. Anniversary Wine Box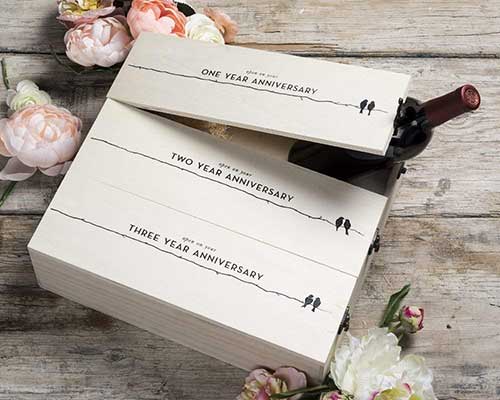 Buy or Read More on Amazon Here ($33.99 at the time of publication)
Pine wood is still closely linked to paper, right? Sure, I know it's tenuous, but this anniversary wine set is well worth including on this list, for obvious classiness and thoughtfulness reasons. Twine's really smashed it on the first year anniversary gift front here. The elegant three-bottle storage set comes complete with a tasteful etched design, high quality brass fastenings, false leather accents (for the environment and animal-conscious among you) and straw bedding for the bottles inside. Snap up this gift a couple months before your first anniversary and you can surprise your partner with a bottle to open on the day itself. It's a savvy investment for the next couple years, too: invest in three good quality wines in the run-up to anniversary one, then they'll be wonderfully matured by the time you get to anniversaries two and three. Plus, the set will look right at home in more rustic, natural-feel home décors. Intelligent and classy: need I say more? This is a perfect 1 year anniversary gift!
5. Your Wedding Vows on Paper Personalized Tie Clip and Cufflinks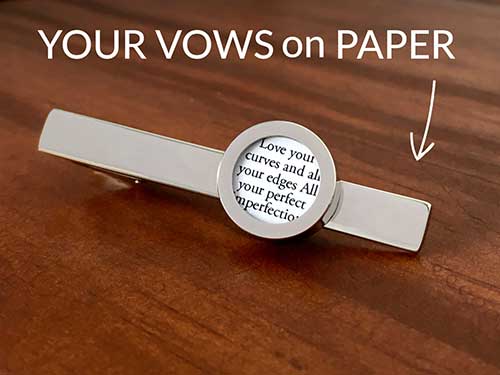 Buy or Read More on Etsy Here ($79.00 at the time of publication)
Turns out you can design a tie clip or a set of cufflinks that feature a paper inlay printed with a section of your wedding vows. Bet you hadn't thought of that one before now, huh? Make your first anniversary one to remember with such a meaningful paper-themed gift – one that's durable enough to keep making an appearance throughout the rest of your married life, too! Why not make it into a gift set including a tie clip and cufflinks that can all be printed with different short texts? All the items are delivered in a sleek gift box, meaning they'll get to you safe and sound. Plus, it'll all be ready to give to your partner right away!
6. An Edition of The NewlyWed Cookbook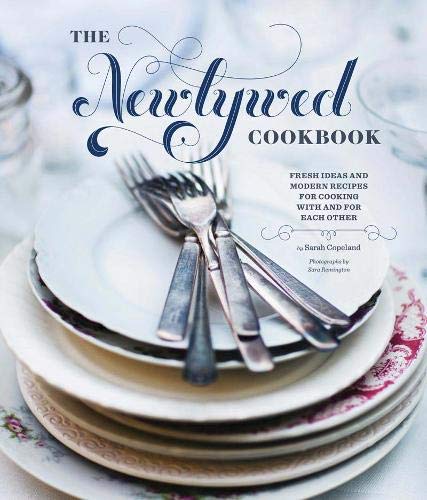 Buy or Read More on Amazon Here ($18.49 at the time of publication)
Veteran cookbook author Sarah Copeland has put together over 100 recipes for newlywed couples, bringing a whole lot of inspiration to the marital table. Whether you guys already love cooking together and enjoy making the time for it whenever you can, or you want to work on your kitchen skills together, this book could be a great idea for anniversary gift number one. You've got to cash in on that newlywed status before you mature out of it, right? Clear recipe layouts and mouthwatering images make this book a treat to flick through, never mind what you'll actually be whipping up from it together! Whether you're recipe planning and cooking together for just yourselves, one of you is donning the chef's hat and preparing a romantic meal for the other, or you're hosting a dinner party for friends round at your place, this cookbook has everything you'll need to make it a total triumph.
7. Buttonsmith Custom Printed Business Cards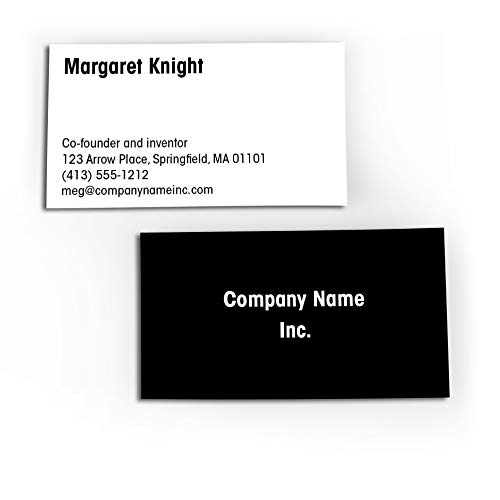 Buy or Read More on Amazon Here ($34.99 at the time of publication)
Your first anniversary calls for some personalized professional paper stock: honestly, it would be rude to let the opportunity slip by. Personalized business cards are both thoughtful and practical, as you'll be able to choose a design that will really give your partner a professional edge. Plus, a set of customized cards would be an especially thoughtful gift if you guys have recently relocated to be together, meaning your partner's on the hunt for a new job, or is starting a business venture from scratch. So, you can show them how supportive you are of their professional endeavors, while capturing the traditional essence of your first year anniversary at the same time. It's pretty nifty gifting when you think of it like that, right? Why not top up the gift with a business card holder, too? There's not much point splashing out on snazzy, personalized business cards if they'll end up crumpled at the bottom of a bag somewhere. After all, you know what your partner's like.
8. King and Queen T-Shirts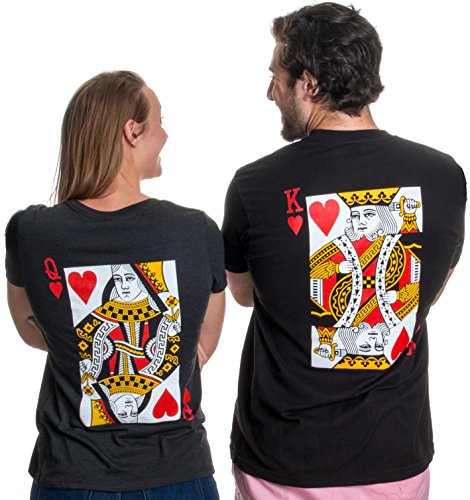 Buy or Read More on Amazon Here ($18.95 at the time of publication)
King and Queen t-shirts are great for an unconventional couple. When celebrating the first year of marriage, their gift should be as unique as they are. Celebrate in style with this adorable but unusual matching gift. You can purchase the "King" shirt in men's sizes. This black, crewneck t-shirt features a classic card deck king of heart on the back. On the front is the word "Mr." in white, script lettering. The female black t-shirt is a v-neck with a classic card deck queen of hearts on the back. On the front of that shirt is the word "Mrs." in white, script lettering. These go together in a cheeky way and are a great anniversary gift for game-loving or just fun-loving friends.
9. Hand Blown Glass Flower Bouquet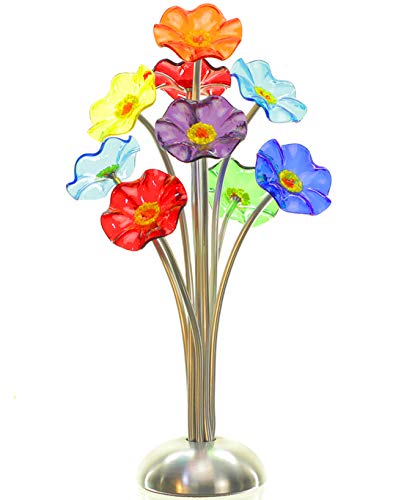 Buy or Read More on Amazon Here ($149.00 at the time of publication)
Preserve all of the beauty and memories of a first year of marriage with this handmade, hand blown glass flower bouquet. Exquisitely executed by master artists, there are nine colorful flowers that attach to a sturdy base. The flowers come in vibrant shades of orange, red, blue, green, purple and yellow. The bouquet is 16 inches high and about 10 inches across. There is no maintenance required and these will stand proudly on a shelf or table as a showcase of a wonderful first year together.
10. Posters for Change Tear, Paste, Protest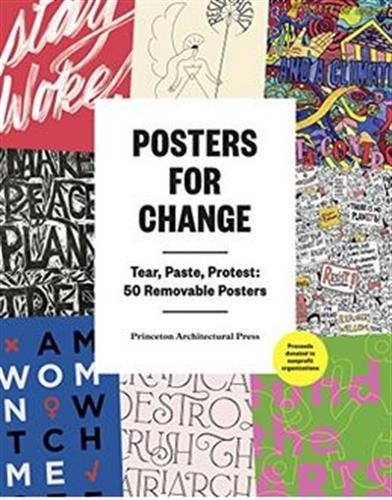 Buy or Read More on Amazon Here ($17.59 at the time of publication)
Paper might be the traditional first anniversary gift option, but that doesn't mean you can't update it to fit with the issues of today. Whether you're politically active as a couple, or protests are more your partner's thing, these posters are an inspired and inspirational first anniversary gift. This set of 50 paper posters features designs and illustrations from artists located across the globe. So, your partner will just need to select the one that best fits the message for whatever demonstration it is that they're headed to, then off they go! Whether they're supporting women's rights, gender rights, animal welfare, better solutions regarding immigration issues, the provision of affordable health care or more action against climate change, they'll find the perfect designs in this collection. Happy woke paper anniversary!
11. Ansel Adams Wall Calendar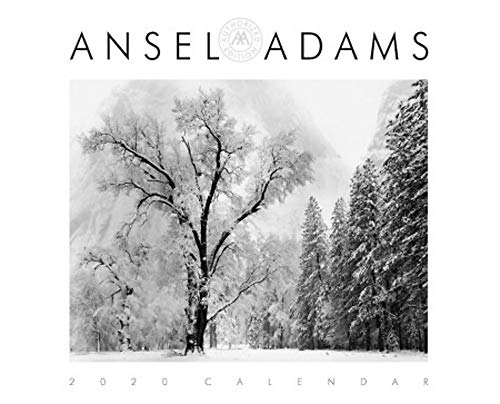 Buy or Read More on Amazon Here ($13.44 at the time of publication)
A tasteful wall calendar is an ideal way to commemorate your paper anniversary, while looking forward to the time you've got together ahead of you. Ansel Adams is highly regarded for his nature photography, so you'll be able to treat your partner to some breathtaking scenes with a wall calendar featuring his most evocative shots. The images carefully trace the changing seasons as you move through the year, depicting iconic landscapes from all across the United States. Whether your partner has an eye for top quality art, is a real lover of the great outdoors, or just loves their organization, an elegant wall calendar is a great paper-themed gift to go for. With loads of space to fill in all your special events, holidays and day to day business over the coming year, you'll see your life together spreading out over the pages as soon as you get your calendar up on the wall. Put that in a handwritten note to accompany the calendar and your partner's sure to light up when they realize just how meaningful a gift it is.
12. Dedicate a Day Parchment Certificate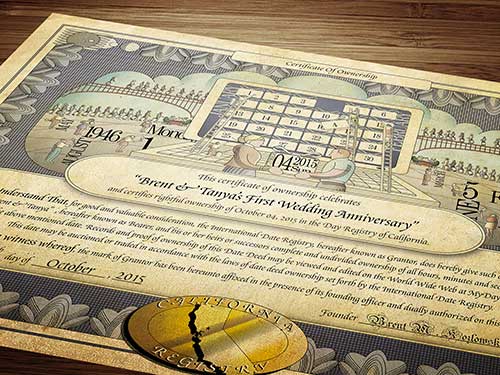 Buy or Read More Here (Price varies at the time of publication)
What better way to celebrate your first wedding anniversary than officially dedicating the days as all yours to celebrate, forever? As MyDayRegistry succinctly puts it, this is the perfect way to put a modern twist on a traditional one year anniversary paper gift. What's more, the database that the registry operates makes sure that there's only one rightful owner of each day, making that special date yours and yours alone. Simply search to check if your desired date is available, then stake your claim and receive your customized ownership certificate. You'll be able to add your names and special date in a classy calligraphy-styled text, making the certificate a work of art that you'll be proud to put on display in your home. As well as the certificate itself, you'll get access to an additional, online dedication page that you can customize with the content that you want to use to remember your special day. You'll be able to get creative with videos, quotes, lyrics and images, combining a paper first anniversary gift with a digital element, too. You'll even be able to share the online dedication page with your friends and family, getting them involved in your first anniversary celebrations, especially if they're far away.
13. Coupons From The Heart Voucher Book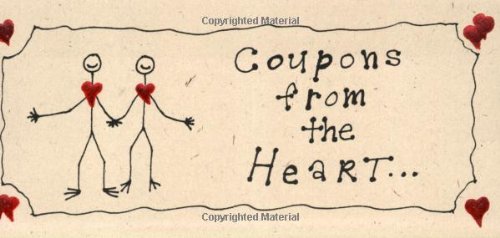 Buy or Read More on Amazon Here ($6.50 at the time of publication)
Put romance down on paper with these sweet little couples coupons. Gift your partner the set of coupons for your paper anniversary, then you'll be able to use them the whole year round until it's time for anniversary number two. Handy, right? Plus, they're the perfect excuse to inject a little more romantic time together into your day to day, whenever you feel like you're both in need of it. Plus, they'll take some of the work out of deciding on your next date. Just turn to what the artists have worked on for some you time inspiration! The coupon paper is fully recycled, plus the stick figurines in the illustrations don't have any specific genders, making these some of the more updated and aware little couples coupon books out there.
14. AllRecipes Magazine Subscription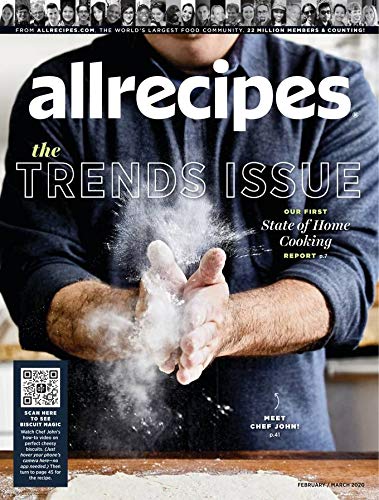 Buy or Read More on Amazon Here ($5.49 at the time of publication)
Your paper anniversary is the ideal opportunity to get your partner that magazine subscription that you've been mulling over for a while, or it could be the perfect time to start thinking about getting them one they'll really enjoy! AllRecipes goes above and beyond just providing great ideas for you both to cook up a storm in the kitchen: it's got top quality image illustrations, engaging feature pieces and informative customer ratings, too. Perfect for you and your partner if you're already handy in the kitchen, but also a great place to start if you're looking to work on your cooking as a team. You could go for the digital edition, sure. But, if you want to stick at the real paper anniversary authenticity, then treat your partner to the tangible print version that'll get delivered right to your door. Then, you can flick through the culinary inspiration together while you're lazing around with your weekend coffee. That sounds like a paper trail to bliss, right?
15. Engraved Rock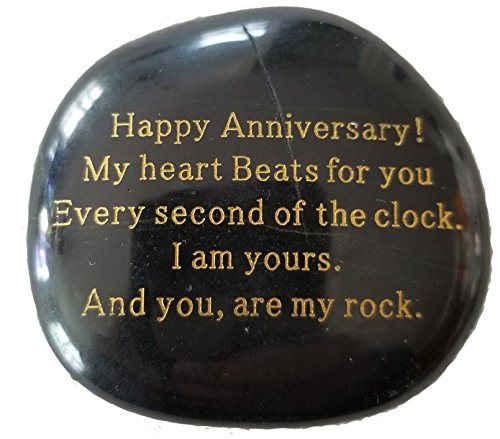 Buy or Read More on Amazon Here ($22.99 at the time of publication)
Order a sweet little gift that a partner can hold in the palm of their hand to remind them of love. This adorable, engraved rock is a great gift that comes with a sweet message of loyalty and love. Engraved on the flat, polished glass stone are the words: "Happy Anniversary! My heart beats for you every second of the clock. I am yours. And you are my rock." The stone is dark gray (although the hue will vary) and palm-sized. The engraving is a foil gold color. This gift will come in a gift bag and can be used as a paperweight, desk decoration, sit on a windowsill or any variety of other spots. Sure to bring a nice memory to any moment, this is a great 1st anniversary gift idea.
16. Personalized Notecards Set from Pen & Pad Stationers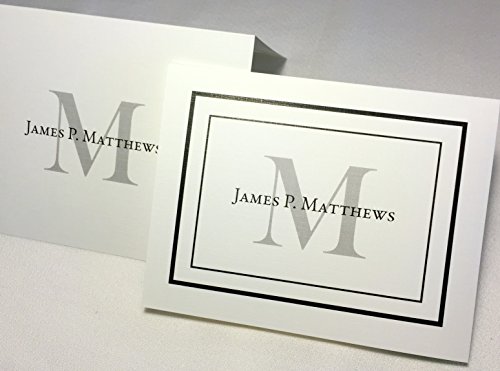 Buy or Read More on Amazon Here ($38.99 at the time of publication)
Now, personalized stationery isn't something that your partner would necessarily splash out on for themselves, but it's a real thoughtful way of treating them to a paper-themed anniversary gift. You can customize these high quality cards to include your partner's name (with a choice of full name or initials), additional printing alongside the background monogram, as well as a bordered or borderless design. Plus, you'll get a full set of color-matched envelopes included with the set. No matter the partner you're buying for, this personalized stationery set sure does exude class. If your partner is really one for keeping up with their correspondence, treat them to a gift that'll let them do it in style for the year ahead! What's more, the seller offers refunds/replacements in the case of misprinting, which is always handy to bear in mind. If you're looking to make it a full gift set, why not browse elegant fountain pens, too?
17. Customized Wedding Couple Portrait from HenryJamesPaperGoods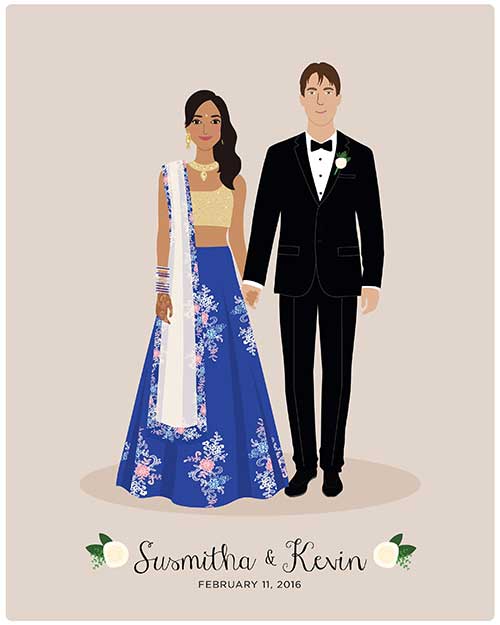 Buy or Read More on Etsy Here ($79.00 at the time of publication)
As personalized paper-themed gifts go, a portrait of the two of you in all your wedding finery is pretty high up the list of "nailed it". The artist packs in all the details to these customized prints, from your heights and eye colors (taken from photos you provide) to the wedding outfits you picked out, to any additional pets, children or family members that you might want to feature. You can even choose to customize your poses or add additional props in, so that the print really captures all your couple quirks! Select the right caption font for you and you can add your names, your married surname, your meaningful date, a special quote – whatever you like, really. The artist is happy to advise on layout and color palette, guiding you towards the perfect anniversary print. It's an ideal way to remind yourselves of your wedding day one year on, popping it up on the wall of your home in a way that's truly unique to you both as a couple.
18. Ticket and Program Memory Frame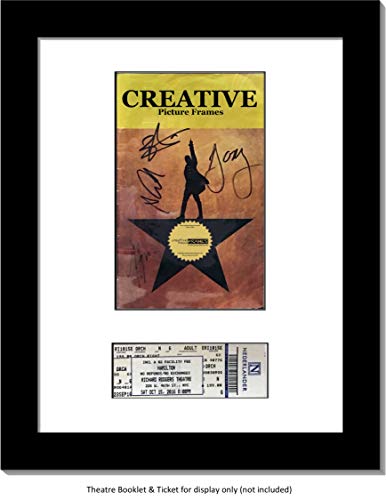 Buy or Read More on Amazon Here ($29.95 at the time of publication)
Why not immortalize one of the most exciting evenings you've enjoyed together in your first year to make the perfect anniversary gift? If you're really into theatre and experiences as a couple, frame the ticket and program from a production you really loved. Or, you could pop in a boarding pass and scrapbook collage from your honeymoon. You're free to choose either a black or white background, depending on what'll make your tickets, programs and other special memories pop the best. Go for one frame, a set of four, or even a set of 12, if you're looking to invest in going all out on a memories wall over the next couple years of life together. I mean, why not? If you're outgoing types who love to experience new shows and places, you may as well work that characteristic into a tasteful feature in your home. Then, you can add to your memories wall as you gain more and more experiences as a married couple.
19. Personalized Couples Canvas Print from LoveGifts Designs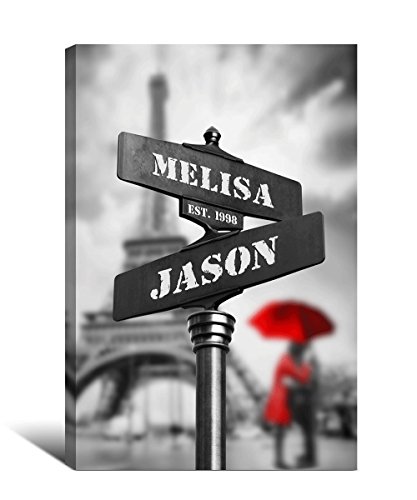 Buy or Read More on Amazon Here ($53.99 at the time of publication)
If you're looking for something a little more durable than paper, but that's still very much related to the one year paper theme, why not go for a canvas print? Celebrate your special day one year on with a customized anniversary print that'll look right at home in your place together. There's a whole range of options to choose from, based on what works for your aesthetic as a couple. The "Lovepath Crossing" design features both your names on a street intersection sign, plus your chosen date. You might want to go for that one if yours is a story of crossing paths, of chance and fate. Or, you could go for the "Love Growing" design, which includes your names and memorable date carved into the trunk of a tree, set against a vibrant forest background. That could be perfect if you're both more outdoorsy types, or – if you're looking at things in a less literal sense – if you're excited about all the growth you're going to do together over the years to come.
20. 24 Karat Gold Dipped Poker Cards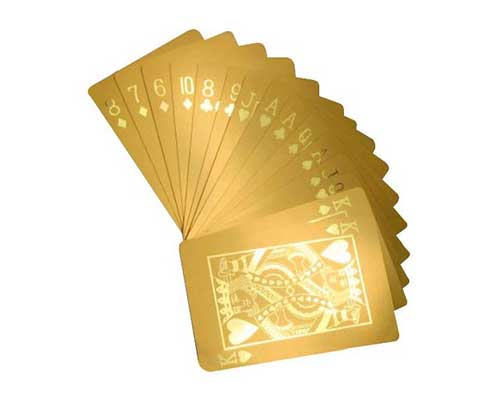 Buy or Read More Here ($199.00 at the time of publication)
Now, this truly is an ingenious little way to say happy one year anniversary with paper that's actually a good bit more special than the run of the mill options out there. If your partner is a card playing aficionado, treat them to a set of playing cards electroplated in 24 karat gold. The playable set contains 54 full sized cards, complete with two jokers. They're hardy enough to be used in full-on poker tournaments and also your regular poker nights, if that's your partner's thing, or your thing as a couple. Get that high end casino feeling right at home with this set, complete with a smart cherry wood case containing an elegant green velvet insert to keep your gold dipped cards sleek and shiny over the years to come. Plus, when they're not being used, you could set the case and cards up as a tasteful ornament, somewhere where the gold plating will glimmer a little in the light. What's more, the set comes with an authentication certificate, so they'll know that you've gifted them the real deal, pun intended, I admit it.
21. Rose Gold Metal Wall Clock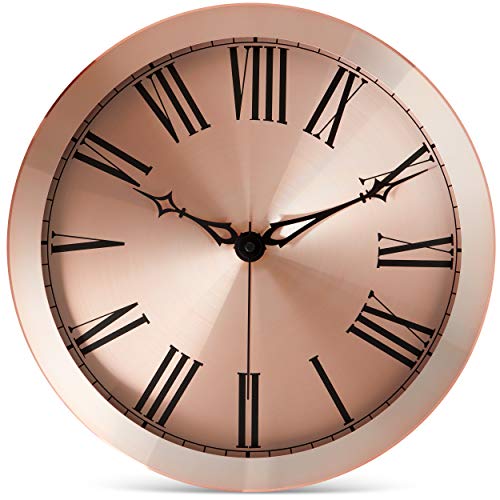 Buy or Read More on Amazon Here ($29.99 at the time of publication)
As it turns out, the modern equivalent of the traditional one year anniversary paper gift is a clock. Who knew? So, if you're looking to stray slightly from the age-old traditional gifts, go chic with this minimalist, modern-look wall clock in on-trend rose gold. Or, choose an antique model that's wood framed, or a totally wacky and creative design. A personal favorite from browsing Amazon's options was a full-on peacock clock, complete with an intricate design of tail feathers cascading right around the face. It's totally up to you and your tastes (bearing in mind your partner's too, of course), plus what will work best with your interior home décor. The possibilities are endless! A clock is also a more romantic gift than you might initially think: you guys have made it to one year in and that's worth celebrating in itself. But, a tasteful clock also signifies all the time that you have in front of you to enjoy your lives together. Now, that's all the time in the world, if you think about it.
22. Wedding Photo Album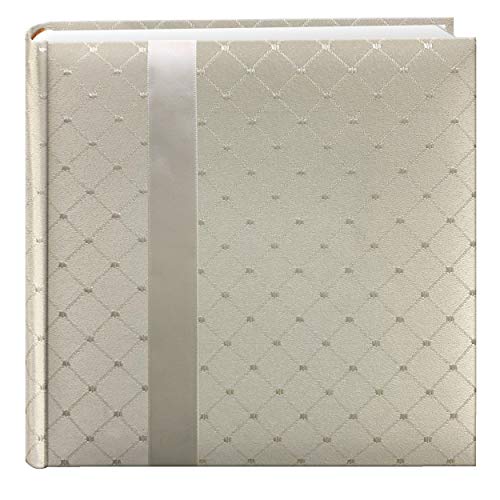 Buy or Read More on Amazon Here ($18.41 at the time of publication)
Still not managed to get around to actually putting those wonderful wedding photos together in an album? Well, your one year paper anniversary is the perfect reason to finally compile your favorites on pages that you can keep turning back to for all the years to come. This classy album from Pioneer Photo Albums is the perfect one-year-on addition to any newlywed home, reminding you of your most special day as a couple whenever you're feeling reminiscent. The album materials are specifically chosen to preserve the quality of your chosen photos and you'll be able to add dates and details next to each image you pop in. The patterned, ribboned, rounded-spine aesthetic gives the album a luxe wedding feel, bringing the classy atmosphere of that special day back, one year down the line.
23. Stretched Canvas Lovers Kiss Wall Art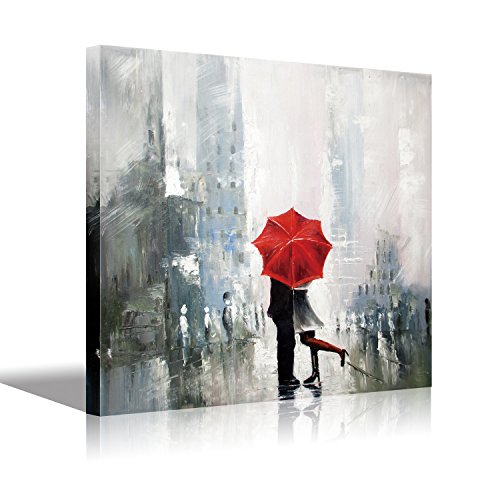 Buy or Read More on Amazon Here ($19.99 at the time of publication)
I know moving from the bona fide paper to the canvas is a bit of a deviation from tradition, sure, but let's call it an artistic interpretation, shall we? These prints are gorgeous representations of romantic scenes, great for adorning the walls of your place together with a little reminder of year one of life as a married couple. Tasteful and understated, there's still a whole lot going on in these prints: some feature autumnal shades that could be perfect for distilling the time you met or married, some show rainstorms raging around couples that are so wrapped up in the moment that they barely seem to notice, some feature enigmatic city scenes that could evoke memories of couple's trips that you've taken, or the place that you first met. Most of the prints feature a romantic motif of two lovers kissing under a bright red umbrella, but if that's not quite your thing, there's a whole range of designs and color palette options on offer. All that in quality-assured, high resolution printing, ensuring striking colors and clean lines, as well as total satisfaction with your chosen print.
24. The Mindfulness Coloring Book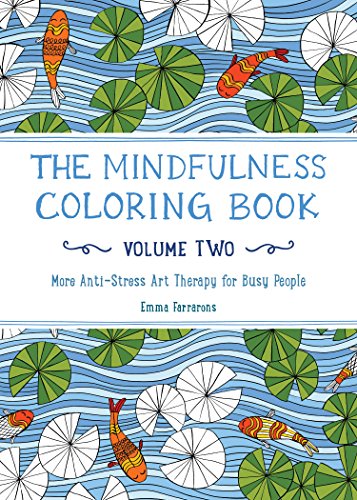 Buy or Read More on Amazon Here ($8.47 at the time of publication)
If wellness is your thing as a couple, and if it's not, maybe now's the time it could become it – why not treat your partner to a mindfulness coloring book? Paper-themed and positive, mindfulness coloring for adults is known for its relaxing qualities, tuning you out from the stresses of everyday life and taking you back to something as familiar and comforting as just staying within the lines. The first year of marriage can be a pretty hectic time: it wasn't long ago that you were in full-on wedding and honeymoon planning mode, with all the activity that entailed. Since then, you may well have moved locations, homes and jobs to get started on your lives together, or there might be little ones running around, or on their way soon. Whatever your particular case as a couple, there's probably not been too much time just to sit back and take stock of your time together so far! So, give your partner some productive downtime with this coloring book, marking your paper anniversary with the relaxation they deserve.
25. Customized Star Map Poster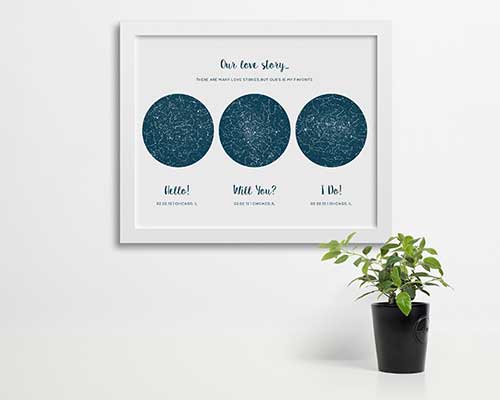 Buy or Read More on Etsy Here ($38.00 at the time of publication)
Based on accurate night sky information that the artist gets straight from a planetarium, these romantic prints will immortalize the moments that led up to where you are now, one year on from your wedding day. You can choose the dates and locations to print, customizing your story as a couple: where you first met each other, where one of you popped the question, where you tied the knot, and so on. You select the night skies that best encapsulate the most romantic moments in your relationship. Then, the artist will recreate them in all their original splendor. Choose the ideal font and ink color for you and your partner from a whole range on offer on the artist's webpage. Or, if you can't see an exact style and tone combination that'll create the print you have in mind, then you'll be able to collaborate with the artist to come up with a design that you're happy with. The artist uses high protection packaging to ship the order, plus there are other stylized gift wrapping options on offer.
26. Vertellis Relationship Edition Question Cards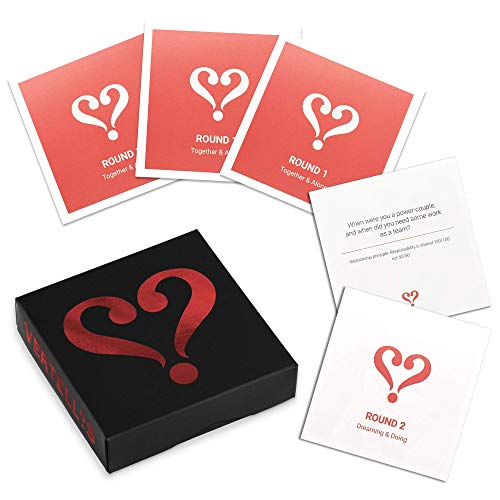 Buy or Read More on Amazon Here ($19.99 at the time of publication)
Look back on your first year of life together and get inspired for all the time that's yet to come with these Vertellis Question Cards: Relationship Edition. Delve into each other's characters even more and use the cards as starting points to think about all the hopes, dreams and events you're going to experience together over the years. Get into the "Dreaming & Doing" category to spark some couple's empty canvas thinking, spend some time on "Together & Alone" to weigh up your combined strengths and get stuck into "Characteristics, Habits & Achievements" to see how well you really know each other after a whole year of married life! You're sure to surprise yourselves with just how much you've picked up on each other's little habits, even if you didn't realize it before. Ideal for cozy nights in or for entertaining yourselves on the go, this pocket-sized question game is a quirky little idea for your paper anniversary.
27. Customized Book Fold Art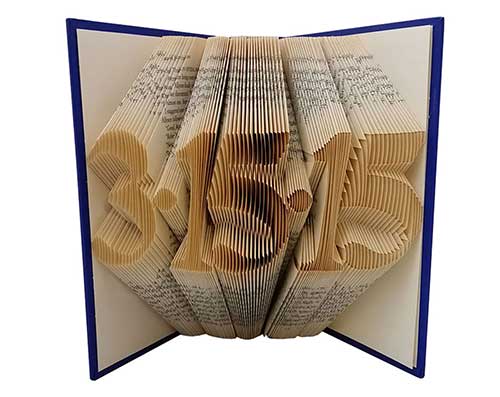 Buy or Read More on Etsy Here ($75.00 at the time of publication)
The creator expertly folds the pages of the book so that they form your special date, letting you mark your paper anniversary in one of the most fitting ways you could! You can add further personalized features too: choose the book color from the range on offer from the seller and select an engraving style for the book's cover. Or, leave it all up to the artist and simply provide them with the date you want your folded book to show! If you want to go one step further, you could even provide a book that's especially meaningful to you both as a couple for the date to be folded into. If you're looking for a customized gift in a rush, you can go for the "Overnight Creation" option when you place your order. Then, the artist will go above and beyond to get your paper masterpiece to you right on time for that first anniversary moment! It's sure to be a talking point and a source of some real gift envy whenever you've got people round at yours.
28. Amazing Origami Kit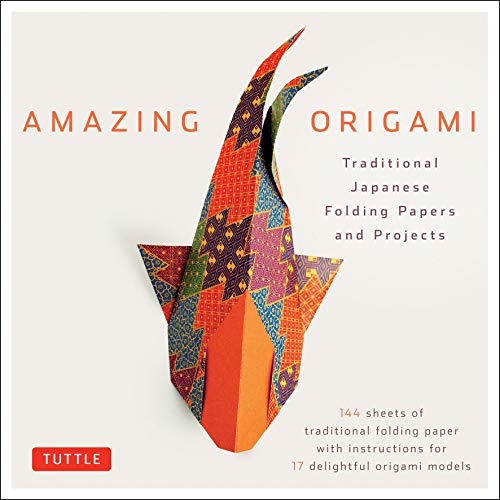 Buy or Read More on Amazon Here ($14.42 at the time of publication)
Perfect for a creative partner, this origami book will let them get inventive to celebrate your paper anniversary year. Whether your partner is a real origami expert already, or they're just starting out with the Japanese art of paper folding, this project book will have something to suit them. The book comes complete with a set of 144 sheets of intricately designed origami paper, so they'll be all set to get started as soon as it arrives. The origami sheets feature traditional Japanese designs with golden accent details, guaranteeing their final pieces will be beautiful right from the start, even if it does take your partner a while to get to grips with the folding techniques!
29. Personalized Wedding Song Sheet Music Art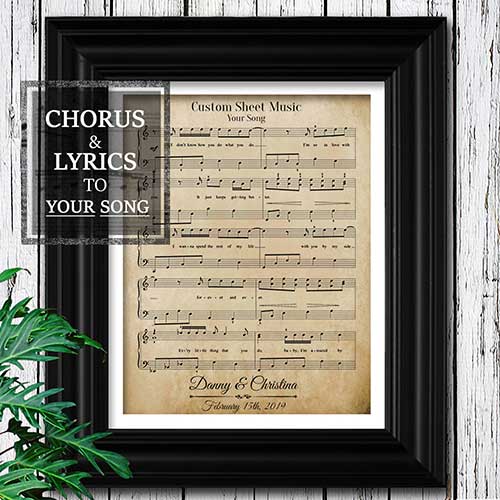 Buy or Read More on Etsy Here ($29.95 at the time of publication)
Bring back those special memories of your wedding day with a personalized print of your wedding song. One song holds so much for you both now: you decided on it together, it was that first dance you had as a couple, it became the theme tune to the day you officially decided to spend every day afterwards together. The paper has a real high quality, velvety feel, depicting your wedding song in the style it deserves. It's a great paper gift for any couple, but especially if you're into your music, or you attach a real special significance to your wedding song. You can order the customized print in a variety of dimensions (from small to extra large), framed or unframed, to suit you. Total customization is a given with this gift: not only is the song incredibly personal to you both as a couple, but you can provide the artist with your names, anniversary date and even font preferences to make it the perfect print for you.
30. An Edition of The Art of Quilling Paper Jewelry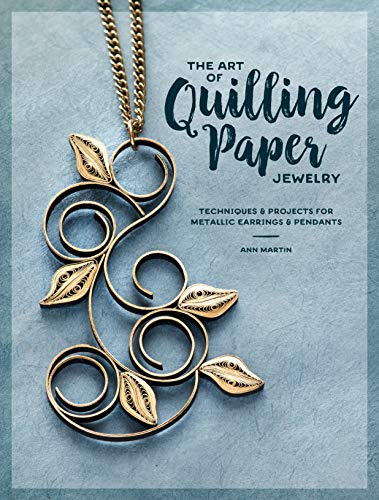 Buy or Read More on Amazon Here ($15.79 at the time of publication)
This is a wonderful gift for the creative-type partners out there, celebrating your paper-themed anniversary in a real ingenious way. Whether they're already into making their own jewelry or they're a total newbie to the handmade scene, this quilling book will plunge them into a whole new world of creativity. Amazingly, well-executed quilling designs can really create the effect of metal jewelry pieces your partner is sure to be met with pure disbelief once people realize how they actually came about their latest 'gold' statement piece! Plus, quilled pieces are more durable than you might think, making exquisite necklaces and earring sets that will last your partner from year one onwards. There's no huge investment in art supplies required either – you just need a few basic pieces of kit to get your partner started quilling like an expert in no time.
31. Mates for Life Print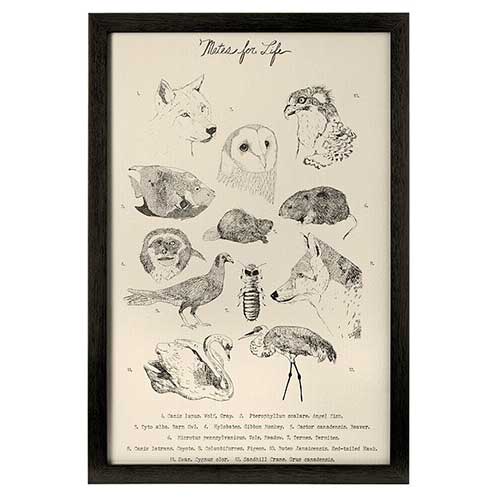 Buy or Read More on Uncommon Goods Here ($30 to $100 at the time of publication)
Paper once again, this print from UncommonGoods sure is a thoughtful anniversary gift that's just perfect for the nature-loving couples out there. The print depicts all kinds of animal species, that all have one, very romantic thing in common: when they mate, they mate for life. That's real love told a little differently, right? Plus, if you guys aren't all about the PDA and overly sentimental gestures as a couple, this gift is a wonderfully subtle way to feature your dedication to each other on the walls of your home, without shoving it into other people's faces. What's more, the artist creates all the works from newsprint paper that's fully recycled, making these a fittingly environmentally conscious gift. You can choose to order your print framed or unframed, whichever works best for you and your partner. Interestingly, no lobsters feature (if you know, you know).
32. Personalized Anniversary Pushpin World Map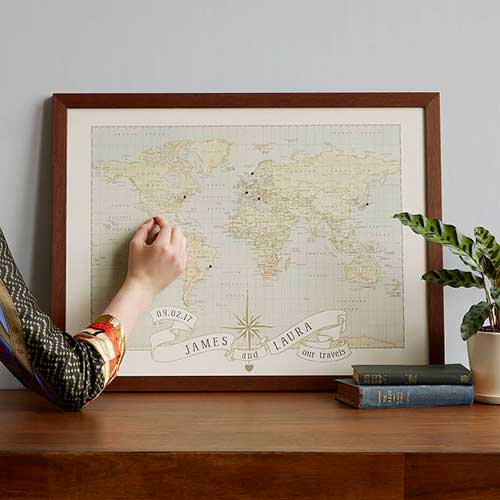 Buy or Read More on Uncommon Goods Here ($149.00 at the time of publication)
This arty world map is a truly inspired paper anniversary gift. Place it up on the wall of the home you share together and watch your adventures as a couple unfold over the years. Start off by putting in a pin wherever you spend anniversary one and see where the next 99 take you both! You could even make it a tradition to spend each anniversary somewhere new, why not? That way, you'll be making your way around the globe together, turning each anniversary pin into a new, treasured memory. The map artist will even personalize your particular print with your names and the date of your special day. 100 pins is a whole lot of time together, meaning this gift is a great way to kick off your anniversary-celebrating as a couple in truly open-minded style. The map comes all ready to hang up on the wall, with the set of pushpins handily included. Unveil it on your first anniversary and toast to putting that first pin in the wall!
33. Decorative Vintage Hollow Book Set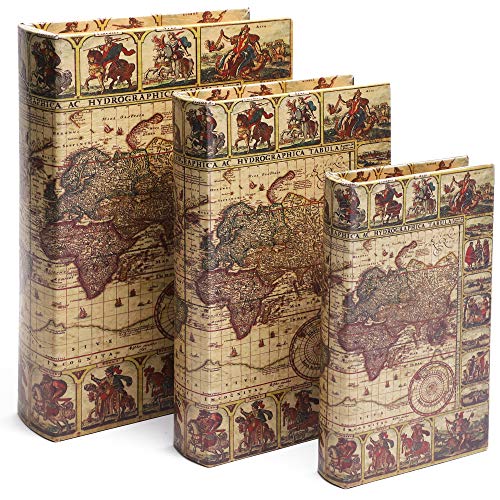 Buy or Read More on Amazon Here ($22.99 at the time of publication)
Now, this gift is definitely still paper themed, but with a truly inventive twist. Gift your partner a set of three vintage-look hollow books for a truly thoughtful and surprising first anniversary gift. The hollow books themselves will make for a tasteful ornament, featuring antique-style map designs and magnetic fastenings to keep your first anniversary treasures safe in style. Plus, they perfectly embody the traditional first year anniversary paper theme. But, the fun doesn't stop there: you can hide away all manner of little treats inside the book boxes. How about the personalized Your Wedding Vows on Paper items we saw earlier on? Or that set of Coupons From The Heart? You could even turn the books set into a first anniversary time capsule: fill them with memorabilia from your first year together – ticket stubs, pressed flowers, the spare key from your first place together, a Polaroid or two – and you'll be able to come back to them years down the line. Get creative and give them a real surprise when they open up each book!
34. Our Bucket List Inspirational Couples Journal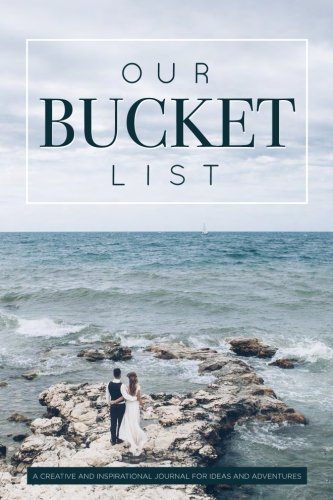 Buy or Read More on Amazon Here ($6.99 at the time of publication)
Perfect for couples that are already established adventurers or couples who need a little bit of added motivation to get themselves out there, this Bucket List Journal is a wonderful one-year-on gift. Reminisce about all the exciting experiences you've had together so far, from honeymooning to getting your first place together, and make an effort to go large in year two. From the dreaming big side of the planning down to the practical details of how you're both going to make it happen together, this journal has all the space you need to turn those exciting dreams into a couple's reality. Always dreamed of learning to scuba dive? Or taking a road trip around the States? Put those aspirations down on paper! Even if you're more the home bird types, Bucket Lists are still a great way to bring you closer as a couple, ticking off achievements and developments together. Make that perfect crème brûlée that you've been wanting to master, or take a dance class at a local school. Go on, get inspired.
35. Custom House Portrait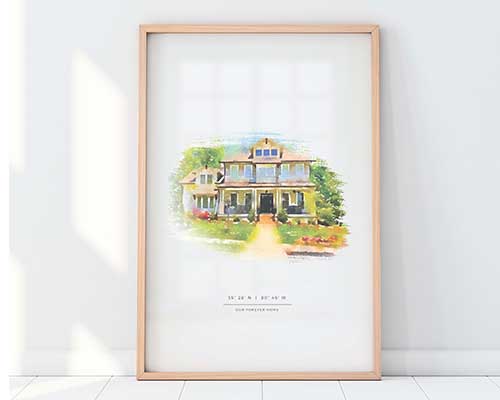 Buy or Read More on Etsy Here ($40.49 at the time of publication)
One year on from your wedding day, you're likely to have moved into a new place to start the rest of your lives together. So, a customized house portrait could be the ideal way to represent this new stage of your life on paper, right in time for your first anniversary. You'll just need to provide the accomplished artist with a photo of your home and you'll see it transformed into an accurate watercolor piece. Painted onto top quality paper and in a striking depth of detail, you'll be able to immortalize your first home as newlyweds and take those memories with you wherever you go. Add your home's location coordinates and a meaningful phrase to top the design off, making it even more uniquely yours.
36. First Anniversary Paper Weight and Keepsake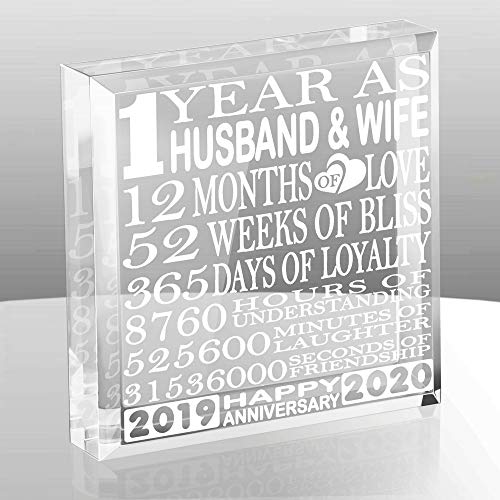 Buy or Read More on Amazon Here ($21.95 at the time of publication)
Now, there sure are a lot of traditional paper options to be found on this list, but there's nothing to stop us sticking to the theme, but thinking a little more outside the box at the same time, right? So, if you're not getting your partner paper itself as a gift, why not get your loved one a handy paper-themed accessory? After all, who doesn't need a free-standing paper weight that effectively summarizes one year of loving life together? Expertly designed and created by hand, these engraved keepsake paper weights are sure to brighten up your loved one's working space, whether they use the ornament at work or in their home office. Or, it could do absolute wonders for adding a bit of enticing shine and not to mention organization to that towering pile of papers and admin that they like to collect at home. This thoughtful paper weight features both the year you got married and the year of anniversary number one, forever reminding you both of those first 365 days of life together, as well as lasting you well into the years to come. The paper weight will be delivered ready and waiting to be given as a classy gift, complete with a protective soft cloth bag and gift wrapping box.
37. Antique Parchment First Anniversary Paper Keepsake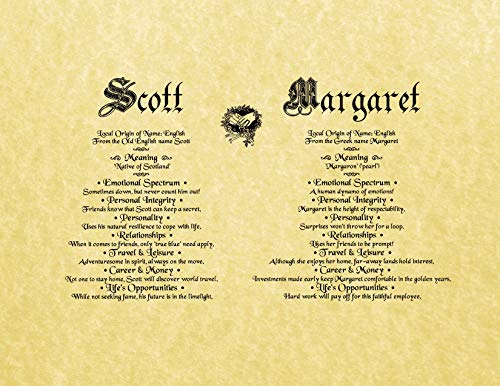 Buy or Read More on Amazon Here ($8.77 at the time of publication)
These detailed prints from TheNameStore feature both of your names on premium, archive quality paper, creating an enigmatic paper-themed gift to celebrate your first wedding anniversary with a distinct touch of class. Delving into your names' traditional meanings and associations, these personalized prints create a truly evocative paper-themed anniversary surprise, with a nod to your past as well as to your future together as a couple. You'll be able to reveal aspects of your names' history that you didn't even know about before, as well as getting some real insight into the attributes with which they've supposedly endowed you both. Plus, you'll get the satisfaction of seeing those personality traits that brought you two together in the first place set down on paper, up on the wall for all to see. What's more, the print will serve as a reminder of your connection as a couple whenever you catch sigh of it over the years to come. Easy to frame up, it'll make a romantic but subtle addition to any home's décor. Just get in touch with TheNameStore and they'll be able to offer you tried and tested advice on designs, layouts and content for your special piece. They'll know how to take your paper-themed gift giving up that extra notch it needs!
38. Personalized First Anniversary Song Print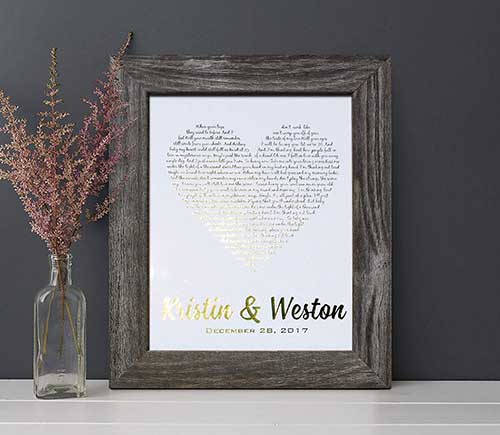 Buy or Read More on Amazon Here ($27.00 at the time of publication)
We looked at sheet music printing a little earlier on, but it's worth mentioning that there are a whole range of ways that you can work your wedding song into a more stylized paper print for your anniversary. Here, you'll see the lyrics printed in metallic font, forming the shape of a heart that's set above your names, along with the date of your wedding day or anniversary. Plus, these guys like to do these prints a little differently. Not only do they offer customized wedding song prints on paper, making them the ideal gift option for your first anniversary together, but they've got a whole range of other materials in their printing stock, too. The manufacturers offer personalized couple's prints on cotton (traditionally, that's the material associated with making it through to year two of marriage), leather (anniversary number three), linen (year four) and copper (after seven years of marriage, you'll have made it to that stage). So, if another gift on this first anniversary inspiration list has taken your fancy, why not keep the heartfelt wedding song print in reserve for another, upcoming anniversary celebration? After all, you're going to need inspiration year on year, aren't you?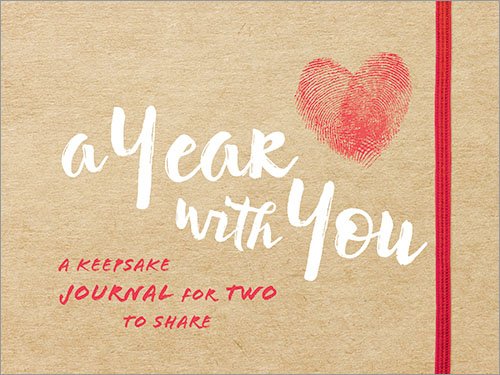 Buy or Read More on Amazon Here ($15.29 at the time of publication)
You'll almost have had a whole year together by the time you've made it round to thinking about what gifts you'll be giving and getting for your first anniversary. I bet it doesn't really feel like that though, right? Time's probably flown on by, with all the changes that you've been considering and making as you start out on your lives as a married couple. So, what better paper-centric gift to give to commemorate one year together than a journal that'll help you keep perfect track of year two? This fill in your own couple's journal has leading questions and perfectly placed blank spaces for you to write down all the meaningful and totally mundane things that happen to you over the coming year. Each of you will have designated spaces to make your own entries (the whole thing is actually color-coded, so you'll know where to make your mark as you go through), but the journal is very much designed to be a shared activity that you work on together. That way, it'll be a pretty comprehensive sum-up of the year between anniversary one and anniversary two, for you to look back on as you both continue on to grow old together.
40. One Question a Day for You & Me: Daily Reflections for Couples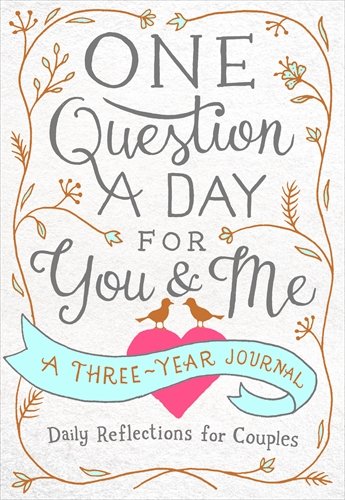 Buy or Read More on Amazon Here ($10.48 at the time of publication)
To round us off, author Aimee Chase came up with this reflections journal as a way for couples to see how they evolve together over the years they spend attached. Of course, giving your partner this gift would work at any time, but why not take advantage of that first anniversary paper theme to inject some time for self-reflection and growth into your lives together? Plus, if the mindfulness coloring option we took a look at earlier didn't really do it for you, this could be a great, mindful gift option that's more suited to your and your partner. Take the time to answer the questions once you're tucked up in bed at night, so you can talk about all the ideas they bring up as you're dropping off to sleep, or think about your answers together when you're lounging around at home after a long day. As it happens, this book contains enough insightful questions to cover three years of your lives together, so this'll be a paper gift that keeps on giving way past its traditional first anniversary remit!
41. Moonlight Silhouette Lamp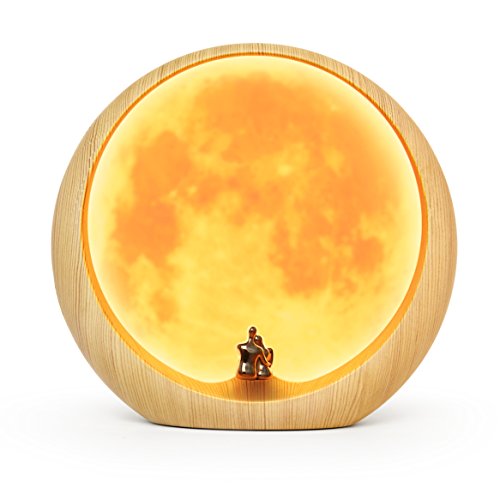 Buy or Read More on Amazon Here ($34.99 at the time of publication)
This adorable, artistic gift is perfect for a new apartment or home. Any couple celebrating an anniversary will love this home decor that captures a sweet and loving moment. The lamp is designed with a cylindrical sculpture of carved wood. Inlaid is a backlit lamp that emits a soft, yellow glow. It has adjustable light intensity for varied brightness. The lamp itself is a small circle that is decorated to mirror the look of a burning sun or setting moon, depending on how you interpret it. The romantic part is the small, metal couple that are hugging beneath the glowing lamp. This silhouette appearance looks like a couple enjoying the moonlight or sunset together. It's a beautiful, sweet and simple gift that represents a moment of intimacy and love.
42. Kissing Coffee Mugs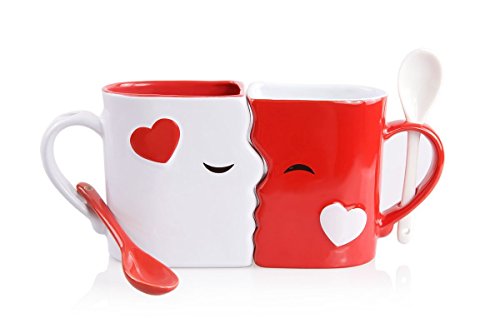 Buy or Read More on Amazon Here ($22.90 at the time of publication)
This gift is a little kitschy and a little precious. A whimsical, fun-loving couple will get a kick out of how the contrasting white and red mugs appear to kiss each other when they're set side by side. The red mug features a white inside and white heart on the front. The white mug features a red heart and red inside. Both cups have a handy hole on the top and bottom of the handle for inserting the accompanying spoon. There are two spoons, one white and one red. The mugs and matching spoons are an adorable gift set that will be perfect for a cup of morning coffee or evening cocoa. The cups are cleverly carved to fit together perfectly, giving a sweet reminder of how a morning or evening kiss are one of the many perks of a marriage partnership. Celebrate in style with this cute and useful gift.
43. Matching Stainless Steel Flasks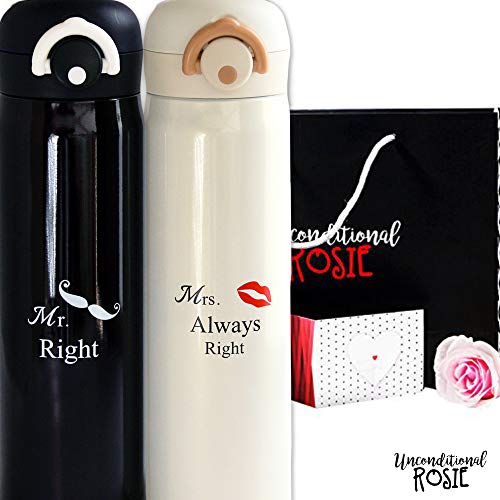 Buy or Read More on Amazon Here ($36.99 at the time of publication)
Whether they're drinking coffee or something a little stronger, these matching, stainless steel flasks are a stylish and versatile gift. Any couple celebrating their first year of marriage will love this set. They're made of BPA-free stainless steel and have a flip-open top. They can keep liquids hot for up to 12 hours. The cute part is that the flasks come in two colors with two messages. A black flask has a white contrast on the lid and a mustache icon with the words "Mr. Right." A cream or ivory colored flask has a tan color contrast on the lid and a lip icon with the words "Mrs. Always Right." This gift will get a chuckle and also get used a lot!
44. Anniversary Surprise Box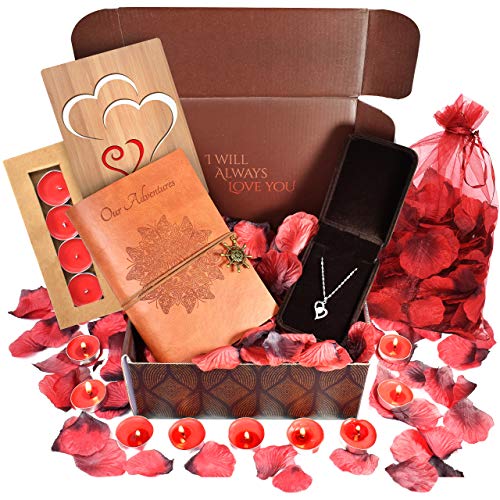 Buy or Read More on Amazon Here ($49.95 at the time of publication)
Give a gift that has a little something for everyone. This anniversary gift box has a leather journal with a beautiful floral design and the words "Our Adventures" on the front. The journal is a soft, natural leather and has a tie close with a compass charm. Perfect for jotting down thoughts or dreaming about where this couple will go together. The gift box is set in a variety of fake, red rose petals and has a set of red tealights. There is also a sterling silver necklace with a heart pendant. A bamboo love card hits the right note of durable and creative. This is a great gift that will make any new couple feel loved and remembered on their first anniversary.
45. Personalized Cork Coasters and Hot Pads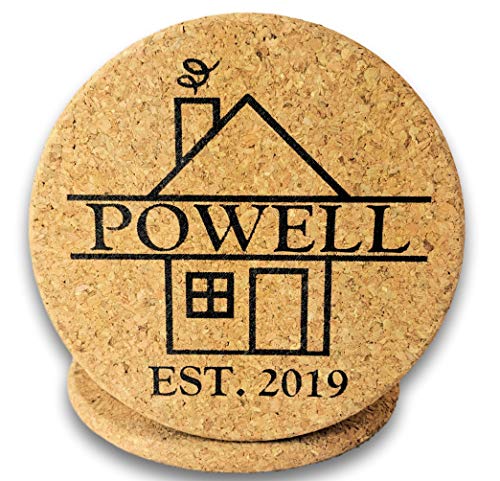 Buy or Read More on Amazon Here ($29.95 at the time of publication)
Sometimes, couples who are establishing a home together find they're missing a few essential items. Give them the gift of something both necessary and fun. These personalized cork coasters and hot pads are perfect for drinks and pots of food. You can choose from four designs and will be able to customize them with the couple's name and year of marriage. These are heat-resistant and don't build up heat, so they're perfect for setting a cup of hot coffee or a small pot of hot soup. The neutral color will work seamlessly with any decor. The imprinted text is a simple black with trendy, block-like fonts and minimal decorations. This is a quality and practical gift for a new couple.
46. Cheese Board and Knife Set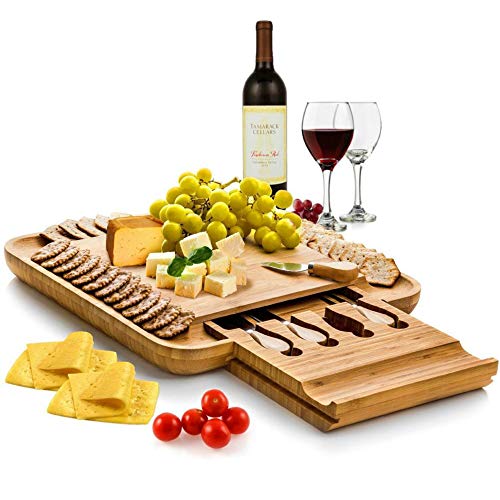 Buy or Read More on Amazon Here ($48.00 at the time of publication)
When a new couple is ready to amp up their entertainment game, a cheese board is the perfect place to start. This is both an elegant and practical gift. The bamboo wood charcuterie serving tray comes with its own cutlery. This is a nice, large size for serving a variety of cheese, fruit, crackers and more. Created with 100% bamboo wood, this nonporous surface is easy to clean and a great option for cheese and meats. There is a pullout tray that comes with several, small bamboo utensils. There are grooves around all of the sides to hold olives and other add-on goodies. This is a great present that any couple will use time and time again.
47. Eternity LED Nightlight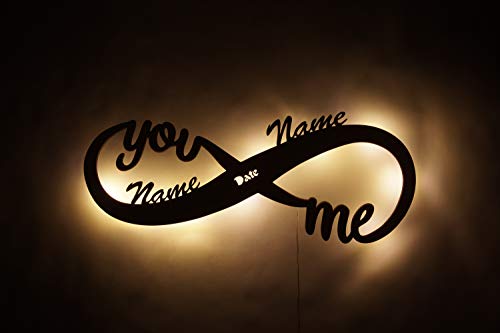 Buy or Read More on Amazon Here ($29.99 at the time of publication)
This is a great, out-of-the-box present for a couple who wants their love on display in the home! The body of the nightlight is a carved, wooden eternity symbol with the words "you" and "me." You can then order this with customization that displays each of the couple's names on the eternity symbol as well. The wooden piece is backlit with LED lights. It has a battery drive, so it can easily be placed on a wall with no hanging cords. You can also order this in different colors. This is a beautiful, romantic and totally unique gift that is just right for celebrating a first anniversary… one year down, an eternity to go!
48. I Love You Pillowcases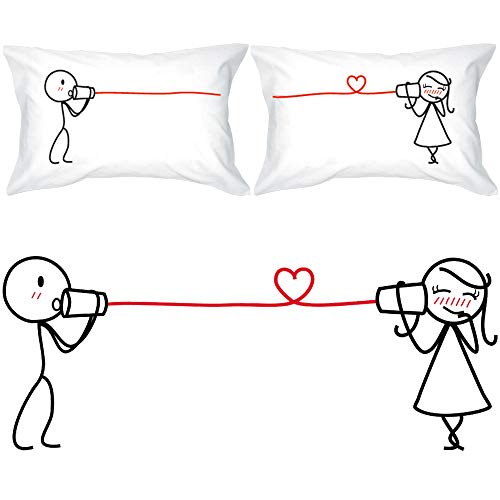 Buy or Read More on Amazon Here ($29.99 at the time of publication)
For the couple who has a fun-loving mentality, this matching pillowcase set is an adorable first year anniversary gift. There are two pillowcases. One side has a boy stick figure with a tin-can phone. Extending from this is a red "thread" that carries over onto the other pillowcase. This second pillowcase has a girl stick figure who has the other end of the tin can phone. She is giggling and blushing. There is a heart in the middle of the thread. The backdrop of these is white and stick figures are in black, with a red thread and red accents. The pillowcases can cover a 20×30 inch pillow and is made of cotton/polyester blend for a silky soft feel. This is an adorable gift any young couple will love!
49. Engraved Pocket Watch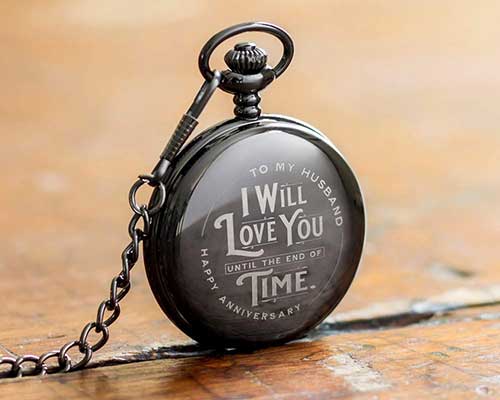 Buy or Read More on Amazon Here ($24.95 at the time of publication)
For the elegant man or woman, this is a beautiful, laser-engraved keepsake that will last a lifetime. Perfect for commemorating the first year of marriage, this is a beautiful, thoughtful gift. The one-piece mechanical watch has a beautiful chain. It is made from stainless steel and has a shiny black finish, for an ultra modern look and feel. The watch cover is engraved with a special message for a husband, but you can also select a variety of other messages. This pocket watch gift comes in a matte black gift box and is sleek, elegant and will be much appreciated.
50. Engraved Mirror Gift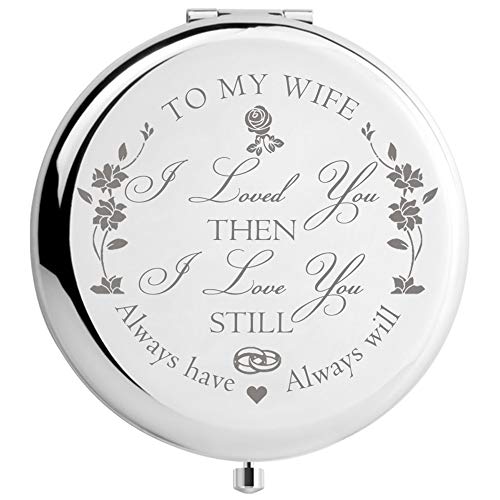 Buy or Read More on Amazon Here ($26.90 at the time of publication)
This beautiful, engraved mirror is perfectly suited for a first year anniversary gift that is small, thoughtful and useful. The 2.6 inch compact mirror has a spring closure and soft-lock close. This is a beautiful travel mirror that can slip easily into any size purse or makeup bag. The shiny, silver-colored stainless steel is sleek and attractive. This mirror can come with a variety of messages engraved on the top, including "to my wife." The top part of the mirror has regular magnification and the bottom has 2x magnification, perfect for applying makeup on the go. Any new wife will love this gift for a first year anniversary.
51. Holograph Rose Crystal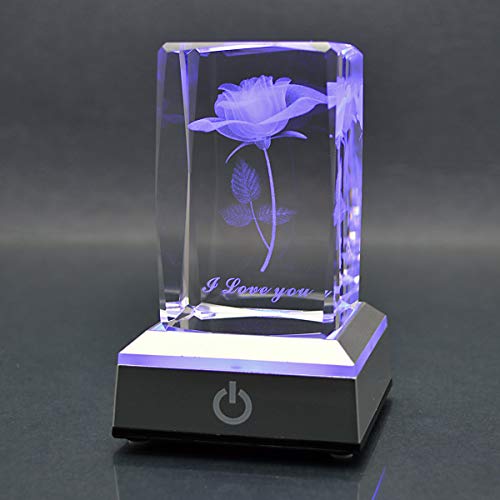 Buy or Read More on Amazon Here ($29.99 at the time of publication)
For a truly unique gift for a fairy-tale lover or lover in general, this holographic crystal rose is both high-tech and different. Sure to have never been received before, the 3d rose crystal with LED will provide a colorful and modern addition to any room in the house. This is a great gift for a first year anniversary. Instead of flowers that fade, give this illuminated flower that will last. The 3D laser engraving has a beautiful, open-petal rose and is engraved with the words "I Love You." There are six colorful light modes that display unique colors. You can use batteries, USB power or plug it in, for versatile use in any settings. This is a great gift for a husband, wife, or friends who are celebrating an anniversary.
52. Philips Wake-Up Light Therapy Alarm Clock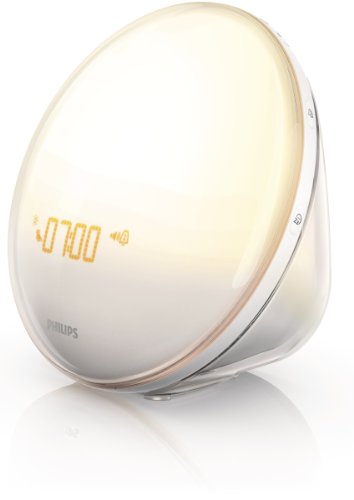 Buy or Read More on Amazon Here ($93.94 at the time of publication)
Back to the modernized first anniversary gift: the trusty clock. Rather than classic, we've gone high-tech here, with this Philips alarm clock that cleverly imitates the natural effect of the sun rising and setting, helping your body to wake up and fall asleep as naturally as it can. Warm tones of light will help to generate natural sleepiness in the evening, sending your brain and body into a deep, restful slumber. Bounce out of bed in the mornings with customized wake up noises or your choice of radio station, plus natural-feel lighting. What's more, this lamp is the only one of its kind on the market that's actually proven to help people get out of bed feeling more energized in clinical tests. The lamp is also super useful for waking time in bed: you can adjust it between ten light brightness settings, making it the ideal bedside reading light. In terms of practicalities, we're onto a winner here: the alarm clock comes with free Amazon product support coverage, plus Philips will refund you if you're not entirely happy with the product under its 90 Day Money Back Guarantee.
53. Message in a Bottle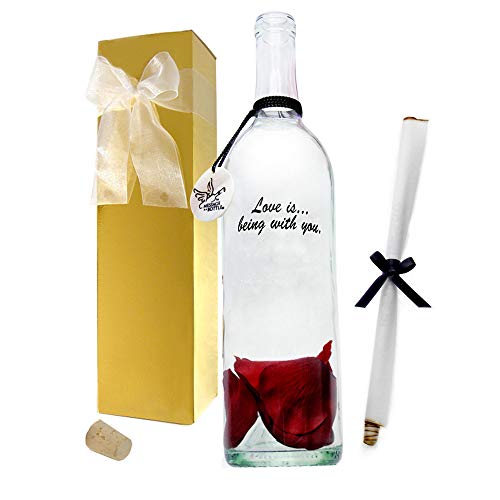 Buy or Read More on Amazon Here ($39.99 at the time of publication)
When you want to get the message of love across in a totally unique way, this message in a bottle gift could be the perfect choice. A beautiful, tall wine glass stands at 12 inches. There is a gold-toned gift box that it will be safely shipped in. The message paper has burnt edges. There are red silk rose petals that can be placed inside the bottle, which also has a cork stopper. Write your own personalized message on the scroll, roll it up and tie it off with a black bow. Place the message inside the bottle as a fun way of delivering your words of love and affection. The bottle is also inscribed with the words "Love is… being with you." Celebrate in style with this thoughtful gift.
54. Vintage Style Glass Picture Frame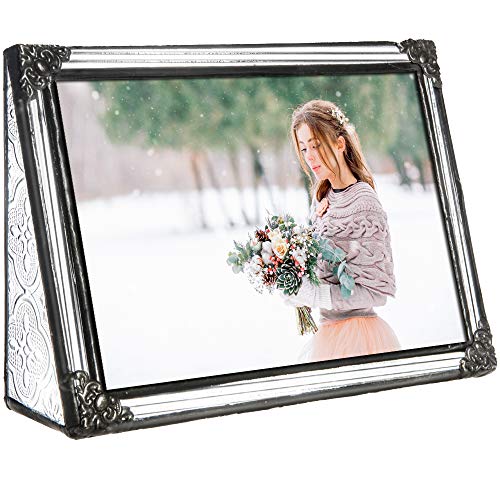 Buy or Read More on Amazon Here ($32.95 at the time of publication)
This picture frame is unlike the standard sets and is a unique, vintage style gift to celebrate a first anniversary. You can select from a variety of sizes, including 4"x6", 5"x7" and 8"x10". All sizes come either in vertical or horizontal options. With this great variety, you get a beautiful mirrored picture frame. Made of mirrors and glass, it is set on a vintage-style, metal filigree base. The sides have ornate scrolling and a dark metal band surrounds the picture itself. The frames will hold true to size photos and are made from handcrafted, stained glass. This is perfect for displaying photos of a first year of marriage.
55. Keychain Lock and Key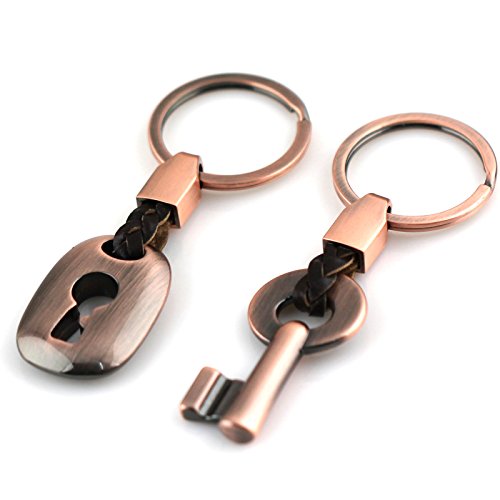 Buy or Read More on Amazon Here ($8.99 at the time of publication)
For a gift they can keep with them at all times, this modern style couple's keychain set is just the thing. For celebrating how a first year of marriage has knit them together forever, any happy couple will love this gift. Each keychain is made of brassy metal. The keychain is attached to a braided, 100% leather rope. One of the keychains has a lock pendant. The other keychain has a key pendant. Both are made from high-grade plated alloy and have rosy, coppery hue. The set also comes in classic silver and gunmetal black. This is a simple but effective gift that will remind newly married people who are celebrating this special first year how they are linked together forever in love and matrimony.
56. Wooden Elephant Heart Sculpture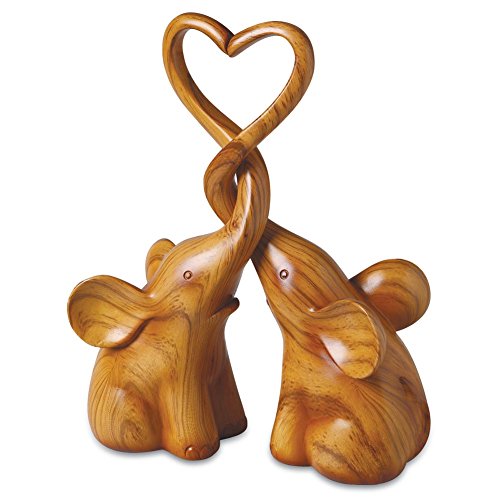 Buy or Read More on Amazon Here ($39.99 at the time of publication)
For traditionalists and lovers of all things cute, this wooden heart sculpture is the perfect first anniversary gift. The small elephants are carved with intertwining tusks that form the shape of a heart. These stand 9" high and will work with any kind of decorations. The weatherproof resin ensures that they are safe to be used anywhere in the house and with any climate. They have the appearance of finished, grained wood and are elegantly styled. The minimalist sculpture depicts the elephants with small eyes, sculpted round ears and small toenails. The heart is slightly uneven, giving it a whimsical, sweet and playful look. Any couple will love how this sweet and cute gift illustrates their love.
57. Biscotti Cookie Gift Basket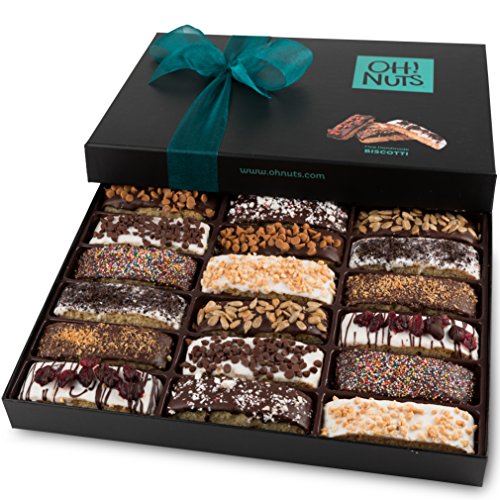 Buy or Read More on Amazon Here ($35.99 at the time of publication)
Give the gift of sweets with this assorted, biscotti gift basket. Sure to satisfy any sweet tooth or chocolate craving, these decadent biscotti feature out of the box flavors and scrumptious toppings. There are 18 biscotto cookies in a beautiful, black gift box, tied with a teal bow. Made by Oh! Nuts, you will get a variety of flavors, including dark chocolate topped with nut brittle, caramel chocolate, white candy crunch topped with sweet craisins and other nutty, crunchy, chocolatey concoctions. This company uses only fresh ingredients that are non-dairy, which is a huge plus if you're searching for someone with dairy allergies. Foodies and sweet-lovers will love this yummy gift.
58. Time Magazine Subscription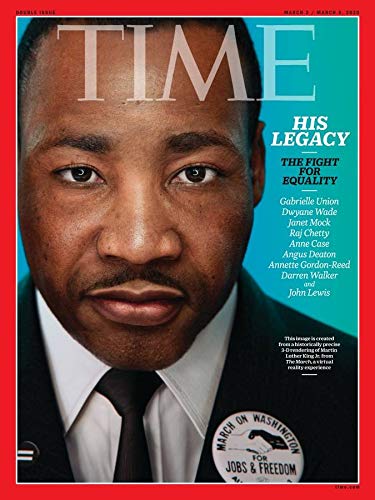 Buy or Read More on Amazon Here ($25.00 at the time of publication)
Not so keen on the food publications, but very much up for the paper anniversary magazine subscription idea? Gotcha. TIME magazine is right up there with the best commentary publications, compiling diverse views on global news within one world-renowned periodical. Treat your partner to TIME's print edition and you'll be sure to never run out of interesting talking points. Plus, it comes with automatic subscription renewal every six months, so you won't even need to think about it once it's all organized – it'll just be the paper-themed gift that keeps on giving, way beyond your first anniversary! But, despite the vast range of content out there, I know magazines just aren't for everyone. So, if your partner's less about the gloss (however highbrow it might be) and more about the good old-fashioned news, you could sort them out with a New York Times subscription instead. There's nothing that celebrates a one year paper anniversary better than filling the years to come with newsprint, right?
59. Happy First "Paper" Anniversary Printed Toilet Paper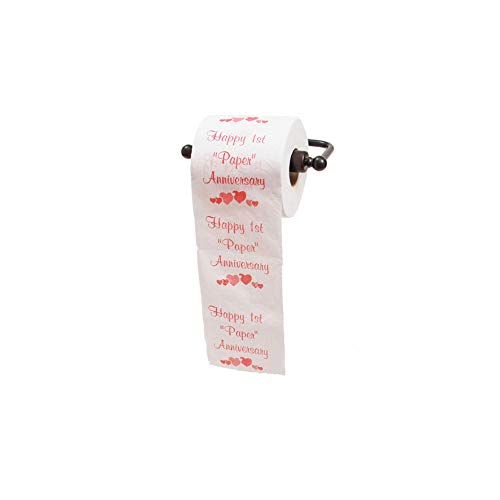 Buy or Read More on Amazon Here ($12.99 at the time of publication)
Now, we're starting off with a novelty option because it just has to be done. But, that by no means dictates the tone of the rest of the list, so just keep on scrolling if you want to dive into the seriously thoughtful side of things straight away. But, first thing's first: a novelty gift is always a worthwhile touch if it'll make your loved one laugh, especially if it's as traditional – and actually useful around the home – as some first anniversary toilet paper. Several hundred sheets, all printed with a fun themed message, will keep that first anniversary magic – and humor, however questionable it might be – alive in the household for days after the event. Plus, the rolls will fit pretty much any regular toilet paper holder, so you can easily pop it into place and wait for them to bust out laughing when they see what you've done. Go on, pop in a bit of novelty alongside another, more serious and romantic first anniversary gift. You know you want to!
60. Set of Whiskey Glasses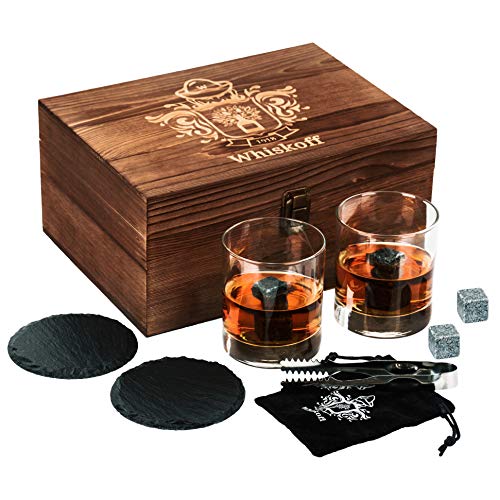 Buy or Read More on Amazon Here ($39.95 at the time of publication)
Great for a couple who loves a quality drink, this set of two whiskey glasses gives them a night in to enjoy the best spirits. Two beautiful, cut glass bourbon glasses come with a variety of accessories. This includes eight granite stones for non-diluting cold that come in a velvet drawstring bag. There is a set of tongs. There are also two, black, rough-edged drink coasters. All of this fits perfectly into a whiskey gift box. Whether they are enjoying bourbon, scotch, whiskey or another favorite drink, this is a great gift that any couple will love for a first year anniversary present.
61. Kindle Paperwhite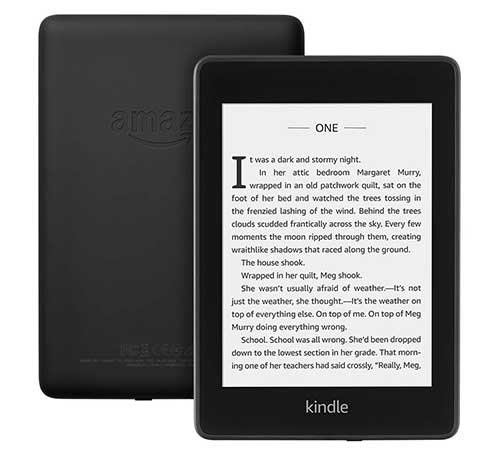 Buy or Read More on Amazon Here ($129.99 at the time of publication)
It's your paper anniversary, so what could be more perfectly fitting than giving your loved one the gift of endless books? The Paperwhite model is slimmer and more lightweight than the original Kindle, making it even easier to carry around. If your partner is a real bookworm, a Kindle Paperwhite will let them keep their reading with them wherever they're traveling for work or on holiday, as well as keeping them entertained on their daily commute. Plus, the Paperwhite is waterproof, so no need to worry about taking it down to the beach, relaxing with some bath time reading, lounging around by the pool with your Paperwhite, or getting it caught in the rain! The adjustable light means you can read inside or outside, during the day or night. But, the screen still stays free from glare, meaning reading from a Kindle is more like reading an actual book than a pesky screen. No headaches, no turning your downtime into more screen time! Choose from 8 GB or 32 GB storage capacities and why not get them a Kindle case to complete the gift?
Related Posts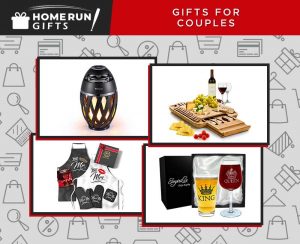 Gifts for Couples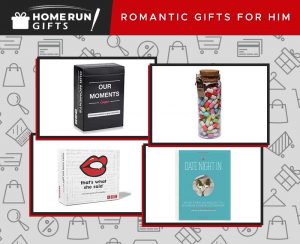 Romantic Gifts for Him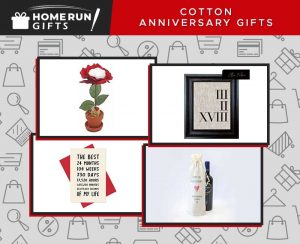 Cotton Anniversary Gifts