Turning 50 is not the end of the world. Your guy may think his best years are behind him, but that's simply not true. Sure, most of his years are behind him, unless he lives to be 100 or more, but not necessarily his best years.
Whatever he enjoyed doing at 40, he can still do at 50. Whatever turned his crank at 30 still turns his crank at 50. So that makes it easy to find a 50th birthday gift for him, right?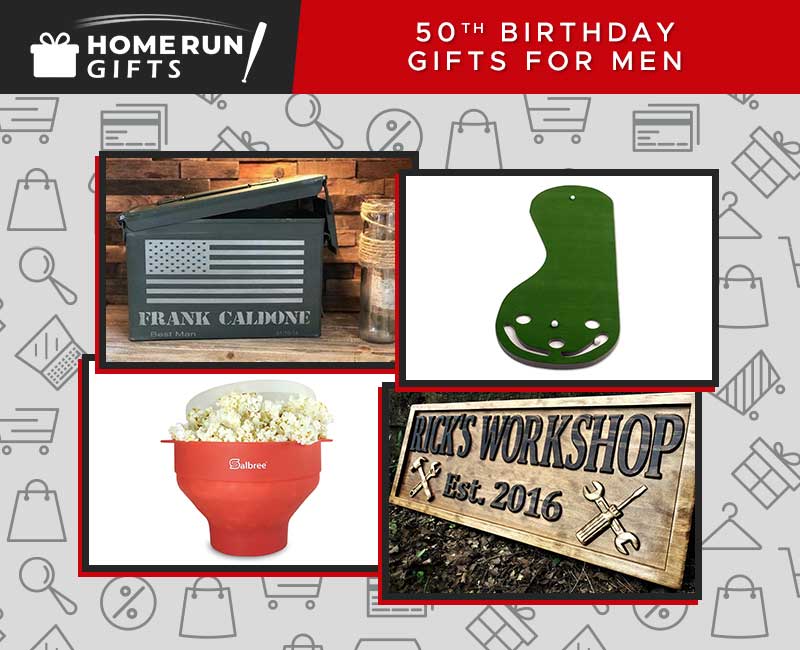 Let us get back to you on that. The problem here is that at age 50, he's reached the age where if he wants something, he gets it, often without warning. So now his life is full of things he thought he wanted, stuffed into drawers, the top shelves of closets, in forgotten corners of seldom-used rooms, etc.
It's a challenge to find something for the birthday boy, but we think we've got some ideas here that will make it easy for you. So let's get this birthday party started!
List of 50th Birthday Gifts for Men
Below, I've listed out what I think are the best 50th birthday gift ideas for men. Simply scroll through the list and pick out your favorite gift or gifts.
1. Custom Garage Sign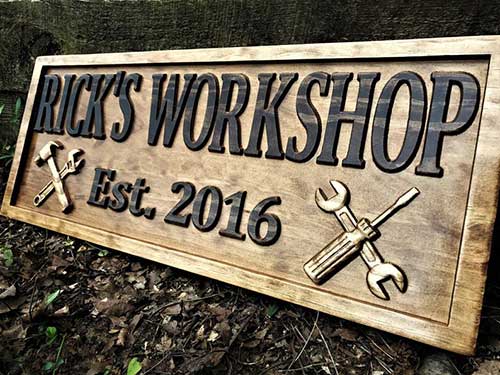 Buy or Read More on Etsy Here ($84.99 at the time of publication)
Remember Tim Allen and the hit TV show Home Improvement and the show-within-a-show "Tool Time?" Well, this kind of takes its inspiration from that.
The sign is made using a two-tone stain finish on 3/4″ pine that's finished with a polyurethane sealer, and yes, it includes knots and imperfections. That's the nature of pine. It's not engraved but embossed (in a manner of speaking) with 3D lettering and images that pop right out of the sign.
This sign is available in two sizes – A standard 9.25″ x 23″ or a larger 11.25″ x 28″. Each sign includes a sawtooth hanger on the back for quick and easy hanging.
While the signs are finished with an indoor/outdoor sealer, placing outdoors in the direct elements is not recommended, but not out of the question either. Just be aware that the wind, snow, rain, and sun will take its toll on the sign over time. Provide partial protection from these elements if placed outside.
2. Personalized Leather Money Clip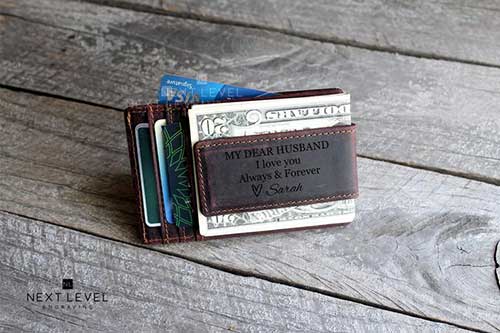 Buy or Read More on Etsy Here ($29.99 at the time of publication)
If the birthday boy still relies on those old-fashioned paper things that you can use to pay for stuff, this would be a great gift. It's a personalized money clip that holds bills of any denomination in place, with pockets and slots for more modern payment options, like debit cards and credit cards.
The handmade money clip is made from 100% top grain genuine leather. Strong, durable leather with beautiful quality stitching gives it a gorgeous appearance. There is also a clear window for a driver's license or personal ID. This money clip/wallet combo also provides RFID protection against credit card/identity fraud.
RFID stands for radio frequency identification, which uses electromagnetic fields to automatically identify and track tags attached to objects. The tags contain electronically stored information. Passive tags collect energy from a nearby RFID reader's interrogating radio waves.
Without an RFID-blocking wallet, thieves can steal your credit card information just by standing next to you.
This wallet creates an electromagnetic shield around your credit cards so that the information can't be picked up.
It's a handsome wallet, and the magnetic money clip can be personalized with up to 12 words, and the text doesn't have to be just on the clip.  There are three areas with room enough for engraving. Just keep it to a maximum of 12 words per area.
3. Personalized Ammo Box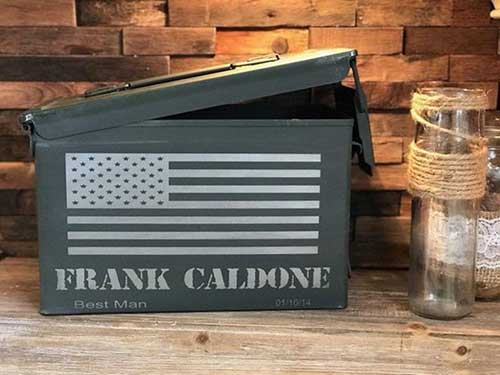 Buy or Read More on Etsy Here ($27.99 at the time of publication)
Fifty is a serious number, whether you're talking about a birthday or ammunition. These ammo cans have yellow or white writing on the back of the can stating that it holds .50 Caliber Ammo (not really, of course). The engraving is done on both sides. You can pick from 18 different themes, ranging from things like "property of" to a name and service branch, medical icons and several U.S. flag designs.
These metal ammo cans have a real rustic military-style look to them, so they may have slight imperfections, discoloration, scratches and/or dings. The engraving is done by lasers.
The item measures 7.25 inches high X 12 inches long X 6 inches wide.
4. Donald Trump 50th Birthday Coffee Mug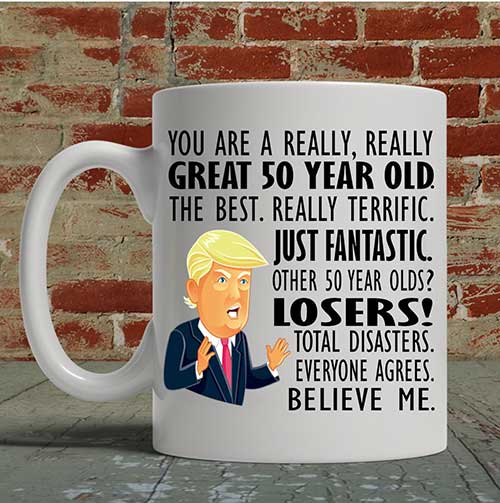 Buy or Read More on Etsy Here ($16.20 at the time of publication)
Make birthday gifts great again. If your guy's a DT supporter, or even if he's not, this coffee mug captures the president's reckless oratory to a tee (or tea, I suppose). The main thing is, there's nothing political about the saying that's printed on the side. It's all about the birthday guy.
This is a product of YaGottaLoveIt Designs, creators of charming, witty and hilarious novelty items for every taste (obviously.) The saying is printed on both sides of the mug and glazed over, so it will last for years and years. (Yes, that might not be a positive thing. We get that.)
Allow up to seven business days for shipping.
5. Putt-A-Bout Putting Green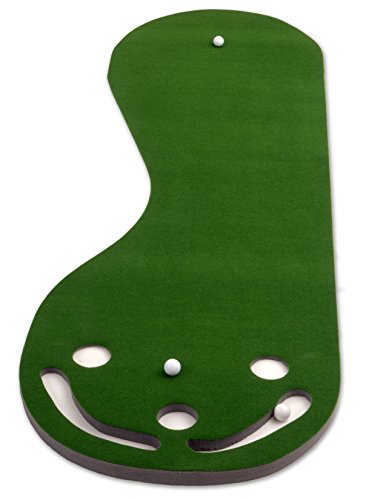 Buy or Read More on Amazon Here ($35.99 at the time of publication)
No more three-putts at the Windswept Duck Country Club! OK, that's not guaranteed, but it really could happen if someone were to put in some practice time on this cool practice green.
Measuring three feet by nine, this allows practice on the most difficult putts to master – the six to nine-footers. With three holes, each having its own unique approach and incline, practice is not nearly as tedious as it might otherwise have been. Sand trap-shaped cutouts catch missed putts.
The putting surface is made from PET resin (polyethylene terephthalate), known for elasticity and durability. Set up is as easy as rolling out the carpet on a flat surface.
6. Fishing Tackle Backpack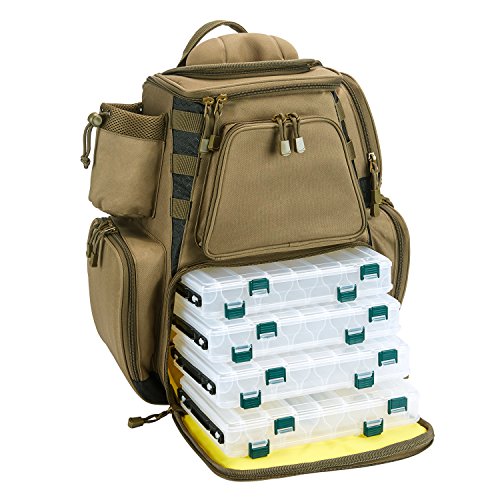 Buy or Read More on Amazon Here ($96.98 at the time of publication)
Never worry about snagging your lure on a submerged log ever again! So this will keep fishermen from snagging underwater obstacles? I never said that. I said you can quit worrying about it.
You won't worry about it because you'll have easy access to a replacement lure with this fishing tackle backpack. Just look at the photo -lure trays spilling out of this thing like clowns jumping out of a Packard station wagon!
This is a birthday gift that keeps on giving. It's big – nearly 18 inches high and nearly 13 inches wide. It's durable – 1200 denier polyester construction. It's versatile – 11 independent "rooms," 18 separate compartments or pockets. It's comfortable – padded back and shoulder straps. It's water-resistant – waterproof pocket and rain cover.
It comes with four lure trays that measure 11 inches x 7 inches by 1.9 inches. Each tray has 12 compartments that can hold spinnerbaits, artificial baitfish lures, topwater baits, plastic worms and many other types of lures, but the larger crankbait lures might not fit.
The various pockets open differently, and some – like the hard glasses case – are specially designed for a specific purpose. One of the pockets is waterproof, making it a good place for your cell phone. Otherwise, how you load this backpack is pretty much up to you. You certainly will have the room for a lot of stuff.
The main clapboard (think of it as a bulkhead in a rail car) can be moved to reorient the available space to accommodate bulky items that won't stow easily. Quality SBS zippers – two per track in most places – help snug everything up.
The backpack comes with a one-year "Total Peace of Mind" warranty.
7. Salbree Microwave Popcorn Popper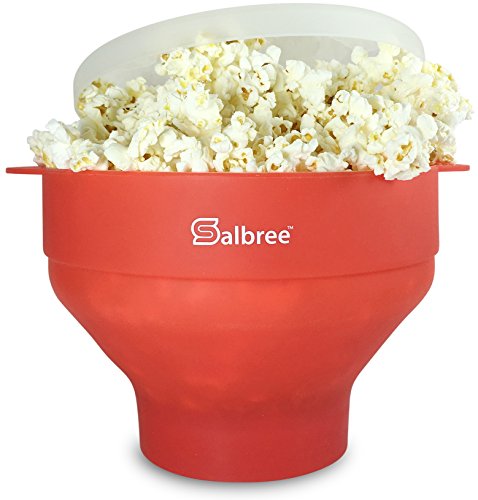 Buy or Read More on Amazon Here ($15.90 at the time of publication)
Methods for popping popcorn have evolved at least a couple dozen times since the ancient Incans popped the first batch around 4700 BC. With bold steps – some of them backwards – we've reached the age where you can pop popcorn and consume it in the same bowl.
Representing the latest, but almost certainly the last, wave in popcorn popping is the Salbree silicone popcorn bowl, which actually still uses a relatively old method of cooking – the microwave. To use it, you simply pour a small amount of microwaveable popcorn (Not the kind in bags. The whole idea of this is to do away with the bags) in the bowl and turn on the microwave.
When the kernels have stopped popping, you remove the bowl by lifting easy-grab handles that keep the heat away. You can then enjoy the popcorn right from the bowl.
The bowl is collapsible, taking up no more room in your cupboard than a shallow pan. No oil is used in the popping process, and the BPA-free silicone resists bacterial growth and is dishwasher-safe.
In comes in 18 colors – most of them wild – and has a frosted silicone lid.
So pop some popcorn and put on Citizen Kane. It's going to be a long night of movie-watching!
8. Leatherman Wave 2 Multitool Device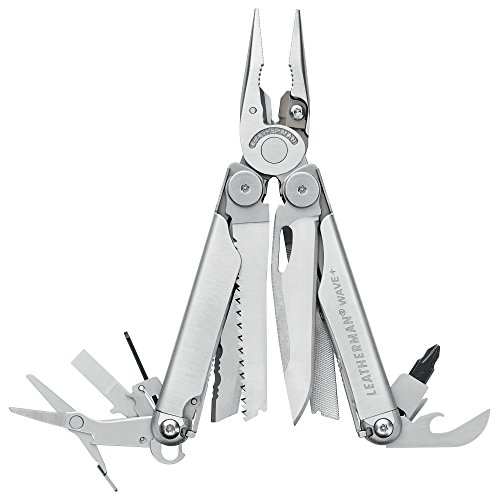 Buy or Read More on Amazon Here ($99.95 at the time of publication)
The Swiss Army knife doesn't have anything on this bad boy. This Leatherman's most popular multitool device ever, with 18 different tools, many of which have been upgraded to a larger, longer or stronger size. Combined with Leatherman's epic 25-year warranty, this is a value on top of a value.
Here are the tools that are attached: pliers, needle-nosed pliers, two wire cutters (one is replaceable for when it gets dull), straight knife, serrated knife, spring-action scissors, bottle opener, can opener, small bit driver, large bit driver and file.
The Wave+, the successor to the New Wave, comes in two colors – silver and black. The knife blades are now accessible from the outside, meaning you won't have to fold down a half-dozen blades just to get to one.
9. Men's Funny 50th Birthday T-Shirt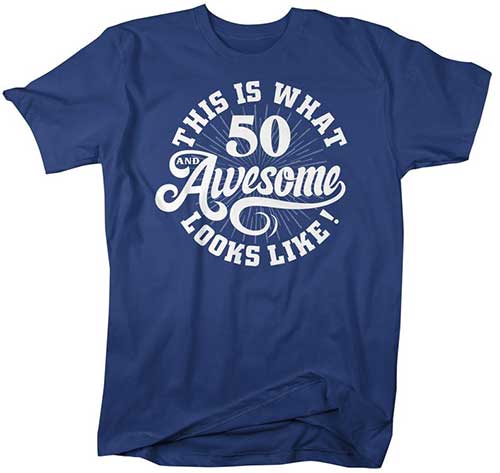 Buy or Read More on Etsy Here ($19.50 at the time of publication)
He had always thought he was awesome, even to the point of being annoying. And then this thing came up, this birthday thing. Now those numbers are staring him down – 50, the big 5-0. And all of a sudden – well, you get the idea.
Let him know you think he's awesome. Get him a T-shirt. Get him other things too, for sure, but get him this T-shirt. Emblazoned with "This is What 50 and Awesome Looks Like," this will be the talk of the party, or the barbecue or the football watch party – whatever. Heads will turn and people will talk. He'll love it.
Comfy, cool and made from soft ring-spun cotton and polyester (50/50), it will be a favorite that he'll probably want to keep wearing even after age 50 is just a signpost in the rearview mirror. The shipper needs at least five business days to process the order, so plan accordingly.
There's only one color, but six sizes (small, medium, large, X-large, 2XL, and 3XL).
10. Kinetic Science Sculpture – Anti Gravity Rod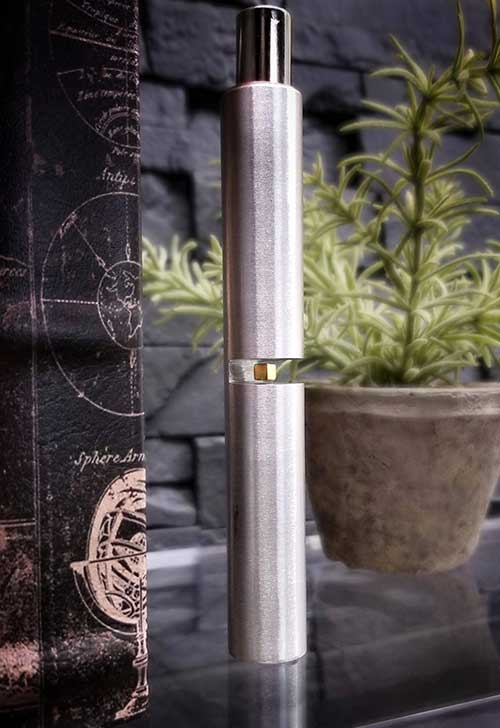 Buy or Read More on Etsy Here ($49.50 at the time of publication)
At first glance, you won't know this is, but after you've inspected it for a few minutes, handled it, turned it around a time or two, looked it over end-to-end, you still won't know what it is.
So, we'll cut to the chase. It's a metallic, cylindrical sculpture with a notch in the center. A magnet that looks like a gold ice cube is placed in the notch and it floats in mid-air. No electricity, no smokescreen, no sleight of hand.
So how is it doing that? There is nothing plugged in, nothing blowing on it, pushing on it or pulling on it. Is it magic? No; it's science. It's called the Gravity Rod, but it's actually an anti-gravity rod because the cube in the notch is not respecting the law of gravity. It's just floating in that notch.
The skinny on this cool item is that it uses the little-known force of bismuth metal called diamagnetism to suspend the cube in the center of the notch – just as you thought, huh. You simply place the sculpture on a level surface, put the cube in the notch and watch it float with no strings attached.
How long will it keep doing that? You don't have that kind of time. Trust me.
The sculpture is nice enough as it is. Made of bismuth, it's about four inches tall (I know; the photo makes it seem taller.) and is pleasing to the eye. But the magic – oops, science – is in the magnets. This ships with two 3mm cubes, two 4mm cubes, and one 3mm sphere. You will probably lose those tiny magnets quickly, so it's good to know that you can order replacements.
One caveat: the magnets can affect pacemakers and ICDs at close range, so keep grandpa a couple of paces back at least.
In the words of this fascinating device's creator: "Gravity is overrated."
11. Personalized Docking Station With Engraved Nameplate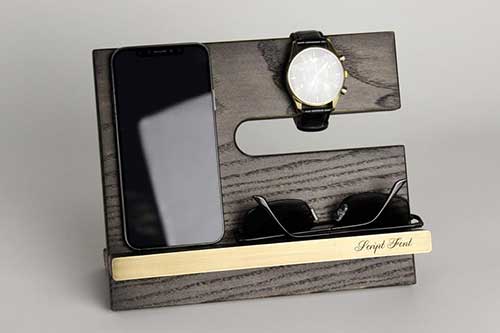 Buy or Read More on Etsy Here ($44.25 at the time of publication)
This sleek study in wood/metal contrast is as useful as it is beautiful. This premium docking station is a desktop or nightstand valet to charge your phone (charger not included) and provide specialized spots to hold watches, jewelry, glasses, pens, and key fobs.
The part you personalize is an antique finish metal plate on which you can engrave up to 35 characters with a choice of four fonts. Thirty-five characters are used up pretty fast, so you'll need to keep your text short and sweet.
The stands are made from 5/8″ thick solid wood – European Ash finished and stained with natural oil and polished with wax.
You can choose from a number of wood types and colors, including dark chocolate, tobacco, honey, white, grey and cabernet. For plate material, you can choose from aluminum, brass, bronze, and copper. All wood finishes and plate materials can be combined in any combination. They all go well together.
12. Personalized Wooden Watch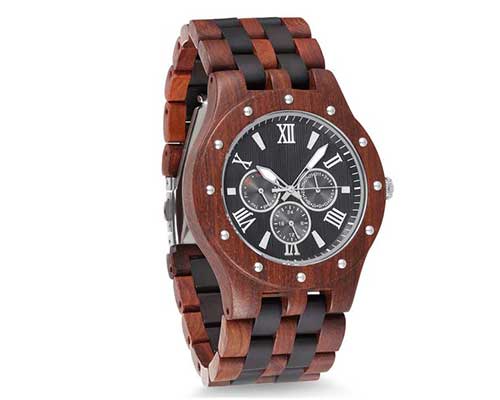 Buy or Read More on Etsy Here ($71.10 at the time of publication)
Giving a watch for a birthday gift may not be particularly innovative, but this is no ordinary watch. This beautiful wooden watch features a red and black wooden frame and lovely wood grain touches throughout. The entire watch is made using different shades of wood, and give off the perfect texture you find in nature.
Despite all the wood grain and back-to-nature artistry, this wooden watch has a high tech element as well, with a large dial with Roman numerals and three mini-dials showing seconds, the days of the week and the hours in a 24-hour loop.
The back of the watch can be engraved, using a choice of four fonts. The length of your message needs to be short since it's fitting on a wristwatch. The lid of the wood storage box – itself a nice work of craftsmanship – can be engraved as well. There's even a way to have it engraved in your own handwriting.
This is a showpiece watch that's not really made for grungy, dirty or wet conditions. Not that it will be ruined by brief exposure to any of those elements, but no one should tempt fate with something this classy.
Allow about a week for your engraving order to be processed and for your order to ship.
13. Etched Wine Glass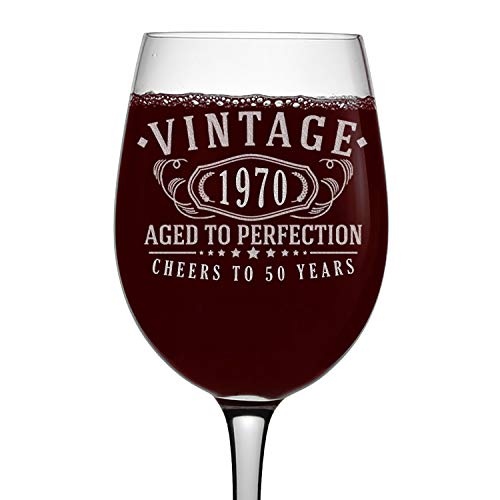 Buy or Read More on Amazon Here ($14.99 at the time of publication)
This glass holds 16 ounces, so make sure the birthday boy doesn't overindulge, even if it is his birthday. This classy stemmed wine glass is fancy enough to have out on display, and the generous capacity is perfect for enjoying wine the way you want.
The text is etched in the glass by laser and it's permanent. The etched glassware will keep its mark forever and never fade, regardless of the number of washings it goes through. And by the way, it's dishwasher safe.
Like all personalizable gifts, what inscription you end up with depends on the information provided to the shipper, so don't go by the photos. You will get what you ask for, as far as the etching goes.
This product is designed and etched in the Spotted Dog Company's plant in Fayetteville, AR. Spotted Dog is a small but growing company that specializes in classy glassware gifts.
14. Beer Chiller Sticks for Bottles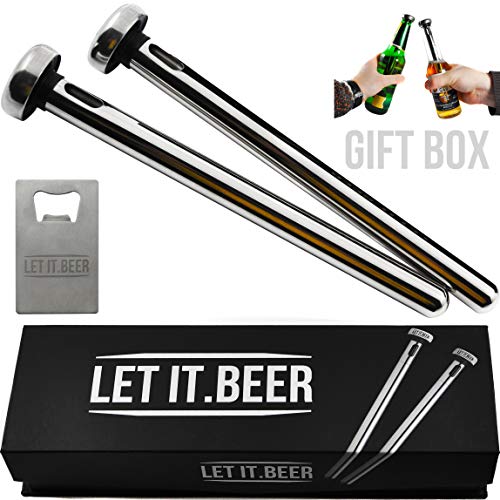 Buy or Read More on Amazon Here ($19.99 at the time of publication)
Spiking someone's drink will never be more appreciated! OK, these aren't really spikes, but beer chiller sticks that look like spikes.
If you're still wondering what I'm talking about, here's an explanation: You take these chrome sticks and place them in the freezer for about 45 minutes. Then you insert them into a bottle of beer (I suppose they'll also work with grape soda) to keep the beer at just the right temperature, right down to the last slurp.
This could be a huge factor at those mid-summer pool parties where your beer is sitting on a table in the hot sun while you splash around in the pool. When you come back to your beer, it's still cold, still refreshing. Not only does the chiller sticks help keep your beer cold, but it also keeps the carbonation from fizzing out. When you press the chiller stick all the way in the bottle and push down, it creates an airtight seal. You can even drink from the chiller stick!
The chiller stick will not make a warm beer cold, however. It will keep a cold beer cold and make a lukewarm beer a little cooler. It's easy to wash. There is some confusion as to whether the chiller stick is dishwasher safe, but I would assume that it's not. It cleans so easily with just water, why would you put it in the dishwasher anyway?
The product ships with two chiller sticks and instructions.
15. Engraved Sunglasses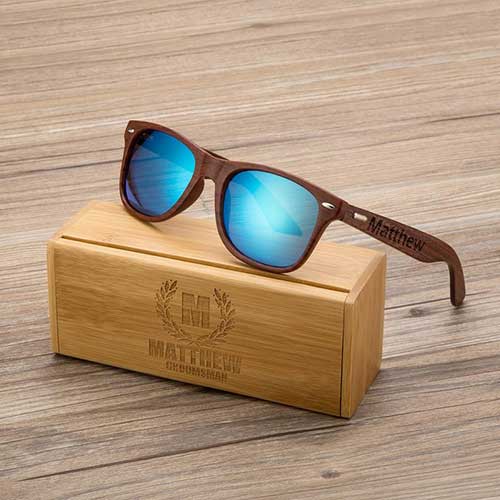 Buy or Read More on Etsy Here ($14.87 at the time of publication)
The future's so bright, I gotta wear shades. If you believe that life begins at 50, then here is the statement pair of sunglasses that your guy needs.
For one thing, they're pretty awesome looking with their teal lenses, and dark walnut wood frames but the appeal of these shades doesn't end there. The left temple pieces are engravable with a couple of dozen font styles to choose from.
An optional bamboo box (which adds roughly $6.00 to the purchase price) can also be engraved with the person's name and a sort of coat of arms with their initial and a pair of olive branches on either side. If you don't want the box, it still comes with a cloth pouch with a drawstring.
I'll say this on any item that has to be personalized – order in plenty of time. The supplier can ship the item in three to five business days, but that doesn't include time-in-transit. In this case, the item will ship from Hong Kong, so there's your incentive to order in plenty of time.
16. Personalized Flashlight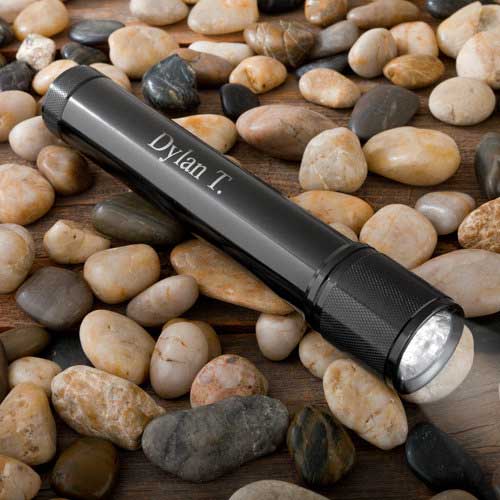 Buy or Read More on Etsy Here ($14.39 at the time of publication)
This is a very sharp little item here, but there are two things it's not going to be able to do for you: (1) Keep you from misplacing it or (2) Keep the batteries alive when you forget to switch it off. You're on your own on those scores.
But one thing it can do for you is to establish that it belongs to you. The little flashlight that could is engravable.
This Personalized Black Aluminum LED Flashlight is easy to carry around, and with eight LEDs, it would light your dark hallway when you go down to your man cave, or help you find the campground restroom in the middle of the night. Keep this flashlight in your glove box and you will be ready for anything that might happen.
It's seven inches long, runs off two C batteries (which will go dead if you don't switch the light off when you're finished with it) and is engravable for up to 15 characters on the flank.
*Many of the gifts on our list for 50th birthday celebrations also make great gifts for any occasion, including as gifts for groomsmen. So keep that in mind.
17. Corvette Art Print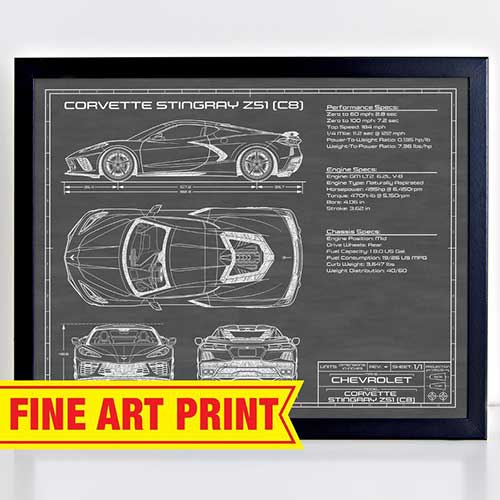 Buy or Read More on Etsy Here ($22.99 at the time of publication)
Maybe he doesn't have a Corvette, but he's sure to appreciate the detail in this. Designed to look exactly like real car blueprints, this art piece will make a great decor piece in offices, garages, man caves, and family rooms.
This is printed on ultra high-quality 350gsm (grams per square meter) heavyweight fine art print material. It's just the print, unframed, but it easily fits in common frame sizes. The artist on this is a former mechanical engineer, so the detailing should be spot-on.
You'll need to pick a size before ordering. The sizes are 10 x 8, 14 x 11 and 16 x 20, which are all common, and therefore easy to find a frame for.
18. Fitbit Versa Smart Watch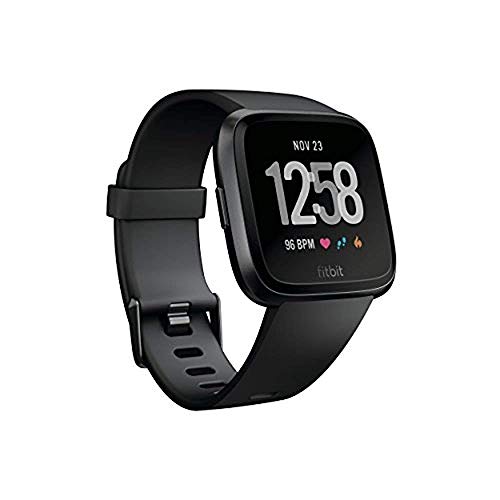 Buy or Read More on Amazon Here ($138 at the time of publication)
At 50 years of age, the average male is either already fit or has gotten the wake-up call and is scared that his life will go south in a wheelbarrow if he doesn't get fit. Either way, the Fitbit is going to be appreciated.
In case you're not familiar with a Fitbit, it's a wristwatch that lets you track your activity, heart rate, sleep, and other functions. It has on-screen workouts that play on your wrist and coach you through every move, track swim laps and floors climbed and all that stuff you should be doing to stay fit.
There are 15+ exercise modes, like running and swimming, and you can use the Fitbit to record workouts and connect to smartphone GPS for a more precise real-time pace and distance. This particular model includes all Versa Lite Edition features plus store and play up to 300 songs, access your favorite apps for sports, weather and more and if you're close enough to your phone, you can get ringtone alerts for phone calls, calendar notifications, and text messages.
You can even text brief replies, but only with an Android phone. (Sorry iPhoners.)
The battery will give you around four days of use, and it recharges in just two hours. This watch is slim and comfortable, thanks to its lightweight aluminum watch body. It's water resistant to depths around 150 feet, but the manufacturer does not recommend wearing it in a hot tub or sauna.
The Fit Bit uses Bluetooth 4.0, which is compatible with iPhone, Android & Windows phones. Not all features work the same way with all brands of phones and some features may not work at all with some brands.
It comes in four colors: black, woven charcoal, gray (some call it silver) or ruby.
19. Sony 65-inch TV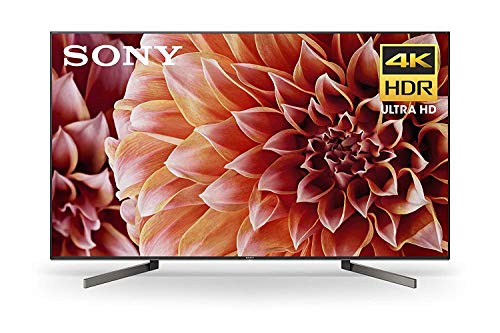 Buy or Read More on Amazon Here ($1098 at the time of publication)
Not too long ago, a 42-inch TV screen was all you really needed. A 65-inch TV set would have been considered ridiculously excessive. Well, that escalated quickly. These days, we also have 4K resolution, as if regular HD, at 1920 pixels across and 1080 pixels from top to bottom, was somehow insufficient.
But excesses that are repeated over and over again become the new normal, and so it is with TV sets. High definition is so turn of the century. Even though broadcast 4K is still not available in most places, it's the new buzzword, the new standard, the new "You mean you're still watching HD?"
So help your soon-to-be 50 year old move into 2020 with a wall-mounted TV.  And this is no ordinary TV. It's a smart TV. If you think the biggest changes in TV viewing involve the screen resolution and screen dimensions, you're in for a start. This big boy from Sony can surf the web, share screens with other devices, download and play streaming video, play music, play games, communicate with other TVs and respond to the sound of your voice.
Equipped with Alexa technology, this Sony will respond to nearly any command you can think of, from raising or lowering the volume, to changing the channels and selecting your choice of streaming video. You can project the screen from your smartphone, tablet or PC to the TV screen.
4K resolution means the screen contains 3,840 (close enough to 4,000 to call it 4K) pixels (dots) from edge to edge, and 2,160 pixels from top to bottom. With each pixel being able to behave independently from all the pixels around it, the details that can be shown surpass anything previously possible.
Now the disappointing news. 4K isn't available on broadcast TV, except in very special circumstances. It will be a big expense for broadcasters and cable providers to retool to 4K, but it's inevitable that it's coming. In the meantime, you can already get 4K off the Internet, as with streaming services like Netflix, Amazon Prime, Hulu, YouTube, etc., and the number grows every week.
20. iRobot Roomba 675 Vacuum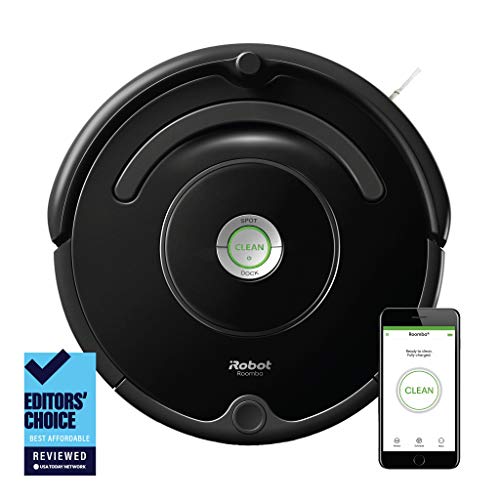 Buy or Read More on Amazon Here ($269.00 at the time of publication)
OK, it's time to break down some stereotypes here. The truth is, men do floors. Maybe not as often as they should, and maybe not with the same efficiency displayed by their significant other, but most men do floors – sweeping, mopping and vacuuming. In many enlightened households, the man is the primary custodian when it comes to the floors.
But I don't know of any who actually like it.
The novelty and the jokes about robot vacuum cleaners have subsided for the most part, and it's time to recognize their worth as terrific labor-saving devices. The Roomba 675 represents the latest iteration of the Roomba, and it possesses all the features that have come about during its evolution to where it is today.
The iRobot Roomba has what they call a three-stage cleaning system that picks up small and large pieces of debris with ease.  We all know that the Roomba "pings" the walls and furniture to determine where it is in the room, but it also has sensors to detect areas where the dirt is heavier than usual, so that the unit can move a little slower and rev up the brushes to make sure it gets everything. (Guys, this is where we fail miserably when we do the vacuuming.)
When paired with a smartphone, the Roomba can be scheduled to run when you want it to. You can get reports from it, unlike a lot of men who cringe when the wife says, "Honey, did you vacuum under the coffee table?"
The Roomba stays on its charger when not in use, so it's ready to go when called upon. It can go for 90 minutes on a full charge.
21. Cowin Noise Cancelling Headphones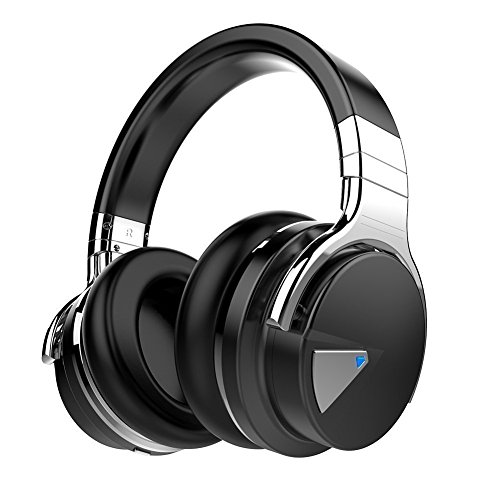 Buy or Read More on Amazon Here ($59.99 at the time of publication)
Perhaps you've seen the TV commercial where the Dad is smugly listening to Ave Maria through noise-canceling headphones while his son's rock band is rocking the house down upstairs. Your birthday fellow might enjoy that scenario.
Corwin is not one of those name brands you typically associate with audio products, but the brand has moved up the ranks, especially in the realm of headphones. This pair of headphones uses Active Noise Cancellation (ANC), which uses white noise to cancel out the ambient noise in a given space. For instance, ANC can reduce the noise of a jet engine to a whisper, or a work environment to a barely detectable low rumble.
Combined with the snug, over-the-ear fit of these headphones, noise is all but eliminated. With the background noise out of the way, you can hear what you want to hear with greater clarity than ever before. The Corwin E7 headphones do not block out talking, so you shouldn't miss any important announcements from your wife or your boss.
The E7s are wireless. They pair with your smartphone, tablet, TV or any Bluetooth-ready audio device. The sound quality is comparable to much more expensive headphones.
Birthday boy probably isn't a gamer (but you never know these days), but if he was, it would be good to know that these have a built-in microphone. It's powered by a long-lasting lithium battery that recharges via a USB port on your computer.
22. 50th Birthday Newspaper – Digital File That You Print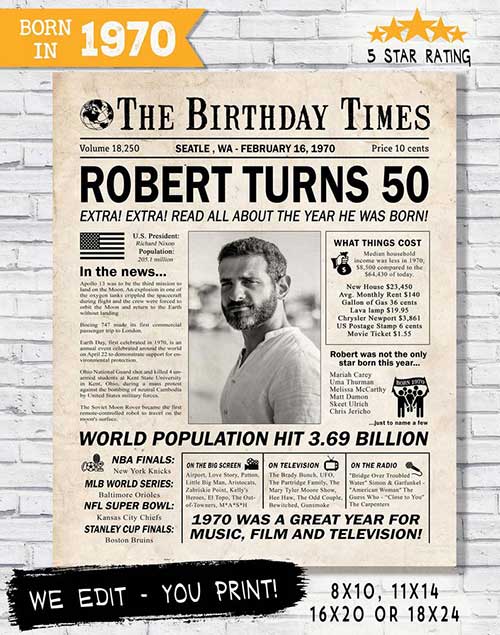 Buy or Read More on Etsy Here ($16.00 at the time of publication)
Before you order this – and yes, this is a very nifty item – please be aware that you don't get anything you can hold in your hand or rush out to the mailbox to retrieve.
What you get is a pdf file that is emailed to you. You can then send the file to a print shop or online printing service, or dump it onto a jump drive and take to the department store or drugstore to have printed. If you have a printer capable of accommodating the dimensions (there are four to choose from), you could even print it out at home.
You're paying for graphics and the design of this replica newspaper page. Part of the information is based on what you provide to the supplier, and part is included with the template. There are headlines and articles about sports, world population, music, television and general news of the year the birthday guy was born.
You can choose among four sizes: 8 x 10, 11 x 14, 16 x 20 and 18 x 24. Not only that, you can select delivery options – three to five business days, or a 24-hour turnaround (for a higher price, of course).
23. Engraved Beer Mug 50th Birthday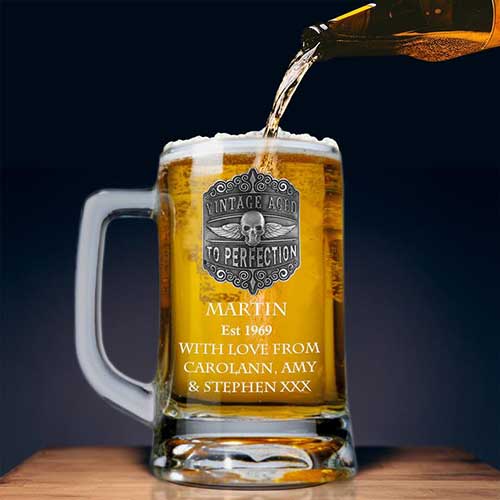 Buy or Read More on Etsy Here ($34.06 at the time of publication)
This oddly satisfying blend of glass and pewter makes a perfect 50th birthday gift to the baron of beer drinking. The pewter medallion is handmade and has a cool skull and wings emblem and the words 'Vintage Aged To Perfection'.
The personalized engraving goes on the glass part, including the year of birth and your own personalized message of up to 40 letters long. The glass is heavy and high-quality with a strong handle for many quaffs of ale to come.
The order can be ready to ship within one day, but keep in mind it ships from Great Britain, so allow plenty of time for delivery before the special day.
24. 3D Figurine From Photo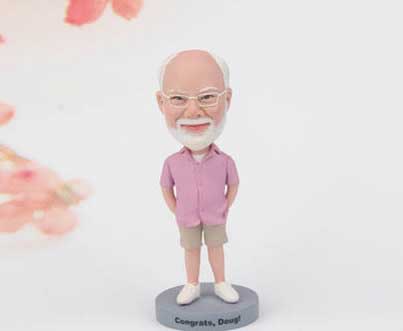 Buy or Read More on Etsy Here ($79.50 at the time of publication)
Everyone needs a mini-me! If your 50th birthday boy is ever going to have a mini-me, you might want to get that done while he still has a semblance of handsome about him.
This is a 3D polymer clay figurine or bobblehead of a person using photos as a reference. When you order you will also be asked about skin tone and hair color, so they can use the clay color that best matches up with the person's color.
These are not huge. They roughly measure a little over six inches tall, including the slate gray base the figures stand on. The base is engravable. The actual creation of the sculpture is done by hand.
It's highly recommended to provide a straight-on and a profile view if possible (they can work without a profile angle, but the best results come when front and side views are provided). The photos should be sharp, well-lighted and close up. Generally, the better the photo you provide, the better the figurine will look.
The shipper is in Los Angeles and estimates that delivery will take four to five weeks.  Each order is shipped with a tracking number so delivery time can be reasonably anticipated.
25. Club 50 Crewneck Sweatshirt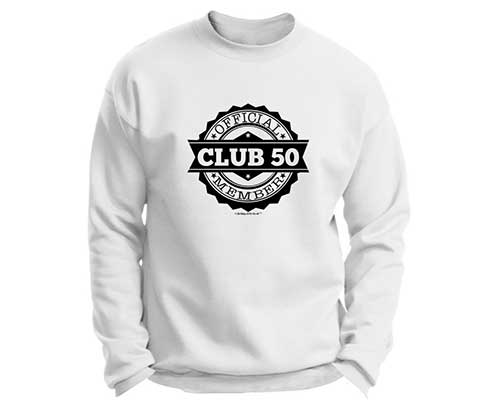 Buy or Read More on Etsy Here ($35.99 at the time of publication)
If you're weary of the suggestive, off-color and crude sayings you can put on clothes and caps these days, take heart. This one is positively G-rated.
As a 50/50 cotton/polyester sweatshirt, this will be comfortable and easy to care for.  And with a logo that says a politically safe, culturally accepted "Official Club 50 Member," you can actually wear it out in public. In fact, this sweatshirt is so correct it's even printed with ecology-friendly ink!
It comes in sizes ranging from small to 3XL and in five colors – white, ash, light steel, deep red and light blue.
26. What Happened in 1970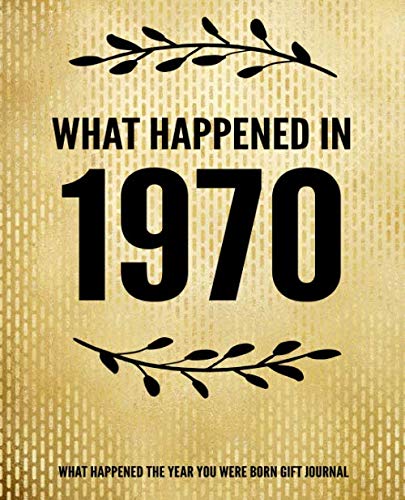 Buy or Read More on Amazon Here ($6.99 at the time of publication)
If you're looking for a funny, cheap gift that's better than a card for his 50th birthday, grab this What Happened In 1970 Journal Notebook. First off, it's not a huge investment, so consider this an add-on gift, or maybe something from one of the kids.
It features historical information about the year your special person was born, including the cost of living prices (you may not want to know), popular movies, tv shows, toys, music (the Beatles broke up), world events (Houston, we have a problem) and sports milestones. Sure to bring some laughs and a smile to their face, you won't find a better value in this cheap, um inexpensive gift and they'll know you took the time to find something special just for them.
It measures just south of an 8×10.
27. You Know You're 50 When Book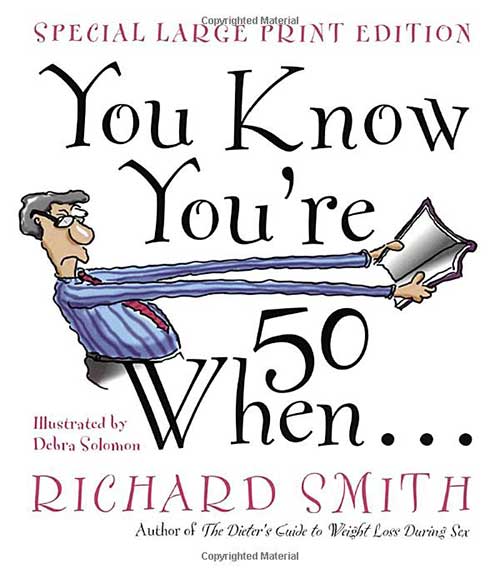 Buy or Read More on Amazon Here ($6.99 at the time of publication)
The kicker with this book is that it's a large print edition! Richard Smith returns with another wildly hilarious book about living the life.
Turning 50 brings new challenges yet allows you to apply different expectations to old challenges. What was a goal worth achieving in your 30s and 40s suddenly becomes a "well, it's not for everyone" in your 50s.
Here are some points to ponder from the book:
Your main form of aerobic exercise is getting up to find the remote.
You think a mosh pit is something found at the center of an exotic fruit.
"Performance anxiety" refers to golf and bingo night.
You read obituaries not to see who died but how long they lived.
Twice in one night refers to bathroom visits.
If your birthday guy is making excuses for being overweight, overindulgent, underwhelmed and under-motivated, don't get him a be all you can be, claim your destiny, get-er-done kind of book. He won't read it. Get him this one instead.
28. 1970 Poster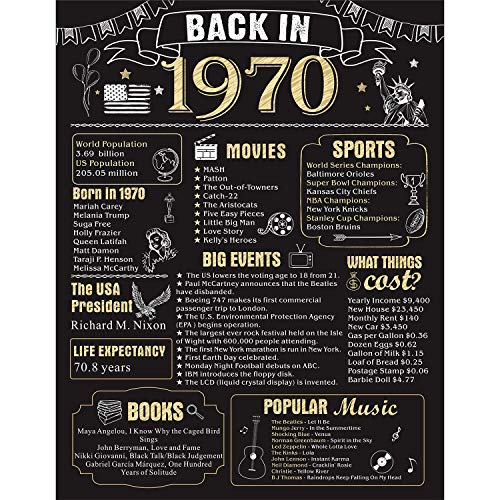 Buy or Read More on Amazon Here ($7.99 at the time of publication)
OK, so was 1970 the last year of the 60s decade or the first years of the 70s decade? Well, that's part of the never-ending "Does a decade begin in a 0 year or a 1 year?" debate, and this poster will not settle that issue.
What this poster will do is let everyone know what happened, yea, those many long years ago when 50th birthday boy was born. The poster measures 11×14 and is printed on heavy stock paper. It ships with 20 glue dots for sticking on a wall.
It includes things like world population, US population, other great (or mediocre) people born in 1970, who was president, life expectancy, movies, news events, sports, the cost of living, popular music and books.
Again, this is a pretty low-cost item, so maybe it could be something from one of the kids, or just as an extra to make the big day even more special.
29. Magnetic Floating Globe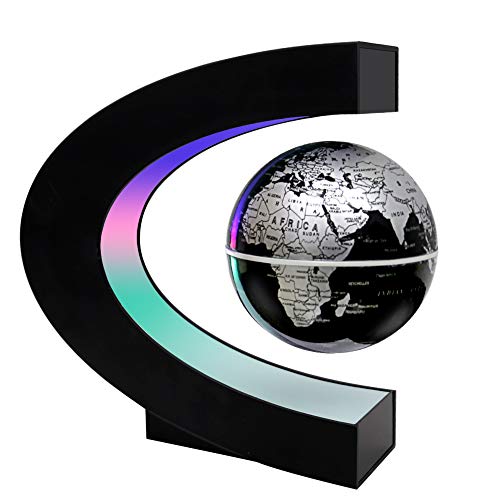 Buy or Read More on Amazon Here ($45.99 at the time of publication)
It defies gravity. It turns on its axis. It's the coolest thing since the Faraday Principle.
This amazing little novelty is a learning tool and a conversation piece all at once.
Strong magnets keep the 3.3-inch diameter globe suspended in mid-air between a C-shaped stand while it turns on its axis. An array of LED lights illuminate the globe, giving it a very impressive appearance in a darkened room.
An electric current from the 12.5-volt power supply (included) generates an electromagnetic field while a magnet in the top part of the stand supplies a matching field of the same polarity. If you remember science class, then you know that like poles repel, so the globe, which is caught in the middle, can't go up or down. It just hangs in mid-air. A simple push with your thumb will make the globe spin.
It's actually equipped with a simple microprocessor that maintains a steady electromagnetic field. For this reason, it is not advised that you place this near a computer or any device that is sensitive to magnetism.
It's very easy to assemble after unboxing, and the detailing on both the stand and the globe is superb. The stand measures seven inches tall and six inches wide.
30. The Bucket List: 1000 Adventures Big & Small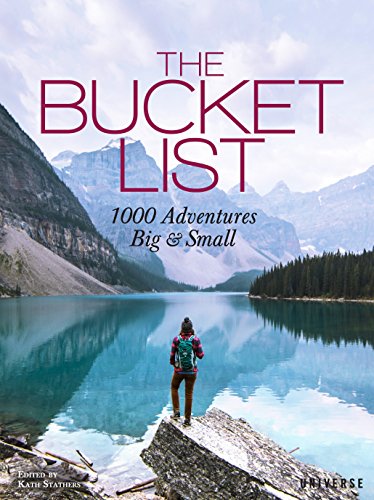 Buy or Read More on Amazon Here ($21.00 at the time of publication)
Fifty is when mid-life crisis really takes hold in men. It used to be 40, but I guess 50 is the new 40. This is a time when men realize that they're not going to see everything they thought they'd see or do everything they thought they'd do in their lifetime. So the bucket list idea came along as a filtering mechanism to sort through the things that men can skip and not feel as if they've missed something and the things men just have a compulsion to fulfill before their time on this planet is up.
The Bucket List: 1000 Adventures Big & Small may actually contribute more angst to the dilemma than the solution. The 1000 adventures are, like the title suggests, big adventures that require a lot of planning, effort and more often than not, money; and small things that can be accomplished in an afternoon, in some cases.
These are also adventures that you wouldn't necessarily think of on your own, perhaps leading to a state of mind like "Oh great – I wouldn't have given the idea of glass-blowing in the Czech Republic a second's thought. Now, I feel compelled to do it."
Here are some others, cherry-picked from the list: Swimming with dolphins in New Zealand, bird-watching in Kenya, driving through clouds in Sri Lanka, directing a movie, learning to play a musical instrument, learning a new language, making pottery, protecting an endangered species and naming a star.
The book includes hiking adventures, out-of-the-way venues, strange museums, natural wonders, quirky international customs and cuisine delicacies you didn't know you have always wanted to taste. Even if you do none of the 1000 things, the book is very entertaining and a captivating read.
31. Can-Do Clamp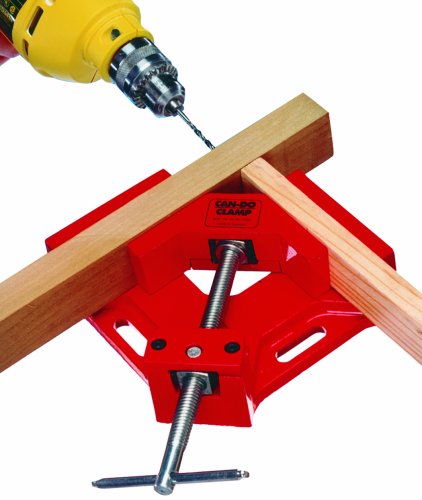 Buy or Read More on Amazon Here ($24.95 at the time of publication)
Most guys have a well-stocked tool shed by the time they reach 50 – hammers, screwdrivers of all sizes and types, drills and bits, measuring tape and rulers, saws, clamps and all. But your birthday buddy might not have a clamp like this.
The Can-Do Clamp has an ingenious design that holds wood stock at perfect right angles for hammering, drilling and gluing. With a heavy-duty aluminum frame and a vise that works from the inside out, you can attach like or dissimilar pieces of wood with precision.
The moveable jaws and double swivel points make it possible to join wood pieces of different thicknesses and the clamps squeeze from both sides equally.  The vise screw is straight, strong, and cinches up the wood with ease.
It will accept wood in thicknesses up to 2 ¾ inches. Oblong mounting holes make it easy to bolt this down to a workbench.
Believe it or not, the Can-Do Clamp has been around for 25 years. It was the featured tool in the December, 1994 issue of Wood Magazine and has been sold and used worldwide since that time.
32. Carhartt Men's Sandstone Active Jacket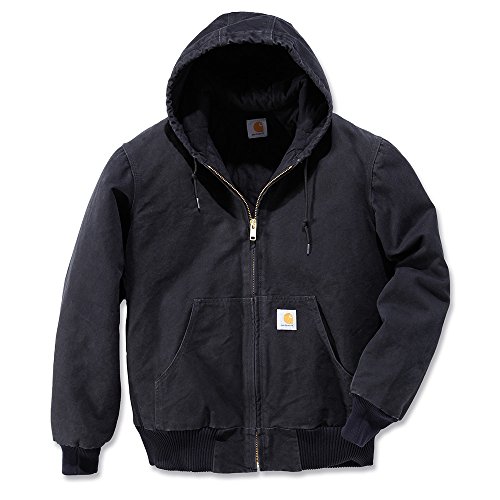 Buy or Read More on Amazon Here ($80 to $140 at the time of publication)
This ain't no hip-hop hoodie. This is a standing on a dock at Martha's Vineyard, sipping strong coffee on a chilly October morning hoodie. Boat and seagulls not included.
Carhartt really has something going with its sandstone line of hooded jackets. Perhaps it's the 100 percent cotton weave or its high-grade zipper that virtually never snags or binds. The quilted hood closes with a drawstring that won't contract and disappear into the neck material, as is the case with lesser hoodies.
The cuffs and waistband are rib-knit, ensuring a snug fit, and the jacket is luxuriously lined for comfort when the cold winds blow. Two kangaroo-style front pockets are the perfect place for your hands when you forget your gloves.
It comes in 16 colors, ranging from white to black, including two shades of red and variations of brown/tan. It comes in small, medium, large, extra large and XXL sizes.
33. NCAA Mens College Team Logo Moccasin Slippers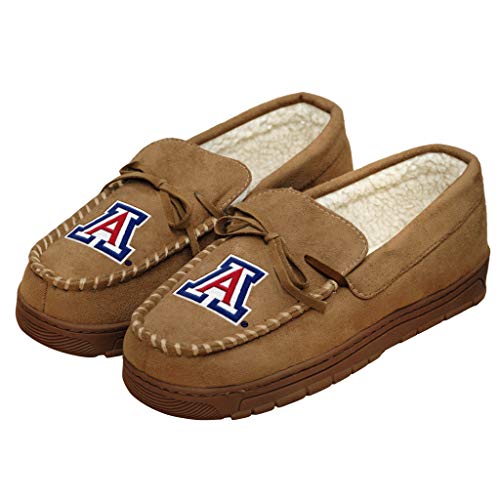 Buy or Read More on Amazon Here ($29.99 at the time of publication)
Is your birthday boy a Nittany Lion, a Wildcat, Gator, Gopher or Cowboy or anything in between? He might really appreciate a pair of these college logo moccasin slippers. They're squishy comfortable with a puffy cotton liner, polyester upper and rubber sole.
They're soft and lightweight and most likely won't hurt the TV screen when they are thrown against it after the home team fumbles the ball at the opponent's goal line. No guarantees on that, however.
The logo is embroidered, not stamped or printed, meaning it will last as long as the shoes themselves. The list of team logos you can choose from is not all that extensive, however. Some popular teams are left out.
But you can get these: Alabama Crimson Tide, Arizona Wildcats, Arkansas Razorbacks, Auburn Tigers, Clemson Tigers, Florida Gators, Florida State Seminoles, Iowa Hawkeyes, Iowa State Cyclones, Kansas State Wildcats, Kentucky Wildcats, Michigan State Spartans, Michigan Wolverines, Minnesota Golden Gophers, Missouri Tigers, Nebraska Cornhuskers, North Carolina Tarheels, Oklahoma Sooners, Oklahoma State Cowboys, Oregon Ducks, Penn State Nittany Lions, South Carolina Gamecocks, Tennessee Volunteers, Texas A&M Aggies, USC Trojans, West Virginia Mountaineers, and Wisconsin Badgers.
It looks like they add logos from time to time, so check back often if your team's logo isn't listed.
34. Amazon Brand Cotton Cardigan Sweater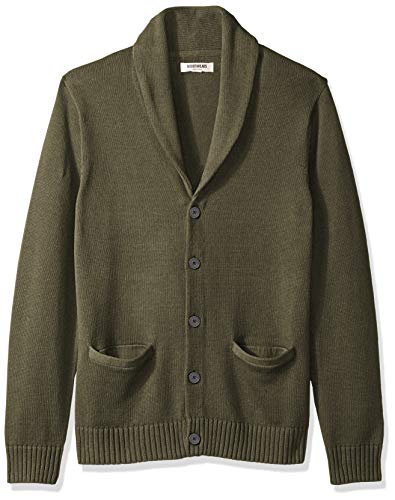 Buy or Read More on Amazon Here ($40 at the time of publication)
Ah yes, nothing says "old man" like a cardigan. What a perfect way to remind the 50-year-old that it's time to put away his Abercrombie & Fitch hoodie and get with the Mr. Rogers look.  But seriously, this is a seriously comfortable sweater, and we'll have no sweater-shaming around here.
This is part of Amazon's Goodthreads line, where dedication to quality takes top priority. They have real men wear-test (that's a new term for a lot of folks) all of their products to ensure that the garments look good and fit right throughout the whole range of their sizes, not just the "perfect" sizes.
They treat their shirts with a special wash to break-in the fabric before purchase, so that the customer can enjoy the comfort from the first wearing.
This cardigan meets all those criteria and more. It's 100 percent cotton and machine washable. It's right in the middle as far as weight – not thin and draft-prone, nor heavy and cumbersome. Ribbed cuffs and waistband keep the cardigan right where it belongs, and the shawl neckline is cozy, yet stays out of the way. Two handy pockets will hold handkerchiefs, loose change or the receipt from last Sunday's brunch.
It comes in fifteen colors, ranging from vinegar white to solid black, with some grays and several shades of green and red mixed in.
Sizes run from X-small to XXX-Large/tall (12 sizes in all). If birthday boy is used to sweaters from suppliers like J.Crews, IZOD, Van Heusen, or Banana Republic, the best advice is to order one size larger.
You probably already know not to put a 100 percent cotton sweater in a dryer, but it never hurts to be reminded of that fact. Wash in a gentle or delicate cycle and lay flat to dry.
35. Precision Pro Golf Rangefinder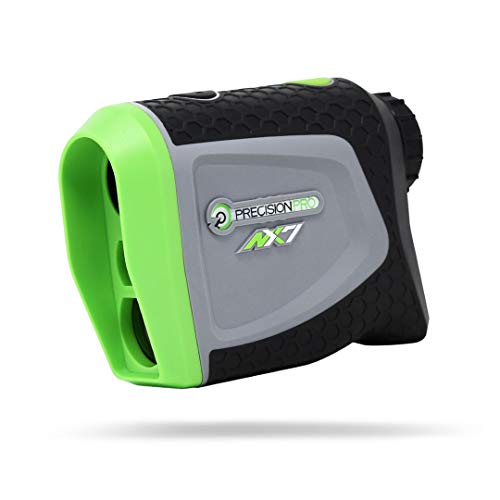 Buy or Read More on Amazon Here ($199.00 at the time of publication)
You know he would have made par on 14 if he'd known that the bunker was 150 yards from the tee instead of his guesstimate of 120. That may or may not be true, but if you get him one of these babies, he will have one fewer excuse to use when his score is in triple digits.
Precision Pro Golf gives golfers reliability and accuracy out on the golf course.  He'll never second-guess the distance to the flag, to a hazard or how long the walk is to the clubhouse from the 18th green. Accuracy has been tested and found to be correct to within one yard.
The NX7 Rangefinder uses laser technology and pulse vibration to make getting precise readings easy for all golfers, regardless of skill level. The display is easy to read and the technique of using the rangefinder is a no-brainer, so the average golfer can expect to hit more greens if their swings are decent. (That's a big if with some golfers.)
The device runs off a lithium battery, one you can get for free for the life of the product if you register it with Precision Pro. So, he can't even use the excuse that his rangefinder battery was dead.
36. Pickleball Paddle Set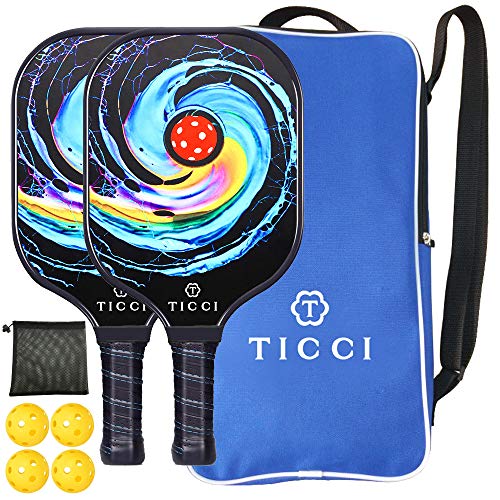 Buy or Read More on Amazon Here ($55.97 at the time of publication)
What the what is pickleball, you say? Where have you been? Obviously, you haven't been to your health club at 10:00 a.m. on Monday, Wednesdays, and Fridays (or maybe Tuesdays and Thursdays). Pickleball is a new game, usually (but certainly not exclusively) played by people 50+ that provides cardiovascular exercise, develops agility, and stimulates a competitive urgency for folks who might otherwise slip into a sedentary lifestyle trap.
Pickleball is to tennis what Wiffle ball is to baseball. It's played at closer quarters, on a smaller court, suing plastic balls with aerodynamic holes punched in them. The pace of competition can get pretty intense, especially in doubles matches, where the ball isn't in flight for but a second until it's whacked across to the other side of the net.
Ticci is considered the leading brand in pickleball equipment. If your birthday guy is an avid pickleball player, he probably already knows that. This set includes two premium graphite rackets, four balls and soft covers for all.
The paddle face is made of premium fiberglass for stiffness and aggressive ball strike because there's nothing like humbling your under-equipped opponent with a vicious overhead smash. If you're familiar with Wiffle balls, you know that the perforated surface allows for some pretty awesome curveballs. The same principle applies on a smaller scale with pickleballs. The non-skid surface of these paddles lets the user apply some wicked English to the ball so that it arcs and dips across the net.
Ticci is serious about this game called pickleball. They offer a "make-good" service on anything that is defective or does not live up to expectations with their products.
37. Nikon ProStaff 3-9 x 50 Riflescope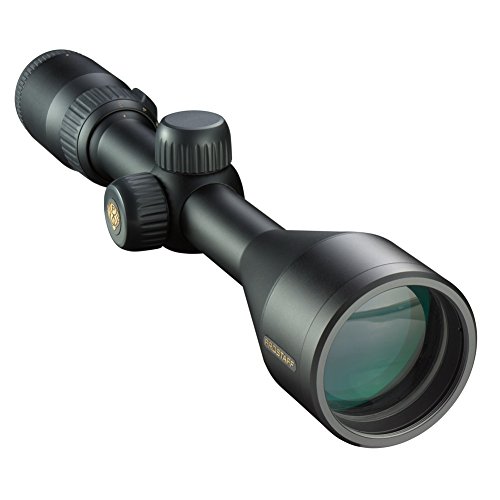 Buy or Read More on Amazon Here ($226.05 at the time of publication)
Has your guy gone to the sporting goods store, checked out the rifle scopes with every intention of buying one but came home empty-handed? For whatever reason – possibly budget – he just couldn't go through with a purchase (I suppose some wives might say they wish that were the case.) Or maybe he settled for something that wasn't exactly what he wanted and he now wishes he'd held up on the purchase.
Well, it's his 50th birthday. Get him a nice scope for his hunting rifle.
This is a nice scope. It comes highly-rated and well-liked. Boasting Nikon's fully multi-coated optical system and a huge 50mm objective lens, the tried-and-trusted ProStaff 3-9×50 riflescope keeps you hunting as late as possible. The scope's optics transmit up to 98 percent of available light, providing the most brightness possible in low-light situations.
The Nikon ProStaf provides 3.6 inches of eye relief. What this means is that there's extra allowance for rifle kickback when firing. Other features include a nitrogen-filled, O-ring-sealed housing that's waterproof and fogproof; support for an optional sunshade accessory for bright, rainy, or dusty conditions; and a quick-focus eyepiece.
The lens elements are made to Nikon's exacting tolerances, with the same attention to detail that goes into their camera lenses. The scope is 12.5 inches long, and the tube diameter is one inch.
38. Canon EOS Rebel T7i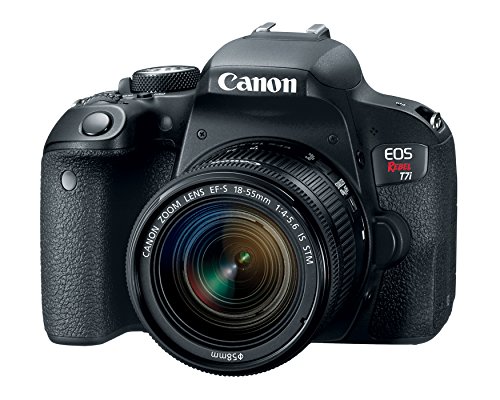 Buy or Read More on Amazon Here ($649.00 at the time of publication)
There's a rumor going around that DSLRs are old-hat, on their way to obsolescence due to ongoing improvements in cellphone camera. Don't believe it. Sure, for birthday party grab shots or "here we are in front of the Yellowstone National Park sign," cellphone cameras do a good job, but for the detail in a scenic shot, the fading light of a sunset or the nuances of a serious portrait, nothing tops a DSLR.
For your man's 50th birthday, give him something that will make memories that will last the rest of his life and start him on a hobby that will stay with him up to and through his retirement years.
While brand name loyalists will pick a fight over which brand of camera to get, no one can seriously deny that Canon is the main player in the field of DSLRs. Other camera brands may be in their league, but Canon still sits in first place in the standings.
The EOS Rebel T71 is the latest version of the Rebel, whose evolution from entry-level to prosumer lever has been marked by one innovation after another. This particular setup includes the camera body with an 18-55 mm zoom lens.
One of the biggest advantages over earlier models is the ability to connect to Wi-Fi for instant uploading of images to social media or cloud storage systems. Not too many years ago, you had to take out the memory card, insert it into a card reader and transfer images onto a computer for further processing or transfer online. Now the process is direct.
The beauty of DSLRs is that you can let the camera make all the adjustments for you, or you can customize them to your preferences to achieve the look you want. Your only limit is your knowledge of the photographic process, which can be learned every time you use the camera. A new autofocus system uses 45 points of reference to dial in the exact focus.
The Rebel T71 shoots better in low light than any of its predecessors and generate 24.2-megapixel images. This captures all the colors in their glorious variations. This is what sets a quality DSLR apart from a cellphone camera or a point-and-shoot digital camera. They are capable of high resolution photos, but there has to be some "assuming" going on as to the minute variations in color and lightness among the millions of dots.
In standard mode, the Rebel also does a little assuming on the colors, compressing colors that are pretty close to one another into a single, blended color. In most cases, the result is absolutely fine, and if you didn't know it could be better you'd be totally pleased. You might be totally pleased anyway.
However, the Rebel T71 can shoot in "raw" format, which delivers an image that is exactly what the camera saw. Advanced users can then pore over the details in an imaging processing software suite – like Adobe Photoshop – and make the photo look any way he wants it to look. This is an acquired skill and the process power demands are great, but it can be immensely rewarding with serious photos.
And we haven't even talked about video. The Rebel T71 can shoot HD video (1080 pixels) with amazing clarity. It can record sound too, but the onboard mics are pretty wimpy. For pro-quality sound, you'll need to get a high quality microphone, and possibly an audio mixer.
39. Sonos Smart Speaker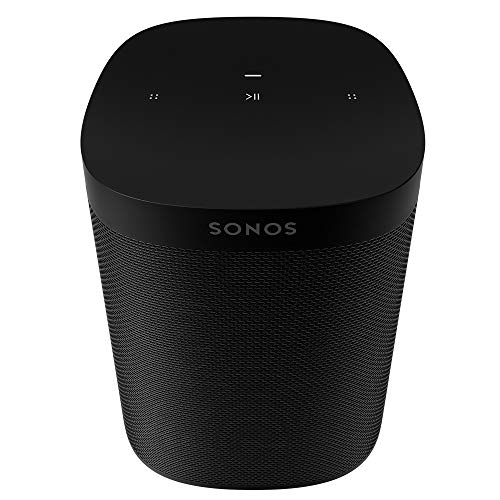 Buy or Read More on Amazon Here ($179.00 at the time of publication)
Don't be yelling "Alexa!" or "Siri" at this speaker unless you just like hearing the sound of your own voice. That's not what this is.
Instead of stuffing voice-recognition software into this speaker, the Sonos people have settled for rich, vibrant, high-fidelity sound that even the most persnickety audiophiles would be impressed by. In conjunction with your smartphone, the Sonos app and Apple Airplay 2, this speaker delivers the entire orchestra into your bedroom, or kitchen, or living room, den, patio, workshop, she-shed or man cave!  It's humidity-resistant, so you can even put one in the bathroom.
It's a single speaker out of the box, but when paired with a second speaker, it converts to stereo format with separation as you've never heard before. Add additional speakers for a natural surround sound that literally surrounds you. You control all the speakers from your smartphone and you can set different volumes (or none at all) for selected speakers throughout the house.
Everything connects via Wi-Fi, and you can get set up in minutes. And if you just somehow don't feel right not talking to Alexa or Siri before making a musical selection, you can always use your smartphone for that.
A couple of caveats: It is no longer compatible with iTunes. If you have a first-generation system, it will not be compatible with the new one.
40. Coleman Camping Chair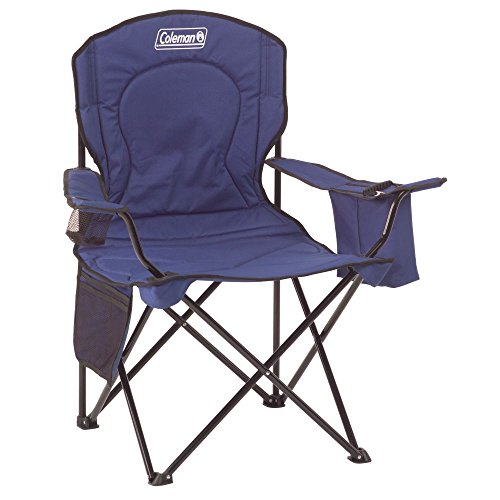 Buy or Read More on Amazon Here ($26.03 at the time of publication)
So you say the birthday boy is the king of camping. Well, he deserves a throne from the king of camping accessories – Coleman.
This quad camping chair is a campfire lover's dream come true. It's got everything you could reasonably ask for in a camping chair – comfort, strength (because our birthday guy loves going back for seconds), portability and convenience. There's even a four-can cooler to keep his favorite brewski or soda pop chilled and ready to gulp!
On the side arm opposite the cooler, there is a mesh cup holder and a media pocket, for those copies of Elite Traveler magazine that he likes to read by the campfire.
The seat and back are cushioned, yet strong. The fabric is high-denier polyester, and together with the tubular steel frame, it can hold up to 325 pounds. It comes in four colors, but pay attention – there are different prices on the different colors (black, blue, gray/black and red).
Unlike lesser brands of camping chairs, the Coleman Quad chair folds up completely with minimum effort, and it won't allow you to do it wrong. The total weight is right at eight pounds, so packing, toting and storing this chair should not be a problem.
41. Earth Products Ultimate Fishing Chair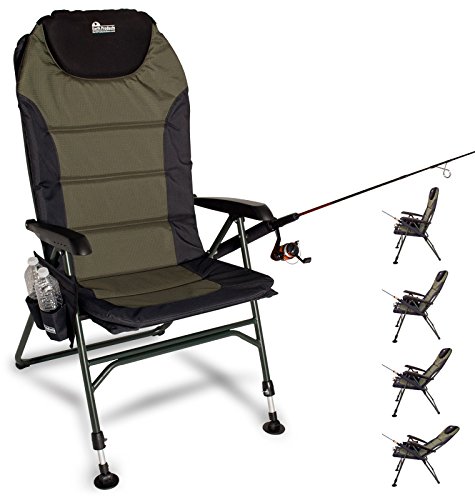 Buy or Read More on Amazon Here ($94.00 at the time of publication)
A bad day fishing is better than a good day at work. I'm pretty sure that the slogan is on the wall somewhere at Earth Products' fishing chair factory. They get it.
So what we have here is an extremely comfortable folding chair with twin beverage holders on one armrest and a fishing rod holder on the other. It's a handsome chair too, with brown and black padded panels and black powder coating steel frame.
The backrest reclines in four positions, and the legs are adjustable. The swivel "mud feet" give it stability on uneven terrain. It's a pretty hefty item for an outdoor folding chair, weighing in at 16 pounds and change. Yet it folds up in a jiffy.
There is a one-year warranty on the chair, but there is no guarantee that you'll catch any fish while sitting in the chair.
42. Griptilian 551 Knife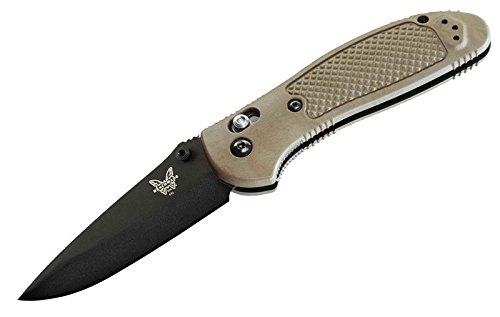 Buy or Read More on Amazon Here ($113.00 at the time of publication)
Some knives you just toss in your toolbox, or keep in your tackle box, maybe stow with your hunting or camping stuff, and then there are knives you carry with you everywhere you go. The Griptillian 551 is one of those knives.
The stainless steel blade is tough, rust-resistant and it stays sharp for months, even years. It's a snap-open knife you can depend on.
They didn't cut corners with the handle either. It's glass-filled nylon with a tread pattern that gives it plenty of grip yet looks classy. The lock is exceptionally strong and durable, but when you want to open the knife, it means business.
The Griptilian's limited lifetime warranty and LifeSharp service is quite impressive. If your knife needs repair or sharpening, Benchmade will take care of it.
43. Gerber StrongArm Fixed Blade Knife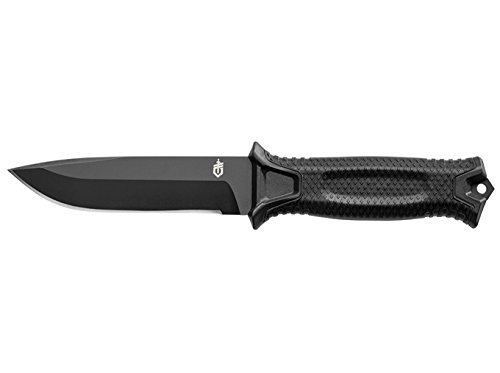 Buy or Read More on Amazon Here ($69.90 at the time of publication)
If the birthday guy's a survivalist, a survivalist wannabe, or just someone who appreciates an awesome knife, then wrap this up and tie a bow on it, carefully.
Gerber's StrongArm is a classic fixed blade knife built for brutal conditions and demanding tasks. Its sheath system is as cutting-edge as the knife is. The snap-together sheath is easy to use and can be mounted vertically on a Molle mount, horizontally on a belt, or vertically on a leg mount.
The 5.8-inch blade is made from 420HC (high carbon) steel that is tougher, more rust-resistant and able to hold its sharpness better than just about any other kind of steel. It's also ceramic coated, giving it even greater resistance to wear.
The grip is rubberized with texture for a secure hold. The handle comes in two colors: black and coyote brown.
44. Walter Drill Bit Set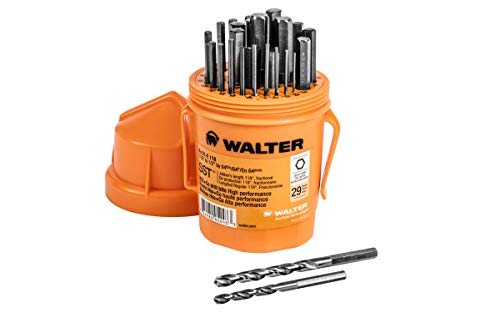 Buy or Read More on Amazon Here ($86.22 at the time of publication)
It's not rocket science, but it is pretty smart.  Here you have 29 drill bits held in a mug about the size of a jumbo soft drink from the convenience store.
The sizes of the drill bits are clearly stamped on the shank of each bit and also printed on the holder right next to the hole where the bit belongs. Sometimes, with clever combo packs like this, the drill bits are a bit off-quality, that is not the case with this set. The drill bits are made of cobalt steel and given a bronze surface treatment that preserves sharpness and resists heat.
The "Quick" shanks allow for – what else – quick swap-out and secure tightening with a chuck bit (not included).
At first glance, you might think this is a DEWALT product, but it's not. It's produced by Walter Surface Technologies, an international company that produces abrasives, power tools, and chemical solutions.
45. Dekopro 168 Piece Socket & Crescent Wrench Set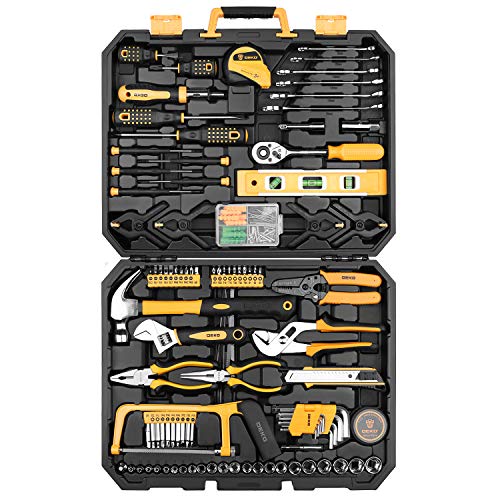 Buy or Read More on Amazon Here ($79.99 at the time of publication)
By the time a man reaches his 50th birthday, he's probably received up to a half-dozen socket sets, with bright, shiny sockets and a handle, all snapped into their particular little holding place on a plastic base. In nearly every case, the man never said he wanted a socket set, but there it was – right by the checkout lines, marked down to $19.95.
You can't blame family members for jumping at such an amazing bargain, that's just "perfect" for dad. But what do you get for your 20 bucks? Cheap, lightweight metal sockets that break, slip and lose their grip and handles that bend. You'd have been better off giving him a $20 gift card to Hooters.
The Dekopro 168-piece socket and wrench set does not belong in that genre. It is something to behold. Even if he already has a lot of the stuff that's included in this set (and probably does), he doesn't have it all together in a big (17.5 inches by 13.5 inches) storage case like this.
The tools are polished chrome, high strength, corrosion-resistant steel and cover the range of tools you'll need for almost any DIY project. Included are a comprehensive assortment of professional-grade wrenches, ratchets, a complete range of 1/4 inch and 3/8inch metric-size sockets and precision screwdriver, hammer, tape measure, pliers, wrenches, and more. The 72-tooth ratchet employs a variety of 1/4-inch screwdriver bits such as Phillips, slotted, square, star and pozi.
This set also includes a soft-grip handle on the screwdrivers, pliers, wire stripper and hammer, providing excellent comfort and control.
46. Ruko F11 Drone with 4K Camera and GPS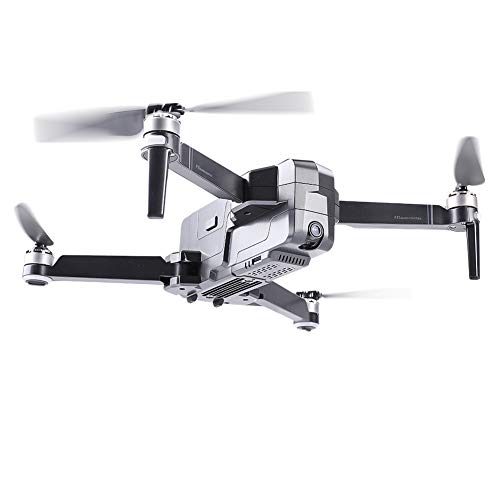 Buy or Read More on Amazon Here ($269.99 at the time of publication)
Birthday boy won't see this one coming! Well, he might if he looks up. This is a gift where you kind of need to be sure it will go over well (no pun intended) with the recipient. If he's been watching the kids at the park with their drones or listened intently to the nerdy neighbor talk about his drone at the latest cul-de-sac cookout, then he might really appreciate something that's kind of "out there." You only turn 50 once, you know.
As drones go, this is an entry-level unit. But if you're not sure this will become a fascinating hobby for him, then the very modest investment would be worth it to try it out.
The best feature of this drone is the 60-minute flight time (30 minutes per battery). That's generally more than enough for a day's worth of catching up with his new favorite pastime. As a drone that's suitable for beginners, it has a homing feature that ensures that it will return to its point of departure if the operator loses his nerve if something goes wrong or it senses that the battery life is getting low.
The control range extends to nearly 4000 feet – nearly 3/4s of a mile – and the video feedback has a range of 1600 feet. Wind is a natural enemy of small drones, yet this one has a Level 7 wind resistance, which is a pretty heady wind. It's not recommended to fly in wind like this, but the drone will retain its stability if it encounters a sudden gust at this level.
The F11 has a high-quality camera that delivers 4K resolution for still photography, HD for video. The camera has a 120-degree field of view.
In addition to the drone, the set includes four blades, a controller, two batteries, a charger, and a cord. The drone can be controlled by iPhone or Android, 4G or greater. It has some fun photo features that allow the user to even take selfies and to recognize gestures from the pilot.
Keep in mind, this is a fun device. It's not for serious commercial use.
47. Kuppet Retro Mini-Fridge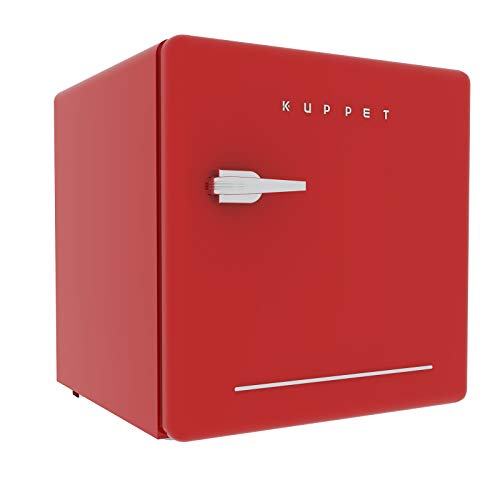 Buy or Read More on Amazon Here (price varies at the time of publication)
He needs one of these in his office, garage, RV or man cave. It's a great place to keep sodas, leftover tuna sandwiches or adult beverages.
The red retro exterior makes it fun, and the quality workmanship throughout makes this mini-fridge useful. It's not huge (1.6 cubic feet), but that's a good thing. It fits on a table, counter, stand or closet shelf. It measures 18 inches wide by 20 inches high and 17.5 inches deep.
It's only a refrigerator, so there's no ice-making capability, but the lack of a freezer compartment gives you more room for other items. Inside the fridge, you'll find shelves of various heights (they're adjustable) and compartments to hold things securely in place. With the right shelf configuration, it will even hold two-liter bottles of soda.
One of the best things about this mini-fridge is its quiet running. As with all refrigerators, there is nothing running if the temperature inside is at the thermostat setting or lower, but when it does need to run, the compressor is muted and scarcely noticeable.
48. Comfort Glow Electric Stove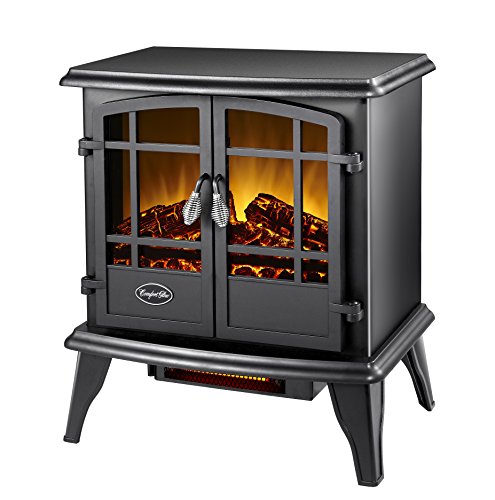 Buy or Read More on Amazon Here ($99.99 at the time of publication)
For those chilly corners of the house that never seem to get the heat that the rest of the house does, this can be the solution. An attractive, nostalgic item, this puts out 1500 watts of electric heat – enough to fill a small room with comfort.
While old school electric heaters either had cheesy flame effects or didn't even make an attempt at aesthetics, this unit features a realistic wood fire look inside a classic cast iron stove replica. The exterior is cool to the touch, and an auto shut-off feature provides safe operation. Even if you don't need the heat, you can set the unit to run the flame effects without heat.
It's suitable for small spaces, carpeted rooms, rooms where children might be present and damp (but not totally wet) areas. It measures 20 inches wide by 23 inches tall and 11 inches deep, so there's going to be room for it almost anywhere in the house or shop.
Related Posts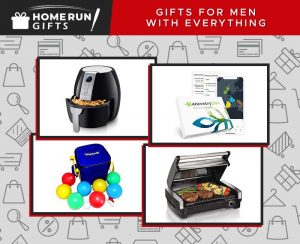 Gifts for Men Who Have Everything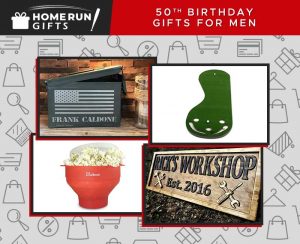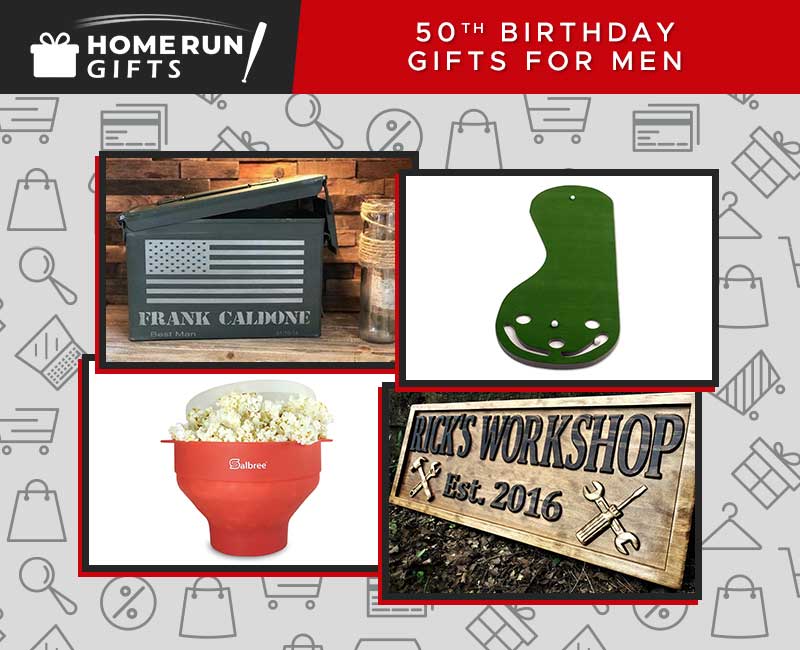 50th Birthday Gifts for Men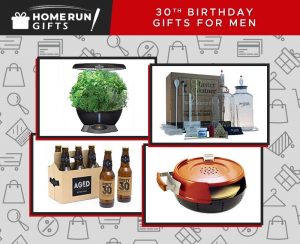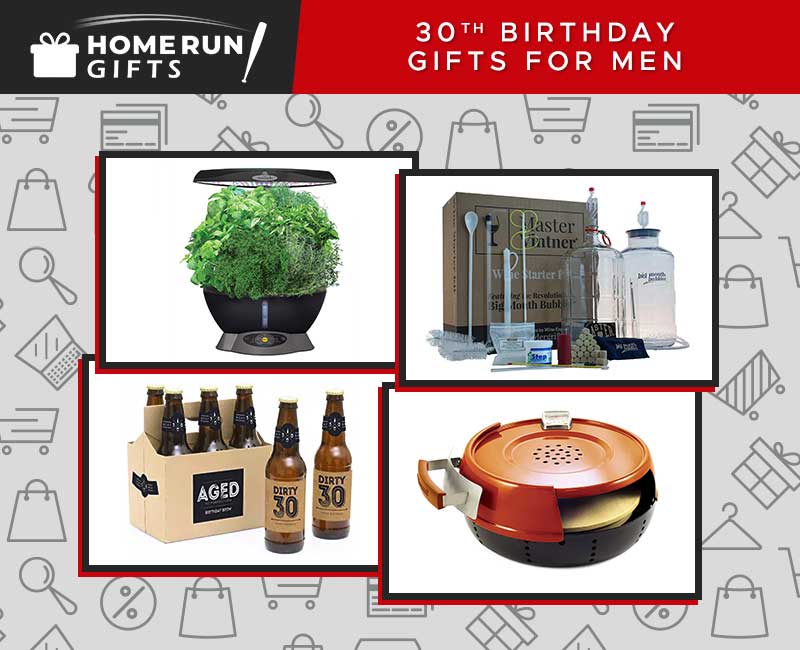 30th Birthday Gifts for Men