She's your baby, the love of your life, maybe even the future Mrs. And no matter how long you two have been together, getting her the perfect gift will mean more than a few sappy words to her. But this gift can't be dinky jewelry from Claire's or cheap trinkets from your vacation.
If you really wanna get a good impression under your belt, especially if this is for a special occasion, you're gonna need a girl's help. Luckily, I'm here to help without exposing your surprises and plans to her or her friends, which trust me, her friends won't keep this a secret for you.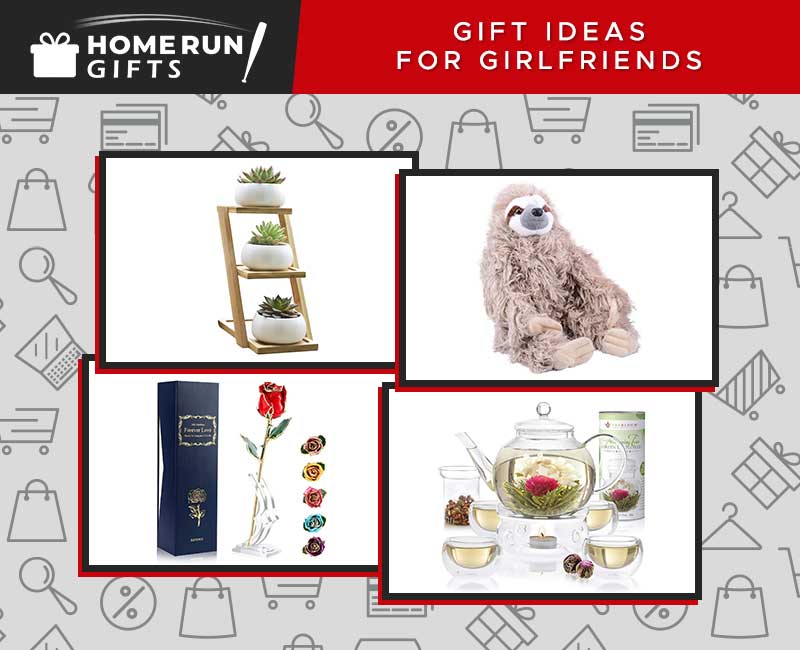 From simple presents to remind your girlfriend how much you love her to the Big Dazzling gifts that scream "You're the One!', our list will have many hints and fixes for whatever you are trying to accomplish.
We have got all sorts of incredible gifts for girlfriends that will get you on the right track to success and help make this gift one that she will always remember and always treasure. Whether you need a birthday gift or Christmas gift, this list should definitely help you out!
Here Are the Best Gift Ideas for Girlfriends
1. Succulent Display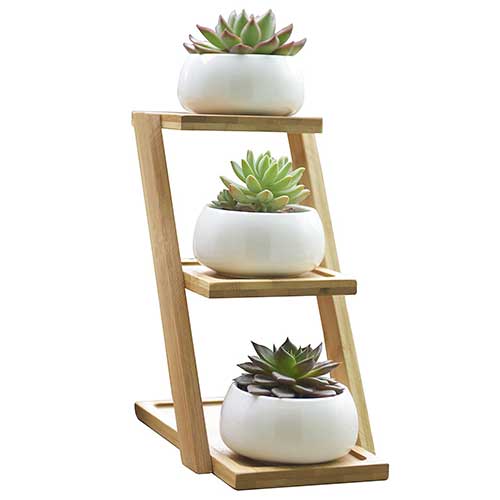 Buy or Read More on Amazon Here ($18.99 at the time of publication)
If your girl has got the green thumb or is just trying her best to keep her little babies alive, she's gonna need something to help keep those little guys contained, without making a mess. Whether her space is covered with personal clutter, or maybe even more plants, this Succulent display is simple, stylish and easily manageable for both space and planting. Each pot is made to home its own succulent, a low maintenance Cactaceae, with a draining hole and the perfect amount of space to help it thrive. Keep her and her plants happy with a gift that she can keep on using no matter where she and her plants may go. Do note that the live succulents do not come with it, but you can find live succulents on Amazon here or lots of other places!
2. Pineapple Serum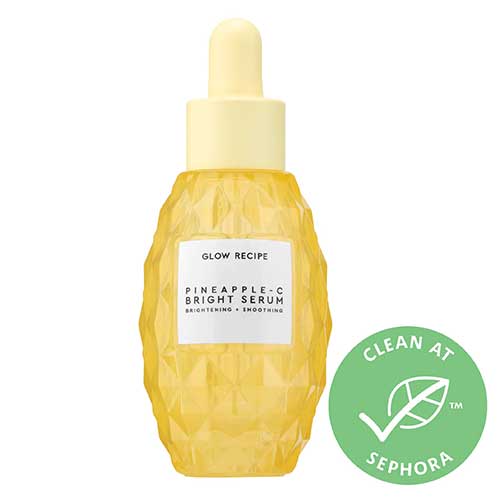 Buy or Read More on Sephora Here ($49.00 at the time of publication)
Us girls love our skin care products, anything that will help us feel and look healthier in the morning and give us a glow is a must have. Finding the right products can be tricky though, with so many skin types to appeal and needs to fulfill, it can be hard to find a 'one-size-fits-all' deal. This hydrating, calming and complexion brightening serum helps bring that natural glow and health to her skin without having to use fifty well known and harmful chemicals found in most other products. Formulated with Pineapple Juice, Vitamin C and Chamomile, this serum is made for all skin types and helps target uneven tones and unwanted textured areas on the skin. Help brighten her skin routine and give her the natural confidence she deserves.
3. Ice Cream Maker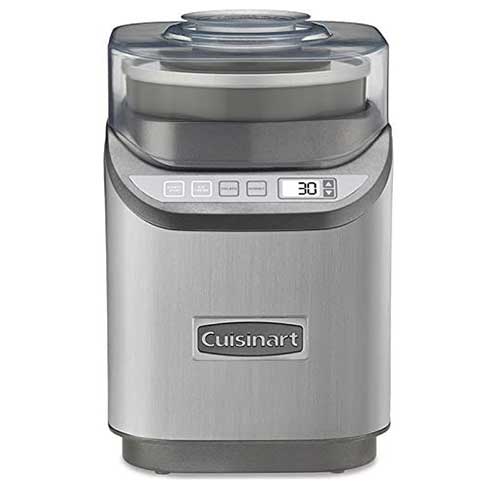 Buy or Read More on Amazon Here ($138.96 at the time of publication)
Unless your girlfriend is from another planet she probably likes ice cream. With this ice cream maker, she will be able to make all of her favorite flavors and create flavors she's never even tried. You could buy all the ingredients for her ahead of time and give them to her with the ice cream maker. You two can spend some time together making some delicious desserts. There are some less expensive models out there but this one here seems to be a good bang for your buck. If this is out of your price range just look for a less expensive model on Amazon or wherever you prefer to shop.
4. Heating Blanket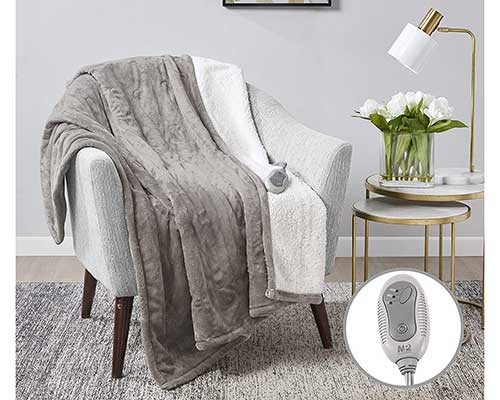 Buy or Read More on Amazon Here ($49.99 at the time of publication)
Blankets can be a bit fickle sometimes. The material is soft but not warm, or maybe it's super warm but impossibly scratchy and uncomfortable. Plus finding the perfect in between often means it's in the ugliest color or design. This electric heating blanket helps solve all of these problems, being made from soft sherpa, having three different heating settings and comes in all bed sizes and colors! Not only that but having a heating blanket is much safer and smarter than cranking up the heater or turning on the fireplace to stay warm! This blanket will make cuddle time, movie night, study time or simple bundle up time the best experience that she will have, or that both of you can have together!
5. Capsule Letters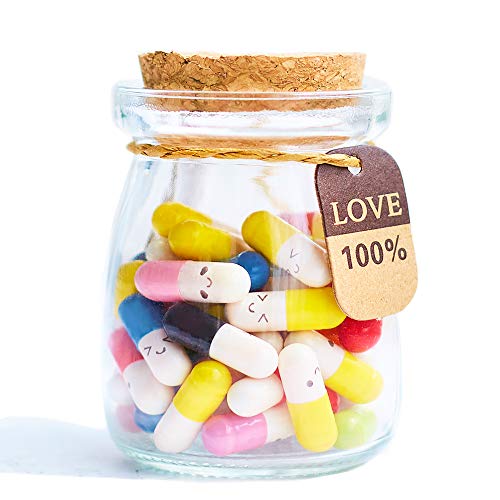 Buy or Read More on Amazon Here ($12.99 at the time of publication)
This is a creative and quirky way to show your love. Capsule letters come in a tall glass and can be purchased in mixed colors or blue, green, light blue or pink. There is a cork top and a tag tied with a string that says, "Love 100%." Inside each little capsule is a tiny scroll love note, secured with a gold band. The capsules themselves are contrasting light/cream/white and colors. The white side has a winking, smiling or cutesy emoji face. Containing 90 notes that you can unscroll, write, rescroll and place in the capsules, this is a gift that requires creativity and thoughtfulness… but is sure to make an impact!
6. Personalized Birth Flower Ring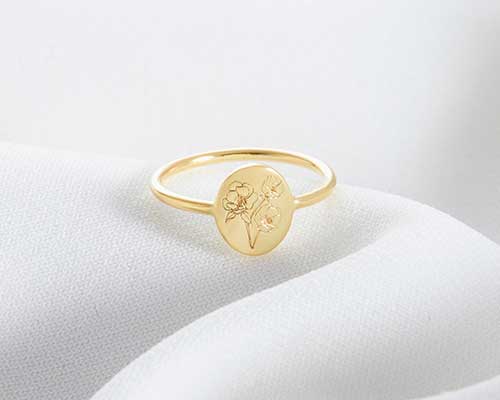 Buy or Read More on Etsy Here ($35.99 at the time of publication)
Personalized gifts really do mean that much more when we get them, so you better be taking notes. But it also can't be overly cheesy or clique either, this has to mean something and it better be unique. This handcrafted ring is bound to become the favorite in her jewelry box, not only because it will be a gift from you but because it means something to her. Designed to have her birth flower on the front, you can customize the ring by adding a second engraving to the back of the ring. Whether that's a personal message or a date or a simple design is up to you, you know her better than we do. This ring will mean the absolute world to her and will quite possibly be her favorite or one of her favorite possessions she has received from you. Give her something that's unique and beautiful, just like she is to you.
7. Stuffed Sloth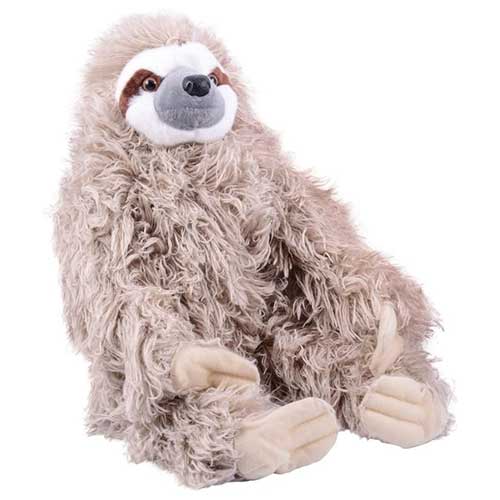 Buy or Read More on Amazon Here ($18.50 at the time of publication)
Yeah, as girls we will admit. We love our stuffed animals. Most of us still have them well into our college years. Anything soft, overly fuzzy and with a cute face is bound to win our hearts over and make it on our bed set decor in a heartbeat. And of course, we love getting them from our honey-buns the most. But when you're picking out the stuffed animal that's about to become her new best snuggler, you probably shouldn't be picking any run of the mill cream-colored teddy bear. This stuffed sloth is a funny, cute and unusual stuffed animal, designed to look like its three-toed inspiration, is a present that would be both memorable and loveable. It's unique, extremely soft, and helps spread awareness for its beloved and endangered model, the three-toed sloth. This super cuddler will bring out the childish joy in your girl and leave her with some new favorite memories.
8. Mischief Managed Matching Mugs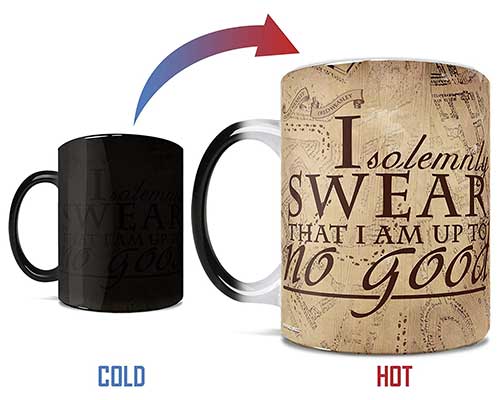 Buy or Read More on Amazon Here ($16.99 at the time of publication)
Yup, you both are Potterheads. You've been caught, though you probably wouldn't have been if you had managed your mischief properly. These Harry Potter inspired mugs are a complete tricksters load of fun, meaning it will satisfy both of your little inner nerds. These mugs change colors as they get hot and in this case, will reveal the fun incantation and parts of Marauder's map when you fill up with your favorite hot drink. Both you and her will be able to enjoy a hot cup of coffee together while having fun with your mug every time you use them. Mischief Managed.
9. Preserved Flower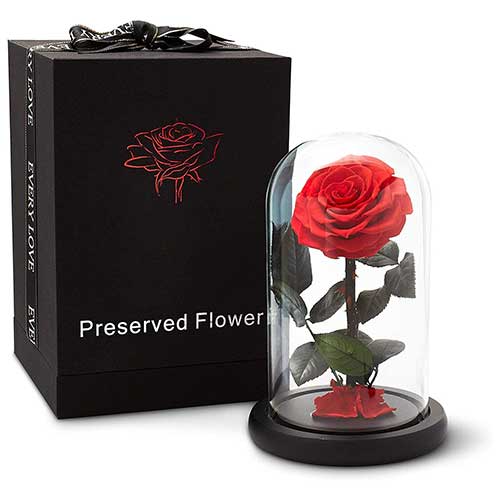 Buy or Read More on Amazon Here ($57.79 at the time of publication)
This "eternal rose" is perfect for a Beauty and the Beast lover or just a sentimentalist. The preserved flower is real and—through the power of science and biology—will not die. The rose is set into a solid black vase and encased in a gold dome. The base is also illuminated with LED lights that will create a soft glow. This gorgeous effect makes a perfect nightlight or the accompanying surprise to a candlelit dinner. You receive this beautiful gift in an elegant black gift box, tied with a black bow. This gift is a real "WOW" and is sure to be loved!
10. Personalized Google Search Girlfriend Mug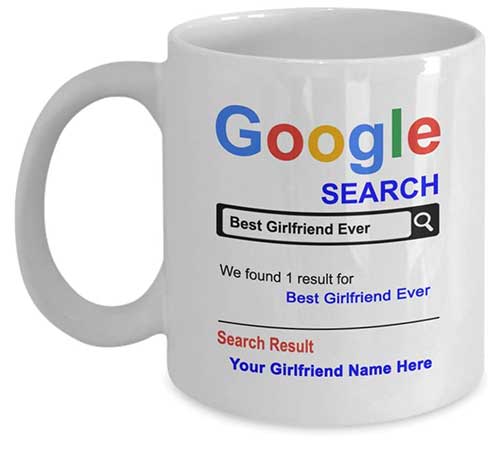 Buy or Read More on Amazon Here ($16.95 at the time of publication)
Want a cheeky way to show you care? This Google search results style mug features the identifiable logo and search bar, with the words "Best Girlfriend Ever" typed in. The mug reports that "We found 1 result for Best Girlfriend Ever." You can then order your girlfriend's name typed beneath the search results, showing her that you think she is the only and only #1 GF! The mug itself is white, chunky, and comes in either 11 oz or 15 oz. Printed using a high-quality process, the mug is machine washable and the design won't fade.
11. Back and Neck Massager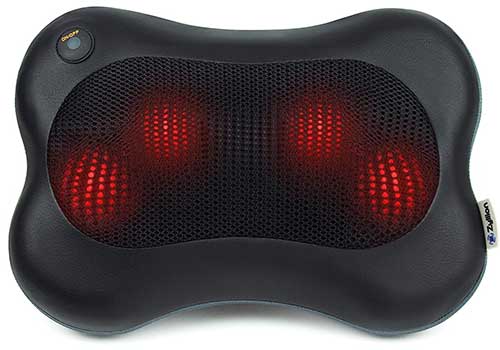 Buy or Read More on Amazon Here ($49.99 at the time of publication)
Every girl has a lot of stress in their life so any gadget to reduce that stress will surely be a home run. This particular back and neck massager is one of the most popular out there due to its value and performance. This massager has an ergonomic design that is perfect for deep massages of the upper back, middle back, neck, thighs, and other areas experiencing muscle tension. With 4 massaging nodes and settings including heat or no heat, it's no wonder that this massager has thousands of raving reviews!
12. Crossbody Leather Purse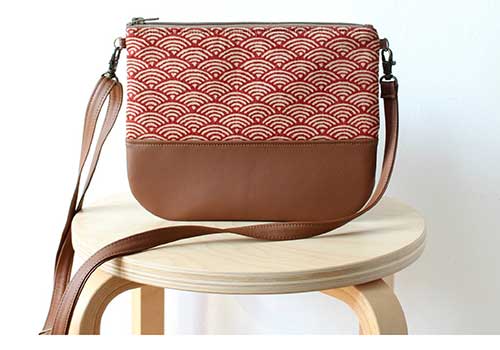 Buy or Read More on Etsy Here ($19.80 at the time of publication)
Purses and bags can be a literal pain in the neck, whether she is shopping for one, using it or trying to make it work with her style and items it needs to store. Finding one that isn't too bulky, looks cute and will hold all of her stuff are important and hard to find factors. Not to mention, without breaking the bank would be very nice, especially for you. This purse will save her neck and your bank account, being a perfect fit for all of the problems on the hit list. This lightweight bag is made with vegan leather, Japanese cotton fabric, and has an adjustable strap, making her accessory choice manageable and healthier for the environment. Not only that but did we mention this bag is handmade from Bulgaria? That's right, this isn't any factory-made, commonly found item! This is real quality here people! Not only that but the designer loves customer orders so you can switch it up to match your girl and make it the perfect gift!
13. Slip on Sneakers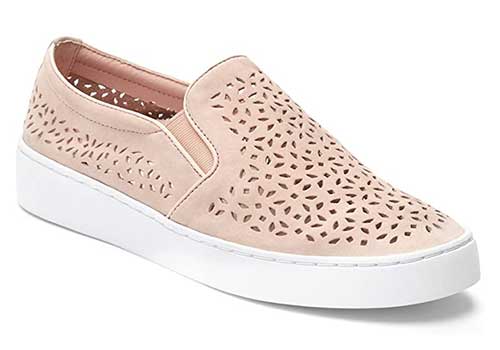 Buy or Read More on Amazon Here ($24.99 at the time of publication)
She's always on the go, sporting the cutest styles while getting what she needs to get done. But all that running around and dream building can take quite its toll on her poor feet. She needs a cute shoe that gives her the comfortable fit and the support she needs. Made with a podiatrist approved and designed sole, this shoe is going to give her feet the support needed to get her work done, all while looking her best. These shoes help her feet breathe easy, promote stability and keep her from feeling sore and worn out at the end of the day. Sometimes gifts need to be more than something pretty, they need to be something she will use and needs to use on a daily basis, so help her cover her bases and get her back on her feet!
14. Lolita Eye Palette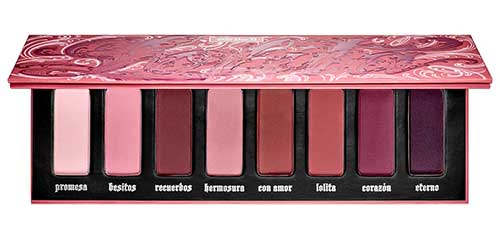 Buy or Read More on Sephora Here ($23.50 at the time of publication)
Eye makeup is an essential to any look. It's got to match her outfit, her style, all while making her natural beauty and eyes come out with a pop. The perfect palette needs the perfect shades, textures, and ingredients to make sure her look is top cut and healthy for her skin. The Lolita palette is filled with the softest pink to the deepest plum, bringing out natural pigments and blushes in her face tones. Not only that but it is made to work with all skin types, showing off powerfully on any skin tone. These eyeshadows are also good for her skin, because they're vegan and cruelty free, leaving her skin untouched by nasty and harmful chemicals. Each unique color is smooth and velvety, allowing it to blend and be built upon to achieve those perfect hues and shades. This eyeshadow palette is a must-have for her makeup artillery.
15. Woollen Personalized Throw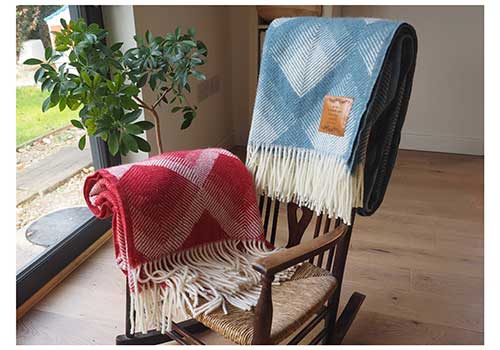 Buy or Read More on Etsy Here ($24.95 at the time of publication)
Cuddle time with your babe is an important time, it allows for soft and warm snuggles all while enjoying each other's company. And when you have that special recharging time, you need to have the best recharging equipment. So of course, fuzzy socks, warm sweaters, and the perfectly soft, cozy blanket. The blanket is the most important factor, I mean come on, it needs to keep you both happy and comfy! This handmade woolen throw blanket is the best of all worlds and comes in several colors, styles and is even personalized! It's made with a small, leather patch on a corner, you can leave a sweet and loving personalized message to your sweetheart. Plus this 100% woolen blanket will keep her nice and toasty anytime she uses it. This throw will definitely be one of her favorite possessions because of the time she gets to spend with you and the infinite amount of warm snuggle time it will bring.
16. Eternal Rose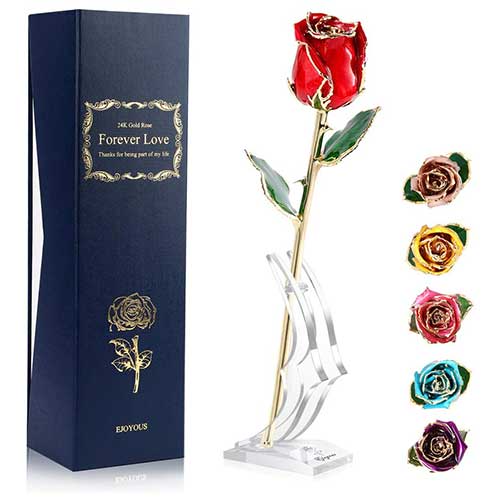 Buy or Read More on Amazon Here ($64.74 at the time of publication)
It seems like something right out of a Disney movie and rightfully so, this eternal rose will never wilt, will always look beautiful and will forever remind her of your love that you have for her. This rose is dried fresh from a beautiful budding rose and then preserved to never lose its vibrance. The edges and stem were then dipped in twenty-four karat gold that captures the beauty and elegance of each rose. These roses come in several different colors and from budding to open, they are precious and naturally different from one another, meaning the rose you purchase for her will be its own unique and gorgeous flower. These roses are the perfect message to tell her how much you love and cherish her. Just like this beautiful rose, she has grown and blossomed so much and so has your love for one another. This gift will help symbolize that and will always remind her of your beautiful and matchless love.
17. Sherpa Sweatshirt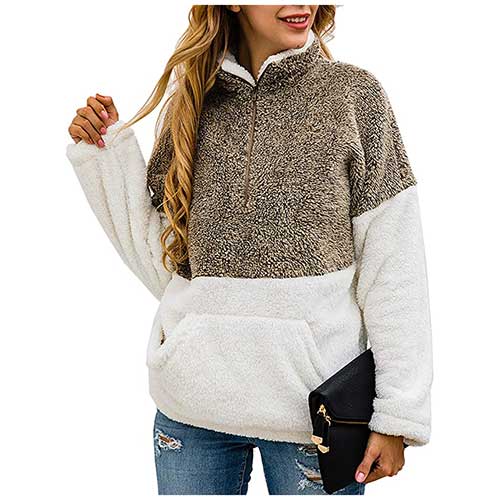 Buy or Read More on Amazon Here ($17.99 at the time of publication)
The next best thing to a fluffy blanket and fluffy socks is a fluffy sweatshirt. It's something that is perfect for on the go fashion and warmth, or maybe even just simple bundle up time at home. This sweatshirt is made with the softest fleece, keeping the wearer comfortable and cozy. It comes in several colors to help match her style, which trust me, these wardrobes aren't just thrown together at random. Getting a sweatshirt from her honey-bunches will definitely leave her happy, especially if you give it a little spritz or two of your most-used perfume or cologne. This will be the sweatshirt she wears all day, every day. She won't have to steal your sweatshirts anymore! Sorry that's probably a lie, but at least she will treasure this one and the chances of you getting your stuff back are a little higher.
18. LED Mirror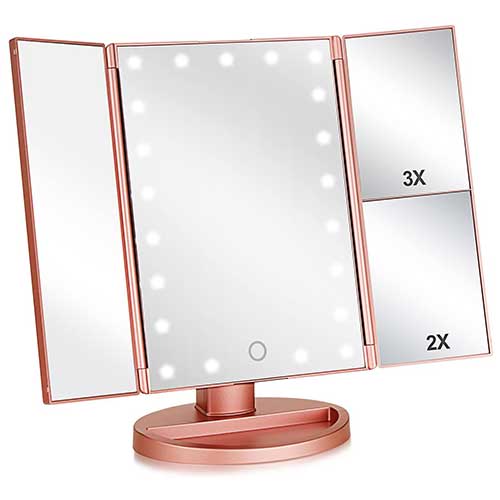 Buy or Read More on Amazon Here ($24.68 at the time of publication)
Getting that refined studio finish can be a little hard sometimes. Our bathroom mirrors and lighting can be a little off and by the time we see ourselves in the mirror later, well it can be just a little too late. Sometimes we need to be able to get ready on the go and will need something with us that will help us get the accurate results we want. This LED mirror is the perfect item for any girl. It fits on desks, can be taken when traveling and is their perfect size to get things done. It has three mirror faces and has two different power magnifying mirrors to help see those smaller areas. Having this mirror will not only help her feel like a star, but look like one too.
19. Teabloom Tea Set Kit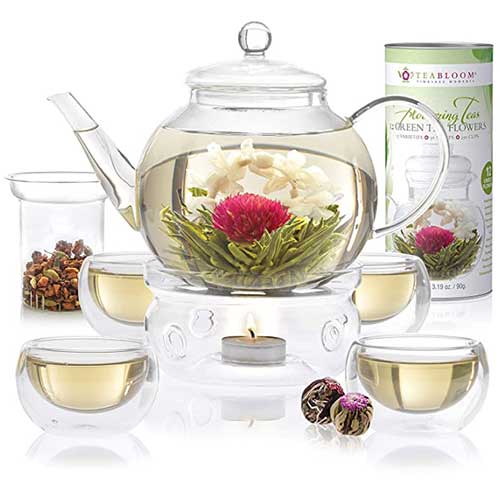 Buy or Read More on Amazon Here ($69.95 at the time of publication)
Your girl has probably outgrown her plastic tea party phase a long time ago, but that doesn't mean your little tea fiend has completely abandoned her love for the steamy and aromatic drink. She will be all over any type of new teas she can try and is probably on the hunt for her very own tea set she can use for hosting or just a daily basis. This blooming tea set is new, unique and an excellent addition to any tea lovers collection. This set comes with the teapot, four traditional cups, and infuser for loose leaf teas and twelve blooming flower tea packets for her to try! This beautifully designed tea set is one of a kind and will be an enjoyable addition to her morning routine, her relaxation time, and her evening cup of wind down tea time.
20. Watermelon Hydrating Spray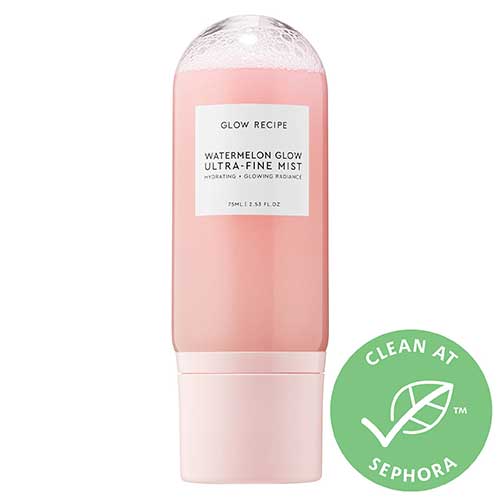 Buy or Read More on Sephora Here ($28.00 at the time of publication)
This Watermelon Glow spray has hit our list of favorites when it comes to skincare and beauty products. It's the best of both worlds, nourishing and hydrating skin, while helping enhance makeup for that smooth finish. Like many of Sephora's homebrew and sponsored products, this product is environmentally friendly! That's right, it's gluten free, cruelty free and vegan, while also lacking in 50 well known and harmful chemicals that most drugstore beauty products contain. This spray is made with all natural ingredients and has eighty-four percent watermelon juice content! These helpful and healthy ingredients help skin hold up to a thousand times more moisture content and soothes all skin types to feel smooth and fresh.
21. Couples Stars Keychain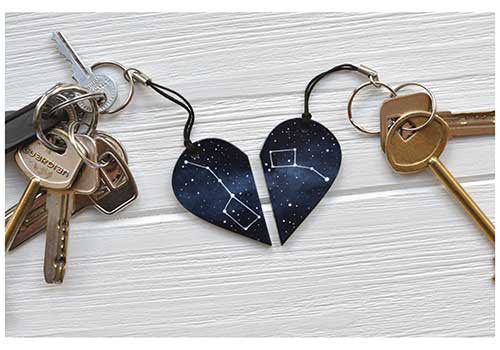 Buy or Read More on Etsy Here ($30.00 at the time of publication)
If you're a couple that loves that stars and is always looking for cute matching apparel and accessories, well we've got just the thing that's simple and cute for the both of you. This matching keychain set is of the Big Dipper and the Little Dipper, two constants of the sky that are well loved by many astronomy lovers. These cute keychains are hand painted onto wooden heart pieces. The seller even says that if you would like it to be customized to contact them! That means that if you two already have your something special in the stars, they will make it for you! This simple but shining gift will keep you both close to one another and will be something she will always have with her.
22. CraveBox Snack Pack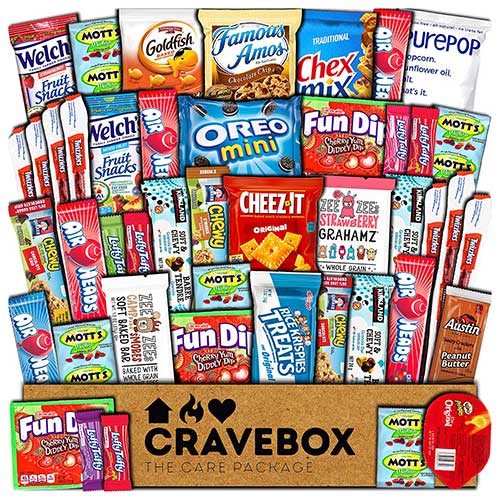 Buy or Read More on Amazon Here ($25.45 at the time of publication)
A girl loves her snacks. We really can't get enough of them, from candies to pringles, we have a boundless love for all things snacky and tasty. We like to snack when we study, when we are watching our favorite shows, playing our favorite games or even just when we are bored. Getting snacks will always be a one hundred percent guaranteed way to our hearts. But if you don't have the time to get her things from the store, or the cash to give her a wide variety of snacking pleasure, you can be in a bit of a pickle. This box will have all of her snacking tastebuds satisfied, giving her a wide variety of sweet, salty, soft and crunchy. It all comes together in a pack of forty-five options, meaning that you can share it with her! Well probably not, cause I mean, when was the last time she willingly shared her snacks with you?
23. Coconut and Banana Shampoo and Conditioner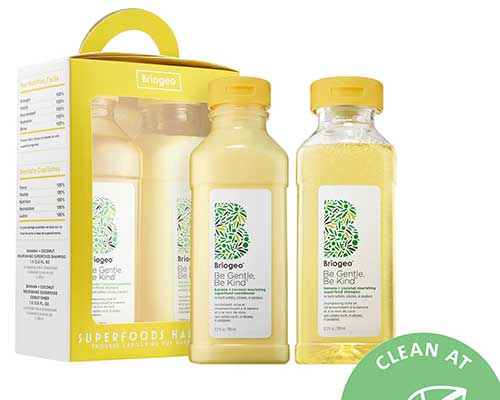 Buy or Read More on Sephora Here ($48.00 at the time of publication)
Hair care products aren't too often discussed and most general store and drugstore products are harmful to your hair and scalp. It's hard to find something that will not only help strengthen and nourish your hair, but that won't leave nasty residue or dry out your scalp's natural oils. This shampoo and conditioner set is made to be healthy for both you and the environment. Made from real bananas, coconuts and acai, nourishes and strengthens both hair and scalp. Its natural minerals, antioxidants and vitamins help all hair types, from thin to thick and straight to coily. No need to worry and no need to look any further, the simple and clean solution to helping your girl feel happy and healthy with her hair is right here.
24. Letter Necklace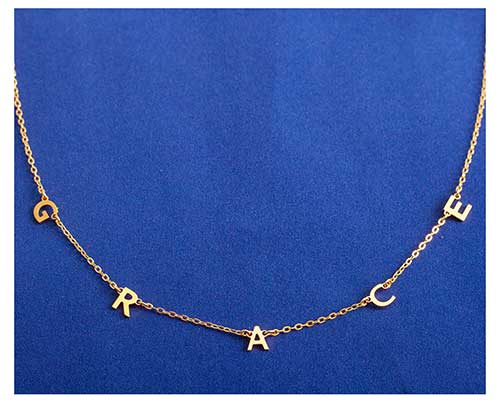 Buy or Read More on Amazon Here ($19.99 at the time of publication)
Personalized necklaces can be cute. But they have to be better than just any run of the mill necklace you search for on the rack hoping that they have your name on it. It's gotta be unique and it's got to mean something. Giving her a necklace with her name, your name or even with a quote or a phrase that means something to the both of you is going to hold a lot more importance to her. This necklace is handmade and from Taiwan! The seller lets you choose what the necklace will say and even has options of special characters to add to the chain. The spaced out letters create a cute and chic look, making it easy to stylize any outfit up and to wear at any occasion! She will just adore this gift and the special thought that it adds to her wardrobe.
25. Our Adventure Book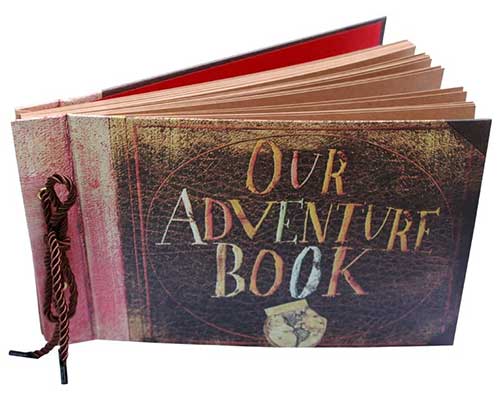 Buy or Read More on Amazon Here ($18.99 at the time of publication)
During the time you two have been together, there have been many many pictures taken. Every adventure has a story and every memory safely recorded in time with a photograph. But they can be difficult to find sometimes, either floating somewhere on a phone or lost on some memory card that got misplaced. Having a place to have all of your special history together will be so incredibly special and will be a treasure both of you will love for the rest of your lives. This Adventure Book is inspired by the emotional and loveable movie Up, which opens with the life story of a couple and their ups and downs together. The scrapbook is slowly filled through the years with their most treasured memories and continues to be added to as the adventure continues. Together both of you can fill this scrapbook's pages with memories and love as you both grow and share new journeys with one another every day! Give her something she will always be able to hold tight to, that you both will have with you and enjoy together as time adds more experience and love to your relationship.
26. Hard Case Purse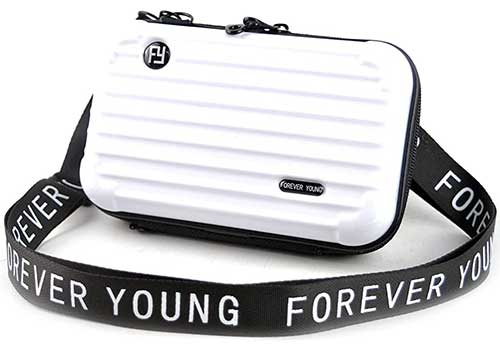 Buy or Read More on Amazon Here ($14.95 at the time of publication)
Cute on the go purses are the popular rage for girls. It carries only the essentials, phone, lip balm, money, keys and maybe one or two more things. It's perfect for a simple lunch date, going to an amusement park, an outing to the beach or park, or even a shopping trip at the mall. Purses can be hard when they are overly cluttered and bulky, making it hard to find what you need when you need it and not get in your way. This cute mini suitcase style purse is the perfect match for the simple and organized girl, keeping her things close and accessible all while being in a cute accessory. It has two inner pockets to help keep her things organized and can be over the shoulder or used as a clutch. It also comes in many different colors and patterns, all of which are a part of its water resistant and crash proof design. This small bag will keep her things safe and secure without detracting from her outfit!
27. Electric Heating Pad and Foot Warmer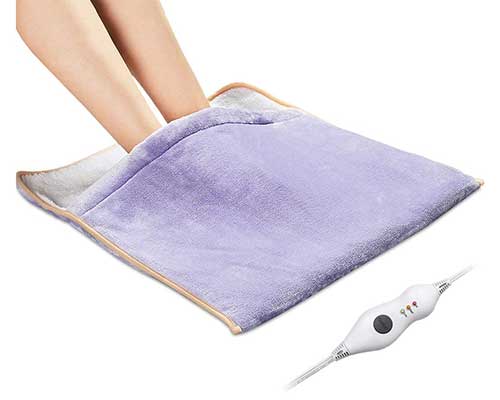 Buy or Read More on Amazon Here ($29.99 at the time of publication)
If you need a Christmas gift or her birthday is during the colder months of the year, an electric heating pad is a great idea. She can slip her feet into it as she works on her computer and a lot of people even use it to warm their hands or lay on it to relax muscles in their back. Being 22 by 21 inches wide it's large enough to warm large areas. It comes with a 10-foot cord and has an automatic shut off after 2 hours in case she falls asleep! Although it is usually used as a foot warmer, it can be used to heat any area of the body and she can even throw it under a blanket and trap the heat in, and the best part is every time she uses it she'll think of you. Bonus points!
28. Pepper Spray with Quick Detach and Practice Canister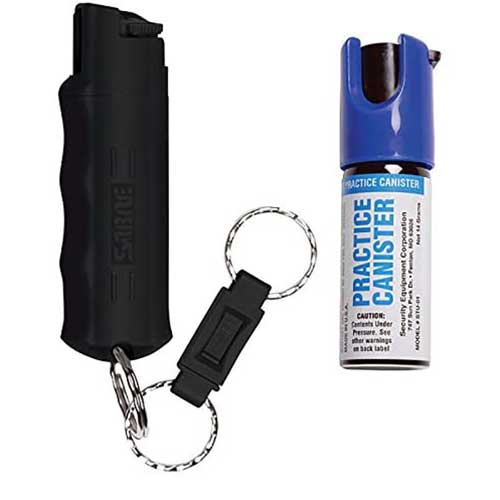 Buy or Read More on Amazon Here ($14.90 at the time of publication)
What better way to show you care than with a product that keeps her safe? The peppery spray is made by Saber, which is the same company that makes pepper spray for many law enforcement agencies around the world. The quick detach is nice because she can easily take it off the keychain to get better control while aiming it at the would-be attacker. The company also has an option where you can buy a practice canister along with the main device so that she can get comfortable using it. This increases confidence if she were ever to need it in a self-defense situation. There are many colors to choose from. Pink or something girly is great, but black is also great because it's more discrete.
29. Resistance Bands Set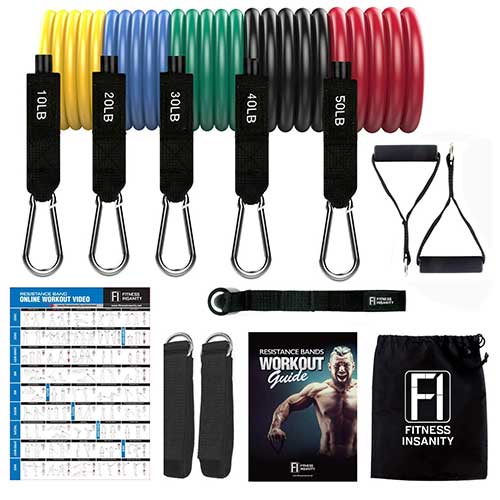 Buy or Read More on Amazon Here ($69.97 at the time of publication)
If you're girl is into working out, resistance bands are a great gift idea. Sometimes it's hard for a girl to find time to make it to the gym and some just prefer to work out with a little more privacy. Resistance bands like these are great because she can do a lot of her workouts at home and save time and money on gym memberships. This might not be the best gift for a girl that doesn't work out often, but if your girl is a fitness nut this will likely be a home run!
30. Stress Relief Candle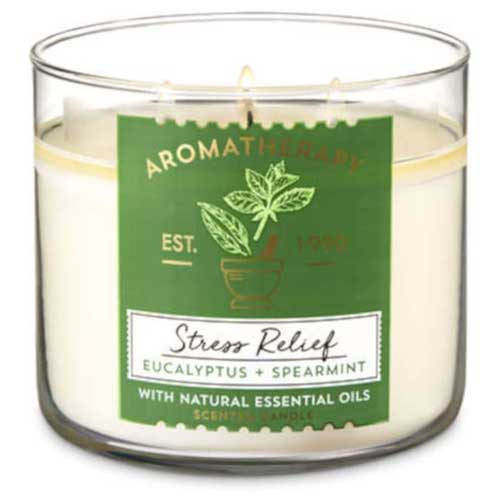 Buy or Read More on Amazon Here ($31.49 at the time of publication)
It's no secret that girls like candles so a candle with a pleasant scent that relieves stress is a great gift idea. This is a great candle to light while she is getting ready for bed or reading. This will be a great gift for your girlfriend if she is constantly stressed about schoolwork or just things going on in her life in general.
31. Matching Mountain Range Rings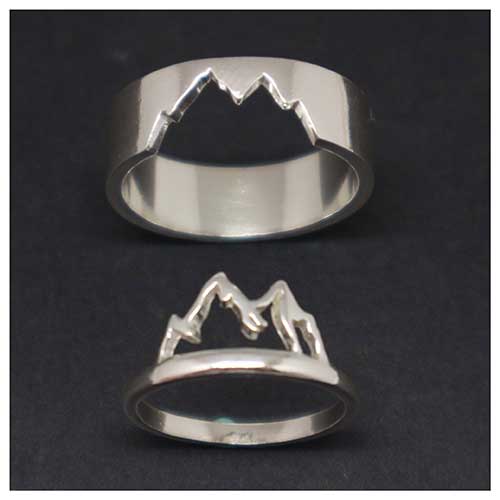 Buy or Read More on Etsy Here ($48.60 at the time of publication)
If you are a couple connected by the outdoors, these rings are the perfect match for you. Handmade from sterling silver, these mountain scape rings are made for nature lovers. Made to fit one another, you both will have a piece to the whole that will always come together when you are both with one another. You can even specify what type of plating you'd both like for your rings to help match your style or preference. These smooth cute and minimalist styled rings are bound to be eye catching and make a simple yet strong statement for the both of you. Not only that but it shows your strong love for one another, making this one of the best gifts that the both of you will get to share.
32. Rescue Skin Kit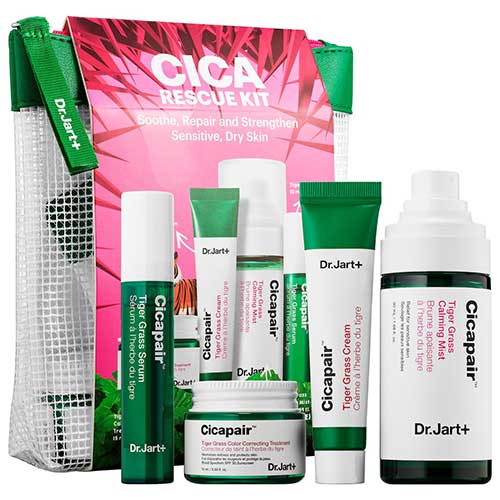 Buy or Read More on Sephora Here ($42.00 at the time of publication)
Skincare kits can be expensive and hard to match, making them usually not worth the time or money to even try to find one that works for its buck. Not to mention, most kits are filled with trashy and rarely used filler products to make them seem more of a better deal and overall product. This skin rescue kit is made for all skin types, oily to normal, and helps target redness and dryness, without all the unnecessary steps. Its three key ingredients helps to soothe, protect, strengthen, and rebuild skin to help improve its condition. This kit also is perfect for those with sensitive skin, leaving out harsh chemicals that burn or peel skin for those on the softer side of the scale. Each item in this kit is specialized to help heal and support her skin, leaving her with a healthy and stronger complexion. So no more meaningless products or wasted dollars, this kit will be one she will fall in love with and will ask for it again and again!
33. Wooden Bathtub Tray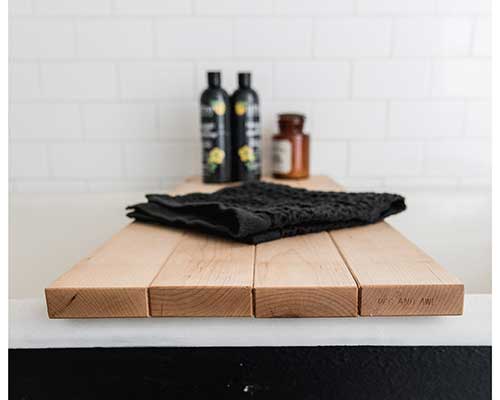 Buy or Read More on Etsy Here ($145.00 at the time of publication)
A relaxing, hot, and steamy bath is a fun self-care moment to have. Add some herbs, maybe a bath bomb, some bubbles and you have the almost perfect way to unwind. Though sometimes soaking in the tub can have its take backs. It's hard to enjoy a book, near impossible to use your phone or laptop and messy to have a snack if it gets wet. This handcrafted wooden bath caddy is the perfect fit for her tub and will hold all of her relaxing and entertainment needs. It's the right size for all of her candle, food and book holding needs. It's made from reclaimed maple wood and polished with tung oil and lots of love. Not only that but you can even customize the wood to match her decor and have a sweet message engraved into the wood. Now she can lounge in her warm, aromatic bath water as long as she desires without lacking any of her needs. It is warned that this bath caddy is directed related to skin pruning and happiness, so you probably won't be able to go wrong with this one.
34. Stitch Fix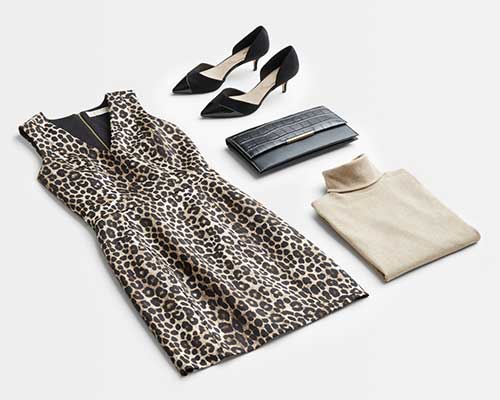 Buy or Read More on Stitchfix Here (Price varies at the time of publication)
If she isn't with you when you're trying to get her clothes, well unfortunately you will probably need to keep that receipt. A girl's style can be all over the place and just when you think you know what her style might be, she'll change it up and wear something you didn't expect!. Why not save the shopping trip and the heartache and give her something she will enjoy? Stitch Fix helps pair your girl with an online stylist that works with her to pick her tastes and favorites before packing up a personalized box of outfits made just for her! All shipped free to her doorstep, she gets to try on and pick what she likes before you have to pay, meaning that if she doesn't love an item or two, you won't have to pay for it! Styling and shopping just got so much easier! No more multiple stores, guessing what will match when buying, or lengthy return processes. Stitch Fix has got you both covered.
35. Boba Tea Reusable Cup
Buy or Read More on Amazon Here ($21.97 at the time of publication)
If you have a boba tea addict on your hands, you might want to consider this next gift on our list. Boba drinks are best when they're fresh, we all know that, but with the flimsy, single use plastic cups they come in, they tend to melt or get funky if you don't drink them fast enough. Plus all of that plastic waste can probably be a bit daunting when you really think about how much boba tea you are consuming. So to make your little boba addict happy, we found the perfect reusable boba cup that will keep her drinks tasting their best and the environment cleaner too! This insulated drink holder will keep drinks hot or cold and is easy to take on the go or to her favorite place for a boba fill up. Not only that but it's super easy to clean, just use some soap and a bit of elbow grease and it comes with its own straw cleaner, so no worries about soaking or harsh scrubbing. This is a gift she will use, over and over again, helping her enjoy her favorite drinks and be a little cleaner while she's at it.
36. Ipsy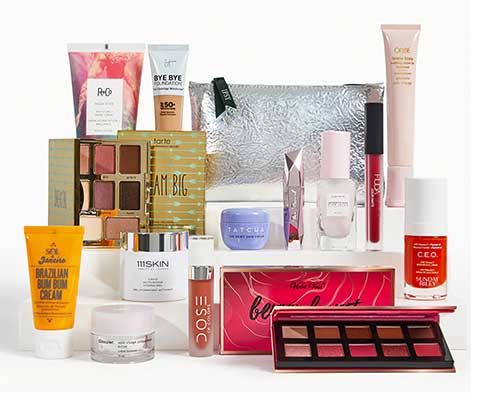 Buy or Read More on Ispy Here (Price varies at the time of publication)
We love our monthly subscription boxes. They hook us up with exciting new products, work with us to find our favorites and give us a pretty good bang for our buck. Ipsy is the place to go for personalized makeup subscriptions. Getting your girl a month or two of this beauty box is the right move to having a happy girl. They work with her to find out what her skin needs are if she has any favorites she already loves and what matches would best fit her! Each box comes with five or more items, which all together are worth well over fifty dollars. A bit intimidating we know, but that is why this is such a good deal, they only charge twelve dollars a month! Yup, you read that right. You can get your girl five or more high quality products all for twelve dollars a month, delivered straight to her doorstep. How can this not be something you get for her?
37. Recipe Box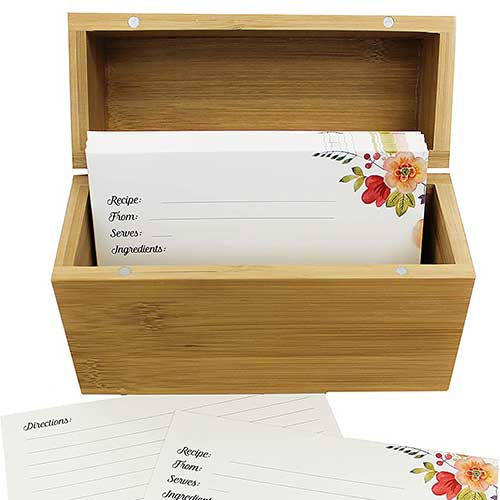 Buy or Read More on Amazon Here (Price varies at the time of publication)
If your girl is a whiz in the kitchen, she's probably whipping up some of the best things you have ever tasted. Or maybe she's just getting started and is learning all of the new and fun things she can do with food! Either way she loves to cook, bake and make all sorts of fun and yummy things! She is definitely going to need a way to get her favorites organized into a simple area where she can always access them. And no, her phone does not count. These super cute recipe cards are just what she will need to get her dishes written down step by step and get them in the vault for future taste bud pleasure. This set is elegant, quaint and comes in its own box with organizing dividers. Now she can file, save, and access all of these five-star plates with a simple flip of the lid. Help her keep her workspace organized and her cooking days numerous with this perfect recipe starter!
38. Cactus Ring Dish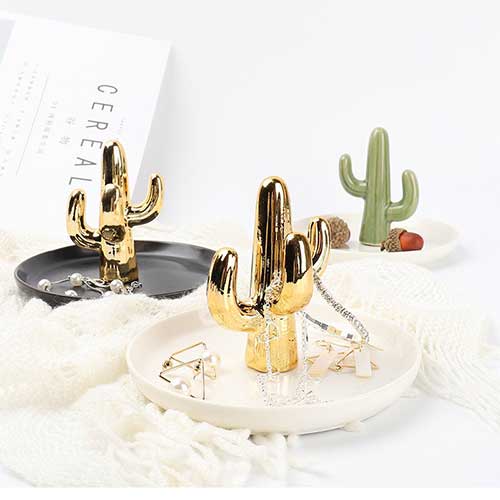 Buy or Read More on Etsy Here ($15.68 at the time of publication)
Sometimes when you have a lot of rings, a few of them tend to get misplaced or go missing if you aren't too careful. With all of the rings and special small jewelry tokens you have given and are going to give to your girl, she's going to need something to put them on or leave them in so they don't get lost. A ring dish is the perfect place for her to set her things, but a regular one might not really match up with all of the amazing pieces she has. This unique handmade cactus shaped dish is really the cutest ring holder out there! She can leave her rings on its small ceramic arms and her earrings and bracelets will rest easily in the dish below! It's minimalist style selections make it easy to mix and match to what would fit her and her accessories. Now she won't have to worry about misplacing her things and have a cute addition to her jewelry set.
39. Crosley Record Player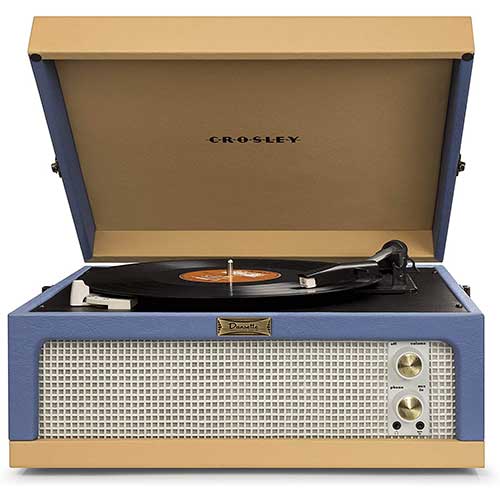 Buy or Read More on Amazon Here ($142.95 at the time of publication)
She loves the vintage feel, smooth covers, paper protectors, the ridges on the records. Vinyl's are her soul and the oldies ring true to her playlist. She collects the records, sports the vintage shirts and has the memorabilia but she has got to have the perfect system to play it on. If she has the wrong one, well those goldies will really truly sound like oldies. This record player has got the sound system and the style she's going to be looking for. Fit with an old style feel and full range stereo speakers, she can jam out to her favorite tracks the way that's just right.  She's a vintage girl living in a very modern world, so why not give her something that's going to bring that sound she's looking for in the way she will love most.
40. Dandelion Wish Necklace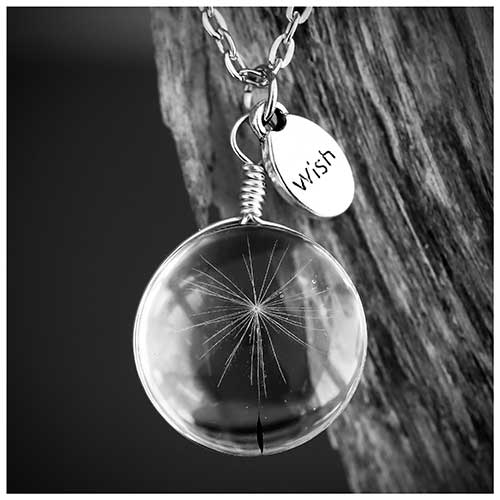 Buy or Read More on Etsy Here ($16.47 at the time of publication)
You can only hope and try to make all of your girl's dreams and wishes come true. She's the most important thing to you in the world, of course you want her to have everything she desires. You want to encourage her to keep wishing, to keep her spirits up and to make her happy even if things don't always go her way. This dandelion seed necklace may not magically make all of her wishes come true, but it might bring just the right amount of magic in her life she needs. It's from you, her most important person, which shows you have got her back, want her to keep aspiring and to keep on dreaming those richly colored dreams. It will stay with her always, being close to her heart physically and metaphorically, helping her know that you are there to help her wishes come true.
41. Overose Pink Candle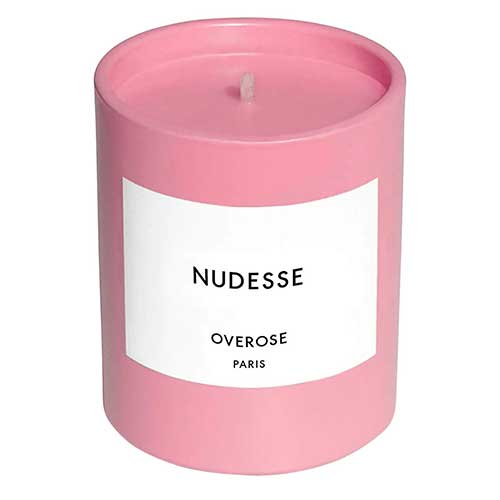 Buy or Read More on Sephora Here ($58.00 at the time of publication)
Candles can help some people unwind, freshen up the room or maybe even just to add a little bit of a sweet scent for when others are visiting. No matter what she will be using her candle for, the candle has to smell good if she is going to be using it. It also means it probably shouldn't have harmful chemicals or a gross after smell if she's going to keep using it after she's tested it unlit. The Overose Monochromatic pink collect is made just for this purpose, being cruelty free, vegan and free of harmful chemicals. It is also made with natural essential oils to help it burn cleanly, meaning no disgusting burnt residue or lingering after scents. This candle is scented to bring that soft fresh rose petal aroma to her nose, giving off the sweet and intensely fresh rose garden scent right to her room. It will help her unwind and relax to its soothing fragrance.
42. Apple Watch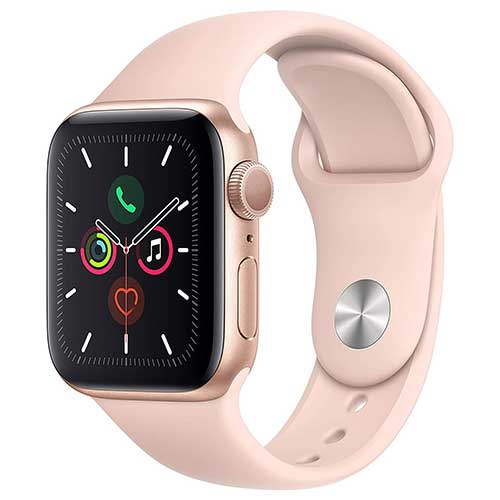 Buy or Read More on Amazon Here ($320.67 at the time of publication)
She might be the sporty type, or maybe someone who you can never ever get to answer her phone, or simply you just really want to give her something nice that you know she will use. As far as smartwatches go, Apple has it down pat, releasing the highest quality and the best designs you will find in the smartwatch world. They sync straight to her phone meaning she can track her daily progress and workouts, receive messages and alerts, and listen to music all with a simple tap of her finger. The Apple Watch also can come with GPS and Cellular, but it's up to you how fancy you want this gift to get. Not only that but it's built-in heart monitor and step tracker will make workouts and healthy living a complete breeze! Now she will be able to access everything with the flick of the wrist and you will be able to get a hold of her much easier.
43. Holding Hands Kit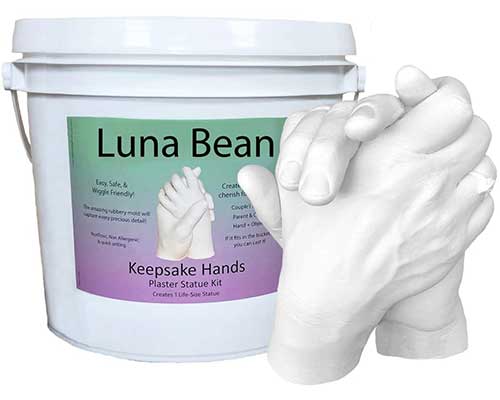 Buy or Read More on Amazon Here ($39.95 at the time of publication)
You guys know you will be together forever, whether that be you just know or perhaps you're already thinking about some next big steps you guys are going to take together. This plaster kit will preserve and embody every precious memory and detail of your love together. You simply hold your hands together to make the model and then pour the plaster mixture inside to make it and once it is done it shows your hands detail for detail together. Not only that but you guys can get creative, adding objects to help beautify or personalize its meaning to you even more. She will always love being able to treasure the significance of your hands in each other's. Bring that forever into her room, home and anywhere you two go together, always sharing your dear love for each other.
44. Seven Piece Pajama Set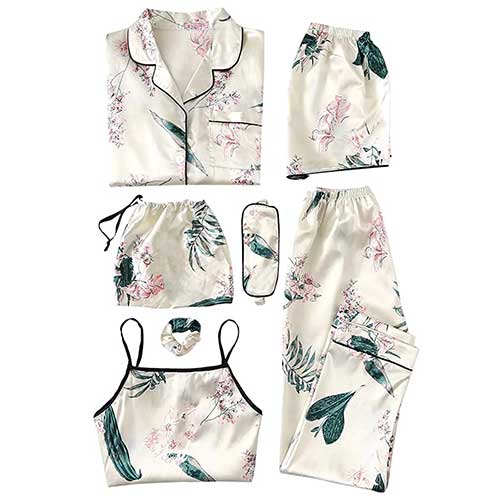 Buy or Read More on Amazon Here ($41.99 at the time of publication)
A nice pajama set is something we girl covet. Not just any plain Walmart pajamas or themed Disney pajamas are going to cut it. We want to look chic and elegant all while being comfortable. We are going to need our best pajamas when we have you over because unless we both agreed to look grubby and to just veg the whole evening, we definitely are trying to impress you. Even if we aren't doing that, it still is nice to have something fancy in our wardrobe to dance around the house with and to look pretty in our morning snaps. This seven piece pajama set comes with everything she is going to need to be able to use these whenever she wants. Whether it's cold outside or blazing hot, there's always an option for her to choose from, whether she is mixing and matching pieces or using the full set as shown. These pieces are made from the softest and smoothes satin too, which will be gentle on her skin and comfortable to sleep in. Give her the beauty rest she deserves in the beautiful sleepwear she needs.
45. HydroFlask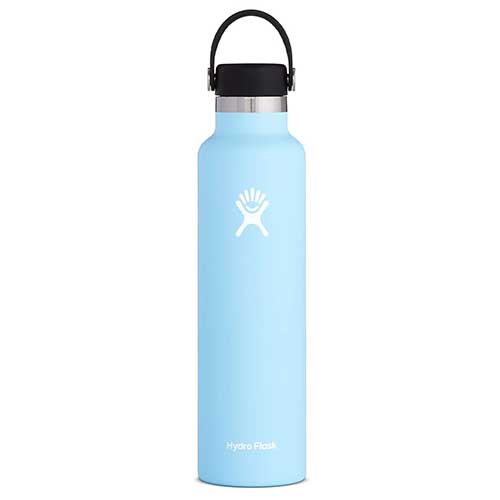 Buy or Read More on Amazon Here ($89.00 at the time of publication)
Whether your girl is the sporty type and is always drinking water, or is the indoor type and always forgets to drink her water, you've got to find not only a good bottle for her to keep hydrated with, but an appealing one as well. Hydroflasks are on top of their game when it comes to making water flasks that will last long and keep their contents insulated. They'll keep their beverages cold for twenty four hours and hot for twelve, which means that even if she isn't using it to store ice cold water, she's still enjoying whatever she decided to drink a few hours ago at the perfect temperature. Hydroflasks come in various sizes too, which make it easy to pick out which one is better to take to practice and which one will fit on her desk at school or work. They're the best of the best, just like your girlfriend, so really how can you not get her something she will use all the time?
46. Matching Stone Bracelets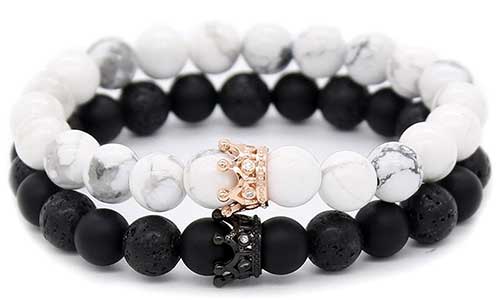 Buy or Read More on Amazon Here ($11.99 at the time of publication)
She is your queen, absolute, and pure royalty. Which makes you the person sitting in the throne beside her, watching her conquer life and achieve her goals. Of course, you are always going to support her and be beside her as she just absolutely rules life! If you haven't caught on already, we have more matching merch to surprise her with and to tighten your fun and loving relationship. These matching stone bracelets will bring out the majesty in both of you, looking both refined and unified. Made from many beautiful stone choices, you can find what matches your personalities and relationship best, making these something that will always spark compliments and adoration when you two are together. She will love having something that signifies you two being on top of your game, side by side.
47. Raw Gemstone Necklace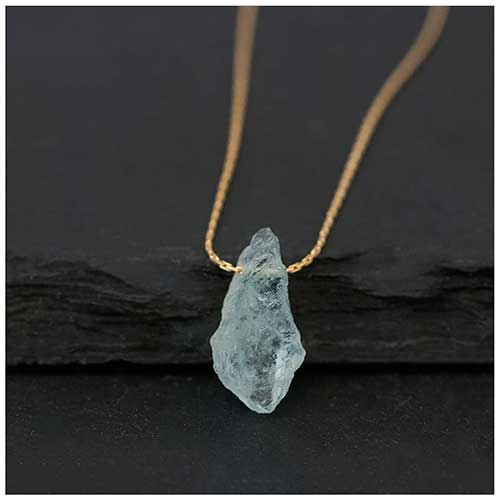 Buy or Read More on Etsy Here ($35.05 at the time of publication)
She has that natural light and beauty to her, no need to smooth her rough edges or to polish what is already completely outstanding. You love her for her raw and astonishing self, but probably are having a hard time finding something that would be befitting to her. This raw gemstone necklace would not only completely complement who she is but also bring out even more of that beautiful and untouched charm that she has. Much like her, this raw gem hasn't been polished, fixed, or changed to look a certain way. Every single gem is unique, no two stones looking alike. You can choose which gem would fit her best and have a chain that accents her natural glow.
48. Airpods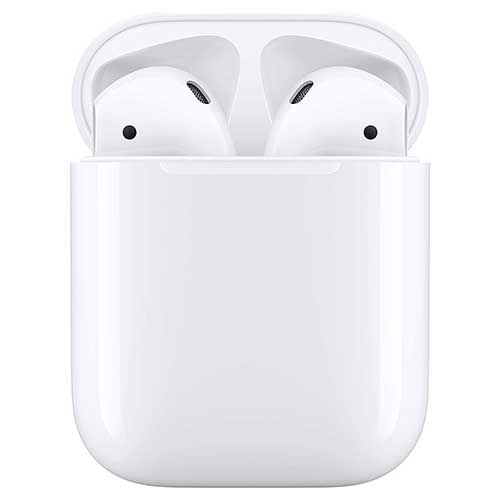 Buy or Read More on Amazon Here ($139.00 at the time of publication)
Airpods are a serious deal for all music lovers and trend setters. They are the coolest new thing to have and are seriously top of the line in their category. Apple's Airpods are made to have five hours of playtime from each charge and even then she won't have to worry about losing them to a dead battery with a charging case that holds an additional twenty four hours of charge in it. They transfer from device to device with ease and will last longer than your regular set of headphones. You have several options to choose from as well as far as the model and charging case go, meaning you will be able exactly what she will need. They will give her amazing sound quality which means she will be able to rock on and listen to those important phone calls and lectures without any worry.
49. Monthly Journal Planner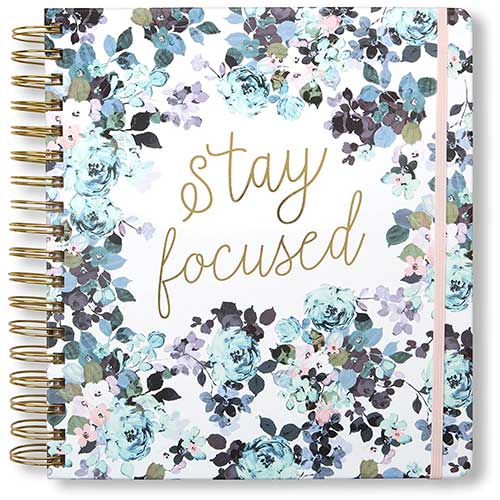 Buy or Read More on Amazon Here ($12.99 at the time of publication)
Your girlfriend is all about that organized lifestyle, she's tidy, always on time and makes sure to plan for whatever she can. However, that organized lifestyle can come with some kinks if she doesn't have the right things to help keep everything in order. Phones can unfortunately be unreliable with reminders or keeping information and heaven forbid her phone gets wiped or lost. This monthly planner will keep all of her events and thoughts structured and neat for her, always looking organized and designed to be the perfect area for note taking. She can get her thoughts down, extra notes for classes jotted in place and shopping lists at a page turns availability. These planners also come in several styles and in different lengths so that she can take her planner with her for only this year or far into next year as well. This gift will serve her well and last for a long time too, so help her stay organized and on track in all of her daily and future adventures.
50. Flower Arrangements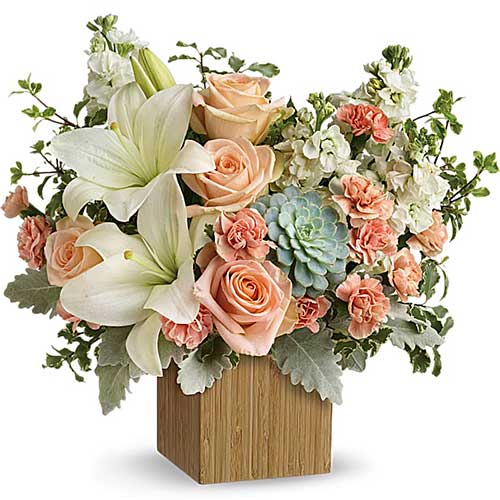 Buy or Read More on TeleFlora Here ($44.99 at the time of publication)
Every girl loves to get flowers. Especially if it isn't a special occasion, but of course we expect it on special occasions the most. No matter what kind of flower it may be or how many you give, she will love them and feel extra special when she receives them. This website is one of the many ways you can get her beautiful and exquisite flowers without spending tons of time trying to find the perfect ones from the local grocery store. You can have beautiful arrangements sent to her house, school, and her workplace! Surprise her with the beautiful gift of fresh flowers and give her the little 'I love you' messages that will warm her heart.
51. Jane Austen Collection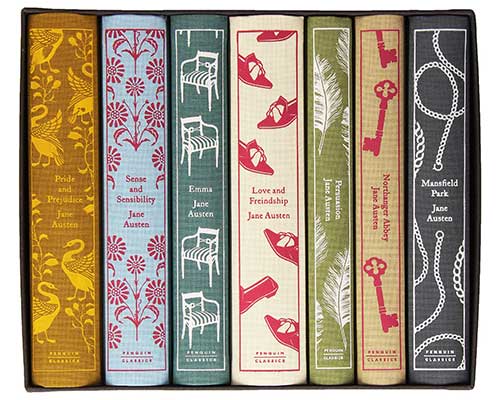 Buy or Read More on Amazon Here ($74.21 at the time of publication)
You might have a big book worm on your hands, who probably loves classics. That's right you've sat down with her as she ranted about her favorite heroines, heart stopping romance or hurt and maybe even sat through a few hours of movies depicting these thrilling and amazing movies. Jane Austen is no joke to her or anyone in the respectable writing world. She was a pioneer for her time in women's literature and her works are phenomenal. This hardcover book set helps embody the beauty of her writing and gives each book's cover its own personal and meaningful appearance. It comes with six of Jane Austen's works of art, each one an elegant and insightful masterpiece. She will treasure this collection and cherish their binding every time she reads from them.
52. Love Your Peaches Set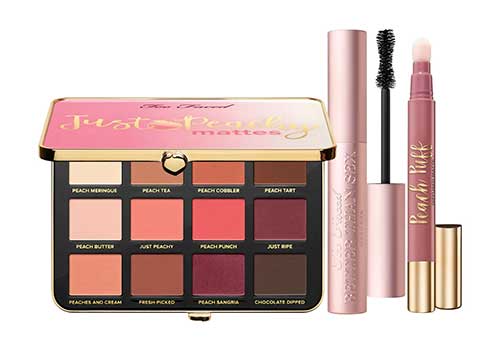 Buy or Read More on Sephora Here ($49.00 at the time of publication)
This makeup set is dreamy, creamy, and smells overall extremely sweet! That's right not only is it peachy in palette but it comes with the perfect peachy smell! This set contains a beautiful eyeshadow palette with twelve bright and warm pigments, a diffused matte lip color and Better Than Sex mascara. This set is limited edition as well, meaning this is a one of a kind makeup kit for her collection. Its warm hues and natural ingredients are cruelty free, meaning it will bring out her natural radiance without damaging or irritating her beautiful skin. Each item is made to last and to keep its fine finish until she takes it off that night, meaning her makeup will be perfect all day long and not be a hassle after a few hours of putting it on. This palette is perfect for all skin types, being bright and powerful for all skin tones without losing its lovely accent. This peaches and cream set will be one she loves and maybe will even use on a daily basis, so give her the gift of sweet fruit and dazzling looks.
53. Personalized Name Necklace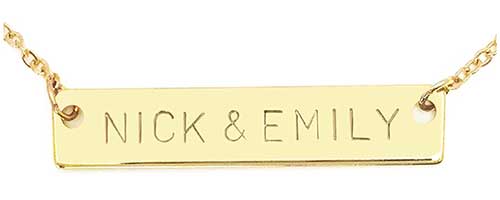 Buy or Read More on Amazon Here ($20.99 at the time of publication)
This necklace is simple but a sweet and charming little gift that you can give to your girl. Whether you guys are at the beginning of your budding relationship or full swing and madly in love, this plated necklace will be the sweet reminder she will adore to have from you. You can choose what plating it will have and put what it shall say. That could be your name, both of your names, a small heart, a loving message, or even dates! No matter what you decide on, what matters is that it's from you personally and she will know that. It's simple design makes it easy to wear with any outfit, which means she can wear it all day any day! She loves you and you love her, so have that special reminder with her always.
54. Sugar Hydrating Lip Balm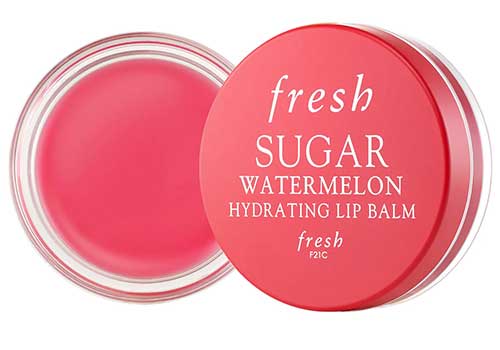 Buy or Read More on Sephora Here ($18.00 at the time of publication)
Chapped lips are the literal worst thing to have. They can be painful, annoying and sometimes in the worst cases, crack and bleed. They are absolutely no fun for her or for you, cause come on, we know you guys don't just talk when you are together. Plus having chapped lips can be a bit embarrassing at times if we are with the one we love a lot, so we try our best to take care of our lips. This sugar lip balm moisturizes, softens and protects lips, meaning her lips will stay hydrated and velvety soft every time she uses it. It comes in three delicious flavors, watermelon, lime mint and blood orange. These balms give huge improvement to lips skin nourishment and improve the health of lips in a blink of an eye, without leaving nasty residue. Your girl will now have the fresh, naturally hydrated lips she wants all without having to use harmful chemicals to give her that full and loveable pout she's trying for. You will love this balm, probably just as much as she will.
55. Jade Hummingbird Necklace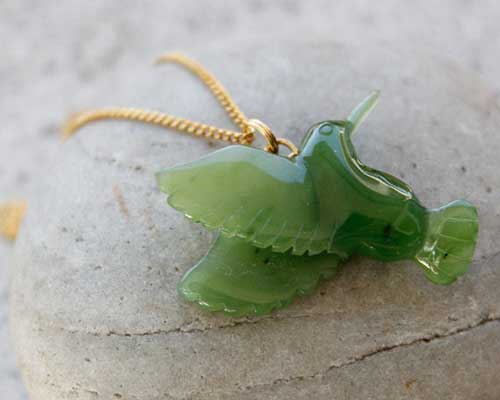 Buy or Read More on Etsy Here ($56.25 at the time of publication)
Finding unique jewelry for a nature lover can be a difficult task. Most of the items out there are cheesy, cheap or simply don't meet your expectations when trying to find the perfect gift for your girlfriend. This necklace is made from Nephrite Jade, which differs from Chinese Jade in the fact that it only comes in beautiful and enrapturing shades of green. This gemstone is hand carved into the stunning and beautiful shape of a hummingbird. Hummingbirds in many lores as healers and bringers of love and happiness. This necklace is beautiful physically and symbolically, making this a treasure among treasures, just like she is. She will love this exquisite and unique necklace, which will show not only her love of nature but your love for her.
56. Adidas Work Out Bag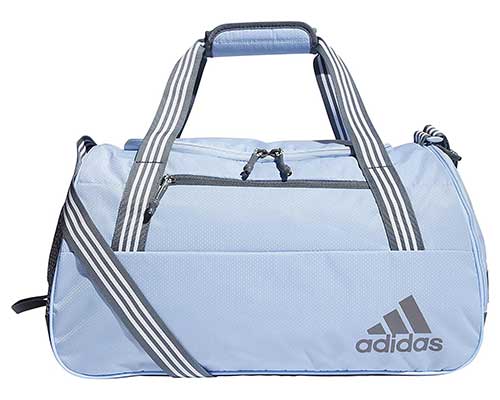 Buy or Read More on Amazon Here ($34.00 at the time of publication)
She works out a lot, she is a lean and mean fighting machine and totally kicks major butt at the gym. So no matter what she is taking her stuff to start a major sweat, she is going to need something to carry her stuff in. A simple duffel to dump her stuff in might seem like an easy choice, but that's unfortunately how nice things get ruined. Forever. This Adidas bag is made for the burning workouts and equipment filled practices. They're built to last and made to carry things in an organized and safe fashion. It has several zippered pockets both on the outside and inside and additional mesh pockets to help ventilate her stuff. It also has an exterior compartment just for shoes and dirty items so that she won't have to worry about dirtying other things inside! This workout bag is on top of the game, just like she is, and will be the perfect workout partner for her no match where and how hard she goes! Well, besides you that is.
57. Stitch Hooded Onesie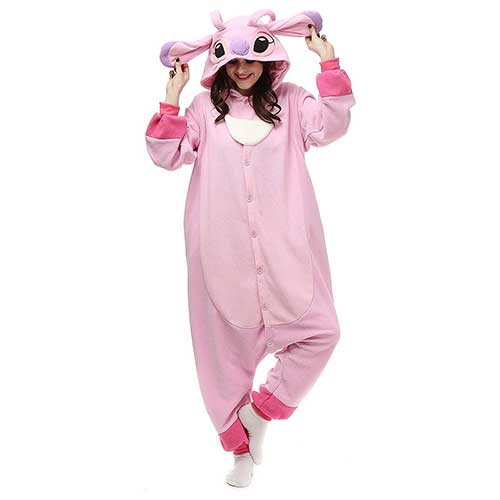 Buy or Read More on Amazon Here ($24.99 at the time of publication)
If you both absolutely love Disney, this matching onesie set is the perfect pick for the both of you. Stitch is a beloved Disney character and for those of you who continued the series on the TV show, you will recognize Angel, another genetic experiment just like Stitch. This onesie comes in both forms so that both you and your girl can dress up together as your favorite aliens. They're made with high quality velvet, making them soft and warm. They're perfect for pajamas, lounge wear, costume parties or even emergency snack runs! You'll match, be cute in photos and be the perfect snuggling partners no matter where you guys go!
58. One Hundred Dates Poster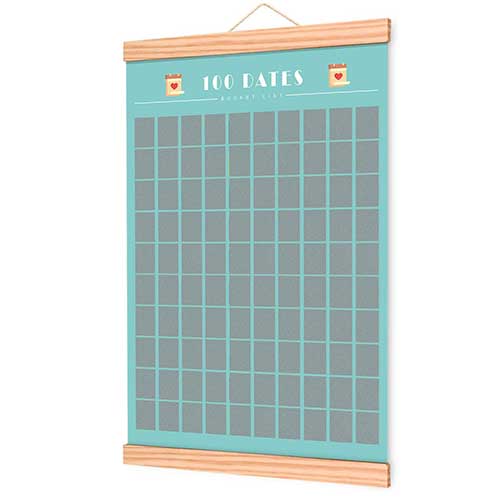 Buy or Read More on Amazon Here ($11.99 at the time of publication)
Are you out of ideas and tired of the same old takeout place? This is a list of 100 dates that will stir things up between you and your significant other! A perfect for a creative girlfriend gifts that shows you're committed to keeping things fun. The "calendar" style panel is affixed to two wooden panels, on the top and the bottom. It will come rolled up. You can unroll it and then use the string at the top to hang it on the wall or fridge. Each time you are planning a night out, simply scratch off one of the spaces to reveal a new date idea. This will last a while, with 100 different ideas, so enjoy it over the next few months as you watch your relationship grow.
59. Pure Himalayan Salt Body Scrub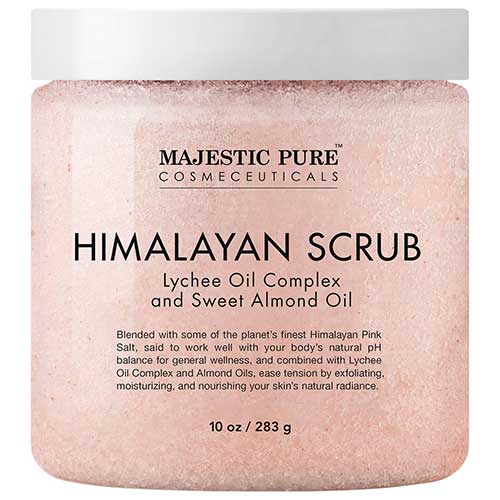 Buy or Read More on Amazon Here ($13.98 at the time of publication)
As mentioned before, skincare products are everything for most girls, but so is a little at-home spa care. Dead skin cells are our worst enemy, creating dryness, itchiness and even acne in some cases. It's important to cleanse and remove impurities when they and before they build-up, leaving the skin healthy and rejuvenated. But some skin scrubs can be too harsh, leaving skin irritated and sensitive. This Pure Himalayan Salt Scrub is the perfect balance of cleansing and rejuvenating care she needs to keep her skin on track. Made along with Lychee and Almond Oils, this salt scrub helps detoxify, improve circulation, and hydrate her skin. This scrub will leave your girl feeling refreshed and ready to conquer anything with the healthy skin she needs.
60. Engraved Music Box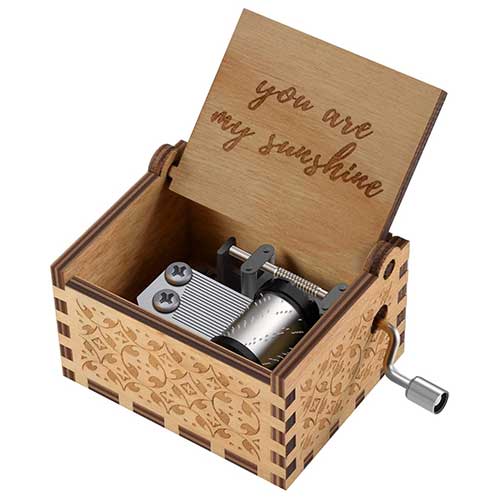 Buy or Read More on Amazon Here ($13.99 at the time of publication)
What a sweet and sentimental showcase of love! This vintage style music box is made of wood. Adorned with intricate carvings and fitted together to a smooth finish, there is a hinged top. The inside of the top is laser engraved with the words "you are my sunshine" in a modern, scroll font. Inside the box is a classic, mechanical music box. Simply crank the external handle and the music box will automatically play a twinkly tune. The box is teeny tiny and just right for setting on a bedside or coffee table, where it will stand as a testament to your affection.
61. Going Places Compass Necklace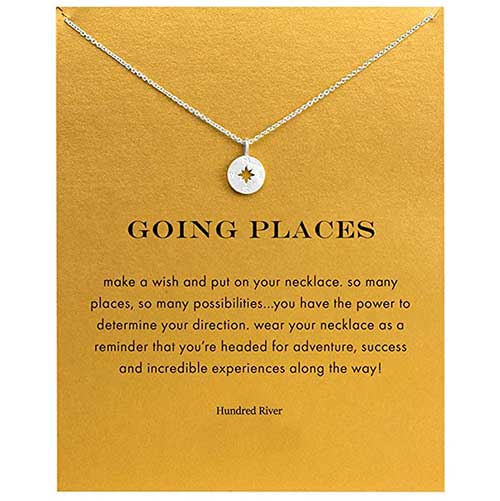 Buy or Read More on Amazon Here ($8.99 at the time of publication)
If she loves to travel, has big dreams or is simply moving on to the next big step in her lip, she's gonna need a little luck along the way. Who knows what's going to happen next, what she will encounter and how well it will all turn out, but with a bit of reassurance and help, you can support her as she gets there. This necklace lets her know that you are there for her, whether you are physically or not. Having you by her side is important, so giving her a compass to help remind her of the direction she wants to head towards is and to remind her to make smart choices when her road comes to a split. Guide her and show your love with this simple but powerful gift.
62. Bath Bomb Set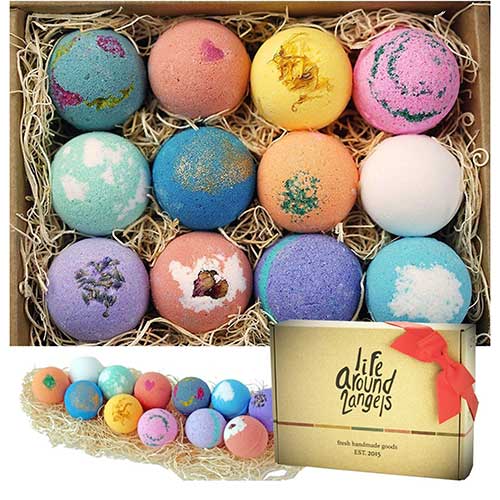 Buy or Read More on Amazon Here ($26.80 at the time of publication)
Give the gift of a pampering evening in. This set of 12, handmade bath bombs are specially formulated to be gentle on sensitive skin. Created with great care, this is a high end set that includes 12 totally different colors and scents. They aren't just a single color or experience. Each one has a unique take and includes fill-ins like flower petals, lavender leaves, and even glitter. The colors will not stain your tub and are made with USA, natural ingredients. In essence, you're giving her 12 different evenings of relaxation and fun.
63. Personalized Soundwave Acrylic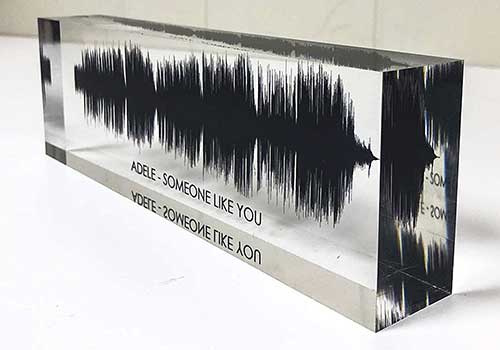 Buy or Read More on Amazon Here ($49.95 at the time of publication)
Totally unique and unlike anything she's ever seen before, this acrylic art piece is a completely creative way to surprise and delight your girlfriend. You can email the artist a personal recording or any favorite song. They will transform it into a soundwave design, which will then be printed on a large acrylic block. You can then customize the text, providing either an explanation of the sound ("this is what it sounds like to hear you say, 'I love you'") or a title or message. The imprinting color can vary from black or gray to something more vibrant. The block comes in 8"x2.5" and is perfect for sitting on a desk or mantle.
64. Scrapbook Photo Album Box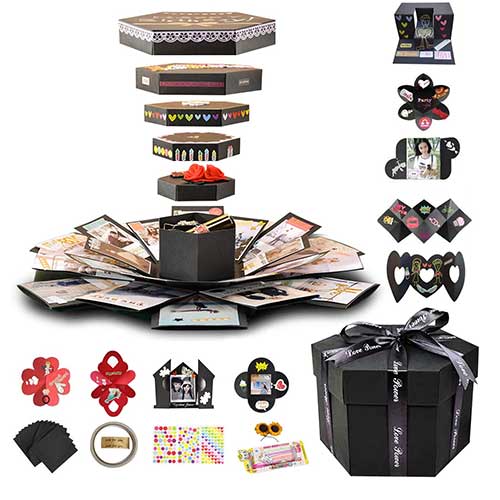 Buy or Read More on Amazon Here ($19.99 at the time of publication)
Do you have a crafty girl? Girlfriends who love to scrapbook are going to swoon over this totally unique, 3D approach to the art. The box itself opens to reveal everything a scrapbooker could want to create a modern and fun book. Opening in pop-out layers, this gift will literally become a e# scrapbook that she can adorn with stickers, captions, embossing and more. With a total of five, hexagonal layers, this expands to fit a significant number of small photos and tokens of your relationship. She will absolutely love the idea of creating something so cool and unique that showcases your journey together. You can buy this in black, aqua, or blush pink.
65. Custom Constellation Map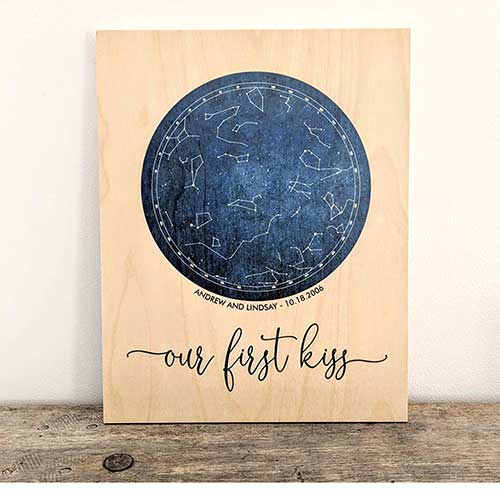 Buy or Read More on Amazon Here ($45.00 at the time of publication)
Perfect for an anniversary gift or anytime gift, this is a customizable constellation map that will depict the night sky on any given night. A modern interpretation of a classic star print concept, this is actually printed on birch wood panels and then painted. You can choose from different fonts and messages, conveying a moment in time and what made it special. Commemorate a first date, first kiss, or any special time you spent together by selecting the date and letting the artist create a vintage style, dark blue painting of the sky that night. This is a hand-crafted piece, making it extra special and sentimental.
66. King and Queen Hoodies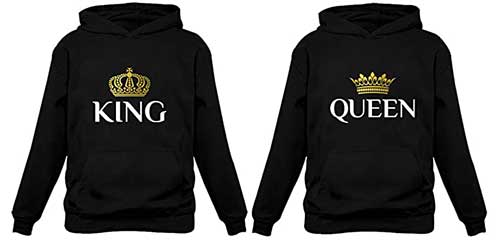 Buy or Read More on Amazon Here ($52.95 at the time of publication)
Love to match? These are the right gifts for you! Made out of cozy 50% cotton, 50% polyester blend, these come in a cozy fleece fabric. The all black hoodies can be purchased as a matching set in male and female sizes. The female hoodie says "QUEEN" in large block letters. The male hoodie says "KING" in large block letters. Each of the hoodies have a corresponding, gold crown that resembles the queen or king crown on a chessboard. These are cute and funny, go great with jeans or just lounging around the house, and are sure to be a laughable but wearable gift for your girlfriend.
67. Couples Coupon Book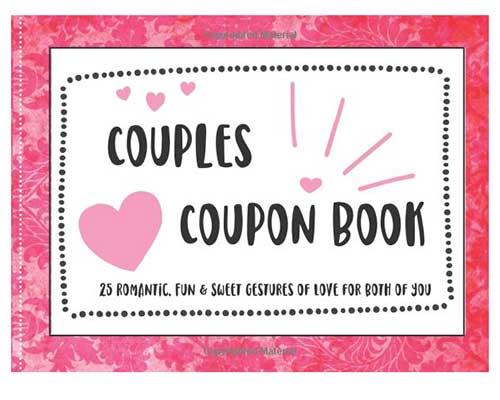 Buy or Read More on Amazon Here ($9.95 at the time of publication)
Printed coupons make a fun, romantic gift and are also a sweet gesture. Perfect when your girlfriend doesn't really need anything but appreciates the thought that goes into a gift. This coupon book has 25 tear off sheets that range from funny/silly to steamy. Each coupon is good for a service, trade or gift of some kind. Leave them lying around the house, tuck them into her gym bag, or have them waiting for her on the pillow in the morning. You can give them all at once or let them be an ongoing gift and surprise to spice things up and make her smile.
68. Cosmos Kitchen Knife Set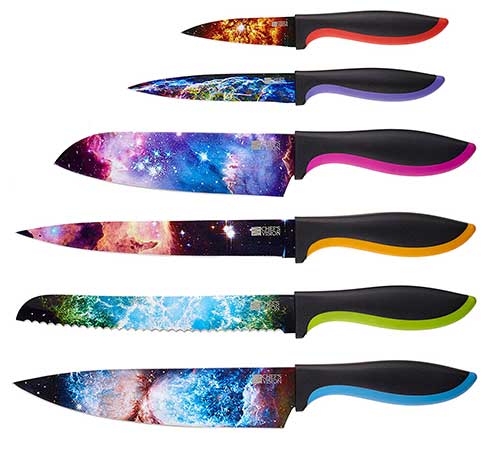 Buy or Read More on Amazon Here ($49.95 at the time of publication)
Does food bring you together? Do you bond over preparing the perfect bite? For couples who love to get busy in the kitchen, this cosmos kitchen knife set is super useful and super cool. The knives themselves come in a other-worldly, dreamy cosmos prints that look like floating stars, nebula, planets and more outer space images. Printed in vibrant, vivid colors, the handles are also bright and beautiful, with a black top and the underside of the grip in a corresponding color to the image. This has a full set of basic knives, including a serrated bread knife, a fruit knife and more. Made from high-quality stainless steel, this is a nice and unusual way to say I love you, let's eat!
69. Hummingbird Wind Chimes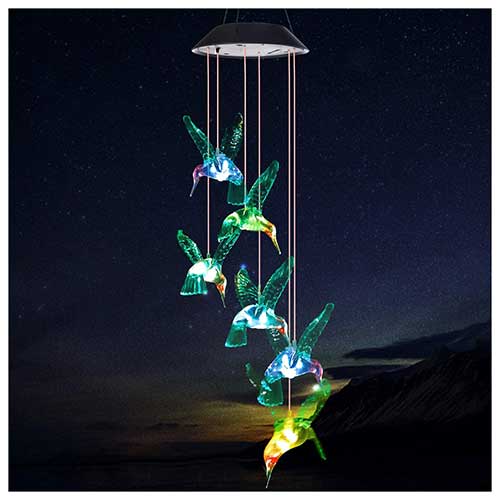 Buy or Read More on Amazon Here ($19.99 at the time of publication)
These are great for the garden loving girl. However your girlfriend likes to spend time outdoors, her spirit will be soothed by these sweet and whimsical hummingbird wind chimes. The simple, sculpted hummingbirds create a light, tinkling sound as they collide. A gentle breeze will set this experience into motion, creating a regular burst of sweet sounds. As a bonus and for an unusual twist, these also have LED lights that will shine in pulsing colors that include red, yellow, green,
70. Mermaid Blanket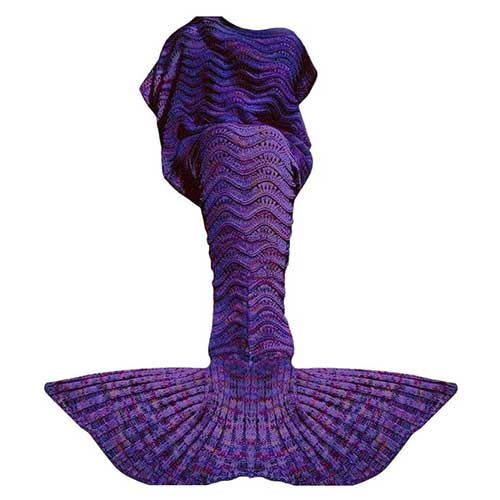 Buy or Read More on Amazon Here ($24.99 at the time of publication)
Whether she likes to imagine or just gets cold, this woven mermaid sleeping blanket is a nice way to tuck her in. The large blanket is 71"x35" and can fit almost any size. The bottom of the blanket is crocheted to resemble a flaring mermaid fin. The body of the blanket is small, hugging the legs and then opens up again at the top for a cozy, wrapped-in feeling. The blanket comes in purple, blue, teal or ivory. This is a handcrafted item, made with lots of love, and can be carefully cleaned and enjoyed for every movie night and night in for a long time.
71. Kissing Elephant Figurine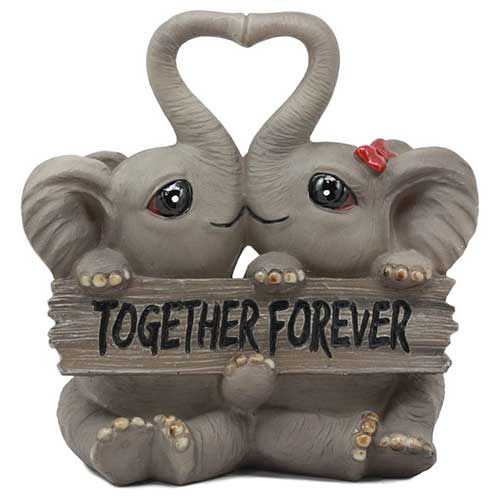 Buy or Read More on Amazon Here ($15.95 at the time of publication)
Never underestimate the power of something super cute to make your girlfriend swoon. This little statue is adorably carved and a sweet sentiment. What's more, elephants are considered good luck talismans in some cultures. This precious little pair is carved with great detail. The little mouths are set together like they are kissing and the trunks come together in a heart shape at the top. The girl elephant has a sweet little red bow. Both elephants have sweet little eyes. Together, they are holding up a piece of what looks like wood with the words "together forever" printed in large block letters. This small piece is 6.25" and 6.25" wide.
72. Engraved Yeti Cup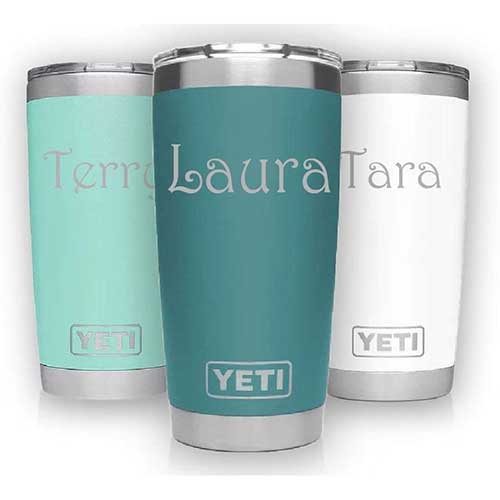 Buy or Read More on Amazon Here ($59.95 at the time of publication)
Everyone loves a YETI. They are crazy good at keeping cold things cold and hot things hot. And everyone knows that they're a bit pricey, so you get goodwill for giving this gift as well. This particular YETI can come in the 20 oz or 30 oz tall tumbler. It has the classic silver banding and YETI logo at the bottom. The clear, slider top perfectly seals for no spills of either warm or cold beverages. You can choose in three modern colors of dark teal, light teal or white as well as some other YETI options. The best part is that you can customize this with a laser engraved name. Your girlfriend will love sporting her envious cup, making it obvious that it's just for her and bought by someone who loves her.
73. Essential Oil Bracelet Diffuser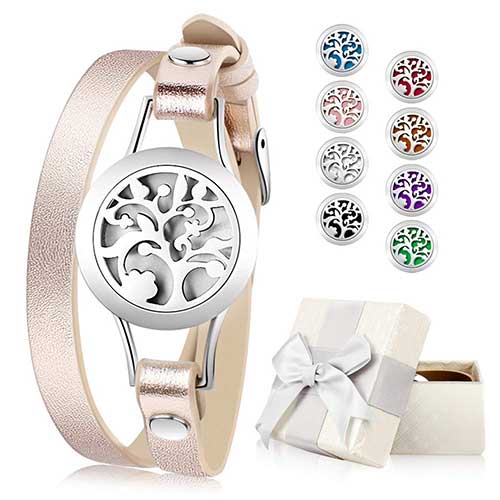 Buy or Read More on Amazon Here ($15.99 at the time of publication)
If you have a girlfriend who knows her way around some Ylang Ylang, this is the perfect gift. The bracelet is an ultra modern double wrap style that looks like foiled leather. It has numerous adjustable positions to fit any wrist. The oils are diffused through a charm that is about the size and shape of a watch face and has a filigree tree of life on the front. A small felt pad can be inserted beneath the watch face and hold a few drops of her favorite essential oil, wafting pleasantly for a few hours. The felt cotton pads that hold the oils come in a variety of colors and show through the tree, making it fit her style and match her outfit even as it improves her well-being.
74. His and Hers Pillowcases

Buy or Read More on Amazon Here ($15.99 at the time of publication)
You may not get to weigh in much on the decor, but your girlfriend won't be able to resist this adorable pillowcase set. There are two pillowcases that showcase a "raining love" story of a boy and girl in love. Set on a white background, there is a blue cloud above both characters and raindrops are falling. The boy is standing in a puddle and holding out an umbrella over the girl, who is on the adjacent pillowcase. Both are blushing sweetly and wearing cute clothes in blue and rose red hues. Place them side by side on the bed for a reminder of how you have each other's back in any kind of storm.
75. Custom Photo Sequin Pillow Case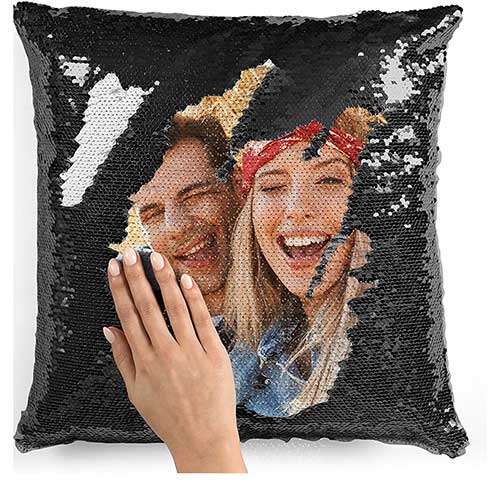 Buy or Read More on Amazon Here ($21.99 at the time of publication)
Have a mermaid lover who's also a little kitschy? This photo, mermaid sequin pillow cover is a little bit zany and a little bit cute. There's a lot to love. You can order a photo print that will be beneath the reversible sequins above. The sequins will alternately hide or reveal the photo when they are brushed back and forth. This creative printing approach can be applied to pillowcases that are black, light blue, red, gold, silver, blush pink and royal blue. This pillowcase will fit an easy to find 16"x16" pillow insert.
76. Amazon Gift Card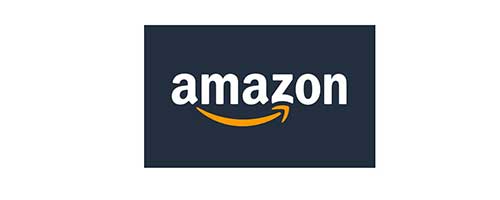 Buy or Read More on Amazon Here (Whatever dollar amount you pick at the time of publication)
Okay, so maybe none of these gifts really stood out to you, or maybe they did but you're just a bit too nervous to commit to something that she might not like. We get it, you really want this gift to mean something to her and be something she will love. No worries, I still have your back, even if you aren't the biggest fan of this list. The perfect thing you can get her is a gift card, whether it is from her favorite store or your easy all in one Amazon card, she will get what she wants exactly how she likes it. You can't go wrong here and she will love what she gets, which means you will have one super happy girlfriend and those extra kudo points on the tally board.
Related Posts: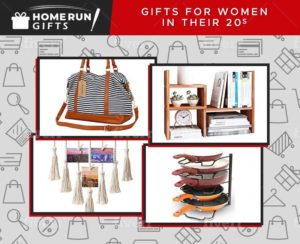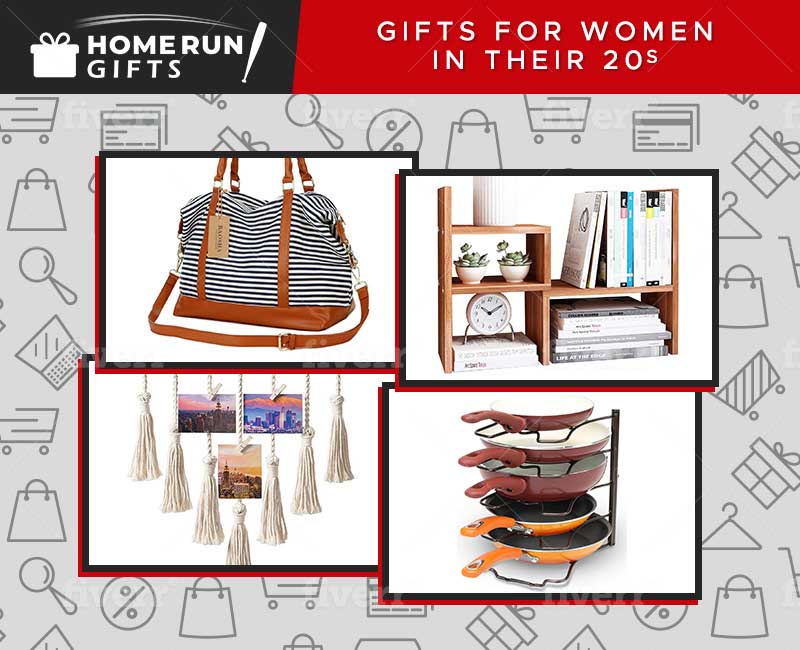 Gifts for Women in Their 20s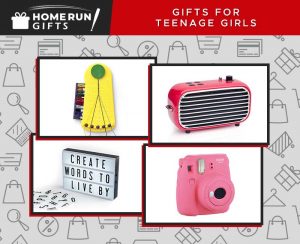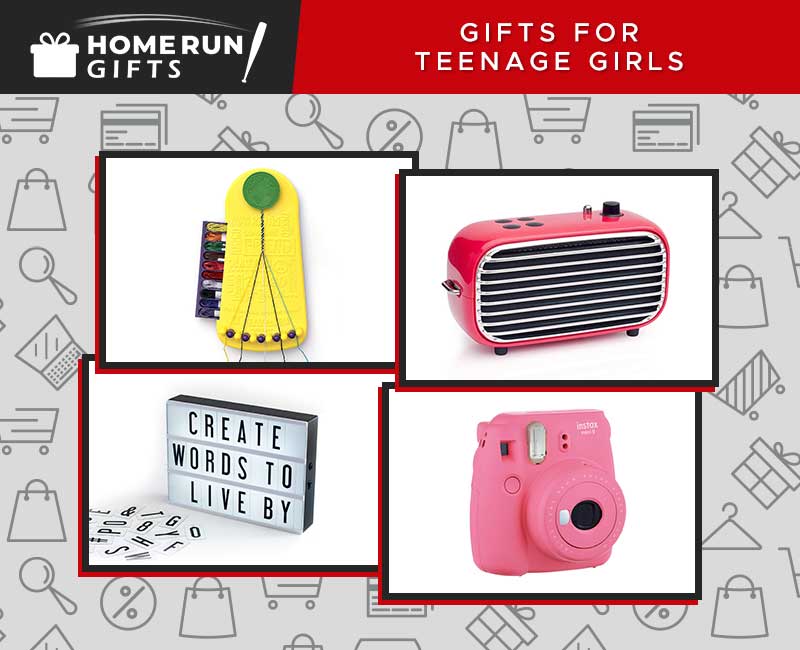 Gifts for Teenage Girls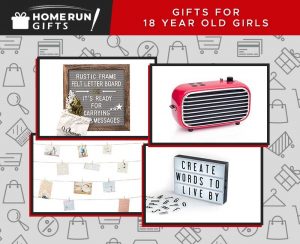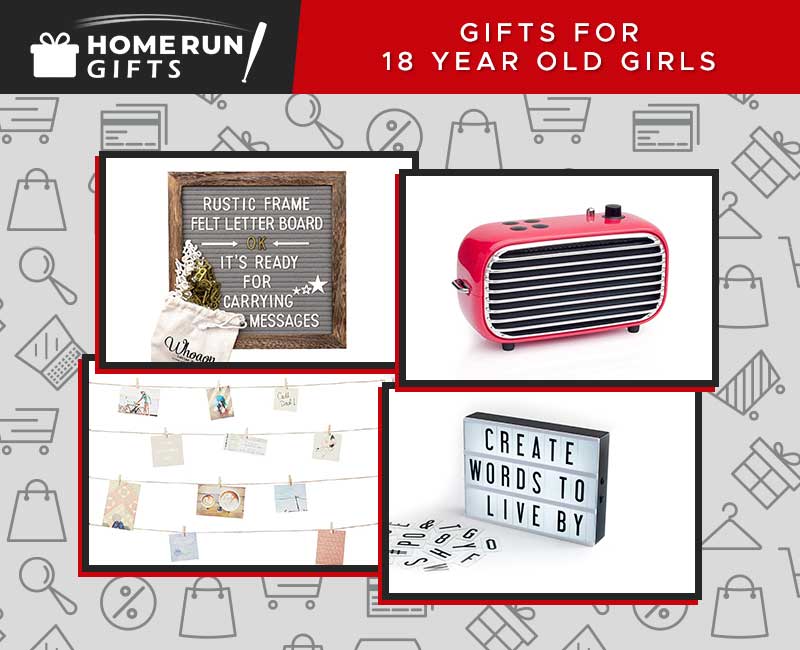 Gifts for 18 Year Old Girls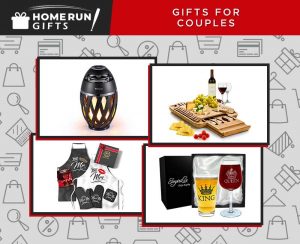 Gifts for Couples