Buying a gift for seniors is just like buying for anyone else, with a few obvious exceptions.
The key is knowing the gift receiver, his or her hobbies, interests, quirky habits, place in life, etc. Again, buying a gift for an older person is the same process you would go through when buying for a younger person.
There's nothing mysterious about seniors or elderly men and women. They're just regular people who have been around a while. High-tech doesn't scare them, for the most part. Sweet and sappy doesn't necessarily endear them, for the most part. It all goes back to knowing the gift receiver.
Below, we've assembled a pretty long list of gift ideas for seniors. Some are high-tech and require basic knowledge of things like WiFi, Bluetooth, and the Internet. Some have personalized, custom-ordered slogans, monograms or sayings engraved or printed on them. They don't have to be snappy. You might even get away with being snarky.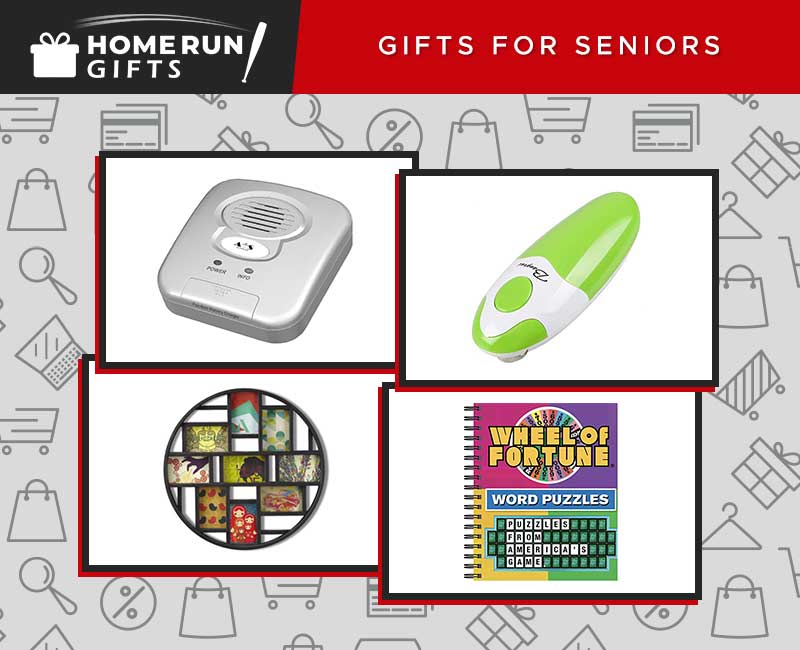 Some of these gifts are pricey, and some are easily affordable to the most modest budget. Seniors and older people do tend to push back against the higher-priced items, but if they've had a life-long desire to own, say, a quality camera, or a nice musical instrument (perhaps on a group pitch-in), then they generally will be most gracious and appreciative when receiving them.
Happy shopping. Remember, if you see something you would like to have, chances are, so would the senior you're buying for. Heck, buy two, and keep one for yourself. After checking out this list, you might also want to check out our favorite retirement gifts for men here or retirement gifts for women here.
Here Are the Best Gifts for Seniors and Older People
1. Electronic Weather Station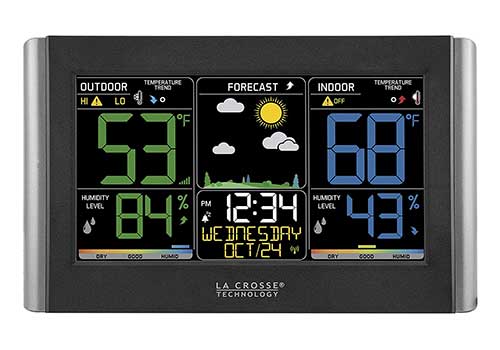 Buy or Read More on Amazon Here ($45.70 at the time of publication)
For some seniors, the only thing they want from the weather bureau is to know if they need their jacket when they go to the store. Others need a little more than that. This product is for them. This provides real-time "backyard" weather and forecasts based on changing barometric temperature. High temperatures, low temperatures, heat index, dew point and more are displayed on this 9×5 screen, which can be wall mounted or set up on its own easel. It communicates with an outside sensor that you can place up to 300 feet away with a clear line of sight. What this device does NOT do is communicate with the National Weather Service, so it is not a substitute for a severe weather alert device. It's just a fun contraption to play with.
2. Wheel of Fortune Word Puzzles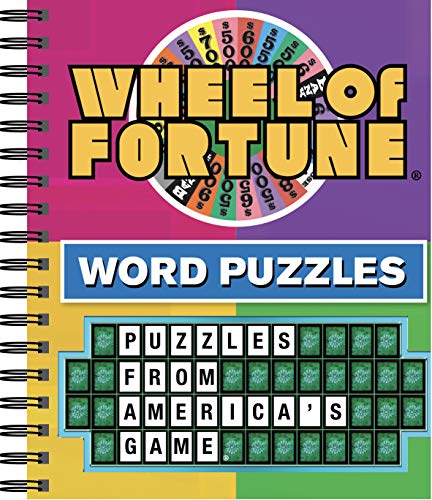 Buy or Read More on Amazon Here ($11.68 at the time of publication)
For some seniors, the nightly routine is to watch the network news, watch the local evening news, watch Wheel of Fortune, maybe watch one prime time show, then go to bed. But make no mistake. The star of this lineup is Wheel of Fortune. The other shows can be preempted or the cable can go out, but don't mess with their Wheel of Fortune.
This spiral book doesn't have wisecracks from Pat Sajak or silky glides across the stage from Vanna White, but it does have a bunch of puzzles. They're not all WOF puzzles, however, so if you're looking for wall-to-wall Wheel, this might disappoint.
The puzzles are engaging and sure to entertain for hours. Along with Wheel of Fortune puzzles, there are word search puzzles, crosswords, elevator words and other types in various themes and categories. The easy-to-read spiral book has 160 pages, so you won't run out of puzzles any time soon.
3. Squirrel Buster Squirrel-Proof Bird Feeder

Buy or Read More on Amazon Here ($42.59 at the time of publication)
If they're in your yard, and they're stealing food, who are you gonna call? Squirrel Busters! If you want a bird feeder that really keeps the squirrels out of the birdseed, this is the product to buy. The Brome squirrel proof feeder has a patented device that closes a cover over the seed when the weight of a squirrel is applied. Birds are light enough to feed undeterred, but you can set the adjustable spring to keep larger birds away if you wish. It holds a little over a pound of birdseed and hangs wherever you have an 18-inch clearance on the top and sides. This is important to prevent squirrels from hanging on a branch and snagging bits of food without putting his weight on the feeder. The feeder is made from high grade, chew-proof plastic, and stainless steel. It measures 13 inches tall and five inches in diameter.
4. Puzzles and Trivia Challenges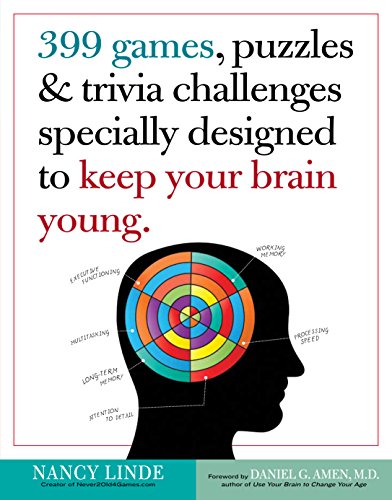 Buy or Read More on Amazon Here ($11.25 at the time of publication)
It takes more than the Sunday crossword and Jeopardy reruns to keep the aging brain functioning at top efficiency. It needs tougher challenges, more enduring challenges, multi-layer challenges, challenges of a variety it's never encountered before and more. That's where this book comes in. Created by film producer Nancy Linde, a leading proponent of senior mental fitness, this book runs the gamut of puzzles, mental exercises, challenges, and trivia. A reader could try a new mental adventure every day for a year or longer, and interact with family and friends for even more fun. The book targets long-term memory skills, working memory skills, executive functioning, attention to detail, multitasking and processing speed.
5. Wireless Key Finder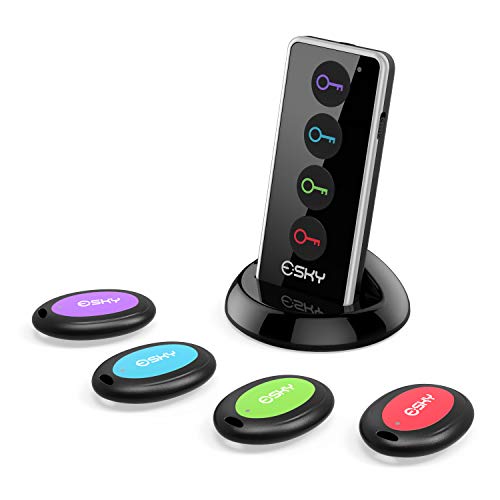 Buy or Read More on Amazon Here ($18.99 at the time of publication)
You don't have to be an old person to have a senior moment. We all forget where we put our car keys, the cell phone, your wallet, the dog leash, the TV remote and that receipt you need in order to get a refund on the phone charger that takes the other type of plug. So get your senior something that will simplify his life. The Esky Key Finder allows you to program up to four medallion receivers, which attach to the keys or the item you want to keep track of. They're color-coded, so when you've misplaced the TV remote, you press the appropriate color on the transmitter and the receiver beeps and lights up. The range on this is just shy of 100 feet. Then all the senior has to remember is what color goes with what device and where the transmitter is.
6. Scratch-Off World Travel Map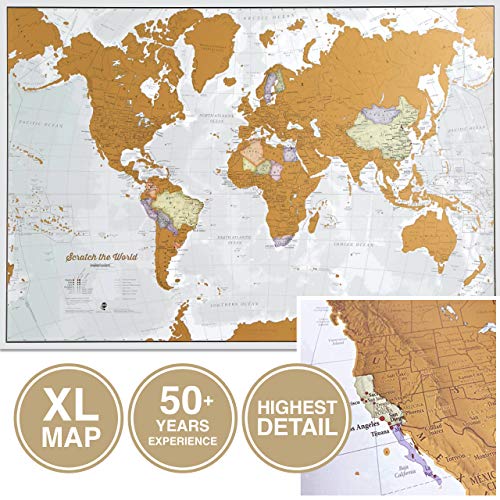 Buy or Read More on Amazon Here ($25.99 at the time of publication)
Some clarification is called for here, since most people associate scratch-offs with lottery tickets. With this 22×17 or optional 33×23 poster map, the top layer shows a global travel map. Underneath is a political map, showing cities, landmarks river names, highways and other data. To get to the political map (accurate at the time of printing, but world boundaries are always subject to change), you take a coin and scratch off the top layer. This is great for marking the countries you've been to, or would like to visit sometime in the future. The cartography and detail are world-class, and the paper is heavy stock. It ships crease-free in a cylindrical carton.
7. Third Generation Amazon Echo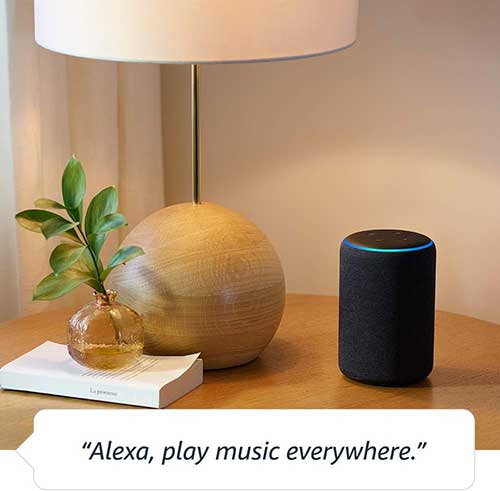 Buy or Read More on Amazon Here ($99.99 at the time of publication)
Some seniors might already have Alexa and don't know it. She's appearing everywhere, from smartphones to refrigerators. But give your senior Alexa on purpose, in her original format, as a wonderfully engineered music player that just happens to be able to lock the doors and turn out the lights. The third generation Echo can do all of those things, and thanks to some redesign of its acoustics, sounds better than ever. If you give this to the senior citizen in your life, make sure he can do the basics, but don't push Alexa's 10,000 plus functions on him. He will find his own comfort level, and he won't care that he's missing out on a lot of cool stuff. Just get him this, and be glad that you did.
8. Hummingbird Feeder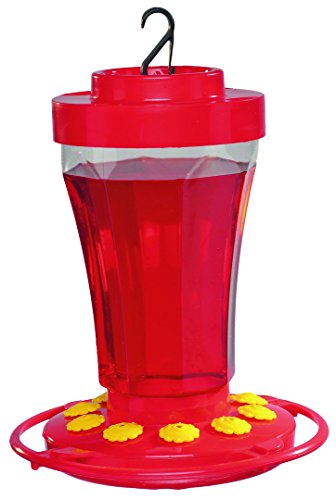 Buy or Read More on Amazon Here ($20.73 at the time of publication)
There's hardly any creature in nature more delicate than the hummingbird. Scarcely bigger than a large bumblebee, the hummingbird lives a life that is almost totally dedicated to eating. A hummingbird must consume half its body weight every day and feeds five or six times every hour. The First Nature hummingbird feeder makes a great gift for a senior (or anyone, for that matter), providing beauty and entertainment to any backyard, porch or garden. The jury is still out on whether hummingbirds are attracted to the color red, but just in case they are, this one is bright, bright red, with yellow petal caps over the feed ports. A perch circles the base of the feeder, giving the little wing flappers a place to rest before zooming off into the woods at 60 miles per hour. Easy to hang, easy to fill and clean, you can't go wrong with this as a gift.
9. Reacher Grabber Tool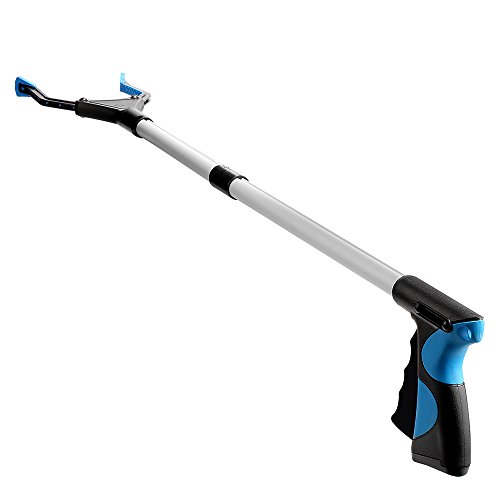 Buy or Read More on Amazon Here ($9.99 at the time of publication)
It's not, "I've fallen and I can't get up," but more like, "It's fallen and I can't reach it." For seniors with limited mobility, this can be a game-changer. It's a 32-inch grabbing device with a squeeze trigger at one end and sturdy grips at the other. Lightweight and easy to use, this can help grandma catch that runaway mayonnaise jar lid that rolled under the kitchen table. It's made of high-strength aluminum and plastic and it folds up when not in use.
10. Nine-Opening Circular Photo Frame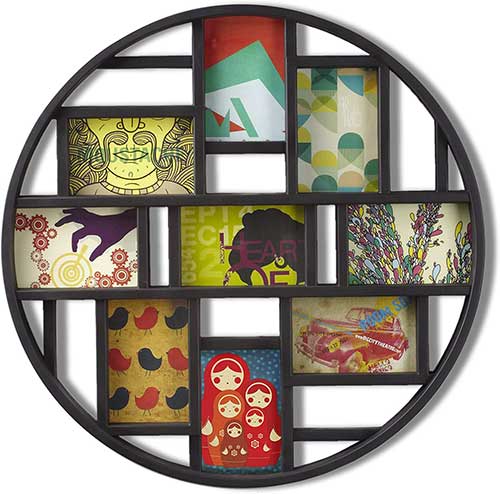 Buy or Read More on Amazon Here ($40.00 at the time of publication)
Seniors are usually grandparents. Many are great-grandparents. If you have a few minutes, or an hour and a half, they'll show you pictures. That makes this nine-photo frame the perfect gift for G-parents. Most photo frames are rectangular, but this one stands out in circular splendor, a real eye-catching piece of wall art. The individual frames are all 4×6, with four horizontally-oriented openings and five vertically-oriented openings.
Of course, you don't have to fill the frames with family photos. Art prints, nature photos, pet photos, animal photos, and art graphics all make good subjects for the frames. Changing out the photos is easy. Solid backing allows you to change photos easily. The existing face paper serves as a guide, and all the user has to do is tape the photo to the paper and snap the frame shut. The circle is 24 inches in diameter and comes in two finishes. A few users have complained that the hanging brackets aren't strong enough, so a little reinforcing might be a prudent add-on.
11. Zen Breeze Essential Oil Diffuser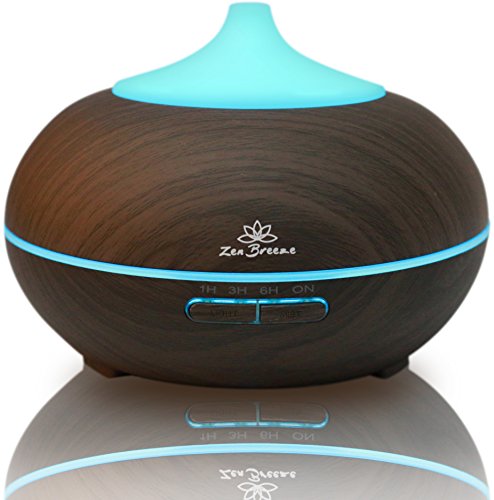 Buy or Read More on Amazon Here ($29.77 at the time of publication)
This is a really pretty decor item that will dress up any room, even when it's not in operation. A combination of dark, heavy-grained wood and a light pastel lid make this a very eye-pleasing piece.
The reservoir holds a little over 10 ounces of water and uses that water to create a gentle aromatherapeutic mist that can be adjusted to preference. Operation is as quiet as a whisper, and the mist is scarcely visible. The therapy takes many forms, but the primary physical benefit is moisture for dry skin.
The aromas create tranquility and peace of mind (temporary, however) and the 14-color night light adds a pleasing display for a calming effect. The user can set the duration of the misting for one, three or six hours, or let it run all day.  And there's no serious consequence for leaving it on. The unit will shut off when it runs out of water in the reservoir.
12. Medical Alert System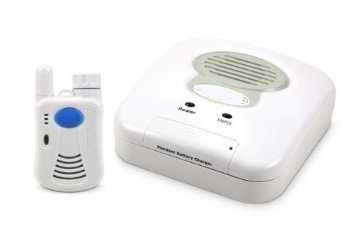 Buy or Read More on Amazon Here ($249.77 at the time of publication)
This is not the "I've fallen and I can't get up" brand, and no, it's not a very "gifty" item, but for seniors who perhaps are in denial about their need for something like this, it could save his or her life.
This is an emergency alert system, whereby users who have suffered a sudden medical incident or have injured themselves in a way that they can't get to their regular phone can press a button on a portable device and connect with the company's emergency service personnel. The resident wears the device either on a lanyard around the neck or on a belt with its holster, which is a small transmitting unit that communicates with a base unit.
The base unit is plugged into the landline and calls Medical Alert's headquarters when the help button is pressed. One of the great advantages of this system over competing brands is that the transmitter is two-way. It can transmit and receive. With many other brands, the transmitter activates the speaker on the base unit, and if the base unit is in a different room, he or she would have to shout in order to be heard.
With this system, the wireless device can act as a portable phone, allowing a two-way conversation between the caller and the help personnel. It can be worn in the shower, but should not be totally immersed, as in a bathtub or sink.
When the call comes into the Medical Alert call center, which remains on duty 24-7, the operator can determine from the caller what kind of help is needed. If the caller has become unresponsive, the operator then refers to a set of priorities established by the user. The operator will call a set of numbers in order until he or she reaches someone who can help. If no one answers at any of the other numbers, then they would automatically call 911. 911 can be set up as the first priority if so desired.
If this calling system is given as a gift to someone who insists they don't need one, It's recommended to give one that is totally prepaid, so that it poses no financial burden on the receiver. This one is totally prepaid. There are no monthly fees, as with some of the other brands. It is set up for a home with a landline. If the home does not have a landline, it can be used on a cellular network with a special adapter at an additional cost.
13. Framed Retirement Slogan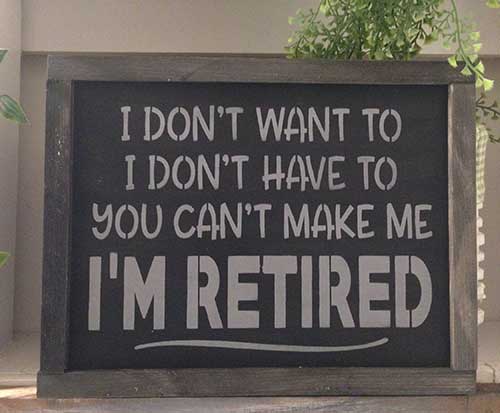 Buy or Read More on Etsy Here ($27.90 at the time of publication)
President George H. Bush once said, "I don't like broccoli. I'm the president of the United States, and if I don't want to eat broccoli, I don't have to." So, yeah, that's pretty much the sentiment behind this witty sign. In the age of entitlement, who best to play the entitlement card than retirees and oldsters (boomers) who put in the work and have waited their turn to have some say-so in what goes on in their lives. This rustic 9×12 sign is also a testament to minimalism. There's not much to this, other than the simple lettering on a black (dark gray) background. You can choose the font and color of the lettering, as well as the frame color. It's not a get-it-the-next-day rush delivery item, so plan accordingly. Shipping can take up to two weeks. This is a true cottage industry item, produced and shipped by a retired couple who take great pride in pleasing their customers.
14. WIWYA Coffee Cup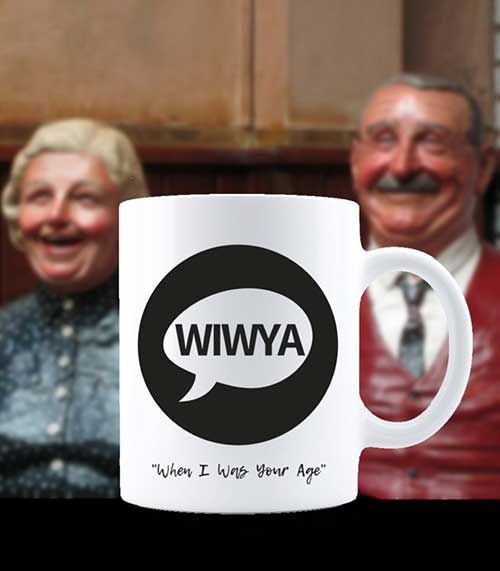 Buy or Read More on Etsy Here ($17.95 at the time of publication)
WIWYA – When I Was Your Age. Sadly, the generation of "When I was your age I walked five miles to school in the snow and it was uphill both ways," is drifting away. A more contemporary version of that group would say, "When I was your age, Bluetooth was something you got after you ate a blackberry cobbler." At any rate, this is a charming little coffee cup that should delight the receiver for years to come, because of the "when I was your age" sentiment doesn't have an expiration date. This is an 11-ounce ceramic coffee or teacup with an extra-large "C" handle. It's dishwasher and microwave safe for reheating those last few swallows of coffee. Shipping, which is free, takes 7-10 business days, which is perfect for when seniors complain about millennials and their lack of patience. This is one of the best gifts for old people and seniors due to the fact that they'll definitely relate.
15. Bowl Cozy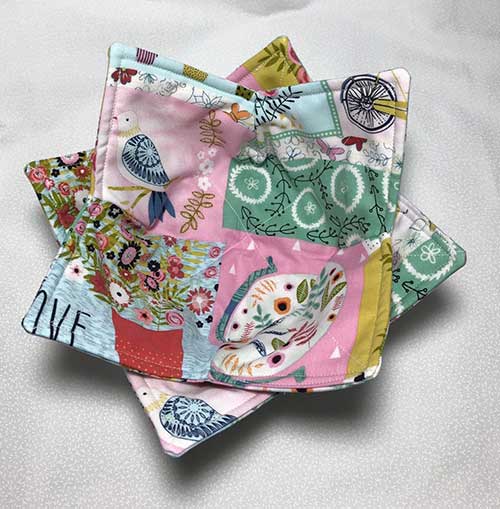 Buy or Read More on Etsy Here ($13.50 at the time of publication)
It may not be as exciting as a new Harley-Davidson, but it's way less expensive and much, much safer for your average senior citizen. What is it? It's a bowl cozy that's a decorative and protective fabric pad that your slide under the bowl of five-alarm chili that's just been warmed up to the boiling point in the microwave. The bowl cozy not only protects against burns, but it also protects against frostbite, or rather, the discomfort of toting something extremely cold in your bare hands. So, ice cream, soup, chili, rice, ramen, whatever, this cozy has you covered. It's whimsical and pretty, looking like leftover squares from a quilting project. Guys, these might not fit the decor and theme of your man cave, but you will be tempted to use them in the kitchen late at night when no one's watching. These cozies, not to be confused with koozies, which help keep your beer can cold are perfectly sized for an average soup bowl. But here's a nice touch: if you have a favorite bowl that's larger than standard or is odd-shaped, you can send the dimensions when you order, and they will custom-size one for you at a small additional charge. You can also revise the fabric choice, if desired.
16. Hole in One Coffee Cup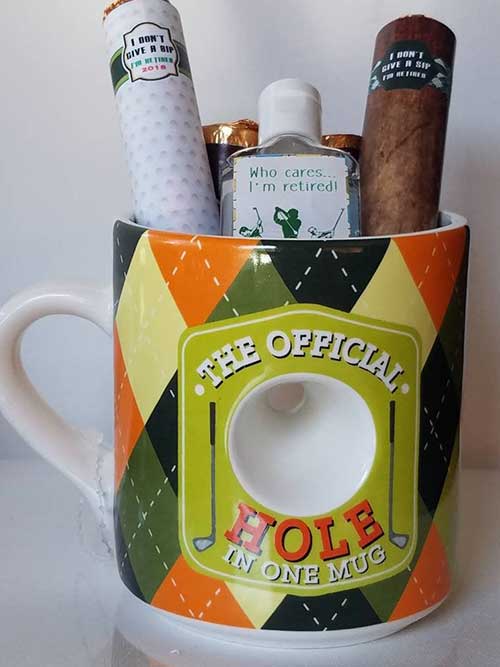 Buy or Read More on Etsy Here ($15.00 at the time of publication)
Come on, now. This might be the only hole-in-one he ever gets! Surprise your golfing senior with this awesome mug set. It starts with a 12-ounce ceramic coffee mug that has a hole in it, not a hole that coffee would drip out of, but a hole on the side that's part of the mug. The kit comes with fun stuff, like chocolate Rolo cigars and hand sanitizer inscribed with snarky sayings that will draw a chuckle or two. You have the choice of buying just the mug, but don't be a wuss, get the full set.
17. iRobot Roomba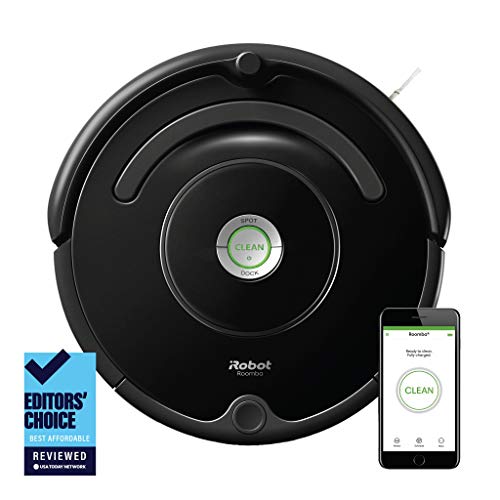 Buy or Read More on Amazon Here ($269.00 at the time of publication)
"Alexa, vacuum the den."
Don't laugh. It's happening now with the iRobot Roomba 675. Not only does the Roomba 675 play well with Alexa, but it also plays well with others, like your smartphone. You can use the Roomba app on your smartphone to schedule room cleanings or start them on demand. You can check battery strength, view reports on job completion and other important factors remotely.
And that's just the cool part of the Roomba. The real action, however, is in the way it works. Looking at it strictly as a vacuum cleaner, the Roomba is amazingly efficient. They call it a three-phase system, where it, one, loosens the dirt with a small but super-tough brush, two, tosses the dirt into the air with a larger brush right behind the first, and three, suctions it into the dirt chamber.
It even slows down and works extra hard on areas where the dirt detector has found more dirt than usual. Dirt and debris that gets swept to the edges and corners of a room are routed out of their hiding places and sucked into oblivion.
You've seen the TV ads showing the Roomba dodging around obstacles, and the latest technology has been employed to make the process even more accurate. When the battery needs charging, or when the job at hand has been completed, the Roomba runs "home" to charge its lithium battery for the next job.
iRobot, which, incidentally, has been in the robotic cleaning business for 25 years, warranties the Roomba from defects and performance that doesn't meet specified standards for one year from date of purchase.
18. Sofa Armrest Organizer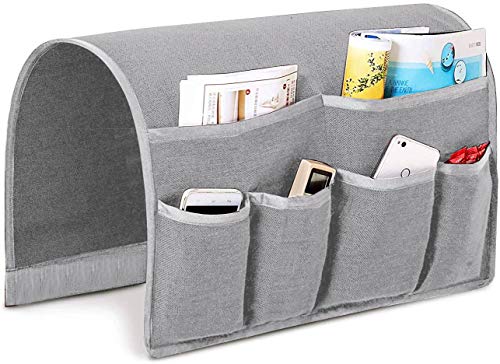 Buy or Read More on Amazon Here ($19.99 at the time of publication)
You might look at this as a decor disaster, but many seniors are more concerned about convenience than making a Southern Living magazine fashion statement. But the good news here is this armrest comes in 20 colors to coordinate with the sofa or armchair that it's draped over. It has six pockets of various sizes for holding remotes, cell phones, chargers (don't charge a phone while it's in a pocket), snacks, letters, and small magazines. It's designed not to roll over the end of the armest. There is a flap that slides under the sofa seat to help hold it in place. The fabric is high-quality and washable.
19. Hand Held Electric Can Opener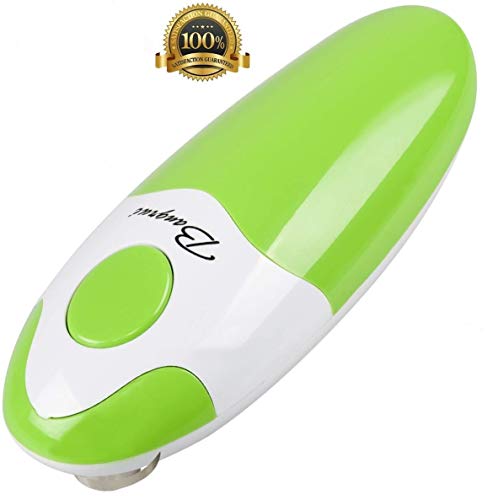 Buy or Read More on Amazon Here ($24.99 at the time of publication)
Does the person you're shopping for have a can opener that's taking up kitchen counter space (or do you?). This handy kitchen gadget could be a game-changer. It's not a throwback to the days of manual can openers and Ozziet and Harriet on the Philco television set. It's electric and it works like crazy, albeit in a way that's somewhat surprising. It works by releasing the pressure on the inside of the can, and when it's done, there is no jagged edge to the can lid. No can lid can escape the clutches of this ergonomic masterpiece – rimless, extra-large or weird-shaped. To use the can opener, you simply align the magnetic wheel to the edge of the can lid and push the button on top. The can opener does the rest. You can even let go of it altogether. (In fact, that's what the instructions say to do.) The can opener circles the top of the can and separates the lid from the can. It runs on four AA batteries and comes in three colors, so you don't have to worry about getting stuck with that ghastly green that's featured on the main product photo. It also comes in more palatable colors, like purple and red. The bottom line is that a lot of old people have trouble opening cans, so this is definitely a home run gift idea.
20. Hamilton Beach Indoor Grill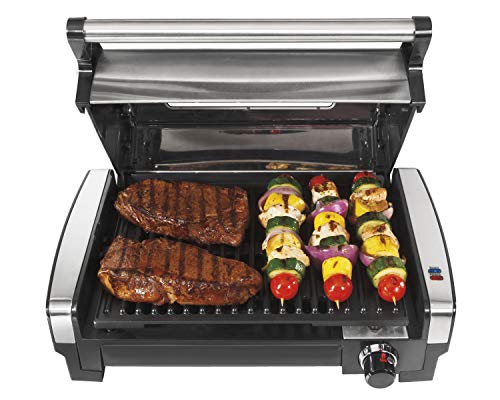 Buy or Read More on Amazon Here ($69.99 at the time of publication)
There is a snobbery about grilling, as if you're not doing it right unless you're grilling outside, dodging raindrops, fanning against searing heat, fiddling with charcoal briquets and turning on the gas. With the Hamilton Beach electric indoor searing grill, you can get the sealed-in goodness of grilled food without leaving the kitchen.
No matter the weather, the time of the year or your motivation to put on an apron and pack food out to the patio and pack it back in later, this grill will be your friend forever. With a window you can watch through, you can keep the lid down and the heat consistent throughout the cooking process.
The grill surface measures 118 square inches, enough to grill meat and veggies for a family of four at the same time. All the components are well made, and clean-up is a snap. It comes with a handy drip tray, which should serve as a reminder that grease that falls off of food into a drip tray is grease that doesn't get consumed.
So instead of having a cookout, you can have a cook-in. Let it rain!
21. Touch Bedside Lamp Speaker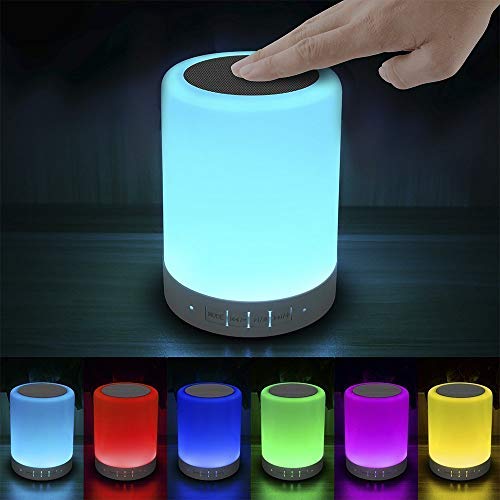 Buy or Read More on Amazon Here ($25.99 at the time of publication)
This is the prettiest solution you could ask for to the "It's 5:00 a.m. and I can't find my glasses" dilemma. There's no fumbling for an on/off switch or those plaguey cord switches – just touch the top and voila! Let there be light!
The touch switch does more than just turn the light on and off. It's a dimmer. Press the top and hold for increased brightness. The unit defaults to white light, but if you touch and hold on the light cover, it will go to color mode. Continue to hold, and the lamp will cycle through all six of its pleasant colors – sky blue, red, blue, lime green, grape and yellow.
This is also a nifty speaker for Bluetooth-equipped audio devices. "Whoa, wait," you might say, thinking that most seniors are technology-challenged. Well, don't think that way. Seniors have more on the ball than most people give them credit for. Even if the Bluetooth hookup does prove to be a challenge, there is an aux/in jack for direct wiring of an audio device.
Its greatest convenience may also be its greatest inconvenience. It's cordless – good. The battery has to be charged – not so good. A voice will tell you that the battery needs charging – well, OK.  The battery is charged via a USB/micro USB port, which can be connected to a phone or tablet charger or a computer for charging. The battery life is 10 hours, whether you're playing music or running just the light.
22. Wooden Coat Rack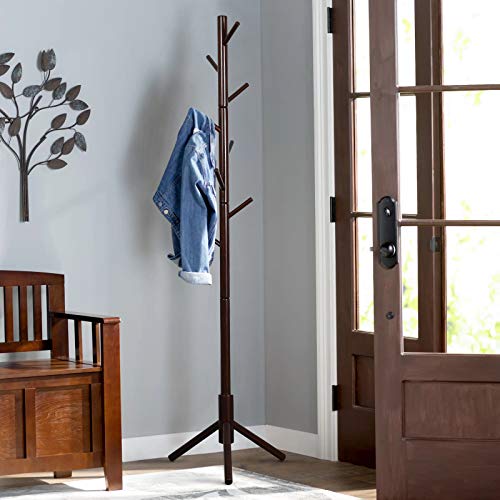 Buy or Read More on Amazon Here ($38.99 at the time of publication)
Every house has dozens of coat racks, kitchen chair backs, doorknobs, banisters, sofa armrests, stationary bicycle handles, etc. So, having an "official" coat rack sometimes feels like a luxury.
This combines a traditional wood look with a chic flash of modernism that will dress up your foyer and organize the malaise of coats and jackets that seem to reproduce overnight when the lights are off.  With eight hooks and a sturdy tripod base, it can handle an entire family's coats. There are also short hooks for purses and scarves and you can customize the spacing between the hooks as needed.
This is a "green" item – not in color, but in its environmental impact, employing environmentally-neutral lacquer to seal the natural wood. It's an easy build out of the box and no tools are needed.
23. Yeti Rambler 14-Ounce Mug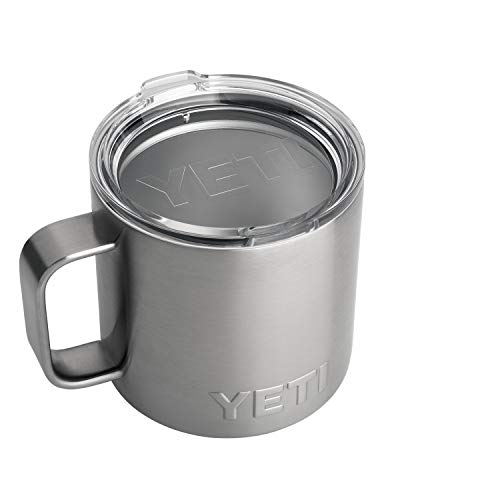 Buy or Read More on Amazon Here ($24.99 at the time of publication)
Yeti should use this as a marketing slogan, "You can't go wrong with a Yeti." That's because it's true. You can't go wrong with a Yeti.
You will find one of the great branding success stories of the modern era with Yeti. They have established themselves as a maker of useful, quality products and are sought by many retailers and their customers. Good luck trying to find a Yeti during the middle of the Christmas season.
So, you know what you're going to get with this mug is over-engineered insulation (their term, not mine). It truly keeps a beverage hot or cold for a long, long time. The 18/8 stainless steel shell adds durability and impact resistance to the double-walled insulation.
It comes in twelve colors, and unlike many of their competitors, the Yeti mugs are dishwasher-safe. This is a great gift that older women and men will definitely get a lot of use out of.
24. Wood Watch Holder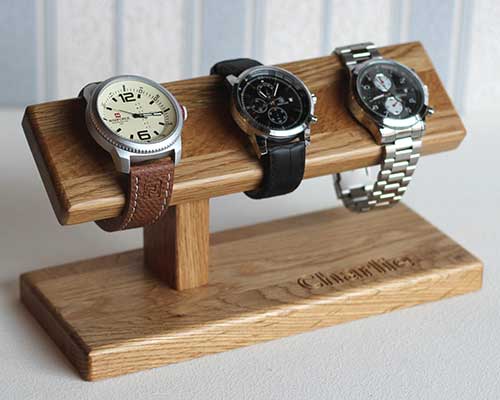 Buy or Read More on Etsy Here ($32.00 at the time of publication)
Just when you thought it was safe to leave the house without a watch on, comes the Apple Watch and Fit Bit, and now, wrist fashion is relevant again. So that's what makes this such a thoughtful gift. This handsome wooden watch stand can hold up to four watches on top of your dresser or counter. The base can be personalized with an engraved name or slogan, or you can order it plain. It comes in two sizes,  nine-inch and 12-inch, and two colors, ash, and oak. The wood is hand-rubbed with vegetable oil for permanent luster and protection.
25. Personalized Duffle Bag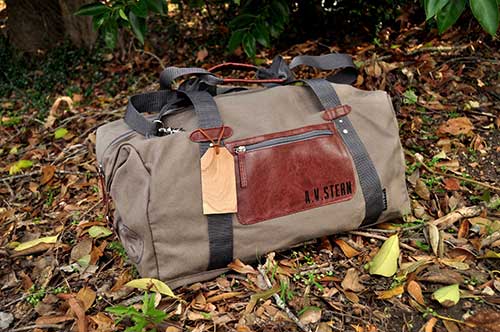 Buy or Read More on Etsy Here ($49.59 at the time of publication)
This is listed as a groomsman's gift, but it's nice for anybody. This very handsome duffle bag can be engraved in the corner of a leather side panel, making it easy to confirm when you're scrambling to get bags off the carousel at baggage claim (even though it would make a great carry-on bag as well).
You can choose from five different letter colors on the engraving, and you don't have to have any engraving if you don't want it.
It measures 11 x 20 x 9.5, and has high-thread count canvas construction, with a zippered pocket for easy retrieval of boarding passes and IDs (and maybe a bag of Cheetos). The shoulder strap is sturdy, with heavy-duty metal clasps that allow it to be totally removed if so desired.
As with virtually all personalized items, shipping isn't particularly speedy. They're saying to allow three to four weeks for delivery.
26. Steampunk Table Lamp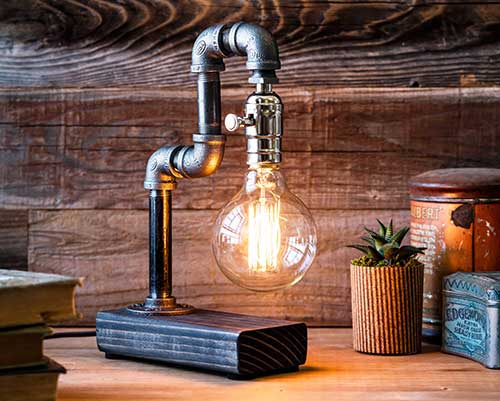 Buy or Read More on Etsy Here ($43.20 at the time of publication)
Seniors most likely are not aware that the industrial age and its iconic styling is now the theme behind a science fiction sensation called steampunk. So, grandpa can be old-fashioned and trendy at the same time.
This is definitely a different sort of table lamp, one that did not exist in the time that the rustic styling portrays. And even if such a table lamp did exist way back then, it certainly would not have come with the options that this one does. You can choose between silver and antique finish on the metal parts, and between rustic oak, red mahogany on the wood base. You can also select a dimmable model.
The large, 60-watt light bulb with the clear glass and the glowing filament is supposed to last 15,000 hours. Any light bulb, even LED versions, will work with this lamp, but to maintain this really awesome steampunk look, you need to find one that is as close to the original as possible.
27. Instant Pot 7-in-1 Cooker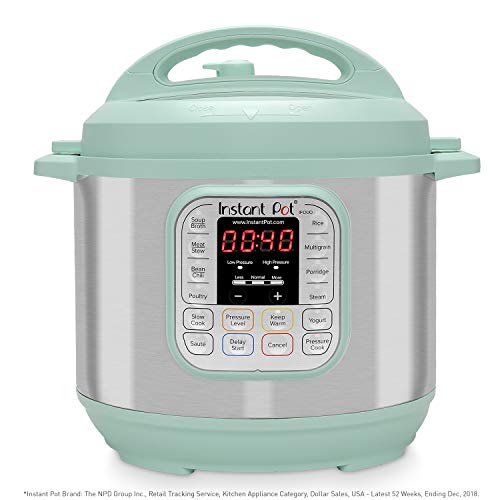 Buy or Read More on Amazon Here ($87.54 at the time of publication)
It's like a crockpot that went back and got a better education. The Instant Pot cooks like a pressure cooker because it is one, cooks like a rice steamer because it is one and cooks like a slow cooker because it is one.
That's three functions. They market it as a seven-in-one device. The other functions include sauteing, rice cooking, yogurt-making, and warming. It's making life easier for a lot of cooks, and users are singing its praises.
Constant monitoring and automatic temperature adjustment make consistent results a breeze, and the learning curve for users is a walk in the park.
As a pressure cooker, the Instant Pot cooks up to 70 percent faster, infusing moisture and retaining all the nutrients while it does. Different foods can be combined, with consistent results. As a slow cooker, foods simmer for hours without getting dried out.
It comes with 1000 recipes – not printed on paper that will get lost or stained, but as an app that connects to delicious ideas that have been prepared in an Instant Pot. If you need detailed step-by-step instructions, you have access to over 250 how-to videos.
Construction is 18/8* stainless steel on the inner pot, which is triple strength on the bottom. It comes in three colors – red, teal and white and ships with a sealing ring, steam rack, soup spoon, rice paddle, and lid holder. Everything but the main electrical component of the Instant Pot is dishwasher safe.
18/8 stainless steel refers to the percentage of chromium and nickel in the steel. 18/8 stainless steel has 18 percent chromium and eight percent nickel, resulting in a product that is resistant to corrosion and is not magnetic.
28. Sharper Image Electronic Clock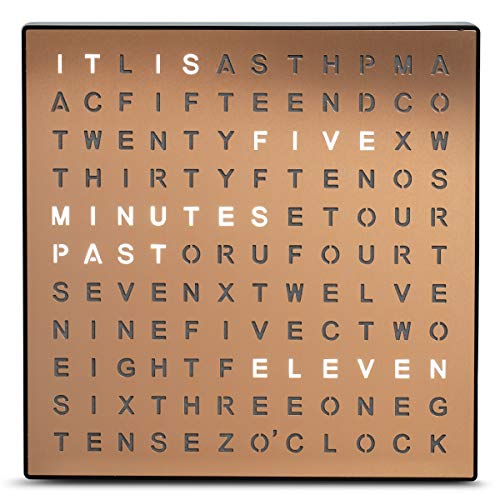 Buy or Read More on Amazon Here ($20.99 at the time of publication)
Boomers say that millennials don't know how to tell time on a traditional clock dial, with the big hand and the little hand. With this clock, all you have to do is know how to be cool.
Sharper Image continues to wow the gift world with sophisticated, brilliant products that inspire, and this is a prime time example. This uber-cool clock gives the time, not in numbers, not on a dial but with words. Every five minutes the clock will spell out the time in letters, lighting up phrases like "IT IS TEN MINUTES TO EIGHT."
Available in either copper or black (a recent addition), the clock is a stylish decor piece on its own, sitting on a shelf, desktop or countertop. It's not overwhelming, measuring approximately eight inches square. Lights behind letter cutouts provide the highlighting for the words.
With the copper version, you can see a grid of letters, but only the ones lit up are applicable at that moment. With the black version, you see only the illuminated letters. Review the product photos carefully before ordering. Each color theme has its own appeal.
The clock operates from a wall adapter power supply and USB cable (all included).
29. Pottery Dish With 3D Flowers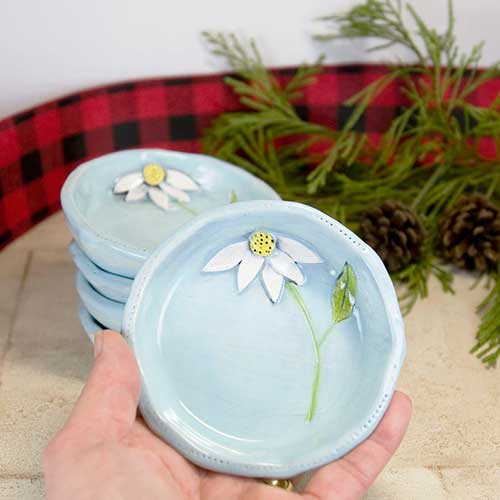 Buy or Read More on Etsy Here ($20.00 at the time of publication)
This delightful little pottery dish makes a great gift for a lot of different people and for a lot of different occasions. Potential uses are just as numerous. You can use it to hold jewelry, gardening doo-dads, spare change (if you remember what that is), soap, potpourri, tea bags, sweetener packets and whatever will fit.
It measures 3 ¾ inches in diameter, ¾ inches high and has a raised relief daisy inside the bowl. The manufacturer,  a quirky cottage industry business called Dances With Clay, says that the bowl is double-fired for hardness and preservation of the color and glaze. Don't like daisies? Want a sunflower or tulip or dahlia, darling? Just let them know when ordering. Shipping is three days and it's free.
30. Garden Wall Art – Metal Sun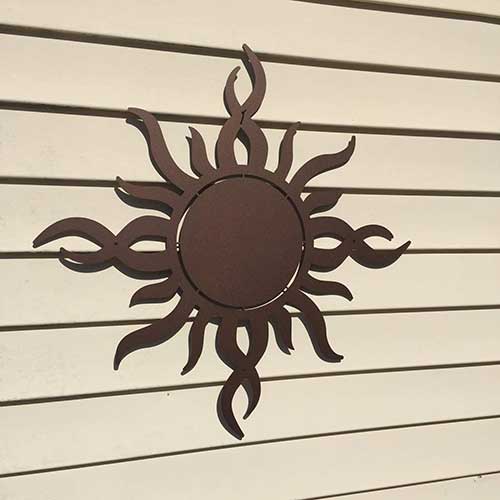 Buy or Read More on Etsy Here ($55.00 at the time of publication)
Add some class to your garden with this wall art. Maybe visitors will be so busy looking at this they won't notice the weeds invading your herb garden.
Pick from two sizes – 30-inch or 36-inch. As far as the color, well how about you tell them. They have over 100 colors in stock, with intriguing names like gator orange, Tuscan copper, espresso, passion pink, Tarheel blue, Mercedes blue, poppy yellow, et al. The color is applied as a powder coat.
The 14-gauge steel is triple-sanded for smoothness. It is pre-drilled with four mounting holes, but you can let them know if you want something different. Every order is a special order. They don't have a warehouse full of cookie-cutter products ready for a box and a shipping label. Because they have so many colors, they wait to paint the piece until an order comes in. The delivery time is also variable. They will confirm a target ship date when they process the order.
Powder coating is a process of painting metal where the metal receives an electrical charge and the paint – in powder form – receives the opposite charge. Therefore, as the paint leaves the spray gun, it attaches itself to the metal. The piece is then kiln-baked, which liquifies the paint and subsequently dries it. The result is a paint job that resists scuffing, scratching and eroding.
31. Tie Organizer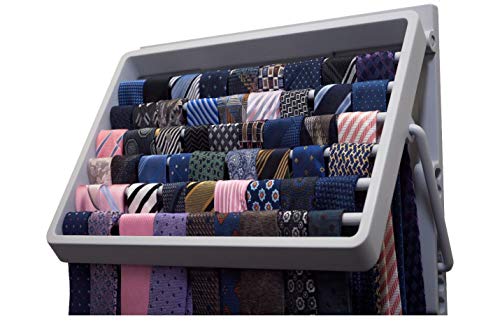 Buy or Read More on Amazon Here ($59.95 at the time of publication)
Neckties haven't gone anywhere, despite rumors of their demise and the expansion of casual Fridays to casual any days. Some guys of the older generation still wear ties frequently, to church, to the office, to community meetings, to the kitchen for lunch, etc.
Most of them have quite a collection of neckties and keeping the favorite one's upfront and in plain view is a challenge, or can be. While you can certainly get fancier, trendier tie organizers, even some with battery-powered motorized carousels, the TieMaster is all you need.
Do you have a lot of ties? This can organize up to 70 of your best ties. It's not exactly "set it and forget it," but it comes close. TieMaster allows the user to view each tie easily and comfortably, without having to roll through your whole collection. You can organize by color, shape, style, or pattern.  The unit not only holds ties, but belts and scarves as well. Installation is easy, even for the mechanically challenged. You can fit it on the wall behind the door or in a closet. The bottom line is that this is a great gift for older men.
32. Motorized Control for Window Blinds
Buy or Read More on Amazon Here ($159.00 at the time of publication)
Ordinary window blinds are so last-millennium. My Smart Blinds automates your blinds so that you can open and close them from your smartphone, or set a program to do it automatically, or let the smartphone tell you when it's time to open and close the blinds.
Via the magic of Bluetooth, an app on your phone can open, close or half-open (or is it half-close) or set to any increment in between. My Smart Blinds works with 2- to 2.5-inch horizontally oriented blinds. There are a number of no-goes, so carefully explore the order page before placing the order.
The kit comes with a motor that attaches to the open/close rod (included are adapters to fit most sizes), a battery pack, manual switch, cable clips, and a solar panel. The solar panel charges the lithium battery and supplies light level information for automated processes. With a My Smart Blinds bridge – sold separately – you can activate the unit with Alexa.
My Smart Blinds connects to your smartphone via Bluetooth and with the app, you can set the blinds to open automatically based on the temperature or on the brightness of the sunlight. For instance, if you had a west-facing window, the unit would open the blinds in the morning and close them in the afternoon, when the sun is baking the west side of your house.
My Smart Blinds are compatible with Samsung Galaxy S5, S6, S7, S8, S9; Galaxy Note 8; Google Pixel, Pixel XL, Pixel 2, Pixel 2 XL; Droid Turbo 2 and Moto 2. You can also set the blinds to open at certain times of the day, regardless of the weather. Or you can leave it on manual, where you open and close the blinds when you want.
While for the most part, the solar cell will keep the battery sufficiently charged, there may be times when there isn't enough sunlight, especially on a north-facing window or one that is shaded by trees or buildings. If that gets to be a problem, you can buy a charger and cord for the unit.
33. Build Your Own Guitar – Telecaster Style Electric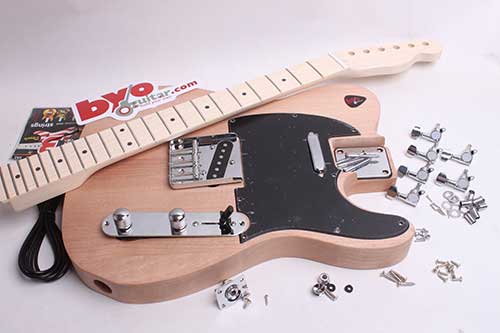 Buy or Read More on Etsy Here ($130.00 at the time of publication)
Grandpa may have played in a garage band back in the 60s and it hasn't been far from his mind ever since. But maturity, family matters, full-time employment and the expectations that go with all of that have robbed him of his joy of playing guitar. He may even still have an old acoustic that he strums on the front porch from time to time, but that's as far as it goes. Help gramps reconnect with his past with this build-your-own kit. He can build a replica – keyword replica, as in not an actual Fender product – Fender Telecaster, single-pickup guitar. It's not exactly a build from scratch project. Some of the more complicated parts are pre-assembled, and the cutouts are pre-routed.
The body is made of unfinished mahogany and the neck is maple. All of the frets are installed and "dressed" (ends tapered off). The hardware is heavy nickel plated for fit and function, and all screw holes, slots, and notches are precision cut or drilled. An adjustable truss rod – which will be of vital importance as the guitar ages – is part of the kit as well. The kit includes a set of strings, internal wires, and a 0.25-inch guitar cord. (Super loud, neighbor-disturbing amp not included). The single pickup is pre-mounted into the tailpiece. This is the heart and soul of an electric guitar, and it can be raised or lowered to provide a different tone and balance between the fat strings and thin strings.
34. Fitbit Versa Smart Watch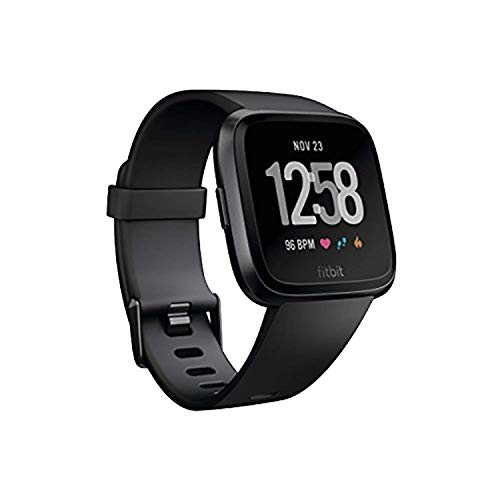 Buy or Read More on Amazon Here ($148.75 at the time of publication)
Speaking of Fitbit, it makes a great gift as well. Typically, seniors don't like being reminded that they need to get out and shake things up a bit, but a Fitbit is very polite about it. In case you're not familiar with a Fitbit, it's a wristwatch that lets you track your activity, heart rate, sleep, and other functions. It has on-screen workouts that play on your wrist and coach you through every move, track swim laps and floors climbed and all that stuff you should be doing to stay fit.
There are 15+ exercise modes, like running and swimming, and you can use the Fitbit to record workouts and connect to smartphone GPS for more precise real-time pace and distance. This particular model includes all Versa Lite Edition features plus store and play up to 300 songs, access your favorite apps for sports, weather and more and if you're close enough to your phone, you can get ringtone alerts for phone calls, calendar notifications, and text messages.
You can even text brief replies, but only with an Android phone. The battery will give you around four days of use, and it recharges in just two hours. This watch is slim and comfortable, thanks to its lightweight aluminum watch body. It's water-resistant to depths around 150 feet, but the manufacturer does not recommend wearing it in a hot tub or sauna.
The Fit Bit uses Bluetooth 4.0, which is compatible with iPhone, Android & Windows phones. Not all features work the same way with all brands of phones and some features may not work at all with some brands. It comes in four colors: black, woven charcoal, gray (some call it silver) or ruby.
35. Light and Fan Pull Chain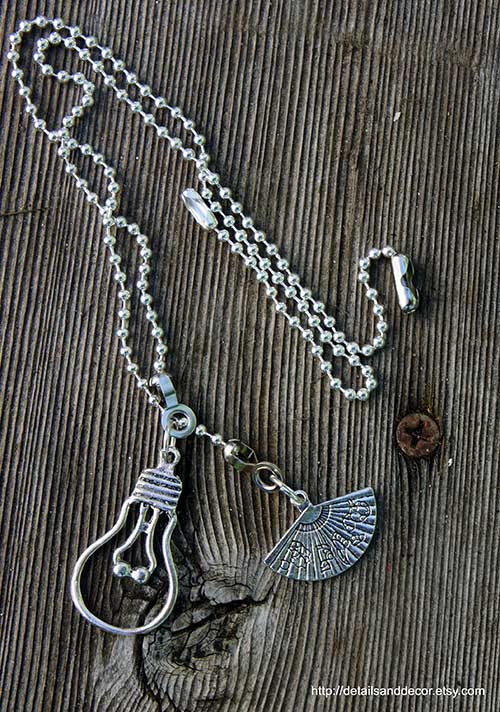 Buy or Read More on Etsy Here ($29.30 at the time of publication)
Your ceiling fan will work just fine with a different pull chain, but it won't be as cool. This fun piece of decor is very lightweight and attractive in antique shade of silver. On a practical basis, this would also make a nice and practical gift for anyone with vision issues so they can instantly tell which pull is which. But you don't have to have vision problems to have trouble distinguishing between light chain and pull chain, so consider this a good feature for anyone. The charms are one inch by a half-inch, and the chains are 10 inches and the other 8 inches. If you want them the same length, just leave a note at checkout.
36. Reclaimed Wood Bench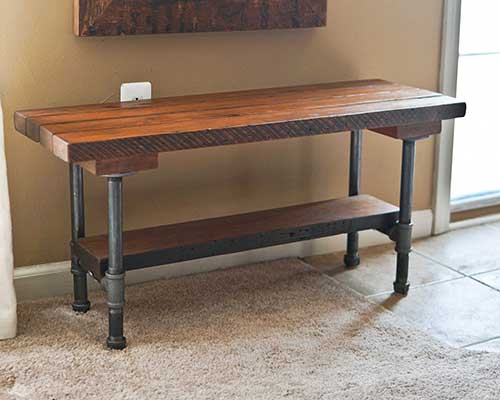 Buy or Read More on Etsy Here ($54.00 at the time of publication)
Used wood alert! But that's OK. The seller prefers to refer to it as reclaimed wood, and it's beautiful.
This is called the "Sit By Me" bench, and it comes in a wide range of sizes and finishes, from 59 inches wide all the way up to 108 inches. Depth and height are consistent at 12 inches by 17 inches respectively Finishes, while they may differ from photos due to the type of wood, come in raw, natural oil and wax, clear, blackened chestnut, vintage cigar, weathered and dark espresso.
Support comes from old fashioned steel pipes and right-angle fittings and even there, you have a choice of ½-inch to ¾-inch, although ½-inch is standard and accounts for most of their sales.
This reclaimed wood is exactly what it says it is. It used to be part of something else, a house, a barn, fencing, shelving, perhaps a theater stage, old store, school, business, there's no telling where some of this wood might have been used.
It's not consistent. Beams can vary in thickness from one to three inches, but it is supremely intriguing. The wood varieties include Douglas fir, pine, yellow pine, hickory, cherry, maple, oak or walnut. Some pieces may have some warpage and rough places, but that's the beauty of this kind of woodworking.
You can have a name or personalized message engraved in the wood, up to 180 characters in length.
This is not a spur of the moment purchase unless you want your giftee to receive a late gift. But it's worth the six to eight week wait for delivery.
37. Amish Cedar Porch Swing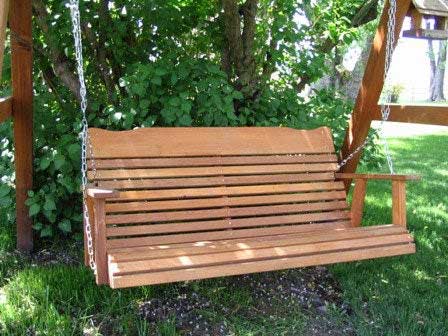 Buy or Read More on Etsy Here ($229.95 at the time of publication)
Of course! A porch swing! Why didn't you think of that?
But this is no ordinary porch swing. It's made of western red cedar wood, one of the most durable types of wood known to man. Not only that, but the pieces are cut, sanded, stained and the holes pre-drilled by Amish craftsmen.
The optional stain is silicone-based translucent stain that seals the wood and provides UV protection. You can also order unfinished and apply your own stain or paint (or leave unfinished). All hardware is included.
The dimensions are 51 inches wide by 23 inches high and 27 inches deep. It comes largely pre-assembled, and the final assembly is very easy. You can install this on a porch, or you can order an A-frame and put it wherever you like.
Shipping is free and delivery time depends on the volume the shipper is handling at that particular time. You are encouraged to contact the buyer to enquire about delivery time.
38. Japanese Puzzle Box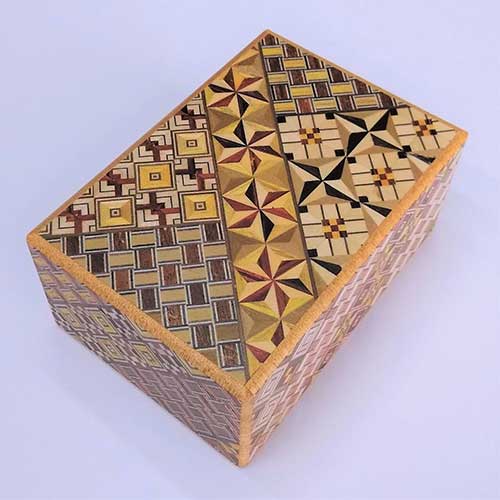 Buy or Read More on Etsy Here ($59.98 at the time of publication)
The puzzle is not inside the box. The puzzle is the box.
You can put things in the box, but they should be things you can afford to do without because there is no guarantee that this box will ever be opened more than a time or two.
This bestselling item represents the finest in Japanese artisanship and ingenuity. It's a trick box that opens only after a 14-step sequence has been mastered. The steps have to be performed in order and with the proper technique, or you'll fall back to square one. In a way, it's like a Rubik's cube with natural wood panels and tabs rather than colored cubes.
Measuring 3.2 inches wide, 4.5 inches long and 2.1 inches tall, it's a good fit for a hand as it turns and pulls at the various sliding panels in an attempt to open it. Intricate artistic outer panels make this a lovely decor piece, even without the puzzle aspect.
39. 3D Wood Car Puzzle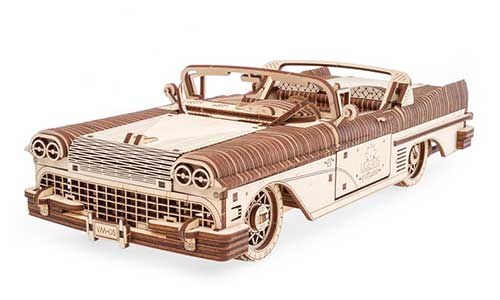 Buy or Read More on Etsy Here ($76.90 at the time of publication)
With precision laser-cut pieces, this kit will delight the giftee as well as challenge him. It's a Dream Cabriolet VM-05. If you've never heard of it, it's because it never existed. But at the same time, it existed in the spirit of 1950s car designs, with bold tail fins, big tires, sultry curves and lots of extras.
This puzzle has 739 pieces, so it's not a one-Sunday project. Plus, it has moving parts. You can open the doors, raise the hood, fold the seats forward and open the trunk.
No tools are required and nothing is glued, so you can disassemble the car and rebuild it again any time you'd like.
40. Personalized Wine Rack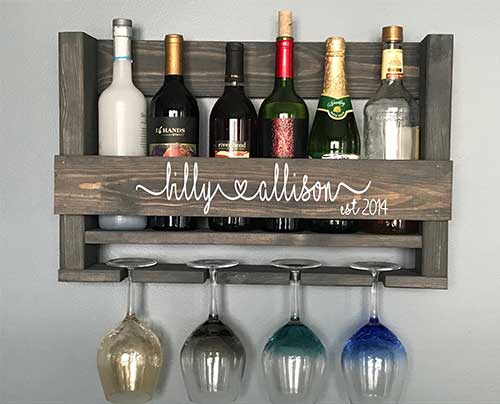 Buy or Read More on Etsy Here ($49.75 at the time of publication)
This is suggested primarily as a wedding or anniversary gift, but it makes a fine gift for senior wine connoisseurs. The concept is simple. It's a rustic, wooden wine rack with engraving on it, but it's classy, depending, of course, on what you have engraved on it.
The shipper offers a wide range of finishes, from no finish at all to painted white, with colors like golden oak, black cherry, weathered gray, cognac and others in between. There are 19 colors in all. You can also contact the shipper for color swatches and information on some new styles, like painted distressed wood.
You can also choose from six different font styles, including block, headline, cursive and whimsical, in either black or white.
The wine rack is 23 inches wide and 14 inches tall, large enough for six average wine bottles. Mounting holes are pre-drilled for easy hanging.
41. Paint By Number Kit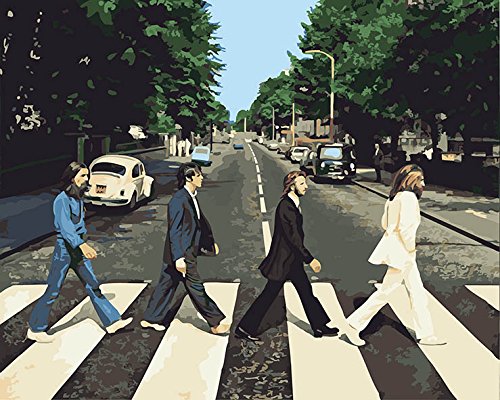 Buy or Read More on Amazon Here ($24.99 at the time of publication)
Paint by number kits don't have to be a desert sunset or a fishing village. Somewhere, in some marketing meeting, someone stood up and said, "Hey I know! What if we created a paint by number kit showing the Beatles' Abbey Road cover?!"
We should thank this person.
Now, you may think that seniors would rather have a paint by number kit showing a desert sunset or fishing village, but you must remember: these folks are boomers. They grew up with The Beatles, Elvis and yes, even Jimi Hendrix. This could be a much-appreciated gift!
The 16×20 linen canvas comes in two options: with frame or without. All of the paints are pre-mixed, meaning you won't be asked to blend two or more colors in an attempt to match the color that the directions show. Three different, high-quality brushes are included and instructions that are easy to follow.
42. Personalized Poncho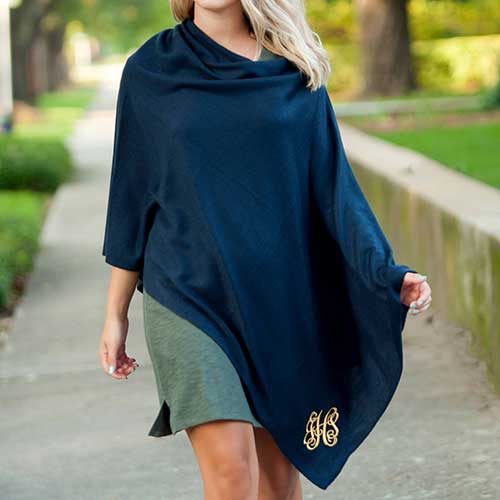 Buy or Read More on Etsy Here ($30.25 at the time of publication)
When it's too warm for a jacket, but too chilly to go totally without one, a poncho-like this will come as a blessed comfort. It's made from 100 percent soft acrylic pashmina material, and one size fits all. The neck opening is a generous 14.5 inches, and the poncho is 35 inches long 24.5 inches wide.
This is a rich navy blue, with gold lettering stitched into a monogram. When providing the initials to be stitched, write them in the order you want them to appear. Female monograms are typically first name initial, surname initial, then middle initial. Male monograms are typically displayed in first, middle and last name order.
There are other options available. Contact the shipper for more information. Shipping is pretty fast at five to seven business days.
43. X Leg Coffee Table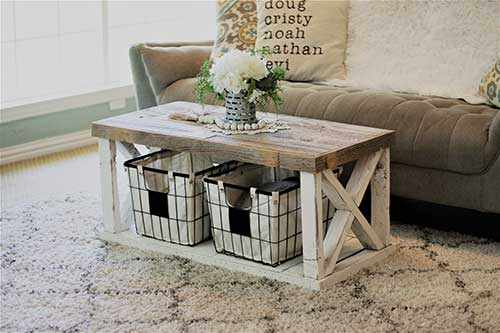 Buy or Read More on Etsy Here ($231.20 at the time of publication)
For farm-themed home interiors, this is a rustic, yet lovely piece of furniture. Made from naturally weathered reclaimed wood, this coffee table exhibits the best in minimalism and functionality.
It rises 18 inches from the floor and is 40 inches across and 22 inches wide. The unique feature of this coffee table is the wood bottom, which creates an under-table storage area for magazines, what-not boxes and the like.
The seller hand-builds these tables from reclaimed wood, so no matter if your nosy neighbor orders the same table from the same place, yours will still be unique. Expect some inconsistencies and imperfections in the wood, as that is the appeal of this piece.
Shipping is free and takes two weeks or less for delivery.
44. Wooden Yarn Bowl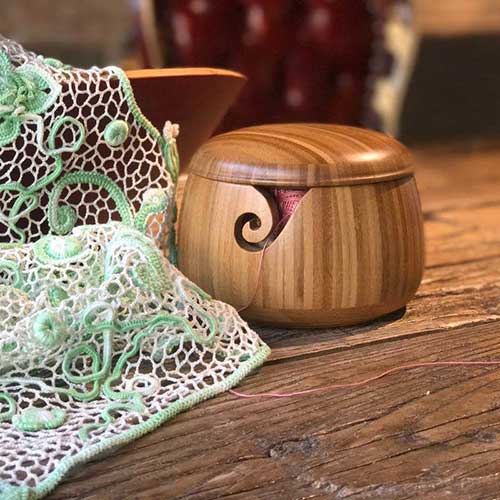 Buy or Read More on Etsy Here ($33.00 at the time of publication)
If the giftee is a knitter or crocheter, she or he (My grandfather used to knit in the retirement home.) should appreciate this gorgeous, all wood yarn bowl. You can order in natural wood or bamboo. As you might expect, the bamboo bowl is lighter in color, while the natural wood shows the more dark grain.
It holds small skeins with the lid on, larger ones with the lid off. It keeps the yarn clean and in place while you knit, threading the yarn through a pleasant cutout that resembles the bottom of a treble clef.
The bamboo bowl is a bit smaller than the natural wood bowl. The bamboo bowl is 5.5 inches in diameter and 3.5 inches tall, while the natural wood bowl is 6.3 inches in diameter and 3.4 inches tall.
It ships from China, but delivery is a rapid one to three business days.
45. Vintage Keepsake Box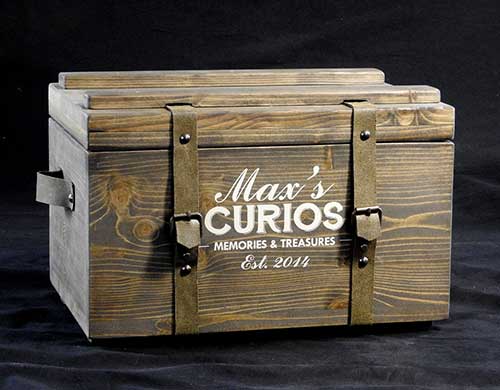 Buy or Read More on Etsy Here ($80.05 at the time of publication)
It's a wood box, and while there's something that could be said for not giving a senior a wood box, this one is OK to give.
This box measures 13.5 inches long, 10 inches wide and nine inches high and the number of uses for it is limited only by your imagination. You can use it for keepsakes, photos, special tools, sewing notions, cigars, booze, etc. The coolest part of this wood box is that you can personalize it with a name or text, such as "Kentucky Bourbon – property of KT Derby" or "Martha's Memories & Treasures" or perhaps "The Penultimate Photo Collection – property of Rusty Chaines." Whatever you can say in 256 characters or less, they can do it.
The box is hand-built from pine boards and fitted with leather straps for handles, plus a metal closure. These ship from Great Britain and arrive in two to three weeks.
46. Sherwood Fern Statuary With Bird Feeder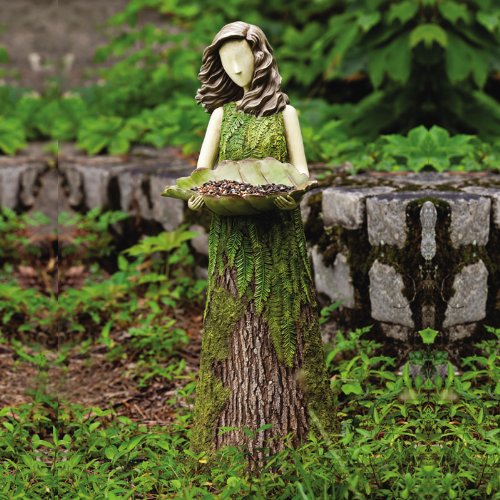 Buy or Read More on Amazon Here ($89.99 at the time of publication)
Tall and slender at 30 inches high, this statue/bird feeder accents any garden or floral border. If Robin Hood or any of his merry men had seen this lovely lady, they would surely be smitten by her graceful beauty.
47. Grasslands Elephant Statue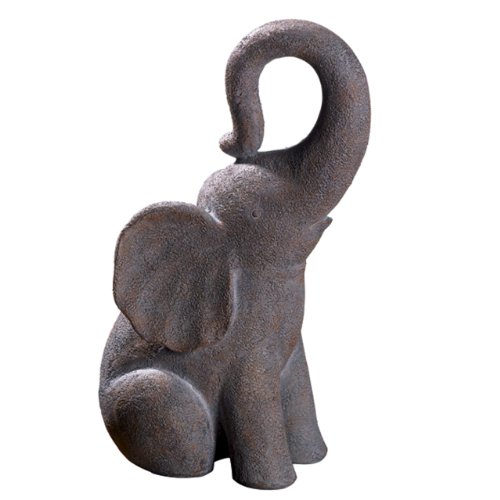 Buy or Read More on Amazon Here ($19.95 at the time of publication)
A cute and adorable elephant with natural coloring, this can be a highlight of a lush, dense area of your yard, perhaps with Hibiscus and climbing ground cover. An elephant's trunk in an upward position is an omen of good luck, says ancient legend.
48. Garden Plinth Base Riser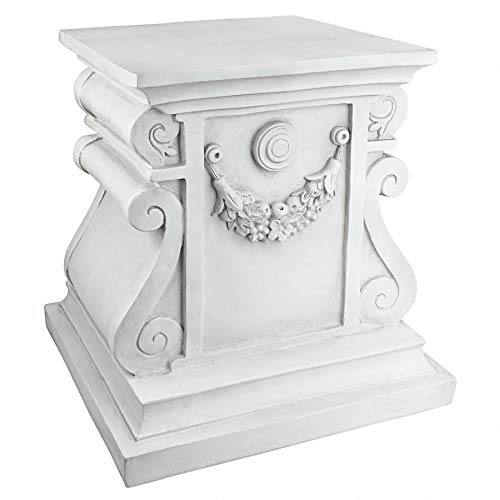 Buy or Read More on Amazon Here ($73.41 at the time of publication)
"So that's what a plinth is," you say, having previously seen the word only in Words With Friends or Scrabble. Yes, a plinth is a stone base for a statue, urn or flower pot. Or, it can stand alone as a classic Roman column. This rests on a base of nearly square 15-inch sides and rises 15 inches high with a 12×12 top.
It looks heavy, but it weighs only 18 pounds. It's finished in a light, UV resistant coating.
49. St. Francis Statue With Bird Feeder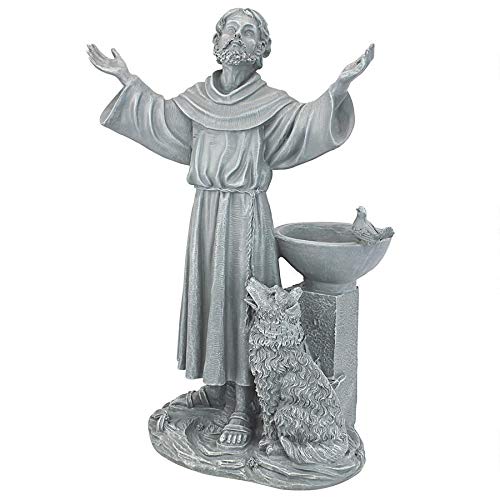 Buy or Read More on Amazon Here ($42.99 at the time of publication)
Let St. Francis bless your garden or back yard! With hands raised in gratitude to God, and aided by attending animals, which include a dog and lovely dove, St. Francis brings about a peaceful sense of sacredness to an otherwise drab landscape.
It's not a huge statue. It's just 19 inches high, so it's more of an accent piece rather than a focal point. The birdbath can be filled with birdseed and used as a bird feeder.
50. Garden Girl Statue With LED Lights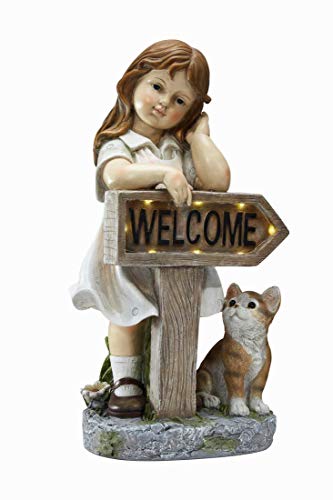 Buy or Read More on Amazon Here ($52.99 at the time of publication)
Whimsical and colorful, this statue stands out, day or night. Solar-powered LED lights form a perimeter around a sign that says "Welcome."
This adorable, auburn-haired girl stands over 17 inches tall, including the base. At her feet is an equally adorable orange and white kitten. It is made from premium polyresin and finished with a weather resistant coating.
51. Samsonite Omni PC Carry-On Case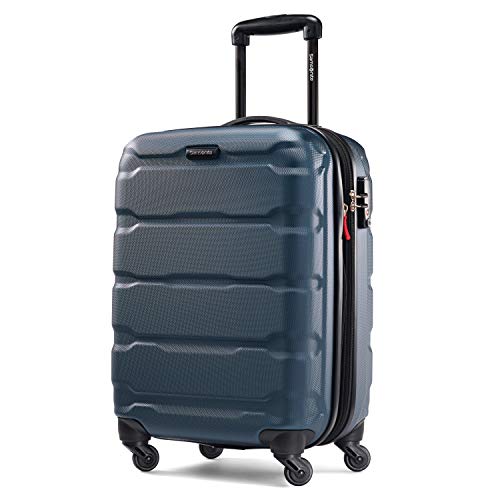 Buy or Read More on Amazon Here ($102.00 at the time of publication)
Nobody likes checked baggage at airports. The passengers don't like it, because they get charged for it – at least for the second bag. Airlines don't like it, because the more checked baggage they have to load, the more likely that flight will be delayed (which is part of the reason many of them charge for checked bags).
The result of this is more passengers are opting for carry-on luggage. Not only do they save the fees for checked bags, but they can also bypass the baggage claim area when they land. But that puts pressure on the travelers to pack light, carry only what they will actually need and keep up with the amount of weight they're packing into their duffle bags and cases.
To the rescue comes the Samsonite Omni. It acts, rolls and protects like a big suitcase, but it's small enough to stow in the overhead compartments on nearly any plane. On its wheels, it stands 20 inches tall (the max for carry-on is 22 inches), 14 inches wide (max 14) and nine inches deep (max 9).
The polycarbonate exterior is practically indestructible, but since you will be in control of the luggage and not some brute of a baggage handler, imagine how long this suitcase will last, and how long it will look brand new. It weighs just under seven pounds, leaving plenty of room on the scale for your things,
As with nearly all pieces of serious luggage, the Omni PC comes with wheels, but Samsonite goes a step further with spinner wheels. Spinner wheels are like shopping cart wheels, turning in any direction with a simple nudge. And, unlike shopping cart wheels, they all work.
A retractable/telescoping handle has a wide grip for a more comfortable feel and more control for racing through airport terminals before the gate closes on Flight 204 to Albuquerque. The handle arms are tough enough to have an elevator door closed on them and keep on working.
A side-mounted TSA-compatible lock lets the good guys in (TSA agents, using a special key) and keeps the bad guys out. You open it with a combination that only you know.
The Omni PC comes in 11 different colors ranging from black to radiant pink, so when the overhead baggage compartment door opens, you can spot your bag right away, unless your neighbor has the same bag in the same color.
If you asked a man or woman on the street to name a brand of luggage, Samsonite would likely be the first thing they say. Samsonite promotes itself as the gold standard for luggage worldwide, and their products find their way to the top a lot of "best-of" lists. They've been in the luggage business for over 100 years.
52. Canon EOS Rebel T7i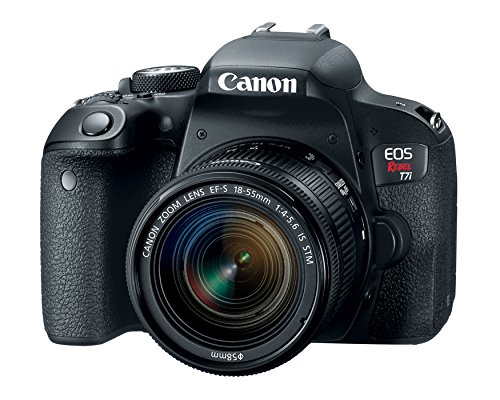 Buy or Read More on Amazon Here ($799.00 at the time of publication)
If you pay much attention to TV ads, they would have you believe that a cell phone camera can achieve the same quality as the expensive cameras and lenses used by professionals. They do take amazing pictures, and the editing software you can get with them is astounding, but you're still working with an image taken with a tiny lens, recorded with a tiny processor that has a host of other tasks to keep up with.
Don't kid yourself. It's not as good. To get the kind of quality that ends up in a large frame in the living room, you need a DSLR – digital single-lens reflex.
While brand name loyalists argue over which brand of DSLR to get, no one can seriously deny that Canon is the elephant in the room that can't be ignored.
Canon's latest photographic master tool, the EOS Rebel T71 has evolved from entry-level to pro-sumer level, and is the choice of many photography hobbyists. This particular setup includes the camera body with an 18-55 mm zoom lens.
The EOS Rebel can connect to Wi-Fi for instant uploading of images to social media or online servers. Formerly, you had to take out the memory card, tuck it into a card reader and transfer images onto a computer for further editing or transfer online. Now the process is direct.
You can let the camera take all the light readings and make all the adjustments for you, or you can take charge of yourself to achieve the look you want. Your only limit is your knowledge of the photographic process, which can be learned every time you use the camera. A new autofocus system uses 45 points of reference to zero in on the subject and achieves focus perfection.
The Rebel T71 generates 24.2-megapixel images. This captures all the colors in their glorious variations. The Rebel T71 can shoot in "raw" format, which delivers an image that is exactly what the camera saw. Advanced users can then pore over the details in a photo editing suite – like Adobe Photoshop – and be as creative as he or she wants.
The Rebel T71 can shoot HD video (1080 pixels) with amazing clarity. It can record sound too, but it lags in quality compared to the video.
Related Posts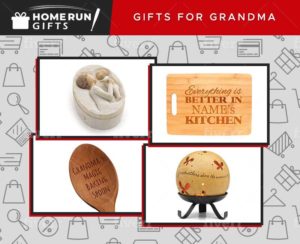 Gifts for Grandma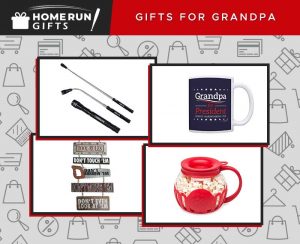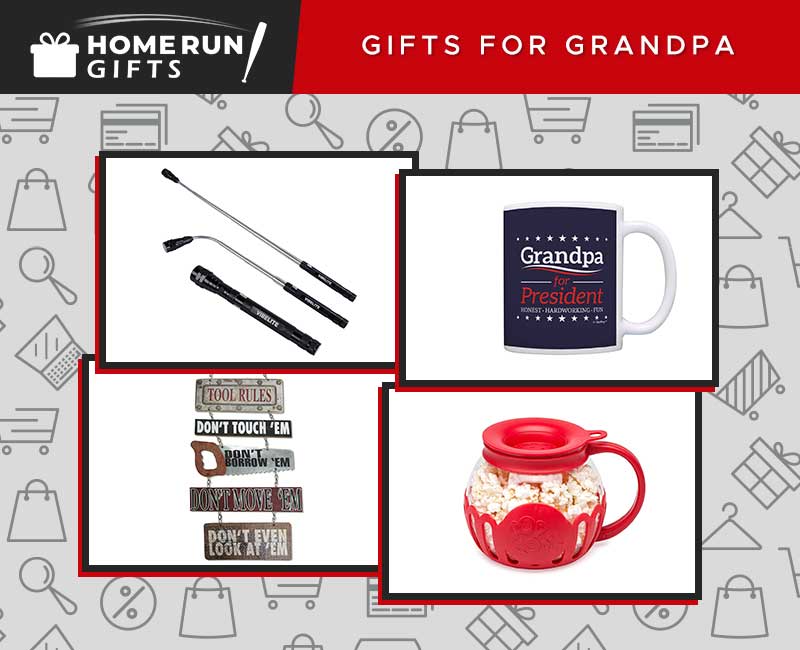 Gifts for Grandpa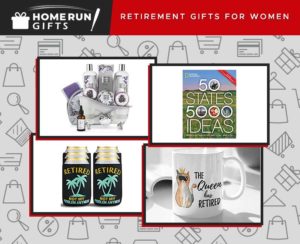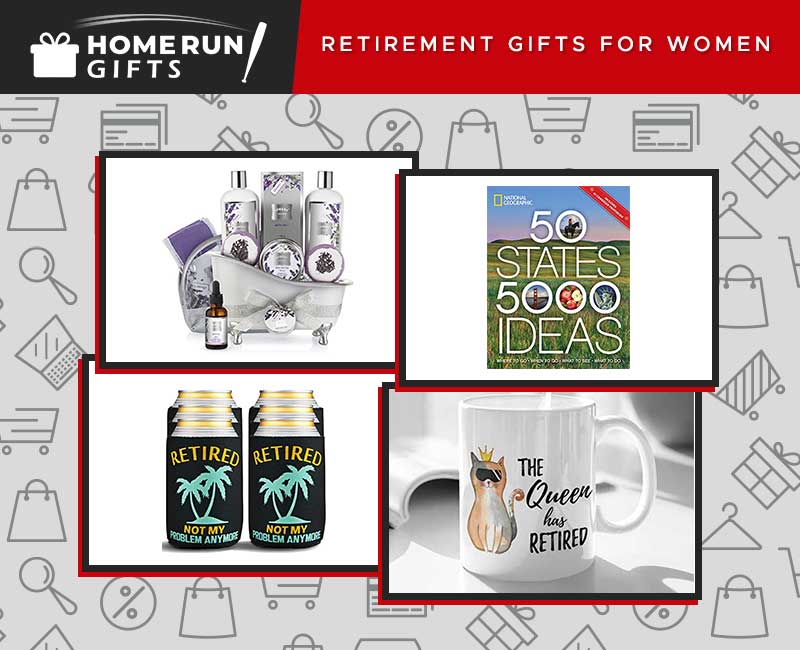 Retirement Gifts for Women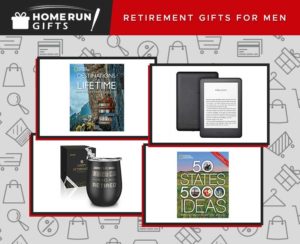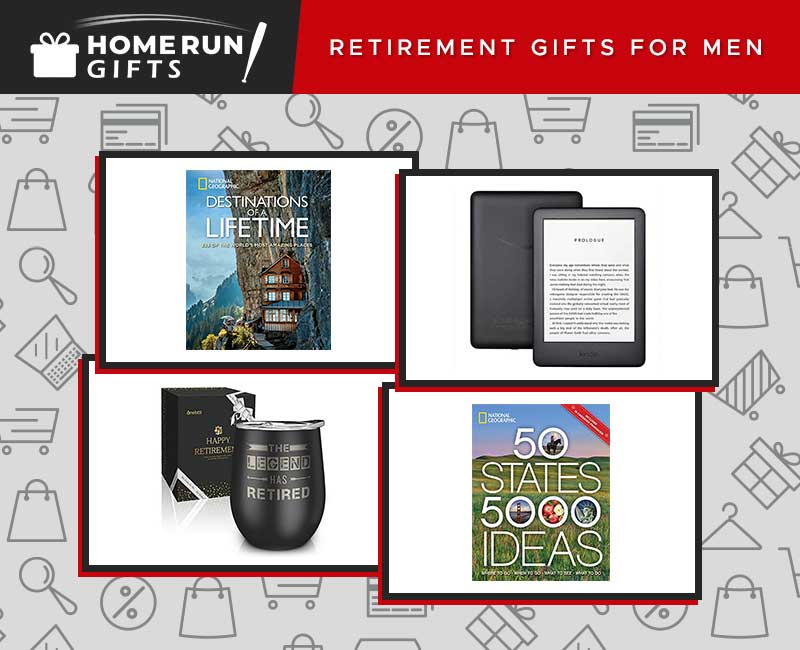 Retirement Gifts for Men
Still Sumped? Here Are Some Additional Tips
The best thing any potential gift-giver can do when shopping for a senior citizen is to avoid assumptions and cliches. Seniors are not who you think they are, at least when it comes to the things they like to have and buy.
Technology
From store clerks who think they need to lecture seniors on how to swipe their debit cards to grandkids who think grandpa can't understand any technology beyond a dial phone, many people assume seniors are technophobes. Nothing could be further from the truth. A whopping 82% of adults between 65-69 use the internet daily.
Seniors know how to order online, use Facebook (and nearly all of its sidebar apps), use search engines, consult with their doctors online, bank online and are not baffled by things like cloud storage, Wi-Fi and Bluetooth. In fact, many surpass the understanding of younger people because they had to learn, rather than step into a technological world that was already set up for them.
So, when you're considering a tech gadget and think it might be too much for Gramps or Grams to handle, you might want to think again. If they do struggle at first, they generally stay with it until they understand it, and become experts at it.
Family
OK, here's a cliche that turns out to be true, seniors are family-oriented. Personalized gifts, mean just for them, just from you, are always good choices. Seniors love to brag about their grandchildren and great-grandchildren, and anything that reminds them of the littles in their lives is going to be well-received.
Faith
Despite trends that indicate that the global society is less reliant on religion and spiritual influences, sales of faith-based merchandise continue to run strong. It is particularly strong with seniors.
Bible verses on plaques, photos, housewares, and decor items are apt to be welcomed more by seniors than any other age group. And it doesn't have to necessarily be from the Bible or the holy book of any religion. Common, yet inspirational slogans of goodwill, joy, and common sense can bring delight.
On the other end of the spectrum, a growing acceptance of off-color humor, spitefulness, and profanity that would have gotten most seniors' mouths washed out with soap in their youth is showing up on products. While they might be good for a quick laugh, any item adorned with these slogans is probably doomed to a short life out in the open, and will soon be demoted to a storage box or the trash bin.
Medical/Medical Aids
It's a slippery slope, buying for a senior who has a medical need (especially those who don't think they need whatever). You don't want to offend them – buying a case of Depends is probably not a good move – but you also don't want to see them struggle with a medical issue when there are products out there that could help.
Check with those who are closest to the senior you want to buy a gift for and discuss the options with him or her. Read user reviews for practical information that will help you with your decision.