So, you want to get a gift for a woman in her 20s, but you haven't got a clue where to start. I get you – even though they're right next to each other, the 20s are a whole different ball game to the teens. It's an exciting time of life: she could be doing anything from starting a new year at college to going off traveling to getting married.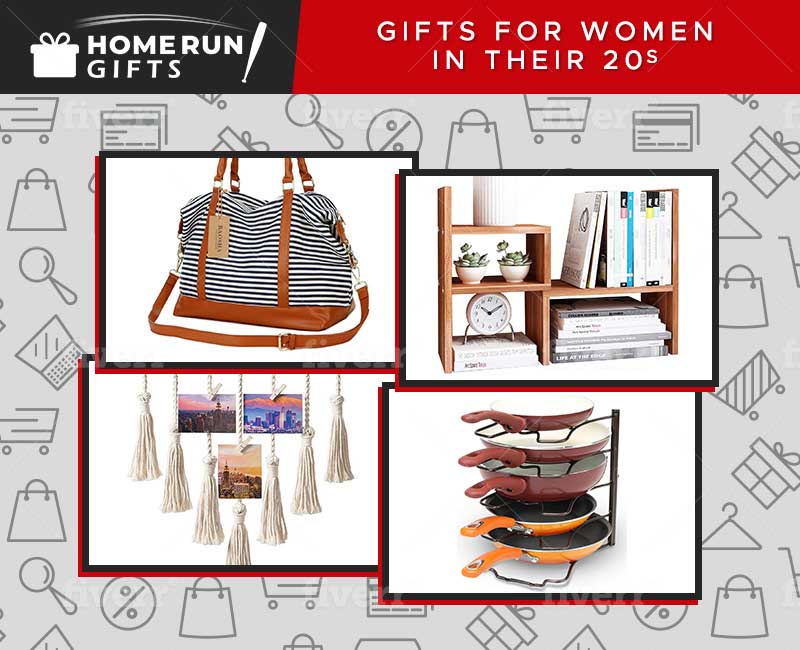 The 20s decade might mark a few huge milestones in her life! The woman you're treating to a gift might not have a clue about how life actually works yet, but soon she might have to! The 20s are a decade of true independence, where she gets to start shaping her own life for real. She might leave school and start work; she might leave home and get her own place; she might start making a name for herself in her career; she might make commitments to relationships that she knows are going to go the distance. Still, though, there's a huge change between 21 and 29! The good news is I've got gift ideas to cover all the stages of the 20s, from still-basically-a-teen to a full-on-adult-decision-maker. Whether the 20-something woman you've got in mind is part of your family, a friend, a girlfriend, or an in-law, here are some great inspirations for gifts that are both stylish and practical.
List of Gifts for Women in Their 20s
1. Mason Jar Bathroom Accessories Set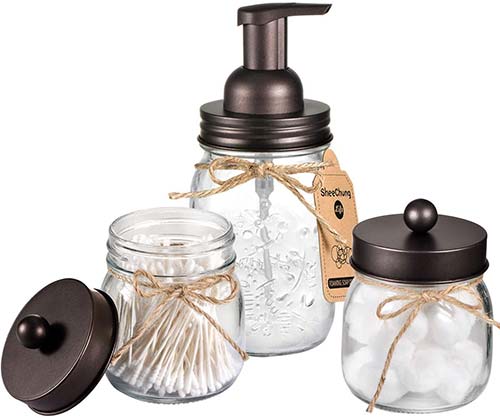 Buy or Read More on Amazon Here ($16.99 at the time of publication)
This chic set of mason jar accessories is a high-style storage option for any bathroom. Gift her the full set, and she'll be able to arrange it how and where she likes! The hand soap dispenser pump creates lovely, foamy soap. It'll feel like an at-home luxury for her, plus foaming her soap up will mean it lasts longer! She can fill up the matching jars with Q-tips, hair bobbles, cotton balls, or anything else she needs on the day-to-day. This versatile set is environmentally friendly too, as she won't have to buy new plastic bottles or containers every time she runs out of soap, Q-tips, or anything else. She can simply buy in bulk and re-fill these stylish sink-top or shelf-top jars. Perfect for the money-savvy, eco-friendly 20-something! The set comes in black, bronze, or brushed nickel, so you can choose the color that will work best with her current (or new!) bathroom.
2. Homemade Macrame Photo Decoration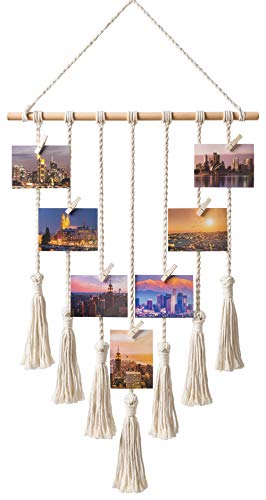 Buy or Read More on Amazon Here ($12.99 at the time of publication)
Now she's reached her 20s; she's sure got some memories to look back on. Whether they're photos from college, from family occasions, or snaps from her nights out with friends, they all mean a lot to her. She might be moving away to start a new chapter of her life, in which case it's even more important that she gets to keep all those great memories in mind. Every time she catches sight of this simple, rustic macramé wall decoration, it'll add a little smile to her day. Simple but effective, this gift is perfect for women who are constantly updating their home decor. She can easily mix up which room it's displayed in and which photos are pegged on it, so it'll grow and change as this new decade does for her. Plus, this is an ideal gift if your 20-something is a real eco-warrior. Forget plastic photo frames, this wood and cotton macramé frame is much more environmentally friendly.
3. Essential Oil Diffuser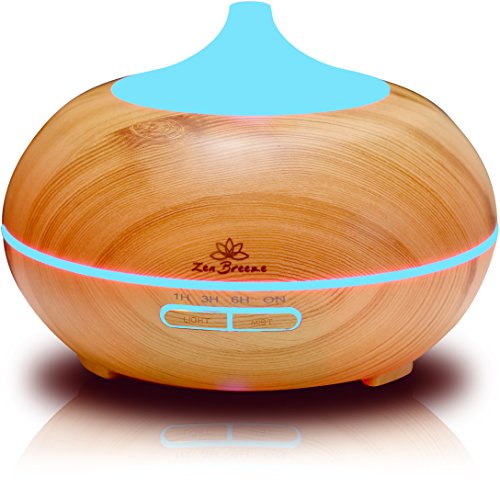 Buy or Read More on Amazon Here ($29.77 at the time of publication)
If it's mindfulness and meditation, that's your 20-something's into, she'll love using this Essential Oil Diffuser to create a calming atmosphere at work or at home. She can add whatever scent combination works best for her and simply sit back and wait for the waves of calm to wash over her. And if she's not too zen to care by that point, she can get excited about the 14 color change options from the built-in LED lights. I know you are. Various settings and timing options make this diffuser extra versatile. Also, the Whisper Quiet ultrasonic cool-mist technology means it can operate without churning out a cloud of hot steam. So, she can easily justify using it to keep those 20s summer days smelling sweet, too! Plus, the high-tech cool-mist system means this diffuser is also safe to use around kids and pets if your 20-something has entered that realm of responsibility.
4. Comfify Key Holder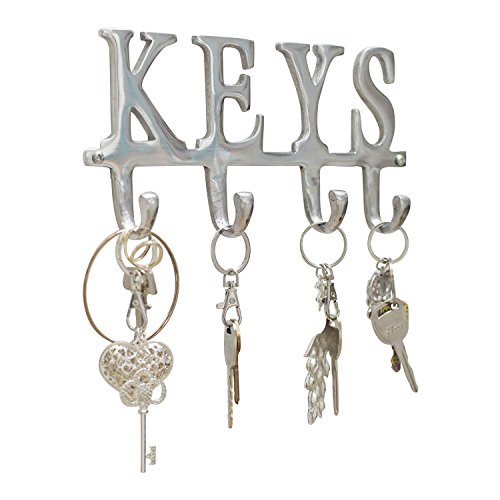 Buy or Read More on Amazon Here ($15.99 at the time of publication)
If your 20-something has just moved into her own place, this key holder from Comfify would be the ideal housewarming gift. Practical and homey, it'll give her wall space to store keys for her home and car or her work lanyard. Perfect for anyone who likes to keep organized, especially if she's one of those who just misplaces things all the time! If she's got a puppy, too, it's a great place to keep its lead right next to the door. These practical hook sets come in several colors and designs, so you can choose the one that best suits her. Plus, it'll come with screws and wall anchors included, so there is no need to worry about that. It's super simple to install onto the wall; why not set it up for her yourself as a surprise gift for when she next gets home?
5. DecoBros Kitchen Counter and Cabinet Pan Organizer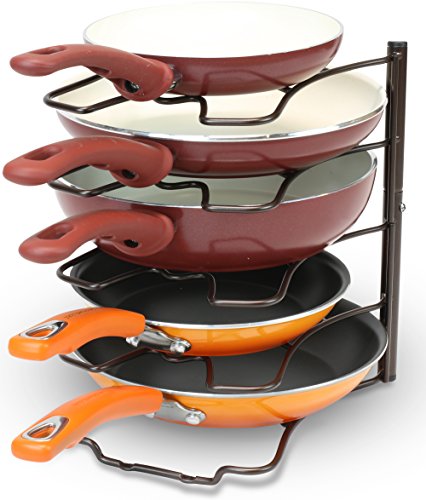 Buy or Read More on Amazon Here ($13.97 at the time of publication)
If she's a real foodie who loves spending time cooking up a storm, she'll adore this sleek pan organizer shelf. No more clanging around as she tries to get that one she was looking for; they'll all be set up in order on her new organizer shelf, within easy reach! She can set up the organizer vertically or horizontally, depending on how it will work best in her kitchen. The only difference is that if it's vertical, it can hold five pans (with one balancing right on top, too) and if it's lying horizontally, it can store 4. She'll be able to leave it as a freestanding storage item, so she can easily move it around the kitchen to suit her. Or, she could also mount it with screws so it stays well put. The screws come included, so it's totally up to her.
6. LeGrow Self-Watering Indoor Planter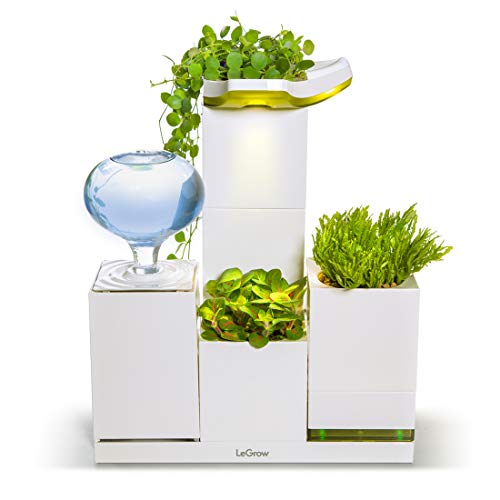 Buy or Read More on Amazon Here ($23.99 at the time of publication)
The 20s are a time for gaining more responsibility, so why not start off nice and small? An indoor plant collection could be exactly what your 20-something wants. Or, if she's been cultivating an impressive collection of indoor plants for years, it might be time for her to up her game. This Indoor Planter from LeGrow will be a cutting-edge addition to her indoor garden setup. Its minimalistic geometric design means it'll be a seamless asset to any room, whether she uses it at home or in her office. She'll be able to stack the easy-to-carry units whichever way she likes, so she can mix up her indoor plant display as often as she wants. Plus, the LeGrow system keeps plant maintenance at an absolute minimum, with a warming light system and a helpful humidifier built in. They've even gone one step further and made the set-up extra technology savvy: there's a port for charging devices incorporated into the stackable design. The more I think about it, the more I reckon every room should have one of these, really.
7. Inflatable Neck Pillow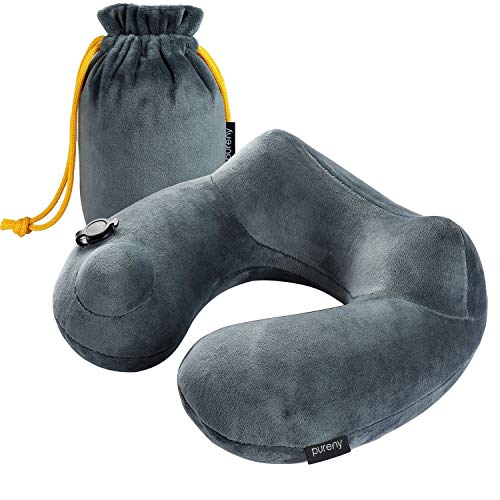 Buy or Read More on Amazon Here ($17.95 at the time of publication)
If she's jetting off to travel the world or starting a new job with lots of business trips, she'll thank you mentally every time she uses this handy neck pillow. Its intelligent design means it provides your head and neck with optimum support, plus you don't have to blow it up yourself: it inflates with a little manual pump that's built right in. Ideal for long-haul flights or train journeys or getting a cheeky catnap in at work (!), the ergonomic, arched shape of the neck pillow will keep your head and neck comfortably supported for hours. Plus, you can adjust its level of inflation without actually removing it from around your neck, which makes it super handy. The outer micro-velvet cover is soft and comfy but also easy to take off the pillow and clean. The practical travel bag it comes with is ideal for keeping it safe and sound and will make it easy to just throw the pillow into her carry-on wherever she's off to.
8. Brightech Maxwell LED Shelf Floor Lamp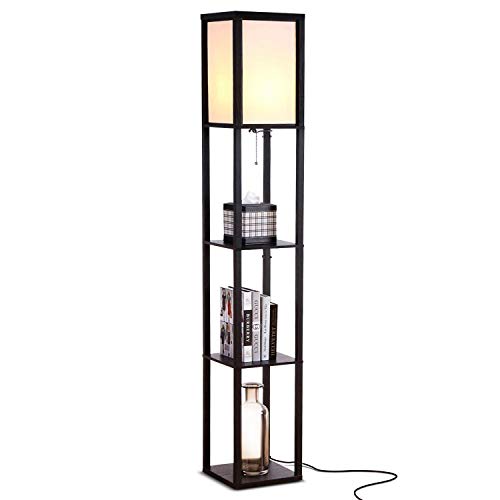 Buy or Read More on Amazon Here ($54.99 at the time of publication)
If she's working on her home décor, this freestanding lamp will be a great gift for your 20-something. It comes in a range of stylish colors, so you can find the option that will suit her place perfectly. The Asian-inspired storage shelf and lamp combination will be the ideal addition to any room. The shade makes sure it gives off a soft, warming glow, but don't let that fool you: the LED bulb is as powerful and long-lasting as any practical 20-something needs. If she's just moved into her first new place, and it's literally the size of a shoebox, this versatile freestanding piece works as storage space for books or pretty much anything else. If she's just all about the look, she could also use it to proudly display ornaments or a flower vase. What's more, this stylish stand-alone lamp is compatible with Amazon Alexa, Google Home Assistant, and Apple SmartKit, so she can integrate it into her smart home setup.
9. Novelty drinks coasters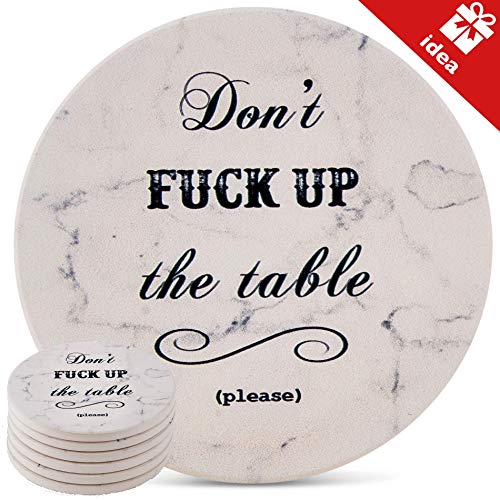 Buy or Read More on Amazon Here ($16.99 at the time of publication)
If she's house proud and really not afraid to show it, then this is the ideal gift for her. Show how much you love her totally irreverent sense of humor with these cheeky novelty coasters. These little gems will keep her tabletops spick and span and keep her guests entertained at the same time! They're perfect if she loves having people over for coffee, drinks, or dinners, and, of course, just for her own everyday use. Providing effective protection from both hot and cold drinks, these coasters don't stick to your glass, either. Because we all know that heart-stopping split second when a coaster clatters down and you think you've actually broken something * shudder *. No worries here, though, as the white marble look coaster tops are designed to stop that from happening! What's more, the long-lasting cork backing makes sure these little coasters won't damage the surfaces she uses them on. Why not add a coaster holder into the mix and make it a full gift set?
10. Brightech Grace LED Lamp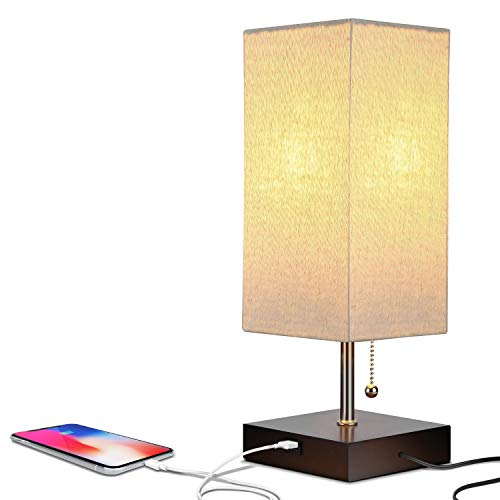 Buy or Read More on Amazon Here ($27.99 at the time of publication)
This stylish, modern lamp will fit right in with pretty much any room's interior design. Its chic, geometric design includes a light-colored linen shade and a compact natural wood base in black or brown. The design includes a practical, stylish pull chain, so there's no need to get up from her comfy seat to switch the lamp on and off again. The lamp even has a USB charging port built into the wooden base, making it an even more practical addition to any room. The USB port works whether the lamp is on or off, so she can charge her devices there during the daytime and overnight. Totally versatile, she'll be able to use this lamp wherever it's most needed: her office, her bedside table, or her lounge. The linen shade ensures the lamp gives off a warming, cozy light rather than any stark, bright glare, so this lamp is ideal for spaces where she'll want to wind down and relax. With a highly durable LED bulb included this lamp will last her for as long as she's already lived!
11. Nutri Ninja Personal Blender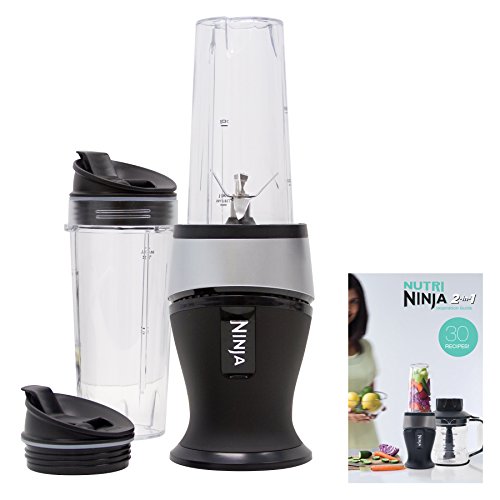 Buy or Read More on Amazon Here ($75 at the time of publication)
If you know for a fact that the 20-something you have in mind is a total gym nut, she'll so appreciate this compact blender for whizzing up those protein shakes. Even if she's not a gym freak at all, this Nutri Ninja is always great to have around for smoothies, super quick homemade ice cream, and all her other blending needs. Its high-tech features will extract the nutrition from her smoothie ingredients, so she won't even have to chop them up too small – perfect if she's * ahem * on the lazier side of things. It's dishwasher friendly too, so she can even save on the washing up! You can really spoil her with a Nutri Ninja – it's like a whole gift set rather than just one item. The blender comes with two portable cups with reliable Sip & Seal lids (no more smoothie explosions in her bag), plus a handy book chock full of nutritious recipe ideas. This is one of my personal favorite gifts for women in their 20s.
12. Shattered Glass Ceiling Pendant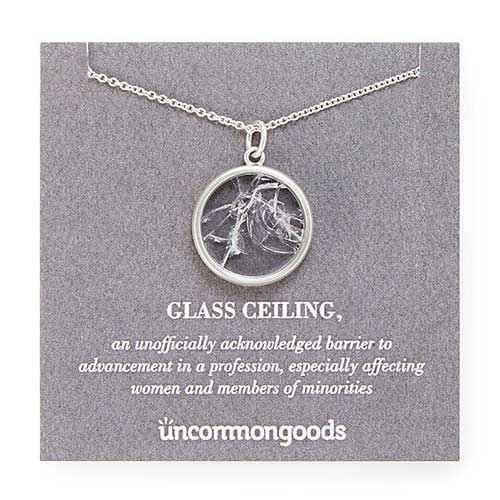 Buy or Read More on Uncommon Goods Here ($68.00 at the time of publication)
The 20s are a time when lots of women start out in their careers and aim to make a real splash. It's exciting, sure, but also totally daunting. Whether the 20-something you know is a driven career girl or is always overcoming society's obstacles in any area of her life, this is the gift for her. It perfectly embodies that determined spark she's got, but it will remind her that you admire her for more than that, too. You're so proud of everything that she's already achieved, and you're excited about where her future is taking her. Whatever setbacks and pitfalls may come her way, this meaningful gift will keep her spirits up. She can wear this handmade power necklace proudly on display or tucked into her work outfit, so it's just there for her. It's a classy little boost that she can keep with her every day, for whenever she most needs a reminder of just how great she's doing.
13. Stylish Nakko Jewelry Organizer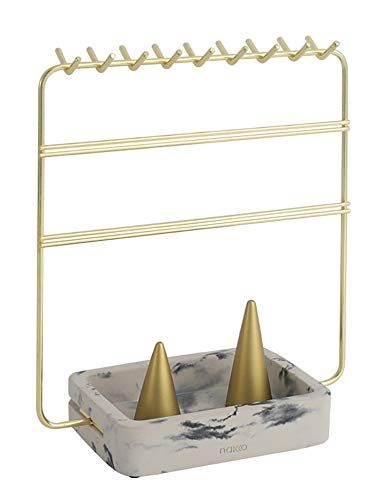 Buy or Read More on Amazon Here ($25.95 at the time of publication)
If your 20-something is really into her jewelry or just really into her organization, this will be a simple yet effective gift for her. This minimalistic jewelry organizer for the modern woman is a sleek design that will keep her bling safe and tangle-free. With storage space for necklaces, bracelets, rings, earrings, and other accessories, it's an all-purpose piece that'll look great on her dresser. It's also easy to take apart and reassemble, so it'll be easy to transport safely whenever she moves house. This could be an ideal housewarming gift but would work for almost any other occasion, too. Sleek, chic, and classy, it's sure to be very appreciated.
14. LOCHAS Deluxe Faux Sheepskin Rug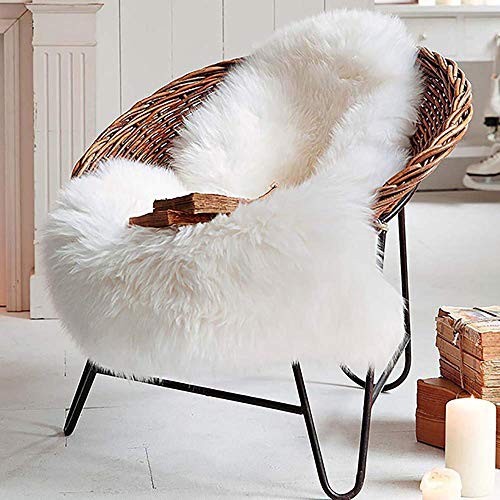 Buy or Read More on Amazon Here ($17.99 at the time of publication)
This gorgeous faux sheepskin rug will add a little luxury to every day. I know, it looks so good that you don't even mind about the practical aspects, but rest assured it performs on that count too! The faux sheepskin is designed not to shed fluffiness all over the room, and the rug has a non-slip suede base. She can even clean it using a machine wash and tumble dry, so it really couldn't be easier. This super thick faux sheepskin works as an accent rug for a lounge, bedroom, or study or as a comfy throw for wicker or wooden furniture, with a whole range of shapes, dimensions, and colors.
15. Gel UV LED Nail Lamp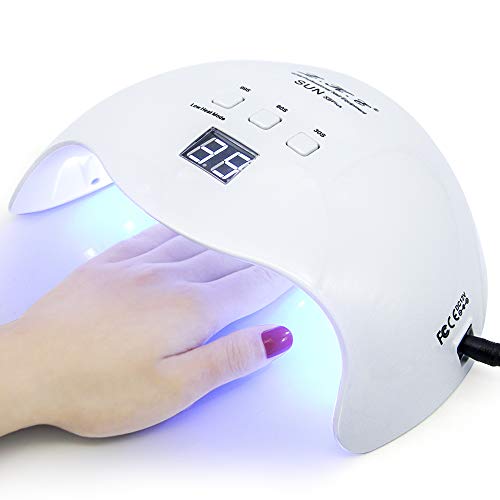 Buy or Read More on Amazon Here ($19.99 at the time of publication)
If the 20-something you have in mind loves having great nails 24/7, this LED nail lamp is the ideal gift for her. With three different timer settings and high-power LED bulbs, this nail lamp is super effective. Plus, it looks great and won't be inconvenient to store away. It's easy to transport (if she does all her friends' nails, too) and has multiple safety features built-in. The convex upper section protects your eyes from the LED light (even if you're watching those nails drying like a hawk), and the soft LED lights prevent the skin on your hands from tanning when you use the nail lamp. Plus, the smart sensor technology means the LED lights power automatically up when you pop your hand in, so there's no fiddling around with settings and switches when you've got wet nail polish on.
16. Savvy Infusion Water Bottle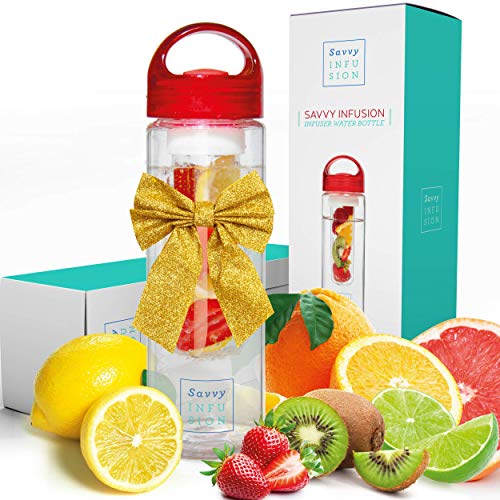 Buy or Read More on Amazon Here ($15.95 at the time of publication)
Your 20-something is very likely to know that staying hydrated is key: it's good for your brain, your body, and your skin. But it's so hard to do sometimes. Keep her in tip-top hydrated condition with this handy water bottle. It'll soon become an indispensable part of her day to day. These Savvy bottles come in a range of colors and two different sizes, so you can choose the right option for her. Plus, they've got reviews from customers saying it's the only refillable bottle they've found that is totally leak-proof. Bold claims, but why not put them to the test? The infusion element means she can tailor-make her own delicious concoctions to make staying hydrated even more appealing. Fresh or frozen fruit works great, as well as additions like fresh mint leaves. She'll just need to slip it into her bag, and it'll be a great little sidekick wherever she goes.
17. Safavieh Hudson Plush Rug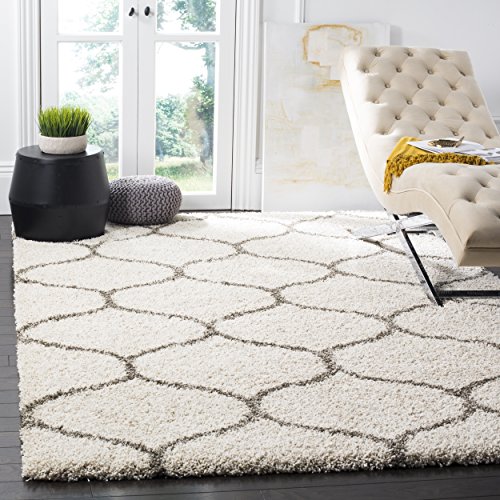 Buy or Read More on Amazon Here ($65.99 at the time of publication)
If she's decorating a new place, help her out with a classy, high-quality rug centerpiece. The 2-inch thick pile is luxuriously soft underfoot but won't drop fluff balls all over her new home. They've power-loomed these rugs to make sure they stick together for years! Inspired by traditional Moroccan geometric designs, the pattern makes this rug a chic option that will look right at home in a whole range of spaces. With a wide choice of dimensions and contrasting color schemes to pick from, you'll be sure to find the perfect homey gift to make a great addition to your 20-something lifestyle.
18. Ceramic Succulent Planter Pots with Bamboo Saucers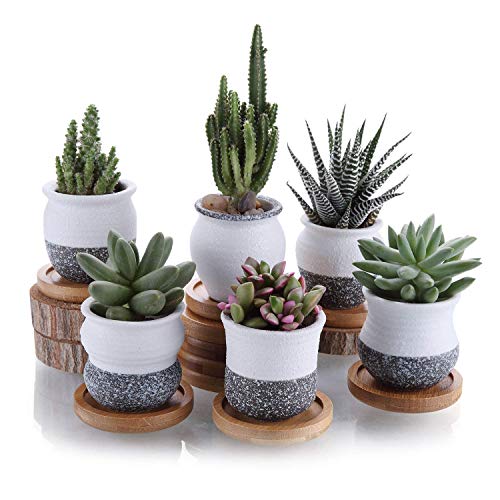 Buy or Read More on Amazon Here ($17.99 at the time of publication)
Whether your 20s gal is a die-hard plant mom or just starting her little succulent family, this set of six coordinated plant pots will last her a good long while. They're made from long-life ceramic and painted in classy, neutral tones to make them blend beautifully into any space.
We all know that cacti are the lowest maintenance of all the plants, but keeping them alive might still be beyond her; however hard she tries, these little guys have got a draining mechanism built in to keep the soil moisture at optimum survival levels! She can position them however she wants and changes the arrangement every so often too. Why not head to a flower market and complete your gift with some plants? Choose them to suit her style and she'll love the fact that she can set up these stylish plant pots straight away.
19. Wine Aerator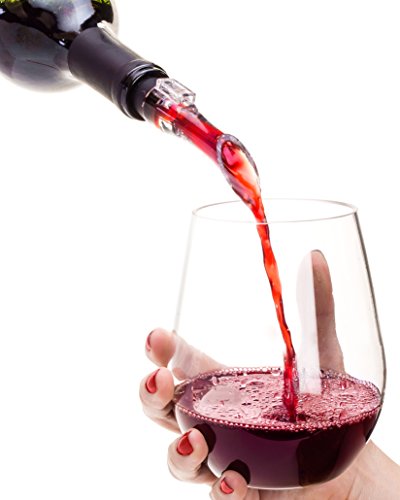 Buy or Read More on Amazon Here ($15.99 at the time of publication)
If your 20-something just loves a good glass of wine, treat her to this foolproof wine aerator. You know she doesn't really have the time or patience to let her bottles of wine breathe for hours to bring out the very best of their flavor. With this handy aerator, she won't have to! As she pours, her wine will be oxidized to optimize its taste, so she can really treat herself without spending the earth on super expensive bottles. She'll feel like she's at a full-on wine tasting every night with this sleek little gift, perfect for the classy 20s lady.
20. Hair Volumizer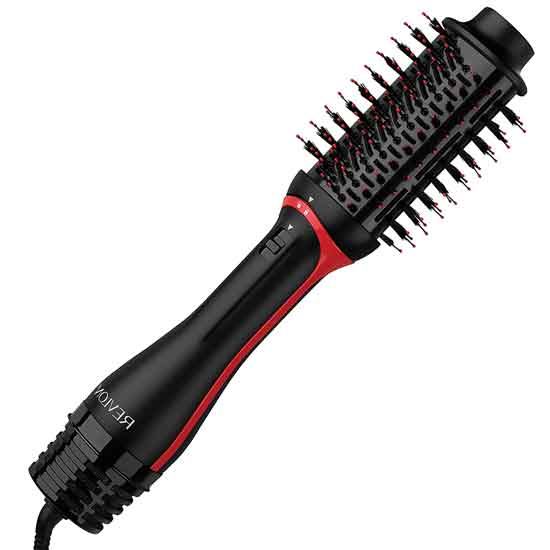 Buy or Read More on Amazon Here ($44.99 at the time of publication)
Does she complain about root volume and wishes her hair looked thicker? She could have much thicker hair if she uses a powerful volumizer that gets her follicles moving. This will help her confidence when she's getting ready to go out.
She could do her curls and root volume in half the time, plus when it's time to pack up, she can detach the head and pack it up neatly. If she overdoes her styling, the ceramic barrel will reduce the damage to her hair too.
21. Luggage Travel Set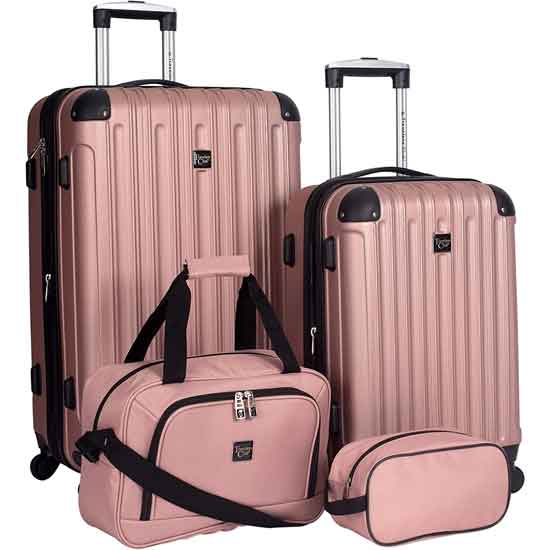 Buy or Read More on Amazon Here ($129.99 at the time of publication)
Is she always on the go making the family jealous with her travels? She'll need different suitcases for different vacations if she's a jet-set girl. A large suitcase is great for a long trip, but she'll need something smaller for a short weekend getaway.
She could use this 4-piece travel set to choose a suitcase based on how long she's out of town. The spinner suitcases have different compartments for her clothes. She'll even get a cute travel pouch to store her toilettes.
22. Music Plaque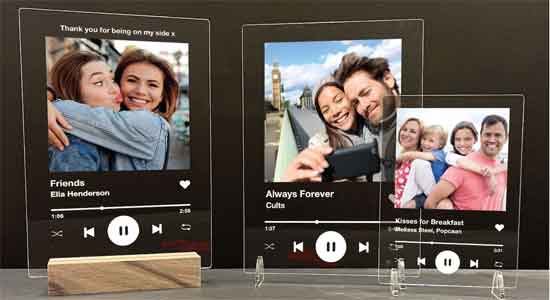 Buy or Read More on Etsy Here ($27.04 at the time of publication)
Does she have a favorite song that you know about? You could get her this custom-made plaque that she can place next to her bed and make her room look cooler. She'll love the way it looks next to her decorations in the room because it's stylish and personalized for her.
This plaque can be framed or fit in a small wooden holder, plus she could hang it on the wall. Pick from any artist or song in the world or even use a custom photo like a couple's photo to customize it. This could also be perfect for a couple of photos with her boyfriend.
23. Custom Pet Phone Case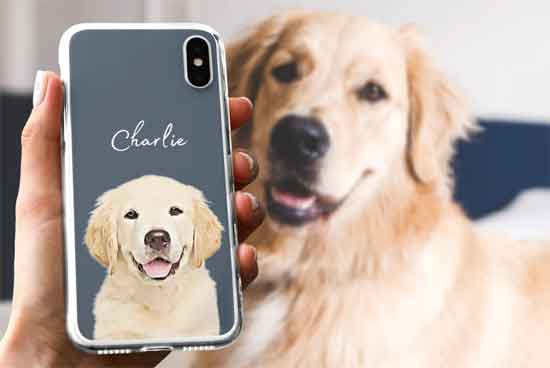 Buy or Read More on Etsy Here ($20.16 at the time of publication)
Does she own a cute dog or kitten? She can get her pet printed on her phone case. She's going to be overwhelmed with cuteness every time she reaches for her phone with a case like this. When she's at work and missing her pet, she'll get a glimpse and be reminded of her fluffy angel.
These are custom-made based on a picture of her dog, and you can even imprint her dog name or a pair of dogs if she owns more than one. There are options for all phones, so it's guaranteed to fit.
24. Skincare Box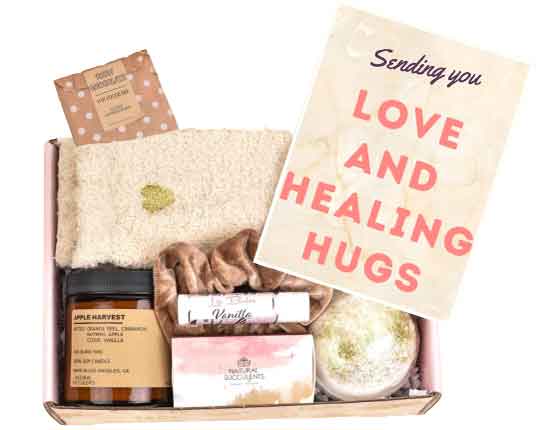 Buy or Read More on Etsy Here ($35.42 at the time of publication)
A girl who loves skin creams that make her skin soft will love these aroma-rich creams because she'll get all her skincare essentials in one cute box. To show that you love her, deliver a personal message in the package. You could write that you're sending her healing hugs and love or anything of your choice.
The box includes amazing hand creams and face masks she'll put on before bed for her skincare routine. She's also going to love the box because it's so perfectly designed.
25. Makeup Brush Set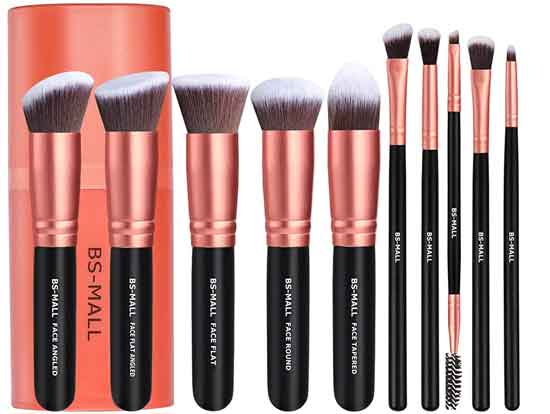 Buy or Read More on Amazon Here ($24.53 at the time of publication)
Girls appreciate a set of new brushes, and you can refresh them with a versatile brush kit. She could use these brushes when she needs to fix up her eyebrows or shadows on the go. They're stylish, and she'll love how these feel in her hand.
Once she starts applying all of them, she'll look like her makeup was done by a professional. She'll get 14 pieces to have something for every occasion. She can also experiment with new makeup techniques or get better contours and highlights.
26. Coffee Maker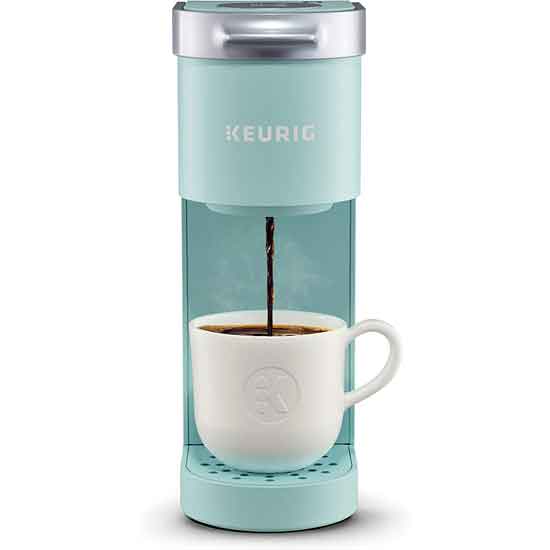 Buy or Read More on Amazon Here ($72.95 at the time of publication)
Is she low on energy and spends long nights studying? She'll always be high-energy when she uses her cute mini coffee brewer to make coffee. If she lacks space or prefers a small design to the standard coffee machine, this tiny brewer will make her day.
Pop in a capsule of her favorite brew, and she's good to go! She can adjust the cup size to make a super large cup when she's tired. These are one-cup servings, so she'll also save time on cleaning because she won't have to make excess coffee. Plus, it can fit in a small space next to other kitchen accessories.
27. Spa Gift Box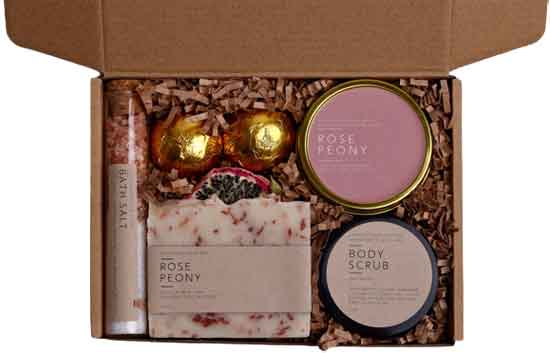 Buy or Read More on Etsy Here ($31.02 at the time of publication)
Does she love to go on spa trips and enjoys collecting romantic candles? You can get her this spa box with a beautiful smell and a personal message dedicated to her. She can enjoy long baths under the rose and peony romantic smell, with gorgeous colored candles.
When she's back from a long day at work, she can use the bath melts and the body scrubs to get a perfect relaxing evening. They'll engrave a personal message on the inside of the box to show her you love her.
28. Personalized Gold Necklace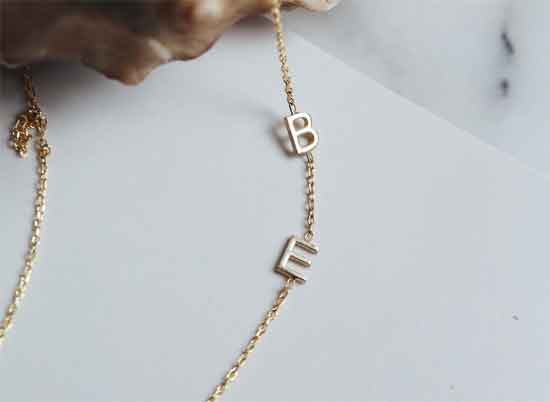 Buy or Read More on Etsy Here ($34.80 at the time of publication)
A girl who's a fan of minimalist necklaces (or never wore necklaces) will need something simple and quality. She'll love wearing this solid gold necklace with her initial letters. You could even get her birth date forged in gold if it's a birthday gift.
The necklace will pair with all her outfits, and she'll love showing it off. You can choose up to 20-carat gold or rose gold if she prefers pinkish hues. She'll appreciate it more, knowing it was personally crafted for her.
29. Personalized Travel Mug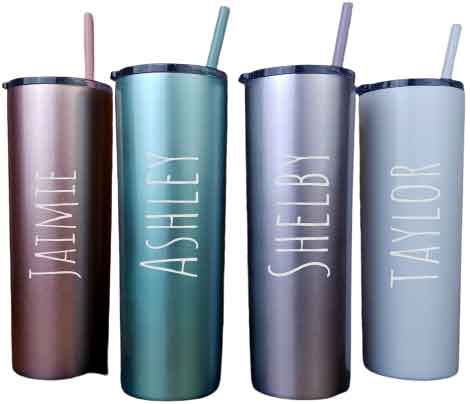 Buy or Read More on Etsy Here ($15.95 at the time of publication)
When she's on a road trip with the girls, she'll need her own travel mug to enjoy a refreshing drink. She'll love drinking out of these super cool travel mugs customized with her first name. She can pour the drink into the large stainless steel container and drink out of the large straw.
This is reusable, so she could use it for everything from a warm coffee in the morning to a refreshing soda in the afternoon. This will become her favorite mug because it's light-reflective and soft to the touch. Plus, it'll fit in the cup holders of her car.
30. Hair Strengthener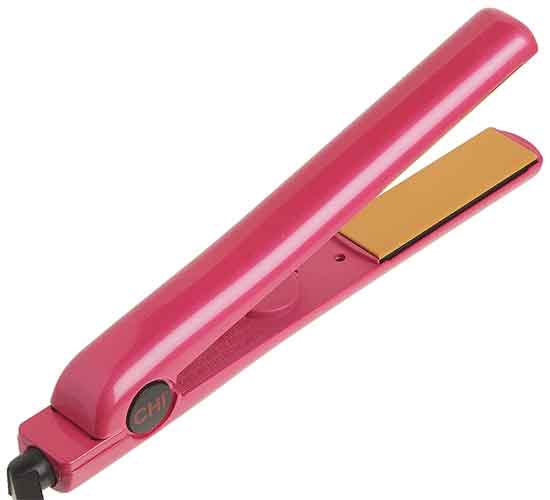 Buy or Read More on Amazon Here ($81.76 at the time of publication)
Is she glowing after a trip to the hair salon but doesn't know how to produce the same results at home? Stylists use ceramic plates so they get extra high negative ions that reduce electricity and make her hair look perfect. She can now replicate the same results at home without spending hours making her hair.
This is a must-have for a girl who commonly straightens her hair. There's an automatic shutoff function so she's safe even if she leaves it on by accident. Her girlfriends will always ask to try this out, and the pink colors look amazing.
31. Music Keychain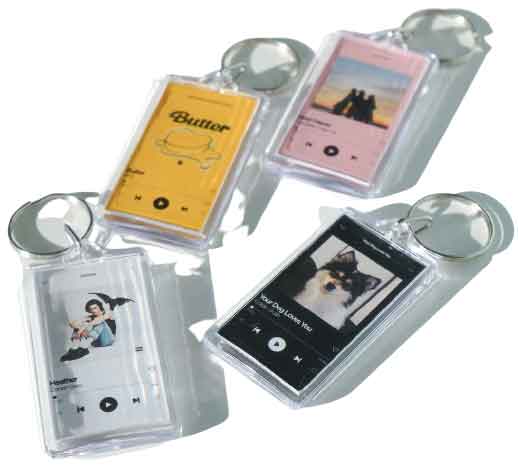 Buy or Read More on Etsy Here ($9.86 at the time of publication)
Do you know her favorite song and artist? A glass keychain with her favorite song imprinted will impress her. Think of a song that she constantly replays and makes her happy, and then get it imprinted for her so she can attach it to her car keys.
She'll be thrilled that you paid so much attention to her music taste and that you remember her favorite jam. You can also select the background color on the chain to match her favorite color. It's a special gift that will remind her of you every time she reaches for her keys.
32. Soap Box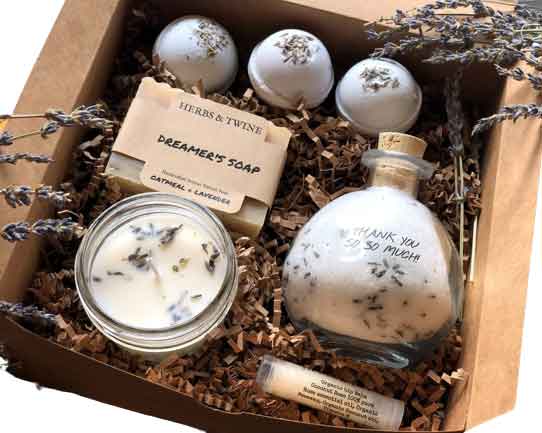 Buy or Read More on Etsy Here ($45.00 at the time of publication)
If she loves beautiful-smelling aromas, she's going to love this box that includes different soaps with the best aromas she's ever smelled. She'll look forward to coming home from work just so she can enjoy a long bath with these milky soaps.
She can light up the candles and bathe in lavender oil or even try out the chocolate bar soaps. The soaps are made from natural goat milk and oils. She'll fall in love with the packaging, and you can even include a personal note.
33. Custom Star Wars Dog Portrait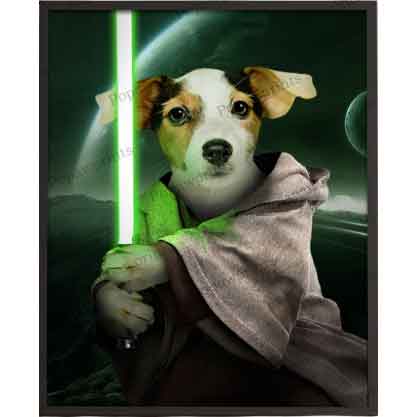 Buy or Read More on Etsy Here ($8.40 at the time of publication)
If she owns a dog, you could get her a custom photo of her dog holding a Star Wars lightsaber. This is a super cute gift that will make her laugh and serve as a unique decoration for her home. Each photo is custom-made using a regular pet picture, so you'll only need an image of her dog.
The images are framed so she can hang them in her bedroom or the living room. Her dog is a part of the family, so it would look cool next to family photos. She could also display it at her work office to remind her of the pet when she's missing it.
34. Running Shoes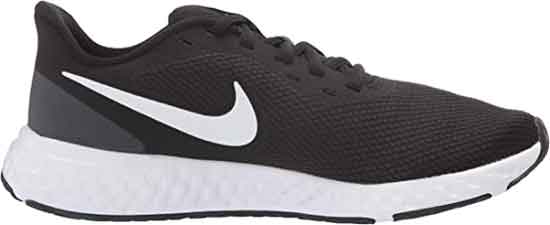 Buy or Read More on Amazon Here ($59.73 at the time of publication)
A gym girl needs reliable running shoes to stay comfortable when she's working out. If she hits the gym often, she'll love wearing shoes that push her to the limit in maximum comfort. She can pair these up with her workout leggings.
These are ideal for a quick morning jog or a full-time workout session with a trainer. They're also breathable, so she'll feel comfortable on her fingers even when she's jogging outdoors or hitting the treadmill at the gym.
35. Recipe Book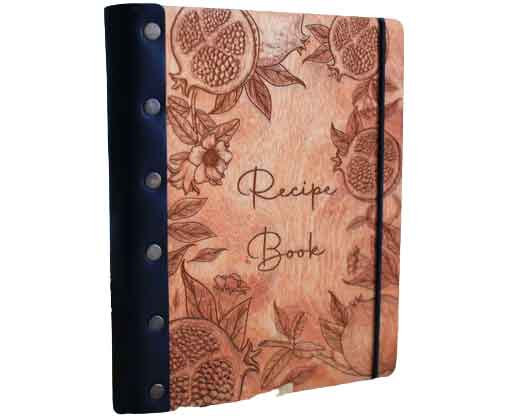 Buy or Read More on Etsy Here ($36.28 at the time of publication)
Is she the kind of girl that loves cooking for her friends and boyfriend? Don't let her down with a generic recipe box, but instead, get her a custom-made recipe journal that you can name after her. She'll want a thick, wooden-style recipe box that will last for decades and remind her of what she used for cooking in the past.
There are options to customize the outside covers with a creative title, and you can pick the style on the inside of the journal. This is an ideal gift for a girl who loves cooking and needs something durable to withstand the test of time.
36. Friendship Gift Box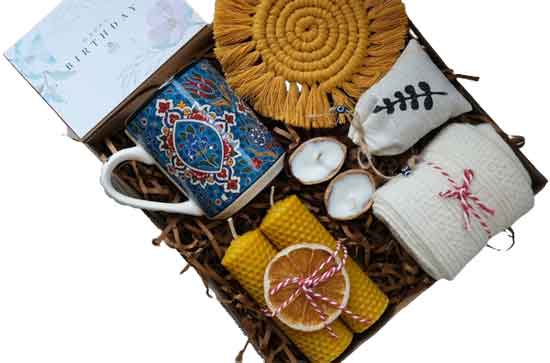 Buy or Read More on Etsy Here ($42.99 at the time of publication)
This box is a unique gift that she'll use to set the mood when she's relaxing at home. She's likely never received a gift box that includes a mixture of woolen socks, a cute coffee mug, a tray, and walnut candles.
It's in a beautifully-designed box, and she could wear those socks while having a warm cup of coffee and breathing in the delicious scent of lavender and jasmine. You can also pick the occasion with a dedicated note for her birthday or another occasion like Christmas.
37. Heart Necklace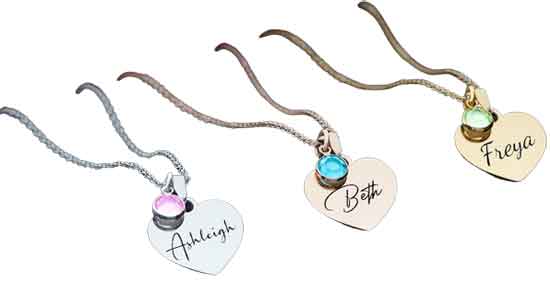 Buy or Read More on Etsy Here ($15.55 at the time of publication)
Is she a simple and classy girl who wears basic necklaces? She's likely had a heart necklace, but you can get her name engraved on this one so it makes a special impression. She's going to love how simple this necklace is and the tiny birthstone that comes with it.
She could wear this with her summer dresses and show it off, or conceal it under her sweaters. It's a very lightweight necklace, and she's always going to be reminded of you when she's wearing it because you made it for her.
38. Leather Carry Bag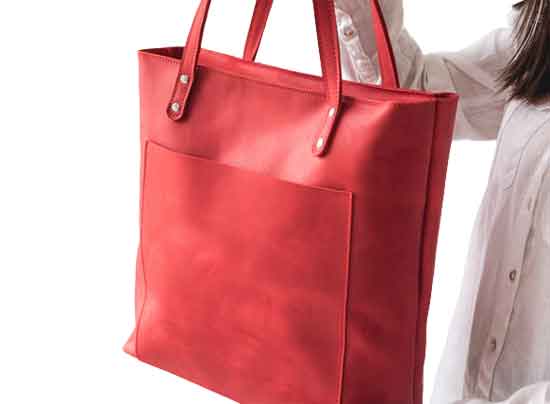 Buy or Read More on Etsy Here ($62.10 at the time of publication)
A young girl needs at least one carry bag larger than a purse. If she's a college girl carrying things like books, documents, and other school essentials, she's going to need a huge leather bag. This one is also great-looking, so she can replace her school bag with it.
This bag will fit a batch of books, and it's also minimalist. If she's the hipster type she's going to love how it pairs with various outfits. She'll mostly enjoy the large storage space for her makeup and school/work essentials.
39. Soft Shaving Kit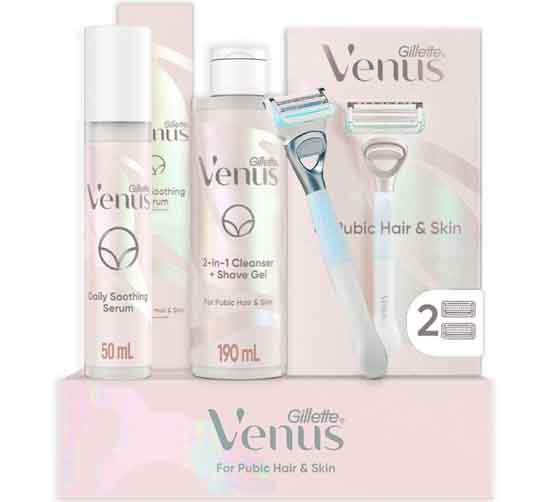 Buy or Read More on Amazon Here ($44.99 at the time of publication)
Does she complain about scratching and red spots after shaving? Get her a super-sensitive shaving kit that will keep her skin safe and moisturize her. Most girls shave every few days, and she can harm her skin if she's using basic razors.
These razors were specifically designed for women, so they could cut their hair without touching the skin. She'll love the comfort and not having to deal with the negative side effects of shaving, plus she'll appreciate how you made a difference in her life.
40. Baby Yoda Toy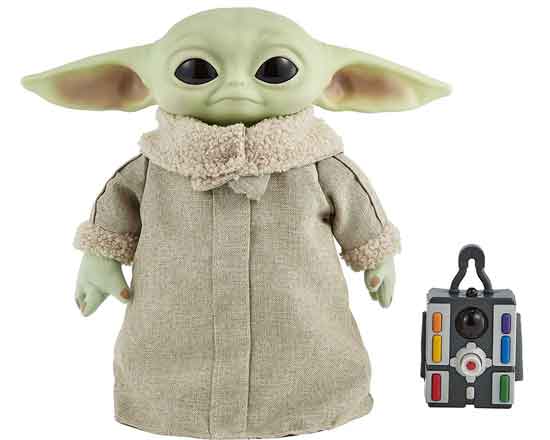 Buy or Read More on Amazon Here ($33.49 at the time of publication)
Want to get her a cute toy she can use as a decoration? If she loves cute things, there's nothing cuter than this baby Yoda that makes movements with remote control. She could place it in her bedroom and cheer herself up when she sees it in the morning or before going to bed.
This gift is ideal if she's used to stuffing toys like teddy bears and you want something unique to stand out and make her happy. She'll be reminded of you every time she looks at the baby Yoda, and it'll go well with her interior.
41. Makeup Brush Bag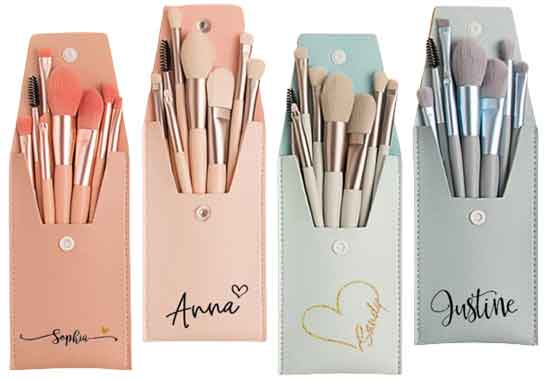 Buy or Read More on Etsy Here ($6.39 at the time of publication)
A tiny gift that will cheer her up is this cute makeup brush bag with her name written on it. She's going to need a small bag to separate her makeup brushes when she's going to work or traveling, and this brush bag is made only for her.
She could easily fit this in the palm of her hand, so it'll be convenient when she's wearing a small purse and needs a bag to bring her brushes. She'll love pulling this out when she needs to fix her makeup on the go.
42. Professional Blow Dryer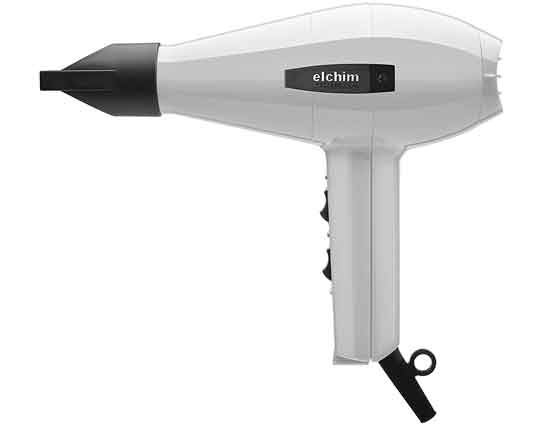 Buy or Read More on Amazon Here ($110.00 at the time of publication)
Every girl knows a blow dryer makes all the difference after visiting the hair salon. With a professional hair dryer, she needs fewer alternative tools to get her hair perfect. You could get her a blow dryer of the type hair stylists use to make her hair look twice as good.
She can use the same high-pressure blow dryer that her favorite hairstylist uses and get the same effects without visiting the salon. She'll feel way more confident and look fabulous daily.
43. Cartoonized Family Photo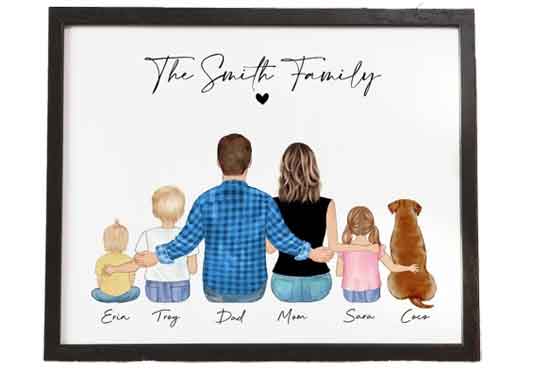 Buy or Read More on Etsy Here ($19.80 at the time of publication)
If she's your best friend, you can cartoonize photos of you two together and frame them to surprise her. She's going to love the personal touch and how cool she looks when she's drawn by an artist. You could pick from a portrait of her or a photo of you two together.
These are colored photos that are hand-drawn by an artist using a real photo. She could hang it in her home or at the office to remind herself of those special moments. If you need cute gift ideas for women in their 20s, look no further than a cartoon-like family photo.
44. Custom Toiletry Bag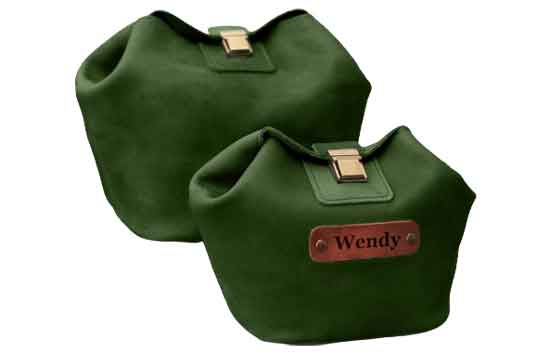 Buy or Read More on Etsy Here ($34.90 at the time of publication)
Is she planning a trip in the near future? She's going to need a toiletry bag where she can store her toothbrush, shampoo, and other bathroom essentials. She likely has a basic toiletry bag and you can give her this leather-made toiletry bag with her initials engraved on the gold clasp.
She could also use this as a makeup bag, and it's small enough that she'll be able to fit it inside her carry bag. It's ideal for travel and casual use around town.
45. Personalized Jewelry Case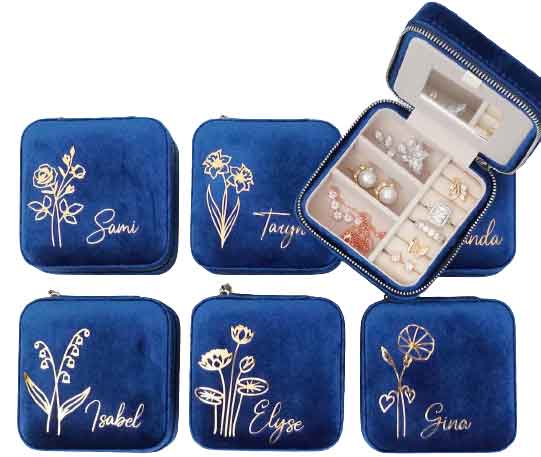 Buy or Read More on Etsy Here ($16.06 at the time of publication)
Jewelry cases last for decades, and they're usually passed on to future generations. You can now customize her own jewelry case with her name on the front so everyone knows it belongs to her. A custom jewelry case is excellent if you have already purchased a necklace or a bracelet for her.
She could use this case to store her engagement ring or valuable necklaces. It'll keep the jewelry dust-free and protect it for years down the line. You could write out her first/last name and even her birth month. Plus, there are multiple color options, so you can get it made in her favorite color.
46. Gold Bracelet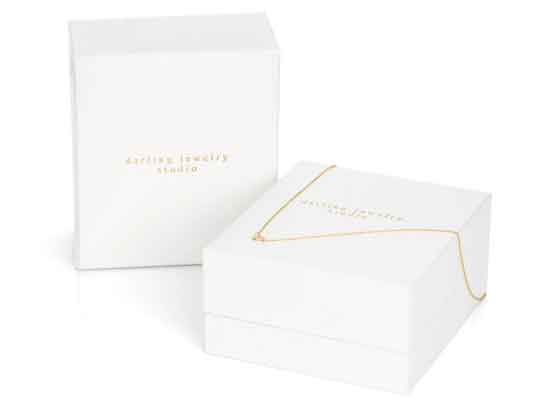 Buy or Read More on Etsy Here ($24.99 at the time of publication)
A bracelet that she'll wear daily has to be small and beautiful. If she dislikes jewelry, she could wear this when she's on a date with that special somebody and wants to make an impression. She could also pair it with a summer dress or a casual t-shirt when she's on vacation.
This is a solid gold bracelet with her initials engraved. Plus there's a satellite bracelet that adds an extra flair to the main bracelet. For a girl who likes simple bracelets that don't stand out, this is an ideal fit.
47. Acne Treatment Kit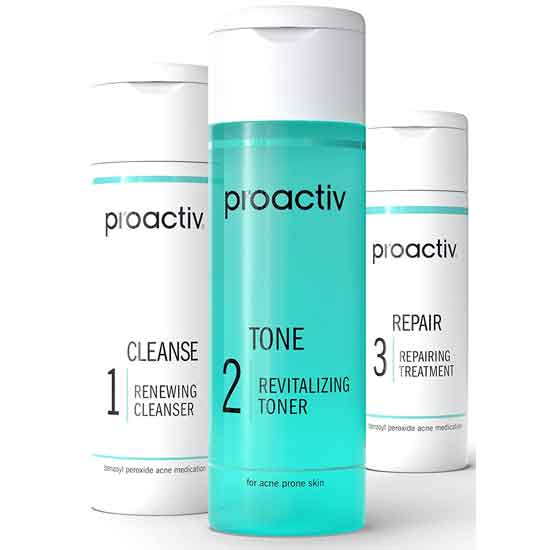 Buy or Read More on Amazon Here ($35.00 at the time of publication)
Is she frustrated about acne popping up on her face? Girls in their 20s can have recurring acne and this irritates them because they're no longer teenagers. You can help her get over her acne scars with this acne treatment kit, so she'll easily fix the damage once the acne comes out.
If she has flare-ups all over her face, she can use the revitalizing toner to help remove them and the repair cleanser to keep her skin healthy. She'll feel a lot more confident out in public when she solves her acne problem.
48. Makeup Bag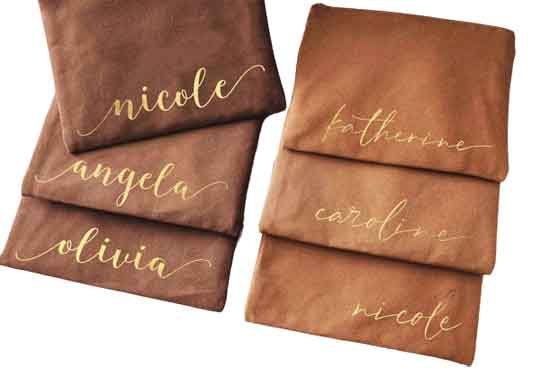 Buy or Read More on Etsy Here ($6.99 at the time of publication)
Does she enjoy convenient zipper bags for her makeup? This customizable makeup bag will have her name written out in Italic and make her girlfriends jealous. She could wear this inside her carry bag and lock away her makeup essentials with the zipper.
Her makeup will be safe from all moisture, and she could take it on her vacations. It's super simple to use, and she'll easily reach for her favorite brush to get her makeup done in a second. The bag is small, so it'll fit in a larger carry bag or suitcase.
49. Leather Belt Bag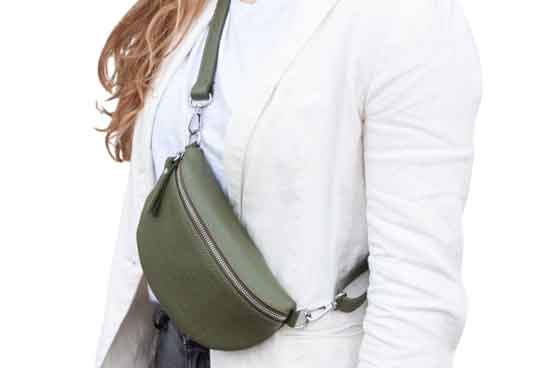 Buy or Read More on Etsy Here ($31.36 at the time of publication)
Is she the tomboy type who only rocks streetwear? If she's used to wearing hoodies and casual t-shirts, she probably hates purses. This bag will be the perfect replacement for a purse because she can store her essentials (makeup, cash, etc.) and have them within reach in a second.
This belt bag goes great with casual streetwear appeal. You can choose from a variety of belt and bag colors to match her outfit. She'll love the way this leather feels to the touch and wear it daily.
50. Fitness Watch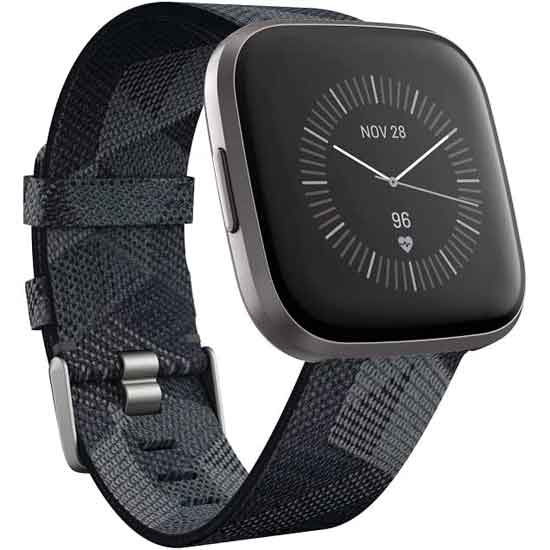 Buy or Read More on Amazon Here ($149.95 at the time of publication) 
Is she an active fitness girl? She can keep track of all her progress using a small fitness watch. When she's out hiking and wants to know the mileage she hiked, she can just glance at her watch. During a gym session, she'll know exactly how many calories she burned.
Fitness watches are excellent for athletic girls who need a reliable tracker without using their phones. There are even health benefits like a heart rate monitor that can warn her when she's overdoing her workouts.
51. Keurig K-Classic Coffee Maker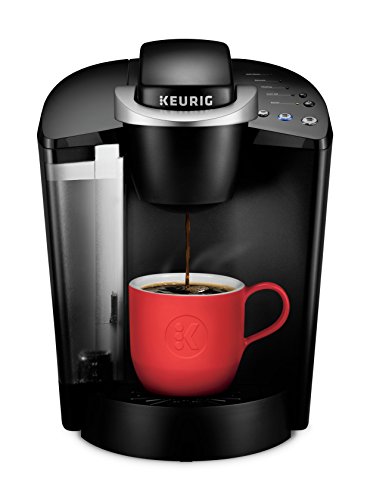 Buy or Read More on Amazon Here ($79.00 at the time of publication)
If she really loves her coffee, treat her to one of these classic coffee makers from Keurig. It'll look right at home on the kitchen counter and soon become a firmly fixed part of her daily routine. Lucky her – quality coffee in record time every single morning! This coffee maker is ideal for the all-go woman who needs her daily caffeine boost without fail. Even if it's just on the weekends that she's got time to make a cup of coffee at home, this gift will mean it's a really, really good one. With integrated descaling properties and energy-saving mechanisms, it's a gadget that pretty much takes care of itself. Plus, it fits multiple coffee pod sizes, so there's a good chance she'll be able to use it to make her favorite blend. Why not make it a complete gift set with…
52. K-Cup Carousel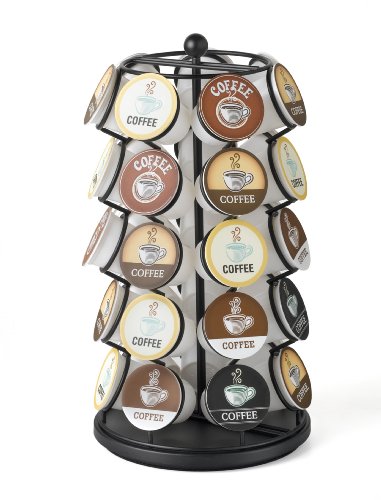 Buy or Read More on Amazon Here ($15.79 at the time of publication)
This super practical coffee pod carousel! See what I did there? Smart, I know. The design will look great alongside the Keurig coffee maker, and they'll both really add to her kitchen set-up. Easy to use and re-stock with a fully rotating base, this practical holder has a capacity of 35 pods. That's over a month of her daily coffee, set up and ready to go! Designed to hold the most standard coffee machine pods, she'll be able to stock up on all her favorite blends. Plus, if you start out with this gift, you save yourself the effort of thinking of the next one. Did someone say a new batch of coffee pods?
53. Ano Reusable Glass Coffee Cup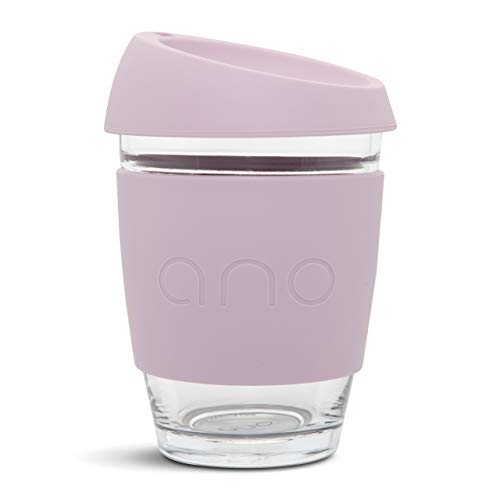 Buy or Read More on Amazon Here ($18.99 at the time of publication)
We all know how important it is for us all to make small, everyday changes to help the environment. A sleek little Ano reusable coffee cup is the perfect place to start. Help your 20-something do her bit for the climate and save money at loads of coffee shops at the same time (you know what, you're an absolute saint, really aren't you). These Ano glass mugs are totally plastic-free and non-toxic. Plus, she'll be able to recycle it when it finally gives up the ghost. If she likes to think green, there's no better gift for her! And if she's an absolute klutz, they've thought of that, too. These cups are designed to make it really very difficult to spill your drink all over yourself – no guarantees, though. It is her, after all. It's always important to think about convenience too, and these handy little travel mugs are dishwasher safe and specifically designed to fit into standard cup holders, which means she can even use them in the car. With a whole range of colors to choose from, there will definitely be one you can imagine your 20-something carrying around with her 24/7.
54. Jerry and Maggie Desktop Organizer Adjustable Set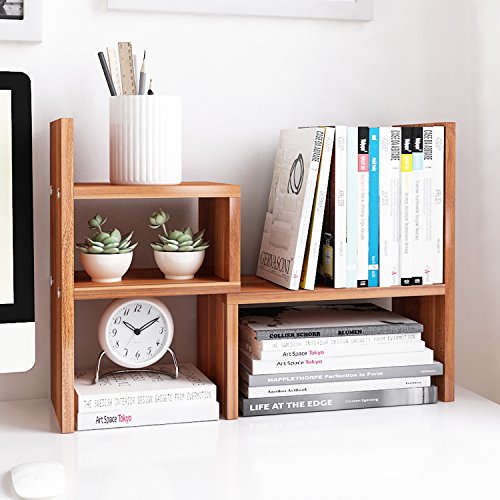 Buy or Read More on Amazon Here ($22.99 at the time of publication)
Made of natural wood, this desk organizer set is an eco-friendly option to keep all your 20-something's business in order. Perfect for home or office, this reliable desk set can be adjusted and rotated – she can arrange it however she wants! Whether its documents, stationery, books or ornaments she'll want to store, this shelf unit set is the ideal solution for her. With multiple color options, you can choose the shade that suits her best. You know what they say: tidy desk, tidy mind!
55. Timeless Leather Backpack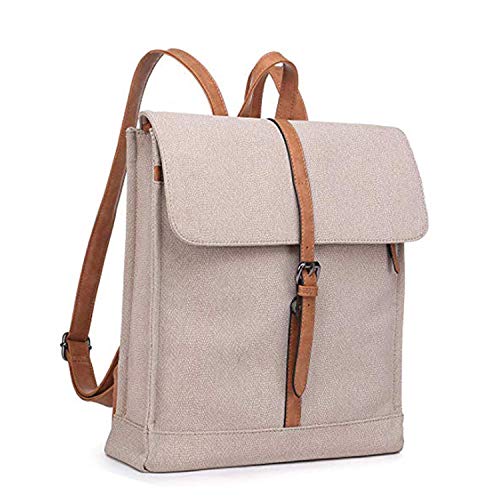 Buy or Read More on Amazon Here ($38.99 at the time of publication)
Leather backpacks are an absolutely classic piece, so they're a timeless gift for a woman in her 20s. Gift her a shiny new one now, that she can use until it looks like it's totally vintage! These backpacks are roomy enough to easily fit her laptop and study books, so this gift would be perfect for her whether she's still at college or already working. It's got lots of handy compartments for all her smaller bits and bobs too. No more rootling around in the bottom of her bag to find those pesky keys or lip balms! No need to stress about her losing her things either: this backpack has inbuilt zips and a snap-lock fastening to keep all her valuables safe when she's out and about. Whether she needs it for work or all those day trips she does, you can't go wrong with such an elegant, useful gift. She's sure to appreciate it!
56. Canvas Overnight Weekender Bag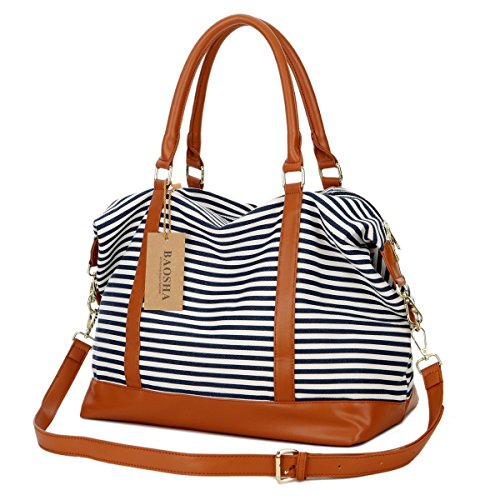 Buy or Read More on Amazon Here ($29.99 at the time of publication)
This canvas overnight bag will get your 20-something prepped for upcoming weekends away. It's spacious enough to fit in all the weekend essentials, but it's also the right size to take as carry-on luggage. If you've always admired her ability to pack light, this Weekender Bag will be perfect for cramming all her things in to. Even if she's one of those gals that can't go anywhere without at LEAST three bags, this high-end travel bag will look great sitting on top of her enormous suitcase (its handle means it's super easy to just pop on top). Plus, there's a whole range of colors to choose from. Also, that's faux leather it's trimmed with, so don't freak out about the price tag or the animals! Plus, it'll give her a great excuse to plan her next holiday or brighten up her upcoming work trips. Stylish and practical, it's a great gift for a 20-something that will keep on giving every time she travels.
57. Audible Subscription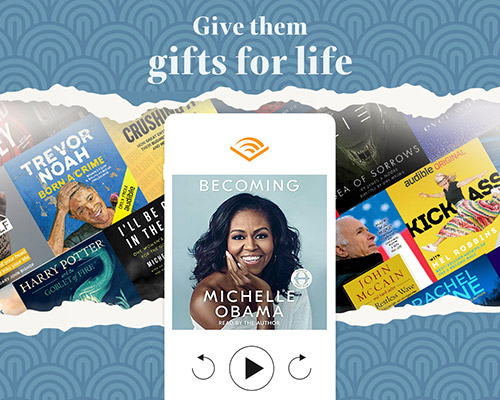 Buy or Read More on Amazon Here ($14.95 at the time of publication)
Your 20s are a time to continue expanding your horizons and, most often, get a whole new perspective on life. But, you still can't beat the comfort of a good book. That will never change! If your 20-something is a real bookworm but also a gal about town, this is the perfect gift for her. Audible has a crazy wide range of titles to suit every taste – and try totally new genres. This Audible subscription will be like giving her books as a gift, every month without fail. Now, that's smart gift buying. It's a pretty good deal: she'll get three new titles for each month she stays a member, including two Audible originals. Plus, she'll get a discount on any new audiobooks she wants to buy. She'll be able to listen wherever she wants, whenever she wants – perfect for a 20s bookworm who's always on the move!
Popular Article: Fun Gift Ideas for 18-Year-Old Girls
58. Canon PowerShot Digital Camera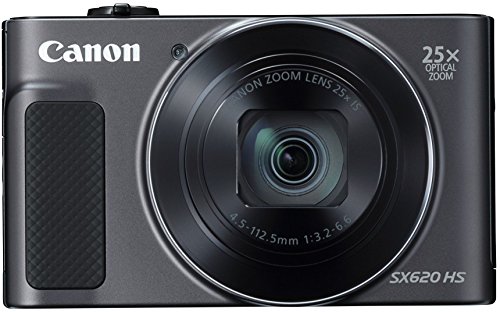 Buy or Read More on Amazon Here ($249.00 at the time of publication)
Is your 20-something really into photography? Or maybe she's off traveling and needs a handy little compact camera to take with her? The Canon PowerShot's built-in technology will help steady her hand to get those perfect snaps. Plus, the zoom function is pretty epic. It's small and light enough to take absolutely everywhere with her, so she'll be sure never to miss a photo opportunity again. Low light? No problem – it does well in those trickier conditions, too. Plus, this pocket-sized Canon camera is WiFi enabled, so she can transfer all her shots to her WiFi devices in a matter of minutes. That'll let your 20-something share on the go, wherever she gets to!
59. Majestic Pure Dead Sea Mud Mask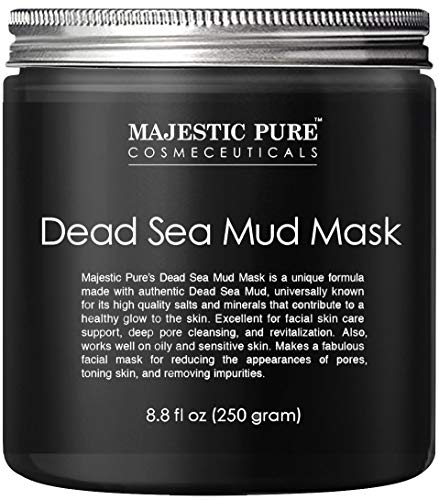 Buy or Read More on Amazon Here ($14.98 at the time of publication)
Let her really pamper herself with this pure Dead Sea Mud Mask. If she's studying or working in the city, she'll jump at the chance to get rid of all those daily impurities that worm their way into her pores. But who even needs that much of an excuse to take some time out and relax with a mud mask?! Your 20s are an all-go time, and she'll definitely feel that on occasion. Treat her to some her-time with this relaxing home spa mask. Known for its rich mineral content, this Dead Sea mud mask will clear her skin, reduce the appearance of pores and leave her face feeling toned and smooth. It's great for oilier and more sensitive skins, too. Why not grab her a handy towel headband too, and make it a gift set?
60. YETI Insulated Tumbler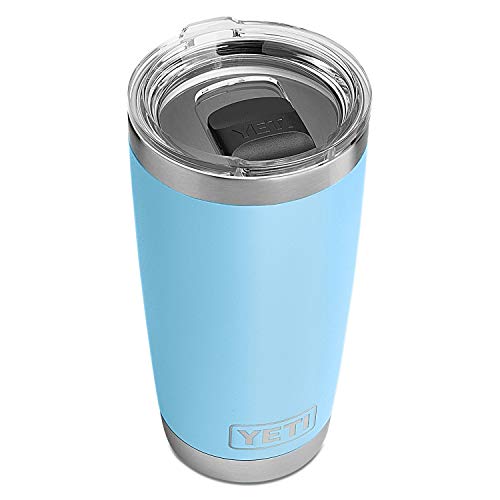 Buy or Read More on Amazon Here ($29.99 at the time of publication)
If the 20 year old girl you're shopping for is one of those who's always letting her coffee go cold, treat her to one of these YETI insulated tumblers. They come in a huge range of colors and are perfect for her coffee, tea or cold drink of choice. They're spill proof too, as the tumblers use magnets to make sure they stay sealed tightly. They're made of stainless steel that's sure to last her a good long while, no matter how much use she gets out of her new tumbler. They've also got their own No Sweat design figured out, so she won't be getting clammy hands from condensation on the side of the tumbler. What's not to like? Plus, you could make it a complete set and add in a YETI tumbler straw lid and reusable straw! If she's into doing her bit for the environment, this insulated reusable tumbler will be a great gift for your 20s gal.
61. Gorilla Grip Spa Bath Pillow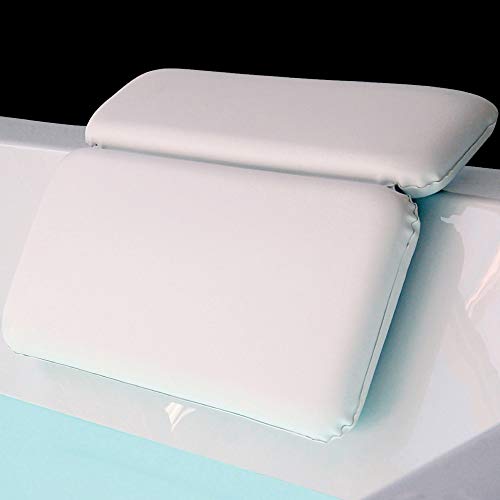 Buy or Read More on Amazon Here ($16.99 at the time of publication)
Give her the perfect excuse to take some time out and relax with this spa bath pillow. Soft and luxurious, it's made with a couple of inches of specially padded foam. Plus, it's got multiple suction cups that will make it stick to the side of her tub like a limpet, so there's no need to worry about it slipping and sliding around. That wouldn't make it a relaxing experience at all, now would it? Whether the 20-something you know is an absolute bubble bath fanatic, or you just reckon she needs to join you on that wavelength, this bath pillow is a great gift option. It's sleek and comfy, classy and effective. It'll be sure to give her the dreamiest bath experiences of her life. What woman in her 20s wouldn't appreciate that?!
62. Sports Workout Fashion Headbands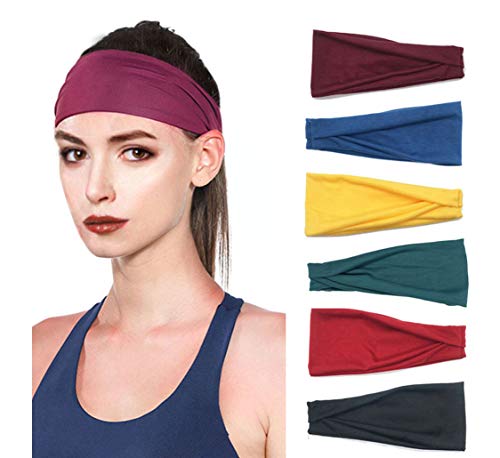 Buy or Read More on Amazon Here ($11.99 at the time of publication)
Whether it's running, yoga or facemasks your 20-something's in to, this bright little set of headbands might just be the ideal gift for her. They're bold but versatile, with color options to go with pretty much any outfit. The fuss-free design means she just needs to pop whichever vibrant design she's feeling straight on her head – there's no need to tie any fiddly knots or spend half an hour making sure it's done up just right. Now she can finally stop complaining about all those wispy baby hairs getting in her eyes. And, what's more, she'll be right on trend at the same time!
63. In Ear Waterproof Bluetooth Headphones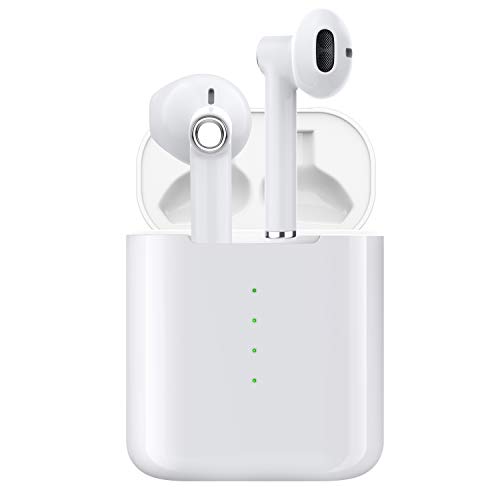 Buy or Read More on Amazon Here ($29.99 at the time of publication)
The inbuilt Bluetooth technology will mean she can easily and seamlessly stream her music while she's on the go, whether that's commuting, traveling, training or just chilling out. Plus, the protective charging case that's included means these are a really practical option for a 20-something who is always moving. One charge will give her a whole 4 hours of music, and the case charges her headphones three times! The headphones adapt instantly to bass-heavy and HD audio, so these in ear buds are perfect for her favorite tunes and also for taking any calls she might get while she's got them in. The practicalities don't stop there though: these ear buds are waterproof (ideal if she's caught in the rain while running) and they're specially designed to sit comfortably in her ears without falling out. Plus, she can even easily give one to whoever she's with to share her music. That could be great if she's often working out with a buddy.
64. Bose QuietComfort Wireless Bluetooth Noise Cancelling Headphones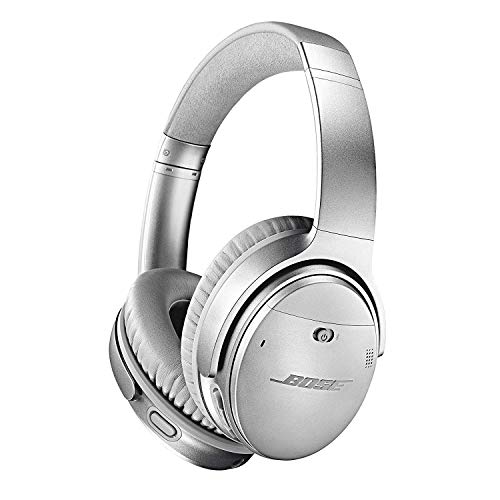 Buy or Read More on Amazon Here ($349.00 at the time of publication)
If she's more of a make a statement with over the head headphones sort of person, these QuietComfort wireless headphones from Bose could be a great option for her. Sure, these headphones are way up at the expensive end of the gift ideas on this list, but if it's great quality audio that your 20-something will love, you'll be getting what you've paid for. Bose is known for amazing sound quality and these noise cancelling headphones really are right at the top of their category. What's more, Bose have developed a unique noise only version of Augmented Reality, which she'll be able to access once she links up her headphones using the Bose app. These Bose beauties also have Alexa enabled, so she'll be able to get to her tunes just by asking for them. Perfect for a tech-savvy 20-something, am I right? I'm right. By the way, Alexa is available in both Spanish and English, which could be a useful point for the gal you have in mind for this gift.
65. Homfa 5 Tier Vintage Bookcase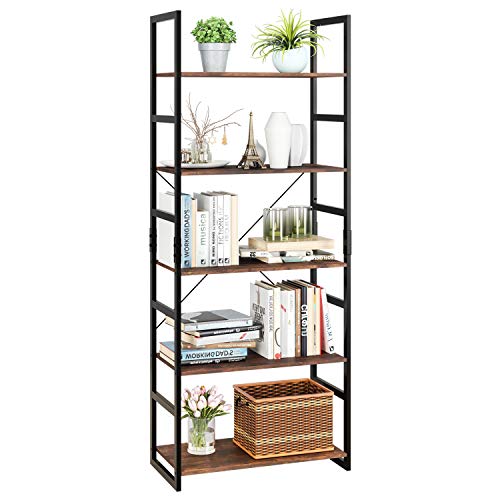 Buy or Read More on Amazon Here ($89.99 at the time of publication)
Whether she's a real bookworm – fiction, biographies, research for her studies or a recipe collection – or is just constantly in need of more storage space for her bits and bobs, this vintage bookcase will go down a treat in any 20-something's place. The classic ladder design is well built, sturdy and fully reliable, with an added cross-shaped part across the back to make it even more robust and stable. But, this design also gives her enough freedom to make her bookcase her own. Finally, she can put those piles of books that are always appearing on her kitchen table and desk somewhere practical, useful and more aesthetic! Easy to set up and position wherever she chooses in her home, this multiple tier bookcase from Homfa will blend right in with the rest of her stuff.
66. Corduroy Velvet Decorative Throw Cushion Covers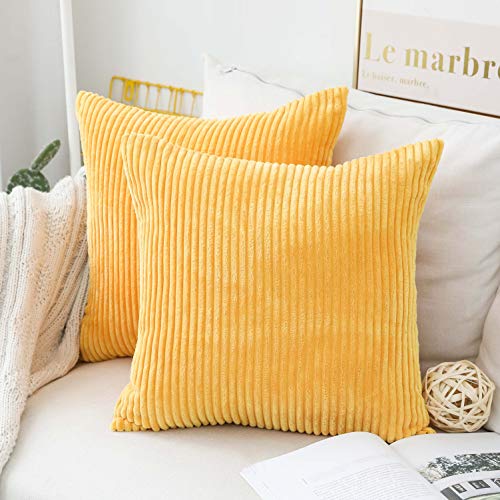 Buy or Read More on Amazon Here ($12.88 at the time of publication)
These gorgeous little throw cushion covers by Home Brilliant are the perfect gift for your 20-something. The huge range of eye-catching colors will be sure to brighten up literally any room, whatever their home décor is like… and if it's a new home and she's yet to decide on her interior look, why not get her inspiration flowing with these little color accents? With easy machine wash and tumble dry instructions clearly included, these are a great option for any area of her home. What's more, the invisible zipper section means the covers are really simple to take off and clean, while also giving them a classy overall look. These covers are super versatile, too – they'll work on cushions she already has if they're starting to look just a little bit threadbare (as long as the dimensions are correct, of course). But, why not just throw in a set of throw cushion inserts, too, and make it a full gift set? Mix and match the corduroy velvet colors to her taste and watch her place become more her own with this dash of color, thought and personality.
67. Comfy Faux Fur Slippers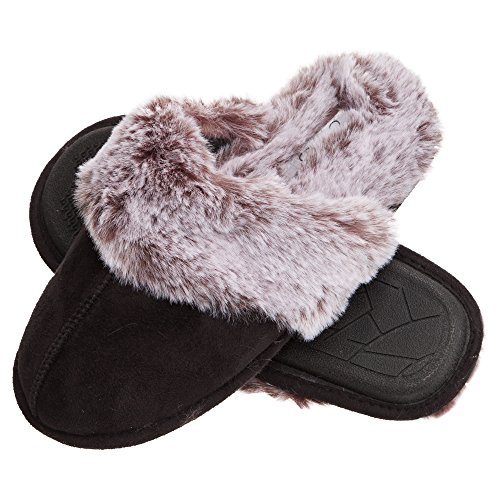 Buy or Read More on Amazon Here ($25.86 at the time of publication)
Slippers are something your woman in her 20s wouldn't necessarily think of to buy for herself, but I can guarantee she'll thank you for them as soon as she enters that whole new world of homey comfort. Whether you imagine her popping them on when she's just home from working or studying, having lazy weekend days in them or relaxing after a busy day out and about, these slippers will soon become a firm feature of her down time. The chic clog style means she can pop her new slippers on and off in two seconds flat (it literally could not be easier) and the memory foam base will make sure she gets the comfiest treatment possible. Plus, the sole on the base is fully anti-slip, so no need to worry about that. With a great range of color options and a helpful sizing guide, these guys are a perfect little option to give your 20-something the heartfelt, thoughtful gift of never-ending comfort.
68. Adidas Essentials Tricot Track Jacket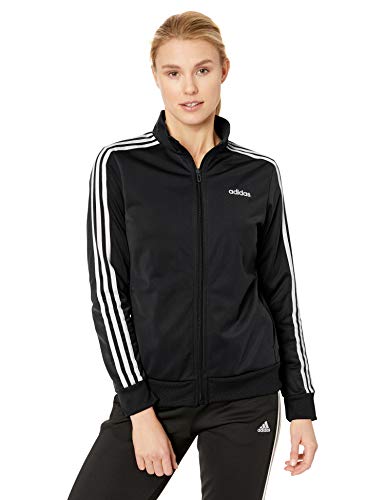 Buy or Read More on Amazon Here ($25 to $100 at the time of publication)
From the lazing around side of things to the get up and go zone: it's sportswear time. This slim fit track jacket from Adidas is a flattering yet comfy look that your 20-something is sure to get right on board with. With a range of colors that make those Adidas stripes really pop, you'll be able to find the right shade for the woman you have in mind. That signature Adidas sleek look and collar make this the ultimate layering piece for heading to and from the gym or for popping something warmer on between workouts… or just for heading to the grocery store in, let's be honest. It's not all about the look, though: built in pockets make this track jacket a practical choice too. Plus, it's more environmental than most, as this particular jacket is made from recycled polyester tricot. So, give your 20-something a fashionable, useful and millennial mindset-friendly gift, all in one. What's not to love?
69. Yoga Pants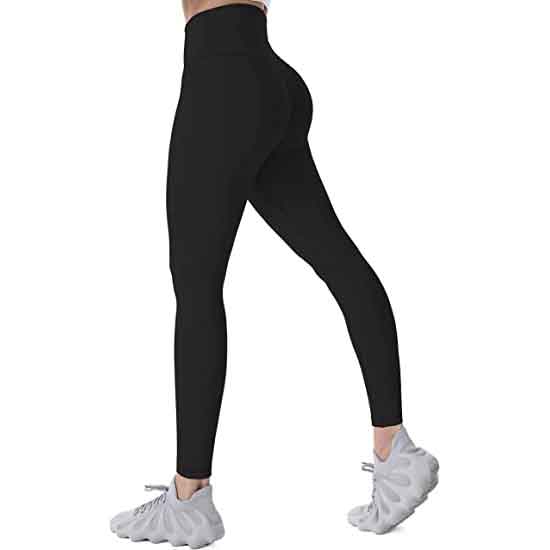 Buy or Read More on Amazon Here ($27.99 at the time of publication) 
A flexible yogi will need a set of quality yoga pants that will grip on her legs while she's exercising. These pants are butter soft so she'll feel comfortable doing her favorite stretching exercises. They're sturdy so they'll hold even when she's doing long splits.
These are neutral black so she could rock them even outside the fitness studio when she's out shopping or taking the dogs for a walk. She could also put them on when she's feeling lazy and needs a casual outfit to relax at home.
70. Workout Leggings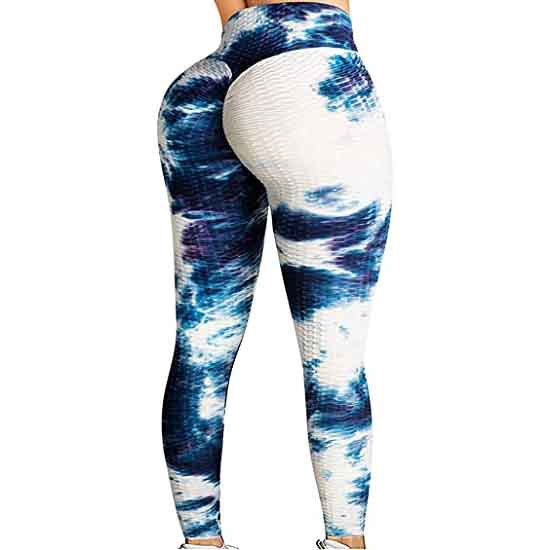 Buy or Read More on Amazon Here ($16.99 at the time of publication)
Leggings are getting popular even for girls who barely workout, and these lift the booty to show all the progress she's made at the gym. If she's feeling self-conscious about cellulite or any other flaws, she could throw these on and wear them casually.
These are super comfortable for long workouts and even resting at home. They're squat-proof so she could exercise in any position and they won't tear up. If she wants to be inconspicuous, you could get her one of the darker black colors.
Related Posts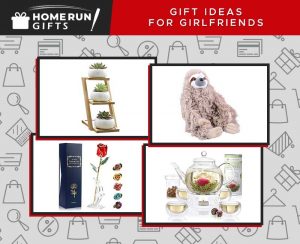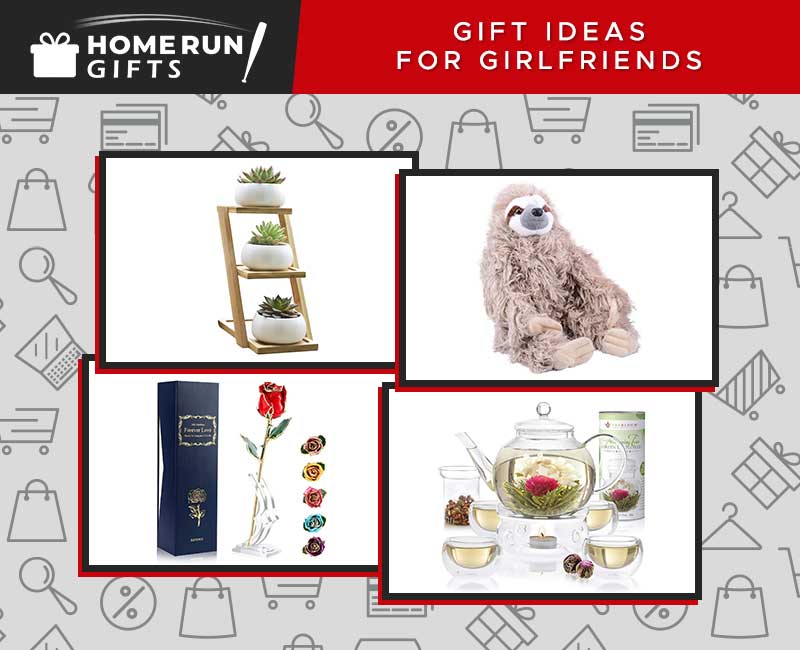 Gifts for Girlfriends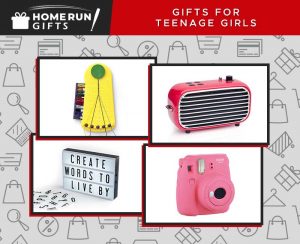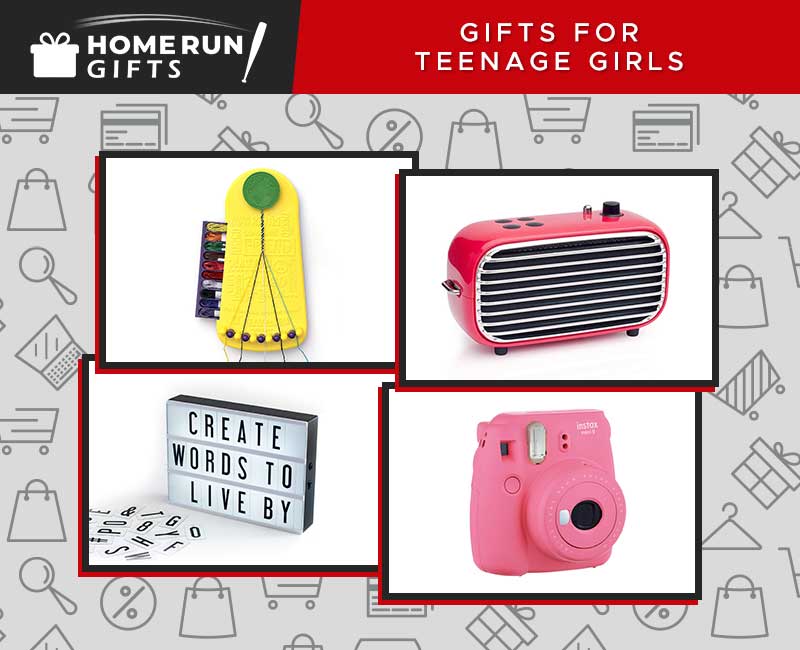 Gifts for Teenage Girls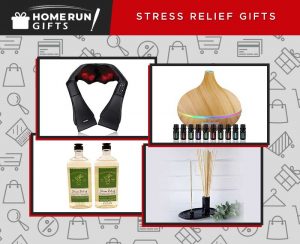 Stress Relief Gifts
Wrap Up
That's it for this page, be sure to check out some of our other pages before you go. If you know of any other great gifts for women in their 20s, let us know in the comments!