Your little baby is turning five, and you want to plan an epic party for them, right? Well, you're in luck because, at Home Run Gifts, we understand that creating a fun birthday party idea can be a stressful experience. That is why we have produced an epic list of great 5th birthday party ideas that will be sure to make this birthday a memorable one.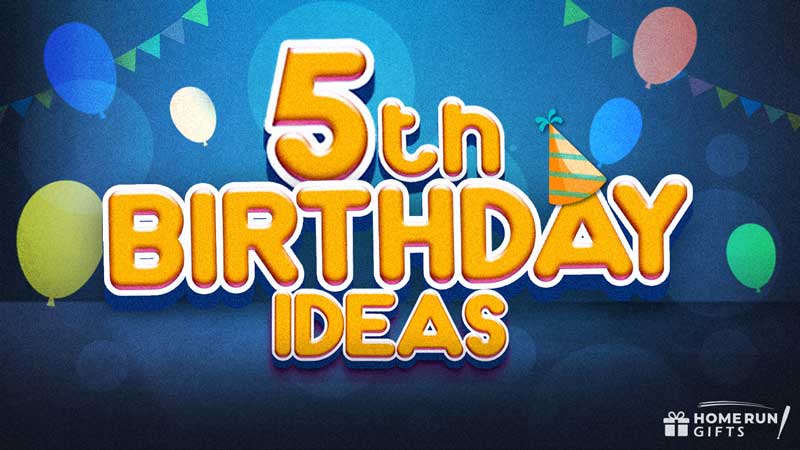 Simply scroll through the list of ideas below and find some that stand out to you. There are plenty of great ideas for both boys and girls.
1. A Science Party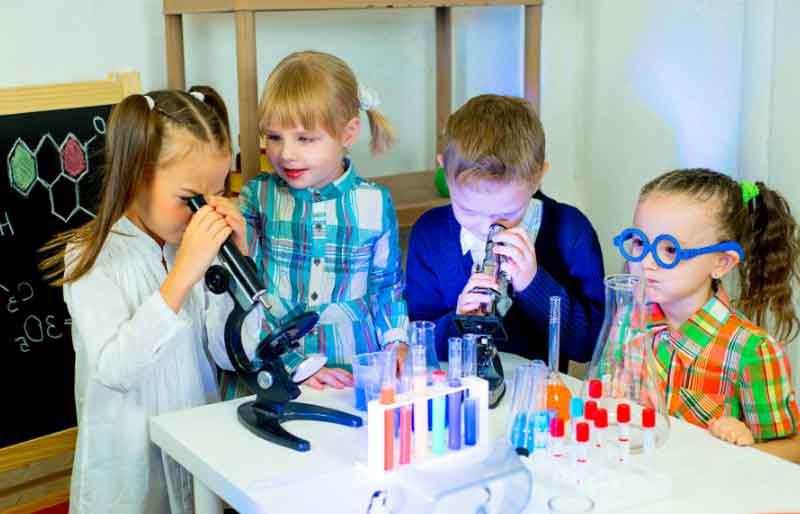 What could be better than exploding volcanoes and liquids that change color, seemingly by magic? To a child, science experiments are like wizardry!For this party idea, hire a kids entertainer that specializes in science to perform these experiments that will not only educate your child and their friends but will amaze them too! You can even supply science goggles and coats so that the children can feel like they have become scientists too.
This one may get a little messy as the experiments tend to have exploding elements to them. So, if you're not happy to do a lot of cleaning up after, it may be best to organize this party in a garden or hire a location. Whatever you choose to do, it will be worth it to see how excited the children are.
2. A Game Party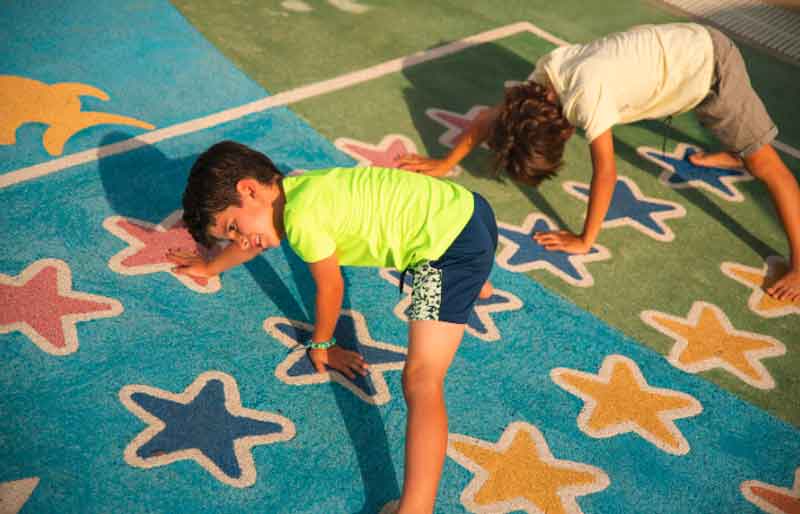 There are so many games that require multiple people to play and are children friendly. For example, classics like musical chairs and freeze dance are always popular at any children's party.To release a little more energy, you could organize more competitive games, including tug-of-war, twister, and tag. These games, whilst easy in execution, the simple nature of young children playing games with their best friends should not be overlooked.
This party idea is perfect for parents that do not want to worry about the structure of the event and can be guided by what their children would like to play. Bonus points for including prizes for the winners of each game!
3. A Cooking Party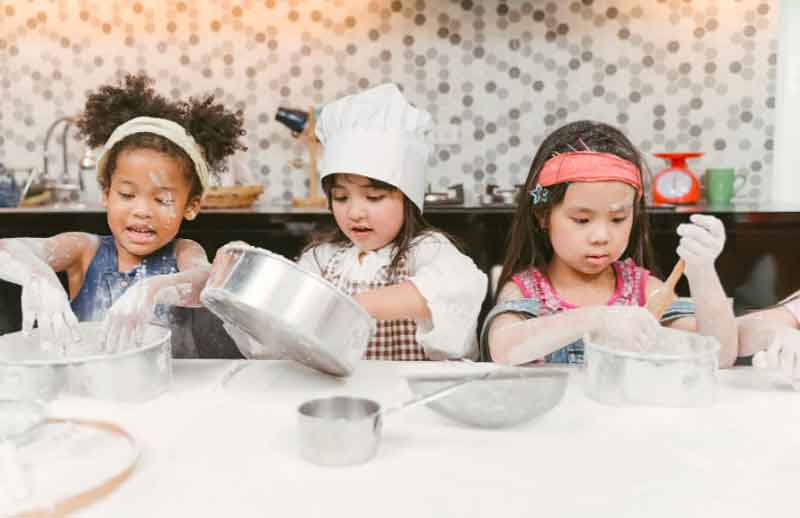 So many children love to help in the kitchen, so a cooking party seems like a no-brainer.Supply cute aprons and chef hats and allow the children to contribute to baking cookies and cupcakes. Then after the desserts are baked, you can provide icing, sprinkles, and added sweets so the children can spend the afternoon decorating their creations.
This one is probably going to be a messy one, so hiring a space for this would be preferred but watching the children get stuck into baking whilst also learning a great skill will be so rewarding.
4. A Movie Party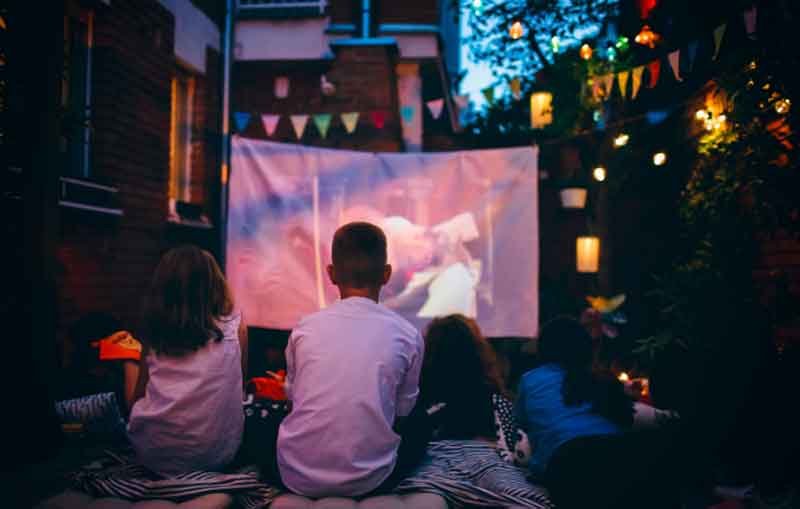 If your child's birthday is in the winter or colder months, then don't fret, this movie party idea could be perfect for you! Create a welcoming space with lots of popcorn, sweets, and refreshing drinks to mimic a cinema experience but at home.Next, choose a child-friendly movie; you can find these easily on streaming services, and allow the children to enjoy a fun movie-filled afternoon with their favorite snacks.
To go the extra mile, you could even provide tickets in the invitations that the child must present when entering the cinema room.
5. A Garden Party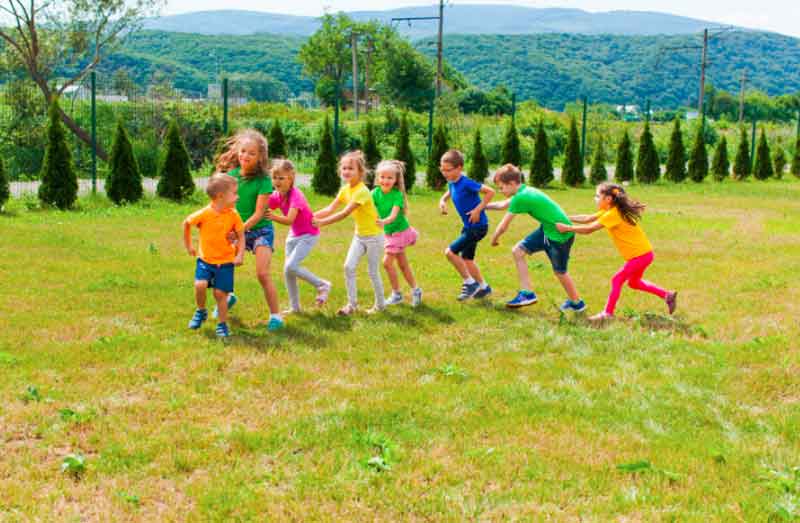 Simple in nature, but when done well can be an afternoon that is never forgotten.A garden party allows your child to have fun with their friends in a low-maintenance way. Set up an outside snack and drinks table with some fun activities and games, and your child can have endless amounts of joy.
Sometimes it's the little parties that children really remember when they grow up. So, if you're short on budget or time, organizing a cute garden party can be just as fun as anything else.
6. A Craft Party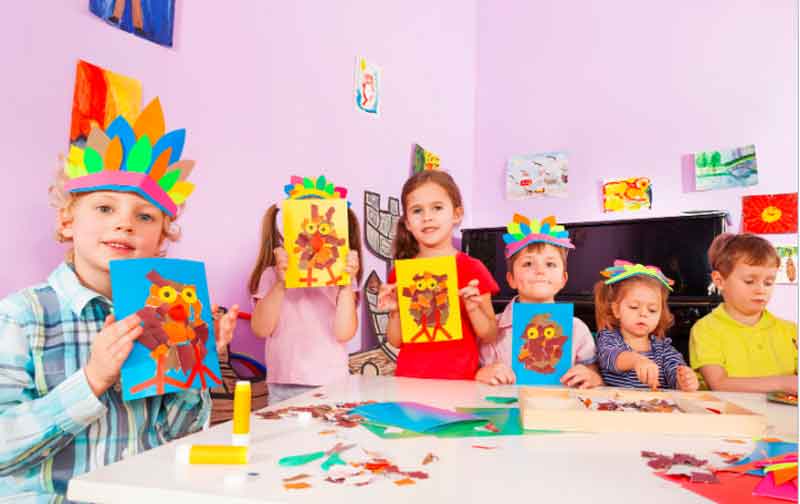 Another simple party idea is to head to your local kids' section in any store and find different crafts that children can make. These crafts are often marked by age range, so you can ensure that the children will be able to make these crafts with minimal difficulty.Set up an outdoor or indoor space, depending on the weather, and lay out the crafts (it is ideal to get more than one of the same craft so that there is no arguing) and allow the children to pick the activity that they want to do the most.
If you're having the craft-making station on a table, make sure to line the table with newspapers or something to protect your furniture from paint splatters. Also, provide the children with aprons to protect their clothes. This is one of my personal favorite 5th birthday party ideas for girls and boys. Everyone loves making crafts!
7. Pottery Painting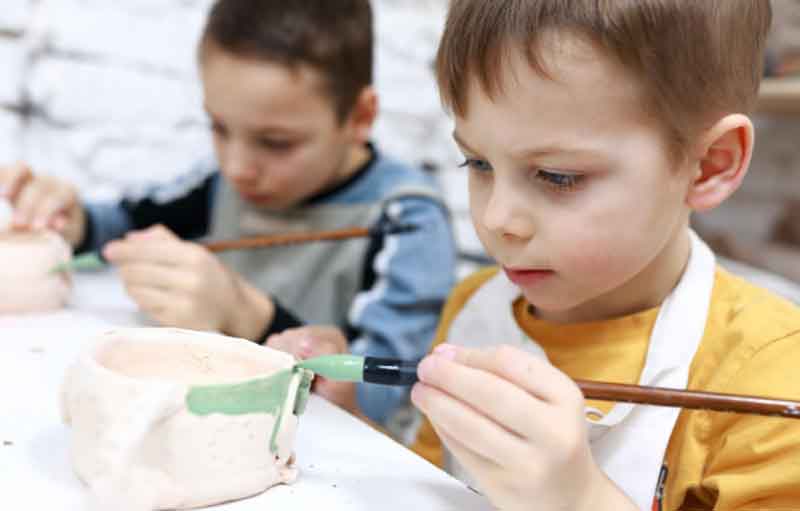 If your child is into crafts, but you don't want to run the risk of paint splatters all around your house, then head to a pottery painting experience where your child can let their creative side run free in an environment that you do not have to clean.At these pottery painting locations, there are a number of shapes and common objects like plates and mugs that your child and their friends can paint.
Then whilst they are drying in the kiln, guests can enjoy a birthday lunch with a birthday cake! After, your child can pass out the pottery pieces to their friends, which they get to take home as a reminder of their day!
8. A Costume Party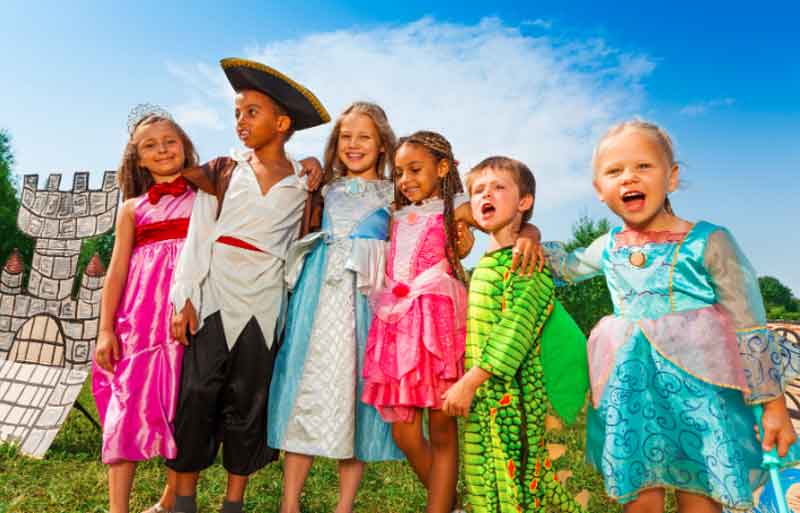 Children love to dress up! Give your child the freedom to become whoever they admire or want to be for the day and have their friends do the same.Whether your child chooses to be a superhero, a pirate, or a princess, you can ensure that the whole day will be filled with so many new personalities and so much fun.
All you need to do is let the parents know that the theme is "fancy dress" (parents could even dress up too) and that their child can dress up as whoever they would like. Next, add snacks and activities, and you're in for a great day!
9. Visit A Soft Play Park
If you're running short on time, that's okay; parents are busy people! For a simple party idea, take your five-year-old and their friends to a soft playground.
All you have to do is purchase the admission tickets for your child and their friends and allow them to release all of their energy in an already organized soft play environment.
This is a really easy way that children can have fun with minimum input from the parents as throughout the soft play, there will be workers ensuring that your child and their friends are safe, and honestly, you'll struggle to find one child that doesn't love a soft play environment.
10. Visit the Aquarium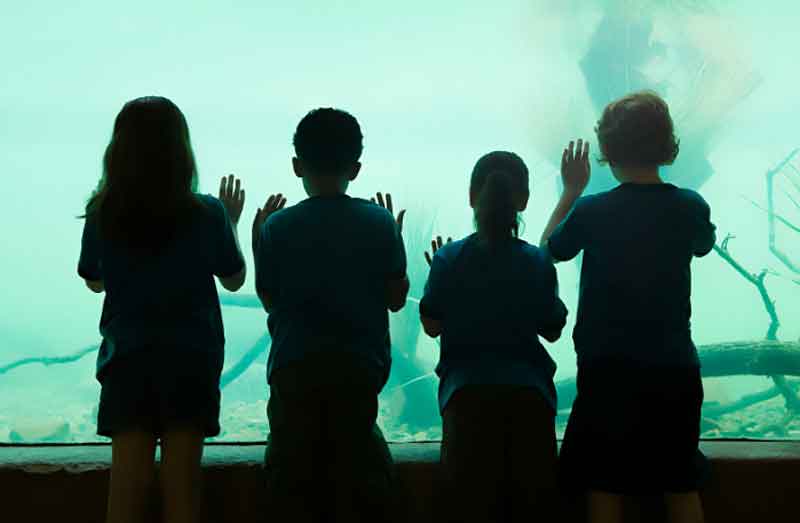 Take your child and their friends to an aquarium and allow them to explore!This party idea really doesn't require much planning, and as most children would just love to experience all that, there is to offer when it comes to seeing the huge variety of fish and sea life.
You will need to consider admission prices for aquariums, as they can be rather pricey in specific areas.
11. A Bounce house party
Similar to the soft play environment, a smaller, at home event can be a bounce house party. You can easily order bounce houses online to be delivered to your door and blown up in your garden for you.
You will need to consider the size of your garden and the size of the bounce house that you can get, as you will need to also make space for an outdoor table of snacks and drinks to keep the children hydrated throughout the day.
This party idea is hugely weather dependent as the bounce house could become slippery and dangerous if it were to start raining.
12. Visit a Trampoline Park
Five year old's have a lot of energy, and a trampoline park is a dream come true for most of them. Children can have so much fun bouncing along the trampolines for hours on end, and all you have to do is simply observe that they are all having fun. (Unless your inner child comes out and you want to bounce on the trampoline too!)
To organize this, most trampoline parks host a party session where you can hire the trampoline park for a few hours and have the park all to yourselves.
The trampoline park will also usually provide areas to purchase snacks and drinks, so you do not have to worry about bringing your own.
13. A Park Party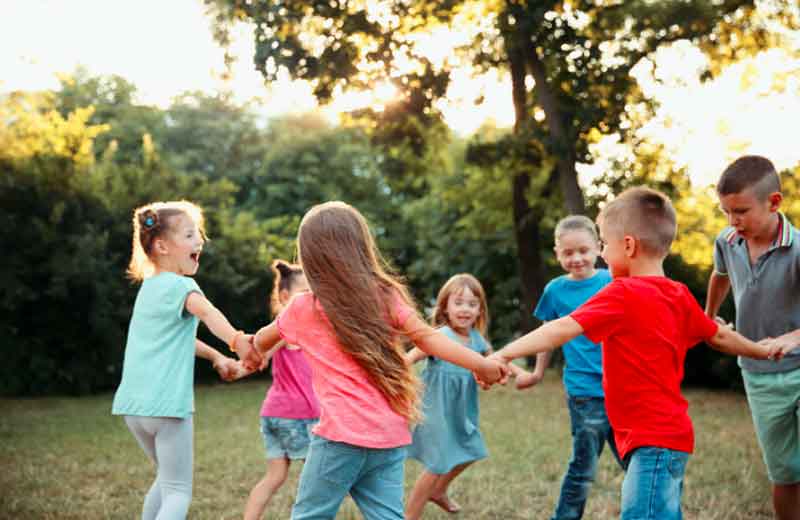 If your child's party falls during summer, then why not just simply head to a large open park, bring a picnic, and let your children play on the playground and surrounding green area?This idea can sometimes simply be overlooked as it seems too simple, but children often love to just play alongside their friends! You could also bring a cute picnic basket filled with your child's favorite snacks and blanket to sit on whilst you all enjoy a lovely birthday lunch.
The only thing you need to consider is the weather, everything else is just like a normal trip to the park but to make it that little extra special bring a birthday cake and some candles to celebrate!
14. Go Camping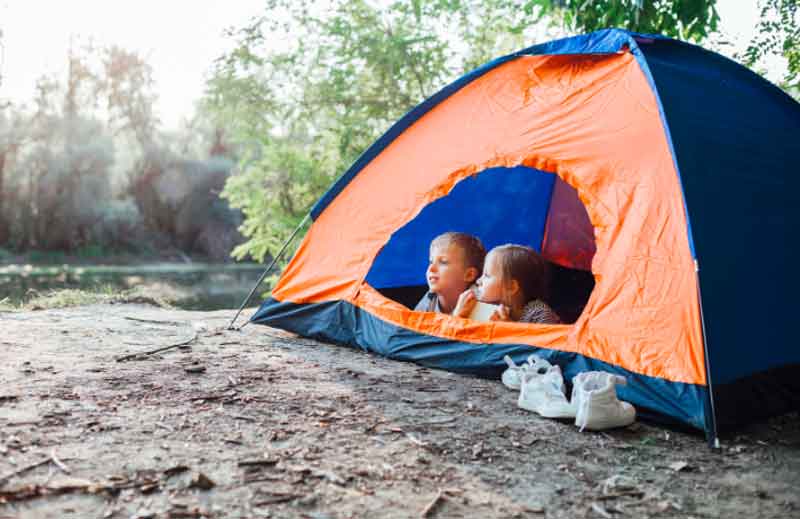 Take your child and a small group of friends with their parents on a camping trip like no other. By day, play in the wonderful nature of surrounding forests and greenery, and by night, roast marshmallows on an open fire and sing campfire songs before turning in for the night in your tents.This is a great party idea for adventurous children that love to explore and be grounded in nature. If your child likes to play imaginary games, then having a day where they can allow their imagination to be truly free alongside their besties will be an amazing experience for them.
You will need to ensure that the area that you choose to camp in is safe and have enough adults staying overnight to supervise.
15. A Pizza Party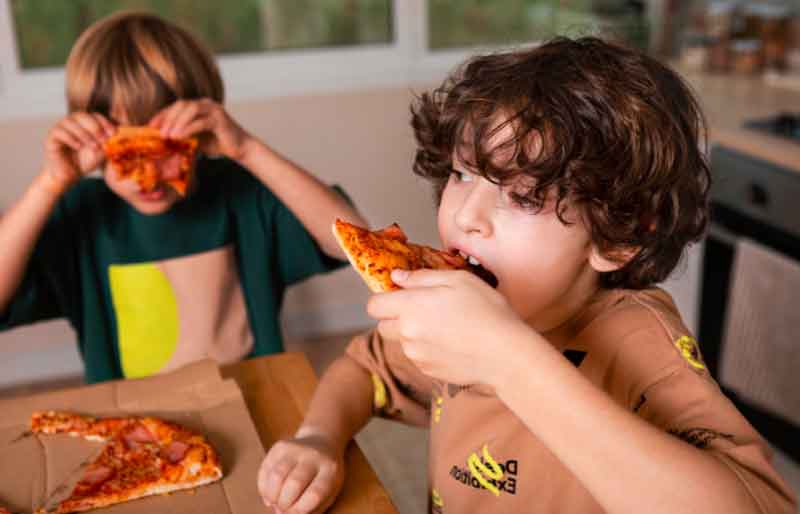 A pizza party is a fan favorite, and really nothing can go wrong.For the adults, you could order pizza to get the aroma of a pizza shop and then buy the ingredients to make dough (or purchase ready-made doughs) and toppings for the children to choose from and design their very own pizza.
Whilst the pizza is baking, let them play together in the house or in the garden, and then once they've let off some steam, they'll come back hungry, ready to devour their pizzas.
16. A Chocolate-Making Party
The majority of children are obsessed with chocolate (rightly so)! So, a chocolate-making party is sure to be a hit! This type of party allows children to explore their creativity and design sweet desserts that they can taste test and take home to their families.
The look and texture of melted chocolate are fun for children to play around with, and the sugar-filled experience itself is exciting!
You will need to head to a specific chocolate-making shop or event, as this type of party can be difficult to replicate at home. It is also important to take into consideration any allergies or food intolerances.
17. A Water Party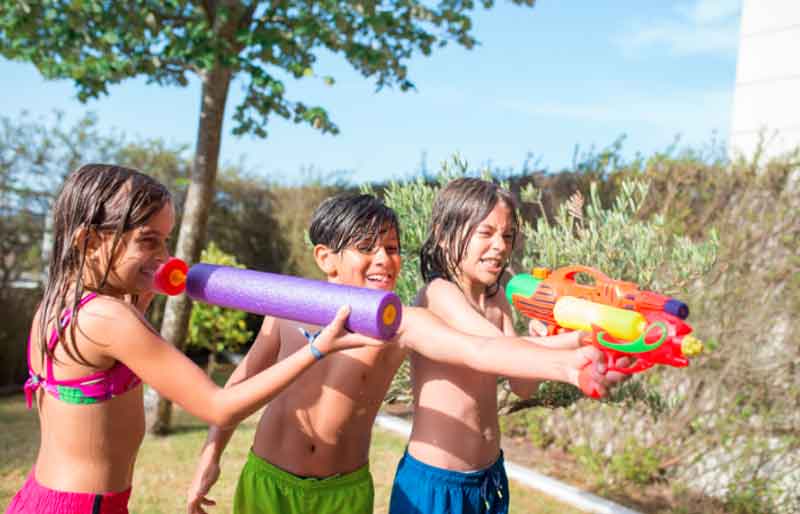 Is your child's birthday on the sunny days of summer? If so, this idea is for you!Purchase some water guns, water balloons, and even get a small paddling pool for your children to have water fights that are safe whilst also staying cool. Children can really have hours of fun doing this; just be sure to keep them hydrated with regular breaks in the shade!
Also, remember to let parents know that children should have suncream on as a lot of the time will be spent outside in the garden, and you will not want your guests to get sunburnt.
18. Organize A Treasure Hunt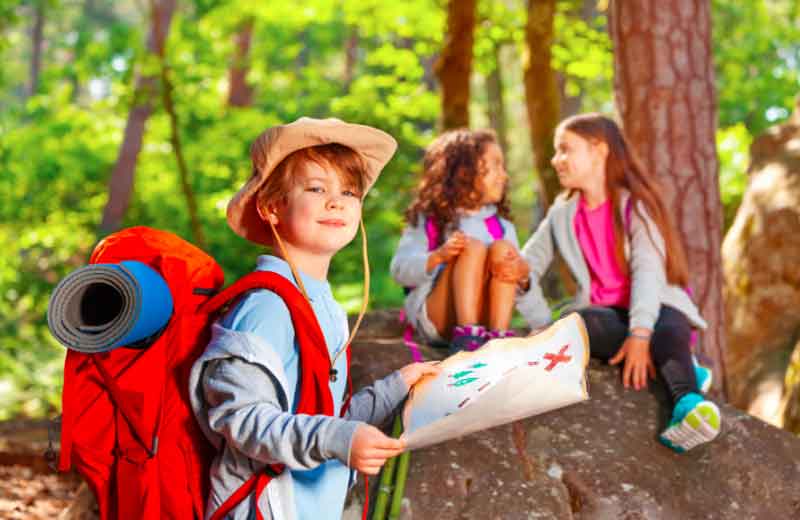 This one requires a little more preparation and execution, but when done correctly can be so much fun.
Prepare a treasure hunt with simple directions that take your children around your home with different problems for them to solve. You could even add clues, puzzles, and small tasks to make the challenge a little bit harder.
At the end of the treasure hunt, provide a prize for each child to congratulate them on solving the mystery. You could even go the extra mile and have a specific theme. For example, create a treasure hunt where the children are dressed up as pirates and are searching for gold.
Popular Article: Fun 3rd Birthday Party Ideas Kids Will Love
19. Ice Skating
Whilst particularly great in the winter, this activity can be done in the summer, too, if you live locally to a professional ice-skating rink.
Allow the children to learn how to ice skate with professionals to monitor their safety. After, add hot chocolate and sweets pastries to warm up or have a cozy winter experience.
With the children still being so young, you will need to have adults to supervise them to ensure that there are no accidents.
20. A Slumber Party
The classic slumber party never disappoints.
Invite the children around in the evening for a scrumptious dinner and let them head to their room to play together and watch movies. This is a really simple idea and is ideal for children that have some close friends.
To make the night a little extra special, you could organize slumber party packages with pajamas, facemasks, and snacks for them to enjoy. The only thing to consider is this may limit the number of guests that you can invite to the party, as all children should have a comfortable place to sleep.
21. A Candy Party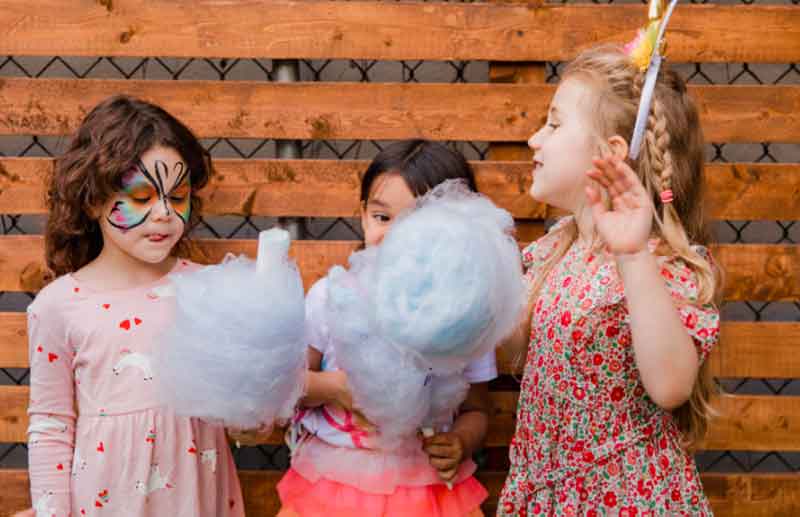 Create a candy world, and your child will be in awe.
There are certain production companies online that will come directly to your garden and create candy-filled experiences equipped with cotton candy machines, pick n' mix, and unusual sweet-tasting shops like wild jelly bean flavors.
Expect a sugar rush with this party, though!
22. A Magic Party
A magic party is a stereotypical party you often see portrayed in movies, and there's a reason why seeing a professional magician pull a rabbit out of a top hat will never get old, and children love it just as much.
You can find professionals online that will organize a performance for your child and their friends that can be done either inside or outdoors, so the weather does not impact the party experience.
You could add magic wands and small magic trick sets to gift bags to give to the children that are invited so they can practice magic at home after the party ends.
23. An Outdoor Cinema
Similar to the movie cinema party idea, an outdoor cinema is ideal for birthdays that fall in the summer months.
Replicate a cinematic experience with popcorn, sweets, and ice creams!
When outside, create a comfy seating area and a projector where your children can all watch a child-friendly movie together whilst outside in the fresh air. This idea is simple but highly effective!
24. Visit the Zoo
There is so much fun to be had for both children and adults when visiting a zoo.
Take the children around to see the different wildlife that they do not often get to say. Most zoos also have interactive areas for children to feed certain animals or hold them. Plus, you can usually find playgrounds located within the zoo for your children to play on.
It is important to keep in mind that zoos can get really busy, especially during the summer holidays and weekends, so organizing a party date around these times may be your best bet.
25. Visit a Petting Farm
Similar to visiting the zoo, a smaller version, with a different type of animal, is visiting a petting farm where children can be around cute farmyard animals.
At petting farms, the owners usually organize interactive experiences where the children can feed and pet animals, including pigs, goats, and horses.
It's important to keep in mind that not all children are comfortable around specific animals and may feel anxious around them.
26. A Disco Party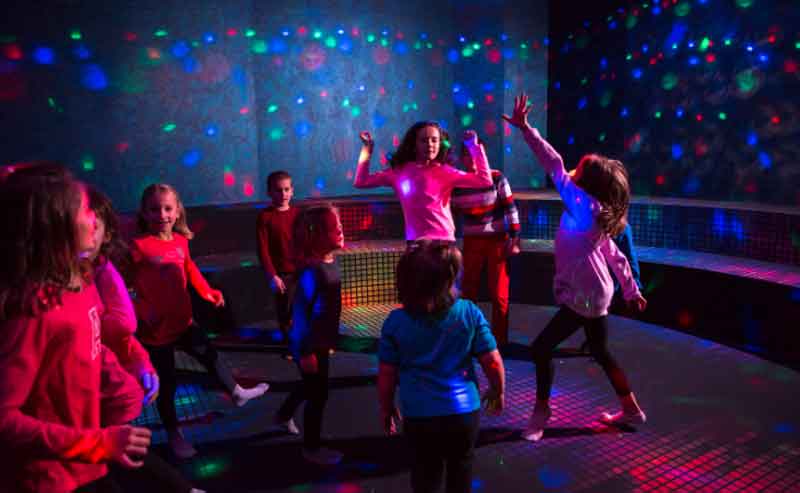 Sometimes the traditional type of party is the way to go. Hire out a large space, and have a disco party filled with lights, music, snacks and refreshing drinks.
At the party, you could also add a karaoke machine for children to sing their favorite songs.
This is a low-maintenance idea where children can simply just party the evening away with their friends without too much structure.
27. A Sports Party
If you have a child that is obsessed with sports, then a sports party theme is something that you could go for.
For example, a popular sporting idea would be to take your child and their friends to a football class where they can practice their football skills and play a football game. This idea is not limited to just football, though, as there are other sports sessions that you can book where your child gets to be on a team with their friends.
For this idea, you will need to invite a substantial amount of guests so that there are enough children on each team. Usually, the organization that puts on the sporting sessions will give you an ideal number of children needed. If you're looking for 5th birthday party ideas for boys then this is one that I highly recommend.
28. A Glow in the Dark Party
Kind of like a disco-themed party but in the dark, equipped with glow-in-the-dark paint sticks and fluorescent clothing that reflects it. – This party is a modern twist on the classic disco that will exceed your child's expectations.
To execute this party idea, hire a space and lay down paper for your children to draw glow-in-the-dark pictures whilst using grow-in-the-dark pens. Depending on the location, you could also include glow-in-the-dark paint and glow sticks mixed with music for your child to party with.
Remember, whilst this is an exciting idea for some children, some may not enjoy being in a dark room, so keep this in consideration when inviting guests and potentially have a fun, well-lit room nearby for children to play in if they dislike the dark.
29. Visit a Carnival
Whether you choose to rent a certain space to create a carnival-like experience or you have multiple adults supervise the children whilst a carnival it is open to the public. Either way, this party idea is jam-packed with excitement.
There are endless amounts of entertainment at the carnival, where the children can win prizes to take back home with them. There are also so many opportunities for food that you do not have to prepare yourself.
This party idea is highly dependent on the weather, though, as the carnival may close if it is heavily raining, so the birthday month will need to be taken into consideration.
 30. Visit a Water Park
Equipped with slides, floats, and swimming pools, there is so much fun to be had at a waterpark!
Usually, water parks have a section for younger children so you can ensure that they will be monitored and safe throughout your time there, and these supervisors often organize water-based games that the children can play.
With this party idea, it is vital to keep in mind that not every child can swim, so this may exclude some party guests, or arm bands will need to be provided to ensure every child's safety. When it comes to 5th birthday ideas, this is one of the most fun, especially if your child's birthday is during the summer! There are also many indoor water parks, and some of them have areas that are suitable for kids.
31. A Breakfast Party
No meal is more important during the day than breakfast! So, invite your child's friends over to prepare a delectable breakfast that includes pancakes, waffles, and so much chocolate syrup!
Get your children involved by creating a breakfast station where they can decorate their own pancakes. Include sweet snacks like strawberries, chocolate chips, and syrup for a little added sugar (and fun)!
This party idea is ideal for parents who work weekends and only have a limited amount of time.
32. A Bug Party
Some children just love bugs, reptiles, snakes, and other insects (we can't see why that is, but it's true).
If your child is bug obsessed, you can book professionals online to bring these little critters to your door and allow the children to interact and hold them in a safe manner. You could even include bug-themed food choices using raisins, and if you're feeling extra brave, you could buy edible bugs to add to desserts (although we suggest having some desserts bug free)!
This party idea may exclude some guests as holding bugs is not for everyone, so be sure to include other activities and games throughout the day.
33. A Wheels Party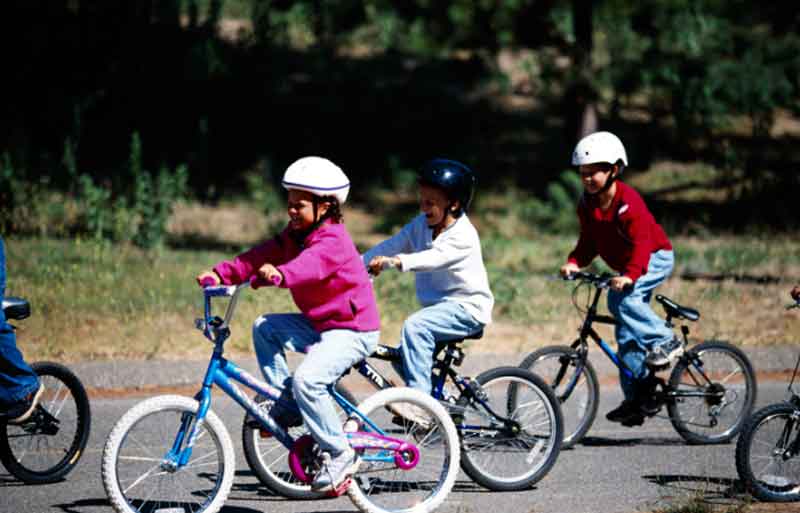 Another outdoor theme that needs minimal effort is to invite your guests to a park and ask them to bring their own set of wheels. Whether this is a scooter, bike, or rollerblading, honestly, just do whatever they prefer the most and allow them to play.
If you're happy to spend a little more money, you can buy your own set of rollerblades or scooters for each child. Once they are all tired from playing together, bring out the cake for them to enjoy.
Ensure that if you choose this party idea, everybody wears safety gear.
34. Dessert Decorating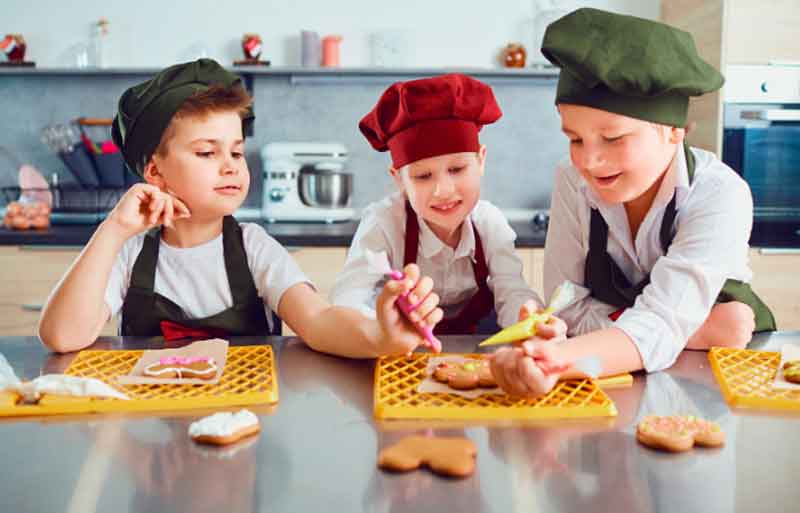 Whether you head to a specific place where this type of party can be arranged or you have it at home, the best part of dessert making is the decorating.
Purchase a bunch of plain cupcakes and cookies, then buy sprinkles and additional sweet extras to allow for an interactive party experience where the child and their guests get to decorate their own desserts.
If your child's birthday falls during December, you could switch out cupcakes and replace them with gingerbread houses and Christmas cookies to decorate instead – if your child loves Christmas, that is!
35. A Pamper Party
Children live to mimic adults, and although they will not be allowed to visit a real spa, you can replicate the experience at home.
There are recipes online to create facemasks that use natural ingredients that children can make themselves. Also, you can easily purchase manicure and pedicure nail polish options that are non-toxic for children to use.
To really create that spa environment, you can provide fluffy robes and spa sandals too. Oh, and don't forget the sliced cucumbers for the face masks!
36. Afternoon Tea
Whilst this idea may cater more to girls than boys, it is still a lovely 5th birthday idea.
Allow your five-year-old to be the host of their very own fancy tea party, where dainty finger sandwiches are prepared with sweet desserts that are served on stunning afternoon tea stands.
You could even purchase feather boas, gloves, and hats for the children to dress up in and feel like the classy ladies that they are.
37. Bowling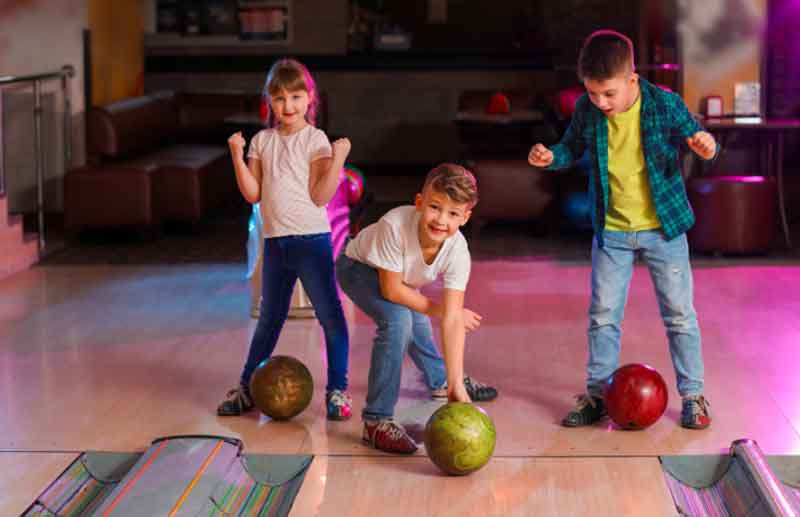 Visit your nearest bowling alley and book a couple of games for the children to enjoy. This idea is really that simple.
This party has minimal stress as most children have likely already experienced a bowling game and know how to play – they may just need an extra hand pushing the bowling balls down the ramp. You could even allow parents to stay and get involved in the games with their children.
At these bowling centers, there is usually a restaurant or area to eat where you can bring out the birthday cake after the games have ended.
38. A Tie-dye Party
Tie-dye keeps coming in and out of trend, but the craft itself is fun to do.
Simply purchase a bunch of white kids' T-shirts, rubber bands, and tie-dye paints and teach the children how to tie-dye. (There are multiple videos on YouTube to learn from if you are unsure of how to do this)
This party idea is a creative experience where they can mix colors and be excited by the pattern that is produced. You could even add cookies to decorate with tie-dying colors for a separate activity for the children to enjoy. Also, the party name, "Tie-dying for turning five," will be a hit.
39. Visit The Beach
If you're lucky enough to live locally to a beach, you should take advantage of that and head there with a bunch of sand castle-making tools, shell-collecting boxes, and treasure-searching devices, and have a beach day!
Your child and their friends can have so much fun searching the beach for treasures and building sandcastles. The ocean is also right there for the adventurous kids that want to take a dip – just be sure to supervise them when doing so.
Remember to bring a picnic filled with snacks, ice cream, ice lollies, and of course, a birthday cake to celebrate your child's 5th birthday under the sun.
40. Fruit Picking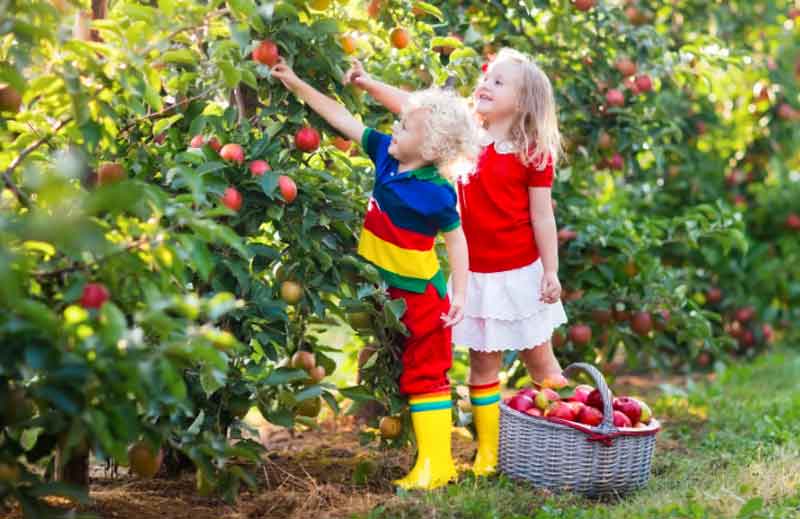 If your child's birthday is during the spring and summer, when the fruit is in full bloom, you can head to a local farm (be sure to check their opening times), where your children can have a hands-on experience of picking fruit that they can take home and turn into delicious snacks.
Not only does this teach the children where their food comes from, but children also love to participate in creating different baked goods at home.
Wrap Up:
That does it for this birthday ideas list. Let us know if there are any great party ideas we missed in the comments section below.