As a parent, you know how important it is to throw a memorable birthday party for your child, especially when they're turning 12. It's a milestone year that deserves a special celebration filled with cake, excitement, and plenty of fun! That's with we decided to put together this list of awesome 12th birthday party ideas.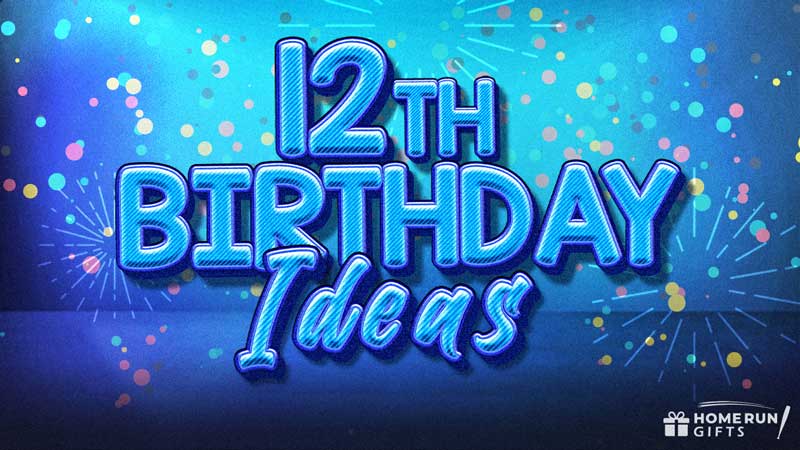 From adventurous outdoor activities to creative crafts and games, we've got everything you need to create an unforgettable party experience. So, let's dive in and get ready to plan a birthday party that will have your child beaming with joy!
1. Experience the Wonders of the Ocean with an Aquarium Visit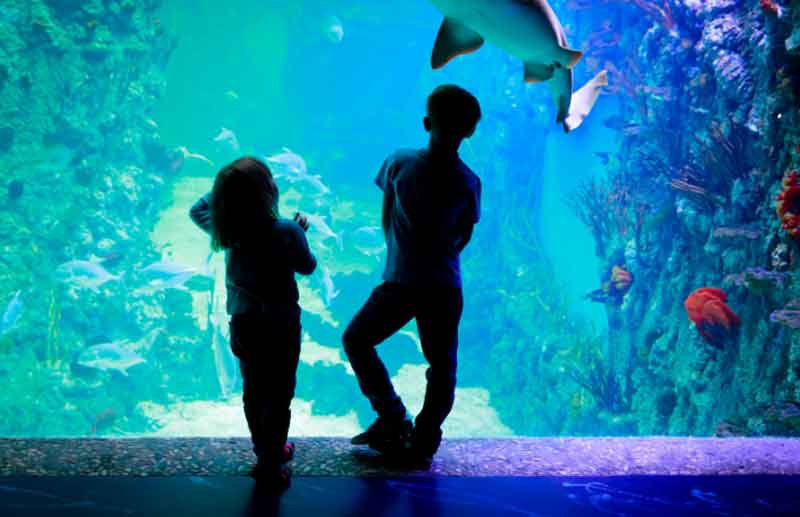 As you wander through the aquarium's exhibits, you'll be greeted by an array of breathtaking sea creatures, each more fascinating than the last. Watch in awe as majestic sharks glide through the water and playful dolphins perform their acrobatic feats. You'll even have the chance to get up close and personal with some of the aquarium's residents through interactive touch tanks and feeding experiences.But an aquarium isn't just about marine life. It's also a great place to have fun with your child's friends. Many aquariums offer activities like scavenger hunts or interactive games, making it an ideal place to celebrate your child's special day.
2. Camp Under the Stars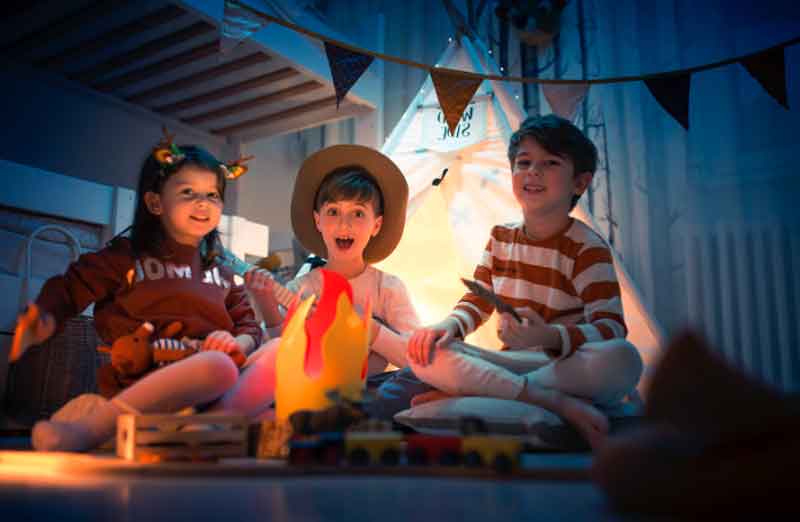 To amp up the excitement for a 12th birthday party, how about hosting an epic backyard camping extravaganza? Gather family and friends for a wild night of adventure, where you can set up tents, build a bonfire, and roast marshmallows. Then, keep the party going with some thrilling games like flashlight tag or hide-and-seek, and see who can spot the most constellations in the night sky.And what's a camping party without a delicious outdoor cookout? Grill up some burgers and hot dogs, and share your favorite campfire stories while enjoying the great outdoors. Get ready to make some unforgettable memories under the stars!
3. Set Sail on an Unforgettable Boat Ride Adventure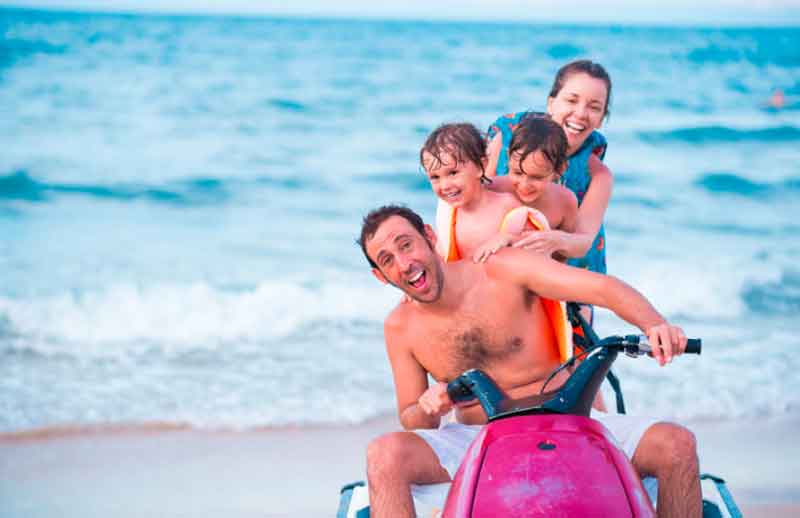 If you're ready to add some thrills and chills to your birthday celebration, buckle up for a speed boat ride or a jet ski adventure! Feel the wind in your hair as you zoom across the water and experience a heart-pumping rush of adrenaline. It's like riding a rollercoaster, but on the water!On the other hand, if you're in the mood to relax and unwind, hop aboard a serene river cruise. Take in the breathtaking views of lush greenery and glistening waters, and possibly even catch a glimpse of some wildlife. It's like a nature walk, but on the water!
4. Rev Your Engines with a Thrilling Go-Kart Racing Adventure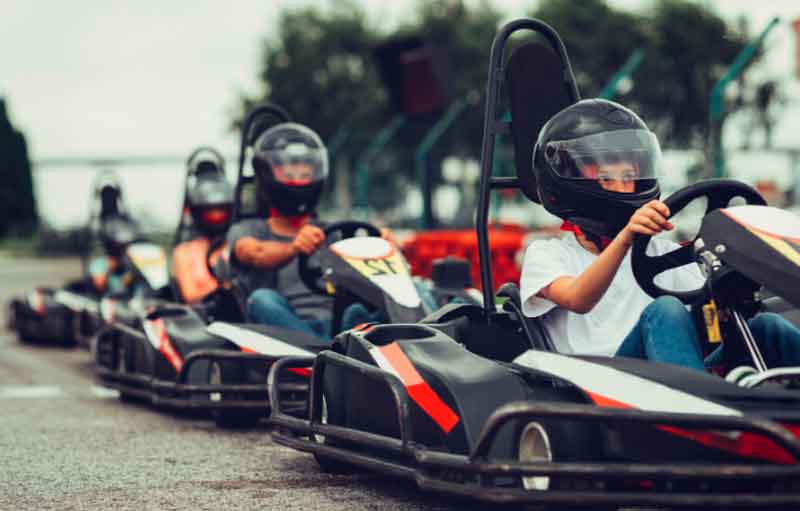 Unleash the speed demon in your child with a thrilling go-kart racing adventure. Take the party to a nearby go-kart track and let the kids race their hearts out. They'll love the adrenaline rush and the chance to compete with their friends for the fastest lap time.You could even award trophies to the top three finishers or give out fun prizes for the best driving styles. With a little friendly competition, your child's birthday will be a day to remember! Though, make sure to prioritize safety by providing helmets and other necessary safety equipment. With these precautions in place, your child and their friends can enjoy a thrilling and memorable birthday celebration on the track.
5. Battle it Out with a Game Tournament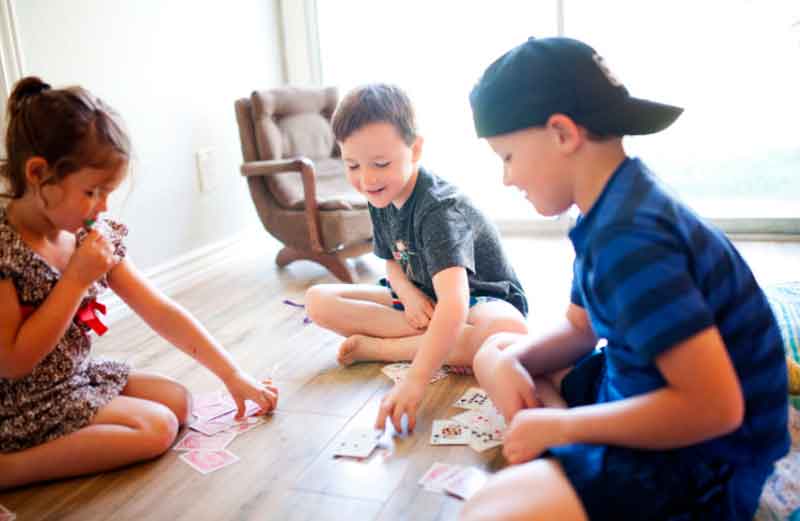 If your child is an enthusiastic gamer who loves competition, consider arranging a game tournament to celebrate their birthday. You can design a tournament bracket with various games, such as video, board, or card games, and let the games begin. To add to the excitement, you can also offer a small prize to the winner.Encourage everyone to bring their best effort and enjoy some friendly rivalry. Additionally, your child may discover a new favorite game or make a new gaming friend in the process.
6. Bake and Decorate Cute Birthday Cupcakes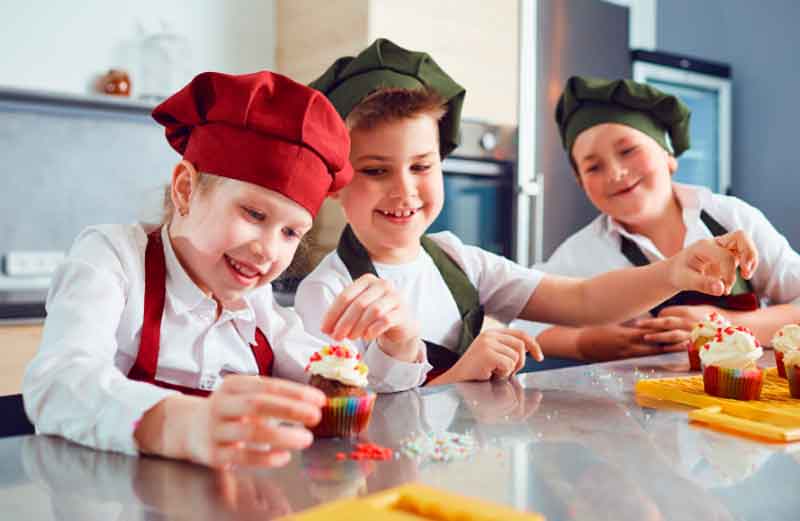 Who doesn't love cupcakes? So, for your child's 12th birthday party, why not bond in the kitchen by whipping up some homemade cupcakes together?You can get creative with the decorating using frosting, sprinkles, and other toppings to make unique and tasty treats that your guests will adore. At the party, you can also hold a cupcake decorating contest and see who can come up with the most creative designs. This interactive and fun activity is a perfect way to spend quality time with friends and family while indulging in delicious treats at the end.
7. Host a Fun Costume Party with Friends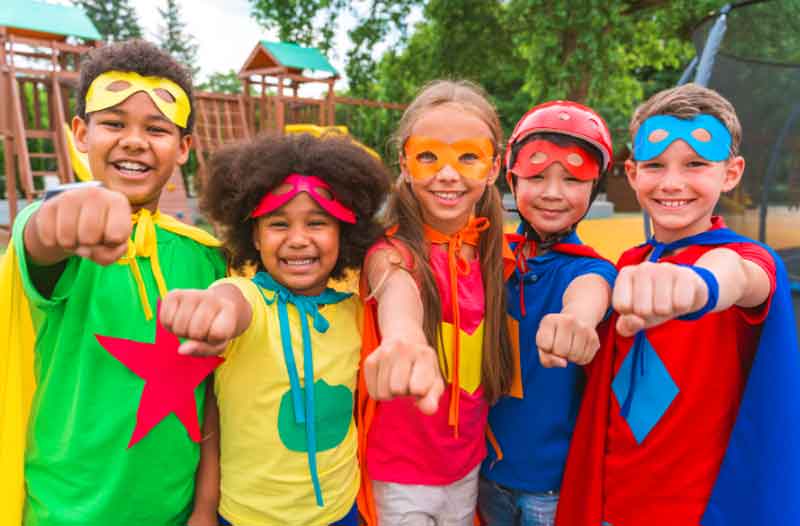 Turning 12 is a great excuse to throw a costume party. Let your child's imagination run wild, and invite friends to dress up! You can set a theme, like superheroes or movie characters, or have everyone come in their own unique costumes.Make sure to have some fun party games and activities to keep the energy going all night long. It's a great way for your child and their friends to express themselves creatively and have fun at the same time.
8. Splash into Fun at a Water Park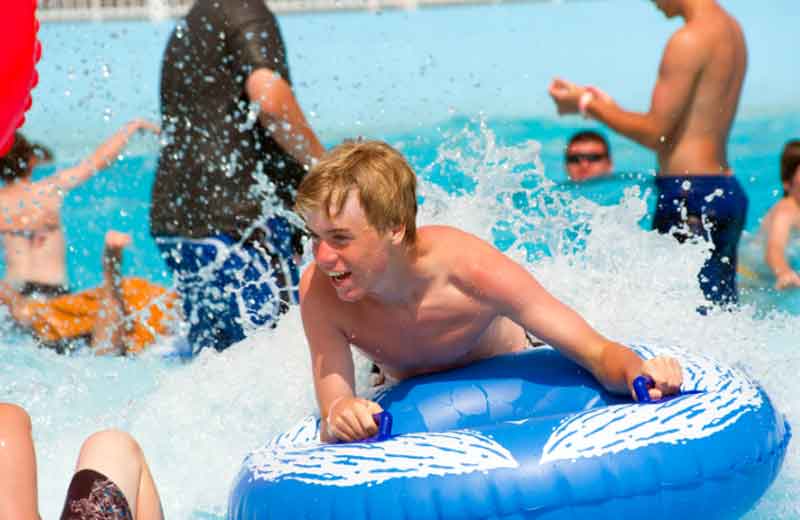 Celebrate your child's big day with a splash at a water park, where you'll find an abundance of heart-pumping water slides, lazy rivers, and wave pools. Your child and their friends can spend the day zooming down slides and racing each other, laughing and splashing around in the wave pool, and indulging in some delicious snacks to refuel their energy.Water parks are not only fun for kids but also provide a great opportunity for parents to unwind and bask in the sun. While your little ones are busy enjoying the water, parents can relax in a poolside lounge chair or treat themselves to a refreshing drink from one of the park's concession stands. It's a win-win for everyone!
9. Embark on an Exciting Scavenger Hunt
If your child is feeling adventurous, why not organize a scavenger hunt? Create a list of clues and items to find and split your guests into teams. It's a fun and exciting way to get some exercise and spend time with your kid's friends.
With a themed scavenger hunt, such as a nature-themed hunt or a treasure hunt, you can include items like leaves, flowers, and stones or even hide a treasure chest full of treats and small prizes. To add to the excitement, you can make the hunt more challenging by including puzzles and riddles that need to be solved to find the next clue. Not only is this a great opportunity to see parts of your area that you may not have explored before, but it can also teach your child and their friends problem-solving skills and teamwork.
10. Host an Elegant Tea Party Outdoors
Turn your backyard into a whimsical garden tea party! Create a magical ambiance with tea cups, saucers, and delicious treats, along with charming garden-inspired decorations. You can also spice up the party with a dress-up theme, like vintage tea party attire, complete with hats and accessories for guests to wear.
Keep the fun going with a garden scavenger hunt or flower arranging activity. Plus, add to the excitement with a tea-tasting session where guests can try different teas and learn about their flavors and origins. This is an excellent opportunity to introduce your child and their friends to the world of tea culture and etiquette while having a blast at the same time.
11. Throw a Sleepover with their Besties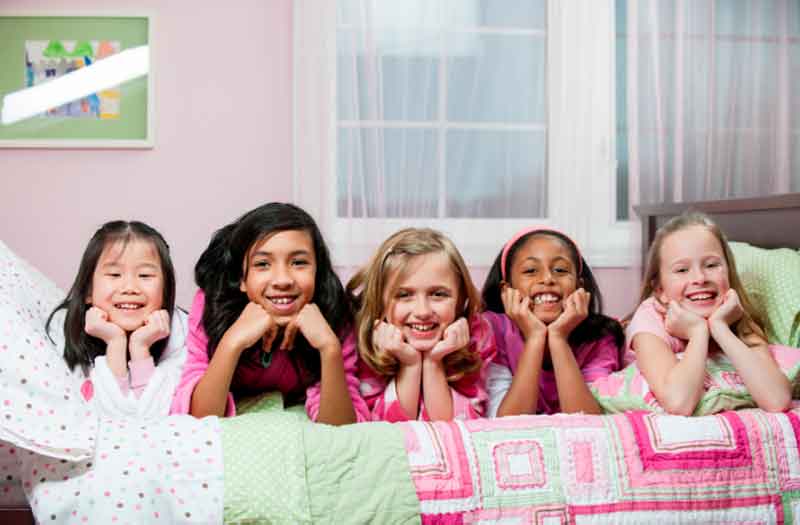 Get ready for a night of non-stop fun and giggles with a sleepover party for your child's closest pals! Plan some epic activities, like making DIY spa treatments, playing board games, or watching your favorite movies while snuggled up in comfy blankets. And don't forget the snacks – it's all about the munchies!To make it even more memorable, throw a theme party like a pajama party where everyone wears their coolest PJs and slippers. Or, go for a movie marathon party where you watch a series of flicks all night long! For an extra dose of pampering, indulge in a DIY spa treatment session where guests can make their own face masks, scrubs, and bath bombs. It's the perfect time to teach your child and their friends about the importance of self-care and taking care of their skin and body while having an absolute blast!
12. Snap Memories and Strike a Pose in a Fun Photoshoot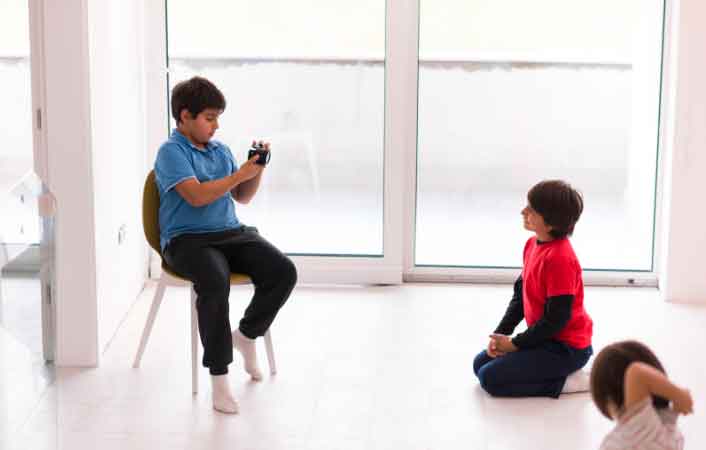 What's better than spending an afternoon dressing up with friends and taking some memorable photos? Create a DIY photo booth with props and decorations, or hire a professional photographer for some next-level snaps.
Take it up a notch and turn it into a fashion show or a themed photoshoot with costumes and accessories. You can channel their inner superstar or even recreate some of their favorite movie scenes for added creativity and excitement! Don't forget to capture all the fabulous moments in a photo album or scrapbook to cherish forever.
13. Prepare an Epic Nerf Battle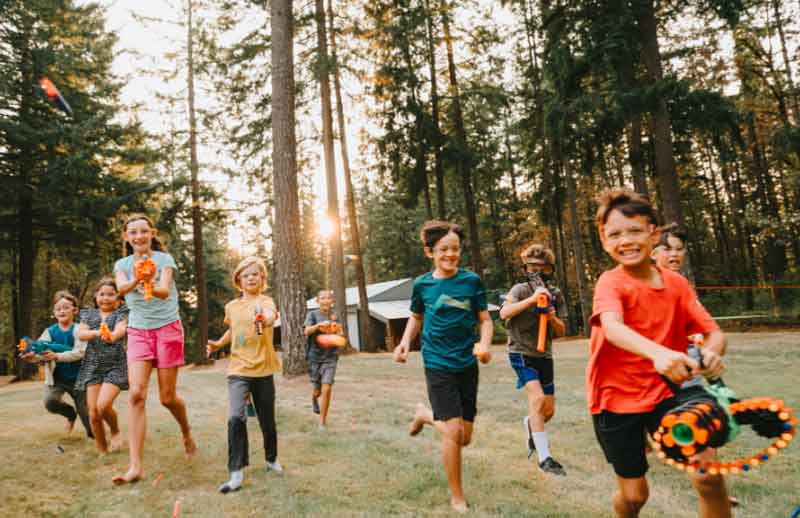 Are you ready for a high-energy and competitive party? Transform your backyard into a thrilling battleground, complete with an obstacle course and various hiding spots. Split the guests into teams and battle it out to see who reigns supreme.
To keep things interesting, add some exciting challenges and mini-games such as "Capture the Flag," "Zombie Invasion," or "Protect the Captain." With non-stop action and friendly competition, this Nerf gun battle will surely be a hit and leave the children with unforgettable memories.
14. Experience the Thrill of Amusement Parks
Prepare for an epic 12th birthday party by heading to an amusement park with your kid's favorite people! Feel the exhilaration as you soar through the air on thrilling roller coasters and other rides. Take a break to enjoy some tasty park treats and play some fun games with your friends.
And to crank up the excitement, why not create a scavenger hunt with challenges like finding and riding certain rides or winning specific prizes? This will make for an unforgettable adventure that will be talked about for years to come.
15. Make a Splash with a Pool Party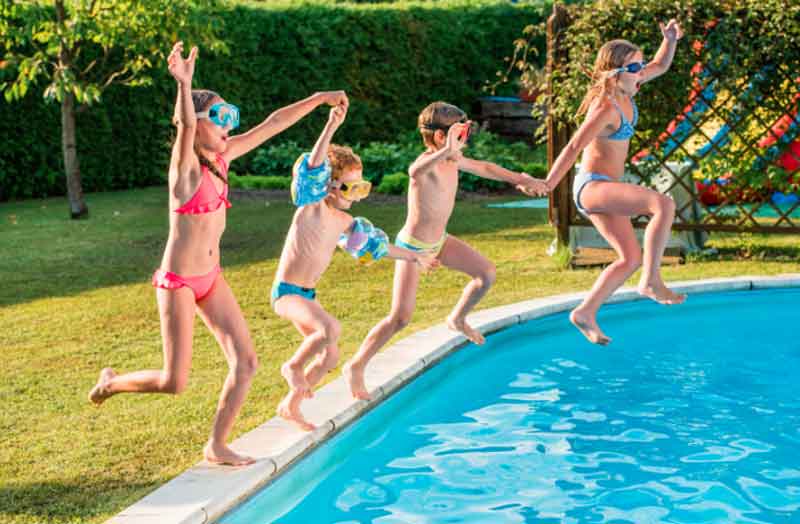 Make a splash with an epic pool party to celebrate your child's 12th birthday! Picture colorful floats, beach balls, and tons of fun games like Marco Polo and relay races. This is where your child and their friends can cool off in the water, nibble on some poolside snacks, and create unforgettable memories.To make the party even more exciting, decorate the pool area with balloons, streamers, and fun-themed decorations. But, you must remember to prioritize safety by having adult supervision and ensuring all guests know how to swim or wear proper flotation devices. It's the perfect way to beat the heat and celebrate your child's big day with a splash!
16. Jam Out to Your Own Personalized Birthday Playlist
Let's face it; no birthday celebration is complete without some tunes. So why not create a customized playlist for your child's special day? Ask your child to pick out their favorite songs and create a playlist that's sure to get everyone dancing. You can even add some of their favorite childhood tunes for a nostalgic touch.
Whether you're hosting a party or having a small gathering, a personalized playlist is the perfect way to set the mood and create a fun atmosphere. And who knows, it might even become a tradition for future birthdays!
17. Get Creative with a Pizza-Making Party at Home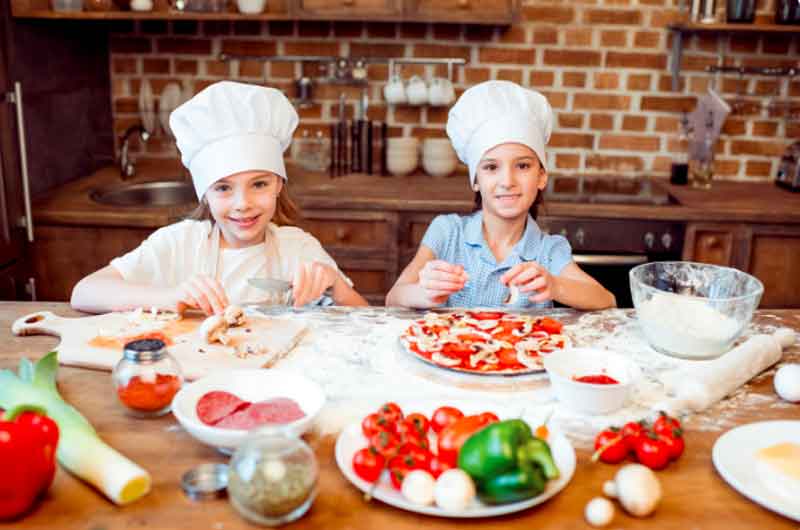 Pizza is a classic party food that kids love, so why not make it extra special by hosting a pizza-making party at home? Not only is it a fun and interactive activity, but it also allows your child and their guests to customize their pizzas to their liking.Set up a pizza-making station with all the toppings and ingredients, such as cheese, tomato sauce, vegetables, and meats, and let the kids go wild. You can even make it a competition to see who can create the most creative pizza.
It's a great way to get everyone involved and have fun; plus, who doesn't love pizza?
18. Belt Out Your Favorite Tunes with a Family Karaoke Night
Set up a karaoke machine or use a phone app and select your favorite songs to sing along to. To add some excitement, you could make it a competition to determine who has the best singing voice or come up with an amusing prize for the winner. It's an excellent opportunity to let your hair down and have a blast with your loved ones while perhaps discovering some hidden singing abilities!
This is also an excellent opportunity to unwind and enjoy some quality time with your entire family while potentially uncovering some untapped vocal skills!
19. Explore the Great Outdoors with a Nature Hike and Picnic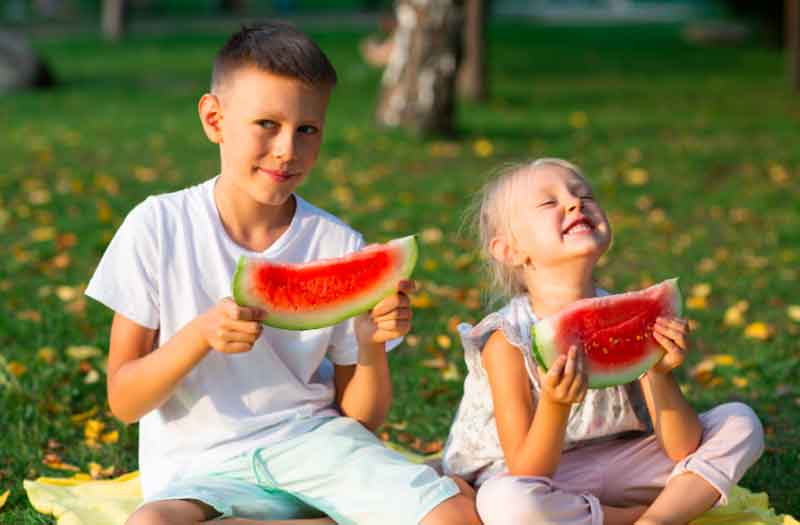 Pick a scenic trail or park, pack a picnic lunch, and hit the trail with your child and their friends.
Not only is it a great way to get some exercise and fresh air, but it's also a chance to explore and appreciate nature. Encourage your child to take pictures of any interesting plants or animals they see, and even bring along some binoculars or a magnifying glass for a closer look.
And, of course, the picnic at the end of the hike is the perfect way to refuel and relax after all that exploring. Don't forget to bring some of your child's favorite snacks and treats to make it extra special!
20. Roll the Dice with a Family Board Game Night
Board games are a classic and timeless way to have some family fun, and what better way to celebrate your child's birthday than with a board game night? Whether you're strategizing, rolling dice, or playing cards, board game night is an ideal way to bring the family together and make lasting memories.
It's a chance to unplug, bond, and maybe even learn something new.
Pick out some of your child's favorite board games or try out some new ones, and get ready for some friendly competition. Don't forget to stock up on snacks and drinks for a cozy and fun-filled night.
21. Celebrate with a Virtual Birthday Party
With the times of social distancing, a virtual birthday party is a great way to celebrate with friends and family from afar. You can set up a video call with your child's loved ones and have some virtual party fun.
Decorate your home with balloons and streamers, and encourage your child's friends to do the same. You can even send out party favors beforehand, such as snacks, treats, or small gifts.
And, of course, don't forget the birthday cake! Sing happy birthday together and make a wish as a group. It might be different from a traditional party, but it's still a special and memorable way to celebrate.
22. Shop 'Til You Drop with a Birthday Shopping Spree
If your child loves to shop, why not plan a birthday shopping spree? It's a chance to indulge in some retail therapy and find some new favorite items.
Pick out a few stores or malls to visit, and let your child go wild. Encourage them to pick out some special birthday treats for themselves, whether it's a new outfit, a favorite toy, or a tasty snack.
It's a great way to spend quality time together and celebrate your child's special day in a way that they'll love.
23. Soak up the Sun with a Beach Day
If your child loves the ocean and sand, why not take them to the beach for their birthday? Whether your child prefers to soak up the sun, splash in the waves, or search for seashells, a beach birthday party is the perfect way to celebrate their love for the ocean. It's a chance to relax, play, and make some special memories.
Pack a cooler with some snacks and drinks, towels, sunscreen, and some beach toys, and you're good to go. Encourage your child to build sandcastles, play frisbee, or even try out some water sports. And don't forget to snap some family photos to capture the moment. This is also one of our favorite 14th birthday party ideas because kids of any age love the beach.
24. Have a Picnic Party in the Park
Are you on the hunt for a fun and effortless way to celebrate a birthday? Look no further than a picnic in the park! It's a timeless and hassle-free approach to commemorating the occasion. Simply locate a nearby park that offers picnic tables or a grassy area, and pack a delightful basket with scrumptious sandwiches, refreshing fruits, crunchy chips, and thirst-quenching drinks.
You can also add some excitement by bringing along outdoor games such as soccer ball, frisbee, or badminton set to keep the party going. It's the perfect opportunity to bask in the sun, relish in nature, and make unforgettable memories with your loved ones.
25. Pedal your Way to Adventure with a Bike Ride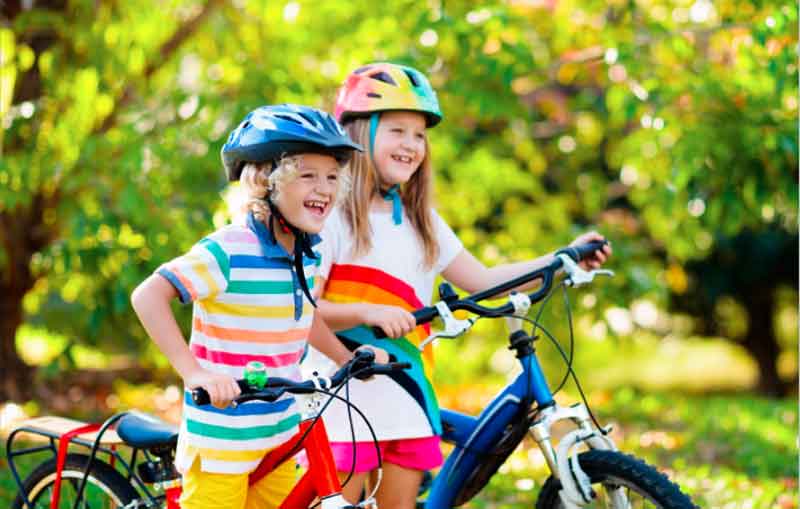 Get ready for some pedal-powered excitement with a bike ride adventure to celebrate your child's special day! Not only will it give them a chance to explore new areas and enjoy the beautiful scenery, but it's also a great way to sneak in some exercise.Get creative and personalize the route to suit your child's interests, whether they're a city explorer or a nature lover. And, of course, no bike ride is complete without some delicious snacks and refreshing drinks. Plan some pit stops along the way to fuel up and soak in the surroundings.
26. Immerse Yourself in Art and Culture with a Museum Visit
If your child is passionate about art or history, then a trip to a museum or art gallery can be an excellent and educational way to celebrate their birthday. Start by doing some research to find a museum or gallery that aligns with their interests and plan out the day. You can even make it an all-day adventure by packing lunch or snacks.
Encourage your child to ask questions, expand their knowledge, and immerse themselves in the beautiful and thought-provoking exhibits. This celebration is all about celebrating their thirst for knowledge and curiosity, making their birthday truly unique and unforgettable! If you're looking for unique 12th birthday party ideas, this is a great one because there are so many cool science and art museums out there. Depending on where you live, you have a lot to choose from!
27. Create a Time Capsule with Family
Want to make your child's 12th birthday extra special? Create a time capsule with the whole family! It's a fun and sentimental way to capture memories and milestones that can be treasured for years to come.
Gather some items that represent your child's interests and current year, like pictures, a favorite book, or a special trinket. Add in some notes or letters from family members, and seal it up to be opened on a future date. You could even make it a tradition and create a new time capsule every year to track your child's growth and development over time.
28. Go to a Concert or Music Festival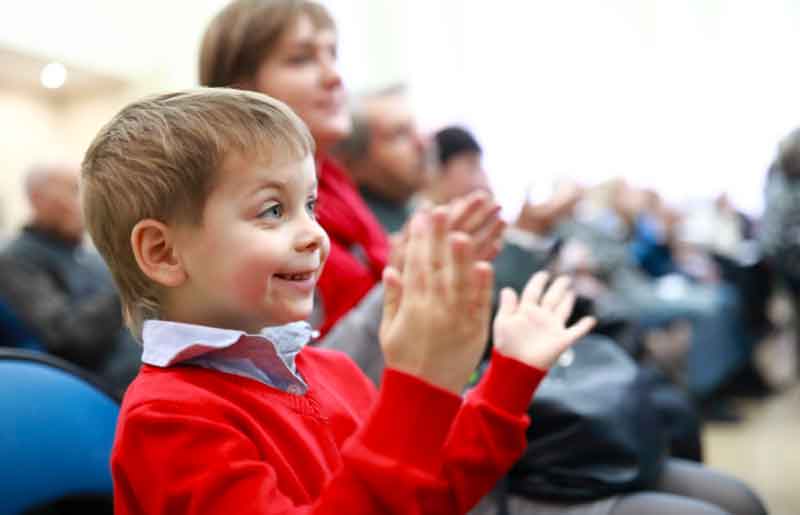 Looking for an epic way to celebrate your child's birthday who loves music? Look no further than a concert or music festival! Choose an artist or band they adore or explore some new ones, and get ready for a night filled with dancing and singing along to your favorite tunes. It's an unforgettable experience and an amazing opportunity to bond over a mutual love of music. To make it extra special, consider getting VIP tickets or backstage passes to meet the artists and make the experience even more memorable for your child.
29. Throw a Make-Your-Own-Sundae Party!
Who can say no to ice cream? For a birthday celebration that's both scrumptious and amusing, why not throw a make-your-own-sundae party? Simply prepare a sundae bar stocked with an array of toppings such as sprinkles, hot fudge, and whipped cream, and let your child and their friends unleash their creativity in making their yummy masterpieces. You could even add some playful toppings like gummy worms, candy pieces, and even bacon bits to make it even more fun and delicious!
It's sure to be a hit with everyone and a wonderful opportunity to indulge in something sweet!
30. Take a Pottery or Painting Class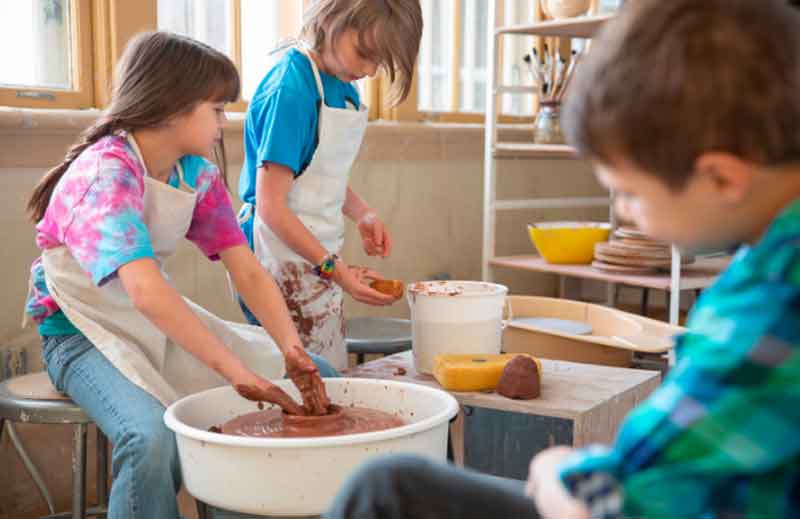 Consider turning it into a delightful and imaginative art class where you and your child can bond over pottery or painting!
First, find a local studio or class that piques your child's interest and aligns with their artistic sensibilities. Then, prepare to roll up your sleeves and dive into a hands-on experience that will leave you both with lasting memories.
Whether you choose to mold clay into unique shapes or apply colorful strokes to a canvas, the possibilities for creative expression are endless. Not only will you both learn new skills, but you'll also get to embrace the joy of creating something beautiful with your own two hands. This is an awesome 12th birthday idea for girls, especially.
31. Bake Your Way with a Gingerbread House-Making Contest
Time to put on your chef hats! If your child loves baking, why not make their birthday extra sweet with a gingerbread house-making contest? Gather friends and family, set up workstations with all the materials, and let the building and decorating begin!
You can even divide into teams, choose a theme or ingredient, and get ready to whip up some tasty creations. This contest is a chance to experiment with new recipes, show off your skills, and indulge in some yummy food.
32. Whip Up Some Fun with a Cooking Competition
Is your little one a culinary prodigy in the making? Plan a cooking competition with their closest pals that are sure to be a thrilling and mouthwatering experience!
While the focus is undoubtedly on the food, this culinary challenge offers much more than just tasty eats. It's a chance for your little one to experiment with new recipes, showcase their cooking prowess, and bond over shared passions with their friends. And let's not forget the best part. Once the competition is over, everyone gets to sit down and indulge in the utterly delicious results!
33. Lights, Camera, Action! Host an Epic Backyard Movie Night.
Gather up some blankets, pillows, snacks, and your child's favorite flicks, and get ready for a movie night under the stars! Create a cozy outdoor cinema experience by setting up a projector, speakers, and a screen in your backyard. Don't forget to add some fun decorations to set the mood!
Invite your child's friends to join in on the fun and make it a night to remember. From classic family movies to action-packed blockbusters, your backyard movie night is sure to be a hit with everyone. Just make sure you have enough popcorn to go around!
34. Have a Laser Tag Battle for Your Tween's Birthday Party
If your child is looking for an exciting and action-packed birthday idea, look no further than a laser tag competition. Transform your backyard into an epic battleground with laser tag equipment, and let the games begin!
Encourage your child to invite their friends and create teams for an intense laser tag battle. Who will emerge victorious and claim the title of laser tag champion? Make sure to snap some photos of the action and award the winners with some sweet treats. This is one of my personal favorite 12th birthday ideas for boys because they tend to love laser tag.
Related Article: Fun 7th Birthday Party Ideas All Kids Will Love
35. Soar to New Heights on a Hot Air Balloon Ride
Take your child's birthday celebration to new heights with a hot air balloon ride. Imagine the thrill of floating above the treetops, feeling the wind in your hair, and taking in the breathtaking views from high above.
A hot air balloon ride is a unique and unforgettable experience that your child will cherish for years to come. Plus, it's a great way to spend quality time together as a family. Just don't forget to bring a camera to capture those picture-perfect moments.
36. Fire up the Grill for a Backyard Barbecue Bash
It's time to turn up the heat and fire up the grill because nothing beats the classic backyard barbecue when it comes to hosting a memorable birthday party. The sizzle of juicy burgers and hot dogs cooking on the grill is enough to get anyone's tummy rumbling.
Invite your child's closest friends over for a day filled with delicious food, exciting games, and plenty of laughter. As the mouthwatering aroma fills the air, your guests will know they're in for a treat. Whether it's a simple family affair or a big birthday bash, a backyard barbecue is the perfect way to celebrate your child's special day.
37. Get Your Groove On with a Dance Party Extravaganza!
Your child is turning 12, and what better way to celebrate than with a dance party with their closest friends? Blast their favorite tunes, clear out the living room furniture, and let the good times roll! With some colorful party lights, decorations, and maybe a disco ball, you can create a fun and funky atmosphere that will have everyone grooving all night long.
If you really want to take the party to the next level, consider hiring a professional dance instructor to teach some moves and get everyone up and dancing together. It's the perfect way to make the night unforgettable and to help your child celebrate their special day in style.
38. Embark on a Mind-Blowing VR Adventure
Looking for a birthday party idea that's out of this world? Look no further than a virtual reality adventure! With VR technology, you can transport your child and their friends to another dimension and give them an experience they'll never forget.
From thrilling roller coaster rides to immersive video game worlds, the possibilities are endless. And with the ability to customize the experience, you can tailor the adventure to your child's interests and preferences. Get ready to blow their minds with a birthday party they'll be talking about for years to come!
39. Conquer the Coasters at a Theme Park Bash
If you're looking for an exciting birthday adventure, a visit to a theme park is a perfect choice! With an impressive selection of thrilling rides and attractions, there's something to satisfy every adrenaline junkie in your group.
Whether you're seeking the heart-racing thrills of roller coasters or the charming whimsy of carnival games, a theme park offers a variety of activities for everyone. It's a day filled with joy and amusement that your child will cherish for years to come. Additionally, you'll find delightful treats and souvenir shops to add to the overall experience. Prepare to yell, giggle, and create memories that will endure a lifetime!
40. Cheer on Your Favorite Team at a Sporting Event
For the sports-loving tween, a trip to a professional game or match is a birthday dream come true! Whether it's basketball, football, or soccer, cheering on your favorite team is an exciting and memorable way to celebrate.
Make sure to get decked out in your team's colors and bring along plenty of snacks and drinks. And don't forget to take lots of photos and make some noise to show your support. It's a birthday party experience that will score big with your child and their friends!
41. Saddle Up for a Wild Horseback Riding Adventure!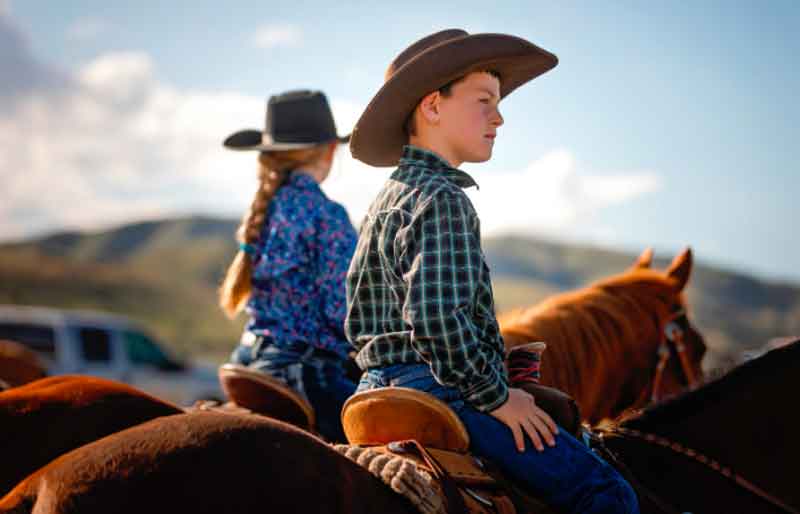 Looking for an adventurous way to celebrate your child's 12th birthday? Why not plan a horseback riding excursion? Not only is it a fun and unique activity, but it also allows your child to connect with nature and bond with these majestic creatures.
If you're worried about safety, fear not! Many horseback riding stables offer beginner-friendly rides and provide helmets and other safety gear. And don't worry about packing a lunch – some stables even offer a picnic lunch as part of the package.
42. Bounce Your Way to Fun at an Indoor Trampoline Park
Want to give your child an experience that's out of this world? Head to an indoor trampoline park! These parks are packed with trampolines, foam pits, and other fun features that will keep your child and their friends entertained for hours on end.
Not only is it a great way to burn off energy, but it's also a unique and memorable birthday party idea that your child will never forget. And don't worry about rain or other inclement weather – trampoline parks are indoors, so the party can go on rain or shine!
43. Sparkle and Shine with a Jewelry Making Party
Hosting a jewelry-making party can be an ideal way to celebrate your child's 12th birthday if they love expressing themselves through art. Gather their friends and set up a crafting station with various materials like beads, string, and wire to create customized and unique pieces of jewelry. Motivate your child and their friends to let their imaginations run free and design pieces that showcase their distinct personalities and styles. It's a fun and innovative activity that results in one-of-a-kind keepsakes for everyone to cherish as a memory of the special day.
44. Skate Your Way into Fun with a Roller Skating Party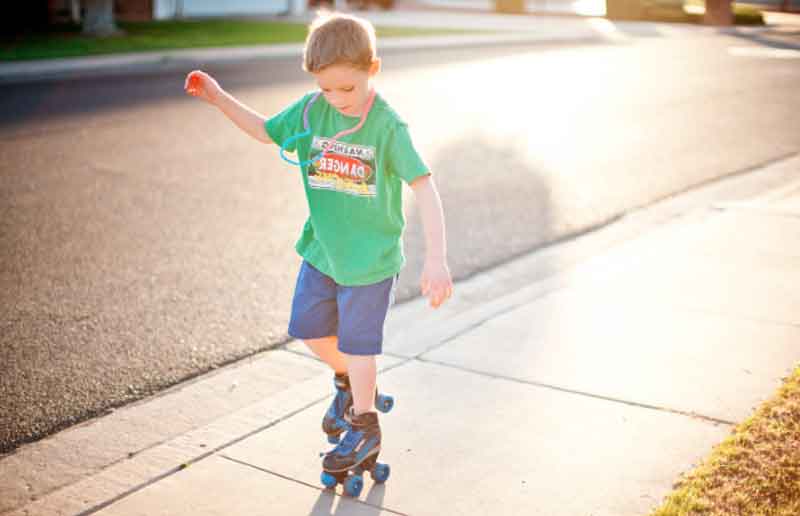 With a variety of skating games and activities available, the party is sure to be a hit with kids of all ages. At the rink, the kids can zip and zoom around the rink, playing games like limbo, the hokey pokey, and skate races. You can also organize a disco dance party with classic tunes from the '80s and '90s for a true retro vibe.
And don't forget about the refreshments! Treat the kids to tasty snacks like pizza, hot dogs, popcorn, and of course, birthday cake. With all the skating, games, and good food, this roller skating party is sure to be a memorable celebration for your child's special day.
45. Cast Your Line and Reel in Fun on a Fishing Trip
Looking for a unique and relaxing way to celebrate your child's 12th birthday? Take them and your family on a fishing trip! Whether it's a day trip to a nearby lake or a longer excursion to a remote fishing spot, a fishing trip is a great way to bond with your child and create lasting memories.
Not only will your child get to learn the ins and outs of fishing, but they'll also get to enjoy the great outdoors and maybe even catch their first fish! And who knows – you might just start a new family tradition.
46. Explore the Wonders of the Universe with a Planetarium Adventure
Step into a world that is beyond our own as you and your child's friends are treated to a mesmerizing display of stars, planets, and galaxies.
As you enter the darkened dome, the show will begin, and you'll find yourself captivated by the stunning visuals on display. The knowledgeable guide will take you on an extraordinary journey through the cosmos, highlighting fascinating facts about the universe and answering any questions you may have.
This unique experience is not only educational but also awe-inspiring. It's a journey that will be remembered for years to come and will undoubtedly ignite a lifelong passion for space exploration.
Related Article: Great Birthday Party Ideas for 9-Year-Olds
47. Get Your Game On with a Mini-Golf Competition
If your child is a fan of friendly competition, then a mini-golf party is sure to be a hit. Choose a fun and colorful mini-golf course, and let the games begin!
You can split the kids into teams or have them play individually as they make their way through the course, trying to sink their ball in as few strokes as possible. Along the way, you can serve up some snacks and drinks to keep them fueled for the game.
With silly obstacles and challenging holes, a mini-golf competition is a perfect way to spend a fun-filled day with friends.
48. Conquer Your Fears with a Ropes Course Adventure
This exciting experience features thrilling obstacles like zip lines, tight ropes, and swinging bridges that will test your child's courage and help them build their confidence.
As your child and their friends navigate the course, they'll be supporting and encouraging each other every step of the way. And when they finally complete the course, they'll have a sense of pride and accomplishment that will last long after the party is over.
So gather up the gang and get ready for a day of heart-pumping excitement and unforgettable memories!
49. Discover Something New with a Science Center Visit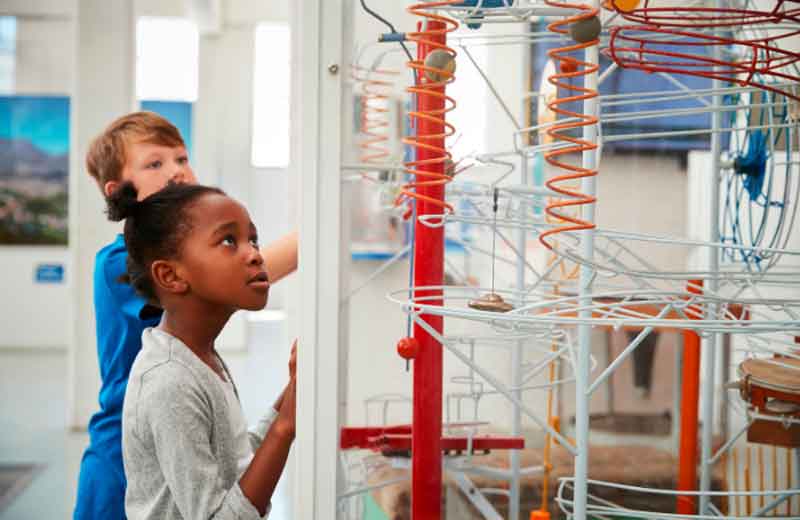 Embark on a science-filled journey and let your child dive into the mysteries of the natural world in a science center.
With interactive displays and hands-on exhibits, there's plenty to discover on topics ranging from the human body to outer space. Your child and their friends can spend the day experimenting, playing science-themed games, and participating in interactive activities.
It's not just an adventure that's entertaining but also educational. This experience will kindle a lifelong passion for learning and discovery that your child will cherish.
50. Embark on a Fun-Filled Day Trip to a Nearby City
Rev up for an amazing birthday bash jam-packed with adventure and exploration! Buckle up and take a day trip to a nearby city – whether it's a buzzing metropolis or a cozy little town – to make some unforgettable memories.
With a solid game plan, you and your crew can discover hidden gems, indulge in mouthwatering local cuisine, and soak up the city's lively atmosphere. Whether you're checking out cool local spots or immersing yourself in the cultural scene, this adventure is a total blast and a guaranteed way to have a ton of fun and excitement!
51. Create a Wacky Obstacle Course for an Epic Birthday Bash
With a little bit of imagination and some household items, you can design a course that will have your guests jumping, crawling, and laughing their way to victory.
Gather up items like hula hoops, jump ropes, pool noodles, cones, and anything else you can think of. Create stations where your guests can compete against each other in fun challenges like an egg-and-spoon race or a water balloon toss. You can even add a sprinkler or slip-n-slide to cool off on those hot summer days.
Your child and their friends will love the challenge and competition of the obstacle course, and it's a great way to get everyone outside and active.
52. Escape into Adventure with a Virtual Escape Room Party
With the rise of online escape rooms, you can now bring the thrill of the escape room experience right into your own home.
Choose from a variety of themes like space, pirates, or wizards, and work together to solve puzzles, uncover clues, and escape before time runs out. With the help of a skilled game master, your child and their friends will embark on an adventure like no other, filled with surprises and challenges at every turn.
And the best part? You don't even have to leave the house! Set up a video call with your child's friends and get ready for an hour of heart-pumping excitement.
53. Enter the Wizarding World with a Hogwarts-Inspired Harry Potter-Themed Party
Get ready to cast a spell of fun with a Harry Potter-themed birthday party! Transform your home into Hogwarts, and let the magic begin. Decorate the party area with Hogwarts house banners, broomsticks, and golden snitches. Invite your child's friends to dress up as their favorite characters from the beloved book series.
Organize some fun Harry Potter-inspired activities, such as a wand-making workshop or potion class. You could even have a Quidditch match in your backyard! And, of course, no Harry Potter party is complete without some Butterbeer and delicious chocolate frogs.
54. Pick Your Own Fun at a Local Farm or Orchard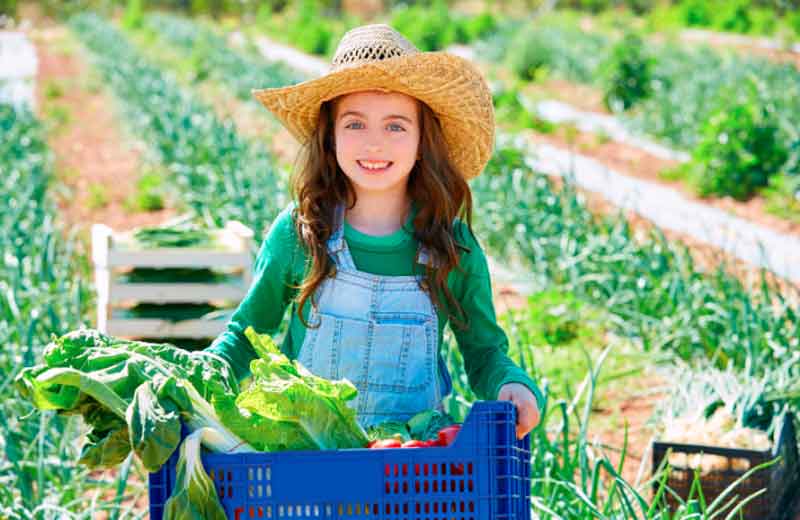 Treat your child and their pals to a sweet and delightful escapade at a nearby farm or orchard. Depending on the season, you can pluck apples, strawberries, blueberries, or even pumpkins straight from the source! It's not just an exciting experience for the kids to pick their own fruits but also a fantastic way to teach them about the origins of their food.
Once you're done harvesting, set up a picnic amidst the orchard or farm and relish some fresh and juicy fruit treats. Also, make sure not to miss out on snapping some adorable pictures with the cute and cuddly farm animals!
56. Get Slimy and Messy with a DIY Slime-Making Bash
Get ready to get a little messy with a slime-making party! Set up a slime-making station with all the necessary ingredients, like glue, borax, glitter, and food coloring. Let the kids mix and match the colors and create their own unique slime creations.
You could also provide different textures and mix-ins for the slime, such as foam balls or beads, to encourage experimentation and creativity. They can even decorate their slime containers with stickers and fun labels to take home as party favors.
Don't forget to lay out some protective clothing to keep everyone's clothes clean, and have plenty of towels and wipes on hand for easy clean-up afterward.
57. Get Crafty and Colorful with a DIY Party
Unleash your inner artist with a fun and colorful tie-dye party. Grab some plain t-shirts, socks, or bandanas, and let the kids go wild with their tie-dye designs. You can use a tie-dye kit or make your own natural dyes from fruits and vegetables.
To add to the fun, you can even turn it into a tie-dye fashion show and have each child model their unique creation. Provide some accessories like sunglasses or hats to complete the look. With some upbeat music and a colorful backdrop, it'll be a memorable and creative celebration for your child's birthday.