Planning a party for someone who is turning 19 is very exciting because there are so many fun 19th birthday ideas to choose from. You've recently officially become an adult, and there are so many new experiences to enjoy.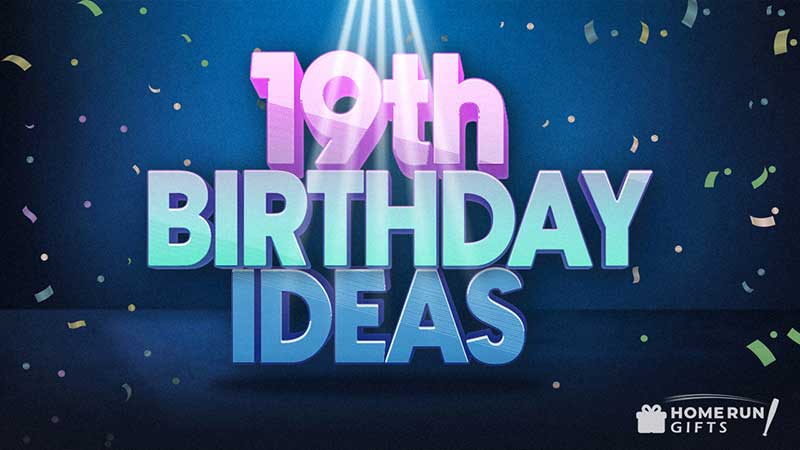 We've put together an epic list of ideas for you below. Simply scroll through and find some ideas that stand out to you.
List of Awesome 19th Birthday Party Ideas
1. Organize a Theme Park Party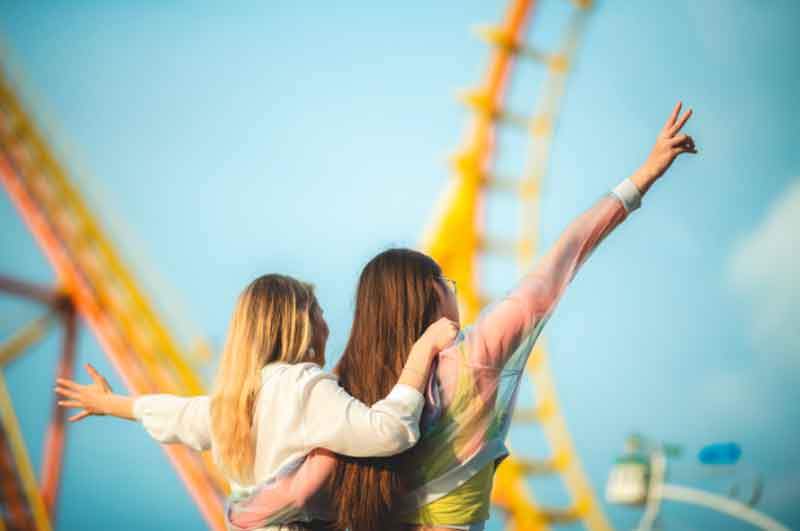 Pretty much everyone in their late teens and 20s loves crazy rollercoasters and amusement parks. Gather your gang and head to a theme park; you will love it.
You only need a handful of friends to make it a thrilling experience. Make sure you book it early, though, as tickets can sell out quickly.
Sure, a day in a theme park can be a bit expensive, but most have special offers for groups. You can almost always find vouchers and coupon codes in local newspapers or websites. This is an excellent party idea for your 19th birthday that your friends will remember forever.
2. Mini Golf Party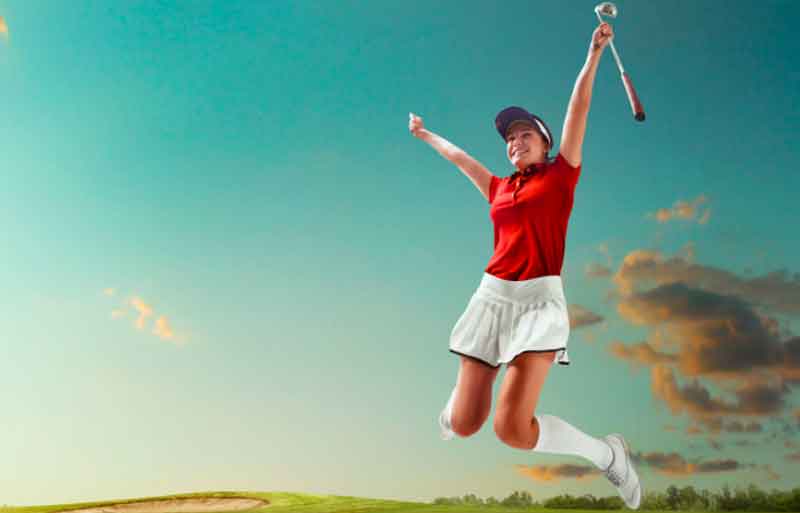 Mini golf is awesome because you don't have to have years of training to be good at it. Even those who have never touched a club before can have a ton of fun and show off their hand-eye coordination. If you don't already know, mini golf courses are purpose-built indoor venues with crazy obstacles and different themes. Obstacles are pretty diversified, too, from small tables to benches and little chairs. This activity will test your skill and patience.
Most of these venues also have drinks and food, not to mention party packages. You can also book the entire venue but make sure you know exactly how many of your friends are attending before booking.
3. Have a Backyard Bonfire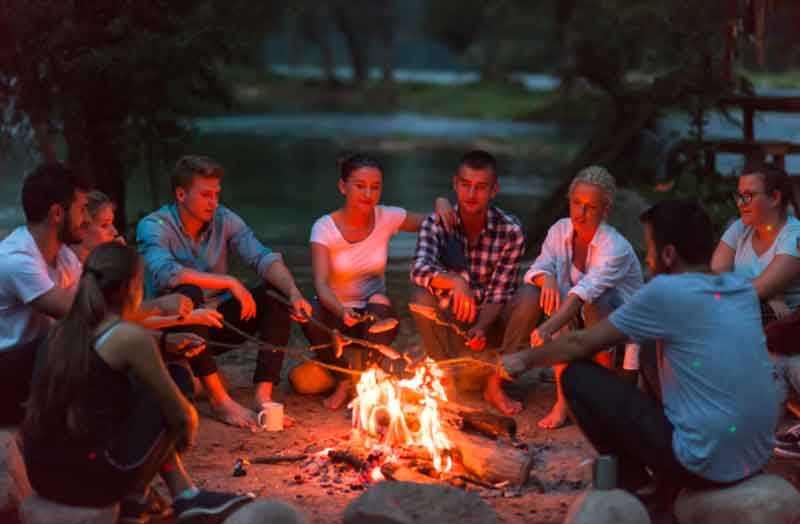 A campfire is a great birthday idea during certain times of the year, depending on where you live. It's obviously not a good idea if it is raining, so be sure to check the weather and have a backup plan. You can simply start a bonfire in your backyard, or you may even be able to find some cool camping locations near where you live. Some public beaches even allow fires on the beach.
Roasting marshmallows is ideal, but you can also have a mini barbecue and cook some meat and veggies.
Get everyone ready for it. Grab some cozy sweaters and decorate the backyard with lanterns or solar lights for a bit of extra light.
It is cozy, comfy, and enjoyable; plus, it will allow you and your friends and family to bond.
4. Attend a Festival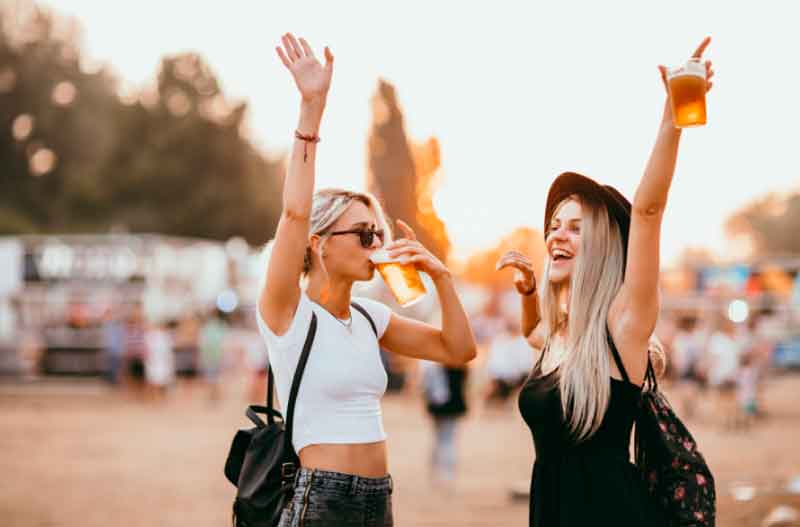 Festivals are usually organized on weekends. It is perfectly fine to delay your 19th birthday celebration until the next festival is around. Bring as many friends as you want. There will be good music and plenty of drinks and snacks, making it a night to remember.
5. Have a Photoshoot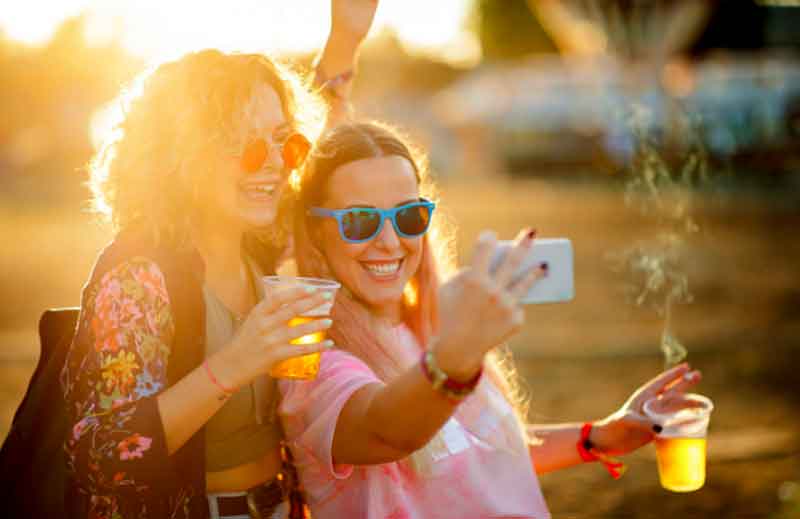 Find a professional photographer and book their services for a few hours. Grab your best friends or simply invite the photographer to your party. However, most photographers will be able to provide better ideas in terms of lights and places.
Discuss your options and allow each of your friends to shine.
6. Boating Trip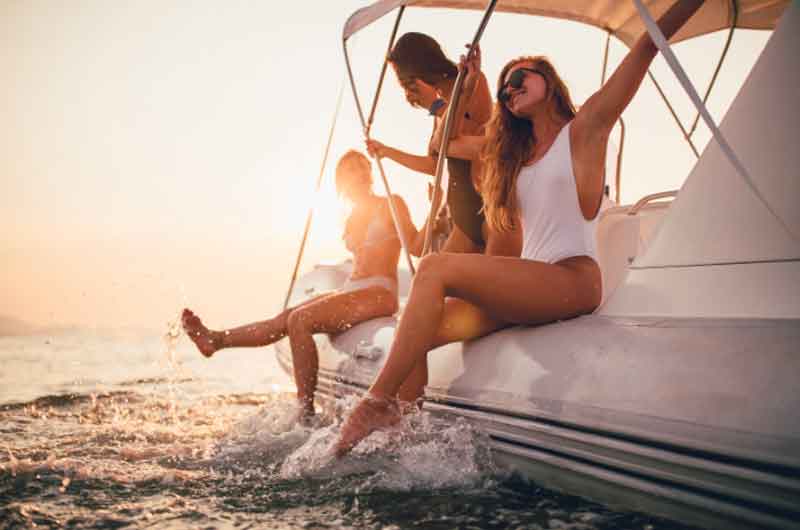 If you are lucky to live close to the coast or by a large river, a boat trip might be the best idea for a 19th birthday party. Most of these boats have bars on board, so you can have a good time while enjoying the views. Besides, you can often rent the whole boat, only to ensure there are no strangers around.
It feels fancy, just like having your own yacht and captain.
7. Go to a Concert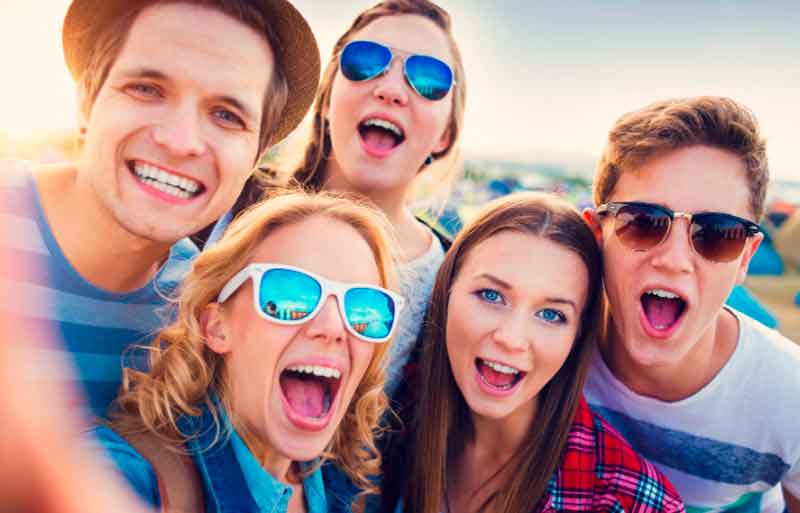 Do your friends like live music? If yes, I find this 19th birthday idea quite fantastic, whether it is one of your favorite artists or someone who can bring in good memories.
Childhood favorite band coming into town? Everyone can remember banger lyrics from years ago, even if you no longer resonate with their music. It is definitely going to be a fun experience.
Is their favorite artist having a concert nearby? If so, that's even better. Ideally, you should bring over some friends who are into the same type of music.
There is loud music, plenty of dancing, good vibes, your best friends, and lots of drinks. What else can you ask for?
8. Escape Room party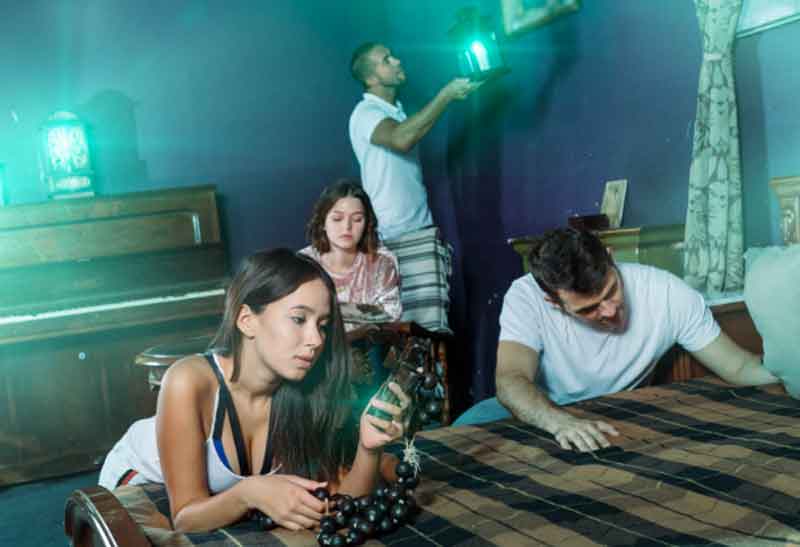 You know the concept, and you know you are less likely to do it yourself. You need at least a few friends to do it. Get your friends together, get locked in a room, and crack all the codes you can find.
Look for clues and try to escape. You can find an escape room venue in pretty much any city. Themes are just as diversified, from ancient Rome and Egypt to haunted schools and future cities.
Different escape rooms have different rules, especially regarding the number of people, so double-check upfront to avoid unpleasant surprises. This is a very fun idea because everyone has to work together if you want to beat the challenges.
9. Skating Party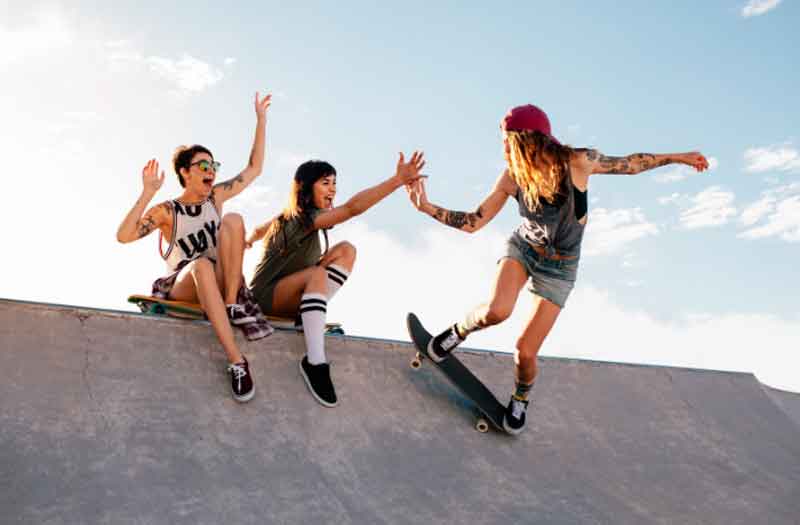 This is not necessarily about skating only. Anything similar will do. The activity is fun even if you are not a good skater or have never done it before.
There will be occasional falls, lots of laughing, and a nice activity to prepare yourself for dinner later on.
Rollerskating is just as exciting. Anything that involves a bit of risk and can put a smile on your face will do. Again, it makes no difference if you are completely new to this.
Holding your friends' hands will help you bond and give you some great birthday memories overall. Finish the night off with dinner and some drinks.
10. Enjoy a Bowling Party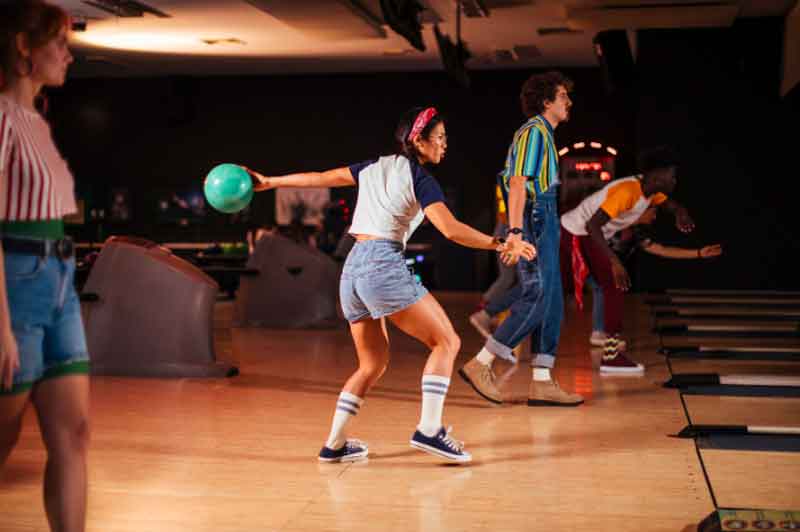 New to bowling? No problem. You do not need a degree in bowling to be able to throw balls. You will get the move after a couple of throws.
Grab your best friends and hire a lane or two. Each lane comes with an electronic board that keeps scores automatically, so there is not much to worry about.
Some bowling clubs have birthday party packages, including good music, snacks, and drinks.
11. Paintball Party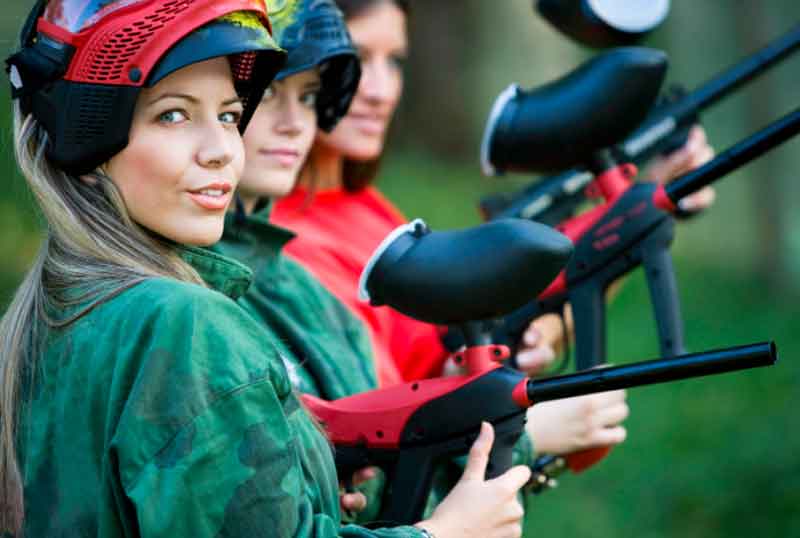 It makes no difference how many friends you bring over, but this is one of the most thrilling experiences you can try with your friends on your 19th birthday.
Paintball is usually played in two teams. You get lots of paint ammo, and you must clear out the other team. There are always some rules, and some venues hire someone to keep the score.
There are more game modes, capture the flag, eliminate everyone else, and so on. There are all sorts of deals, and while it may seem easy, it is actually exhausting, especially with those hot suits.
12. Karaoke Party
Music is a foolproof idea for anyone out there. Everyone loves music, whether they love old school hits or some modern trap music. There is something for everyone out there.
While you can always get a karaoke machine at home, a karaoke bar is better. There are many people around, the party is more intense, and there are lots of drinks and snacks.
While a surprise could be a good idea, you should tell your guests about it. You want them to have some great song ideas in mind rather than feel confused.
13. Take a Trip to a Different City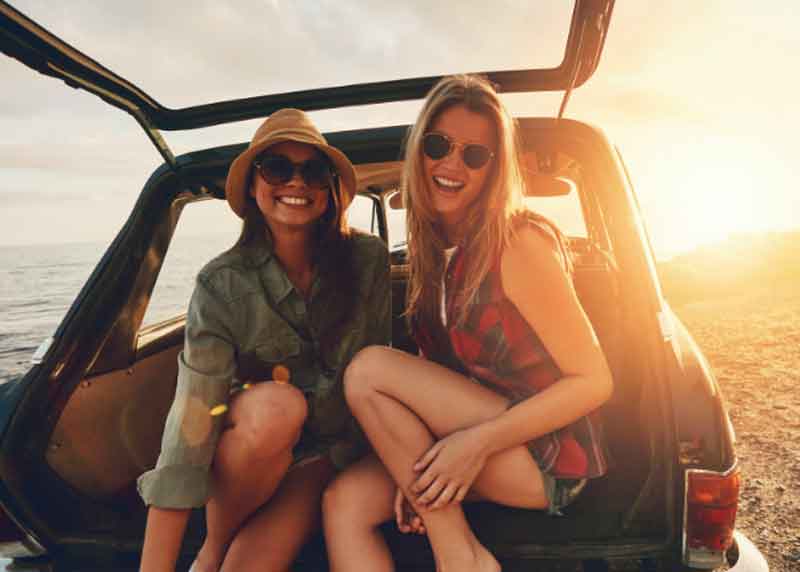 Find a nice city nearby, not the type of city you can visit anytime. It could be a nice village or perhaps a quiet little town. Go for a road trip with your friends and make the most out of it on your 19th birthday.
You will need to do your homework, though. Find activities to do there, book a villa or hotel rooms and places you can visit, and have a good meal.
Choose a city that is about 90 minutes away from you. If it is too close, your friends may already be familiar with it. If it is too far, it will be a bit boring to drive back after such an exciting day.
14. Book a Treetop Adventure Party
Treetop adventures? Some of the most action-packed ideas out there for your 19th birthday. It is a fascinating escapade in nature but in an organized environment.
Grab some of your best friends and get ready to spend half a day in such a place. There are zip wires, high rope obstacles, and similar adventures.
Most of these places come with significant discounts for groups. The more friends you can bring over, the better the deal will be.
While it may look risky and dangerous, the truth is such an adventure is secure as there are ropes and harnesses that will prevent injuries and serious falls.
15. Take a Weekend Getaway Trip
This is by far one of my favorite ideas. What could be better than grabbing a few of your friends, jumping on a plane, and spending the weekend away?
It could be a sunny destination, not far from where you live. It could be a cultural city with rich nightlife. At the end of the day, it makes no difference where you go. You will make some lifetime memories.
16. Throw a Pool Party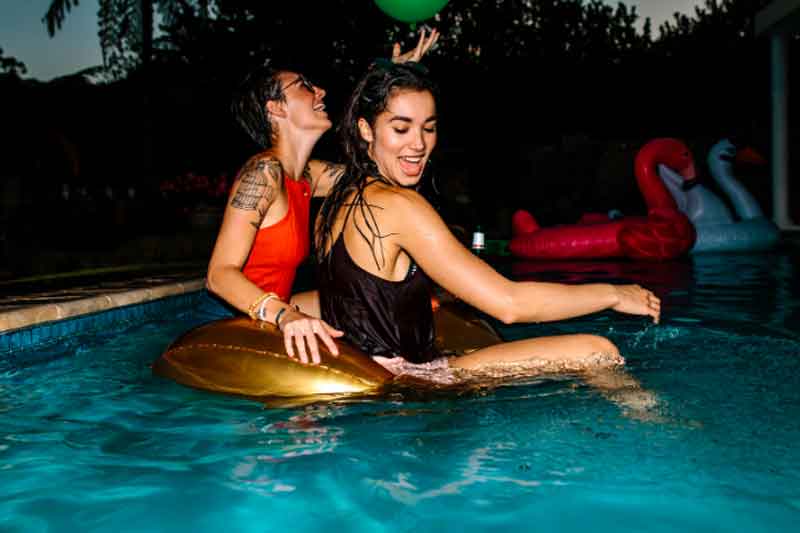 Splashing in the water is one of the best ways to celebrate the 19th birthday. If you live somewhere sunny or the weather is really good, go to an outdoor pool.
Get a bit of tan while playing games and having drinks on the side of the pool.
If your birthday is in the cold season, you can always head to an indoor pool.
17. Go Glam Locally
This is a great 19th birthday party idea if you want to feel glam. Book a room or two, depending on how many people are attending. Enjoy a great dinner in the hotel restaurant, then back to the room.
Stay up late, play games, watch some cool movies (maybe a horror for a bit of thrill), and order lots of dessert from the room service. You might as well find a hotel with a spa for some treatments.
18. Laser Tag Party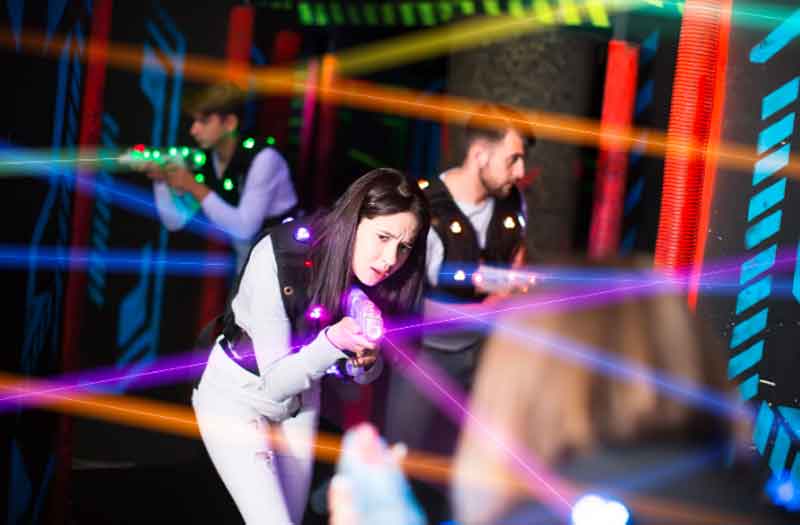 Laser tag is always a great time. Depending on where you live, it's possible that there are some epic laser tag courses near your home. If you've never been to a modern laser tag course, you'll be shocked by how much fun it is. There are a ton of different game modes that require you to defend strategic points on the course while eliminating your friends.
After the games, they often print out the scores showing who eliminated who and how many times, which makes talking about the games after you leave even more fun!
19. Have a Fancy Picnic
You do not necessarily need a blanket and some fancy foods from the local supermarket. Instead, come up with something fancier. Look for a luxury picnic service, and they will take care of everything.
Grab your best friends together and enjoy fancy food in luxurious décor with comfy pillows and blankets.
20. Trivia Games
There is no need to come up with your own trivia game. Instead, find a local pub or bar that runs a trivia night, grab your best friends and go.
This is a fun way to celebrate your birthday, especially if you order some good food and a few cocktails. It is quite fun to see how answers go from bad to worse as the night goes by.
Related Article: Great gift ideas for young men
21. Host a Street Party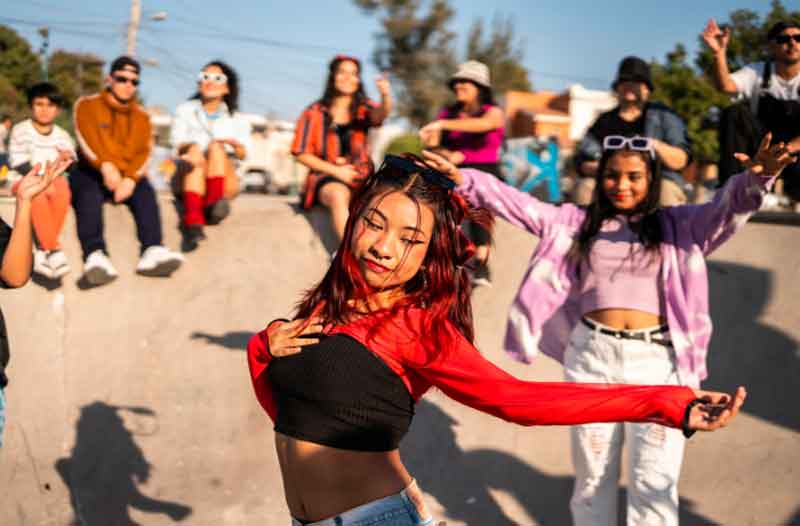 This idea works wonders if you live in a cul de sac and everyone knows everyone. You also need to make sure most people will be at home for your 19th birthday, so I recommend doing it over the weekend.
Rent some plastic tables, canopies, and perhaps an inflatable castle for kids, bring lots of alcohol and soft drinks and have fun. There is no need for fancy food; lots of takeaway nuggets, crisps, and chips will do.
22. Go to a Comedy Show
It is your 19th birthday, so you definitely want to have a good time, laugh, and perhaps have a few drinks. A comedy show sounds perfect, then.
Find a local comedy club and book a few tables for your friends, ideally in the first rows.
23. Take a Food Tour
You are going to love this if you are a foodie. Well, pretty much everyone can appreciate good food. Try out the best eats in town by reaching a tasting tour or perhaps a cultural one.
Even if you keep it local or have already tried some venues, you and your group will love the experience. Top it up with some cocktails in the last location.
24. Throw a Casino Party
Depending on where you live, this may or may not be an option. That said, you do not necessarily need to go to a casino to enjoy a casino party. Instead, bring Las Vegas to you and hire a dealer. Get some red lights around, dim the main lights and bet for cash, but go for pennies and quarters only. There are loads of games you and your friends can play and not just poker. You don't even have to play for real money, but maybe award prizes for those who accumulate the most chips.
25. Go Out in Nature
If your friends love the outdoors, grab a bunch of them and find a nice round walk around a touristic objective. It could be a lake or perhaps a big rock. Maybe you like the idea of going through a picturesque village. Whatever it is, grab as many friends as you can and enjoy a picnic in the middle of nowhere too.
26. Go on a Hot Air Balloon Ride
This type of party only allows a bunch of people, usually around five guests. If you are not afraid of heights, imagine having a toast at 2,000 feet. There is nothing more exciting than that. Plus, it will be a great once-in-a-lifetime experience for most of your friends.
You may need to drive to such a place, though, but it is totally worth it.
27. Go See a Show
It really makes no difference what it is. Maybe you and your friends are into theater, or perhaps you like opera or ballet. Book tickets for everyone and make sure it is a show worth your time. In some venues, you might be able to order some drinks as well, but it depends on where you live and where you will stay.
Book a booth upstairs for an even better view and more privacy if you can.
28. Come Up with a Costume Party
Whether you hire a venue for your 19th birthday or you organize it at home, dress up. This idea is not only for Halloween. Instead, think of your favorite movie or perhaps a moment in time and let your guests know. You might as well let everyone use their imagination and dress up however they want.
29. Go Karting Party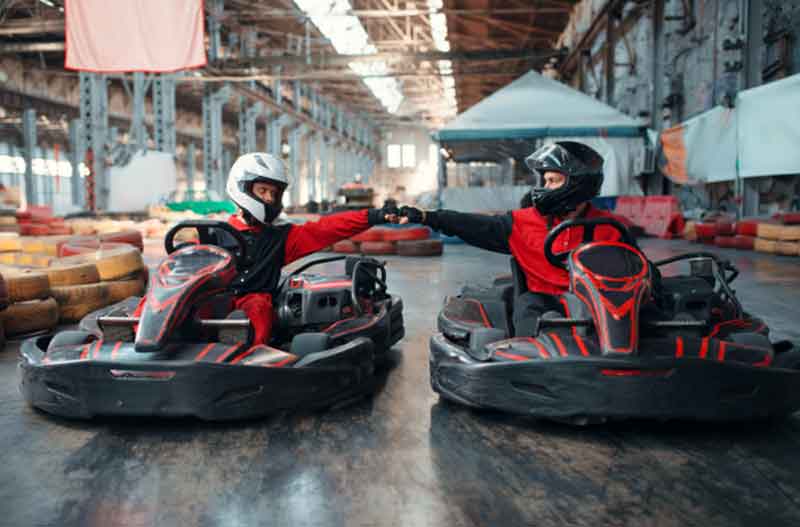 It makes no difference if you cannot drive or some of your friends have never touched a steering wheel. You do not need to be a professional pilot to enjoy day karting. There are usually two pedals, as well as a steering wheel. It is a simple and fun activity packed with adrenaline.
Besides, your non-driving friends will love being able to do it.
Related Article: Gift ideas for teenage girls
30. Enjoy a Horror Experience
A haunted house experience is suitable for everyone. It will give everyone some thrilling sensations, but it will also take hours to complete such quests. Haunted houses and horror experiences are often available in large or touristic cities.
Get tickets for everyone and go through a unique experience that everyone will remember.
31. Take Your Friends to an S-party
Alright, I made that one up. An s-party is a mix between a party and a spa. Grab your best friends and make appointments for everyone at a local spa. It might be a good idea to let everyone know upfront so you know what kind of treatments to book.
Many spas offer party packages for larger groups, so you might be able to get some drinks as well.
32. Organize a Masquerade Ball
This 19th birthday party theme may seem unusual for many of your guests, but they will love it. Inform everyone that they need to bring their gowns and tuxedos for this elegant party. You might as well decide on a color theme if you feel like it.
For best results, you should hire a photo booth too. Hire some props as well, so you can take pictures.
33. Go Support a Local Team
If you and your friends like sports, find a local sports event. The more important it is, the better. It could be football, basketball, or perhaps baseball. At the end of the day, it makes no difference. Make sure everyone likes the idea and get tickets for your friends.
34. Visit Some Local Caves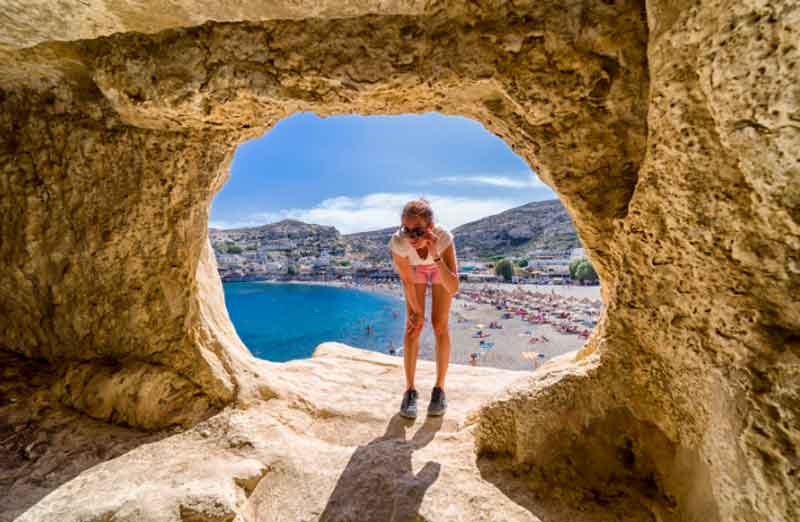 Are you and your friends the adventurous type? Find some local caves and book a guide for your group. You will be able to admire the beauty of nature, as well as go by boat and explore places you never knew existed. A picnic can complete the party. This is one of my personal favorite 19th birthday ideas.
35. Spend the Day at a Race Track
If you love speed and the idea of driving, you and your friends could spend the day on a race track for your 19th birthday party. There would be no alcohol, but if you book early, you can drive some fancy supercars on the track and even take pictures.
36. Take a Helicopter Ride
Is anything more exciting than a thrilling helicopter ride for your 19th birthday? I thought so. You can only take a few friends with you, but it is totally worth it. Double check with the company providing this service how many guests you can take so no one is left behind.
37. Go Skydiving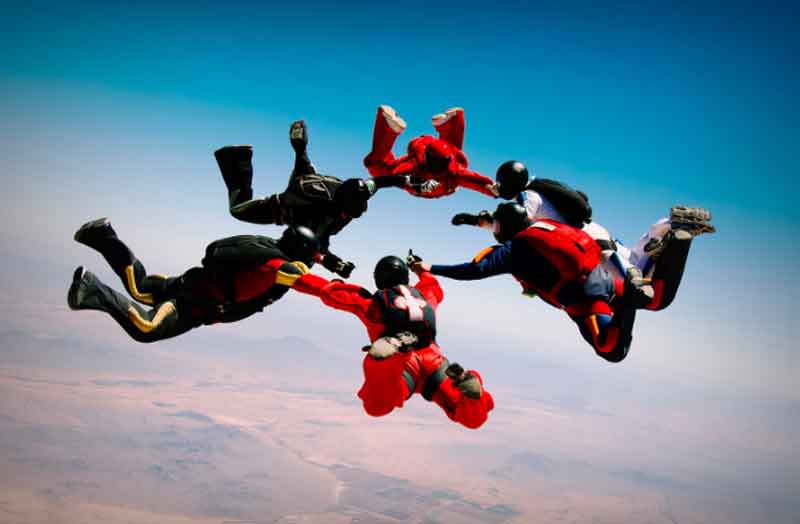 If you are into adventure sports, get a few friends and learn skydiving. You can book lessons for a few of your best friends and go together on an elating adventure. Apart from lessons, you can also enjoy a ride in the sky without bothering about controlling the equipment. Leave it to professionals.
38. Fly Through the Sky Ziplining
This is an amazing adventure, even if you have never been ziplining before. Some places allow more people to go together at once. If this is not possible, you and your friends can always take turns and feel the adrenaline pumping.
39. Snorkeling Party
Close to the coast? Look for some snorkeling services in the area, and your group of friends will be just as excited as you are. It is an unforgettable experience to share with your loved ones, especially if you like water sports.
40. Go Fishing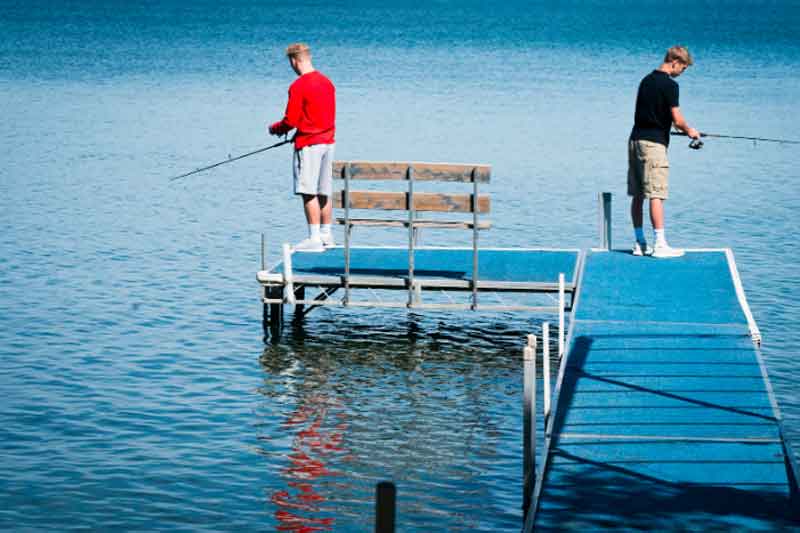 If you love fishing, book a slot in a beautiful place in nature, gather your best friends and take a road trip there. Nothing is more exciting than chilling on a lake or riverside, having drinks and snacks while waiting for fish to bite.
You might as well have a barbecue after.
41. Go Classic
Keep it local, rent a classic car and hang around the block. Visit the neighborhood with some of your best friends, drive along and stop here and there for snacks. If you like driving, you will definitely enjoy the experience. However, there is one drawback. If you drive, you cannot have any alcohol.
42. Go to a Drag Show
Do something out of the ordinary. If you live in a large city, chances are you might be able to find a drag queen putting on a show. There will be lots of cocktails, plenty of fun, good music, and a thrilling experience for your whole group.
43. Golf Outing
Golf is normally associated with the wealthy, but hey, this is your 19th birthday party! You might as well experience the game and see whether you like it or not. Invite a few of your friends over, rent the equipment, and have a wonderful day out. Chances are you will be allowed to have a few drinks, too, depending on where you live.
44. Throw Some Axes
You may find it difficult to believe, but there are places out there allowing you to practice axe throwing by a wooden wall. Axes and cocktails, is there a more interesting mix for your 19th birthday? I thought so.
45. Visit an Arcade Room
Find the largest arcade room in your area and make sure your best friends can attend it together. There will be games everywhere; single-player games, multiplayer games, team-based games, you name it. You will spend hours there.
46. Get a Fancy Meal at Home
While you can always get takeout, the idea of a fancy meal does not always involve reaching a posh restaurant. Instead, you can go the extra mile and hire a professional chef to cook at your home. Every guest will love the experience.
47. Go Glamping
If you love nature but are not a big fan of camping, how about glamping instead? Hire a few pods or huts and bring your group over for a couple of nights. You can have a bonfire, loads of drinks and good music.
48. Visit Some Local Galleries
This idea is excellent for those who love art. Make a list with the hottest galleries in town and get hopping. You might as well find something nice to bring home to remind you of your 19th birthday party.
49. Organize a Game Night
Take out all the board games and maybe even invest in a few gadgets for group-based games. Have everyone over, lots of good food and snacks, as well as cocktails. Switch games every hour or so to make sure your guests are not bored.
50. Go for an All You Can Eat Dinner
Whether you have five or 20 guests, find a large enough buffet restaurant with plenty of dishes and an all-you-can-eat special. Pay for everyone and let your friends go wild on the food. Ideally, you should find a restaurant with more cuisines.
51. Visit a New Place by Cable
Find places high in the hills or mountains if you are lucky to live in such areas, but the kind of places that can only be accessed by cable cars. Get your whole group on a few cable cars, have a walk at the top, admire the surroundings and enjoy a good dinner there.
52. Go Shopping
This is not just for girls only, as guys can also do with some fancy outfits. Grab your best friends and go on a shopping spree. Go there early, as you will most likely spend hours browsing around.
Find a massive outlet, even if that means driving for an hour or two. There will be dozens of shops, great prices and lots of nice places to eat. After all, what can be better than a meal after a shopping spree?