They say the forties are the new thirties! Most men in their fifties and sixties say their forties were the best time of their lives. Why? It seems that the 40th birthday is a special turning point in a man's life!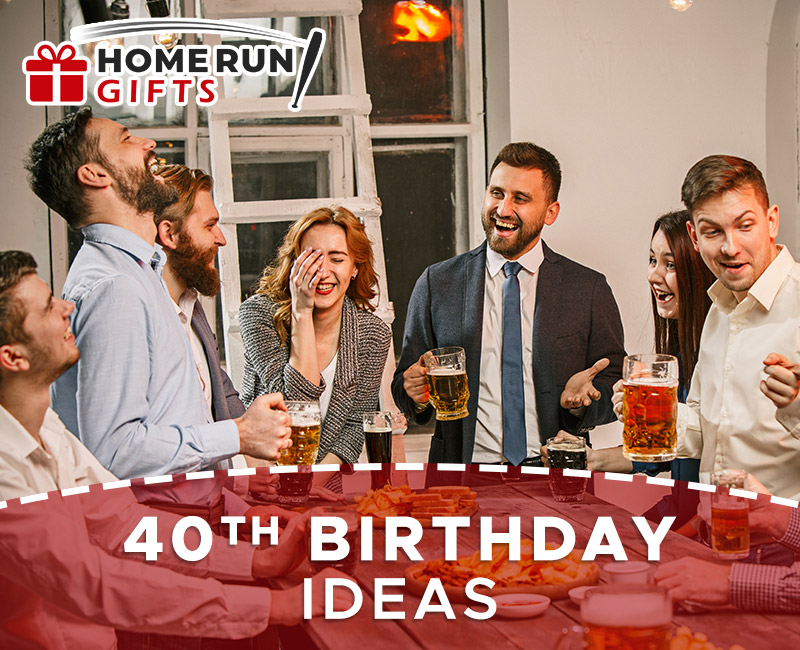 Men become more stable, mature, responsible, and focus more on the career. That doesn't mean that men's 40s can't be a ton of fun though, and on this list, we have a ton of great 40th birthday party ideas to kick off their 40s in a memorable way!
Here Are Some Fun 40th Birthday Party Ideas for Men
1. Grill Party and Yard Games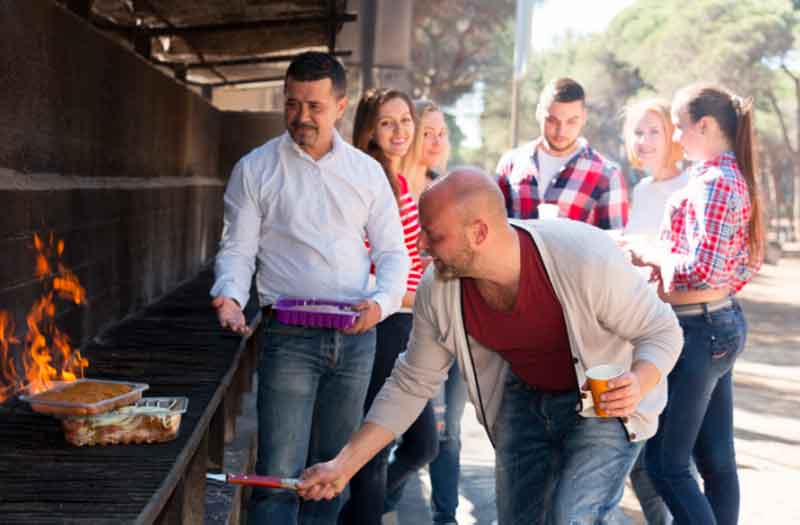 Do you have kids and you have no one to leave them with or you just want to be with the kids on your birthday? The possibilities are endless. You can have a grill party, and if you have a pool that just makes this idea even better. Prepare cocktails, play various games like cornhole, horseshoes, etc. Include the kids in all this and double the fun is guaranteed! Everyone loves a barbecue. If you're cooking meat, of course, don't count your vegetarian friends. Vegetables, sauces, and if you really want to do extra homemade burger bread. Men are attracted to the barbecue like light flies, and you can even include a barbecuing gift set to pair the perfect gift with this idea.
2. Brewery Tour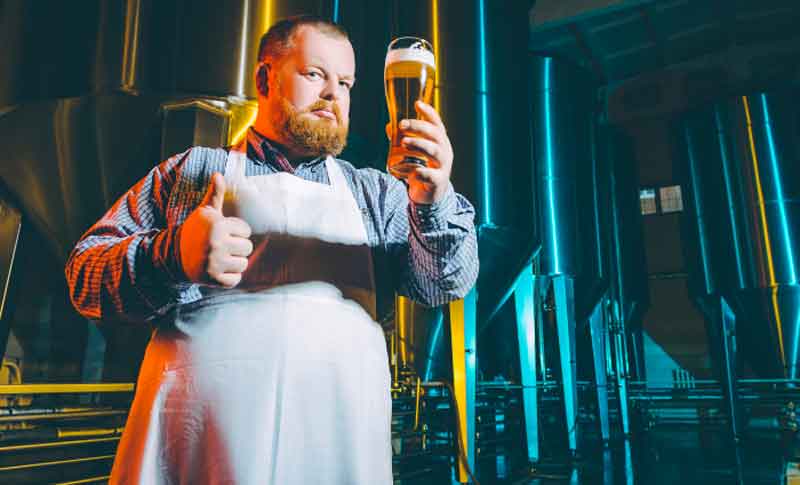 We are aware that in quite a few tips, which have nothing to do with beer, we have recommended that you buy beer as if beer is the soul of any party. But that's only and only for the reason that men really like to drink beer! So the next tip for a birthday party is a tour of the brewery! A large number of craft breweries offer the possibility of privately organized tours for groups and individuals. Most breweries let you walk freely around with a mug in your hand, but you will surely use the expert guidance of one of the employees. In addition to informing you about what and how beer is made, you will have the opportunity to taste many types of beer. Also, most breweries serve meals, just in case you get tipsy from all the beer you can drink! Good 40th birthday party, isn't it?
3. Paintball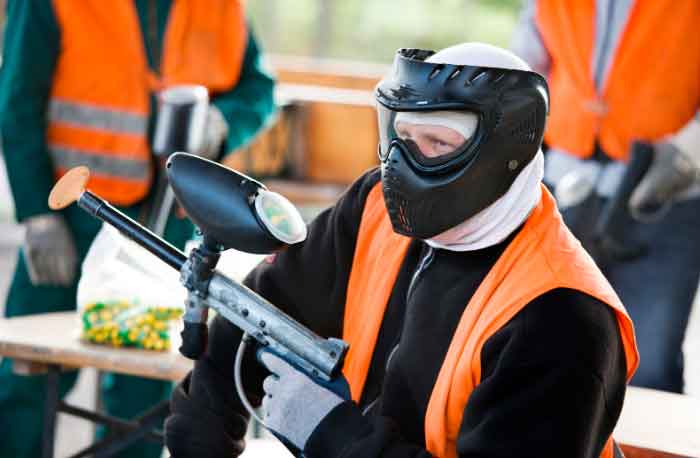 Find a nearby paintball park and head out with friends! All the men, ok not all but most, as youngsters loved playing with plastic rifles, pistols, and playing warriors. Why not evoke those boyish memories and wishes on your 40th birthday, gather friends, dress up as a soldier and shoot rifles filled with colored bullets! Fun fun fun! This might be an unforgettable experience for you and your buddies! Paintball raises adrenaline and is extremely tiring physically and mentally. And yes! Dress well because thin clothing under a military uniform will result in a pile of bruises all over your body.
4. Camping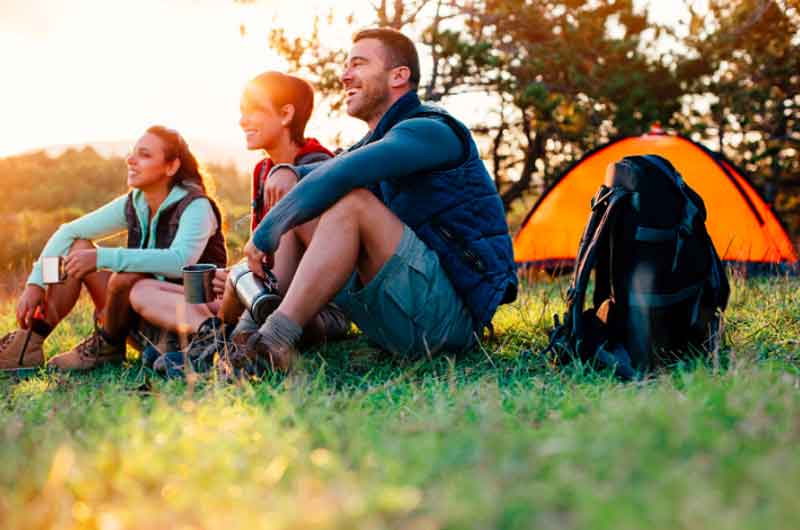 Do you like trips? Great! Do you own a van or a camper (even better)? Even if you don't – you can always rent one. Take your friends or a loved one for a camper trip and we guarantee an unforgettable experience. Today, most campers are superbly equipped, so comfort is guaranteed. Stock up on groceries and celebrate your birthday with loved ones somewhere in nature, in the fresh air as you light a campfire and roast some corn on a stick. Try not to look at your cell phone just that much. You will read all the birthday cards and messages the other day. But carefully! Don't go full Indiana Jones and end up face to face with a grizzly bear! Be smart!
5. Wine Tasting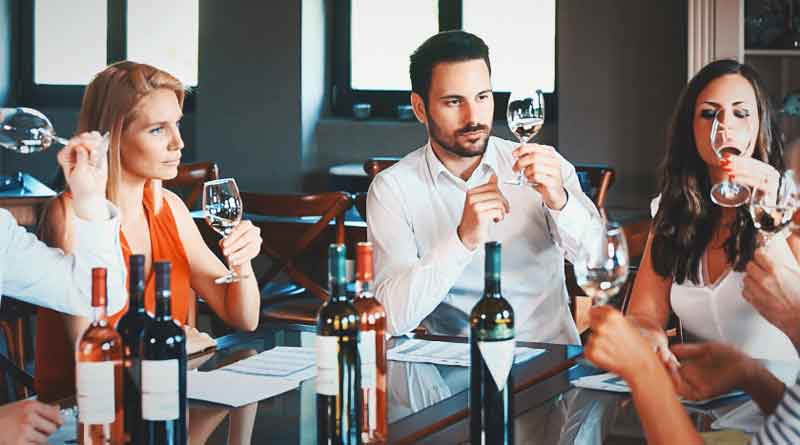 Wine tasting is always a good idea! Find a local winery, pay a tour of the winery and try wines, cheeses, and prosciutto. Riding a bike between vineyards is also a special experience, just make sure you do it before the tasting. Plenty of wineries offer the option of bed and breakfast in case you overdo the tasting. Or if you can reach deeper into your pocket, visit the south of France or Tuscany, wine most recognized places in the world.
6. Go to a Game
If you are a fan of basketball, football, soccer, hockey, or any other sport and your favorite team on your birthday or a couple of days before/after plays a big and important game, buy tickets for yourself and friends and hit the game! Is there a better way for a man to celebrate his 40th birthday in a comfortable tracksuit, with a beer in hand, a hot dog, surrounded by equally excited fans as he watches his favorite sports team? We doubt it.
7. Golfing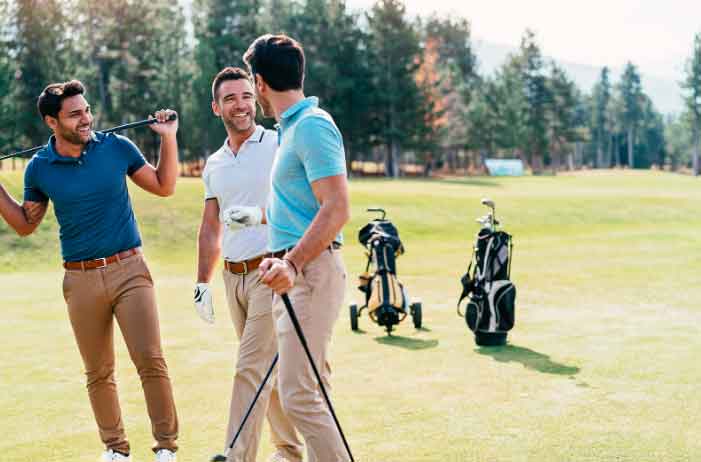 If you enjoy calmer, yet active birthday parties, golf might be a good idea. Whether you are a beginner or a professional, hitting balls on perfectly green grass is a relaxing and exciting experience at the same time. Most golf clubs also offer lunches/dinners, so you can book a full day of golf, drinks, and food. If you don't own golf clubs, bags, and everything else needed for a good game, you can rent it out at most places!
8. Rafting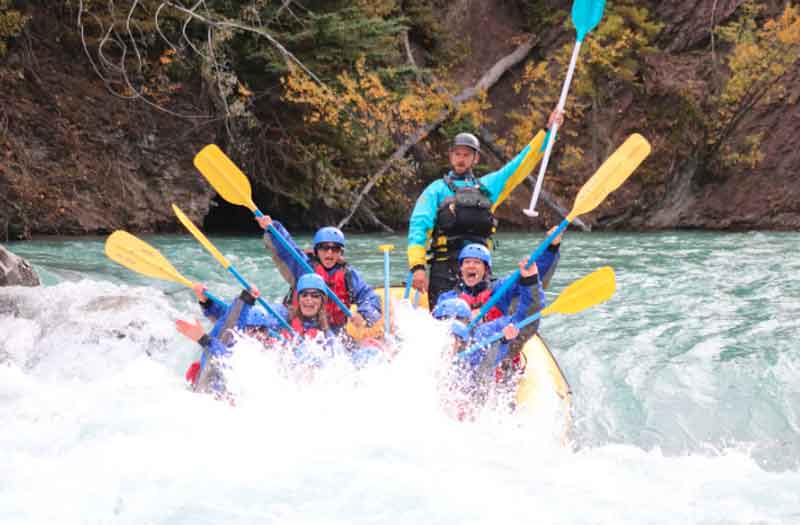 Want something exciting and fun to share with your friends? Rafting might be the right choice for you! Unless you can't swim. Then don't. Rafting is exactly what you need to celebrate your 40th birthday in an exciting, adrenaline-filled way. Just imagine an inflatable boat filled with your friends going down the fast river! You may take a little bath, but don't worry, the life jacket is part of the mandatory equipment in a rafting boat. Encourage yourself and your friends to try this extreme sport.
9. Birthday Trip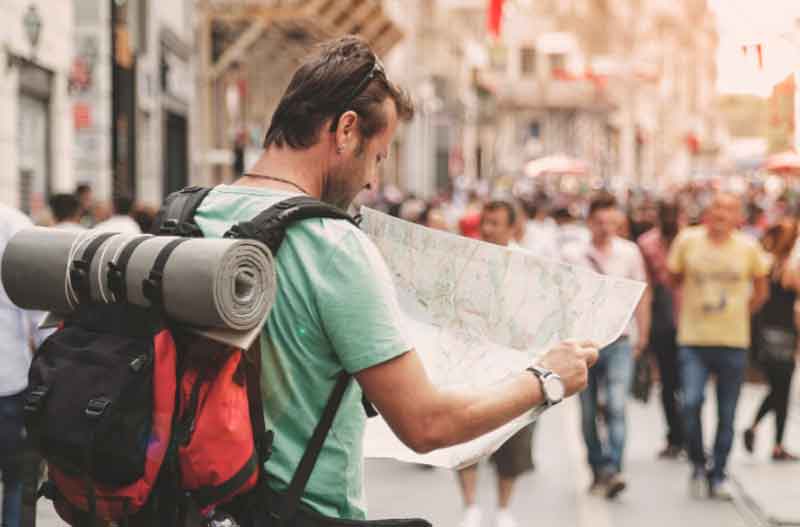 Treat yourself with a birthday trip! It could be one day, on a birthday, or if you manage to put together a couple of days – maybe even a whole week, even better! Visit a destination you've always wanted to visit, alone or bring a company. Post cool photos on Instagram with the obligatory hashtags #yolo # fortiesarethenewthirties and #havingthebesttimeofmylife, to show everyone that you easily endured entering the forties. A couple of tears in the shower no one has to see :).
10. Fancy Restaurant Dinner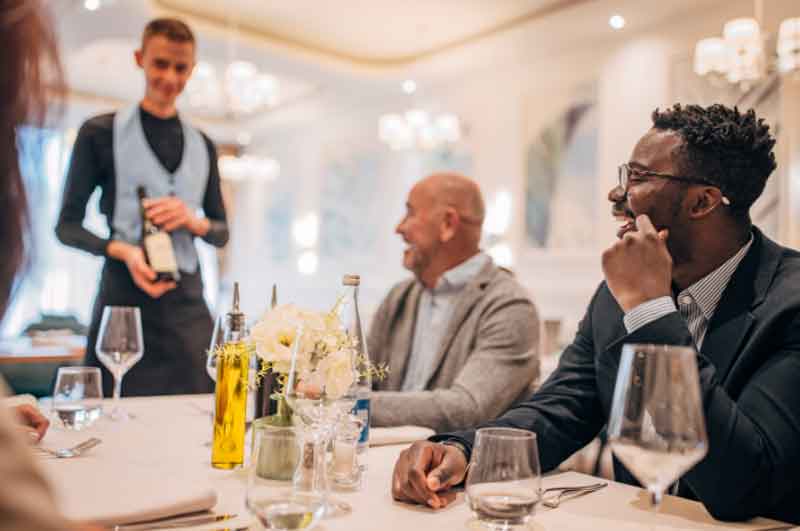 This is a classic but is always a good way to celebrate a birthday if you're playing safe. Book a table at an outrageously overpriced restaurant, dress as if you were going to the inauguration of the American president, order the most expensive champagne and treat your taste buds with a multiple course meal, from a delicious and warm appetizer, through the main course and salad to dessert. You'll probably feel like a balloon after such overeating, but hey! Flatulence is waiting for you in your 40s anyway, so get used to it. Just kidding!
11. Cocktail Party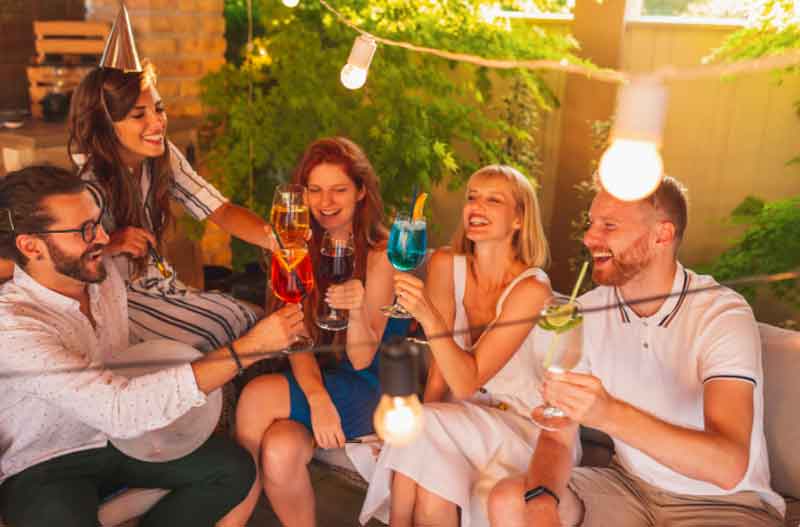 Have a cocktail party! Everyone likes cocktails, stock up on gin, rum, vodka, champagne, tequila, mint, various colored juices, umbrellas, olives, fruit, decorations. Get your friends to wear Hawaiian shirts and "decorate" them with flower wreaths (make sure they are artificial flowers so that because of the pesticide, the party doesn't end up in the emergency room). Buy a cocktail mixer and become a 1988 Tom Cruise for one night. If you need an idea to decorate your colorful drinks, you can always watch a couple of episodes of Only fools and horses. Delboy is an eternal cocktail arrangement inspiration.
12. Play Sports With Your Friends
If you are a sports type, organize a sports competition! Make sure it is a sport in which you are good enough so that a disastrous result compared to your younger friends would not further depress you. For example, you can organize a mini-marathon (run every day at least two weeks before), or bike, split into teams and play a couple of football matches, and if you want to show friends or a lady your lithe hips – have an unforgettable breakdance party competition. Of course, cool-off with a couple of crates of beer. Then, start a fight-club.
13. Karaoke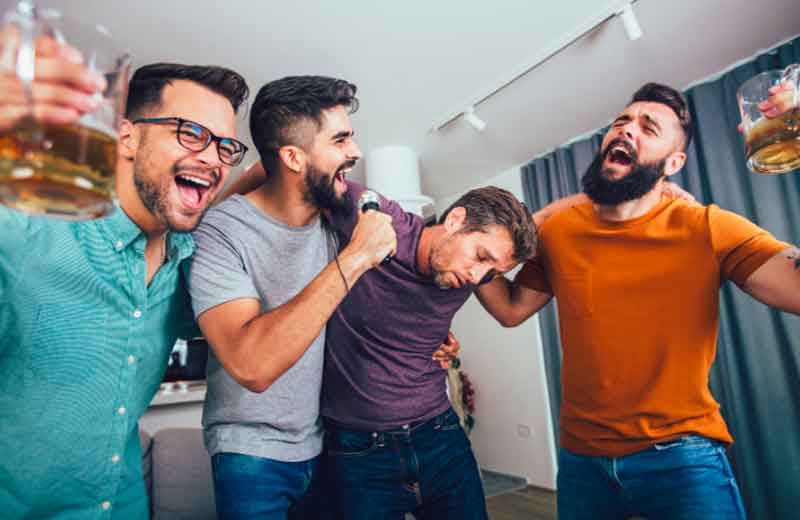 Buy a karaoke machine! If there was a right time to get rid of the fear of letting go of your voice, then it's the forties. Because realistically, all the friends who put up with you until your 40s will put up with a couple of hours of listening to your singing on the microphone even if you sound like an ungreased chainsaw. Prepare snacks, drinks, a disco ball, and relax with the hits you love. And no worries, chances are slim that someone on your team is as talented as Mariah Carey.
14. Costume Party
Organize a costume party! You can set the theme yourself or let your guests' imagination run wild. This is a great way to dare to wear something you would never do otherwise, get dressed (or rather undress) in Tarzan and show hours and hours of hard work in the gym. Guaranteed laughs!
15. Spa Day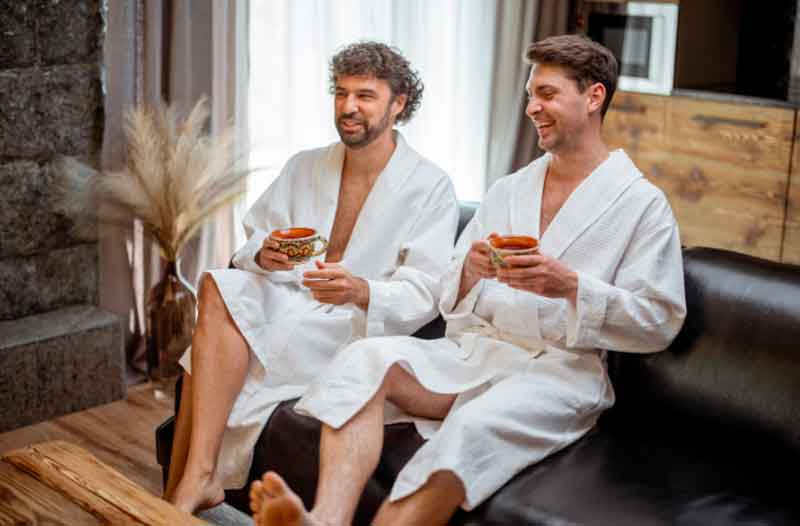 Spend the day at the spa! Gone are the days when only women spent birthdays with their girlfriends at the spa. Gather your boys, go to the spa, and get chocolate or hot stone massages, saunas, splashing in the pool, jacuzzi, manicures and pedicures, organic teas, and fruit juices. You will be fragrant, soft, and relaxed as if it were your 20th birthday!
16. Shopping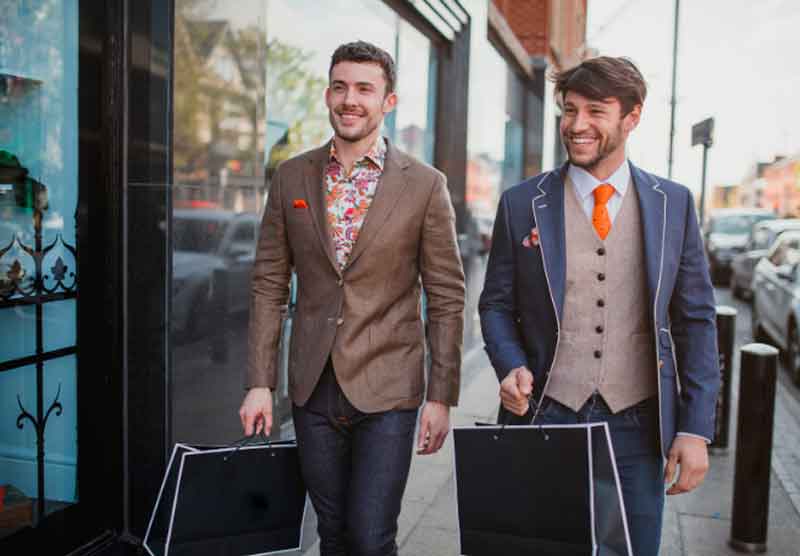 Can you call shopping a party? Why not! If you are one of the few men who enjoy shopping, treat yourself to the best shopping of your life, alone or with your group of male friends (don't take women along!). Throw yourself into buying everything you love the most. Will it be going to an expensive clothing store, a tool store, a digital equipment store, or a store with exotic South American fruit? The decision is entirely up to you as it should be on your birthday. If you get tired of walking, you can always sit down for a good burger and beer. Just be careful not to overdo it though that you will cut all your credit cards tomorrow and eat macaroni or plain toast for the next month.
17. Themed Party
Did someone say a themed party? Oh yeah! Be prepared that not all your friends will be thrilled with it, but hey, it's your birthday. There is no limit! Themes can be from a favorite movie or cartoon, royal wedding, the Oscar's, tea party (don't), Hawaii, the 80s, Hollywood, etc., etc. From interior design, costumes, to food and drink, everything should be in the theme. So don't take a bigger bite than your wallet, nerves, and creativity can take.
18. Clubbing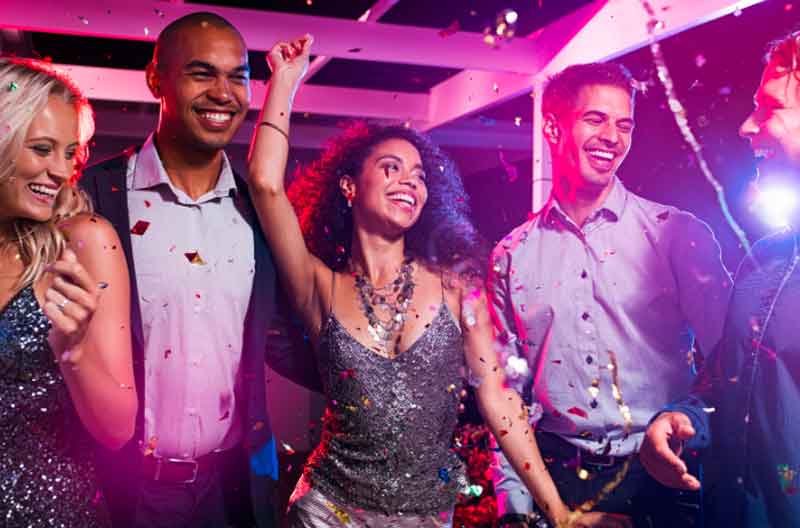 Go back in time and visit your favorite club to dance! Ok, first ask where the 30+ clientele is so you don't end up in a teen club looking at girls and boys dancing like there's no tomorrow to Shawn Mendes lyrics. Invite your funniest friends to accompany you as you perform the moonwalk on the dance floor. Feel free to go to the DJ a couple of times (don't forget to mention it's your birthday) and order your favorite songs! However, don't be too demanding cause everybody knows that the DJ is the most important person in the club! You wouldn't like that the DJ calls you an as**** in front of the whole club. Relax, enjoy, and don't try to look like Channing Tatum in Magic Mike!
19. Sailing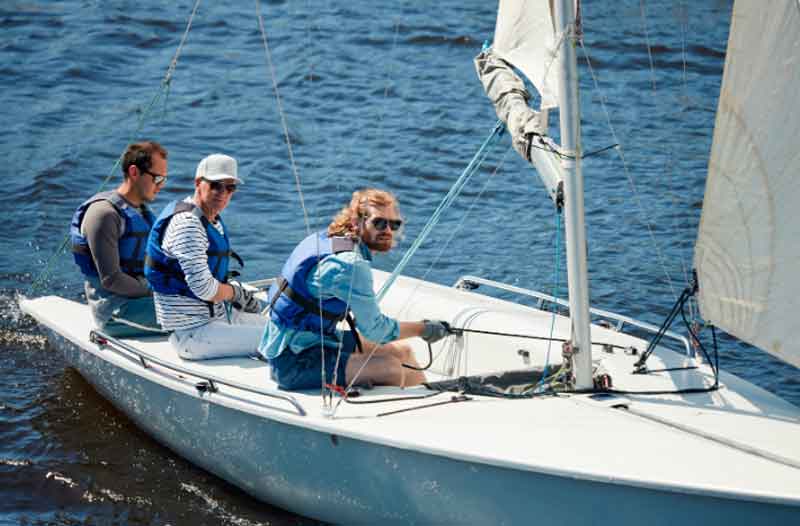 If neither you nor any of your group of friends suffers from seasickness, a sailing weekend is the ultimate birthday party! Choose the nearest coastal town, book a date online, pick a sailboat, hire a skipper, buy a bunch of groceries and you are ready for your dream birthday! In order not to just sit on the deck and sunbathe your still youthful face, offer help to the skipper, you will learn a lot about this sport but also see that sailing is by no means a joke. Also, bring something for muscle inflammation and sunscreen! And if this kind of celebration is too expensive for your budget, arrange with friends to share the cost of rent and skipper instead of gifts.
20. Rent a Party House
Rent a party house! Party houses are becoming more and more popular. How could they not be? Minimum furniture to break, a clean pool, and best of all – you don't need to clean it when all the guests are gone! Most party houses are equipped with a swimming pool or jacuzzi, so depending on whether you celebrate your birthday in winter or summer, you will also choose outdoor facilities. Buy balloons, props, snacks, drinks and make it easy for yourself by ordering pizza so you will have all the time in the world just for fun and hanging out with friends.
21. Celebrity House Tours
Are you a fan of Elvis Presly or you enjoy reading Ernest Hemingway's books? You would like to see where these greats lived? Want to get closer to your favorite celebrity? Nothing easier! Today some agencies allow you to tour the houses of celebrities. You can walk around Elizabeth Taylor's living room, stand in Thomas Jefferson's kitchen, or see the bathroom where Prince put on makeup before the show. If one of your friends, partner, or child is also a fan, even better! You have a super cool birthday trip and you will feel a touch of glamor on your special day.
22. Adrenaline Park
If you are addicted to adrenaline, the best recommendation to celebrate your 40th birthday is to visit an adrenaline park. Adrenaline parks offer packages for groups and individuals, so no matter what you might expect from such an experience, one thing is sure – you won't get bored. From mountain biking, zip lines to rock climbing, here you will test your dexterity, adrenaline will jump sky-high, and birthday fun is guaranteed.
23. Limousine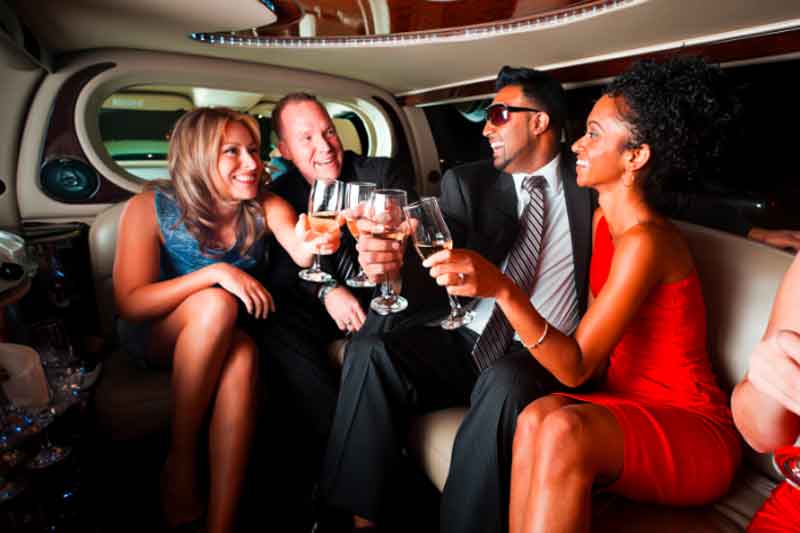 A night around the city in a limousine! You've always wanted to ride in a limousine, to feel powerful, important, and mysterious to the people you pass and who (as you used to do) wonder who that mysterious person in the limousine is. Every man wants to be you, and every woman wants to meet you. Ok, now we've gone a little too far into James Bond dramaturgy but the limousine party is really really cool. You, your friends, colleagues, dimmed limousine lights, leather seats, champagne, canapés, and your favorite music. And all this as you drive through the city in the dark and meet streets you haven't ever seen before. For an extra special feeling, wear a tuxedo, you don't celebrate your 40th birthday every day!
24. Pizza Party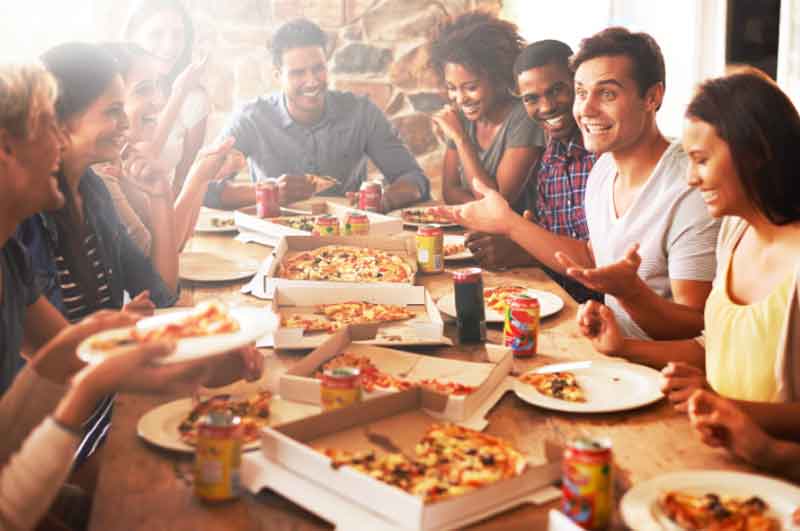 If you are one of those men who likes to put on an apron, dig your hands into the dough, use your best tomato sauce recipe and become a pizzaiolo for your birthday party! Everyone loves pizza, and if your guests are very demanding, let your imagination run wild. From pizza with seafood, pineapple, or simply plain capriccioso, Margherita, or pizza with 4 types of cheese, everyone will surely eat well. You can divide all the ingredients into separate bowls and let each guest arrange their pizza. For a real Italian atmosphere, play Italian music, from Eros Ramazzotti to the soundtrack from Godfather. Everything can pass. Of course, don't forget a few drops of Italian wine. Pizza is always fun!
25. Mancave Party
If you don't really have much time to hang out with your boys, a birthday might be an ideal situation to set aside time just for them. We're sure the better half won't get angry if you take her out somewhere the day before! Invite your male friends home, stock up on games, a PlayStation, or some other game console, order food, buy enough beers, and play until you get carpal tunnel syndrome! You can also play cards, poker, darts, or a game you and your boys like!
26. Concert
Treat yourself to a concert by your favorite singer or band. If you prefer to enjoy music solo, spend your birthday to the sounds of your favorite songs. If you want to hang out and dance, invite friends to celebrate your birthday, all together at a concert. Put on your favorite band's T-shirt, comfortable sneakers so you can jump and prepare your vocals for the crazy entry into the '40s!
27. Museum
A party at a museum? Why not? Of course, we don't think that you will literally organize a wild party in a museum, but if you are more of a person who likes to spend your birthday more calmly and maybe learn something at the beginning of the new decade, visit a museum or gallery. Even if you're not a fan of art, not all museums are "boring"! Inquire about current exhibitions, you can visit a museum that has a slightly more avant-garde exhibition, or for example a car museum. Enjoy the art that ennobles the soul.
28. Pub Quiz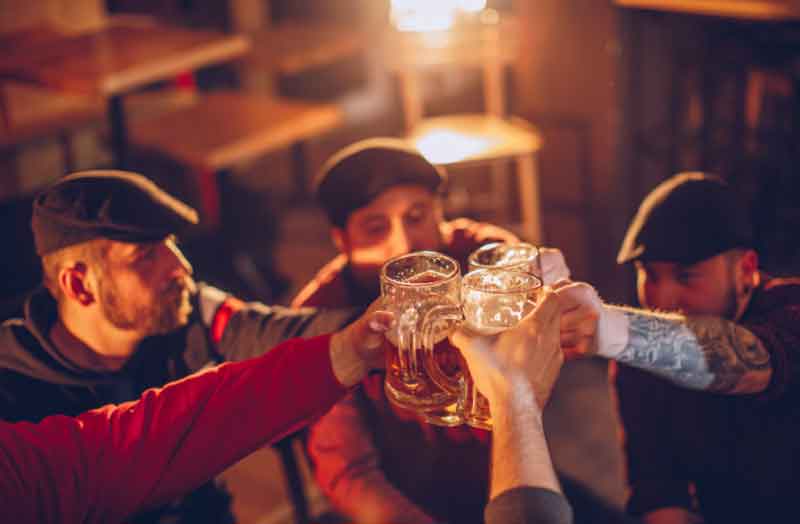 If you and your team are competitive types, you cover a wide range of topics, and you want to organize a slightly different party for your birthday, you and your team should apply for one of the local pub quizzes, or even organize one in the comfort of your home. Pub quizzes are great fun, usually accompanied by beer (again), so you might hear some really funny answers. Pick a strong team that covers different topics, and have a different type of birthday party! Don't forget it's your birthday, so don't forget to buy some beers!
29. Racetrack
Do you like speed and sports cars? If so, a racetrack experience might be the best way to enter the 40's! Safety comes first. Don't go full Ken Block at your local Walmart parking lot. Feel like a NASCAR racer for a moment! Some companies let you rent a sports car, if you don't own one, and for those less experienced, you can always rent a professional driver who will show you driving tips and tricks, and ensure that everything goes well!
30. Flying
Spending a day in nature is a healthy and fun way to "kill" some time and fill yourself with positive energy. But spending a day in nature flying through the air is a whole different level! Celebrate your birthday by flying a balloon or hop onto a panoramic flight on a plane. Unless you are very afraid of altitude and airplanes, then skip this tip. Take your loved one with you and surprise yourself and her by celebrating in a hot air balloon. Today, some agencies also organize balloon dinners with wine and food (forget candles, of course). Sky-high dinner is a different experience, one to remember for a lifetime!
31. Bowling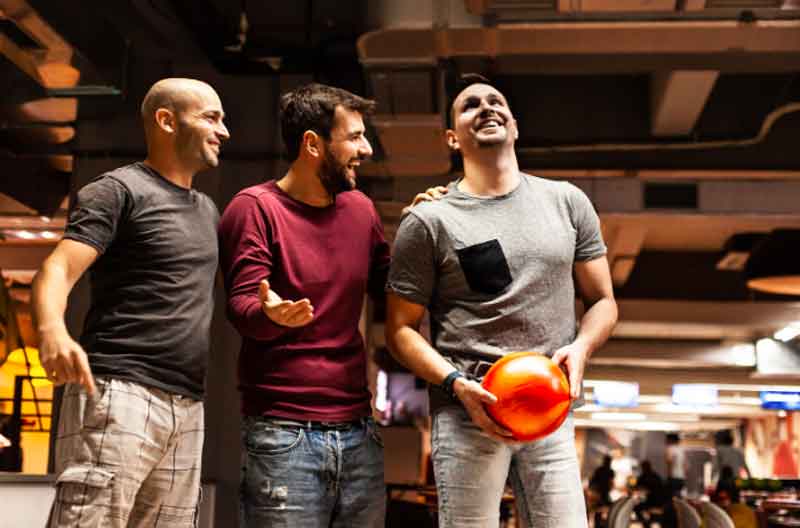 Go bowling! Bowling is for everyone. Competitive spirit, laughter, socializing, everything a simple man needs to celebrate a birthday. Unless someone in your company is a professional bowler or a frequent visitor to the bowling alley, you will all very likely be equally bad which will result in bursts of laughter and memories to remember. Divide into teams (you as the head of the parade be the main organizer), don't think about the thousands of people who wore bowling shoes before you, grab the ball, and don't slip! Fun is guaranteed.
32. Backyard Party
How about a backyard party? Maybe a live band? Decorate the space with a bunch of lights, light a grill, prepare your special burgers, spread blankets on the grass, and enjoy live music, food, and atmosphere until late into the night. This kind of party doesn't have to be expensive. You will very easily find a band in your area that will play their biggest hits for a small fee or even for free!
33. Whiskey Evening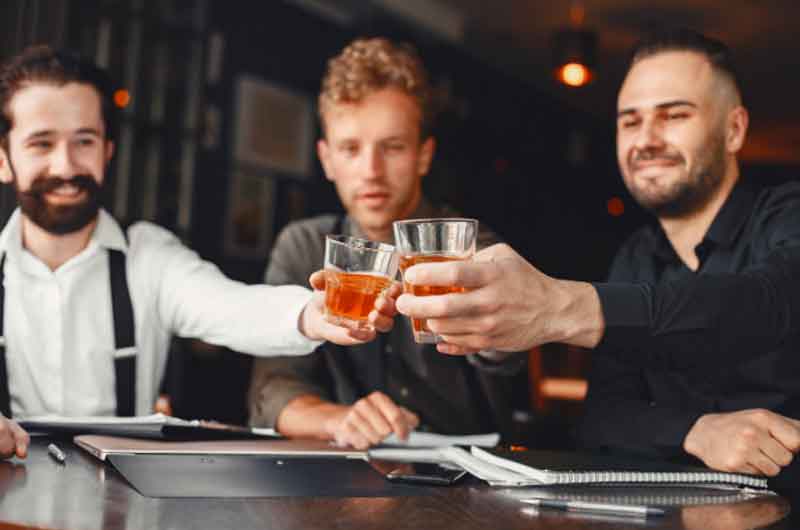 Dim lights, blues music in the background, crystal glasses, an ice bucket, a sizable selection of Cuban cigars, and an even larger selection of whiskey. Whiskey evening for you and your buddies is an elegant way to step into the 40s. Sit back in your armchair, soak up the smell of Cuban cigars and sip iced whiskey as you and your friends go back in time, and remember all the craziness of your younger days!
34. Go Back In Time
Every birthday is an opportunity to sit down, think, and recapitulate our lives to that day. If you want to celebrate your 40th birthday with family or close friends, you can set aside part of the evening for a memory lane walk. Open old photo albums, videotapes, or simply reminisce about the most important events in life that have brought you to this day such as the first drunkenness, the first mustache or fluff under your arm, the first French kiss you want but can't forget or the first million in your bank account (Yep, dream on).
35. Quads Adrenaline Adventure
Nature, adrenaline, and fun on four wheels? Every man's dream! Ask about renting quads near you and head to the hills with your party company, and try your hand at driving all-terrain vehicles. In the hilly area, the ride can be especially fun. You will very likely end up in the mud up to your throat, but your birthday will be insanely fun.
36. Winter Fun
Are you celebrating your birthday during the winter months? You like snow and snow activities? Rent a mountain cabin with a fireplace for yourself and your friends. During the day you can enjoy the joys of snow, ski, sled, snowboard, make a huge snowman, or start a snowball war. And in the evening, get warm by the fire, drink some wine, sing, and dance! If your cabin also has an outdoor heated jacuzzi, have the whole crew soak in the hot water while it snows lightly outside.
37. Do Something Nice For Others
It has been scientifically proven that volunteering and helping others raises blood endorphin levels. So by helping others you are also helping yourself. Are you particularly sensitive to those in need? Or are you an animal lover? Go to an animal shelter, buy dog and cat food, or bring blankets you no longer use so the animals can warm up a bit in the winter. Talk to an old man in front of a nursing home who has no one. Smile. Pay upfront from someone! By making somebody else's day, you're going to make your own as well. And it's a real party! Party of humanity for your 40th birthday.
If we helped you and gave you an idea of how to celebrate your 40th birthday, mission accomplished! Remember, the most important thing is to set up the celebration in a way that makes you feel comfortable, to be with the people you love, to socialize, and in the end line – to be happy! And if none of these ideas work for you, you can always visit your local strip club!