Do you have a friend or family member who is a lawyer? If that's the case and you're looking for a gift to get them, this list will definitely help you out.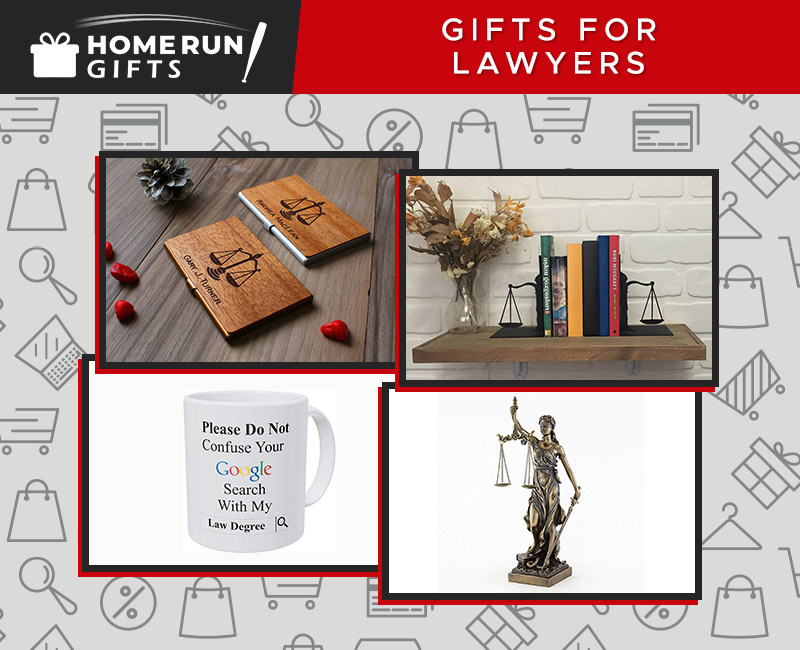 In this list, we'll stay away from stuff that is boring, common, and old-fashioned. We'll be focusing on stuff that is unique, personalized, or super useful. Whether you need something for a practicing lawyer or graduation gifts for lawyers, I'm confident you'll find something great on this list.
List of Gifts for Lawyers and Law Students
1. Personalized Business Card Holder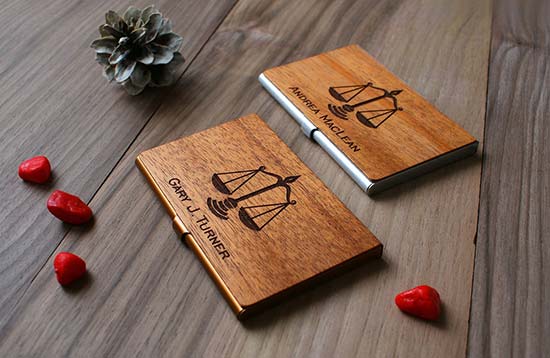 Buy or Read More on Etsy Here ($28.90 at the time of publication)
Most of us remember a scene from the movie American Psycho in which Patric Bateman and his colleagues talk about business cards as if it were something crucial for the survival of the world. Although in reality business cards are not the end all be all, every lawyer has them and should have them. Lawyers meet clients everywhere. On the street, in the office, in the store, in the bar. And although you can give a potential client a phone number and say "call me," the unwritten rules of the profession dictate the use of business cards. And business cards should look like new. They must not be inconspicuous and crumpled. It is important to give the impression of professionalism in the smallest details. And to make your business cards always look like they just came out of print, you need one business cardholder. This business card holder holds 10-15 standard thickness business cards. But the best part is that you can engrave your name or the name of the company you work for it on, and thus further personalize this design. Whether you need a gift for a law student of a professional lawyer of 50 years, this is an awesome gift idea.
2. Lady Justice Statue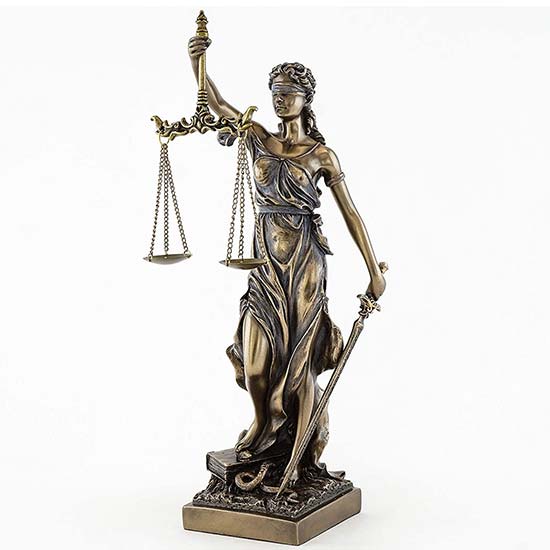 Buy or Read More on Amazon Here ($49.50 at the time of publication)
The statue of justice also called "Lady Justice" or "Blind Justice", is a woman holding a sword, a scale, and a blindfold. It represents the legal system or justice. The blindfold represents impartiality, while the scales represent the two conflicting sides. The sword of the statue is a symbol of justice. The blindfold represents impartiality, while the scales represent two conflicting sides. The sword of the statue is a symbol of fairness. It's hard to find a law firm that doesn't own a statue of a Lady Justice or some other stylized representation of a scale. This statue is a symbol of the entire profession and is recognizable to everyone, whether your clients or associates. It is a great addition to your desk, and the quality of the workmanship itself will leave you delighted. Bronze powder mixed with cold cast resin will ensure the longevity and durability of the statue that will accompany you throughout your career.
3. Personalized Attorney Portfolio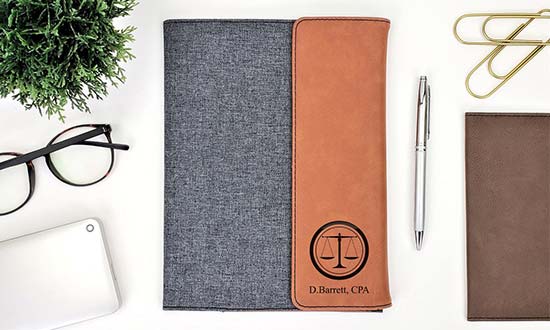 Buy or Read More on Etsy Here ($24.95 at the time of publication)
Every lawyer needs a quality portfolio. The legal profession simply requires you to be on the move, court to court, office to office, often visiting clients and places of importance to your business. Lawyers write down, and despite all the technological aids, paper and pen are still irreplaceable tools in this profession. And so as not to carry a boring and ugly notebook with you, this personalized attorney portfolio might be the perfect gift. In addition to being made of quality materials inspired by minimalist design, this gift will surely enhance the first impression when meeting your new customers for the first time. The interior contains a place for your favorite pen, a notebook, a compartment where you can store important documents, and a place for your business cards. Choose from several color combinations, and further personalize this product with your name or the logo of the company you work for. The combination of leather and high quality materials guarantees the long durability and quality of this product that will surely benefit you in your career. This is is one of my favorite graduation gifts for lawyers and those who are already practicing law.
4. Paper and Credit Card Shredder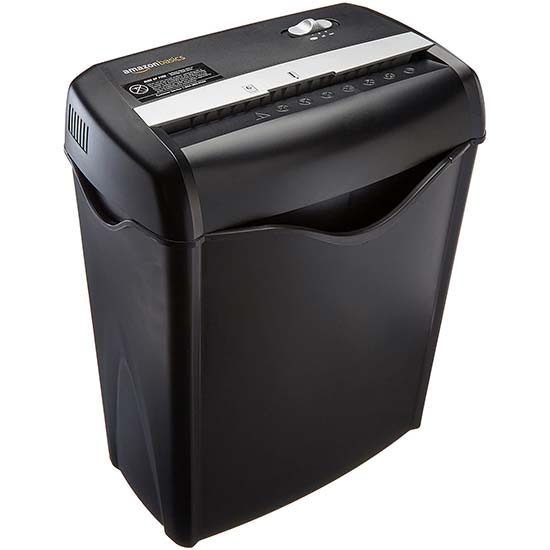 Buy or Read More on Amazon Here ($40.08 at the time of publication)
We all know that the lawyer profession is full of paperwork that sometimes piles up on the desk and causes complete organizational chaos. The hectic pace of office work often doesn't give us enough time to organize our workspace, and when the situation gets serious, it's usually too late and very difficult to separate the necessary paperwork from unnecessary ones like flyers and legal items already archived. Also, modern and thriving business sectors take care to protect the privacy of their business. Crumpling paper and throwing it in the bin is simply not enough. Anyone with minimal effort can get confidential information about you and your clients, which is why a profession like law can be very dangerous. In the event that the data falls into the wrong hands, misuse is possible, and consequently both private and business damage. This kind of device can ensure your reputation and improve the successful business with your customers. This device turns paper into small confetti-like pieces and can process up to 6 sheets of paper at a time. Also, unlike older models of this type of device, this paper shredder cuts the paper in two directions, vertically and horizontally, so that it is almost impossible to restore the document to its original state. This is easily one of the best gifts for lawyers out there. Even if they have one at their office they could always use another.
5. Justice Book Holders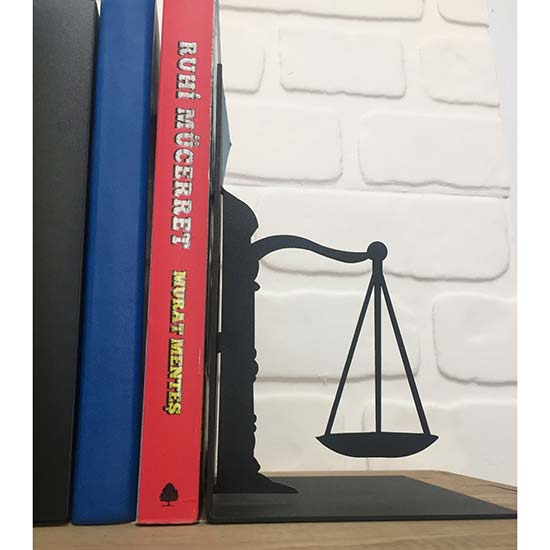 Buy or Read More on Etsy Here ($44.25 at the time of publication)
There are some office decorations that we often overlook, and which can be both very useful and decorative. Unusual and modern, bookends can be a good gift for your lawyer who loves to read and has a lot of books. And who has more books than lawyers? Probably no one. All lawyers have a lot of books. The court guides they use change every now and then, just like the laws! Books actually accumulate very quickly, and in order not to be disorganized and create a mess for you, holders like these can help you organize your shelves or table. Specifically, these holders are made of metal and can keep even heavier books in place. The design speaks for itself as it shows the scales of justice. By doing so, it will give another extra thematic dimension to your office, so there will be no confusion as to what you are doing for a living! This is another one of my favorite gifts for lawyers and law students.
6. Fountain Pen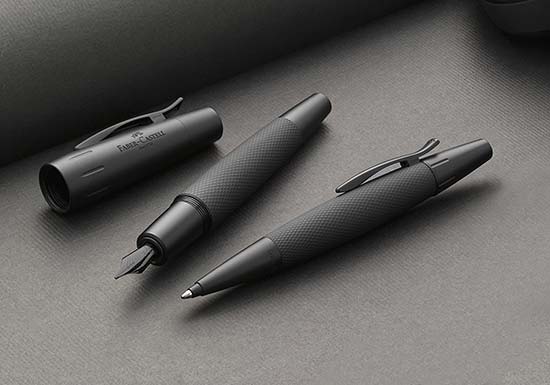 Buy or Read More on Amazon Here ($146.23 at the time of publication)
If you are looking for a unique gift, something that will last and be remembered for a lifetime, then a fountain pen is a perfect choice. In today's world, technology, and computer keyboard rule, but the pen still has a personal touch when we talk about gifts. The sound created by the pen when it passes over the paper, together with the indescribable smell of ink, can never be replaced by a plastic keyboard experience. The premium pen is a timeless gift that will forever remain useful and valuable. If you are looking for luxury pens, it is crucial to find something unusual and unique, whether it is a design, a precious material from which the pen is made, handmade, or the quality. If you want to impress your work colleagues and customers, and at the same time look for a fountain pen that is high quality, beautifully designed, and will not ruin your favorite shirt, this fountain pen from the famous house Faber-Castell will provide you with all that, and more.
7. Men's Leather Briefcase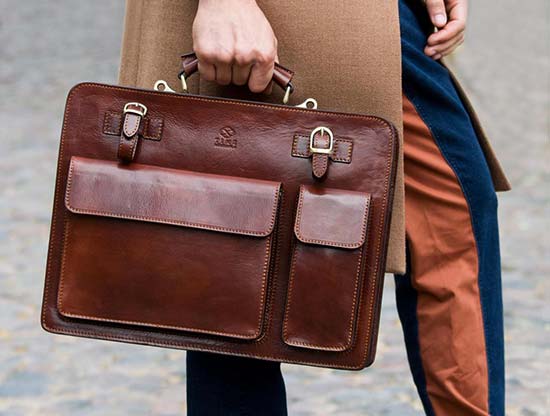 Buy or Read More on Etsy Here ($24.95 at the time of publication)
A faithful companion of every lawyer is a business bag, ideal for carrying certain documents, important papers, project folders, and in some cases even a laptop. The judiciary is full of written documents. They have incredible importance like no other profession. Whether it was arraignment, any kind of hearing, or the trial itself, lawyers are overwhelmed with documents. Documents are necessary for the judiciary and give an official character to any process in which lawyers and other legal actors participate. In any depiction of a lawyer, whether cinematic or imaginary, it's hard to imagine a lawyer without his bag. A lawyer's bag travels long distances daily. It has been opened dozens of times, and as such must be of good quality and preferably pleasing to the eye. We have chosen for you this leather bag that contains enough compartments for your documents, pens, and mobile phone, and at the same time has a timeless design that will complete your daily business look. You can carry it over your shoulder, or as a handbag. Also, thanks to the buckles on the side, you have the ideal place for your umbrella so it doesn't get wet and to protect your documents.
9. LED Desk Lamp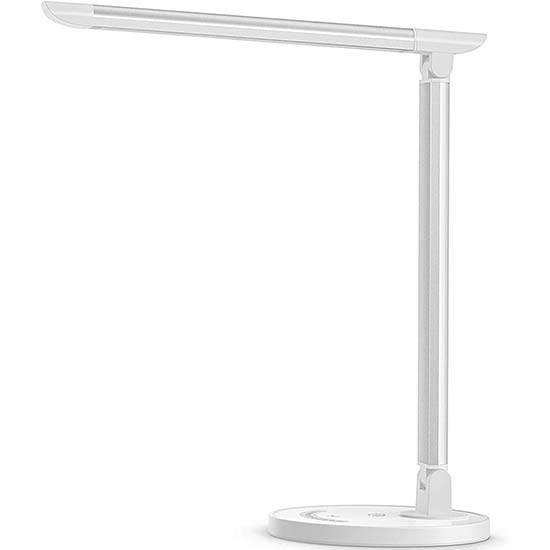 Buy or Read More on Amazon Here ($43.99 at the time of publication)
We all know that lawyers work late hours. It often happens that something important comes up at the last minute for a client's case, and as the law often deals with people's destinies, it doesn't leave too much maneuver room for hardworking lawyers. Rare are those who have not spent the late evening hours flipping through documents or working on their computer. And to make that job easier for them, why not buy one modern table lamp? LED lamps save the most energy, and in addition, they are very suitable for a work environment in which there is not enough light. They can emit strong white light but also leaves you with an option of adjusting color temperature. This lamp, in addition to being a nice detail for your desk, is very functional thanks to 7 different operating modes with which you can adjust the intensity of the emitting light. It also comes with a super useful USB port that you can use to charge your mobile phone, smartwatch, or any other device so as not to run out of battery.
10. Whiskey Decanter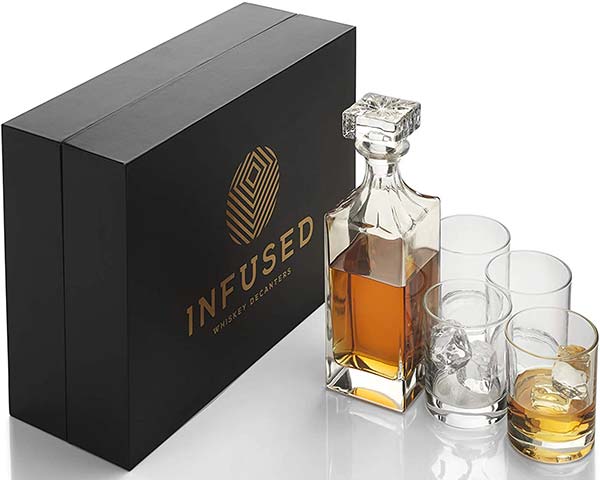 Buy or Read More on Amazon Here ($99.99 at the time of publication)
You'll find it hard to find a law firm that doesn't have a whiskey decanter. Lawyers love whiskey. While some may not even drink it, it is an unwritten rule that every office has one such decanter, either as a decoration or as a means of enjoyment with co-workers and clients. This is probably the reason why many clients often give away whiskey as a thank you to their lawyers. Decanters come in a variety of forms. But the classic variant without any kitschy embellishments is perfect for a serious lawyer. Whiskey poured from the bottle itself hides aromas and flavors that can only be released by pouring into a decanter. No matter what type or price range of whiskey we talk about, it's impossible to enjoy its complete magic if it hasn't spent some time "breathing" in the air. This set consists of four glasses specially designed for your whiskey, and the main decanter base for storing your favorite drink. Also, the beautiful and minimalist designed packaging makes a perfect gift material without too much effort.
11. Oxford Latin Dictionary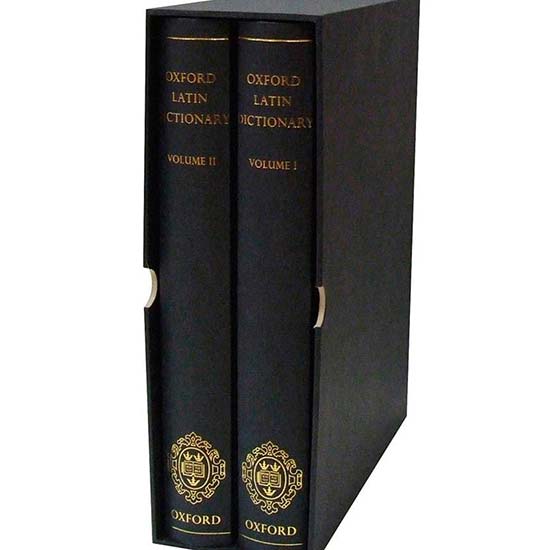 Buy or Read More on Amazon Here ($232.92 at the time of publication)
The ancient Romans were largely responsible for the legal systems we know today. They provided important foundations for modern democracy and laws whose principles are still used by almost all countries of the world today in their jurisprudence, judiciary, laws, and general organization. The best proof of this is that even today, almost two thousand years later, we still use legal terms in law that were also used by the Romans. But sometimes even more experienced lawyers get into a dead end. It is very difficult to remember all the terms needed in the legal profession without reaching for the help of a dictionary or the internet. This dictionary, published by Oxford University, is the gold standard in translating Latin into English. In it, you will find everything you need for your legal profession, and in addition to being of great use throughout your career, it will fit perfectly with other reading material on your shelves or desk. The dictionary comes in two volumes and is bound in a hardcover which guarantees longevity for a lifetime.
11. Personalized Desk Name Plate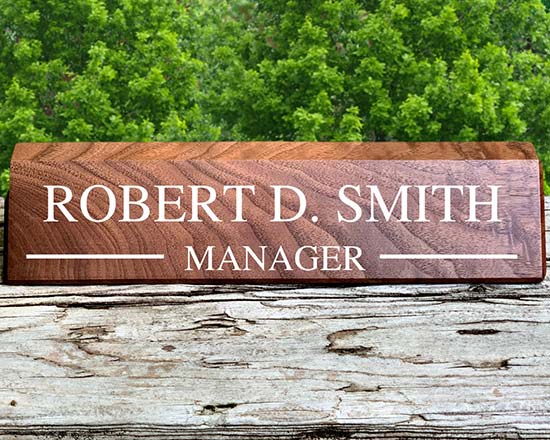 Buy or Read More on Etsy Here ($24.95 at the time of publication)
Every legal professional, be it an attorney, a lawyer, or a judge, has a desk plate with their name on it. It gives the impression of professionalism and formality, and as such is an unavoidable detail used by all those who want to present themselves to their clients and start a professional relationship. Also, people forget names. Why not give them a chance to be reminded of your name without putting them in the awkward situation of asking? The desk nameplate we have chosen for you is made entirely of walnut wood. It's personalized for everyone, so you can choose exactly what you want your nameplate to say about you. Just a name, a title, or maybe both. The possibilities are endless, and you can also choose the font you want your name and title engraved on. A more modern style, classic, written letters, the decision is up to you.
12. Lawyer Gift Necklace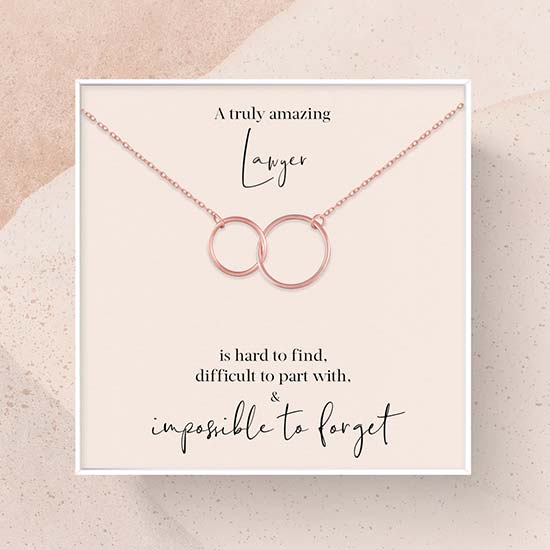 Buy or Read More on Etsy Here ($28.00 at the time of publication)
If you are looking for a personalized gift for your lawyer, without having too much to do with the profession, this necklace is a great solution for you. A gift for a lawyer does not have to be an item for everyday use in business. You can also show your affection or gratitude with a simple fashion accessory such as this necklace, which, thanks to the inscription "Lawyer", still differs from a generic necklace. This beautiful necklace fits with all clothing combinations, and the minimalist design will complement the look in a beautiful way and surely provoke positive reactions. The combination of 925 Sterling Silver, Rose Gold Vermeil, or 18K Gold Vermeil, guarantees quality workmanship, and maintenance is simple and does not require much care. Every piece comes in a gift box including a card inside, which you can personalize for your favorite lawyer.
13. Lawyer I'll Be There for You Shirt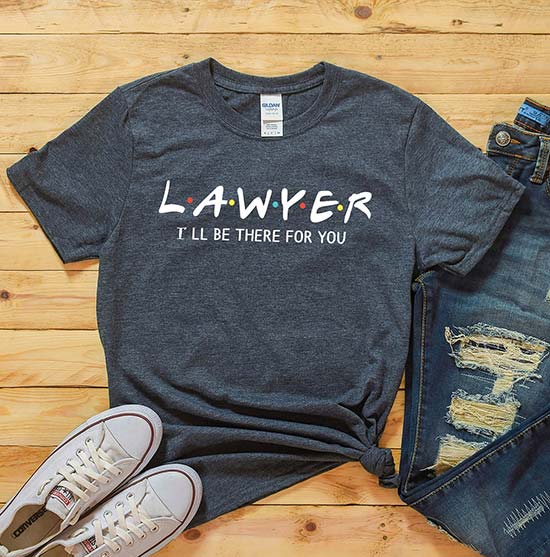 Buy or Read More on Amazon Here ($14.98 at the time of publication)
Gift T-shirts are an ideal opportunity to express your creativity. A t-shirt has been, and always will be a good choice for a gift. But if you are a fan of interesting and fun themed T-shirts, this T-shirt with the print of the unforgettable sitcom series "Friends" can be the even better choice for you! This t-shirt comes in different colors and sizes. It has the inscription "Friends" in the font that was used in the series itself. As our friends are always with us when we need them, the same rule applies to our lawyers, so the design includes a subtitle that says "I'll be there for you", which is also the popular title of the accompanying song for the show's intro. The shirt is very easy to maintain, and can be the perfect choice for team building, leisure activities, or a laid back afternoon in your home!
14. Lady Justice Wall Art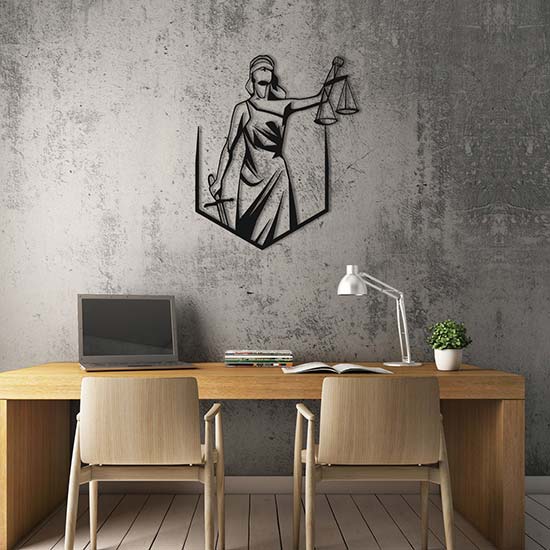 Buy or Read More on Etsy Here ($24.95 at the time of publication)
Do you want the wall of your law office to stand out and differ from others that are filled with diplomas and certificates? Or maybe you want to bring some of the law into your living space as well? This metal wall art that portraits Lady Justice will surely achieve that, and more. Made of 2mm thick stainless steel, this piece of art will delight all your customers and associates. Thanks to the black textured coating, this work of art does not require any special maintenance, except for occasional dusting. It is very easy to install, and the included mounting screws will protect you and the item itself from damage. You can be sure it won't fall on your head! The dimensions are 31.5 inches by 26 inches, which is more than enough to keep everyone who visits your office amazed and delighted. You can place it above your desk, in the hallway, or on the very front of the building where your office is located.
15. Don't Confuse Your Google Search Mug
Buy or Read More on Amazon Here ($11.99 at the time of publication)
Thanks to the internet and the availability of information, we have entered an age when many laypeople often think they know everything about the law. You've probably seen some of the videos where people off the road get into heated arguments with each other or the police, which usually doesn't end up well for them. Most of these cases end up in court, and the accused are represented by – you guessed it, lawyers. The law is complex, and it takes years of study and practice to master it. If we also take into account constantly changing legal regulations, it takes a little more than superficial knowledge and research on google to be able to be called a good connoisseur of law. So, if you are in legal doubt, consult a lawyer, not google! This humorous tea or coffee cup speaks for itself. Mugs are generally a good gift, especially when they carry a message that has something to do with the recipient. It can be a great subject for starting a conversation and breaking the nervousness of the interlocutor! This is a funny gift for lawyers and it also makes for a great graduation gift.
16. Constitution Tie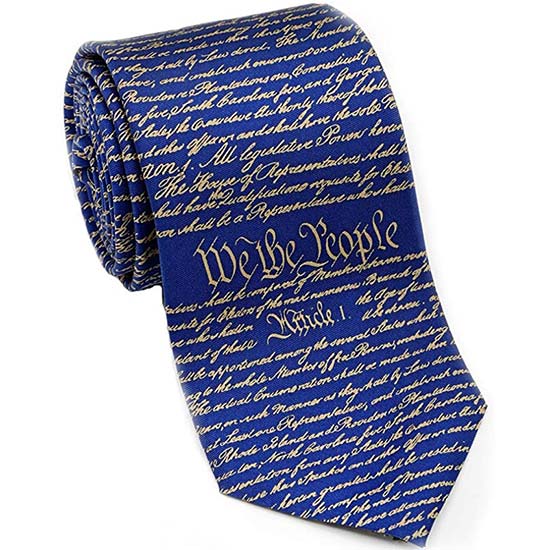 Buy or Read More on Amazon Here ($56.00 at the time of publication)
The American Constitution is one of the most important not only legal documents in history but written sources in general. It abounds in new legal rules that have struck the foundations of modern democratic society and human rights. Along with the Declaration of Independence, the American Constitution is a fundamental document of the modern United States of America, and a kind of rulebook by which laws are governed and decisions are made in the judiciary and politics. We all know that lawyers nurture a special dress-code that requires an official outfit. And if you're a lawyer, and often forget which amendment means what, why not remind yourself by reading from your tie! Joke aside, this tie somehow unites the exterior and interior form of the law. It can be a great gift for all those who practice law, the judiciary, or those who are in the process of studying and learning. The tie comes in four different colors, and it's up to you to choose the one that fits your favorite outfit!
17. Custom Simpsons Portrait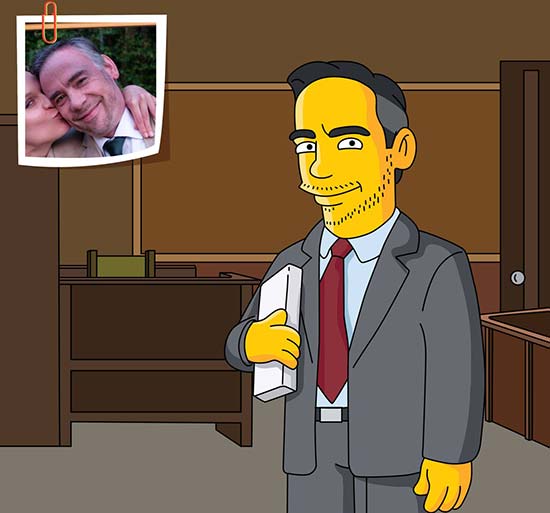 Buy or Read More on Amazon Here ($30.00 at the time of publication)
Are you a lawyer and do you love the show "The Simpsons"? You never defended Homer and Bart in court for their inadequacies? It doesn't matter, you can be a part of that world now, at least in the picture! If you are looking for a gift that your lawyer will remember forever, you have found the perfect one! Everyone loves The Simpsons, no matter what they do. These yellow cartoon heroes have been entertaining us with their adventures for over 30 years! This gift gives you the perfect fusion of lawyers and these cartoon heroes. Simply submit your image and the artist will draw you as if you are part of the Simpsons world. Also, you can choose the version of the picture where you are surrounded by your colleagues, friends, and family! You will get the finished image in digital format, and you can use it to make a poster, stick it on your favorite cup, or maybe on your business card! No matter what you decide, this gift will delight and make many people laugh, including yourself!
18. Retro Keyboard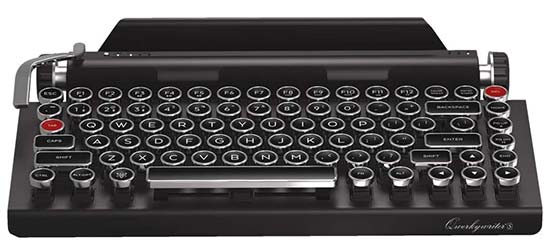 Buy or Read More on Amazon Here ($269.99 at the time of publication)
Since you already write a lot on your computer, why not do it with style? Although the time of typewriters has passed, we are still a bit nostalgic for the beauty of the designs they had. Today's keyboards are boring, to say the least, and don't differ too much from each other. Always the same design, always the same features. Break the monotonous look of your office with a keyboard like this! The keyboard is modeled as a retro mechanical typewriter, but that's where any resemblance ends. This is actually a modern electronic keyboard for your computer. It is compatible not only with your computer but also with most mobile devices and tablets thanks to Bluetooth technology. It is important to note that you can connect this keyboard to 3 different devices at the same time. The keys are nicely designed in a round shape, and the elements "robbed" from the typewriters are functional and perform tasks like lowering and boosting the volume, or quickly reviewing a document (page up and page down).
19. Windows Tablet With Keyboard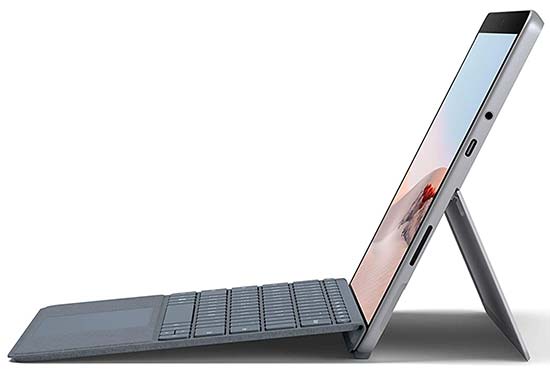 Buy or Read More on Amazon Here ($399.00 at the time of publication)
If you are constantly on the move, with all the documents and gadgets you carry with you, even a laptop can become heavy. Switching your bag from shoulder to shoulder can help in the short term, but you may want to consider buying tablets with a removable keyboard. We have already mentioned that lawyers write a lot. Our mobile devices are quite limited, whether we use them for email correspondence, writing documents in Word or some other program, because of the size and the impracticality of typing on the touch-screen screen. The new generations of removable keyboard tablets are a kind of fusion of a smartphone and a laptop computer. They are equipped with a lot of memory, have a significantly larger screen than mobile phones, and the speed of data processing and multifunctionality makes them similar to laptops. Thanks to their lightweight and practicality, you can carry them in your bag, without worrying that they will cause you problems. The keyboard is easy to remove and you can use it whenever you want, and the smartpen allows you to quickly and efficiently navigate the screen, sign documents, and draw and paint in your spare time!
20. Custom Engraved Bamboo Cutting Board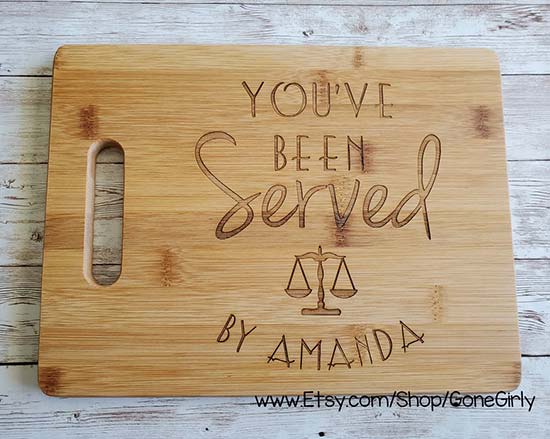 Buy or Read More on Etsy Here ($36.99 at the time of publication)
We all have to eat, right? And when you are well hungry, slice your favorite fruits and vegetables on one such board! This is a great gift for a lawyer who leads a double life, and in addition to dominating the courtrooms, he also does it in the kitchen! You can personalize this cutting board to your liking. Consider whether you want to engrave your name, the name of your company, or perhaps an inspirational quote that accompanies you through life. The board is made of bamboo whose wood is known as one of the most durable materials in the world. This cutting board is very easy to maintain and can be washed in a dishwasher without fear of being damaged. Also, the manufacturer offers you several size and shape options that you can choose according to your wishes.
21. Desk Note Taker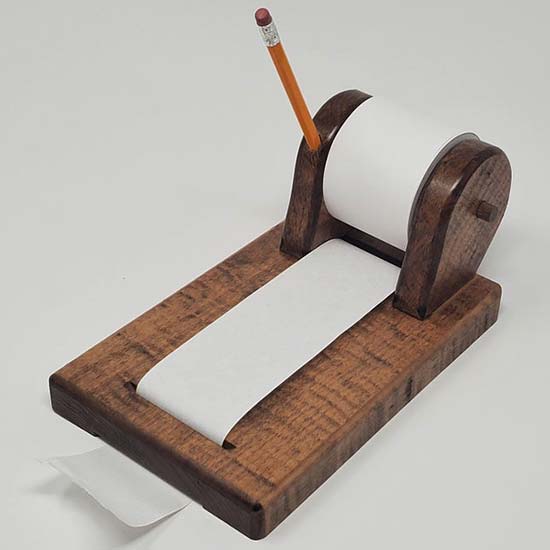 Buy or Read More on Etsy Here ($54.99 at the time of publication)
How many times have you come up with a great idea, and you say, well, I won't forget it, and then you forget? Or do you need to write something down during a phone call and you have neither paper nor pen in sight as you panic looking for where to write down important information given to you by the person on the phone? This desk notebook will solve those worries for you! In addition to having a place where you can always write something down quickly, this item looks cool and is sure to give your desk a new dimension. It is made of solid hardwood sugar maple, stained to a honey finish and sealed with polyurethane, and can last you a lifetime. When you're done taking notes, simply pull out as much paper as you need, and tear it off!
22. Lap Desk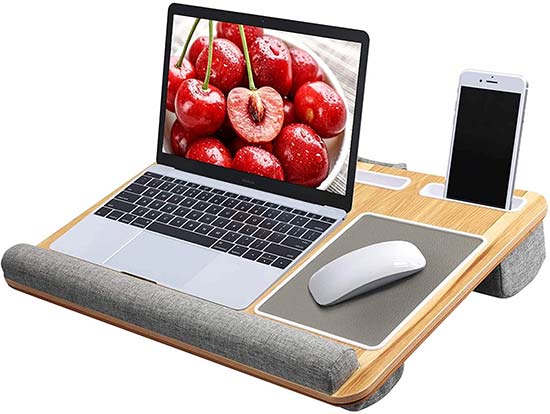 Buy or Read More on Amazon Here ($59.97 at the time of publication)
Most of us take our work home. And although in our workplaces we have to behave according to certain rules of conduct and good taste, when we cross the doorstep no one can stop us from lying on the couch as we want with a laptop or notebook in our lap! But as much as we are comfortable, at the same time, it is difficult and inconvenient to type or write in a lying position. That's why this multifunctional lap deck could be the perfect choice for you. You can place your laptop, tablet, pen, and mobile phone on it. There's also plenty of room for a mouse if you don't like using the touchpad on your computer. The wrist pad provides comfortable support for your wrist, and at the same time a non-slipping solution for your laptop. You can also use it to watch your favorite movies and series without any discomfort for your lap thanks to the dual bolster cushion base. The Lap Desk is portable, and comes with a built-in handle to bring it with you!
23. Scales of Justice Patent Print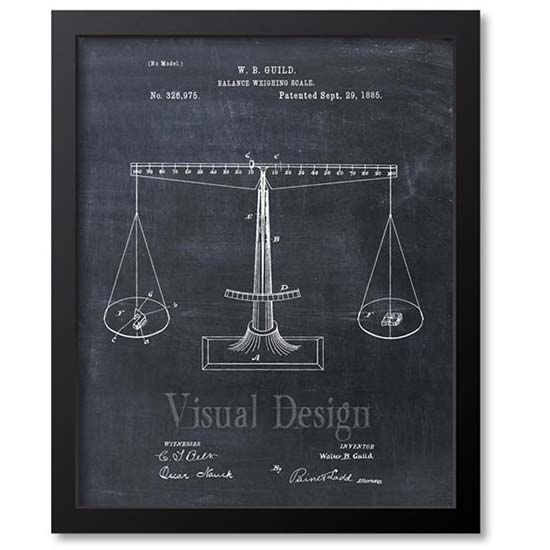 Buy or Read More on Etsy Here ($6.95 at the time of publication)
Another creative gift for decorating your office or home! Patent prints have been a very popular way of decorating boring walls lately. They seem very interesting, and from my own experience, I can confirm that everyone who enters the room starts to ask questions. This is usually followed by an observation of the work itself and a discussion about it. If you strive for minimalism, simple design, without too many kitsch, and at the same time a contemporary and modern look, this print will be the perfect choice for you! You can choose from several offered print sizes and options whether you want a framed print or just a poster. Also, you are offered the option of choosing the poster background itself, so you can pick between a background that resembles a school board, old paper, or a blueprint.
24. Candle Set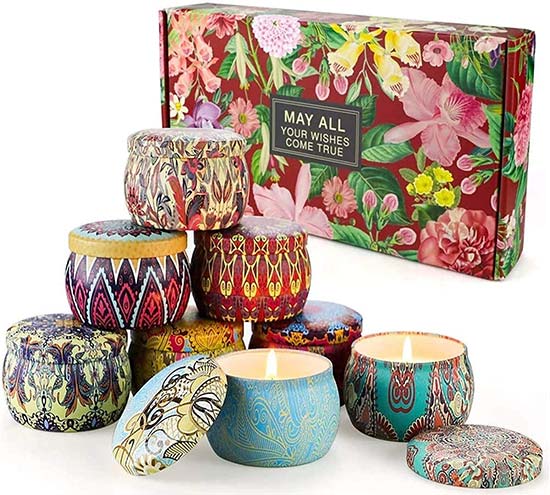 Buy or Read More on Amazon Here ($25.89 at the time of publication)
The legal work is stressful. But you are not a robot that can work tirelessly 24/7. Sometimes, we need peace and quiet. And in order to relax completely, all our senses need to be at the same level of stress. Scented candles have therapeutic properties, thanks to the pleasant smell and the light that they produce which gives a feeling of peace and relaxation. You can use the candles from this set in your home or office. No one is bothered by nice and mild scents. Lavender, rose, fig, lemon verbena, sage, vanilla almond, coffee, and mint, are the fragrances you get in this eight-piece set. The wax body is made of 100% high-quality soybeans, which guarantees a long combustion time of 35h. The whole set comes in a beautiful package ready to be transformed into the perfect gift for a lawyer who needs peace and relaxation.
25. Lawyers Makeup Bag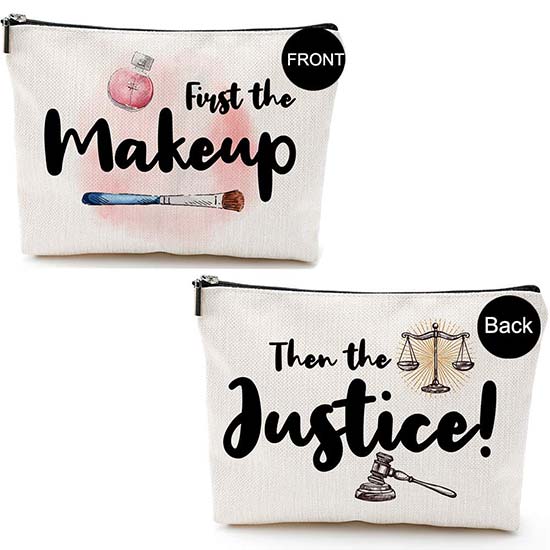 Buy or Read More on Amazon Here ($12.99 at the time of publication)
This is a nice gift for all female lawyers out there! The make-up and cosmetics bag is made of synthetic fabric, intended for wearing and neatly organizing make-up, cosmetics and work accessories. It is suitable for all lawyers on the move who can accommodate a large range of products in order to be well organized and easily accessible. At the top of the bag there is a zipper with an elegant metal part that will make it easier for you to open and close. The bag is waterproof, so you don't have to fear water damage. The inscriptions on both sides of the bag say a lot about who you are and what you do! Of course, priorities are priorities!
26. Transparent Lawyer Poster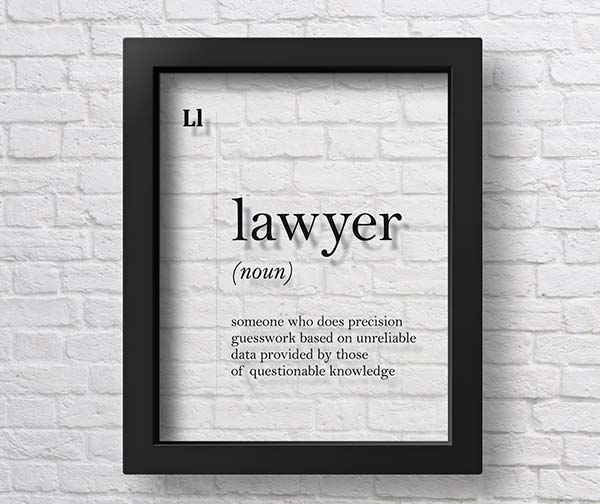 Buy or Read More on Etsy Here ($34.90 at the time of publication)
This decorative poster is a great addition to your home or office. There is a misconception that lawyers are serious people, with no sense of humor and often insensitive. Although we all know who lawyers are and what they do, in a humorous and self-critical way you can show your co-workers and clients that you are just a person of flesh and blood and that you know how to joke, even at your own expense. The poster is available in 5 different sizes, and you can also choose the color of the text to be printed. Thanks to the transparent material, each poster is personalized as much as your wall is different from the walls of the others. Also, the letters themselves will create a shadow on the background, thanks to which you will get a 3d effect no matter from which angle you look.
28. Tools of Argument Book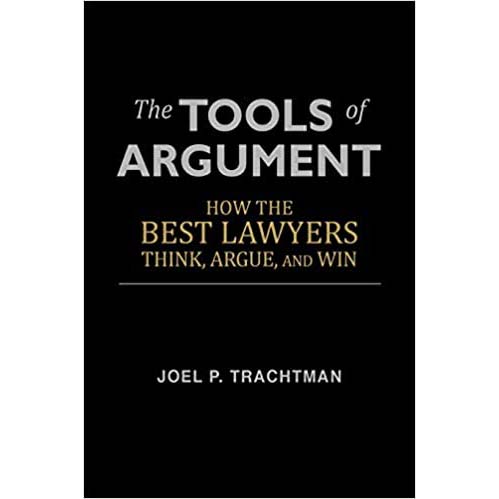 Buy or Read More on Amazon Here ($12.50 at the time of publication)
For some, the book is a "best friend", and for others a great hobby and way of having fun. Books have never been and will never go out of fashion, regardless of all the available readers, and audiobooks. Reading a book in its original form provides a different experience than any other way of reading. In addition to relaxing and entertaining us, reading books also brings us various benefits. The more we read, the more we encounter new words, and a rich vocabulary is extremely important. When you want to impress someone, when you go to a job interview or have a public appearance, you will be grateful to yourself for all the books you have read. It is for this reason that we recommend this book, "The Tools of Argument: How the Best Lawyers Think, Argue, and Win," which is a simple way brings us solutions that any lawyer can use on a daily basis in and out of court. This book will prepare you to think analytically and create intellectual mechanisms that will benefit you and your clients.
27. Engraved Cigar Holder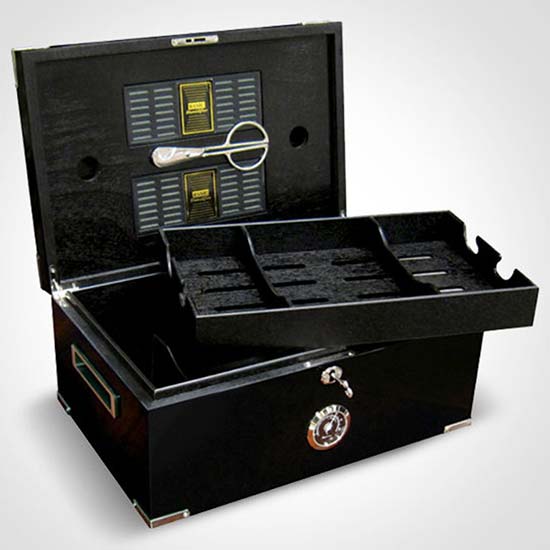 Buy or Read More on Etsy Here ($270.00 at the time of publication)
Cigars can be stored for a good 15 years, and in some cases even longer. During this period, as well as top wines and whiskeys, they will mature and get better. Humidity is key to storing cigars. If the cigar is too wet, it will be difficult to burn and will go out during smoking, and on the other hand, dry cigars taste unpleasantly and bad. As humidity is directly affected by temperature, care should be taken about the stable temperature at which cigars are stored. The humidor could be most simply described as a box that is specially designed to store cigars and at the same time provides the necessary humidity and conditions for storing cigars. Even if you don't enjoy cigars like many lawyers who own a humidor, it can be a stylish addition and decoration for your office or desk. This humidor comes bundled with cigar cutters, a lighter, and other equipment necessary to enjoy them! You can also choose the contents you want to engrave on the metal plate located on the front of the humidor.
30. Scales of Justice Tie Clip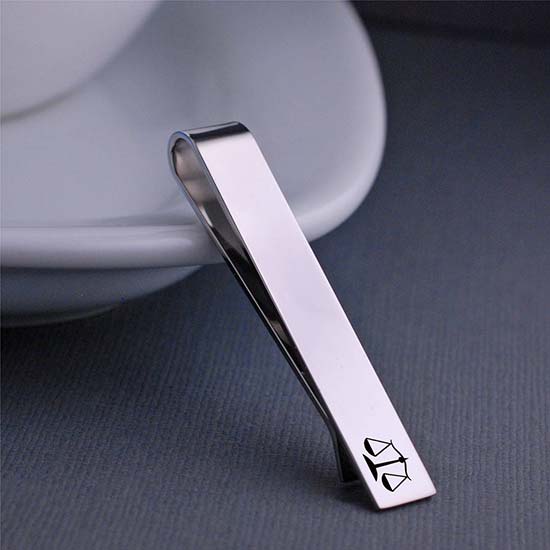 Buy or Read More on Etsy Here ($38.00 at the time of publication)
You won't look good in anything like in a well-tailored suit, but the finishing touches also mean a lot. One of our favorite accessories? Tie clip – a small buckle that attaches a tie to a shirt. The tie clip is functional because it prevents the tie from moving but also adds a stylish detail to your standard business look. Tie clips today are a men's fashion detail that in a decent way indicates his style, imagination and personality. And to make your tie clip tell an extra story in addition to having style, this one comes with engraved scales of justice. Also, in the background you can choose a personal name, company name or date to be engraved by the manufacturer.
31. Perfume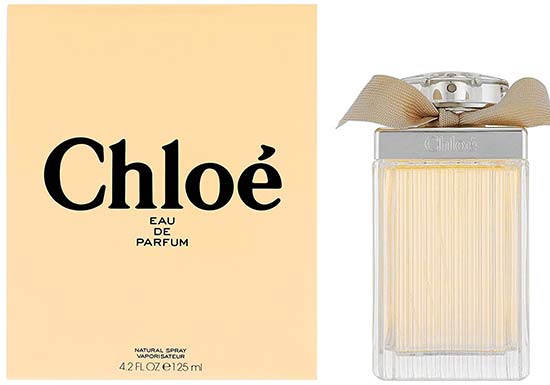 Buy or Read More on Amazon Here ($89.85 at the time of publication)
You can't go wrong with perfume, whether you're buying a gift for a man or a woman. Lawyers communicate with a lot of people throughout the day. Clients come, not to mention court hearings that are full of people they meet. It is also a stressful job that often causes sweating. And to always smell nice, choose a perfume that will delight all those who approach you. As a lawyer, you need to convey confidence and trustfulness. And although the perfume itself won't do it for you, it will certainly contribute to a better overall impression. Choose perfumes from well-known brands because they last longer. Cheap perfumes from unknown manufacturers often do not last longer than a few hours and can cause problems with your skin such as irritation and redness.