Turning 18 is a major milestone in life, marking the transition from childhood to adulthood. It's a time for celebration, reflection, and making memories that will last a lifetime. With that in mind, if you're looking for a unique way to celebrate, we've put together an awesome list of 18th birthday ideas below.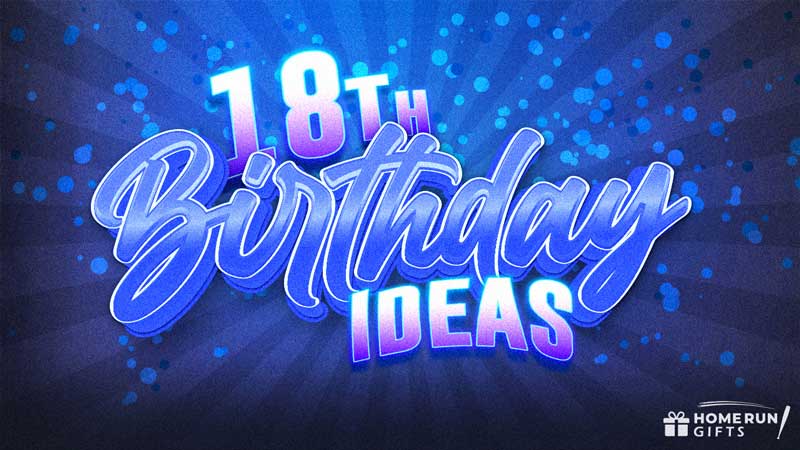 Whether you're planning your own 18th birthday bash or looking for ideas to help a friend or loved one celebrate, we've got you covered. From adventurous outdoor activities to intimate gatherings with friends and family, we have a ton of fun ideas for you below. If you're interested, we also have lists of great gift ideas for 18-year-old girls and gifts for 18-year-old boys.
1. Rent a Private AirBnb and Live Your Best Life for a Day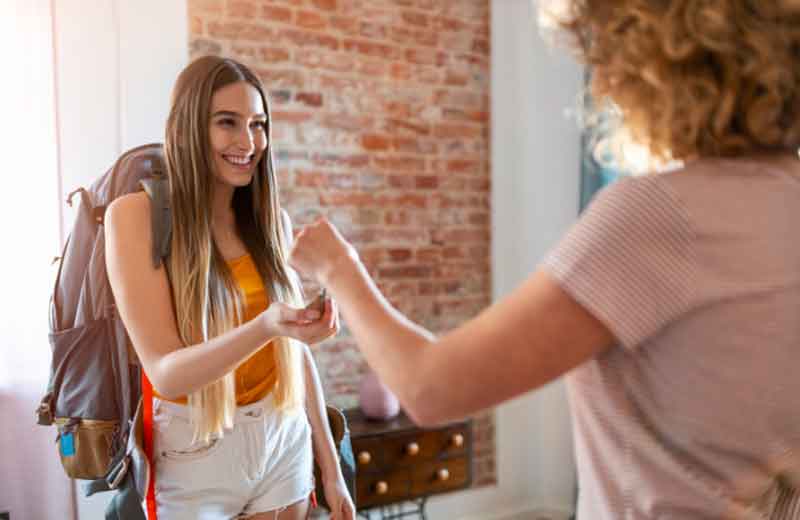 Why settle for a traditional birthday celebration when you can live like royalty in your own private Airbnb? Imagine lounging in a luxurious beachfront villa or a cozy cabin nestled in the mountains with your best friends by your side.
Indulge in some much-needed rest and relaxation at the on-site spa, savor some delicious food and drinks, or simply catch up on some quality time with your friends in the comfort of your own private space. With endless possibilities for fun and relaxation, your 18th birthday will be one for the books.
2. Hit an Axe-tion Packed Game of Axe Throwing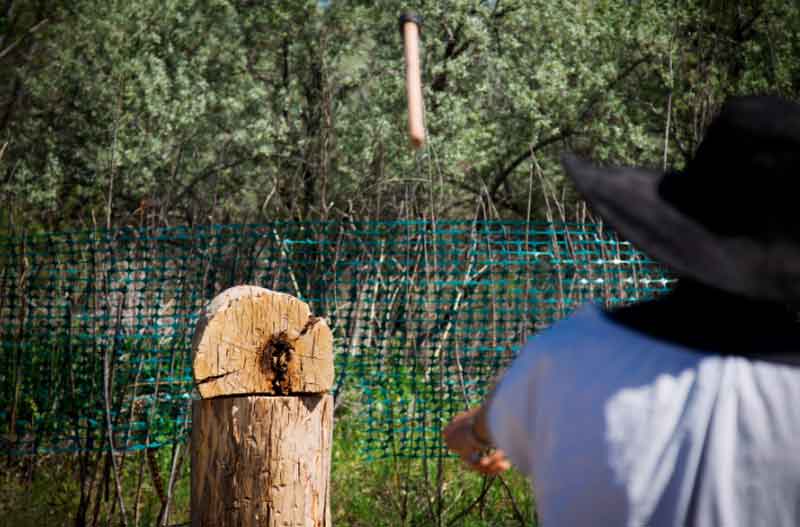 Kick your 18th birthday celebration up a notch with a thrilling game of axe throwing! Axe throwing has become increasingly popular in recent years, with venues popping up all over the place. It's the ultimate way to test your skills and unleash your inner lumberjack with your best buds.
With a variety of axe-throwing venues to choose from, you'll have the opportunity to perfect your technique and aim for the bullseye. And the best part? It's a unique activity that's sure to make your birthday celebration stand out from the rest.
3. Crack the Code with an Epic Escape Room Challenge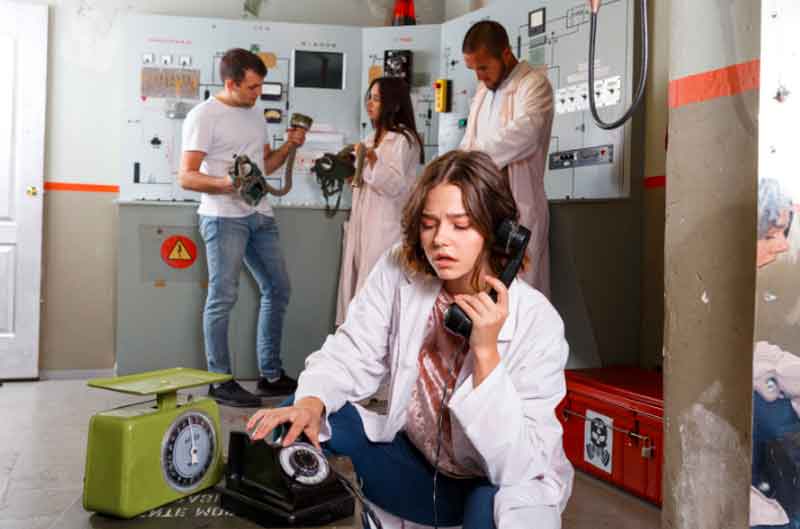 Experience the thrill of an Escape Room Challenge with your friends on your 18th birthday! Put your puzzle-solving skills to the test as you and your friends immerse yourselves in a themed room, tasked with the challenge of finding your way out within a set time limit.
Get ready to uncover hidden objects, decipher codes, and solve riddles, as each puzzle solved brings you closer to the ultimate challenge of escaping the room. With each passing minute, the excitement and anticipation will only build as you and your friends put your wits to the test. It's an excellent opportunity to bond with your friends, have fun, and create unforgettable memories.
4. Trot Through the Countryside on a Horseback Riding Adventure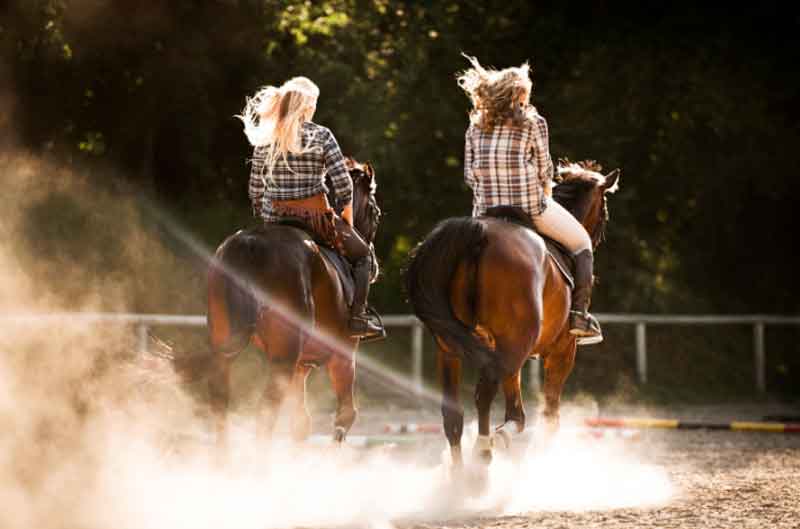 Here is another idea for a birthday celebration that's both serene and adventurous: a horseback riding adventure in the countryside! Saddle up and ride through scenic trails, rolling hills, and picturesque landscapes.
Experience the thrill of adventure as you gallop through the stunning countryside on horseback. Soak in the breathtaking scenery, breathe in the fresh air, and feel the freedom that comes with being immersed in nature. Horseback riding is the perfect escape from the noise of the city and an ideal way to celebrate your 18th birthday with friends.
5. Get Your Battle Gear On for an Exciting Game of Paintball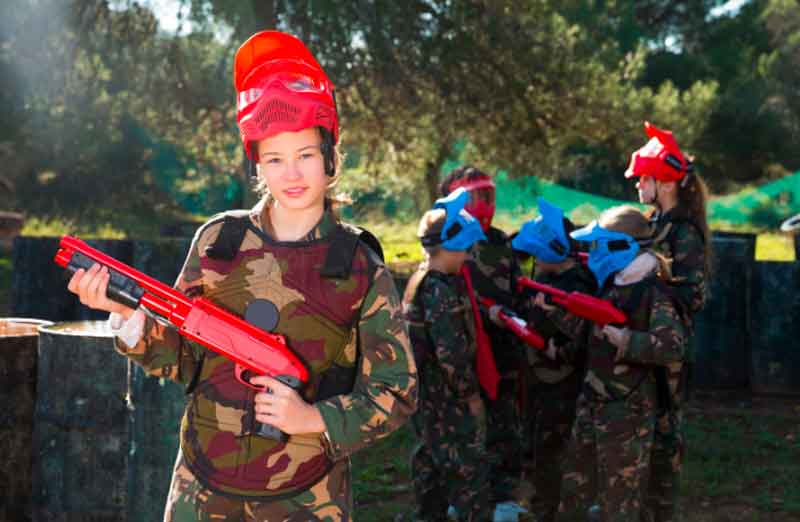 Get ready to let your competitive spirit run wild with an exciting game of paintball! As you strategize with your friends to outsmart your opponents, you'll have a blast diving behind cover, dodging incoming paintballs, and emerging victorious.
The adrenaline rush of the game will have you on edge, and you'll feel an incredible sense of satisfaction when you hit your target. With paintball, you'll not only have a great time bonding with your friends but also get some exercise and let out some stress.
6. Prepare for an Epic Road Trip Adventure with Your Crew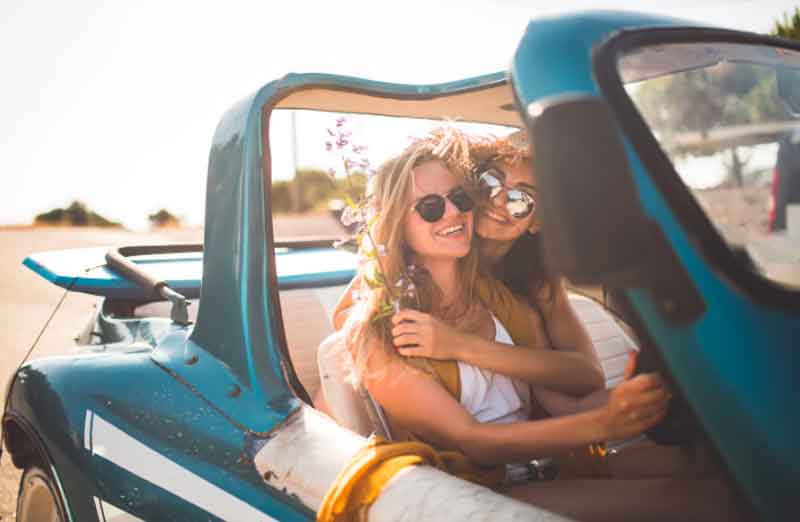 Round up your besties and hit the open road for an unforgettable trip. The possibilities are endless – plan a scenic route that takes you through breathtaking landscapes, stop at quirky roadside attractions, and try new cuisines at local diners.
But make sure to pack like a pro! Bring snacks, water, a camera to capture all the moments, and a rocking playlist to energize everyone throughout the journey. You never know what kind of adventures you'll encounter, so it's always a good idea to be prepared for anything! And remember, the journey is just as important as the destination, so take your time and enjoy every moment.
7. Throw a Bubbly Bash with a DIY Bath Bomb-Making Party
Transform your birthday celebration into a pampering and creative extravaganza by hosting a DIY bath bomb-making party! Provide all the ingredients and instructions for making bath bombs, and let your friends' creativity flow. You can elevate the experience by offering various fragrances, colors, and textures to help them customize their bath bombs.
While waiting for the bath bombs to dry, nibble on some tasty snacks and sip some delicious drinks while bonding with your friends. And once the bath bombs are ready, you and your friends can take them home to create your own spa day and enjoy a soothing soak in the tub.
8. Experience the High Life with a Premium Limo Rental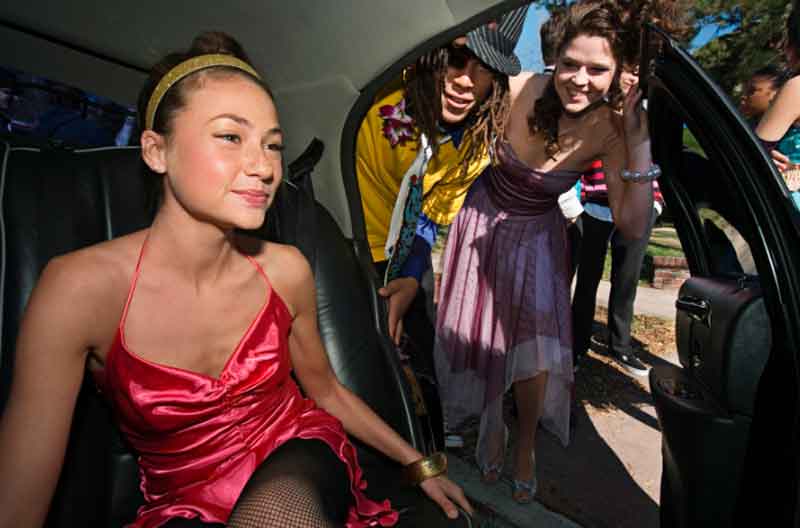 Feeling fancy? Rent a luxury limo for your 18th birthday and ride in style. Dress up in your best outfits, pop some champagne, and enjoy the luxury ride with your friends.
Then, make sure to choose a scenic route so you can take in the views from the comfort of your limo. You can also make some stops along the way, either at a fancy restaurant or rooftop bar, to add to the celebration. Also, remember to capture the memories with plenty of photos and share them on social media to make your special day even more unforgettable.
9. Master Your Favorite Cuisine with a Cooking Class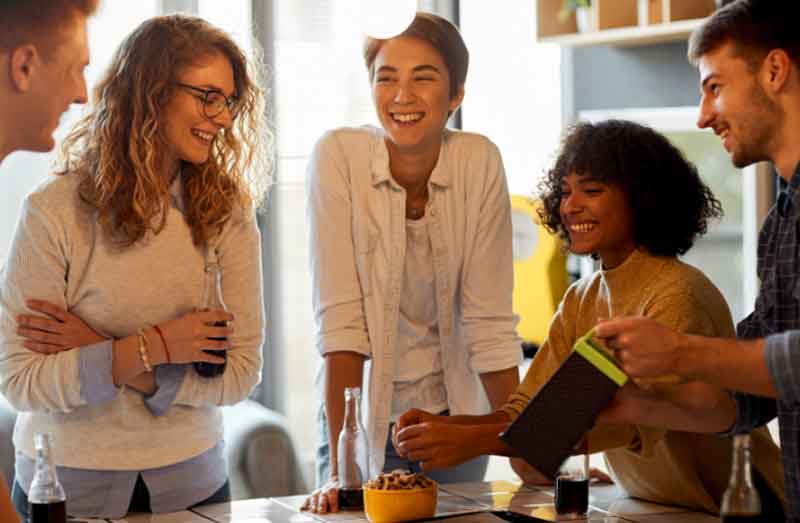 Why not turn your passion for food into a fun 18th birthday celebration by taking a cooking class to master your favorite cuisine? You can choose from a variety of courses ranging from Italian to Thai, or even French cooking, to perfect your culinary skills.
Aside from learning new recipes and techniques, you'll also get to enjoy the delicious meal you made at the end of the class with your friends. It's a unique and engaging way to celebrate your love for food while also learning something new.
10. Reach New Heights on a Thrilling Hiking Adventure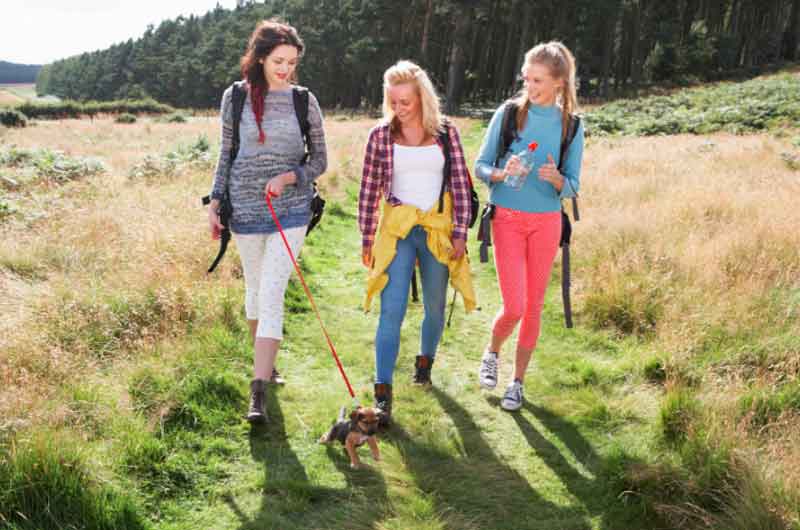 Are you a nature lover who enjoys a good challenge? Then, a hiking adventure may just be the perfect way to celebrate your 18th birthday! Gather your besties and head out on a scenic trail for an unforgettable experience.
Take in the breathtaking views, get some fresh air, and challenge yourselves to reach new heights (literally). Don't forget to pack some snacks and water to keep you energized throughout the journey. And, of course, make sure to snap plenty of photos to capture every sight you see!
Related Article: List of Fun 19th Birthday Party Ideas
11. Have an Action-Packed Game of Laser Tag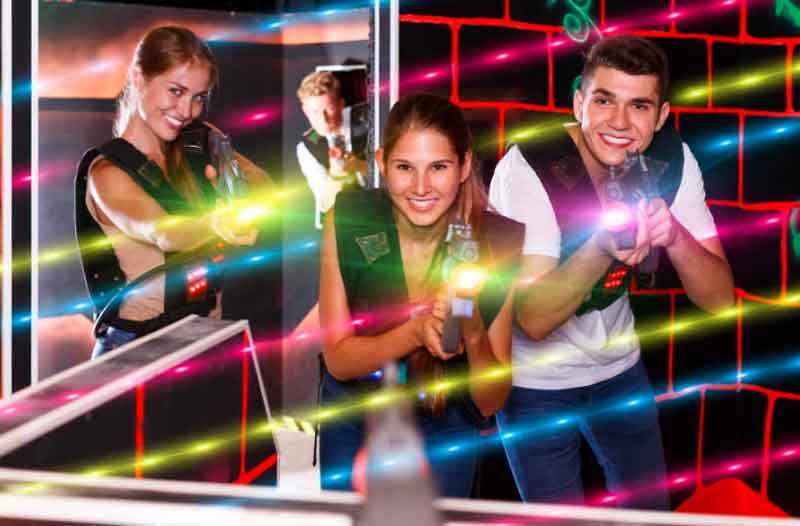 Not only is laser tag a great way to get some exercise and let off steam, but it also fosters teamwork and communication skills as you strategize with your teammates. And don't worry about safety – laser tag is a safe and controlled activity that is suitable for all ages and skill levels. It is a pulse-pounding activity guaranteed to get your heart racing and your competitive juices flowing.
Equip yourself with laser guns and vests, and get ready to engage in an epic battle of wits and strategy. With a variety of game modes and obstacles to hide behind, laser tag offers a one-of-a-kind and unforgettable experience for all involved. This is one of my personal favorite 18th birthday party ideas, especially for guys.
12. Cheers to Creativity: Sip, Paint, and Bond with Your Besties
A paint-and-sip night is a fun and relaxing way to let your inner artist shine while sipping on your favorite beverage and hanging out with your friends. All you need to do is gather some supplies – canvas, paints, brushes, and some wine or non-alcoholic drinks.
Then, pick a theme or image everyone can paint, and let the creativity flow. You can follow a tutorial or just let your imaginations run wild. Not only will you have a great time, but you'll also have a lasting memory of your birthday celebration with your besties that you can proudly display in your room.
13. Experience Movie Magic in a Private Theater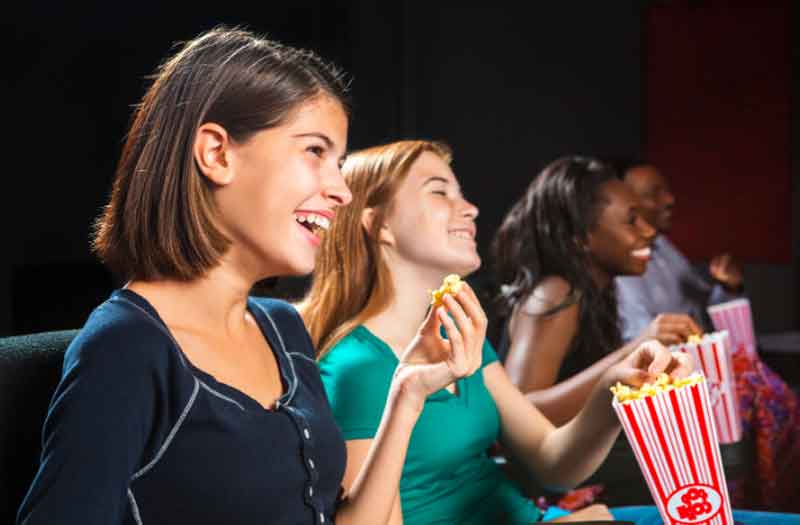 Want to have a movie night that's more than just Netflix and chill? Take your 18th birthday to the next level by renting a private movie theater and turning it into a blockbuster event! Choose your favorite films, bring your own snacks and drinks, and enjoy a private screening with your closest friends.
What's better is to dress up in your favorite movie-inspired outfits to truly feel like a Hollywood VIP. With your friends by your side, you'll laugh, cry, and cheer on your favorite movie characters on the big screen. So grab your popcorn, dim the lights, and get ready for a night of cinematic magic!
14. Craft Your Own Bling in a Glamorous DIY Jewelry-Making Party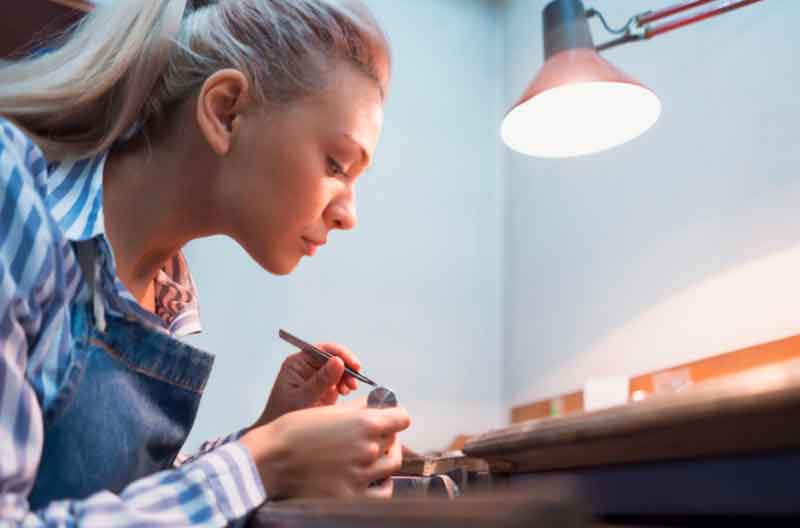 Do you and your friends love accessorizing with unique jewelry pieces? How about hosting a DIY jewelry-making party for your 18th birthday? With a few supplies and some creativity, you can create custom pieces that will be one-of-a-kind. You'll have fun bonding over beads and wire while crafting beautiful accessories you can wear for years.
To make your DIY jewelry-making party even more special, you can create a theme for the event, such as beachy boho or elegant glam. And at the end of the party, you and your friends can show off your creations and swap pieces, creating a lasting memory of your special day.
Related Article: 17th Birthday Ideas That Everyone Will Remember
15. Fly Like a Bird: Go on a Thrilling Zip Lining Adventure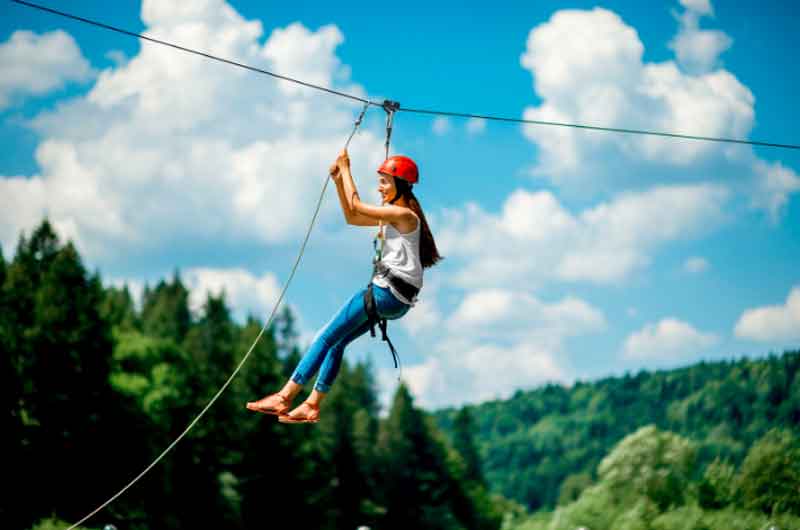 If you're an adventure-seeker looking for a thrilling way to celebrate your 18th birthday, a zip-lining adventure might just be a perfect idea!
Zip-lining involves riding on a cable from a high point to a lower point at a fast speed, giving you an exhilarating adrenaline rush. It's a great way to challenge yourself, conquer your fears, and enjoy a breathtaking view from high above.
Just be sure to choose a reputable zip-lining company and follow all the safety guidelines. And don't forget to bring a camera to capture all the fun and excitement!
16. Party Like a Rockstar with a Party Bus Adventure
It's time to level up your birthday celebration and party like a rockstar on your 18th! And what better way to do that than with a wild party bus adventure? Gather your squad, put on your best party outfit, and hop on the bus for an unforgettable night on the town.
As you cruise through the city streets, the party bus will be your very own VIP lounge on wheels. With music blasting, drinks flowing, and neon lights flashing, you'll feel like a celebrity as you hit up all the hottest spots in town.
17. Blossom with Creativity with A Fun Flower Arranging Party
Are you ready to get your hands dirty and unleash your inner artist? Hosting a DIY flower-arranging party is another perfect way to celebrate your 18th birthday with your closest pals.
In this type of celebration, you'll get to learn the art of flower arranging while sipping on some refreshing drinks and snacking on some delicious treats. It's the perfect opportunity to show off your creativity and create beautiful bouquets that you can take home and display for weeks to come. So you better grab your gardening gloves and prepare to get your hands dirty!
18. Paddle Away with a Kayaking Adventure
Embark on a kayaking trip that will leave you feeling refreshed! With the sun on your face and the water beneath you, you'll feel like you're in your own little paradise. This kayaking adventure is an opportunity to disconnect from your stressful daily life and immerse yourself in the beauty of the great outdoors.
As you paddle through the calm waters, take in the breathtaking scenery and enjoy the peacefulness of nature. And don't worry if you're a beginner; choose a place with an experienced guide who will teach you everything you need to know to navigate the waters like a pro.
19. Set Sail on a Yacht for a Luxurious Day on the Water
It's your 18th birthday, and it's time to indulge in some luxurious fun. Renting a yacht for the day is another unforgettable way to celebrate in style.
With the sun shining down on you and the wind blowing through your hair, you'll feel like a true VIP as you sail through the open waters. Enjoy some champagne and hors d'oeuvres while taking in the stunning views around you. It's the ideal way to escape from the mundane life and unwind in the lap of luxury.
20. Get Toasty with a Bonfire and S'mores Night on the Beach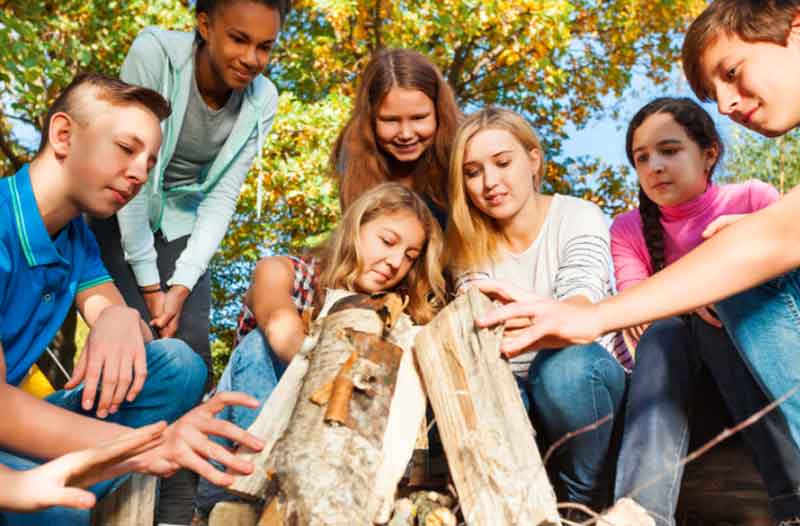 Who doesn't love a good campfire and s'mores? For your 18th birthday, why not take it up a notch and host a bonfire and s'mores night on the beach? Not only will you get to enjoy the warmth and coziness of the fire, but you'll also have the beautiful backdrop of the ocean.
You can bring blankets, lawn chairs, and of course, plenty of ingredients for s'mores. Toast marshmallows to golden perfection, sandwich them between graham crackers and chocolate and enjoy the gooey goodness. And if you're feeling extra adventurous, try adding different flavors like peanut butter or Nutella to your s'mores.
21. Roll Your Way to Fun with a Bowling Party
Choose your ball, find your lane, and let the games begin! You and your friends will have a blast as you try to knock down as many pins as possible. But the fun doesn't stop there – with arcade games, food, and drinks available at the alley; you'll have everything you need for a great time.
With its casual and fun atmosphere, a bowling party is another fun way to celebrate your 18th birthday with friends. So don't wait – lace up those bowling shoes and let the good times roll! This is one of those simple 18th birthday party ideas that you really just can't go wrong with.
22. Paddle Your Way to Fun with a Stand-Up Paddleboarding Adventure
A stand-up paddleboarding adventure can make you explore the beauty of the water while getting a workout in at the same time. You can rent a paddleboard and head out onto the water with your friends.
Glide through the water, soak up the sun, and maybe even catch a glimpse of some marine life. And if you're feeling competitive, you can challenge your friends to a paddleboarding race or game. Just make sure to wear sunscreen and bring plenty of water to stay hydrated during your adventure.
23. Strike a Pose and Capture Memories with a Photo Booth Rental
With a photo booth rental, your birthday party will be even more memorable and fun! Get ready to strike a pose and let your inner model shine as you snap some hilarious and creative photos with your friends. With various props and backdrops, you'll have plenty of options to showcase your personality and create lasting memories.
And the best part? You'll get instant prints of all your photos. This makes it possible for you to take them home and remember the fun and laughter of your 18th birthday celebration forever.
24. Step Back in Time with a Retro Arcade Party
If you're a fan of classic games and vintage vibes, a retro arcade party is an 18th birthday celebration you would not want to miss. Imagine stepping back in time to the era of Pac-Man, Space Invaders, and Donkey Kong, surrounded by neon lights and funky music.
You and your friends can compete in friendly arcade game tournaments, snack on classic treats like popcorn and soda, and dance the night away to retro tunes. It's a fun and nostalgic way to celebrate your special day and create some new memories while reliving some old ones.
25. See Your City Like Never Before on a Helicopter Tour
Get ready to take your birthday celebrations to new heights with a helicopter tour of your city! Buckle up, put on your headset, and get ready to take off on an adventure of a lifetime. You'll have a bird's-eye view of the city as you glide above the skyline and take in stunning panoramic views you've never seen before.
From the comfort of your seat, you'll see famous landmarks, stunning scenery, and even hidden gems you may have never known existed. So, bring your friends along for the ride and capture the excitement with some incredible photos and memories that you'll cherish forever.
26. Glow All Out for an Epic Glow-in-the-Dark Party
With neon and black lights illuminating the dance floor, you and your friends can show off your brightest and boldest outfits that will glow in the dark.
Take the party to the next level by adding some neon face paint and accessorizing with glowing bracelets, necklaces, and more. You'll have a blast dancing to your favorite music and capturing epic photos that highlight the shining moments. As the night grows, get ready to turn down the lights and let the party take over.
27. Brush Up on Your Lettering with an Educational Calligraphy Party
Do you have a passion for all things artsy and creative? Why not celebrate your 18th birthday by hosting a DIY calligraphy party? You and your friends can channel your inner artists and learn the art of beautiful writing together.
With some basic materials like calligraphy pens, ink, and paper, you can create stunning works of art that you can keep for a lifetime. Plus, you can even use your newfound calligraphy skills to create personalized gifts for your loved ones. So, gather your favorite people and get ready to let your creativity shine!
28. Carve Your Own Masterpiece in a DIY Woodworking Party
Are you a fan of rolling up your sleeves and getting crafty? Well, then, why not kick off your 18th birthday in style with a DIY woodworking party? Gather your squad and prepare for an unforgettable celebration where you'll learn to make beautiful, one-of-a-kind wooden crafts.
Using simple materials like wood, saws, and sandpaper, you and your friends will have the chance to create everything from personalized picture frames to gorgeous cutting boards. And with the expert guidance of a skilled woodworker, you'll be amazed at how quickly your woodworking skills will soar!
29. Ride Like the Wind on a Scenic Bike Ride Adventure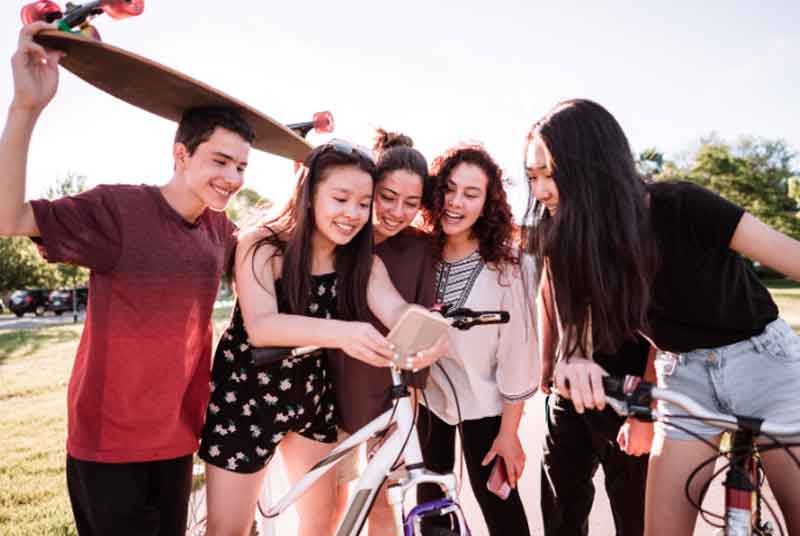 Get your gang together and hit the open road with a scenic bike ride adventure! The possibilities are endless, from leisurely rides through charming parks to exhilarating trails snaking through the mountains. With each twist and turn, you'll be treated to breathtaking views and unforgettable memories.
Make sure to dress comfortably, pack plenty of water, and, most importantly, let loose and have a blast with your besties. With the wind in your hair and the world at your wheels, a scenic bike ride is another exciting way to uniquely celebrate your 18th birthday. This is easily one of the most memorable 18th birthday ideas for those who love spending time in the great outdoors.
30. Carve and Create: Host a Soapstone Carving Party
Unleash your inner Michelangelo as you and your pals chisel and shape gorgeous pieces of soapstone into your very own masterpieces. With its soft and pliable texture, soapstone is the perfect medium for beginners and experts alike to create beautiful works of art.
And the best part? You don't need any prior experience! With the help of a seasoned instructor and some basic tools, you'll be well on your way to creating stunning sculptures and trinkets that you can cherish for a lifetime.
31. Bubble Up the Fun Through a Hilarious Game of Bubble Soccer
Who says you can't mix sports with a little silliness? Celebrate your 18th birthday with a game of bubble soccer! This hilarious and wacky activity allows you and your friends to play soccer while wearing inflatable bubbles that cover your upper body.
Bump into each other, roll around, and bounce off the walls as you attempt to score goals and emerge victorious. It's a game that's equal parts athletic and comedic and is guaranteed to make everyone laugh and have a great time. With this party, you will need to get ready for an unforgettable birthday celebration filled with laughter, fun, and a little friendly competition!
32. Immerse Yourself in a Unique and Memorable VR Party
Are you a tech enthusiast who loves to explore new worlds and experiences? Then, a virtual reality party may be just the birthday celebration you've been looking for! With state-of-the-art VR headsets, you and your friends can immerse yourselves in a whole new dimension of gaming and entertainment.
Explore exotic locations, battle epic monsters, or even play virtual versions of classic party games like Pictionary or charades. It's an experience that's sure to leave everyone feeling amazed and entertained. So, set up your VR systems, don your headsets, and let the adventure begin!
33. Celebrate Your 18th With a Beachside Bash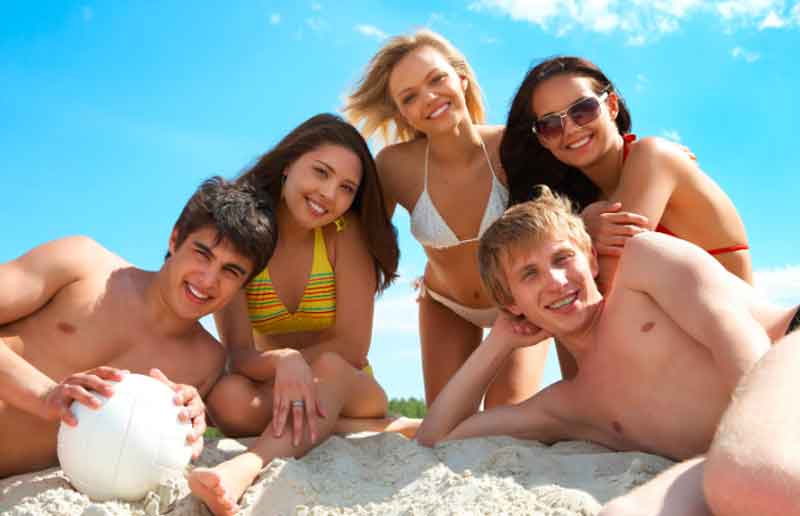 What's better than a beach day? A beach night! So, why not host a beach bonfire party for your 18th birthday and make it an unforgettable evening with your squad?
With the sand between your toes and the salty ocean breeze in your hair, you'll gather around the bonfire and create memories that will last a lifetime. Roast marshmallows, share stories, and dance to your favorite tunes under the stars. And as the night comes to a close, you'll leave feeling refreshed and rejuvenated, ready to take on whatever the future holds.
34. Go on a Thrilling Rock Climbing Adventure
Rock climbing is an activity that offers a unique and unforgettable experience that's sure to get your heart racing. You can test your limits and conquer your fears as you scale towering cliffs and steep walls with the guidance of experienced instructors. And with a range of difficulty levels and routes to choose from, everyone can participate and push themselves to new heights.
So, gather your friends, book a rock climbing gym or outdoor venue, and get ready to celebrate your big day with an adrenaline-fueled adventure that you'll never forget.
35. Splash Some Colors During a DIY Watercolor Painting Party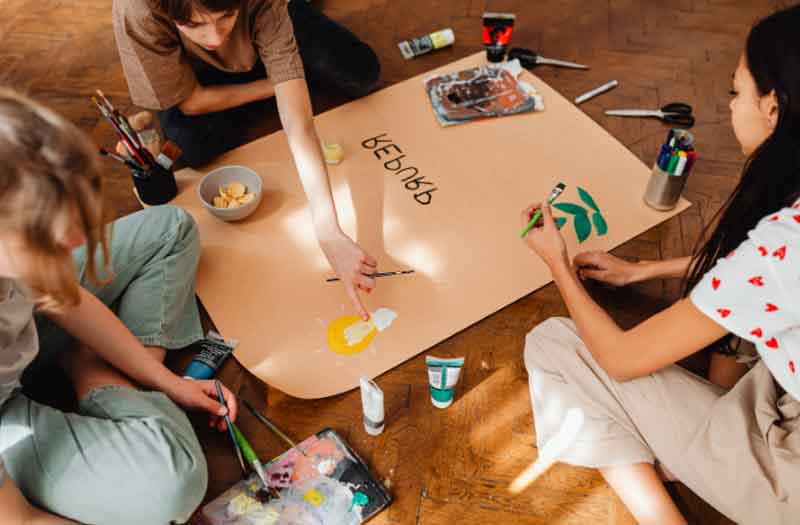 Looking for a fun and creative way to celebrate your 18th birthday? Why not host a DIY watercolor painting party? With some basic supplies and a little bit of guidance, you and your friends can create beautiful and unique works of art that you'll treasure for years to come.
As you mix and blend your colors, enjoy some snacks and drinks and share in the excitement of each other's creations. And the best part is, you don't need any prior painting experience to have a great time and make something beautiful.
36. Have a Memorable Bow and Arrow Adventure
Archery tag is a thrilling and competitive game that combines archery skills with the strategy of dodgeball, making for an exciting and unforgettable experience.
With specially designed bows and foam-tipped arrows, you and your friends will battle it out to see who can hit the target first and avoid being tagged out by the other team. It's a fast-paced and high-energy game that is perfect for those looking to unleash their competitive spirit and have a blast with their besties.
37. Roll the Dice and Munch on Snacks in an Unforgettable Game Night
Who says you need to leave the comfort of your own home to have a great time on your birthday? Host a game night with your friends and indulge in some friendly competition with board games and snacks!
Get cozy in your pajamas, pop some popcorn, and let the games begin. Whether you're a fan of classics like Monopoly and Scrabble or prefer newer games like Settlers of Catan and Cards Against Humanity, there's something for everyone. You might even discover a new favorite game or snack in the process.
38. Putt Your Way to Victory in a Mini-Golf Tournament
Who doesn't love a good round of mini-golf? It's a fun and lighthearted activity that's perfect for all skill levels.
Put on your favorite golf-themed outfit, grab your putter, and hit the course. Navigate tricky obstacles like windmills, loop-de-loops, and giant clowns while trying to sink your ball in the least number of strokes. You'll be laughing and having a great time in no time. Afterward, treat yourself to some ice cream or other sweets to celebrate the winner of the tournament. It's a birthday activity that's sure to be a hole-in-one!
39. Solve the Crime and Unmask the Culprit in a Murder Mystery Party
Put your detective skills to the test with a murder mystery party for your 18th birthday. It's a fun and interactive activity that allows you and your friends to become characters in a thrilling mystery.
Set the scene with costumes, decorations, and props, and give each guest a character to play. As the night goes on, clues will be revealed. After that, you'll need to work together to solve the mystery and find the killer. It's a great way to spend your birthday with friends, get creative with costumes and decorations, and put your sleuthing skills to the test.
40. Savor the Flavor on a Foodie Adventure
If you're a food lover looking for a unique way to celebrate your 18th birthday, a food tour is a perfect way to do it. With so many food tours available, you can choose to explore different neighborhoods, cuisines, and hidden gems in your city. Indulge in spicy street food, savor fine dining experiences, and learn about the history and culture behind each dish.
Gather your foodie friends, put on your stretchy pants, and get ready to embark on a delicious journey. Whether you're discovering new favorites or trying something completely out of the box, a food tour is a birthday activity that will leave you satisfied and craving more.
41. Get an Unforgettable Live Experience and Attend a Concert or Show
Whether you're a die-hard fan of pop, rock, hip hop, or anything in between, there's nothing quite like experiencing your favorite artist live in concert. Feel the energy of the crowd as you sing along to your favorite songs and dance with your friends. With stunning stage productions and mind-blowing visuals, it's an immersive experience that will leave you with memories to last a lifetime.
And who knows? You might even get the chance to meet your favorite artist or snag some limited edition merch as a birthday souvenir.
42. Treat Yourself and Indulge in a Luxurious Spa Day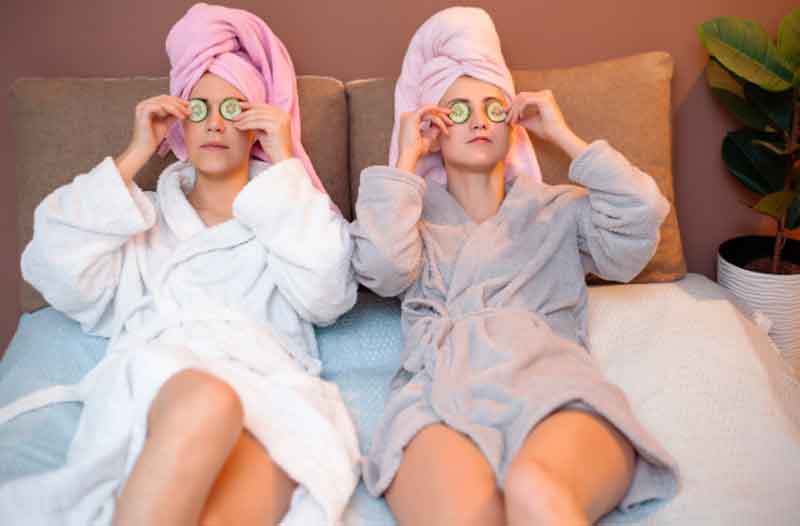 From facials to massages, manicures to pedicures, pamper yourself with the ultimate self-care experience. Relax in the soothing atmosphere of the spa and immerse yourself in a world of tranquility. Sip on refreshing beverages, wrap yourself in fluffy robes, and catch up with your besties as you let the stresses of everyday life melt away.
With a variety of treatments available, you can customize your spa day to suit your preferences and make it a truly memorable experience. Whether you opt for a rejuvenating massage or a refreshing facial, you'll leave feeling renewed and refreshed.
43. Cook Up Some Fun and Learn Delicious New Recipes At Home
Start your 18th birthday off right by spicing things up in the kitchen! Say goodbye to boring meals and hello to a fun-filled cooking class with your closest friends or family members. Learn new techniques, try out new recipes, and unleash your inner chef right in your own kitchen.
With the free guidance of expert cooks online, you'll create mouth-watering dishes and get to enjoy the fruits of your labor. Plus, you'll bond over your love of food and create unforgettable memories together. So, roll up your sleeves, put on your chef hat, and let's cook up a storm for your special day!
44. Walk the Runway and Host a DIY Fashion Show
Do you have a passion for fashion? Do you love getting creative with your clothes and accessories? Then why not host a DIY fashion show for your 18th birthday party?
Invite your fashionable friends over, bring out the scissors, glue, and fabric, and let your imaginations run wild. You can create your own unique outfits and accessories, style each other's hair and makeup, and put on a fabulous fashion show. You don't need a runway to showcase your designs – a living room, backyard, or even a hallway will do just fine. And who knows, you might even discover your hidden talent as a designer!
Invite your closest friends and family members and have everyone bring their own homemade dishes to share. Whether you're a master chef or a beginner cook, this party is a great way to show off your culinary skills and try out new recipes. From savory main dishes to sweet desserts, there's sure to be something for every taste bud.
But it's not just about the food – a potluck party is also a fantastic way to bond with your loved ones and create unforgettable memories.
46. Ride a Sports Car and Enjoy the Thrill of the Ride
Buckle up and get ready for an adrenaline-filled birthday celebration! If you're a car enthusiast or just looking for an unforgettable experience, driving a sports car on a racetrack is sure to get your heart racing. You'll feel the power and speed as you take on the curves and turns of the track, with the wind in your hair and the roar of the engine in your ears.
Professional drivers and state-of-the-art safety features will ensure you can enjoy the thrill of the ride with peace of mind. It's the ultimate way to celebrate your 18th birthday and satisfy your need for speed!
47. Get All Aboard and Set Sail for Fun and Adventure
Looking for a more unique and unforgettable way to celebrate your 18th birthday? Why not gather your friends and set sail on a sailing adventure?
Whether you choose to rent a sailboat, a catamaran, or even a luxury yacht, you'll have plenty of options to suit your style and budget. And with opportunities to swim, snorkel, and soak up the sun, it's the most relaxing way to create memories that will last a lifetime. So, hoist the sails, chart your course, and let the adventure begin!
48. Bead It Up and Get Creative with a DIY Beading Party
Gather your friends, some colorful beads, and all the necessary materials, and get ready for a fun and crafty time. Design your own unique pieces of jewelry that perfectly match your style and personality.
From bracelets and necklaces to keychains and earrings, the possibilities are endless. Whether you're a beginner or an expert, this party is sure to be a blast. And don't worry if you need help knowing where to start – there are plenty of tutorials and inspiration online to help guide you.
49. Shred the Snow and Have a Blast While Skiing or Snowboarding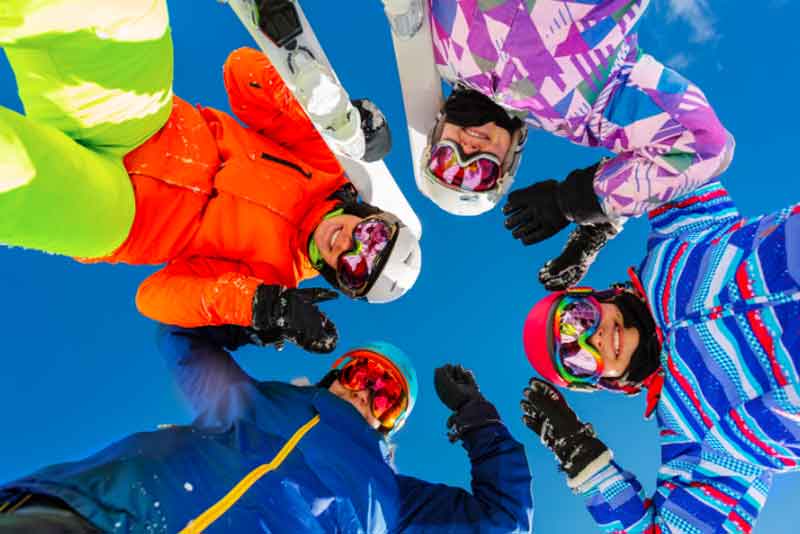 If you're lucky enough to have your birthday fall during the winter months, why not hit the slopes for an epic skiing or snowboarding adventure with your besties? It's the perfect way to celebrate your 18th birthday while also getting some fresh air and exercise.
Whether you're a seasoned pro or a beginner, there are slopes for every level of expertise. You'll get to enjoy the stunning mountain views and feel the rush of adrenaline as you zoom down the hill. And, of course, you can spend an after-ski time unwinding and relaxing with some hot cocoa and snacks.
50. Enjoy the Art of Glass Blowing
Step into a world of heat and artistry with a DIY glass-blowing party to celebrate your 18th birthday. Get ready to roll up your sleeves and work alongside a skilled glassblower to create a stunning glass piece. Whether you're a beginner or a seasoned artist, you'll learn new techniques and be amazed by the process of shaping molten glass into your vision.
Choose your colors and design, and watch in awe as the glass transforms into a beautiful and unique work of art. You'll have a blast experimenting with different shapes and patterns, and the best part is that you get to take your masterpiece home as a one-of-a-kind birthday souvenir.
51. Explore the Thrills of a Haunted House with Friends
If you're a fan of all things spooky and supernatural, then a haunted house visit is the perfect way to celebrate in spine-tingling style! Picture yourself wandering through dimly lit corridors, surrounded by eerie shadows and unexplainable noises. As you venture deeper into the haunted house, you'll encounter spine-chilling creatures that will make your heart race and your hairs stand on end.
If you are a newbie to the world of frights, you'll find yourself on the edge of your seat as you navigate your way through the labyrinth of scares. With unexpected jump scares and creepy surprises around every corner, you'll need to hold on tight to your friends for support.
52. Indulge in Sweet Delights with a Chocolate Making Workshop
Who says you have to wait for Valentine's Day to indulge in your chocolate cravings? For your 18th birthday, why not treat yourself (and your taste buds) to an unforgettable chocolate-making workshop?
You'll feel like a true Willy Wonka as you immerse yourself in the world of chocolate, surrounded by the intoxicating scent of cocoa. With the guidance of expert chocolatiers, you'll learn the secrets of crafting decadent chocolate treats that will make your mouth water. From creamy truffles to gooey brownies, you'll have the opportunity to experiment with different flavors and textures and create your very own signature chocolate creations.
53. Dig Deep with a Planting Party
As you gather around the potting table, you'll be able to unleash your creativity and experiment with different plants, flowers, and decorative pots. Whether you're into succulents or exotic ferns, you'll have plenty of options to choose from as you design your own mini gardens. And as you plant and tend to your new creations, you'll also enjoy the therapeutic benefits of working with plants.
Gardening has been shown to reduce stress and anxiety, boost mood and even improve sleep! So not only will you have a unique and personalized memento to take home, but you'll also feel rejuvenated and relaxed.
54. Dive into Summer with a Poolside BBQ Bash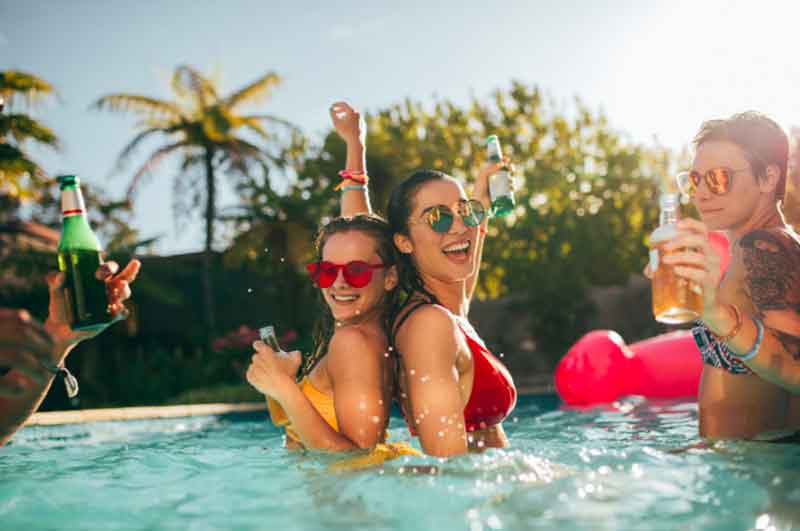 Whenever you're ready to take a break from swimming in the water, you can chill out on comfy poolside loungers and sip on some ice-cold lemonade or fruit smoothies.
With the aroma of sizzling burgers and hot dogs filling the air, you'll be able to chow down on delicious BBQ treats and enjoy each other's company in a fun and relaxed atmosphere. Whether you're playing games or simply soaking up the sun, a poolside BBQ bash is an ideal way to embrace the summer vibes and make unforgettable memories on your 18th birthday.
55. Find Your Inner Peace with a Yoga Retreat Getaway
A yoga retreat getaway isn't your typical birthday celebration. It's an opportunity to recharge, renew and reconnect with yourself in a peaceful and serene setting.
As you leave behind the stresses of daily life and immerse yourself in the practice of yoga, you'll feel the tension melt away as you breathe in the fresh air and soak up the beauty of the natural surroundings. With experienced instructors to guide you, you'll be able to deepen your practice and learn new techniques that will leave you feeling revitalized and empowered.
56. Bounce Your Way to Victory with an Inflatable Obstacle Course Challenge
To add to the excitement, the inflatable obstacle course is not just a test of physical strength and agility – it also includes a variety of mental challenges that will require you to think on your feet and strategize your approach. From balancing on beams to solving puzzles, you'll be kept on your toes throughout the entire course.
And once you've conquered the course, it's time to celebrate! You and your friends can enjoy some well-deserved snacks and refreshments while reliving the highlights of the challenge. Plus, with plenty of photo opportunities throughout the course, you'll have plenty of epic shots to share on social media and remember this unforgettable 18th birthday adventure.
57. Create Your Own Miniature Ecosystem with a DIY Terrarium-Making Party
Get creative and celebrate your 18th birthday by hosting a DIY terrarium-making party with your closest friends! With a variety of plants, rocks, and other decorations to choose from, you can personalize your own miniature ecosystem that reflects your unique style and personality.
As you get your hands dirty, you can gulp on some refreshing drinks and enjoy quality time with your friends while sharing stories and laughs. It's the perfect activity for plant lovers and craft enthusiasts alike, and you'll have a fun and memorable keepsake to take home as a reminder of your special day.
Wrap Up:
That does it for this article. If you can think of any great 18th birthday ideas that we missed, let us know in the comments below.