The 50th birthday is one of those jubilees. The first 50 are behind us, and the other 50 are ahead of us. If you organize your 50th birthday party yourself or do it for someone else, always keep in mind that every birthday, and especially the jubilee fiftieth birthday, should be a celebration of the life of the celebrant. We will not pretend that decorations, fine food, and drinks are not important, but the most important thing is that the celebrant enjoys and remembers his fiftieth birthday forever.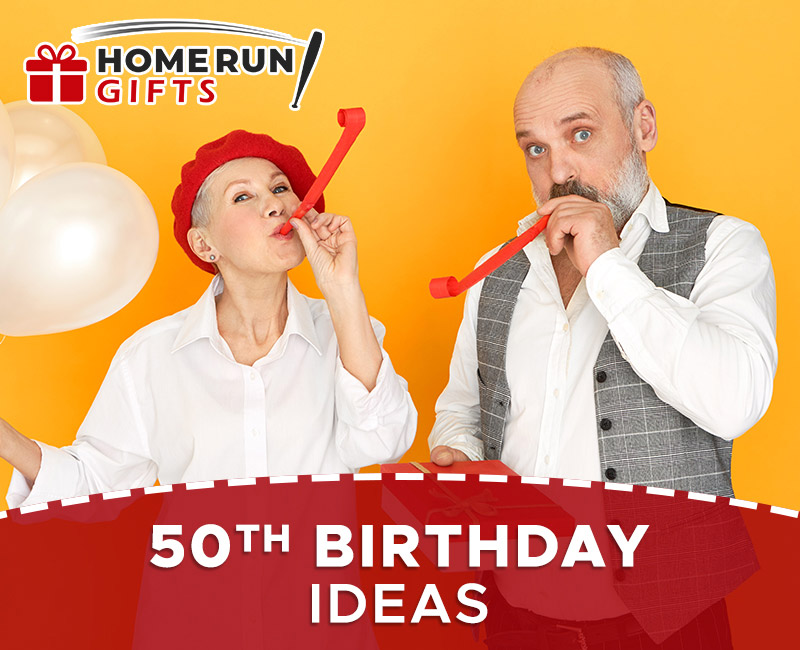 What do we mean? Of course, you will do your best to organize the party, but make sure that the celebrant is the soul of the party. Celebrate the past achievements of the celebrant, his life path, and everything that makes the celebrant special. And please don't bother with the number 50. Some of the funniest and craziest parties we've been to have been fiftieth birthday celebrations. The 50s are the new forties! So relax and read our tips on how to celebrate your jubilee 50th birthday. Let's go!
Here is a List of Fun 50th Birthday Party Ideas
1. Wine or Beer Tasting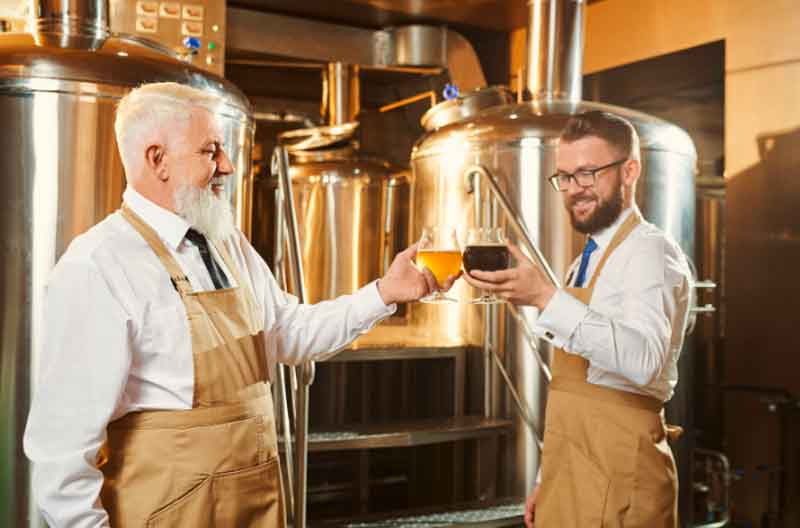 Are you a fan of wine, fine cheeses, and olives? Invite your company or family or both and head to a nearby winery. Most wineries offer winery tours where you can learn all about how wine is produced and stored, and some also offer lunches/dinners for special occasions. Of course, with new knowledge, you will have the opportunity to taste a variety of wines that are usually served with a variety of cheeses, olives, and dried fruits. Check the free dates with the winery beforehand and try not to overdo the tasting (or overdo it! It's your fiftieth birthday after all).
2. 50 Years Back Party
Jubilee birthdays are a great opportunity to remember the most important, fun, and greatest moments in our lives. Prepare photo albums, video recorders (if anyone still has them at all), and DVDs, and remember what the first 50 years of your life looked like. Ask friends and family to bring some photos or videos of you that you don't have. You will remember some forgotten moments and you and your guests will surely laugh to tears. Just make sure the kids aren't around. Walking down the memory lane could easily blow up in your face if they see you in your "young party animal days".
3. Travel Somewhere on Your Bucket List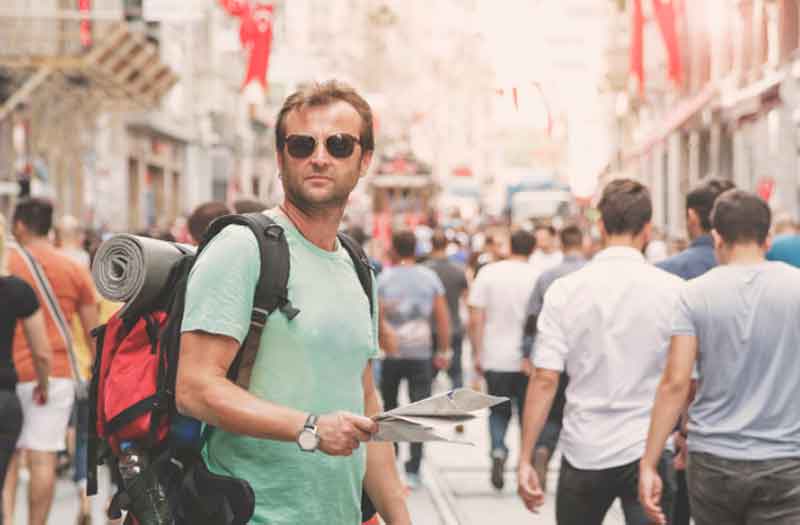 Traveling is always a great way to relax and enjoy meeting new places and people. Celebrate your fiftieth birthday by resting and relaxing in a destination you have always wanted to visit. Depending on your budget, you can choose between going to an exotic beach where you will sip cocktails and sunbathe or a nearby town where you will enjoy traditional meals and walks. Take a break for a few days and celebrate your birthday with loved ones exploring new places.
4. Day at the Spa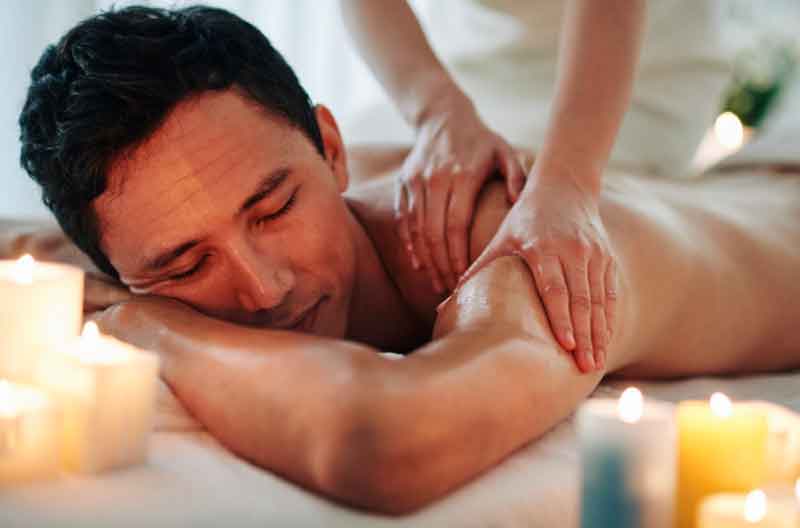 Are you constantly working, caring for children, grandchildren and feeling like you never have time for yourself? The fiftieth birthday is an ideal opportunity to set aside an entire day for yourself and relax while entering the fifties. Find a nearby spa, pamper yourself with baths, massages, and a jacuzzi with a glass of champagne and fresh fruit. Invite a friend, dear or for total relaxation – go alone! You will feel refreshed, rested, and ready for the next 50!
5. Big Game Fishing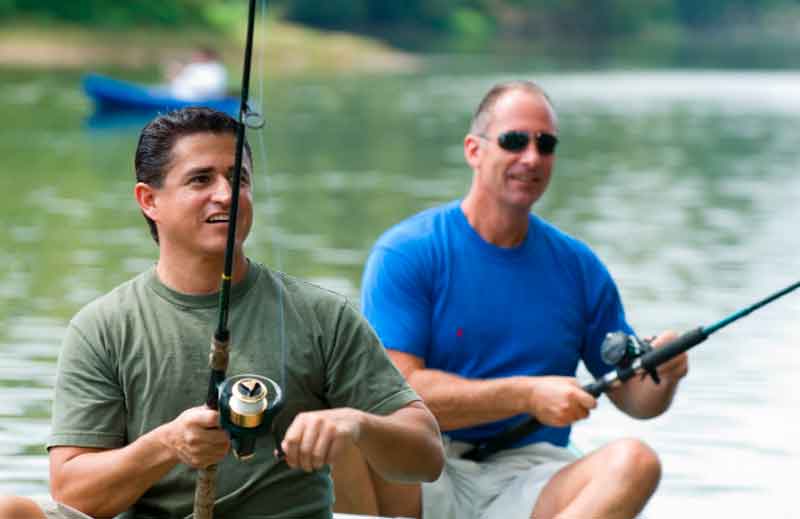 This is fun for those who love a real adventure, have no problems with the boat and sailing, and are not very squeamish. If you and your friends love the sea and fishing this could be the right adventure for you. Find an agency that organizes big game fishing and book a boat with the crew. It's sailing, anticipation, tension, excitement, and a real fight on deck – all in one. After a day spent on a real fishing adventure like this, you will sail back tired but proud to the local port with your catch. There, full of impressions you will taste your tuna in a local restaurant. We do not doubt that this dinner will turn into a real sailor's dinner with drinking and singing until late at night. That's how it's done for your 50th birthday!
6. Canoeing/Kayaking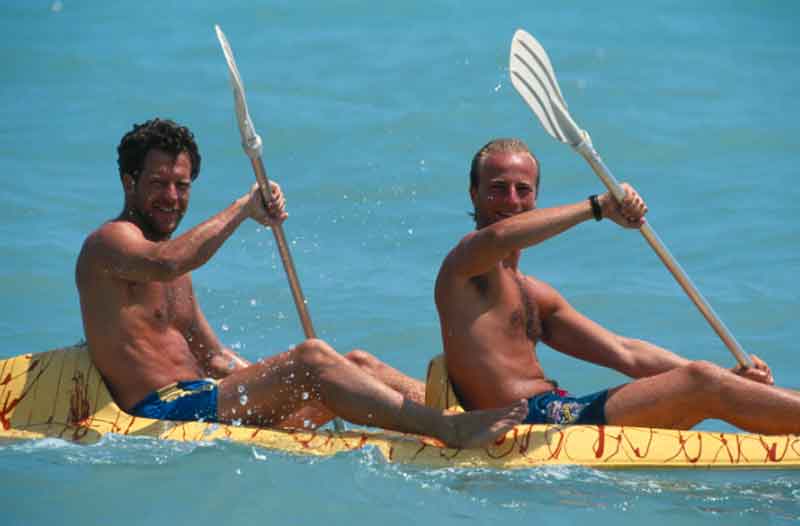 If you want to make your birthday a real adventure and remember the scout days, take your closest friends on a canoe ride. Maybe an even better idea – go in pairs. Rent a van or camper and canoes and head to a lake or river. After a few hours of driving and rowing, you will be quite tired, so bring something that you can prepare on the grill. If you put a crate of beer in the fridge, this could be an unforgettable birthday. If you are planning to spend the night, be sure to prepare well with all the necessary camping equipment. In the evening, filled with positive energy, sit by the campfire and sing with the company!
7. Silver Fox Party
Be proud of your age and shine at your party paying homage to your sexy gray hair. The term silver fox has been popularized over the last few years and denotes women and men who without shame (and coloring) look super attractive with their gray hair. Countless online shops on the Internet offer a variety of decorations with a silver fox theme. Invite your gray friends (but also bald and dyed ones) and celebrate entering the fifties with pride!
8. Tea Party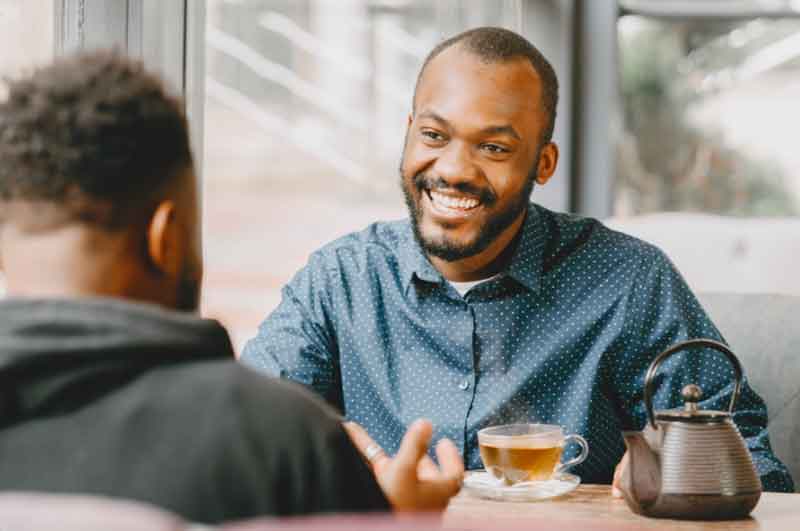 If you do not like big, noisy, and wild parties, and you are also a big fan of tea, organize a tea party. Invite friends and family, host a party in the house, or if you have a nice yard even better! Buy various types of tea and biscuits/donuts/muffins and relax with music and socializing with guests. Make sure you have some alcohol (we recommend rum that goes great with tea) for those guests who want to spice up their tea.
9. Barbecue is Always a Good Idea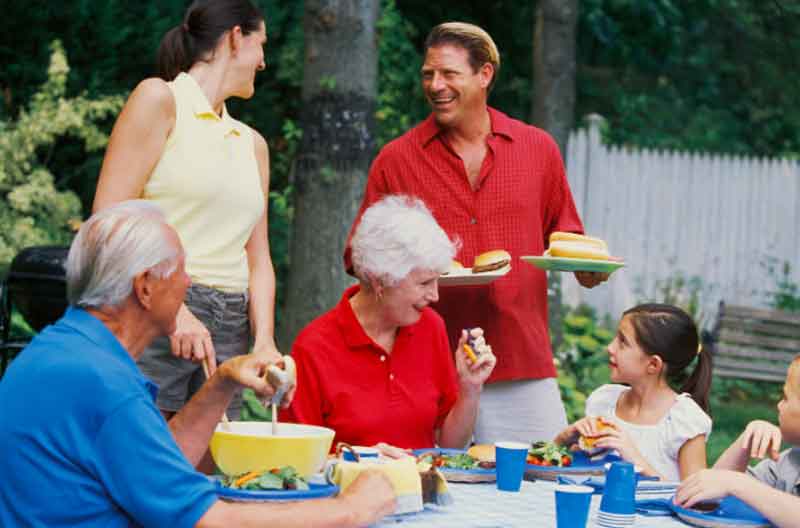 It's a beautiful and sunny day, and you have a nice backyard? Excellent! Then a barbecue is a great idea to celebrate a birthday. Fresh air, sun, green grass, music, friends and family, good food, and cold beers. It can't get any better than that. The organization should not be a problem for you because we have all done barbecues at least once in our lives. On the other hand, if you are not a barbecue grandmaster, leave the roasting of meat to a friend so that guests do not go home hungry. We recommend that you buy some lamps or torches and prepare blankets, just in case the party lasts until late at night (which we have no doubt about).
10. Black and White Party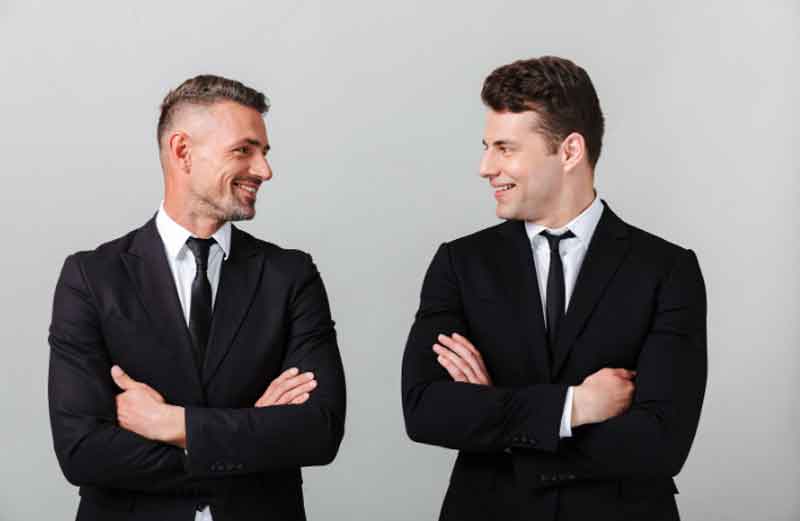 Want something a little extra elegant for your birthday? A black and white party is what you are looking for. Wear a tuxedo or a long black/white dress, decorate the interior with a bunch of black and white details, play appropriate music and tell your guests that they must be dressed in black or white. Stock up on fine drinks, black and white food (we can think of fountains of white and dark chocolate) and celebrate your fiftieth birthday with style.
11. Cooking Class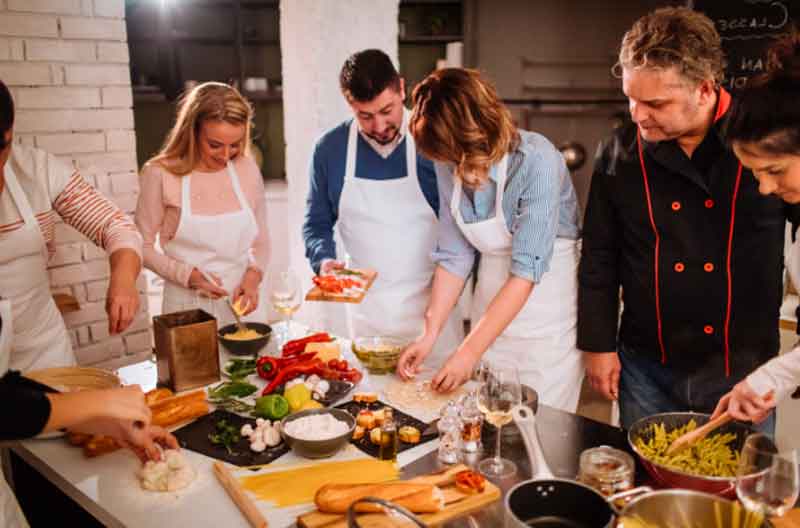 Do you love to eat, are you a real gourmet, and have always wanted to learn how to cook or improve your cooking skills? Take a cooking class with your friends or loved ones. You will learn culinary recipes that will amaze your company when you invite them to dinner at your home. A cooking course for your fiftieth birthday is an ideal opportunity to relax, have fun, laugh, and enjoy the specialties that you and your friends cook. It's never too late to learn something new!
12. Back to Childhood
Jubilee birthdays are always an opportunity to remember our youth. Of course, one should not cry for the past days and a tighter face, but try to have as much fun as possible. Gather your company and play games from your youth. Don't bother if you can't run like you used to or make a perfect handstand because no one even expects it. The point is to make you and your friends have a great laugh and reminisce about your younger days in a fun way. Choose between a hide-and-seek game, a dodgeball, or tag, and unforgettable fun is guaranteed.
13. Birthday Celebration in the Castle
If you want to organize the celebration of your 50th birthday in a special way that everyone will remember for a long time, maybe this is the right idea for you. Many castles that are open to tourists and visitors also offer accommodation and food. Organize a lunch or a dinner to celebrate your birthday at the castle. If you can reach deeper into your pocket, book rooms for your guests as well. A night in the castle will make you feel like royalty for sure. Some castles also offer tours, a recreation of ancient battles, and various other events like wine tasting in their cellars, etc. This will be a real celebration for kings, and you are the king on your 50th birthday!
14. Dinner at Your Home with a Real Chef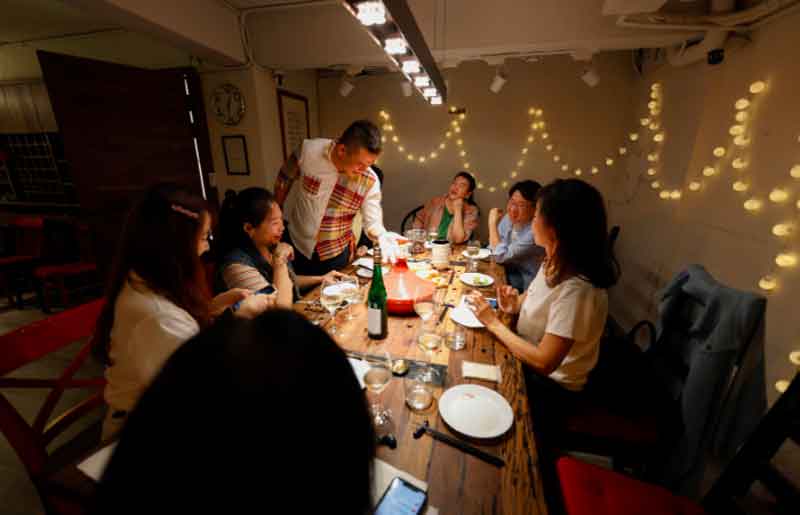 The best moments you remember are with your friends having dinners and socializing in the comfort of your house or apartment. You feel that you should crown this important day – your 50th birthday, in a similar way – at your home. However, how to make this dinner and celebration a little more special, worthy of the occasion. Hire a professional chef! In agreement with him, plan the menu and surprise your guests with top-quality food and the best wine. Hang out relaxed as the sequences arrive. When you think a little better you should hire a waiter too! You will feel like you are in the best restaurant, only better. 50th birthday in your own home with your best friends and family, while professionals cook according to your wishes and you are getting served. Ingenious!
15. Sailing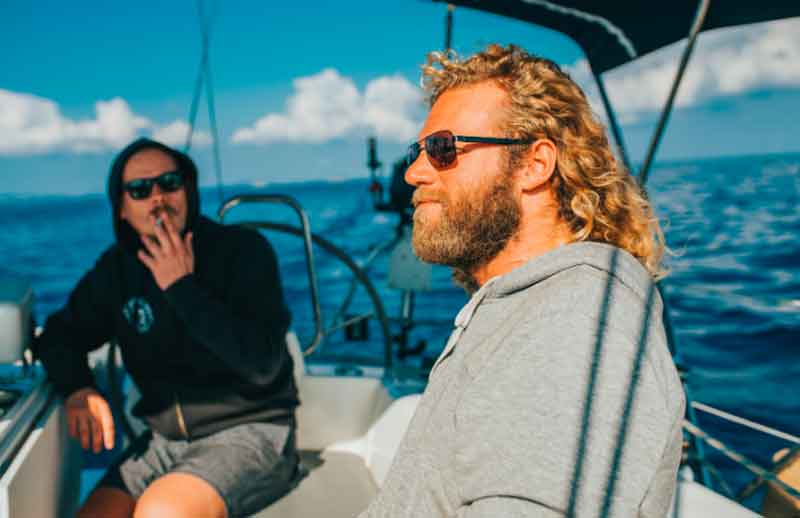 It is your 50th birthday and you want to celebrate it as a person of experience. Rent a boat or sailboat, depending on personal preferences and possibilities, and go out to sea with a couple of your close friends. This will be a great and relaxing way to crown your 50th birthday. Do it in a way that you are not in a hurry and take a few days for this. Hire a skipper and just make sure the wine is chilled. Remember fond memories with your friends as you sail slowly. Dock in a beautiful bay and prepare dinner on the boat together with your friends or book a restaurant in a coastal town. Enjoy in a fashion you deserve it – happy 50th birthday Captain!
16. Private Concert
It's your fiftieth birthday and you want to enjoy good music that someone plays just for you according to your wishes? We have an idea for you. Inquire about good rock bands and hire them for one night to play just for you and your guests. You make sure there is no shortage of food and drink and relax with your favorite live hits. Don't be ashamed to dance but also sing to the microphone. Guests will surely be delighted with your courage no matter how bad you may sound. 🙂
17. Dinner at Your Favorite Restaurant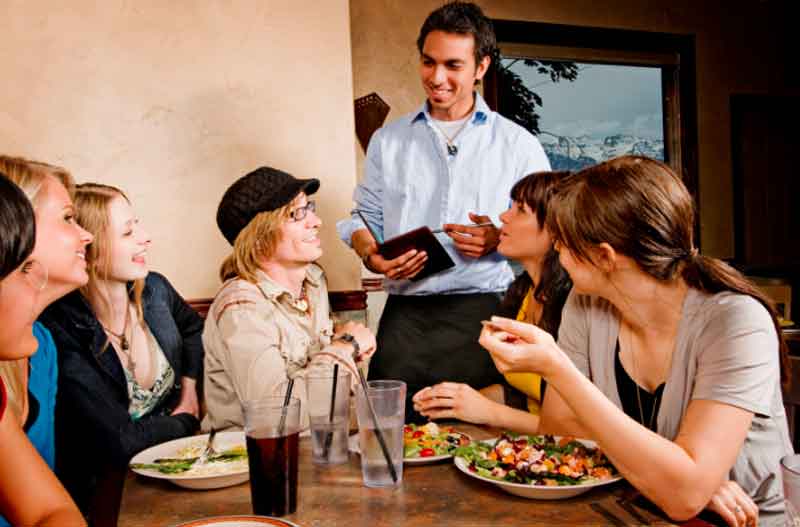 For your fiftieth birthday, you just want to relax and not even think about food, drinks, house preparations, and cleaning up after the guests leave? Then dinner at the restaurant is ideal for your celebration. It is up to you to invite the guests and pay the bill at the end of the celebration. The rest will be taken care of by someone else. Arrange a private room in the restaurant in advance to feel more at ease. Sit back in a chair at the head of the table, eat your favorite dishes and sip your favorite drinks to the music of your choice. What a night!
Popular Related Articles: Awesome 40th Birthday Party Ideas
18. Dog Years Party
If you have trouble writing the number 50 on the invitations or blowing 50 candles on the cake, convert your years into canine ones and you'll celebrate your 7th birthday (in canine years of course). Some people just have a hard time dealing with jubilee birthdays and new numbers, so if you're one of them too, turn everything into a joke and invite friends and family to celebrate your 7th birthday.
19. Hula party
Who doesn't love hula parties? Organize it at home, in the yard, or if you are lucky and live near the sea – on the beach! Decorate everything with floral arrangements, wear Hawaiian shirts and prepare floral wreaths for your guests. Play Hawaiian music, prepare homemade cocktails, dance, and be sure to get pinata. Fun is guaranteed!
20. Shopping Spree
We all love to get a bunch of birthday presents. Those a little bolder will tell their guests what they need or want, while others will leave the choice of gifts to friends and often remain disappointed. To avoid fake smiles when opening a gift or replacing a product due to the wrong color/size, etc. treat yourself to shopping. Treat yourself to an expensive piece of clothing that you have been wanting for a long time, a coffee machine or a PlayStation 5. Delight yourself with a shopping celebration of your fiftieth birthday.
21. Vinyl & Cigars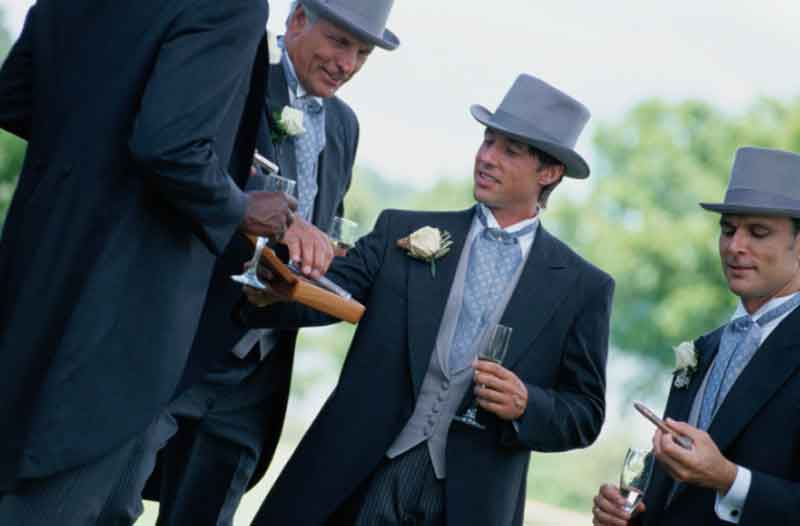 If you have a gramophone or you can borrow it from a friend, organize a birthday party with the gramophone. Remember how music was once listened to, we're sure guests will enjoy the sound of a needle cracking as the record rotates. Get records of your favorite musicians, buy fine whiskey and Cuban cigars and relax with your guests with the special sound of a gramophone.
22. Diving Course
Take your best friends to a diving course. This is one of the things you have always wanted to try but there was never the right time to do it. Call your local diving club and book a one-day diving course. If you can reach deeper into your pocket, make this an unforgettable weekend on an interesting, preferably exotic bay. After a few hours of diving, level your pressure with good cocktails at the local beach bar.
23. Museum Tour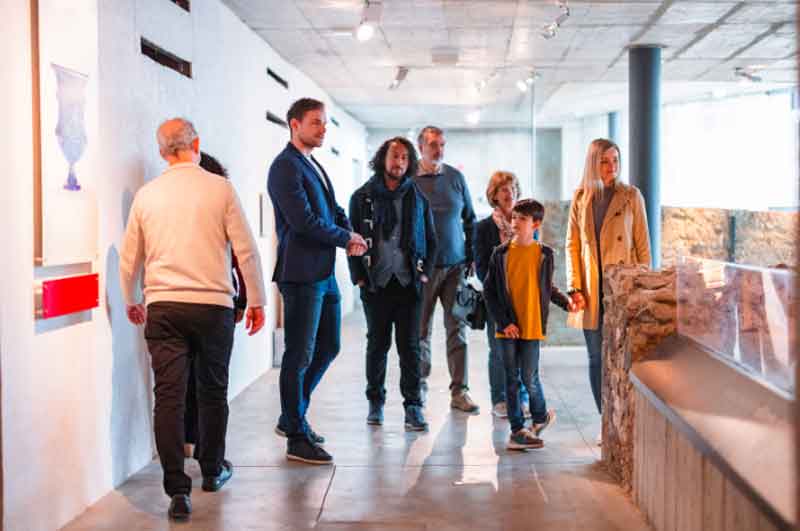 In your forties, you have probably already sifted through friends and acquaintances and you have stayed good with people who have similar interests as you, so this will be a real treat for you and your company. Make a tour plan in advance, buy tickets in advance, arrange a guide and visit several museums. If possible, try to organize a few glasses of some nice welcome drink at the entrance to the museum, before each visit. After an afternoon full of impressions, stunned and under the strong impression of a few works that fascinated you, take your company of refined taste to a wonderful dinner in a good restaurant where someone plays some nice music on the piano. If you are an artistic soul and love fine things, this will be the best way for you to crown your 50th birthday.
Popular Related Article: A List of Great 40th Birthday Gifts
24. Celebration in the Bowling Alley
Bowling alleys are mega-popular places to party on the weekends. But why not celebrate your fiftieth birthday at a bowling alley? Are you still supple, precise, and most elegantly dressed in a bowling alley? Book an appointment for your birthday at the nearest bowling alley, invite friends and the fun can begin. Most bowling alleys also offer meals or offer the option of ordering food, and with hectoliters of cold beer, laughter and good fun are inevitable.
25. Themed Party
Themed parties are always super fun because guests also participate and have to make an effort by costuming themselves. Choose a theme that you love, yet it is your birthday. Let your imagination run wild and become an avatar, a famous painter or Fred Flintstone. Make sure that the interior follows the theme, so decorate the house with a lot of details related to the theme, and let the theme be accompanied by music as well as food and drink. When guests start arriving at the party there will surely be tears of laughter. Fun fun fun!
26. Run the Race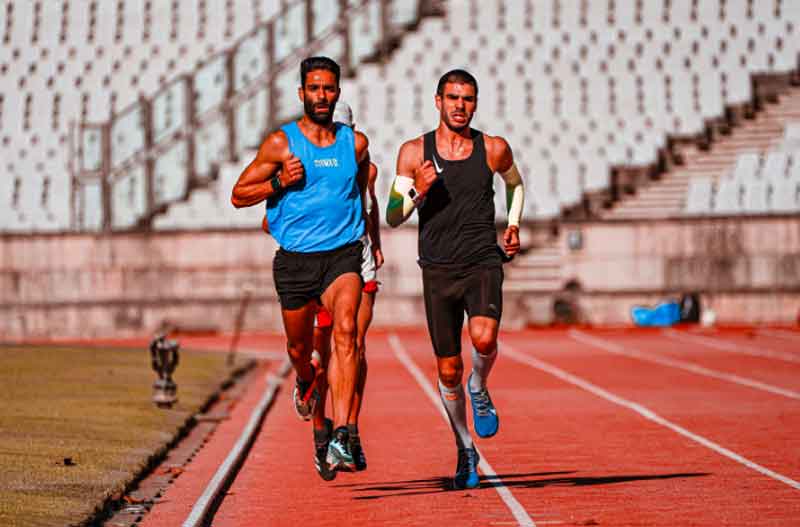 Are you a sports guy or girl? Or are you not but have decided to enter your fifties with new healthy habits? Register for the race with your friends or family or organize the race yourself! It doesn't have to be a 10-kilometer marathon, but even after a kilometer / two you will feel healthier and burst with energy. Prepare a prize for the race winner and a cold beer to toast at the finish. It is your birthday after all.
27. Casino Night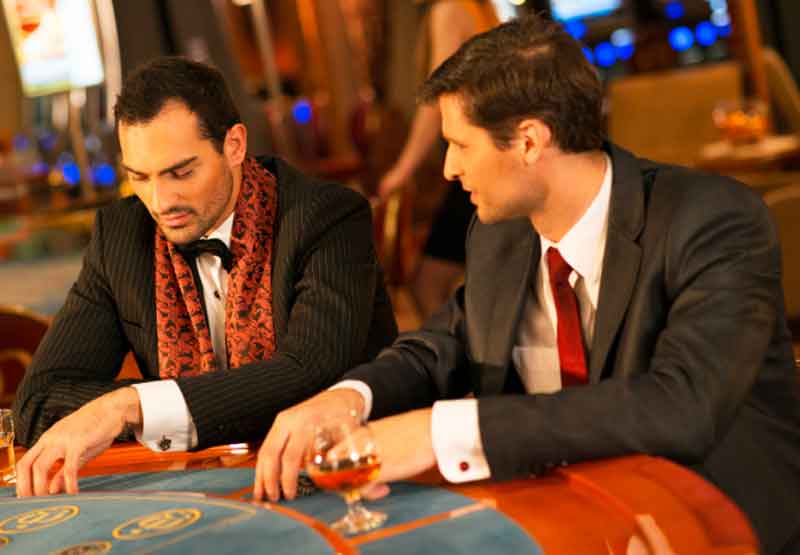 Do you play poker here and there or play cards with friends? Then we have an idea for you! Take everything to the next level, make an effort and organize a casino evening in your home. Buy cards, poker, or any other game you like to play with friends/family. Dim the lights, prepare crystal glasses with ice and whiskey and some fine finger food. Put on a tuxedo or a long dressing gown and enjoy the James Bond atmosphere. And don't get upset if the cards aren't exactly the best, yet it's all a game.
28. It's Never Too Late to Dance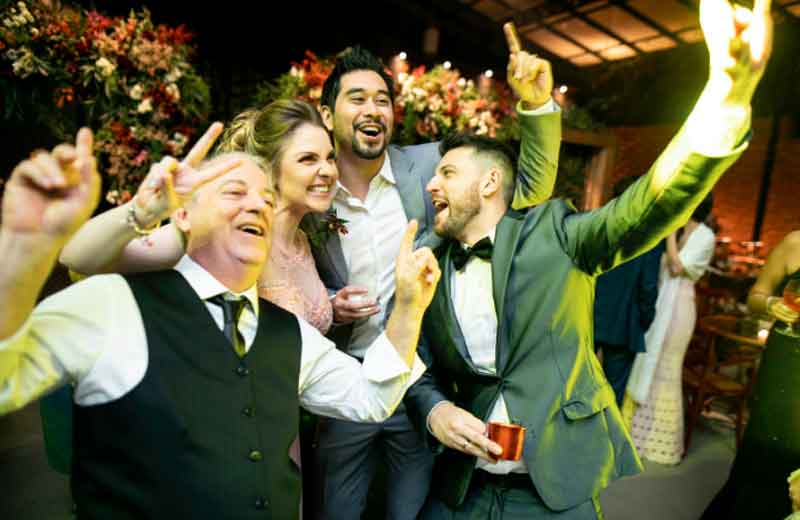 Get dressed, perfume yourself, put on comfortable shoes, and head to town with your friends. Find a club where people are your age so you don't end up surrounded by teenagers dancing to Ariana Grande, book a table and a bottle of fine champagne for a toast. Relax on the dance floor, forget about shame and show off your best dance moves. Aside from dancing being a super cardio workout, you'll feel like it's your 20th birthday again!
29. A Balloon Flight for the Most Special Birthday
You are not afraid of heights and you always wanted to see how things look from a bird's eye view? The fiftieth birthday is an ideal occasion for that. Dare to plan a balloon flight with your loved ones. With a few glasses of champagne and a unique view, you will have a day to remember. And don't forget to take photos!
30. This is My Day Party!
You are constantly in a hurry, business, worries, children, partner and everyday little things that make you unable to relax. The fiftieth birthday is the perfect day to do just about everything to your liking. No one will and must not be angry! Prepare the food you love, the drinks you love, dress the way you want (even if it's pajamas), play the music you want, and do whatever makes you happy with the people you love. Perfect birthday!
31. Get a Tattoo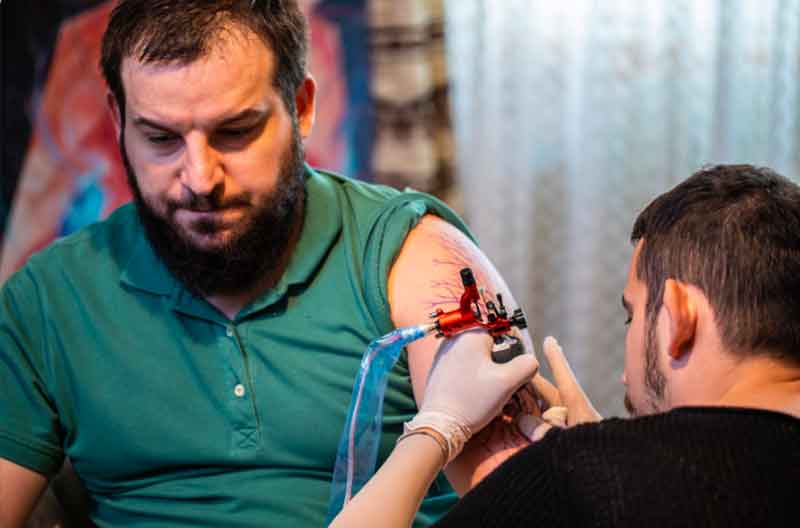 Ok, we don't think you need to make a sleeve or a crazy tattoo on your neck, but if you've always thought about a tattoo, this jubilee birthday is an opportunity to encourage yourself to get a tattoo. Do you want to mark the first 50 with something important to you, or maybe pay tribute to someone close to you, or have you always wanted tattoos like Angelina Jolie? Why not? But be prepared, it can be quite painful, and please, do not overdo it. Summer is just around the corner.
32. This idea is For Movie Buffs
It's nice to lie under a blanket, prepare popcorn and enjoy a movie with a loved one in your home. But only true film lovers know that nothing can compare to watching a movie in a movie theater. Sound, vibration, huge screen, picture quality! And if you reach a little deeper into your pocket you will enjoy the spacious heated armchairs, top quality wines, and the food that the waiters will serve you while enjoying the movie.
33. Go to the Game!
If you have your favorite team or athlete and an important match is being played on your birthday, go watch a sports match with friends and family. It doesn't matter if it's football, tennis, basketball or a dance performance. Gather your male friends or your girlfriends or both and with a cold beer and jersey celebrate your fiftieth birthday in a sports spirit.
34. Glamping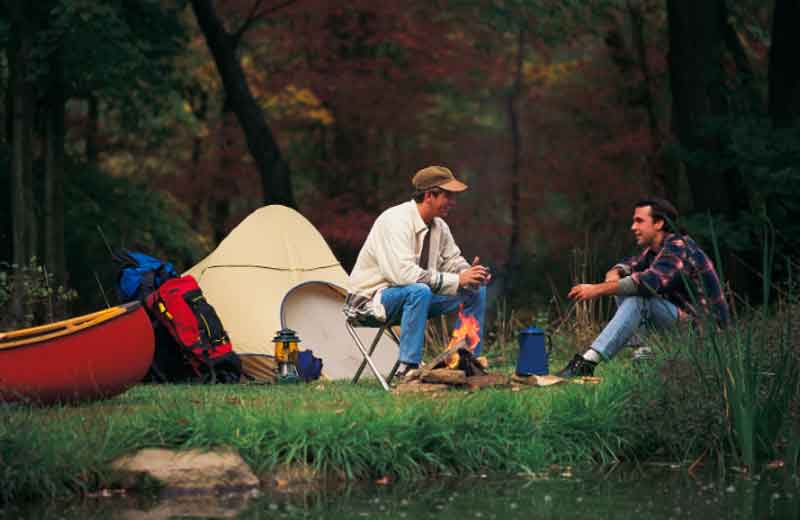 You love nature and fresh air, greenery and walks but you are not exactly a fan of sleeping in a tent in the hard and cold? Then glamping is ideal for you. Rent a glamorous cottage and enjoy luxury – prepared and served food, fine drinks, splashing in the jacuzzi, and massages. That way you will have both – nature and glamour. A great recipe for complete relaxation on your fiftieth birthday.
35. Home Quiz Party
People in their fifties are considered wise, full of knowledge and life experience. Dare to prove it and organize an evening of quizzes in your house modeled on the famous pub quizzes. Invite friends and family, prepare questions, choose a facilitator and show off your broad knowledge. Stock up on beer, snacks, and pizzas, and birthday fun is guaranteed.
36. Food Tour of the City
You are a true gourmet and love to cook and eat fine meals. With a couple of best friends or a loved one/children, head to the city to tour restaurants and food stalls. Try new flavors, visit restaurants where you haven't been, world cuisine you haven't tried, and be sure to taste top wines recommended by the chef. Try not to overeat in the first restaurant and enjoy the dishes.
36. Wish List
You wrote a wish list a long long time ago but a few more things on it remained uncrossed? The fifties are the new forties and there is no reason why not to jump with a parachute, swim with dolphins, or try to climb mt. Everest. Ok, we believe that your wishes are not so extreme, but whatever it is, it is never too late to fulfill the wish you have had since you were little. Go for it!
37. Golf Birthday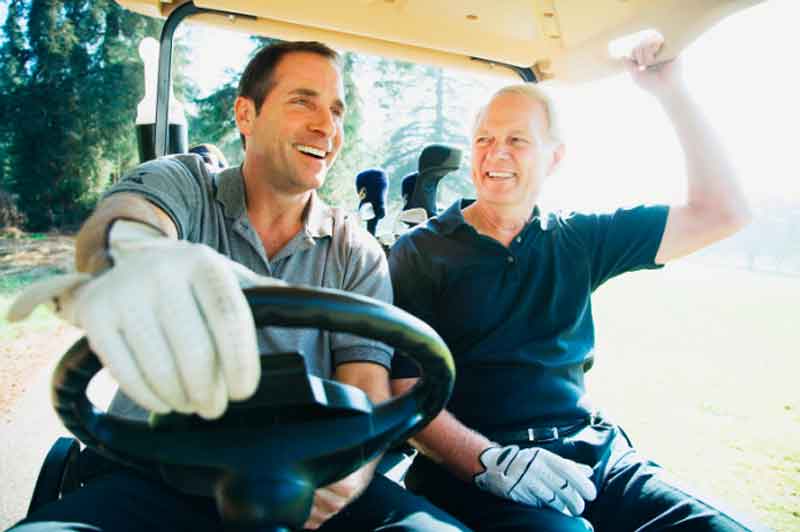 Whether you are an experienced golfer or have never tried golf this could be real all-day fun for you and your friends. Book a day at the local golf club. Start with a get-together and a glass of welcome drink, and then, under the guidance of an instructor you hired for the occasion, try cracking balls. This will surely be an interesting experience and it will most likely make you all laugh well. After an hour of practicing technique and shooting, and measuring strength in remote shooting, you will try yourself in the field. After a few hours of playing golf in the fresh air, treat your friends to a delicious meal and good wine or beer at the golf club restaurant. You can't go wrong with a day like this.
38. Forever Young Party
If you find it a little difficult to deal with the number fifty and you want to show your family and friends that you are still young, vital and more fun than ever – organize a forever young party! Our recommendation is to rent a secluded house, preferably with a swimming pool or jacuzzi (for the brave ones), rent catering to take care of food and drink and relax. Toast with the company, have fun and you'll find that those fifties aren't that scary at all.
39. Morning Party
Is there a rule that birthday parties must be in the evening? No there is not! So if you're the morning type or just like to fall asleep and rest earlier, organize a morning birthday party. Prepare a delicious breakfast full of pancakes, muffins, eggs with bacon, sausage, coffee, tea, and champagne. We are sure that you will have a good time, but also that your older guests will be very grateful.
40. Organize a Picnic Party
A wonderful way to celebrate a birthday is a picnic party. First of all, get involved to find a beautiful and clean meadow (the proximity of a lake or river would make the experience even more special). Tell guests that they will be staying in nature to dress appropriately. Prepare blankets for sitting/lying down, baskets with food, fruits, and drinks, and be sure to bring a speaker to listen to music. Preparing a picnic is not an easy task, so ask a friend/family member/loved one to help you. Welcome guests barefoot with a smile and you will have an unforgettable birthday!
41. Treat Yourself to a Train Ride
Going on a train journey is most beautiful with a loved one. There is something very romantic about traveling by train. Sound, wagons, landscape views. Plan your trip months in advance, book the most beautiful wagon, pack your suits and dresses and enjoy luxury dinners in the restaurant wagon. You'll feel like James Bond or Bond's girl for a few days. You will surely talk about the train journey until your sixtieth birthday.
42. Pottery Course
Admittedly, we all once wanted to try out what it's like to model clay under your arms because it looks sooo good and relaxing on television. Search the internet for a nearby workshop that also offers pottery courses and learn something new for your fiftieth birthday. Who knows, you might even discover a new hobby. You can give the works of art you make to your loved ones or, if they are so great, exhibit them in your home. 🙂
43. Slumber Party
When was the last time you had a sleepover? Yep, we know. Probably a very, very long time ago. Organize an unforgettable slumber party for your fiftieth birthday. Go back to your childhood with friends and build towers from pillows and blankets, tell scary stories holding a flashlight and play board games and all that in your pajamas. Make sure you have enough alcohol and food and we believe you will have fun and laugh to tears. There is a child inside each one of us, regardless of age.
44. Glamorous Celebration
If there is a day when everything should be a little more special than usual, it is your fiftieth birthday. Hey! You live half a century – that's the reason for top-notch entertainment with style. Organize a glamorous party and guests will be delighted, and so will you. Decorate the house with luxurious decorations, set high tables with champagne and trays of cheese, shrimp, and canapes, put on your best suit or the highest heels, and enjoy. Choose music to your liking and don't be ashamed to dance. Everyone loves glamorous parties!
45. A Day at the Racetrack
Book a car at the racetrack for a few hours. Take a couple of your best friends and drive a few exciting laps with real race cars. The smell of gasoline and burnt tires, the sound of powerful engines, and a bunch of adrenaline is exactly what you need at the midterm of your life. Of course, after a day like this, it is best to crown the celebration in a nearby pub with steaks or burgers and beer. Budget variant: carting + toast.
46. A Trip Around the World
Can't forget your trip to Italy, Greece, the Maldives or Colombia? Or do you want to visit one of these or any other destination in the world? Then we have an idea for you. Choose one or more destinations that fascinate you and decorate the house in that style. Accompany decoration with local food, drinks, and music and we guarantee that you will delight guests who will have the feeling of traveling around the world as they go from room to room. Wow!
47. Surprise Party
If one of your loved ones is celebrating the 50th birthday but you know that person is not exactly a top planner, take that task upon yourself. Plan a surprise party secretly, taking into account the preferences of the person you are doing the party for. The possibilities are endless, from a party at home to one outside, from a surprise trip to inviting old friends to a party the celebrant hasn't seen in years. Keep in mind that this is its fiftieth birthday, after all, so reduce screaming and lighting effects to an acceptable level.
48. Let's Help Someone Who is Having a Hard Time
It's your birthday but at the same time, you feel like you want to do something for others who don't have what you have? Or is a humanitarian association/animal shelter especially close to your heart? Inform your guests that you are not receiving gifts but that the money they intended to spend on the gift will be donated to a charity of your choice. You will feel great and may encourage someone to follow your actions.
49. Man/woman Only Party
This is a classic and a guarantee that your party will not fail. Invite your best male friends and celebrate your birthday in the backyard with a cold beer, commenting on matches and delicious burgers. Or invite your best female friends, chill out the best champagne/rose wine, order your favorite food and take a break from kids and daily commitments. Both celebrations include a lot of dancing (we recommend a karaoke machine), laughter, and good fun. We just hope your spouse agrees with this idea.
50. Invite Family Into Town
Turning 50 is a significant event and many will want to reflect back to memories made previously in their life. What better way than to invite friends and family into town to celebrate the big day!
We have offered you 50 ideas on how to celebrate your 50th birthday. We hope that one of the ideas is exactly by your standards and that you will celebrate your fiftieth birthday in one of the suggested ways. Of course, the ideas are valid for the sixtieth and seventieth birthday :). If you are planning a birthday celebration soon, always take care of the budget, the number of guests, and most importantly – that it is a party that you will enjoy. So if you're not an animal party, celebrate your birthday with a fine breakfast and champagne or a museum tour. No one will be angry. Still, it's your special day. Celebrate it with the people you love and in a way that you want.