You only become a teenager once in a lifetime. Turning 13 is a special occasion, and creating a memorable celebration is in order to mark such an important milestone. That's why we decided to put together a huge list of fun birthday party ideas for 13-year-olds to help you think of ways to celebrate the big day.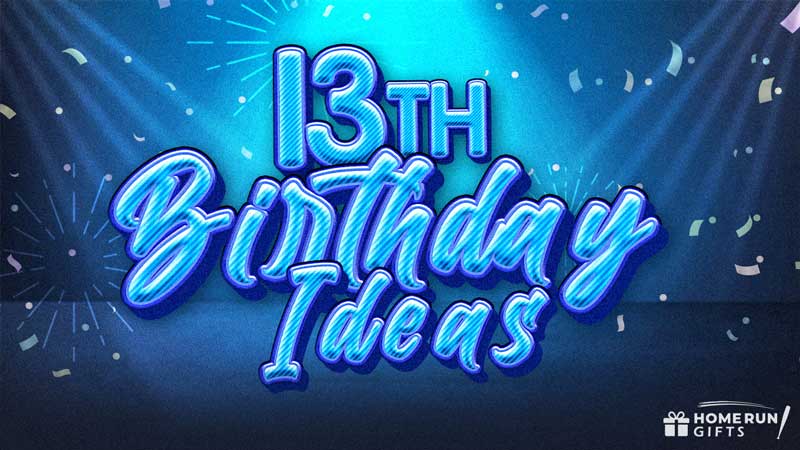 We've included a ton of ideas for both boys and girls, so simply scroll through this list and find some ideas that stand out to you! If you're interested, we also have lists of great birthday party ideas for 12-year-olds and party ideas for 14-year-olds.
1. Outdoor Movie Night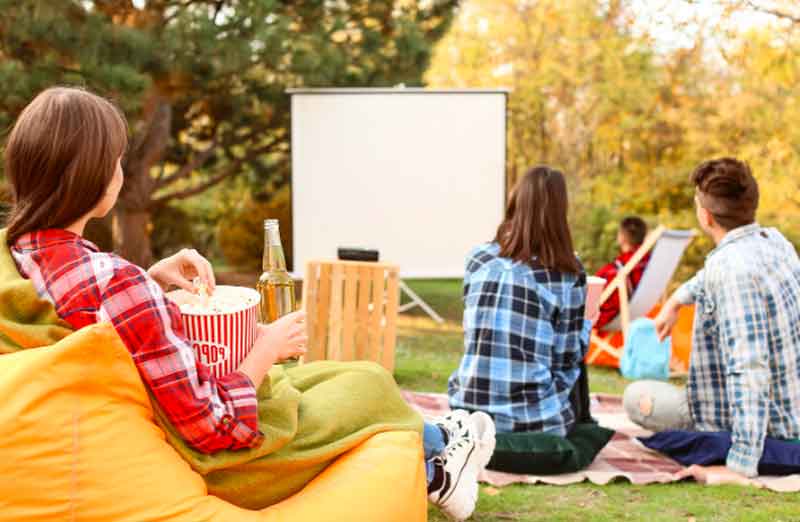 Turn your backyard into a movie theater and host a premier night with an outdoor movie theme! Rent an outdoor inflatable movie screen, use a projector and DIY sheet screen, or simply move your TV outside using an extension cord. Set up blankets and arrange some decorative pillows or use lawn chairs to make a viewing area for your outdoor movie party. Add some string lights and glow-in-the-dark balloons for decoration.As for the menu, serve classic movie food cuisines such as hotdogs, hamburgers, candy, and sodas. A popcorn bar makes for a great snack as well as an activity for guests to create their own popcorn mix.
2. Visit an Amusement Park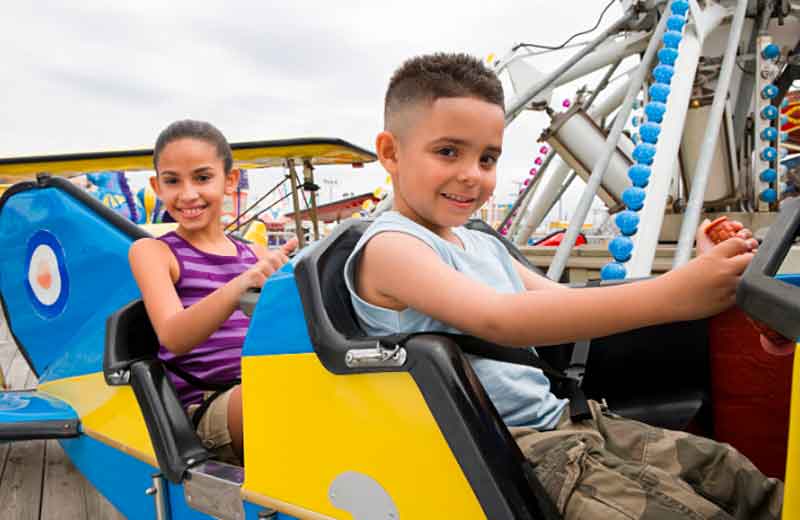 There is a reason visiting an amusement park is a classic way to celebrate a birthday; it is a very fun thing to do, especially if you have a thrill-seeking teen. Inviting a small group of friends is ideal for visiting an amusement park. This will help keep everyone together on rides and attractions.Amusement parks are also known for their delicious food, like funnel cakes, ice cream, hot dogs, and other fun snacks. For birthday favors, you could decorate a plastic satchel or fanny pack in a birthday theme for everyone to keep their personal belongings. Ask a few adult friends or family members to come along and help supervise.
3. Cosmic Bowling
Strike up some fun and add an element of flair with a cosmic bowling party. Cosmic bowling is played the same way as traditional bowling, but it's played in the dark with neon and glowing lights. Many cosmic bowling venues have flashing lights and music, so you all can dance and party the evening away while bowling! Provide some glow-in-the-dark accessories like glasses and jewelry to wear while throwing a strike. Making t-shirts using glowing puffy paint with guests' names and balloons makes for great photo-taking opportunities to commemorate such a special birthday!
4. Pickleball Tournament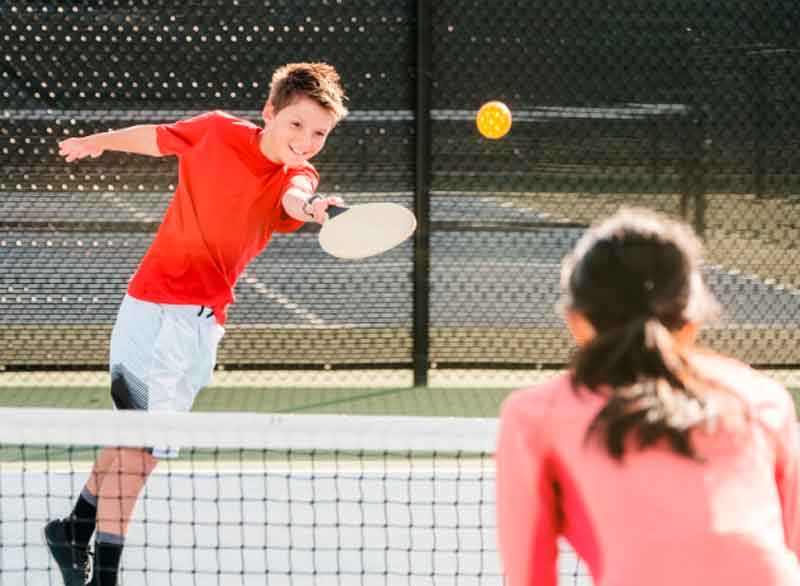 There is a reason pickleball is now the fastest-growing sport in the country; it's a whole lot of fun! Pickleball is a combination of tennis, ping-pong, and badminton. Hosting a pickleball tournament is an exciting way to celebrate, and the sport can be played indoors or outdoors.
Some neighborhoods have pickleball courts that can be easily reserved. If you do not have one in your neighborhood, you could rent one at a local community center or even make a DIY pickleball court in your backyard. Hire a DJ or play some music to enhance the celebration. In addition, you could add some themed pickleball treats and decorations.
5. Capture the Flag
Capture The Flag is a sure way to have an exciting birthday party theme. Play in your own backyard or host your game somewhere that has a lot of vast space. An area with wooded sections and a good view is ideal, such as a nearby park.
You won't need many supplies for this epic birthday event. Two flags, boundary markers, and team designations are all that is needed. Mark boundaries with decorative birthday balloons. Teams can be designated by color, bandanas, or bracelets.
Make a face-painting station to add a fun camouflage face-painting activity. Serve some pizza for a perfect post-game party meal!
6. Masquerade Ball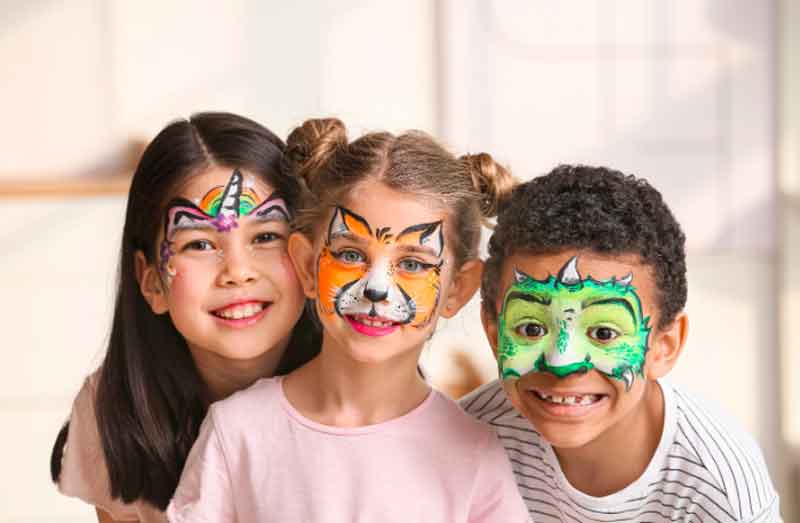 Cordially invite your guests to dress up and join you for an afternoon or evening of fun and intrigue by hosting a masquerade ball. Dressing up is always an exciting option for a birthday party. Designate a dancing area and decorate it with lights, balloons, or even candelabras.
Set up a craft station where guests can make their own DIY masquerade mask for a fun activity. Include supplies such as feathers, sequins, rhinestones, and glitter glue. You could even make a photo booth where guests can take pictures with their masks. Add some colorful treats, and you'll be set to have a birthday ball to remember!
7. Lucky 13
13 is a number with lots of superstition and lore surrounding it. Host a 'Lucky 13' party on your 13th birthday for a fun and once-in-a-lifetime experience.
Decorate the party with all things lucky! Examples could be rainbows, horseshoes, pennies, bamboo, and four-leaf clovers. Set up a table with a big number 13 on it and serve food on the table associated with luck. Fun ideas could be Lucky Charm treats, chocolate gold coins, and fortune cookies.
Playing horseshoes would be a great activity for a Lucky 13 theme. You could also make your own DIY charm bracelets, have a scavenger hunt for lucky items, and make a wishbone snapping contest!
8. Pizza Party (Classic or DIY)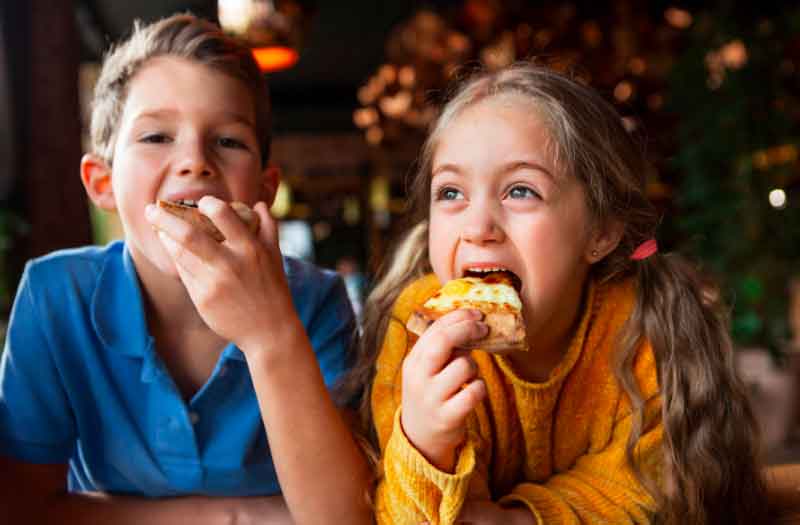 A classic pizza party never goes out of style. Add a little embellishment and fun to a classic pizza party by making your own pizza.
This can be done using a traditional oven or outdoor grill. Depending on your preference, you could purchase ready-made dough or make your own. Guests will love being able to create their own pizza using a variety of toppings such as cheese, pepperoni, ham, pineapple, and vegetables. Serve up some coke-floats to go with your pizza.
Have some pizza party-themed games such as pin the pepperoni on the pizza, make your own apron, pizza trivia, pizza toss, or a pizza-eating contest! A DIY pizza party is also one of my favorite 13th birthday ideas because making your own pizza is always a ton of fun.
9. Glow In The Dark
Glow In The Dark themes are popular among several ages but are especially fun for teenagers. There are many different ideas for glow-in-the-dark themes, such as bowling, painting, swimming, or ice skating. Glowing lights and neon colors create magical environments that are especially perfect for dance parties!
You could have a glow-in-the-dark dance party at night outdoors or create a dark indoor space. This can be done by using blackout curtains or black plastic window coverings. Invite your guests to wear white or neon colors and stock accessories such as glow-in-the-dark face paint, balloons, glow sticks, and jewelry.
10. Spa Party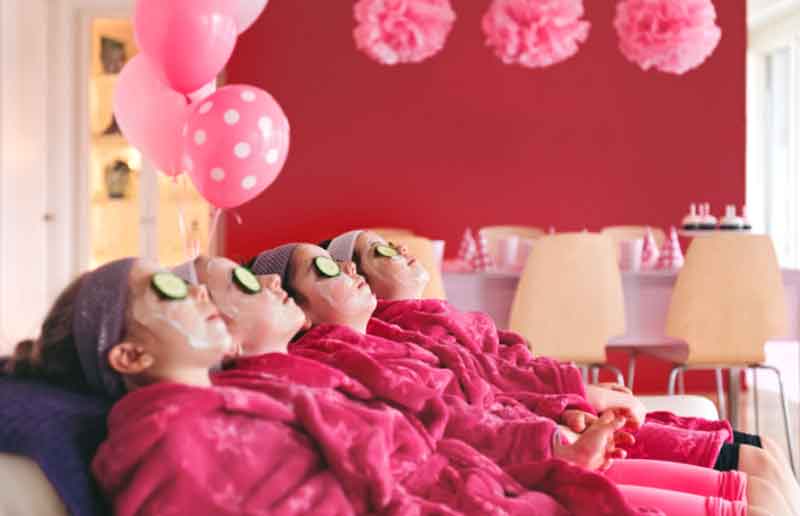 If your soon-to-be teenager enjoys the finer things in life, you may want to consider a spa party. A spa party can be hosted at a nearby spa, or you can create one in your own home. To do this, create different stations or activities for your spa-goers.Manicures are essential for any spa virtuoso. Have your guests take turns painting each other's nails and have a variety of color options. Making your own sugar scrub, lotion, or face masks are all fun activities for a spa party. Be sure to include some chic seating and decorations. Serve tea sandwiches, flavored water, and fruit for a true spa experience!
11. Pretend Casino
Set up a casino night for your favorite little Goodfella'. Use black table clothes to create cards and gaming areas. Blackjack, roulette, poker, and Yahtzee are great selections for a casino theme. Select some family members or friends to help run the card or game tables. Most party decoration stores carry pretend gaming chips and play money you can use.
Plastic visors, fun glasses, and costume jewelry are all fun favors you can provide for your guests. Serve some bite-sized snacks for the high rollers at your party, like finger sandwiches and snack mixes. This 13th birthday party idea is sure to set up a winning streak.
12. Video Game Tournament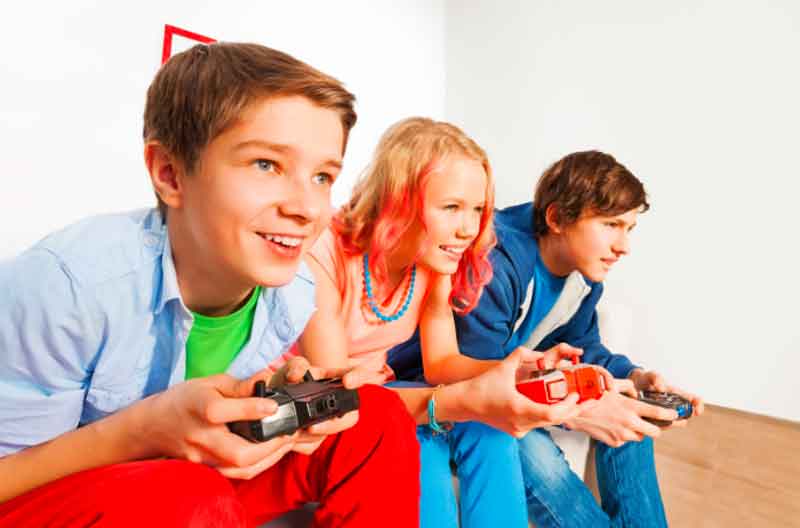 Host a boss video game tournament birthday party for the win. Video game tournaments will have all your guests competing head-to-head for a chance to win it all. Make a schedule ahead of time and select games that appeal to a large group of people. Mario Kart, Just Dance, Guitar Hero, and Sports games are all examples.Set up some fun chairs and pillows for guests to get comfy while in the zone. Neon lighting and fun light accents are good ways to create a gamer zone. Don't forget to supply some party food your players will remember long after it's "Game Over"!
13. Karaoke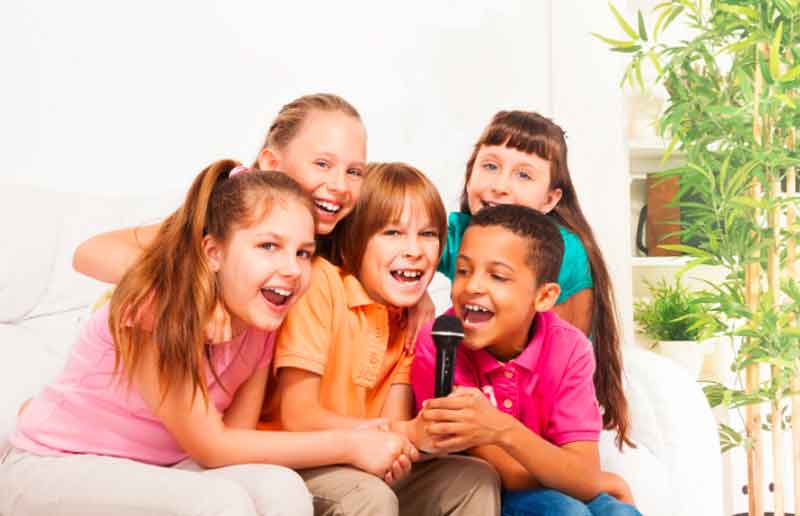 Singing your heart out to your favorite songs is one of the best ways to celebrate your birthday! A karaoke theme is sure to be a crowd-pleaser and make many special memories with all the singing, dancing, and fun.For a special twist, choose songs from the year the birthday boy or girl was born. You can rent a karaoke machine or purchase a simple karaoke microphone from amazon that pairs with your phone. Set up and decorate a stage for guests to entertain the crowds. You can even make a fun game like playing American Idol.
14. Indoor Rock Climbing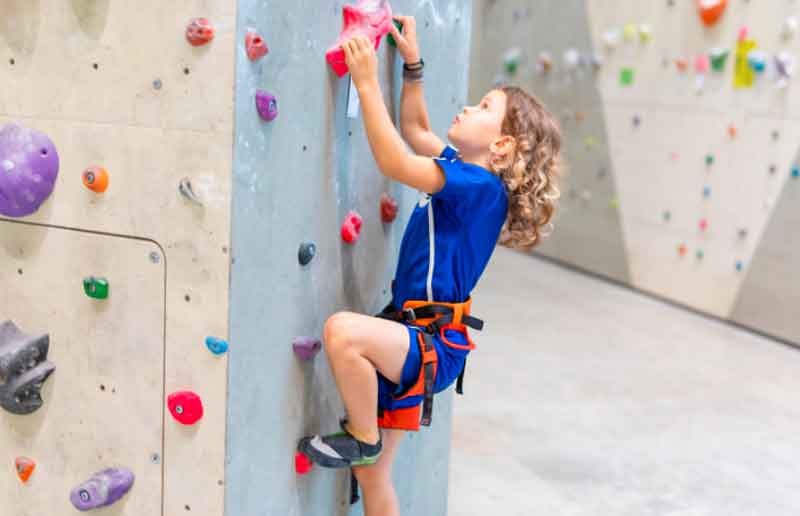 Indoor rock-climbing gyms can scale some big fun. With various courses and difficulty levels, this is a great activity that guests with all varying skill sets and abilities can do. Cheering each other on to reach new heights or competing in a race to the top is a great way to make memories.Make some matching birthday T-shirts or vests to wear, so everyone knows there is a birthday in the house! Gyms will often have rooms to host food and beverages for birthday parties, or you can continue to celebrate by heading to a fun restaurant close by. This is one of my personal favorite 13th birthday party ideas. Many gyms that offer rock climbing also have a lot of other activities to do as well.
15. Harry Potter Theme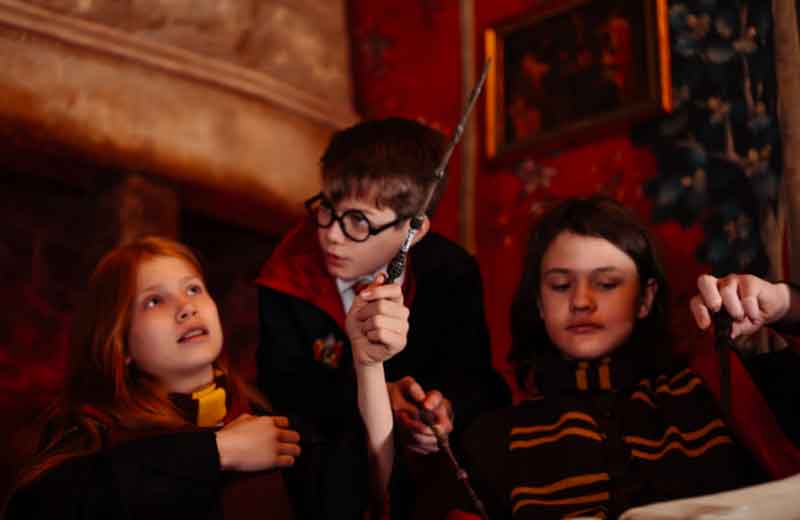 Go to Hogwarts and create a magical wizarding world to celebrate! Beloved by all ages, a Harry Potter theme is a great idea for any group size or gender. Guests can come dressed as their favorite Harry Potter characters. Stock up on some accessories like wands, glasses, and brooms. Play a homemade Quidditch game or make a DIY sorting hat.Of course, it wouldn't be a Harry Potter theme without chocolate frogs, bubbling "potions," and butterbeer! For an extra element, have the new Hogwarts Legacy game on and available for your witches and wizards!
16. High Tea
For the lady's birthday honoree, consider a high tea. Invite your guests to dress in their finest skirts and dresses. Pull out the special porcelain cups and plates for your special 13-year-old. Enjoy petit fours, tea cakes, and cucumber sandwiches as guests sip away on some flavored hot tea. You may even want to have a game of cards such as rummy 500, war, or solitaire going. A movie screening in the background, like The Great Gatsby or Breakfast at Tiffany's, would be a fun and sophisticated addition to your high tea party.
17. Pool Party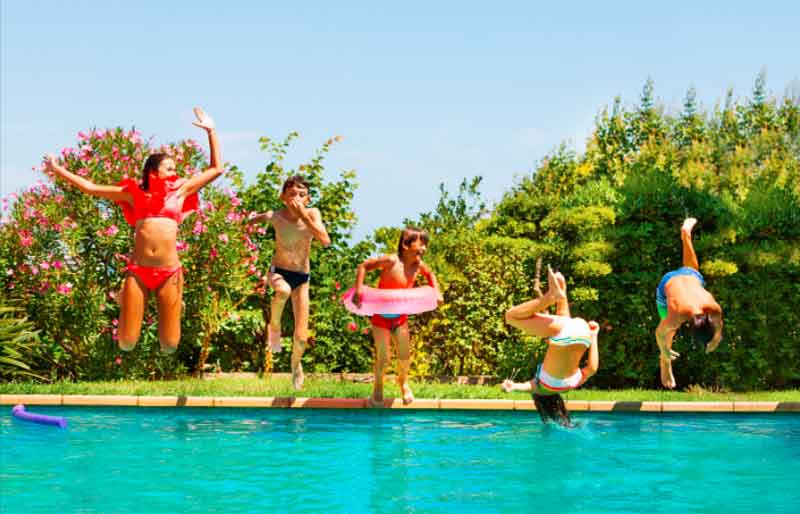 Depending on the month of your birthday, a pool party may be the perfect way to make a splash on your 13th birthday. The best part of having a pool party is that you can easily customize and decorate your venue to suit your teen's preference. Floats, beach balls, and other inflatables can be used to create a theme. You could add hanging lights, colored tablecloths, and umbrellas to match your chosen theme.For some fun party favors, fun sunglasses or visors make great additions! Play some beachy songs to set the temperature for fun! Serve up some smoothies, lemonade, or homemade popsicles for a refreshing treat!
18. Visit a Farm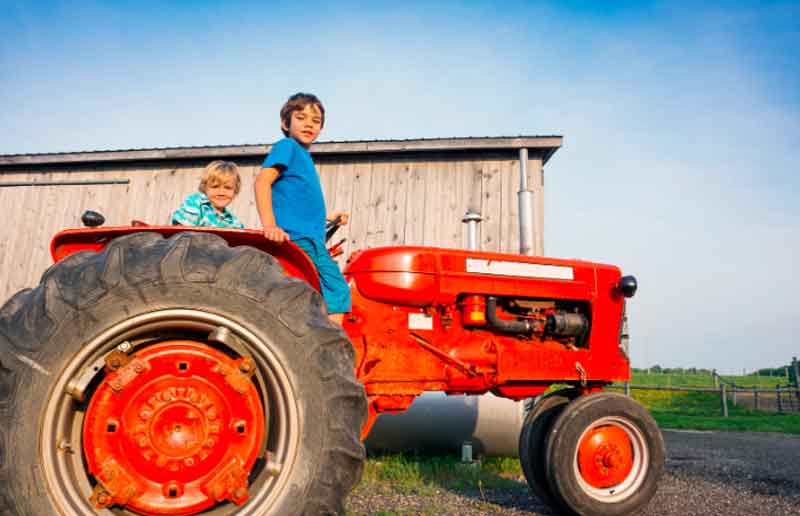 Visiting a farm is a unique and fun way to have a destination birthday party. Many farms offer u-pick experiences. Invite your friends and family for a day of strawberry, apple, peach, or berry picking.
Select a farm that has a restaurant or venue space, such as a pavilion, to host a farm-style birthday meal. For additional fun, inquire if the farm close to you has guided tours, wagon rides, a corn maze, or other farm-style activities! Guests can take home handfuls of their picked fruit. Making a homemade jam or jelly is a great favor for a farm visit birthday theme!
19. Rent A Limo
Nothing says making the jump to a teenager like riding in luxury for your 13th birthday party! Renting a limousine is a grand way to celebrate. Riding around in the limousine is exciting all by itself, but for added birthday fun, arrange for multiple stops on your limousine cruise. Ideas could be a stop for ice cream, lunch, mini golf, or a spa.
Decorate the inside of your luxury transportation with balloons and streamers. You could even arrange for a red-carpet arrival to your limousine party.
Make a playlist with your favorite songs for the ride, and add some sophisticated treats like flavored water and appetizers.
20. Food Truck Dinner Party
Rent your favorite food truck for a dinner party that you can have at your own home. Some restaurants even offer their food trucks for catering options. This mobile dinner party is a great way to have a dinner party without the destination. To add some activities to your party, backyard games make great additions. Cornhole, horseshoes, or badminton are great choices. If your birthday is in the summer, you could even arrange for a food truck to come to a pool. Set up some folding tables and decorate with cute birthday centerpieces that match your food truck menu theme!
21. Color Run
If you have ever been to a color run, you know how much fun this themed activity is for all skill levels! Color runs are ideal for those who love physical activity, and it provides many opportunities for some memorable and vibrant photos. Choose a location in your neighborhood or at a local park, and mark out a route for your runners with balloons or other cute decorations.
Stock up on colored powder and white t-shirts for your guests and have a color-throwing bash by decorating their own shirts. Sunglasses and goggles are good to have on hand and can do great favors. Add an obstacle course with DIY beams, ropes, Hola-hoops, or slip and slides!
22. Attend A Sporting Event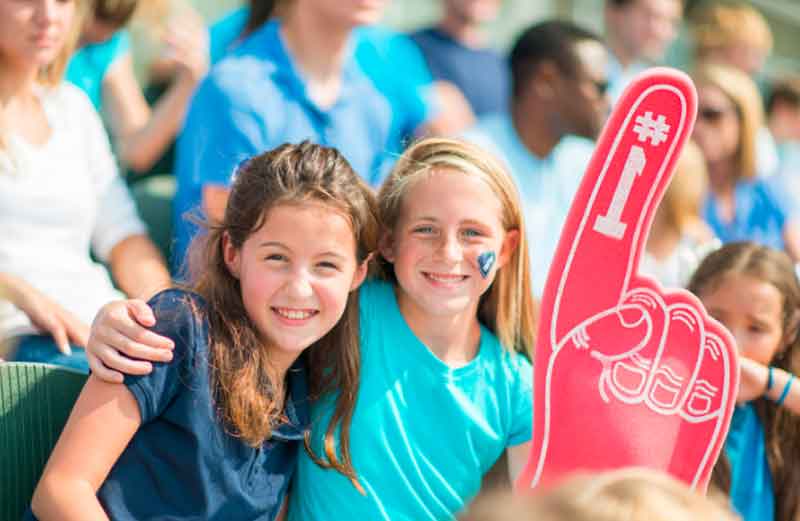 Sporting events have all it all: entertainment, music, food, and your favorite team spirit.
Inviting your closest friends to catch your number one team live is a special way to celebrate. Baseball or basketball games are great venues for a sporting event's birthday. Get your favorite ballpark snacks or arrange to eat at a special restaurant before or after the game. Have some "Big Head" cutouts of the guest of honor for a chance to get on the jumbo screen! Wear some birthday necklaces, bracelets, or hats to make sure everyone knows it's a special day – you may even score an autograph!
23. At-Home Camping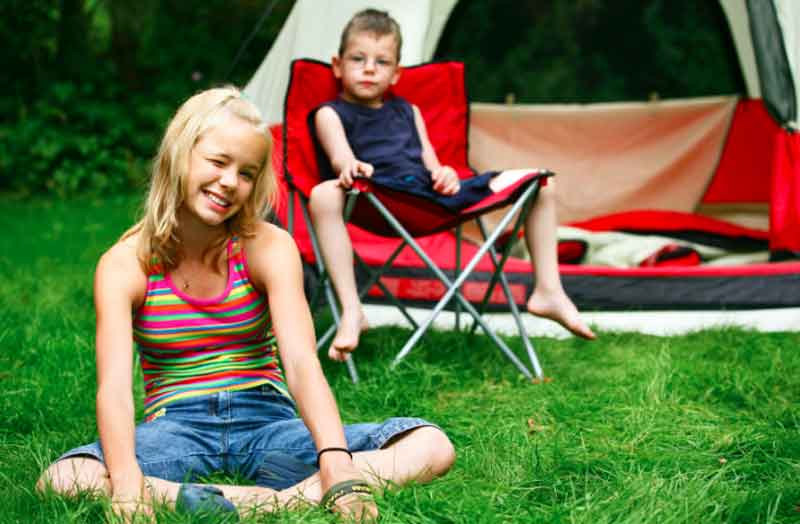 To add a fun twist to a traditional sleepover birthday party, make it a camping theme sleepover. Celebrate under the stars by setting up some tents that everyone can sleep in and have fun decorating them. There are many outdoor-themed treats and activities for a camping birthday. One of my favorite ideas is to have a campfire and take turns telling stories or sharing memories about the birthday boy or girl. Kick the can, charades, scavenger hunts, and bingo are great activities to add. Roast some hot dogs and top it off with making s'mores and serving some hot chocolate.
24. Ziplining
Zip into 13 with this exhilarating theme. Ziplining is a great activity for a brood of pals.
Most facilities that offer ziplining typically allow you to make a reservation and book a time slot for your group. This is a great option for a group activity since you won't have to worry about waiting in lines. Ziplining is an exciting adventure that will be memorable and fun.
It's also a great experience to bond with your friends. Ziplining does not require much planning, so you'll be free to enjoy the moment. Navigating this aerial adventure is an experience your guests will not forget!
25. Host a Talent Show
Talent call! Send out a call for talent invite to friends and ask them to share their hidden talents or show off their singing voice with a talent show. Set up a DIY stage in your home for contestants to perform and designate a few people to be judges. They could sing, play an instrument, tell jokes, or do a magic show! This could be a fun way to have a lot of laughs or a great competition! Teach your guests a small, choreographed dance to a birthday song you could all perform together. Have a "backstage" area for all the talent with refreshments and birthday cake!
26. Hotel Party
Travel is calling, and booking a hotel destination party is sure to be a memorable 13th birthday! Staying at a hotel is exciting and feels like a special adventure. It's a fun way to elevate a traditional sleepover birthday party. Many hotels have indoor pools that make for a great activity for your hotel party. If the hotel has a restaurant, you could have a special dinner in the hotel. If sitting down to dinner is not your preference, you could cater a meal in the hotel lobby or even order room service! Rent some of your favorite movies after, or have a scavenger hunt in the lobby! Be sure to decorate the room for your birthday with fun accessories.
27. Game Night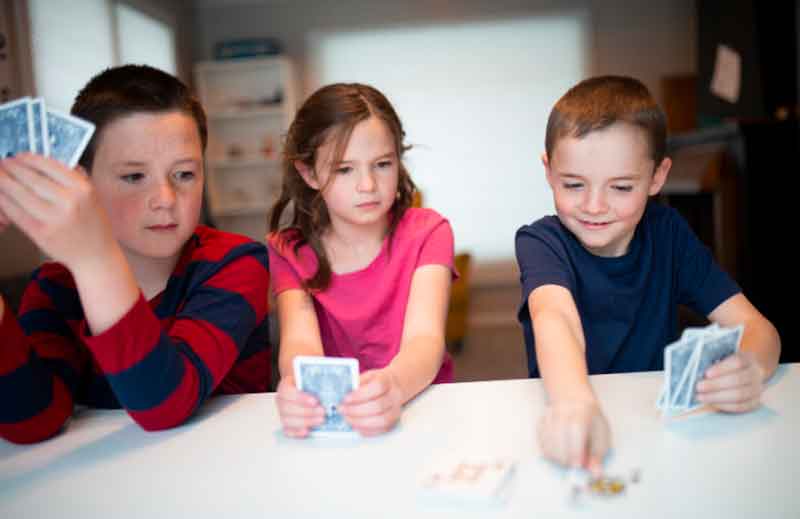 Traditional board games are a simple and fun way to have a birthday party. A game party can be set up inside or outside, depending on your preference or the time of year. Board games like Sorry, Clue, Pictionary, or Monopoly are great and make for lots of friendly competition. You could add some more physical games such as Twister or Frisbee. Serve food with lots of colors to add to the board game theme.
Clear candy jars full of M&M's or Skittles make fun decorations. Popcorn with candy and colorful sodas with grape, orange, or raspberry flavors make fun game-inspired refreshments and add pops of color!
28. Mystery Dinner
The first step to hosting a mystery dinner is choosing a theme. A mystery dinner birthday party is great for all sizes and can range from a few guests to up to 50. Select a theme that sounds fun for your teen and meets the size of the party. Create a storyline and design some invitations for your suspect list.
You can ask your guests to come dressed as a character or have some fun costumes ready for them to choose from at your party. Serve a seated mystery dinner and select menu items according to your theme. Goblets and candelabras are always thrilling additions to a mystery dinner table!
29. Toga Party
Toga parties are one of the oldest and most popular party themes of all time. The dress code is the most important factor when throwing a toga-themed birthday party. Invite all your guests to wear a toga and give away a prize for the best-dressed guest. Ancient games like tug-of-war, trivia, and painting are time-tested games for lots of entertainment! Turn your party space into an ancient utopia by decorating with whites, gold, and greens.
You can do this by draping sheets and adding some plant greenery around your sheets. Add some gold lamps and ambient lighting to set the tone. Serve foods such as hummus, grapes, pita sandwiches, and grape slushies!
30. Cooking Competition
If your teenager likes to cook or enjoys pressure-cooker-style competitions, a cooking competition party is a great way to celebrate. Emulate cooking competition shows with challenges. You could set up group and individual challenges. Each chef can win points on challenges in categories such as taste, presentation, creativity, or timeliness.
Challenges could include cooking a birthday cake, a frosting, a special drink, or an appetizer. The Dollar Tree or other discount-type stores is a great place to gather cups, plates, aprons, and other kitchen materials. Designate each team with a color and make aprons with each chef's name on them. This cooking competition theme is the secret sauce to your event!
31. Water Park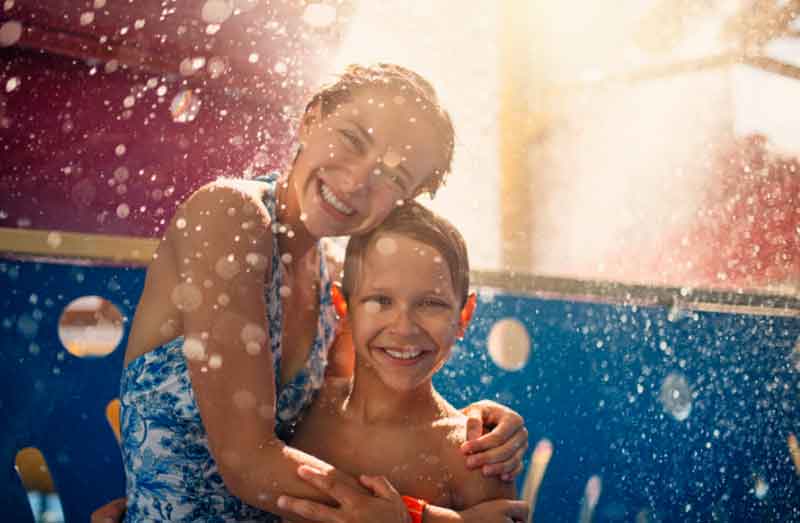 If your birthday celebration falls in the spring or summer months, an outdoor water park could be the perfect pick to soak up some birthday fun. You could even have a waterpark birthday in the winter or fall months if you have an indoor water park within traveling distance. Big slides, wave or surf pools, and water obstacle courses will create a non-stop thrill.
With so many options at water parks, you can customize an agenda for the top attractions you would like to do. Most waterparks have packages to choose from that can be all-inclusive, making it an attractive option for those who don't want to spend a lot of time planning!
32. Escape Room
Find a way to a memorable party with an Escape Room theme! There are many Escape Room venues if you wish to visit one as a destination.
You can also make your own DIY Escape Room and solve the puzzle to your freedom in your own home with some of these ideas! You can purchase escape room party kits with all the puzzle ideas and props
. To decorate your space, use some caution tape to mark the mystery scene and add some detective props like hats, magnifying glasses, and little notepads and pens. Create a grand entrance with an escape room sign and a DIY tunnel or secret passageway!
33. Hiking
If your preference is for adventure, a hike through the great outdoors is a refreshing theme. A hiking party is best for smaller groups so as not to overwhelm a trail.
Get an early start on the day, and you may be able to begin by catching a sunrise. Hiking is a great way to bond with your guests and exchange some good conversation. Pack a blanket and a picnic-style lunch. If your hike passes by a pavilion, you could stop there and make a pop-up lunch. If there is no pavilion, hike until you find a pretty spot and throw down your blanket for a picnic.
34. Painting Party
You don't have to be an artist to host or participate in a painting party. There are many painting classes and venues that offer painting classes for all skill levels. This is a wonderful choice for small or large parties, and most places can accommodate many students.
You could choose to paint anything from an athlete to a flower scene, depending on preference. If an in-home painting party sounds more fun, you could purchase an at-home painting kit for your participants. Guests can take home their own paintings. You may even want to have one group canvas for everyone to paint a design or signature on with 13th Birthday wishes! If you're looking for birthday party ideas for 13-year-olds who are into art, this is an awesome idea!
Popular Article: Awesome Gift Ideas for Tween Girls
35. Laser Tag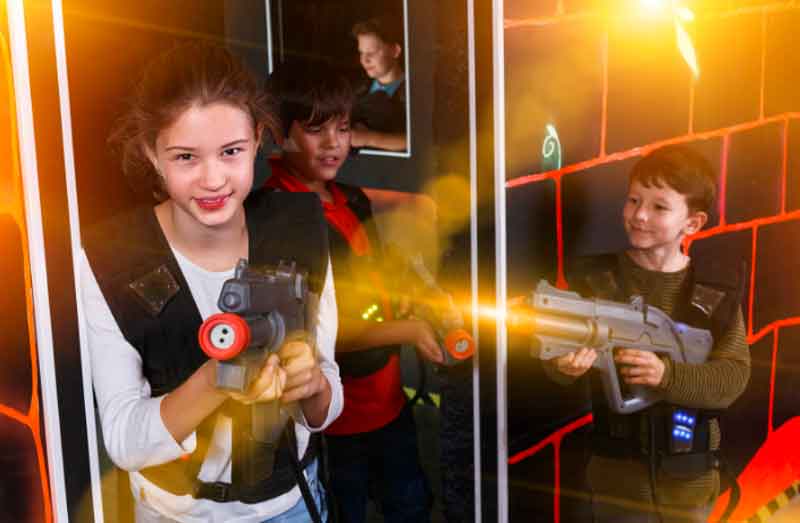 Laser tag certainly checks a lot of boxes for a new teenager. Glow in the dark, competitive, thrilling, and fun; laser tag is a strong choice. Most arenas or parks that offer laser tag will help facilitate the day and reserve play time for your group. Many of these places offer other activities you can play before or after laser tags, such as a few arcade games or roller skating. They generally offer food like pizza or hot dogs and have restaurant or concession areas. If you're the DIY type – you can purchase your own laser tag equipment and play in the shadows of your own backyard!
36. Pajama Party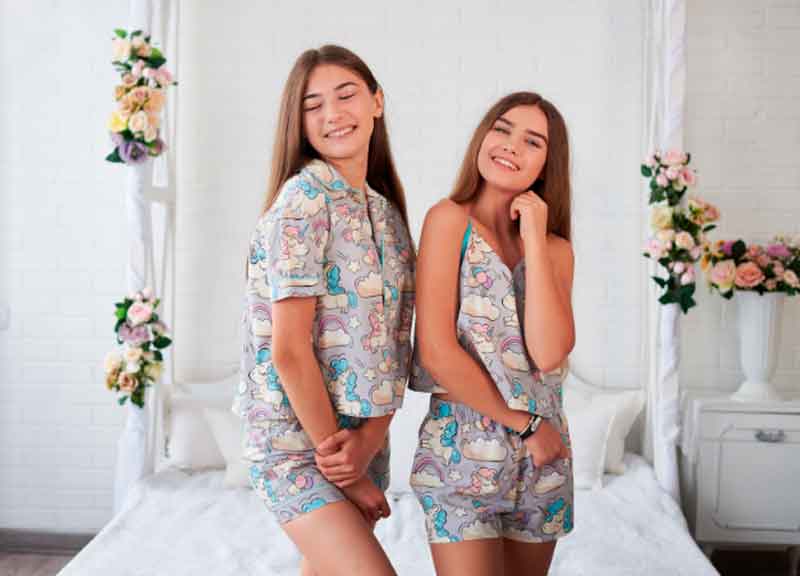 If you're looking for a slumber party idea at home, look no further than a pajama party! Invite your guests to wear their favorite jammies right to the party. To keep your sleepover squad entertained, decorate your own sleep masks and pillowcases. You'll want a photo booth with cute banners and props to capture all the fun photos. Rent a few movies of your choice – scary movies always make for good sleepover material! Have a couple of flashlights in the sleepover area to tell some spooky stories in the dark.
Host a breakfast brunch in the morning with cinnamon rolls and a fruit and juice bar!
37. Gold Everything
Make precious memories with a Gold Everything theme. Let guests interpret how they want to run with a "gold" theme! It could be anything from gold jewelry to sparkling gold glitter to gold sequins to a gold wig! Serve all gold food and drinks! Gold rock candy, gold cupcakes, and gold popcorn are some ideas! Decorate with glittering gold tablecloths and balloons. A gold 'face-painting' area stocked with gold face paint sticks, glitter, lipsticks, or temporary gold tattoos is a fun addition! Get a gold disco ball and make a golden dancing area.
38. TikTok Party
TikTok is all the rage, and with a little creativity, you could host a Tik Tok party that is sure to go viral! A digital invitation would be a great choice for a Tik Tok party.
You could send it in an e-mail or make a digital download and text it to your followers. TikTok is famous for its dancing and voice-over skits. Re-create trending dances; this could be done just for fun or as a competition. Make a fun playlist, dress up as famous Tik-Tokers, and decorate with TikTok-themed balloons and supplies!
39. White Elephant Party
If you think a white elephant party is only for the holidays, think again! White elephant parties make great birthday parties as well and can be especially entertaining for teenagers. Set some parameters for your white elephant birthday party by coming up with a theme for gifts. These ideas could be something useful, hand me down, dollar store, retro, or a classic gag gift.
It could also be something unique such as having a scent or a rainbow. Whatever theme you decide, guests have a blast guessing what the gifts will be and exchanging them. You could decorate with any color theme, but white is a classic and chic compliment to a white elephant party!
40. Attend a Theater Show
Lights, camera, action! Attending a live theater show is an unforgettable experience to mark a first teenage birthday. The grandiosity of a theater venue with ornate curtains, a performance stage, a set, and concessions is sure to invoke a sense of magic and celebration. Check your local listings to see what kinds of shows are coming up. Annie, Wicked, Disney on Ice, Cats, a comedy show, or even a live taping of a television show are all possibilities. Invite your guests to get dressed up for a night on Broadway! If you desire, rent a limo to take your party to the theater for a luxurious touch!
41. Volunteer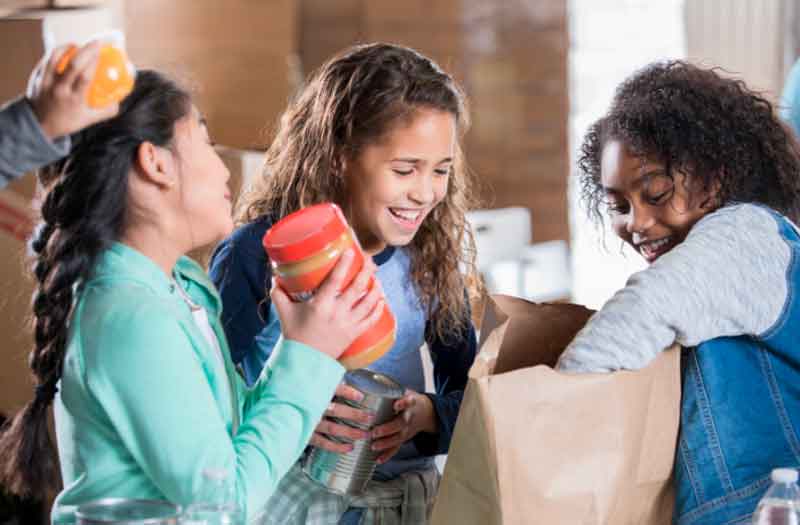 Plan a celebration with purpose and organize a volunteer project for your group. There are many possibilities for volunteering. Look for opportunities in your community that need volunteers.
Opportunities could range from helping with an event, building something, organizing a donation, working with animals, or participating in a run or activity in support of a cause. You could also plan a craft or service activity in your own home, such as making blankets or writing cards. Another easy way to incorporate volunteering into your birthday is to request donations in place of gifts to your charity of choice.
42. 13 Shades of Pink
Pink, cherry, flamingo, salmon, watermelon, rose, magenta, bubble gum, or rouge! A pink party is a classic and stylish way to host the perfect 13th birthday party for your pink-loving teenager. A color-themed party is a great choice if you don't want to commit to an overall theme or activity. It can be styled to create a sophisticated and chic look. Have your guests wear their favorite shade of pink to your party. Use a variety of shades of pink for decorations and incorporate various patterns and textures of pink decorations and props.
Create a buffet of all pink foods and drinks for the pinkest party around!
43. Mall Scavenger Hunt
With a bit of planning and creativity, a scavenger hunt is an exciting and engaging experience for celebrating a birthday. You can plan a scavenger hunt in many different environments. A mall is a particularly suitable venue for a new teenager. Make a list of items to collect in the mall and take photos along the way with your team to capture all of your findings! The photos will make great keepsakes for birthday memories. Examples could be a perfume sample, a restaurant take-out menu, or a map of the mall.
More interactive ideas could include taking a photo with a mannequin, riding a carousel, or counting the number of stores!
44. Grown-Up Restaurant
Turning 13 is a big deal. For a more "grown up" theme, make a reservation at a restaurant for your group. Some restaurants may even offer a special table or private room for the milestone celebration. To add some birthday decorations, bring some flowers or a themed centerpiece to add to the table and decorate the guest's honors chair. You could choose a swanky restaurant, a nice patio, a sports-themed restaurant, or your favorite cuisine to celebrate. If you don't mind the spotlight, inquire if the restaurant does anything special like sing happy birthday or celebratory desserts.
45. Favorite Things
A favorite among many ages and personalities, a favorite things party is always popular! Invite your guests over to your home, or choose any venue of your liking! A favorite things theme is a flexible choice and can be its own theme or combined with another type of party. Ask guests to bring two items they consider their favorite things and swap with attendees. It's good to set a budget for each item so guests can have a good expectation of what to exchange and have time to shop. Write everyone's name twice and put them in a bowl. Draw the names, and let the exchange and celebrating begin!
46. Sneaker Ball
This particular take on a costume or theme party is sure to kick up some fun. Instead of dressing up in formal attire, a sneaker ball requests that guests come in their most stylish sneaker attire. This could be any type of sneaker, and guests can have fun with how they dress up their sneakers with an outfit! You could request the attire for the sneakers be casual or fancy depending on your preference. Hang a sneaker-themed backdrop and roll out a red carpet for guests to strut their sneakers down for a photo op! Dance to some fun music guests can move their feet too.
47. Candy Shop
With fun pops of color, loads of sugar, and a little artistry, a candy theme is a crowd-pleasing theme to make sweet memories. Making your own candy is an easy and fun way to add some hands-on fun to a candy theme. Purchase some silicone candy molds for your guests and create a candy-making station. Set out bowls of various flavors of chocolate like mint, strawberry, or vanilla. Use edible decorative supplies and different shapes and colors of sprinkles to customize your candy. Peanut brittle, chocolate-dipped strawberries, rock candy, and cotton candy are all easy homemade candy recipes you can use at your candy shop party!
48. What I Wanted To Be Growing Up
Since 13 marks the official teenage years and leaves the "kid" years behind, it's the perfect time for this fun-themed costume party! Invite all your friends to attend and dress up as they want to be when they grow up. You may be surprised and discover some new things about your friends. Not only will it be fun to see what your friends are dressed up as, but it's also a great opportunity to take photos and compare them in the future when you are all grown up! Make a sign for guests to write their careers and mark the year.
49. Groovy 70's
Turn back time and celebrate with your favorite "decade" party! The 70s are a great theme for a new teenager. Groovy apparel like bell bottoms, platform shoes, tie-dye, and headbands are sure to be a blast from the past.
Decorate with lava lamps, smiley faces, rainbows, and peace signs. Hang a disco ball for some glam, and use bright colors and gold accents. Set up a station for guests to make their own flower headbands. You could also create a station to tie-dye your own shirt. Add some 70's style food like a fondue table, pigs-in-a-blanket, and tomato sandwiches.
50. Surprise Party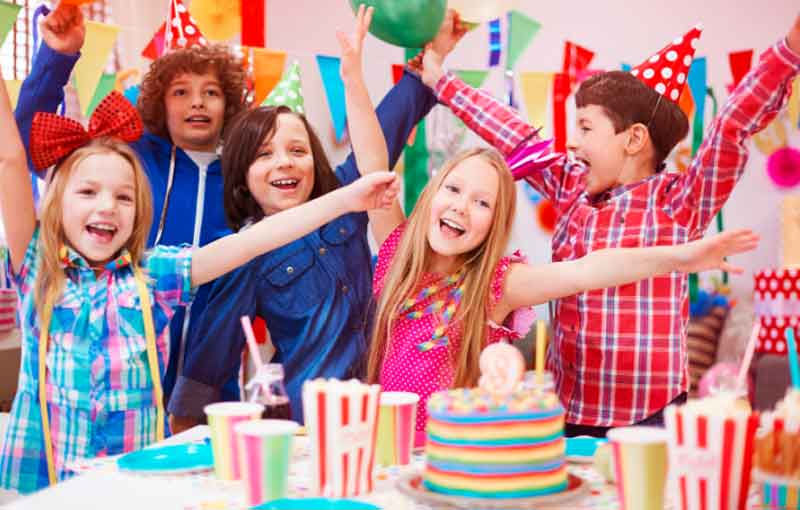 Last but not least, pull the ultimate birthday card by planning a surprise party! A surprise birthday is certainly one you will remember for a lifetime. You could invite a large group, or you could plan a special surprise experience or event for your teen, maybe something they had been wanting to do or a place to travel to. A surprise photoshoot or a pop-up dinner party are fun takes on a surprise party! If you decide to go for the group party idea, make sure everyone knows it's a surprise! Send out invitations ahead of time that mark the surprise. A group chat is a great way to communicate surprise details to guests. Whatever you choose, a surprise party will make a lasting impact on a big birthday!