Your sweet baby is almost one year old! This is a milestone that deserves to be celebrated in style! That's why we decided to put together a fun list of 1st birthday ideas and themes.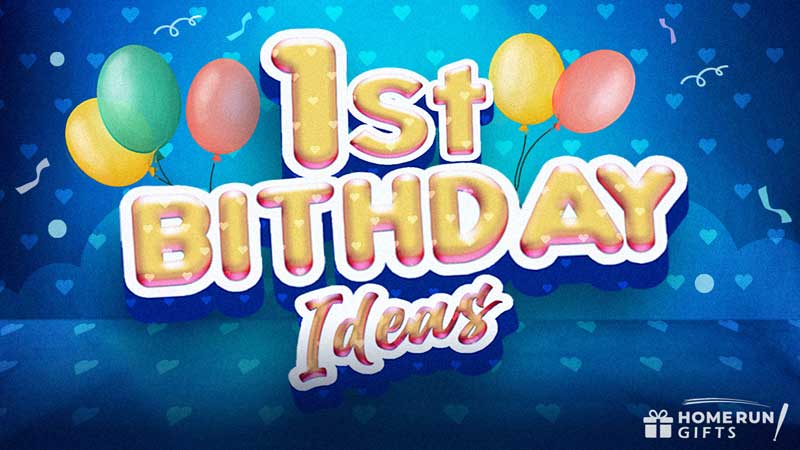 Your first priority should be to baby-proof the party space, especially if you are having the party away from your home. Once the area is secure, be creative and have fun planning! Plan your party around the baby's nap and feeding schedule. You want your baby to be happy, awake, and alert for his special day. Keep in mind that a large number of people, especially people wanting to gain their attention or love, can be overstimulating for your baby. Watch his cues, and don't be afraid to take him away from the party for a few minutes to help him regulate his emotions. You do not want a party where the two of you are stressed and cannot enjoy the day. Without further ado, let's get into the list.
1. It's a ONEderful World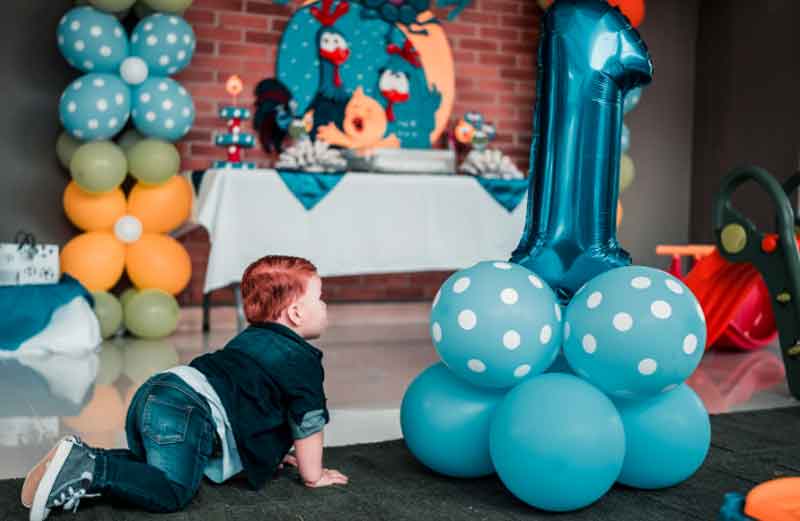 If the weather allows, this is a perfect outdoor theme. With nature as your backdrop, you can add seasonal flowers, ivy, and other natural items to your decor. If you can't have the party outside, using components of the outdoors in your decoration will bring the ONEderful world to your guests inside. Pretzel rods dipped in chocolate make whimsical "sticks," and a variety of fruits are the perfect refreshments. Don't forget to have baby-friendly and toddler-friendly snacks so your little one will get to enjoy her party as much as everyone else.
2. Winter ONEderland
Your winter baby will love a magical Winter ONEderland party. Snowflakes, icicles, and twinkling lights will set the scene for a beautiful celebration. Spread out soft white blankets and stuffed animals such as polar bears, penguins, and other arctic animals for the babies to play "in the snow." You could use a children's tent covered with a white sheet to make an igloo for the babies to crawl in and out of. White chocolate-covered pretzels make delicious snowflakes for adults. Freeze yogurt bites as a frozen snack for babies. Complete the perfect scene with bubble machines making it "snow."
3. It's a TON of FUN When Baby Turns ONE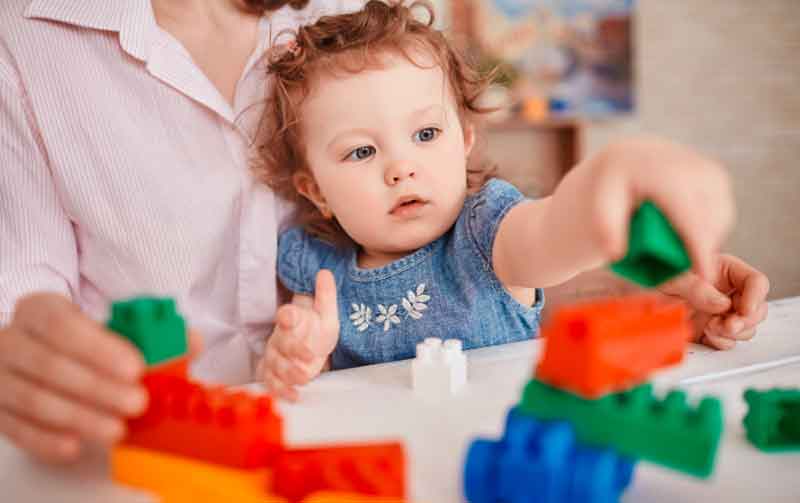 Hard hats, mega blocks, buckets, and baby-safe foam blocks, create a fun scene for this construction-themed first birthday party! Developmentally, one-year-olds are learning to put things in and out of containers. Your child and his friends will love putting blocks in the buckets and dumping them out. You can use toddler dump trucks and buckets as serving dishes and toy shovels as your scoops. Toy construction vehicles, construction zone signs, and hard hats are great decorations. Don't forget to use some of the hard hats and signs as props for a fun photo opp!
4. Celebrating Baby's First Trip Around the Sun
Your little one has just completed his first orbit around the sun! It is time to celebrate with a party that is out of this world! Planets, stars, the sun, and the moon will fill the room as you decorate for this party. Be creative with your refreshment table! Gummy fruit rings are Saturn's rings, oranges are the sun, cheese balls are comets, star fruit slices are stars, and apple slices are crescent moons. Throw in a few cute aliens to add a little more fun to the party decor. Toddler-friendly balls can be planets available for the birthday baby and others to play with throughout the day.
5. Rookie of the Year Ist Birthday Party
We all know your little one is definitely the Rookie of the Year for your team! Grab your bat, ball, and glove, and use them to set the scene! Your family can wear matching jerseys, so everyone knows who is on your team. Along with your cake or cupcakes, you can serve concession stand favorites like nachos or hotdogs, just don't forget to include baby-friendly food your Birthday Boy can eat as well. Your friends and family will think this party was a GRAND SLAM, and everyone will walk away winners after a day of family fun.
6. Rubber Ducky, You Are ONE!
Gather up your sunscreen, bathing suits, rubber duckies, and assorted bath and pool toys, and get ready for an afternoon of water fun! Turn your backyard into a baby-friendly waterpark with inexpensive wading pools and bath toys. Make sure every pool has several rubber duckies for the children to play with and then take home as their party favors. If you have older siblings, designate which pools are for babies and which are for the older children for safety. Babies and their siblings will spend the afternoon splashing and playing as parents visit with one another and supervise the fun.
7. Teddy Bear Picnic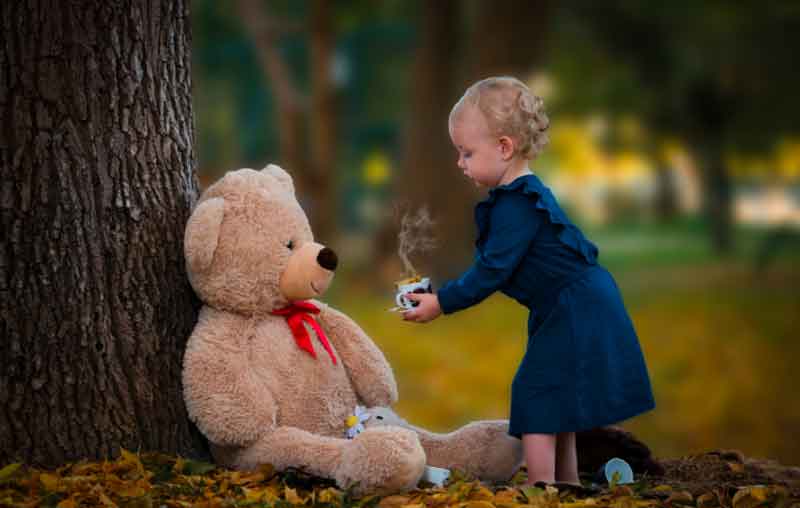 Everyone loves to cuddle a big soft teddy bear which makes this the perfect theme for a sweet first birthday party. Choose a color theme, then collect teddy bears of all shapes and sizes that coordinate. For example, brown teddy bears lend to a soft, neutral color scheme, while pastel and white teddy bears lend to a cotton candy color scheme. Use picnic baskets on your refreshment table as serving dishes and decorations. Serve simple sandwiches, fruits, and other items you would pack for a picnic. Babies can play with the baby-safe teddy bears as their parents visit.
8. It's My First BEEday
Buzz, buzz, it's My First BEEday! Your little bumble bee will be the star of the show at this sweet theme filled with bees and flowers. Decorate with a garden and bee theme using a variety of beautiful spring flowers with little bees sitting on and around them. Many party supply stores will have bee-themed decorations as well. Serve fresh fruits and simple sandwiches alongside your cake for the perfect garden picnic feel. This is a great theme for spring and summer parties that can be enjoyed inside or outside either one. This is one of my personal favorite 1st birthday party ideas.
9. Alice in ONEderland
Follow the White Rabbit down the rabbit hole and enter the mystical world of Alice in ONEderland for your little one's first birthday. Label each of your treats with "Eat Me" and "Drink Me" as your guests carefully select which ones to try. Pocket watches set to 1:00 add a fun little detail to your decor. Don't forget to include components of each character, such as red and white roses and playing cards for the Queen of Hearts and her army, pink and purple stripes for the Cheshire Cat, and, of course, a whimsical tea set for the Mad Hatter!
10. A Hole in ONE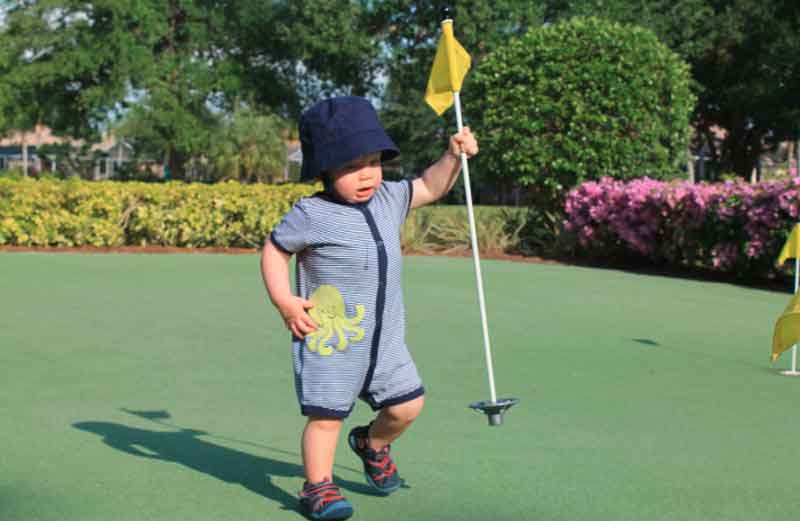 Grab your clubs and get ready for a golf celebration for your little one's first birthday! Set up putting holes for your guests, not forgetting to include baby, toddler, and children's golf sets for the Guest of Honor and his young friends. Decorations can include lots of greenery, golf clubs, tees, and golf balls. Donut "holes" and a sweet golf ball smash cake would be the perfect addition to the refreshment table. You can add simple finger foods to enjoy as you spend the day practicing your swing, visiting with family and friends, and celebrating your one-year-old's special day.
11. ONE Wild Year
Let's go to the jungle as we celebrate your one-year-old's wild year! Colorful jungle decorations, including all of your favorite jungle animals, colorful plants, and lots of greenery, will set the scene for this exciting day! You can serve fresh fruits, nuts, and other jungle treats for refreshments, remembering to add baby and toddler-friendly snacks such as bananas, yogurt, and animal crackers. You can create a jungle for the children to crawl through using indoor plants and trees. Set toy animals in the jungle for the babies to find as they explore. Everyone will have a wild time as they celebrate your little monkey.
12. I DONUT Believe You are ONE!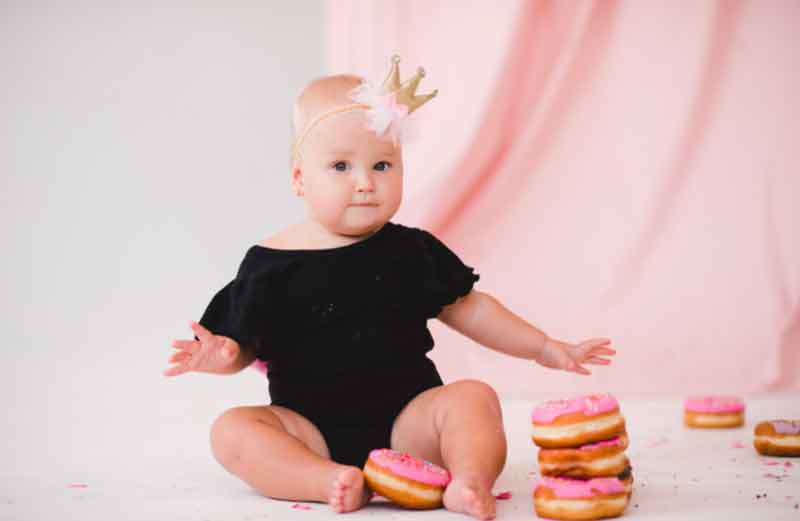 Everyone loves donuts, so this first birthday party is sure to be a hit! Using a pegboard, you can create a donut wall for the perfect backdrop/serving station for your refreshments. Offer donut holes as a more toddler-friendly option. Add fresh fruit and simple breakfast sandwiches to your refreshment table for the perfect brunch. Donut decorations are extremely popular currently and are relatively easy to find at most party supply stores. A picture wall featuring your little one adds a sweet touch to any party.
13. Winnie the Pooh 1st Birthday Party
There is nothing more precious than the classic Winnie the Pooh series of stories. Celebrate your little one in the Hundred Acre Woods with Pooh and his friends. Decorate with stuffed animals of each of the characters, honey pots, and natural items you would find in the woods, such as pine cones and sticks. You can serve vegetables from Rabbit's garden and treats made by Kanga. Invite your guests to help build your baby's library by bringing their favorite classic stories instead of toys as their gifts. Parents will love reliving their own childhood memories of their favorite stories while the younger guests will be introduced to new characters! This is one of those classic 1st birthday party ideas that you can't go wrong with.
14. "ONE"ce Upon a Time
All of your favorite fairy tale characters will show up to celebrate your little one with this party theme! Little Red Riding Hood, The Three Little Pigs, Hansel and Gretel, Goldilocks, the Three Bears, and so many more favorites can be featured at this celebration. Story books, stuffed animals, Little Red Riding Hood's basket of goodies, and other story items will set the scene as your decor. Provide costumes, story props, and a forest backdrop for a photo booth for your guests. Everyone will enjoy the trip down memory lane as they see the decorations, storybooks, and photo booth highlighting their favorite children's stories.
15. Look WHOOO is ONE!
Whoo is ONE? Your sweet baby is one, so it is time to get creative and plan the perfect party for your little owlet! This sweet owl theme will be unique and so cute! Create a woodsy feel using indoor plants and trees, tree slice wood platters of all sizes to place on your refreshment table and to use as the base of your centerpieces, and, of course, owls. Order custom owl cookies and cupcakes to match your color scheme, and add simple finger foods to create the perfect refreshment spread. This will definitely be a party your guests will never forget!
16. ONE with the FORCE
Grogu will be your little one's best friend at this birthday party. We are going to celebrate your little Jedi with a Star Wars party! Decorate with your favorite Star Wars characters, lightsabers, stars, and more. Create a backdrop for photos and provide Star Wars props for your guests to enjoy. Don't forget a Baby Grogu doll they can hold in their pictures! Pretzel rods dipped in white chocolate dyed blue or red make cute lightsaber snacks. For a healthier twist, carrot and celery sticks can also be light sabers. The Star Wars fans in your life will love this theme!
17. Look at Me, I'm ONE!
All eyes are on your little one at this birthday party! A photo wall highlighting your favorite pictures from the past year is the perfect backdrop for the refreshment table. Serve all of her favorite foods for your refreshments and decorate with her favorite colors. For party favors, choose items that represent her favorite characters or toys. You can make a playlist of her favorite songs to play throughout the party and set out her favorite toys for her to share with her friends as they play together. Your birthday girl will have a wonderful time surrounded by her favorite people and doing her favorite things.
18. Under the Big Top 1st Birthday Theme
Everyone loves the circus, so this theme will definitely be a hit with your friends and family. Create a three-ring circus play area for the babies using painter's tape on the floor to identify the rings. Place stuffed or plastic toy circus animals in the area, balls, and hoops for the babies to use during play. Serve cotton candy, circus peanut candies, and other concession-style refreshments to your guests. For a little added fun, let your babies be the circus animals, and parents can help them crawl through the hoops or throw the balls.
19. This Year has RACED By!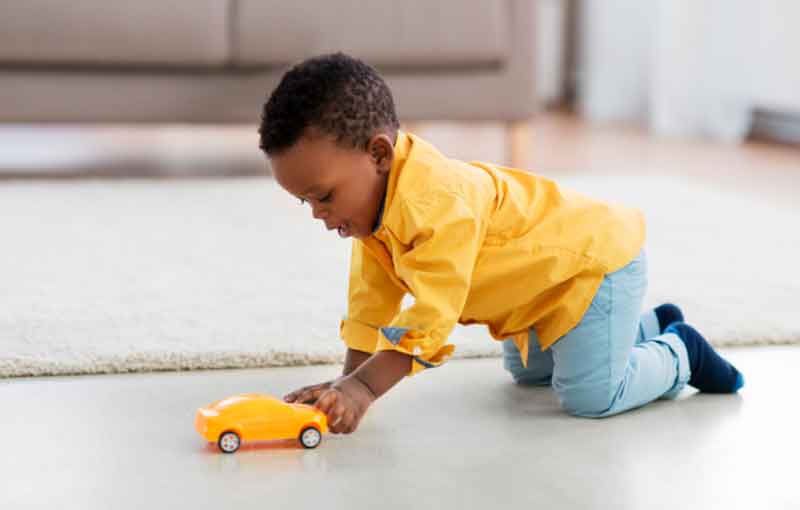 Time flies when you are having fun, and your baby's first year is no exception! Let's celebrate with a race car theme! Create a play space with a toddler race track and cars for the babies. Decorate the area with checkered flags, cars, traffic lights, signs, and colorful banners. You can have fun with the refreshments. For example, chocolate donuts are tires, apple slices with grapes as the wheels to create little race cars, and soft drinks in glass bottles are motor oil. For a little extra excitement, have baby races. Put Daddy at the starting line with Baby and Mommy at the finish line. Which baby will get to his mommy first?
20. Our MVP of the Year!
Your tiny athlete-to-be will love this fun-filled basketball party! Gather a few toddler basketball goals and soft basketballs so there will be plenty of opportunities for the children to play ball. Choose decorations in the colors of your favorite team, or find basketball-themed decorations at most retailers that carry party products. You can even add pom poms for those who would rather cheer than play with the balls. Refreshments consist of concession-style foods such as hotdogs, nachos, and puffcorn. A basketball smash cake will definitely score points! The pom poms and little basketballs make the best favors to end the winning party!
21. A ROARsome Year!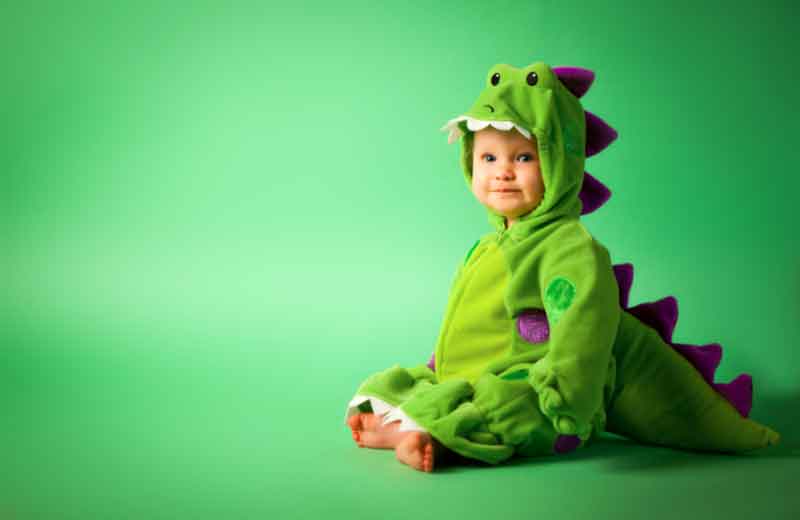 Your little dino will love a dinosaur-themed first birthday party! Decorate with dinosaur footprints around the house, leading your guests to the refreshment table or play areas. Use large leaves, dinosaur toys, and dinosaur eggs to decorate your refreshment table and party area. Provide baby-friendly dinosaur toys for the birthday boy and his friends to play with during the party. The Mother Goose Club has the cutest song called "Dinosaur Stomp." Play it, and let your guests pretend to stomp and chomp like dinosaurs. Everyone is guaranteed to ROAR over this amazing celebration for your one-year-old.
22. The Chosen ONE: Harry Potter Theme
The Sorting Hat has chosen your baby to have a Harry Potter First Birthday! Which house are you in? Use the colors of your house to decorate or choose to be inclusive and use decorations that represent all of the houses. Create a photo opportunity for your guests with Harry's glasses, wands, the Sorting Hat, and other themed props. Add gold-wrapped chocolate balls to make the Golden Snitch for your guests. Don't forget to have Hedwig somewhere within your decorations and/or photo booth! As your babies play, you could offer Beanboozled Jelly Beans to the older children and adult guests!
23. Time FLIES When You're Turning ONE
Time flies when you are having fun AND when you are turning ONE! Celebrate your baby's first birthday with an airplane-themed birthday party! Provide toddler-friendly airplanes and other vehicles for the play area in your party space. Create boarding passes for your invitations. Make up a sweet passport for your little one to hand out to your guests as a keepsake. Include his picture, favorites, and birthdate in the passport. Include suitcases, airplanes, blue and white balloons for the sky and clouds, and signs such as Baggage Claim, Gate numbers, and more in your decorations.
24. Baby Shark 1st Birthday Party Theme
Every baby loves Baby Shark and his family. This party is sure to be a hit with your child and all of his friends. Almost every retailer that carries party supplies will have decorations and party favors already created for you with this theme. The children will love singing and dancing to the song (probably multiple times). If you are able to have the party outside, set up wading pools with Baby Shark bath toys for the children to play in the water. Don't forget the sunscreen! This party will be a GREAT SPLASH! I think this is one of the cutest 1st birthday party theme ideas.
25. BUBBLES Party Theme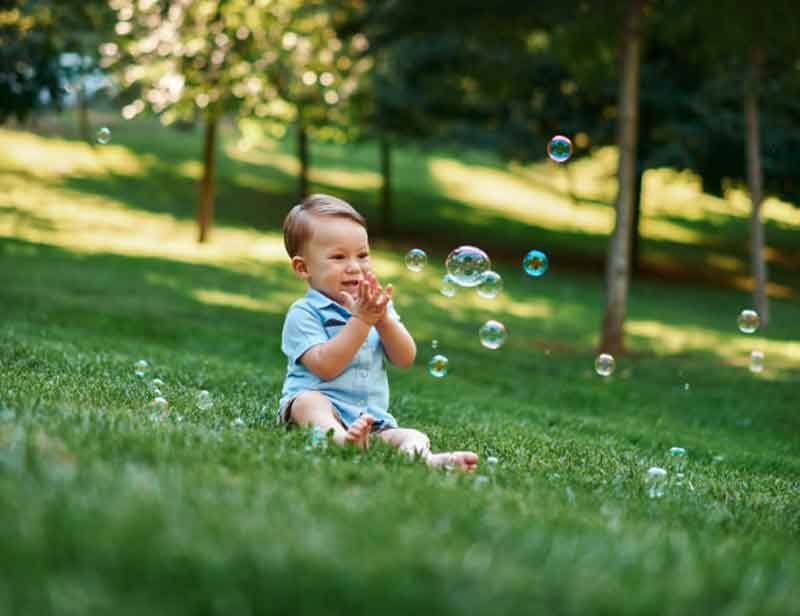 Babies and toddlers love bubbles! Your one-year-old will love a celebration filled with the magic of bubbles. Most retailers carry battery-operated bubble blowers that you can have positioned around the yard to have bubbles all around. Babies love chasing bubbles and will need adequate space to crawl, run and play. Your obvious party favors will be bubbles for the families to take home. Use clear Christmas ornaments and a balloon arch to create fun decorations that look like bubbles floating around your refreshment table and a photo booth. Everyone will love this fun theme!
26. Someone BERRY Sweet is ONE
Celebrate your one-year-old sweetie with a berry-themed party. Decorate with blues, pinks, and whites using blueberry, raspberry, blackberry, and strawberry accents. Create a garden feel using indoor plants and green accents in your decorations. Fruit salad, fresh fruit and yogurt parfaits, strawberry shortcakes, fruit smoothies, and cobblers will add color and sweetness to your dessert table. Add a few classic Strawberry Shortcake dolls in your decorations for a fun character twist to the theme. Find toddler-friendly plush and plastic fruits to set up in a play area for the babies.
27. Cocomelon Birthday Party Theme
Most toddlers love singing and dancing along with JJ and his family on Cocomelon and will love a Cocomelon-themed afternoon. Cocomelon decorations can be found at most party supply stores. Add dimension to your decorations using Cocomelon toys. You can also set up a play area for toddlers and babies with Cocomelon toys. Pull up Cocomelon videos and let them play during the party allowing babies to dance together. Provide a variety of fruits, finger foods, and a sweet Cocomelon-themed cake and smash cake for your refreshments. You can purchase small Cocomelon toys to give your tiny guests as party favors.
28. Mickey and Minnie Birthday Party Theme
Hey Mouseketeers! It is time to celebrate the Baby's First Birthday! Grab your mouse ears, invite your friends and family, and get ready for an afternoon filled with Disney Magic! Prepare a play area with toddler-friendly Disney toys, including all of the main characters, especially Mickey, Minnie, Pluto, Donald, Daisy, and Goofy. Decorate with the red, black, and white color scheme, including polka dots representing Minnie's dress. Create a fun balloon arch and backdrop for photo opportunities, and add some fun props for your guests to use as they pose for their pictures. Everyone will love this classic theme!
29. You are My Sunshine
One of the sweetest songs, "You are My Sunshine," is the perfect theme for a one-year-old birthday. With a yellow and white color scheme, decorate with daisies, sunflowers, and tulips. Yellow and white balloons either in an arch or bouquet, will add dimension and interest to your decor. Serve custom cookies with the lyrics printed on half and the other half in the shape of the sunshine. This would be a sweet party to host in an outdoor garden setting if possible. A photo wall with pictures of Baby and her favorite people (Mom, Dad, grandparents, siblings, etc.) will add a sweet personal touch to the party.
30. Baby's Sweets Shop
I can't think of a sweeter theme for a baby's first birthday than a Sweets Shop. Lollipops, candies of all shapes and sizes, licorice sticks, and gumballs set a fun and colorful scene for this party. Cupcakes with sprinkles, a variety of cookies, and a variety of finger foods create a simple yet festive refreshment table. For this party, the baby play area could include plush candies, cupcakes, and other toddler-friendly play foods. The grownups and older children can help themselves to the Candy Buffet to create their own party favor assortment of sweets. Provide baby treats for the birthday girl and those guests too young to have candy.
31. Sugar and Spice and Everything Nice
Sugar and spice and everything nice. That is what little girls are made of. Your little girl will love this pink and pretty theme that celebrates her first birthday. Pink, white, and sparkles are the color scheme for this party! Balloons, bouquets of flowers, pink lollipops, white teddy bears, and sparkly bows create the perfect setting for your birthday girl and her guests. Pink bow-shaped cookies, cupcakes covered in sugar sprinkles to make them sparkle, fruits, and simple finger foods will create the perfect refreshment table. A little tutu or fancy birthday outfit for your little one will match her party theme perfectly.
32. Frogs and Snails and Puppy Dog Tails
Frogs and snails and puppy dog tails that is what little boys are made of. Little boys love to dig in the dirt and discover all the little critters living beneath the rocks. This cute first-birthday theme celebrates all things boy! Decorate in blues and greens while using frogs, snails, and puppies as your focal points. Puppy dog cookies, frog cupcakes, and gummy worms (snails/slugs) bring the theme to life on your refreshment table. Create a play area for the babies with stuffed animals, toddler-friendly cars and trucks, and blocks. Let the children play as the adults visit and supervise.
33. ONE in a Melon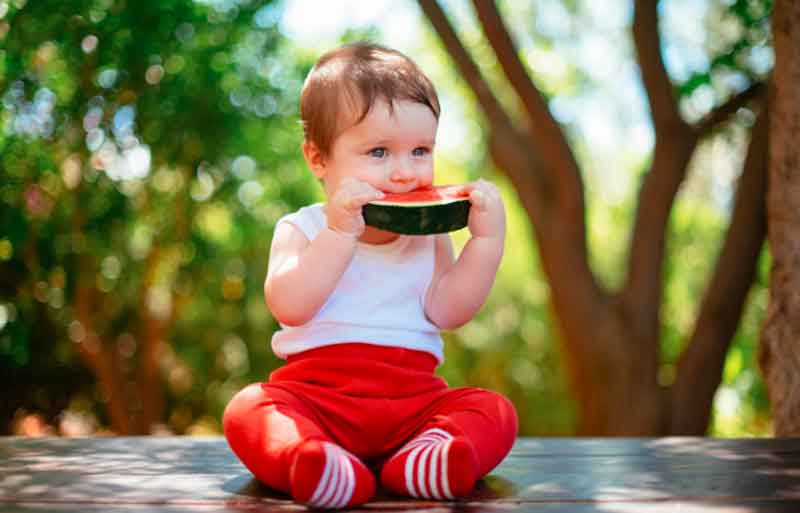 Your baby is definitely one in a million, so this play on words makes for a fun first-birthday watermelon theme for a summer birthday. Grab your picnic baskets and set up a fun picnic/cookout for this party. Decorate with watermelon, picnic supplies, and red and white checkered tablecloths. Provide outdoor toys such as bubbles and sidewalk chalk for the older children. Balls, a bubble machine, and baby riding toys can be placed in a safe area for the babies to play. Serve traditional cookout foods such as burgers and hotdogs, and don't forget the watermelon!
34. Baby is ONE-deer-ful
Does your family love the outdoors? This camouflage theme is the theme for you! Your little deer is one, and that is ONE-deer-ful! Celebrate with a camouflage color scheme, deer figures, and figures of other forest animals such as squirrels, raccoons, and birds. Pinecones and twigs would be a great addition to your decor. Use tree slice platters of all heights and sizes to create a woodsy feel on your refreshment table. Pretzel rods such as twigs, custom cookies in the shapes of forest animals, and fresh berries bring your theme to the refreshment table. This would be a great theme for an outdoor party.
35. Somewhere Over the Rainbow
Your sweet baby will love a colorful rainbow first birthday party. Create a balloon arch rainbow as the backdrop for your refreshment table and another for a photo booth. Use white fabric or pillow stuffing to create clouds around your refreshment table, and use colorful serving dishes for your treats. Create a fruit rainbow charcuterie board with small bowls of fruit dip as the clouds at the ends of the rainbow or in the center of it. Continue the colorful theme with rainbow cupcakes or cookies; as your guests leave, give them each a bag of skittles so they can "taste the rainbow" at home.
36. Twinkle, Twinkle Little Star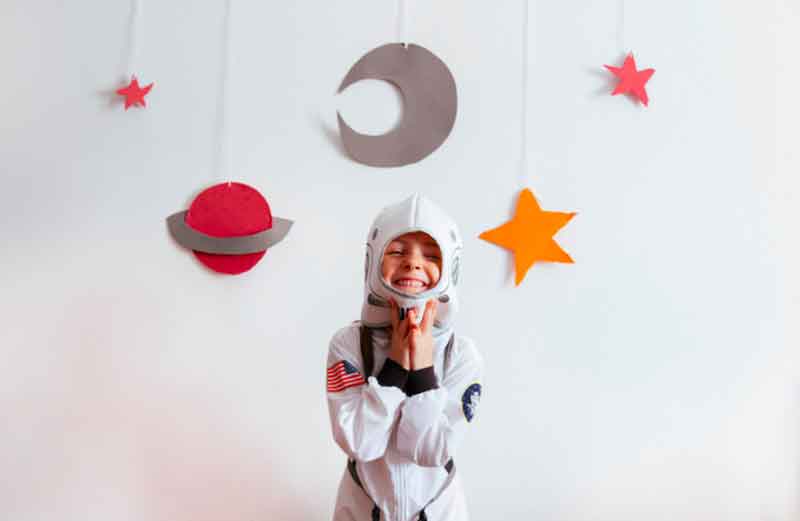 My baby loves to sing Twinkle, Twinkle Little Star. This sweet song is the perfect inspiration for a theme for a first birthday party. A navy or black backdrop covered in stars of all sizes creates the perfect backdrop for your party. Bedtime snacks can be the theme at the refreshment table. Cookies and milk, puffcorn, and star fruit would be great options. Soft, cozy areas with books and stuffed animals make the best play places for babies, toddlers, and their parents to sit and read or play during the party. Be careful! If your guests get too cozy, you may end up with a party naptime!
Related Article: Fun Party Ideas for 3-Year-Olds
37. Many Blessings Under the SUN as Baby Turns ONE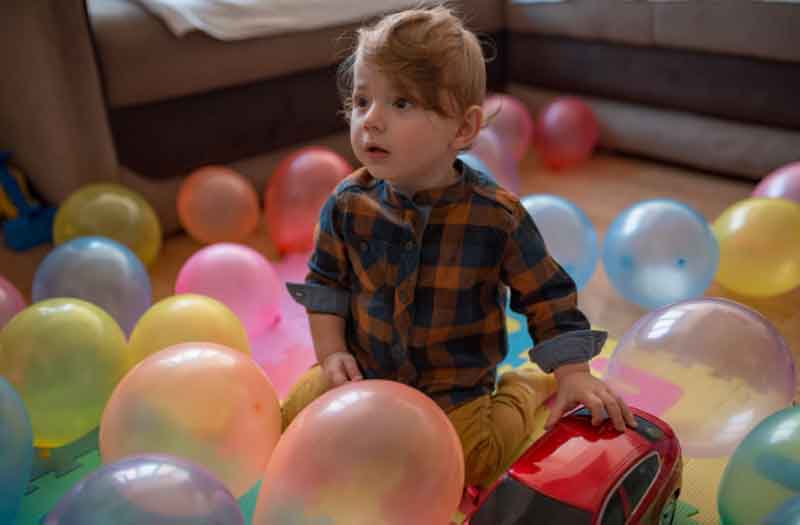 Your little one is a ray of sunshine in your world, so a party celebrating the light that she brings to your life is perfect! Decorate using yellow and white balloons. Create a large, happy sun as the focal point of your display. Sunflowers, butterflies, and bumblebees will work perfectly with this theme as well. If the weather allows, this is a great outdoor party theme. Provide toddler-friendly outdoor toys such as balls, bubble machines, and toddler riding toys. Everyone will enjoy a beautiful day in the sun as they celebrate your Little Sunshine!
38. He's a WILD ONE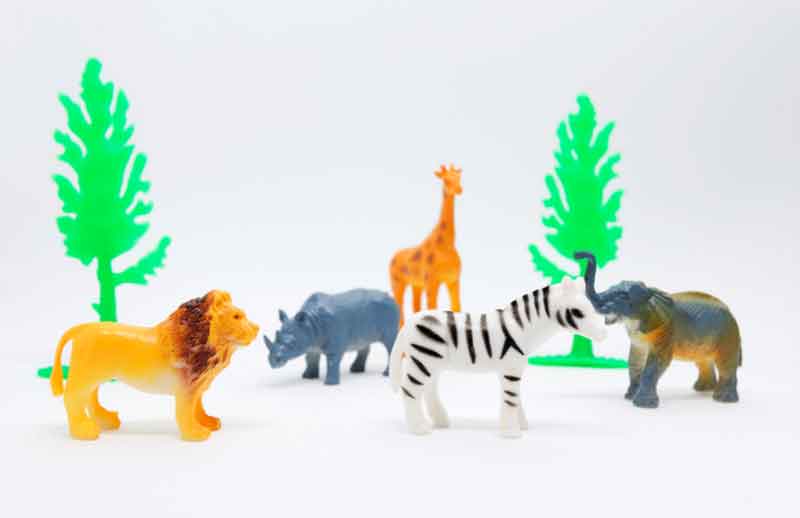 This fun Safari theme will definitely be a hit for your Wild One's first birthday party. Scatter stuffed or plastic giraffes, elephants, lions, and monkeys throughout your decorations, and include them in your baby's play area for the party. Provide safari hats for your young guests or in your photo booth props. Decorate with large jungle leaves, colorful jungle flowers, and the jungle animal toys you gathered for the party. Custom cookies in animal print add a colorful touch to your refreshment table. Provide animal crackers and fresh fruits for your youngest guests.
39. Baby Reached Level ONE
Parents who are gamers will love this theme for their little one's first birthday. Whether you prefer old-school arcade games or contemporary video games, this party will be the perfect celebration for your family and friends. Decorate with controllers and symbols from your favorite games. You could even have a few monitors set up with games available for your guests who are old enough to play. Because babies love to play with remote controls and game controllers, you can set several that do not connect with anything out for your tiniest guests to enjoy. Everyone will enjoy gaming together all afternoon.
40. Baby Turtles 1st Birthday Theme
My favorite animals are turtles, so I am always looking for ways to incorporate them in my decor. When one of my littles was turning one, I was very excited to find everything I needed for his birthday in a sweet baby turtle theme! We decorated in pastel blues and greens, creating a sweet pond scene including turtles, rocks, logs, and tall grass patches. We served fresh vegetables as "turtle food," blue punch as "pond water," and a sweet turtle cake. It was a warm summer day, so we filled wading pools with water so our little ones could play in the water like turtles.
41. Up, Up, and Away, Baby is ONE Today!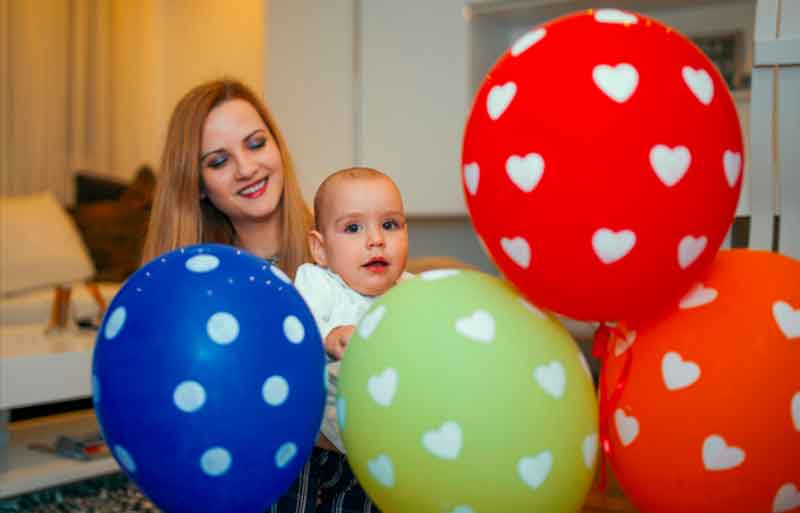 Hot air balloons are colorful, magical, and awe-inspiring. Celebrate your little one's first birthday surrounded by these beautiful balloons. You can use playground balls, big and small, dowel rods, and baskets to create the cutest props for your decorations. Put teddy bears in a couple of the baskets as if they are ready for travel. Add blue and white balloons for the sky and clouds to complete your decorations. A picnic setting for refreshments adds to the outdoor scene as if your guests are at the park enjoying a Hot Air Balloon festival or race.
42. Baby is ONE and Having a BALL!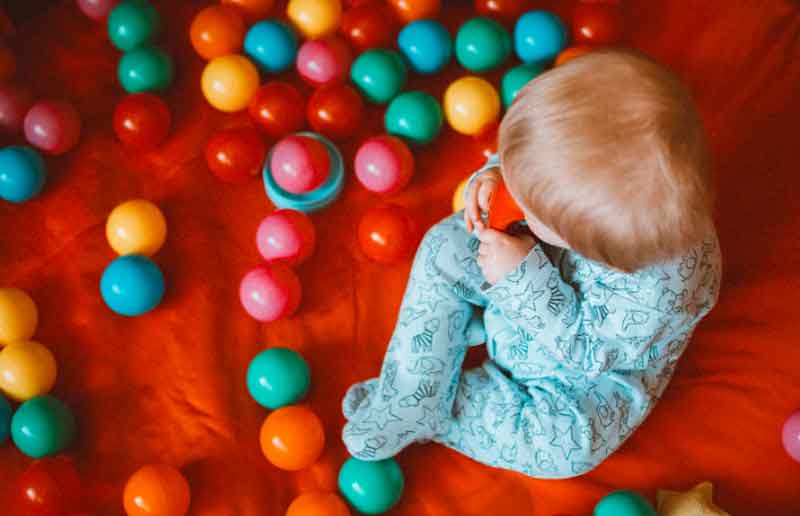 We are going to have a ball as we celebrate your little one's first birthday. Pull out the beach balls, playground balls, and toddler ball pits for an afternoon of fun and play. Bright and colorful decorations with balloons and a variety of balls set the scene for an exciting day. Serve cheese balls and popcorn balls, and use a melon baller to cut fruit into balls to create fruit kabobs. Let your toddlers play in the ball pits and play with the assortment of playground balls and beach balls. Let your little guests take a ball home with them as their party favors.
43. Llama Babies 1st Birthday Theme
A trending theme for birthdays of all ages is llamas. Create a sweet first birthday party for your one-year-old with baby llamas all around. Llama decorations, as well as plush llamas, can be found in almost every party supply store or retailer due to their popularity. Create a safe play area for the little ones at your party. Include some of the stuffed animal llamas along with a variety of toddler toys. Simple finger foods, custom-made llama cookies, and a sweet llama cake will make the perfect assortment of refreshments. Remember to include baby and toddler-friendly snacks as well.
44. Sesame Street Birthday Party Theme
Can you tell me how to get to Sesame Street? Everyone will want to come to this classic celebration of your one-year-old! With bright decorations using primary colors, balloons, building blocks, crayons, and, of course, all of our favorite Sesame Street characters, this will be a fun, colorful party. Create a playlist of Sesame Street songs to play in the background of your party, and provide toddler-friendly Sesame Street toys in a safe area for your little guests to play. Oscar and his pet Slimy love dirt pudding with gummy worms. Cookie Monster couldn't imagine a party without cookies. Be creative and have fun with this theme!
45. Fairy Garden Party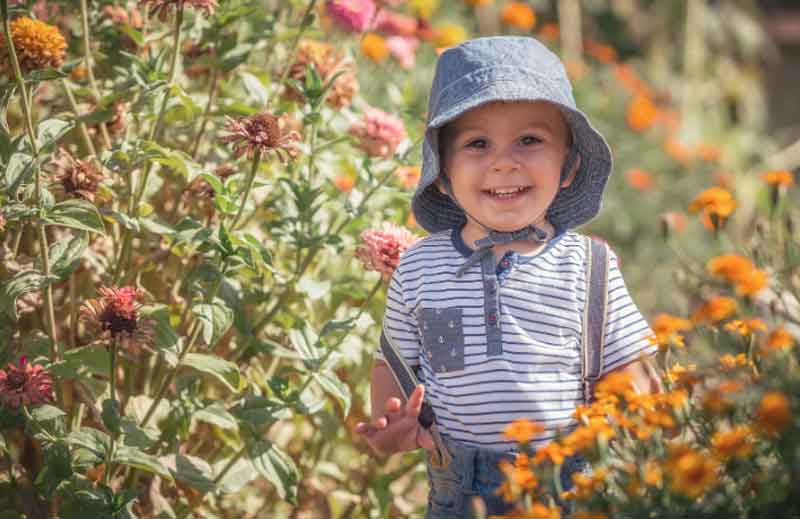 Invite your family and friends to enter the secret land of fairies with you as you celebrate your sweet one-year-old. A flower garden would be the ideal venue for this party, but if that is not an option, you can create your own magical garden using beautiful bouquets of flowers and greenery. Place fairy houses and fairies throughout your decor and on the refreshment table for your guests to find. Fruits, vegetables, and finger sandwiches create an enchanted garden party picnic for your guests. Create a beautiful photo backdrop with flowers, a balloon arch, and fairies.
46. SomeBUNNY is ONE
Everyone loves soft and fluffy bunnies making this an adorable first birthday party theme. Set the scene for your party with balloons, flowers, and stuffed animal bunnies. Do you know anyone with pet rabbits? Invite them to bring the rabbits to the party for the sweetest photo opportunities for your baby and your guests. Create a photo booth using a white garden bench and flowers. Carrots and other veggies are a must-have for a bunny-themed refreshment table. Add carrot cake, finger foods, and punch to complete the refreshment spread. Your snuggle bunny is going to love this party.
47. Baby Moana 1st Birthday Theme
One of the sweetest Disney characters is Baby Moana. Celebrate your baby with a Baby Moana first birthday party. Seashells, tropical flowers, pineapples, and sailboats with blue and white accents representing the ocean will create a beautiful setting for this party theme. Set up wading pools with water to create a beach for the babies in attendance. Create a playlist of songs from Moana and other beach-themed songs to play in the background as your guests supervise the water play and visit with one another. Tropical fruits, yogurt bites for the babies, and finger foods are ideal for this party's refreshment spread.
48. Boss Baby is ONE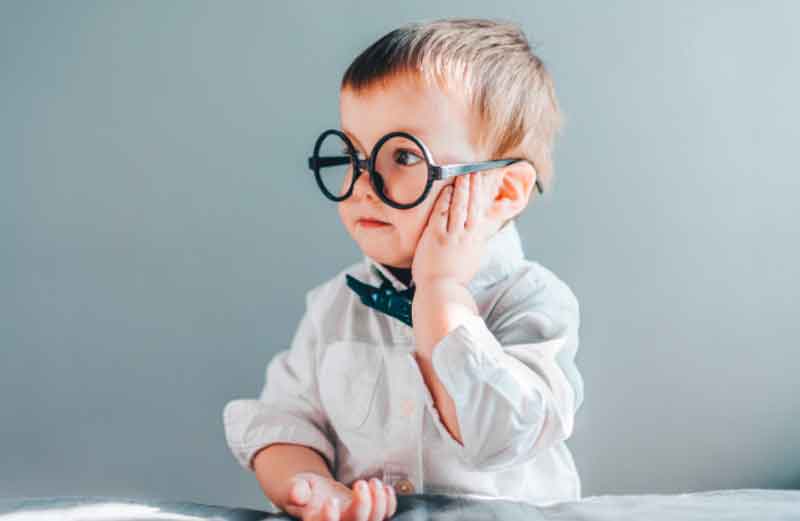 Everyone knows who is really in charge of your family. Say what you want, but we know Boss Baby calls the shots, making it obvious that you need to host a Boss Baby party for your one-year-old. Use briefcases, old cellphones, laptops, and other office supplies to set the scene for this party. Provide office props such as neckties, suit coats, briefcases, and clipboards as photo booth props for your guests. Set up a desk and desk chair with a fun backdrop for your photo booth. Create an office break room table for your refreshments using post-it notes to label your treats.
49. Peppa Pig 1st Birthday Party Theme
A favorite character of many little ones is Peppa Pig. This precious character is a great theme for a first birthday party. Create a fun backdrop for your party featuring Peppa Pig's house and family. Gather a variety of toddler-friendly Peppa Pig toys for the babies to play with during the party. You could even give each little guest a small Peppa Pig toy as their party favor. Peppa Pig loves spaghetti! Consider a spaghetti dinner with mud puddles (chocolate pudding) for dessert. Add fresh fruits and veggies, and your party refreshments are complete. Your guests will love the creative meal and theme!
50. Our Little Pumpkin is ONE!
My favorite season is fall, so I love any excuse to throw a pumpkin party. If your baby has a fall birthday, this party is for you! Go to your local pumpkin patch and purchase pumpkins of all sizes to prepare for this theme. You will use them in your decorations and for a project for your guests. Grab some washable paint, disposable tablecloths, and paintbrushes as you shop. Decorate the party space with your fall items. Once guests arrive, allow each older child time to decorate their pumpkins. For the babies who are too young to paint, recruit a couple of volunteers to help paint their hands and feet to do prints on their pumpkins.
51. Hugs and Kisses, xoxoxox 1st Birthday Theme
There is nothing more lovable than your sweet one-year-old. This theme will celebrate all of your snuggles, hugs, and kisses. Choose a color scheme that best represents you and your family. Once you have chosen the colors, you are ready to shop for decorations at your local party supply store. For this theme, basic decorations are best. You will add pictures of your little one all around the party space. A photo wall will highlight your favorite moments from the past year. Every centerpiece will have a picture of your little one incorporated into the design. Don't forget to include x's and o's in your decor.
52. Prince Charming is ONE
Royal parties are not just for little girls. Your prince can celebrate royally as well! Decorate in blues, whites, and gold to create a regal party space. Your prince must have a crown at his royal party as well. A photo backdrop with a large balloon number 1, balloon art in blues and whites, and crowns will add a touch of fun to this party theme. Your prince and his friends can play with his toys as their parents visit and supervise. Serve finger foods and cupcakes as your refreshments along with your cake and punch.
53. You've Got a Friend in Me Birthday Theme
Is your little one your best friend? Celebrate this sweet baby with a Toy Story first birthday party. Decorations and supplies for this popular theme can be found in almost every party supply store. Find Toy Story toys that are toddler safe and place them around the room as decorations, but also in the play area where the babies will spend most of the party. You could have the movie or soundtrack playing in the background of the party. An obvious treat for this party would be "Pizza Planet" pizzas! Add a sweet smash cake and a cake for your guests and this party is complete!
54. So SWEET to Be ONE
This sweet theme is all about your baby and cupcakes! Decorate in soft pastels of pinks or blues, cupcake balloons, traditional balloons, banners, and streamers. Add floral centerpieces for a more elegant effect or balloon centerpieces for an aspect of fun. Your baby's smash cake can be an oversized cupcake decorated to match the cupcakes you serve your guests. Add a few fresh fruits, veggies, and other finger foods to the refreshment table to add a savory component and complete the spread. Find a cupcake-themed notebook or journal and ask your guests to write sweet, encouraging notes for your baby to read on her twelfth birthday as she is entering adolescence or on her eighteenth birthday as she is entering adulthood.
Popular Article: Fun and Exciting 4th Birthday Party Ideas
55. The Birthday Express
My little boy loves to watch trains as they pass our church. We have to stop and watch until the final car is out of sight. Most little ones are just like him and would love a Birthday Express train their first birthday! You can purchase moving boxes from most large department stores. Purchase five or six boxes, paint them as train cars with one painted as the engine, and line them together, creating a train your baby and his friends can sit in to play or for photos. Use toy trains and railroad signs to decorate your refreshment table. Provide toddler-friendly trains for the baby play area during the party.
56. Milk and Cookies 1st Birthday Theme
Baby Cookie Monster wants to celebrate your little one on his first birthday with a milk and cookies party. Decorating in blues, whites, and browns (for the cookies), create a fun party space with Cookie Monster as your spotlighted character. Use vintage-style glass milk bottles to serve your milk and fun cookie jars filled with cookies. If you still want the tradition of a smash cake, a cookie jar or Cookie Monster cake would be a fun option. Provide a safe play area for the babies and toddlers at your party with toddler-friendly Cookie Monster toys and other favorite toys that belong to your little one.
57. Vintage Carousel 1st Birthday Theme
Classic, vintage carousels are beautiful and nostalgic for everyone making this theme heartwarming and elegant. If you can find an actual carousel horse, grab it and make it the focal point of your party. Decorate in Victorian pinks, golds, and whites, with floral and balloon accents. If you don't have access to an actual carousel horse (because most of us don't), browse the trinket aisles of hobby stores or online to find carousel figurines or decorations. Serve finger sandwiches, custom cookies, and other delicate items to complete the elegant vintage experience.
58. Hello Kitty 1st Birthday Theme
If you were like me, you grew up loving Hello Kitty. Part of the fun of planning baby birthday parties is introducing them to your past, and this party theme is the perfect example! Decorating with a pink, black, and white color scheme, throw in as many Hello Kitty accents as possible. Hello Kitty items are a little more difficult to find in traditional stores but can easily be found online. Create a play area with toddler-safe Hello Kitty toys and a variety of balls, blocks, and books. Serve simple finger foods and a sweet Hello Kitty cake as your refreshments.
59. Peacocks 1st Birthday Theme
Celebrate your one-year-old with a bold and majestic peacock theme. Use brilliant purples, teals, blues, and greens in your decorations. Incorporate peacock feathers in floral arrangements to make gorgeous centerpieces for your refreshment table. Create a beautiful photo backdrop with a balloon arch with peacock feathers scattered throughout. Make a party favor and candy table using glass jars filled with themed candies and treats. Parents can fill the party favor boxes with items for themselves and their littles. Remember to include toddler and baby-friendly snacks and treats on this table.
60. My Little ANGEL is ONE
Celebrate your little angel with an angel-themed first birthday party. Feathers, wings, white balloons representing clouds, and pink accents create an angelic setting for this party. Want to add a personal touch? Before the party, do a photo shoot of your little angel in a sweet tutu and angel wings. Display these pictures throughout your party space as centerpieces, wall decor, and on your refreshment table. Serve cotton candy (clouds), pretzel twists dipped in white chocolate and sugar sprinkles (angel wings), and other simple finger foods for your guests to enjoy. Create a sweet photo backdrop and provide angel wings and halos as props for your guests to use on themselves or their babies.
61. Flowers 1st Birthday Theme
Create a beautifully elegant birthday party for your one-year-old using a floral theme. At your local craft store, purchase a large number one and cover it with flowers of your choice, making a floral collage. You may choose to make multiple number ones to use throughout the party space. Using the color scheme you chose with those flowers, create beautiful floral centerpieces and garlands. A cake covered in flowers, flower-shaped cookies, and fruit cut into flower shapes adds an elegant feel to your refreshment table. You could make floral corsages for yourself and your baby's grandmothers to wear at the party, honoring their relationships with the birthday girl. If you're looking for baby girl 1st birthday party theme ideas, this is a great one.
62. Butterflies 1st Birthday Theme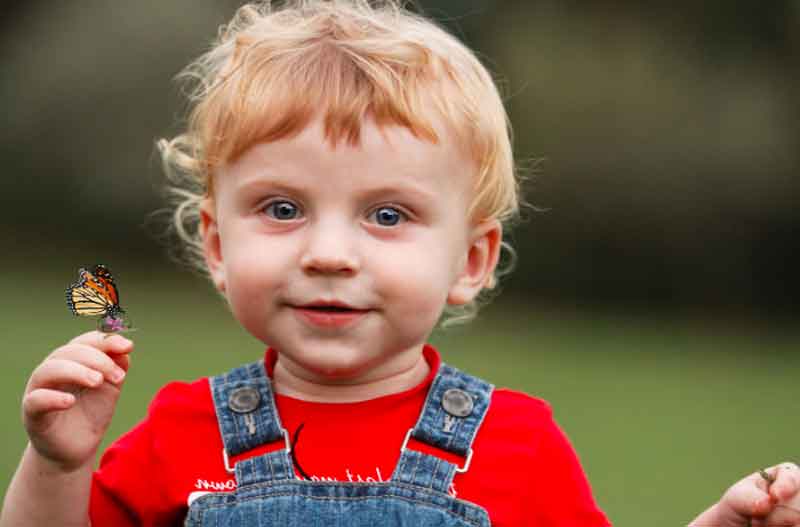 Butterflies are whimsically beautiful and a wonderful theme to use for your little one's first birthday party. Choose your color scheme based on your favorite butterfly decorations. Use balloons, flowers, and butterflies to fill the room with whimsy and fun. Butterfly cookies, fruits, veggies, pretzel rods dipped in chocolate with colorful sprinkles, and other finger foods make a colorful spread on the refreshment table. Bubbles are a fun addition to this theme as well. Use bubble machines in the baby's play area for the party allowing the little ones to safely chase the bubbles.
63. Baby Chicks on the Farm 1st Birthday Theme
Celebrate your little chick with this sweet baby chick theme for his first birthday. With a classic red barn backdrop, you can add yellow and blue balloons, stuffed animal chicks, and white fences to your decor, creating a little barnyard full of chicks for your decor and photo backdrop. Use balloons as the backdrop for your refreshment table, and place a toy barn as your refreshment centerpiece. Serve custom cookies shaped like chicks, barns, and the number one. Provide toddler-friendly barn toys for the babies to play with as the adults visit. Your little chick will enjoy time with his family and friends at this sweet party.
64. Sugarplum Fairy 1st Birthday Theme
Does your daughter have a December birthday? Celebrate the tradition of the Nutcracker with this Sugarplum Fairy theme. Create the Sugarplum Fairy's Land of Sweets using large lollipops, Christmas trees with candy ornaments, and gingerbread boys and girls. Request a ballerina from a local dance studio to come to the party and do the Sugarplum Fairy's dance for your guests or recruit a volunteer to dress up and sit for photos with the little ones. Serve beautiful cookies, candies, cupcakes, and finger foods as your refreshments. Play the Nutcracker soundtrack as background for your party.
65. Penguins 1st Birthday Theme
Igloos, snow, and penguins set the cutest scene for this first birthday party theme. Decorating with icy blues, black, and white will create a fun wintry setting for the event. Set up a hot chocolate bar with marshmallows, a variety of hot chocolate bombs, peppermint spoons, and whipped topping for your guests to enjoy. Cozy foods such as chili and soups will warm your guests from the inside out. Penguin and igloo cookies, cupcakes frosted with white icing and sugar glitter, and peppermint bark will be a sweet touch to the refreshment table. Your guests and your little one will love this fun theme!
66. The Very Hungry Caterpillar 1st Birthday Theme
Everyone loves the classic book, The Very Hungry Caterpillar. This colorful story sets the stage for the perfect one-year-old birthday party. For your decorations, go through the book and create images that reflect those in the story. A giant leaf with a hole eaten through it, the little caterpillar and all of the foods that he tried, and finally, the butterfly at the end of the story. Pull your refreshment ideas straight from the book as well. Order custom cookies decorated like the foods he tried with holes eaten out of them. Add gummy worms to represent the caterpillar. At your photo booth, have props of the foods for your guests to hold as if they are the caterpillar.
67. EXTRA, EXTRA, Baby is ONE
Set up a newsstand and grab newspapers of all kinds for this sweet party. Write up an article featuring everything there is to know about your baby, print them out, and roll them like paper to use as party favors for your guests. Use black tablecloths and incorporate newspapers and black and white balloons in your centerpieces. Serve a variety of finger foods as well as custom cookies that look like newspapers. Dress your little one in a sweet button-up, shorts with suspenders, and a newsies hat for his special day. This party will be headline-worthy and the talk of the town!
68. Little Man is ONE
Your little man is one and growing so fast! Before you know it, he will have a mustache. Jump onto the mustache trend with a cute mustache theme for your little one's first birthday party. You cannot have a mustache party without a photo booth with mustache props, mustache cupcake toppers, and mustache decorations. Choose your color scheme, then add a mustache to every aspect of the decorations! Mustache-shaped cookies, a mustache smash cake, and a variety of finger foods will create the perfect refreshment table for your guests to enjoy. This party will be filled with fun and laughter as everyone plays with the photo props and enjoys the food.
69. Sock Monkey 1st Birthday Theme
The classic sock monkey theme is a timeless option for celebrating your little monkey. Gather up sock monkeys of all sizes to use throughout the decor and in the baby play area for the party. Using a red, white, and tan theme, create a balloon display as the backdrop for your space. Serve fresh bananas, banana pudding, and banana chips, along with your other refreshments for the day. Purchase smaller sock monkeys to give your younger guests as party favors as they leave. Everyone will love such a thoughtful gift from you and your little one.
70. Care Bears 1st Birthday Theme
My sister and I loved Care Bears when we were little and were both excited to share them with our children when they were released again in recent years. These colorful and loving bears make a great theme for a first birthday party. You can find sets of care bears at many local retailers or order them online. Use them in your decorations and in the play areas you set up for your youngest guests. Include rainbows and clouds in your decorations, and use balloons to create a festive space. Serve a variety of colorful fruits, cupcakes, cookies, and other treats for a festive refreshment table.
Wrap Up:
That does it for this list. Let us know if there are any fun ideas we should add in the comments section below.