You only turn six once in your life. With that in mind, it's of absolute importance to make this a very special moment for your child and turn it into a landmark event that they'll talk about for the rest of their lives. That's why we decided to put together an awesome list of fun birthday party ideas for 6-year-olds.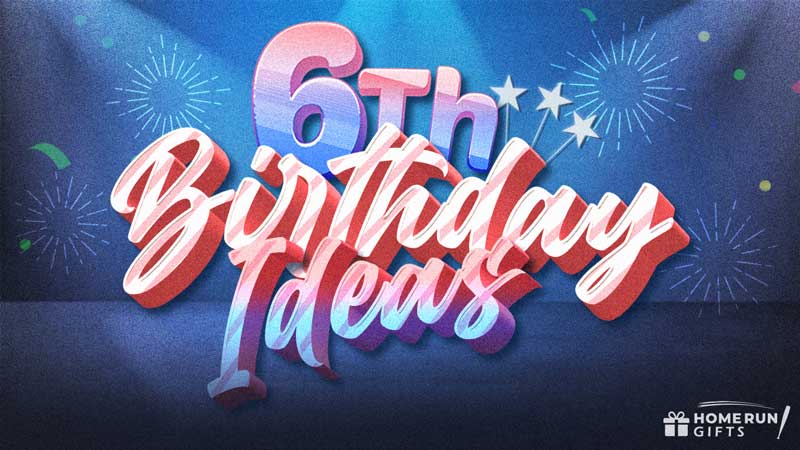 The list below has a ton of ideas for both boys and girls that will surely make lifetime memories.
1. Visit a Museum or Science Center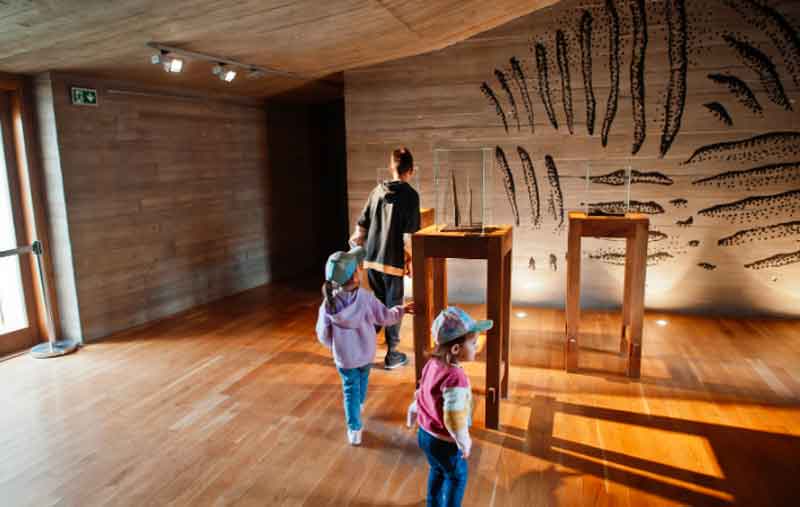 To some, a visit to a museum or any form of scientific center might not seem like the most fun idea ever. But if you have proper guidance for this sort of event, you could create a fun, engaging, and educational event.For the most part, however, we'd recommend this to anyone whose kid is already showing signs of interest in specific fields. And we're absolutely sure that there are even young kids out there interested in astronomy, for instance. Also, we'd recommend this to a relatively smaller group since bringing kids in larger numbers could be a challenge to organize, especially if they're not all interested in the matter at hand.
2. Outdoor Camping Trip with Friends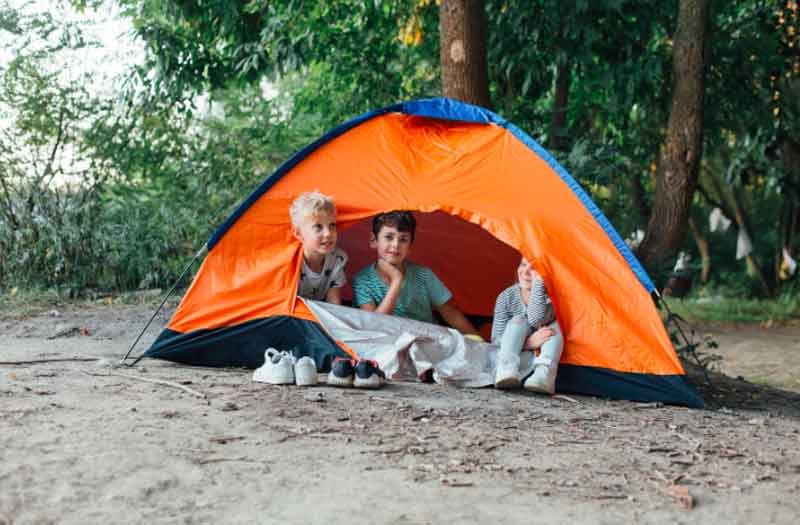 It might not be for everyone's taste and skills, and it might not be for all locations, but if you can organize a short camping trip for a birthday, then you should absolutely do it. Of course, just like with everything, safety is the absolute priority. So it's the best idea to do it if it's a relatively smaller group and if you're going to a safe location. Most popular camping places should be okay but make sure that you have everything under control.If you're really into camping, then this shouldn't be much of an issue for you. And, of course, if your kid is also interested in such a birthday party.
3. Laser Tag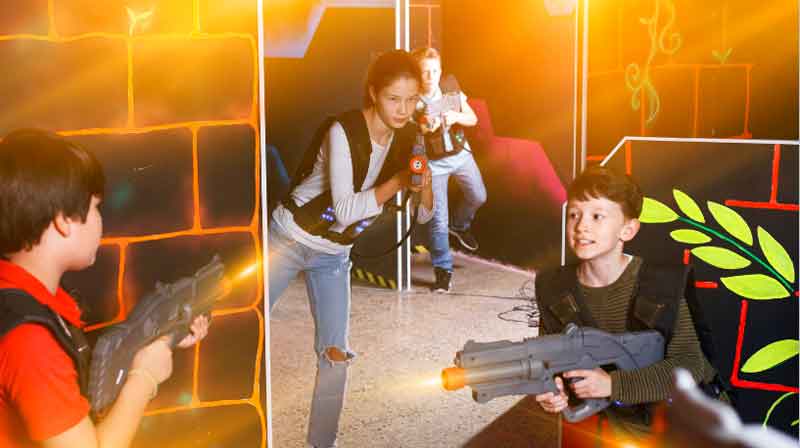 Another super fun activity for a 6-year-old is a simple laser tag party. Of all the listed activities here, this one is probably the most physically active one. So it's a great choice if you're aiming for that. Just bear in mind that at least a couple of parents should join in on the fun as well. But other than that, it's safe, it's fun, it's incredibly engaging, and we're sure that your kid will love it. And they'll probably ask for more.
4. Trampoline Park Party
Indoor or outdoor trampoline parks are getting more and more popular each year. While the idea might seem a bit out there to some, trust us when we say that both kids and parents will be thankful for this choice. Not only is it incredibly fun but by the time the party is over, all the kids will be so exhausted that they'll want to go straight to bed.But all kidding aside, you'll get some great memories here. However, make sure that the excessive jumping session comes before the main meal.
5. Mini Golf Outing
Those who say that they dislike mini golf either haven't tried it or haven't tried it enough. What's really great about it is that it's fun for all ages. Seriously, this is a great birthday party idea for 6-year-olds, 36-year-olds, and even 86-year-olds.Mini golf courses have a variety of creative obstacles, but you can make things even more interesting with customized scorecards. You can also offer prizes for the top performers. Additionally, you can make the event more festive by incorporating decorations like balloons or streamers. Mini-golf outings are often available at local parks or indoor venues, so be sure to book in advance.
5. Go-Kart Racing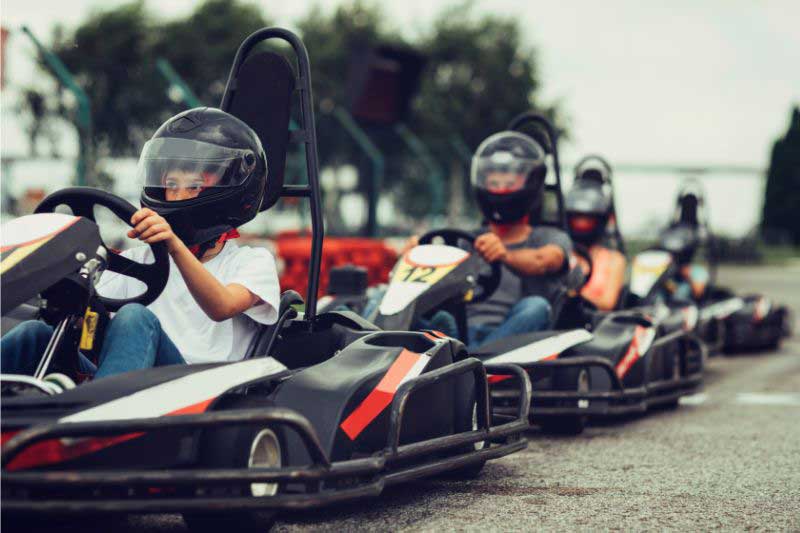 While some parents may get an immediate panic attack from the very thought of taking their kids to go-carting, there's absolutely no reason for that. The sport has advanced so much and has become so popular that it's pretty safe to do at any age.
Of course, this doesn't mean that you shouldn't pick the right track for your young one's 6th birthday. But once you do, know that you've changed their life forever and that you're making heartwarming memories that will last for a lifetime. One day, they'll look back and be grateful for such an awesome experience.
7. Escape Room Challenge
But with an escape room challenge, you'll have a different sort of engagement. Instead of a mostly physically-oriented activity, your kid will get the chance to engage their grey matter in an escape room challenge. Along with an exciting story that each escape room experience provides, there will be a set of riddles and puzzles to solve.
And in addition to that, everyone will get the chance to work together on this. So it's more than just a random challenge but rather a full-on adventure designed to make them all work together.
8. Visit an Amusement Park
This is a pretty simple and obvious pick. After all, who doesn't love amusement parks? You can spend an entire day of quality fun, taking a variety of rides and eating all the snacks that you want.
The downside, however, is that, depending on where you live, getting to a good amusement park could take some time. So in case, you decide to go with this decision, bear in mind that you'll most likely have to spend an entire day on it. And if you're taking a lot of kids with you, make sure to rent a safe transport and have more adults to accompany you.
9. Outdoor Adventure Day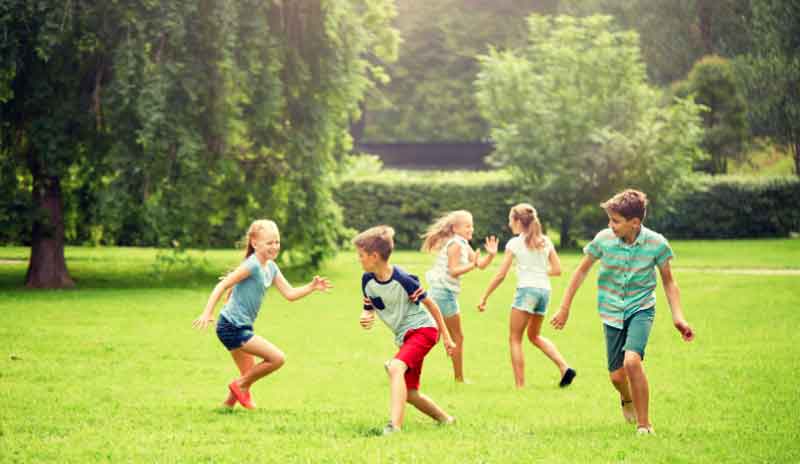 This is probably the simplest, cheapest, and yet potentially the most exciting way to celebrate a birthday. And if there's a park, a picnic area, or even a nature reserve, these could serve as a great way to go. You'll have to rely on your imagination a little, but it's so easy to make things fun and engaging, even if it's a simple barbecue and Pokémon GO.Either way, an outdoor adventure activity is one of the healthiest ways to celebrate a birthday. It's so simple to pull it off, but it might be tricky if the birthday is during the winter time or if you're in a region where the weather is a bit unpredictable. If you're looking for outdoor birthday party ideas for 6-year-olds, then this is a great one.
10. Scavenger Hunt
To kind of continue off on the previous entry, a scavenger hunt is a more defined outdoor activity rather than just an "adventure." What's awesome about it is that you could do it in your own yard or even rent a small home with a yard on the outskirts of the town, and you could set up a simple scavenger hunt.
The best part is that you can do something very simple. Create a list of items for your kids to find in the backyard or around the neighborhood, and give them clues to help them in their search. You can even make it a team competition and have a prize for the winners.
11. Indoor Obstacle Course
In case you're really into physical activity and focusing on this aspect of the birthday party, and yet the weather keeps failing out on you, then an indoor activity is a good way to go. However, in order to make things interesting, an obstacle course from the comfort of your home would be a great idea.
This is another example of how you can put your imagination to the test. You don't even really need to spend a lot in order to create a fun and engaging obstacle course. However, just make sure to create a safe environment. You don't want any unnecessary injuries to ruin the party.
12. Movie Marathon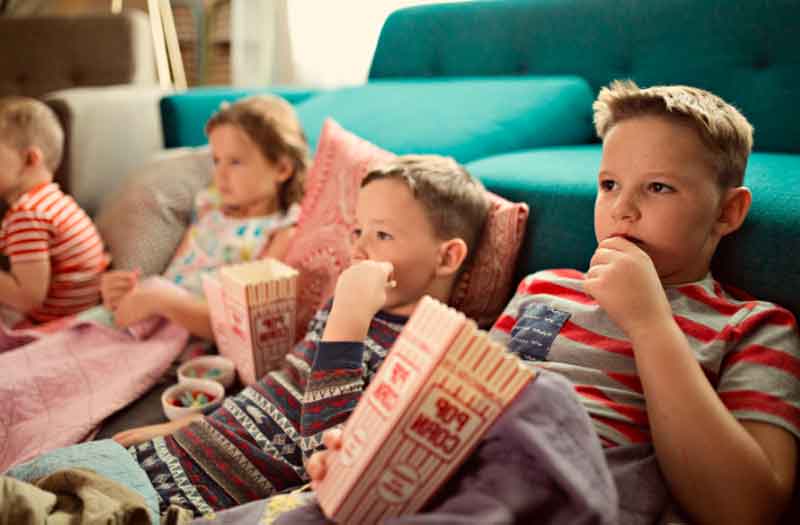 In case you're tired of running, and we believe a lot of parents are due to the everyday duty of being a parent, then another sort of marathon can come in as a great idea. Of course, there should be a list of films prepared in advance. And, most importantly, you should prepare all the snacks in time.Another thing to bear in mind is the order of films played and when you're planning to bring out the birthday cake. Additionally, it's also probably a good idea to combine this with a few other tricks and surprises. For instance, while your kid is distracted with one of their favorite films, you put an additional present you planned on the table. So be creative.
13. Talent Show
Gathering a group of youngsters is always a challenge. But if you want to entertain a bunch of kids at a 6-year-old's birthday party, you can literally turn them into an audience and turn their focus to a show. And not just any show but a talent show.
Now, this is far more than just a creative way to curate a party with the purpose of avoiding all-out chaos. This way, you'll allow them to explore their talents, accept each other, and experience what it's like to perform in front of people.
14. Cooking Class
Yes, it might sound too ambitious. And yes, it does sound like a potential mess. But if you find a way to make it work, a simple cooking class is both fun and super-educational. And besides, it's a great way to help your kid get a useful (and awesome) hobby and learn a thing or two about doing chores as well.
For this one, we'd recommend that you find someone responsible for curating the whole event. It doesn't have to be a whole party dedicated to cooking, so a 30 to 45-minute class is more than enough.
15. Painting Class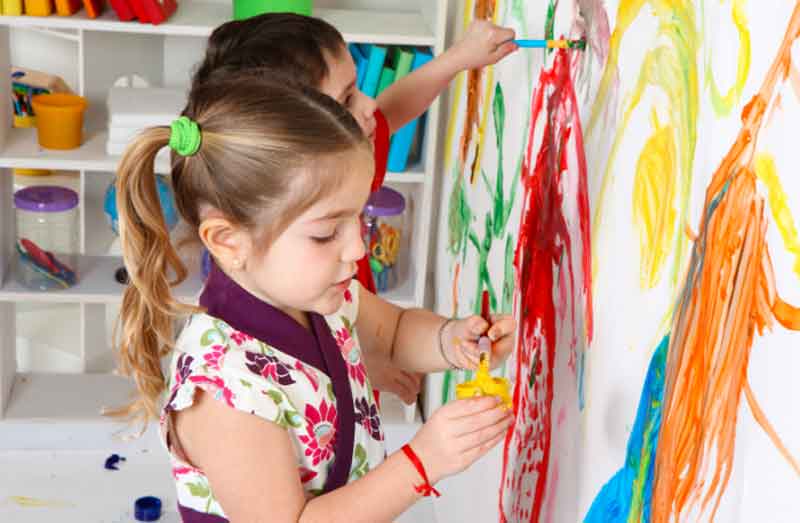 Maybe not as extraordinary compared to a cooking class, but a simple painting session can be really fun. And probably far less messy. Either way, it's one of the easiest and most engaging ways to stimulate your kid to be more creative.
Although you could technically do this on your own, we always suggest that you find professional guidance. There are plenty of artists out there who are focused on teaching art to kids.
16. DIY Photo Booth
A photo booth is a fun and easy way to capture memories of your child's 6th birthday party. You can set up a simple backdrop using a sheet or a piece of fabric and provide a variety of props such as hats, glasses, boas, and whatever comes to mind.
Encourage the kids to take silly pictures and even make funny faces. You can also print out the photos and send them home as a party favor. What better way to make memories than giving out physical photographs of the event?
17. Science Experiment Party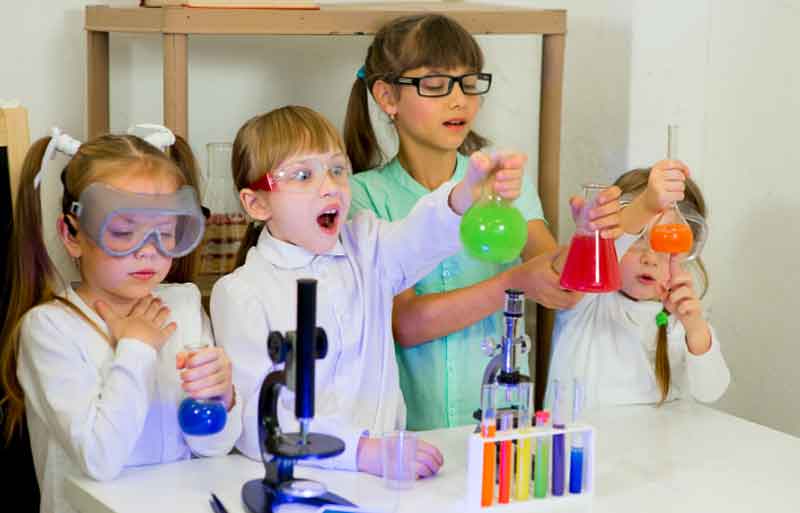 A science experiment party is an excellent idea for children who love science and learning. You can set up a variety of experiments and activities that are both fun and educational.
And before you start worrying, know that there are so many simple and safe home experiments to try. Some ideas for science experiments include making slime or creating a volcano. You can also set up a station for the children to create their own lava lamps or make their own crystals.
However, make sure to have adult supervision for this activity and provide each child with protective eyewear and gloves. Preferably, you should have someone qualified to curate this event.
18. Art Studio Day
For lovers of the art of any kind, a makeshift art studio can make for one wild party and be accommodated for literally any age. Apart from painting, you can bring in pottery, sculpting, origami or maybe even some forms of digital art.
Although doing this from home would be awesome, attending an art studio for kids sounds like a more viable option. Either way, it's a pretty great engaging way that would spark their creativity and imagination.
19. Baking and Decorating Cupcakes
This is a really simple one to pull off. Now, just like with the cooking class, find someone to help you with the process. What's kind of better with this particular option, however, is that it's more focused and simpler. You're just making cupcakes instead of meals. Additionally, you allow for some creativity when decorating these. Not to mention that everyone, both kids and parents, will get to eat them. Just make sure that everyone washes their hands before the baking starts.
20. Swimming at the Local Pool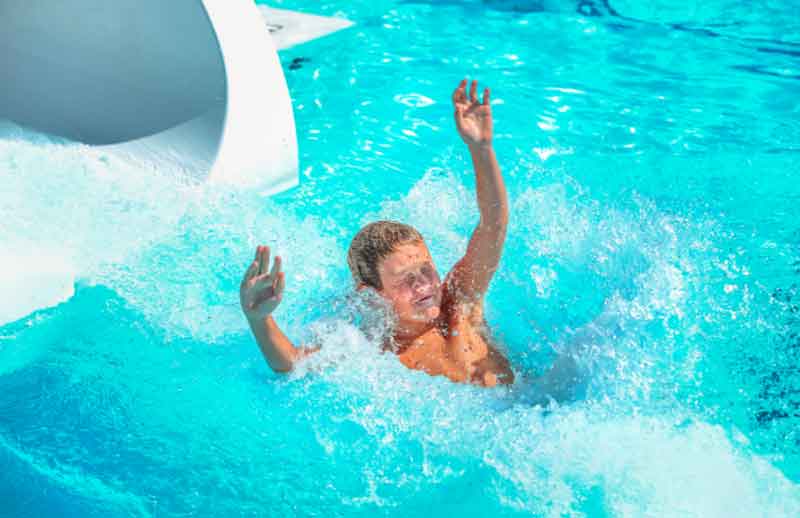 Hosting a pool party for your child's 6th birthday is a great way to keep the party guests cool and entertained. A local pool can be a great option for this type of party, as it often provides a variety of activities, such as diving boards, water slides, and a kiddie pool. Just make sure to have plenty of sunscreen and towels available for all guests.You could also provide some fun pool toys like inflatable rafts, water guns, or beach balls to keep everyone having a good time. Additionally, you can make the party more festive by serving snacks like popsicles, fresh fruit, or watermelon.
21. Bowling
In all honesty, bowling is always a good idea, no matter the occasion. And teaching kids to bowl in time will only make their lives better! But seriously, it's an activity that you just can't go wrong with.
Of course, it will be up to you to find a bowling alley that's kid-friendly, and that will suit your needs. But this shouldn't be a difficult task anyway.
Popular Related Article: Exciting Birthday Party Ideas for 7-Year-Olds
22. Playground Day with Friends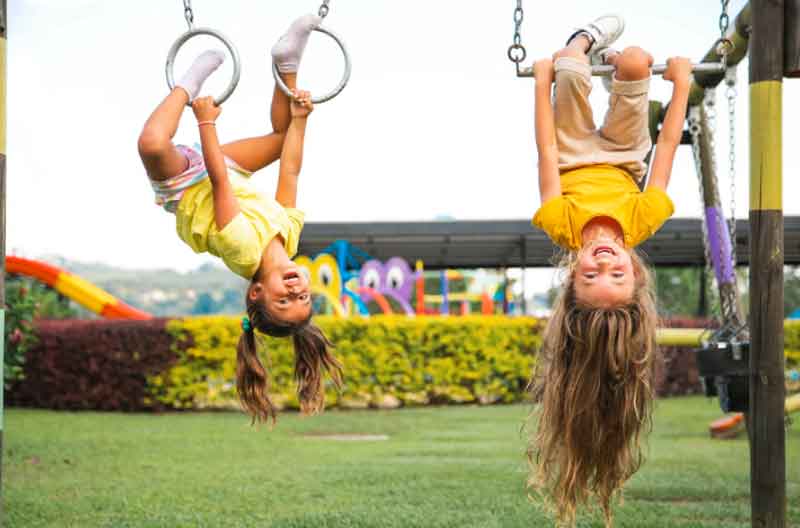 You know, all these ideas seem a bit too complicated, don't they? What happened to the simple careless fun at the local playground? Sure, all of these choices listed above are all great. But there's nothing that could replace an old-fashioned day at the playground.For this purpose, however, you'll probably need the same organization as with the outdoor adventure thing that we mentioned. Come up with how much food, beverages, and other things you'll need. Think about the logistics if you decide to do this one.
23. Teddy Bear Picnic
A somewhat specific idea for an activity, a teddy bear picnic, is actually a thing. In fact, if your kid's birthday is on July 10 and if they're into plush toys, then this is probably the best thing that you can do for them. This is, in fact, a Teddy Bear Picnic Day.
The same rules apply as with any other DIY outdoor activity on this list. The only difference is that you'll need a bunch of teddy bears to make it all work!
24. Dress-Up Day with a Fashion Show
From their earliest years, some kids show interest in specific activities or art forms. If you see that your kid is interested in some sort of dressing up or even fashion, a homemade fashion show might just do the trick!
Of course, for this occasion, we recommend giving it a certain theme, something to give the event some direction. Or, you could just go freestyle and let everyone express themselves and dress up the way they want to!
25. DIY Slime Party
Yes, we know what you're thinking; it will be a mess. But believe it or not, you can actually minimize any potential mess or even do a mess-free slime party. And if you sort everything out and do it the proper way, we guarantee that parents will have as much fun as the kids at the party!
26. Karaoke Party With a Karaoke Contest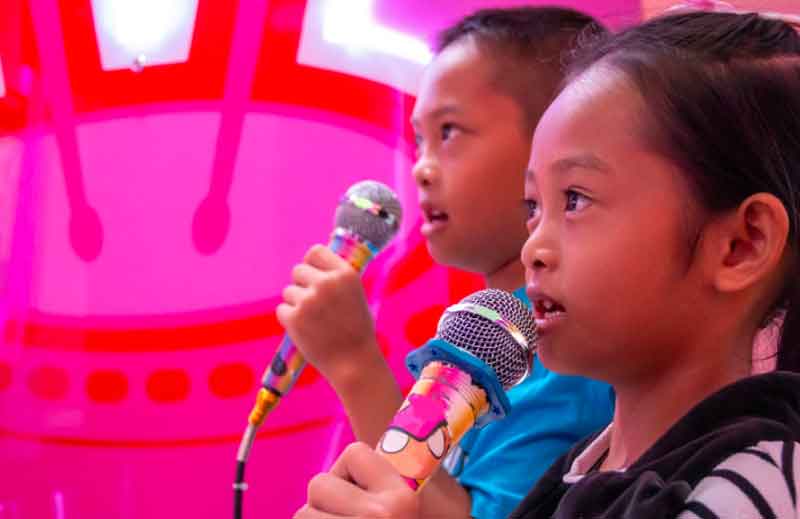 If your kid shows interest in music at an early age, it's of absolute importance to support them on their path. It's one of the best hobbies to pursue. If you feel like your 6-year-old finds interest in that, then a simple karaoke party with a simple contest will be a great idea.You could also come up with awards. However, since we're talking about pretty young kids, find ways to compliment every participant's performance with some sort of acknowledgment or a small reward in a made-up category.
27. Create Your Own Ice Cream Sundae Bar
Because who doesn't love ice cream, right? And no, it doesn't have to be summer in order to enjoy your favorite treat. So take things to a whole new level and come up with your own ice cream sundae bar. Take things one step further and allow kids to make their own custom orders from your menu. We guarantee that this is one of the safest ways to have a great birthday party.
28. DIY Bath Bomb Making
Do you remember the science experiment party that we mentioned above? Well, this is kind of the same thing, only more specific. You can turn this into a real science class and explain what each ingredient in a bath bomb does. Finally, everyone will get to take their custom-made bath bombs back home. This gives a new twist to your birthday party as it's not only a fun and creative idea, but technically, everyone will go home with a gift. Also, once again, we advise that you have somewhat experience with these ingredients to curate the process.
29. Bubble Party with Bubble Makers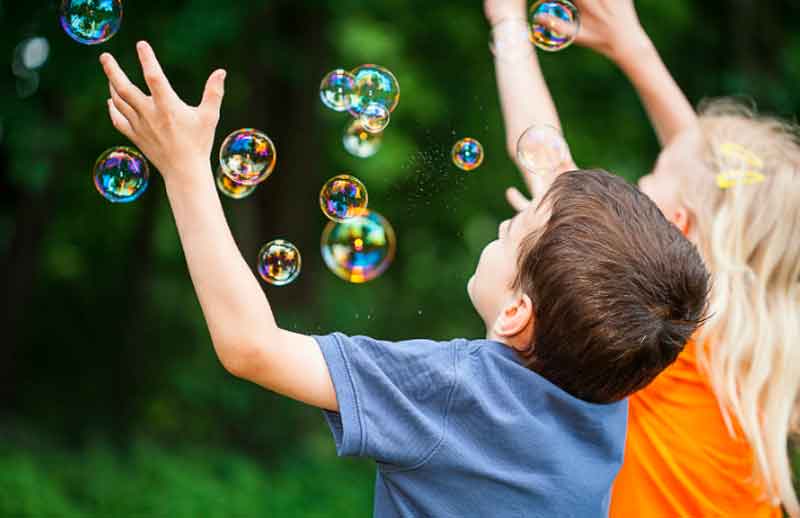 This particular idea is best done if you have a spacious backyard where everyone can run around. Nonetheless, it can would indoors as well, which would probably be a simpler idea if we're talking about winter or the rainy season.Now, there are all sorts of bubble makers that you could use for the occasion. The best thing is that you can find some pretty simple and affordable bubble-making devices online. And these can make a few thousand bubbles per minute. So yeah, this is a pretty easy way for you to create a real party. And it can all be entirely bubble-focused.
30. Make Your Own Jewelry Workshop
Among many crafts and arts that you could pull off for a party or any kid's event, creating custom jewelry is one of the best ways to stimulate creativity among the youngest ones. Set up a simple "workshop" for the occasion and have all the custom ingredients to create a variety of custom jewelry.
Again, this is another example of a birthday party theme and event where the guests get to take a small present back to their home. And all that with a dash of their own creativity. And don't worry — this is much easier to pull off than it seems especially knowing that you can easily purchase the necessary parts for such an event.
31. Horseback Riding Excursion
Another outdoor activity worth exploring is horseback riding. This is probably more attractive to those who are already familiar with the activity. But even without previous experience, you can still find great horseback riding excursions, even those that are kid friendly.
At the same time, we would advise doing this activity if you're planning for a smaller party with family and some friends. It would get a bit too complicated to get things going with a larger group.
32. Virtual Reality Experience
We're living in a day and age where VR is getting more and more exciting. Although the concept is far from a new thing, it's only now that we're seeing significant and, to be fair, mind-blowing improvements. And it's only a matter of time until VR in its various forms will be used more and more for parties.
So be ahead of the curve and book a virtual reality experience for your soon-to-be 6-year-old. These things are getting better and better every year. But even now, at this point, you'll be able to get an incredible experience out of it.
33. Visit a Zoo or Aquarium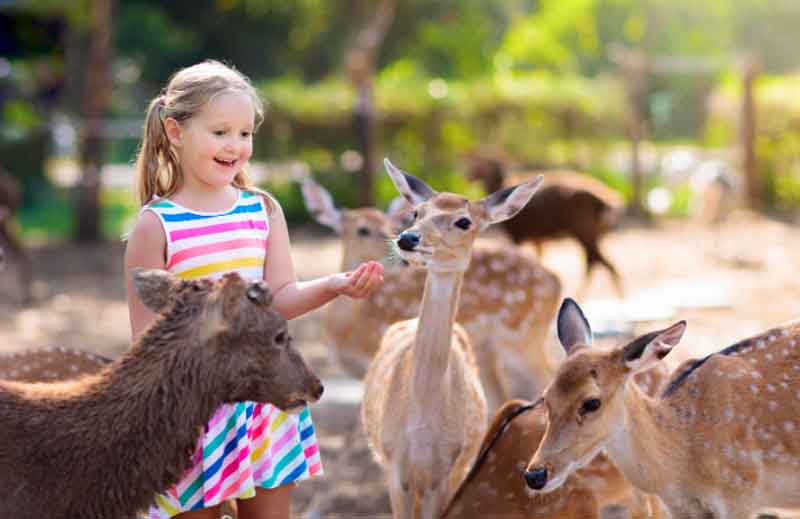 Another one of the "old-school" ways of outdoor activities and celebrating birthdays also includes going to the zoo or the aquarium. Although it seems that there are so many more exciting things to do at this point, we would beg to differ. We shouldn't take these preserved species in controlled environments for granted. They're not only keeping us closer to nature but are also an incredible way to inspire and educate children about nature and the environment. And they can also be incredibly fun and engaging!
34. Skateboarding Session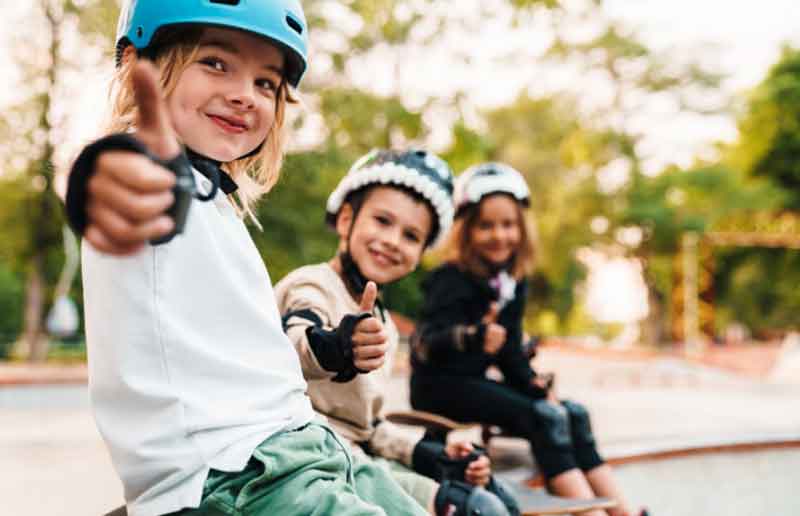 It's of utmost importance to get your kid inspired to get into any form of athletic activity. Of course, they don't have to be pros, but having healthy habits from an early age is incredibly important.
But, as you may know, it's a bit tough to get them focused on one thing, especially in this day and age. Fortunately, with something like skateboarding, you can keep things entertaining for a long time. And what better way to inspire your child than to have a skateboarding session for the birthday party? Ask around about skateboarding venues near you, and some of them should definitely have these sorts of packages for the younger enthusiast. This is one of my favorite 6th birthday ideas for kids who love new challenges.
35. Water Park Outing
Finally, we'd also like to add water parks to the list. In many ways, water parks encompass most of the things that we mentioned on the list. Apart from being incredibly fun and awesome, they'll also keep all the kids active throughout the day. And, in addition to that, even parents can have some serious fun during the birthday party as well! Spending one whole day there will be a memory of a lifetime.
36. A Day at the Farm
My children love visiting the farm near our house and feeding the goats. Many communities have public farms that offer birthday party packages. Invite your family and friends for an afternoon of feeding the animals, touring the farm, and playing together. You will not have to provide decorations for this event because you are in the actual farm setting. If the farm has a concession stand, as many do, they may not allow you to bring in outside food, with the exception of the cake. Do your research ahead of time to know what they allow and what they do not. This is one of my personal favorite birthday party ideas for 6-year-olds.
37. Construction Zone
Hard hats, building blocks of all kinds, and a child's imagination will lead to a birthday party that "builds" lifelong memories. My son loved building when he was younger, so we gathered up all of his blocks, construction vehicles, and toy tool sets and created a Construction Zone party. Every child received a "hard hat" and construction worker vest as their party favors and spent the afternoon building and playing together. We served a "dirt cake" topped with construction vehicles and served with a toy shovel. We built houses with pretzels and marshmallows as they ate their refreshments. Kids and parents alike enjoyed the laid-back feel of this easy party.
38. Take Me Out to the Ballgame
Grab your baseball gear and get ready for an afternoon of home runs and grand slams. My oldest son loved baseball and was thrilled when we had his birthday party at the ballpark. His guests got to play on the ball field all afternoon. If you can't go to the ballpark, create a baseball diamond in your backyard and play ball! Along with your cake or cupcakes, you can serve concession stand favorites like nachos or hotdogs. Your little one will think this party was a GRAND SLAM, and everyone will walk away winners after a day of family fun.
39. Splish Splash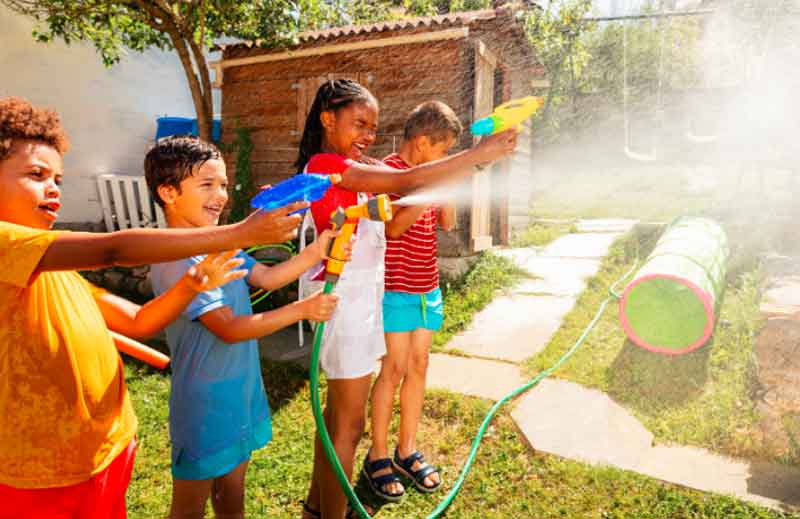 Gather up your sunscreen, bathing suits, goggles, and beach balls, and get ready for an afternoon of water fun! Turn your backyard into a waterpark with inexpensive wading pools, water sprayers or water guns, and pool toys. Children will spend the afternoon splashing and playing as parents visit with one another and supervise the fun. At my daughter's water party, we served a "bucket cake" by filling a toy beach bucket with layers of cake and icing, topped with blue icing and graham cracker sand. I even made a few chocolate candy seashells to lay on top of the sand.
40. Princess Tea Party
Invite your child's friends to a Princess Tea Party. Your princess and friends will become royalty dressed in their finest clothes, sitting at beautifully decorated tables with their "tea" and fancy desserts. Recruit a few volunteers to do fancy hairstyles, polish the children's nails, and even do their make-up if you would like. Many retailers have mini bottles of nail polish and a variety of fancy hair clips that you can give guests as party favors. Of course, no princess should be without a tiara, so you will need to grab a package of assorted tiara party favors as well. This is an awesome party idea for girls specifically.
Popular Article: 9th Birthday Party Ideas That Are Very Unique and Fun
41. Look at Me, I'm SIX
All eyes are on your little one at this birthday party! A photo wall highlighting your favorite pictures from the past six years is the perfect backdrop for the refreshment table. Serve all of her favorite foods for your refreshments and decorate with her favorite colors. For party favors, choose items that represent her favorite activities, characters, or toys. You can make a playlist of her favorite songs to play throughout the party and set out her favorite toys for her to share with her friends as they play together. Your birthday girl will have a wonderful time surrounded by her favorite people and doing her favorite things.
42. Out of This World
Prepare for a party that is OUT OF THIS WORLD! Stars, planets, and rocket ships will make your little astronaut the happiest six-year-old in the universe! You can decorate with stars, moons, and planets and serve moon pies and star fruit with your refreshments. If you want to be adventurous, use round and star-shaped sponges to let them paint their own universe on black construction paper. A fun addition to this party would be small tubs of kinetic sand (moon sand) for the children to explore. Let your guests take home their paintings and some of the kinetic sand as their party favors!
43. Dinosaur-Themed Birthday Party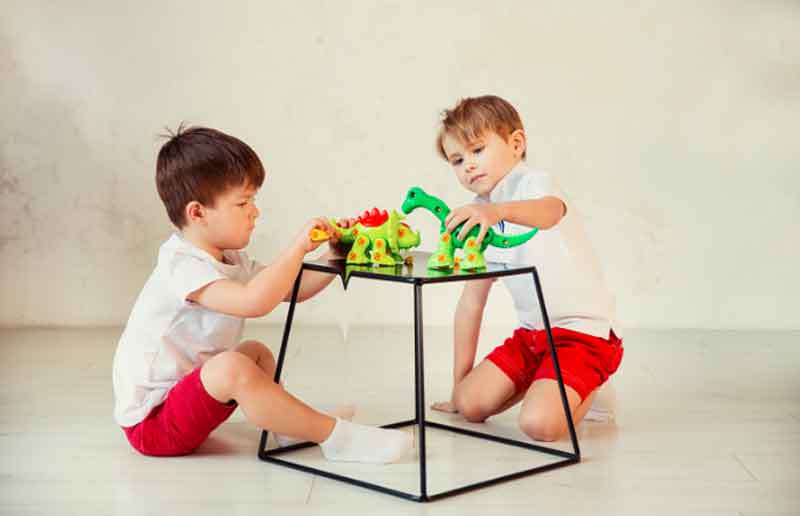 It is time for an archeological dig as you celebrate your six-year-old at this ROARING party! Hide dinosaur toys in totes of sand for the children to find during the party or purchase Dinosaur fossil dig kits that allow the kids to chip away at chunks of rock to find dinosaur fossils. Decorate with paw prints around the house, leading your guests to the refreshment table or the dig sites. Use larger dinosaur toys and paint to let the children make dinosaur track paintings. Have exciting dinosaur races using inflatable dinosaur costumes!
44. Fiesta
Gather the ingredients for the perfect tacos and get ready for a Fiesta! Everyone loves taco night and mariachi music. Your birthday boy's friends will enjoy building their own tacos and dancing to the music, and don't forget the pinata! You can let everyone decorate sombreros which make the perfect party favors. Provide maracas for the children to use as they dance and play. These will also be wonderful party favors. This theme lends itself to an informal and playful environment. Relax, enjoy your guests, and let the kids play!
45. Inflatable Parties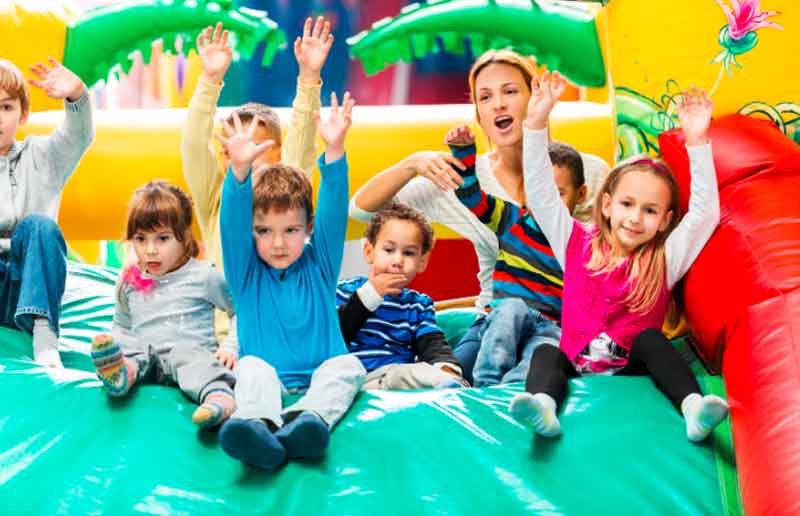 In recent years, inflatables have been the most popular activity for parties. Some communities have businesses that host inflatable parties in their facility, while other businesses rent the inflatables to the families and set them up at their homes. Inflatables allow children to run, jump, and play while parents can supervise as they visit with one another. An inflatable party does not need any other structured activities or themes. Costs vary from one company to another but tend to be worth it as it allows the parents to enjoy the party with very little stress of planning.
46. Puppy Pawty
Little ones love puppies, so they are sure to love a Puppy PAWty! Do you know a dog breeder who has puppies on hand that need a little extra attention? Ask them to bring them to visit during the party. Not a fan of inviting animals? Grab stuffed animal puppies for the children to play with all afternoon. Provide small dog dishes, leashes, and other items for the children to use as they play. You can donate items you don't need to an animal shelter in honor of your little one's birthday. You could even let guests bring in items to donate as well, teaching your children the beauty of giving at a young age. This is also one of my favorite 5th birthday party ideas because everyone adores puppies.
47. Spa Day Party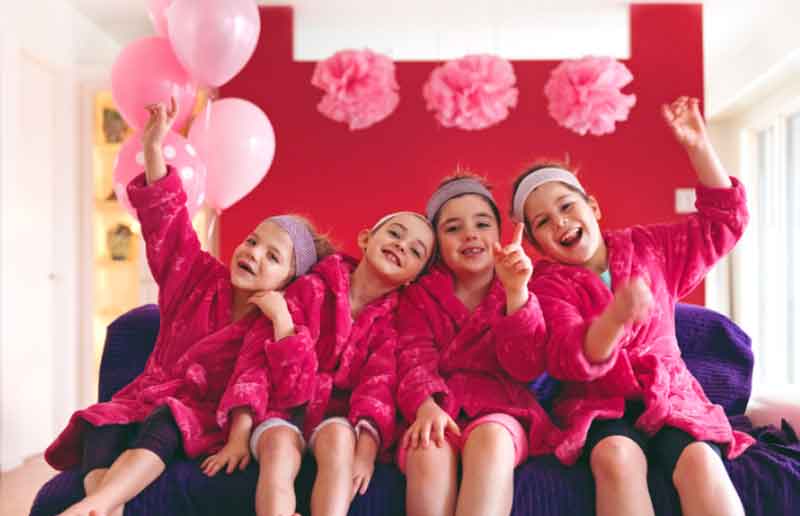 Every little girl loves to be pampered. Take your little one and her friends to the spa for manicures and pedicures. Grab facemasks at the store and take them with you to the spa. The girls can wear them as they soak their feet for their pedicures. Once they are all glammed out and relaxed, take them out to dinner at a "grown-up" restaurant. Most sit-down restaurants will sing to any of their guests celebrating a birthday and offer a free dessert. Your little one will feel like she is all grown up after this celebration.
48. Mock Slumber Party
Six-year-olds love the idea of a slumber party, but not all are ready actually to spend a full night away from home. This party offers the perfect solution! It is a MOCK slumber party. Children will come in their pajamas, bring their sleeping bags and stuffies, and play the night away…almost! Instead of staying all night, the parents will pick their kids up at the designated time. At the slumber party, you can do face masks, sing karaoke, giggle about silly girl talk, and eat junk food. Let them spread out their sleeping bags for a movie and popcorn to end the night.
49. Come As You Are Breakfast Party
This is such a fun surprise party for any age! Contact the parents of each of your guests and tell them you will be coming by early on Saturday morning to get their children for this party. Tell them not to wake the child up or get them ready if they are already awake. Instead, when you knock on the door, they have to come as they are. Take all of the children to a restaurant for breakfast and then to a park (if the weather allows), the movies, your house, or any other fun spot to finish out the party. The kids will be so surprised and will have a blast!
50. A Crafty Birthday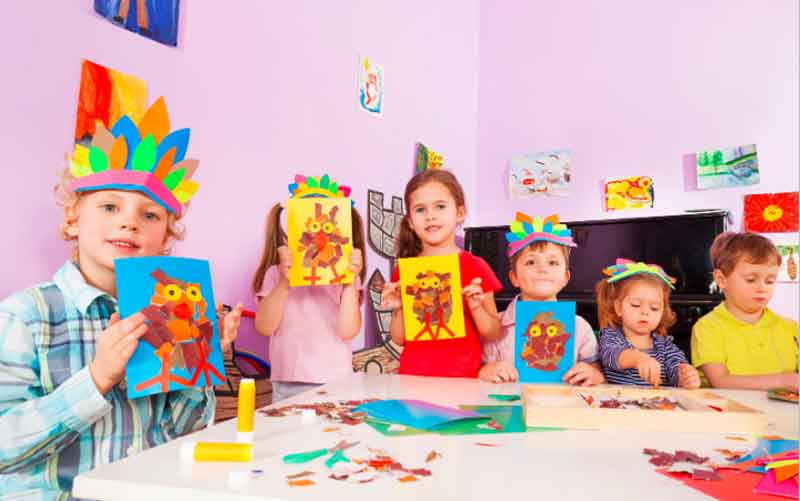 Children love to be creative and use their imaginations. Create an amazing craft station offering open-ended supplies such as chenille stems, popsicle sticks, googly eyes, construction paper, cardboard tubes, paint, glue, and more. Anything goes! Allow the children to create anything they want! They will work for hours on end as they imagine new creations together. On the refreshment table, offer build-your-own sandwiches with bread, an assortment of meats, cheeses, condiments, and any other toppings you can imagine. Add a few fruits and chips for the perfect lunch.
Wrap Up:
We really hope you found many ideas that you love. If you can think of any creative ideas that we missed, let us know in the comments below!