The teen years are all about time spent with friends and trying new things. Teenagers have a wide range of interests, so if you're looking for teen party themes for your song or daughter, we've confident you'll love the list of ideas we've put together below.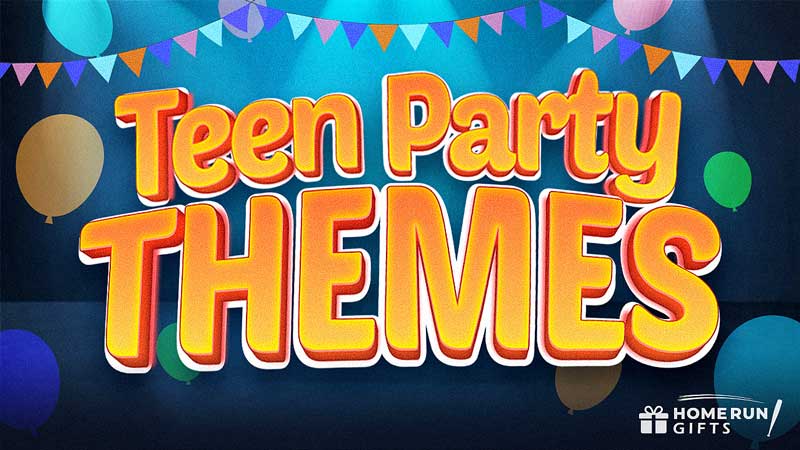 We've included a ton of great ideas for both boys and girls, so simply scroll through and pick out some ideas that stand out to you. If you're interested, we also have a full list of sweet 16 party themes.
List of Birthday Party Themes for Teenagers
1. Campout Theme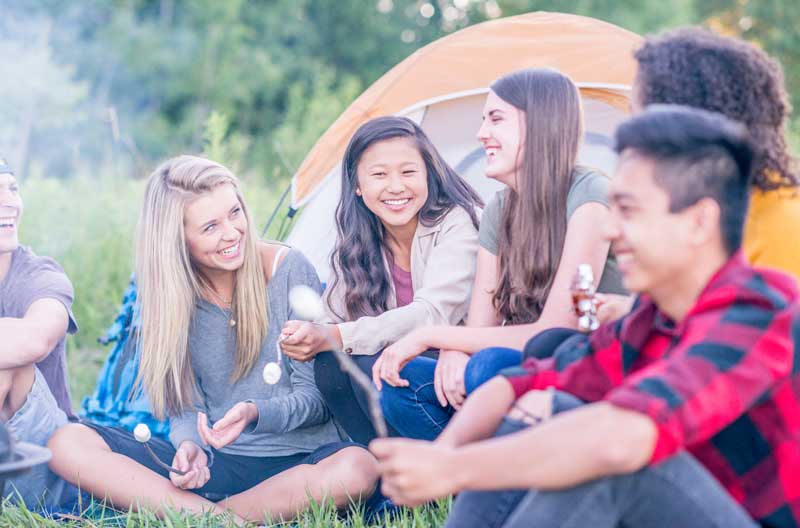 Does your teen love the outdoors and camping? Set up a fun camping scene in your backyard with tents, fire pits, picnic tables, and outdoor games. Provide a s'mores bar with a variety of chocolates, marshmallows, and graham crackers. The main course could be hotdogs that your guests can roast over the fire. Offer a toppings bar with condiments, onions, relish, chili, and other fun choices. Your guests can leave at night's end or camp out in the backyard all night long. You could even host this party at a local campground!
2. Scavenger Hunt Theme
Everyone loves a scavenger hunt! Invite your teen's friends to a Scavenger Hunt Party to celebrate his birthday! Recruit enough adult drivers to have one car for every three guests (making four people on each team). You, the party planning parent, will not be on a team because you will be announcing each clue and keeping up with the team's responses and points. Before the party, plan out your clues/challenges. Each challenge can have multiple correct answers. If any clues involve actually making purchases, provide the money needed. An example of a clue could be, "take a picture of your team with a family eating ice cream." The team would go to a place where people would be eating ice cream, take a picture, and send it to you at home base. You would send them the next clue. Create a point scale and ending location where you will celebrate the winning team and finish out your party with cake and ice cream.
3. Escape Room Birthday Bash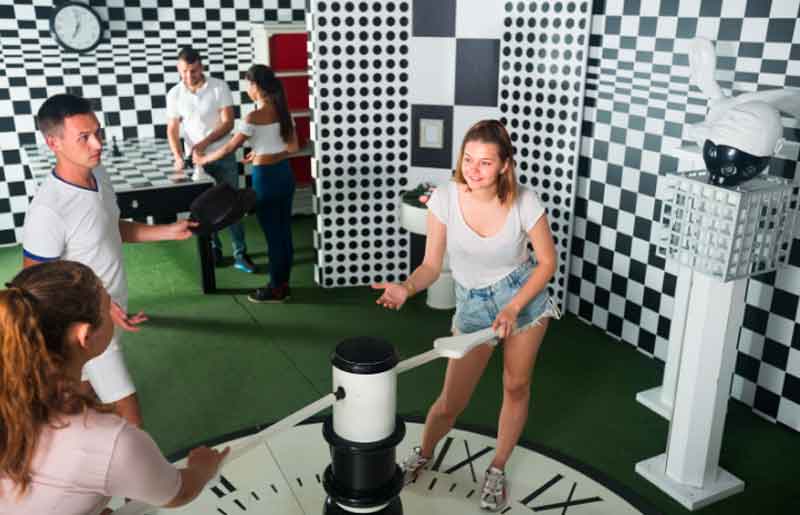 Take your son and his friends to an Escape Room for his birthday celebration, or create your own escape room at home! If you plan to go to the Escape room, book your tickets in advance to ensure enough space for you and your guests. If your group is large, you may have to split into two teams and do two different rooms. If you choose to host it at home, you can purchase pre-packaged Escape Room kits online. Decorate according to the theme of your room. Can your teens crack the codes and escape before time runs out?
4. Water Fight Party Theme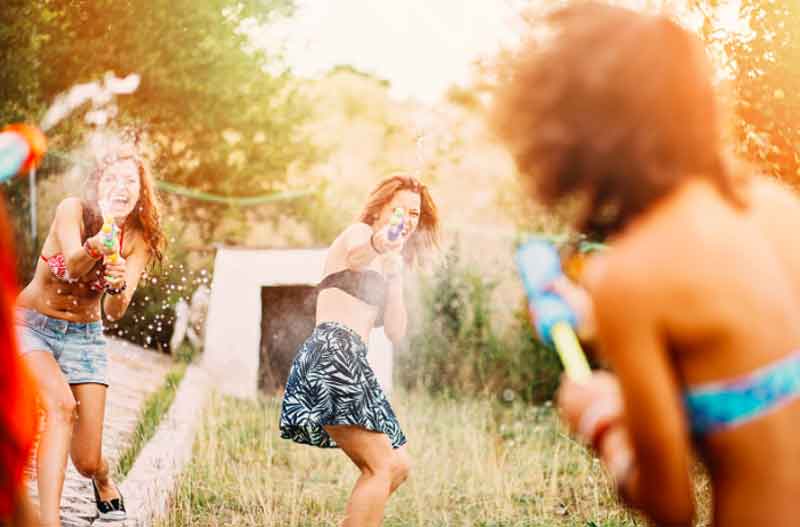 Grab your super soakers and water balloons, and come prepared for battle! This party theme is definitely going to be a hit on a hot summer day. Whether you organize into teams or just play as a free for all, everyone loves a water gunfight. In order to save the food and everyone's personal belongings from being soaked beyond recognition, clearly identify wet and dry zones. It may be best to have the dry zone in your front yard and the wet zone in the backyard so there is no confusion. In your wet zone, have wading pools filled with water for reloading their guns. In the dry zone have fun and comfortable seating such as large pool floats, lawn chairs, camp chairs, etc. Provide simple refreshments and drinks to keep them fueled for their battles.
5. Let's Play Ball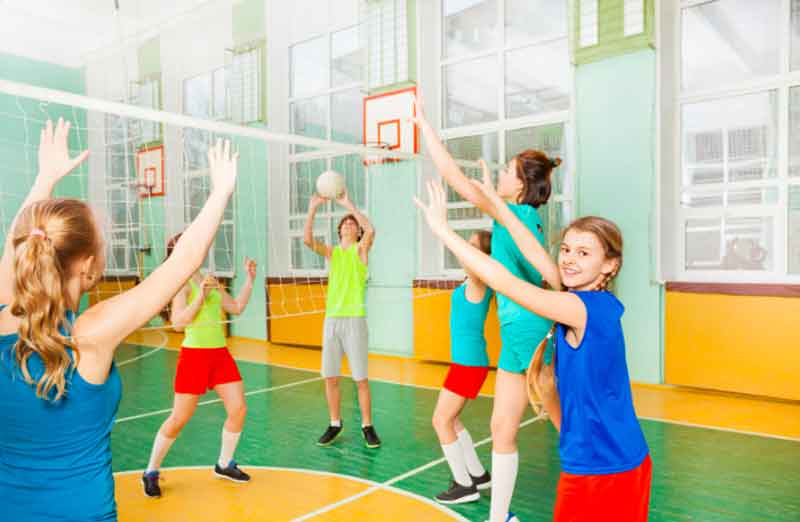 Does your teen love sports? Rent out the local gym for him and his friends. Set up a volleyball net or a pickleball court on one end of the gym, leaving the rest of the gym open for basketball. Most local gyms will have a room for gatherings where you can set up refreshments and an area for seating so they can take breaks to rest, eat, and mingle. You can decorate the room with your refreshments with simple tablecloths, centerpieces of sports equipment, and a photo backdrop if you would like. Some teens love decorating, while others are not that interested. Do what your teen prefers.
6. Pinterest Crafts Birthday Party
If you are like me, you pin Pinterest ideas on your boards and never have time to do them. This party lets you and your teen pin ideas and plan a party around your favorites! Decide how many options you would like to provide for your guests, print out the directions, purchase the supplies needed, and set it all up at various stations around your party space. You could even choose some simple snack recipes and let your guests make their own refreshments. Your guests will enjoy a relaxing day of visiting, crafting, and snacking.
7. Game Night Birthday Party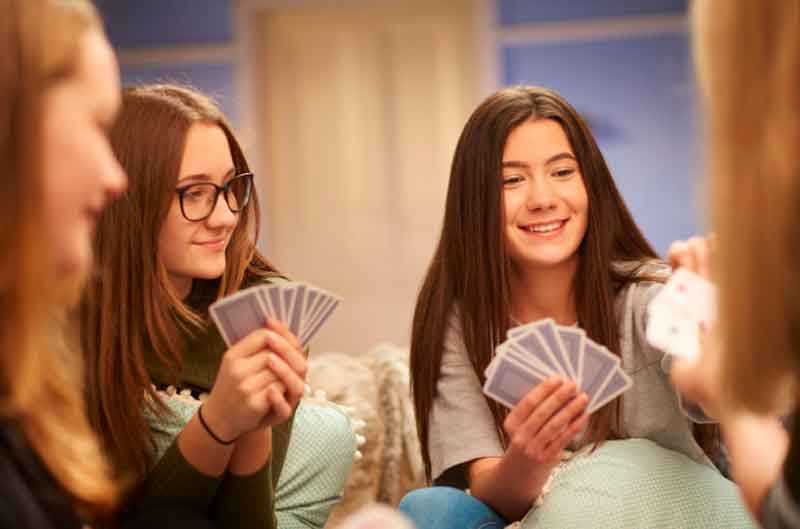 Host a Game Night featuring your teen's favorite board games or card games for her birthday. Our favorite games for large groups are Spoons, Apples to Apples, Taboo, and MadGab. Set up tables around the room with a game on each one, allowing people to group up and play, or adapt a game like Taboo or MadGab to fit a large group by creating large teams. Game nights are great for breaking the ice among friends of the birthday girl who may not know each other yet. The games lead to laughter, bonding, and great memories. Simple finger foods are the perfect refreshments for this party.
8. Minute to Win It Theme
Everyone loves the challenges on the game show Minute to Win It! Sit with your teen and choose your favorite challenges that he would like to use at his party. Grab all the supplies needed and get them ready for the party. As guests arrive, divide them into two teams. Let them come up with team names as they get to know one another. When everyone has arrived, it is time to start the games! Teams will choose their players before you explain the challenges. Set up a scoring system, and have a great night! Simple snacks that teens can enjoy during the game are the perfect refreshments for this laid-back party.
9. Color Wars Theme
Everyone will love this competitive but fun birthday party! In your invitations, tell your guests to wear all white and be prepared for COLOR WARS! To prepare, decide how many teams you will have and then choose the colors for each team. Purchase color powder for each team and have it ready for the war. As guests arrive, divide them into teams and direct them to their team bases. When you are ready, blow the whistle and let the game begin! After the game, provide a water source for everyone to clean up and get ready for refreshments. End the party with cake, snacks, and gifts.
Popular Related Article: Great Gift Ideas for Teenage Girls
10. A Birthday Costume Party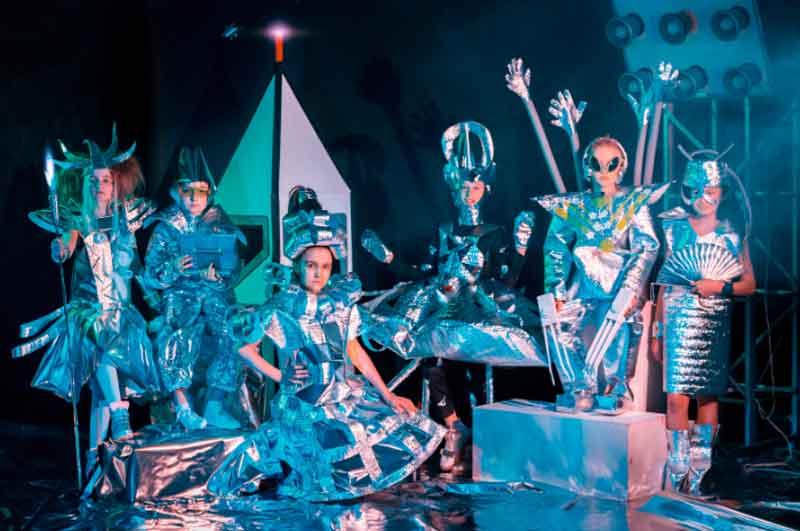 Everyone loves a good excuse to dress up! Invite your teen's friends to a costume party for her birthday. Let your teen decide if she wants a certain theme, such as cartoon characters or a certain movie, or if it is "anything goes," allowing guests to choose their own themes. If there is a theme that will guide your decorations. If not, decide on a color scheme and, decorate the party space with balloons, floral centerpieces, and just have fun being creative. Simple finger foods and a fun cake are the perfect refreshments for this party. Hand out fun costume awards such as "Most Creative," "Funniest," or "Most Unique."
11. Beach Blast Theme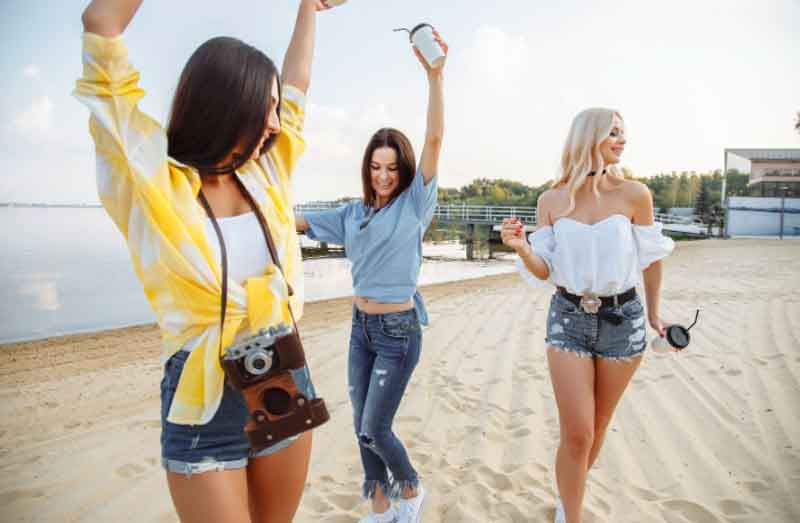 If your teen loves the beach, this party is for him! If you don't have a pool, check around at local hotels or a public pool to see if they allow families to rent them for special events. If that is not an option, just create a fun beach scene in your backyard with tiki torches, beach balls, large pool floats used as seating options, and a bonfire. Serve fresh fruits, sandwiches, and other finger foods, along with tropical fruit juices. A fun game of Limbo will act as a great icebreaker to get the party started! Play fun beach and summer music as everyone swims or hangs out together. If you're looking for birthday party themes for teens, this is one that you really can't go wrong with.
12. My Favorite Things Birthday Celebration
Host a "Favorite Things" party for your daughter's birthday. For this party, she will invite her three (or a number you determine) closest friends, and they will all bring gifts for each other. Everyone will bring three identical gifts to the party. It can be their favorite candy, their favorite drink, their favorite blanket, etc. The birthday girl will also bring three gifts (or enough to give to each person in attendance). At the party, each girl will take a turn explaining her gift and then give the gifts she brought to the others. By the end of the party, each girl will have a variety of gifts representing their friends' favorite things, and they will have had a blast explaining them and learning more about each other.
13. SuperHeroes Party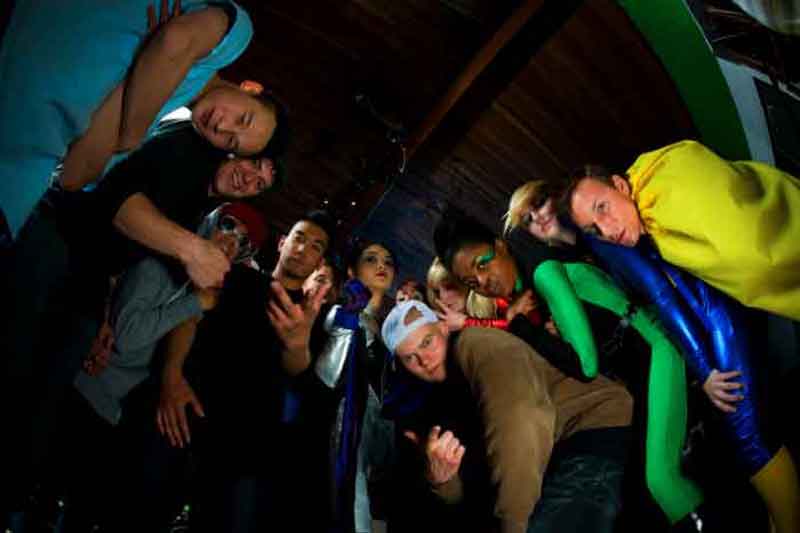 It doesn't matter how old you are; you know you love a superhero! Your teen and his friends can dress up as their favorite superheroes and come ready to save the party! Decorate with retro "Bam," "pow," and "zap" straight from the comic books, balloons, and superhero symbols throughout your party space. You can't have a costume party without a photo backdrop and props. Be creative with your refreshments, serving green jello as kryptonite, pretzel sticks with a cheese cube as Thor's hammer, wings as Batman's wings, and more. Have episodes of the original Batman and Robin playing in the background of the party, or watch one of your teen's favorite superhero movies.
14. Karaoke Night Birthday Bash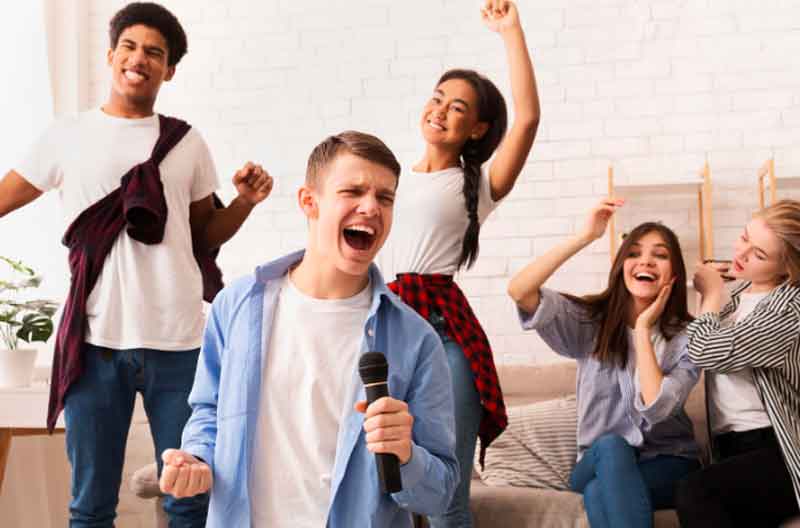 It's Karaoke night, and your teen and her guests are going to sing the night away! Tell your guests to dress up like their favorite singers and come prepared to party all night long! Set up a karaoke stage at the front of the room, with a dance floor and tall top tables and stools. Hang posters of your daughter's favorite bands and singers around the room and decorate using balloons and flowers in her favorite colors. Fun finger foods and sweets are the perfect refreshments for this light-hearted event. Let the teens sing and dance to their hearts' content as they celebrate with your daughter.
15. Murder Mystery Birthday Party
Everyone loves a good mystery! Invite your teen's guests to a party where they will be the detectives! Go online and find the perfect murder mystery party kit. Once you have chosen the kit, that will guide the rest of your theme. If the mystery is set in a mansion, you will decorate the space to look like the mansion, but if it is set on a train, you will decorate the space to look like the inside of a train car. Your refreshment choices will also reflect the storyline matching the setting in the mystery. Your guests will have so much fun solving the mystery together!
16. CHOPPED Birthday Celebration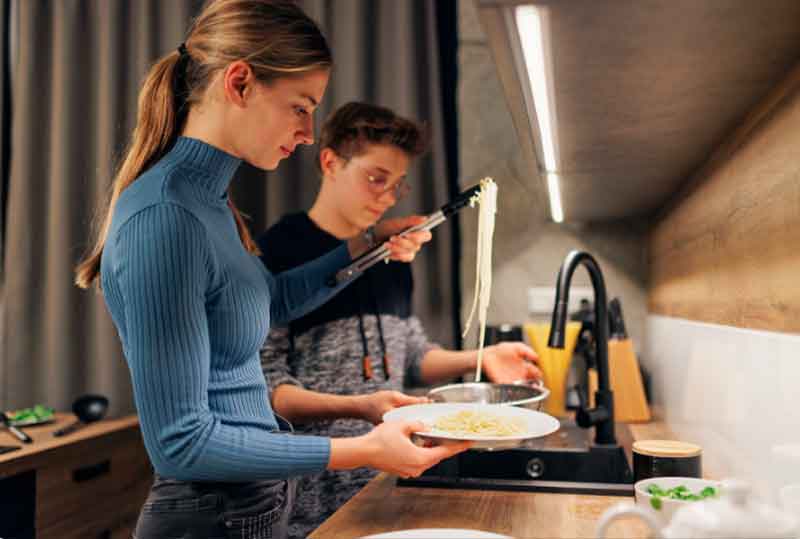 Does your teen love to cook? This celebration was made just for him! The TV Show chopped gives competitors baskets of ingredients that have to be used to create an appetizer, main course, and dessert. Create your baskets of ingredients, stock your "pantry" with other ingredients they can use to enhance their dishes and get ready for a fun evening of competition. Divide your guests into two teams and have each team send two representatives to work together during each round. The rest of the team will watch and cheer their teammates on as they cook. A panel of judges (family members) will judge each dish and, at the end of the evening, announce the winning team. Both teams will enjoy tasting the dishes, a friendly competition, and a unique Birthday Celebration.
17. Nerf War Theme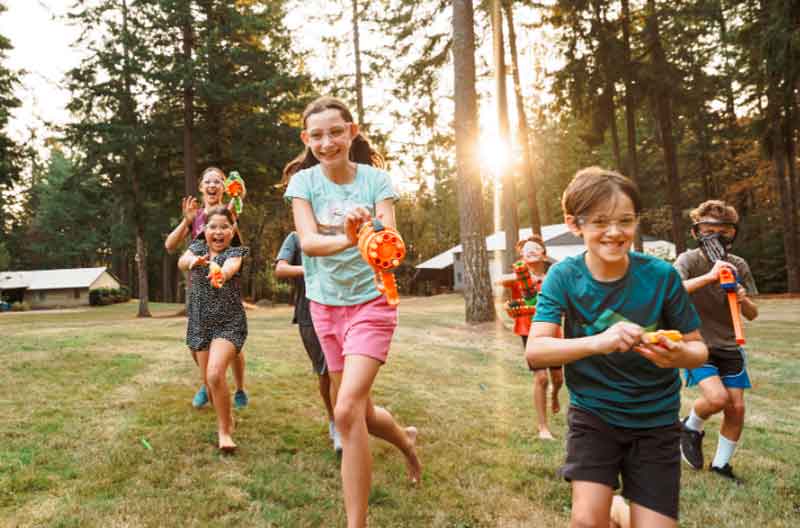 If your town has a Nerf War gym, rent it out for your teen's birthday bash. If you don't have a Nerf gym, create a war zone in your backyard. Go to your furniture or appliance store and request large boxes that you can use to set up barriers in your war zone. Tell your guests to bring their Nerf guns and ammo and prepare for an exciting day of battles. A refreshment table stocked with snacks and sports drinks will keep everyone fueled to battle all day long. Fun party favors would be small Nerf guns or Nerf bullets.
18. A Day at the Zoo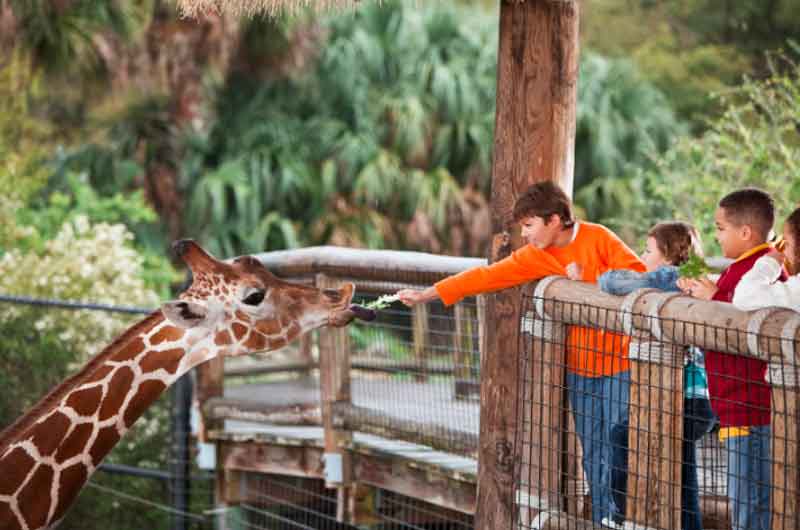 Zoos are not just for little kids. Teens love animals, too, and a day at the zoo might be the perfect birthday for your teen. Most zoos offer birthday packages that include exclusive tours and animal encounters. Contact the zoo closest to you and inquire about the possibilities. Even if you don't want to splurge for the special encounters, taking your teen and a few friends to the zoo would still be a great way to celebrate her special day.
19. A Day at the Museum
Whether it is a museum of art, fashion, science, history, or cars, it is guaranteed to be a unique birthday experience for your teen and his friends. Let your teen choose the museum based on his interests, then contact them for group packages and tours. Do they provide exclusive experiences for groups, such as a Behind-the-Scenes tour? Schedule your day to include guided activities as well as free time to explore on your own. Most museums will have meeting rooms where you can set up your cake and refreshments.
20. Let's Go to the Movies Birthday Celebration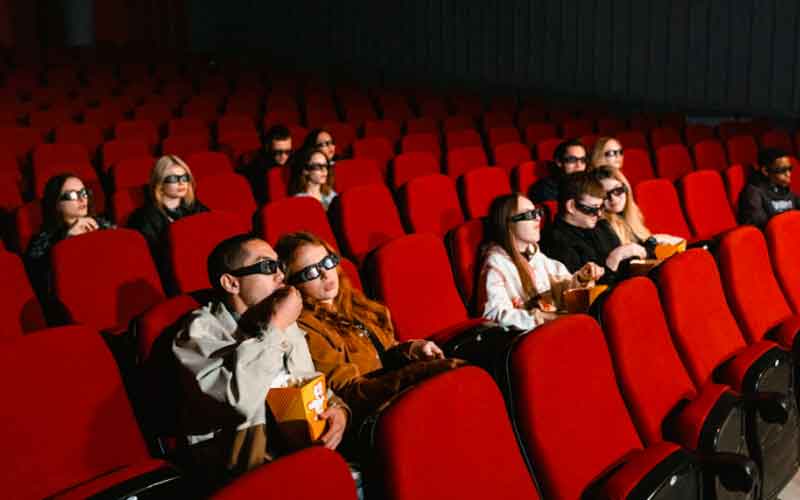 What is your teen's favorite movie? Many movie theaters will rent out an entire theater and show the movie of your choice. Choose the movie, rent the theater, and begin inviting your guests. Decorations will be minimal because the event is at the theater. Most of the time, they will allow you to bring a cake or cupcakes, but any other refreshments will have to be purchased from the concession stand. They will typically have a group rate if you choose to provide the concessions, or you can let your guests know in advance that the concession stand will be open so they are prepared to purchase their own.
21. A SWEET Birthday Celebration
This is a celebration for your teen with a sweet tooth! Sweets of all kinds will be the spotlight of this event. Decorate with bright colors, large lollipops, and candy decorations. A balloon arch using bright colored balloons and assorted lollipops scattered throughout will create a magical entryway to the party space. A cupcake decorating station with a variety of sprinkles and toppings, a fill-your-own-candy treat bag station with candies of every shape and size, and a build-your-own ice cream sundae station will give your guests the sugar rush they need to dance and celebrate all evening.
22. Painting the Town Birthday Bash
Does your teen love art? Throw a painting party for her birthday party! Hire an artist to come in and teach a painting class for her and her guests. Typically the artist will supply the paint, brushes, easels, and other media while you provide the canvases. I have attended several painting classes and have watched even the shyest person come out of her shell once she begins painting. Guests will enjoy learning something new together and will walk away with their own masterpieces! Serve simple snacks as they paint and then end the party with cake when their paintings are finished.
23. Outdoor Movie Night Birthday Bash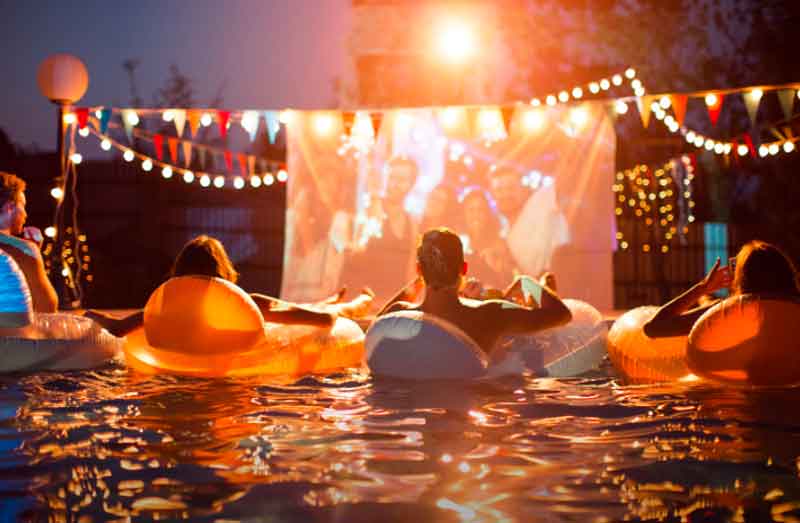 Grab a projector, hang up a sheet, and let your teen choose his favorite movie to share with his friends at his Outdoor Movie Night Party! Set up lawn chairs, blankets, bean bags, and camp chairs to create an outdoor movie theater. A popcorn station with a variety of toppings, soft drinks, and movie theater candy are perfect refreshments for this party. On your invitations, invite your guests to bring blankets to keep them warm as the sun goes down. You can begin the movie at dusk. Sit back and relax because the movie is the only entertainment needed for this event. This is easily one of my favorite teen party themes, especially during the summer months.
Popular Related Article: Epic Gift Ideas for 18-Year-Old Boys
24. 80's Skating Rink Party
Bring back the 80s with a Skating Rink Birthday Party! Rent out your local skating rink and invite your friends to come in their best 80s looks! Ask the DJ at the rink to play 80's hits mixed in with your teen's favorite music. You know there has to be a game of 4 Corners and the Limbo, or it wouldn't be a real Skating party! Most skating rinks offer party packages that include food. Check out your options ahead of time. A fun cake with cassette tapes, roller skates, and bright colors makes the perfect centerpiece for this party. Bring fun props and create a photo station for your guests to enjoy.
25. A Birthday Spa Day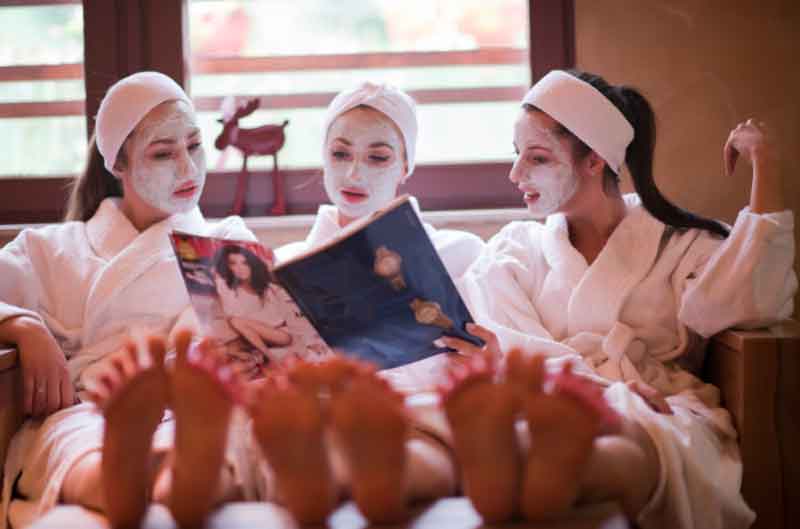 Does your teen enjoy an afternoon of pampering? A Spa Day Party is exactly what she needs. Host the party at a local spa or at your home. If it is at the spa, schedule manicures, pedicures, and any other treatments you choose for your daughter and her guests. If you host it at home, play soothing music to set the scene. Provide foot baths, manicure and pedicure supplies, and face masks for your daughter and her guests to enjoy. Provide finger foods for everyone to enjoy as they relax together.
26. Makeover Birthday Party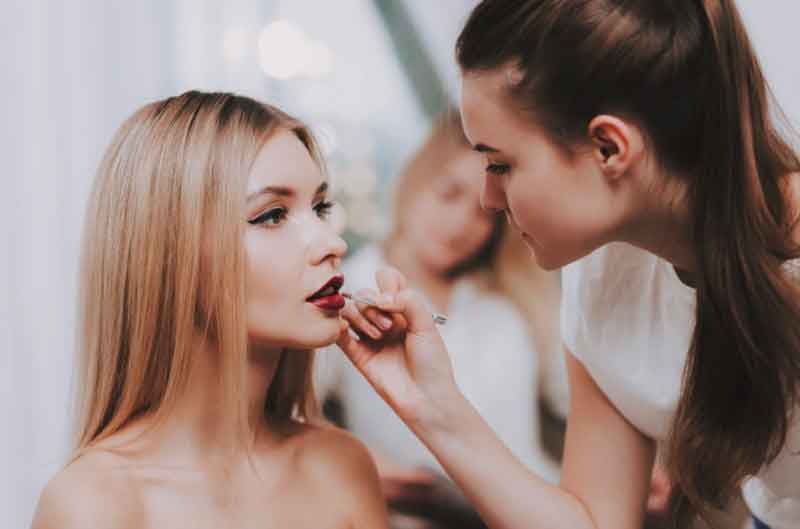 Invite your daughter's closest friends to a day of makeovers and a photo shoot. Tell everyone to wear comfy clothes, but bring their favorite outfits so they are prepared for the photo shoot. You could choose to hire makeup artists, nail techs, and hair stylists to come to your home and give each girl a makeover, OR you can recruit volunteers among your family and friends. Set up a fun photo shoot with a cool background or in your backyard. Simple snacks that the guests can enjoy throughout the party are a must.
27. A GLOWING Birthday Celebration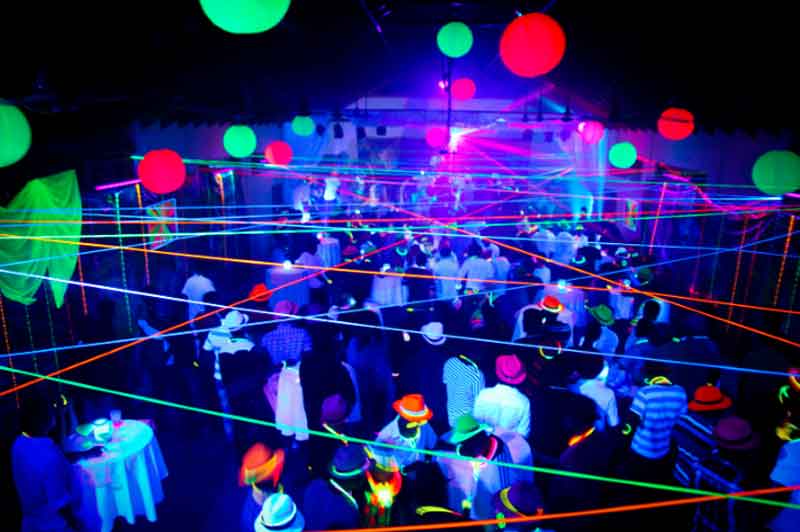 Your teen's future is so bright it GLOWS in the dark!! Invite your teen's friends to a glow-in-the-dark party, encouraging them to wear all black! When they arrive, hand out glow sticks, necklaces, bracelets, glasses, etc. You can provide tape for them to use to stick the glow sticks to their bodies to create human stick figures. My children and I did this at a glow party, and we made hilarious videos of our dancing glow stick family. Tonic water glows under a black light! Use one part tonic water and one part water to make ice that will glow under blacklight! You can also make any food glow in the dark with food dye that glows in the dark! Have fun and be creative with this celebration.
28. A Birthday Fiesta
Everyone loves tacos, so a Birthday FIESTA will definitely be a hit with your teen and his friends. Set up several Nacho Tables around the party space. To make a Nacho Table, cover the table with foil, then spread out your chips, meat, and toppings down the middle of the table in any design you choose. Guests gather around the tables and eat as they visit with one another. Another option is a Walking Taco Bar, with individual bags of chips, meat, and all of the toppings. Guests take a bag of chips and add their meat and topping choices inside the bag. Don't forget to grab a pinata filled with candy and goodies for the teens!
29. A Day on the Lake Birthday Celebration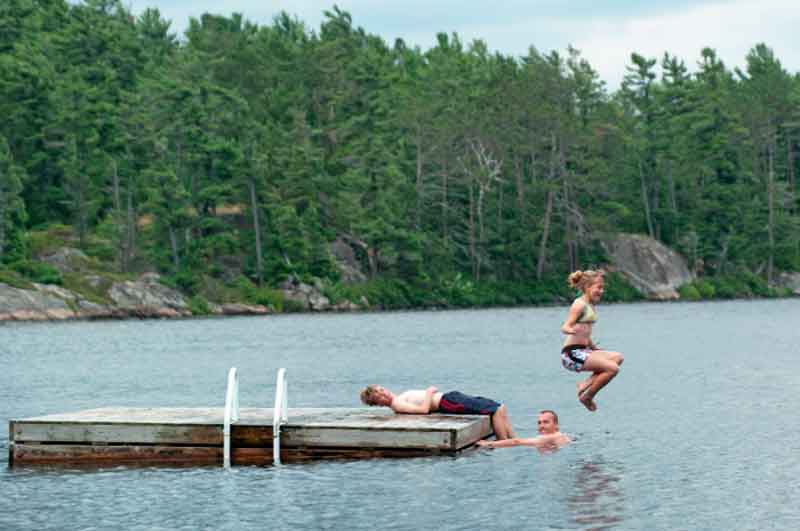 Does your teen prefer a relaxing day with his closest friends over a large party? Rent a houseboat or pontoon and jet skis for the day and spend the day out on the lake! The teens can swim, hang out, and just enjoy a low-key day for the perfect celebration! Pack your teen's favorite drinks and snacks, prepare a picnic lunch, and make reservations at his favorite restaurant for dinner. Spend the day on the lake and then end the perfect day with his favorite dinner.
30. A Day at the Ballpark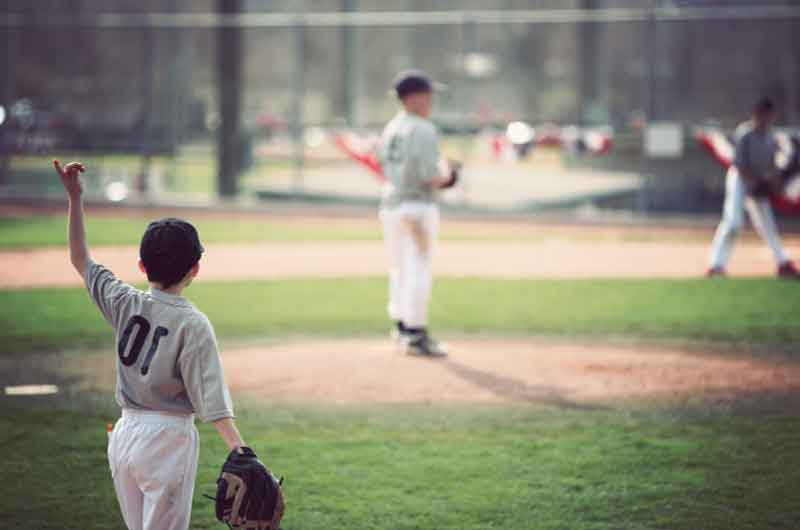 Does your teen love baseball? Host a baseball birthday bash at a local ballpark. Your son and his friends will love playing ball together for a day of competitive fun. For refreshments, serve concession stand foods such as nachos, hotdogs, burgers, and chips. You can choose to host this party at your house, setting up a baseball or whiffle ball game for the teens to enjoy at home. The perfect ending to this party is a fun baseball-themed cake and ice cream.
31. A Gamer's Birthday Party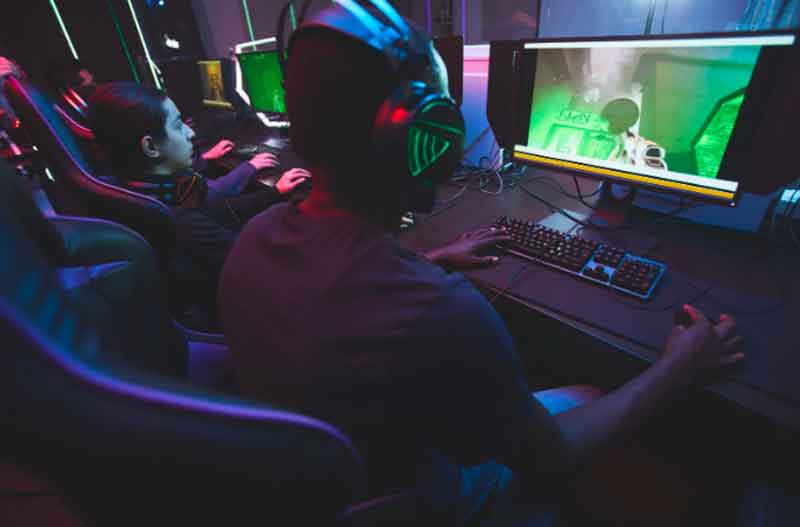 If your teen is anything like mine, he spends the majority of his day playing video games. Create a birthday party around this hobby! In some towns, there are mobile gaming parties and a large bus that is equipped with multiple gaming stations for your guests to enjoy. If your town does not have one of these businesses, create your own gaming space using multiple TVs or computer monitors connected to a variety of game systems. Let your teen help organize the space and games. Your teen and his guests will move from game to game playing together all evening long. "Junk food" is the way to go for this party's refreshments. Items they can easily eat while playing.
Popular Article: List of Exciting 13th Birthday Party Ideas
32. It's a Piece of Cake (Cake Decorating)
My daughter loves watching cake-decorating videos, so this year, I hired a baker to teach a cake-decorating class for her birthday. The baker provided all the tools and supplies (even the cakes). We just had to show up! It was a great opportunity to try something new together, laughing at our mistakes and celebrating our successes. You don't have to have a birthday cake for this party because you can eat the cake you decorated! One piece of advice, determine the number of guests AFTER speaking with the baker regarding the price per person and the amount of space needed for decorating.
33. Pizza Party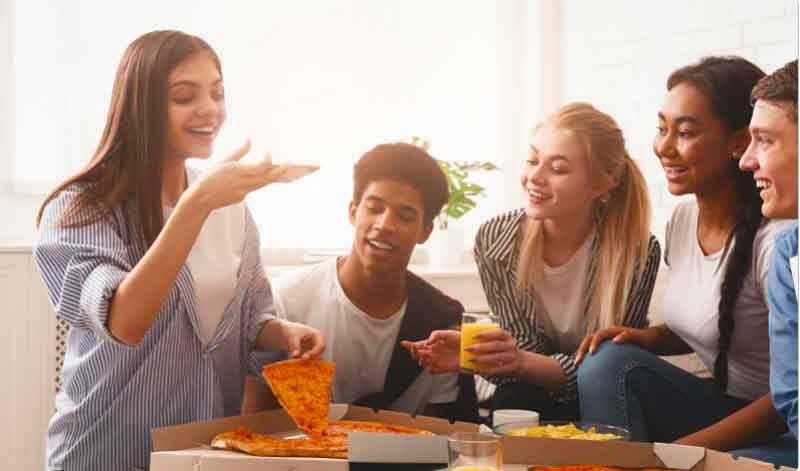 Who doesn't love pizza? Contact your local pizzeria and ask about birthday party options. One pizzeria in our community offers a party package where the guests get to make their own pizza. Want to try this at home? Create a toppings bar with a large variety of traditional and nontraditional toppings and allow your teen's guests to build their own pizza! Before the party, make a fruit pizza using a sugar cookie crust and cream cheese as the sauce for the guests to enjoy as they wait for their pizzas to bake.
34. Chef for a Day Birthday Party
Does your teen love to cook? Hire a private chef to come in and lead your teen and a few of her closest friends in preparing her birthday dinner. Before the party, you and your teen will need to meet with the chef to prepare the menu. After finalizing the details, you can set up your dining room for dinner, decorating in your teen's favorite colors and setting the table for dinner. Your teen and her friends will spend the day cooking before your family joins in for the birthday dinner and cake.
35. Paint Your Own Pottery Party
A current party trend is visiting a pottery shop to paint your own pieces. Allow your teen to invite a few friends and spend the day painting and enjoying a day together. Everyone can choose their own pieces, let their imaginations go wild as they choose the colors to use for painting and create their own masterpieces. If the pottery shop allows it, provide simple snacks they can eat as they paint. If you want to host this party at home instead of at the shop, go to your local craft store to purchase paints, items to paint, and paintbrushes. Set up a safe place where they can paint without fear of ruining anything with spilled paint.
36. Trampoline Park Birthday Party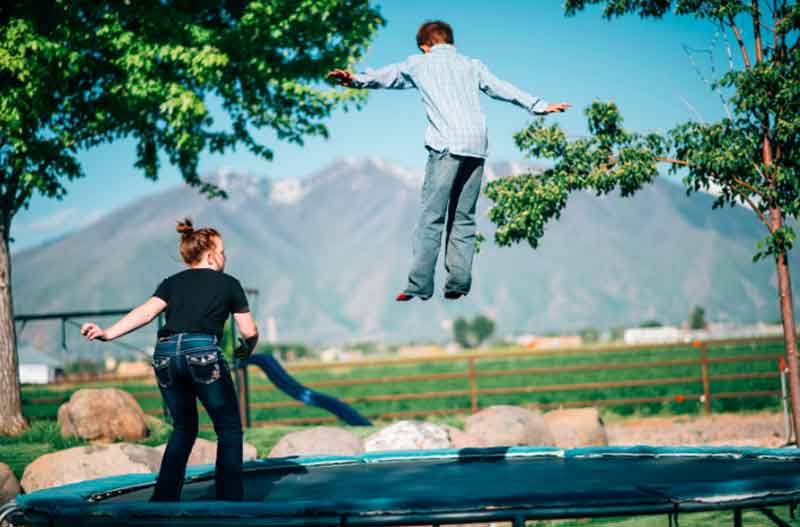 My teens love to go to the local trampoline park and spend the afternoon playing with their friends. This is an extremely popular birthday party for all ages. Contact the trampoline park nearest you to get details on their party packages and food options. Book your party, invite your guests, order your cake, and you are ready! No decorations are needed for this event. You will love the stress-free planning process, and your teen will love the afternoon of hanging out with his friends. It's a WIN WIN!
37. Ski Retreat Birthday Bash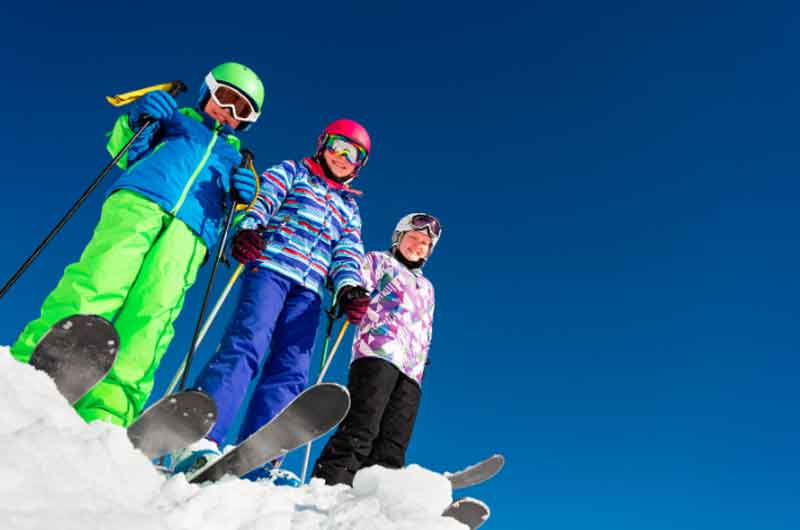 Does your teen love adventure? Have a Ski Retreat Birthday. If you live near a ski resort, check about having the party there. If you do not, create a lodge scene at your house with cozy blankets, pillows, skis propped up around the room, and a fireplace (if you don't have a fireplace, there are virtual fireplaces you can pull up on your television or computer screen. Provide a hot chocolate and s'mores bar for your teen and his guests to enjoy. A fun cake with a ski slope scene is the perfect centerpiece for this event.
38. Bright Lights, Big City Birthday Bash
Does your teen love the lights and action of city life? Create a big city scene with a large backdrop of a cityscape and a lot of LED lights. This party is the perfect opportunity for your teen and her friends to dress in their finest clothes and have a fancy dinner and a night of dancing. Decorate with cloth tablecloths and beautiful centerpieces made with flowers, feathers, and beads. Serve your teen's favorite dinner buffet style and end the evening with a beautiful cake!
39. A Shopaholic Birthday Bash
Does your teen spend hours shopping with her friends? She will love this shopaholic birthday theme. Decorate with balloons, paper gift bags to represent shopping bags, and other colorful decorations. A three-tiered cake designed to look like a multi-level mall spotlighting her favorite stores will be the perfect centerpiece for your dessert table. Check with her favorite stores to see if they have sample items they would give you or sell at a decent price to create swag bags for her guests.
40. And the Grammy Goes to… Birthday Bash
Does your teen love awards shows? Host a Grammy party for her birthday! Decorate with a red carpet, beautiful tables decorated with red, black, and gold centerpieces and dishes, and beautiful floral settings throughout the room. If you cannot host the party when the show actually airs, record it and play it on a large screen during the party. During "commercial breaks," your teen can present her own awards to her friends. She can do "best listener," "best storyteller," or "best secret keeper," making sure everyone has an award by the end of the evening.
41. Llamas Birthday Bash
Llamas have become one of the latest trends in decorating and party themes. Throw your daughter a llama-themed party with plush llamas, flowers, balloons, and a fun backdrop for selfies. Do you have local farmers with llamas? If so, invite one to bring a llama to your party for photo ops. A beautiful cake with flowers and llamas on each tier will thrill your birthday girl and her guests.
42. Up All Night Birthday Bash
Is your teen afraid of the dark? I hope not! This party will be held outside in the dark with a variety of fun night time games. You will need flashlights for flashlight tag, glow sticks to attach to bats, and balls for glow-in-the-dark whiffle ball or glow-in-the-dark volleyball, etc. Hide and seek and Sardines are also fun games to play in the dark. Set up a bonfire with comfy seating for the teens to have a home base to rest and recharge. A s'mores bar, pizza buffet, and snack table are the perfect refreshment options for the evening.
43. A Birthday on Broadway!
Does your teen love Broadway shows? This is the perfect party for her! Decorate with posters and playbills from her favorite shows. Grab props that would be seen in the shows, such as a witch's hat for Wicked. Create a playlist of her favorite Broadway hits to play in the background as they eat and mingle. A karaoke night singing their favorite show tunes is the perfect after-dinner activity. As everyone eats their cake and ice cream, play clips from each of her favorite shows on a large screen.
44. Throwback Birthday Bash
What was your teen's favorite cartoon as a child? What was his favorite toy? Give your teen and his friends an excuse to play with toys and watch cartoons again with a Throwback party. Did he love the Ninja Turtles? Decorate with a Ninja Turtle theme and have action figures at each table. Whatever his favorites were, run with that as the theme and have fun! Find a T-shirt that goes with the theme for him to wear to the party. He could even invite his friends to wear shirts that represent their favorite characters or toys from childhood. With his permission, of course, decorate with pictures of him as a little one as well.
45. Water Park Birthday Party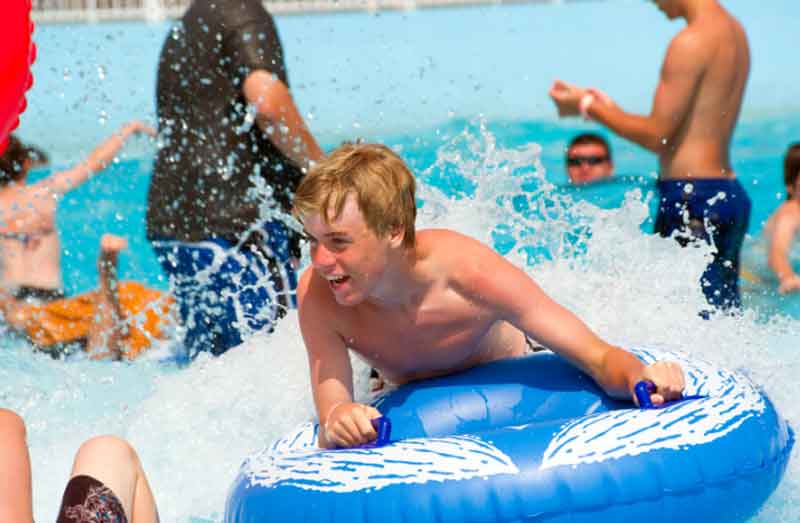 Celebrate your teen's birthday with a party at an indoor waterpark. The waterslides, wave pool, and hot tub will keep your teen and his guests busy all day long. Many of the most popular indoor water parks are connected to resorts and have a variety of activities available such as arcades, miniature golf, shops, and restaurants. Most venues such as this will have a private party area where you can enjoy your cake and presents without being in the middle of the public crowd.
46. A Hiking Birthday Party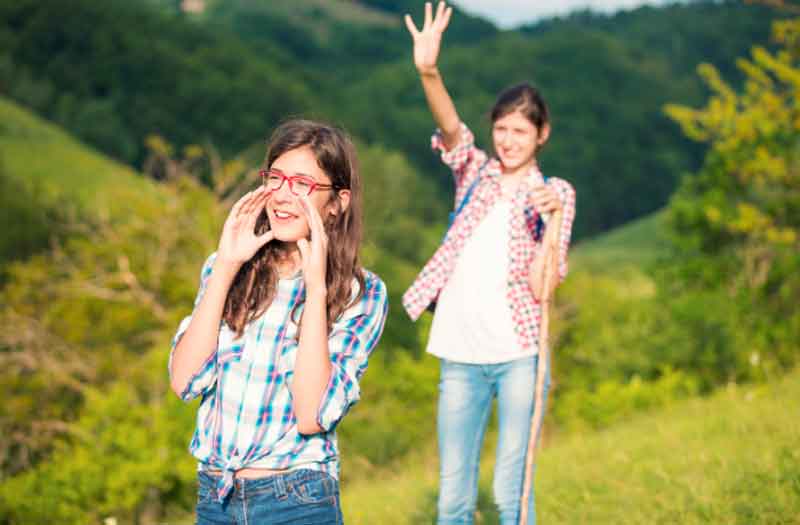 Does your teen love the outdoors? Put on your hiking boots, pack your sunscreen, bug spray, and a picnic to enjoy along the trail or when you reach the end. Let your teen help you select the trail and plan out your day. Does he enjoy waterfalls or beautiful overlooks? Select the trail that best fits his interests and the ability level of your group. Invite your teen's friends to spend the day hiking and picnicking together. This nontraditional birthday theme will be one he and his friends will always remember.
47. Movie Marathon Party
What is your teen's favorite movie series? Star Wars? Harry Potter? The Hunger Games? Plan an overnight event based on his series of choices! Decorate according to the theme. If it is Star Wars, you will use a space theme, decorating with the characters and vehicles from the movie. Serve themed refreshments as well as popcorn and movie theater candy. Create a comfortable party space where teens can spread out and watch every movie from the series your teen chose.
48. Binge-Watching Party
Similar to the Movie Marathon party, this party will revolve around your teen's favorite TV series to binge-watch. Create a comfortable space where everyone can relax and watch the show. Decorate using items that represent the show. For example, for Grey's Anatomy, you would decorate with medical supplies, have quotes such as, "It's a great day to save lives," and, "you are my person," set around the refreshment table, and encourage your guests to come in scrubs.
49. Pokemon Go Party
Pokemon Go is a growing trend among teens and makes a great birthday party activity or theme. Most teens have phones and can easily download the Pokemon Go app and create an account to be able to play during the party. Have everyone meet in a downtown area or on a college campus because they tend to have a large number of Pokestops, Pokegyms, and spawning Pokemon in a condensed area. Depending on the size of your group, you can decide if everyone is staying together or if you will split into smaller groups and move from stop to stop on your own. After an afternoon of battling and catching Pokemon, meet back together for dinner or cake and ice cream.
50. A Pet Party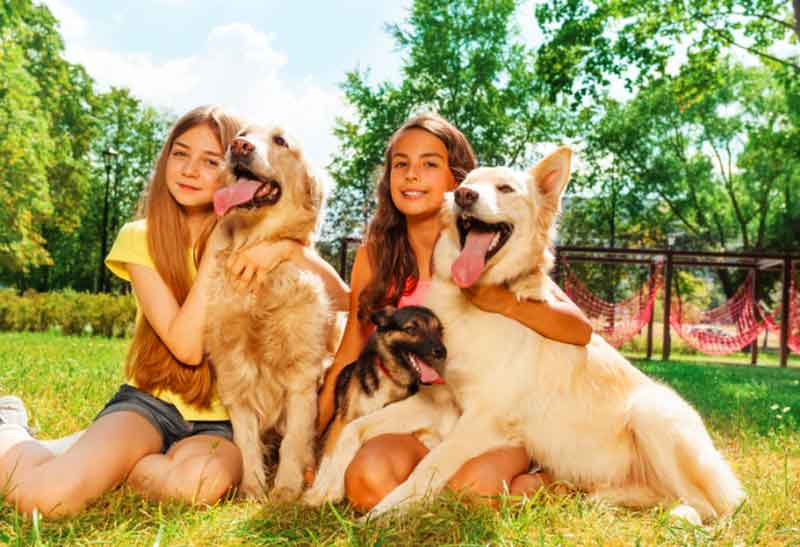 Does your teen love animals? Invite everyone to bring their dogs to a local dog park for a pet party. Provide pet-friendly food as well as "people" food so the dogs have party treats, too. Would your teen want to forego his presents? Encourage his friends to bring donations for the local humane society in honor of his birthday. You could even invite the humane society to bring some of their adoptable pets to the party to play. Who knows? Your teen's birthday could turn into someone's pet adoption day!
51. A Backyard Barbecue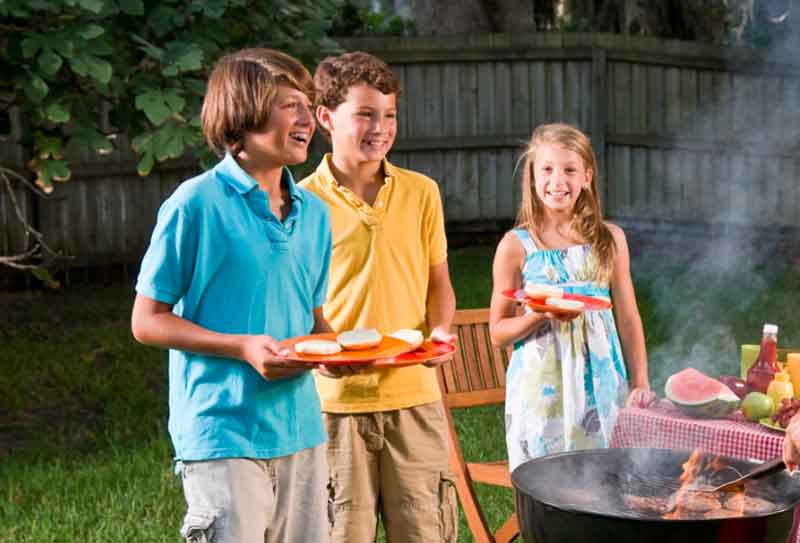 Pull out your outdoor games and invite everyone to your backyard for a cookout and games. Burgers, hotdogs, chips, cole slaw, and potato salad offer everyone a great selection for their meal. Spend the afternoon playing badminton, volleyball, croquet, corn hole, and frisbee, then relax around the picnic tables to eat and mingle. End the evening gathered around a firepit with a s'mores bar. Your teen and his friends will love the laid-back atmosphere this party provides. No rushed entertainment, just an afternoon and evening hanging out in the backyard.
52. An Ice Cream Party
Everyone loves ice cream! Create a party that centers around this fantastic treat. Create a "Build Your Own Sundae" bar with a variety of ice cream flavors and toppings. If you want to get super creative, rent an ice cream maker and let the teens create their own ice cream flavors to try and share with each other. Order a custom cake that looks like an ice cream sundae or serve an ice cream cake. Everyone will enjoy trying new combinations and flavors, and they may even leave with a new favorite!
53. Mad Hatter Tea Party
For a more formal affair, create a Mad Hatter's Tea Party for your daughter's birthday. Collect a variety of mismatched tea sets, plates, and silverware in coordinating colors to set your tables. Invite your guests to dress up and join you for an afternoon tea party in the garden. Order a topsy-turvy cake from your favorite baker to resemble the craziness of the Mad Hatter's party. Use bright colors and patterns to decorate for this party. Set up a croquet set in the yard for your guests to enjoy as well.
54. A Tie Dye Party
Your teen will love an afternoon of crafting fun using tie dye! Ask your guests to bring a white shirt to the party while you provide the materials needed to tie-dye. Print out directions for a variety of patterns your guests can use for inspiration. Set out rubber bands, dye in squirt bottles and spray bottles, plastic gloves, and any other materials the directions require. Spread out disposable tablecloths around the yard or party space, and let the creation begin! Serve colorful refreshments and order a tie-dye cake from your favorite baker. Send everyone home with aftercare directions to help them complete the tie-dye process and care for their items.
55. A Day at the Racetracks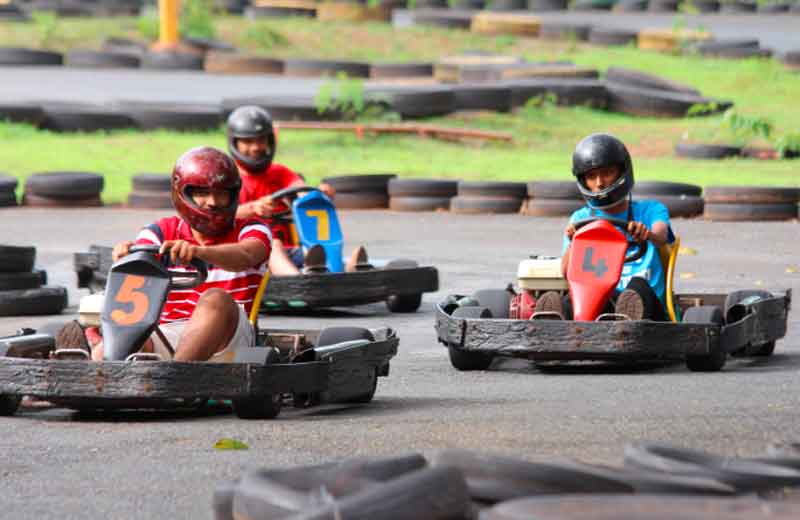 Take your teen and his friends to the go-kart tracks for a day of high-speed fun. Every teen loves the thrill of driving the go-karts and racing one another, making this the perfect way to spend his birthday. Many go-kart race tracks also have arcades or other activities. During the planning process, decide on a "per guest" budget and let parents and teens know what you will cover and if they need to bring money for optional additional activities. Once you have ironed out the details, you get to sit back and relax while the teens play!
56. A Horseback Riding Birthday Party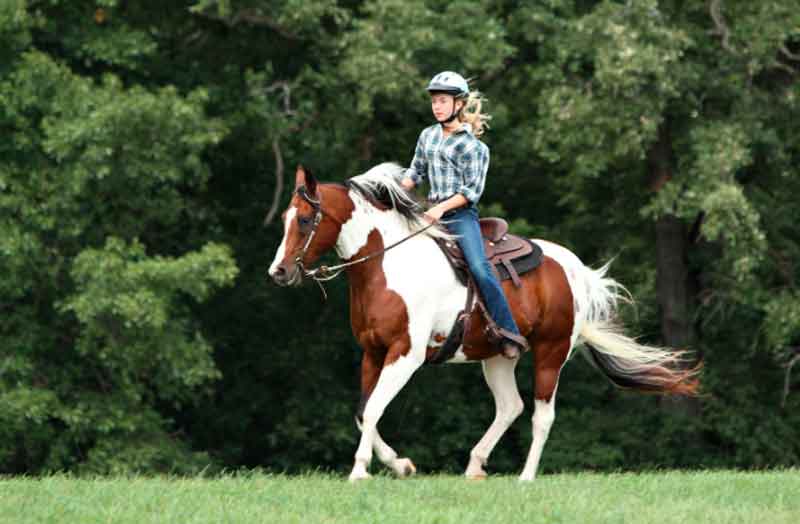 Take your teen and her friends on a horseback riding experience for her birthday. Whether your teen is an experienced rider or a beginner, there is a trail riding experience made just for her. Contact the stable prior to the party to determine the best trail option for your daughter and her guests. Also, ask about any dress codes they need to follow for safety reasons, such as no open-toed shoes and wearing long pants. Include this information in your invitations. If parents need to sign a waiver for their teens to ride, take care of that in advance as well. Once the preparations are complete, go and enjoy the trail ride with the teens! This is one of the unique teen party themes, and if the teen you're planning a party for loves horses and animals, it's a great one.
57. Fast Food Progressive Dinner Party
A progressive dinner is a dinner where you move from one place to another for each course. For a fast food progressive dinner, you will take your teen and her friends to a different fast food restaurant for each course of the meal. You may choose Arby's for mozzarella sticks for your appetizer, Taco Bell for your main course, and then Dairy Queen for your dessert. The possibilities are endless, and your teens are guaranteed to love this party. What if you would rather have a home-cooked meal? Go to an aunt's house for the appetizers, a grandparent's house for the main course, and your house for cake and ice cream.