Turning 22 may not have the same ring to it as turning 21, but that doesn't mean your 22nd birthday can't be just as, if not more, memorable than the big two-one. If you need a little help figuring out what to do on your birthday, we've compiled an epic list of fun 22nd birthday ideas below.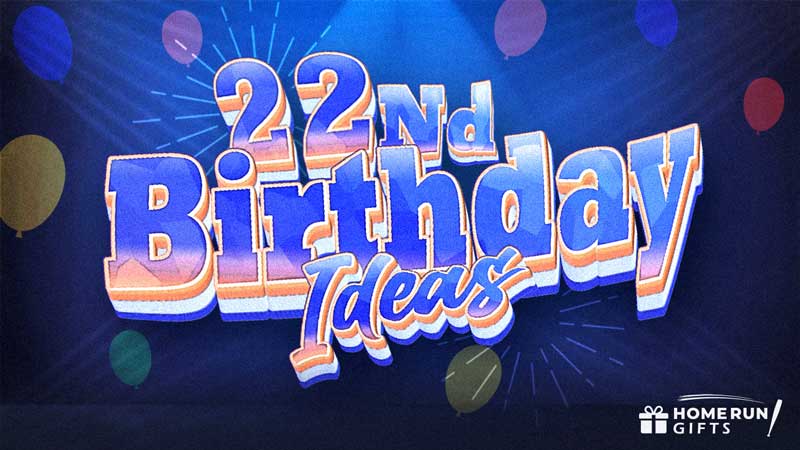 We've included a wide range of ideas, so there truly is something for everyone on this list. We also have a full list of gift ideas for guys in their 20s if you're interested.
1. Bonfire Party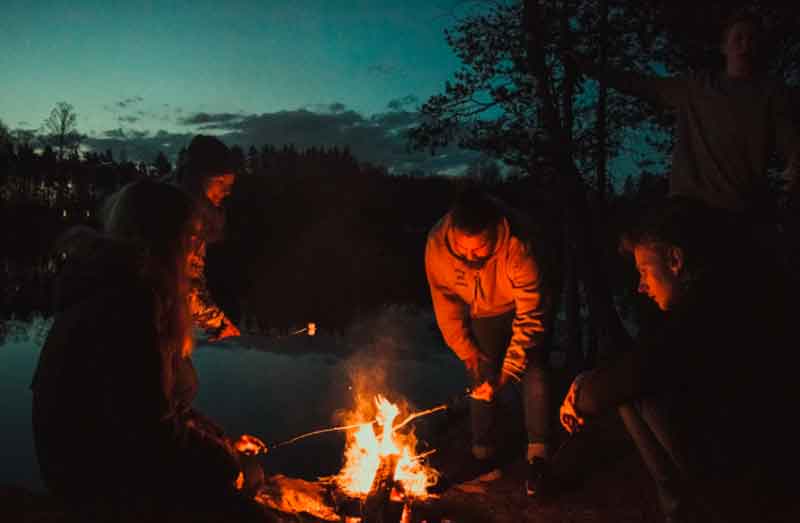 There's nothing quite like gathering around a warm, crackling fire with good company and good vibes.
You'll have to find a suitable location with a fire pit or a designated area for bonfires. You can also decorate the space with some string lights and lanterns. Next, invite your closest friends and family and encourage them to bring their own blankets, lawn chairs, and s'mores supplies, if you can't provide your own.
As the host, you can provide drinks and snacks, such as hot cocoa, cider, and popcorn. Try planning some activities and games around the bonfire, like playing cards, telling ghost stories, or a marshmallow roasting contest.
2. Beach Party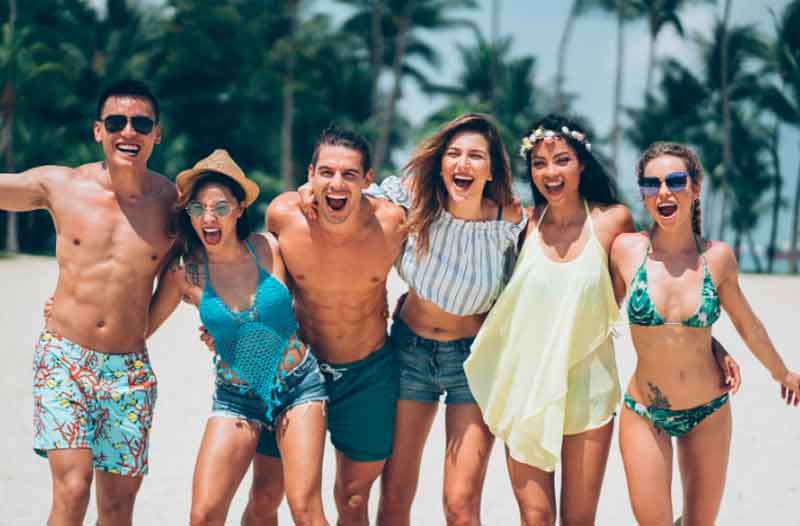 Turquoise waters, white sand, tropical drinks, and your closest friends by your side; that sounds like the ideal way to ring in another year of life, right? So celebrate with a classic beach party!
Choose a location with plenty of amenities like restrooms, picnic tables, and grills. You can even rent a beach tent, cabana, or beach house. Next, invite some close friends (with or without plus-ones) and determine the cost. Don't hesitate to ask your friends if everyone can split the cost!
Remember to bring plenty of food, sunscreen, beach towels, and games like frisbee or volleyball. You could also set up a DIY beach bar with tropical drinks like piña coladas or margaritas. This is one of those 22nd birthday party ideas that you really can't go wrong with. Everyone loves the beach, and there are a ton of different ways to compliment it with games and music you love.
3. Attend a Concert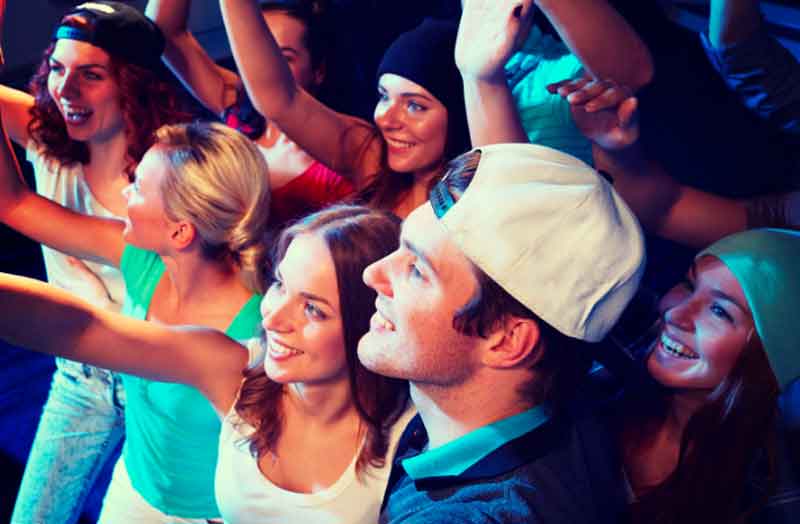 Can you think of a better present than your favorite band or artist holding a concert on the same day? Probably not, which is why you should seize the opportunity and indulge in some live music.
Whether it's a large stadium show or an intimate club gig, live music is always a great way to make lasting memories. Try to book your tickets in advance, and plan ahead for transportation, parking, living accommodations (if the concert is out of town), and any other logistics.
For an extra special night, consider splurging on VIP tickets, which include perks like early entry, exclusive merch, or even a meet-and-greet with the artist.
4. Comedy Club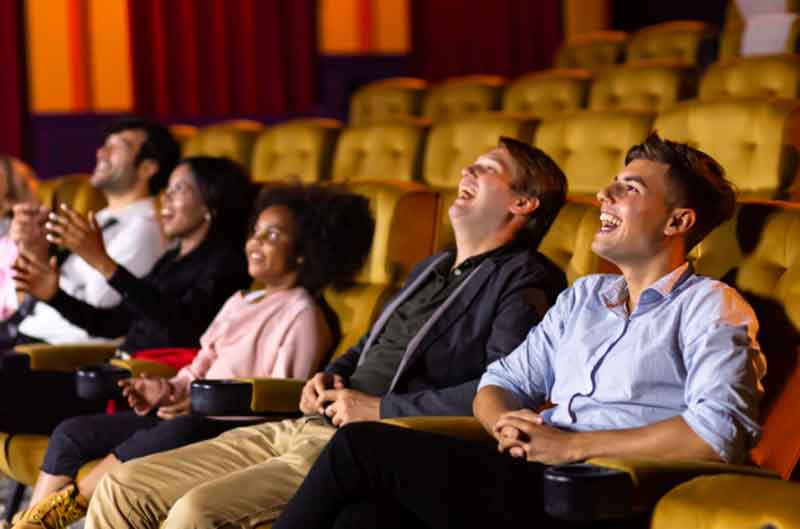 Have you ever seen a video of your favorite comedian interacting with an audience member who also happens to be celebrating their birthday? That could be you! (Just don't be a heckler!)
Research local comedy clubs in your area and check their schedules for upcoming shows. You can typically purchase tickets online or at the door. Make sure to invite your closest friends, and maybe you could reserve a table or private area for the lot.
All that's left to bring is your sense of humor!
5. Wine Tasting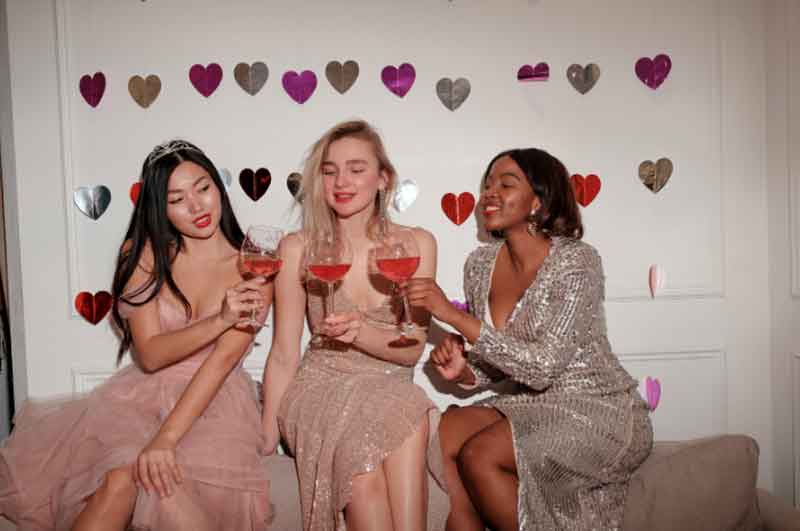 Feeling 22 and all grown-up already? Celebrate with a classy and sophisticated wine-tasting party. It's fun, educational, and a great excuse to indulge in expensive, delicious wine with your friends!
You'll need to select a variety of wines to taste and ensure you have enough glasses and wine accessories for everyone. Provide some light snacks to pair with the wines, like cheese and crackers or chocolate.
You can also hire a sommelier or wine expert to lead the tasting and provide more information about each wine.
6. Outdoor Movie Night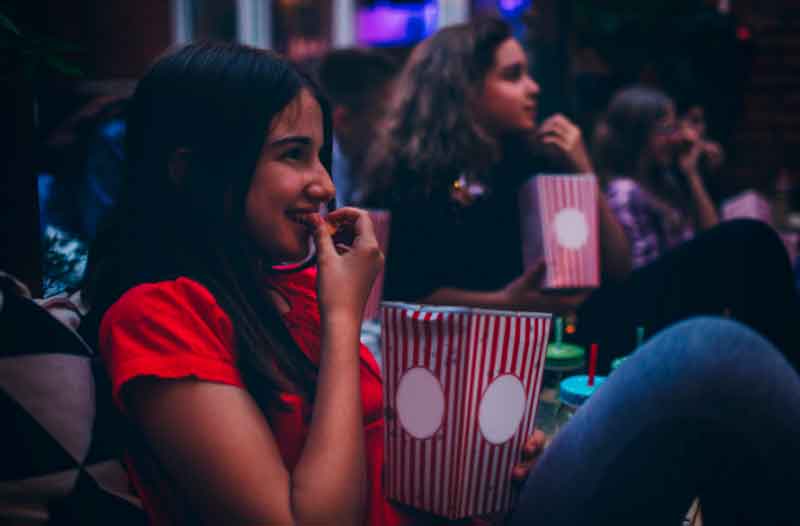 Do you know what's better than a movie night? A movie night under the stars! Get together with your friends under the night sky and watch some of your favorite movies.
You'll need a movie screen, projector, speakers, and a location. You can set up on your rooftop or backyard or even rent out some spaces to set up an outdoor movie night. Create a cozy atmosphere by stringing up fairy lights or lanterns, and don't forget to provide plenty of blankets, pillows, and popcorn.
Take this outdoor movie night to the next level by setting up a themed concession stand with candy, drinks, and popcorn flavors to match the movie you're watching.
7. Karaoke Party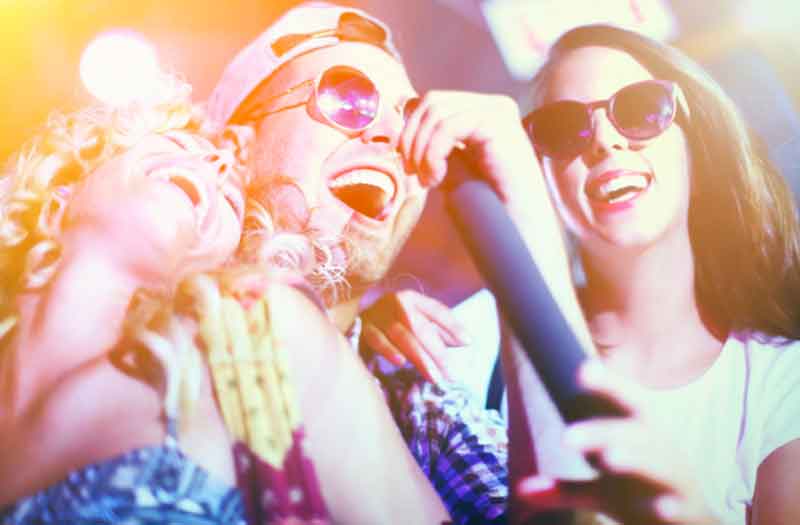 Belt out your favorite tunes with your friends on your birthday with a karaoke party! It doesn't matter whether you're a good singer; 22 is not the time to take yourself too seriously, anyway!
You can host the party at home or rent a private room at a karaoke bar. Next, set up the karaoke machine and speakers, and choose a selection of songs that everyone can sing along to. You can also ask your guests to suggest their favorite songs beforehand to ensure there's something for everyone.
Don't forget to provide snacks and drinks to energize your guests throughout the night.
8. Themed Costume Party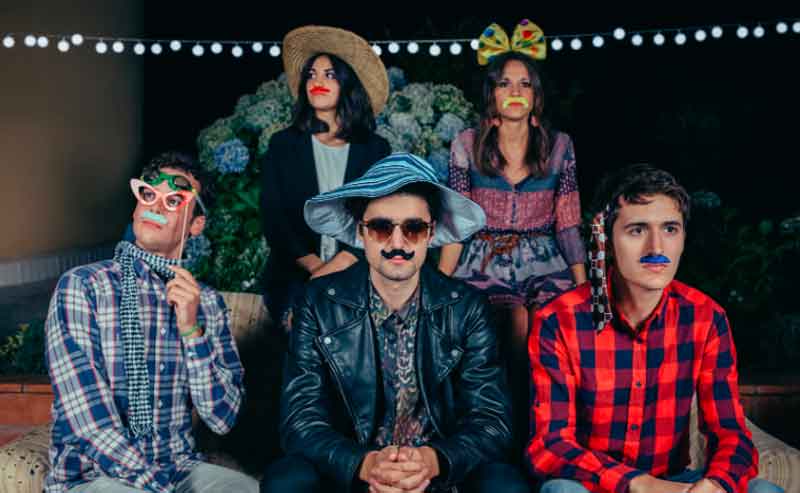 You can't go wrong with a themed costume party for any occasion! It's a great way to bring all your friends together, get everyone's creative juices flowing, and have the best pictures to look back to.
First, you have to choose a theme. It can be a movie, a game, or even random phrases and words. Send out invitations that clearly state the theme and encourage your friends to dress up.
Next, decorate your venue to match the theme, and provide food and drinks that also match the theme. For example, if you're hosting a Last of Us-themed party, you can decorate with "quarantine zone" signs and serve "Cordyceps" brain dip.
9. Murder Mystery Party
Want a party to keep you and your friends on the edge of your seats? Host a murder mystery party. It's a thrilling combination of Clue and a live-action-role-playing (LARP) game!
To plan your murder mystery party, you'll need to choose a theme and create a story with characters and clues that your guests can follow. You can find pre-made kits online or make your own from scratch.
And while you're at it, why not have everyone dress up in character and set the scene with decorations and props that fit the theme? You can also offer prizes for the first guest to solve the mystery or for the best-dressed guest.
10. Paint and Sip Party
Unleash your inner artist and celebrate your birthday with a classy and relaxing paint-and-sip party.
You can host the party at home or find a venue that can accommodate your group size and has the necessary supplies. These include things like canvases, paints, and brushes. If you want, you could also hire a local artist to guide you through the painting process.
To make things easier for yourself, host the party at an art studio that offers paint and sip classes.
11. Potluck Dinner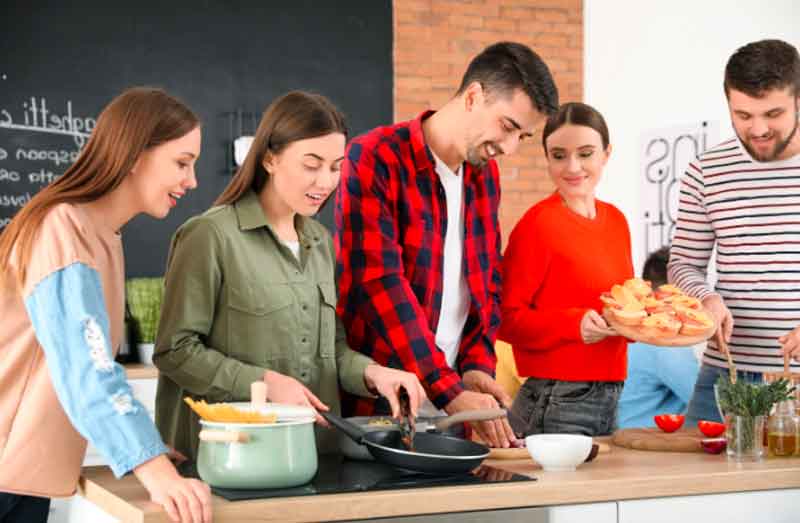 Want to keep things a little low-key this year while still having a fun time with your closest friends? Host a potluck dinner party for your birthday!
The easiest way to host a potluck dinner is by deciding a theme or cuisine to ensure everyone brings complementary dishes. Add some ambiance to the space with candles, fairy lights, or a cozy tablecloth. And don't forget to provide serving utensils and plates.
Then, gather your closest friends, set up a buffet-style table to showcase all the food, and enjoy a night of delicious food and great company!
12. Game Night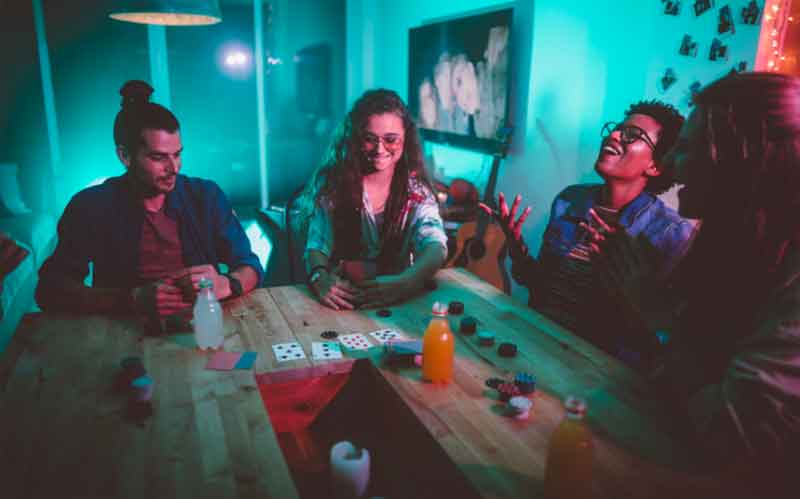 A fun and casual game night with your closest friends sounds like the perfect way to celebrate! So gather your friends and family for a night of laughter, competition, and some friendly trash-talking.
Just make sure you have a variety of games to choose from that everyone can enjoy, such as board games, card games, or party games. Ask your guests to bring their favorite games to add to the mix.
To spice things up, you can also plan fun party games like charades, Pictionary, or even a scavenger hunt.
Related Article: 30th Birthday Ideas That Everyone Will Love
13. Escape Room
You may be getting older, but your brain is as sharp as ever. Test your and your friend's problem-solving skills with an escape room party!
You can DIY your escape room, but booking an escape room for the most immersive experience would be better. You can choose a theme for your escape room, such as a bank heist, a haunted house, or a spy mission.
Don't forget to take plenty of photos and videos to capture fun memories for years to come!
14. Brewery / Winery Trip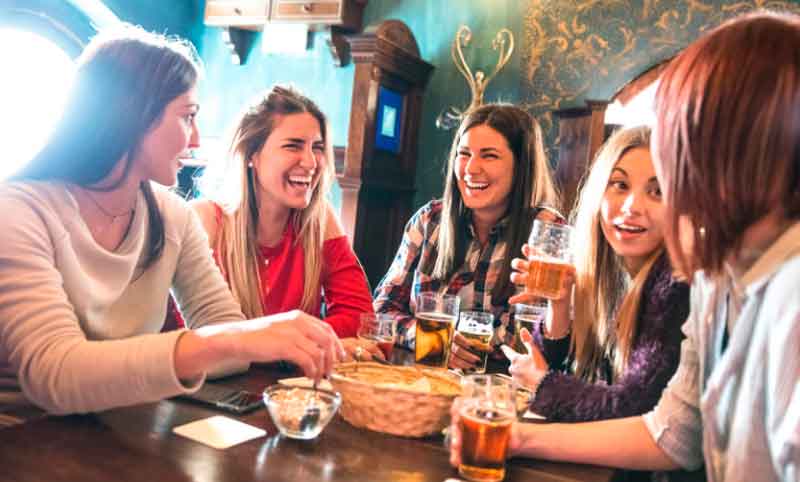 Are you a wine connoisseur or a beer lover? Then plan a winery or brewery tour for your birthday!
Gather your friends and family, and embark on a fun-filled day of tasting different types of wines or beers. You will even learn and witness the processes that go into making your favorite alcoholic beverage.
Not only is it a great way to learn something new, but it's also an ideal opportunity to relax, unwind and enjoy the company of your loved ones.
15. Pool Party
Love the water but hate the sand getting everywhere? You're 22; you're too old to be cleaning sand out of your house for a week. If you want a splash, throw a pool party instead!
Whether it's your backyard pool or a rented venue, choose a spot with plenty of space for guests to lounge, swim, and play. Decorate with colorful pool floats, beach balls, and tropical-themed decor to crank up the festivities. Plan for plenty of refreshments, including ice-cold drinks and summer snacks like fruit kabobs or chips and guacamole.
You could even add fun activities like a pool volleyball game, water balloon toss, or pool noodle race. You could also set up a DIY photo booth with fun props like sunglasses, beach hats, and pool toys! This is one of my personal favorite 22nd birthday ideas.
16. Spa Day
If all you're looking forward to on your 22nd birthday is a well-deserved day of self-care and pampering, have a spa day. It's a perfect way to relax and unwind on your special day with your closest friends!
You can either book a day at a local spa or create your own spa at home. If you do it at home, you can set up different stations for massages, facials, and manicures. Don't forget to buy some scented candles and soothing music to set the mood, and provide plenty of towels, robes, and slippers.
You can even incorporate activities like yoga, meditation, or a DIY- scrub-making session.
17. Dance Party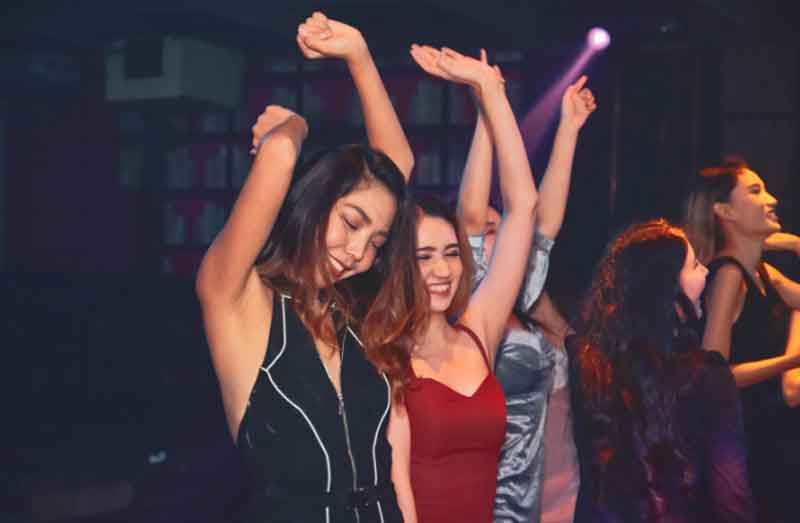 Feel like letting loose with your friends and dancing? Throw a dance party!
You could throw the party in your backyard, a rented space, or even in the comfort of your living room. You can also add some fun lights and decorations for that club-like ambiance. Take it to the next level with photo booths, props, and custom party favors.
Most importantly, though, curate the perfect playlist. Create a Spotify playlist and ask your friends to add their favorite songs. You could even enlist the help of a pro DJ.
18. Picnic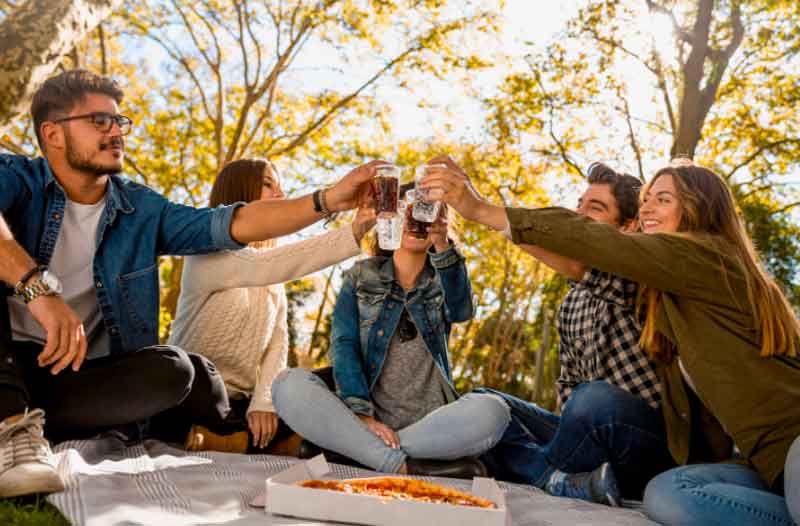 For a more laid-back, cozy, and out-in-the-nature party, plan a picnic with your closest friends and family.
All you have to do is pick a nice, picturesque location, such as a park or beach. Make sure to check if you need any permits or reservations.
Next, think about the food; you could go with classic picnic staples like sandwiches, fruits, and chips. Or, you could get creative with some homemade snacks or charcuterie boards.
For a more special touch, add some decorations, like cozy blankets, cushions, and fairy lights. Top it off with a little frisbee or some light football.
19. Paintball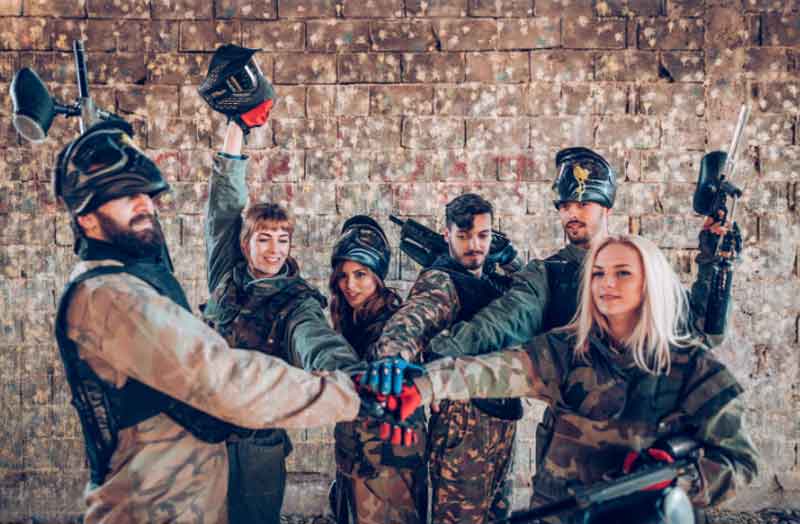 Sometimes, all you want to do for your birthday is to shoot your friends with paintballs until your heart's content. When else are you going to get the chance? So plan an action-packed, adrenaline-pumping game of paintball for your birthday!
You'll have to find a local paintball arena or park that offers rental equipment and fields. Book in advance and ask about any special birthday party packages or deals. Invite your friends and family, and communicate any dress code requirements, like long sleeves and pants.
You can also create fun challenges or games within the larger paintball game, like Capture the Flag or Last Person Standing.
20. Rock Climbing
See how much you can push yourself physically at 22 with a rock climbing party!
Given how popular it is, you should be able to find an indoor rock climbing gym in your area, particularly one that offers group packages. Book ahead of time and ask about any special accommodations for parties. You'll also want to make sure everyone has appropriate clothing and shoes for climbing.
Consider hiring a professional climbing instructor to teach your group some advanced techniques. You could also incorporate a friendly competition or creative team-building exercises into the climbing experience.
21. Skydiving
Get a broader world perspective on life with a skydiving excursion! The adrenaline rush from free-falling at 100 miles per hour is enough to last you a lifetime!
To plan a skydiving excursion, you'll want to research reputable skydiving companies in your area and check their safety record. Many skydiving centers offer tandem jumps where you'll be harnessed to an experienced instructor for the jump. Make sure to wear comfortable clothes and follow all instructions the instructors provide.
You could even film the jump or bring friends along for the ride and share this adventure with you!
22. Ice Skating
For a winter wonderland and strap on some skates and hit the ice. This classic winter activity is the perfect way to get some exercise, enjoy the fresh air, and have some laughs with your loved ones!
But you don't have to wait till winter to go ice skating. You just need to find a local ice skating rink open to the public.
Then, invite your friends and family to join you and reserve a time slot that works for everyone. Remind everyone to dress warmly and in layers, as rinks can get pretty chilly.
23. Retro Roller Skating Party
Throw it back to the 80s with a retro-inspired roller skating party.
You can find numerous local rinks or venues that offer roller skating. Many even offer party packages that include skate rentals, food, and decorations. You could even reserve a private area for your group.
On the party day, encourage everyone to dress up in their best retro-inspired outfits. You could even hand out fun accessories like neon leg warmers or vintage roller skates.
24. Trampoline Park
Want to feel like a kid again? Celebrate in a way that the younger you would have gone crazy for: a trampoline park party!
To pull off the greatest party, research local trampoline parks and compare their pricing, amenities, and other factors that matter to you. Once you select a park, send out invitations to friends and family and remind them to wear comfortable clothing.
With some additional touches like decor, party favors, professional photographers, and customized cake, you'll be ready to bounce into your 22nd year with style!
25. Laser Tag
Relive the joys of playground tag, only this time with lasers and mazes! Gear up and battle it out with your friends in a (not-so) friendly game of laser tag!
All you have to do is make a reservation at your local laser tag arena, preferably one that provides party packages.
If you want to be extra, you could incorporate a dress code or theme for your group. You could also create personalized team names and even prizes for the winners!
26. Hot Air Balloon Ride
Knock an item off your bucket list and go on a hot air balloon ride! It's one of the most dreamy and magical ways to celebrate this special birthday.
Try to find a reputable company in your area, and look for reviews and testimonials from other customers. Consider the weather and time of day before booking your slot, as well as any other special accommodations or requests.
You could even upgrade to a private tour and add things like champagne or a gourmet picnic to the experience.
27. Stargazing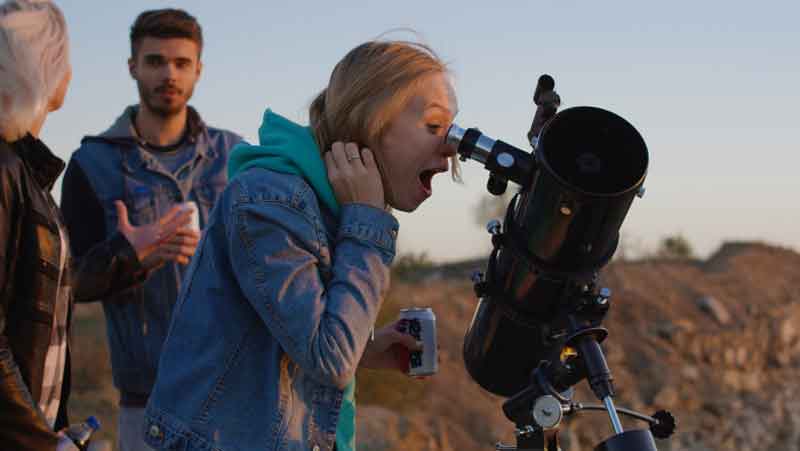 How about taking a life-changing trip to the stars? Okay, so maybe not literally. But stargazing can offer an experience that's just as awe-inspiring, relaxing, and surreal.
To plan a stargazing party, you'll need a location far away from the city lights, such as a park or campground. You'll also need plenty of blankets, chairs, and warm clothing to stay comfortable during the night, as well as snacks and hot drinks to keep everyone energized.
You can also bring a telescope or binoculars to get a closer look at the stars and planets. Additionally, downloading a stargazing app, like Sky View or Star Chart, can launch your stargazing experience to new heights.
28. Horseback Riding
As you turn 22, it's time to fulfill your childhood dream of galloping through the fields like a true equestrian. With the sun on your face, the wind in your hair, and your trusty steed by your side, this birthday activity is bound to be memorable.
Try to look for local stables or ranches that offer guided trail rides. Many places offer rides for beginners, so don't worry if you're new to riding.
You could even book a private or sunset ride for a view you won't forget for a long, long time.
29. Ice Cream Social
Here's an idea that's sure to be the cherry on top of your birthday festivities: an ice cream social! It's a fun and casual way to bring people together and the perfect excuse to have all the delicious and wacky ice cream flavors you want!
You could host the party at your home, a park, or a rented space. Consider the number of people you want to invite, and then figure out how much ice cream you'll need for everyone. Offer an array of toppings and mix-ins, such as sprinkles, chocolate chips, fruit, and whipped cream.
And if you want to go all out, set up a sundae bar where guests can create their own sundaes!
30. Archery
Channel your inner Katniss Everdeen with archery lessons. If all goes well, it can be a new hobby that you can pick up on a regular basis!
First, find a local range or club that offers archery lessons or group sessions. Many ranges will have equipment for rent, but if you plan on making it a regular hobby, you may want to invest in your own bow and arrows.
During your archery session, you'll learn the basics of stance, aim, and release, plus some fun target games to play with your friends.
31. Book Club Party
Celebrate your love of literature and your birthday all in one go with a book club party! With the right mix of friends, books, snacks, and drinks, it can be fun and low-key.
Planning is simple: choose a date, select a book, invite your guests, and prepare some tasty snacks and drinks to enjoy during the discussion. To take it to the next level, encourage your guests to dress up as their favorite literary characters, create themed decorations, or even serve a signature cocktail based on the book you are reading.
With a little creativity, you can make this birthday celebration a novel event to remember!
32. Retro Gaming Party
Take a trip back in time with a nostalgia-filled retro gaming party. Channel your inner child and invite your friends over for an evening filled with classic games from the 80s and 90s.
You'll need to set up an area with all the necessary gaming equipment. Some examples include consoles like the NES or Sega Genesis, vintage controllers, and various classic games. You could even decorate the space with retro-themed decorations like old posters, lava lamps, and neon lights.
To tie it all together, serve retro-inspired snacks like pop rocks, Doritos, and Hi-C Ecto Cooler.
33. Decade-themed Party
Twenty-two came so early, and you're scrambling for ways to turn back time. Well, you can do that with a decade-themed party to transport you and your guests into your favorite era!
You could go with the roaring 20s, groovy 60s, or colorful 80s; whatever the theme, it's going to be a blast from the past!
Get creative with your decorations, food, and music, and encourage your guests to dress up in the style of the chosen decade. You can also incorporate fun activities like decade-specific games or trivia.
34. Sailing Trip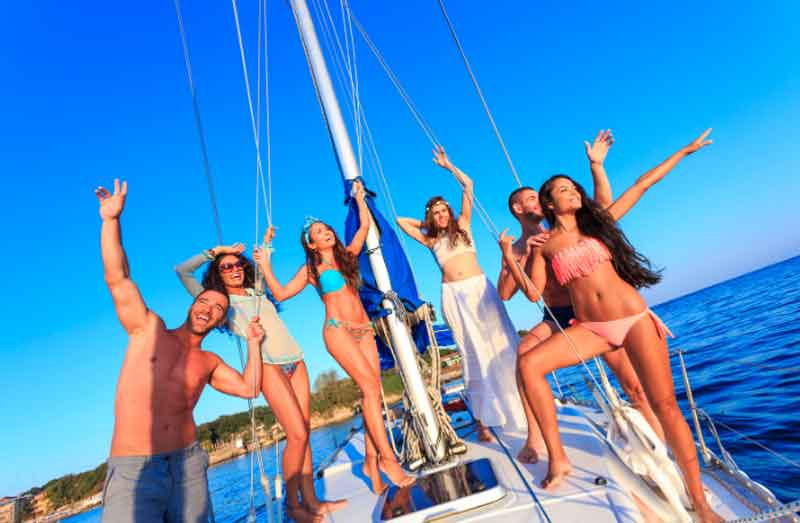 As you set sail on this new year, why not embark on a sailing trip with your closest friends? Explore the open sea with your trusty crew on a sailing trip!
First, decide on a location and route. You can rent a sailboat and captain it yourself or book a guided tour with a licensed captain. Don't forget to pack essentials such as sunscreen, hats, and appropriate clothing.
To really get into the sailing spirit, bring some fun nautical-themed decorations and snacks. Some examples include anchor-shaped cookies or sailor hats for everyone to wear.
35. Beer Tasting
G your friends for a beer-tasting party! It's the perfect opportunity to expand your taste buds, try something new with your friends, and have a blast doing it!
Start by choosing a variety of beers from different breweries and styles. Set up a tasting area with glasses and snacks to cleanse your palate between tastings. You can even create a scoring system to rate each beer and determine a winner.
Just remember to drink responsibly and have a designated driver or transportation plan.
36. Board Game Tournament
For a no-pressure and laid-back celebration with your closest friends, give a board game tournament party a try. Your guests can bring their own board and card games, and a little pizza, drinks, and music can get the party started!
You can even add themed decorations and costumes to match the theme of the games you're playing. Get creative with your snacks and drinks, too; try making game-inspired cocktails or snacks shaped like playing pieces.
Lastly, you can't have a board-slash-card-game tournament without a prize. Keep score and determine a prize for the winner, whether it's a trophy, bragging rights, or a gift card to a local game store.
37. Wine and Paint Party
Unleash your inner Picasso while sipping on some fine wine with a wine and paint party! Unwind with some delicious wine and flex your hidden artistic skills by creating your very own masterpiece!
Here's how to plan your wine and paint party: choose a venue, select your painting, gather your supplies, and of course, pick out some tasty wine.
To take things to the next level, consider hiring a professional instructor to guide you through the painting process.
38. Brunch Party
Rise and shine with a party that will leave you and your guests feeling nourished and refreshed. It's a brunch party!
Pulling off a successful brunch party may seem daunting, but hey, you're 22 now. No time like the present to learn to do all that adult stuff, like planning a brunch menu, decorations, and activities.
Keep the vibe light and airy with simple, chic decor and some fun games like lawn games, board games, or a photo booth.
39. Movie Marathon
Lights, camera, action! Or do you prefer a light-hearted comedy or a gut-wrenching romance drama? Whatever the genre, a movie marathon is a perfect way to celebrate your birthday with your closest friends and family.
Set up a cozy viewing area with plenty of blankets and pillows for ultimate comfort. To choose the perfect movie, pick a theme first to help narrow down the choices. Consult with your guests, and take the running time into account so that you can plan your breaks accordingly.
You can even add things like themed snacks, decorations, or even costumes! Settle in with some popcorn and candy, and enjoy the ultimate night in with your favorite people.
40. Weekend Getaway
Sometimes, a day of celebrations isn't enough; you need an entire weekend. Plan a weekend getaway with your closest friends!
Start by deciding on a destination that suits your interests and budget. Consider renting a cabin in the woods for a cozy and secluded retreat, or book a beach house for some sun, sand, and surf. If you're feeling more adventurous, plan a camping trip or a hiking excursion.
Additionally, think about planning some activities or excursions. Book a wine-tasting tour, go ziplining or white-water rafting, or rent a boat and explore a nearby lake or river.
41. Day Trip
If you can't commit to a whole weekend for a birthday getaway, why not make a day trip for your birthday? Day trips are a great way to explore new places, try out exciting activities, and create lasting memories.
Start by deciding on your destination and mode of transportation. Consider any activities or attractions you want to visit and make a rough itinerary to ensure you make the most of your time. Don't forget to pack snacks, drinks, and any necessary gear or equipment for your chosen activity.
And don't forget to bring a camera to capture all the fun!
42. DIY Pizza Party
Put a spin on the classic pizza-and-beer party with a DIY pizza party! Not only is it a great bonding experience, but everyone will get to personalize their own pizzas to their liking.
You'll need to gather some basic ingredients, such as pre-made dough, tomato sauce, and a variety of cheeses. You'll also need a lot of toppings, like meats, vegetables, and herbs. Make sure to have enough for everyone to make at least one pizza.
No more fighting over anchovies or the last of the cheese pizza!
43. Wine and Cheese Party
Once you hit 22, you start appreciating the finer things in life, such as some fine wine and cheese! It's a classy and sophisticated way to try out some delicious wine and cheese pairings — the stuff of everyone's dreams!
You'll need to do a little research and select a variety of wines and cheeses. Consider a mix of red and white wines, and choose cheeses with different textures and flavors. Then, set up a tasting station with small plates, napkins, and glasses, and encourage your guests to try different pairings.
You can even add additional elements, like charcuterie, crackers, and fresh fruit.
44. Host a Sushi-Making Party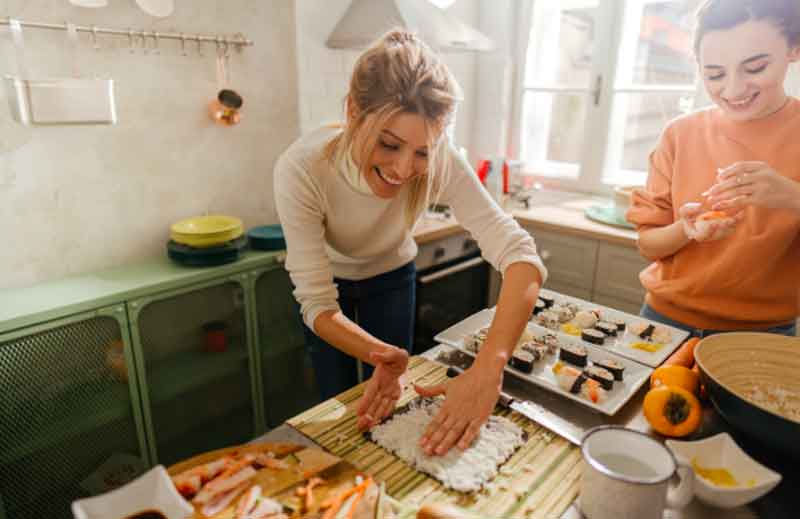 Ready to roll for your 22nd birthday party? Sushi rolls, of course! Why, what were you thinking?
A sushi-making party is a great way to celebrate with friends and get creative in the kitchen. Get your hands sticky with some seaweed, rice, and your favorite fillings.
You'll need all the necessary equipment, including a sushi rolling mat, rice, nori seaweed, soy sauce, etc. Then, set up a workspace with all the ingredients and show everyone how to roll sushi. Make sure to have plenty of supplies on hand so everyone can practice their rolling technique.
To add an extra flair, you could put up some Japanese-inspired decorations and hold a competition for best-rolled sushi!
45. Ski Trip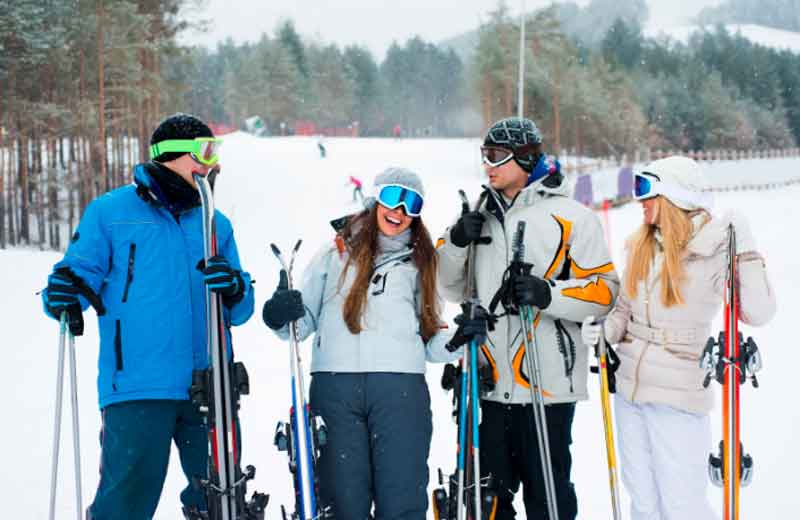 Consider hitting the slopes on a ski trip! With fresh mountain air, scenic views, and the thrill of speeding down the slopes, it's the perfect way to inaugurate your 22nd year!
Start by picking a location that fits your budget and skill level. Try to find good local ski resorts and accommodations, and be sure to book early to ensure availability. Furthermore, decide between renting equipment or bringing your own, and don't forget to pack plenty of warm layers and sunscreen.
And after a day on the slopes, unwind with a warm drink or cozy up by the fire with friends and family.
46. Go to a Food Festival
It's about time you explore different cuisines and expand your palate. Hence, a food festival is a perfect way to celebrate, whether you're a hardcore foodie or just looking for a unique experience.
Research local festivals and events in your area, and look for ones with numerous vendors and cuisines. Any additional special events or activities will be a good bonus. Also, purchase your ticket in advance to avoid long lines and ensure safety.
Lastly, go with an empty stomach, comfortable shoes, and a whole lot of drinking water. Bring cash in small bills to make transactions with vendors easier and be ready to try new things.
47. Have a Cocktail party
If you've never hosted a cocktail party before, it is the perfect time to start!
Think about which drinks you want to serve and the ingredients you'll need. You can get creative with the presentation and garnishes and even consider offering a signature cocktail that you've created yourself.
Make sure to have plenty of ice, mixers, and garnishes on hand, and don't forget to include non-alcoholic options for your non-drinking guests.
48. Attend a Painting Class
How long have you wanted to learn painting but just never found the time? Think about this: if you start attending painting classes, you'll be a pro by your 23rd!
Numerous studios and art centers offer painting classes, including options for private events. So, you can easily book a session exclusively for you and your friends.
To add an extra element of fun, you can even bring your own drinks and snacks. And if you want to go the full mile, dress up in fun, artsy outfits like overalls.
49. Rent a Boat
Set sail on a birthday adventure and explore the beautiful waters with your friends and family with a private boat rental.
Though this is an expensive option, it will be worth the price. You can find all sizes of boats for any number of people, as well as additional features like a captain or water sports equipment.
You can even plan and partake in other activities like snorkeling, swimming, or a quiet picnic on a secluded beach.
50. Silent Disco
Want to have a disco but don't want the cops called on you for loud, disruptive music? Silent disco to the rescue!
A silent disco is exactly like it sounds: people wear wireless headphones and dance to the beats of their choice. It's a noise-free way for everyone to enjoy and let loose to their own music.
You'll need to rent or purchase wireless headphones, a transmitter, and a music source. You can either create your own playlist or hire a DJ to provide the tunes.
Don't forget to decorate the space with disco lights, balloons, and other fun decorations to create the perfect disco experience!
Popular Article: 35th Birthday Party Ideas That Are Very Popular
51. Attend a Sports Game
Score a winning celebration by catching your favorite team in action with your closest friends!
Try to get the tickets in advance as soon as possible, as those things can sell out fast. Moreover, since it's your birthday, you could splurge on prime location seats, like near the center of the court. And for the full fan experience, indulge in a little tailgating.
You could even create custom t-shirts or hats for your group to wear and bring along some fun game-day snacks and drinks for everyone to enjoy!
52. Go-Kart Racing
Pander to your inner speed demon and race your friends at a go-kart track.
Luckily, many tracks offer group packages and discounts, so your posse can tag along for a full day of engine-revving fun. You could even incorporate some fun accessories like racing helmets or customized t-shirts for your group.
And if you want to go all out, create your own mini Grand Prix awards for the fastest time lap or most aggressive driver, etc.
53. Nature Hike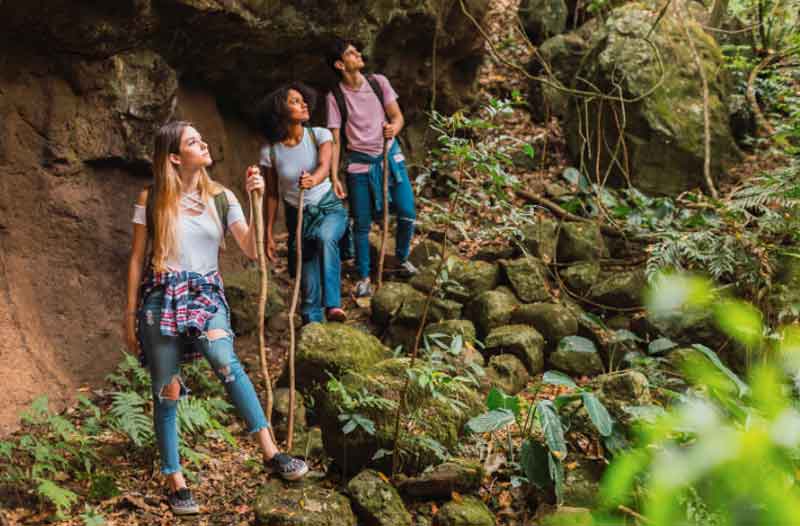 This birthday, take a break from city life and reconnect with nature by going on a hike with your closest friends. All that fresh air, exercise, and sun is a good way to start off your 22nd year!
Choose a trail in your area that is suitable for your group's fitness level. Moreover, make sure to pack plenty of water, snacks, and appropriate clothing and footwear.
You could even hire a guide or join a group tour to learn more about the local flora and fauna. To top it all off, plan a picnic lunch at a scenic spot along the trail.
54. Staycation Party
A staycation is a perfect way to celebrate without breaking the bank. It's a great way to unwind, bond with friends, and have a little tourist moment without actually having to leave your city.
To plan your staycation, choose a theme and a location. You can either host the party at your own place or book a room at a local hotel. Decorate the space to fit your theme, and plan activities like board games, movie marathons, or a DIY spa day.
You could even hire a chef to cook a fancy meal, book a private pool or rooftop bar, or arrange a guided tour of your city's hidden gems.
55. Host a Party at Your Place
For a celebration that's close to home, simply host a party at your place! You'll have full control over the guest list, decor, and activities. Plus, you can change into your pajamas and retire to your room whenever you want!
Decide a theme, put up some basic decor, and plan out the food and drinks. You could even set up a photo booth area, have a board game or video game tournament, or plan a DIY cocktail bar. And don't forget to create a fun playlist to keep the party going all night long.
Then, invite your closest friends for a fun night in.
56. Go on a Shopping Spree
Treat and spoil yourself on your 22nd birthday with an all-out shopping spree! New outfits, stylish accessories, or the latest tech gadgets — add them all to cart! But be smart about it.
Start by setting a budget and deciding on the stores you want to visit. Make a list of items you've been eyeing and prioritize the ones you really want. You could even bring a friend or two along to help you make those tough decisions and offer your opinions.
Lastly, don't forget to treat yourself to a nice meal or coffee break in between all the shopping to recharge and relax.
57. Bucket List Party
If you're feeling the pressure to make your day the most memorable one, here's an idea: gather your closest friends and cross off some of the wildest items on your bucket list together.
If you don't already have a bucket list, it's never too late to make one! Make a list of all the things you want to do or places you want to visit, and try to make it as diverse as possible. Then, create a schedule for the day or weekend and start checking off your bucket list items.
58. Tropical-themed Party
Nothing screams "fun in the sun" like a tropical-themed party! If you're looking for a way to celebrate, a tropical party is a perfect way to transport your guests to a paradise island.
From palm trees to pineapples, flamingos to coconuts, the possibilities for decorations are endless. And let's not forget about the drinks — serve up some fruity cocktails in coconut cups or a punch bowl with an island flair. You can even incorporate some hula hoops or limbo to keep the party going.
And don't forget to dress in your best tropical attire — floral shirts, grass skirts, and sunglasses are a must!
59. DIY Crafts Party
Do you love getting crafty and creative? Throw a DIY crafts party for your 22nd bday! It's a great way to not only spend time with your loved ones but also send everyone home with a handmade souvenir.
To get started, choose a theme for your party, such as painting, jewelry-making, or scrapbooking. Next, gather all the necessary materials and tools, and set up a crafting station for each guest. Don't forget to provide snacks and drinks to keep your guests fueled throughout the party.
60. Virtual Reality Experience
Immerse yourself and your friends into an entirely new world with a virtual reality party.
You'll have to find a VR arcade near you, preferably one with private party rooms for your group. You can also rent VR equipment and set it up in your own space, but make sure you have enough space to move around and play safely.
To spice things up, you could even incorporate a theme into your games, like space-themed games or zombie-themed games.
61. Scavenger Hunt
A scavenger hunt is a perfect way to explore the city, bond with friends, and build some long-lasting memories.
To make things easier for yourself, you can use a scavenger hunt app or website. Then, divide your group into teams and set a time limit, and make sure to have prizes for the winning team to add a little competitive spirit to the mix.
Plus, you could incorporate some fun challenges or obstacles. For example, you could have a clue that requires your team to perform a dance in a public place or a challenge that requires you to take a photo with a stranger.
62. Ziplining
Soar through treetops and take in breathtaking views with a ziplining adventure!
Make sure to book a course in advance and triple-check any restrictions or requirements. On the day of the party, arrive early and make sure everyone is wearing appropriate attire and gear.
Lastly, consider adding some fun extras like a picnic lunch or a post-ziplining celebration at a nearby restaurant.
63. Kayaking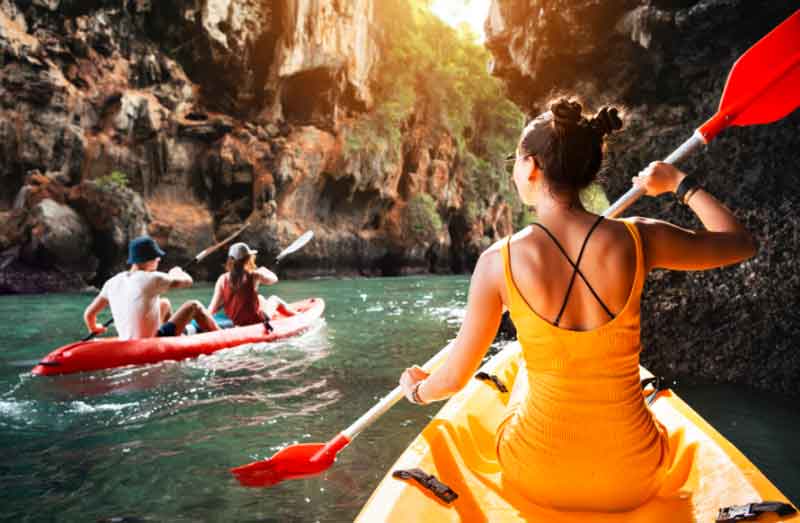 Are you ready to paddle into a wild adventure? Going kayaking is a super fun and unique idea! It's an excellent way to get out of your comfort zone and explore the great outdoors with your friends!
Try to find a reputable outfitter that offers guided tours or rentals. You'll need to decide on the location, time, and type of kayaking you want to do. You can also pack a picnic or plan to stop at a nearby restaurant for lunch.
If everyone in your group is an experienced kayaker, you could also take things to the next level by adding some fun challenges. For example, you could incorporate a relay race or scavenger hunt.
64. Yoga or Meditation Party
For a more relaxed and zen approach celebration, consider a yoga or meditation party. This can be a great way to unwind, de-stress and connect with your loved ones in a calming atmosphere.
For a yoga or meditation party, you'll need a suitable space that can accommodate all your guests comfortably. To get the ambiance right, experiment with soft lighting, aromatherapy, candles or diffusers, and soothing music. And to further promote health and wellness, serve healthy snacks and refreshments such as herbal teas, fresh fruits, and smoothie bowls.
You could also hire a yoga or meditation instructor to lead the class.
65. Bubble Bath Party
A bubble bath party might sound like something you'd do with a glass of wine on a quiet evening. But why not turn it into an epic birthday bash?
Set the mood with soothing music and dim lighting. Fill up the tub with warm water and add some bubbles, bath bombs, and essential oils for extra relaxation. Make sure to provide some fluffy towels, robes, and slippers for your guests to use after their luxurious baths.
For extra flair, set up a DIY facial or foot soak station, or even hire a masseuse or esthetician.
66. Fondue Party
Looking for a deliciously fun way to celebrate with friends and family? Throw a fondue party that's sure to melt their hearts and warm up their taste buds!
First, decide what kind of fondue you want. Do you want sweet or savory? Chocolate or cheese?
Then, scour all the necessary equipment. This includes a fondue pot, fuel, and skewers. You can often rent these items if you don't already have them.
All that's left to do now is set the scene with some decor, candles and dim lighting, and music.
67. Pottery Painting Party
Tap into your artistic side and get your hands dirty with some pottery painting.
You'll first need to find a local pottery studio or art supply store that offers pottery painting and select your pottery. Then, select your colors and designs, using reference photos for inspiration. Finally, paint away!
The best part is that you get to take home your one-of-a-kind masterpiece as a souvenir.
68. Arcade Party
Level up your celebrations with some classic arcade games! An arcade party is a perfect way to transport yourself and your friends back to the good old days.
For the perfect blast to the past, start by choosing a venue that has a variety of games available. This could be a classic arcade or a modern bar with an arcade section.
Next, sprinkle some nostalgia into the atmosphere by decorating the venue with things like pixelated balloons or retro game posters. You could even encourage your guests to dress up in 80s or 90s-inspired outfits.
So grab your quarters and get your game faces on!
69. Tarot Card Reading Party
As you turn 22, discover what the future holds for you with a fun and mystical tarot card reading! During the party, the tarot card reader will guide you and your friends through the world of tarot, sharing insights and predictions.
Make sure to find a reputable tarot card reader in your area. Next, schedule a date and time that works for your entire group. Lastly, set the mood by creating a mystical atmosphere with dim lighting, candles, and incense.
You could even offer themed snacks and drinks. Some ideas include "mystical" cocktails and snacks that relate to the tarot cards, such as cups of tea or bowls of fruit.
70. Pedal Tavern
Hit the town on a pedal tavern with your closest friends. This unique party experience combines a sightseeing tour with a bar crawl as you pedal your way through the city on a multi-person bicycle.
Check if your area has any pedal tavern companies. Many pedal taverns can accommodate groups of up to 16 people, so be sure to invite your closest friends to join in on the fun! Some companies even allow you to customize your route and stops along the way.
Wrap Up:
That does it for this article. Let us know if there are any fun ideas that we missed in the comments below. If you're someone who acts a little older than their age, we also have a list of 25th-birthday ideas you can check out.