Turning two is an exciting milestone in life, and it certainly needs to be celebrated in a big way. Picking a theme is crucial to the success of the party, no matter how big or how small it is. That's why we decided to put together an epic list of 2nd birthday ideas and themes.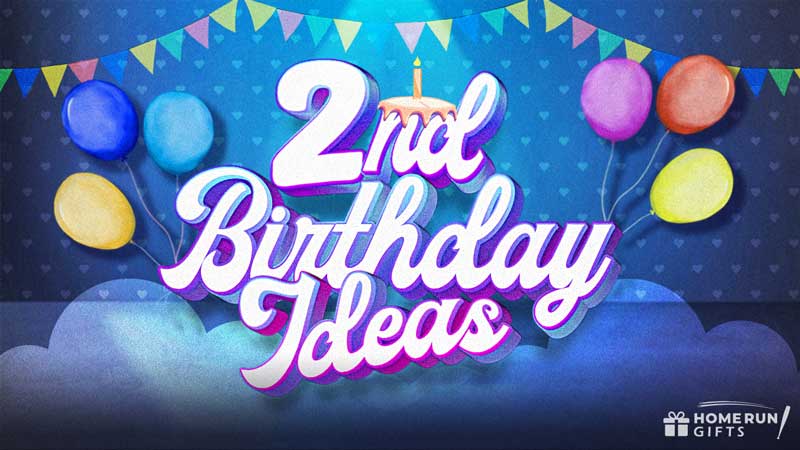 It may be confusing and daunting to pick a theme with so many inspiration boards and interests, but we're confident you'll find many ideas that you love below.
1. Two-rassic park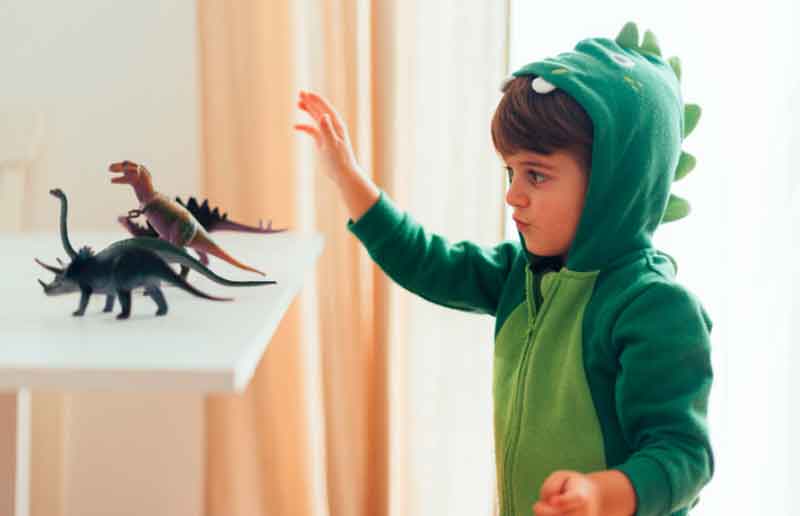 Have a dinosaur-inspired party for your little one. Get some dinosaur inflatables and balloons for decor, then add tropical leaves/garlands and stick them to the ceiling. You can add dinosaur toys to the food and drinks section, and these toys can also serve as party favors. Adopt a dinosaur, anyone?
If you've got the space, put up a sandbox and let the kids do their own digging for fossils (just dino toys, really!), and they can bring these home, too. Do ask the guests to dress up like they're going on an archaeological dig; it'll make for cute pictures!
2. Superhero Party
Have a "super" party with your kid's favorite superhero! Your child can wear a superhero costume of his/her fancy, and the guests can attend in their favorite superhero costumes, too. Sky's the limit with Marvel comics; heck, even Sailormoon is a superhero!
If your child doesn't want to be a popular superhero, they can be their own, of course. You can be generic but still on point with the theme. Just keep the colors simple, and have balloons and banners in primary colors. You can even set out paper masks for the kids to wear to keep their identities a secret!
3. Bouncy House Party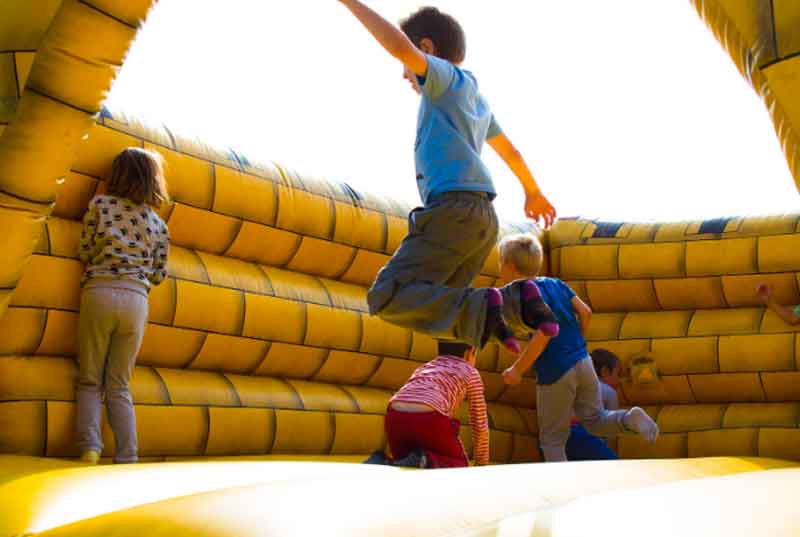 This one will need a lot of space and will entail a lot of fun for the little ones. You can rent from a reputable party supplier and have either a large one or a few scattered about on the lawn (if there are older or much younger kids). Don't forget to ask the kids to bring or wear socks.
The best thing about this theme is that you don't have to worry much about the decor, photo booth, and how you'll set up the food. The kids will have one heck of a good time to even notice!
4. The Circus is in Town
That's right, the circus is in town, and your two-year-old is the ringmaster! Design your invitations like circus tickets (add a cute tear-off portion that says 'admit one'). You can also print out customized popcorn buckets and goody bags. For decor, you can have a circus tent backdrop (you can have this printed, or you can have one strung over the ceiling) with its bold red and white pattern.
Add some stuffed animals like lions, bears, and elephants, some hula-hoops (the kids can play with these, too), and pillars of colorful balloons and banners, and you're good to go.
5. Two the Zoo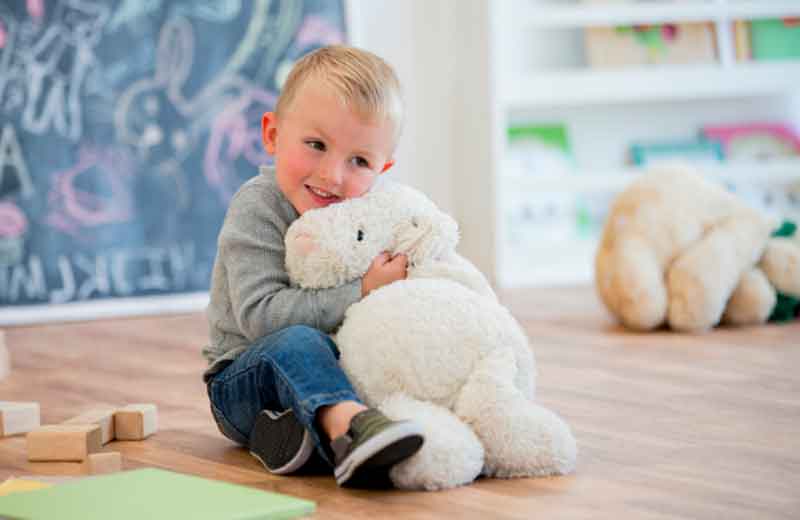 What could be more fun than introducing animals to your two-year-old and their friends? Set up the place like a mini zoo, complete with stuffed animals in cardboard boxes and zoo-themed food and drinks. You can also put fun facts on the food labels for the adults to read aloud.
Think Banana cupcakes because monkeys love bananas, a refreshing watermelon drink cause hippos love eating that fruit, a salad bowl cause manatees love their lettuce- the list can go on and on.
6. TWO Points! Basketball Party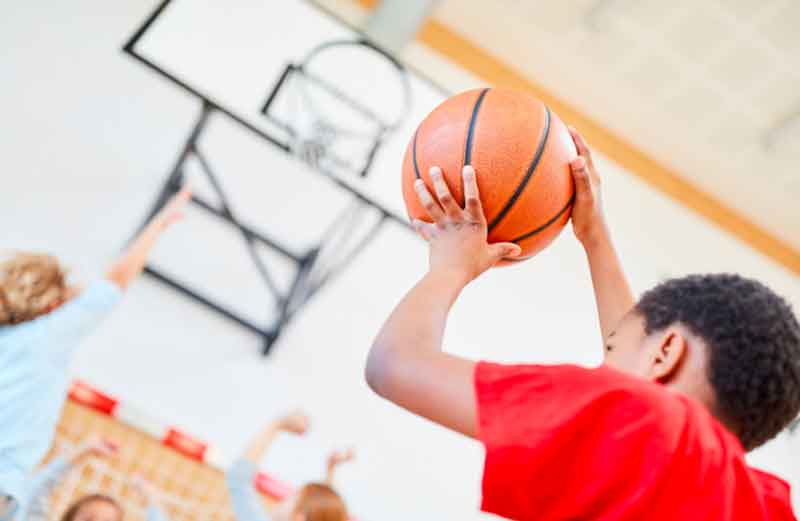 Your tiny athlete-to-be will love this fun-filled basketball party! Gather a few toddler basketball goals and basketballs so there will be plenty of opportunities for the children to play ball. Choose decorations in the colors of your favorite team, or find basketball-themed decorations at most retailers that carry party products. You can even add pom poms for those who would rather cheer than play with the balls. Refreshments consist of concession-style foods such as hotdogs, nachos, and puffcorn. A basketball cake will definitely score points! The pom poms and little basketballs make the best favors to end the winning party! This is one of my personal favorite 2nd birthday party ideas for kids whose parents love sports.
7. Time FLIES When You're Turning TWO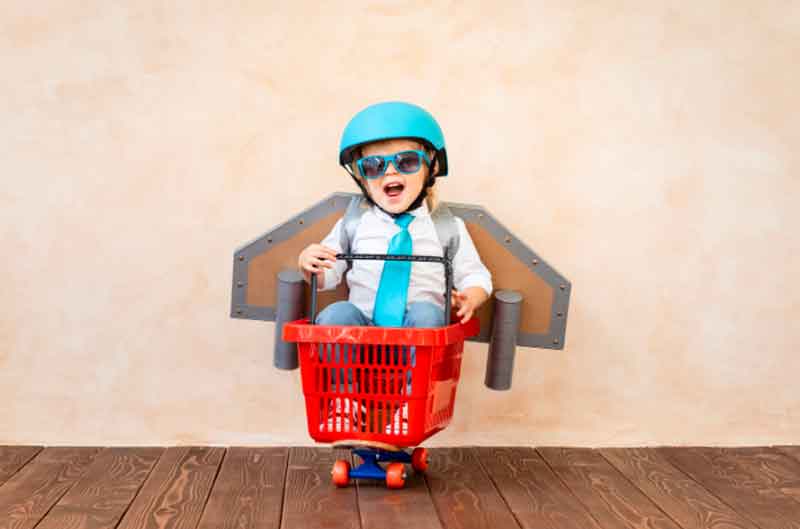 Time flies when you are having fun AND when you are turning TWO! Celebrate your toddler's second birthday with an airplane-themed birthday party! Provide toddler-friendly airplanes and other vehicles for the play area in your party space. Gather moving boxes big enough for the toddlers to sit inside to create airplanes for each child. Allow the parents and children to work together to decorate them or have them decorated ahead of time and just let the children play. Include suitcases, airplanes, blue and white balloons for the sky and clouds, and signs such as Baggage Claim, Gate numbers, and more in your decorations.
8. BUBBLES Party Theme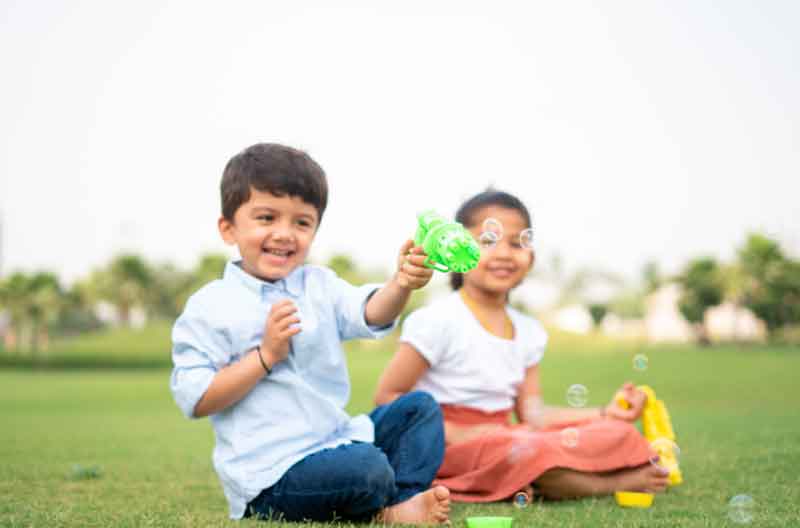 Toddlers love bubbles! Your two-year-old will love a celebration filled with the magic of bubbles. Most retailers carry battery-operated bubble blowers that you can have positioned around the yard to have bubbles all around. Toddlers love chasing bubbles and will need adequate space to run and play. Your obvious party favors will be bubbles for the families to take home. Use clear Christmas ornaments and a balloon arch to create fun decorations that look like bubbles floating around your refreshment table and photo booth. Everyone will love this fun theme!
9. Paint the Town Red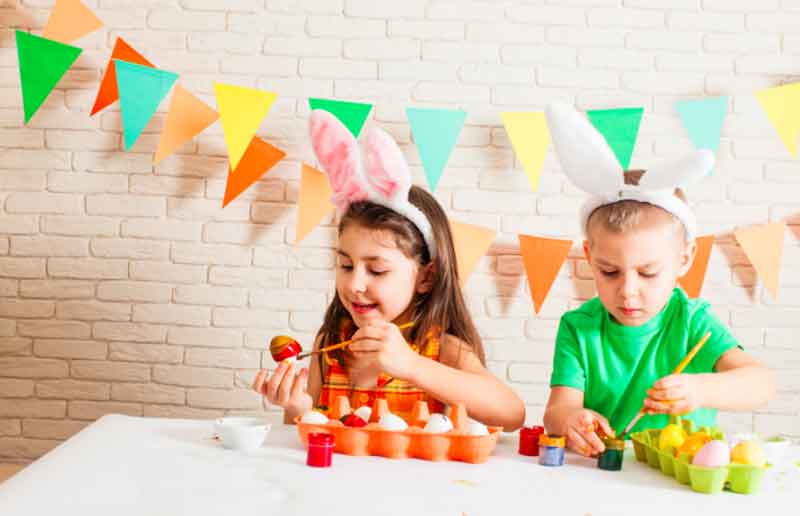 Actually, it's just 'paint in any color' they want! Unleash their artistic skills with a painting-themed party. Set up extra large sheets of paper or canvases (preferably outdoors, and they can do freestyle painting and numbered painting). This, along with large brushes, some washable poster paint and/or watercolor, aprons, and extra clothes- then watch the kids do their magic.
You can serve snacks on wooden paint palettes covered with cling wrap. Think cake pops in the shape of dollops of paint, paint palette-shaped cookies, and colorful juice in paper cups.
10. Water Fun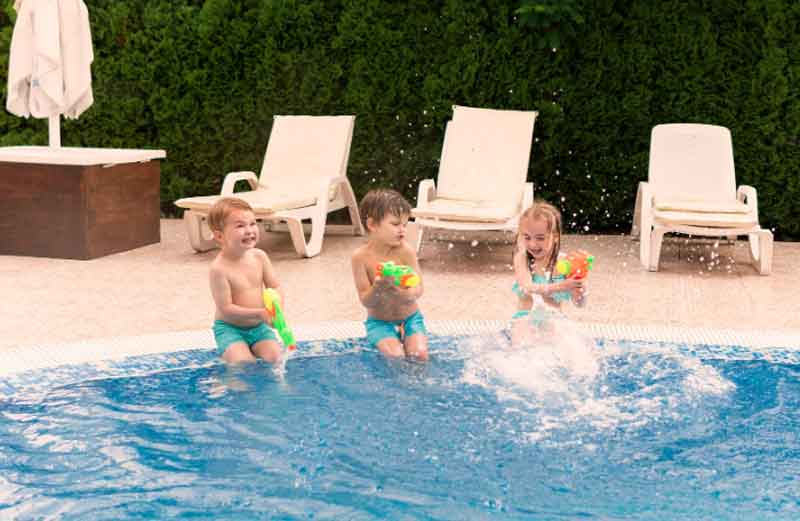 Is it summer where you're from, or is it just unbearably hot by the time your little one's birthday comes rolling in? Then consider a water park-themed party that goes well with your toddler. Get a splash pad/inflatable wading pool for the kids and watch them have wave after wave of fun!
Roll out the towels, the lemonade, the popcorn, and the hotdogs cause this shallow water play will certainly be a hit, and it will certainly keep 'em cool.
11. Two Cool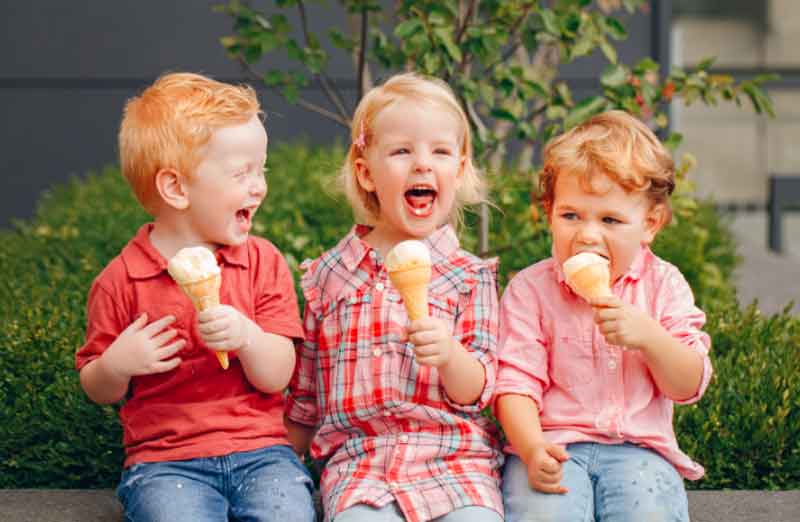 Inspired by summer yet again, your little one can have a cool birthday party theme with ice cream as the centerpiece. Think Popsicle shaped banners, balloons in the shape of ice cream on cones, a fondant cake with the look of melted ice cream on it- even Popsicle shaped cookies will look great on the table.
If you've got space in your lawn or backyard, you can add a DIY cardboard truck embellished with your kid's name on it. It can serve as a photo booth, and they can pretend to buy ice cream too.
12. Tea for Two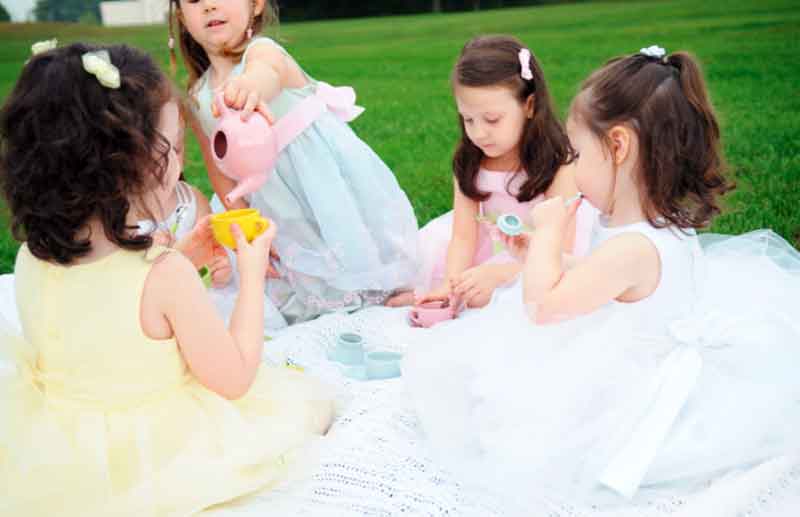 Let a fancy tea party come alive for your little girl. Think dainty and feminine; think soft colors and florals. To emulate a high tea setup, get vintage-looking paper cups with matching paper plates and napkins. They're easy to set up and easy to clean after- plus, they look super cute. Serve treats like strawberry cookies, mini blueberry tarts, pastel macaroons, and lemon cupcakes.
As with all fancy tea parties, your little ones will need fascinators. You can buy paper or artificial flowers, tulle, and plain headbands so they all can have fun and look pretty.
13. Two Fast and Curious
He's growing up fast, isn't he, and no brakes are necessary. A race car-themed party for your little one is in order if he loves the rides that go vroom-vroom. Start your engines with decors such as checkered black and white flags, a snack pit stop or fuel station, and inflatable tire balloons and cars.
What do they serve at the races? You can turn brownies into traffic lights and even turn hotdogs and buns into mini cars. Don't forget some lemonade for fuel.
14. Crazy Hat Party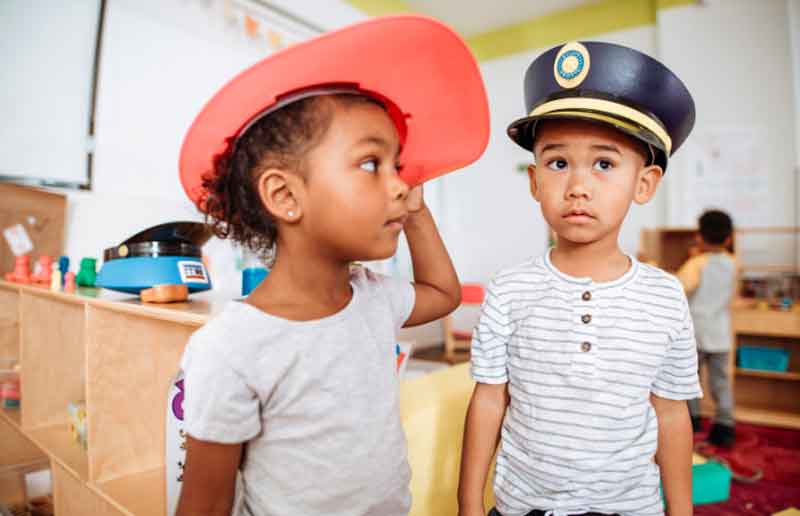 So your little one likes hats? You can incorporate a crazy hat party for your kid and his/her friends. All they need to do is show up wearing the silliest, craziest hat they can find. You can give away prizes to the best crazy hats that walk through your door. The best part? Even adults can join in the fun. Let the crazy hat fun begin!
15. Two Two Train
Two two, all aboard the toddler express! Have a chuggin' good time with a classic train-themed party for your little one. For decor ideas, you can dress up cardboard boxes and put them on the floor to look like train exteriors and add train tracks around the snacks and drinks.
You can use white balloons to make it seem like steam is coming out of the boxes too. Train toppers can be placed on your cakes or cupcakes. You and your little one can dress up as the conductors while giving away party favors. Tickets, please!
16. Rainbow Party
Why are there so many songs about rainbows? And what's on the other side? Your two-year-old's party, of course. Ask the party-goers to dress up in colors of the rainbow, use multi-colored tissue paper and hang them on the walls to serve as banners.
You can get paper plates shaped like a rainbow, too. Need the rainbow theme to pop out? Get a plain vanilla icing cake, and only when you slice it will the others see the delicious rainbow hiding inside!
17. Barnyard Bash
What's the sound of a cow? Moo! What's the sound of a horse? Neigh! Toddlers associate more with animal sounds this time, and what better way to develop this than with a Farm themed party?
Add a barnyard backdrop, complete with cutouts of farm animals, bales of hay (if you prefer actual hay I suggest doing this outdoors), and cartons of plastic eggs to add to the overall farm look and feel. Feeling extravagant? You can add a petting zoo!
18. Mermaid Party
Dive into a swimmin' good time with a mermaid party. You can easily incorporate this theme into everything, from invitations to decor and dessert. Get a pretty and glittery metallic or sequin backdrop in hues of blue, purple, green, gold, and pink. Add some cardboard corals on the sides. Your little mermaid and her guests can also wear either DIY tails or store-bought ones.
For games, you can do"Pin the tail on the mermaid," which is just like pin the tail on the donkey. You can also setup a "bean bag toss game" with your sea creature of choice. Party favors can include age-appropriate DIY shell necklaces and even goldfish snacks in small bags.
19. Paw-sitive Pawty
Is your little one dog or cat obsessed? Are they best friends with your resident house pet? You can turn their love of pets into a party theme, your pets included! Have the kids wear dog or cat ear headbands. Going for cats? You can decorate with balls of soft yarn, have cat stirrers in the drinks, and kitty-shaped cookies.
If you're going for dogs, you can add dog paw prints on your desserts and even have a dog collar decorating activity. We can call giveaways a doggy bag (wink, wink), a stuffed puppy toy will be perfect, too! This is easily one of the cutest 2nd birthday ideas ever.
Related Article: 1st Birthday Ideas That Are Fun and Exciting
20. Peppa Pig Party
While Peppa Pig is geared for slightly older toddlers, your two-year-old may, no doubt, recognize the lovable pink piglet already. You can have games like 'Pin the tail on Peppa' and have a Peppa Pig piñata filled with snacks and toys. A photo booth may also be included. I mean, how cute is the idea of kids having Peppa pig snouts and ears in pictures?
Peppa pig's characters are perfect for icing-drawn cookies and/or cake pops, so don't forget about these!
21. Trolls Party
Small, colorful, loveable, and happy… just like your two-year-old! If your kid dances and sings to the songs from Trolls, then a party in this theme will be perfect. Just think rainbow colors amped up and on a sugar high.
You can have troll hair icing on the cake or cupcakes. Gather some balloons and rainbow streamers for a DIY backdrop, taking inspiration from Trolls' multitude of hairstyles and colors. Speaking of hair, everyone can join in on hair decorating. Just set out some clip-on wigs, and add some sparkly hair ties to dance and sing the afternoon away!
22. Pyjama Party
Staying comfy even in the afternoon; that's what a pajama party is for. Ask the guests to dress up in their nicest and comfiest pajamas, then let them have a blast watching a show- while on mattresses on the floor or in the safety of your backyard.
Have a make-your-own-pizza and make-your-own-ice cream station, or have a make-your-own-hot chocolate area, complete with marshmallow toppings. Surround the kids with lots of pillows (they can even bring their own). You can make a pillow fort, set up a few teepee tents, and you can even add a fake mini fireplace. The kids will feel relaxed, and so will the adults!
23. Luau Party
Aloha! Welcome to your little 'big Kahuna's' party. First things first, make sure you've got leis. Those flower wreaths are the centerpiece of your theme, and luaus are never complete without them. Dress up in easy breezy outfits and ask your guests to wear flip-flops and shades and make them wear the leis once they enter the party zone.
Make sure to have a bowl full of fruits or fruit punch. For the drinks, you can put those little paper umbrellas to add to the Hawaiian beach feel. You can also put up tiki torches, and you can even decorate the table with whole pineapples.
24. Minions Party
Bello, or "hello" in Minionese! The banana-loving characters are a fun and easy theme for your kid's birthday party. Every kid loves the minions! Ask the guests to dress up in denim overalls and yellow shirts; the more, the merrier (it also looks great in photos!). Add a variety of props for the photo booth, like bananas, goggles/round glasses, and black gloves.
Yellow and blue will be the color of the day. Put it on the birthday cake, the cupcakes, and the cutlery. For games, you can do Minion bowling. Paint the bowling pins in yellow and with minion faces, and aim for a Strike!
25. Donut Grow Up Too Fast
Two sweet not to eat. These round and delicious pastries are an easy theme to set up and go great for both little boys and little girls. Donut balloons are easy to purchase and serve as cute but inexpensive decor. You can also decorate the floor with inflatable donuts and have a backdrop of sprinkles printed on it.
You can have the kids design their dream doughnuts with all sprinkles and dip-on icing set on a table that's easy to reach, or you can print out placemats where the kids can color in and draw on their donuts.
26. Wizard/Witch Party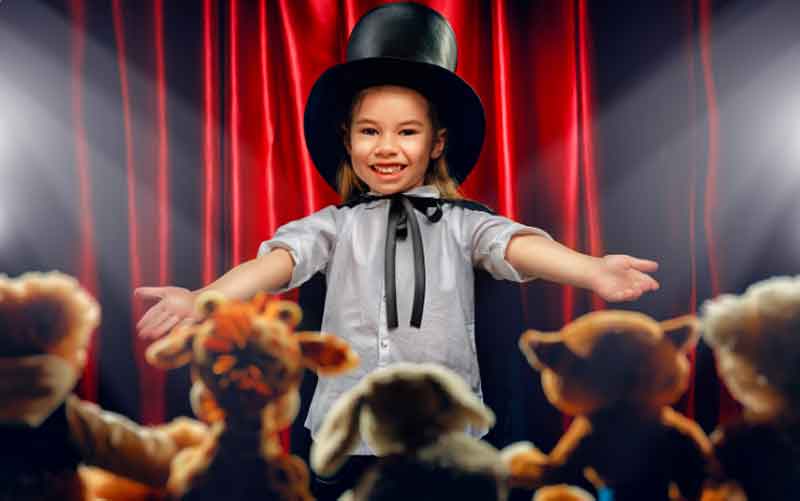 It's just a bunch of hocus pocus! Got a baby born around Halloween? What a perfect time to incorporate a Halloween-themed party. Instead of plain party hats, you can opt for witch or wizard hats. Decorate with broomsticks and spiderwebs, and pumpkins (real or artificial, whichever is easier for you).
Put snacks in a cauldron and dress up your cookies with spiderweb icing, use straws that look like a witch's socks for drinks, and turn cake pops into little monsters. You can even call chicken wings "bat wings" and pretzel sticks "magic wands"!
27. Hot Air Balloon Party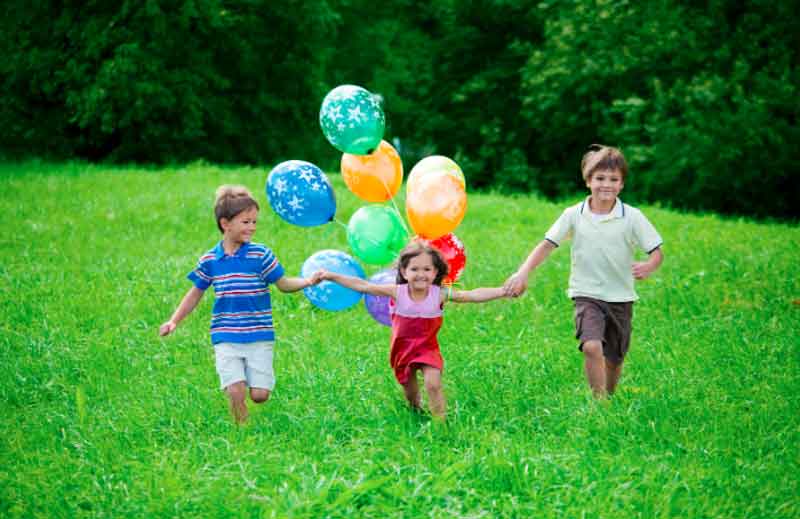 Up, up and away in a beautiful balloon- or have more than one! The possibilities are numerous with a theme like this. Get hot air balloon-shaped lanterns to hang around the ceiling.
You can also have a large backdrop of clouds and put a hot air balloon basket (cardboard or wicker) with DIY burlap sacks hanging on the sides. Get extra-large balloons to complete the feel. This is also perfect as an instant photo booth. Cake, cookies, or cupcakes can all have elements of the theme on them with your preference of colors.
28. Teddy Bear Hugs
Does she love hugging teddy bears? Does he find bears cuddly and cute? How about a teddy bear-themed party? Decorate the place with small teddy bear toys. You can have a ribbon printed with your kid's name on it to place around the teddy bear's neck. The kids can have these as souvenirs once the party's done!
Have a balloon backdrop with one very large bear to add to the cuteness. Have some bear cake pops and bear-shaped cookies. You can add tulle to the bear decors and giveaways should you wish for a more feminine look.
29. Shapes, Shapes
Keep 'em busy and learning with simple shapes. Going with circles? Fill the room up with colorful balloons, or fill a play area with colorful plastic balls. The party food can have circles incorporated into them. There are cheerios, doughnuts, burgers, and spaghetti meatballs. Don't forget to put a bubble machine for extra round fun.
Prefer triangles? Hang up buntings and leave party hats within easy reach for the kids. Triangle-shaped food is delicious, too. There's pizza; there are quesadillas and even chips.
30. Two Wild!
Terrible twos? More like "two wild" to just sit still and be quiet! Have a safari-themed party and let the kids dress up in their best safari outfits (think khaki and linen and boots), and you can even dress the kids up as their favorite safari animals. Use oranges, greens, browns, and gold colors for the balloons, buntings, and birthday banners.
Add some safari-inspired cutlery like zebra-patterned paper plates and foliage-themed tablecloths and napkins. Got additional time and budget? Get a safari-inspired photo booth and fill it with props like binoculars, safari hats, and safari animal masks. This is one of those 2nd birthday party ideas that you just can't go wrong with.
31. Ahoy Matey!
Have a swashbuckling good time with a pirate party. Print out pirate flags and have pirate hats on the tables for the kids to wear. Put your food and drinks inside DIY treasure chests and wooden barrels (artificial and otherwise). You can put mini sails on the hotdogs in buns and on cupcakes (they make cute toppers trust me!).
You can play games like "Pin the Eyepatch on the Pirate" or have a mini treasure hunt that involves gold chocolate coins. Have a lot of pirate-themed props on hand, like eye patches, a pirate's sword, Captain Hook's "hook," and even a Captain's wheel for photoshoots.
32. Rocket Ship!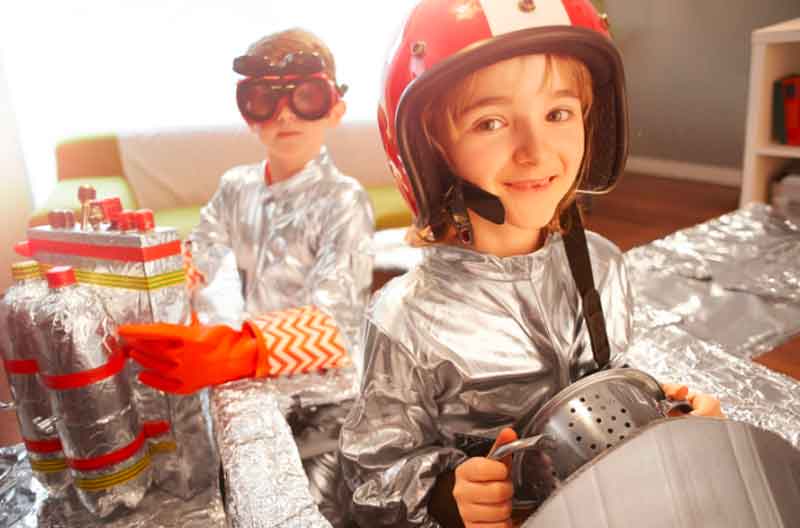 Blast off! Have fun on the moon, on Mars, or wherever they fancy that's out of this world. Have a starry night backdrop with balloons that are bunched up to form a galaxy. Add metallic paper stars on the balloons and on a cardboard rocket ship. You can use a dark tablecloth (or one with stars on it) to set up cutlery with an outer space theme.
Dress up your little one as an astronaut or with their outer space hero of choice. For the party favors, add a note that says, "Thank you for having a blast with me!".
33. Superstar Party
Roll out the red carpet cause here comes the superstar! Have a celebrity-themed party with your VVIP and your family and friends. Have a little red carpet set out for everyone to feel like a celebrity. Set out some kiddie hors d'oeuvres like tater tots, pigs in a blanket, and even fruits shaped into stars!
Party favors can include customized photo magnets, or they can take home Polaroids – and don't forget metallic confetti and Hollywood Walk of Fame stars where the kids can write their names or have their hand prints on it.
34. Panda Party
Seeing black and white with lots of fluff? A Panda party is in order if you find your child loves pandas. Get panda balloons or inflatables and have them hang around the floor and by the tables and chairs. Willing to go a bit extra? Add artificial bamboo trees (or real ones if this comes easier for you) and place small stuffed panda toys that can serve as giveaways.
Some Asian bakeries may serve panda-themed buns, which are a great addition to your menu. If you're specifically aiming for a Kung Fu Panda-themed party, don't forget the dumplings that Po is obsessed with!
35. Baby Shark Party
This seems like a right of passage for toddlers, and rightfully so. That infectious bop is easy to sing to! You don't have to play this song on a loop, but you can set up the place to look like an undersea haven for Baby Shark and friends. Just match the color of your decors to the colors of Baby Shark's family, and you're good to go.
With the popularity of Baby Shark, the balloons, banners, and even the cutlery are all easily accessible for purchase.
36. Snowflakes Party
Got a Christmas or snowy season baby? A snowflake-themed party is a wonderful way to celebrate your little one turning two. Add white streamers with bits of blue and include paper snowflake patterns. You can even add small disco balls or silver and white for extra glitter. Don't forget the little penguins and polar bears on display by the tables or on the floor/corners.
Have snowflake-designed cookies and let guests come in their comfiest winter sweater attire while they don party hats with a ball of glittery snow on top of it. Don't forget the hot cocoa and marshmallows.
37. Encanto Party
We don't talk about Bruno, no, no, no… an earworm of a song from this movie can turn into an amazing party theme. Take a cue from the vivid colors of the movie and DIY away!
Construct your casita with cardboard boxes and some poster paint. It doesn't even have to be life-size, but just the perfect size for your little one and her friends. Have the casita's magic doors printed out into easy-to-remove stickers and place them on the walls. Add some tissue paper flowers, garlands, and banners, too.
Your kid's going to look mighty cute in an Encanto costume!
38. Soccer / Football Party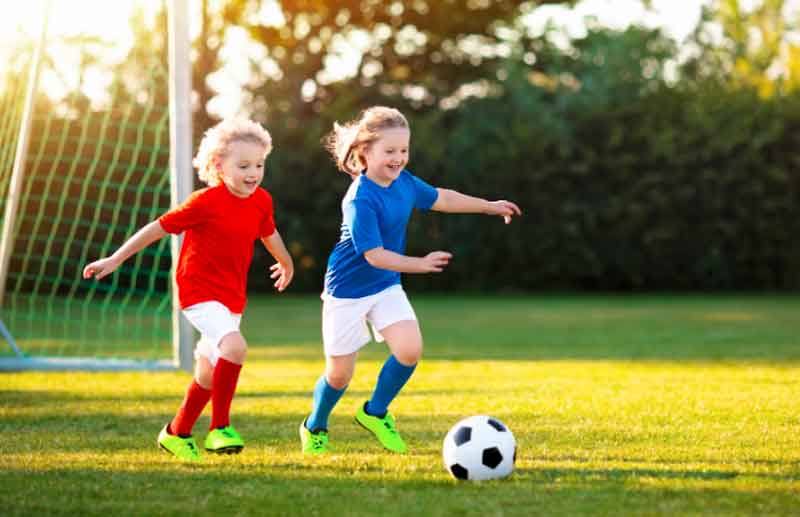 If your kid loves this sport this theme will work well. You don't need an entire football field to make this work. You can hang banners of the many countries that enjoy football; you can add little goals from corner to corner of the area.
Use artificial green grass as table runners, get balloons in a football pattern, get cupcake toppers with different silhouettes of soccer players, and add some trophies as decor- you can even get your cake pops shaped into a soccer ball!
39. Peter Rabbit Party
Hop on to the age of two! A classic children's book staple that'll look beautiful and sweet as a party theme a Peter Rabbit party can be done with blue pastels, burlap runners on the table, and some fresh, white aster flowers (provided no one's allergic). This theme is also perfect for children born in spring or around Easter.
Set out some carrot-shaped pastries/chocolates and print out standees of Flopsy, Mopsy, Cotton-tail, and Peter Rabbit. Prop them up around the food and drinks table or on the floor for an instant photo-op.
40. Construction Theme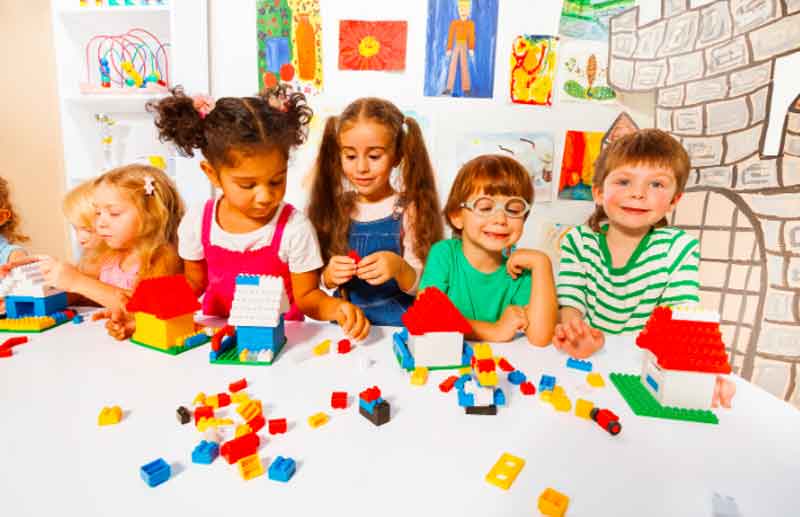 For the kid who's a fan of those big yellow trucks, you can do a construction-themed party. Have a garland of black and yellow balloons and tire-shaped balloons as a backdrop. You can serve kids' snacks inside toy excavators and dump trucks. These can also serve as prizes for games.
You can add small vests and hard hats for the little partygoers to wear. If space and budget are no question, add a sandbox complete with toy trucks, shovels, and other construction toy paraphernalia.
41. Rubber Ducky, You Are TWO!
Gather up your sunscreen, bathing suits, rubber duckies, and assorted bath and pool toys, and get ready for an afternoon of water fun! Turn your backyard into a toddler-friendly waterpark with inexpensive wading pools and bath toys. Make sure every pool has several rubber duckies for the children to play with and then take home as their party favors. If you have older siblings, designate which pools are for toddlers and which are for the older children for safety. Toddlers and their siblings will spend the afternoon splashing and playing as parents visit with one another and supervise the fun.
42. It's My BEEday
Buzz, buzz, it's My BEEday!!! Your little bumble bee will be the star of the show at this sweet theme filled with bees and flowers. Decorate with a garden and bee theme using a variety of beautiful spring flowers with little bees sitting on and around them. Create little bee wings for the toddlers to wear as they pretend to be bees. Many party supply stores will have bee-themed decorations as well. Serve fresh fruits and simple sandwiches alongside your cake for the perfect garden picnic feel. This is a great theme for spring and summer parties that can be enjoyed inside or outside either one.
43. Storybook Birthday
All of your favorite storybook characters will show up to celebrate your little one with this party theme! Little Red Riding Hood, The Three Little Pigs, Hansel and Gretel, Goldilocks and the Three Bears, and so many more favorites can be featured at this celebration. Story books, stuffed animals, Little Red Riding Hood's basket of goodies, and other story items will set the scene as your decor. Provide costumes, story props, and a forest backdrop for a photo booth for your guests. Everyone will enjoy the trip down memory lane as they see the decorations, storybooks, and photo booth highlighting their favorite children's stories. Storybooks make the perfect party favors!
44. Look WHOOO is TWO!
Your sweet toddler is two, so it is time to get creative and plan the perfect party for your little owlet! This sweet owl theme will be unique and so cute! Create a woodsy feel using indoor plants and trees, tree slice wood platters of all sizes to place on your refreshment table and to use as the base of your centerpieces, and, of course, owls. Order custom owl cookies and cupcakes to match your color scheme, and add simple finger foods to create the perfect refreshment spread. Use paper grocery bags to make owl wings for the toddlers to color and wear as they fly around like owls.
45. Look at Me, I'm TWO!
All eyes are on your little one at this birthday party! A photo wall highlighting your favorite pictures from the past year is the perfect backdrop for the refreshment table. Serve all of her favorite foods for your refreshments and decorate with her favorite colors. For party favors, choose items that represent her favorite characters or toys. You can make a playlist of her favorite songs to play throughout the party and set out her favorite toys for her to share with her friends as they play together. Your birthday girl will have a wonderful time surrounded by her favorite people and doing her favorite things.
46. Cookie Party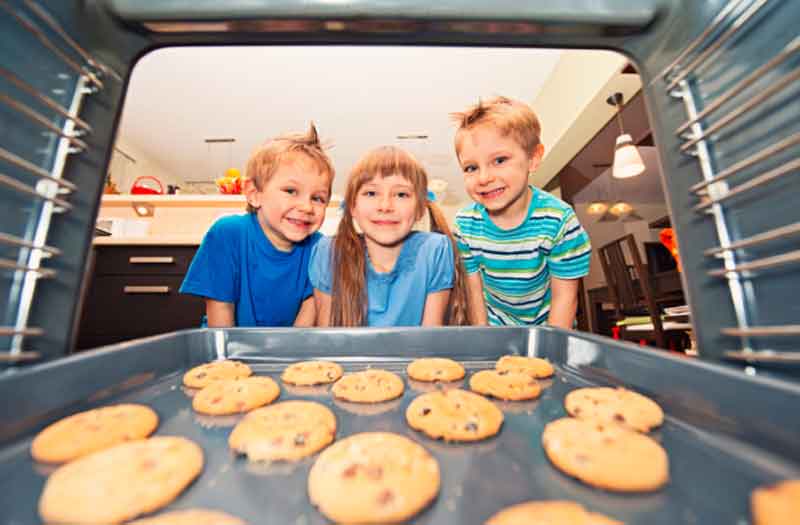 Time to get those little hands busy. Develop their coordination skills and appreciation for art, all while having fun decorating scrumptious cookies. Think of all the color and sprinkle combinations possible. Does the little one like unicorns? Think pink, purple, yellow, and blue pastels. How about the kid who likes outer space? Star-shaped sprinkles will complete your little astronaut's trip around the cookie moon.
Just make sure that everything that goes on the cupcakes is age appropriate 😉 This is the kind of party where even the adults can have loads of fun and eat loads of cookies. This is also one of my personal favorite 3rd birthday ideas.
47. Oh, the Places You'll Go! A Dr. Seuss Party
Rhyming words and cute illustrations? Count yourself in for a Dr. Seuss-themed party. Using the pastel rainbow colors found on the book's cover illustrations, you can decorate the place with balloons, have a cupcake Ferris wheel, and have streamers cascading from the ceiling, and you can even make your own Truffula trees!
Get inspired by the fonts used in the book and print out Dr. Seuss' book quotes to place all over the food and drinks table. The decor doesn't have to be confined to one Dr. Seuss book, as there are tons of memorable illustrations from books like "The Lorax," "Horton Hears a Who," and "Dr. Seuss's ABC."
48. Ballet Party
Delicate, graceful, en pointe. Does your little lady get mesmerized by ballet and ballerinas in general? Why not throw a ballet party for her? Dress her up like a prima ballerina and dress the place up in white balloons, white feathers, and pink tulle with a splattering of sequins.
For a backdrop, drape some iridescent cloth and spell out her name in gold-glittered letters. Party favors can include little wands with shiny stars on the tips and little tiaras. Should budget allow, invite an actual ballet dancer to give out a few lessons for one unforgettable celebration!
49. TWO-ti Fruiti
Celebrate your two-year-old with a tropical fruit-themed party. Decorate with fun, bright colors, large fruit mylar balloons, and a colorful balloon arch. Fruit salad, fresh fruit and yogurt parfaits, strawberry shortcakes, fruit smoothies, and fruit popsicles will add color and sweetness to your dessert table. Let your toddlers help make their yogurt parfaits as one of your activities at the party. Add a tropical twist to this party by adding wading pools, water toys, and colorful beach towels. The children will love splashing and playing together before enjoying their fruity treats.
50. Cocomelon Birthday Party Theme
Most toddlers love singing and dancing along with JJ and his family on Cocomelon and will love a Cocomelon-themed afternoon. Cocomelon decorations can be found at most party supply stores. Add dimension to your decorations using Cocomelon toys. You can also set up a play area for the toddlers with Cocomelon toys. Pull up Cocomelon videos and let them play during the party allowing toddlers to dance and sing together. Provide a variety of fruits, finger foods, and a sweet Cocomelon-themed cake and smash cake for your refreshments. You can purchase small Cocomelon toys to give your tiny guests as party favors. If you're looking for unique 2nd birthday ideas, then this is definitely one to consider!
51. Mickey and Minnie Birthday Party Theme
Grab your mouse ears, invite your friends and family, and get ready for an afternoon filled with Disney Magic! Prepare a play area with toddler-friendly Disney toys, including all of the main characters, especially Mickey, Minnie, Pluto, Donald, Daisy, and Goofy. Decorate with the red, black, and white color scheme, including polka dots representing Minnie's dress. Create a fun balloon arch and backdrop for photo opportunities, and add some fun props for your guests to use as they pose for their pictures. Cut out Mickey ears for each little one and let them decorate them with stickers. Attach them to headbands so the kids can wear them as they play.
52. You Have Reached Level TWO
Parents who are gamers will love this theme for their little one's birthdays. Whether you prefer old-school arcade games or contemporary video games, this party will be the perfect celebration for your family and friends. Decorate with controllers and symbols from your favorite games. You could even have a few monitors set up with games available for your guests who are old enough to play. Because toddlers love to play with remote controls and game controllers, you can set several that do not connect with anything out for your tiniest guests to enjoy. Everyone will enjoy gaming together all afternoon.
53. Having a BALL and Turning TWO!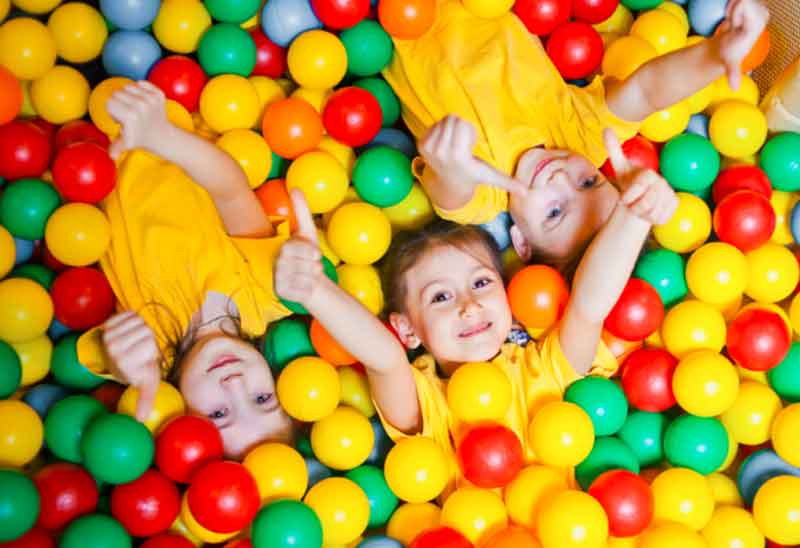 We are going to have a ball as we celebrate your little one's first birthday. Pull out the beach balls, playground balls, and toddler ball pits for an afternoon of fun and play. Bright and colorful decorations with balloons and a variety of balls set the scene for an exciting day. Serve cheese balls and popcorn balls, and use a melon baller to cut fruit into balls to create fruit kabobs. Let your toddlers play in the ball pits and play with the assortment of playground balls and beach balls. Let your little guests take a ball home with them as their party favors.
54. Our Little Pumpkin is TWO!
My favorite season is fall, so I love any excuse to throw a pumpkin party. If your baby has a fall birthday, this party is for you! Go to your local pumpkin patch and purchase pumpkins of all sizes to prepare for this theme. You will use them in your decorations and for a project for your guests. Grab some washable paint, disposable tablecloths, and paintbrushes as you shop. Decorate the party space with your fall items. Once guests arrive, allow each parent and child set to paint their pumpkins. Oriental Trading has cute Jack-o-Lantern sticker sets you can add to your options for decorating their pumpkins. Apple cider, pumpkin bread, caramel apples, and other fall-themed foods are perfect for this party!
55. The Birthday Express
My little boy loves to watch trains as they pass our church. We have to stop and watch until the final car is out of sight. Most little ones are just like him and would love a Birthday Express train birthday party! You can purchase moving boxes from most large department stores. Purchase five or six boxes, paint them as train cars with one painted as the engine, and line them together, creating a train your baby and his friends can sit in to play or for photos. Use toy trains and railroad signs to decorate your refreshment table. Provide toddler-friendly trains and train tracks for the play area during the party.
Popular Article: 4th Birthday Party Ideas Everyone Will Enjoy
56. TWO Sweet
Your little one is TWO Sweet, so this candy theme is exactly what she needs to celebrate her second birthday. Set the scene with glass jars filled with assorted candies, lollipops, and licorice sticks. Decorate the party space with oversized lollipops and colorful balloons. Create a color sorting game using colorful cups and gummy bears or toy counting bears (pretending they are gummy bears). Order custom cookies shaped like a variety of candies as well as a fun, brightly colored cake decorated with candy. Let the children have a dance party dancing to "Lollipop" and "Tutti Frutti."
57. Run, Run, as Fast as You Can
Time will not stand still. It seems to move as fast as the Gingerbread Man can run! Two-year-olds love repetition and stories, so this classic tale of the Gingerbread Man is the perfect theme for your little one's birthday party. Decorate the party space with gingerbread men, baking utensils, and colorful balloons. During the party, tell the story of the Gingerbread Man, letting the children say the Gingerbread Man's famous line, "Run, run, as fast as you can. You can't catch me. I'm the Gingerbread Man!" After you tell the story, let the children decorate Gingerbread Man cookies that they can eat as part of their refreshments.
58. Cow-Themed Two-Year-Old Birthday Party
Let's get "MOOving" and celebrate a two-year-old's birthday! My oldest son LOVED cows! He had a cow costume that he wore all the time when he was two. He would have loved a cow party! Fill the party space with red, white, black, and cow print balloons. Find all the plush cows you can and set them throughout the space. Create a barn or pasture scene on your refreshment table using a toy barn and toy fence pieces, or create a fence with popsicle sticks and toy cows. A cow print cake, burger sliders, chips, and other finger foods create a fun cookout feel to the evening. Play the song "Barnyard Dance," and let the children play and dance together.
59. Polka Dot Themed Birthday Party
Everyone is going to be seeing spots at this party! Choose your color scheme, one to three colors that you love, and go crazy cutting out circles of all sizes. Create a backdrop for your refreshment table and for a photo booth using plastic tablecloths and sticking the polka dots on them in the design or pattern of your choice. Serve round foods that look like polka dots, such as orange slices that you have cut (not orange wedges), cookies, crackers, and, of course, a polka dot covered cake. Purchase round sticker labels and let the kids stick them on each other or their treat bags.
60. Horse Themed Two-Year-Old Birthday Party
Giddy-up Cowboy! Let's celebrate your two-year-old's special day with a horse theme. Invite your guests to come in their Western wear, from their cowboy hats down to their boots. If you live near a ranch that hosts birthday parties, most of your planning will already be completed for you. If not, create a ranch feel in your own backyard with hay bales, saddles, barrels, and horseshoes in your decorations. If you know someone with a child-friendly horse or miniature pony, invite them to come and let the children sit on it for pictures. Most party supply stores carry children's cowboy hats and bandanas that you can hand out as party favors.
Wrap Up:
We hope you found some ideas you love on the list above. Let us know if there are any creative ideas that you feel we should add in the comments section below!