While birthdays are all fun and joy, the fact is that there's a lot that goes into planning birthdays. It can be stressful, but thankfully for you, we did a lot of the legwork for you and put together an epic list of birthday party ideas for 8-year-olds.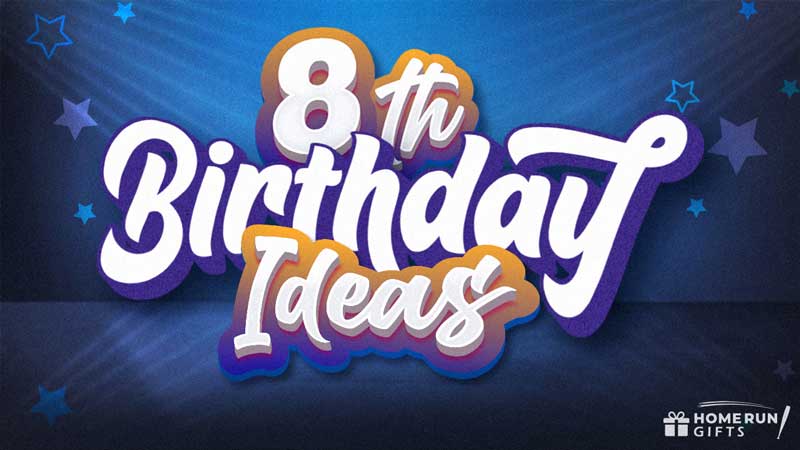 We've included a wide range of ideas for both boys and girls, so we're confident you'll find many ideas that you love.
1. DIY Pizza Party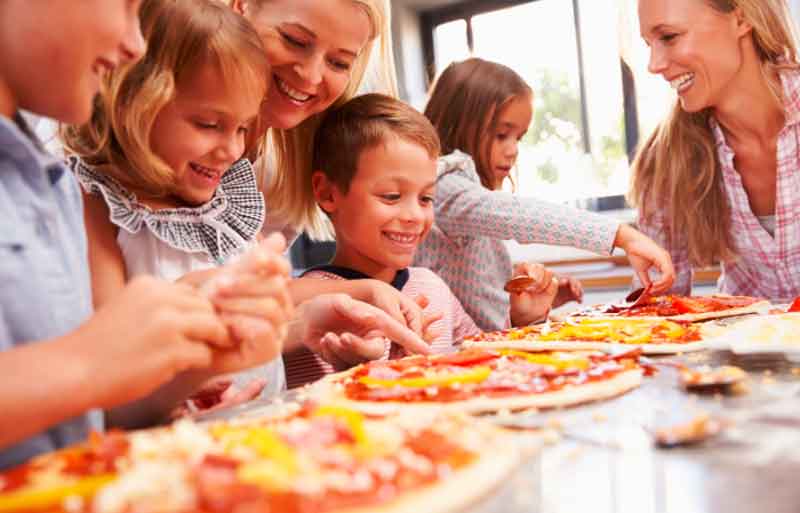 Who doesn't love Pizzas? And if your child gets to make it himself along with their friends, it's a whole new level of delight!All you need to do is prepare the pizza dough in advance and create pizza-making stations according to the number of kids invited. Keep an assortment of toppings along with the necessary tools like rolling pins and pizza pans. Children can be accompanied by their parents for any assistance and observation.
Once the pizzas are ready, have the children enjoy their own creations together and share them as well. After all, pizza is the perfect circle of happiness for all!
2. Campout Party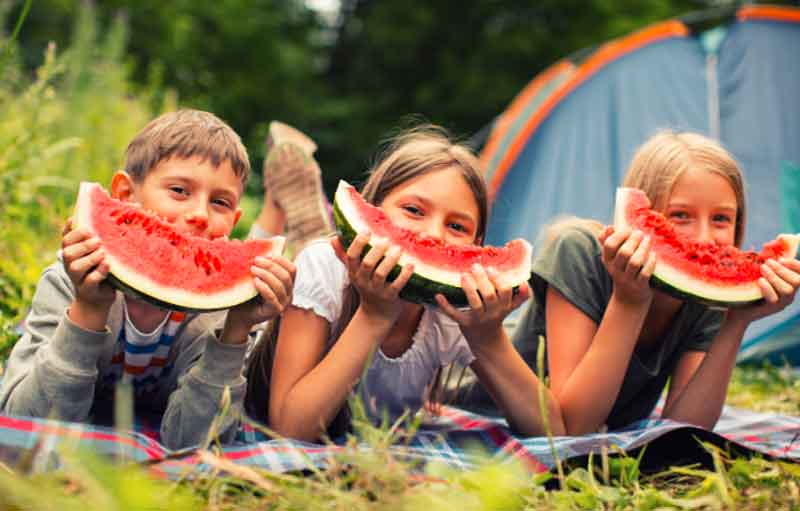 A campout birthday can be a memorable birthday idea for your 8-year-old with their friends.
Decide on a suitable site for camping that is fun and safe for children; it could be your backyard too. Plan out fun invitation cards in the shape of tents and inform your guests about the camping location and list of things they might want to bring along for camping. You can go minimal in terms of décor, like decorating camps with lanterns or banners.
Curate a list of activities to do when camping that 8-year-olds can enjoy thoroughly, like a bonfire, marshmallow roasting, or scavenger hunt. You can prepare hot dogs, noodles, or burgers along with the kids to make the campout experience more exciting. And don't forget a cake to complete your campout birthday.
3. Petting Zoo Trip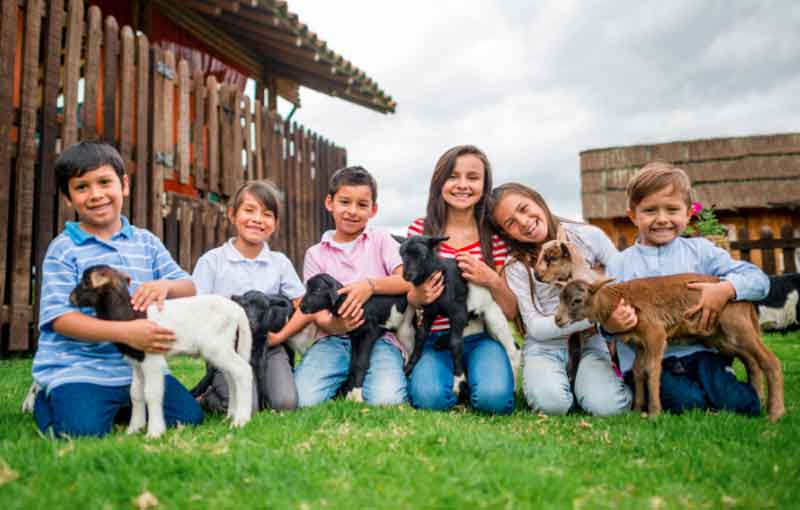 A fuzzy way to enjoy your little one's birthday is seeing it at a petting zoo. Find a nearby farm or zoo that allows kids to interact with a variety of animals.Let your child explore the zoo and different animals. Pat them, and if allowed, feed them as well. Learn about various kinds of habitats and which animals like to live in which habitat.
Take a picnic basket with you filled with lots of juices and snacks to keep the little ones hydrated. Take lots of photos with the furry fellows to create memories of your child's 8th birthday for a lifetime.
4. Water War Birthday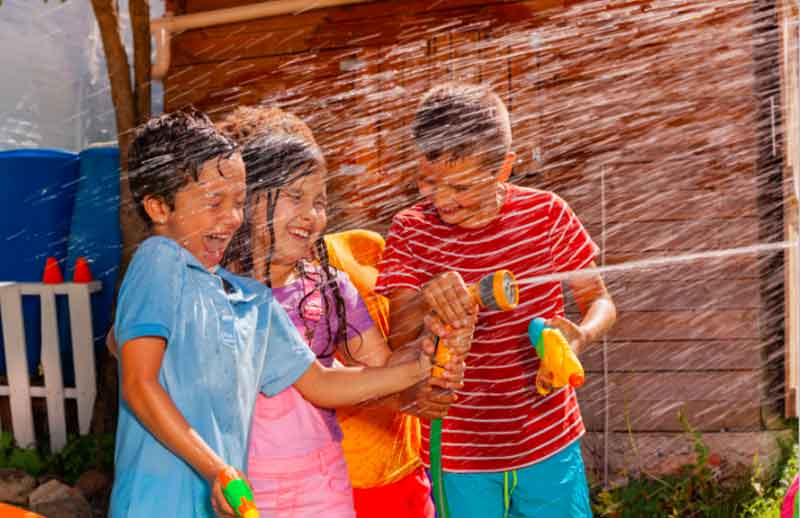 If your child's birthday falls in warmer months, what is a better birthday idea than splashing in some fun with a water war birthday party? Choose a suitable location, like a pool or your backyard, arrange some water guns, water balloons, and buckets, and get ready for some splashy time!Inform your guests about the theme beforehand so the guests can dress appropriately for the water war. Some might want to bring extra clothes to change post the water party. Snacks like popsicles, fruit bowls, and smoothies will be the perfect idea to make the party more enjoyable. Don't forget to have a drying station with some towels handy for your guests.
5. Weekend Getaway / Staycation for Birthday
What's more exciting than having to enjoy your child's special day at a relaxing spot away from home? If there is a resort or an island you can take your 8-year-old to, it can be a perfect idea for their 8th birthday. Find a place where your child can be entertained with some cool activities so they can make the fullest of their special day. Explore the new place with them, take some board games with you, and arrange for a yummy meal and a cake in their favorite flavor to complete the day.
6. Space-Themed Birthday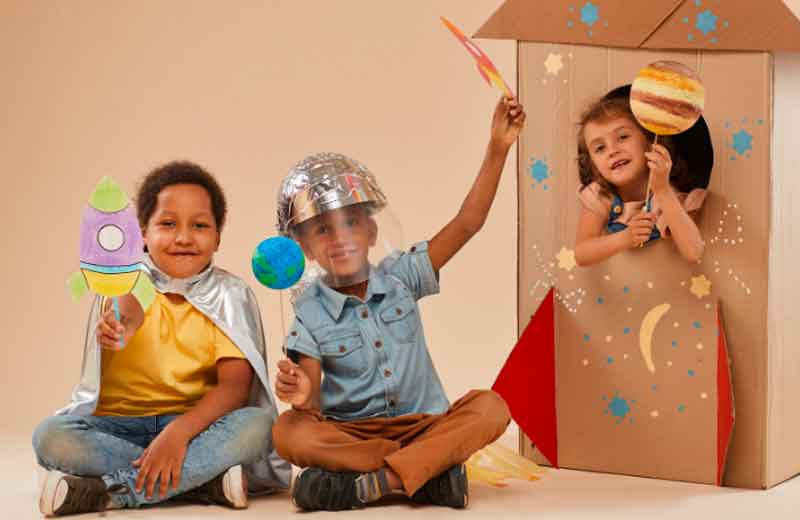 Planets and astronauts and stars and moon, if that is what amuses your 8-year-old a bit too much, how about you throw a space-themed birthday party for him? Decorate your place like a solar system, hang the planets, and create a rocket using cardboard. Send invitation cards designed as spaceships and invite your guests to experience a night in space with some entertaining activities.Children making their own rockets can be a great activity for the day. Or keep white colored small plastic balls, and children can color them and make the planet of their choice. A photo booth with a space suit and helmet will also be a nice idea for some exciting pictures.
7. Mad Scientist Birthday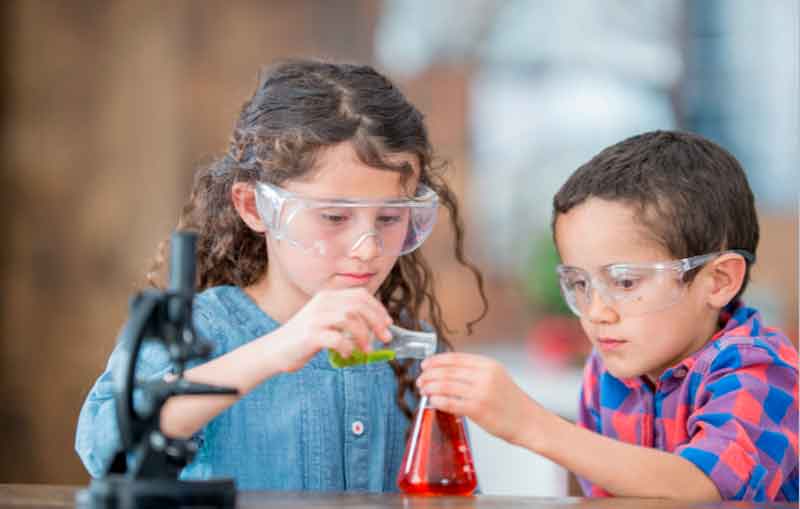 This birthday theme guarantees some explosive fun! If your child loves science and is usually found exploring the ingredients in your kitchen, this birthday party will be the best one ever.You can set up small corners of some DIY science experiments with ingredients available at home and let your 8-year-old enjoy and explore with their friends. Let them make slime, a small volcano, or color mixing, all that is super exciting for kids.
And what's better than curious little minds working on some experiments while enjoying the party? It's not just fun; it's educational too, and that's great!
8. Hotel Transylvania Birthday
Be it Uncle Drac, the coolest vampire dad, or Mavis, the kind-hearted and compassionate girl, and not to forget Johnny, the only human in the world of Transylvania, this film is simply loved by all. We gotta agree that Hotel Transylvania-themed party can be one of the spookiest yet super fun birthday parties to throw for your child.
Creepily design your place with some fun vibes. Arrange the spider webs, hang the bats, use a backdrop of a castle, and put the movie character cutouts in large sizes. You can also ask your guests to come dressed up as their favorite character from the movie to make it more thrilling.
Some creepy crawly snacks like ghost-shaped cookies or naming the chicken wings "bat wings" will make your party ghoulishly good!
9. Picnic Party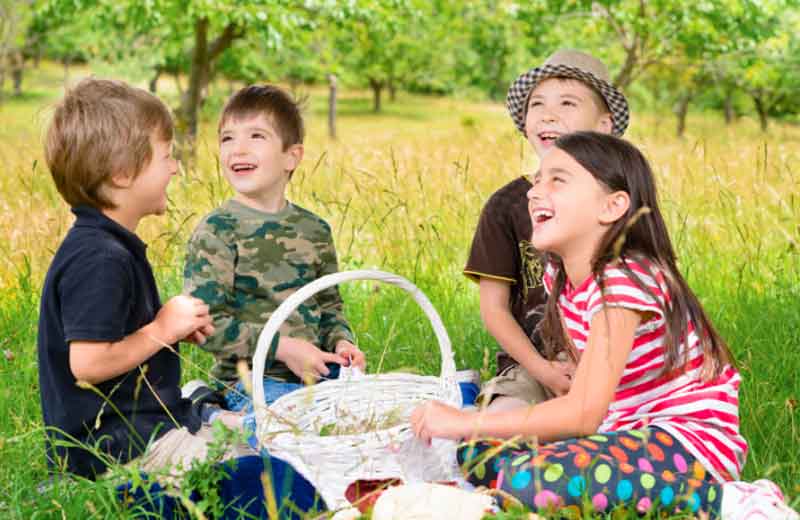 A simple, joyous picnic can be a very delightful birthday idea for your 8-year-olds. Pick a park where your child can enjoy their time with their family and friends for a picnic.Pack some snacks and a cake, and carry with you some birthday decorations you might want to add there. You can also take along some items for games, like frisbees, badminton rackets, or balls.
Children simply love running around freely, enjoying outdoor activities in the fresh air, so this picnic party on a birthday can surely turn into one memorable day.
10. Go Hiking / Trekking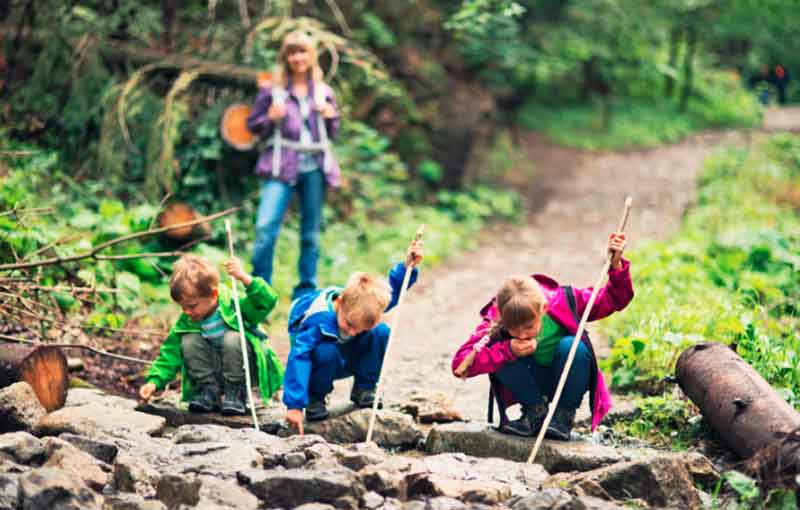 If your child loves exploring nature, a nature walk on a trail can be a very refreshing idea on their birthday.Choose a trail that is easier for an 8-year-old to trek on, and invite some of your child's friends who might want to join in for trekking. It's always fun to trek in a group, and children can explore nature and share great insights with each other on their way.
Once they complete the trek, you can all sit for some snacks, music, and games if you have carried some. This surely can be a fun and memorable way to have a birthday in a rather simple yet fascinating way.
11. Roblox Birthday
If your child loves everything about Roblox, why not make their birthday Robloxful?
Decide with your child their favorite avatar from the game and make them dress up accordingly for the birthday party. Set devices so all your kid's friends can play the Roblox game together.
Moreover, a Roblox-themed cake and décor with some party favors can show your creativity and hard work behind all the planning. Think of the food items that are mostly shown in the game and arrange to serve those at the party, like pizza and sodas.
This will be a perfect way to rejoice in your child's love for the game and make them feel overjoyed.
12. Disney Themed birthday
It is magical, and it is fun because it's Disney!
Choose your child's favorite Disney character and do the décor and color theme accordingly. From Mickey Mouse to Aladdin and Elsa to Snow White, there are many famous Disney characters to play around with for a colorful birthday party. Choose the character that your child admires the most and keep the costume, décor, and cake accordingly. You can also plan Disney-themed DIY activities like Goofy cookie decoration or Rapunzel cupcake making. You can also request your child's friends to dress in various Disney character costumes and do a mini Disney parade at home. Play various fun games and let the little ones dance to their favorite Disney songs.
13. Piñata Party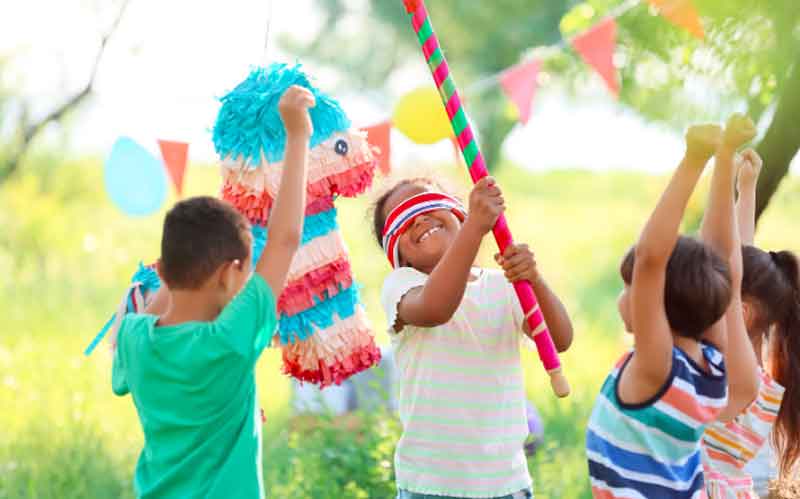 The anticipation of the surprises that will come out of the pinata is something that kids relish. To make it more exciting, you can do a piñata theme birthday by adding lots of piñatas around and keeping the excitement level high. Add a colorful backdrop to add more colors to the place.The pinata-themed birthday party will be lively and will require differently shaped pinatas, balloons, and streamers.
The birthday girl or boy can have a special piñata where you can add their favorite candies and chocolates.
A pinata-shaped cake will complete the celebrations of this fantastic day.
As a party favor, you can also give small piñatas to every child who attended the birthday.
14. Artsy Crafty Birthday
What's better than letting your 8-year-old show their creative flair with their friends and make some wacky and interesting crafts?
For an artsy, crafts birthday, you will have to set up some crafting stations with lots of fun art supplies like colors, papers, beads, pom poms, or glitters.
Decide beforehand on three to four crafts that you will ask the kids to make. Choose exciting and age-appropriate crafting activities so kids can stay engaged and enthralled.
Kids love party favors, and for an artsy crafty birthday, what's better than keeping some arts and crafts supplies in a goody bag for the kids to take along?
15. Paintball and Laser Tag Birthday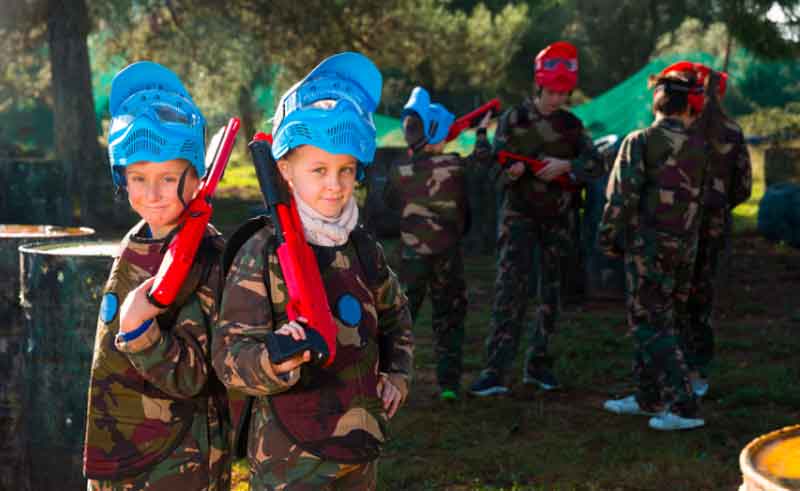 This one is going to be one exhilarating 8th birthday for your child! Paintball and laser are thrilling at their best! And combined with the birthday celebration, it will surely turn out fantastic.Choose a suitable paintball location, ensuring the equipment is in perfect condition. Make sure the safety gear is properly worn by every child to ensure safety. Explain the game rules and let the children enjoy the game to the fullest. Choose a menu that's light and easy to carry, like sandwiches and pizzas, so the party after the game can be enjoyed.
Add some fun elements to the place, like balloons and buntings, to give birthday views to the place.
This thrilling birthday will surely be an unforgettable day for your kid.
16. Movie Night
A cozy birthday your child can enjoy with their friends and relish moments from their favorite movie together. Choose your child's favorite movie and arrange the space in a warm, cozy manner. Set the pillows and blankets so kids can enjoy the movie comfortably. You can choose to add some fairy lights around, along with the balloons and a movie poster.
Set up a popcorn corner. Add some sodas and some nachos as well to give the kids a real cinema-like feel. A crafting station can also be added where the kids can make their favorite characters from the movie.
17. Scavenger Hunt Birthday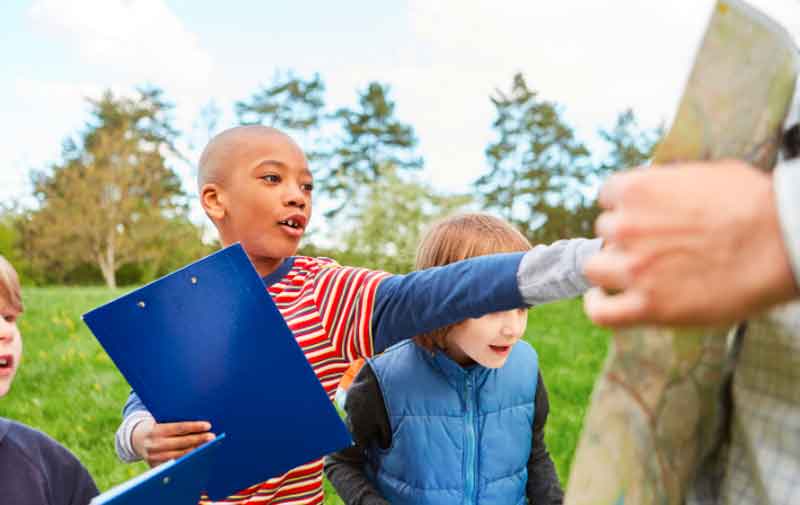 There's nothing more fun-filled and fulfilling for kids than finding the hidden clues and treasures and feeling triumphant.Find a location, a park probably with some landmarks, so that you can make interesting clues. Adding mental challenges along with physical ones will be a wholesome experience for them. Ask riddles, or hide objects around, let the kids explore the place, and be exhilarated by the whole experience.
To keep them motivated and add to their excitement level, keep some gifts for the kids to complete the scavenger hunt or find the item, or solve a riddle. Stuff a backpack with snacks and juices for children to devour post the hunt. Cut a cake and take pictures to save these memories for life. This is also one of my favorite 7th birthday party ideas because everyone loves a good scavenger hunt!
18. Pottery and Clay Art Party
Kids love using their hands on clay, and what better day than their birthday to enjoy clay play?
All you need is lots of clay and clay art tools. Let children bring out their creative side and make different objects. They can be asked to make a birthday cake using clay, and once dried, they can paint it as well.
Adding a pottery machine is also a good idea where children can make pots for themselves and take them home as a party favor. Don't forget to demonstrate to the kids how to use the machine or have someone manage the machine with the kids.
19. Bubble Party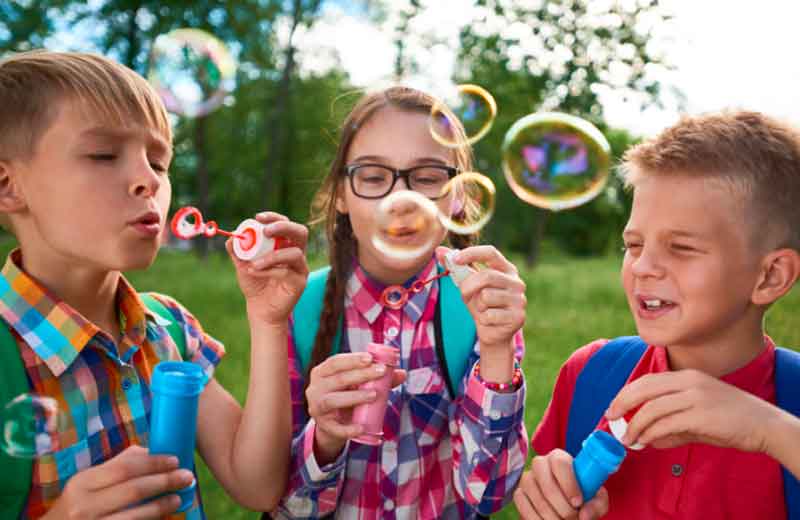 A unique and quirky way to celebrate your little one's birthday, a bubble party is going to make kids go crazy with excitement.All you need is some bubble-making machines, bottles with a bubble wand, and lots of space, preferably outdoors, where kids can safely make and blow bubbles around.
You can also add a bubble painting station and let kids unleash their creative side by doing fun bubble painting.
And how about having a dancing area where kids can enjoy grooving to their favorite songs while the bubbles blow around? Amazing, isn't it?
Keep your cake a bubble-shaped one in your child's favorite flavor. The snacks can include sandwiches, pasta, or pizza so the kids can devour it while blowing bubbles.
20. Carnival Birthday
Carnival birthdays can be a colorful and pleasing way to celebrate your 8-year-old's birthday. Decorate the house in vibrant colors for a festive feel. Add colorful balloons and banners. Behind the cake-cutting table, a large circus-themed panaflex can be added to make the place more vivacious.
Create a different game booth for kids, like ring the cone, tic tac toe, face painting, or dart games. Play some fun music and let the kids have a ball.
Having popcorn and candy floss machines will give a real carnival feel to the event.
Don't forget to give fun party favors to your little guests, like sweets or a carnival-themed toy.
21. Mini Spa Party
Plan a relaxing spa day birthday at the comfort of your home for your little ones to enjoy a comforting birthday. Do the cute little detailing by adding scented candles, light music, and Meni / Pedi stations.
Keep bean bags and pillows for a relaxing atmosphere. Arrange some fruit masks, cucumbers, and a scrub appropriate for kids.
Keep light snacks like fruit salads and fruit juices that will go with the theme. You can also add a braid and nail color section so the little girl's squad can get the hairdo and nail paint of their choice.
22. Harry Potter Birthday
If your child is a Potter's head, this is exactly what you need to do on their birthday!
From the plethora of decorations available, there are so many ideas to play with. Create a magical theme using candles and life-size Hogwarts pictures. Or you can also create a Hogwarts classroom and make the seating arrangements accordingly.
Giving a magic wand as a party favor to the invited kids will also be a very cool idea. Order a Harry Potter-themed cake and enjoy a lip-smacking birthday.
Don't forget to take lots of pictures with Harry Potter theme props.
23. Jumping Castle and Trampoline Fun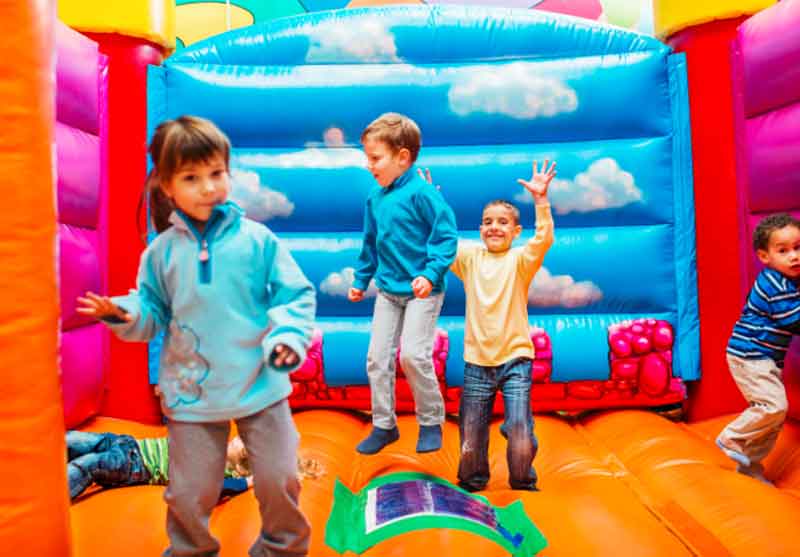 Jump up in excitement for a bouncy birthday party!
Jumping castles and trampolines are the most loved activities for kids and can be a great way to give kids some nonstop fun on their birthdays.
Along with letting kids enjoy the trampoline and jumping castle, you can plan different activities like races, tug of war, and musical chairs. Keep some prizes for the winners to motivate the kids invited to the party. Keep some lip-smacking snacks to add more fun to the party. Bouncy ball toppers can be added to the desserts to add detailing.
Don't forget to keep adult supervision while kids enjoy their time jumping on the castle or trampoline. After all, safety comes first! This is one of my personal favorite birthday party ideas for 8-year-olds.
24. Pirate-Themed Birthday Party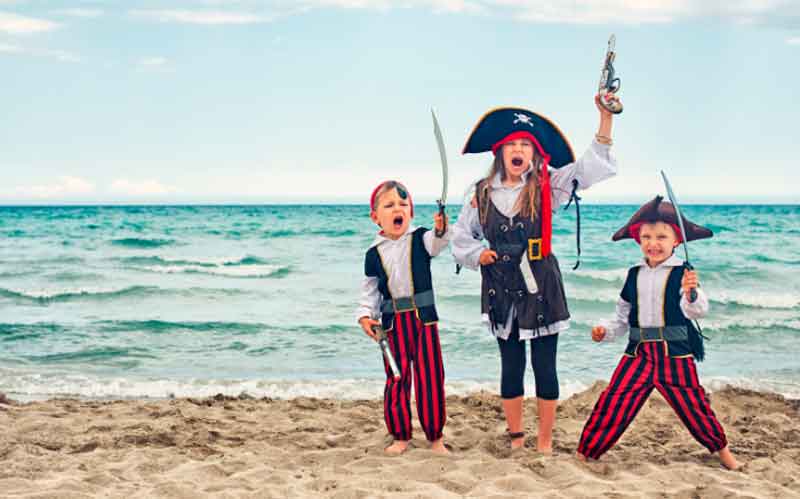 Enjoy a pirate's cove with some thrilling fun at your child's Pirate birthday party.
A scroll-like invitation will be a perfect idea to invite the guests and inform them about the theme and the dress code. You can also provide them with eye patches as they arrive as a welcome gift.
Make the party more exhilarating by adding fun activities like a treasure hunt with the kids. Add some prizes for the winners. Play pirates' music in the background to set the mood and add more detailing to the theme.
Order a box-shaped treasure cake for your child and serve your guests pirate-themed food. Let everyone devour and have the real feel of the day!
25. Charlie and the Chocolate Factory Birthday
Hands down one of the most loved children's stories, Charlie and the chocolate factory can be a whimsical theme for your 8-year-old's birthday.
A golden ticket can make a perfect invitation card for a birthday. Keep a large-sized Willy Wonka cutout. Set up different stations for the chocolate fountain, DIY chocolate-making activity, and cookie and cupcake decoration.
Guests should be treated with lots of sweet stuff and desserts. After all, it is about the best chocolate factory ever. A colorful candy bar will be a perfect addition to your party to make it toothsome!
26. Beach Party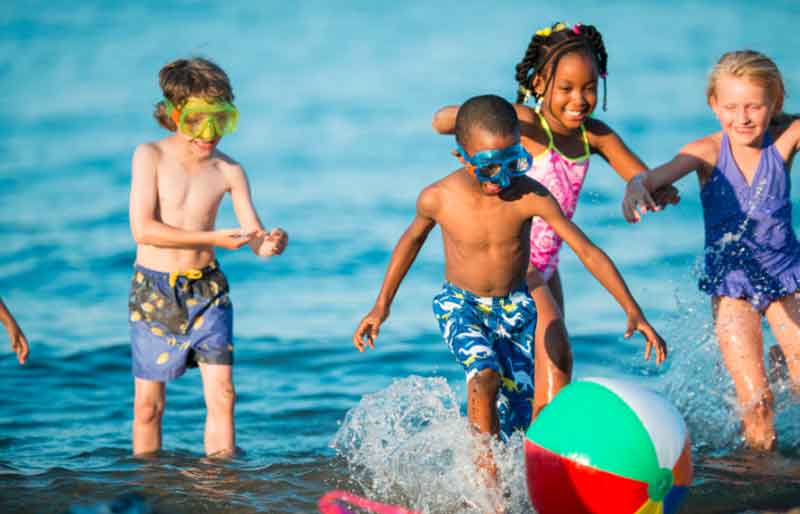 One of the most lovely and fun places to plan a birthday is surely a beach.
Playing in the water or enjoying games by the sea can surely turn out to be an unforgettable birthday for your child.
Make an activity basket and add lots of sand toys in it so the kids can enjoy making sand castles. Keep some frisbees and balls as well.
Decorate the place simply with balloons and banners. Take a cake stand and add some props for taking pictures. Enjoy the party and take lots of pictures.
Don't forget to check the weather beforehand to ensure a good day at the beach.
27. Candy Shop Birthday
It's time to tickle your little one's sweet tooth by giving them a candy shop-themed party on their 8th party. It's sweet and colorful and oh-so irresistible.
Create a flamboyant and vibrant décor by keeping colorful balloons and hangings. You can create a candy bar by adding a variety of candy jars that kids can enjoy post-dinner.
A photo booth for the party will be a great idea to save the sweet memories of the birthday for a long time.
Choose colorful snacks and a tall candy-themed cake to make your child's day even more special.
Preparing a small goody bag with a variety of candies for kids will be a perfect idea to end the day.
28. Underwater Themed Birthday
What an uber cool way to celebrate your child's birthday if they are into marine life and the underwater world.
Choose a theme of blue and green balloons and buntings. Have a backdrop with an underwater scene to add more colors and dimension to your party.
Open the day with fun activities like face painting and paper crafting activities where children can make their favorite sea animal. Also, add a fishing game so children can enjoy catching fish or other underwater animals from a tub.
Keep the desserts and cake along the lines of an underwater world theme, like electric blue lemonade.
Give your invited friends some underwater animal stickers as a party favor.
29. Minecraft Birthday
If your child loves Minecraft, this birthday theme will be an awesome idea for a celebration.
Choose Minecraft posters to add to your place with balloons in green and brown colors. Add green and brown cardboard cubes around the party area.
Have a netbook station where children can play Minecraft. Another activity could be preparing Minecraft crafts like swords. Add some prizes for the kids who make the best crafts.
Order a Minecraft cake for your child. Uses glasses and plates with Minecraft stickers on them.
Set up a photo booth with appealing Minecraft props that children can use for clicking pictures. This is one of those 8th birthday party ideas you really can't go wrong with because almost all 8-year-olds love Minecraft.
30. Talent Show
If your child has talent that they love to flaunt, a talent show birthday party will be a perfect idea to let them enjoy along with their buddies and show their talent to all the guests.
Prepare a performance area with a small stage set up, a backdrop, and a microphone. You can keep different categories like best singer, best dancer, telling the funniest joke or showing a magic trick, etc., and children can show their performance.
Choose some elders as judges who can mark the kids accordingly. Keep prizes for winners and runner-ups as well.
Focus on being creative and letting kids experience lots of joyful moments.
Popular Article: 9th Birthday Party Ideas That Are An Absolute Blast
31. Monopoly
Monopoly is a classic game that can turn into one memorable and exciting theme for your child's 8th birthday. Decorate your place with hanging Monopoly money, game pieces, and properties around the room. Order a Monopoly board-shaped birthday cake. Have your child live the Monopoly experience by adding a large-sized monopoly board with which they can play with their friends.
To make the party more amusing, dress your child in their favorite piece from Monopoly, like a car, dog, or top hat. You can also ask the guests to dress up according to the theme.
Keep Monopoly pieces props for pictures to make your pictures more interesting.
32. Cook it Up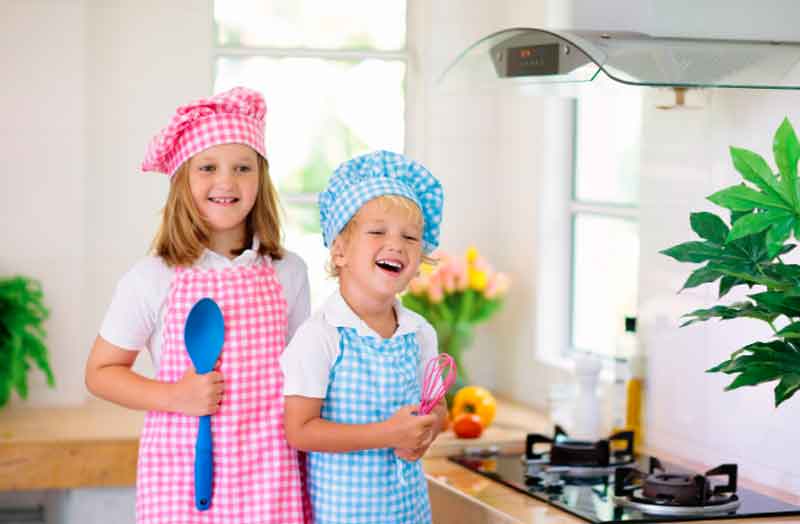 Making a pizza or assembling a burger, kids love to prepare food. And when it's done for a birthday celebration, it becomes extra special.
Do a cook-your-own-meal birthday and set up different stations with all the ingredients where children can prepare their favorite food all by themselves.
Give a quick round-up of the process and let the children put the chef within them at work.
You can also find a restaurant where they allow kids to prepare their meals and have a party over there.
Once the food items are ready, kids can sit back and enjoy eating together. Bring in the cake, and let the party begin!
33. Among Us Birthday
An interactive theme to enjoy your child's special 8th birthday, Among Us theme, will be thrilling and enjoyable if your child loves playing it.
Create a game-like feel for your place by adding large posters of the game, hanging different characters, and adding colorful balloons and buntings all around.
Do a pretend play where one of the kids can be an imposter and catch other players. Scavenger hunts for treasure hunts can also be amusing activities to add to the event.
Give an among us goody bag to the kids as party favors where you can keep Among Us puzzles, coloring book, pencil case, etc.
34. A Safari Trip
An adventurous activity to do on your child's 8th birthday, Safari is an enriching experience for your family together. Animals fascinate every child, and to look at them up close is so endearing.
It's also a great time to talk about different wild animals, their characteristics, and their habitats.
So, safari trips are not just entertaining but educational too.
Don't forget to take along some important safari gear along with your favorite snacks and a cake to have a little celebration amidst some furry fellas. It's all about finding joy in small moments and making them extraordinary on your child's special day!
35. Jungle Party
If your child loves animals and everything about the jungle, the jungle birthday party will surely enthrall him. A little thoughtfulness can create an unforgettable day for your child.
Put large tree cutouts and animal pictures and spread leaves around. Create a tent on a side where children can sit and play. You can also arrange a storytelling session within the tent as children love hearing stories in unusual setups even more.
Use the theme colors of greens and brown and a cake with lots of fondant animals on it.
Treasure hunts, scavenger hunts, and kids' games can keep children involved and excited the whole time.
Give a small animal figurine to your guests' kids as a party favor and make them go ting!
36. Karaoke
A sure shot hit with kids, the karaoke birthday party will be all about music and songs!
Let the children show their singing talent at the birthday party while enjoying it to the fullest. Set the mood by adding a karaoke machine with a microphone. Create a small stage and cover it with fairy lights and disco balls. Add posters of some singers that your child might like.
Children will take turns singing their favorite song. Along with singing, they can also enjoy dancing.
Enhance the ambiance and add balloons and order a birthday cake in the shape of a microphone or Karaoke machine.
Give all the real feelings to the children and let them sing their hearts out.
37. Trip to a Water Park
Who doesn't love splashing in a pool to cool off on a sunny day? And a trip to the water park becomes even more interesting when it's your little one's birthday!
Water parks have lots of activities to offer, like wave areas, surfing, and water slides. With so many options to choose from, children can have a blast on their birthday, making it one of the most memorable family days out.
You can take along your picnic basket with snacks and juices to keep the little ones full and hydrated.
You can also find mascots/characters, live music, and rides in water parks to fuel up your activities.
38. Make Your Own Slime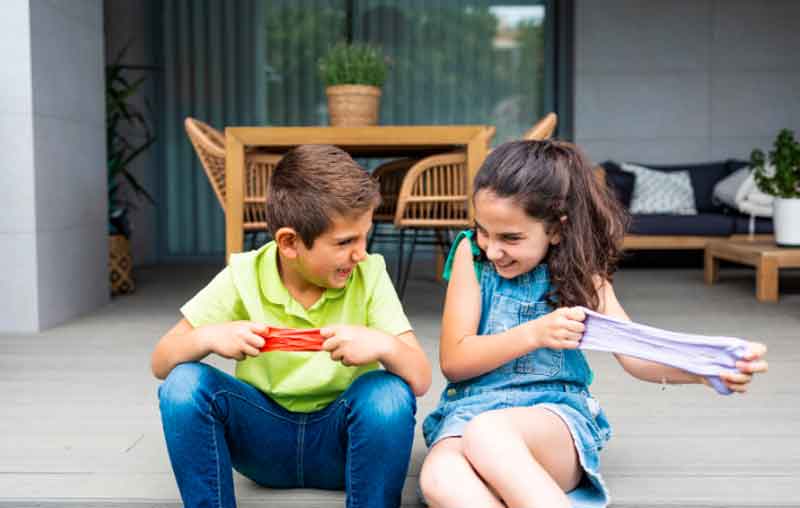 Kids love playing with slime, and what they like even more is when they get a chance to prepare their slime. It's amusing and also pleasing for the kids to play with their creations.
Make your slime birthday will be a gooey fun day where you can set up different stations with slime-making ingredients and tools. Children can create their slime, and the ones who make the best slime can win prizes too.
You can add green, red, and yellow jellos and gummies for dessert to make it more interesting. Add lots of balloons and buntings in bright colors. Order a slime cake in your child's favorite flavor.
Include a small bottle of slime in your goody bags to give to the invited kids.
39. Bowling Fun
Gear up for some bowling time out on your 8-year-old's birthday and make it super enthralling for them.
Look for a nearby bowling alley and ask them to assist you with birthday décor. Choose a kids-friendly menu, and don't forget to take your cake aftercall; no birthday is complete without it!
Send out bowling pin-shaped invitation cards, so your guests will instantly know what your party is all about. You can also make different groups of kids and have competition within teams to make your party more exciting. Remember, birthdays are all about making memories and letting your child know how special they are to you! This is also one of the most popular 10th birthday party ideas. For younger kids, you can even get lanes with bumpers.
40. Magic Show
Abra Ca Dabra! This magic show will amuse ya!
A magic show on a birthday will be a very entertaining idea, not just for the kids but for grownups as well.
Arrange the invitation cards in the shape of a magician hat. You can also ask your guests to come prepared with one magic trick of their choice. Keep a prize for the guests who shows the best magic trick.
Set up a stage for the magician and a corner where the magician can keep his props. A magician will show dun tricks and keep the kids entertained.
Consider decorating the place with magic wands, magician hats, and magician coats to give fascinating vibes to the party. If you're looking for birthday ideas that are super unique and fun, this is one to consider strongly.
41. Lego Birthday
Kids love building Legos, and turning their favorite activity into a birthday party will be an awesome surprise for your child.
If you can find large pieces of Lego, use them to arrange your space so children can pick and play with them too.
Stations with various Lego sets for children to build will surely be an amazing idea to keep kids engaged in productive activities.
Place Lego character posters all over the place with lots of colorful balloons for a flamboyant setup. Dress up your child in a costume of their favorite Lego character to make it more fascinating for them.
A small Lego set as a party favor will make the day for your little guests invited to the party.
Don't forget to take lots of pictures to seize life memories!
42. Story Telling
If your child's best friends are books and reading stories is their favorite activity, plan their birthday around the same idea and get yourself showered with oodles of hugs and smooches.
Create a comfortable space for kids to sit by adding pillows and bean bags. Make it relaxing by creating the right aura around with good lighting, light music, and hanging pictures of the characters.
Add a variety of books for kids to explore. One by one, each child can come and read a story to everyone.
Or. you can also call a storyteller who is professional and can read stories for kids. Storytellers may also bring in their props to make the story come to life for kids.
You can bring a birthday cake that is in the shape of your child's favorite book character.
43. Costume Party
Dressing up is so exciting, and it can be a very entertaining idea to make birthdays even more lively.
Dress your child in his favorite character's costume. Kids who are invited to the party can come dressed up in their favorite costumes and perform the actions as well. You can add a character walk around your house where each child can flaunt their get-up.
You can also set up a station where kids can pick their favorite props from hats, goggles, bows, sticks, mustaches, etc., and become impressive imaginary characters.
Use colorful decorations, and arrange a cake that could be the shape of the character your child is adorning. Prepare goody bags with your child for the guests.
Add a photo booth to enjoy a fun photography session and save your child's birthday memories for a lifetime.
44. Dinoland
Create a world of dinosaurs for your child's 8th birthday and throw them a roaring party to enjoy with their friends.
Create a backdrop of forest with dinosaurs to place behind the cake-cutting table. Hang cutouts of dinosaurs and their eggs around. Order a dino-shaped cake in your child's favorite flavor. Dress your child in a dino costume to add more zing to the party.
Have dino-shaped cookies and cupcakes on the dessert table. Do cupcake and cookie decoration activities at the party. Hide dino eggs around the house and do a scavenger hunt with the kids to make their day more thrilling.
45. Music Party
A melodious party to relish, a musical birthday will be a treat for everyone to attend. It can also turn into a great idea for your child and invite kids to showcase their talent.
You can arrange different musical instruments around the birthday party area that children can explore, play and enjoy around. Prepare a playlist with your child and select their favorite songs, and set up a small dance floor where children can perform and enjoy the party.
Add colorful birthday decor and a cake in the shape of your child's favorite musical instrument. Hanging musical notes around the party area will be a great idea to make your party more exciting. Add props in the shape of musical instruments for some creative pictures that you can cherish for life.
46. Garden Birthday Party
Simply an amazing way to enjoy the outdoors, be it in your garden or a park nearby.
This birthday party can also be a great way to let kids enjoy some gardening activities and grow a plant as well. Arrange small pots, some seeds, and gardening tools. Kids can plant the seeds and take those pots as party favors.
Do a simple birthday set up with pastel color balloons, flowers, and banners, keep light snacks, and of course, a cake.
Don't forget to keep a backup space in case clouds decide to pour down.
47. Emoji Bash
This is one cool idea to make your child's 8th birthday trendy, fun, and emoji.
Use different kinds of emojis to send as invitation cards and make your guests excited to look forward to a fun party.
Decorate your place with everything emojis. Balloons, wall hangings, cushions, and plates, there's a wide assortment of emoji-shaped objects you can choose to make your birthday party more striking and amusing.
Add some activities like decorating your emoji where kids can draw and decorate their favorite emoji.
You can also arrange for a screen and have a movie time for the Emojis film.
A cake in your child's favorite emoji shape will complete the day.
48. Visit a Science Center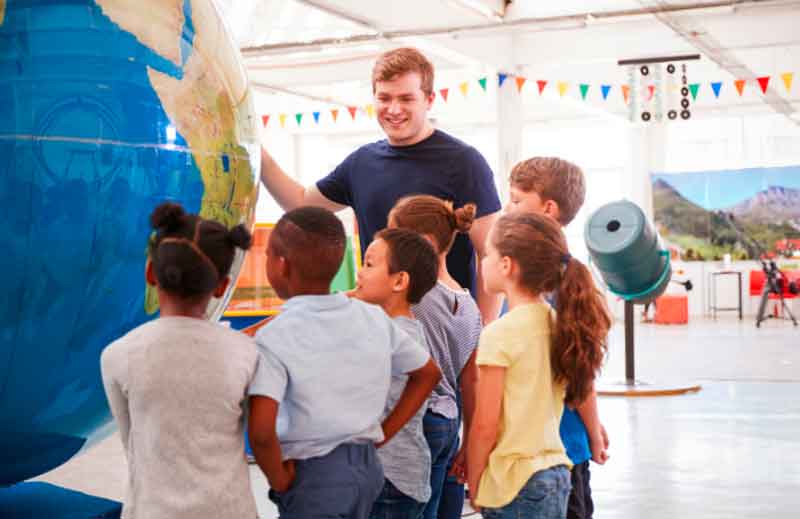 A trip to a science center can be a fun and engaging way to enjoy your child's 8th birthday.
Your child can explore hands-on activities while learning about different science mechanisms. You can do all the activities along with your child to make their day memorable.
Don't forget to check out the water area, mirror maze, gravity floor, and revolving houses for some mind-boggling fun. There are a variety of things your child can explore in a science center that will make their birthday super awesome.
Carry along with you a cake and enjoy a cake-cutting ceremony in a cafe nearby and order your child's favorite food.
49. Go Fishing
A relaxing and enjoyable way to celebrate your child's 8th birthday is by going fishing. Pack your fishing gear, some snacks, and a cake, and make the birthday surreal.
You can also invite your child's friend and do some activities like who can catch the fish first. Let the kids take the lead and do it all by themselves. But don't forget to supervise them.
End the day by doing some sumptuous BBQ and enjoy the birthday with a yummy birthday cake.
Take lots of pictures to save the memories of this unforgettable birthday!
50. Zip lining Adventure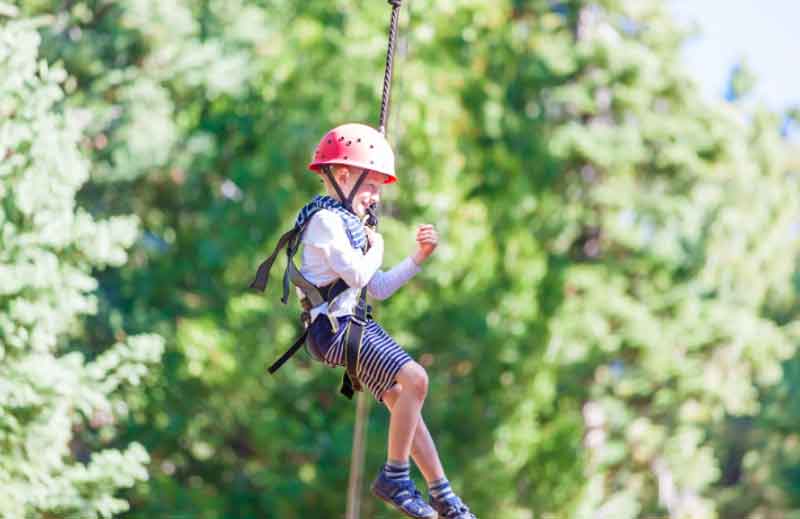 If your child enjoys thrilling experiences and adventure, going zip lining can be a great idea for their 8th birthday. The exhilarating experience of zip lining can bring lots of excitement and anticipation to your child. If you can have a group of your child's friends who would like to come along for zip lining, that would be fantastic, as kids enjoy doing activities with their friends the most.
Ensure all the children have safety gear in place. Celebrate how courageous your child and the other children are to do zip-lining all by themselves.
Find a nice spot to lay your yummy spread of snacks and cake. Complete your day by asking all the children to share their experiences and how they felt during the zip-lining.
51. Pop-It Party
Some pop-it fun colors are a vibrant way to add excitement to your child's 8th birthday. Throw them a colorful pop-it birthday bash by adding pop-it toys around the birthday area, balloons, table cloth, and ordering a pop-it cake. Make it bright and colorful in red, orange, yellow, green, blue, and purple colors, and show your creativity to make it more amusing.
Do different activities with kids, like pop-it competitions where you can set a timer and see who can pop the most bubbles in the set time.
You can also giveaway pop-it keychains as party favors to the kids. Make pop-it props for some unforgettable photographs.
52. Go Karting
Gear up to race with your little one at a go-karting adventure on their 8th birthday. It's going to be one exhilarating birthday idea where your child can take control of the Go–Kart and experience the thrill.
Choose a suitable place, preferably a place where the child can enjoy more activities apart from karting. You can also invite your child's friends, and all the children can race together for more fun.
Make sure safety measures are in place, and the driving rules are understood by every child.
You can also decorate the area near the circuit where your child can cut the cake; everyone can enjoy the snacks and take lots of pictures together.
53. Rock climbing Adventure
If your child is sporty and enjoys adventurous outdoor activities, rock climbing can be a phenomenal idea for their special 8th.
Some experiences turn into the best memories for life if done with friends. You can invite your child's friends to make the rock-climbing birthday more exciting for your child.
Rock climbing is a challenging activity, and you can make it more enjoyable by adding games in it or setting different challenges.
Once the children complete rock climbing, it's time to enjoy snack time with cake cutting. Give party favors to the invited kids, like an outdoor-themed toy with some sweets.
A little preparation and thoughtfulness can make your child's 8th birthday a memorable one for all.
54. PJ Party
A very cozy way to celebrate your child's 8th birthday, it's going to be relaxing and comfy.
Plan your guest list and send the invitations to your child's friends, informing them about the theme so they can come dressed in their PJs
Arrange the party area in a way that gives a relaxing feel adding pillows, stuffed toys, blankets, and mattresses. Add some fairy lights, too, to set the mood.
Create a game corner where you can add some board games. And not to forget, some extra pillows for the most loved pillow fight. Let the children go a little overboard with a pillow fight, fun ensuring everyone's safety.
You can also arrange for a kids' movie time so the children can sit back, relax, watch a movie, and enjoy devouring the snacks and the birthday cake.
55. Horse Riding Fun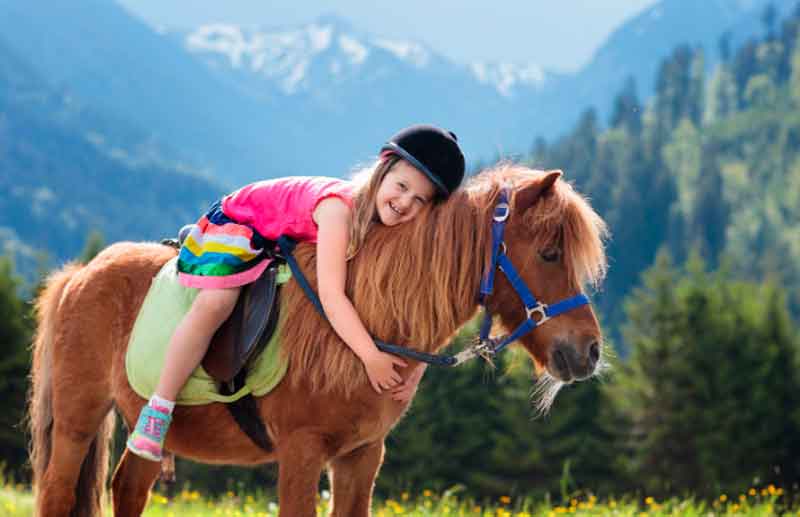 Celebrate your child's 8th birthday by taking them for a fun horseback riding experience which is rewarding and a wonderful way to enjoy your day.
Look for a stable or a farmhouse where you can have access to horses. Take the child for a walk around the place and help them familiarize themselves with the horses around. Let them talk and gently pat the horses and see which ones they like the most to go riding.
The riding experience is also a great way to connect with the outdoor scenery and have a look around nature.
Complete your celebrations by setting a party area in the farm or stable with some balloons and buntings. Place the cake and your snacks, and might as well take some props for cute pictures. Don't forget to take a call in the horsey for your snaps!
56. Bring a Pet Home
If your child loves pets and is asking to adopt one, their 8th birthday is the best time to bring one home.
Bringing a pet home to your child may instill a great sense of responsibility in them, and at this age, they can take charge of looking after their pet and enjoy their companionship at its best.
Don't forget to explain to them the dos and don'ts of nurturing a pet.
Along with the pet, you can bring a cake to celebrate the day. Don't forget to take some memorable pictures of your child's 8th birthday and their pets on their first day at home!
57. Bake a Cake
Baking is so fun that every child is fond of it. And the best time to bake with your child is on their birthday.
Whether you host a party with friends and family or do a little birthday celebration at home, you can prepare to bake the birthday cake with your child. Baking can be an exciting and rewarding experience for kids, so it should be experienced with full zest.
Choose their favorite flavor and make the cake accordingly. Involve your child in the process by asking them to help you mix ingredients. Once the cake is baked, give the decoration task to your child. Motivate them to be as creative as they can be.
Keep the process fun and memorable. Sing birthday songs, and also don't forget to capture the memories in pictures.
Wrap Up:
We do hope you enjoyed reading these fun 8th birthday ideas, and by now, you have already selected a theme to make your child's birthday a spectacular occasion to cherish for a long time. Remember, birthdays are all about making fond memories and having a great time together. A little planning, combined with your love, can make your little one's day awesome and can earn you countless cuddles and smooches. Isn't it all worth it?