Are you or someone you love about to turn 28 years old and looking for a unique way to celebrate? Your 28th birthday party is an event that honors your past, present, and future. Whether you are hosting the party for a family member, friend, or loved one or throwing the bash for yourself, it should be a memorable event for the guests and the guest of honor. If you need a little help coming up with something to do, we've compiled an epic list of 28th birthday ideas for you below.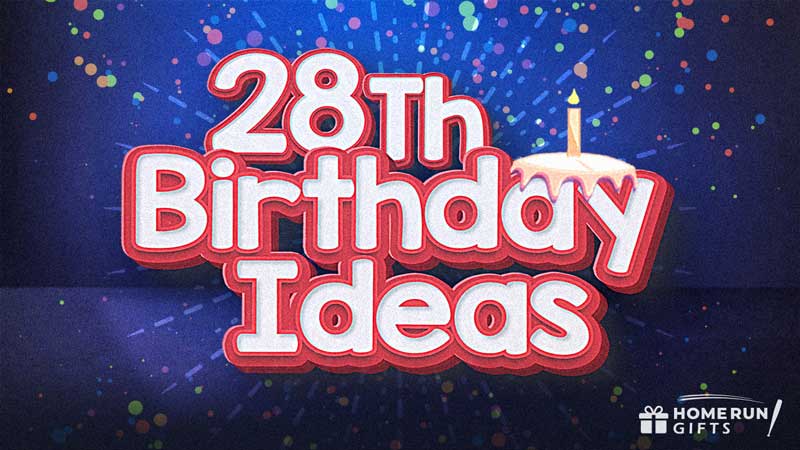 You can choose to celebrate your 28th birthday in a simple or as extravagant as you like as long as it brings you and your guests joy. For an unforgettable 28th birthday, simply scroll through the list of ideas below and pick out your favorite. If you're interested, we also have a huge list of 27th-birthday ideas. Many of the ideas are similar, but there are many on that list that are not mentioned here!
1. Camping Party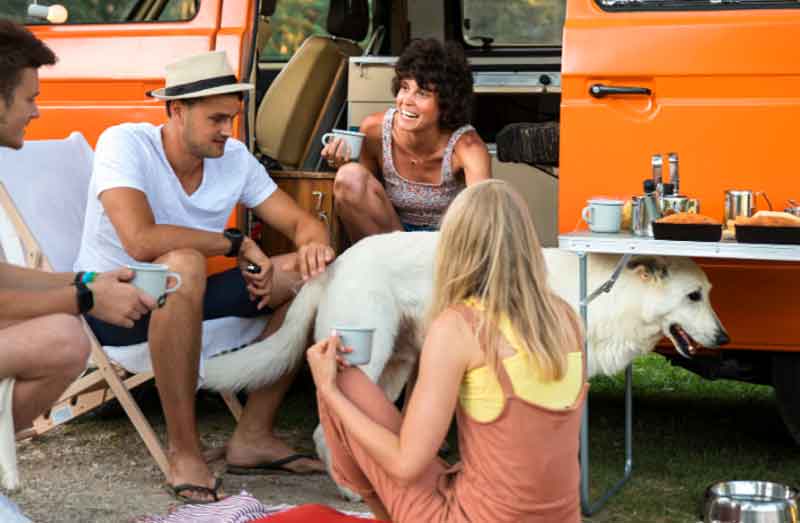 Grab the tents and your adventurous friends and head to a campground or state park. Camping is a way to bond with your crew and make lifelong memories under the stars swapping stories around the campfire. Pre-pack foods that are easy to grill, like hot dogs, hamburgers, and all of the trimmings, plenty of drinks and water, and something for breakfast. You can have smores instead of birthday cake, or bring cupcakes decorated with a camping theme. Campfire games or hiking add extra camping fun.
2. Game Night Party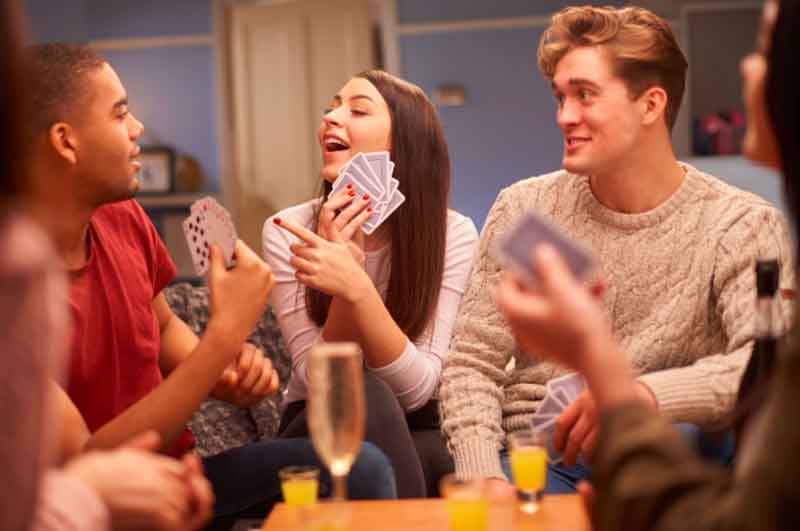 Game night parties are always a hit with guests! Playing games makes us all feel like kids again, which is always great. Setting up a game night party is as easy; just ask each guest to bring a board game, card game, or other game of their choice to the event. Have your house or venue decorated in gaming themes, and provide hand-held food that is easy to eat while you play. Pretzels, popcorn, charcuterie boards, and snacks are perfect for all-night nibbling.
3. Escape Room Party
Test your skills and make a great escape at an escape room party. Escape rooms are popping up in almost every city and state and have become a popular team-building event for couples or groups. Your crew will have a blast using their detective skills to unlock the secrets and escape the room. Each escape room has several games so that you can do one or each for added challenges. Virtual escape room games are also available online if you rather test your group's skills from the comfort of your home.
4. Bowling Party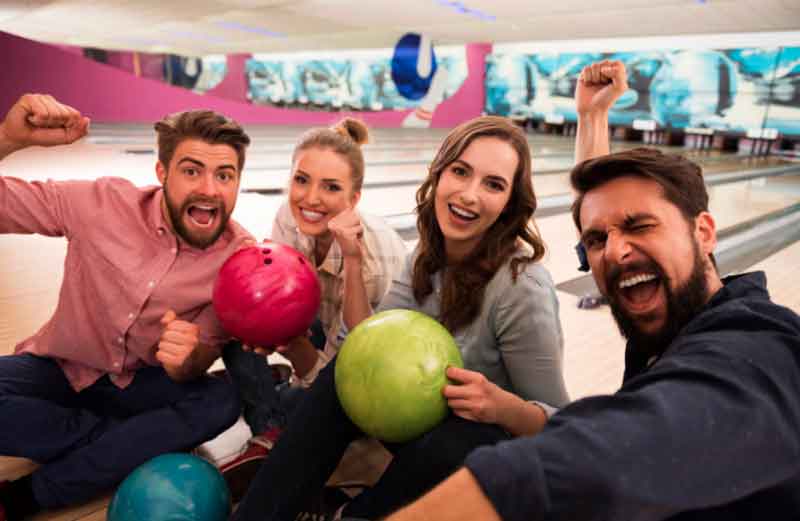 Hit the lanes for a 28th birthday party at the bowling alley. Bowling is a fun activity with friends requiring little to no skill. Bowling alleys usually provide party packages and group pricing that includes food and drinks, but if not, you can always go to dinner at a sports bar after you bowl a few rounds. Some bowling alleys have special evenings like disco night or glow-in-the-dark bowling to make your party fun. Hold contests like worst throw, silliest bowler, and other categories that pertain to your group to take your bowling party up a level.
5. Poker Party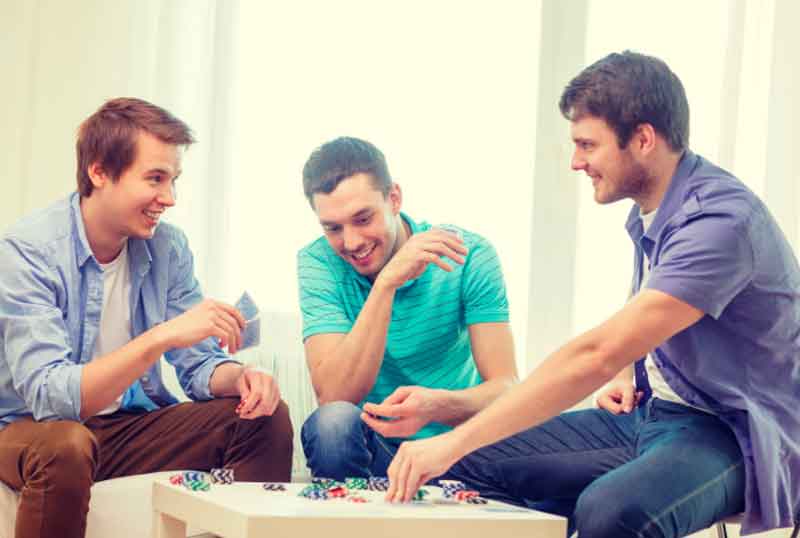 Break out the casino-themed decor, don your best card-dealer attire, fill bowls with beer nuts, and throw a poker party for your 28th birthday. Your group doesn't have to be serious poker players to enjoy a rousing game of 5 Card Stud; play with toy money, and whoever has the most, in the end, gets a grand prize. Have some silly card games like Old Maid and UNO to lighten up the event and keep the rounds of drinks flowing in pure Vegas style.
6. Scavenger Hunt Drinking Party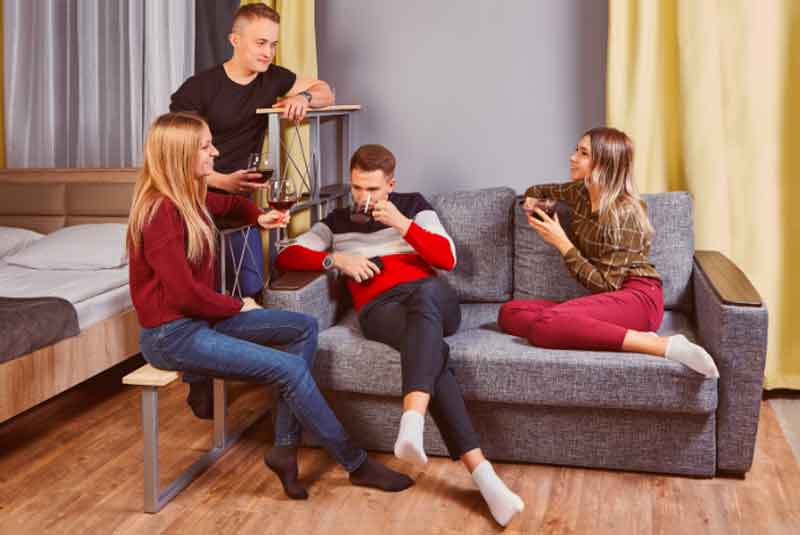 Scavenger hunts are fun because everyone loves to look for hidden treasure. A scavenger hunt party can be held at your house, in a park, or around town. You'll need to create the clues or map and divide your guests into two or more teams. Once a team finds the clue, they snap a selfie of themselves taking a sip of their drinks at the location before moving on to the next clue. The group returning to the designated site wins a grand prize. This game doesn't have to involve alcohol, and you can find sample hunts online for inspiration.
7. Spa Day Party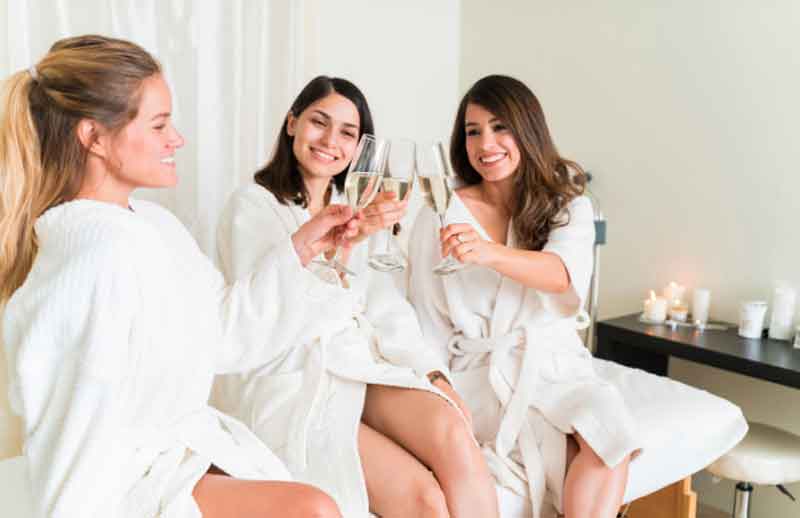 Everyone needs a day of pampering! Your 28th birthday party is a perfect time to pamper yourself and your pals with a spa day party. Most spas offer group services, and you can always choose treatments for more than one person at a time. Relax and unwind while you treat yourself and your friends to facials, massages, hot stones, and more. You can always have a spa day in your home by filling lovely bags full of beauty and wellness treatments for each guest, pouring a glass of wine, and applying the treatments in your private setting. Give each guest a pair of embroidered slippers and eye masks for party favors.
8. Around The World Party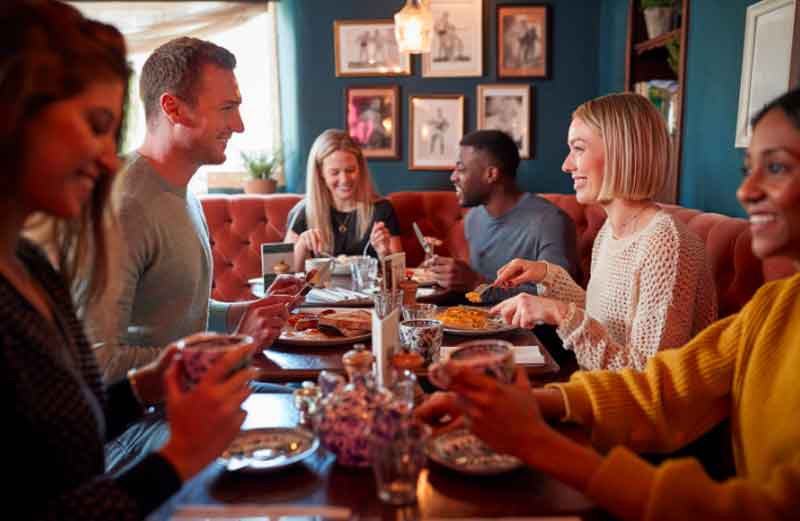 If you love to taste dishes from other countries and cultures, host an around-the-world party for your 28th birthday. If your family and friends hail from other countries or have family dishes that reflect their heritage or traditions, have them bring their dish to share. Alternatively, you can assign guests countries and cultures and ask them to prepare a savory or sweet dish. Pair the dishes with cocktails, mocktails, beer, and wine for a well-rounded affair. You can decorate your space with flags from each country and other items that make the event come to life.
9. Pub Crawl Party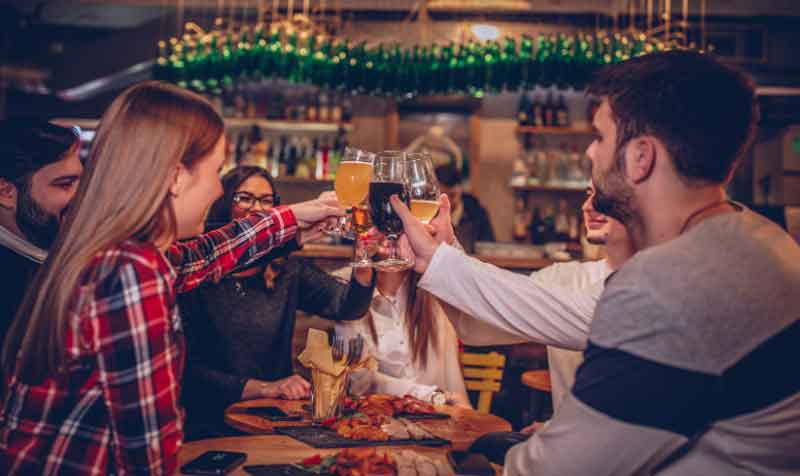 Grab your besties and hit the pavement on a pub crawl for your birthday party. Guests can pay for their drinks for your pub crawl, making it an inexpensive party option. Let each pup you plan to hit know in advance that it's your birthday, and ask them to have a special drink or pricing for your group when you arrive. Make your guests koozies or reusable drink containers to carry and take home as favors. Always have Uber or a safe way home when your pub crawl is over.
10. Retro Party
Travel back in time with family and friends to the year you were born for a retro party on your 28th birthday. Retro parties are always a blast because everyone loves to pay homage to times gone by. Your theme will be your birth year; all your decorations, refreshments, and entertainment will reflect that year or decade. So for those turning 28 in 2023, your them would be the grungy 90s, when both grunge and boy bands were popular. Ask the DJ to play tracks from the decade you were born and play some trivia to get everyone in the retro mood. Enjoy your retro theme by asking guests to dress accordingly.
11. Beach Party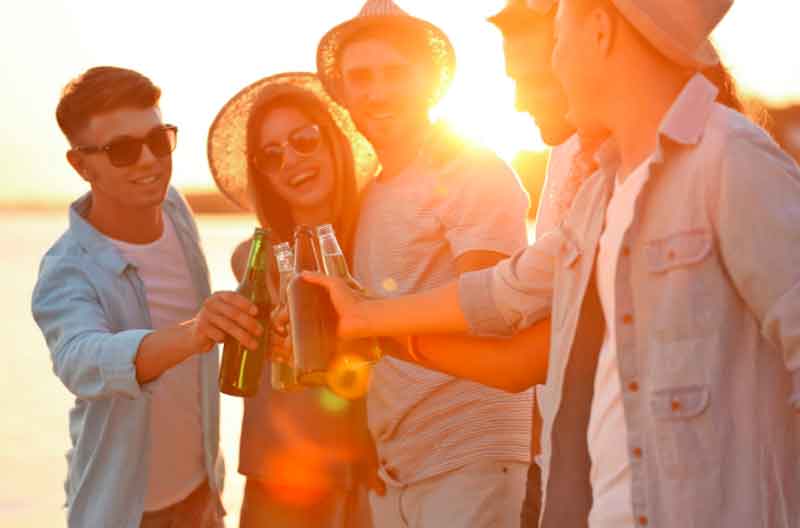 Surfs up at your 28th birthday beach party! The beach (lakeside or riverbank sandbar) is the perfect setting for a laid-back, chilled-out birthday party. Bring blankets, buckets of cold drinks, and snacks that fit well in the elements. Create extra ambiance by building a fire, lighting tiki torches, and cranking up beachy toons. If your guests play guitar or ukulele, ask them to strum songs for live entertainment. For prizes, you can have beachy-themed games or play frisbee and horseshoes. This is one of my personal favorite 28th birthday ideas.
12. Nacho Mama's Birthday Party
A 28th birthday party can become a fiesta with a nacho and margarita theme. Nachos are the perfect party food because they are easy to prepare, feed many people, and are easily customized. You can prepare nacho fixings in advance and have everything out for your guests to create the nachos of their dreams! Pair the dish with a margarita bar and let the good times roll as you munch and sip the night away. For added fun, fill a pinata with mini (plastic) liquor bottles or fun prizes and have guests take their best shot.
13. Host A Barbecue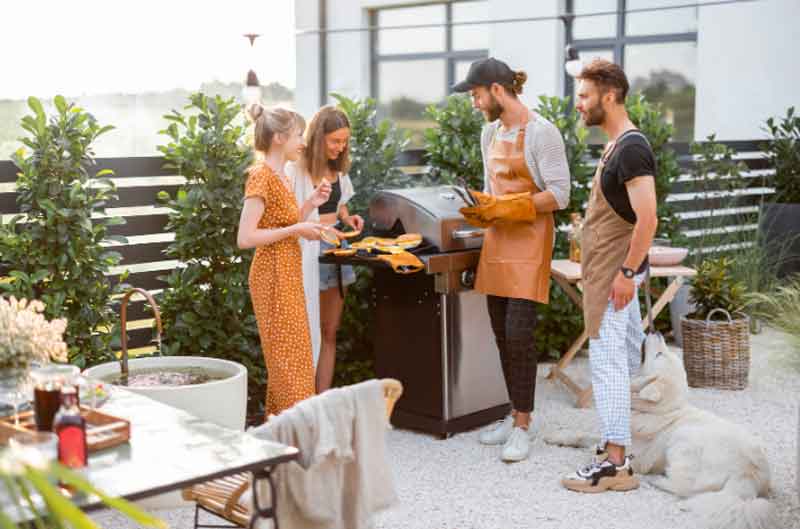 Who doesn't love a barbecue? Barbeques work great for a 28th birthday party because they are easily tailored to any space, indoors or out. Backyards, parks, and community properties are perfect for your birthday feast, or you can create the same atmosphere in your home or indoor venue. Prepare finger-licking foods, cold drinks, music, and fun! Throw some chicken or hamburgers on the grill, pair it with a crisp salad and corn on the cob, and you're set! Set up buckets of cold drinks and games like Twister and Cornhole to make your barbecue memorable.
Popular Article: Epic 25th Birthday Ideas
14. Pool Party Bash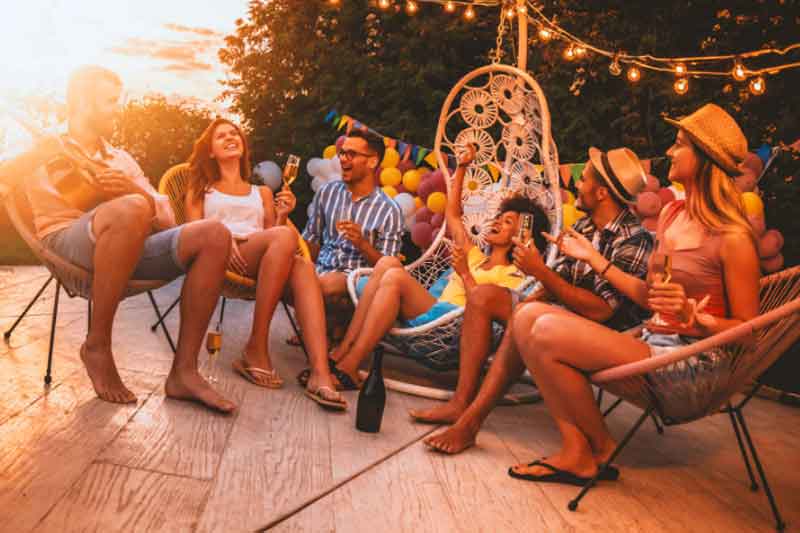 Turn your 28th birthday party into the ultimate pool party bash! Crank up the Beach Boys and other summer tunes and let the good times begin as your guests sip, splash, and sun together at the pool. You can host a pool party bash at your pool or one in your neighborhood, or consider having the event at a local resort. Most resorts offer poolside packages if you purchase food and drinks, which make planning and cleanup a cinch. Pool parties don't have to include swimming; if you want to elevate the decorum, plan the event in the evening and use the pool as the perfect backdrop.
15. Girl's Night Out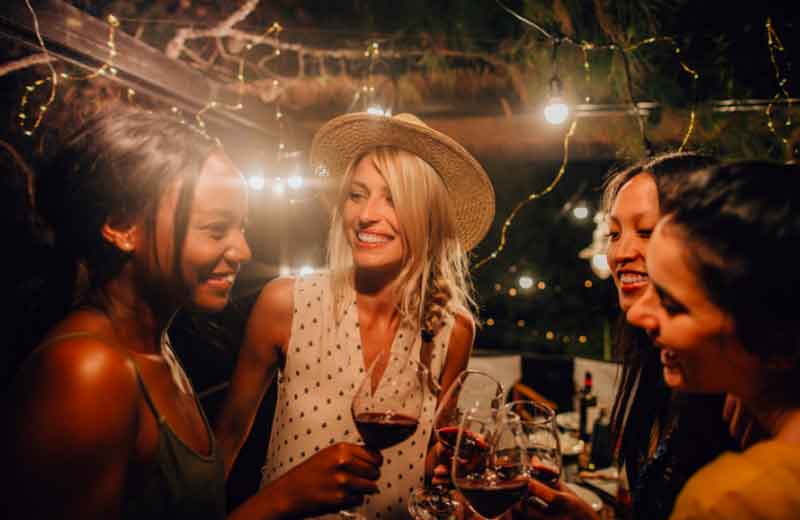 Girls just want to have fun! Celebrate a 28th birthday with your BFFs on a girl's night out. Have all the fun without all the planning by getting your friends together and hitting your favorite spots for dinner, dancing, and drinks to ring in your 28th year. Whether you walk, Uber, or rent a limousine, your party group will have a ton of fun checking out local bars and restaurants together. You can plan a girl's night out with a fabulous dinner and conversation if you're not into the drinking scene. Whatever you plan for your 28th girl's night out will be fun with your besties by your side.
16. Boy's Night Out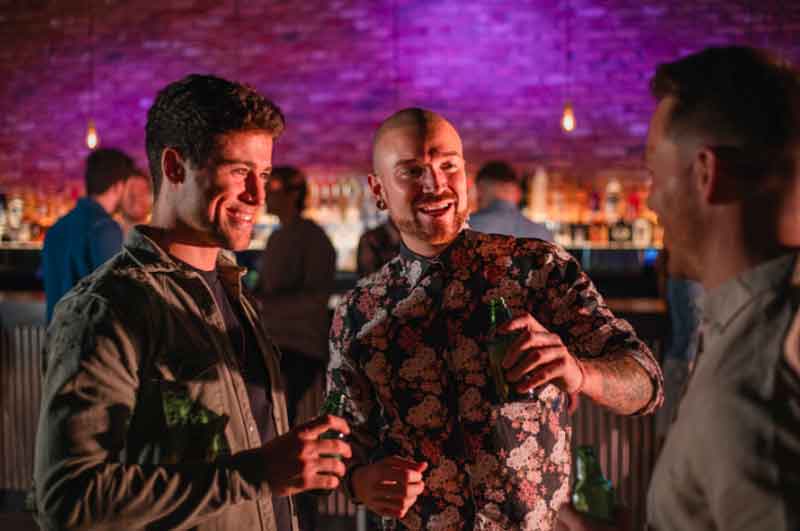 Ok, the boy's like to have fun, too! For his 28th birthday, grab the guys and hit the pavement for some rowdy fun on a boy's night out. You can invite as few or as many friends as you'd like to make your evening special, having dinner and drinks out on the town. Your crew can meet for drinks and wings at the local sports bar, then check out spots like axe throwing, arcades, and breweries. If you're into sporting events, plan your birthday party around one for your boy's night out and turn your special day into a memorable bonding event. If you're looking for 28th birthday ideas for him, this is a great one.
17. Masquerade Party
A masquerade party will turn your 28th birthday into a mysteriously marvelous event. Masquerade parties help you turn up the drama as you celebrate your special day. Characterized by wearing masquerade masks and formal wear, masquerade parties give you a reason to dress up and show out. This type of event calls for plenty of dancing space and a mysterious vibe. Add decorations and lighting like chandeliers or lanterns to give your area a dramatic look, perfect for your 28th birthday party.
18. Stock-The-Bar Party
The stock-the-bar party is typically thrown as a wedding shower, but it also works for your 28th birthday party. The idea behind this theme is that guests bring something for your bar instead of random gifts. The items could include liquor, beer, mixers, barware, and anything used at a private bar. To put a twist on the "stock the bar" party theme, prepare to make drinks from the gifts people bring to showcase a variety of cocktails. Decorate the room with bar-themed decorations and play your favorite drinking games like beer pong for extra fun.
19. Destination Birthday Party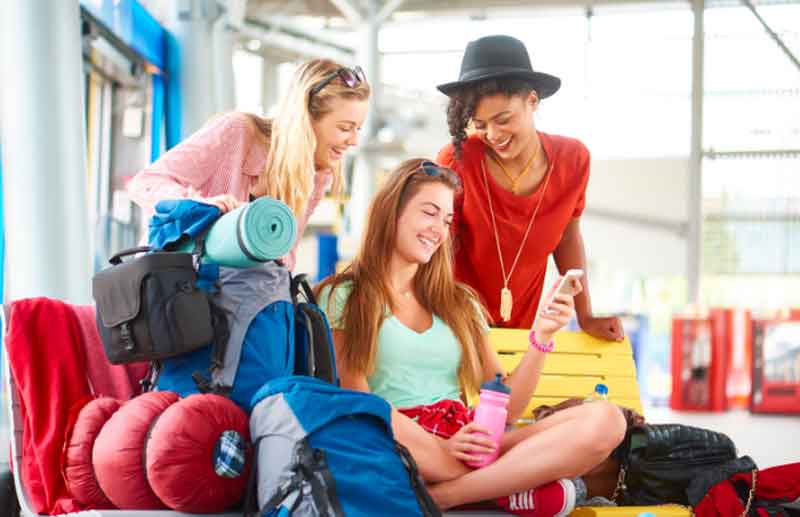 Traveling with your friends and family makes memories that last a lifetime. For your 28th birthday, plan a destination party where you, your friends, and your family can make new memories together in a new place. Cruises and all-inclusive resorts are fantastic options for group trips because your food, entertainment, and lodging are in the same place. If international travel is outside the cards this year, find a destination closer to home, like a vineyard, campground, or local attraction, to celebrate your big day.
20. Costume Party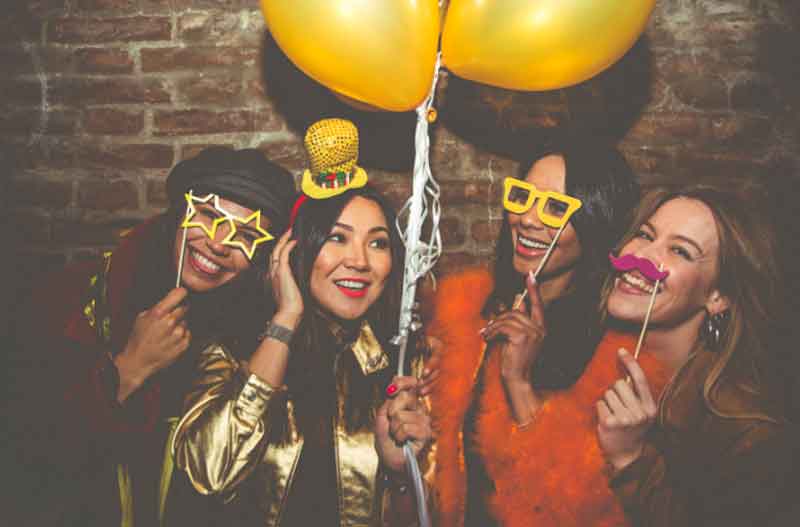 Costume parties are always fun, with or without a theme. Most of us only dress up in costumes at Halloween, so planning one for your 28th birthday is sure to be a hit with your friends. Costume parties can be themed like superheroes & villains, odd couples, or something more specific to your hobbies, or they can be just random costumes of your guests choosing. A few competitions can get the crowd into the party mood, and you can have silly prizes to give to the winners of each contest.
21. Murder Mystery Birthday Party
Murder mystery events have become popular for all sorts of occasions, and they would make a perfect theme for your 28th birthday party. Some cities have murder mystery nights at restaurants and theaters, but you could easily download a murder mystery game to host at your home or venue. If you have a murder mystery party at your venue, read through the game script to understand what you will need on hand for your guests. Once your guests arrive, set the stage for the evening, let the murder take place, and solve the mystery.
22. Dessert Swap Birthday Party
If you have a sweet tooth, you can switch up your 28th birthday celebration with a one-of-a-kind desserty swap party. This idea is one of the least expensive adult birthday party ideas because guests pitch in by bringing their favorite sweet treats and desserts. From homemade chocolate chip cookies to upside-down pineapple cakes, your table will be filled with delicious desserts that everyone will love to try. To add an alcoholic element to the party, pair some dessert shots or mini-cocktails with each dessert.
23. Classic Dinner Party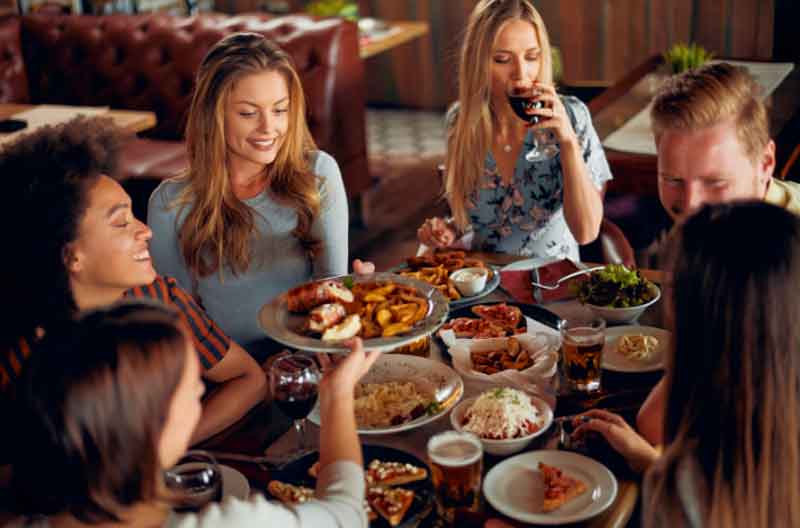 Suppose you want a more intimate, refined way to celebrate your 28th birthday and invite guests to your house for a classic dinner party. Dinner parties are iconic gatherings where friends and family gather around the table and enjoy a prepared meal and good conversation. Your menu can contain several courses or one delicious dish; remember the dessert and decadent cocktails, mocktails, or wine. If you are not an avid cook, opt to have your dinner party catered and sit back and enjoy the prepared meal with your guests.
24. Kickball And Shots Party
If you love friendly competition, you can plan a kickball and shots party for your 28th birthday. You don't have to be an athlete to play kickball, making it an ideal sport for people with any skill level. Find a park nearby and arrange to use the playing field or set up bases in a large grassy area for the game. Have your guests divided into two teams and ask a couple of people to be referees. Add shots of liquor or have a beer at home base for people to take before they kick and when they cross home plate. This game can also be played without alcohol. If you're looking for 28th birthday party ideas for someone who loves sports, this could be a great one!
25. Run For A Good Cause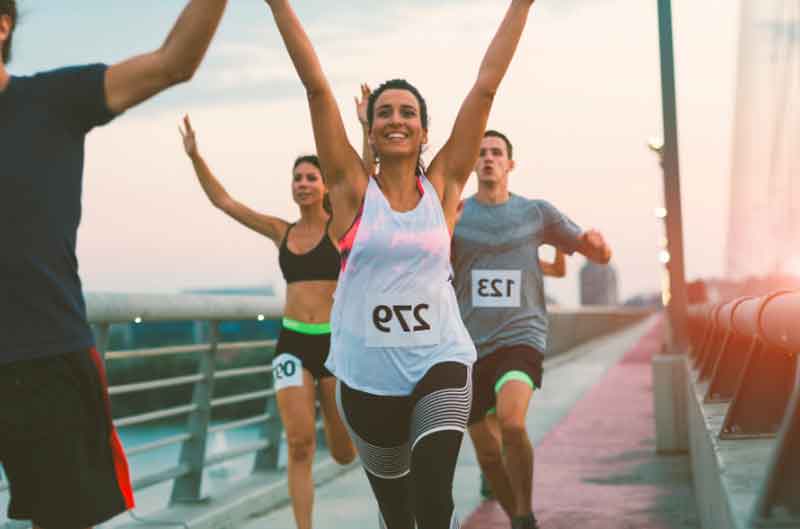 Giving back to your community is a great way to celebrate a 28th birthday. Most communities, non-profit organizations, and other causes have events yearly to raise much-needed funds. Gather your friends, sign up for a fun run or 5k race for charity, and hit the pavement to raise money for a good cause. Friends and family who don't want to run can donate money to your team or the organization in your name instead of gifts. After the race, head to a designated sports bar or tavern to refuel.
26. Raise Money For Charity
You can also raise money for any charity for your 28th birthday without participating in a specific event. With Go-Fund-Me and other platforms, it is simple to raise money and donate it to a cause that is special to you. For your birthday, choose a charity or cause and ask family and friends to help you raise money for the cause by giving you cash or donating directly to the organization as your birthday gift. Always send thank you notes and information about the charity to those participating.
Popular Article: 35th Birthday Ideas That Are Ton of Fun
27. Movie Marathon Party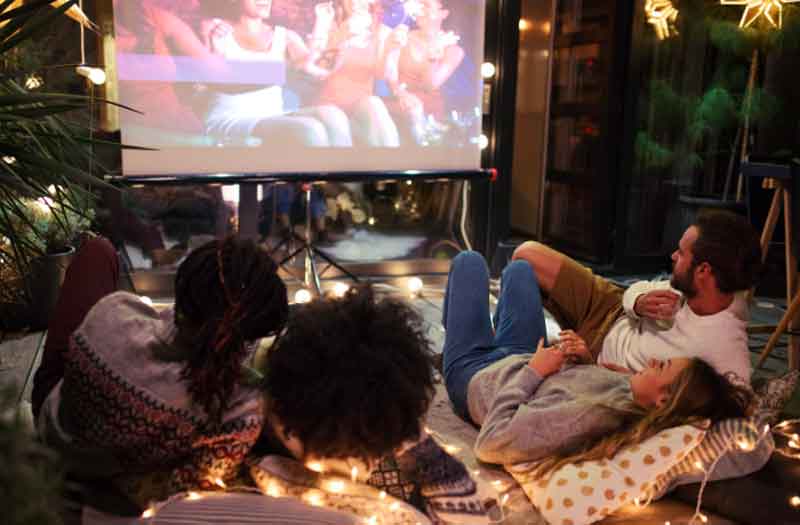 Movie marathon parties are fun and easy to host for your 28th birthday. Set the tone in your home or venue by dimming the lights, hanging movie posters, and recreating the walk of fame with gold stars inscribed with your guests' names. Provide plenty of movie-themed snacks like a popcorn station, candy, pretzels, and pizza for guests to enjoy throughout the evening. Make sure you have comfortable seating if you need to ad bean bags for extra lounging. Have your guests come dressed as their favorite movie characters and play movie trivia with prizes for everyone.
28. Painting Party
Uncork your favorite bottle of wine and paint with your friends at a painting party for your birthday. It is fun to get creative, and painting parties are popular events where you can share the art-making experience with your friends while celebrating your special day. Discover your artistic side, sip wine or other beverages, snack on a charcuterie board or other snacks you bring, and paint! If you don't have a painting studio near you, you can gather art supplies and sign on to an online painting class right from home.
29. Brunch Party
What's better than breakfast and lunch? Brunch! You can always gather your friends and family for brunch on your 28th birthday. Brunch is a perfect setting for savory and sweet dishes, mimosas or sparkling grape juice, and a lot of laughter. Make reservations at the local brunch hot spot and enjoy the best meal of the day with your BFFs. You can also host the event at home or a private venue with a private chef for a more personal touch. Have special brunch-themed favors like mini champagne bottles for your guests.
30. Disco Party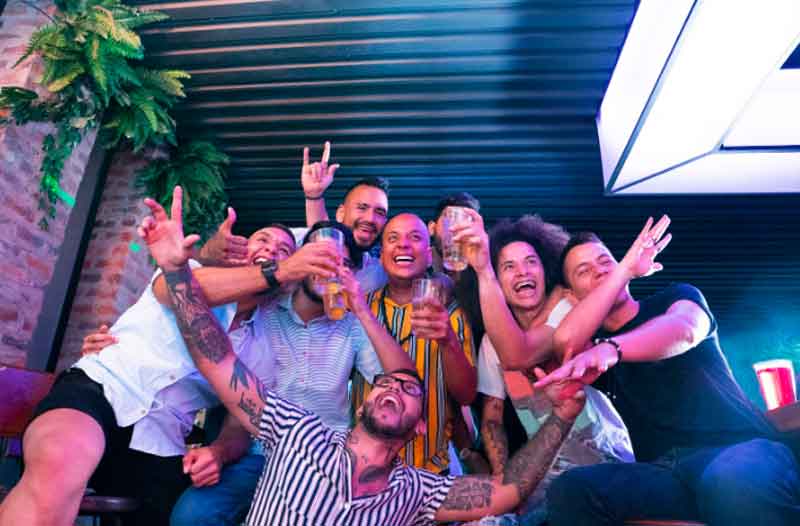 If you're turning 28, you, unfortunately, missed the era of Disco, but you can still recreate the vibe for your birthday party! Celebrate another year around the sun with your BFFs getting your groove on to jive music and flashing lights. Disco is about having a good time, looking cool, and dancing all night. Have guests wear their best disco gear, hang a disco ball and lights, and boogie the night away to the sounds of the Bee Gees. Remember to provide 1970s snacks and cocktails!
31. Park Picnic Party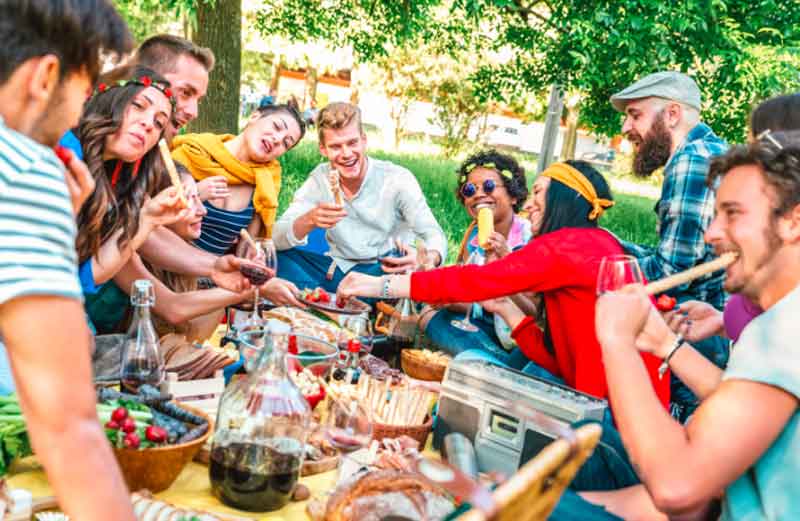 A picnic in the park is a lovely way to celebrate your birthday. Food tastes better outdoors in the fresh air, and your guests will appreciate the laid-back atmosphere. Bring plenty of blankets to sit on, or line picnic tables with beautiful linens and set the stage for relaxed fellowship, delicious food, and yummy desserts. Spice up your picnic with wine tasting and a charcuterie board, or bring sandwiches from the deli. Have kites to fly and simple games like corn hole for people to enjoy.
32. Fortune Telling Party
Tap into greater power and throw a mystical fortune-telling birthday party. Light candles and burn incense to set the stage for the affair. Hire a psychic, palm reader, medium, or tarot card reader to provide insight into the unknown for you and your guests. Set up a crystal jewelry-making table, and have fortune cookies as party favors. You can also book psychics virtually and give guests mini-readings during the party. Fill unmarked bottles of unique psychic brews and discover more about yourself and your friends.
33. DIY Pizza Party
Pizza parties can be delicious, interactive, memory-making events when you get your guests involved with the cooking. Instead of ordering pizza, add a twist to your party by having pre-made pizza dough for each guest and plenty of toppings. Guests can create their pizzas, and everyone can sample the savory results. You can also have a dessert mini pizza station instead of birthday cake, and remember to have takeaway pizza boxes on hand for leftovers.
34. Fun Park Party
Have fun at a fun park for your 28th birthday! Fun parks aren't only for kids; they can bring out the kid in you and your guests as you play games and ride rides together. Arrange a party package at your local fun park, play arcade games, race go-karts, shoot laser tag, and hit home runs at the batting cage with your crew. You can have snacks at the facility or head to a local favorite spot for dinner and drinks afterward.
Popular Article: Fun 35th Birthday Ideas
35. Private Chef Party
Turning 28 is a time to splurge on yourself and your closest pals. Why sit in crowded restaurants when you can hire a private chef to cook an unforgettable meal in your home? Personal chefs can accommodate your tastes while elevating your dining experience with a personalized menu that fits your budget. Enjoy drinks with your guests as the chef prepares a one, two, or seven-course meal for your dining pleasure.
Wrap Up:
That does it for this list. Let us know if there are any great ideas that you can think of that we missed in the comments section below.